A Worthy White Z790 Motherboard?
Review Summary
ASRock Z790 Steel Legend WiFi is a beautiful board providing a combination of silver and white color accents with vivid and evenly done RGB lighting. This motherboard is almost a balanced feature set proposition overall though ASRock could have done some areas better. However, this motherboard has what a gamer would need.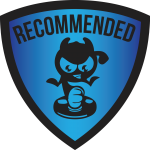 Design -

9/10

Performance -

8.5/10

Value -

7.5/10

Build Quality -

9/10

Features -

8.5/10
Pros
16+1+1 Power Phases
1x PCIe Gen5 x16 slot
1x PCIe Gen5 M.2 Port
1x PCIe Gen4x4 slot
4x Hyper M.2 Gen4x4 NVMe ports
WiFi-6E
Bluetooth
1x USB 3.2 Gen 2×2 Type-C port
2x USB 3.2 Gen 2 Type-A ports
Onboard RGB Lighting
5 GbE LAN Connectivity
Steel Reinforced DIMM Slots
Cons
No Rear USB 3.2 Gen2x2 Type-C Port
No Debug LED
Single USB 2.0 header
Price is a bit high
When it comes to motherboard manufacturers, we have limited options. ASRock is among the leading motherboard manufacturers that need no introduction. They have successfully established themselves as a manufacturer of quality hardware with optimized software. ASRock isn't just about motherboards. They also offer graphics cards, monitors, mini PCs, and industrial/server-grade solutions. In the motherboard department, they have diverse lines, from the high-end Taichi and AQUA to mid-range options like Phantom Gaming and Steel Legend.
---
Key Takeaways
Supports 13th Gen & 12th Gen Intel® Core™ Processors: The LGA 1700 socket supports both 13th and 12th gen CPUs.
16+1+1 Phase Power Design, SPS for VCore+GT: The ASRock Z790 Steel Legend WiFI comes with a capable VRM configuration.
DDR5 up to 7200 MHz: The ASRock Z790 Steel Legend supports DDR5 memory up to a speed of 7200 MHz, which is a decent figure.
PCIe Gen 5.0 connectivity: You'll also be getting a PCIe Gen 5.0 slot as a Gen 5 NVMe slot, allowing you to benefit from next-gen speeds.
---
We earlier tested ASRock Z790 PG Riptide. This time we are taking a spin on the ASRock Z790 Steel Legend WiFi motherboard for review. As usual, we will take a look at the block diagram first and then move on to the design and layout of the motherboard.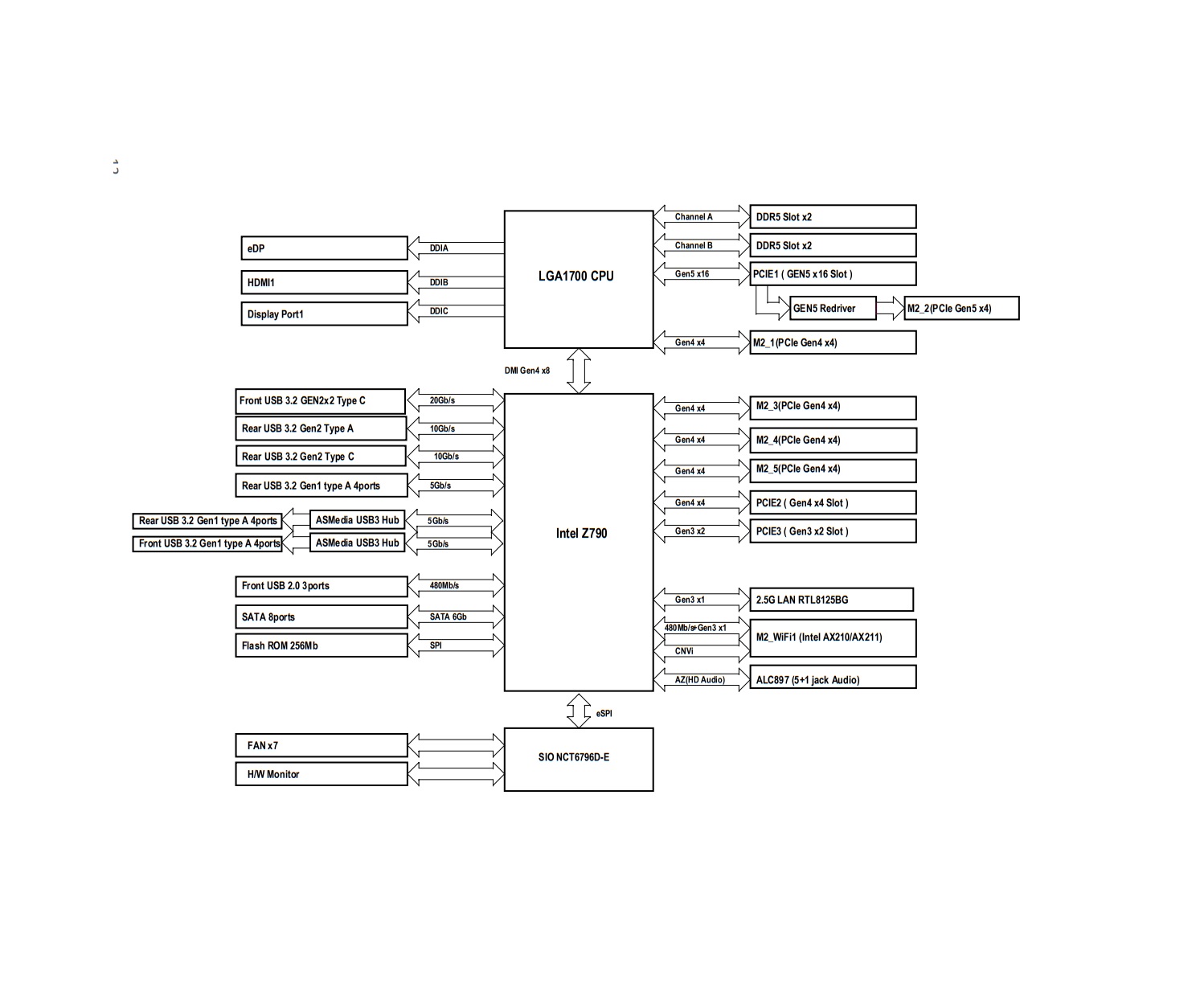 The Z790 Steel Legend WiFi motherboard shares similarities with the ASRock Z790 PG Riptide. The CPU natively supports a PCIe x16 slot and an M.2 port on the Gen 5 bus. Due to platform limitations, a trade-off exists between them, causing the graphics card to run at x8 when a Gen5-based M.2 NVMe SSD is installed in the top slot.
There are a plethora of USB ports though we have some reservations, which we will mention in the design section. ASMedia controllers are used for Rear USB 3.2 Gen1 Type-A and Front USB 3.2 Gen1 Type-A ports. A Nuvoton controller is employed to control the fans and Hardware monitoring.
Specifications
Product
ASRock Z790 Steel Legend WiFi Motherboard
Chipset
Z790
Power Phase
16+1+1 Power Phase, 60A SPS for VCore+GT
Socket
LGA1700
Memory
Dual Channel, Supports DDR5 non-ECC, un-buffered memory up to 7200+(OC)
DIMM Slots
4x DDR5 DIMM Slots
Slots
1x PCIe 5.0, 1x PCIe 4.0, 1x PCIe 3.0, 1x M.2 Socket
Storage
4x Hyper M.2 Socket, 1x Blazing M.2 Socket, 8x SATA3 6.0 Gb/s Connectors
USB
1x USB 3.2 Gen2x2 Type-C (Front)
1x USB 3.2 Gen2 Type-C (Rear)
1x USB 3.2 Gen2 Type-A (Rear)
12x USB 3.2 Gen1 (8 Rear, 4 Front)
3x USB 2.0 (3 Front)
Form Factor
ATX Form Factor
Packaging and Unboxing
Here is a detailed unboxing of the ASRock Z790 Steel Legend WiFi.
Closer Look
ASRock Z790 Steel Legend WiFi is a mainstream mid-range product that boasts a beautiful combination of white and silver accents. It has onboard RGB lighting and has an almost balanced set of features with a few hits here and there, but the overall product in this price range is good enough for any particular requirement, especially gaming.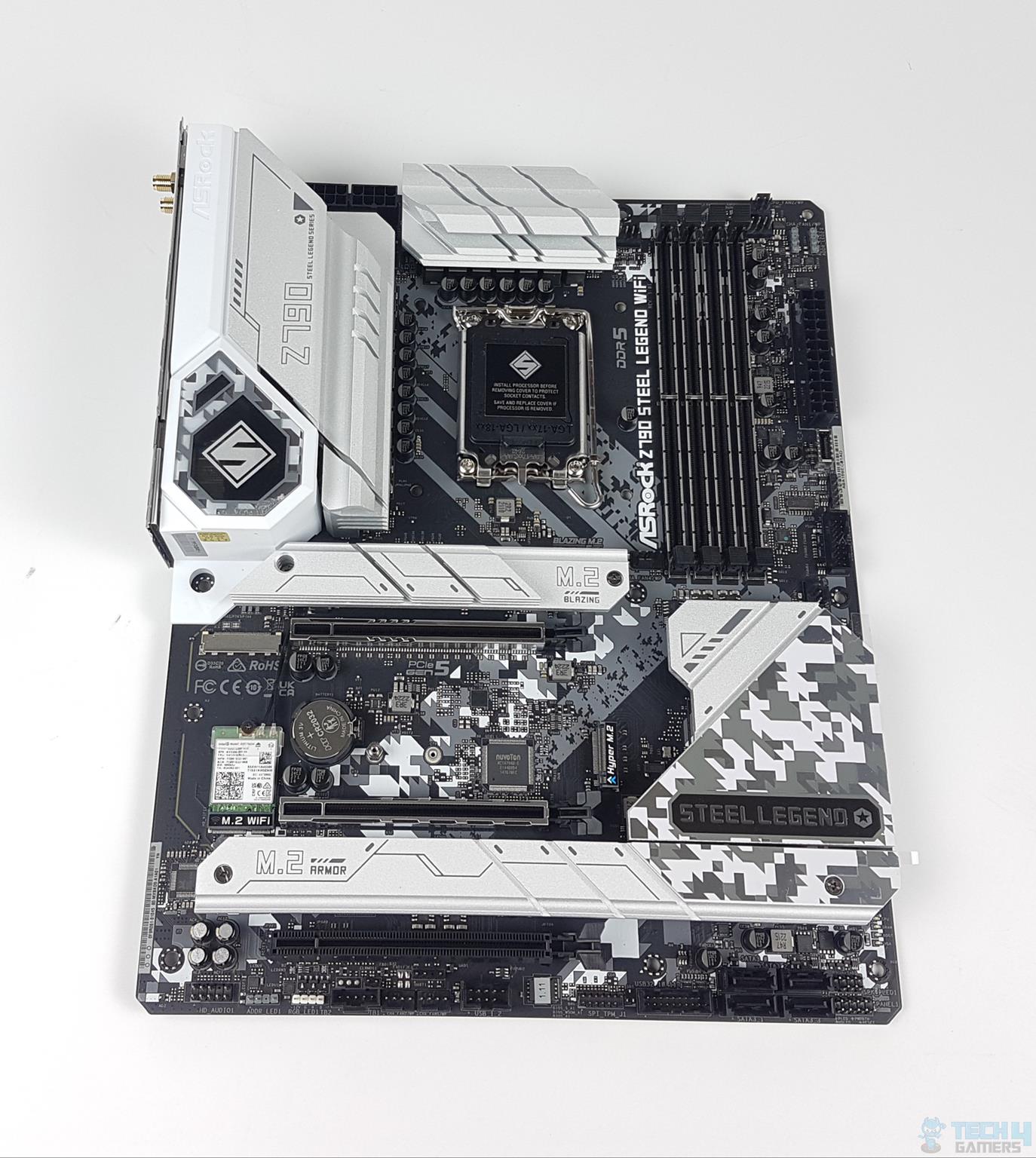 The ASRock Z790 PG Riptide motherboard sticks to ASRock's familiar design theme. It features a sleek black PCB, and the silver and white shroud and heatsink covers add a stylish touch. Plus, the RGB lighting enhances the overall aesthetics.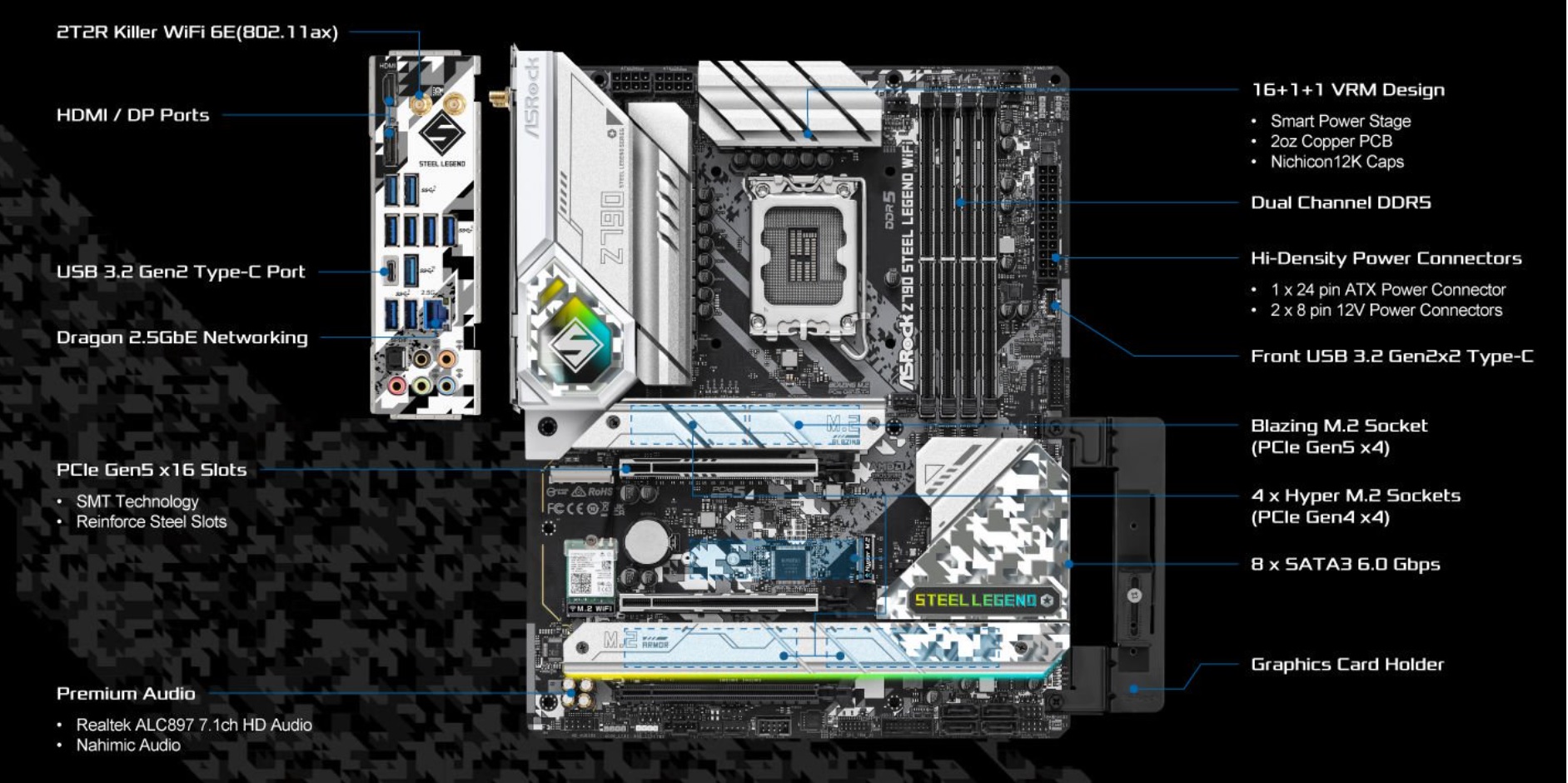 The motherboard features 2x 8-pin EPS and 24-pin ATX connectors. It has HDMI and DP ports on the rear IO panel, along with a USB 3.2 Gen 2 Type-C port. No Lightning Gaming USB ports are present. It includes a 2.5GbE NIC and a steel-reinforced PCIe Gen5 x16 slot. There are 4x M.2 Hyper sockets and one M.2 Blazing Gen5-based socket. It provides 8x SATA ports and follows a 16+1+1 power phase design. ASRock includes a GPU Support Bracket for heavy graphics cards to prevent sagging.
CPU Socket, Heatsink, VRM, and Power Delivery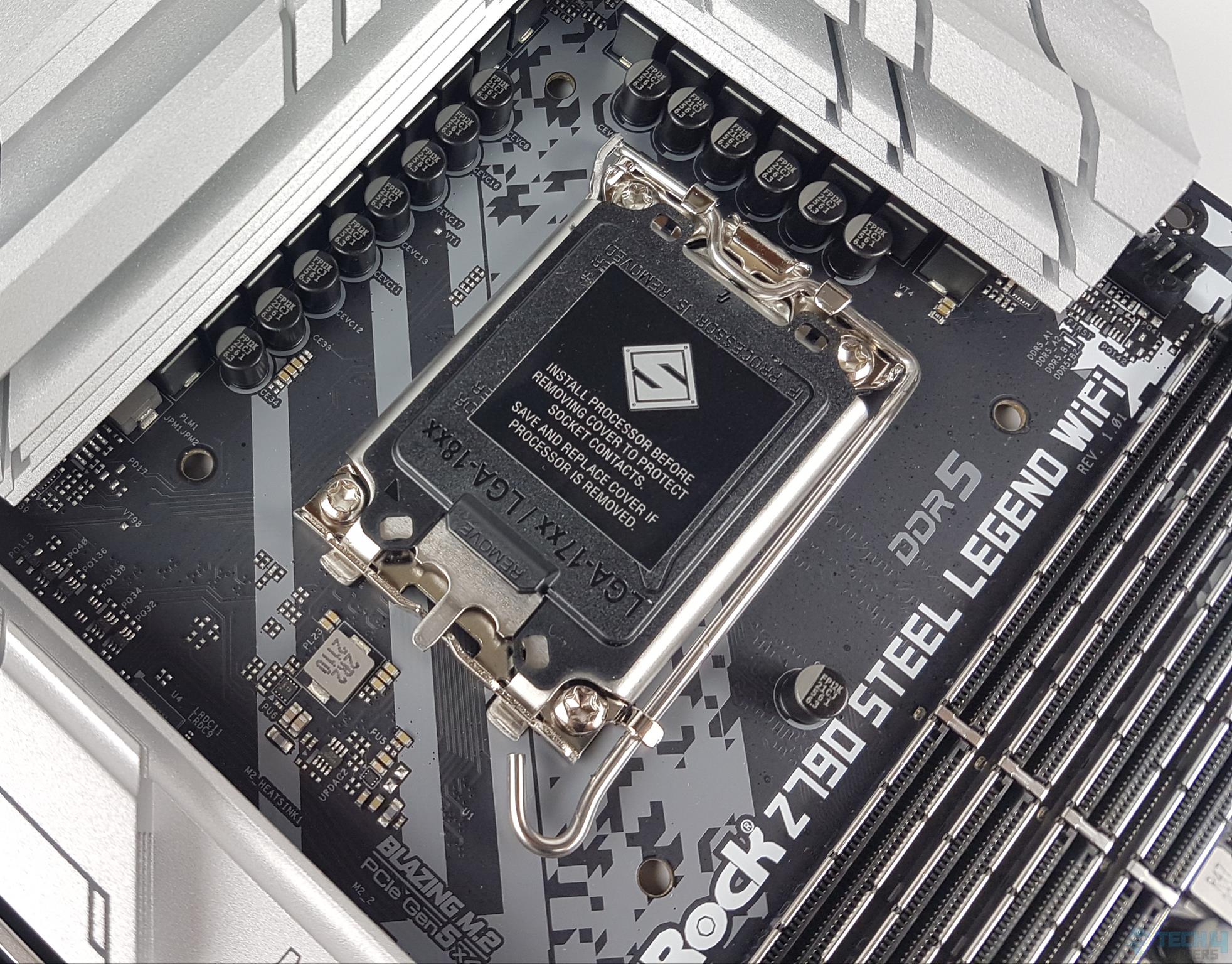 The ASROCK Z790 Steel Legend uses Intel LGA1700 socket.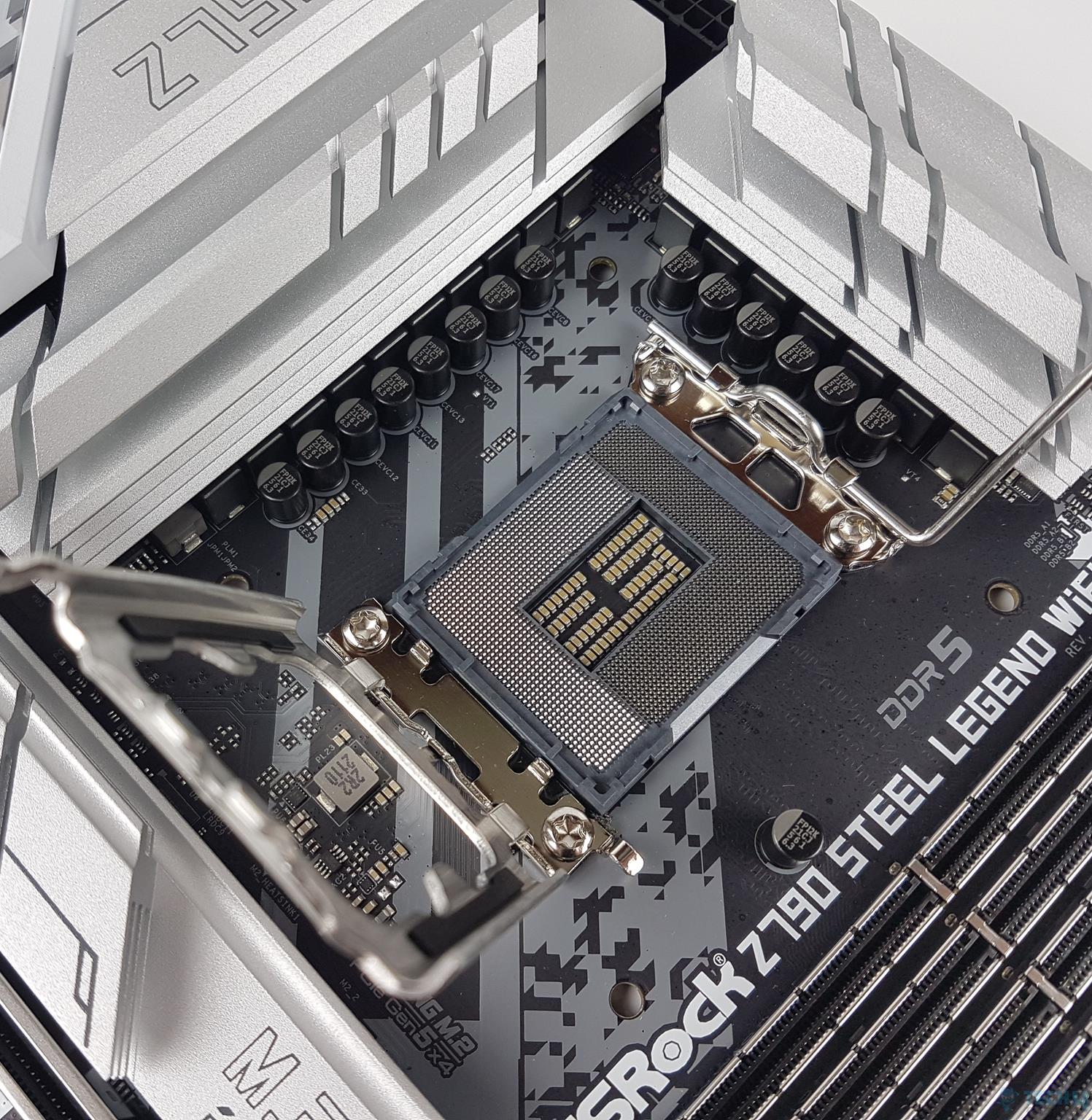 We opened the lid to show the socket itself and contact pins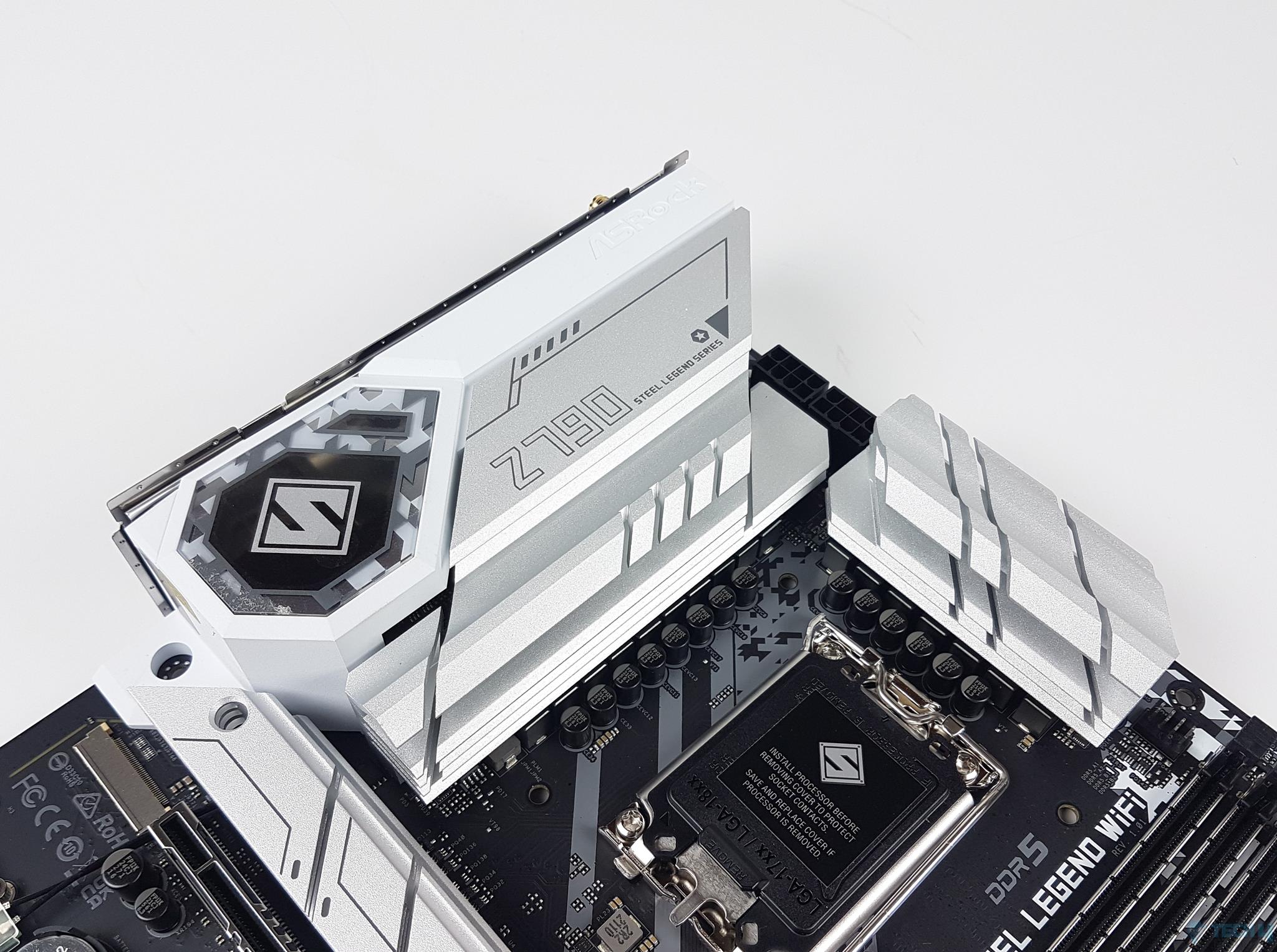 ASRock employs strong cooling for the VRM/MOSFETs to ensure stability under heavy workloads. They use two separate aluminum heatsink covers with a stepped design for efficient heat dissipation. The left-side heatsink extends slightly over the white Rear IO cover, giving the motherboard an appealing look. The silver MOSFET/VRM heatsinks and white color scheme create an attractive appearance.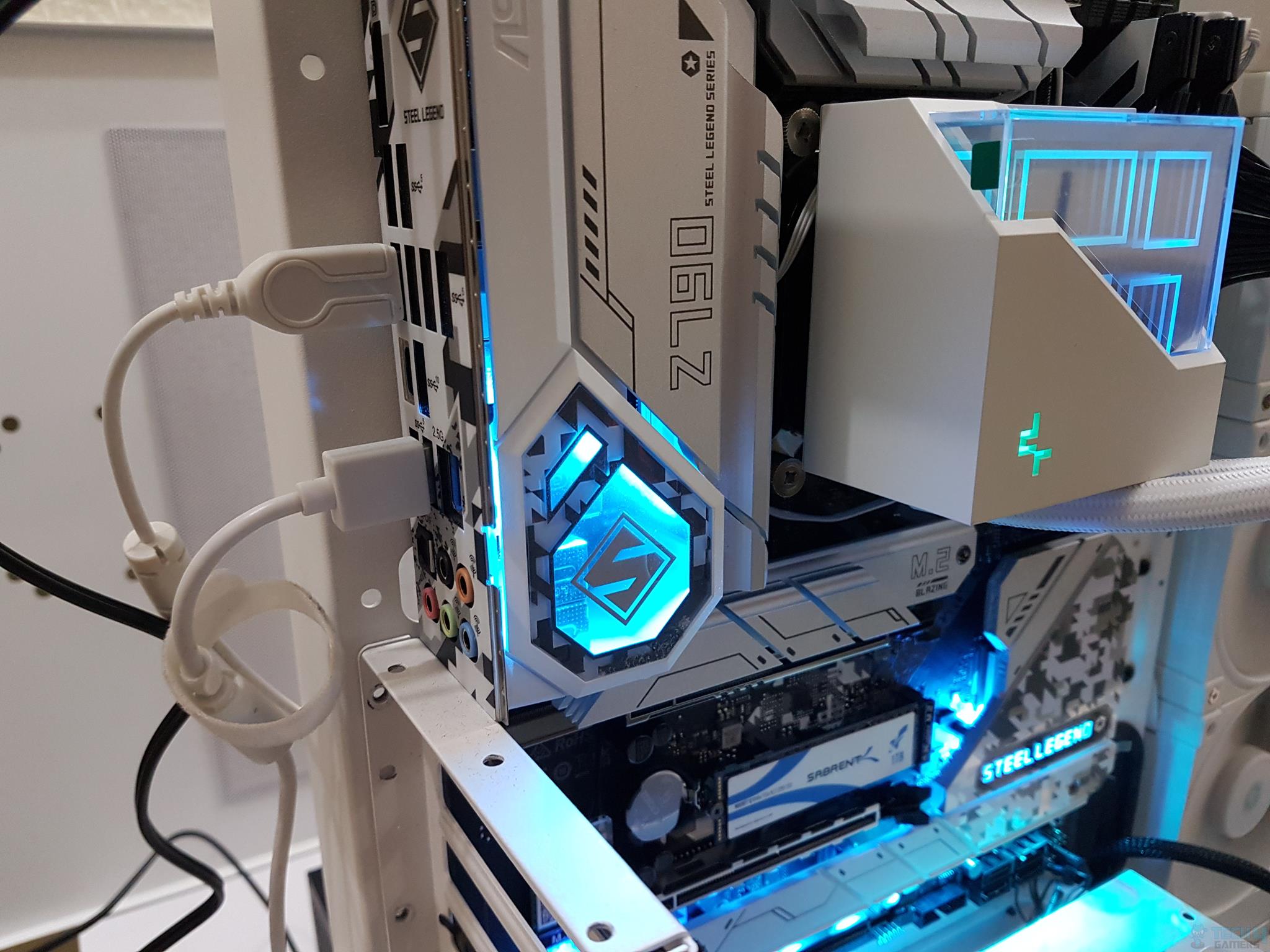 The branding area is backlit and produces a good aura. The letter S does not mean Superman. Pun intended. We can spot Cobra or Army camouflage in the background of Steel Legend branding.
ASRock has employed PHISON Electronics Corp's PS7101-51 redriver IC which acts as a PCIe 5.0 Linear redriver supporting 2x lanes with 4 channels with mux/demux functionality.
The ISL99360 has integrated high-accuracy current and temperature monitors that can be fed back to the controller and doubler to complete a multiphase DC/DC system. It seems like the main 16 phases are based on ISL99360 (960A). We are not sure about the other two power stages and the PWM controller governing all this power delivery mechanism.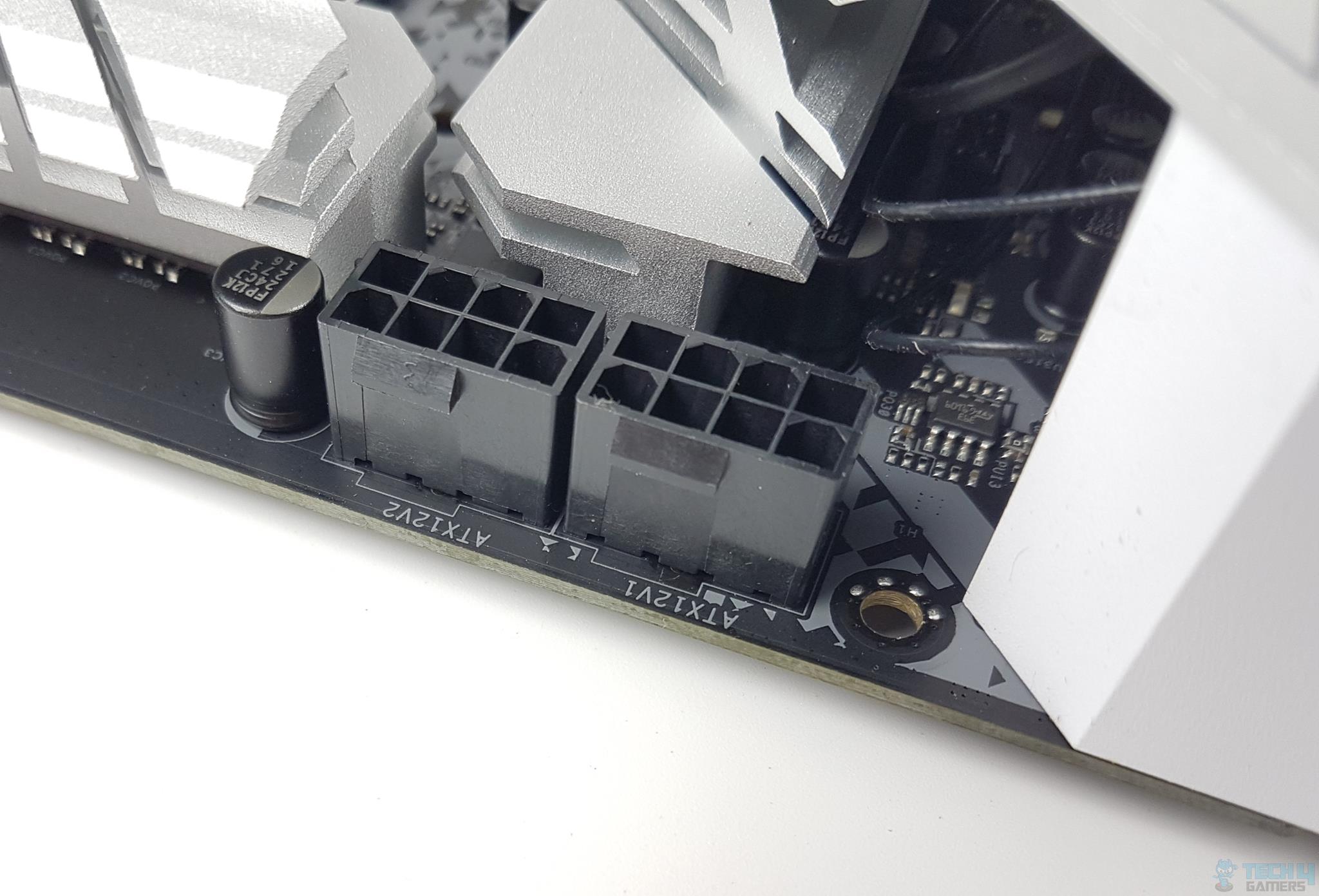 ASRock has provided two 8-pin EPS connectors for smooth power delivery to the circuit. Two would be needed for extreme overclocking on high-end CPUs otherwise, a single connector is enough for daily requirements. ASRock mentions that the PCB is a 6-layer design, offering stable signal traces and power shapes. This results in lower temperatures and higher energy efficiency, great for memory overclocking. They've used 2-ounce copper inner layers for stable signal traces and power shapes, further enhancing overclocking capabilities.
DIMM Slots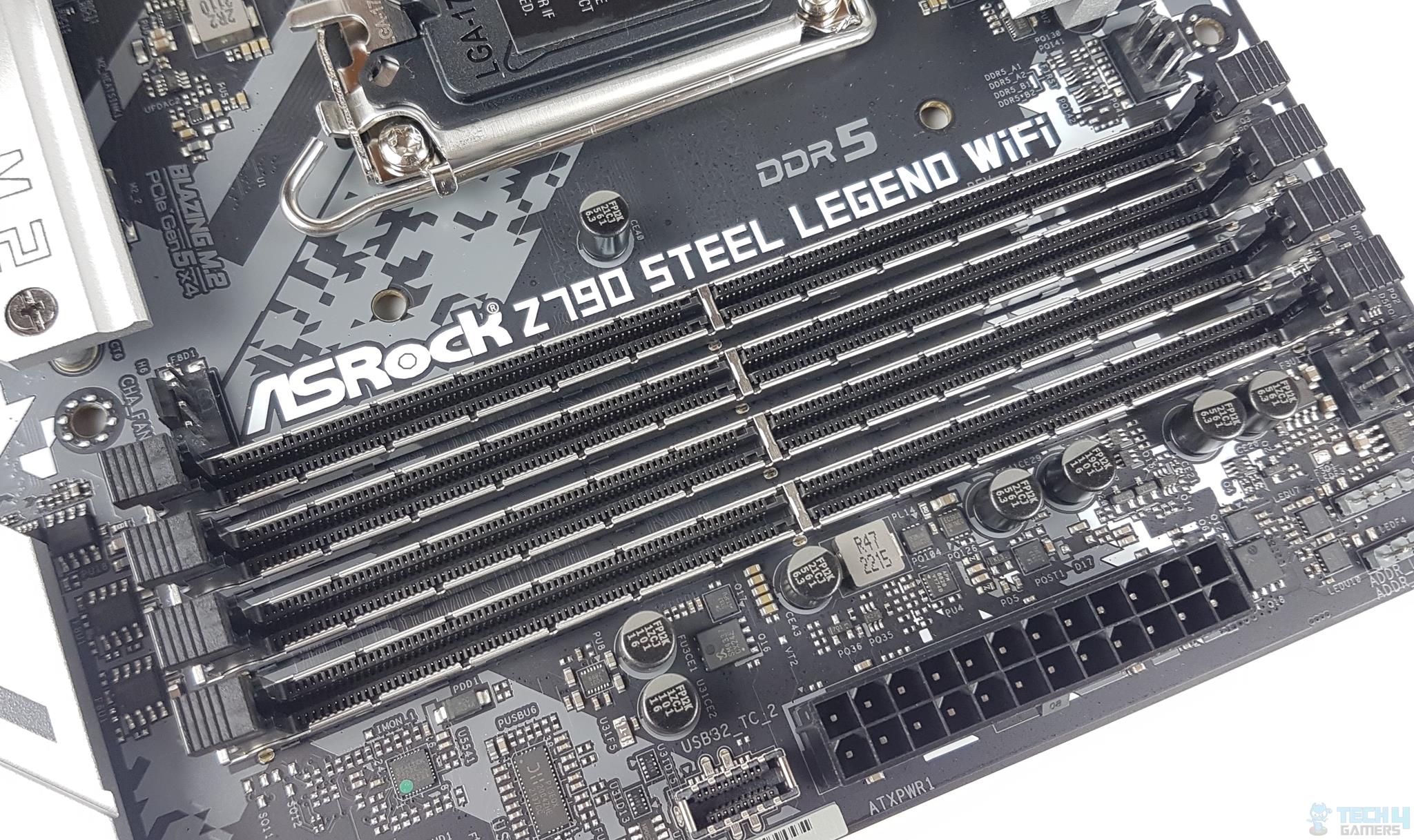 The ASRock Z790 Steel Legend motherboard boasts 4 DDR5-based DIMM slots, which are steel-reinforced for added strength and memory signal stability. This design enhances memory operations and overclocking potential.
Surprisingly, there's a 4-pin PWM Channel Fan Header right next to the DIMM slots, rated for 2A at 12VDC (24W power rating).
ASRock mentions DDR5 support up to 7200MHz with a BIOS update, and it defaults to 4800MHz. The motherboard supports a maximum of 128GB RAM with 32GB single stick density. It's a Dual Channel design, compatible with un-buffered DIMM 1Rx8/2Rx8/1Rx16 memory modules, and supports XMP 3.0 and AMD EXPO, although information about 24GB and 48GB memory modules is not available.
There are limitations in terms of populated sticks and possible speed:
1DPC 1R Up to 7200+ MHz (OC), 4800 MHz Natively.
1DPC 2R Up to 6000+ MHz (OC), 4400 MHz Natively.
2DPC 1R Up to 5600+ MHz (OC), 4000 MHz Natively.
2DPC 2R Up to 4800+ MHz (OC), 3600 MHz Natively.
The motherboard supports the Memory Dynamic Boost feature, which enables high-frequency switching from the native frequency. This feature seems to work without XMP loaded per our testing. ASRock has also provided ASRock Timing and Memory Frequency Boost features. The ASRock Z790 Steel Legend WiFi supports memory overclocking. I am not sure about PMIC unlocking.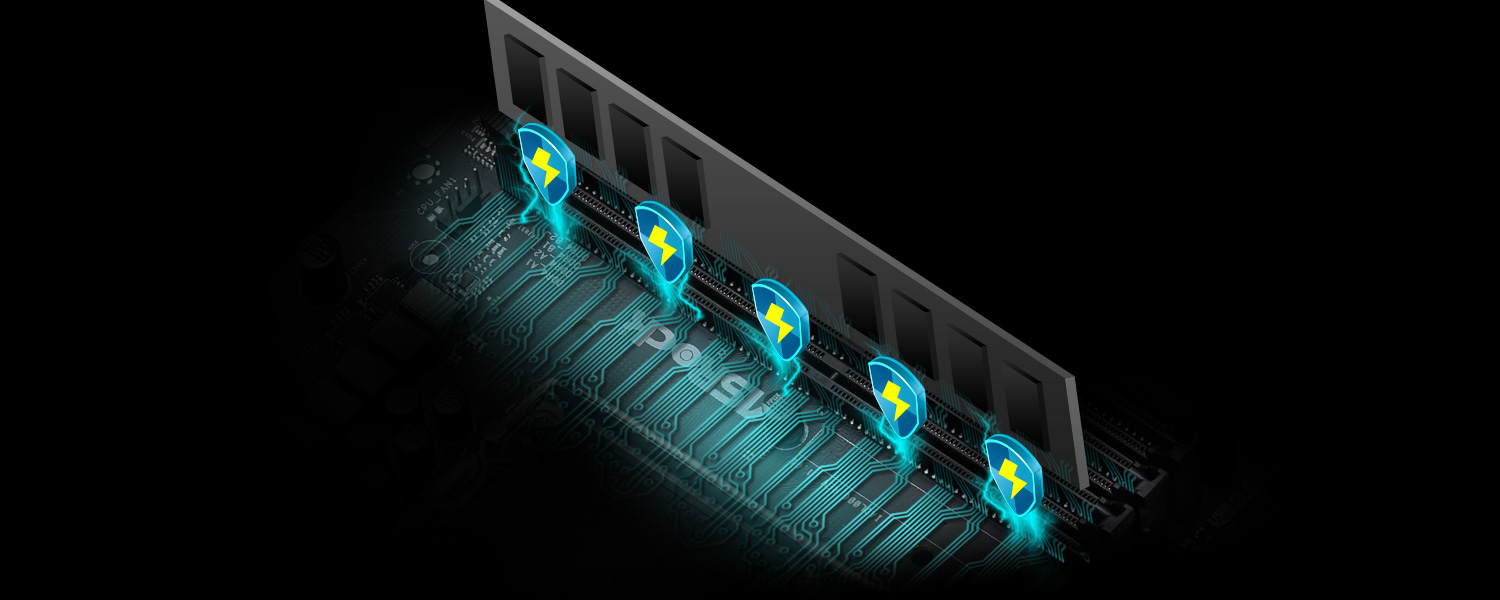 Due to the unique electrical architecture of DDR5 DIMM, there's a high risk of damaging the memory module if AC power isn't disconnected properly during removal or installation. ASRock has mentioned that they have implemented a trouble-free protection circuit on every DDR5 motherboard to lower the risk of damaging the memory module(s) to circumvent the above-stated issue.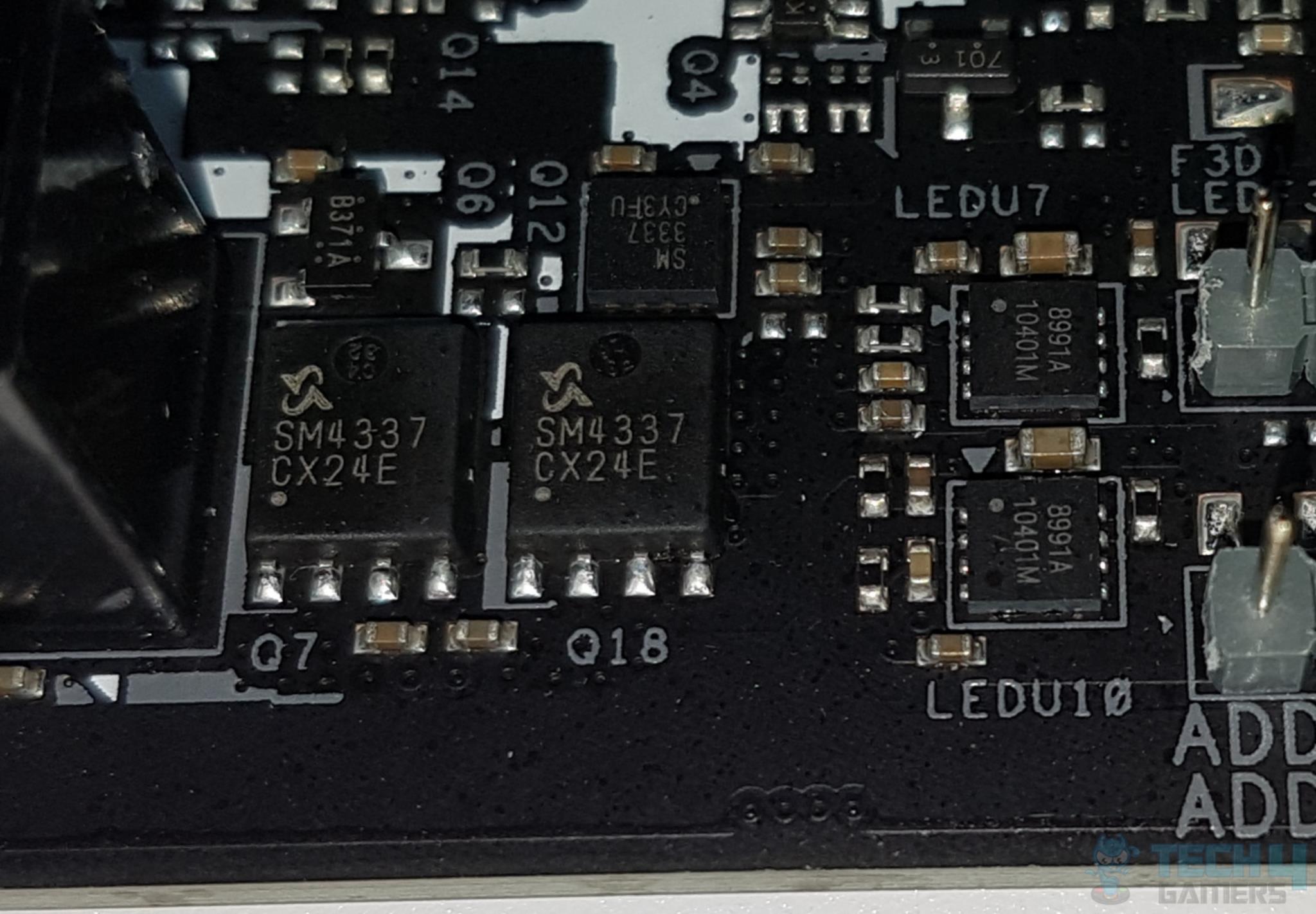 There are two SM4337 N-Channel rated at 30V, and 55A MOSFETs, probably for the power delivery of DIMM slots. There are further two similar MOSFETs below the circuitry.
M.2 Ports
ASRock has provided a total of 5x M.2 ports on this motherboard but with a catch. Much like Zen4, Intel also releases PCIe Gen5-based M.2 support for the upcoming high-speed PCIe Gen5-based M.2 NVMe SSDs. ASRock has provided one such port on this motherboard.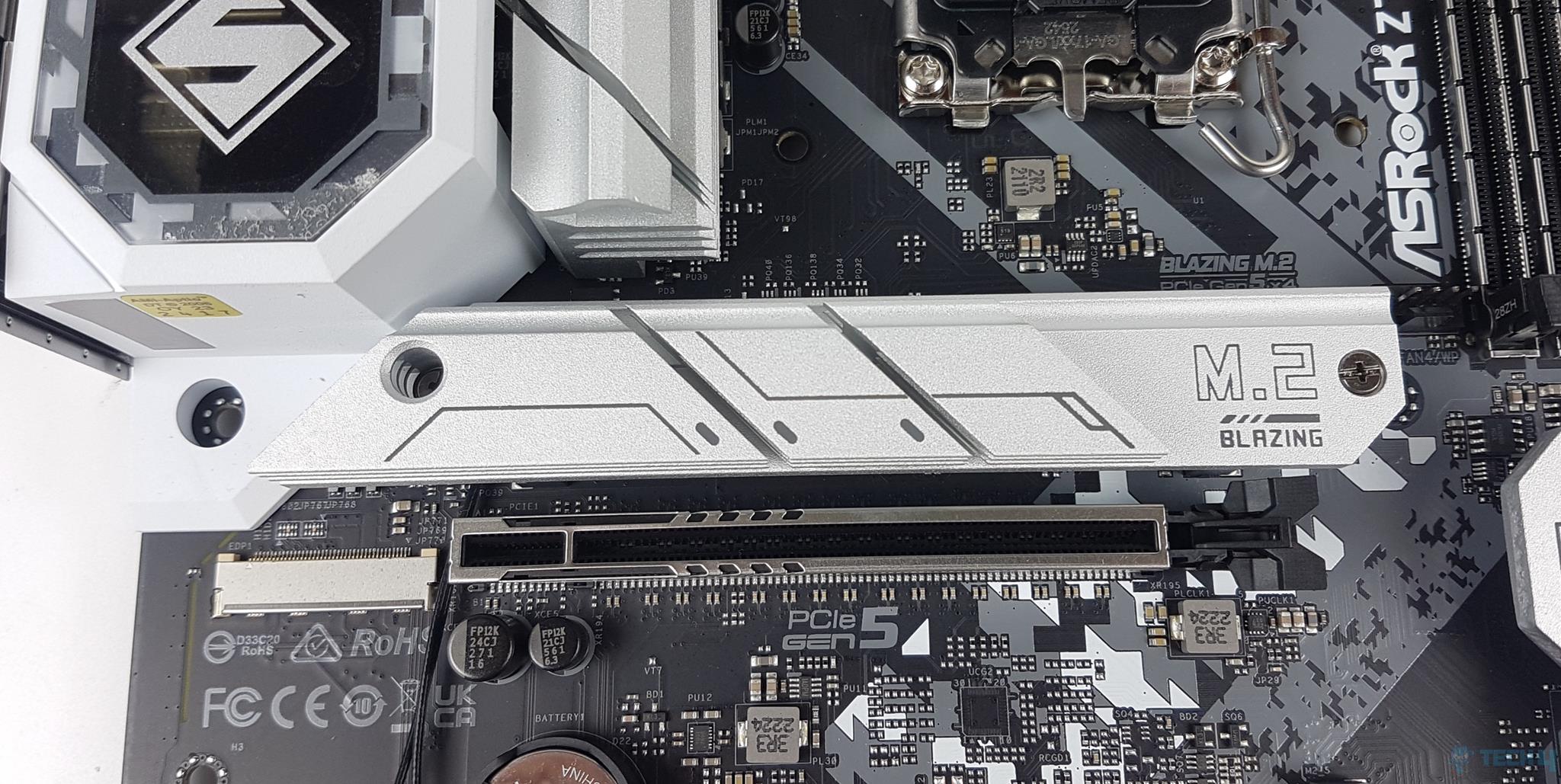 We can see a stylish silver color on the top M.2 cover. The top section has what ASRock is using, Blazing M.2. This top cover is made of aluminum and acts as a heatsink. It has a bit of depth to provide more surface area for effective heat dissipation.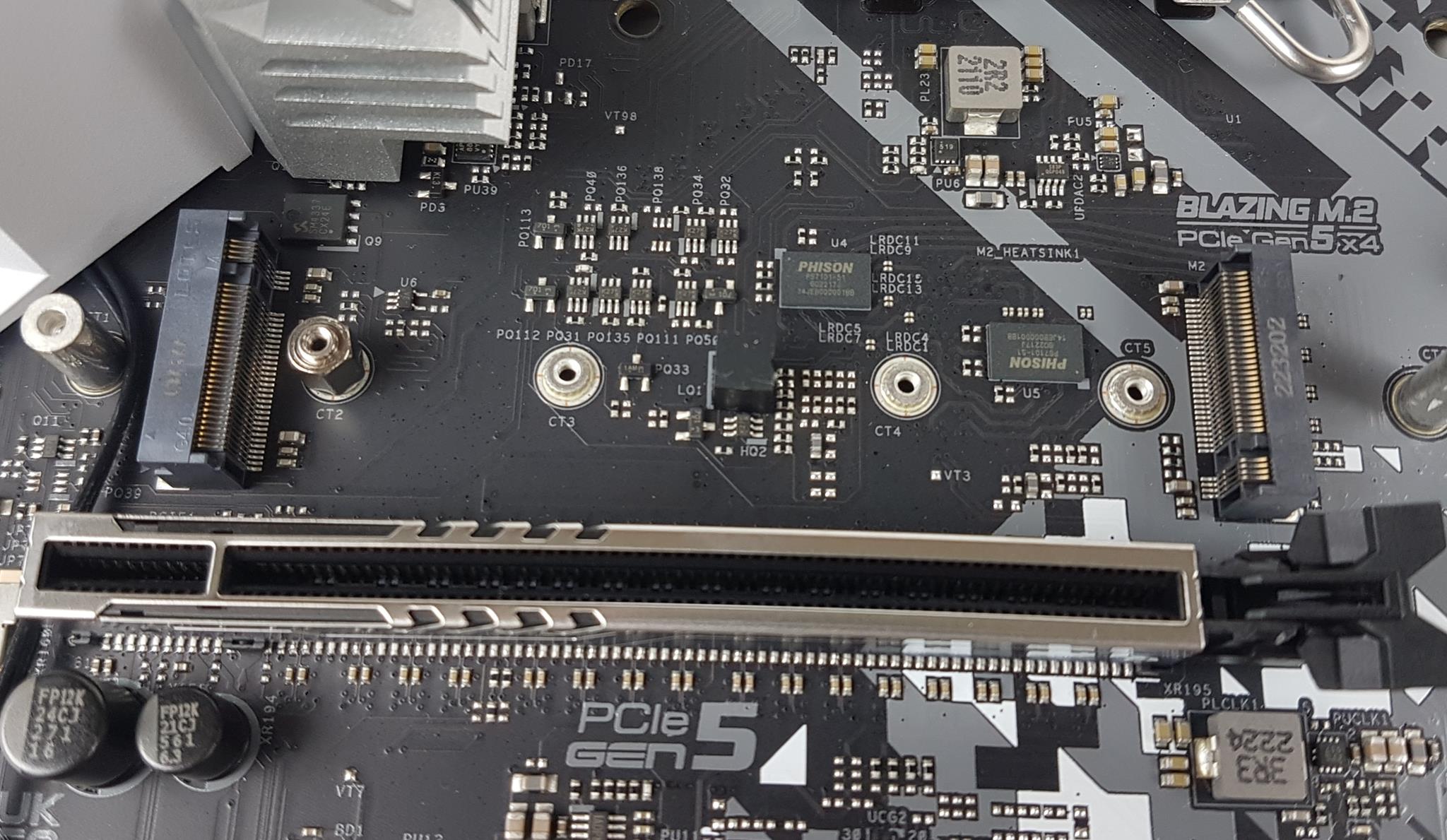 We removed the M.2 Blazing heatsink cover. There are two M.2 ports under it. One on the right side is an M.2 port based on PCIe Gen 5, whereas one on the left is based on PCIe Gen 4. We can use either of these ports at a time. This means that we have effectively 4x M.2 active ports on this motherboard at any time. As we have mentioned above, populating a Gen 5-based M.2 drive will make the graphics card installed in a PCIe x16 slot operate at x8 speed.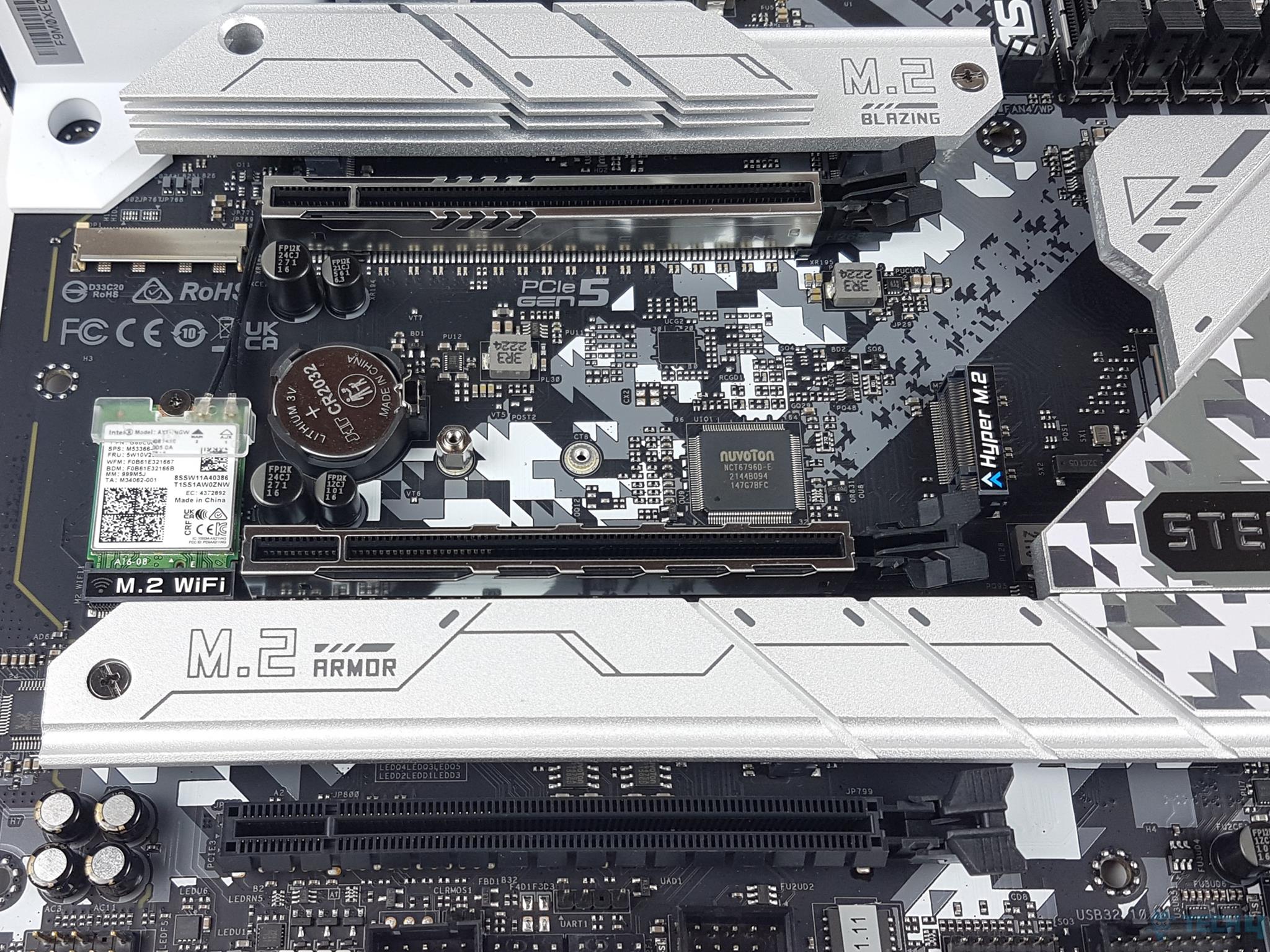 There is a PCIe Gen4x4 M.2 port between the top PCIe slots. It is labeled as Hyper M.2. It is wired with a Z790 chipset. It does not have any heatsink cover.
There are two more M.2 ports that sit in a row. These are covered by another heatsink cover labeled M.2 Armor. This heatsink is partly connected to the large-size chipset cover since this cover has almost double the length of the top cover, so it would still serve its purpose in an effective manner for heat dissipation.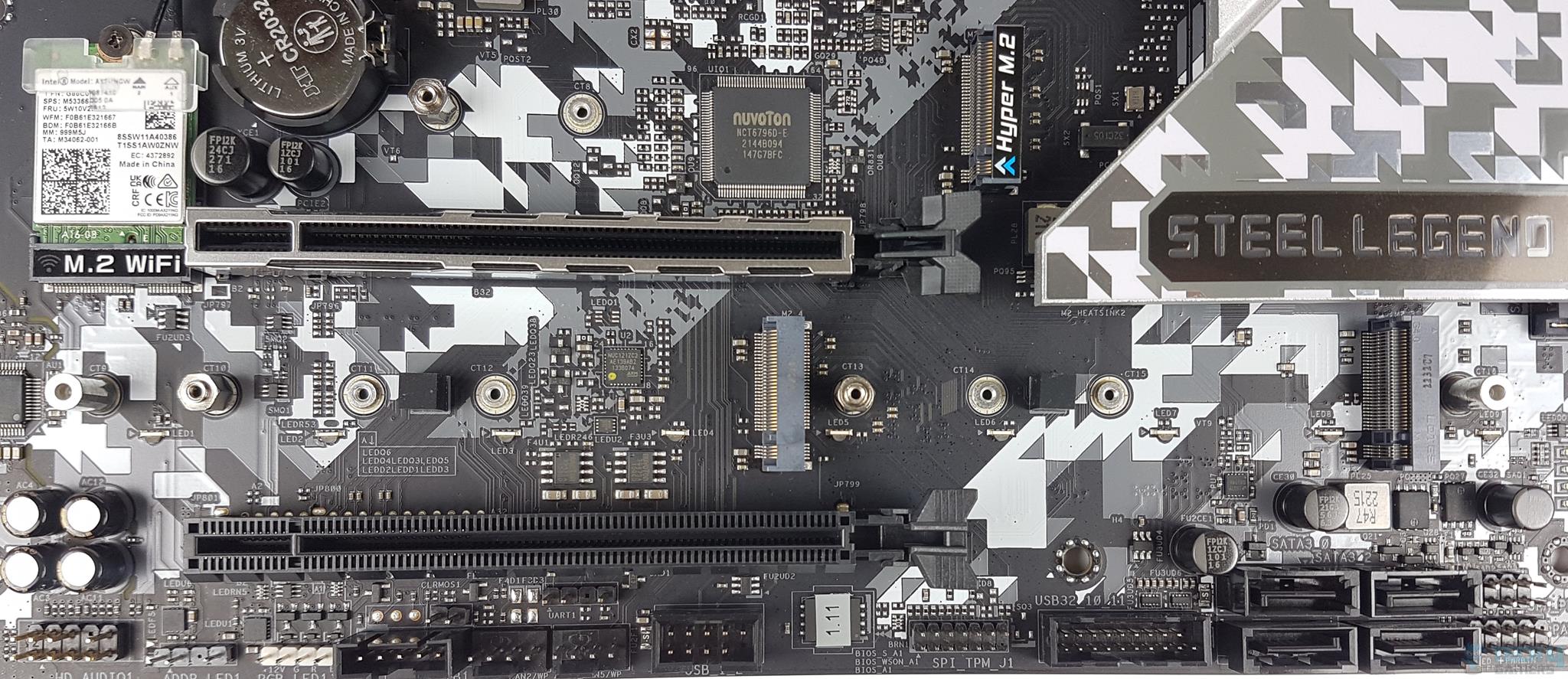 As mentioned above, there are two Hyper M.2 ports at the base. These are PCIe Gen4x4-based ports and are wired to the chipset. All these ports are M-type. The top two ports support the 2260 and 2280 form factor only. The other three ports support 2242 in addition to the 2260 and 2280 form factors.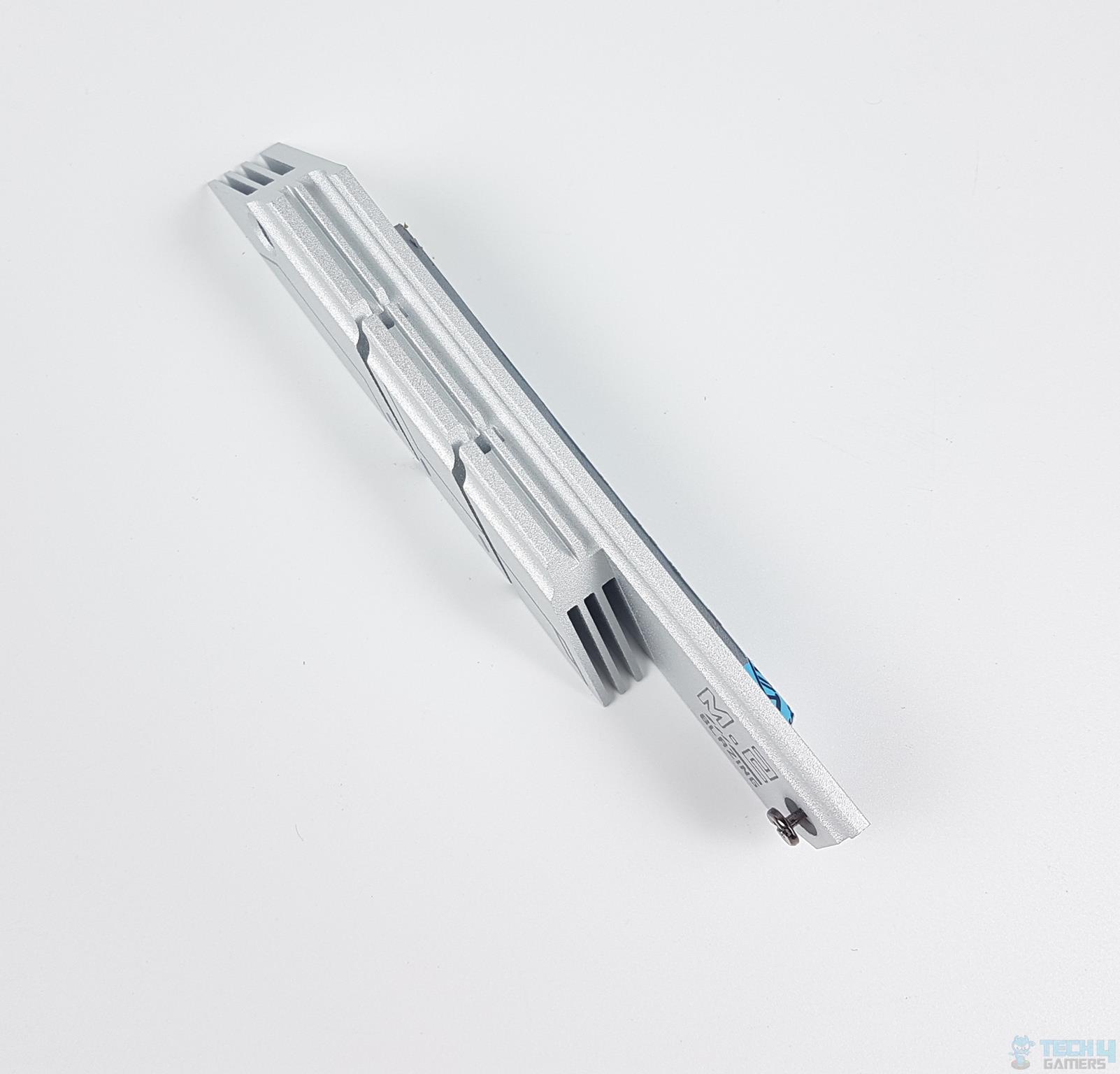 The above picture shows the thickness of the M.2 Blazing heatsink cover. This cover has a pre-applied thermal pad. It has cutouts on the opposite end, forming a proper heatsink design for effective heat dissipation.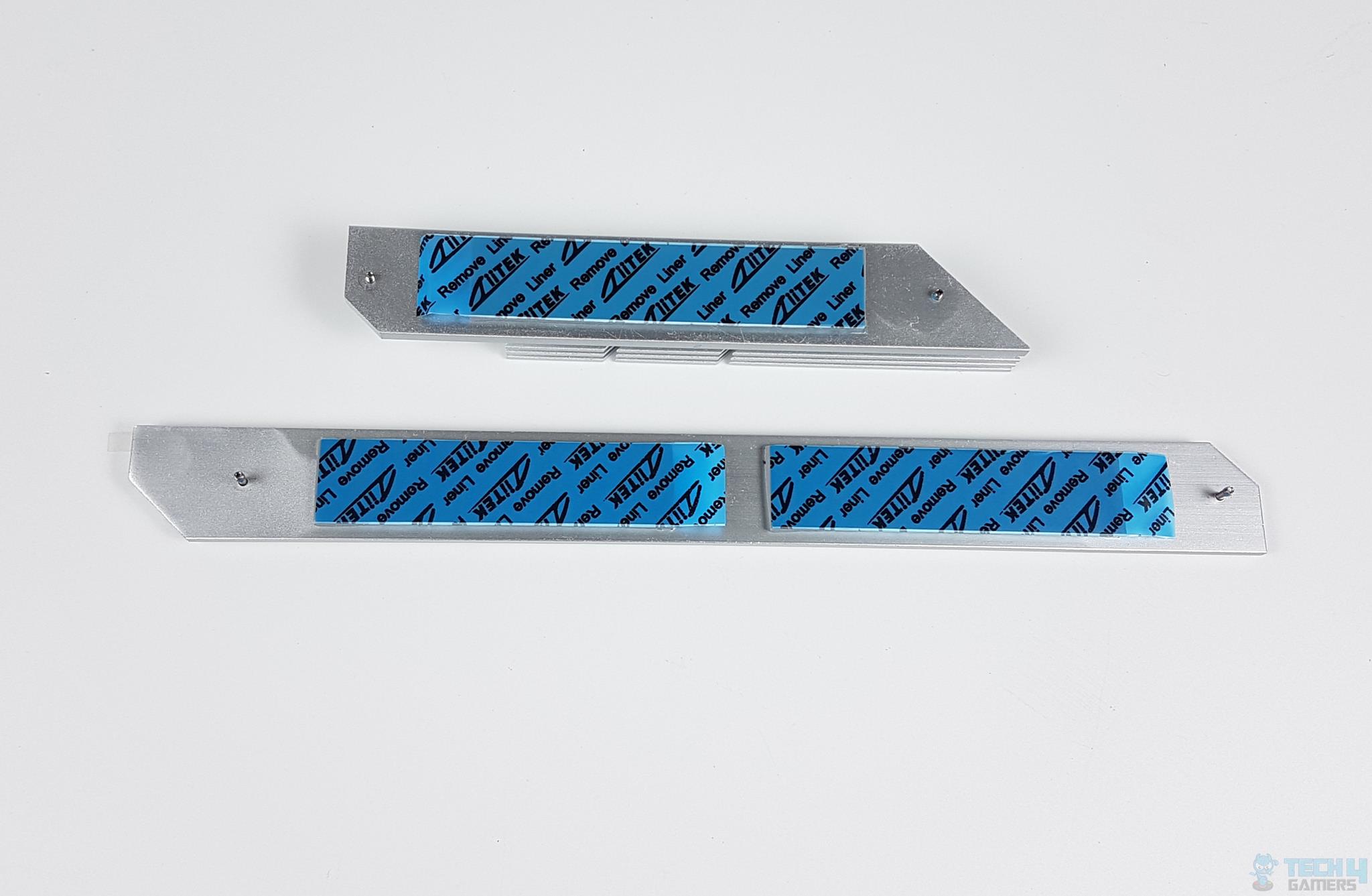 The above picture shows both heatsink covers. We can see pre-applied thermal pads on these covers. Notice a full-length but less thick heatsink at the bottom. This cover is for the bottom two M.2 ports.
PCIe Slots
This motherboard has 3x PCIe slots. ASRock has put a good implementation of the two slots.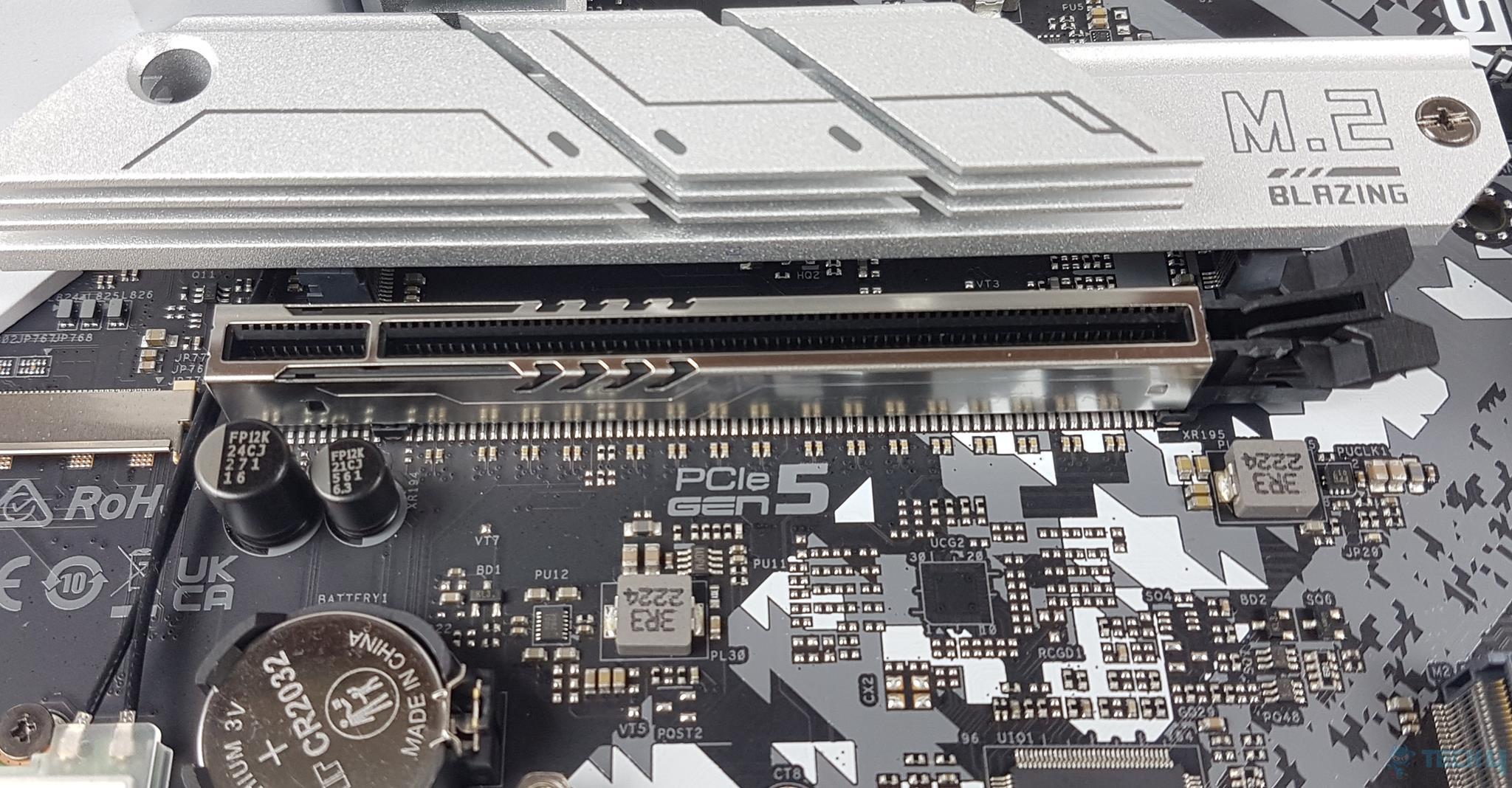 The topmost PCIe slot is wired to the CPU socket and is a fully functional PCIe Gen 5 x16 slot with a theoretical bandwidth of 128GB/s. This slot is stainless-steel reinforced. ASRock has mentioned that this slot is using 15µ Gold contacts in this slot. Please keep in mind that if using a Gen 5-based graphics card and M.2 drive at a time, this slot will operate at x8.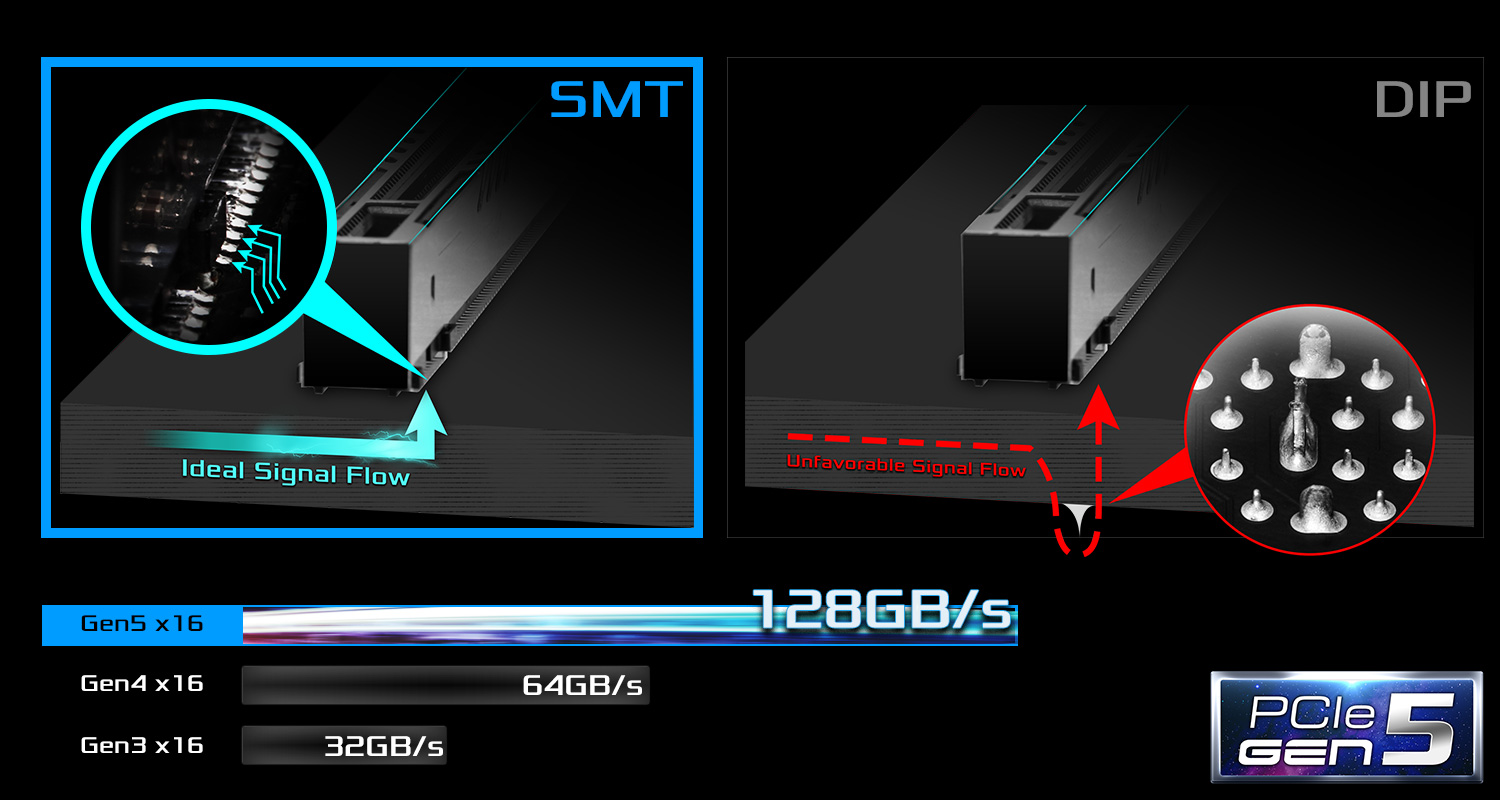 The reinforced steel slot is capable of supporting PCI Express 5.0 standard. Some of the key benefits are:
Extra anchor points
Stronger latch
Ensure signal stability
Make sure heavy graphics cards are well-installed.
Compared to conventional DIP style PCIe slots, the SMT type PCIe slot improves signal flow and maximizes stability under high speed, a key breakthrough to fully support the lighting speed of the latest PCIe 5.0 standard. The latest PCI Express 5.0 is capable of performing a breathtaking bandwidth of 128GBps.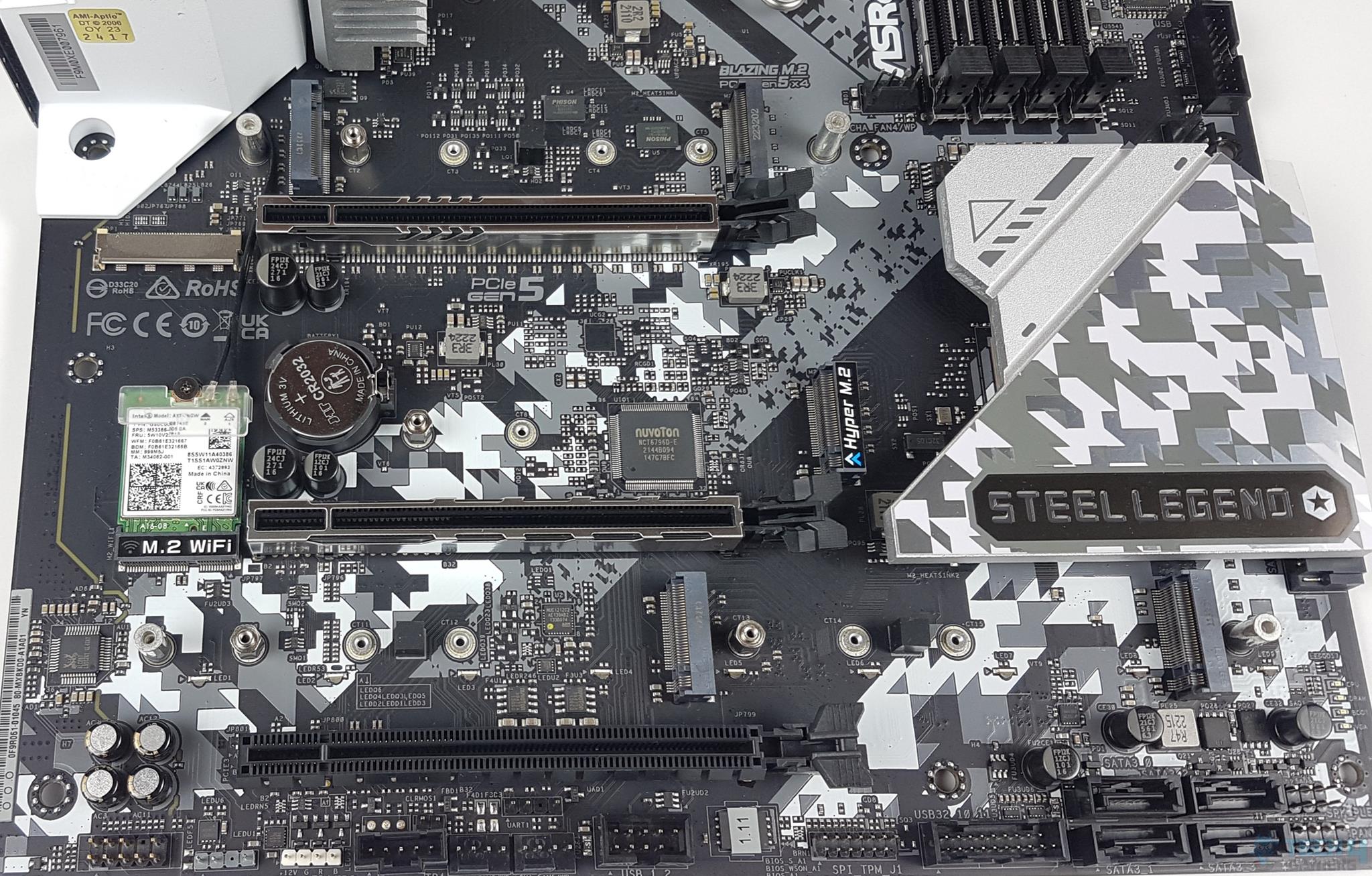 The second PCIe slot is wired to the chipset as we saw in the block diagram. It is a PCIe Gen4 x4 slot. The provision of an x4 PCIe slot is a wise design. This slot is also steel-reinforced. The last PCIe slot is a PCIe Gen3x2 slot. This is unlike what we saw on Z790 PG Riptide, where the last PCIe slot shared a bus with Intel NUC. The above picture actually provides a good glimpse of PCIe slots and M.2 ports.
Z790 Chipset
Now, it is time to take a look at the Z790 chipset area.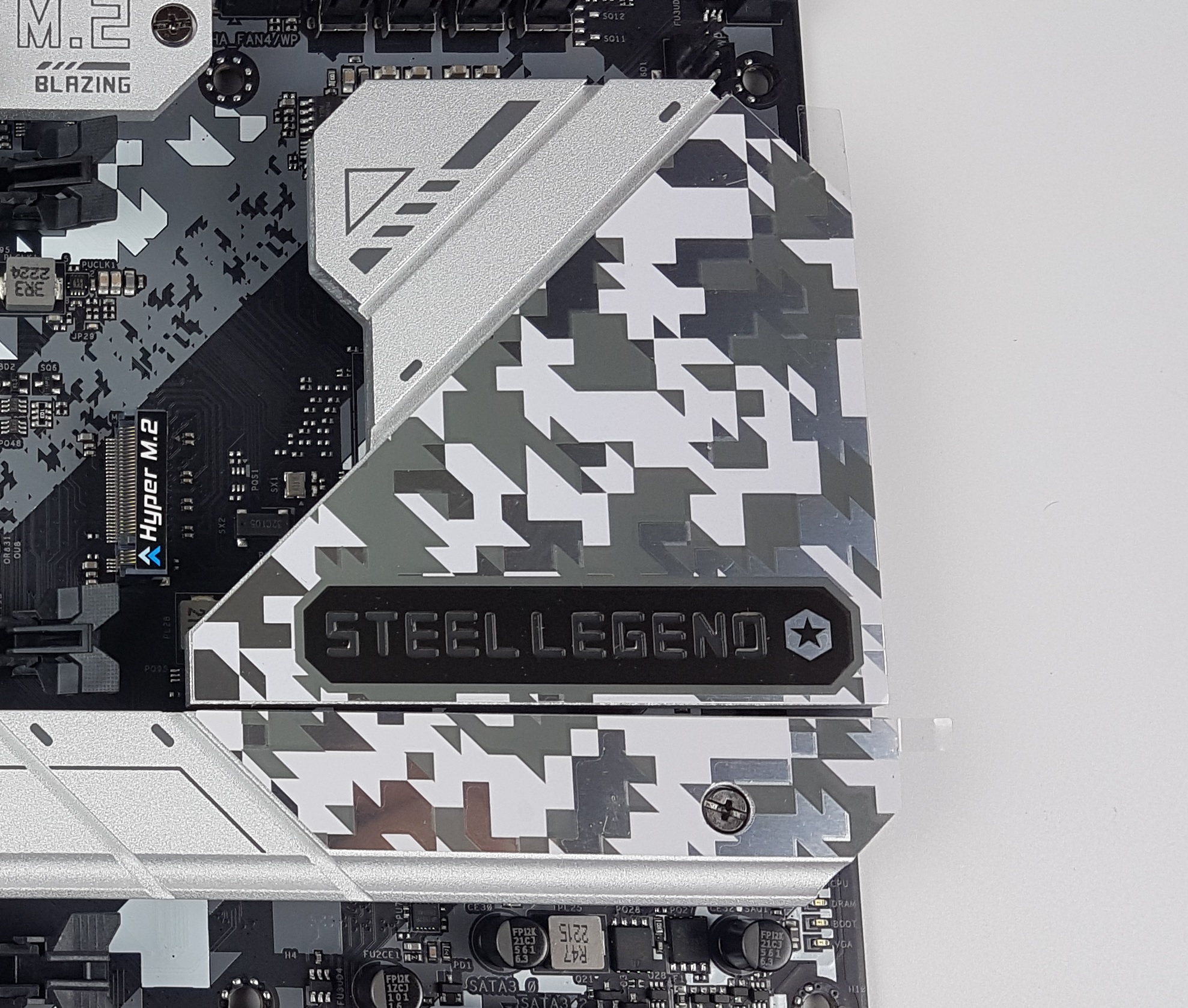 There is a stylish Cobra or Arma camouflage-themed heatsink on the chipset. This cover is made of aluminum material. One cool aspect is the provision of RGB LEDs under this cover which illuminate the bottom area. Steel Legend is written on a black color background which looks good in person. We could not remove this cover as we faced a similar issue which was with hardened screws on VRM heatsink covers.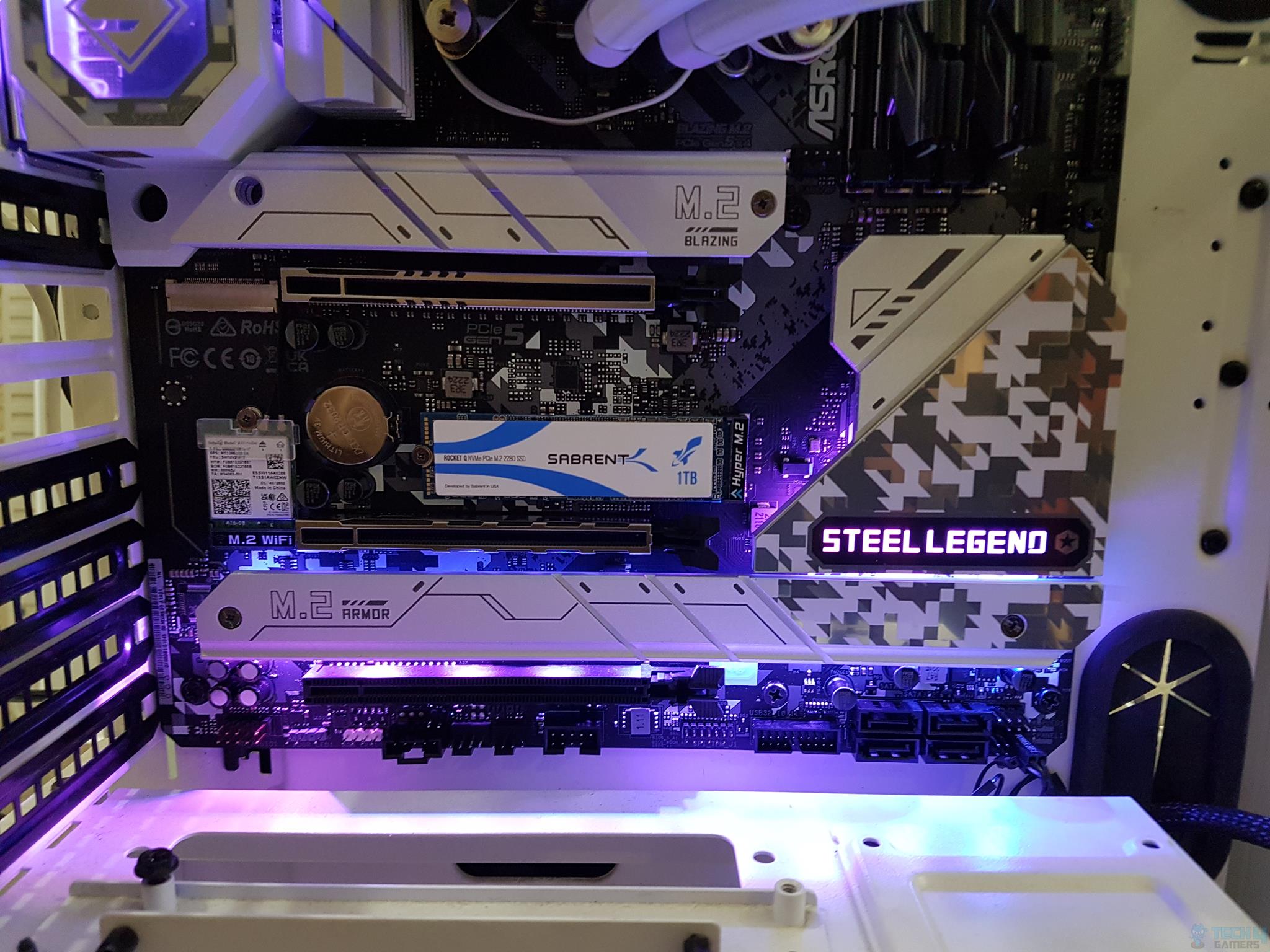 The above picture shows the RGB illumination towards the bottom section of this motherboard.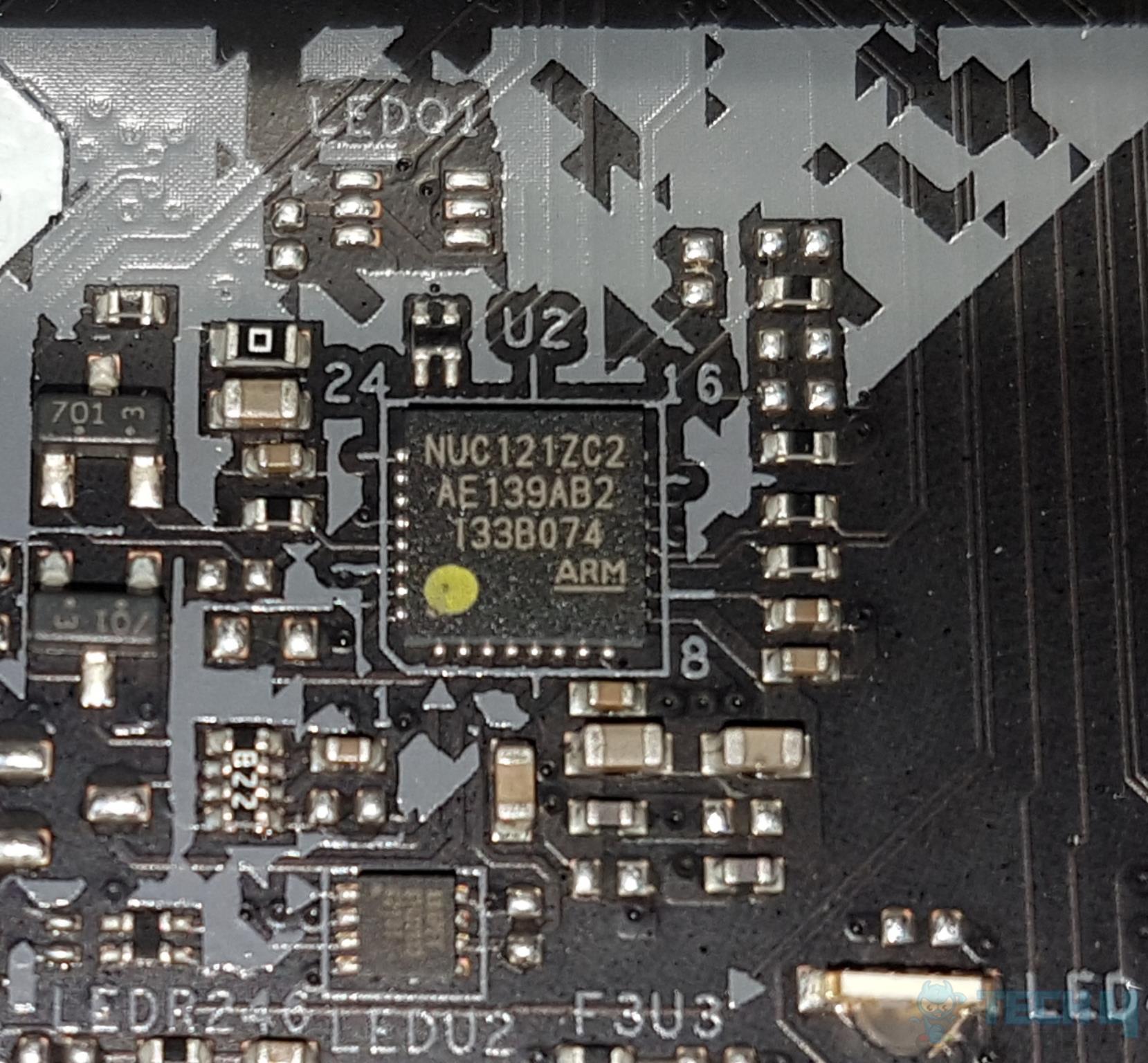 The ASRock Z790 Steel Legend is using a same controller as we saw on Z790 PG Riptide for RGB control. It has SM Bus-connected microcontroller to a Nuvoton NUC 121ZC2 ARM microcontroller connected to USB. This device is responsible for controlling the RGB illumination of the motherboard. This chip also monitors the state of the board.
Audio Solution
The audio solution on this motherboard is adequate though nothing extraordinary. It uses RealTek ALC897 codec to drive the audio solution. This is just an ok solution which could have been better in my opinion.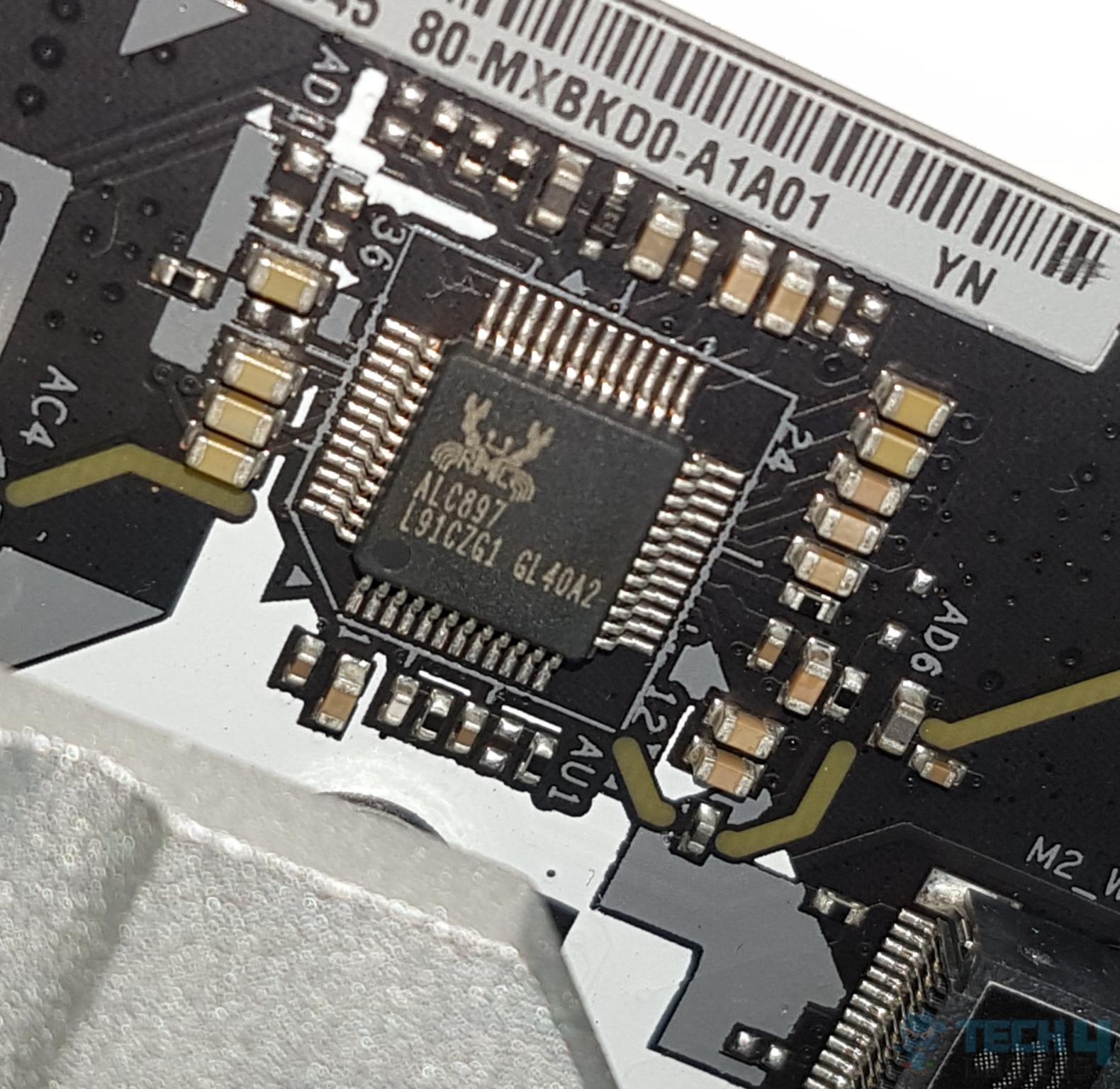 The above picture shows the main controller chip. Sorry for the blurry picture.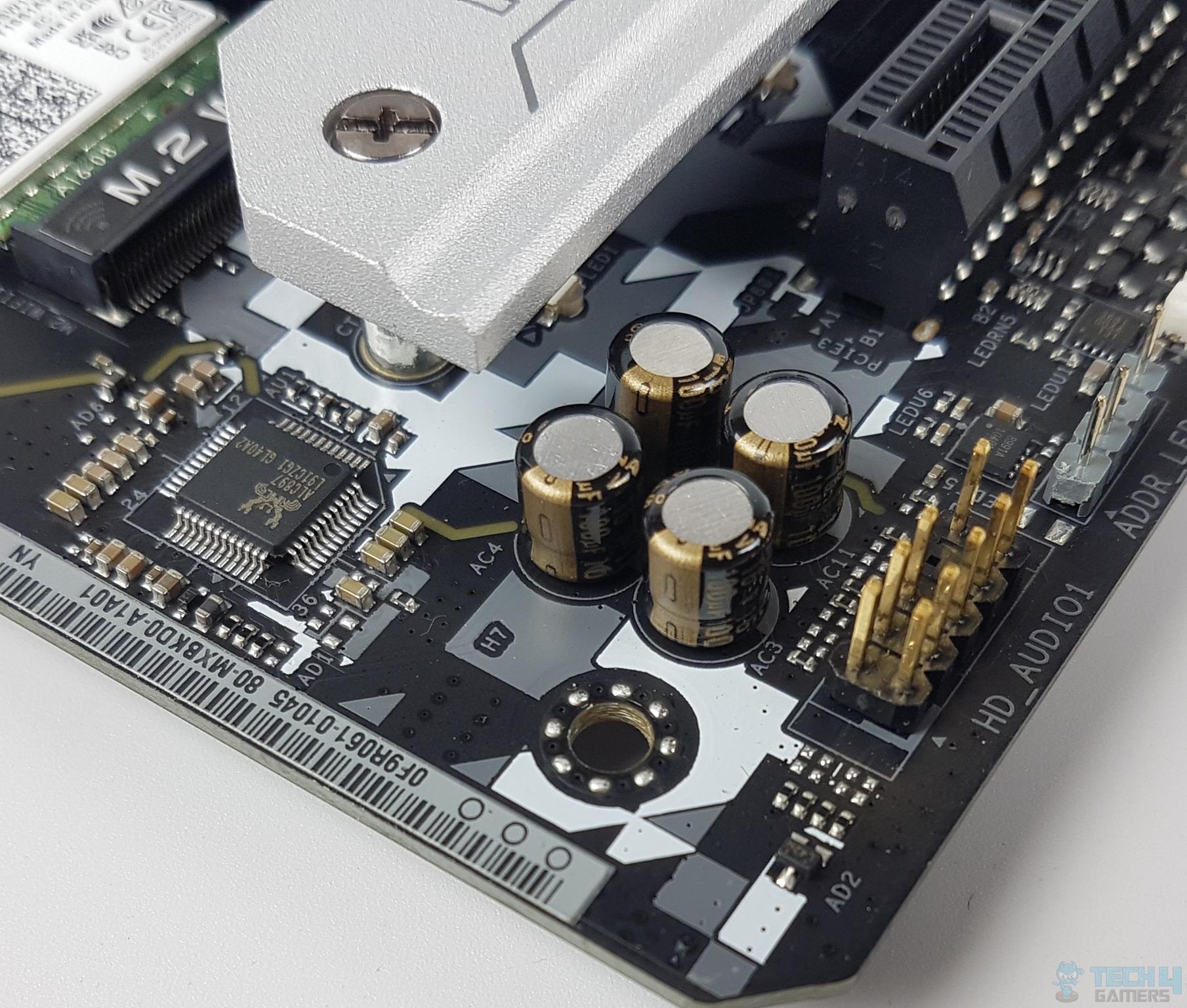 The above picture shows the well-shielded Audio circuitry. This motherboard is using 4x high-end WIMA capacitors along with Fine-Gold capacitors to drive the power of the circuit. This is not a Hi-Res Audio solution. ASRock has provided Nahimic Audio support on this motherboard which is a software-level augmentation. The pointer here is that ASRock Z790 PG Riptide and Z790 Steel Legend WiFi are using the same audio solution. There are better and upgraded audio solutions already available, though.
Networking Connectivity
We have two main areas here:
Wireless connectivity
Wired connectivity
Wired Connectivity
ASRock uses the Dragon 2.5G NUC for networking, with the main controller being the Dragon RTL8125BG. This Realtek RTL8125BG controller combines a four-speed MAC with a four-speed Ethernet transceiver, PCIe bus controller, and embedded memory. It employs advanced signal technology for high-speed transmission over various cable types.
Functions like Crossover Detection, Auto-Correction, and more ensure robust high-speed data transmission. On the back panel, there's a single RJ-45 port for wired network connectivity, providing 2.5GbE speed, which is roughly double that of 1GbE for better online gaming. The port supports 10/100/1000/2500Mbps.
Wireless Connectivity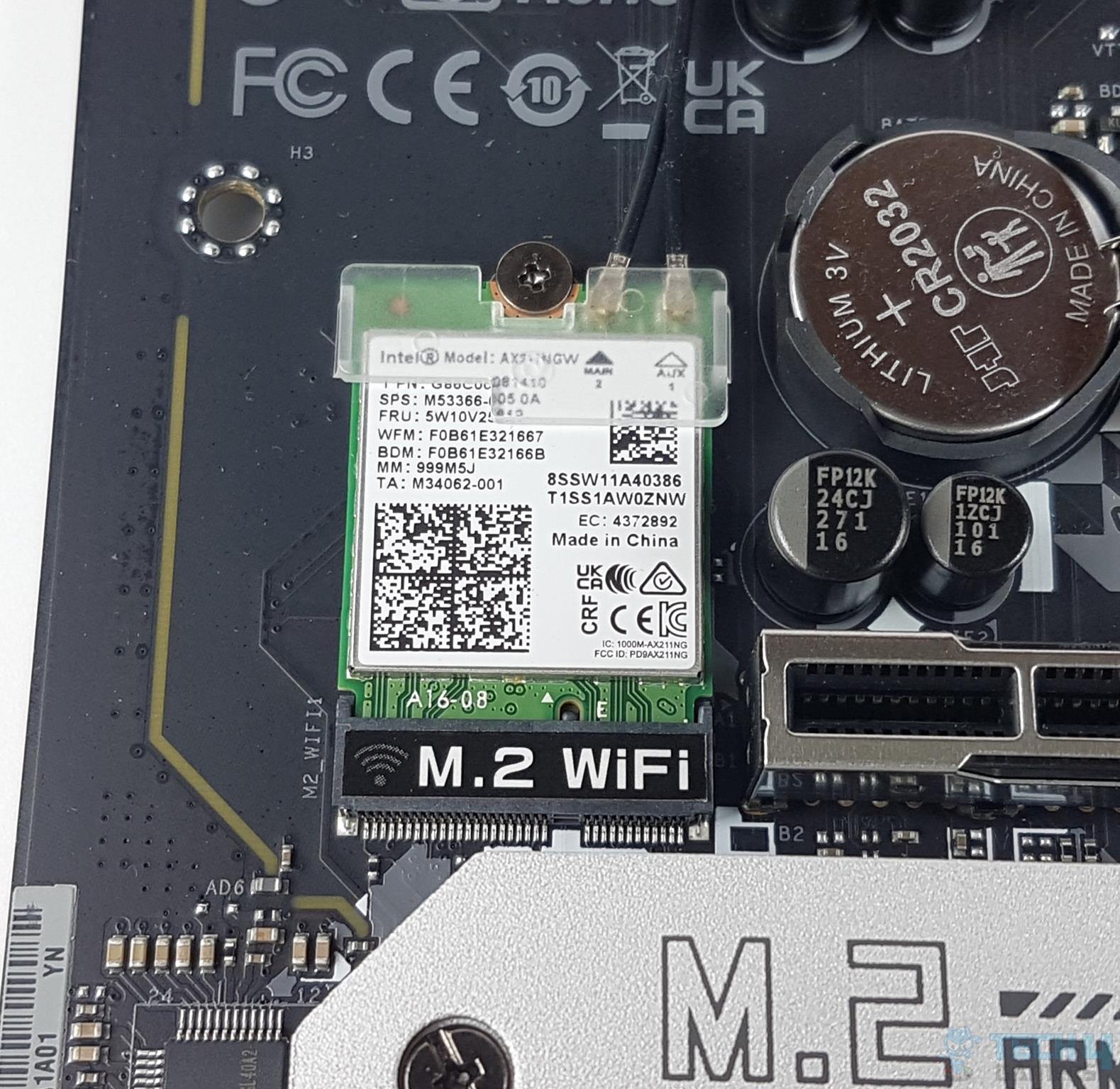 ASRock has installed a WIFI and Bluetooth module on a vertical E-Key M.2 port below the first PCIe slot. ASRock has used a simple yet effective mechanism to address loose SMA cables. SMA cable is easy to lose, and this is an unacceptable situation for users. ASRock is using a little module cap, as can be seen in the above picture, on top to address this issue. This motherboard has full WIFI and Bluetooth coverage. Some of the salient features are:
11ax Wi-Fi 6E Module
Supports IEEE 802.11a/b/g/n/ac/ax
Supports Dual-Band 2×2 with extended 6GHz band support*
2 antennas to support 2 (Transmit) x 2 (Receive) diversity technology
Supports Bluetooth + High-speed class II
Supports MU-MIMO
USB Connectivity
The complete USB connectivity is provided from the chipset:
1 x USB 3.2 Gen2x2 Type-C (Front)
1 x USB 3.2 Gen2 Type-C (Rear)
1 x USB 3.2 Gen2 Type-A (Rear)
12 x USB 3.2 Gen1 (8 Rear, 4 Front)
3 x USB 2.0 (3 Front)
We can see the plethora of USB connectivity options on this motherboard including 3 USB 3.2 Gen2 and advanced based ports. This board has USB 3.2 Gen 2×2 over Type-C interface, providing a theoretical bandwidth of 20Gbps on the front I/O panel. I wish ASRock had it installed on the Rear IO panel. This motherboard is using ASMedia USB Hubs for both USB 3.2 Gen1 Type-A ports (Front and Rear).
The motherboard has one USB 3.2 Gen Type-A and one USB 3.2 Gen2 Type-C port on the rear panel, offering up to 10Gbps bandwidth. These likely use ASM3042 hubs, bridging PCIe to USB 3.2. They should comply with USB 3.2 and Intel eXtensible Host Controller Interface specs, but I couldn't confirm due to the Rear IO cover.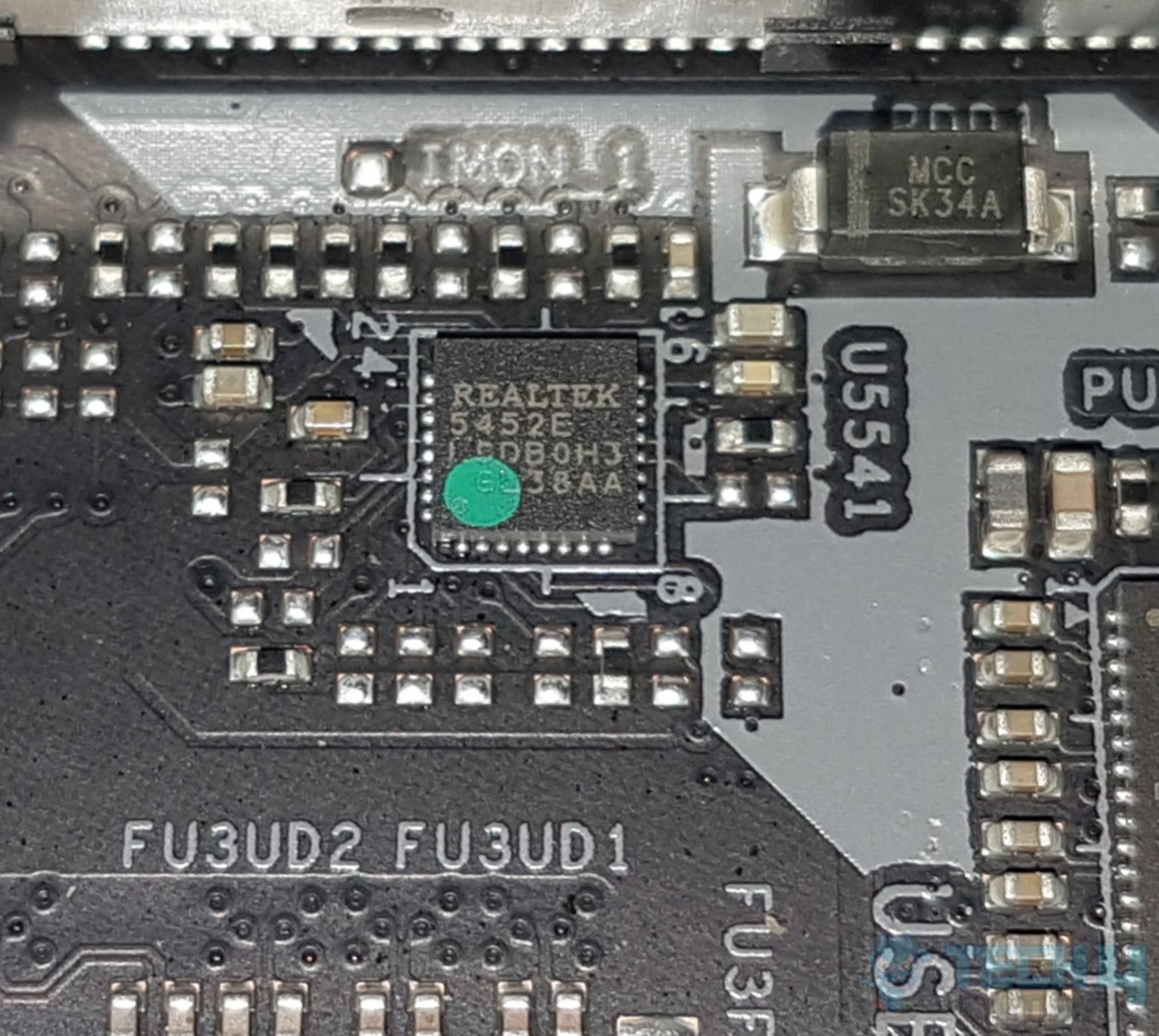 ASRock uses the RealTek RTS5452E, an advanced Type-C Power Delivery Controller. It handles various functions like Type-C Channel Configuration, Power Delivery features, AUX/HPD detection, and more. It also supports new PD3.0 features like Fast Role Swap, Extended Message transmission, and PD firmware updates, making it versatile for different tasks.
Internal Connectors
It is time to take a look at the internal connectors and see what options are there in the ASRock Z790 Steel Legend WiFi motherboard.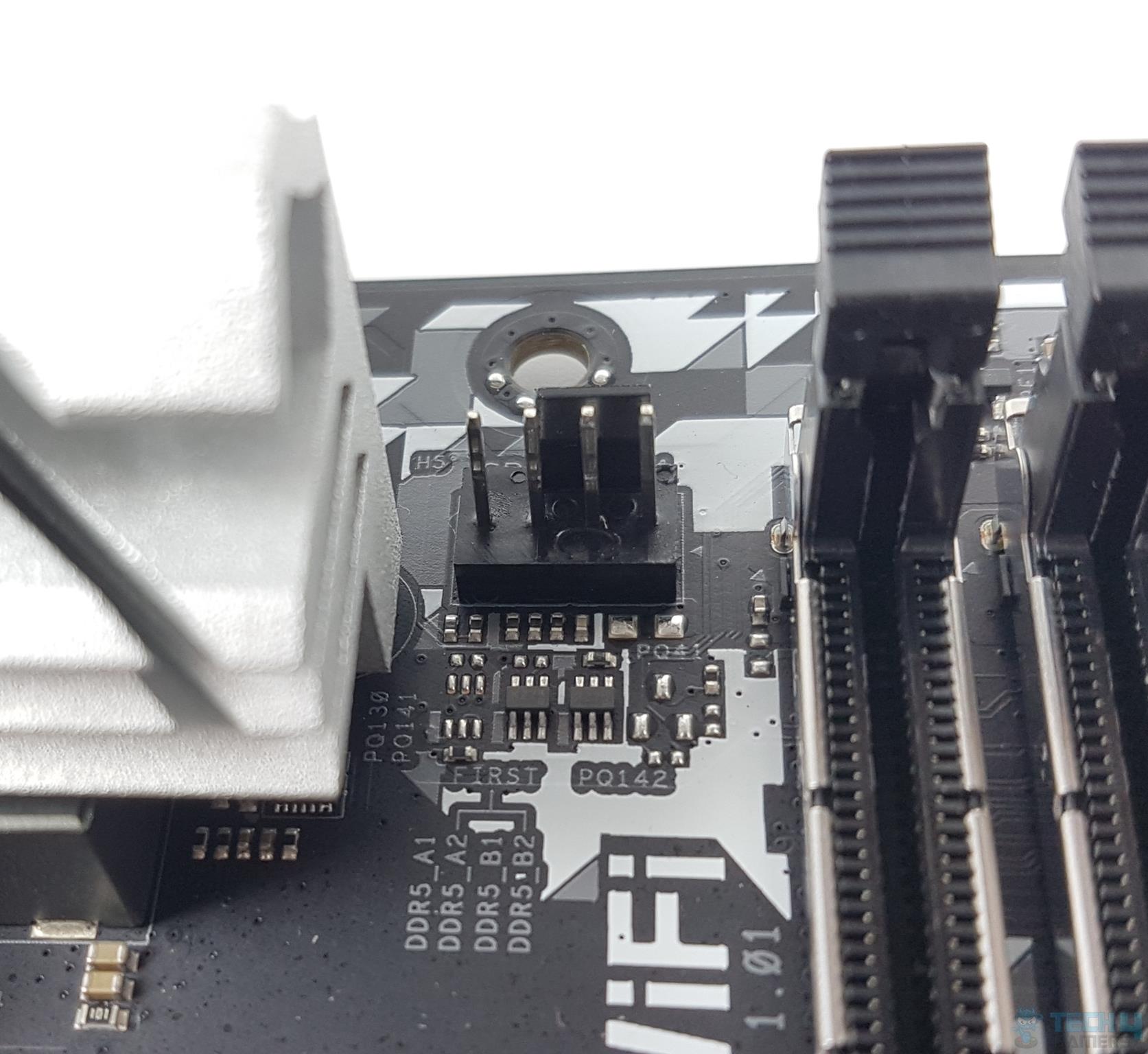 There is a 4-Pin PWM CPU FAN Header above the socket area. It is rated for up to 1A at 12VDC, making its power draw 12W.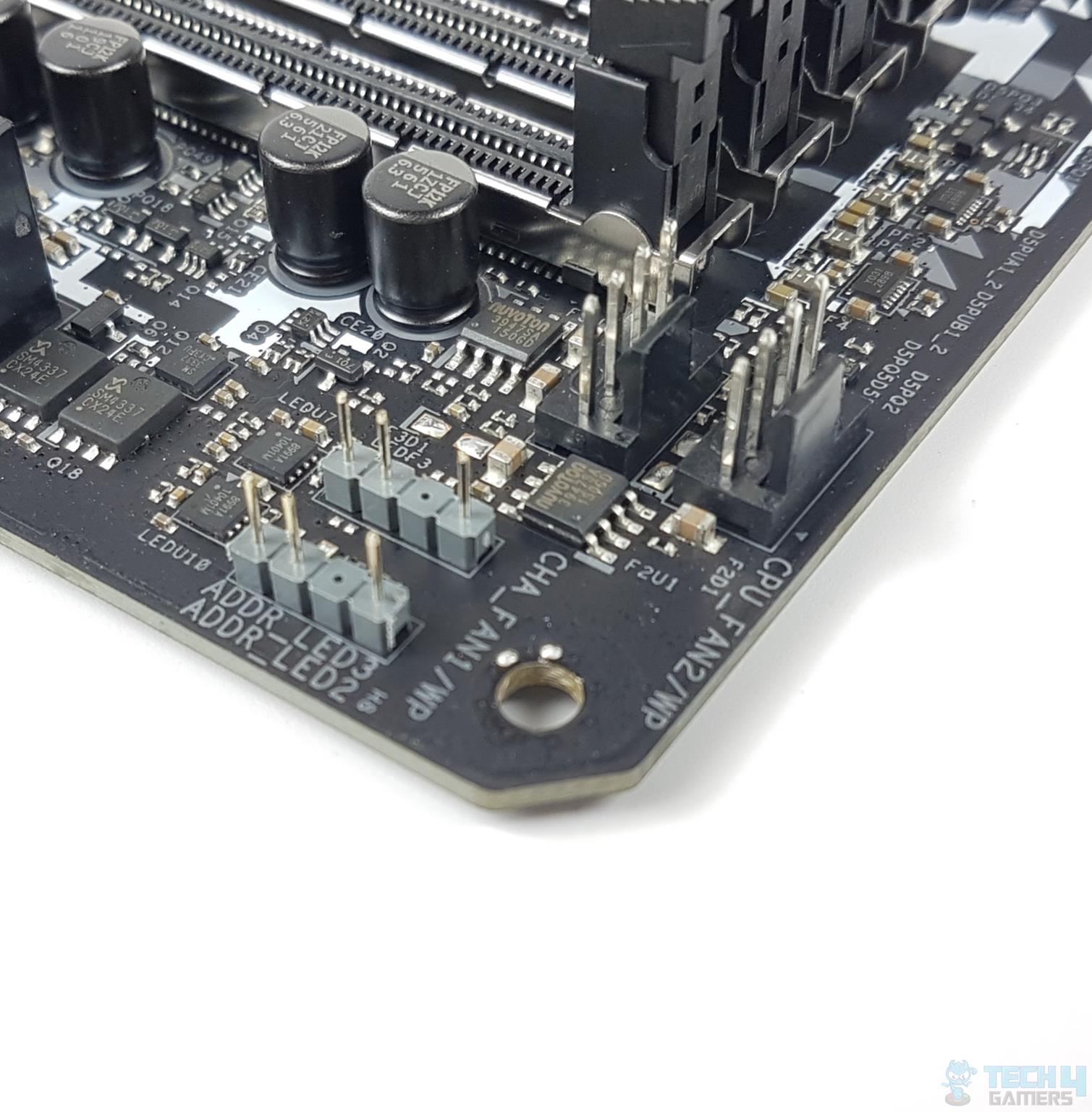 There's a second CPU Fan/Water Pump header rated at 2A/24W on the motherboard's top. There's also a 4-pin PWM Channel Fan header with the same rating. The motherboard features a 4-pin RGB port supporting 12V/3A (36W) and a 3-pin A-RGB port supporting 5V/3A (15W). Among the 7 fan headers, only CPU_FAN2/WP and CHA_FAN1 to CHA_FAN4 can detect fan types (PWM or DC), but surprisingly, CPU_FAN1 lacks this feature. ASRock utilizes the Nuvoton 3947S controller for PWM fan/pump headers.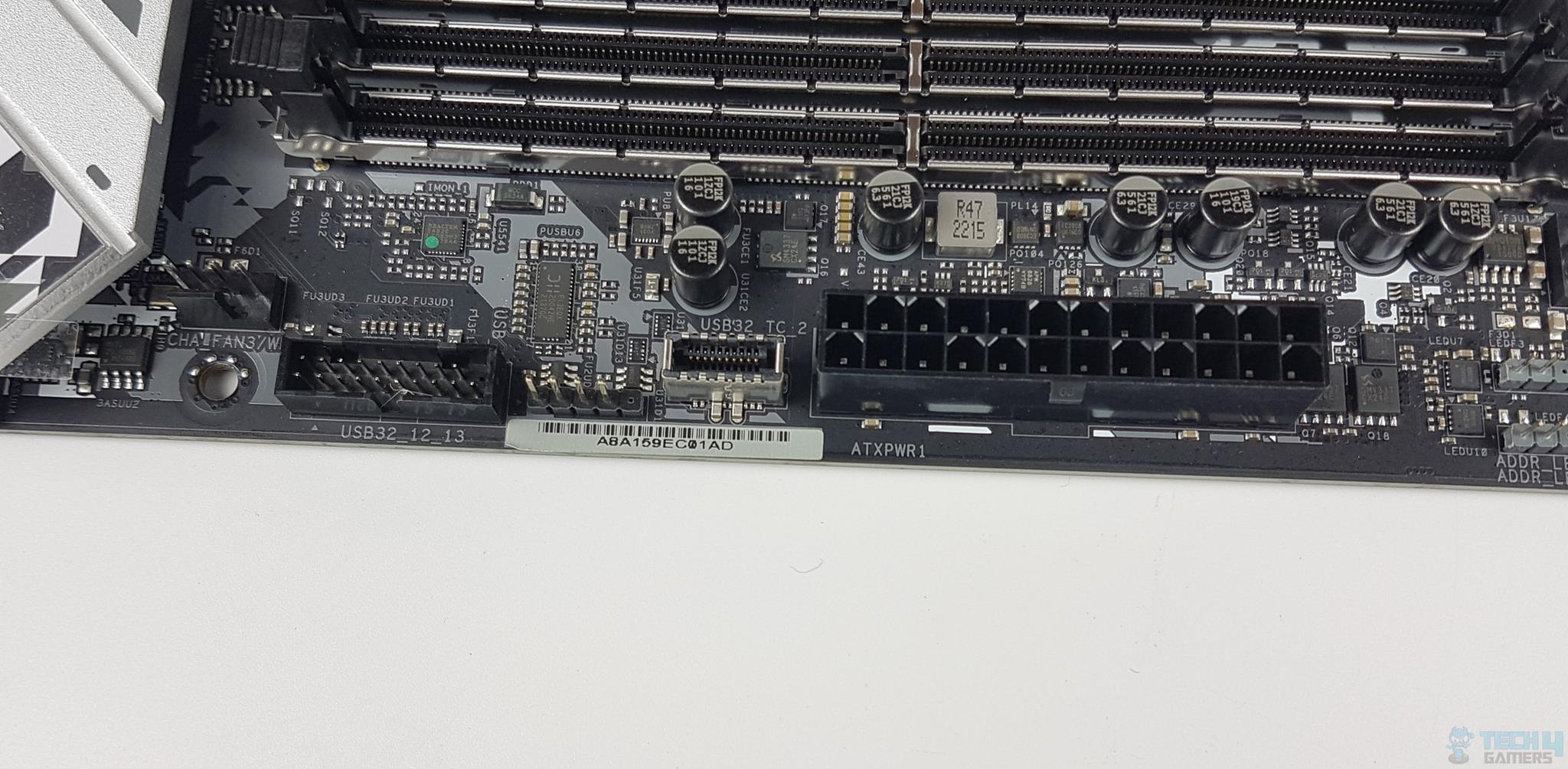 Next, we have:
A 24-Pin ATX Connector
2 Gen2x2 Front Panel Connector
CHA_FAN3/WP
2 Gen1 Header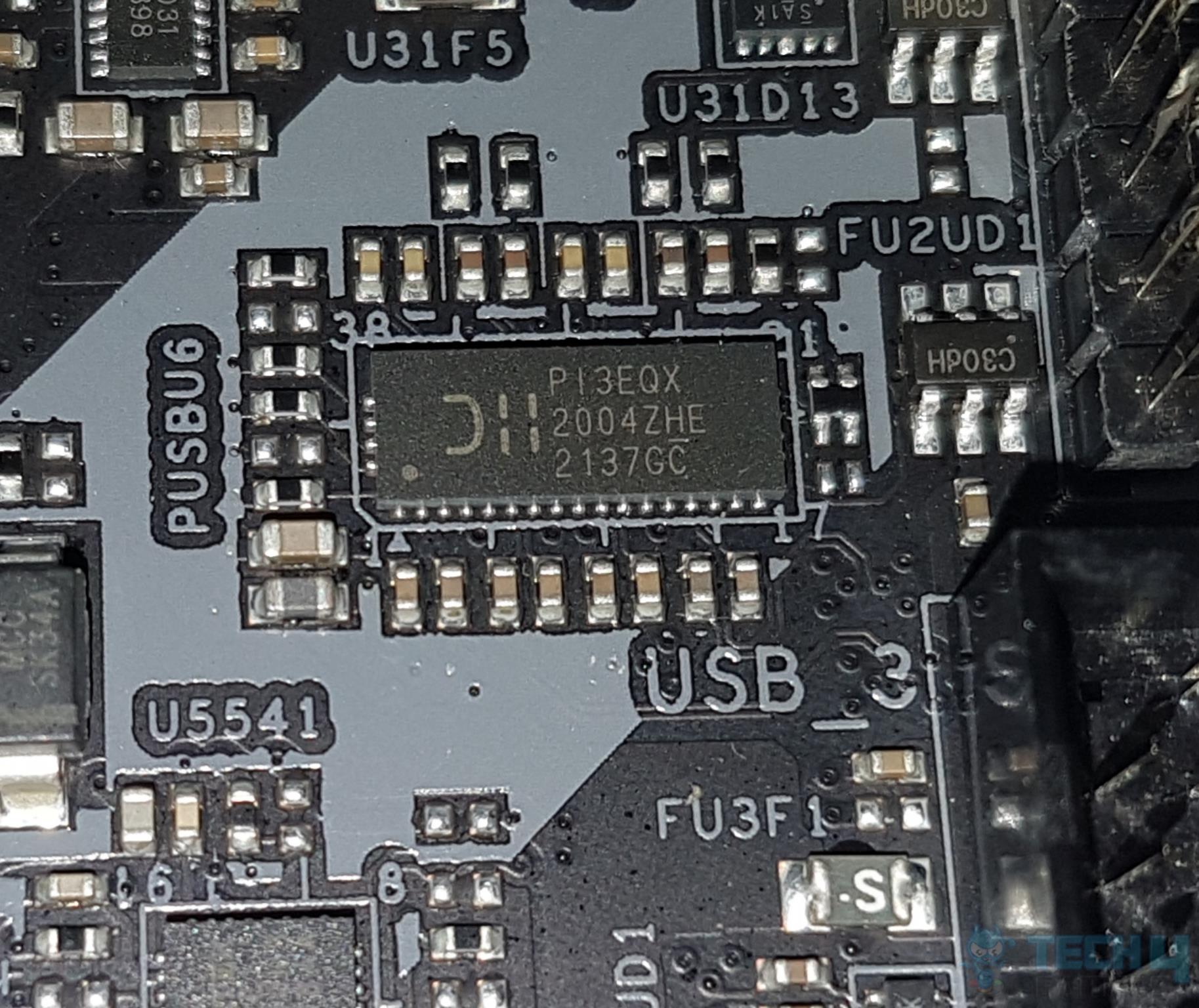 The PI3EQX2004ZHE handles the USB Type-C 3.2 Gen2x2 port. ASRock has implemented this connector for the front panel connectivity.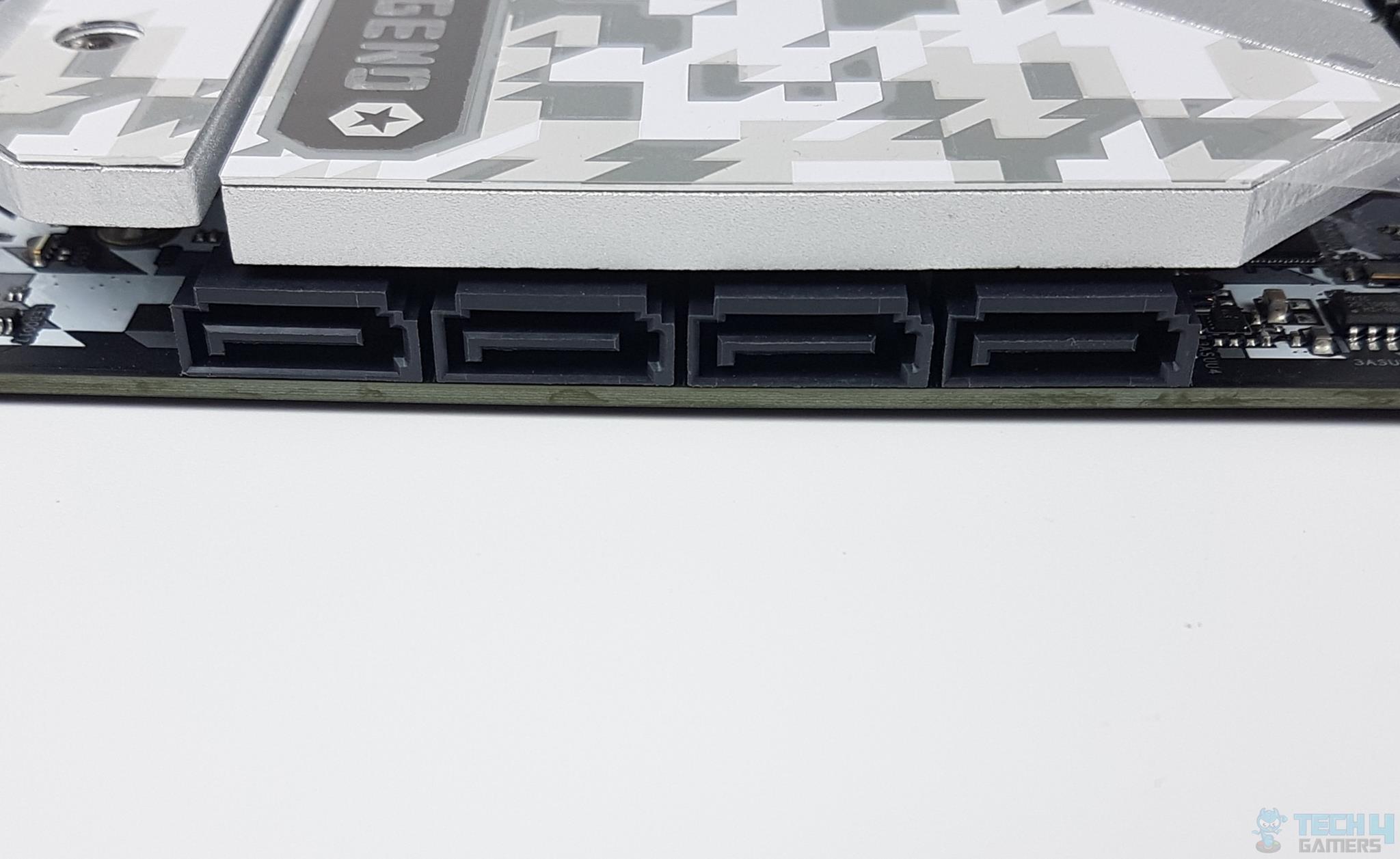 Next, down the line, we have 4x SATA 6Gbps ports wired directly to the Chipset.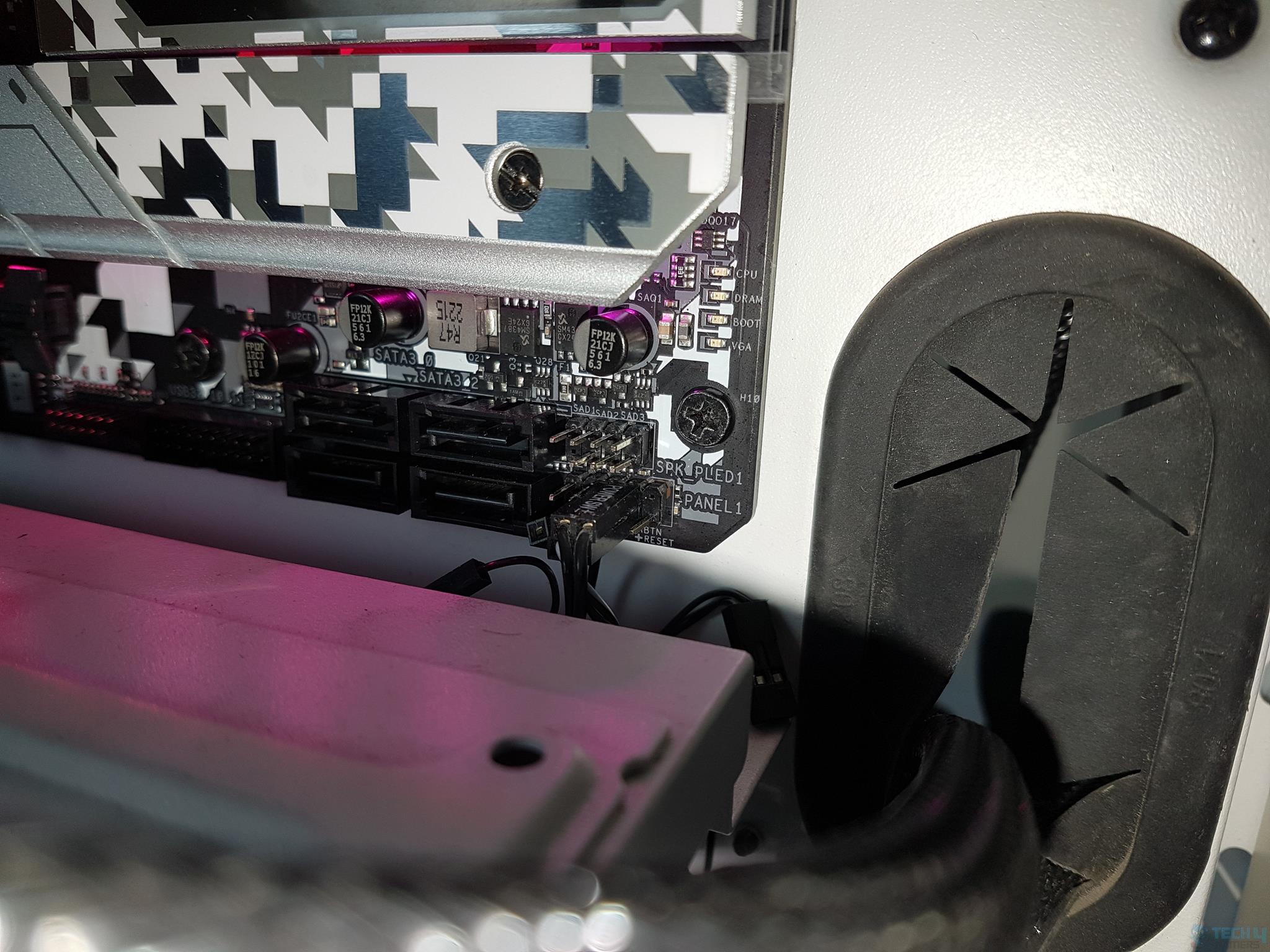 ASRock has provided 4x LEDs to troubleshoot the issues should one encounter. These are for the VGA, CPU, BOOT, and DRAM. They provide additional troubleshooting aid to the. In case of an issue, the corresponding LED will remain lit until the issue is resolved. There is no Debug LED on this board. ASRock has named these as Post Status Checkers.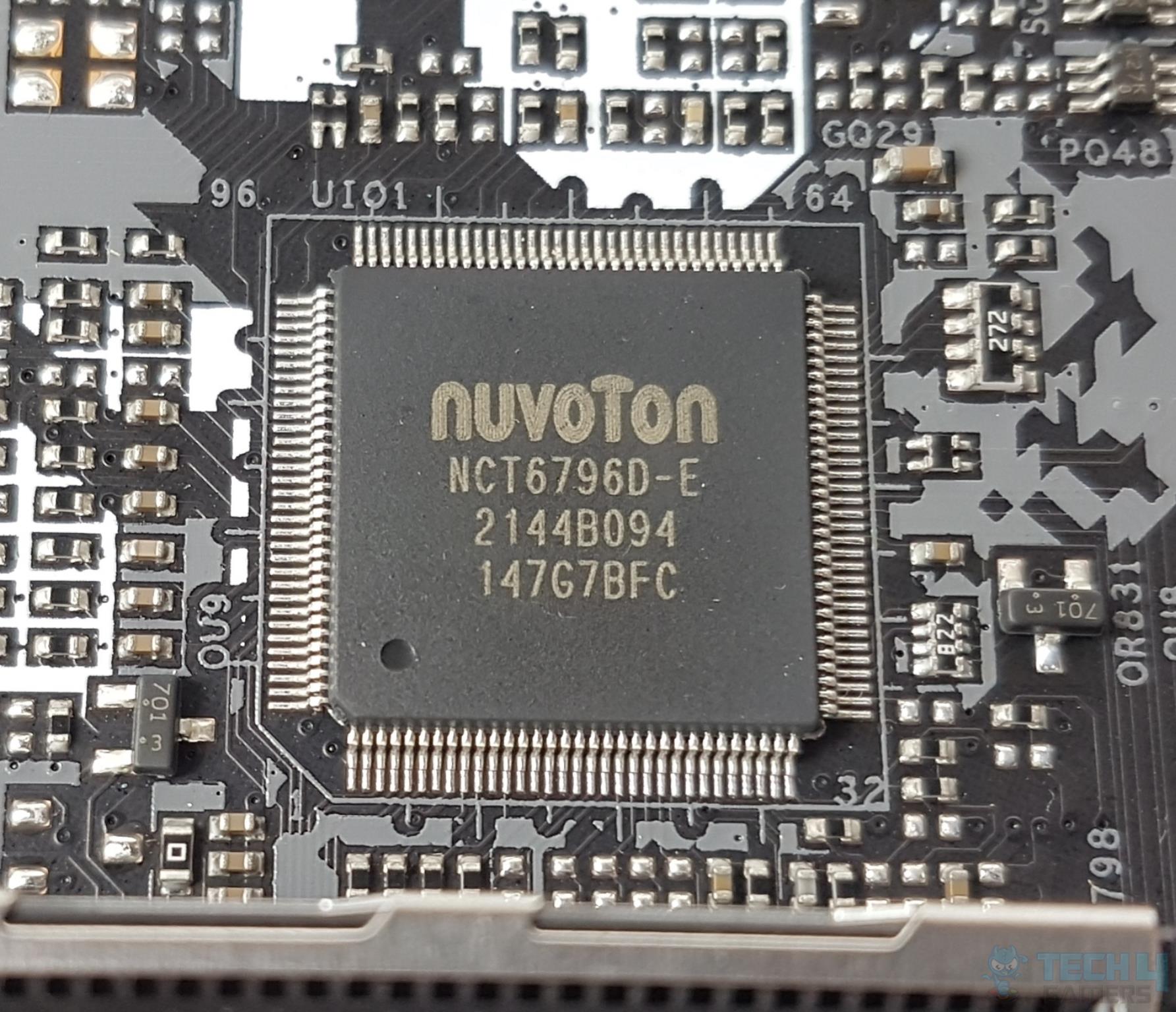 ASRock has used Nuvoton NCT6796D-E controller. The NCT6796D-E is a member of Nuvoton's Super I/O series and capable of monitoring critical parameters in PC hardware, including power supply voltages, fan speeds, and temperatures. The NCT6796D-E provides both high-accuracy current mode sensing and low-cost thermistor mode sensing. It also supports Nuvoton's SMART FANTM I and SMART FANTM IV algorithms for fan speed control.
The NCT6796D-E supports both LPC & eSPI interfaces to communicate with chipsets. The NCT6796D-E implements Intel® PECI, AMD® SB-TSI interface, Intel® S0iX glue logic, and Port 80 diagnostic messages on both LPC & eSPI interface. This is the main IO controller chip on this motherboard.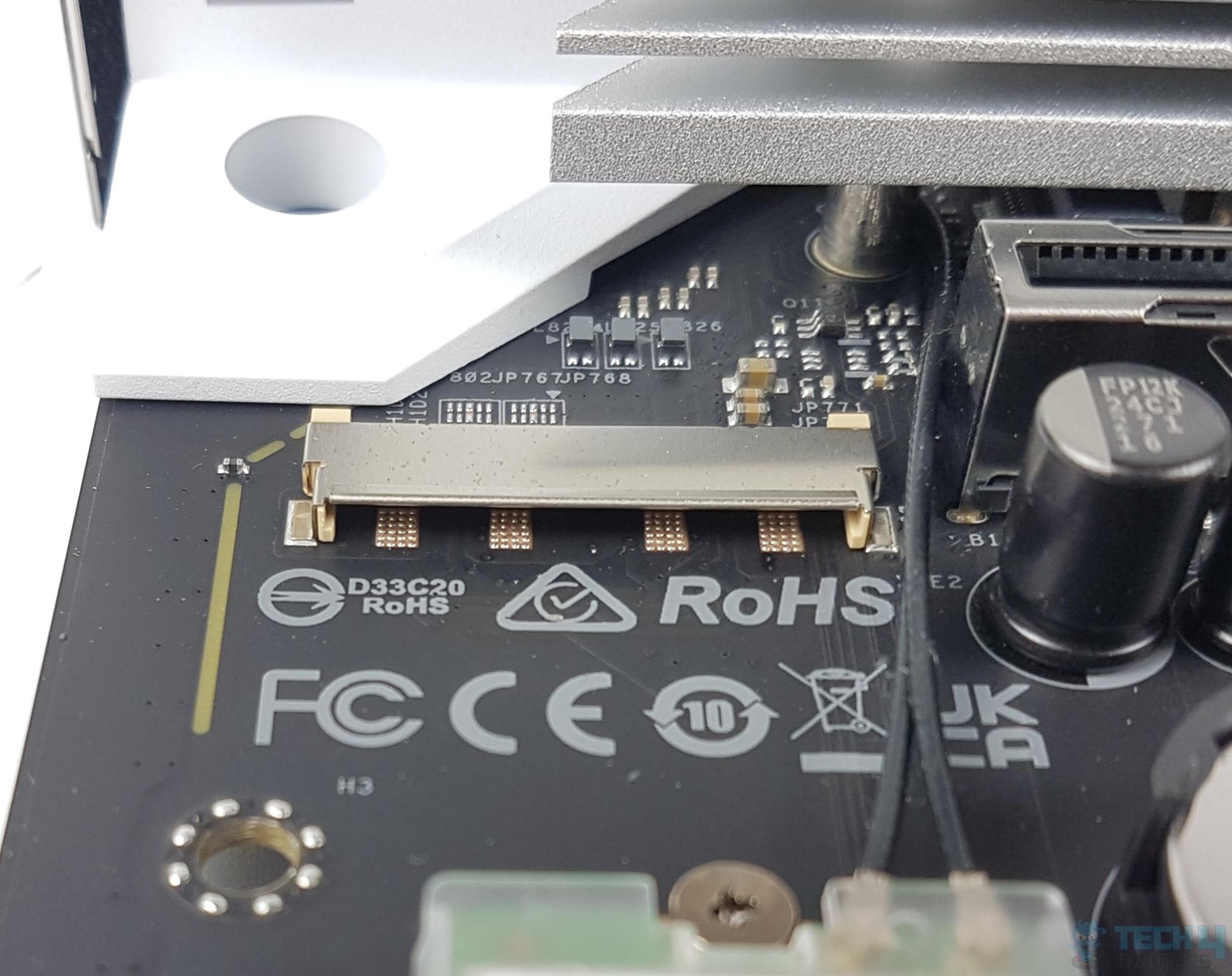 ASRock has installed an eDP signal connector. This connector is not provided on every motherboard. It performs two functions simultaneously. These are the power and transmission of digital display signals. This is specifically done for ASRock 13.3" Side Panel kit, which would come in handy to house a 13.3" size panel in your PC Case to show various variables with a live feed from sensors. The users also use this screen for streaming, watching videos, etc.

At the bottom of the motherboard, starting from the right, we've got Speaker and front panel connectors stacked. Then, we've got 4 additional SATA 6Gbps ports, bringing the total to 8. Next is a USB 3.2 Gen1 connector, followed by a 13-pin Trusted Platform Module (TPM) connector on the SPI bus. We also have a single USB 2.0 header, so plan your devices accordingly.
There are two 4-pin PWM fan/water pump headers and a Clear CMOS jumper located above the Thunderbolt header. These are followed by a 4-pin 12V RGB header and a 3-pin 5V digital RGB header. At last, there is a Front Panel Audio header.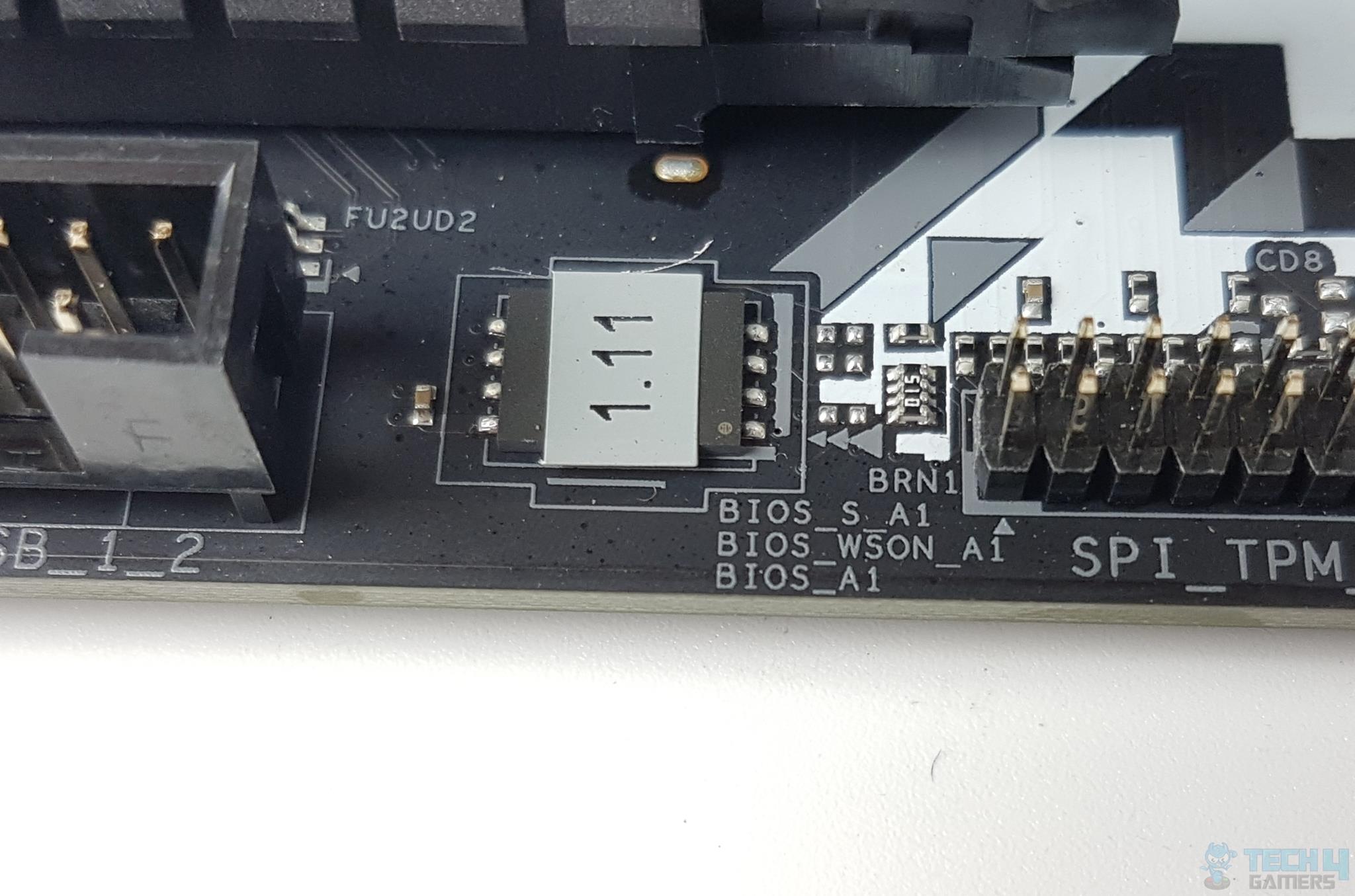 ASRock is using a single 256Mb AMI UEFI Legal BIOS with GUI support.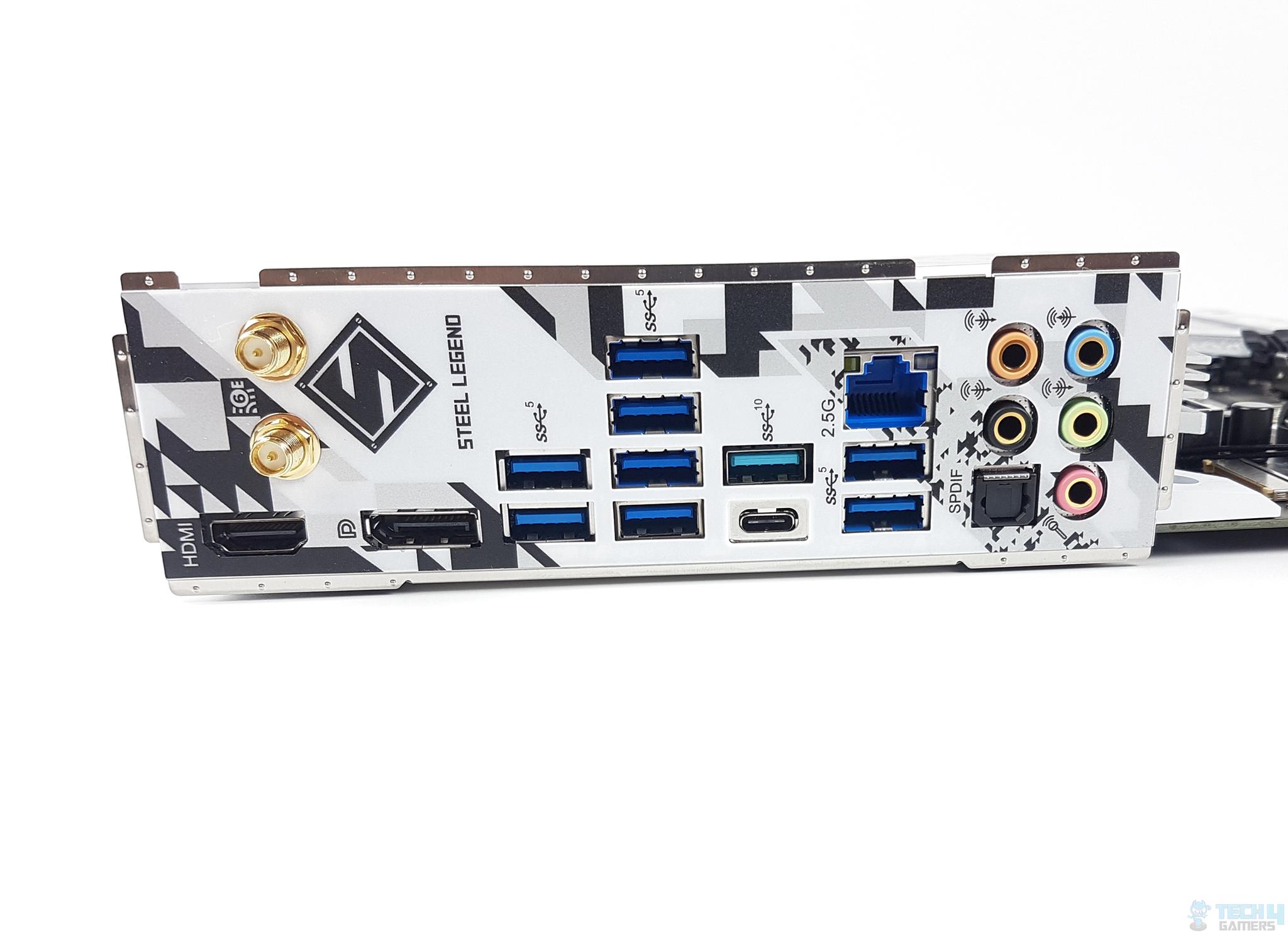 The motherboard offers various connectivity options, including HDMI, DisplayPort, optical SPDIF, USB 3.2 Gen2 Type-A, and Type-C ports, numerous USB 3.2 Gen1 ports, RJ-45 LAN, and a comprehensive set of gold-plated HD audio jacks.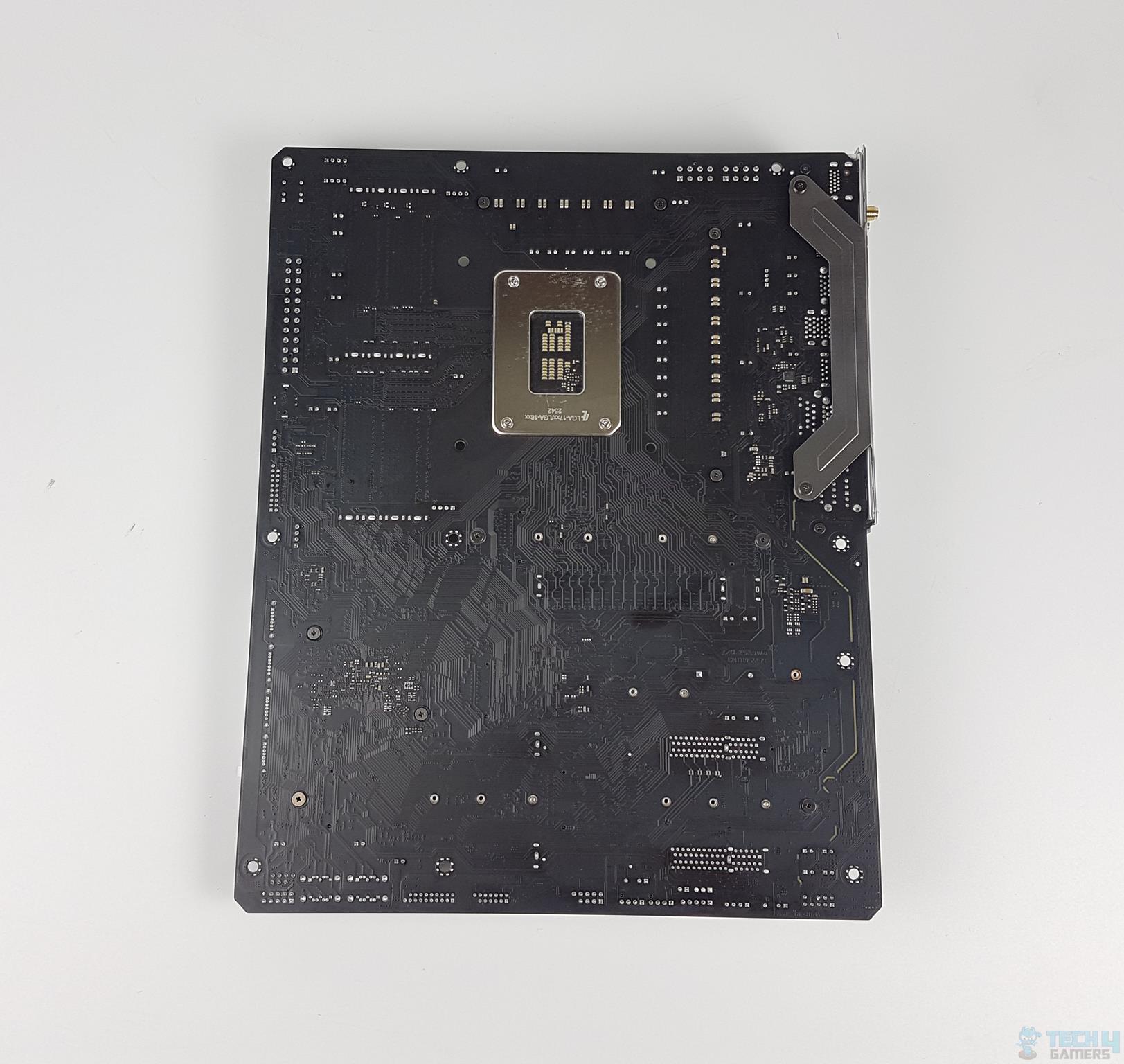 The above picture shows the backside view of the motherboard.
UEFI/BIOS and Software
So far, we have twice covered the UEFI BIOS of ASRock from Intel and AMD platforms. This is why we won't be covering in-depth details in this article. ASRock has provided a user-friendly BIOS GUI in terms of simplicity of the layout, combining the related settings under one head. We updated the BIOS to its latest at the time of testing.
Now that we have covered the UEFI/BIOS and Software, It is time for actual testing of the ASRock Z790 Steel Legend WiFi motherboard and results.
Test Setup
We have used this configuration to measure the performance of this motherboard:
Microsoft Windows 11 x64 Pro 22H2 is used for all the testing. Nvidia 527.56 drivers are used for graphics card testing. HWInfo64 is used to monitor sensors during testing. To learn more about how we test different components, check out the following guides:
CPU-Z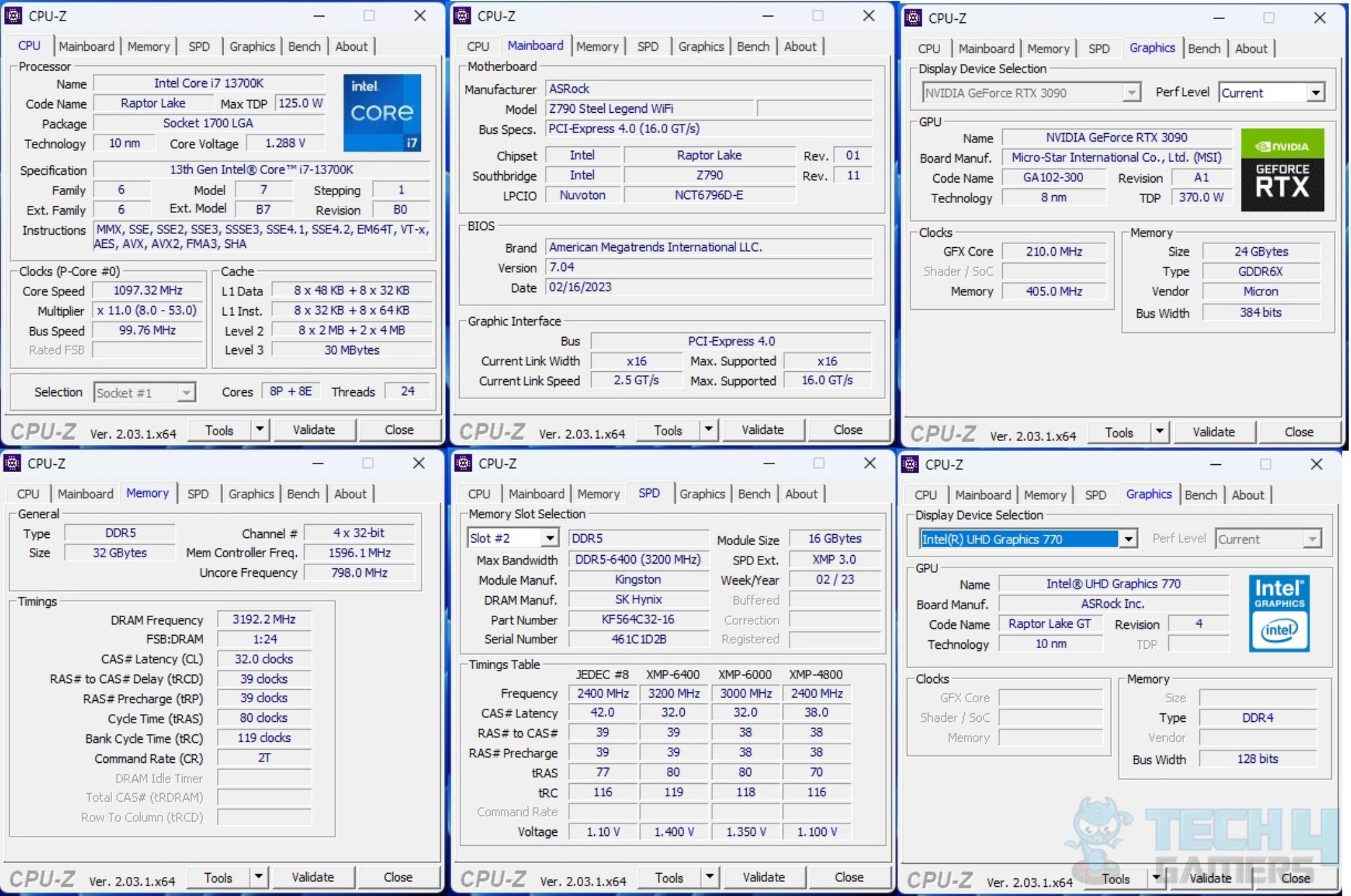 The above is run from CPU-Z software.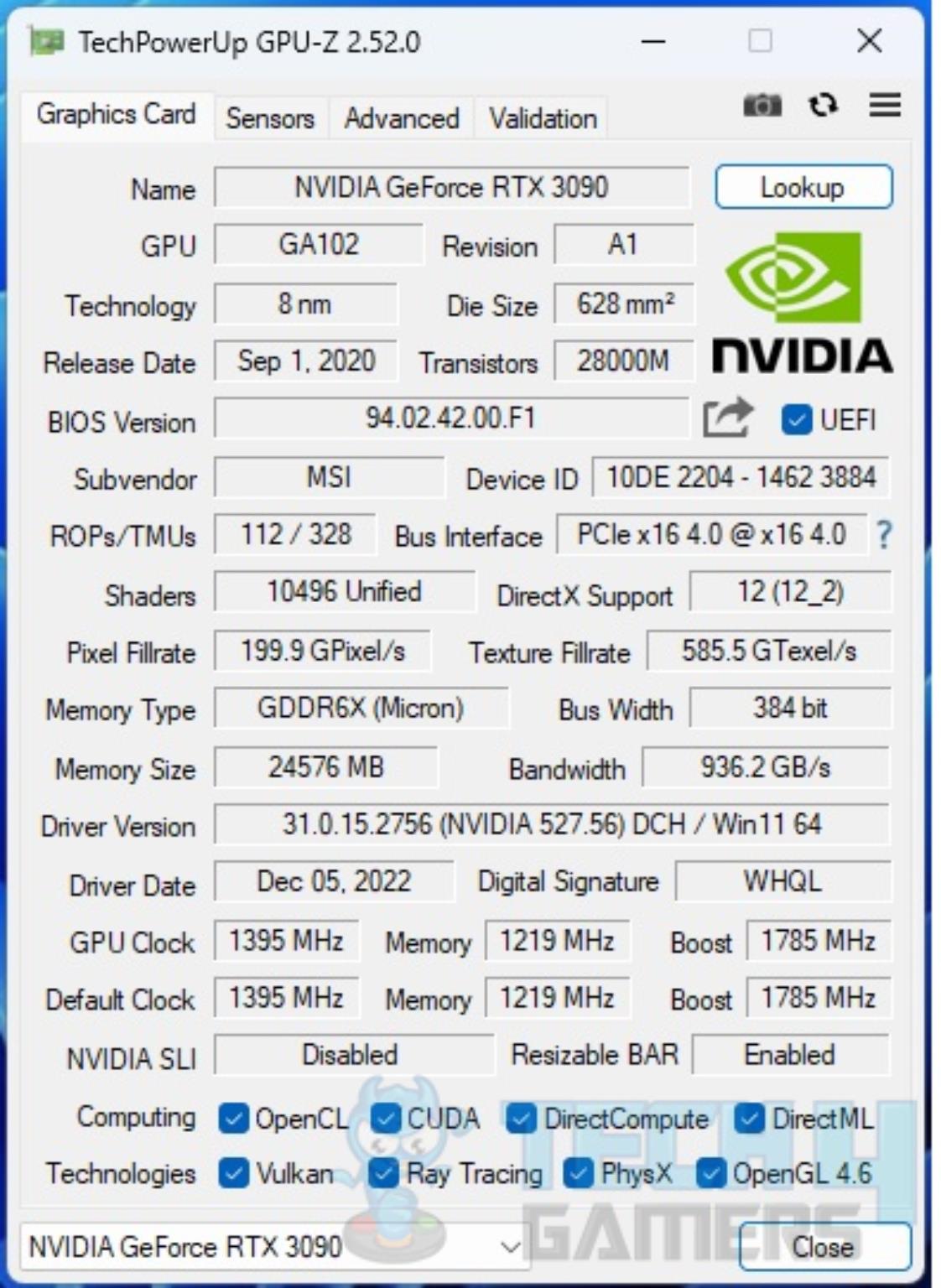 The above picture shows a GPU-Z run on MSI GeForce RTX 3090 Gaming X Trio 24G.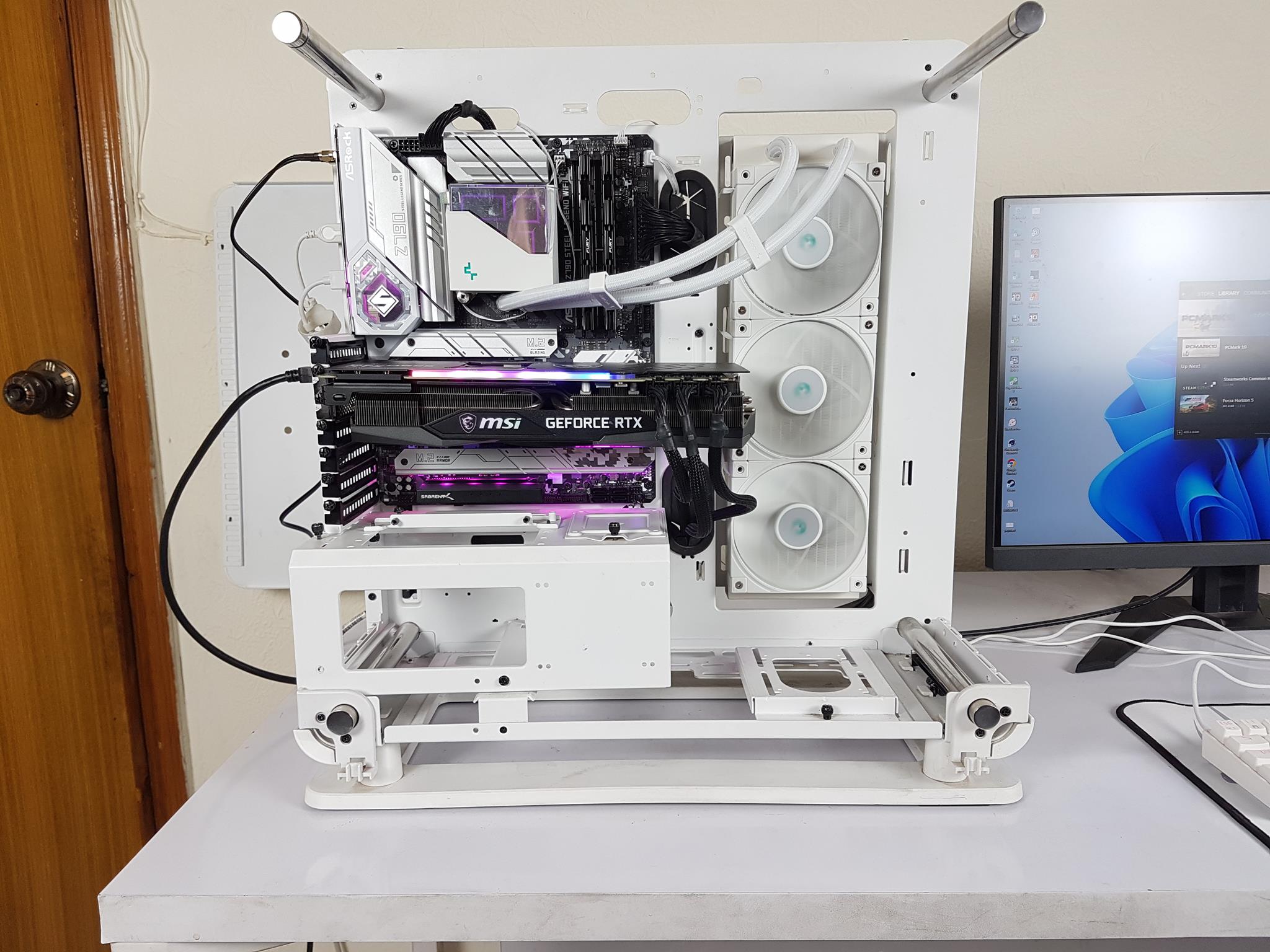 The above is a picture of the assembled PC for this testing.
RGB Lighting
The ASRock Z790 Steel Legend WiFi motherboard features stunning and vivid RGB lighting onboard. The Rear IO shroud has RGB LED backlighting. The second zone is the Chipset cover featuring this lighting. Besides, this motherboard has 3x 5V digital RGB headers and a 12V RGB header. The game is strong when it comes to RGB lighting and the Polychrome sync app. Here are a few pictures:
Overall System Performance
The following tests were conducted to judge the overall system performance.
CPU and Memory Performance
The following tests were conducted to gauge the CPU and Memory performance.
CPU and Memory Performance
Storage Performance
We have tested storage performance using PCIe Gen3x4 NVMe SSD and USB3.2 Gen2 (10Gbps) drives.
PCIe/Gaming Performance
Here is how we analyzed the PCIe/Gaming Performance.
Clocks Behavior
It is time to take a look at the clock behavior on the Intel Core i7 13700k on ASRock Z790 Steel Legend WiFi and see if the motherboard can handle this CPU. Hint: we already have seen the performance metrics from this CPU above. P-Cores on Intel Core i7 13700k have a base clock of 3.40GHz and a boost clock of 5.30GHz. E-Cores have a base clock of 2.50GHz with a maximum boost clock of 4.2GHz. The Maximum Turbo Frequency is 5.40GHz (on any core or two cores), depending on the load type. We needed to see if this CPU maintains these clocks on the ASRock Z790 Steel Legend WiFi motherboard.
But first, we checked for clocks when the system idles for 10 minutes or more.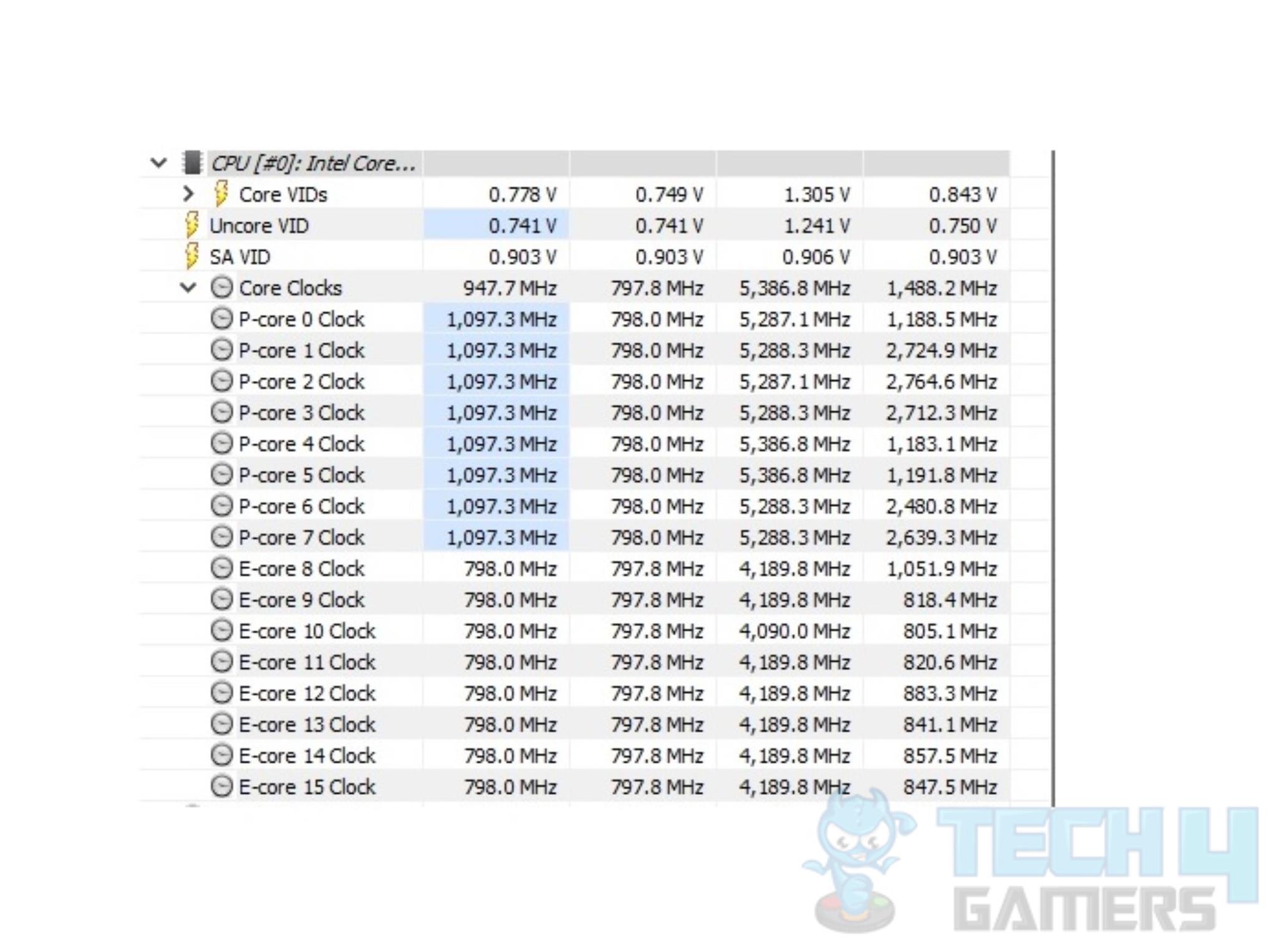 We can see that the lowest clock on any core is 797.8MHz. In fact, all cores were sitting in this range at system idle. There is also a hint of 5.3GHz (5.288 GHz) and 5.4GHz (5.386GHz) from this picture.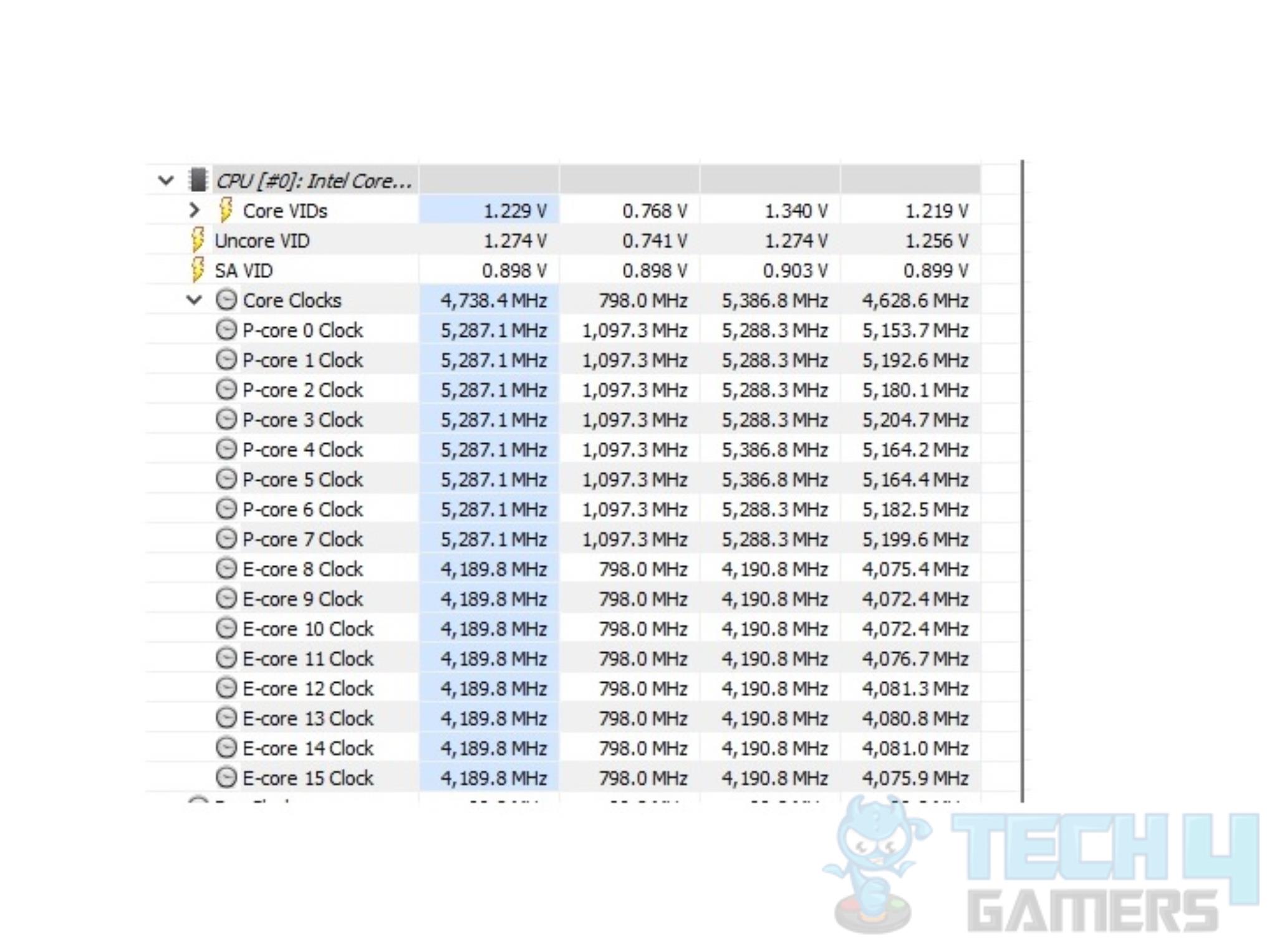 We can see from the above picture that the CPU has 5.288GHz (approximately 5.3GHz) on P-Cores and 4.190GHz (approximately 4.2GHz) on E-Cores. These clocks are due to 99.8MHz on Bus Clock. The boost clocks on P-Cores and E-Cores are verified using a CINEBENCH R23 Multi-Core load run of 30 minutes. The Intel Core i7 13700k is operating at its intended or rated speeds on the ASRock Z790 Steel Legend WiFi motherboard.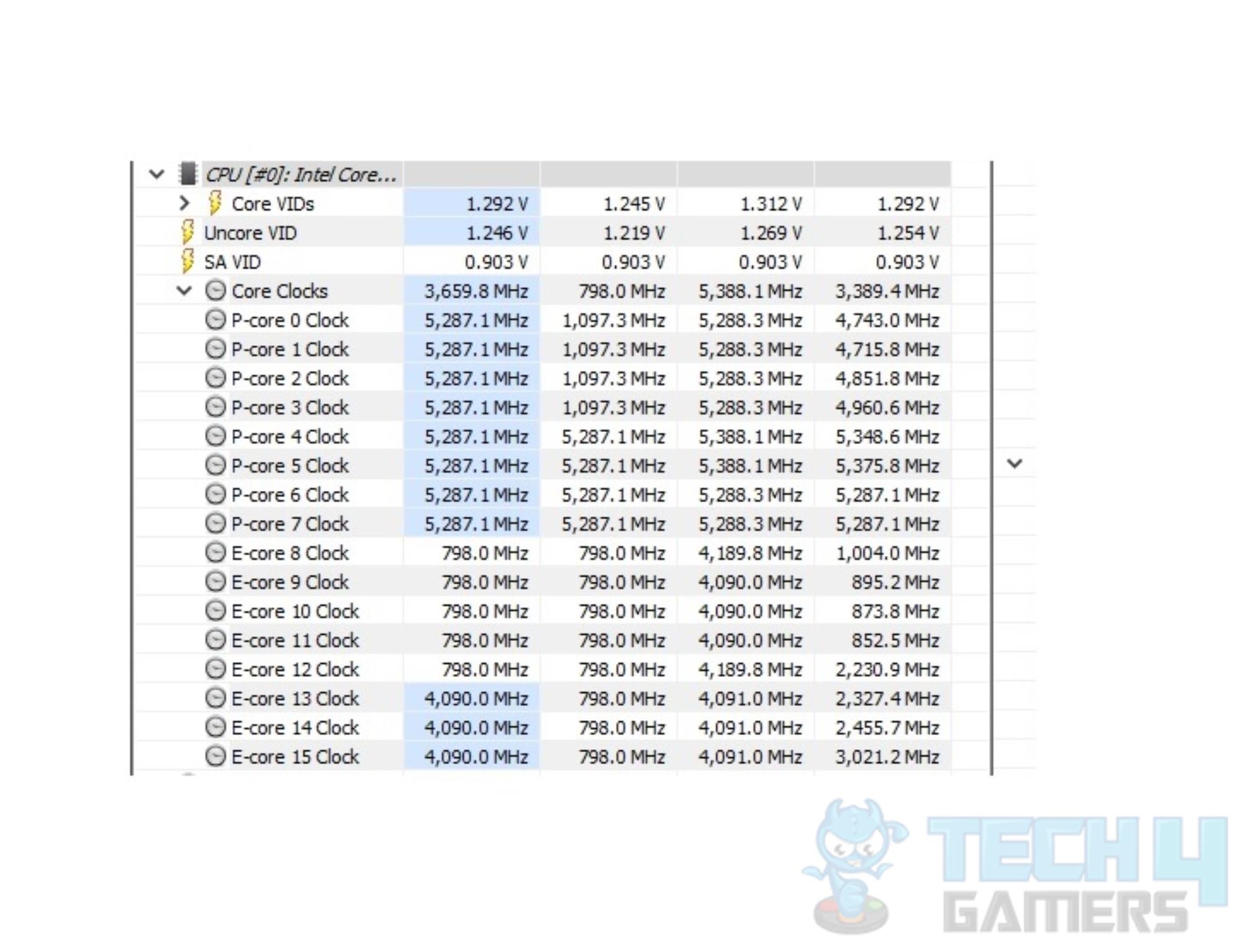 Next, we checked for 5.4GHz on any two cores in maximum turbo frequency under a single core or 1T load. For that, we have used CINEBENCH R23 Single Thread run for 30 minutes. We can see 5.388GHz (approximately 5.4GHz) on a few cores. This clock would vary on cores depending on which cores are in use. Again, we can see that the Intel Core i7 13700k has maintained the max turbo boost frequency on the ASRock Z790 Steel Legend WiFi motherboard.
Power Consumption and Thermals
All settings were left on Auto and stock values in the UEFI/BIOS. We loaded the XMP profile on Kingston Fury Renegade DDR5 32GB 6400MT/s CAS32 kit. The fans and pump on DeepCool LT720 White AIO were set to run at 100% speed. We still set Memory Frequency and Primary timings manually. Power mode was set Balanced in the Windows setting. The system was left idle for 10 minutes with HWInfo64 running in the background, recording values. The ambient temperature was 28°C approximately.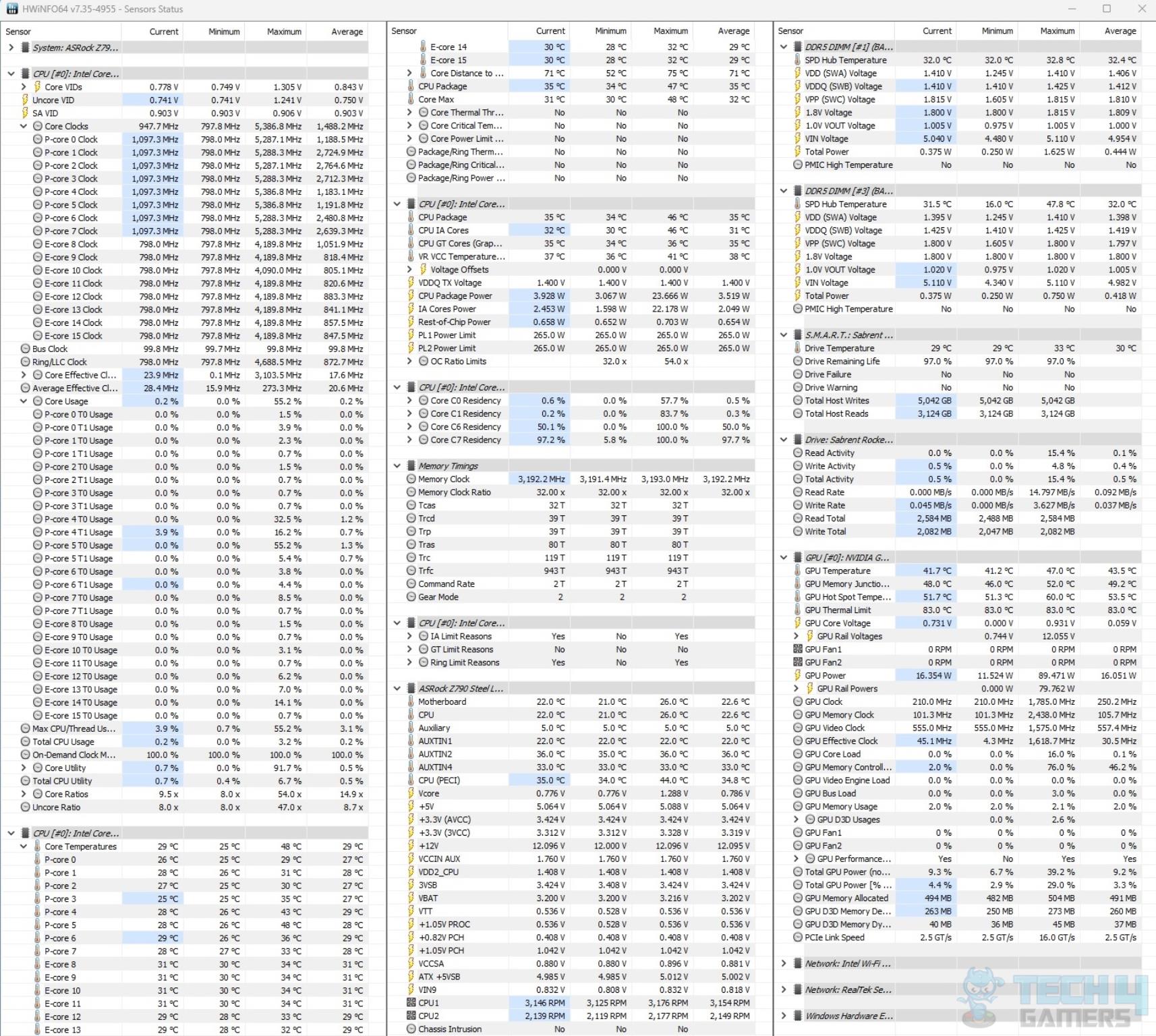 To check the thermals and power draw under load, the CPU was tested using a 30-minute system stability test on CINEBENCH R23.2. 3DMark Time Spy Extreme Stress Test was used for MSI GeForce RTX 3090 Gaming X Trio 24G. CrystalDiskMark was used to stress the NVMe SSD with a customized load on sequential read and write.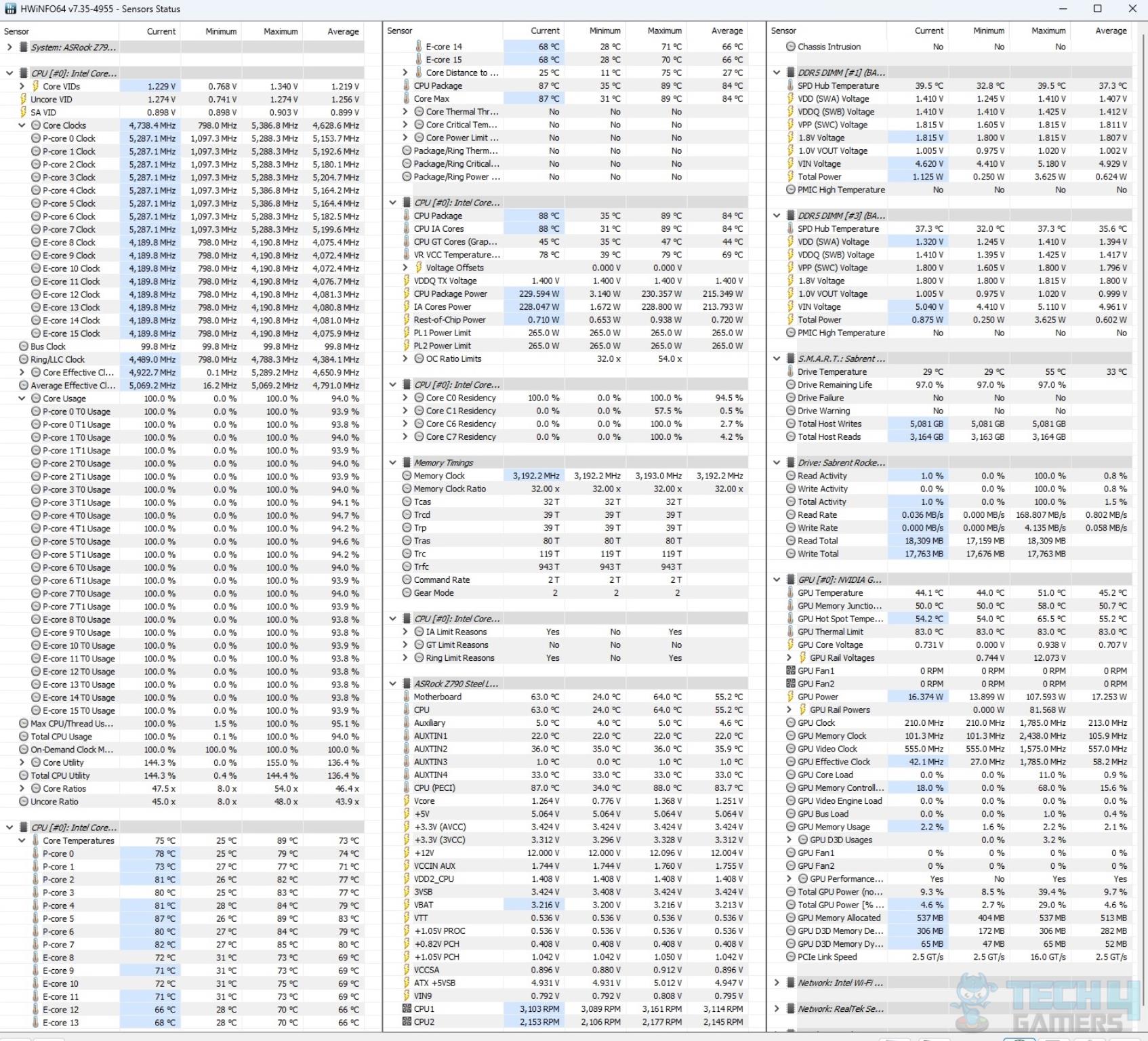 | | | | | |
| --- | --- | --- | --- | --- |
| | CPU Core Temperature | RAM | NVMe SSD | Graphics Card |
| Load Temperature | 89°C | 37.3°C | 55°C | 79.2°C* |
| Load Power Draw | 230.357W | 3.625W | N/A | 385W |
*Graphics card was tested separately; hence its metrics are different in the table compared with the picture.
Thermal Imaging
We have used the Hti HT18 Thermal camera to record the thermals of the VRM area of the motherboard under load using a blender benchmark on the CPU.
The MOSFETs were operating at around 75.8°C at an ambient of 28°C. This picture is taken from the backside of the ASRock Z790 Steel Legend WiFi motherboard.
Should You Buy It:
Buy It If:
You want a Gen 5.0 NVMe slot: Anyone interested in benefitting from blistering-fast Gen 5.0 SSDs will be pleased by the presence of a Gen 5 NVMe slot.
You want excellent storage options: Packed with 8 SATA connections and 5 M.2 slots, we found that the ASRock Z790 Steel Legend WiFi's storage options are by all means exceptional.
You are going for a white-themed build: The ASRock Z790 Steel Legend boasts a sleek white appearance, which is further complimented by the presence of RGB lighting.
Don't Buy It If:
You want USB 2.0 connectivity options: With only a single USB 2.0 header, your connectivity options might be limited.
You want a better audio codec: While the motherboard's mid-range RealTek ALC897 codec will fare well for most users, some enthusiasts might prefer a higher-end option.
Conclusion
So far, we have tested two motherboards in the Z790 chipset using the LGA1700 socket. One is GIGABYTE Z790 AORUS ELITE AX, and the other is ASRock Z790 PG Riptide. Both motherboards cater to different market segments. This time around, we have tested another Z790 motherboard from ASRock. It is ASRock Z790 Steel Legend WiFi which is a mainstream mid-range motherboard operating in fierce competition in this price range of USD 280 to USD 300. We will come back to this later.
This motherboard has five M.2 ports, but you can only use one of the top-facing M.2 2260/2280 ports at a time, with one being Gen5x4 and the other Gen4x4. There are three more Gen4x4 M.2 ports labeled as Hyper M.2. It provides 8 SATA ports, with four vertical and four right-angled. There are multiple USB options, including a USB 3.2 Gen 2×2 Type-C port on the front and rear IO panel.
The VRM/MOSFET cooling is decent, with a maximum VRM temperature under load of 79°C at an ambient of 28°C. The SuperIO chip is from Nuvoton NCT6796D-E, and there are 7 fan headers, with six rated for 2A (24W). The CPU_Fan header is only 1A, which is not suitable for a water pump.
The CPU power delivery is a 16+1+1 design, and the BIOS has been updated to version 7.04. Overall, the motherboard's performance is good and satisfactory, retailing at USD 289. It faces competition from brands like ASUS, GIGABYTE, and MSI, but a slight price reduction could make it more competitive. ASRock offers a 3-year warranty on this motherboard.
Awards Received By ASRock Z790 Steel Legend WiFi
Was our article helpful? 👨‍💻
Thank you! Please share your positive feedback. 🔋
How could we improve this post? Please Help us. 😔
[Hardware Reviewer & Editor]
Meet Nauman Siddique, a highly experienced computer science graduate with more than 15 years of knowledge in technology. Nauman is an expert in the field known for his deep understanding of computer hardware.
As a tech tester, insightful reviewer, and skilled hardware editor, Nauman carefully breaks down important parts like motherboards, graphics cards, processors, PC cases, CPU coolers, and more.
15+ years of PC Building Experience
10+ years of first-hand knowledge of technology
7+ years of doing in-depth testing of PC Hardware
A motivated individual with a keen interest in tech testing from multiple angles.
I majored in Computer Science with a Masters in Marketing
Previously worked at eXputer, EnosTech, and Appuals.