The motherboard is considered one of the most significant pieces that belong to your computer system. It helps in creating a bridge of connection between all your hardware components. These components may include your CPU, PSU, GPU, and many more.
A motherboard is simply like the brain of your computer system. Since the job of the motherboard is to create a connection between all the hardware components, it can be difficult to figure out a fault that may occur in it. Before we get into testing motherboard with a multimeter, let's look at important points first.
---
Key Takeaways
Knowing what a multimeter is and what purpose it serves.
Identifying the signs which may indicate that there is a fault in the motherboard.
Using the multimeter to test the motherboard for any short circuits and voltage.
Figuring out where the fault lies in the motherboard and whether it should be changed or not.


---
How Does The Multimeter Work?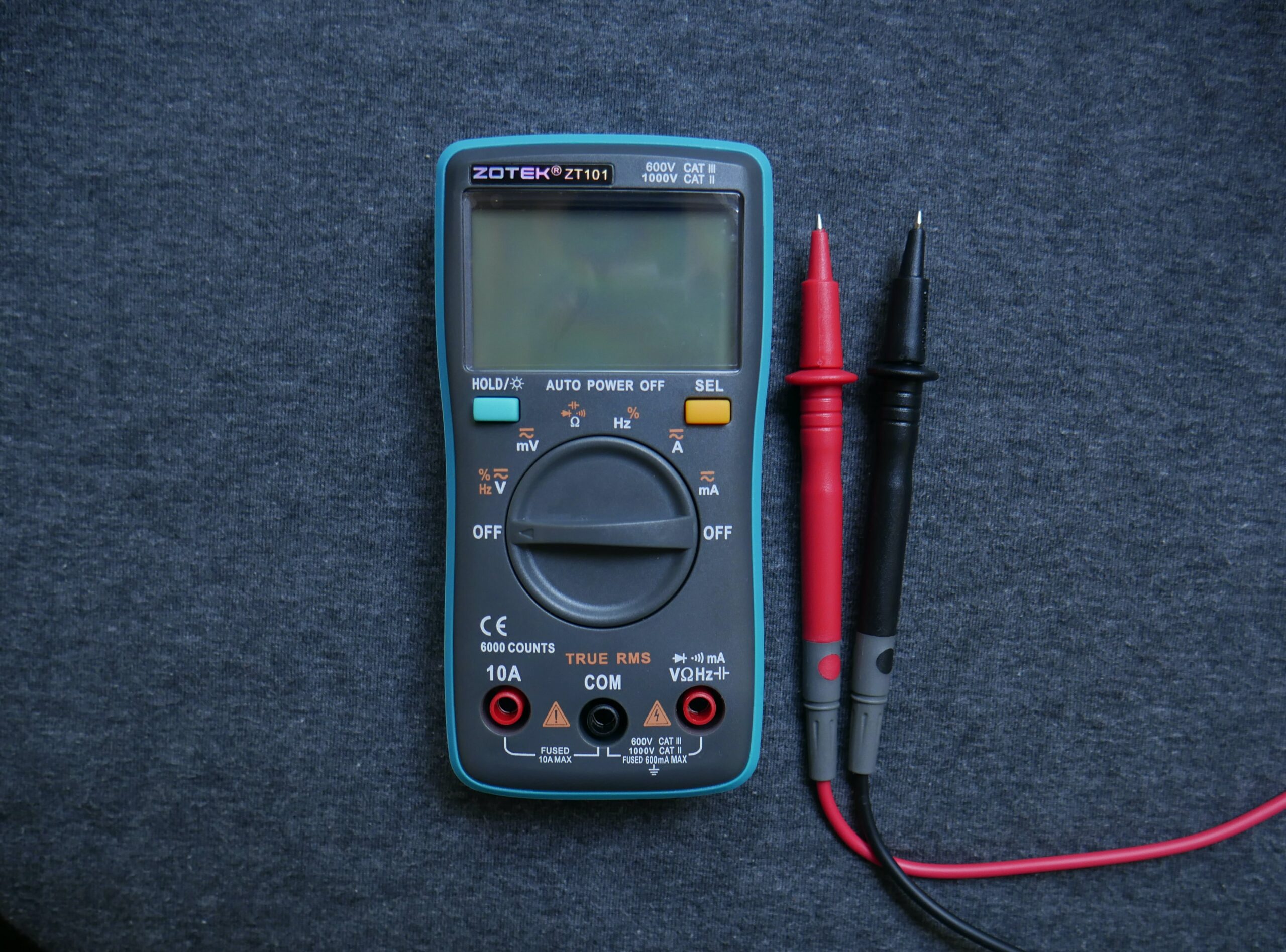 This is a digital device that helps in testing voltages. It also helps in determining the current and resistance of a circuit. These measurements are usually carried out by connecting the probes of the multimeter to the device you want to carry out the test on.
As soon as the current circulates through these probes, the multimeter will let you know the result of the test. Let it be voltage testing, current measurement, or resistance measurement.
What Might Cause Issues In The Motherboard?
There are several reasons why your motherboard may start having issues. Therefore, it is important that you consider all these possibilities so that it's easy for you to find the solution to the cause of the issue.
Components covered in dust
It is very common for your CPU components to get covered with dust and debris over time. The easy solution is to clean your components occasionally. However, there are a lot of users who might not be well aware of the consequences of not cleaning their PCs from time to time.
This can cause a lot of harm to their hardware components. Dust can easily get into the motherboard, cause blockages, and cause irreparable damage.
One of the most common things to cause issues in your motherboard is overheating. It can be caused by a lack of air circulation. Furthermore, it can also be caused when the RAM in your PC is not sufficient enough.
This may happen in the case of the use of video editing, graphic designing, and photo editing apps or even games.
All of the components of your PC have a life span. It surely does vary with how well they are taken care of and how occasionally their maintenance is carried out. Nevertheless, there will come a time your motherboard will start wearing out.
This will be a clear indication for you to replace it with another one. It's better to replace it as soon as you find this problem or the damages may spread out to the other components.
Abrupt contact with hard surfaces or liquids.
The sudden contact of your motherboard with a hard surface can prove to be quite harsh. The motherboard circuits are quite delicate and prone to damage. If your device, like a laptop, has faced such impacts and you feel like something's off, this could be the reason. Liquid contact with the motherboard is also a very common issue. Moreover, liquids easily damage the chips on your motherboard and prevent proper current circulation.
People often buy cheap motherboards to save themselves from big expenses. Hence, it results in them having to deal with motherboards with manufacturing faults.
Signs That Your Motherboard Is Faulty
You will notice the occurrence of the following signs listed below. These are the symptoms of possible faults in your motherboard.
Your PC overheats too quickly
Your computer lagging at every step
Appearance of BSOD
Computer unable to start despite being plugged into a power outlet
CPU restarts quite often and abruptly
Beeping sounds coming from the computer
Motherboard smells burnt
The motherboard fails to identify components like fans
If you are facing any of these signs, it is extremely important that you test your motherboard with a multimeter. The sooner it is done, the better.
How To Test Your Motherboard With A Multimeter?
To carry out this test you will need the following equipment:
A Multimeter with probes
A screwdriver
You may use your screwdriver to unscrew the screws on your computer case and open it up.
For Short Circuit
Switch your computer off and unplug it from the power source.
Wait for at least 10 minutes so that any circulating currents are out for good.
Take your multimeter and set it to 200 Ohms which is the lowest setting.
You will have to connect both wires to bring the meter to zero.
Take the motherboard out of your system.
Now you will have to remove the ATX connector.
Connect your multimeter's black probe to the computer case whilst connecting the red probe to the ground pin of the PSU's AC.
At this moment, the multimeter must give you a reading of zero. Proceed to connect your red probe to colored motherboard wires without removing the black probe from the computer case.
If the reading of your multimeter is 50 Ohms or above, then your motherboard's functioning is well and good. However, if it is below 50 Ohms, then this means that the motherboard has a short circuit. This test can be carried out further to find more faults. Now PSU pins' resistance will be tested.
PSU Pins Resistance Test
You may refer to the ATX 20-pin chart attached below. The image displays a chart of 20-pin and 24-pin connectors.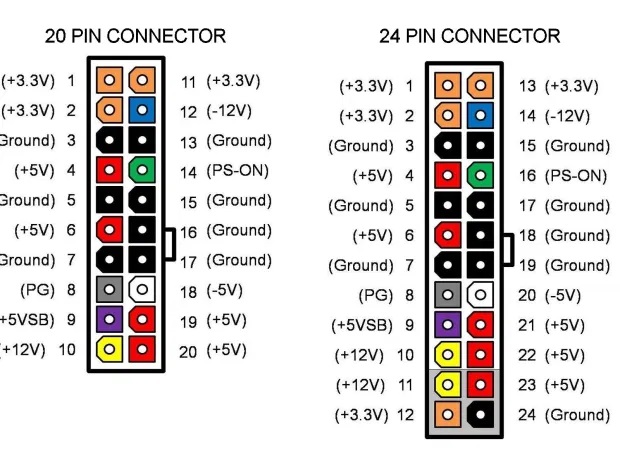 Now you will proceed to run a test on the 'Ground' connector pins. These are also labeled as 'COM'.
Connect the black probe to the computer case metal and connect the red probe to the black pin slot. The pins are also labeled as 3, 5, 7, 13, 15, 16, 17, 18, 19, 24.
You should check the multimeter. It should be providing you with the reading of 0 Ohms from every black slot pin.
If the value on the multimeter is any other number than zero, then there might be a short circuit within your PSU. When testing colored slots, the multimeter should display the minimum reading of 50 Ohms. If it does not, then you might it as an indication of why your motherboard is not working. You might need to buy a completely new board or power supply unit.
For Voltage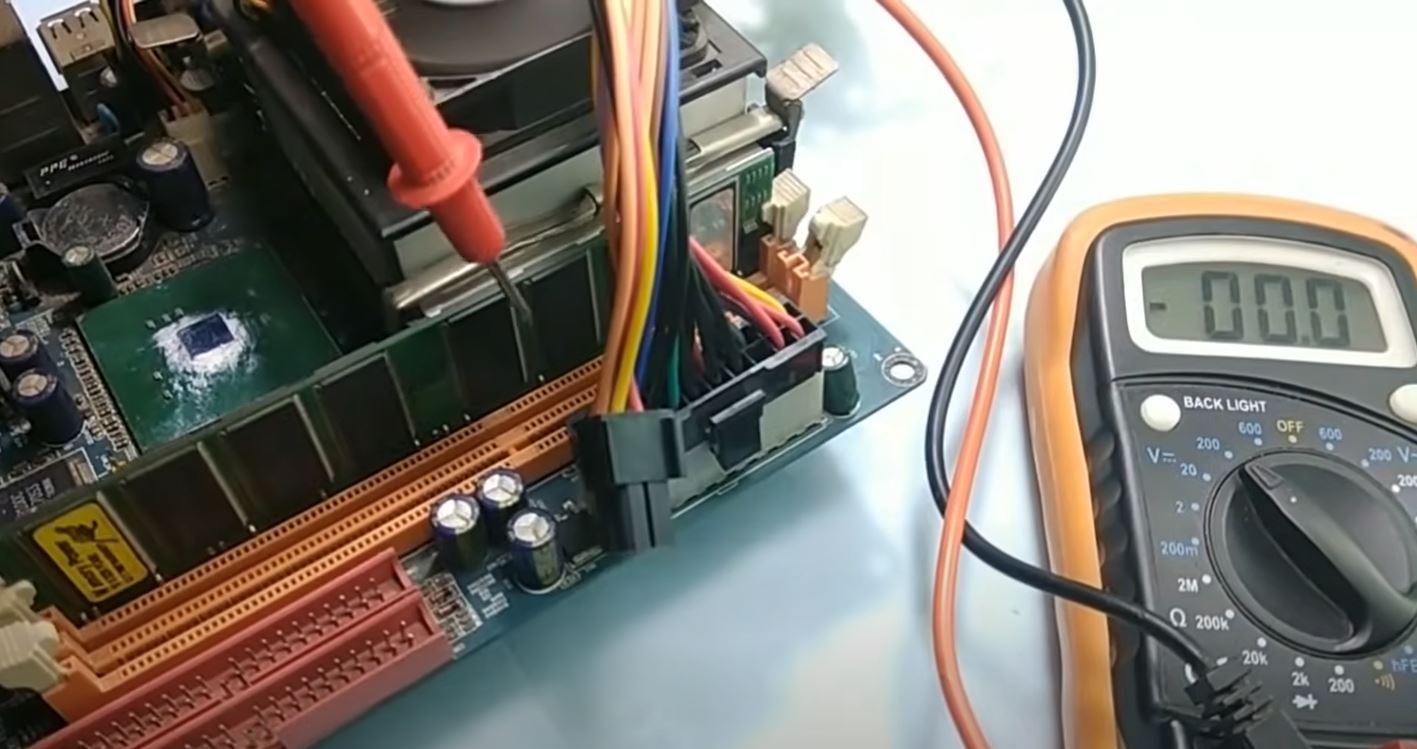 As mentioned above, the multimeter can be used as a voltage tester. Additionally, the multipurpose device can help you in determining whether your motherboard is faulty by checking if the right amount of voltage is supplied to it by the power connector. Follow the given steps to carry out this test.
Voltage can only be tested when the current is circulating through your device. Therefore, you need to turn on the power supply of your computer.
Take your PSU and 20-pin connector and connect them.
It is time to set your DC voltage range to 20 on your multimeter dial. On the multimeter, DC voltage is either identified as 'DVC' or 'V-' (three dots along with it)
Proceed to put the black probes in the ground pins of the connector. (You may switch between these to test all of them)
Put the red probes on pins 8, 9, and 14.
Pin 8 should be providing a supply of power of more than 2.5V. This amount of power is required to turn your computer on. After pressing the reset button, 2.5V should drop to zero, then jump back to 2.5V. The multimeter should give pin 9 a value of 5 and pin 14 a value between 3-5V. When switching your computer on, the pin 14 value should also drop to zero.
If your multimeter fails to provide such readings, then it would indicate that the PSU pins are carrying the fault. Hence, they need to be replaced.
Conclusion
You are now fully aware of how to test a motherboard with a multimeter. This test will help you in figuring out what part of your motherboard has an underlying fault and is keeping it from running properly. You will not have to go through the hassle of going to a proper tech shop and wasting your precious money and time.
FAQs
How will I know that my motherboard is dead?
If your motherboard is dead, it simply would not turn on even if you turn on your power supply.
Does the motherboard need voltage?
Yes, your motherboard requires power of 12V. It comes with a 4-pin power connecter which is
Was our article helpful? 👨‍💻
Thank you! Please share your positive feedback. 🔋
How could we improve this post? Please Help us. 😔