The motherboard is a critical computer system component, connecting all the hardware components. However, an orange light on the motherboard can indicate a potential issue affecting the system's performance. If you see an orange light, it's important to understand what it means and how to address it.
Key Takeaways
An orange light on a motherboard is a warning sign that indicates potential issues with the system's hardware, power supply, or BIOS/UEFI firmware. It should not be ignored.
The cause of orange light can vary and may not always indicate a severe problem. However, it is crucial to identify and address the issue promptly.
Seeking professional help is recommended if you are uncomfortable handling hardware components or if the issue persists after troubleshooting.
The Meaning Of An Orange Light On Motherboard
The exact meaning of the light can vary depending on the motherboard manufacturer and model. Still, it generally signals a warning that an issue needs to be addressed.
Sometimes, the light may indicate a specific problem, such as overheating or a failed component. In other cases, it may simply be a general warning that there is an issue with the system's hardware.
We also have detailed guides on the White VGA light on the motherboard and Red light on the motherboard.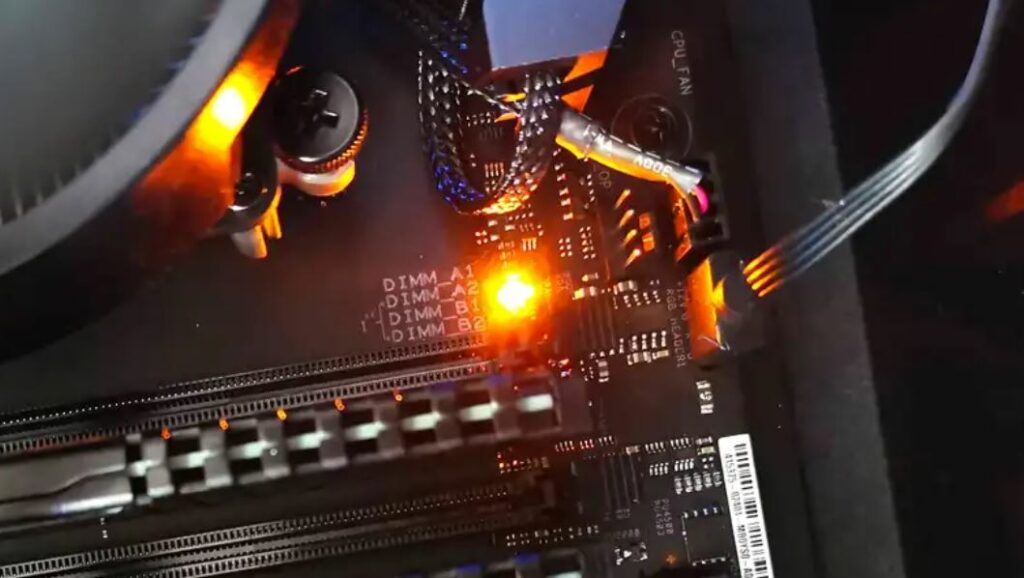 Causes Of Orange Light On Motherboard
There are several potential causes of the orange light on the motherboard.
Hardware Failure Or Malfunction
Hardware failure or malfunction is a major cause of the orange light. Various issues, including a failed or malfunctioning component such as RAM, a graphics card, or a hard drive, can cause this.
When a hardware component fails, it can cause the system to crash or malfunction, triggering the orange light as a warning that an issue needs to be addressed.
Also Read: How To Fix The CPU Fan Error In ASUS Motherboards
Power Supply Issues
Was our article helpful? 👨‍💻
Thank you! Please share your positive feedback. 🔋
How could we improve this post? Please Help us. 😔
[Errors Troubleshooting Expert]
Arsalan Shakil (aka GuyThatDoesEverything on YouTube) is a PC Tech Enthusiast and Electronic Geek. With over 10+ years of experience in Electronics, he then decided to explore Software Engineering to design embedded products and automate existing hardware solutions. 
When he started tearing down old cameras to understand how they worked, he was shocked (literally, when he got zapped by a flash discharge capacitor), giving him the power (debatable) to fall in love with videography/photography. He also started making some fun videos that later became YouTube tech reviews.
Skills:
10+ years of experience in Electronics design, embedded solutions, and prototyping

Majored in Software Engineering

Research paper publication in IEEE for Embedded Military Uniform & LoRa WAN wireless technology

Specialized in IoT Solutions

PC Enthusiast & PC Modder
In his local region, he's known to expose cheap PSU brands, often claiming fake certification or false claims on the box. He's a true nerd and needed some friends in his life. Then he met some guys who work at Tech4Gamers, and they also came out to be equal nerds who suggested he join Tech4Gamers as a Hardware Expert.