Our resolute editorial crew rigorously proof-reads and verifies all publishments issued here at Tech4Gamers, ensuring that the information disseminated to our consumers is wholly authentic and unique, upholding our core values of providing the best tertiary services to the audience with regard to the realm of technology and gaming via a commanding online presence.
In addition, we perennially update our content throughout the entire website as a part of our daily routine. As such, no matter how old an article you happen to stumble upon, you may rest assured that all the promulgated knowledge will be in-line with the latest conventions relevant to present-day society in terms of the Kingdom of Technology for Gamers. This attention to detail and devotion concurs with our motto, "For enthusiasts, by enthusiasts."
Commitment to Accuracy & Fact-Checking Policy
Tech4Gamers proudly comprises an exclusively staunch editorial team that remains dedicated to its sole aim of scrutinizing the entire website and all of our journalistic articles within for even the most minor aberrancies, immediately rectifying them accordingly before the concerned write-ups are released to ensure our writers only publicize the most accurate and technologically detailed knowledge amongst any of our competitors.
Convenient Formatting and Structure
All articles published under the moniker of Tech4Gamers follow a proprietary formatting structure that has been streamlined to prioritize our savants' convenience. A thoughtfully designed TOC (Table of Contents) accommodates readers who prefer jumping to a specific part of a write-up while simultaneously organizing the entire composition in terms of a systematic hierarchy to group tabulated content and their discrete sub-headings within. Subsequently, this subtle yet effective layout succours in elevating the entire user experience.
Plagiarism, Credit, and Copy Policy
We, at Tech4Gamers, maintain a strict zero-tolerance policy against the use of plagiarized and copied content, while we strive to overtly credit respective owners of certain pictures or content that we may use in our articles (with the owners' permissions, of course).
Our Editorial Team consistently inspects all treatises to certify the content you engage with on our website is purely authentic and comes straight from the quills of our experienced scriveners.
Feedback-Centric Approach
Tech4Gamers swaggers to flaunt its Feedback-Centric Approach, on the basis of which consumers from all over the world may reach out to our Editorial Team via our email: [email protected] to notify us about any dormant oversights, latent inaccuracies, or typographical errors.
We will promptly respond and accordingly act on such accentuated flaws to completely eliminate any present solecism and faux pas while appreciating the goodwill and patience of our highly cherished audience as we strive to follow up with a respective erratum on an immediate basis.
Up-to-date Content & Revisions with Proofreading
Tech4Gamers boasts an entirely separate crew of adept auditors with immeasurable experience, who exhibit their skillful mastery by constantly examining and surveying past as well as recent compositions to warrant the relativity of all our tracts in accordance with the latest trends.
Our auditors are tasked with remedying outdated material and periodically revamping the main essence of these dissertations with the help of their journalistic expertise. Of course, all of our monographs are thoroughly proofread and meticulously analyzed to defenestrate the presence of embryonic fallacies.
Clear and Concise Language
Our proficient essayists, while extensively skilled themselves, convey essential knowledge to our esteemed patrons in coherent language, explaining any and all technical jargon that may manifest as readers progress into the depths of a particular disquisition.
As such, all articles at Tech4Gamers undergo a strict assessment process prior to publication to eradicate our discourses of all intricacies (if present) and any degree of confusion. Resultantly, newcomers, veterans, and maestros alike all feel right at home at Tech4Gamers, regardless of their individual skill levels.
Original Research
As highlighted before, our distinctive body of adept wordsmiths travail to conduct isolated research and fetch the most paramount data on a specified subject to relay indispensable counsel to our target audience as a method of formulating rational and lucid theses for our fellow gamers to abide by. Tech4Gamers strictly endeavours against plagiarizing or copying in any form, as delineated below with respect to our Plagiarism, Credit, and Copy policy.
Editor's Job
As outlined above, our unwavering Editorial Unit diligently labours to certify that all blazoned comptes rendus are free from any gaffes and misconceptions to propagate and expound only validated information to the assemblage of our enthusiastic throng, which is always on the lookout for the best of the best in the technological and gaming industry.
Our Partners
Tech4Gamers has formed a successful coalition with numerous manufacturers of various PC components, such as motherboards, GPUs, RAM modules, PSUs, Air Coolers, AIO (All-in-One) cooling solutions, Water Cooling Systems, Casings, and many other peripherals such as gaming mice, mousepads, keyboards, and monitors amongst other assorted accessories.
Adata, ADLink, Aerocool, Antec, Asus, BenQ, Colorful, Cooler Master, Corsair, Cryorig, Deepcool, EKWB, Gamedias, Gigabyte, MSI, Noctua, Patriot, Silverstone, T-Force, Thermaltake, Viewsonic, XIGMATEK, XPG, and Zowie are a few of the several companies present in an active compact with Tech4Gamers. As such, we routinely receive the aforementioned products since immeasurable brands trust us to promulgate our experience and knowledge from an objective standpoint.
Needless to say, all of our publications represent an unbiased perspective of the products, and our categorized articles, reviews, reports, and corresponding write-ups, are in no way influenced, affected, regulated, or shaped on the basis of our partnership (if existent) with the manufacturer of said product. Resultantly, our readers consistently rely on us to circulate the most accurate and trustworthy information in relative contrast to our competitors, regardless of any association with the particular industrialists.
Our Test Bench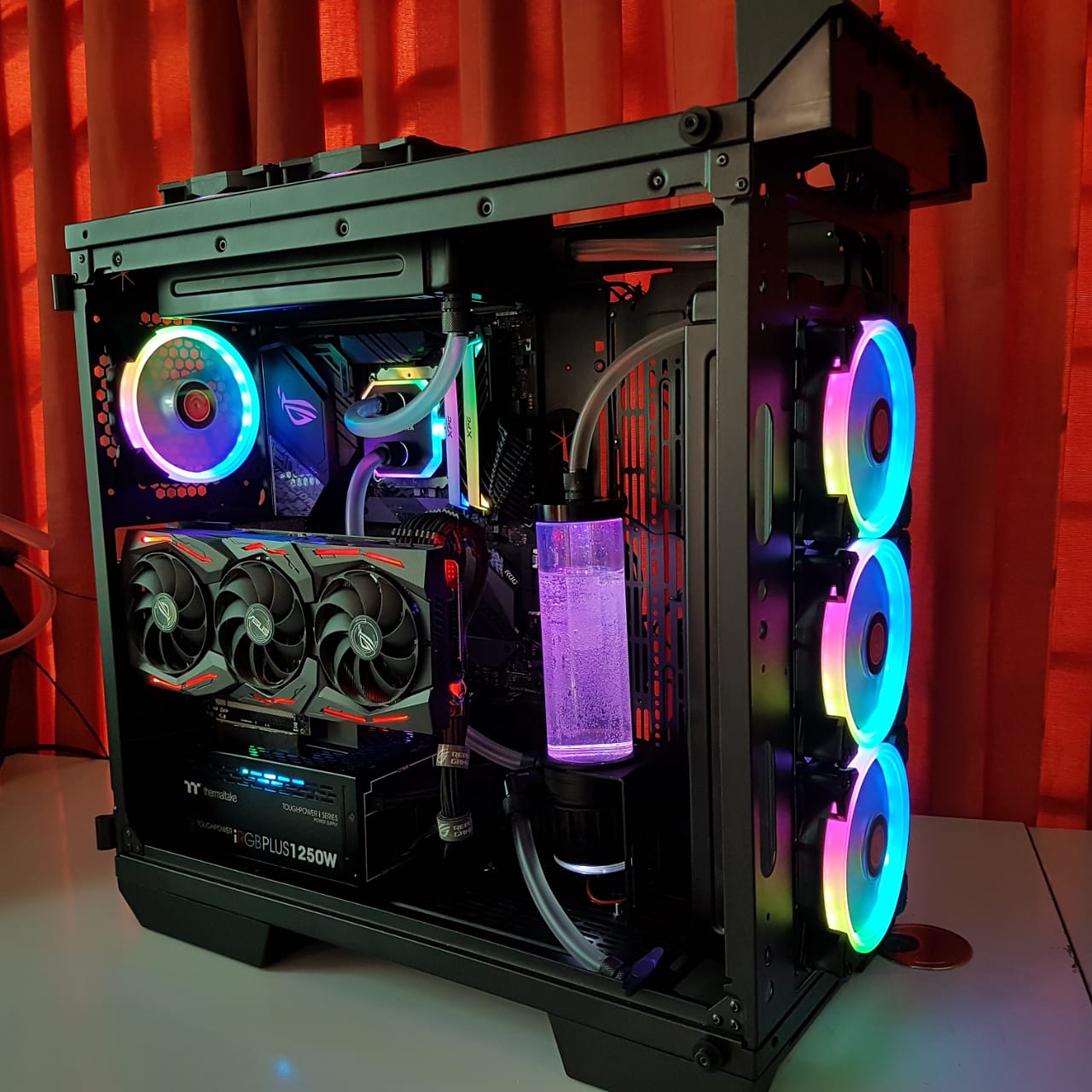 We, at Tech4Gamers, use various Test Benches and PC builds to evaluate a specified product, using top-of-the-line components, such as Intel Core and AMD Ryzen processors, paired with Nvidia GeForce RTX GPUs, ultra-fast DDR5 RAM (on Intel builds, as of yet), coupled with modular PSUs and a wide variety of PC casings as well as a diversified selection of motherboards ranging between every form factor such as E-ATX, ATX, Micro-ATX, and Mini-ITX. Therefore, a brief gallery of these builds and test benches are attached below.
Our Sample Shelves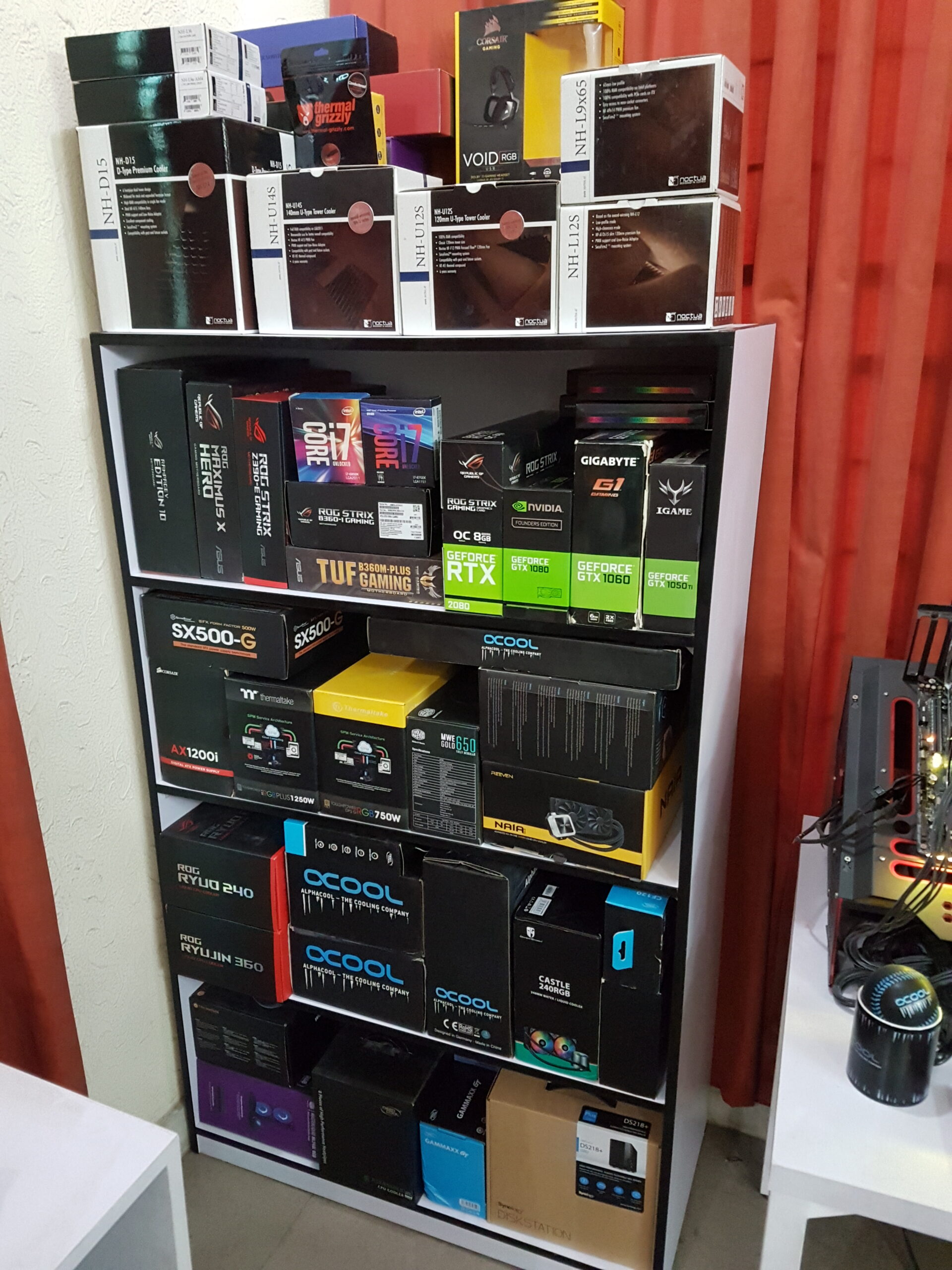 As emphasized before, we receive a multitude of product samples from immeasurable companies. As such, our sample shelves are stocked with gaming PC elements of every kind, such as CPUs, GPUs, RAMs, Motherboards, Air Coolers/AIOs/Water Coolers, and Casings, to name a few. These shelves may be viewed below in the following collage.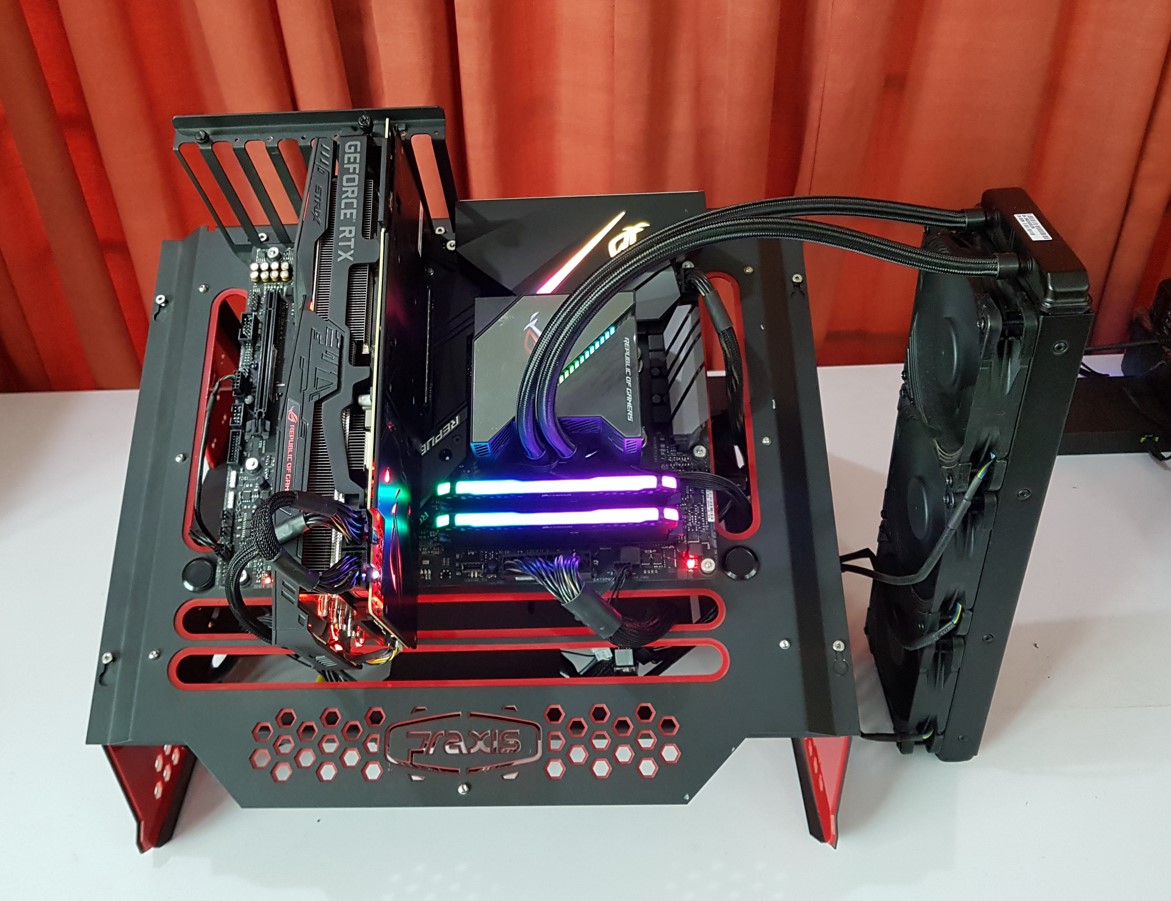 How We Test (Generally)
Testing for the Best Motherboards, CPU Coolers and RAMs is an enduring task the faint-hearted would be well-advised to avoid undertaking. Notwithstanding, our authors and authoresses use an amalgamation of real-world performance benchmarks under differing workflows alongside boundless research, immense analyses coalesced with personalized reviewing and testing (if feasible).
Finally, our consummate writers evaluate all products from an objective viewpoint using a string of pivotal factors to impartially decide on the Best Motherboards, CPU Coolers, and RAMs, amongst various other gaming PC components in 2022.
Read