All of the chosen Best CPU Coolers undergo comprehensive research here at Tech4Gamers, after which we take into account our catholic analytics, coupled with in-house reviewing and testing (if applicable). We also compare real-world performance benchmarks under idle, typical, and heavy/gaming/overclocking workloads. Not to forget, we crossmatch noise levels to present a completely objective perspective of each CPU cooler from every aspect.
As such, we've underscored a bunch of essential key factors you'll want to brood over while attempting to select one of the Best CPU Coolers that's designed for optimal performance as per your custom workflows.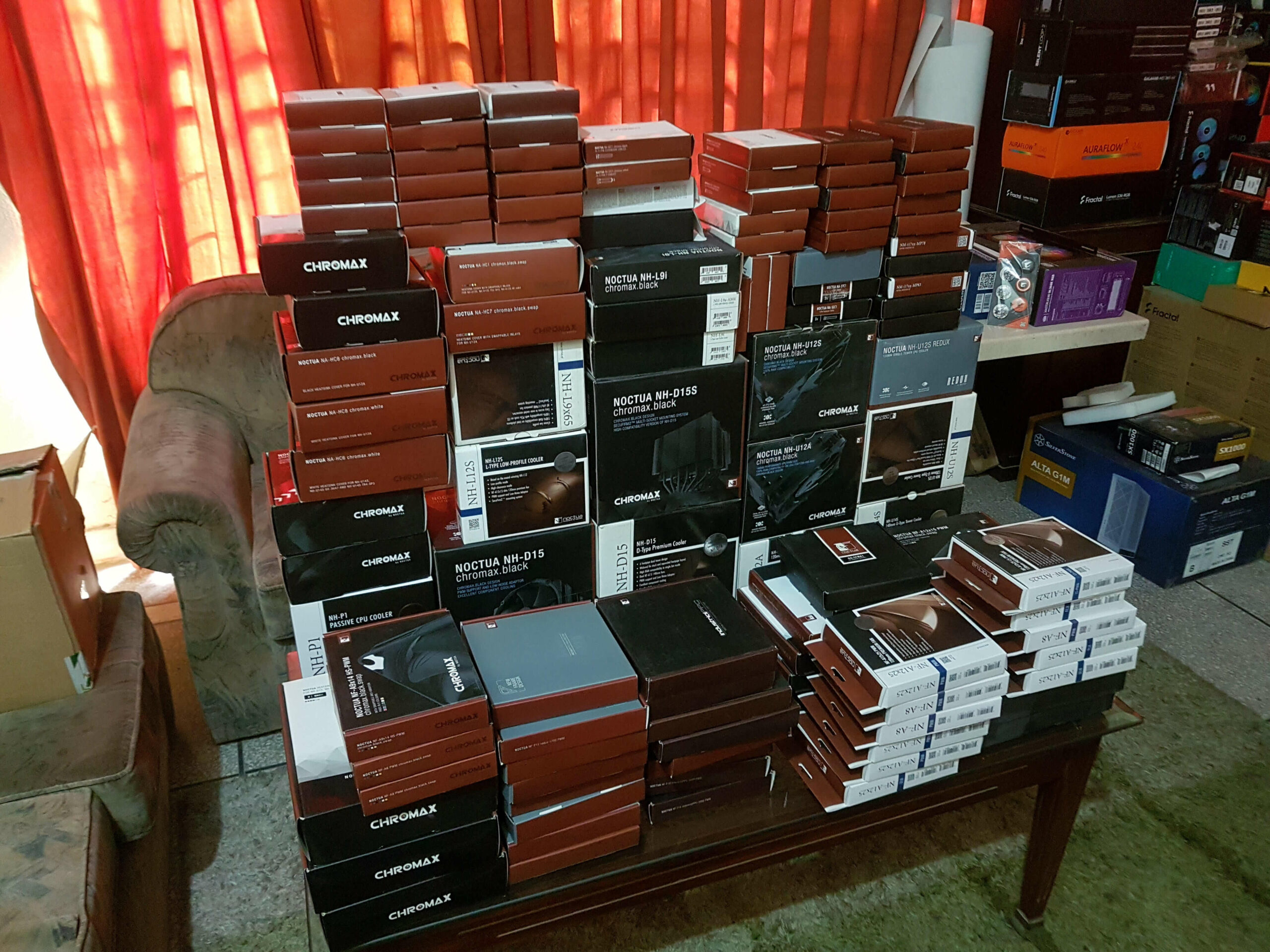 Key Takeaways
Budget: When we compare CPU coolers against each other and test them, we always consider their prices and how much value each of them offers. That's because if there isn't a fairground based on budget, then the test won't be objective. Hence, in our testing, the budget is considered a lot.
Performance: We can't test CPU coolers without testing their thermal performance. After all, achieving high thermal performance is what they're built to do. Hence, we always test a cooler's performance.
Efficiency: When it comes to CPU coolers, efficiency plays an important role in determining the success and overall cooling capability of the cooler. That's why we always test CPU coolers based on their efficiency in terms of power consumption and TDP.
Noise: Nobody would go for a cooler that creates unnecessary noise all the time and ramps up its fans to full speed without cause. So, in our benchmarks, we always talk about the noise output of CPU coolers.
Aesthetics and Build Quality: Many people go head over heels when it comes to aesthetics, and we always consider the visual appeal of CPU coolers in our tests. Furthermore, build quality is tested thoroughly as well. After all, we won't recommend a cooler that has poor build quality.
Compatibility: Compatibility needs to be kept in mind when testing CPU coolers. That's because if we call a cooler the best for some particular processor, then it needs to be compatible with it at all costs. Additionally, the clearance of CPU coolers is also tested.
Manufacturer Support: We also test CPU coolers based on their manufacturer's after-sales support and warranty.
Budget
Every CPU Cooler will unveil itself at a distinguishable price point, determined by its relative cooling performance, build quality as well as its overall design and aesthetics (including RGB capabilities, if present), not to forget the individual manufacturer support and bundled accessories which will vary amongst even the Best CPU Coolers.
Therefore, it's essential to make your decision based on a specific budget. That way, you'll know whether it's feasible for you to splurge on some of the Best Exotic CPU coolers in the market or compromise on a few areas, such as RGB lighting, gunning for a more practical approach to end up with a high-performance CPU cooler instead. You may also check our latest and updated Budget CPU Coolers.
Performance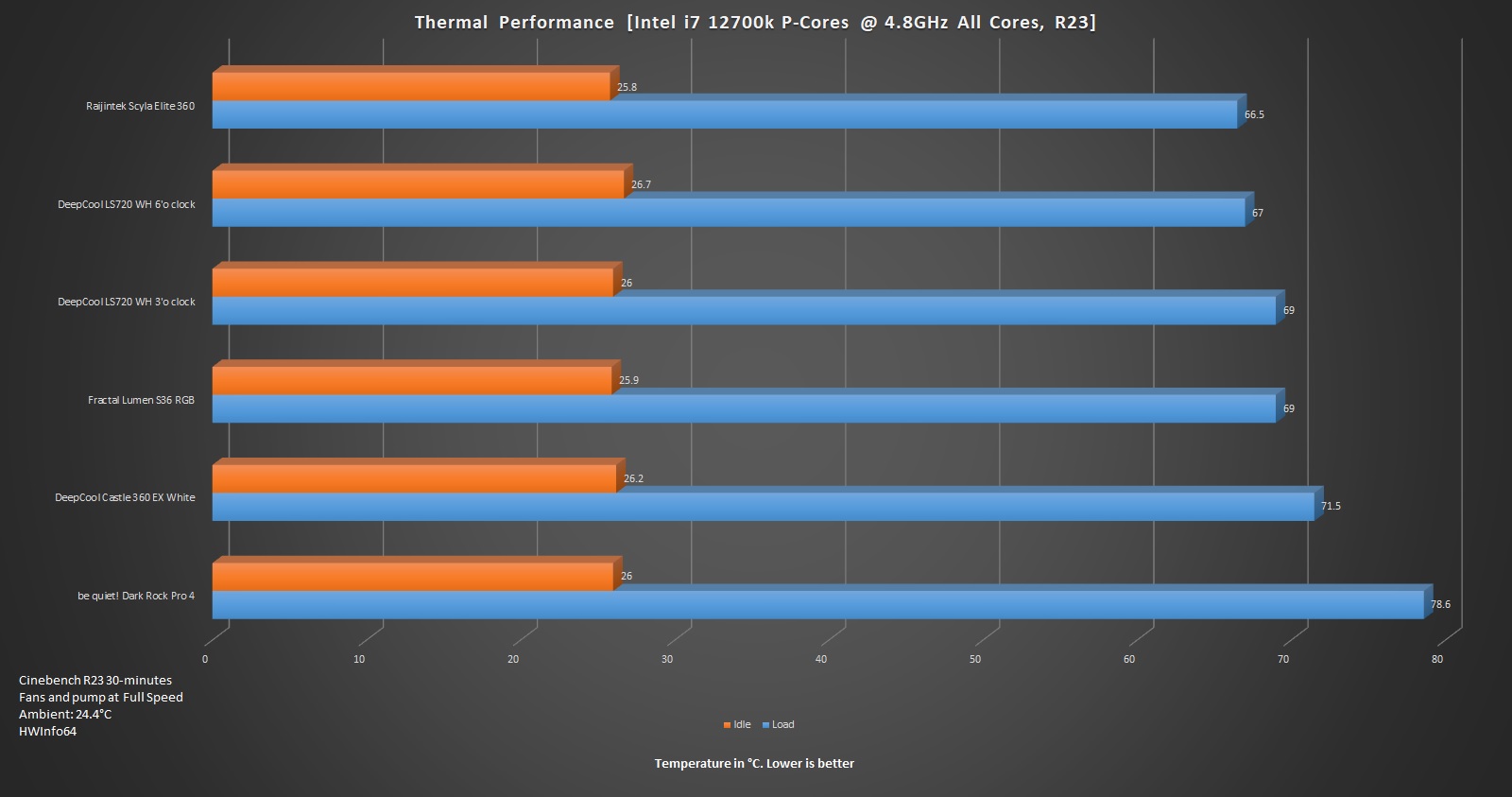 Generally speaking, performance would be one of the essential aspects of a CPU cooler since you don't want your cooler to be struggling and pave the way for thermal throttling induction in order to keep temperatures in check, which would eventually result in negatively impacted performance.
If you're on the lookout for a conventional air cooler, the fan's specifications, including the maximum RPMs alongside the amount of airflow it produces, are of utmost importance, not to mention the size of the heatsink and the FPI (Fins Per Inch) count (the higher, the better), which help to enhance heat dissipation.
As far as a modern AIO (All-in-One) CPU cooling solution is concerned, the pump speed is directly proportional to cooling performance. Some of the Best 120mm, 240mm, 280mm, and 360mm AIOs will even feature smaller dedicated fans for keeping the VRMs (Voltage Regulator Module) on your motherboards cool, which will positively correlate with thermal dissipation under heavy gaming/overclocking scenarios. Here is an AIO CPU Cooler From Our Review.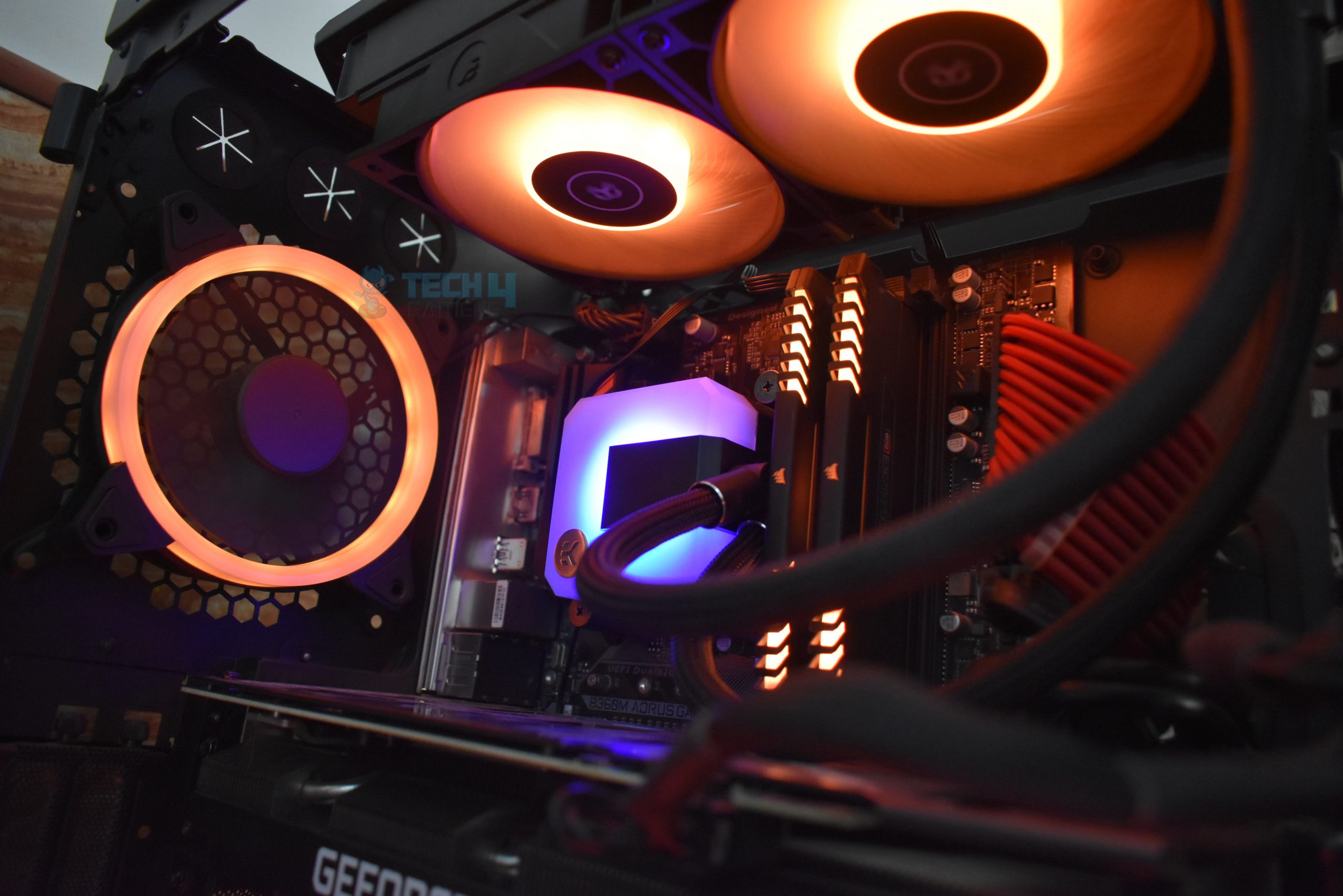 Efficiency
Even the Best CPU Coolers will differentiate from each other in terms of operational efficiency. That's why it's crucial to select a CPU Cooler with the capacity (and some extra headroom) to capably cool down your precious processor without needing to throttle CPU performance.
For example, the Ryzen 7 5800X3D is rated at a TDP (Thermal Design Process) of 105W. Assuming you're on the lookout for the Best Ryzen 7 5800X3D CPU Coolers, you should be seeking a cooler which would ideally bear a higher TDP of 150W+ to give you moderate overclocking clearance as well should the time ever arise for that (even though AMD strictly discourages users from overclocking the Ryzen 7 5800X3D due to voltage limitations).
Noise
Smaller fans tend to be noisier since they're forced to spin at comparatively higher RPMs to produce the same amount of airflow as a larger fan at torpid RPMs. That's why it's advisable to stick with one of our coveted Best CPU Coolers, which incorporate bigger fans if noise is much of an issue to you.
Aesthetics and Build Quality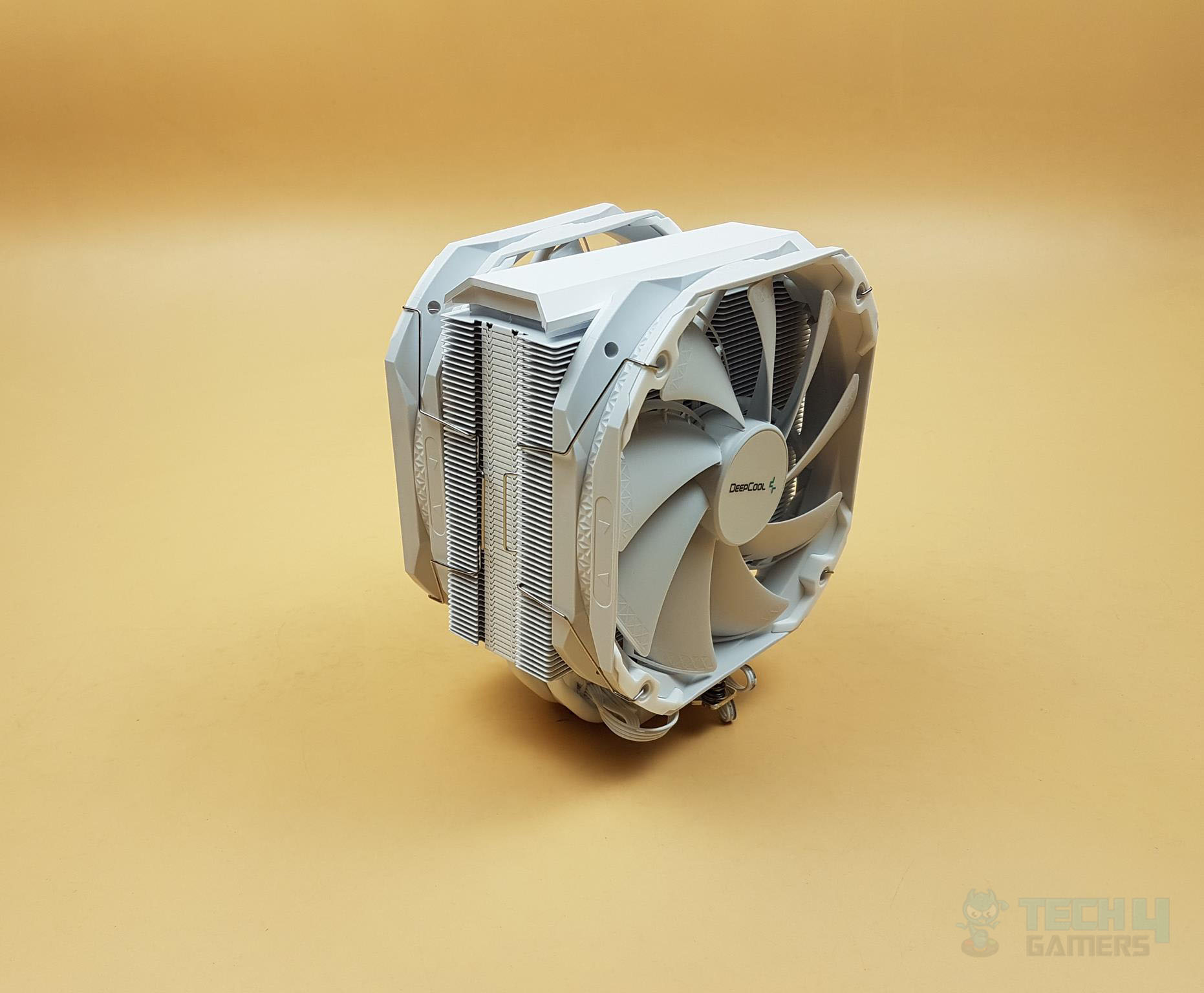 Manufacturers prefer separating their respective offerings for the Best CPU Coolers in the market by offering their unique take on the cooler's aesthetics and build quality. Some brands might opt for more premium construction and dazzling RGB capabilities, which, in turn, leads to a higher price tag. In contrast, others may favour a slightly dreary or more practical approach, sacrificing their design flair for perhaps improvised cooling performance and, with luck, a lower cost price.
Compatibility
It won't come as a huge shock to know that not every CPU cooler in the market will necessarily be compatible with your processor of choice. Manufacturers have a tendency to launch two variants of the same cooler, one for Intel users and the other for our die-hard AMD fans out there. That's why it's of utmost importance that you crossmatch the socket support of your desired CPU cooler with the socket of your CPU to confirm harmonic compatibility.
As you'll come to notice, all the products seated on our diverse list of the Best CPU Coolers in 2023 will have their socket support highlighted in the specifications subheading for your added convenience so that you don't have to waste precious time.
Just for reference, the latest 12th Generation Alder Lake CPUs from Intel utilize an LGA 1700 socket, while Team AMD is finishing off their durable AM4 CPU socket with the Ryzen 7 5800X3D being the last processor to make use of the aforementioned socket.
Manufacturer Support
We make it a habit of closely scrutinizing each of the Best CPU Coolers highlighted in terms of after-sales customer service care provided by each manufacturer, keeping in mind past experiences and track records while also inspecting the MTTF (Mean Time To Failure) of individual components such as the fan, pump (if any), and the entire unit itself. Of course, we don't let warranty periods slide by, actively encouraging manufacturers to back up their products for an extended period of time, often up to 6-years.
Read Also: