You may encounter PS4 error E-82106O4A while purchasing PlayStation Plus memberships from the PlayStation Store. However, you can quickly resolve the error by adding a new payment method or restarting your console.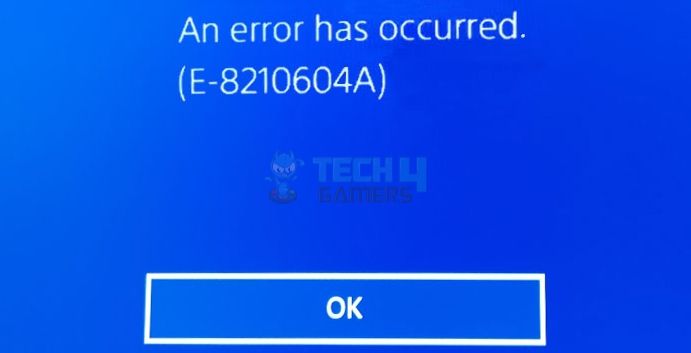 Error Message: An error has occurred. (E-82106O4A)
Key Takeaways
Error E-82106O4A usually happens when purchasing PlayStation Plus packages.
You may face this error due to bad internet, PSN server outages, incorrect payment details, and more.
The payment error can be fixed by adding a new payment method, using a PayPal account, and adding funds to your wallet.
Here are the quick fixes you can try to solve the error:
Verify correct payment details.
Sign In Again To Your Profile
Another way to rule out profile errors is to sign out of your profile and log in again. We used the Quick Menu to log out since it is faster, but you can also sign out via Settings.
Here is how to use Quick Menu to log out of your profile:
Access the PS4 Homescreen > Press the controller's PS button.
In Quick Menu > Power > Log Out Of PS4.
Press the PS button on the next screen > Choose your user profile to log back in.
Add A New Payment Method
Due to non-payment or other issues, the company may block your existing credit/debit card or PayPal account linked with your PS4 wallet. Besides, your bank's services might be down, leading to purchasing errors. So, we tried adding another credit/debit card to our account, which fixed the trouble.
Add a credit/debit card with these steps:
Launch Settings > Account Management > Account Information > Wallet.
Choose Payment Methods.

Payment Methods (Image By Tech4Gamers)

Select Credit/Debit Card > Enter card details > Next.
Add billing information > Save > OK.
Top Up Your Account
It is necessary that you have funds in your wallet to purchase from the PS Store because an insufficient balance can lead to the PS4 error E-82106O4A. We manually added funds to the wallet since this also worked for user Hawke3443 on Reddit and immediately resolved our issue.
Here are the instructions to add money to your account:
Use Step 1 to Step 4 from the above method.
In Wallet > Add Funds.
Select your credit/debit card or other applicable methods to top up your PS4 wallet.
Decide the amount you want to add > Hit Continue > Confirm with Yes.

Choose Amount (Image By Tech4Gamers)
Remove Pre-Existing Payment Methods
Another solution we found is to delete all payment methods linked to the wallet, be it credit/debit cards or PayPal accounts. We re-linked them to the wallet to remove any temporary restrictions. After restarting the console, the error was gone, and many users also verified this under a YouTube video.
Follow these quick steps to remove all payment methods from PS4:
Once you can view all your added cards in the Payment Methods section, click on them individually.
Choose Delete > Yes.
Change Email For PlayStation Account
Switching the email associated with our PlayStation account seemed to do the trick on our console in solving the PS error at hand.
This is how you can set up a new email for your PS account:
On Account Information > Sign-In ID (Email Address).

Sign In ID (Image By Tech4Gamers)

Enter a new email address > Press Confirm > Verify your email.
Tip: When choosing a new email, ensure it is not linked to any PSN account.
Use A PayPal Account
If you cannot purchase with any credit/debit card, try using a PayPal account to eliminate potential bank or card issues.
Here are the steps to link your PayPal account:
Open Wallet > Payment Methods > Add A PayPal Account.

Add PayPal Account (Image By Tech4Gamers)

Type the email and password associated with your PayPal and press login.
Important: PayPal services are available in limited countries, so this method only applies to you if you have access to PayPal.
We recommend that you refer to PlayStation Support if you still cannot make a purchase in the PS Store.
Frequently Asked Questions
Why Do I See PS4 Error E-82106O4A On My PlayStation?
It could be due to poor internet connectivity, blocked credit/debit cards, inaccurate payment details, or insufficient balance in your wallet.
How Do I Solve PS4 Error E-82106O4A?
You can add a new payment method, double-check the existing payment details, power cycle your internet router, and more to solve the issue.
What Does The Error E-82106O4A Mean?
The error indicates a problem with your payment method, usually occurring while subscribing to "PlayStation Plus" services.
---
More From PS4 Errors:
Was our article helpful? 👨‍💻
Thank you! Please share your positive feedback. 🔋
How could we improve this post? Please Help us. 😔
[How To's & Guides Editor]
Haddi has been in the Gaming and tech Space for over 10 Years Now; he has worked on notable websites like eXputer, Gamepur, Gear Siege, Gearnuke, and plenty more. He is an expert at Games & PC Hardware; you can expect him to solve any problem. People often joke, that if there is any problem anyone can solve, Haddi can solve it faster. Currently, Haddi writes and manages a Team of Experts at Tech4Gamers.
Contact: [email protected]