Similar to every tech system, the PS4 encounters errors and glitches every now and then. One error that often occurs on PS4 is "A serious error has occurred in the system software." You may be unable to access any games or content due to this error.
When you get this error, you will see the following message on your screen:
ERROR MESSAGE: "A serious error has occurred in the system software. The PS4 will restart."
Key Takeaways
The error can prevent players from starting the console or accessing a game on PS4.
This error usually occurs when you update firmware due to corrupt game files, a bug in the game from Sony, a change in your home network, or a limited internet connection.
You can fix the PS4 error by updating console software and firmware, rebuilding the database, resetting the console that will wipe out the corrupt files, restoring factory settings, or initializing the PS4.
What Causes This Error?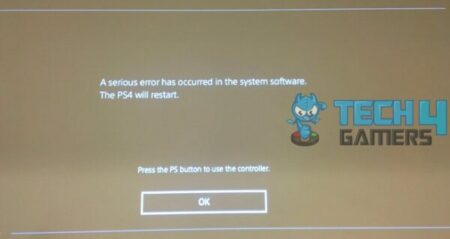 How To Fix "Serious Error Has Occurred In The System Software" PS4 Error?
Don't panic if your PS4 gives an error stating, "A serious error has occurred in the system software." Following are the potential fixes to get back to gaming:
Backup PS4 Data
Restart PS4
Initialize PS4
Restore Factory Settings
Backup PS4 Data
Before diving into any technical fixes, back up your PS4 data.
WARNING: Ensure that your trophies are synced with the PSN because they don't get saved into the backup.
Here's how you can sync trophies:
Go to Options > Select Sync Trophies with PSN to sync all your achievements.
Now, for the backup, connect your PS4 to an external storage device and follow these steps:
Open Settings > System > Backup and Restore > Back Up.
The backup will be shown on the progress bar. Press X as soon as the process completes, and disconnect the storage device.
To restore your data anytime later, follow these steps:
Open Settings > System > Restore PS4 from the menu under Backup and Restore.

Backup and Restore PS4 – Image Credits (Tech4Gamers)
Restart PS4 Through Safe Mode
Before jumping into the complicated fixes, we suggest a simple restart to see whether it resolves the error. If you are getting the PS4 error and having trouble restarting your console, try rebooting the PlayStation in Safe Mode and then performing a restart on your console.
Update Software
If you use outdated system software, you will likely run into errors on your console. Sony regularly releases bug patches and improved system performance in their latest updates. Updating your console to the latest version can resolve PS4 errors that may be caused by glitches or bugs in the system.
To resolve this error, reboot into Safe Mode to update your PlayStation. You can download the latest update from the PlayStation website.
Rebuild Database
Rebuilding the database helps organize the hard drive and deletes corrupted files that might be causing the "A serious error has occurred in the system software" PS4 error.
This method does not delete PS4 data and allows you to resume gameplay quickly. When the PS4 enters Safe mode, many options appear in a menu. Choose the Rebuild Database to resolve this issue.
Initialize PS4
The PS4 initialize option resets your PS4 console. Doing this can address any corrupted files and data that might be the cause of system software errors. We successfully tested this method on our PS4. This method has also worked for many of the subscribers Qieri on YouTube.
Reboot in Safe Mode as mentioned above and then select Initialize PS4.
WARNING: However, this option deletes all your game data. We suggest trying other fixes to resolve the error; otherwise, back up your data before opting for this method.

Restore Factory Settings
Doing a factory reset can help console users get rid of this error. It will delete saved networks, settings, backgrounds, and sign-in details, so you must log back into your account. It also clears all the corrupted files, bugs, or errors from the system. We tried this method and found it to work, so we recommend you try it to resolve the error. YouTuber High Voltage also shows on his channel that this method works to solve the error.
Tip: This method does not delete your games or other data on PS4. But it is recommended to back up your console as a precaution.
Here is how to do it:
Use a USB cable and connect the controller to your console.
Press the power button while waiting for the PS4 console to beep twice a row.
Now, press the PS button on the controller and enter Safe Mode.
Choose the Restore Default Settings option from the menu.

Restore Default Settings PS4 – Image Credits (Tech4Gamers)
Let the process finish; try restarting the console as usual.
Reinstall Software Via USB
We recommend downloading the latest update on USB and reinstalling firmware on your console to resolve the serious PS4 error. We tried to Update the PlayStation Via USB, and it worked for us. This fix also seemed to be working for multiple Reddit users.
Note: Sometimes, PS4 takes longer than expected to recognize the file from USB.
Tip:
You may need to contact
PlayStation support
for additional help or have your console serviced if none of the listed methods fixed the problem for you.
Wrapping Up
Although experiencing the "serious error has occurred in the system software" PS4 error can be frustrating, you can fix the error by following the proper troubleshooting methods. Also, we recommend always keeping your console updated, as Sony usually releases software updates to address any bugs and glitches their users face.
Common Questions Answered
What is "A Serious Error Has Occurred In The System Software" in PS4?
It often appears as a message or code on the screen, indicating that an unexpected problem has occurred and the console cannot operate properly. This error may limit game access, download updates, or let the console launch.
What are the possible causes of the error?
Software conflict, corrupt files, hardware problems, overheated consoles, or outdated software are a few prevalent causes of this error.
How can I resolve the serious error in the PS4 system software?
Try rebuilding the database and running the console in Safe Mode first. You can try reinstalling the system software using a USB device. Ensure your console has a reliable internet connection.
---
Related Articles
Was our article helpful? 👨‍💻
Thank you! Please share your positive feedback. 🔋
How could we improve this post? Please Help us. 😔
[Errors Troubleshooting Expert]
Arsalan Shakil (aka GuyThatDoesEverything on YouTube) is a PC Tech Enthusiast and Electronic Geek. With over 10+ years of experience in Electronics, he then decided to explore Software Engineering to design embedded products and automate existing hardware solutions. 
When he started tearing down old cameras to understand how they worked, he was shocked (literally, when he got zapped by a flash discharge capacitor), giving him the power (debatable) to fall in love with videography/photography. He also started making some fun videos that later became YouTube tech reviews.
Skills:
10+ years of experience in Electronics design, embedded solutions, and prototyping

Majored in Software Engineering

Research paper publication in IEEE for Embedded Military Uniform & LoRa WAN wireless technology

Specialized in IoT Solutions

PC Enthusiast & PC Modder
In his local region, he's known to expose cheap PSU brands, often claiming fake certification or false claims on the box. He's a true nerd and needed some friends in his life. Then he met some guys who work at Tech4Gamers, and they also came out to be equal nerds who suggested he join Tech4Gamers as a Hardware Expert.