PS4 error CE-34878-0 indicates a problem with the application or game you are trying to access. Damaged HDD, defective power supply, faulty graphics card, and corrupt/outdated software are some prominent causes.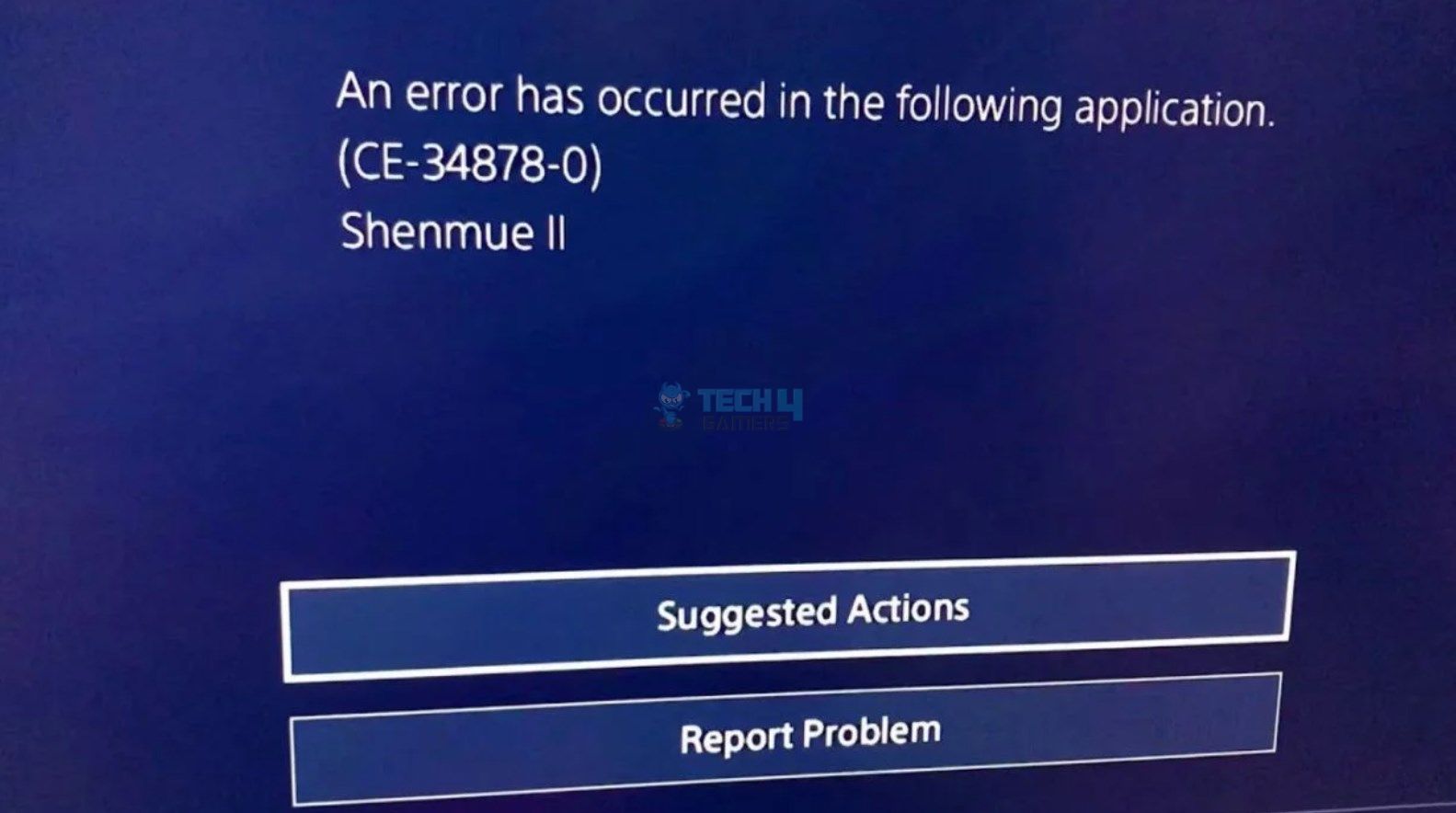 The error may appear as the following message on your screen:
WARNING: Error CE-34878-0: An error has occured in the following application.
Key Takeaways
Error CE-34878-0 occurs while playing a game or running an app, typically indicating a software or system crash.
Outdated PS4 system software, old app versions, or a damaged HDD can be its root causes.
You can fix it by updating the PS4 system software, using the original HDD, or initializing the PS4.
Rebuild PS4 Database
Rebuilding the database fixes corrupt cache and system data to clear up any temporary bugs or glitches. We tried this to resolve the PS4 error CE-34878-0, which worked effectively. Don't worry, this won't delete any data.
Use External HDD
We noticed that some games require double the amount of free space on the disk than their original game size. For example, a 20GB game may require up to 40GB of free space for smooth installation. Therefore, we attached an external HDD storage to the PS4 and then performed the download.
Restore App License
Another method we discovered during our testing is restoring the app license. By doing so, The PS4 restored all licenses for our account, including those for apps and games, hence eliminating the error.
To restore an app license on your PlayStation 4, you can try the following steps:
Navigate to Settings > Account Management > Restore Licenses.
Let the process finish, and check the app.
Disable Camera And Voice Recognition
While testing the fixes for the error, we discovered that camera and voice recognition features can sometimes lead to this error. Therefore, we disabled these from the PS Settings and eliminated the error.
Change Screen Resolution
Users Sonicgaming2352 and Marklehnman3185 vouched for this solution on a YouTube video by TDG Gaming, so we also tried changing the screen resolution settings on our PS4. It quickly resolved the issue.
These are the steps we followed:
Move to PS4 Settings > Sound And Screen >Video Output Settings >Resolution.
Change the resolution to your preferred choice, e.g., 720p, 1080p, and more.
Reinstall Original HDD
The error can occur when you have upgraded your PS4's HDD to a larger capacity or a faster SSD. It is recommended to use the original HDD that comes with the PS4 console to avoid any errors or glitches. We reverted to the original HDD, therefore fixing the error, as it also did for this Reddit user.
WARNING: Remember that reinstalling the original HDD will result in losing the data or game installations on the current HDD. Back up your data beforehand to retain it.
Initialize PS4
Finally, if nothing else works, initialize your PS4, as this helps restore everything to how it was when you first purchased the console. This will fix the error if there is a bug or glitch in the system that is causing it.
WARNING: Back up any important data or game saves to an external storage device or the cloud, as the initialization will delete all data and settings from your PS4.
Common Questions Answered
What Is Error CE-34878-0 On PS4?
CE-34878-0 error code means the system software crashed while running the app.
What Causes This Error On PS4?
Corrupt files, outdated games or OS, and faulty hard drives are some reasons you may see this error.
How To Fix PS4 Error CE-34878-0?
You can quickly fix this error by disabling the face and voice recognition, changing screen resolution, or using an external HDD.
---
More From PlayStation 4:
Was our article helpful? 👨‍💻
Thank you! Please share your positive feedback. 🔋
How could we improve this post? Please Help us. 😔
[Errors Troubleshooting Expert]
Arsalan Shakil (aka GuyThatDoesEverything on YouTube) is a PC Tech Enthusiast and Electronic Geek. With over 10+ years of experience in Electronics, he then decided to explore Software Engineering to design embedded products and automate existing hardware solutions. 
When he started tearing down old cameras to understand how they worked, he was shocked (literally, when he got zapped by a flash discharge capacitor), giving him the power (debatable) to fall in love with videography/photography. He also started making some fun videos that later became YouTube tech reviews.
Skills:
10+ years of experience in Electronics design, embedded solutions, and prototyping

Majored in Software Engineering

Research paper publication in IEEE for Embedded Military Uniform & LoRa WAN wireless technology

Specialized in IoT Solutions

PC Enthusiast & PC Modder
In his local region, he's known to expose cheap PSU brands, often claiming fake certification or false claims on the box. He's a true nerd and needed some friends in his life. Then he met some guys who work at Tech4Gamers, and they also came out to be equal nerds who suggested he join Tech4Gamers as a Hardware Expert.