Intel Core i7-13700K Review
Summary
The Core i7-13700K delivers remarkable performance, outperforming its predecessors and rivaling CPUs like the Ryzen 7 7900X, thanks to its new architecture. Positioned between the i9-13900K and i5-13600K, it offers a compelling balance of gaming prowess and overall power. If you seek both gaming excellence and extra performance, the Core i7-13700K is the choice to make.
Overall Performance -

9/10

Value -

9/10

Thermal Performance -

9/10

Features -

9/10

Overclocking -

9/10
Pros
Beats Ryzen 7 7700X in applications.
Overall Faster than the 12th
Faster in gaming
DDR4 and DDR5 support
600 and 700 Series chipset motherboards support
PCI-Express 5.0/4.0 support
3GHz All P-Cores Clocks under load
2GHz All E-Cores Clocks under load
Cons
More Power Draw
High Temperature
We have tested the Intel Core i7 13700k, Intel's latest desktop CPU. It slots nicely between the enthusiast-grade Core i9 13900k and the value-oriented Core i5 13600k. We recently reviewed the Core i5 13600k, and it deserves praise as the best-value gaming CPU from Intel. It's fast enough for gaming and can handle other tasks well, thanks to its powerful 6 P-Cores, 12 threads, and 8 E-Cores operating at high clocks with ample high-speed cache.
---
Key Takeaways
Solid mid-range performance: The i7 series continues to evolve with the 13th-generation rendition, demonstrating excellent performance in every test conducted.
Improved Architecture: The Core i7-13700K benefits from its architectural upgrade, comprising a hybrid core configuration, Raptor Cove CPU cores, and a 400 MHz increase in clock speeds.
Increased core count: The core i7 13700k has a 24 thread count (8P+8E) as compared to a 20 thread count on core i7 12700k (8P+4E).
DDR4 and DDR5 support: 13-generation processors support both DDR4 and DDR5 RAM kits.
---
I've got the Intel Core i7 13700k on my test bench, and it's a mid-range offering from Intel. It boasts 8 P-Cores with 16 threads and 8 E-Cores. Compared to the Core i7 12700k, the P-Core count is the same, but there are architectural improvements, and the E-Core count has been doubled.
Intel has introduced "Raptor Cove" cores in the Raptor Lake-S CPUs, which are more powerful with higher clock speeds and increased cache. Hyper-threading is enabled on the Core i7 13700k, resulting in 16 threads for the P-Cores, while the E-Cores lack multi-threading. This SKU has a total thread count of 24, compared to the 20 threads on the Core i7 12700k.
The Core i7-13700K boasts 3.40GHz base clock on P-Cores and 2.50GHz on E-Cores, reaching 5.4GHz with Max Turbo Frequency (P-Cores at 5.3GHz and E-Cores at 4.2GHz). It has a substantial 24MB L2 cache, 30MB L3 cache, and power consumption ranging from 125W at base clocks to 253W at max turbo frequency.
Packing and Unboxing
Here is the complete unboxing experience.
Our sample was boosted to 5.3GHz out of the box. Don't expect 5.4GHz on the P-Cores right away. The max turbo on the P-Cores is 5.3GHz, and this is what you will get on this SKU under the heavy load. The 5.4GHz boost is for single-threaded applications.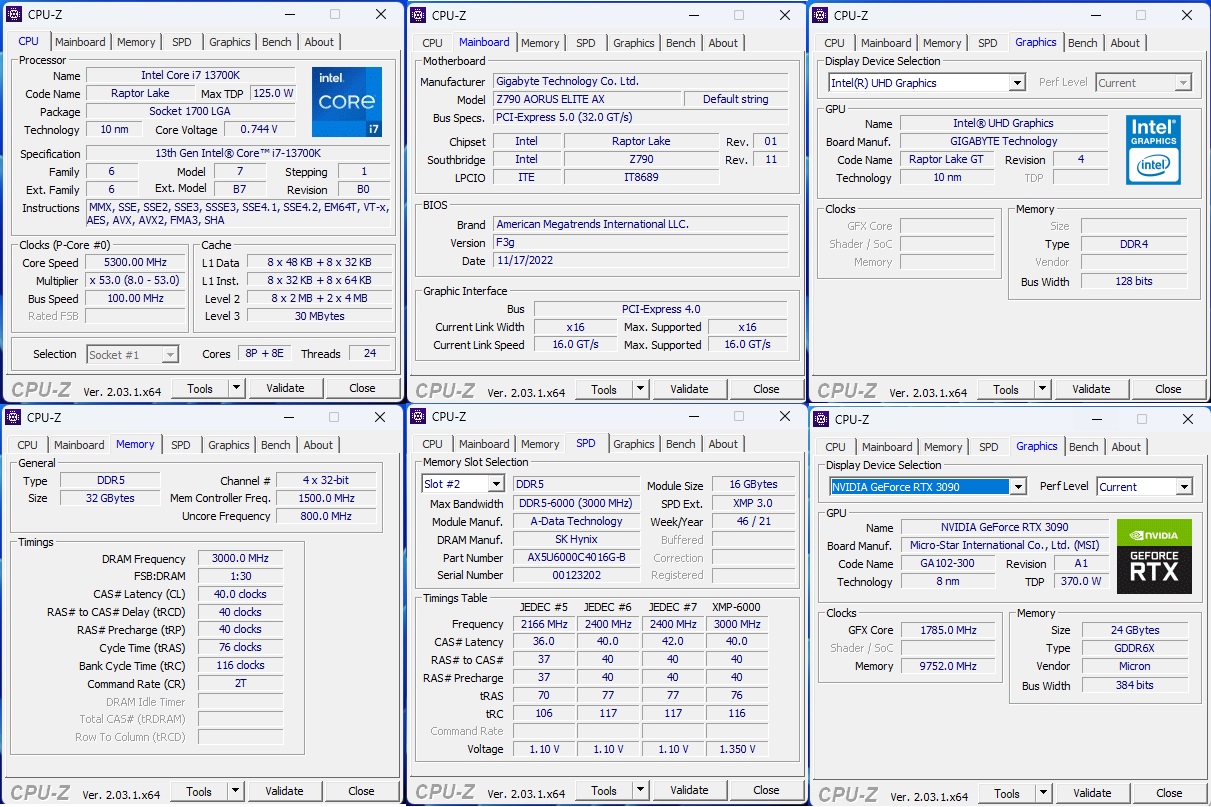 The above picture shows the CPU-Z run from the system.
Testing
Following is the configuration of the test benches that have been used for this content.
| Platform | Intel Z790 | AMD X670E | Intel Z690 | Intel Z390 | Intel Z390 | Intel Z370 | Intel Z490 | AMD X470 | AMD X570 |
| --- | --- | --- | --- | --- | --- | --- | --- | --- | --- |
| CPU | i5-13600K | Ryzen 7 7700X | i7 12700k | i5 9600k | i9 9900k | i7 8700k | i7 10700k | Ryzen 7 2700X | AMD Ryzen 7 3700X |
| Mobo | Z790 AORUS ELITE AX | X670E AORUS MASTER | Z690 AERO G | Strix Z390-E | Strix Z390-E | Ultra Durable Z370-HD3 | MAG Z490 TOMAHAWK | Strix X470-F Gaming | X570 Aorus Pro |
| RAM | 32GB @ 6000MHz | 32GB @ 6000MHz | 32GB @ 6000MHz | 16GB @ 3000MHz | 16GB @ 3000MHz | 16GB @ 3000MHz | 16GB @ 3000MHz | 16GB @ 3000MHz | 16GB @ 3000MHz |
| GPU | RTX 3090 | RTX 3090 | RTX 3090 | GTX 1080 | GTX 1080 | GTX 1080 | GTX 1080 | GTX 1080 | GTX 1080 |
| AIO | AlphaCool Custom Loop | DeepCool LS720 | DeepCool LS720 | Asus Ryujin 360 | EK-AIO 240 D-RGB | Asus Ryujin 360 | EK-AIO 240 D-RGB | Asus Ryujin 360 | Asus Ryujin 360 |
Special Note To Thank Our Sponsors: AMD, ASUS, GIGABYTE, MSI, Sabrent, DeepCool, be quiet!, and ANTEC.
Methodology
The following was ensured for each test:
Each test is done on the Auto and Stock settings.
Default tweaking/performance enhancement options are disabled in the BIOS.
XMP is loaded for each test. DRAM timings and Voltage are set manually.
All other voltages are left at Auto.
The pump and fans of the cooling solution are set to run at 100% during the testing.
Games are benched on the stock clocks.
The overclocking results of the processor under discussion are shown.
The Graphics card is not overclocked.
The motherboards' BIOS is updated to their latest.
Nvidia's driver 517.48 is used.
HWinfo64 is used to monitor the sensors.
Each game was tested on the maxed setting using the built-in benchmark utility where available, and the MSI After Burner was used to record the FPS from the actual gameplay.
Let's start with the results.
The testing was done on Microsoft Windows 11 x64 version 22H2.
General Tests
Let's start with some general tests.
Rendering Tests
We have run multiple rendering tests for evaluation. The results of these tests are mostly the rendering time and frames per second unless stated otherwise. Lower time and higher FPS are what we are looking for.
Transcoding
We have used Handbrake, X264 HD, and X265 HD Benchmarks to measure the transcoding performance of the CPU.
Web-based benchmarks
Just to give an idea of how the CPUs impact general web browsing, we ran a few benchmarks.
Gaming Benchmarks
Let's start with the synthetic benchmarks. For this purpose, we have used 3DMark Fire Strike and Time Spy benchmarks.
Frequency Behavior
The Intel i7 13700k has a base clock of 3.40GHz and 2.50GHz for the P-Cores and E-Cores, respectively. The turbo frequency is 5.3GHz for the P-Cores and 4.2GHz for the E-Cores. The Turbo Boost Max Technology 3 is 5.4GHz. Please, keep in mind that this turbo frequency is for a single core only, depending upon the load type, and there is a multitude of variables that could affect this turbo frequency. For example, the thermal headroom, power limit, cooling solution, thermal paste application, how good a motherboard is, etc., and the load type.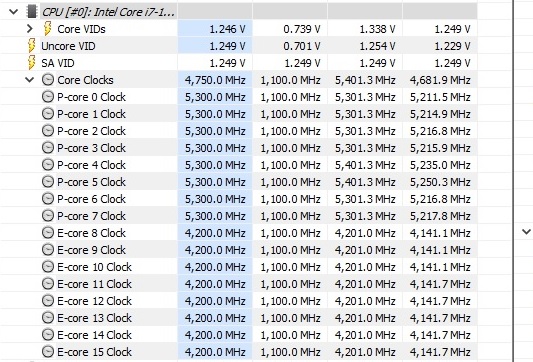 Our unit was boosting to 5.3GHz (P-Cores) and (4.2GHz E-Cores) out of the box. This is not it. The CPU actually maintained these clocks under multi-core and single-core loads using Blender, and Cinebench R23 runs.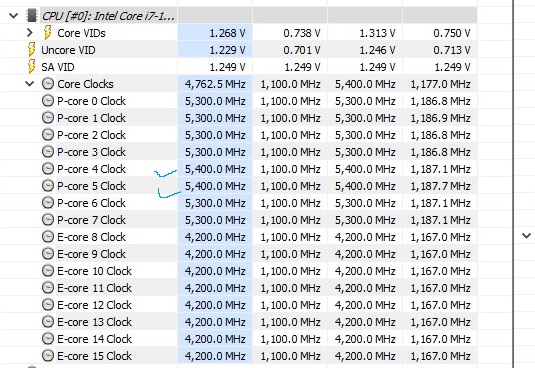 The core i7 13700k managed to boost to 5.4GHz under the single-threaded load. We can confirm the turbo frequency and turbo boost 3 frequency.
Thermals and Power
We have tested the Intel i7 13700k on the GIGABYTE Z790 AORUS ELITE AX motherboard with the latest BIOS update. This is not a high-end motherboard but it still packs enough juice for the i5 and i7 CPUs. From the cooling perspective, we have set up a custom loop on the test bench when the CPU arrives for testing. The setup consists of:
AlphaCool Eisblock XPX AURORA PRO Digital RGB – Full Brass
AlphaCool Eisbecher AURORA with Apex VPP Pump
AlphaCool NexXxos XT45 Full Copper SuperNova 1260mm Radiator
AlphaCool Black Tube 16/10mm
AlphaCool Straight Compression Fittings 16/10
AlphaCool 45/90° Rotary Adapters
AlphaCool Quick-Disconnect Fittings
AlphaCool Clear Coolant
9x be quiet! Silent Wings 4 140mm PWM High-Speed Fans
The thermal paste used is AlphaCool SubZero, with a thermal conductivity rating of 16W-mK. In that, we have covered three aspects:
Adequate Motherboard
Powerful Cooling
A high-grade thermal paste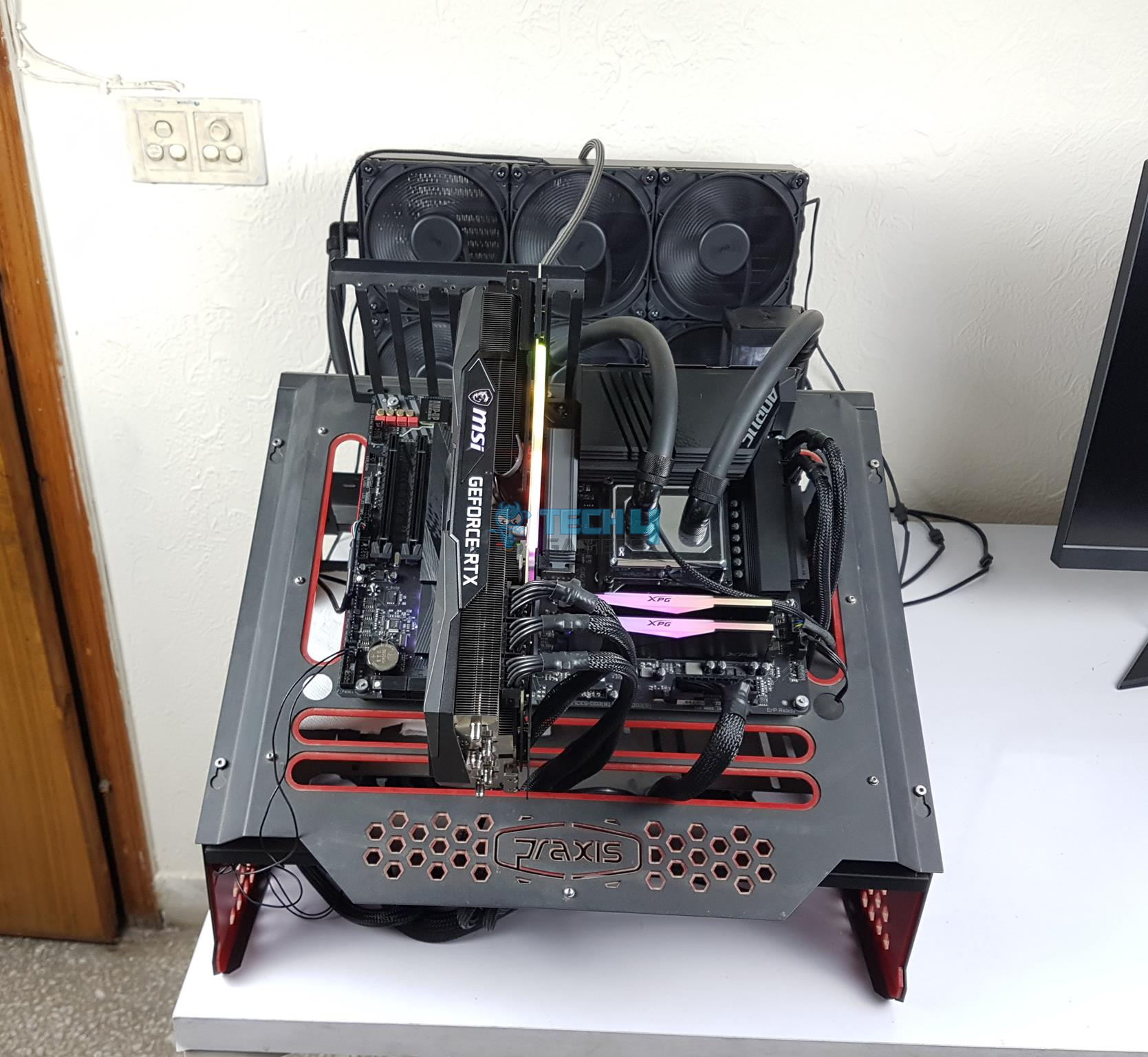 We left the system idle for like 30 minutes and used HWInfo64 to monitor the thermals and power usage.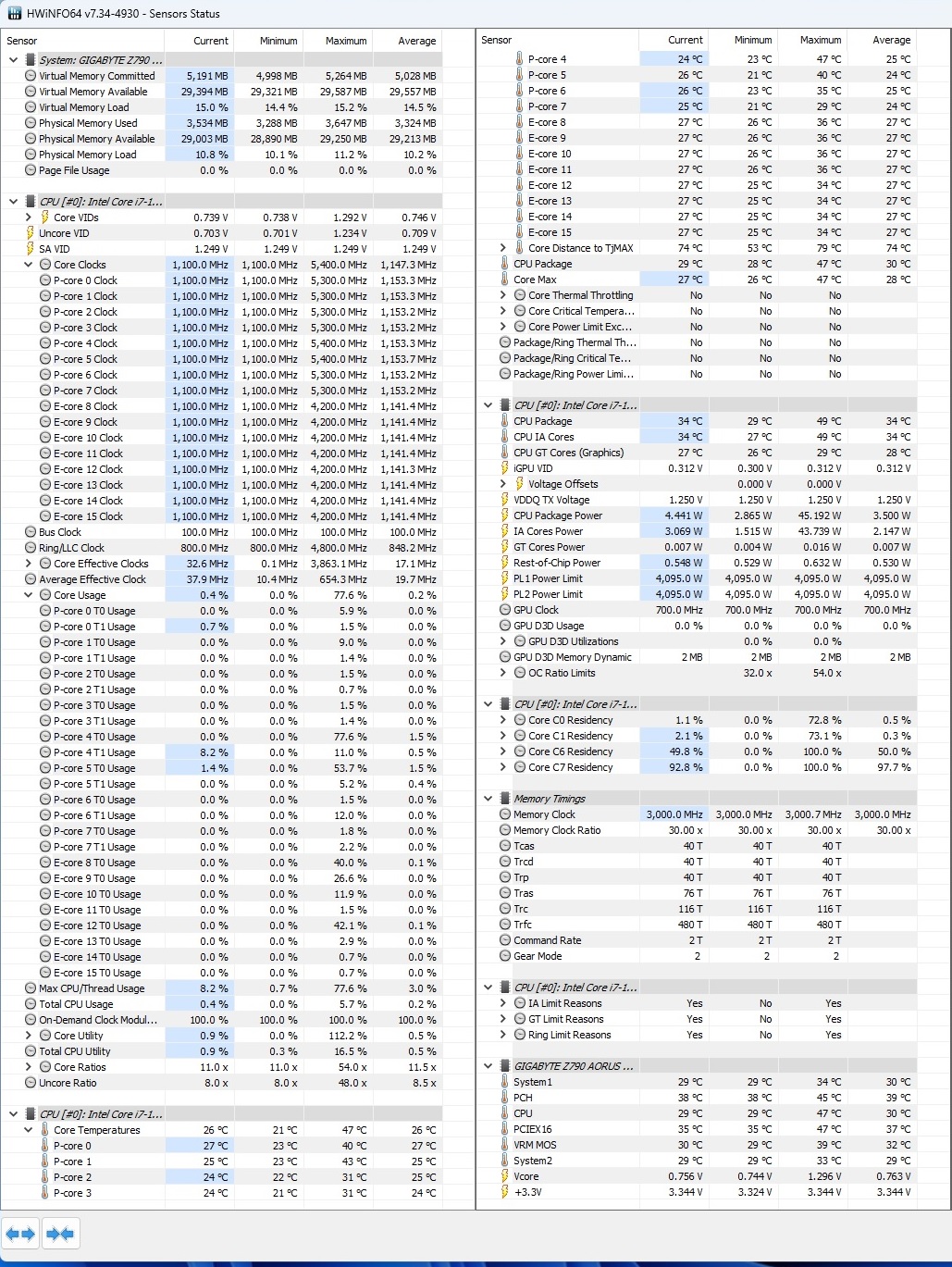 As can be seen in the above picture, the minimum package temperature was 28°C at an ambient of 19.9°C, and the package power was 2.865W.
The minimum frequency was 1.10GHz on any core during idling. The overall stats are good. Please keep in mind that this is a hybrid architecture. If you take the Core Temperature sensor into consideration, then the idling is at 21°C.
Next, we run a Cinebench R23 30-minute run on the CPU and monitor the stats using the HWInfo64.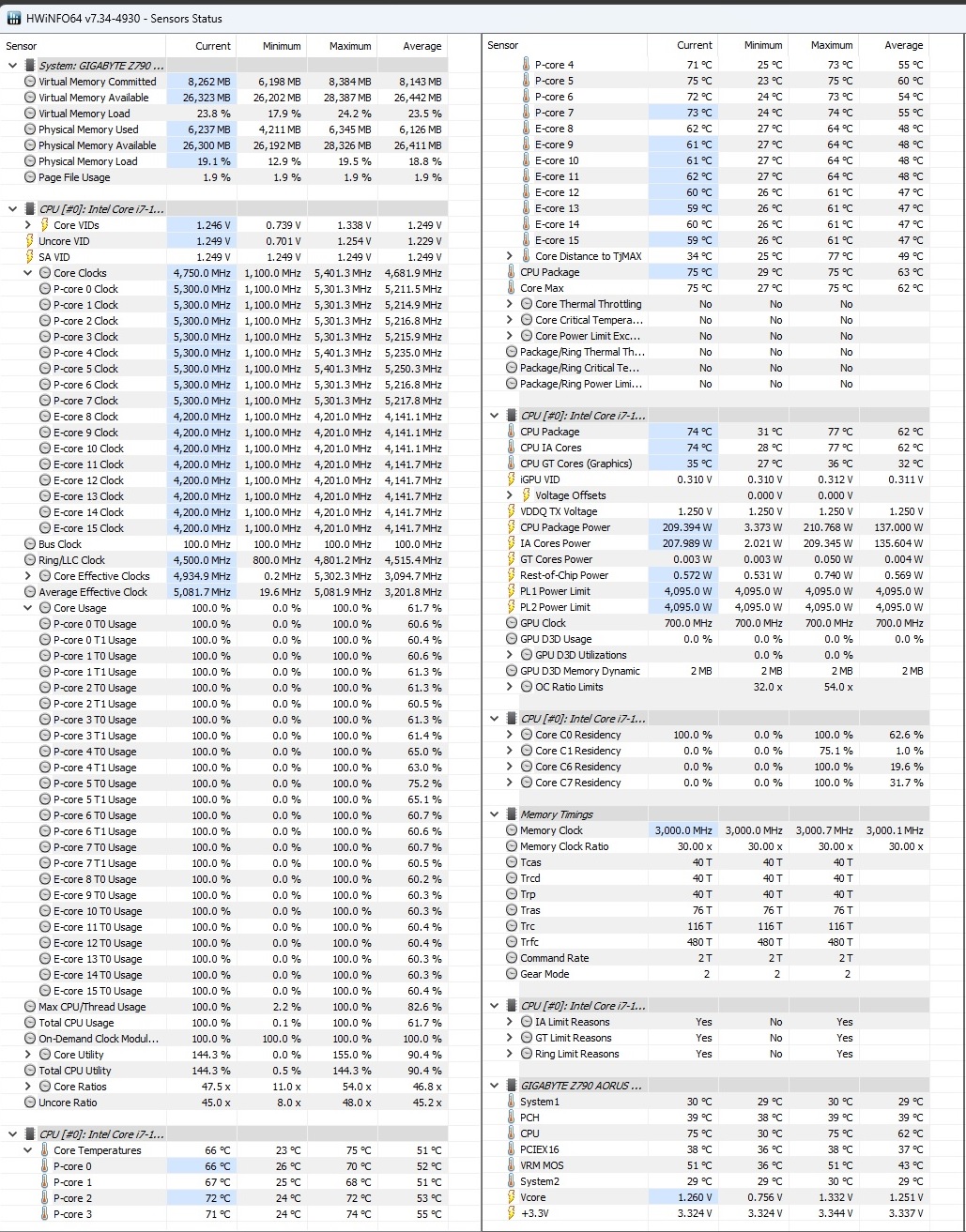 The temperature under load was 75°C.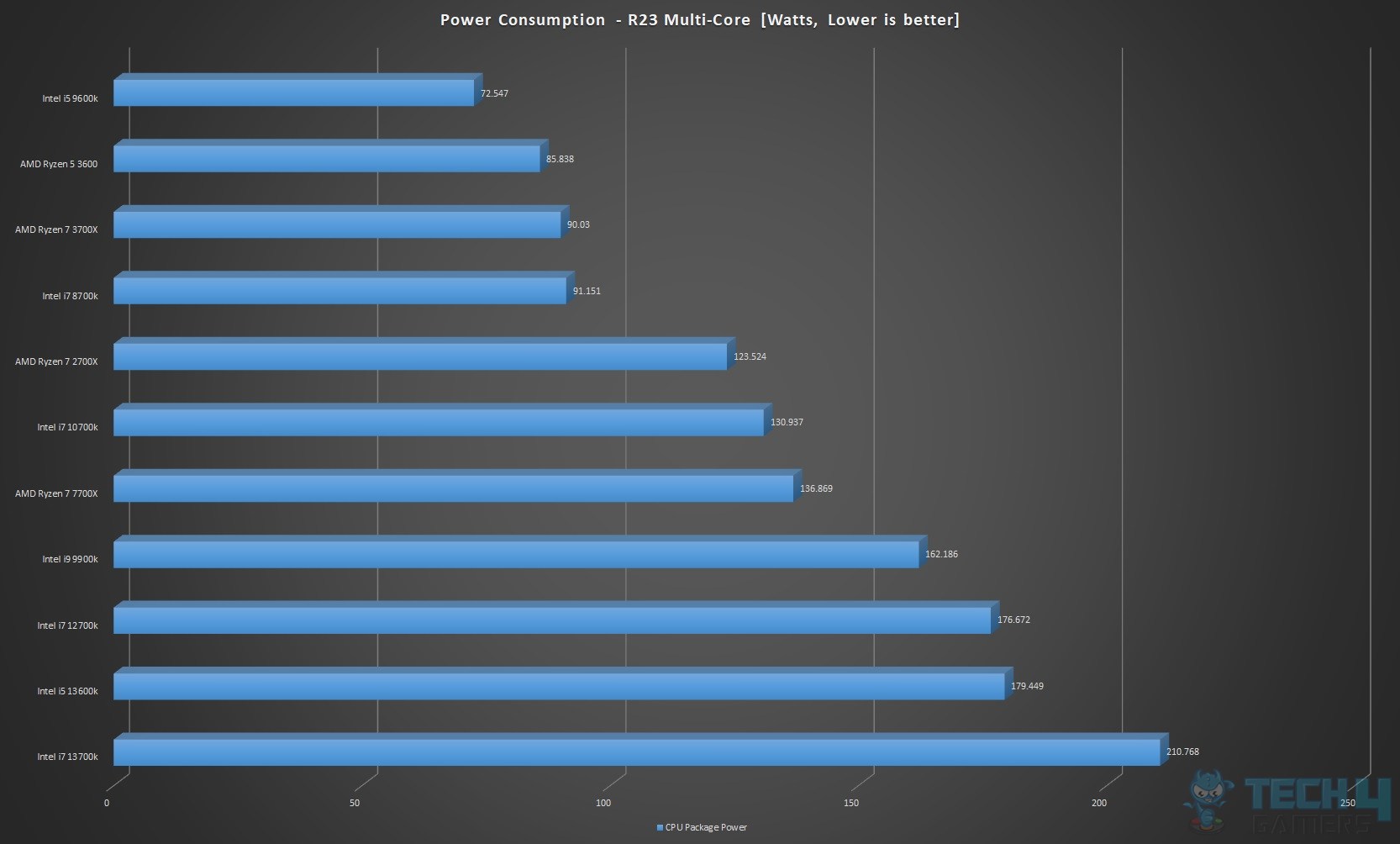 The power draw on the CPU package was 210.768W. This is less than the stated 253W for turbo frequency operation. All P-Cores were operating at 5.3GHz continuous, and all E-Cores were at 4.2GHz continuous. This is an impressive performance.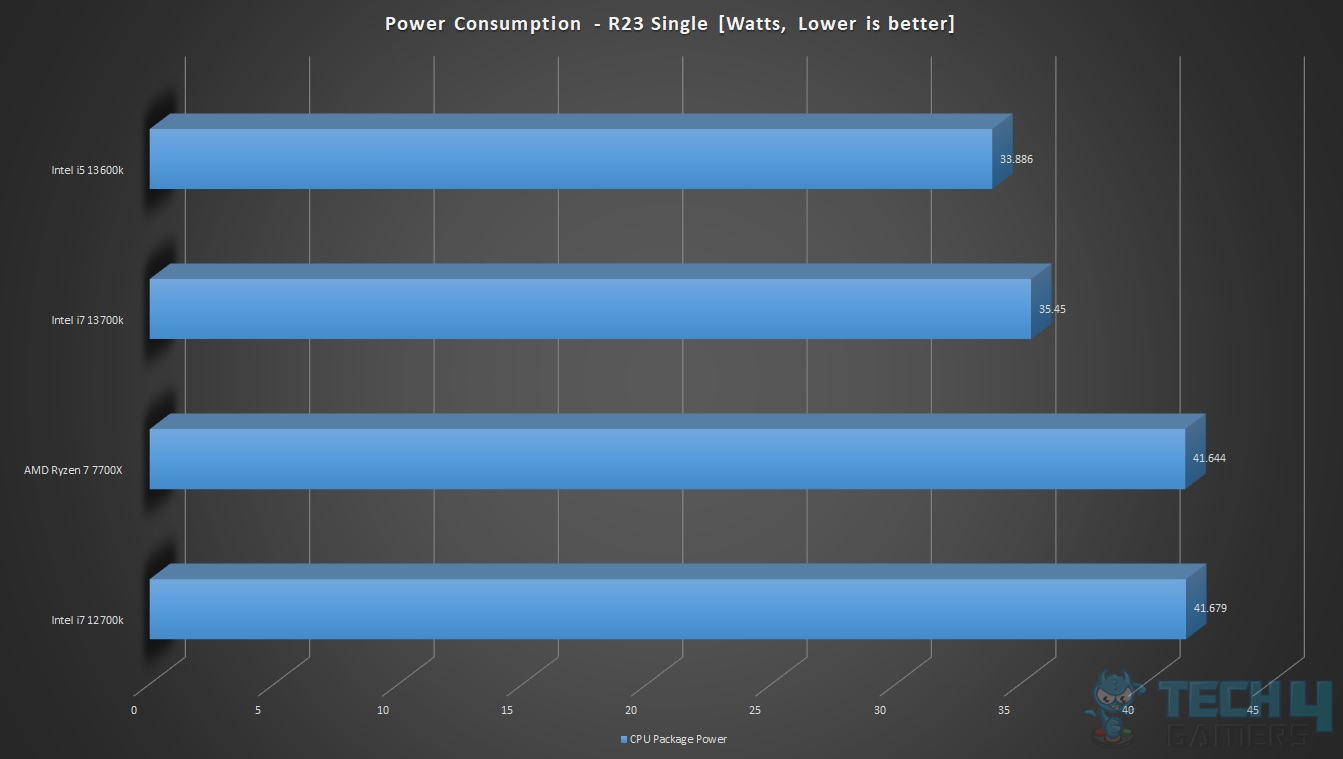 We also monitored the power usage on the single-core load using Cinebench R23. The CPU was drawing roughly 35.450W. Please note that single-core load does not use E-Cores on the Intel hybrid architecture (in Windows 11).
Comparative Performance At 4.0 GHz Clock
We have tested below mentioned SKUs by locking them at 4.0GHz all cores to see the performance gain, if any. This would be interesting, particularly for the core i7 12700k and 13700k:
Core i5 13600k
Core i7 12700k
Core i7 13700k
We have used Cinebench R23 runs to determine the relative score Multi-Core and Single-Core loads. The 1T or a single core load would give a better idea of IPC improvements, particularly for the core i7 12700k and i7 13700k. We left the E-Cores on the stock except on the core i7 13700k, where they were locked at 4.0GHz as well because they otherwise operate at 4.2GHz by default.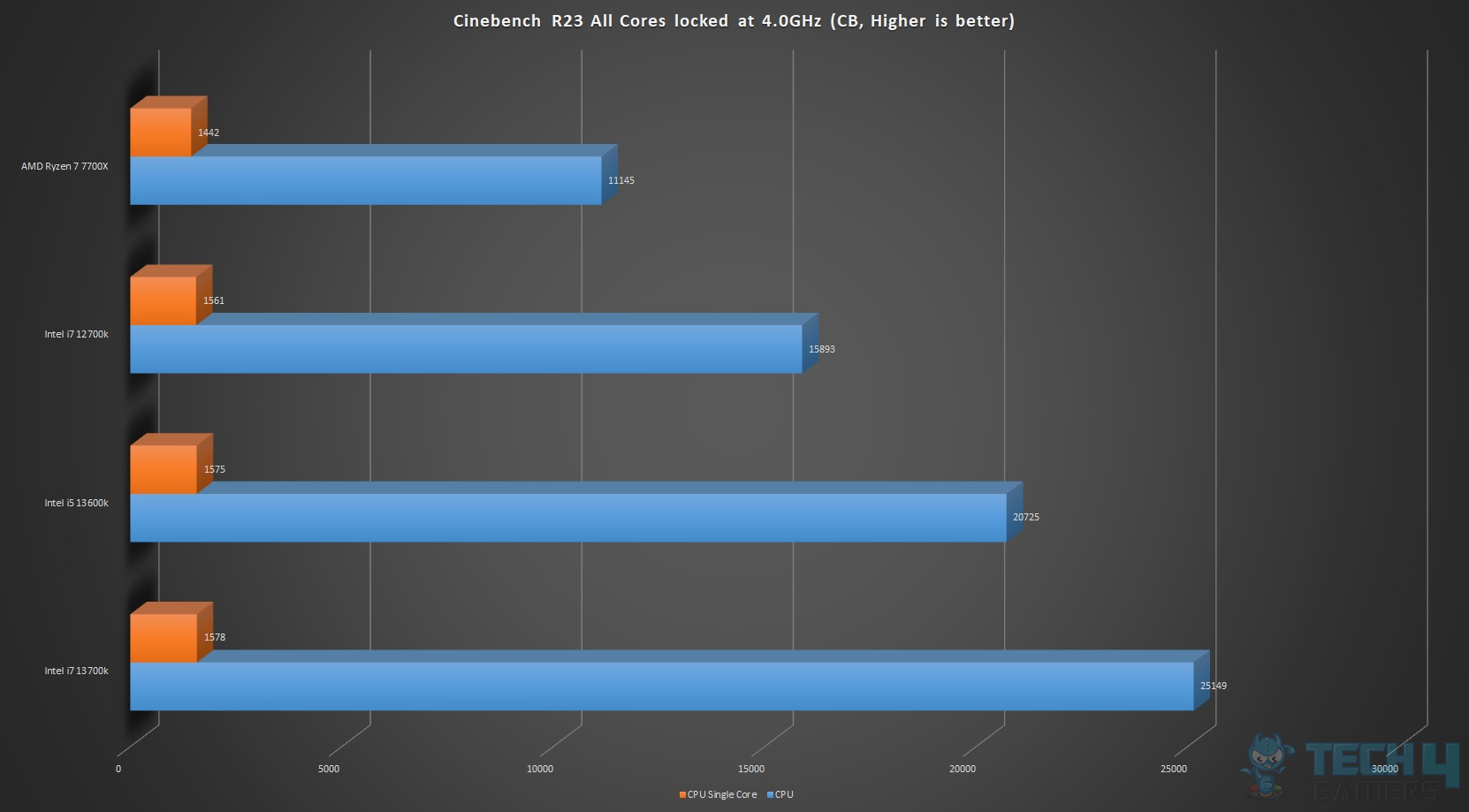 No surprise there, The Ryzen 7700X is at the fourth number. The core i7 13700k and core i5 1300k are almost neck to neck on a single-core run, but Multi-Core is where the core i7 13700k has the upper hand, and rightly so. Another trend that we can spot is the incremental difference between all these CPUs on the Multi-Core score.
The difference between the top 2, middle ones, and the middle to lowest one is roughly 4xxx. There is not a significant performance gap between the core i7 12700k and core i7 13700k in the single-core, but that difference is huge in the Multi-Core scores.
Overclocking
We started with P-Cores at 5.4GHz and E-Cores at 4.2GHz. For each change, we have tested the Cinebench R23 to see if there is any performance hit or gain. This was then tested further using games and other loads for stability. We settled at P-Cores operating at 5.7GHz and E-Cores at 4.6GHz. This is a good overclock on this CPU. The Vcore was set at approximately 1.350V.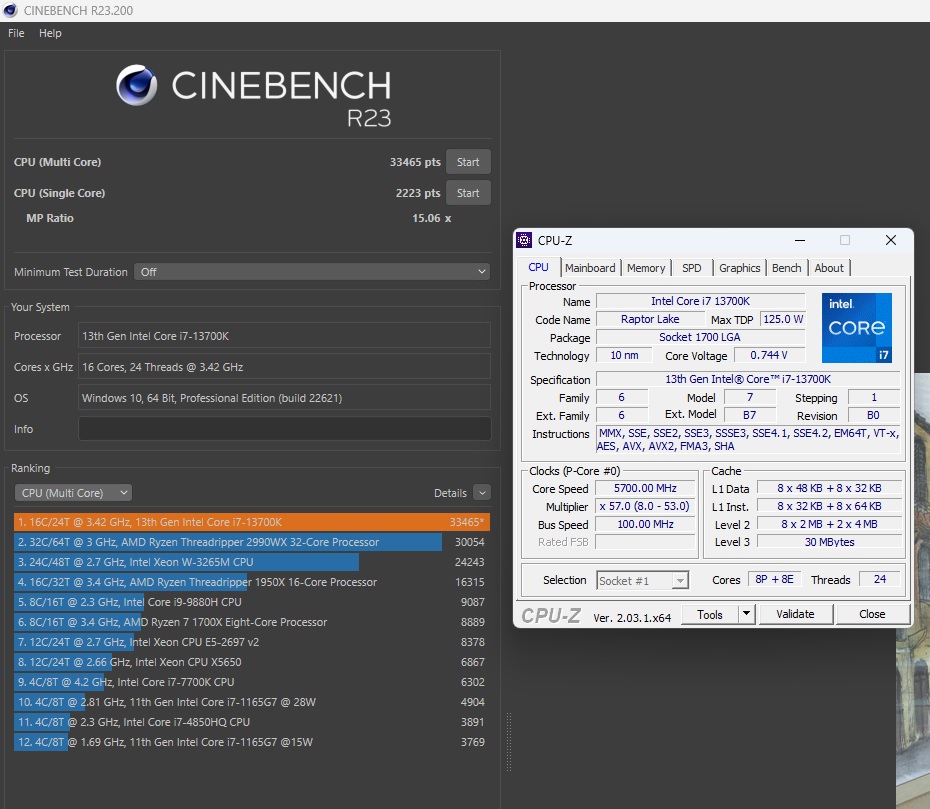 The above picture shows the performance gain from this overclock in the Cinebench R23. We saw a performance gain of approximately 7.31%.
The CPU was drawing 272W package power approximately, and the temperature was 90°C. Please remember we are using a custom loop setup with a massive-size radiator. The results with the regular AIO or air cooler would be different, and you might actually go into thermal throttling with this overclock on a regular cooler.
Should You Buy It?
Our thorough testing of the core i7-13700K has allowed us to evaluate its performance and features. Here are some of the key points you should keep in mind when purchasing this processor.
Buy It If:
You want a capable mid-range processor: In our testing, we noticed the i7-13700K outclasses every other CPU it competes against, making it the ideal processor in its price category.
You want a versatile processor: Packed with a total of 24 cores and 16 threads, the core i7-13700K makes for an excellent choice for gaming, content-creation, rendering as well and streaming, making it a versatile offering.
You want a processor for high-end GPUs: Its capable performance makes it adequate to pair with a high-end gaming GPU such as the GeForce RTX 4090 and 4080.
Don't Buy It If:
You have a less capable cooler: Throughout our testing, we observed the CPU's higher temperatures, which means you will need a capable cooling solution for the i7-13700K.
You want a more efficient CPU: Throughout our testing, We noticed a higher power draw from the i7-13700K.
Conclusion
During tests, the Intel Core i7 13700k maintained a 5.3GHz boost on P-Cores and 4.2GHz on E-Cores under heavy workloads. We favored its cooling compared to when testing the AMD Ryzen 7 7700X. Using an AlphaCool DIY loop with a 1260mm radiator and 9x 140mm fans, the Ryzen CPU reached 5.1GHz on all cores. After the same cooling, it hit 5.44GHz, but the Core i7-13700K's cores were 8x more efficient.
The Core i7 13700k supports Intel Thread Director and has Turbo Boost Max 3.0 enabled, unlike the Core i5 13600k. Its Tj Max is 100°C. We compared it against the Intel i7 12700k and AMD Ryzen 7 7700X, noting generation differences. It showed superior single-core performance.
The Core i7-13700K slightly surpassed the Ryzen 7 7700X in efficiency, though it consumed more power (210W to Ryzen's 135W). It also excelled in gaming performance, especially for competitive games. Despite its robust cooling setup, it reached temperatures of 76°C under heavy loads.
I overclocked it to 5.7GHz on P-Cores and 4.6GHz on E-Cores, but such overclocking isn't feasible for standard coolers. The 13th gen CPUs function on the 12th gen platform with a BIOS update, offering both DDR4 and DDR5 RAM support, ensuring cost savings. They also offer competitive pricing.
Awards Received By Core i7-13700K
Was our article helpful? 👨‍💻
Thank you! Please share your positive feedback. 🔋
How could we improve this post? Please Help us. 😔
[Hardware Reviewer & Editor]
Meet Nauman Siddique, a highly experienced computer science graduate with more than 15 years of knowledge in technology. Nauman is an expert in the field known for his deep understanding of computer hardware.
As a tech tester, insightful reviewer, and skilled hardware editor, Nauman carefully breaks down important parts like motherboards, graphics cards, processors, PC cases, CPU coolers, and more.
15+ years of PC Building Experience
10+ years of first-hand knowledge of technology
7+ years of doing in-depth testing of PC Hardware
A motivated individual with a keen interest in tech testing from multiple angles.
I majored in Computer Science with a Masters in Marketing
Previously worked at eXputer, EnosTech, and Appuals.