Is It Worth It??
Review Summary
Kingston means business with Fury Renegade series DDR5 kits and offers these kits in quite some style and high performance with zero compromises. Being Kingston, we would rely on its build quality and support as well. This kit has performed quite well out of the box and even offered a free performance upgrade. It is hard to ignore Fury Renegade from Kingston when it comes to high-performance DDR5 RAM.
Value -

9/10

Performance -

9/10

Quality -

9/10

Features -

9/10
Pros
High-Speed kit using 6400MT/s
Integrated Temperature Sensor
Intel XMP 3.0
Three XMP Profiles
Unlocked PMIC
Overclocking Potential
Aluminum Heat Spreader
Build Quality
Limited Life Time Warranty
Stable XMP Profiles
Kingston Technology needs no introduction. The company has roots back in 1987 when they came out with a new design of memory module that actually revolutionized the market subsequently.
They are engaged in manufacturing memory in particular and storage solutions not only for the consumer market but for industrial, business, and DATA Center sectors as well. Kingston and Quality are almost synonymous when it comes to memory module technology and solutions. Suffice it to say, Kingston is an old player in the market.
While the users were enjoying DDR4 memory modules back in 2 to 3 years, and particularly when higher frequency kits started entering the mainstream, we saw a launch of the DDR5 platform.
It is what it is, as I remember a switch from DDR2 to DDR3 and then DDR3 to DDR4 almost in the same fashion, albeit this time, things moving forward quickly. So far, we have tested three different DDR5 kits from various manufacturers, and this time we are thrilled to test the premium DDR5 kit from none other than Kingston.
This kit is called FURY RENEGADE, and it has a speed of 6400MT/s using a primary timing of CL32 at 1.40V. This kit comprises 2 sticks of 16GB capacity making up 32GB.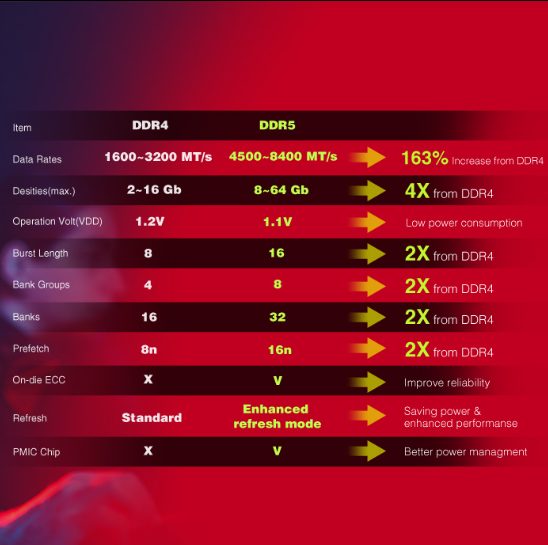 The above table shows the salient differences between the DDR4 and DDR5 modules. Some of the keynotes include 1.1V as compared to 1.2V [JEDEC stock voltage], higher densities, more banks & bank groups, provision of on-die ECC on DDR5, and PMIC on DDR5 modules.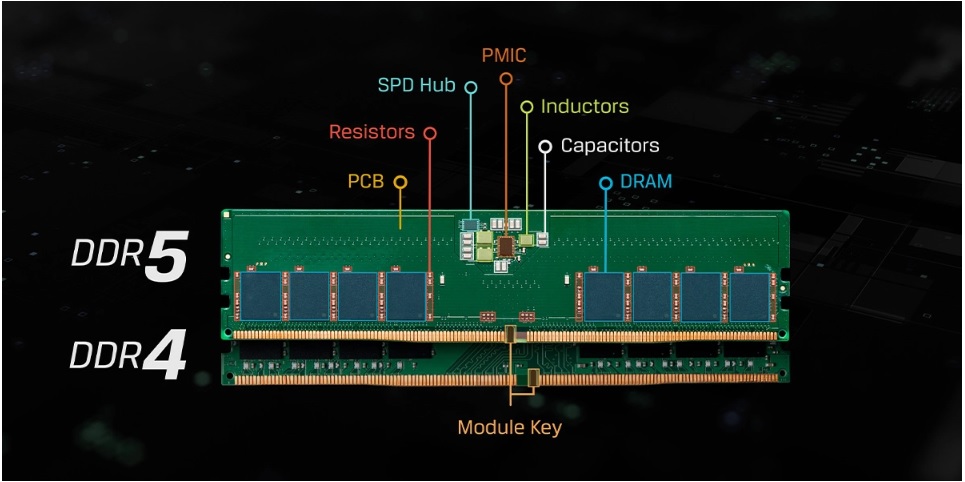 Among the key differences between the DDR4 and DDR5, the position of the key notch is different on both, which would mean DDR5 RAM can't be installed on the DDR4 socket. This is despite having the same pin count.
The DDR5 modules contain Power Management IC circuitry on the PCB, which was not the case with the DDR4. The PMIC enhances power supply stability. Its lower operating voltage also makes DDR5 more power-efficient than DDR4. Also, DDR5 integrates I/O resistors with CMD/ADD resistors giving a cleaner look.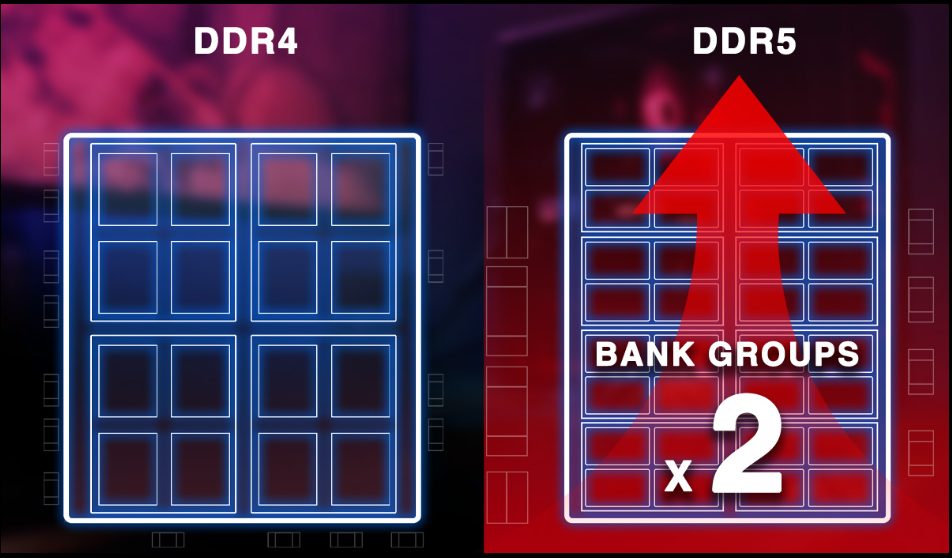 DDR5 module provides two times more capacity than DDR4 by packing in more banks and bank groups. In addition, Burst Length and Prefetch are also doubled. ECC technology is also featured for data integrity.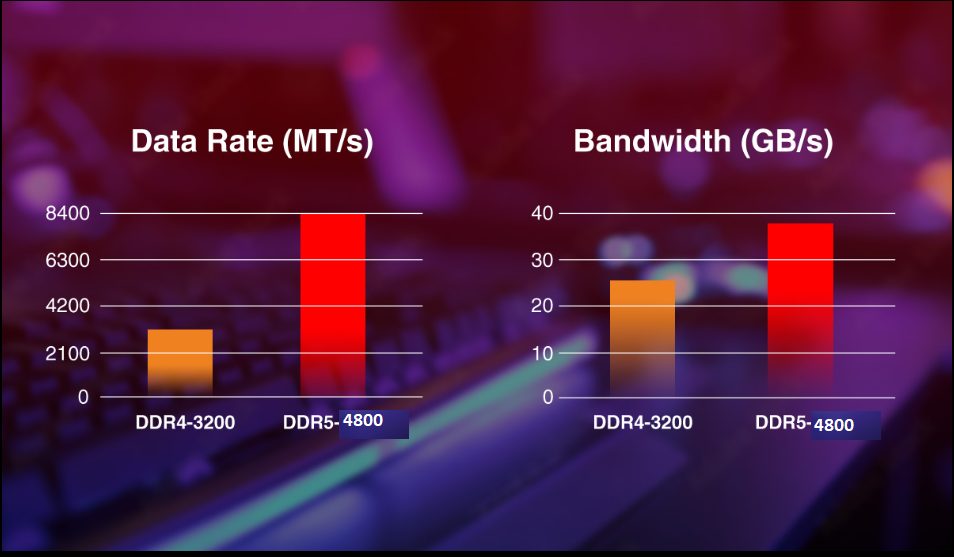 The DDR5 kits boast higher bandwidth and frequency when compared with the DDR4 kits. According to ADATA, their DDR5 memory modules deliver frequencies of up to 4800MT/s and feature bandwidth of 38.4GB/s, which is 50% higher than the DDR4-3200. The maximum frequency is increased by 1.63 times compared to DDR4.
Specifications
| Product | Kingston Fury Renegade |
| --- | --- |
| Speed | 6400MT/s |
| Latency | CL32 |
| Voltage | 1.4V |
| Operating Temperature | 0°C to 85°C |
| Dimensions | 133.35 x 39.2 x 7.65mm |
Packing Box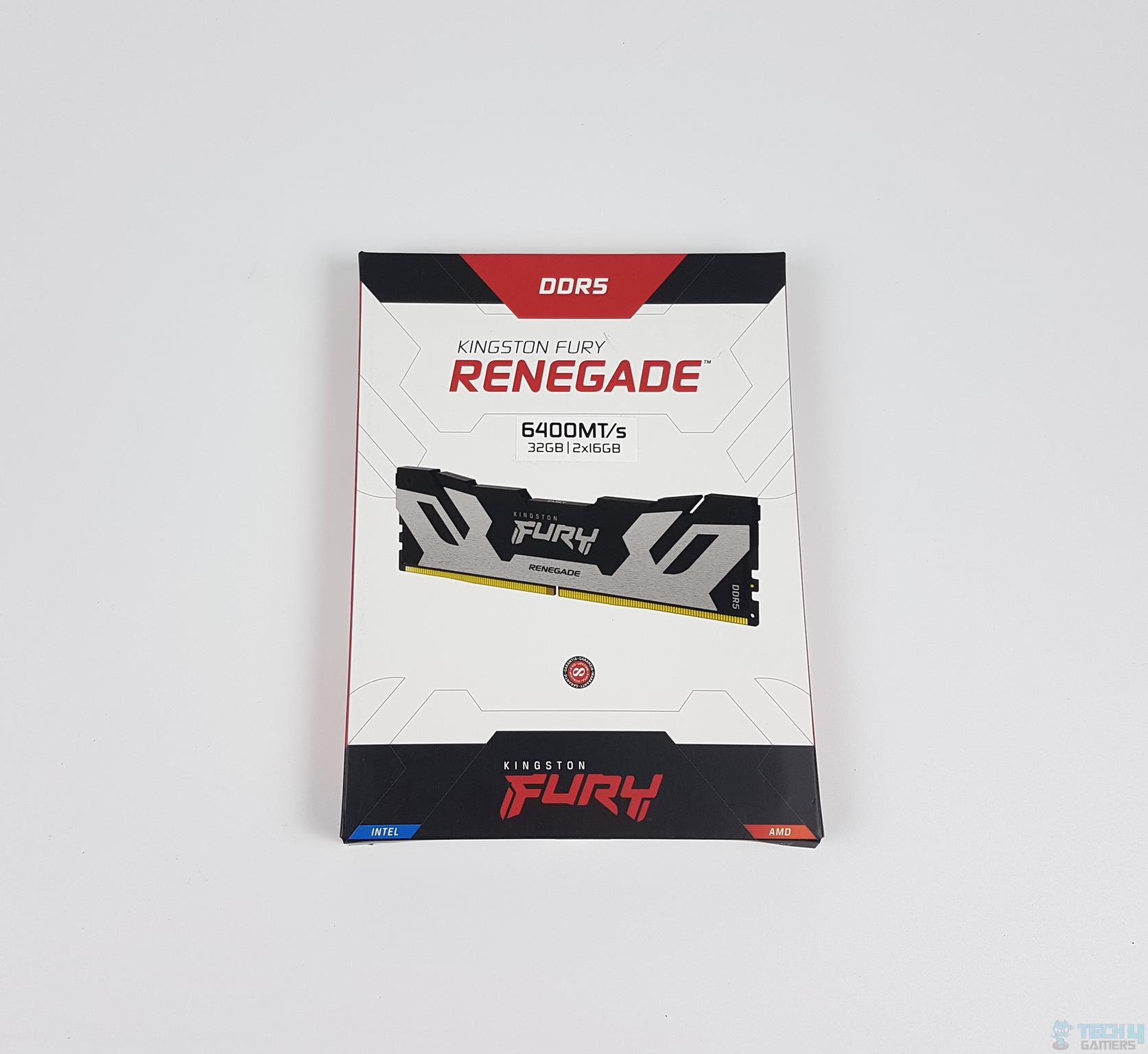 This kit comes in a paperboard-made packing box that is finished in black and white colors. This kit is supported on Intel and AMD platforms, and it has a speed of 6400MT/s.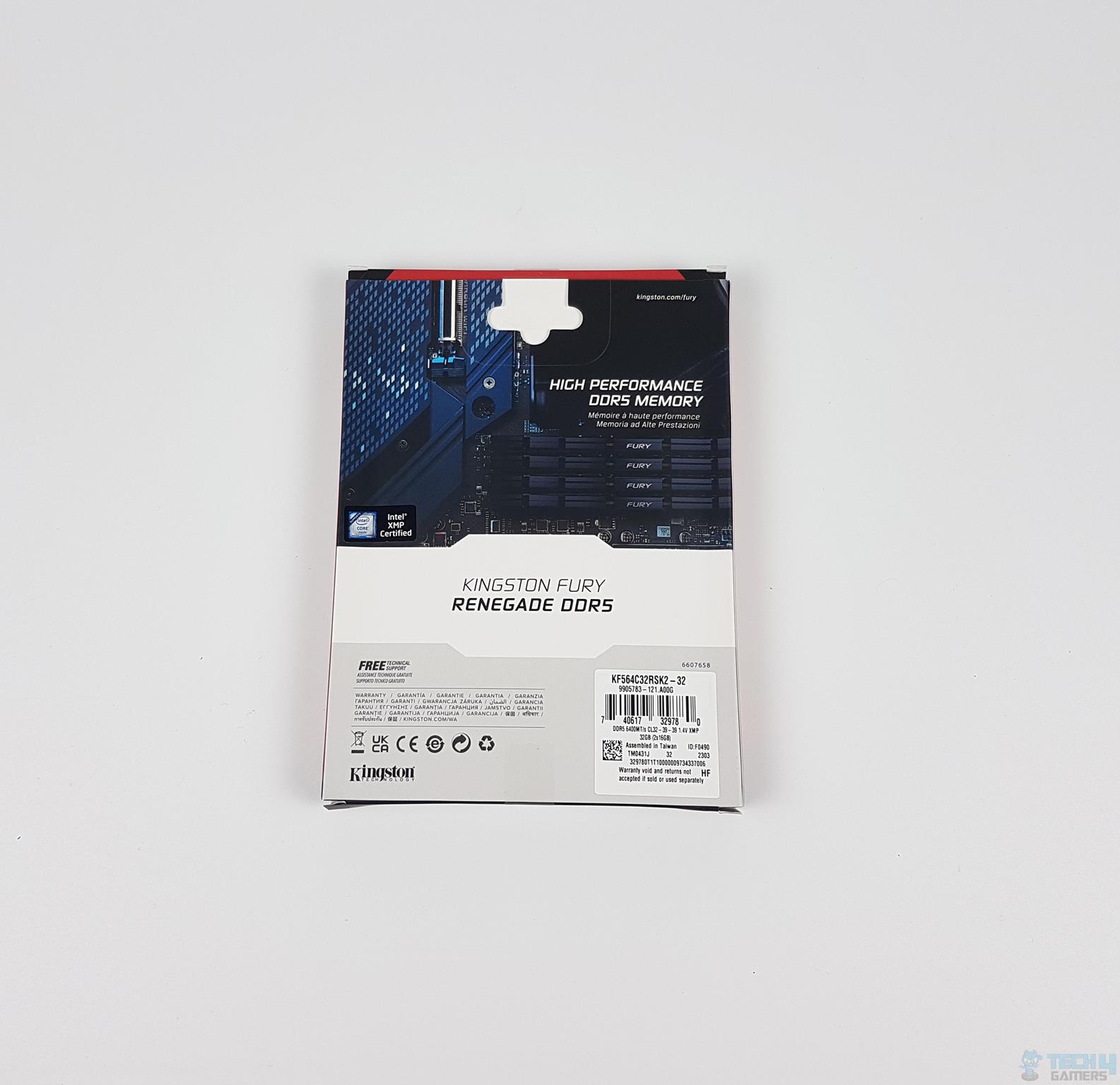 The backside of the packing box has a label showing the part number of this kit which is KF564C32RSK2-32. Kingston has mentioned this kit as having high-performance DDR5 memory.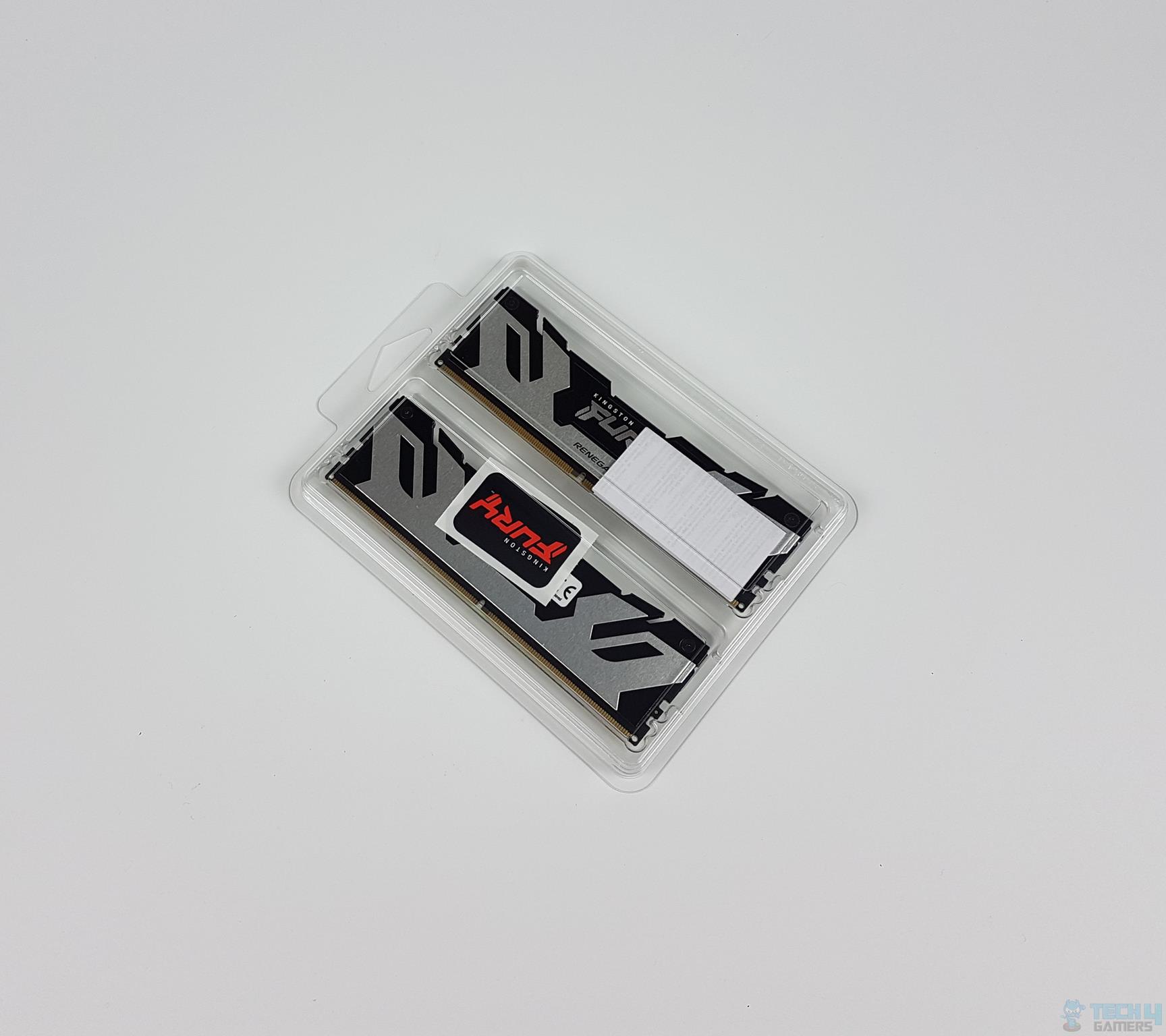 The kit is shipped inside a transparent container. We can see both sticks, along with a sticker and a user guide.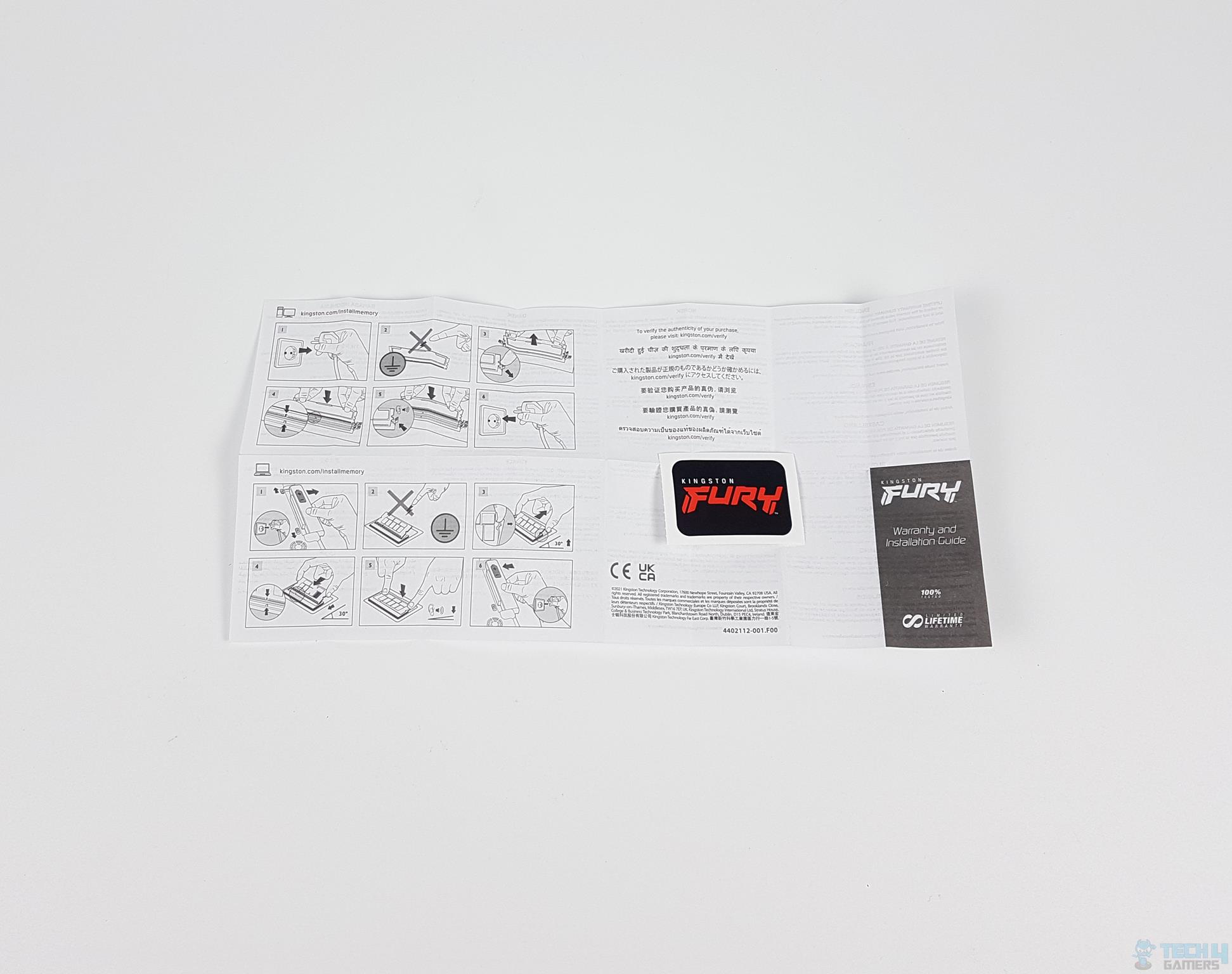 Kingston has provided the following:
1x Kingston Fury Sticker
1x Instructions Page
Design
Let's take a closer look at the kit, followed by the test results with overclocking.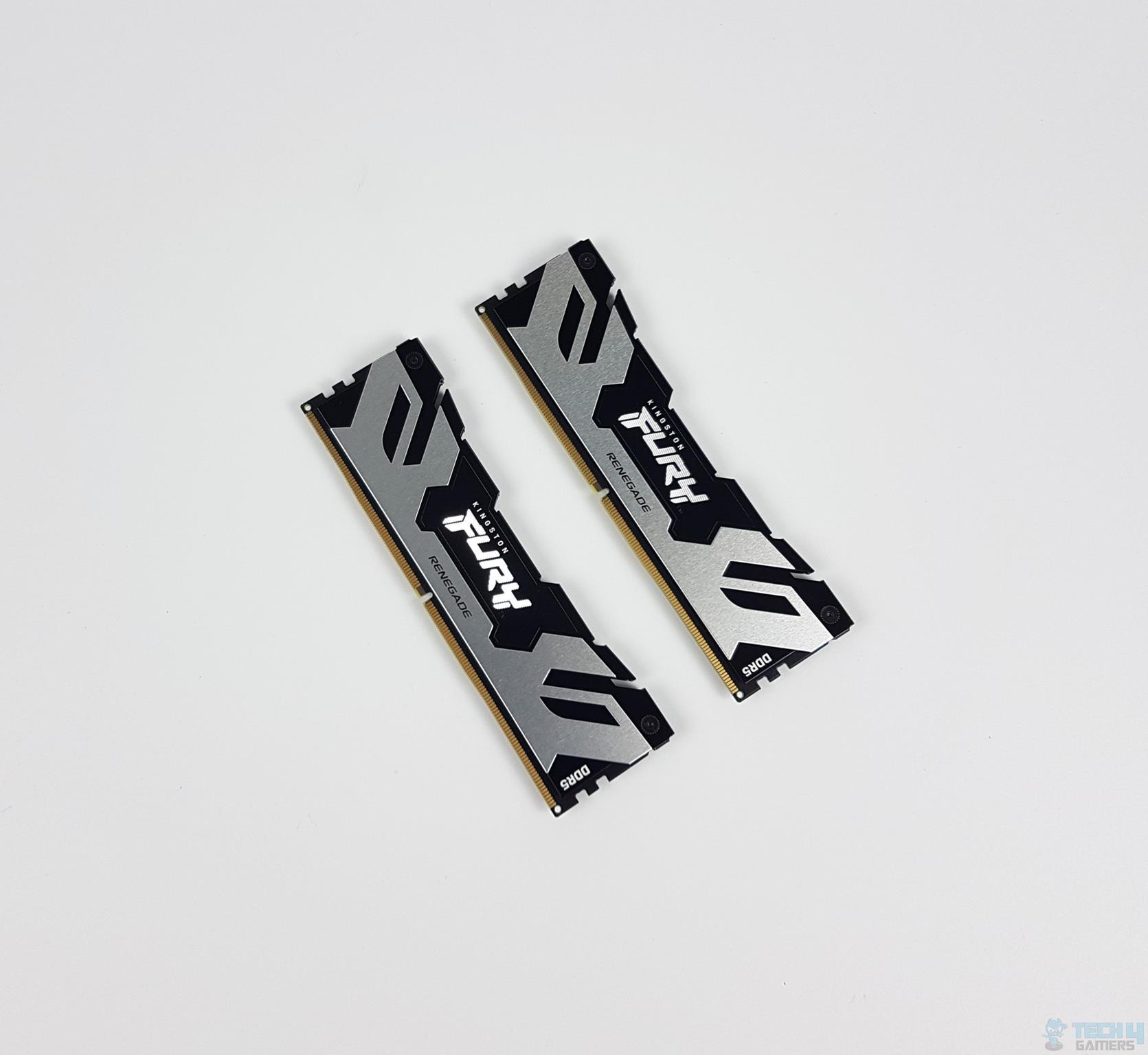 FURY RENEGADE is a high-performance series from Kingston, and at the time of this writing, these kits are a premium memory solution from the manufacturer.
This series is available in RGB as well as non-RGB editions, and we have a got a kit without RGB LED lighting. Speaking of the available transfer speed, this series has:
6000 MT/s
6400 MT/s
6800 MT/s
7200 MT/s
This series has CL 32, 36, and 38 timings with complete data as mentioned below:
6000 MT/s, CL32, 1.350V
6400 MT/s, CL32, 1.40V
6800 MT/s, CL36, 1.450V
7200 MT/s, CL38, 1.450V
This series has a 16GB and 32GB capacity per stick, and they are available in a dual-channel configuration comprising 2x16GB and 2x32GB.
Let's take a look at the sticks, starting with a statement from Kingston about this series, "Push the limits like never before with Kingston FURY™ Renegade DDR5 memory, designed for extreme performance on next-gen DDR5 platforms.
Enhance your system with the boost it needs to stay on top with ultra-fast memory up to 7200MT/s. Kingston FURY Renegade DDR5 features a sleek, newly designed black and silver aluminum heat spreader to complement the look of the latest PC built by system builders and DIY PC enthusiasts. Available in single module capacities of 16GB & 32GB and dual channel kits of 2 with capacities of 32GB and 64GB."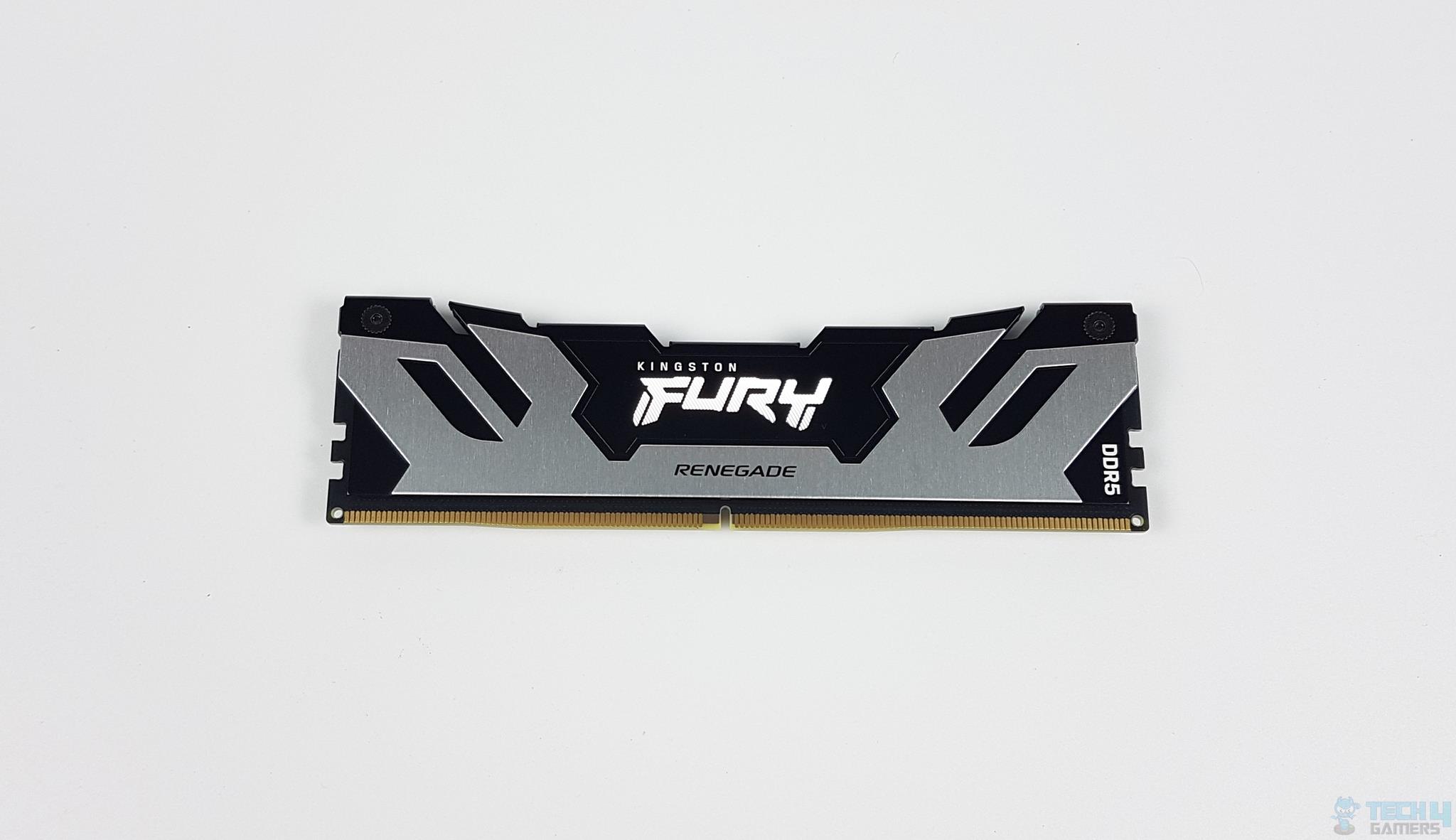 The dimension of this kit is 133.35×39.2×7.65mm (LxHxW). This kit sits in between the low-profile and high-profile RAM design (speaking in terms of height). 39.2mm is the overall height of this kit, including the gold pin connectors.
This is still an acceptable height in terms of compatibility with air coolers. This kit has a width of 7.65mm. It is Non-ECC, Unbuffered DIMM with a 288-pin layout (DDR5). Click here to check the compatibility information of this kit with various motherboards.
We can spot a black and silver color heatsink. This heatsink is made of aluminum material, and the main component is black color only. This heatsink can be taken apart by unscrewing two Philips screws on the top side.
KINGSTON FURY is in white color in the center, and RENEGADE is in black color over silver color plating. DDR5 can be seen towards the right side. This is quite a bold and stylish design.
The above angle shows a better view of this silver plating. This silver plating is only for aesthetics and the overall good outlook of this kit. It does not serve any cooling purpose as such. The main heatsink is black in color.
The PCB is also black in color, which further adds to the neutral color scheme of this kit. We can see a border of the PCB with notches on both sides. The aluminum cover has the same length as the PCB. Tolerances on all dimensions are ±0.12 unless otherwise specified by Kingston.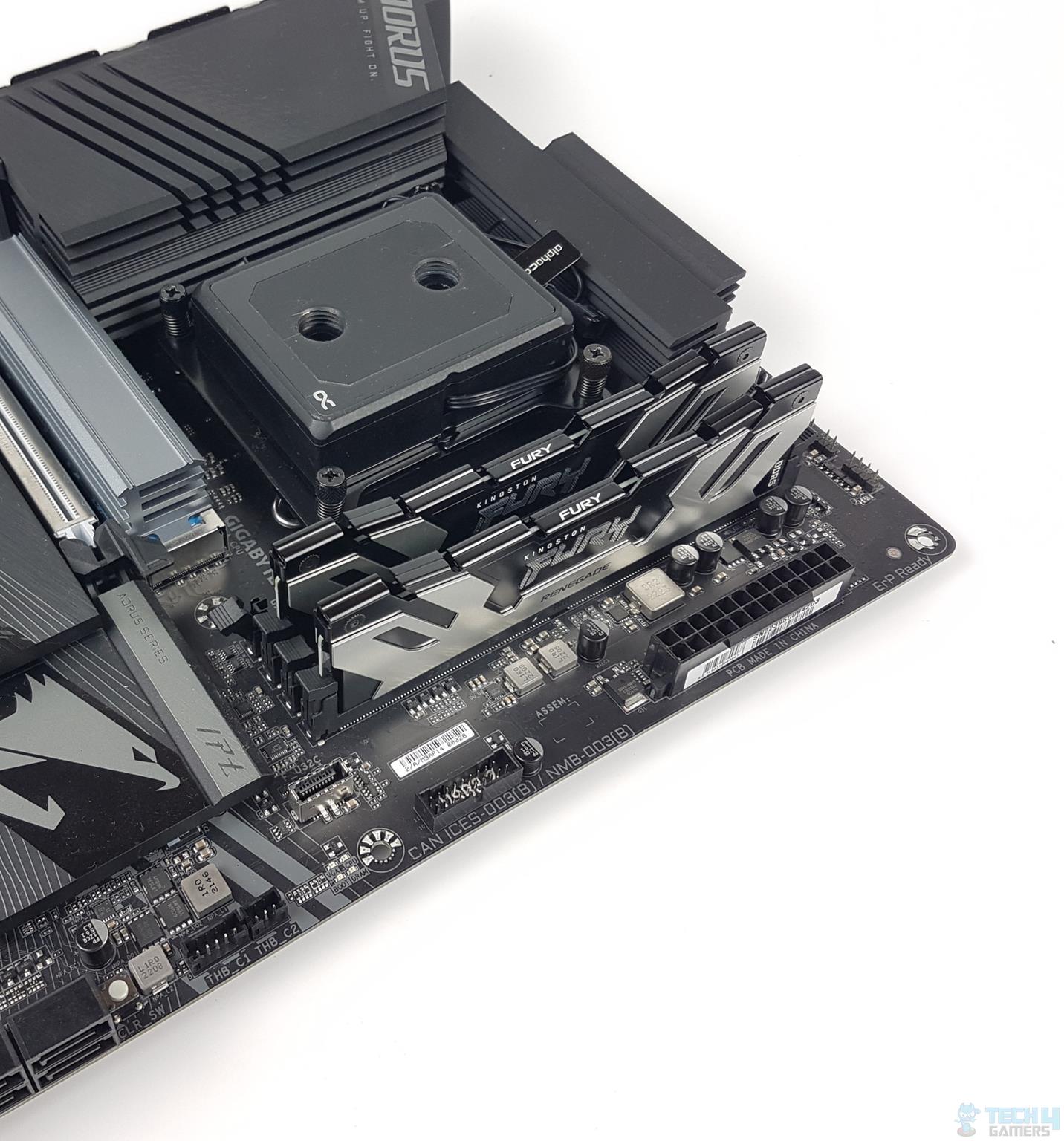 The first look on top of the heatsink gives me vibes of G.Skill Ripjaws V in DDR4 when they were launched, though the design layout is totally different. The center has an inset with FURY branding.
The exterior sides are a bit protruded compared to the center. There are cutouts at regular intervals for effective heat dissipation. The FURY accent on the sides is a majestic design. This kit would definitely suit a black or neutral build theme.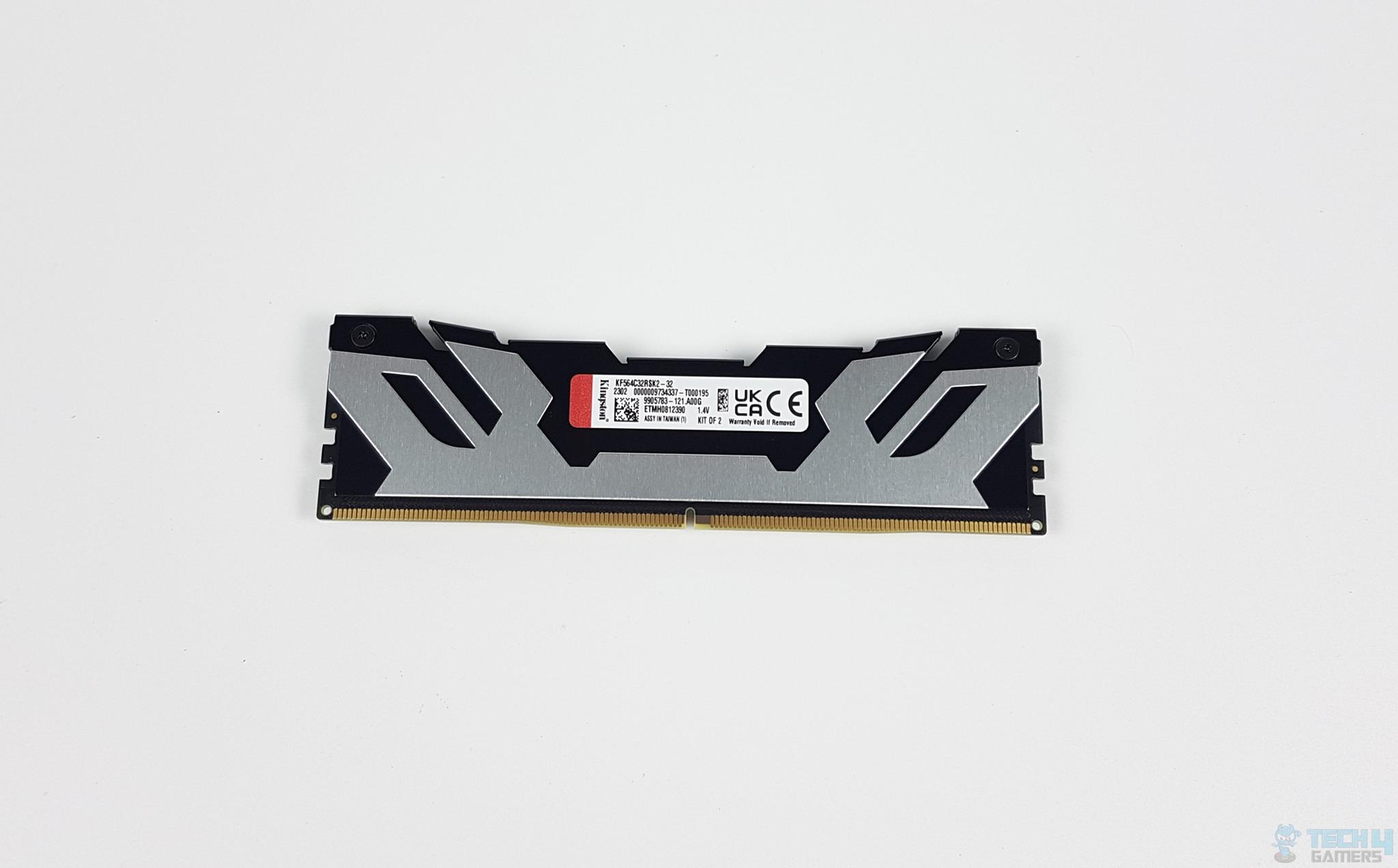 The backside of this stick has the same layout except for a sticker label in the center. Well, removing this label would void the warranty. 2302 is printed on that sticker which seems to be the manufacturing date. This kit is assembled in Taiwan.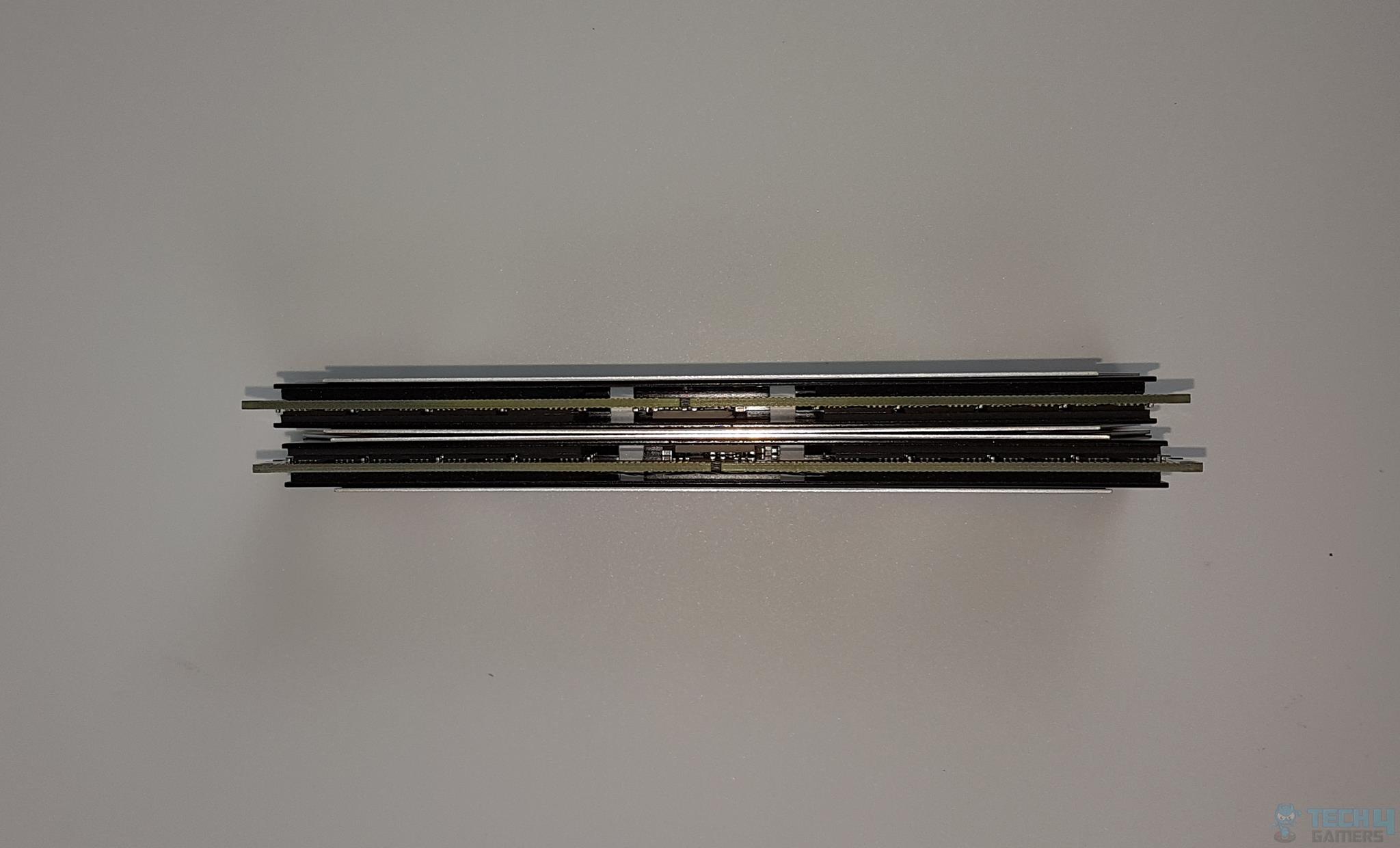 This is a single-rank design. One side of the PCB has a thick black color foam pad, as this side is not populated. The opposite side has 4x memory chips on one side and 4x on the opposite side. Each of these memory chips has a 2GB capacity using an 8-bit FBGA component design.
This gives a 32GB capacity overall in 1Rx8 using a 2G x 64-bit design. We can also see a thermal pad on these chips. By the way, this is a Hynix A-Die kit having part number H5CG48AEBDX018. This kit uses PMIC controller RTQ5132GQWF from Richtek. This kit was manufactured in January 2023.
A fresh piece we got for sure. This kit does not have a programmed EXPO, but it supports Intel XMP 3.0. One good design is the provision of a temperature sensor on each stick with an accuracy of ±0.50°C.
One smart design is the placement of a thermal pad running on the entire length covering all 8x memory chips and even the PMIC. It seems like this PMIC is unlocked for maximum overclocking potential.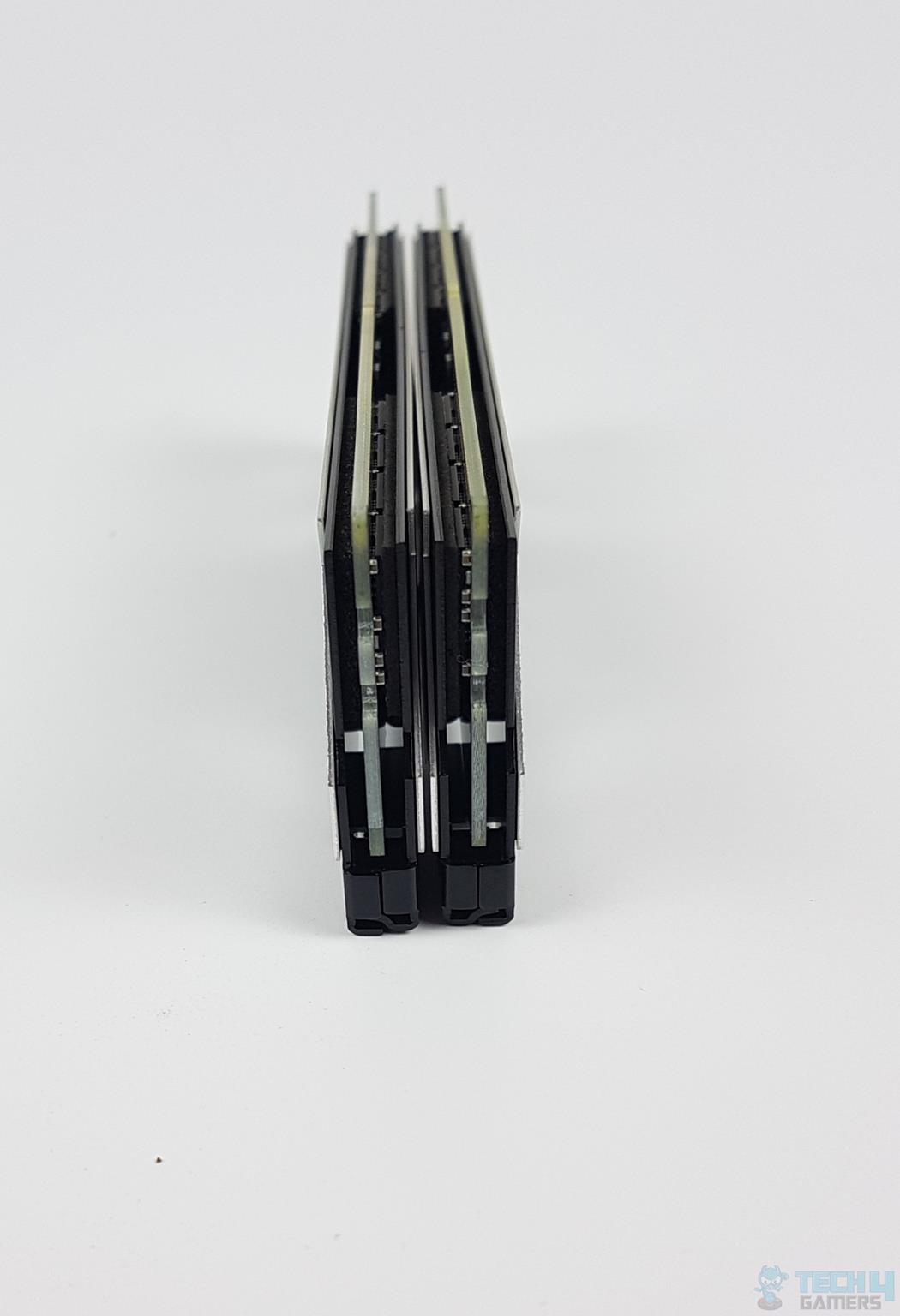 The PCB is protruding from the sides of the heat spreader. This is to make room so that latching can be done when installing the modules in the socket. One can take a glimpse at memory chips.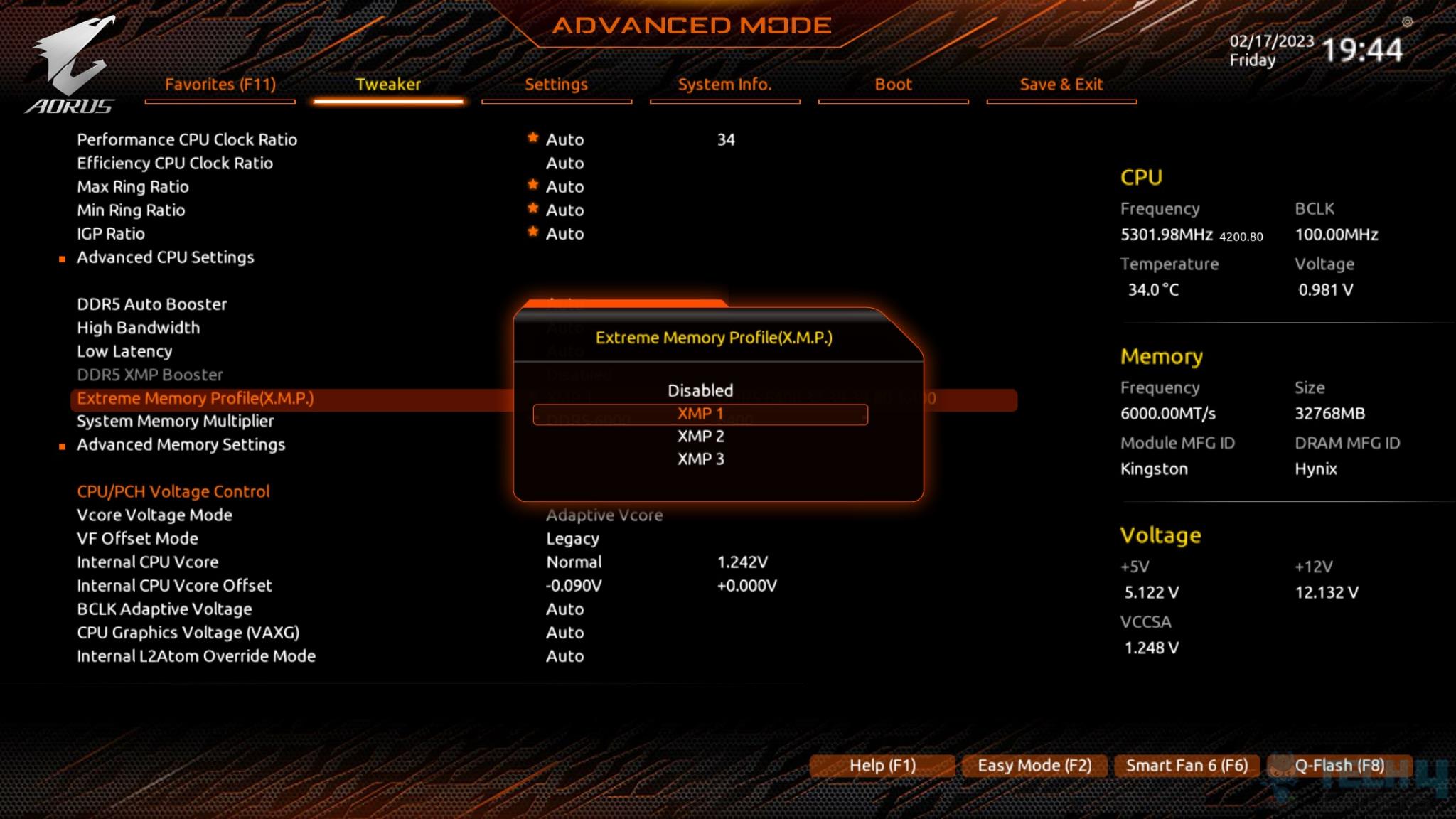 This kit comes with 3 XMP profiles listed as XMP1, XMP2, and XMP3.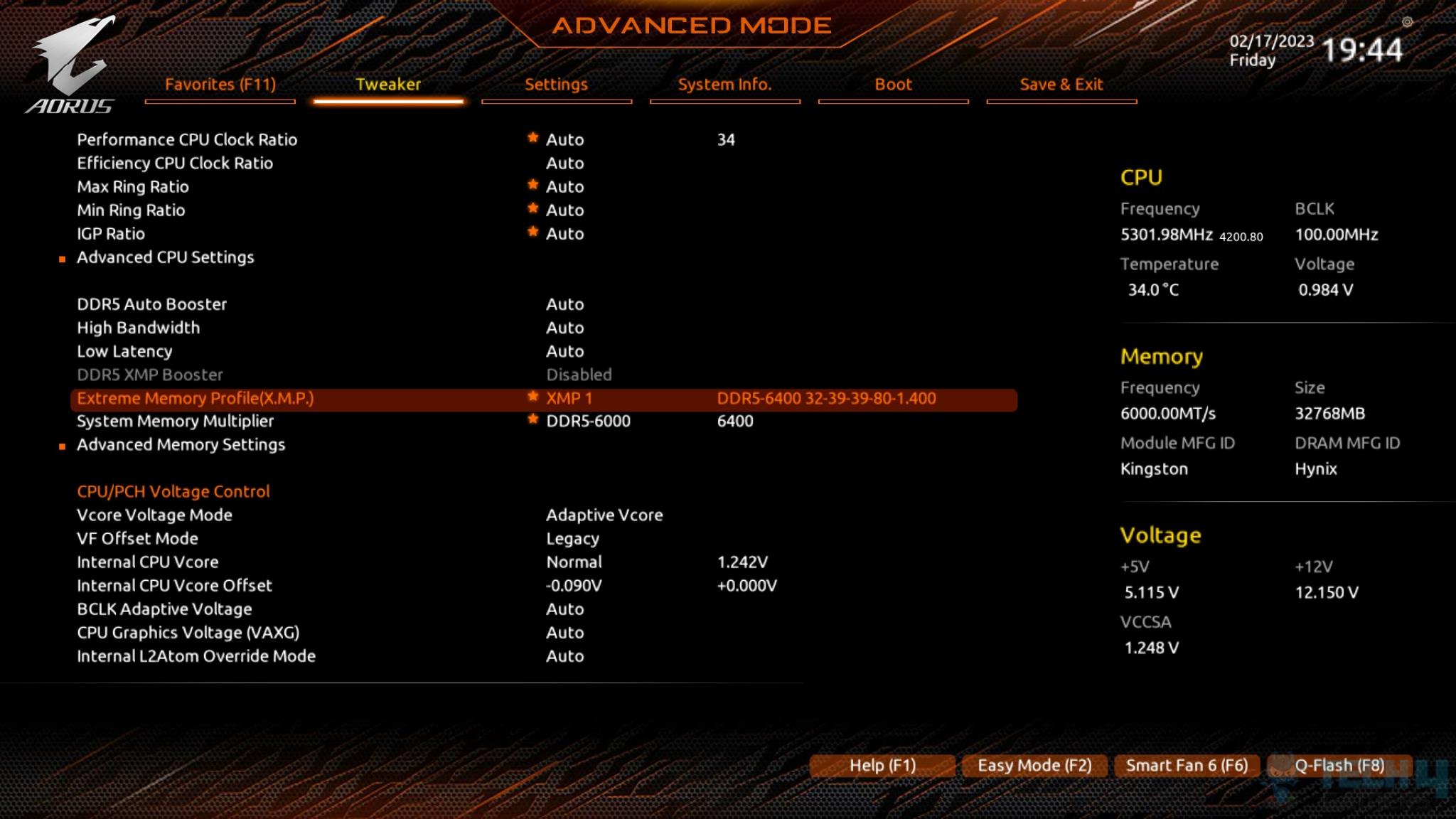 XMP 1 loads the DDR5 profile of 6400MT/s using 32-29-29-80 timings at 1.40V.
XMP 2 loads the DDR5 profile of 6000MT/s using 32-38-38-80 timings at 1.35V.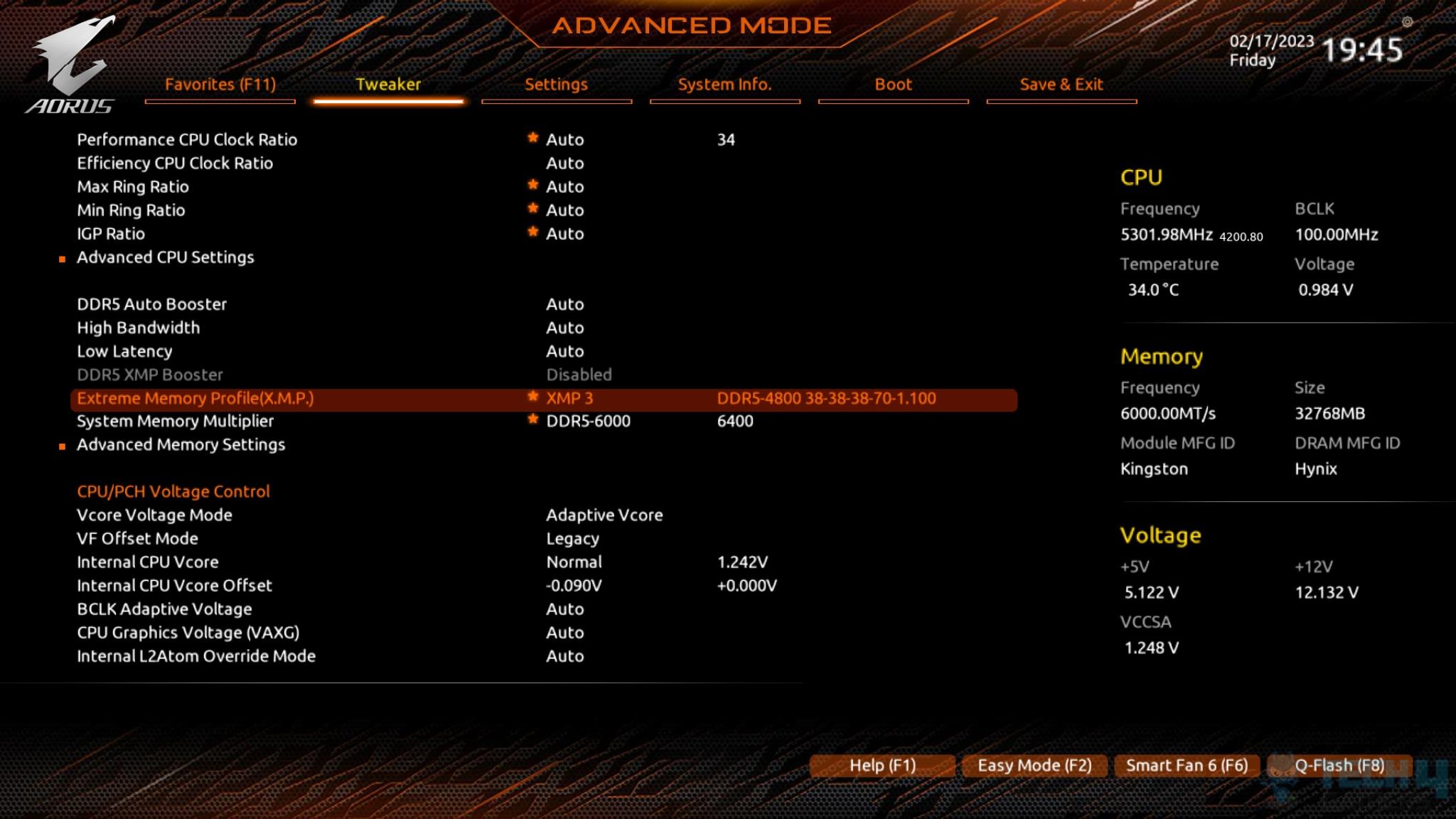 XMP 3 loads 4800MT/s using 38-38-38-70 at 1.1V. Keep in mind that JEDEC Default is 4800MT/s using 40-39-39 timings at 1.1V. We can see that XMP 3 has tight timings compared to JEDEC defaults.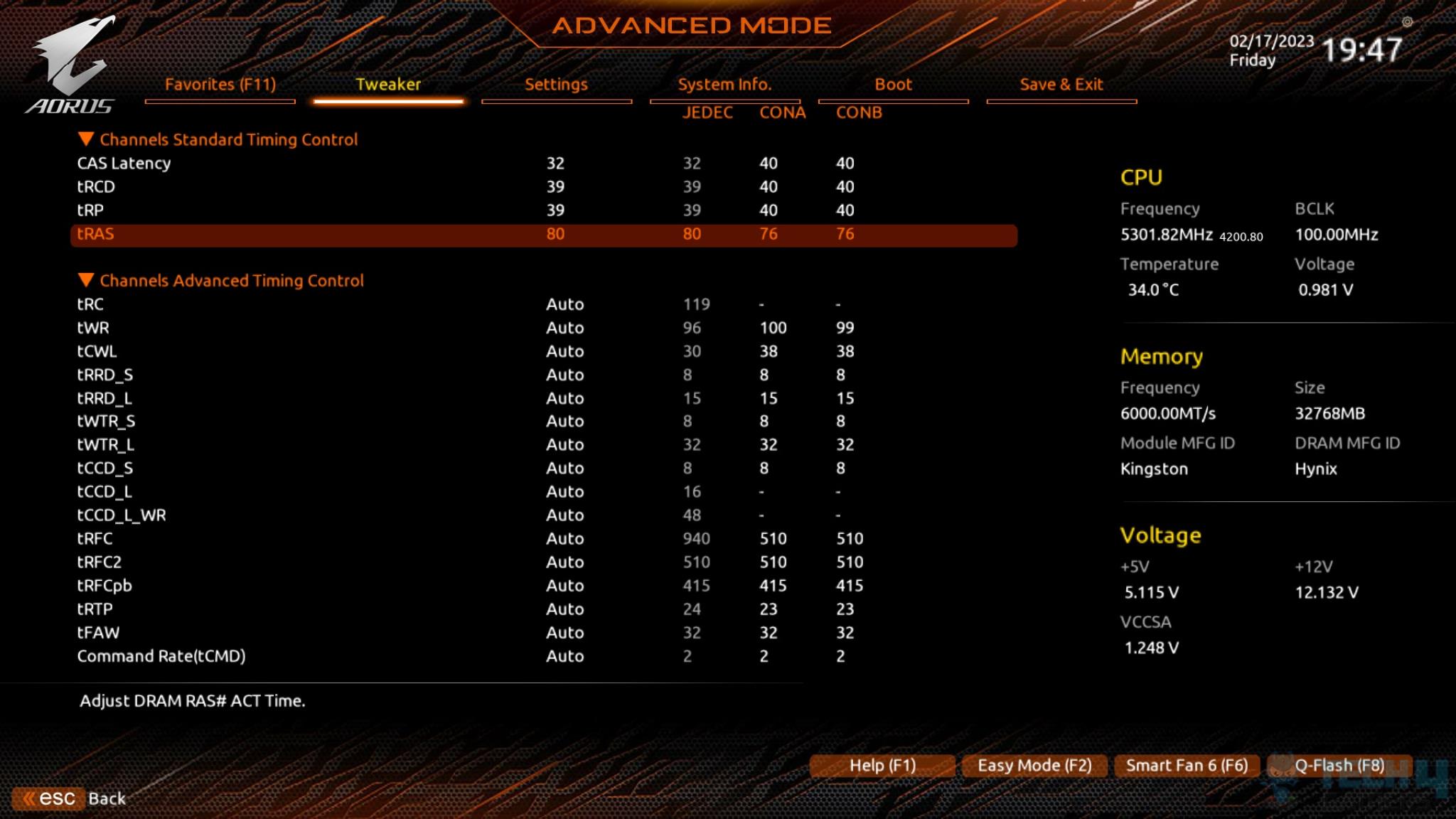 The above picture shows memory timings in USEI BIOS. I always prefer manually entering timings even after loading the XMP profile, just in case.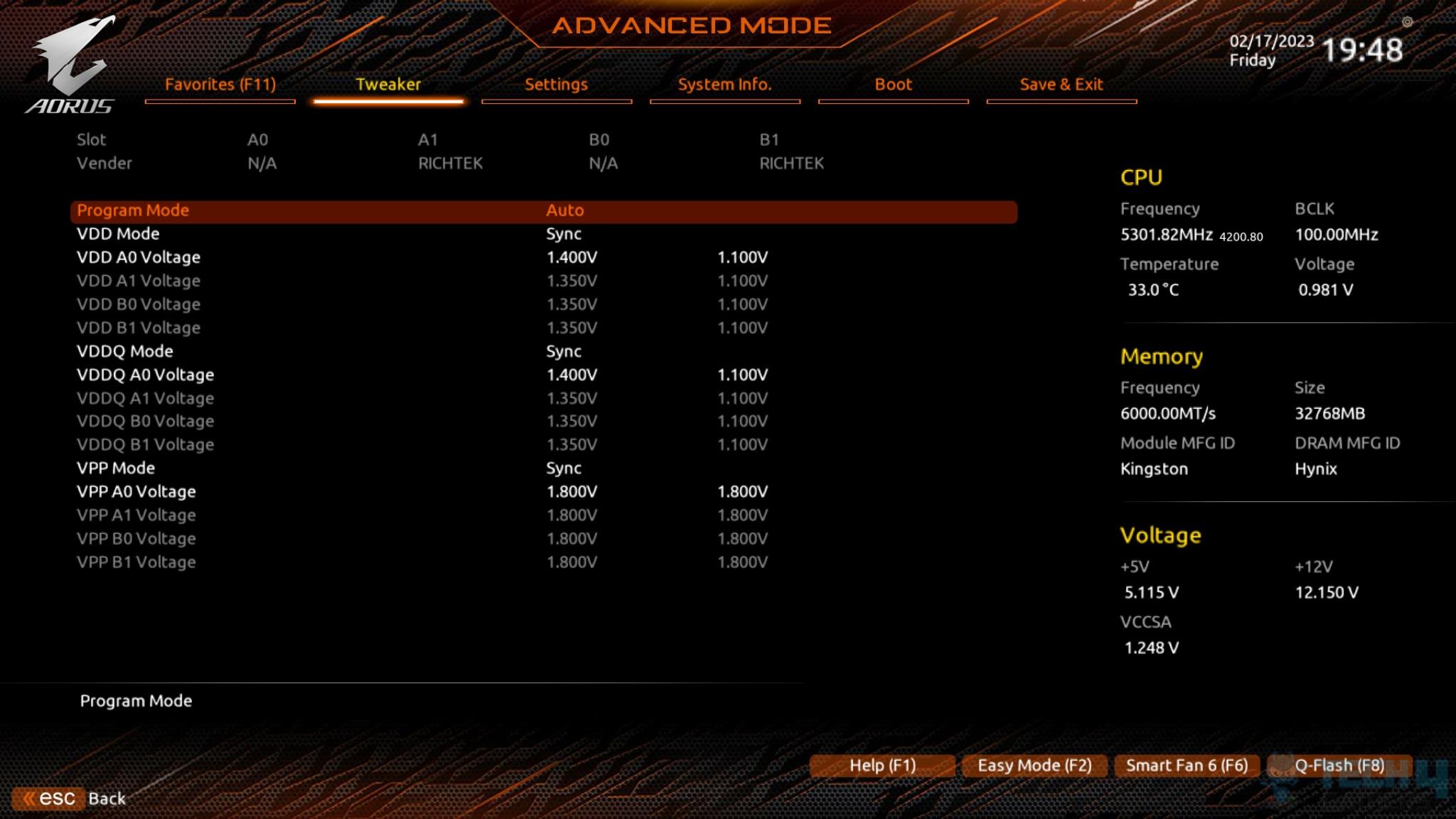 As shown in the above picture, VDD and VDDQ voltages were set to correct 1.40V manually as well. The PIMC chip is from RICHTEK.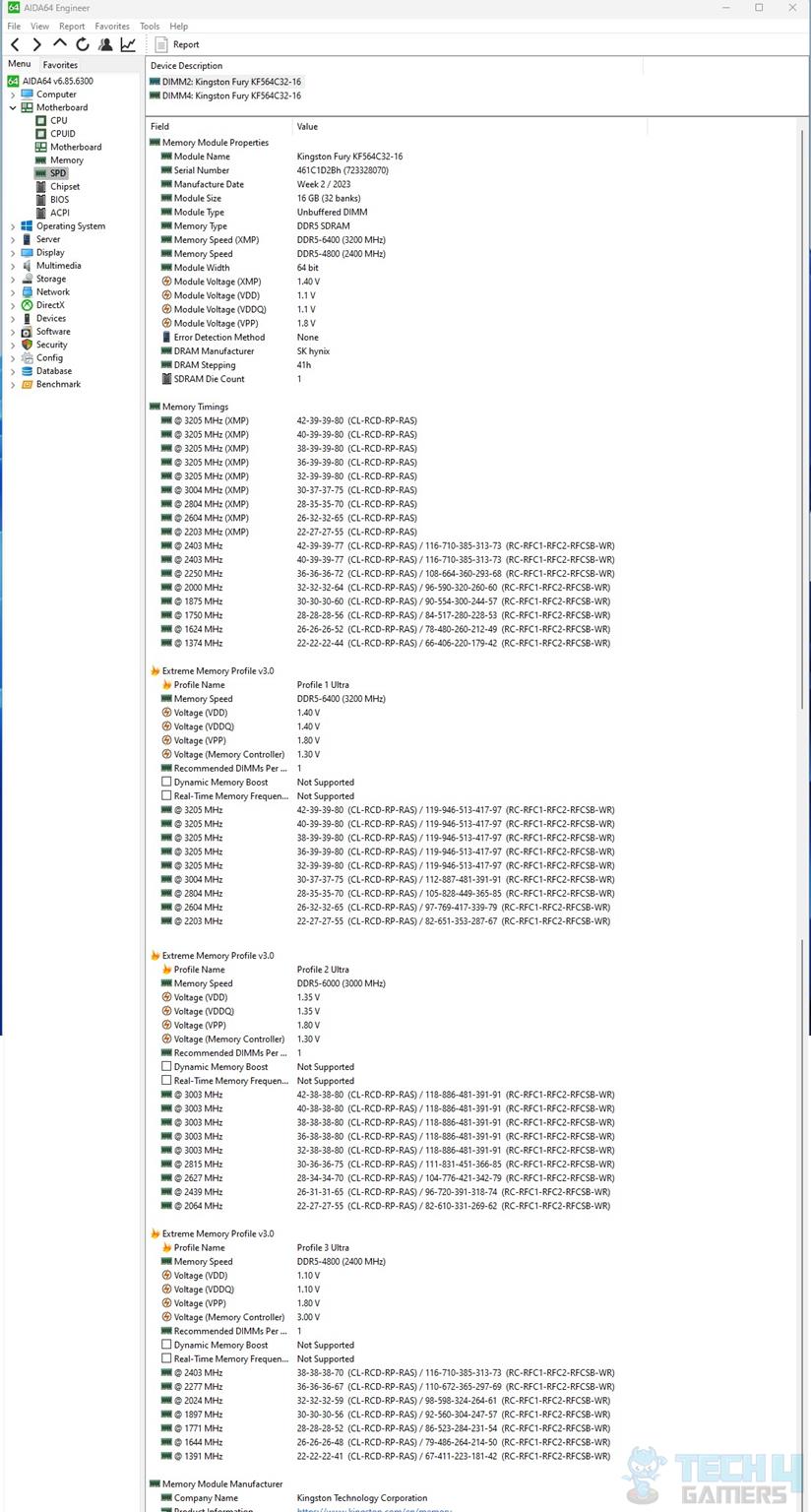 The above is the SPD readout as taken from the AIDA64 Engineer edition.
Testing
We will be using below mentioned configuration for future RAM testing:
Intel i7-13700K [Stock, Auto]
DIY Cooling [Cooler can be changed any time]
Kingston FURY RENEGADE 32GB 6400MHz CL32
GIGABYTE GeForce RTX 3060 VISION OC Rev.2 [For Display]
be quiet! Straight Power 11 850W Platinum PSU
Thermaltake Core P6 TG Snow Edition in an open-frame layout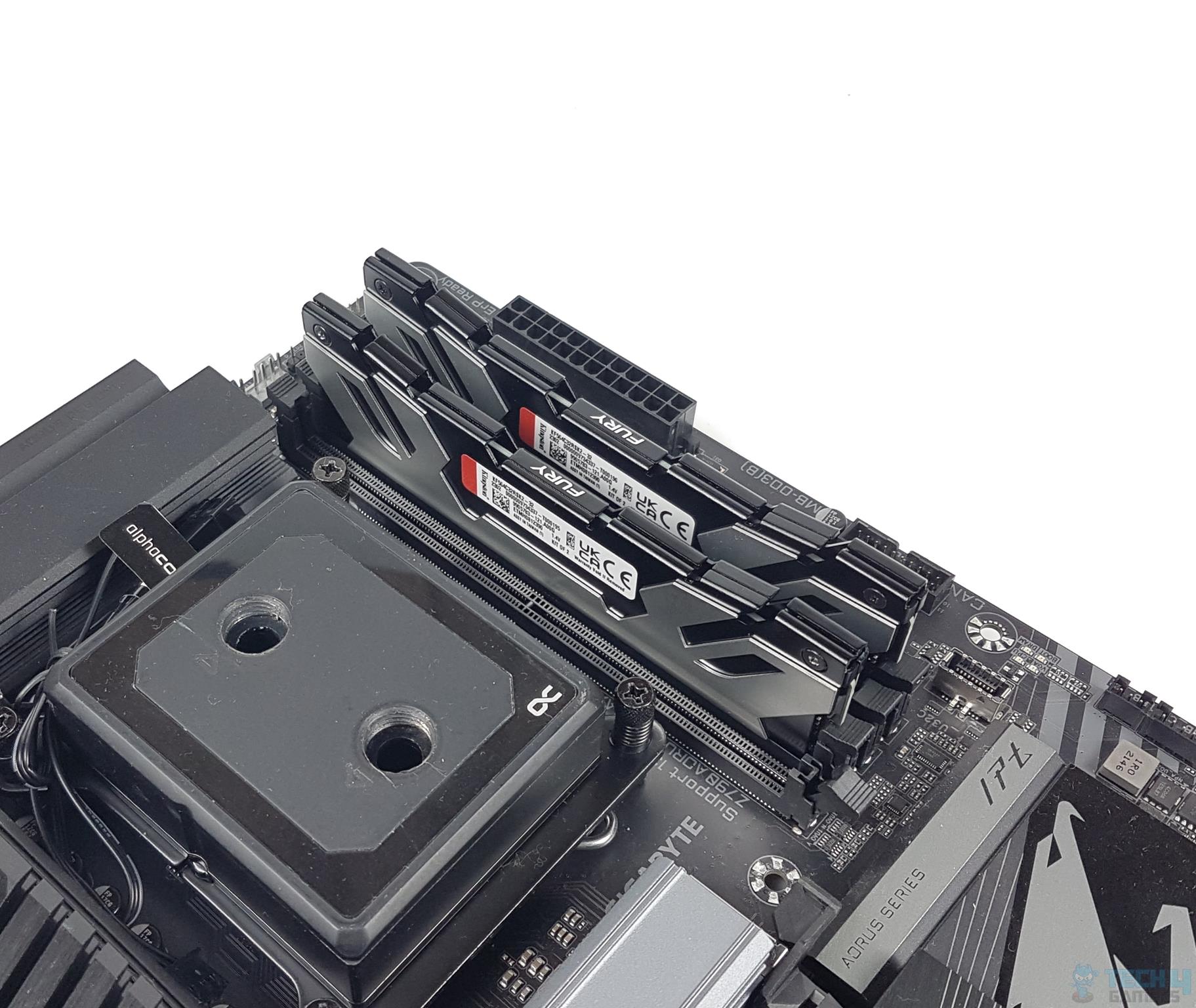 We are thankful to our sponsors for this test bench. The following software are used for this testing:
AIDA64 Engineer
SiSoftware Sandra Suite
Performance Test
3DMark Time Spy
Super Pi
Cinebench R23[ Multi]
Before testing, we loaded XMP 3.0 (XMP1) in UEFI BIOS. The timings and DRAM frequency were manually loaded just in case to ensure the proper working of the kit.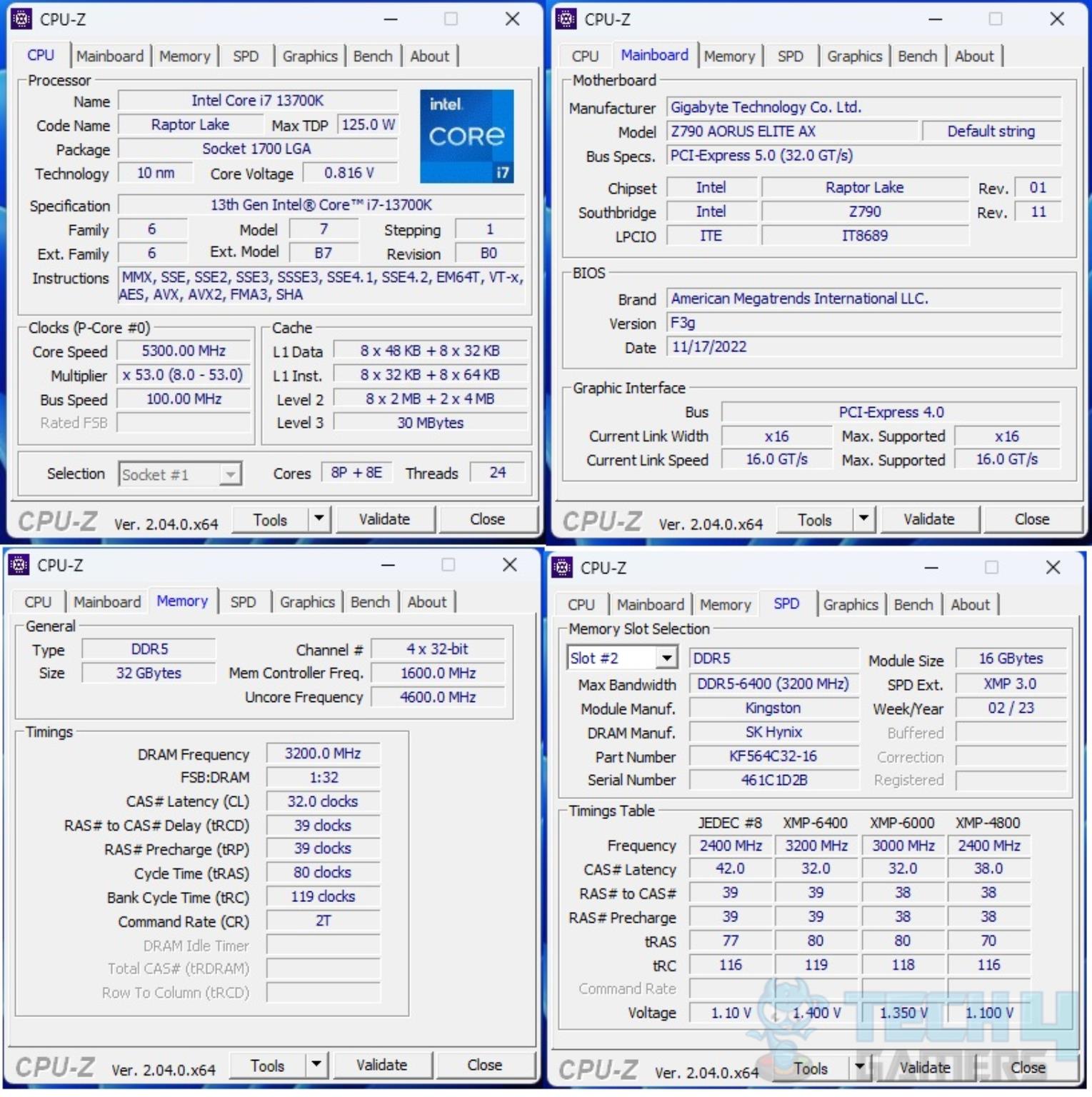 The above is a CPU-Z screenshot. Looking closely, you will notice that the software is reporting the kit to be in quad-channel configuration. The reason for that is with DDR5 kits, we have two channels per module, with each being 32-bit wide.
Results
Let's start taking at results one by one, starting with AIDA64 Engineer.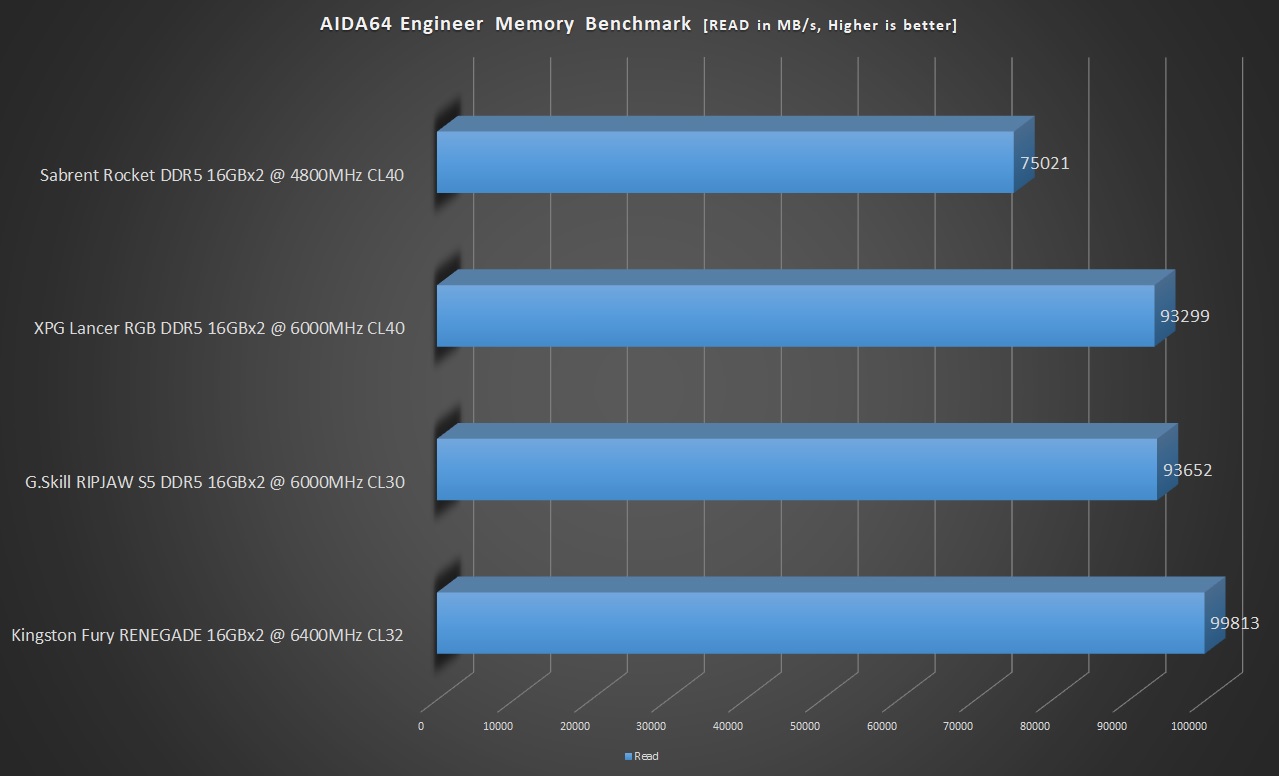 Kingston FURY RENEGADE 32GB 6400MT/s CL32 has a score of 99813 MB/s. It is highest in this graph.
Kingston FURY RENEGADE 32GB 6400MT/s CL32 has a score of 87153 MB/s. This kit is taking over the G.Skill kit and others.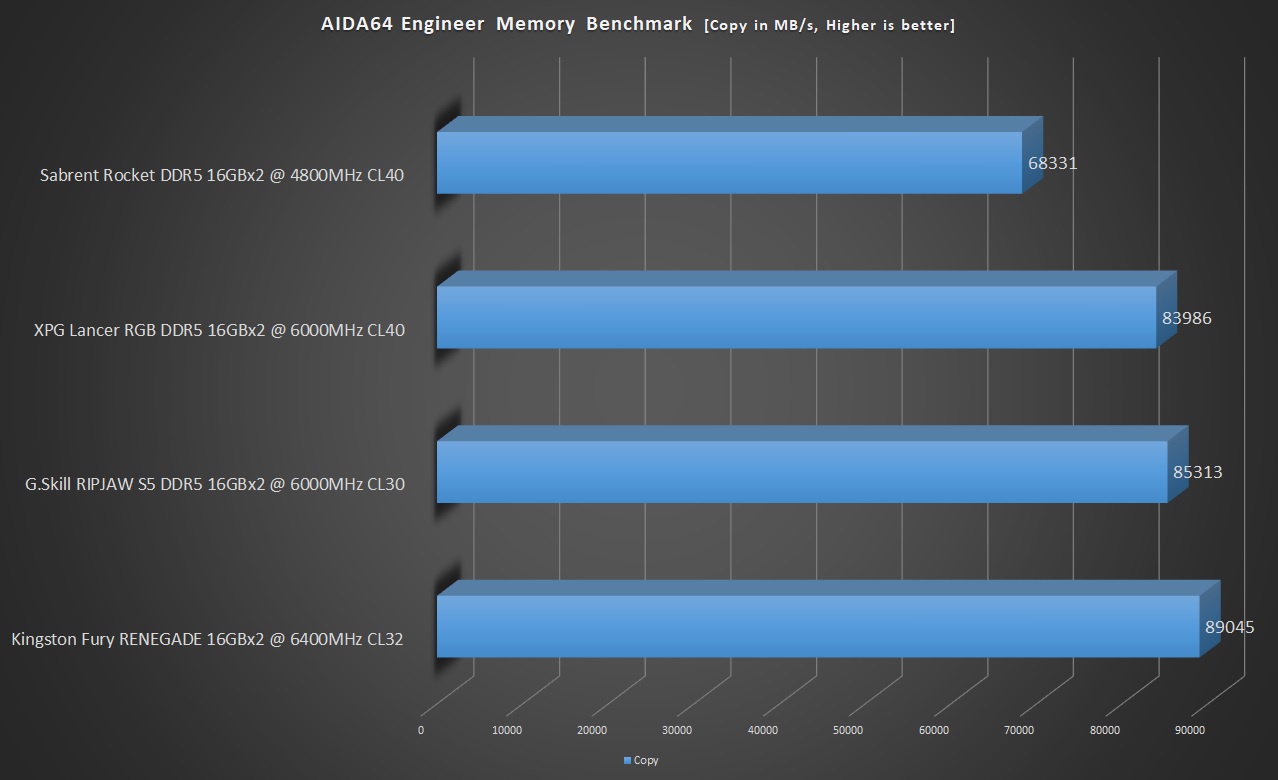 Kingston FURY RENEGADE 32GB 6400MT/s CL32 has an 89045 MB/s score.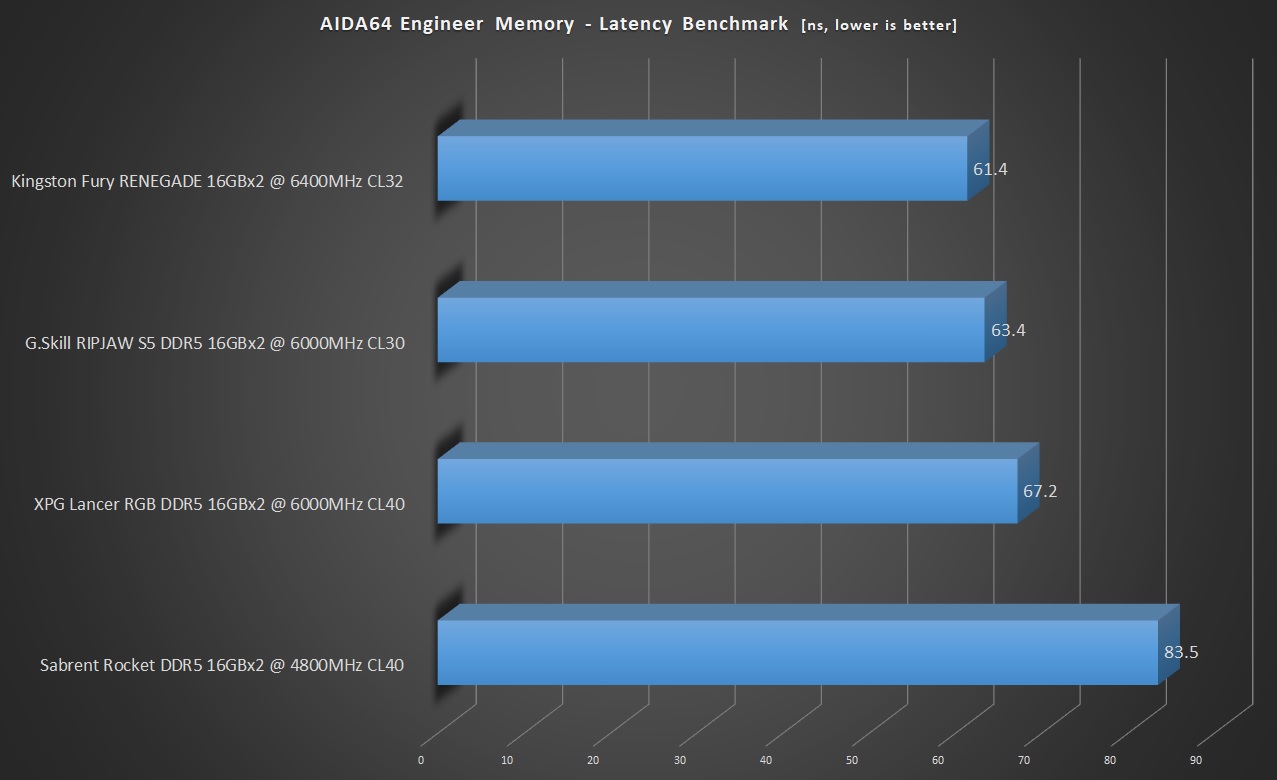 With 61.4 Kingston FURY RENEGADE 32GB 6400MT/s, CL32 is at the top slot in this graph.
SiSoftware Sandra Suite
Now, let's take a look at the results from Sandra benchmarks.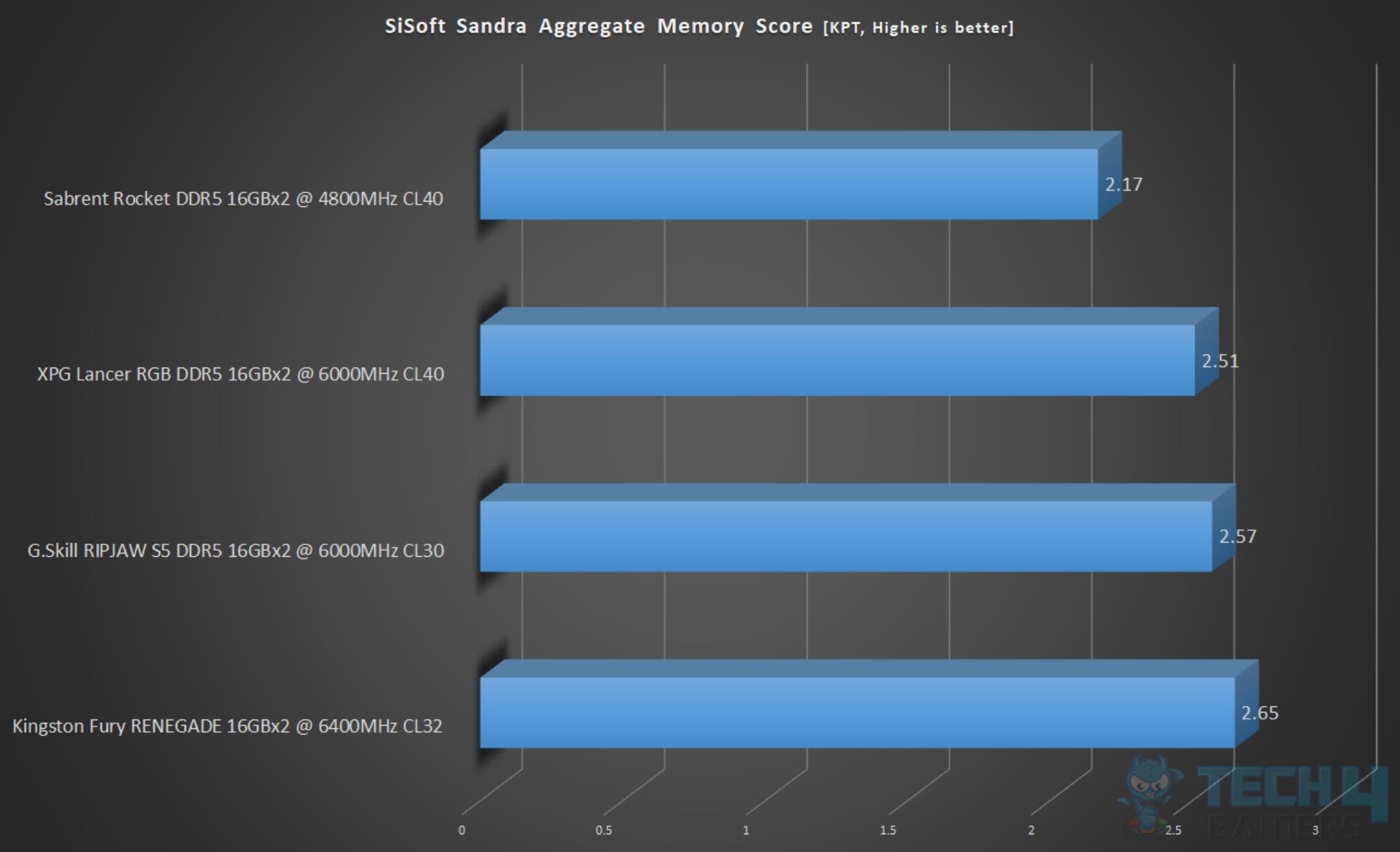 Kingston FURY RENEGADE 32GB 6400MT/s CL32 got a score of 2.65 KPT, leading this graph though the G.Skill kit is not behind by a large margin.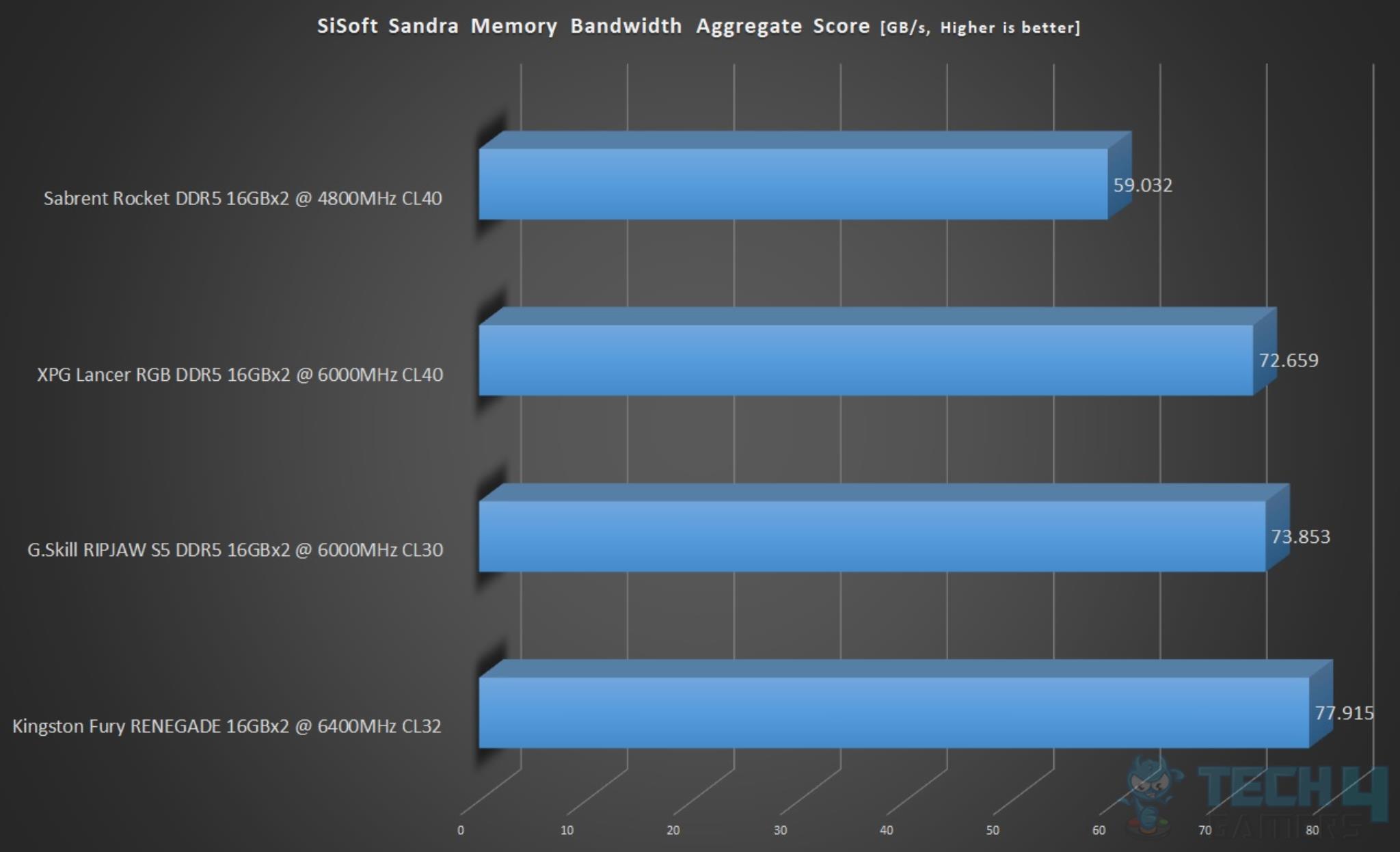 Kingston FURY RENEGADE 32GB 6400MT/s CL32 kit secured 77.915 GB/s aggregate bandwidth and comes out on top of this graph.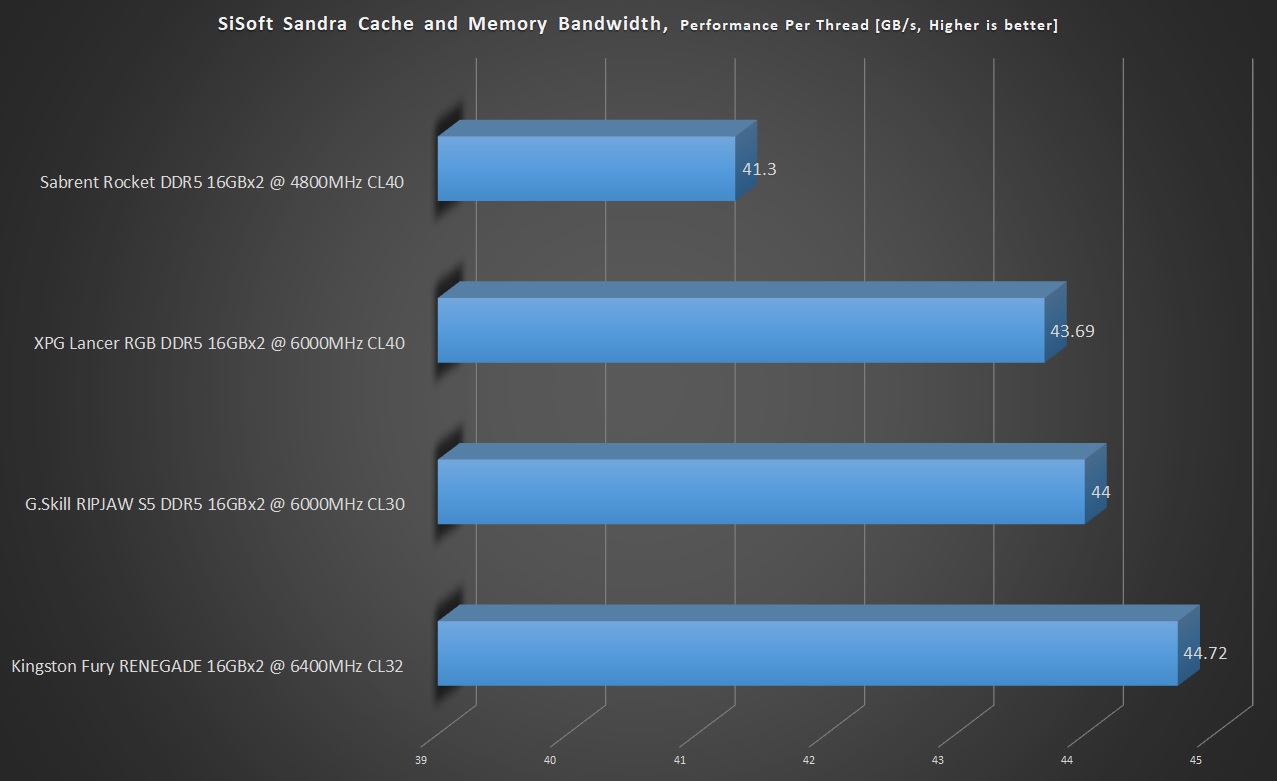 A marginal gain by Kingston FURY RENEGADE 32GB 6400MT/s CL32 kit.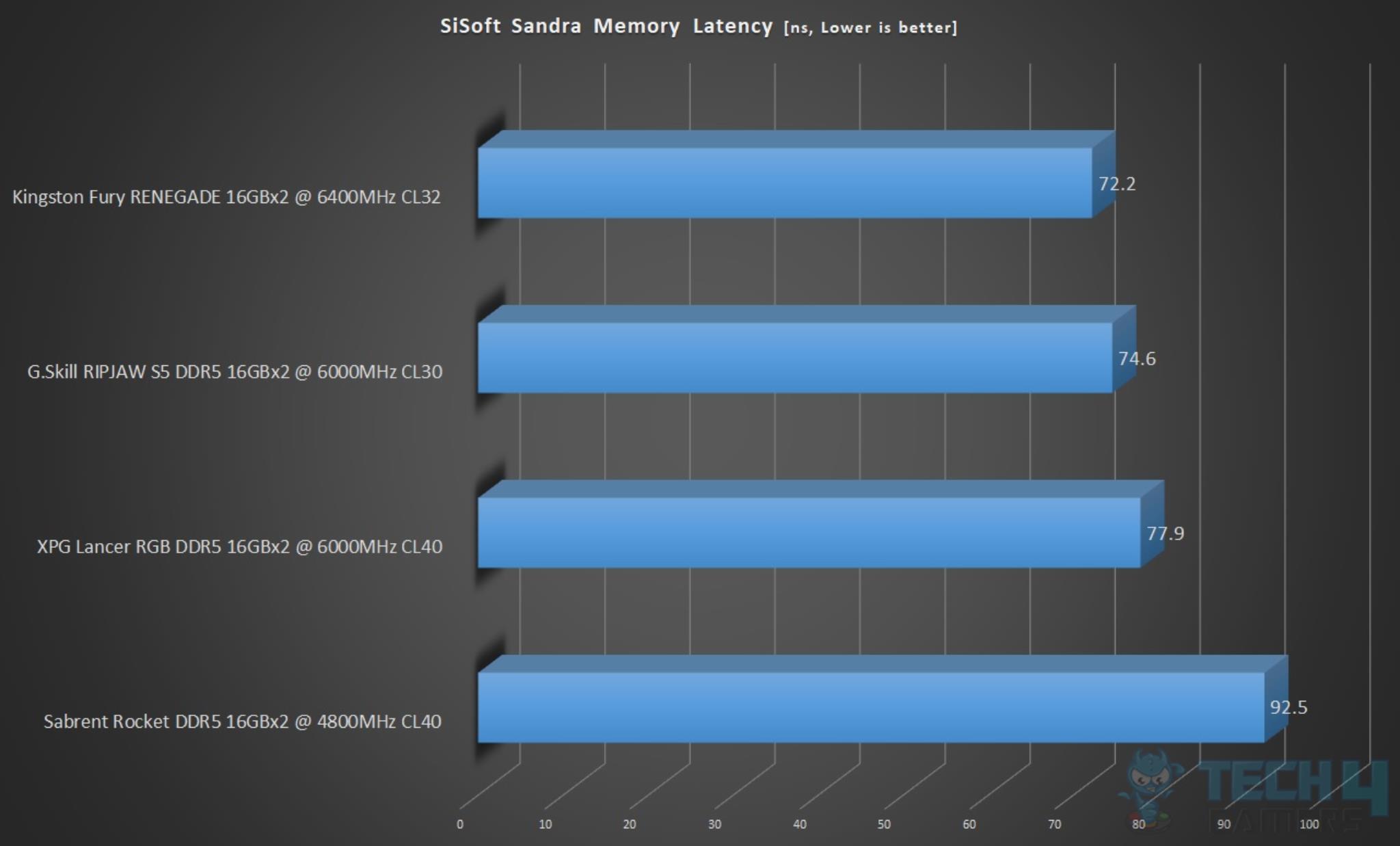 Kingston FURY RENEGADE 32GB 6400MT/s CL32 kit is leading the charge here.
Performance Test
With a 4105 score, Kingston FURY RENEGADE 32GB 6400MT/s CL32 kit is leading this graph as well.
CINEBENCH R23.2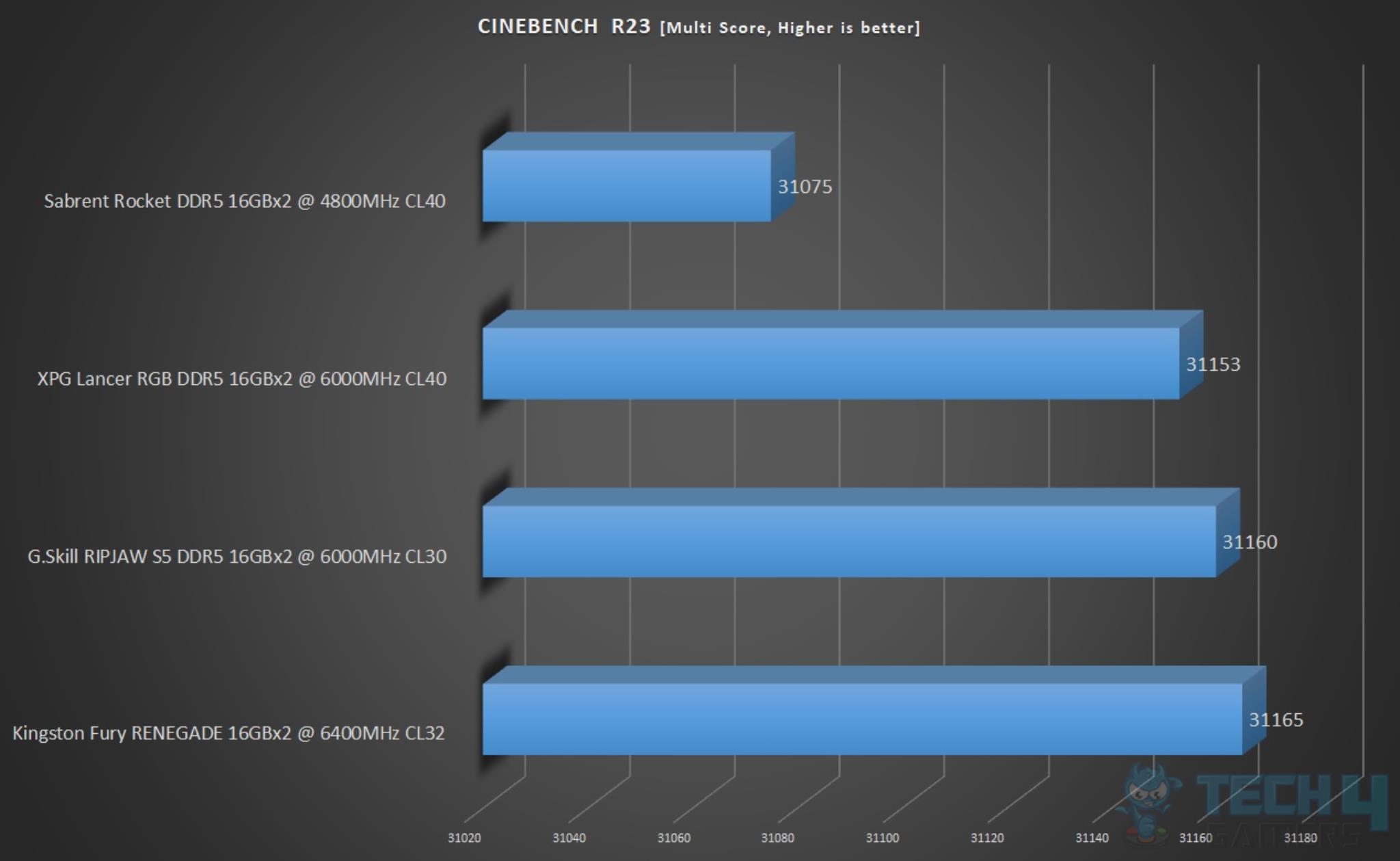 We ran the CPU Multi benchmark in R23.2 software. Here, the difference is marginal among all 4 kits.
Super PI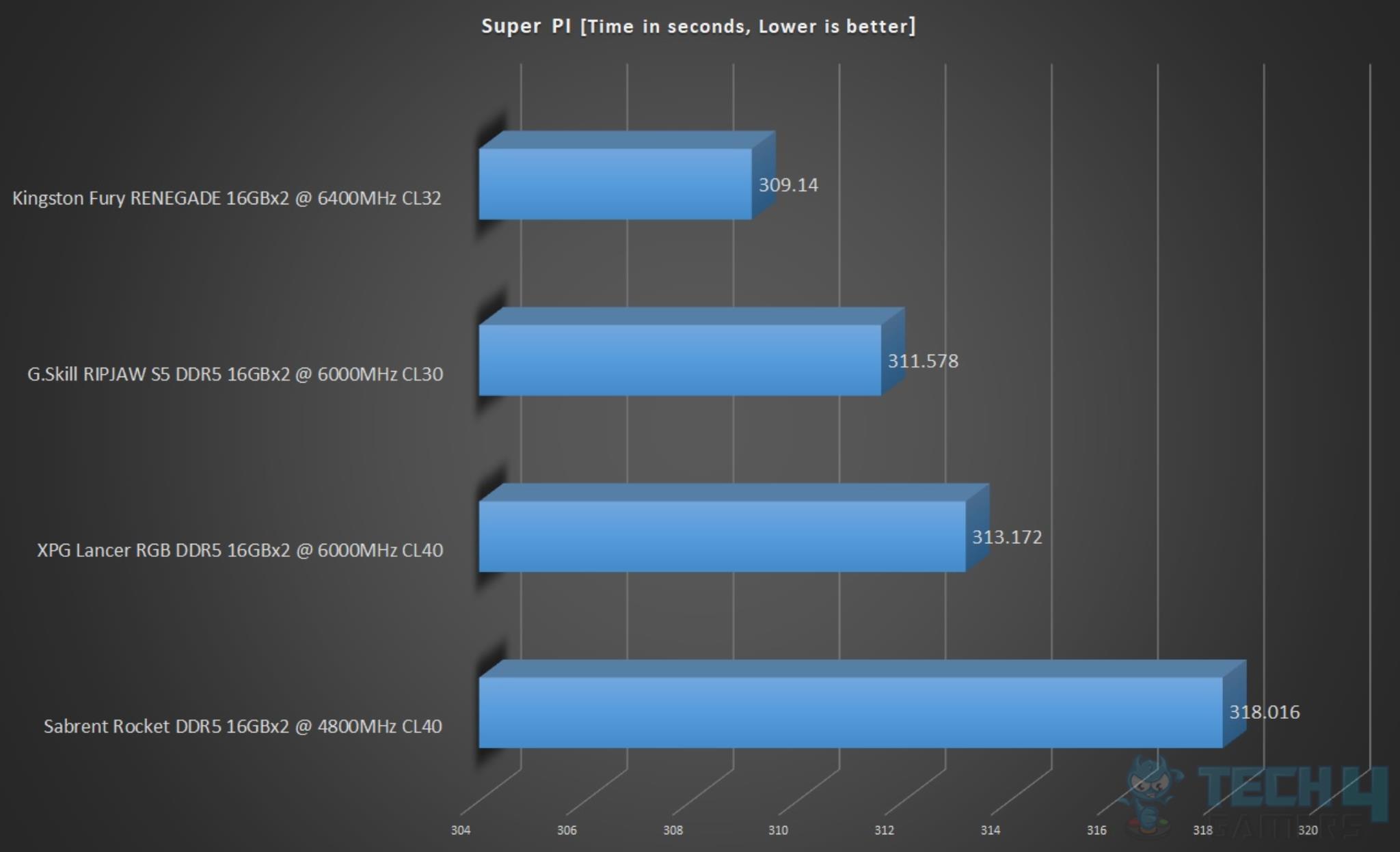 Kingston FURY RENEGADE 32GB 6400MT/s CL32 kit is leading this benchmark with 309.14 seconds.
3DMARK Benchmark
We have used the Time Spy benchmark and are reporting CPU Score. We would want to see the impact of using different speed and timing kits on CPU scores.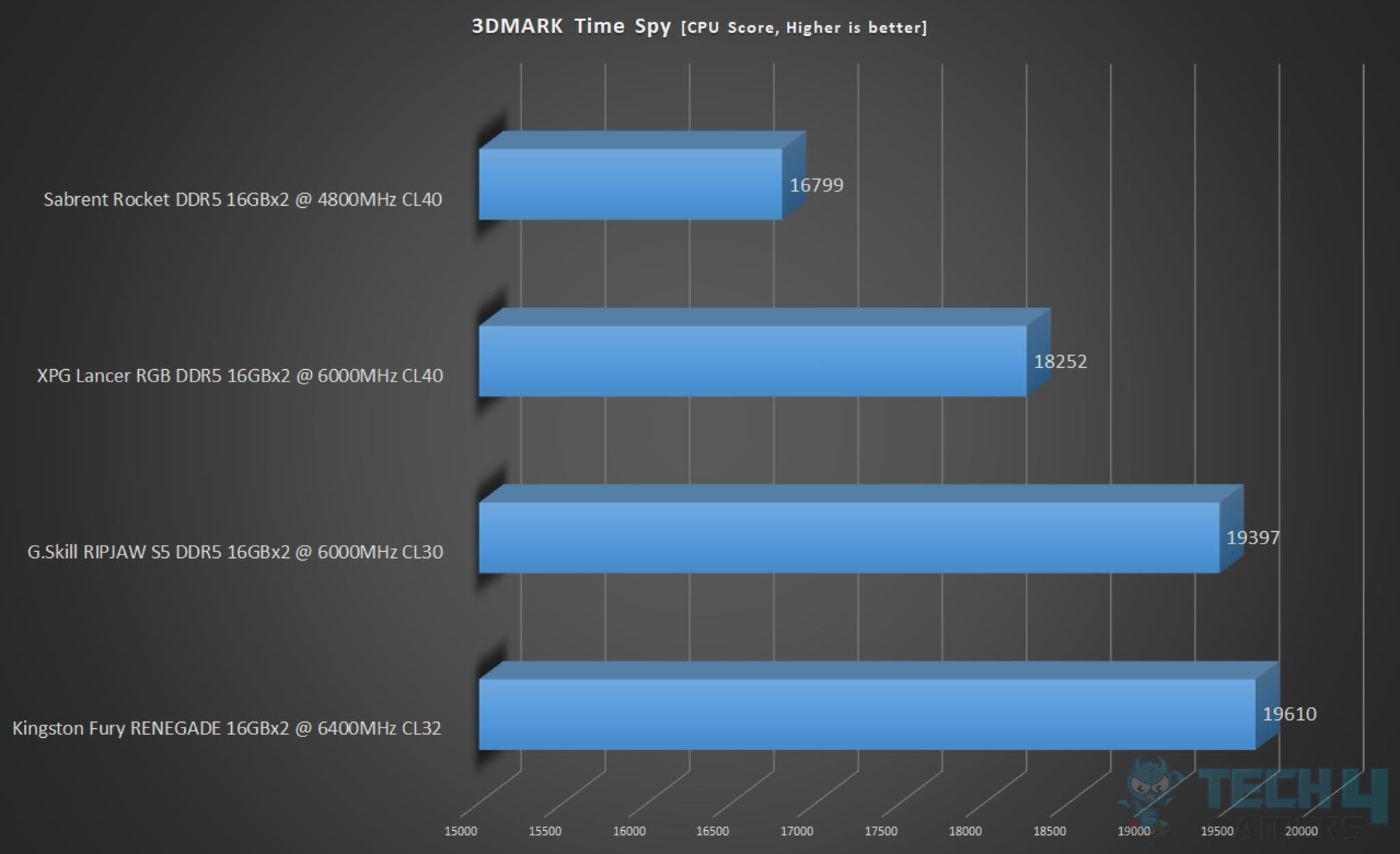 Although Kingston FURY RENEGADE 32GB 6400MT/s CL32 kit has a marginal lead over the G.Skill kit, the variation compared to the other two kits is large.
Overclocking
We usually start overclocking the given kit by manually upping the frequency in a multiple of 100MHz at a time and test for stability, and repeat this process until instability is achieved or where diminishing returns happen.
Then we dial back to stock frequency and start tweaking timings. Then we strive to achieve maximum frequency with tight timings. This is not an easy process and takes more time. With Kingston FURY RENEGADE 32GB 6400MT/s CL32 kit, we only overclocked it to find a maximum stable frequency at XMP timings.
This kit packs good overclocking potential. Too bad our motherboard does not see it that way. We pushed this kit to 6800MHz.
Our stable settings came as follows:
| | |
| --- | --- |
| Memory Frequency Multiplier | 6800MHz |
| Timings | 32-39-39-80 |
| Gear Mode | Auto |
| VDD | 1.40V |
| VDDQ | 1.40V |
| VPP | 1.80V |
| VCCSA | Auto |
| VDDQ CPU | Auto |
We managed to gain a +400MHz over the 6400 MT/s using the same settings, even the same voltage. This is what we call a free performance upgrade! We managed to post at 7000 MT/s using 1.49V VDD/VDDQ and a System Agent Voltage of 1.450V.
However, it was not stable. Any further attempt to raise the voltage in BIOS resulted in errors which, in my personal opinion, is coming from this motherboard, not the kit. I wish I had an ASUS motherboard, for that matter.
We are seeing a fine gain with this +400MHz frequency boost.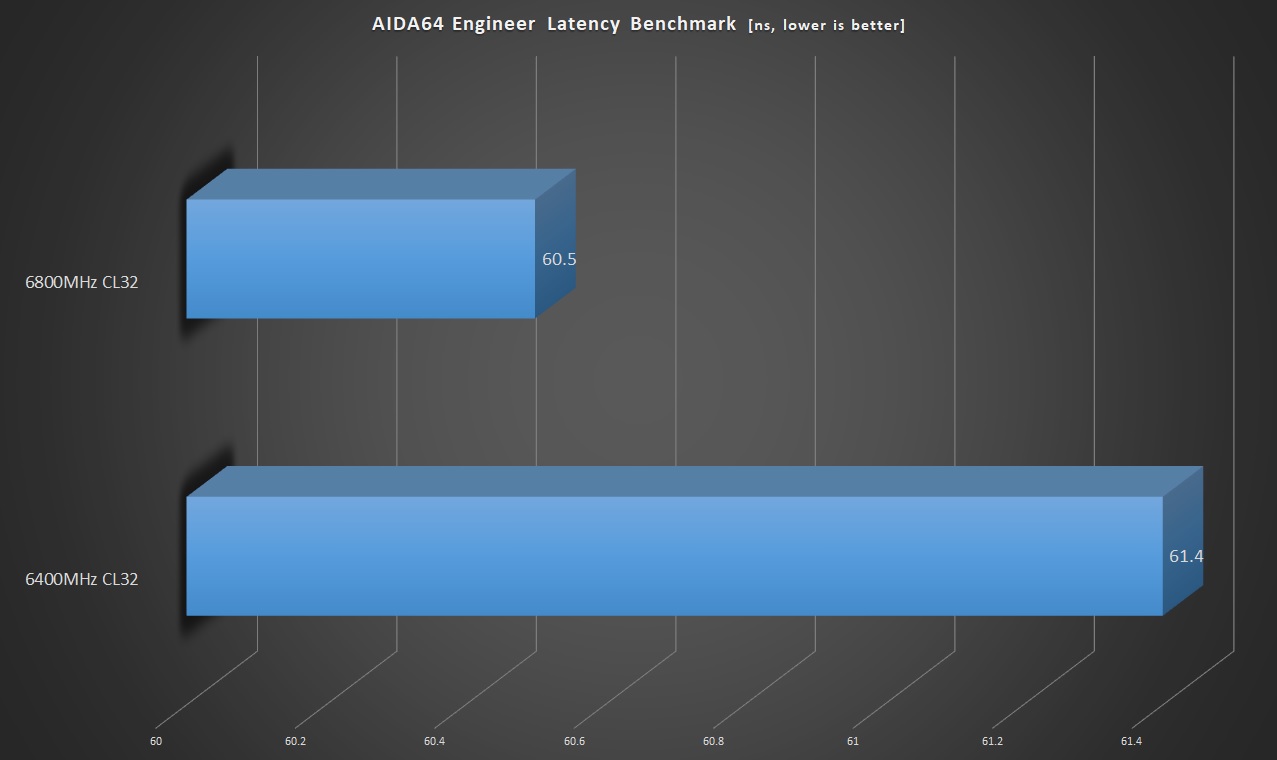 As expected, we did not have any worthy gain in latency, but operating at 60ns is still better.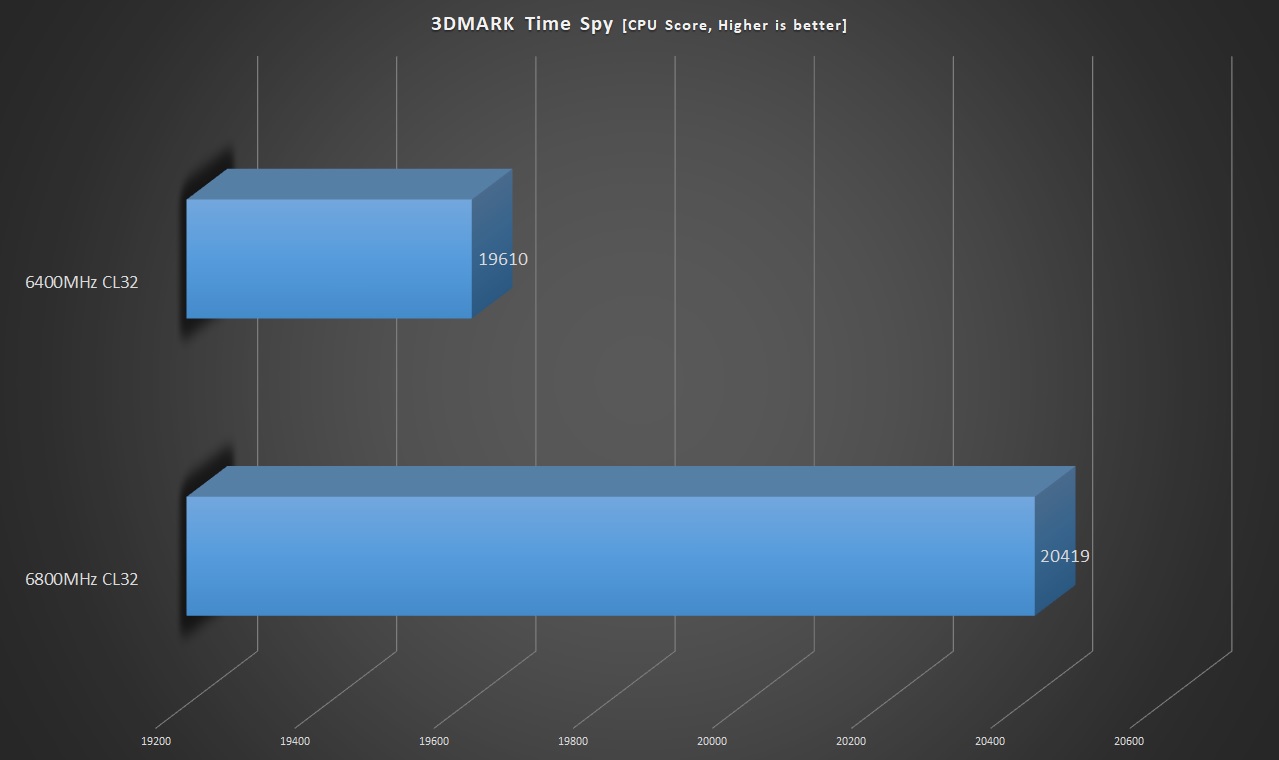 We gain a good performance boost.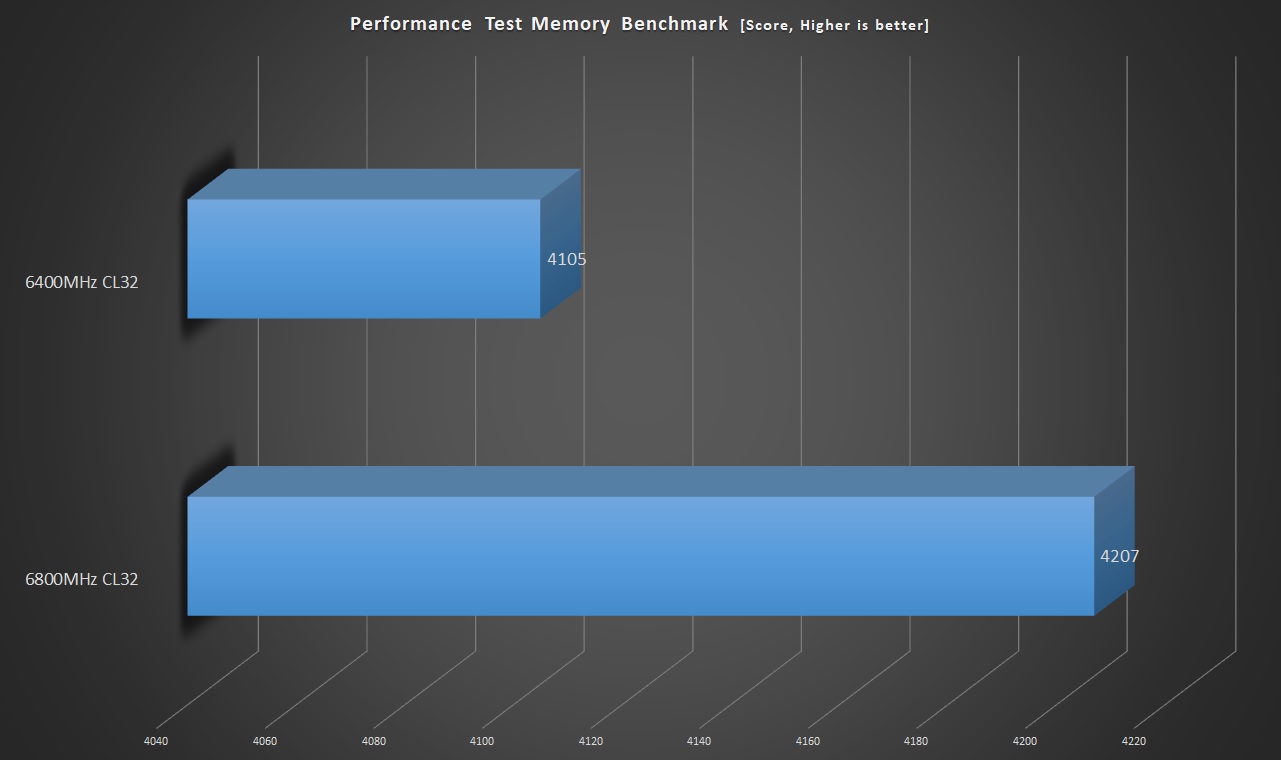 We saw a similar performance gain in the Performance Test benchmark.
Conclusion
We are testing DDR5 kits from various manufacturers in 2023, and this is the fourth kit that we have tested recently, with one more coming from CORSAIR. Kingston sent us their FURY RENEGADE series DDR5 kit for review.
The part number of this kit is KF564C32RSK2-32. This is a kit of two 2G x 64-bit (32GB) DDR5-6400 CL32 SDRAM (Synchronous DRAM) 1Rx8 memory modules based on eight 2G x 8-bit FBGA components per module. Putting it simply, we have got a 2x16GB DDR5 kit rated for 6400MT/s at CL 32 using 1.40V.
FURY RENEGADE is Kingston's high-performance DDR5 memory solution, with each component hand-picked and rigorously tested for the best performance out of the box. This series is available in RGB as well as non-RGB options with a frequency range of 6000 MT/s to 7200MT/s using multiple timings and voltages.
These kits are available in single-module as well as double-module configurations. These are dual-channel kits. Kingston's target market for these kits is gamers, power users, professionals, etc.
We have tested a non-RGB FURY RENEGADE 2x16GB 6400MT/s, CL32 kit using 1.40V. This kit has a dimension of 133.35×39.2×7.65mm (LxHxW). 39.2mm is the overall height of this kit, including the gold pin connector.
This kit sits between low-profile and high-profile categories. The RGB version of this kit has a height of 44mm. The height of any RAM has a clearance consideration for a CPU cooler, particularly an air cooler. This kit has a width of 7.65mm, which is a tad less than 8mm, on the XPG Lancer RGB DDR5 kit that we have also tested.
Kingston has used a black color aluminum-made heat spreader on this kit. PCB is black in color as well. There are silver plates on both sides of a stick. This gives an aesthetically pleasing outlook to this kit and makes it a perfect candidate for a neutral or stealth build. This kit is a single-rank design.
One side of the PCB is populated, whereas the opposite side has a thick black color foam. Each stick or module has a total of 8x 2GB chips which are Hynix A-Dies. PMIC is located in the center. It is unlocked, and it also has a thermal pad covering for heat dissipation.
The heatsinks can be removed as there are two screws for that. PMIC chip is from RICHTEK. This kit also has a temperature sensor with an accuracy of ±0.50°C.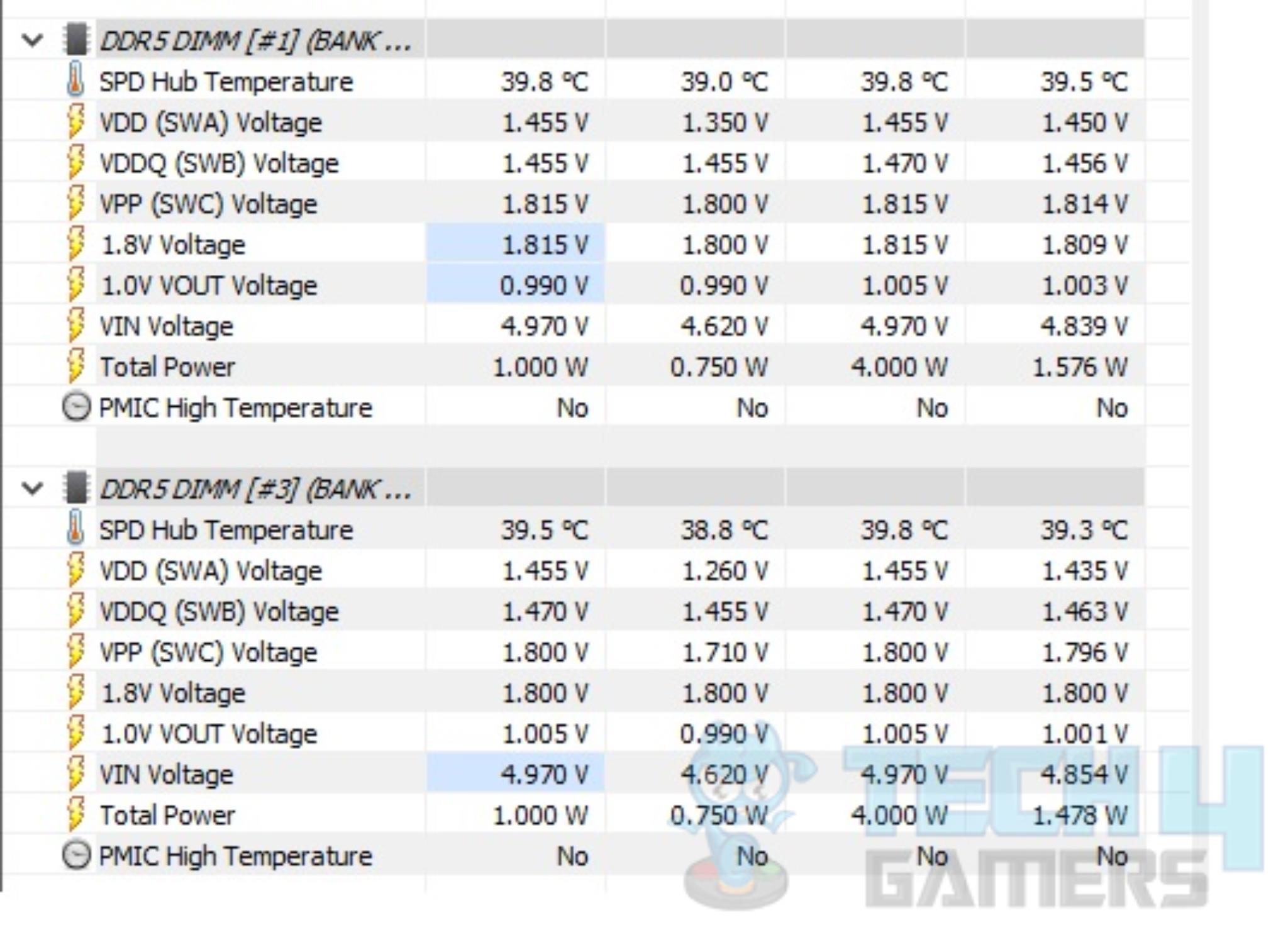 The above picture shows sensor readout using HWInfo64. The reported temperature is from the SPD Hub of these modules. This SPD Hub is from Montage Technology, having a model of M88SPD5118A5-T. This kit packs three XMP profiles listed as XMP1, XMP2, and XMP3 in BIOS. The data for each is as under:
| | | | |
| --- | --- | --- | --- |
| Profile | Frequency | Timings | Voltage |
| JEDEC Default | DDR5-4800 | CL40-39-39 | 1.1V |
| XMP1 | DDR5-6400 | CL32-39-39 | 1.4V |
| XMP2 | DDR5-6000 | CL38-38-38 | 1.35V |
| XMP3 | DDR5-4800 | CL38-38-38 | 1.1V |
We have included JEDEC Default data as well to show that Kingston has actually provided tight timing under XMP3 compared to JEDEC Default.
Please make a note that running a memory kit above JEDEC Default is considered overclocking, and despite XMP coming from Intel, Intel will not honor a warranty if the CPU gets damaged with the XMP profile loaded. As strange as it sounds, it is what it is! The maximum operating temperature of this kit is rated at 85°C.
Other kits included in testing are:
G.Skill Ripjaws S5 16GBx2 6000MHz, CL30
XPG Lancer RGB 16GBx2 6000MHz, CL40
Sabrent Rocket 16GBx2 4800MHz, CL40
We have tested Kingston FURY RENEGADE 2x16GB 6400MT/s CL32 kit on GIGABYTE Z790 AORUS ELITE AX using Intel i7 13700k. This motherboard can support RAM of up to 7200MHz speed.
Kingston RAM operating at 6400MT/s at CL32-39-39-80 timings has shown a good performance compared to other kits, which is obvious given its high transfer rate. We also saw that G.Skill operating at 6000MT/s at CL30, has managed to give a tough competition in a few runs.
In terms of overclocking, this kit definitely has good potential. We pushed it to 6800MHz without changing any other setting. In other words, we make this kit operate at 6800MT/s CL32, 1.4V. This is a free performance upgrade. We managed to POST using 7000MT/s using VDD/VDDQ at 1.490V and a system agent voltage of 1.40V. One test crashed, indicating instability.
However, all subsequent attempts were futile as the system was hanging from failed POST to failed Boot. This motherboard and its BIOS seem to be holding back this power horse. I would love to use this kit on an ASUS motherboard and see how it actually fairs.
Kingston Fury Renegade 6400MT/s CL32 non-RGB is listed on AMAZON at USD 184.99 at the time of this writing. G.Skill is offering an RGB version of Trident Z5 for a few bucks lower than this kit, using the same density, timing, and voltage. This is where Kingston may consider making the price more competitive. Kingston is providing a limited lifetime warranty on this kit.
Thanks to Kingston for the provision of the test unit.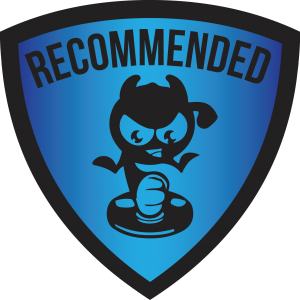 Was our article helpful? 👨‍💻
Thank you! Please share your positive feedback. 🔋
How could we improve this post? Please Help us. 😔