A great 256GB Drive?
Review Summary
Kingston has almost every solution in the USB Flash Drives arsenal. If you are into the safety and security of your data, take a look at their encrypted USB-based solutions. If high performance is what you are after, MAX has got you covered. If you are a regular desktop user who would want a high-speed USB drive for your data portability in a decent capacity then the KYSON series is for you. These drives do what they are designed to and come recommended by us.
Quality -

9/10

Performance -

8/10

Features -

8/10

Value -

9/10
Pros
Fast Portable Drive
USB 3.2 Gen1 standard
USB Type-A interface
5-Year Warranty
Metallic Housing
We earlier tested MAX 512GB from the Kingston DataTraveler series. This time we are testing a more mainstream fast, on-the-go solution for regular desktop users. Kingston has multiple categories under the DataTraveler series. This time it is the Kyson category turn. These flash drives use USB 3.2 Gen1 standard over USB Type-A interface. Kingston has rated these drives for up to 200MB/s in read operations. We are testing DT Kyson 256GB drive.
Specifications
| | |
| --- | --- |
| Capacity | 256GB |
| Speed | 200MB/s read, 60MB/s write |
| Dimensions | 39mm x 12.6mm x 4.9mm |
| Weight | 4g |
| Operating temperature | 0°C~60°C |
| Storage temperature | -20°C~85°C |
| Warranty/support | 5-year warranty with free technical support |
| Compatible with | Windows® 10, 8.1, 8, Mac OS (v.10.10.x +), Linux (v. 2.6.x +), Chrome OS™ |
Packing Box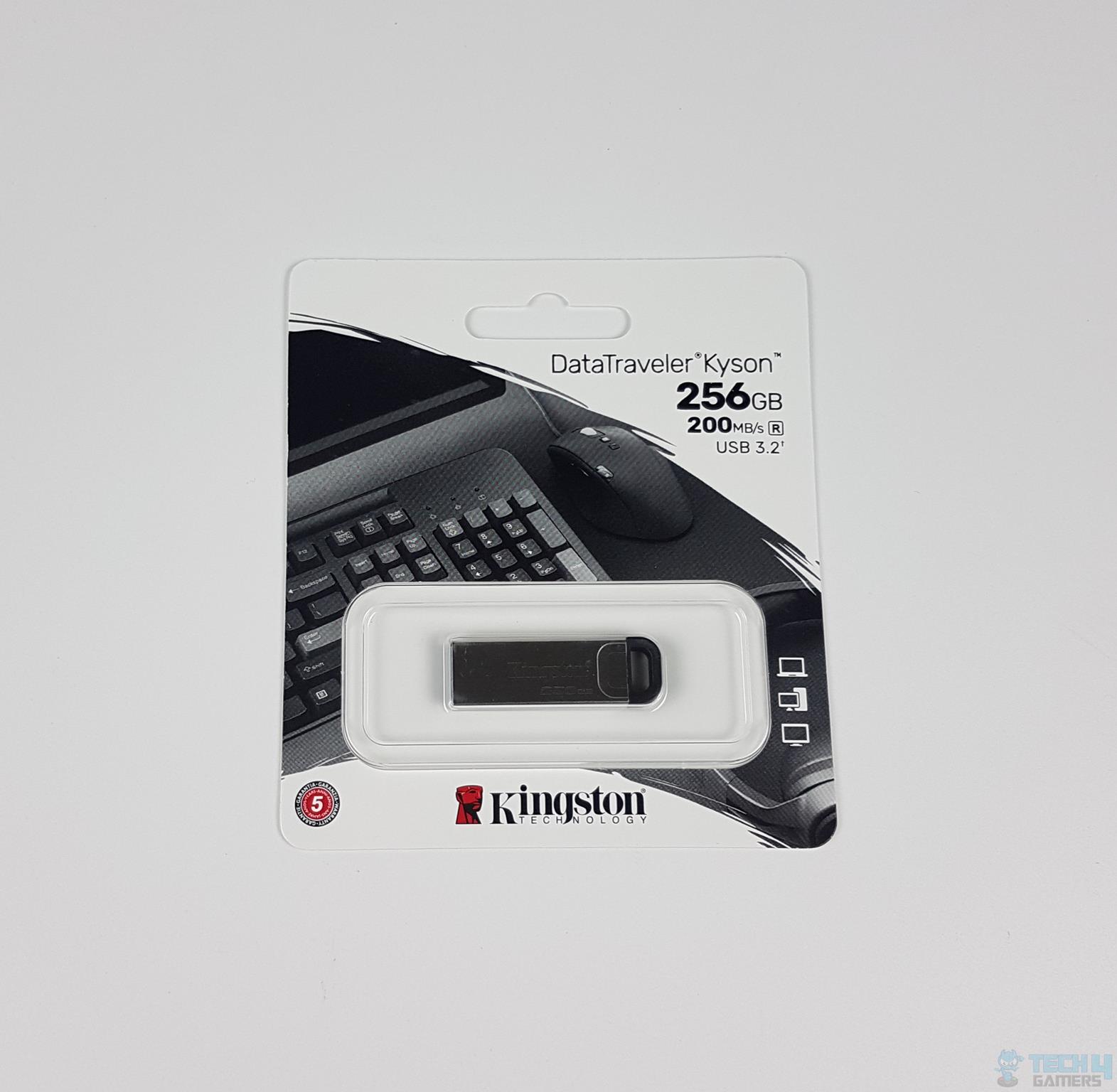 This drive is shipped inside a paperboard-made packing box. The drive itself is in a plastic shell that is tucked in a main packing box. 200 MB/s R is highlighted on the box, indicating the rated sequential read speed of 200MB/s. The 256GB variant has a rated write speed of 60MB/s as well.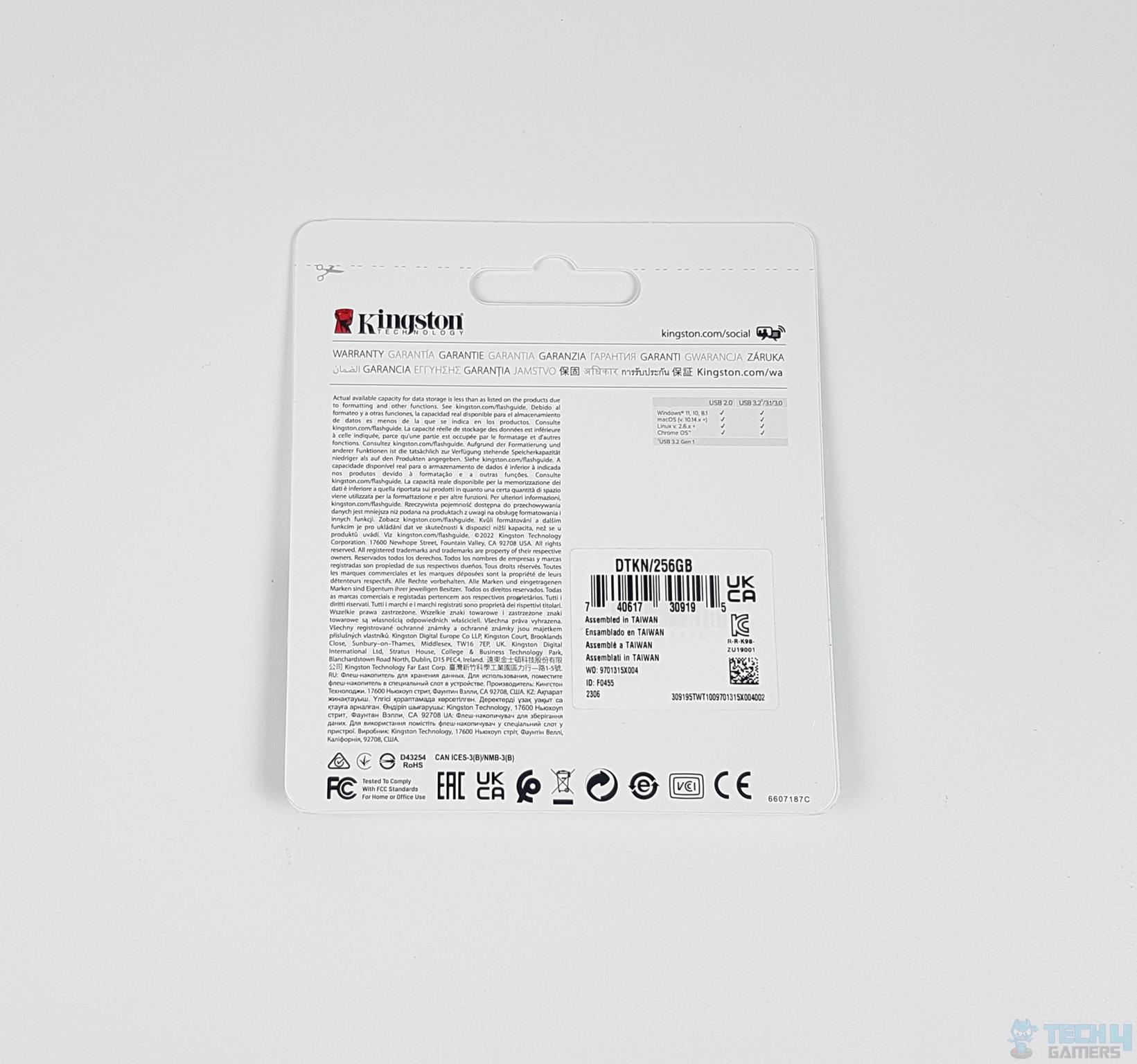 DTKN/256GB is a part number of this particular drive. This drive is made in Taiwan.
Design
DataTraveler Kyson series USB Flash Drives are based on USB 3.2 Gen1 using a Type-A interface with rated speeds of 200MB/s in read and 60MB/s in write. Not all versions of Kyson offer 60MB/s write speed.
This series is available in four capacities:
Here is a statement from Kingston about this drive. "Kingston's DataTraveler® Kyson is a high-performance Type-A USB flash drive with extremely fast transfer speeds of up to 200MB/s Read and 60MB/s Write1, allowing quick and convenient file transfers. With up to 256GB2 of storage, you can store and share photos, videos, music, and other content on the go. The capless metal design will save you the trouble of losing a cap, and the functional loop makes it easy to be taken wherever you go."
Some key features are:
USB 3.2 Gen1 drives
Up to 200MB/s Read Speed
Capacity up to 256GB
Metallic Casing
Capless Design
Keyring Loop
USB Type-A Connectivity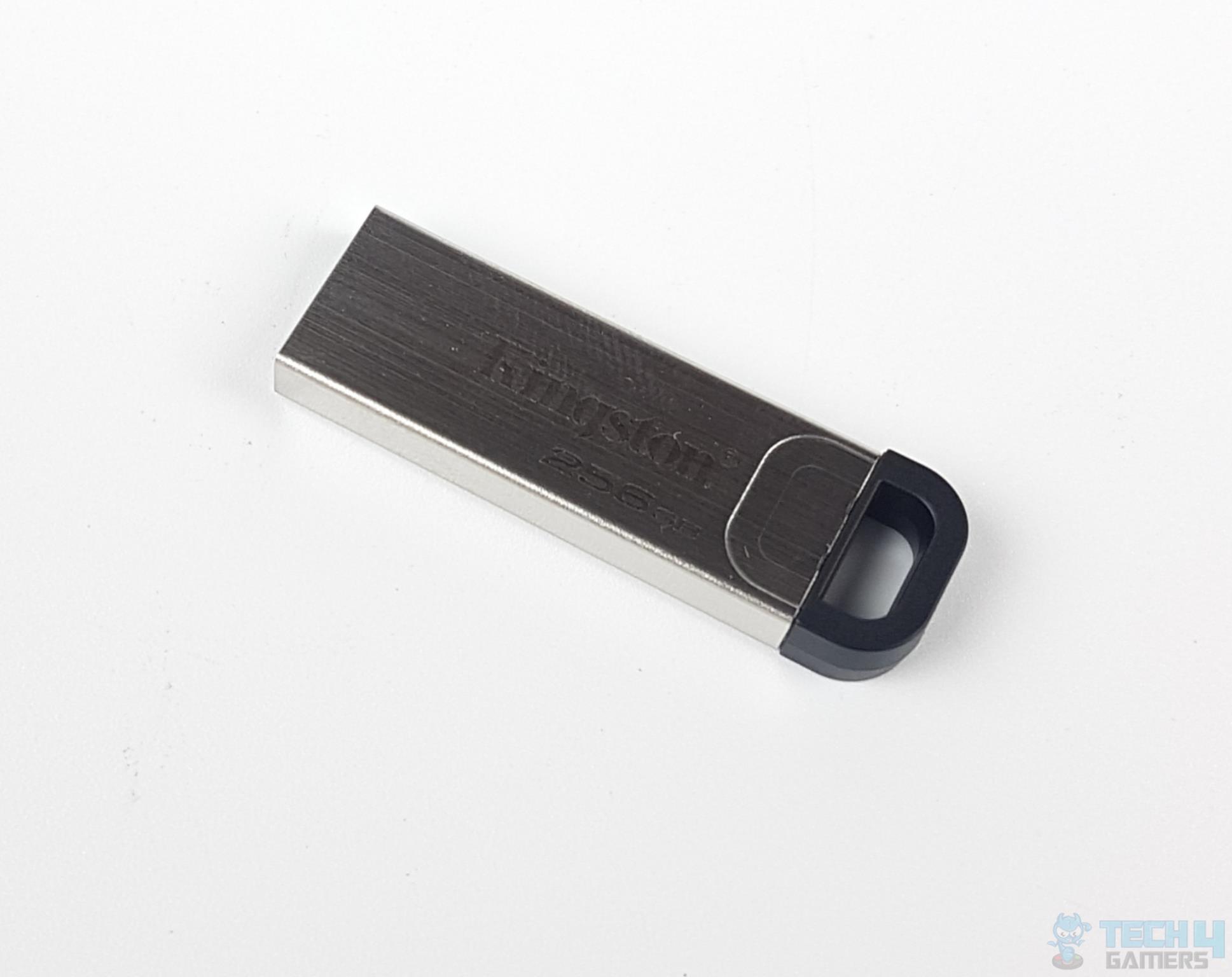 The drive has a metallic casing in a silver finish which is highly reflective, and a fingerprint magnet. The dimension of the drive is 39×12.6×4.9mm LxWxH. These drives weigh 4g. Their operating temperature range is 0°C to 60°C whereas their storage temperature range is -20°C to 85°C. These drives are compatible with Windows 11, 10, 8.1; macOS(v 10.14.x+); Linux (v 2.6.x +), and Chrome OS.
It was not easy taking pictures of the drive due to the high reflection. There is a KINGSTON branding on the top side of this drive. 256GB indicates the capacity of this unit. There is a black color handler on the rear side, which is used to handle the drive when connecting/removing from the PC as well as it has a function of a Keyring loop.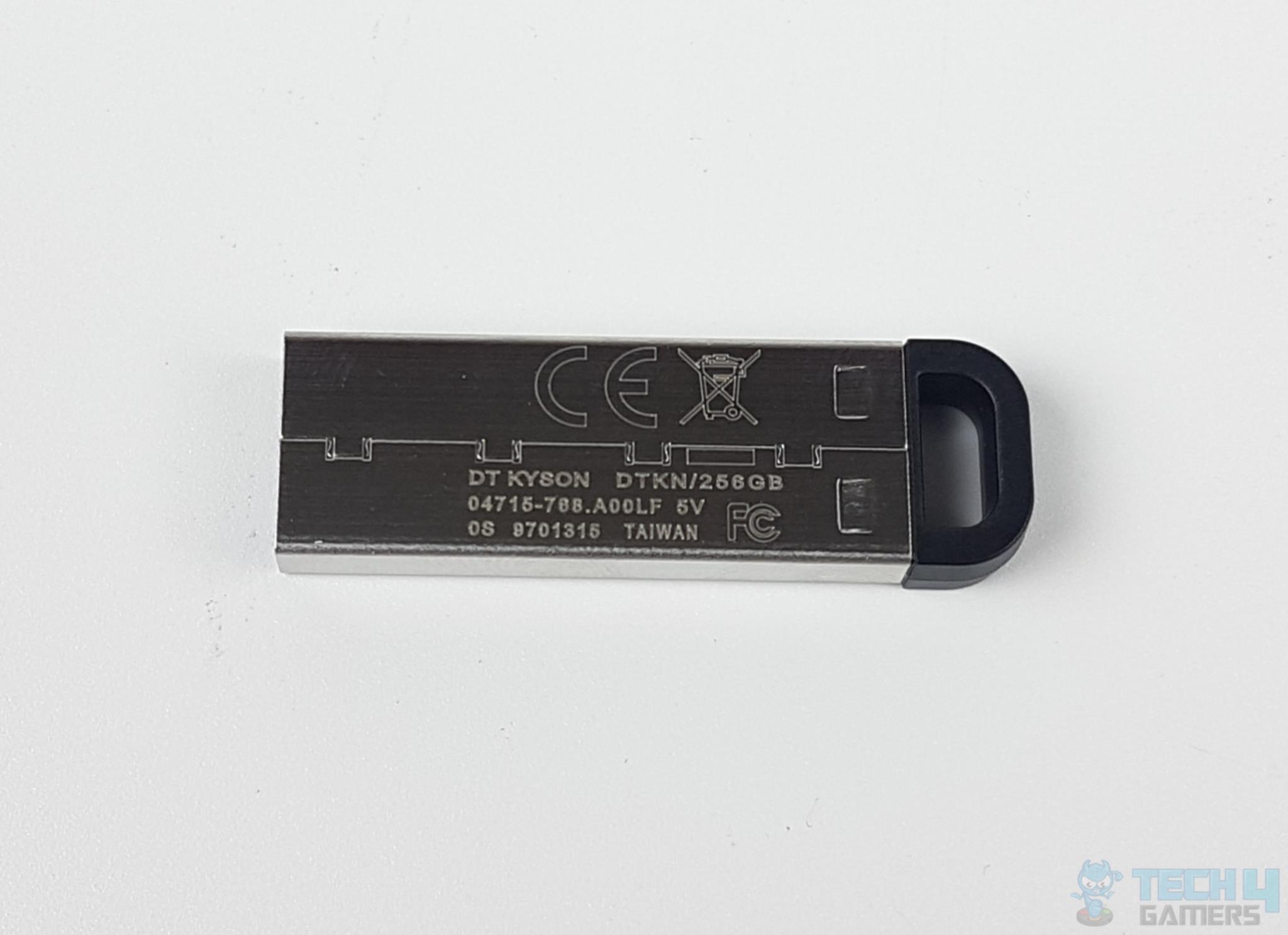 DT KYSON means DataTraveler KYSON. DTKN/256GB is the part number of this drive. This drive takes 5V, like any other USB drive, unless mentioned otherwise. It is assembled in Taiwan.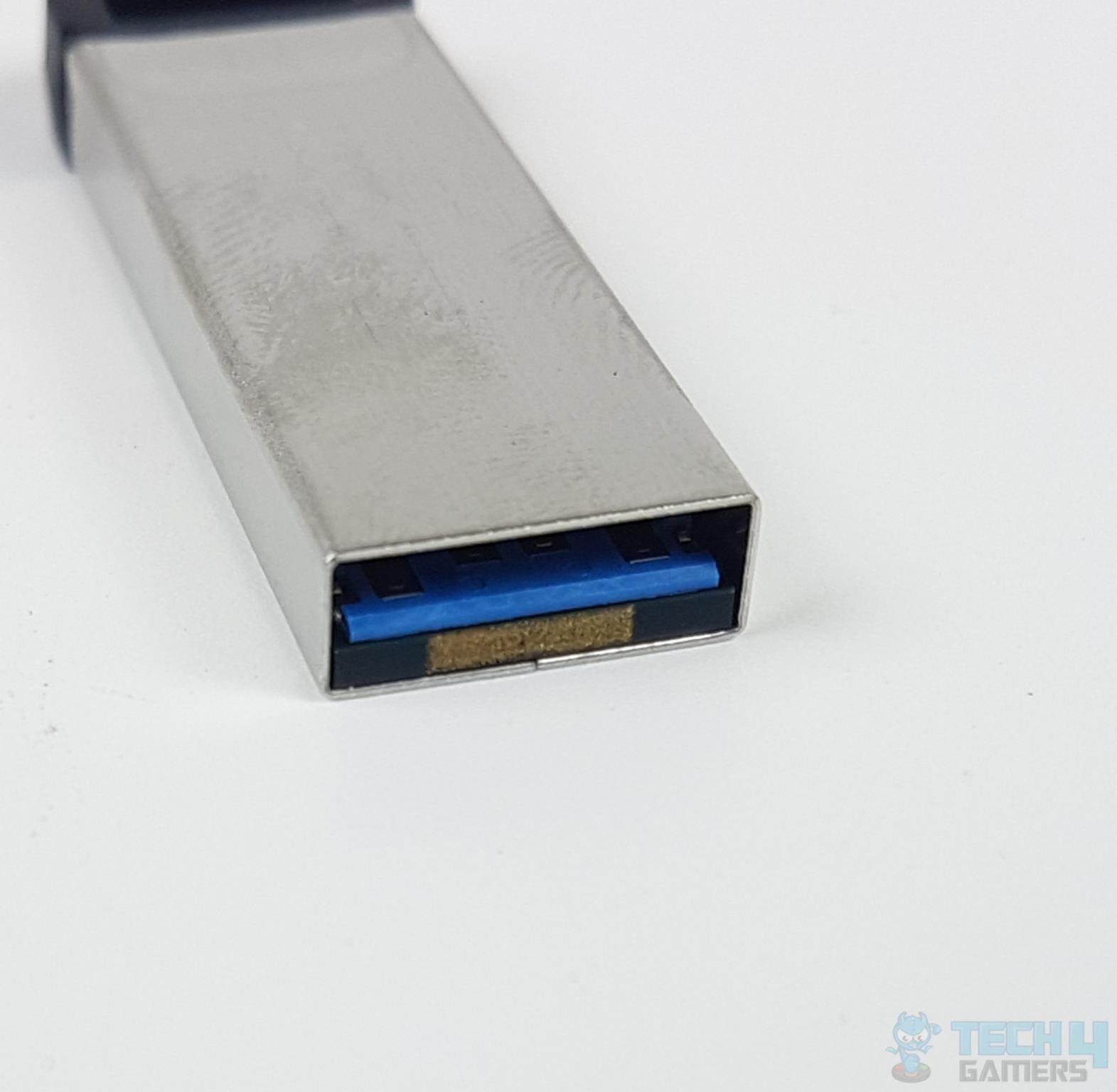 This drive has a USB Type-A interface with a blue color connector. This is a capless design meaning the connector is inside the main housing; hence it does not need any cover.
Testing
Below mentioned configuration is used to test this drive:
DIY Cooling
Sabrent Rocket Q 1TB NVMe SSD [OS Drive]
GIGABYTE GeForce RTX 3060 VISION OC Rev.2
be quiet! Straight Power 11 850W Platinum PSU
Thermaltake Core P6 TG Snow Edition in an open frame layout
We have used the following software:
AS SSD 1.8.5636.37293
ATTO Disk Benchmark 4.0
CrystalDiskMark 8.0.4
PCMARK10 Storage Benchmarks
TxBench
BlackMagic
DiskBench
Microsoft Windows 11 22H2 is used for the testing.
This drive uses using FAT32 file system, and the available space for the user is 230GB.
Test Results
Let's go over the test results.
CrystalDiskMark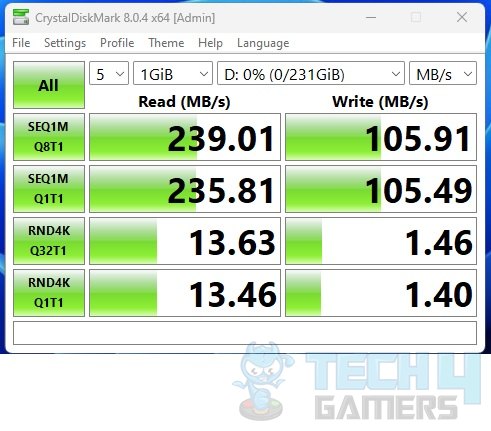 This drive passes the sequential rated read and writes speeds in the CrystalDiskBenchmark test. In fact, the write speeds are way above the 60MB/s mark which is surprising.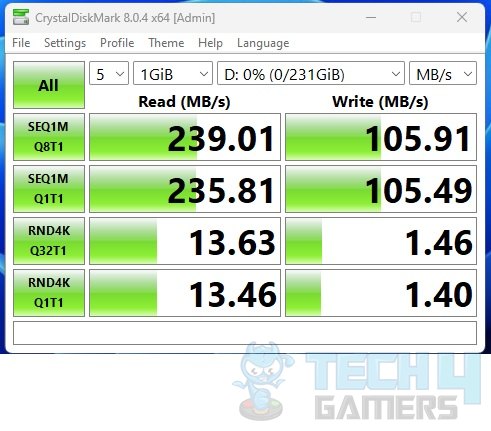 We also ran this benchmark in the Real World Performance profile. This drive means business even for regular use. But don't expect it to handle 4k data.
AS SSD
This drive was taking an eternity on this benchmark which is there is no result from the main module.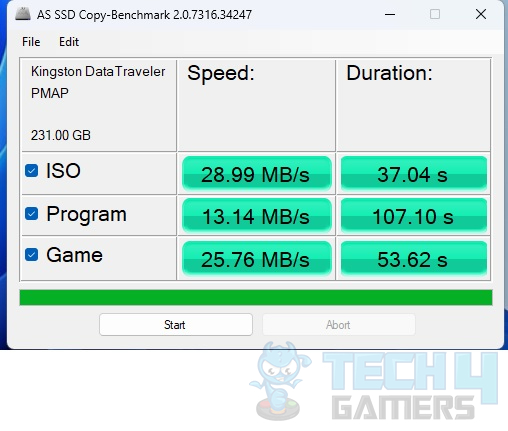 The above is a result of the AS-SSD Copy benchmark. This drive has decent numbers when it comes to handling different loads.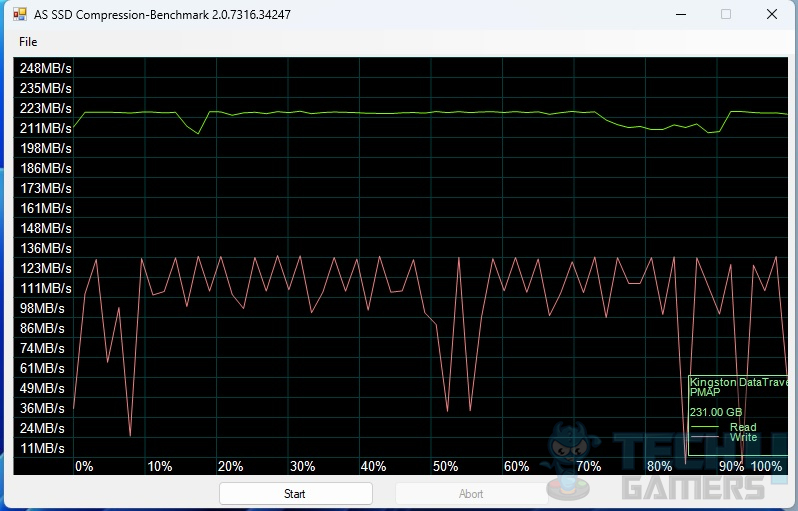 The above pictures show the result of the Compression benchmark run from AS SSD. The read line is well above the 200MB/s mark with a few dips. There is a consistent pattern of dips in write operation with the lowest speed of 24MB/s and a maximum speed of 130MB/s.
ATTO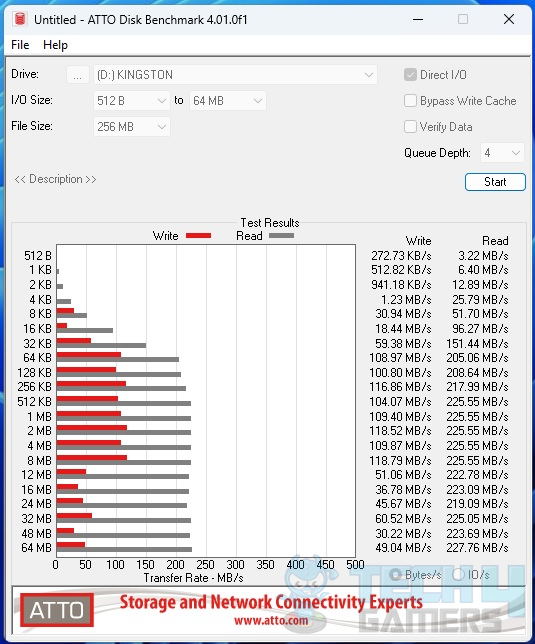 Next, we ran the ATTO Disk Benchmark to test the drive's performance. The drive did a maximum of 227MB/s in read and 118.79MB/s in write. We can see that the write operation would suffer as the storage is filled.
BlackMagic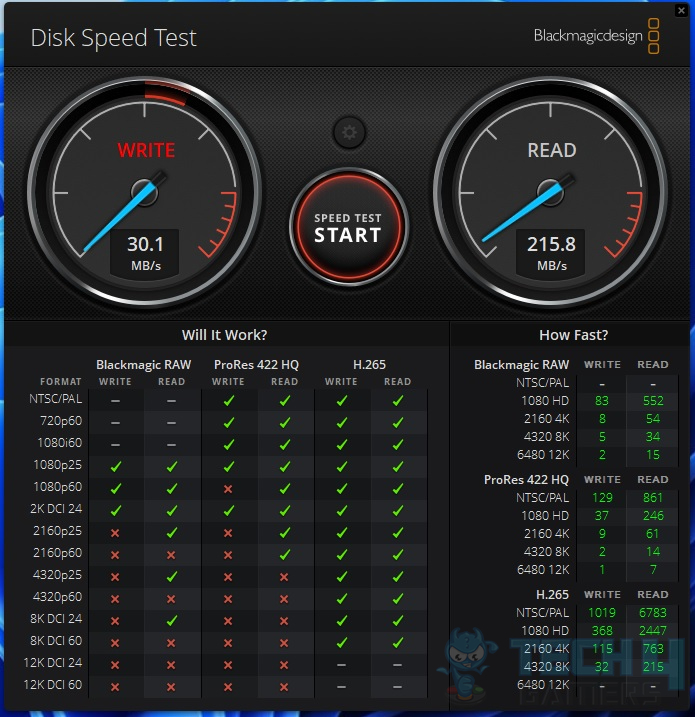 Black Magic Disk Bench shows a similar pattern as other software has shown.
TxBench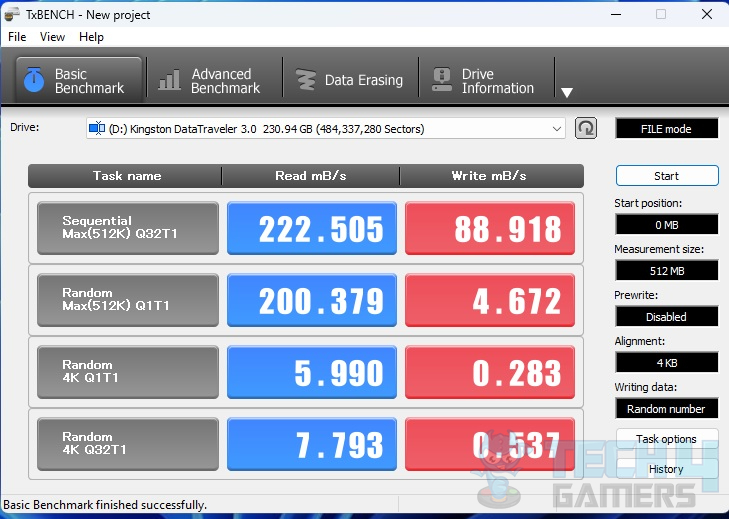 The drive passed the 200MB/s and 60MB/s mark in sequential read and write speeds, respectively.
PCMARK10 Storage Benchmarks
We have added Data Drive Benchmark from PCMARK10 software. The Data Drive benchmark is designed to test drives that are used for storing files rather than applications. You can also use this test with NAS drives, USB sticks, memory cards, and other external storage devices.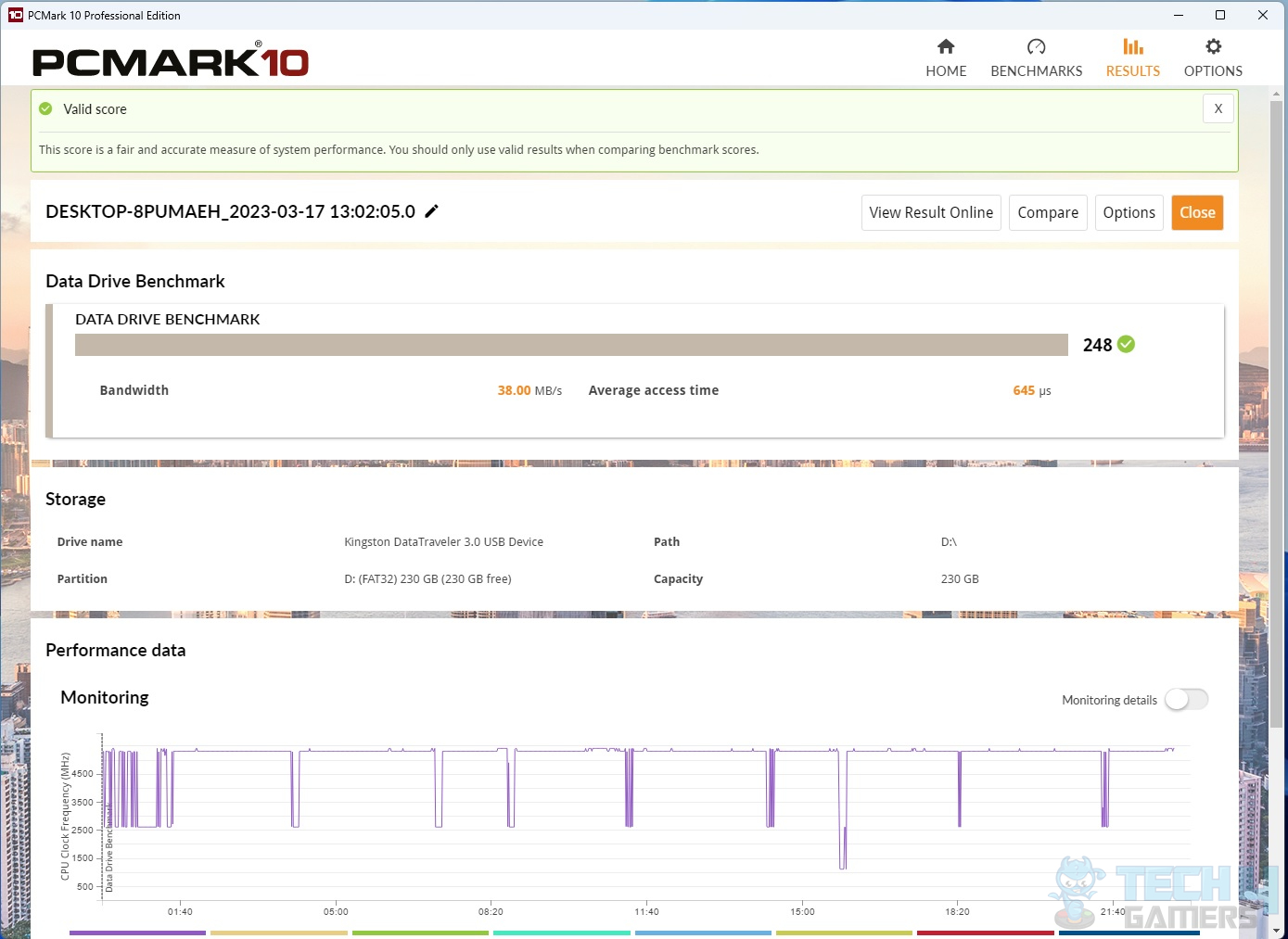 This drive scores 248. The DT MAX 512GB got 710 scores. However, we are comparing two different breeds here, which is unfair to DT Kyson 256GB drive. This drive has an average bandwidth of 38MB/s and an average access time of 645µs. These numbers indicate the level of performance that you can expect from this drive.
Real World Testing
Now that we have completed testing using synthetic benchmarks, it is time to prepare our sample for a real-world use scenario for further evaluation. We prepared a 46GB size folder containing multiple files and folders, including compressed files. DiskBench was then used to observe the real-world data transfer speeds. Here are the results: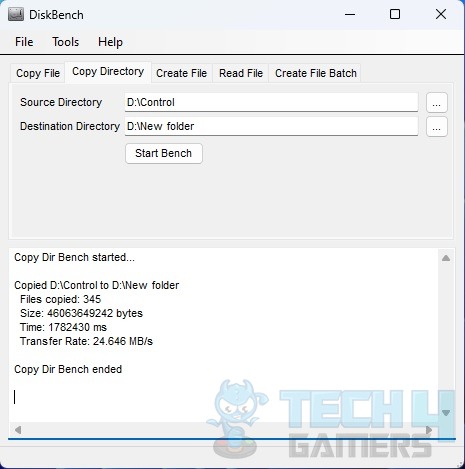 We copied the 46GB folder on the same drive. The average transfer rate comes to 24.646MB/s, and it took 30 minutes to complete this operation.
Conclusion
We earlier tested Kingston DataTraveler MAX 512GB USB drive and found it to be a high-performance portable drive. This time we have tested another USB Flash drive from different series under DataTraveler. This time it is Kyson 256GB USB Flash Drive. The Kyson series drives are based on USB 3.2 Gen1 standard using only USB Type-A interface, unlike MAX series drives which are based on USB 3.2 Gen2 and use USB Type-A and Type-C interfaces.
The Kyson drives are available in a single color tone that is silver and has capacities of 32GB, 64GB, 128GB, and 256 GB. We have tested the 256GB variant. These drives have a rated sequential read speed of up to 200MB/s. However, the 128GB And 256GB drives have a sequential write speed rating of up to 60MB/s. The write speeds are not mentioned for 32GB and 64GB, but clearly, they have less write speed.
This drive has a dimension of 39×12.6×4.9mm LxWxH. This unit has a weight of 4gm. Their operating temperature is 0°C to 60°C. The storage temperature values are between -20°C to 85°C. These drives are compatible with Windows 11, 10, 8.1; macOS(v 10.14.x+); Linux (v 2.6.x +), and Chrome OS. This drive has a capless design on Type-A blue color connector, meaning this connector is inside the metallic housing. There is a cap or handler on the opposite end of this stick which also serves the Keyring loop. These drives use the FAT32 file system out of the box.
This drive is listed on AMAZON at USD 24.75 at the time of this writing. In our synthetic testing, this drive easily passed the rated sequential read speed of up to 200MB/s and sequential write speed of up to 60MB/s. the real-world data transfer rate is decent as well. We have no issue with this drive in terms of the totality of the package and performance. Kingston is offering a 5-year warranty on these drives which is quite good.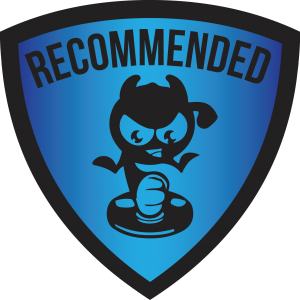 Was our article helpful? 👨‍💻
Thank you! Please share your positive feedback. 🔋
How could we improve this post? Please Help us. 😔