Best SSD For Gaming?
Review Summary
Sabrent Rocket 4 Plus G 2TB NVMe SSD is a future design that is here for gamers to take full advantage of the Microsoft DirectStorage 1.1 API using its customized firmware, powerful controller, and NAND chips. This SSD is a beast in performance; if you can have it, then have it. Period.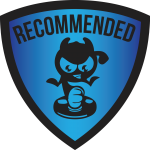 Quality -

9/10

Performance -

9/10

Features -

9/10

Value -

9/10
Pros
7300MB/s Sequential Read
6900MB/s Sequential Write
O₂ GO firmware
Copper Layer for some cooling
Excellent Real World Performance
When it comes to storage and memory products, Sabrent needs no introduction. This brand has quickly gained attraction and established a solid footprint in the market with its product range and continuous innovation. Sabrent has been keen on releasing products based on new technologies, taking the first mover advantage, but they do so without compromising the quality of their product. Their Rocket 4 Plus Gen 4 NVMe SSDs are quite popular among enthusiasts, gamers, and professionals alike.
The company introduced the Rocket 4 Plus – G series of SSDs some time ago. The G series of SSDs from Sabrent has everything that you would expect a regular PCIe 4-based NVMe 1.4 interfaced drive to have, but in addition to that, these drives also have one more feature that sets these apart from the competition at the time of their release. These SSDs feature O₂ GO firmware. What is so special about this firmware? Well, these SSDs fully support and enable the Microsoft DirectStorage API, and for this API to work, the O₂ GO firmware provides native support on these SSDs.
I think Sabrent was the first brand to come up with fully enabled and supportive SSDs in the market for this technology. What is DirectStorage API, and what is the benefit? Though this is out of the scope of this content, I would shed some words here. If you think that during gaming, only the graphics card is doing all the work in the background related to the game data handling, think again and check again. There are 4 key components that are involved:
Graphics Card and VRAM
CPU
System RAM
System Storage
Take note that I have specifically mentioned system RAM and VRAM to eliminate any confusion. Data is on the system storage disk from where it is retrieved in the system memory. Then it is handled not only by the graphics card but also by the CPU as the decompression is handled by the CPU. Now, this caused overhead and involved latencies (IO latencies to be exact). It is also quite possible that while the CPU is decompressing the data, the graphics card is waiting for this data and idling. Imagine all this happening during gaming.
What if we eliminate the bottleneck and somehow, connect the fast storage directly to the graphics card and let the graphics card handle the decompression as well? This is the main concept or ideology of the Microsoft DirectStorage API. As usual, Microsoft, being Microsoft, this is an exclusive feature and will only be available on Windows 11. This is bad news for Windows 10 users unless, of course, they would say, meh, who cares and continue. This API is built upon DirectX 12 Ultimate.
If you ever have a chance to sit with a graphics designer or a person working on such a platform and get them to talk in technical terms – which I do regularly because there are many such persons in my circle, and we have a regular chit chat on model designing and rendering – they would talk about models, the details of these models, its plots, characters, scenes, objects, data, audio, movements coordination, textures, background scenes and what not. The games comprise all these things and when your graphics card make a request for this data, the CPU issue a command, and the data is retrieved (fetched to be exact) in the system memory (RAM as you call it).
This is half of the story. This data is then moved to the CPU, where it is decompressed and processed and goes back to the system memory, from where it is sent to the graphics card. Ouch! Just imagine if any of these components or the connection between them is slow, the complete operation or process will be slow. The important takeaway here is that during this time when the CPU, system memory, and system storage are having a hot or nice chit-chat, the poor graphics card is either processing the previous data or just sitting idle – the latter being the worst-case scenario.
You would wish that this data had been sent directly to the graphics card, bypassing the CPU. It would have saved time and resources and eliminated the overhead while reducing the latencies and whatnot. Well, sorry to break it to you that standard storage APIs are not equipped to do that. I know it hurts. But the good news is that Microsoft has come up with a solution. The solution is DirectStorage API. There are some prerequisites for your system to use this API. These include:
Windows Version
Graphics Card
System Drive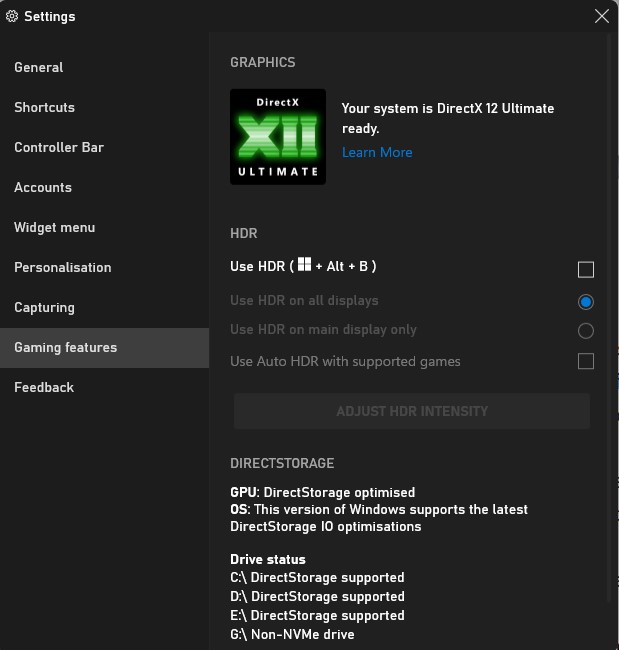 In order to check if you are good to go for this feature, press the Windows key + G and press on the Settings Icon. From there, go to Gaming Features and check if you meet the criteria for DirectX 12 Ultimate. You need to have Windows 11 22H2. Usually, all modern graphics cards are DirectX 12 compatible. Your NVMe drive should be compatible as well. Most NVMe drives would work, but having a dedicated NVMe drive for this API would have its own benefits.
If your system is golden and you are good to go, there is still one missing piece. Your game(s) needs to support the DirectStorage API as well. Sounds like too much! Yes, it is indeed. Pun intended. Well, that was a quick background of it. Here comes another key takeaway. You have a supported system and game and whatnot. All it will do is that the games will load faster, and the gaming process will be optimized and smooth, but there will be no effect on FPS.
In this article, we are taking a look at the Rocket 4 Plus G 2TB NVMe SSD from Sabrent. G means Gaming or Advanced Gaming, however, you wanna call it. This series of Sabrent SSDs uses O₂ GO firmware that has been developed by Sabrent and Phison in collaboration to sustain a high level of performance throughout long gaming sessions while maintaining the drive's health in the background. This drive uses a more powerful B47R NAND Flash rated for 1600 MT/s compared to the 12 MT/s NAND Flash in the Non-G series. The 2TB variant is rated for up to 7300MB/s in sequential reads and up to 6900 MB/s in sequential writes. This SSD is PCIe 4×4 using a 2280 form factor.
Looking For SSDs?
---
Key Takeaways
The Sabrent Rocket 4 Plus G 2TB NVMe SSD delivers blazing-fast speeds of up to 7300 MB/s, ensuring lightning-fast data transfers and application load times.
With its O₂ GO firmware support for Microsoft DirectStorage 1.1 API, gamers can experience seamless, immersive gaming with reduced loading times and smoother gameplay.
Thanks to the powerful Phison PS5018-E8-41 controller, this SSD combines impressive performance with reliable data storage for a top-tier computing experience.
---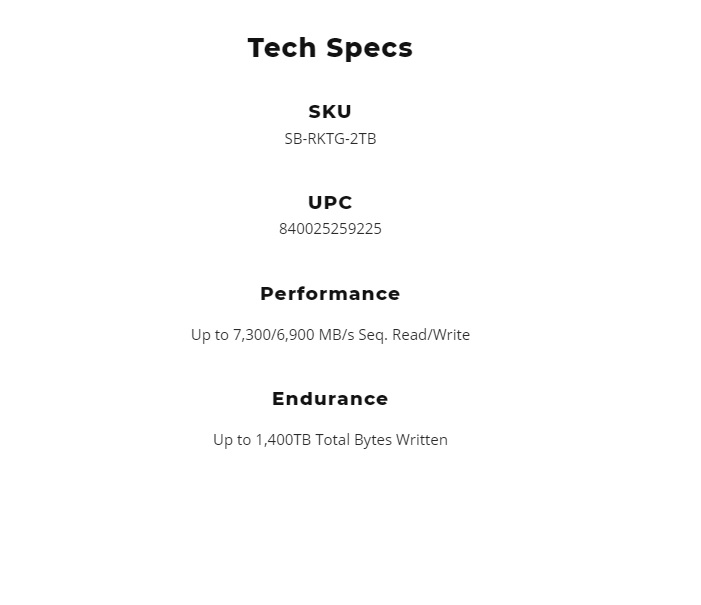 Packaging and Unboxing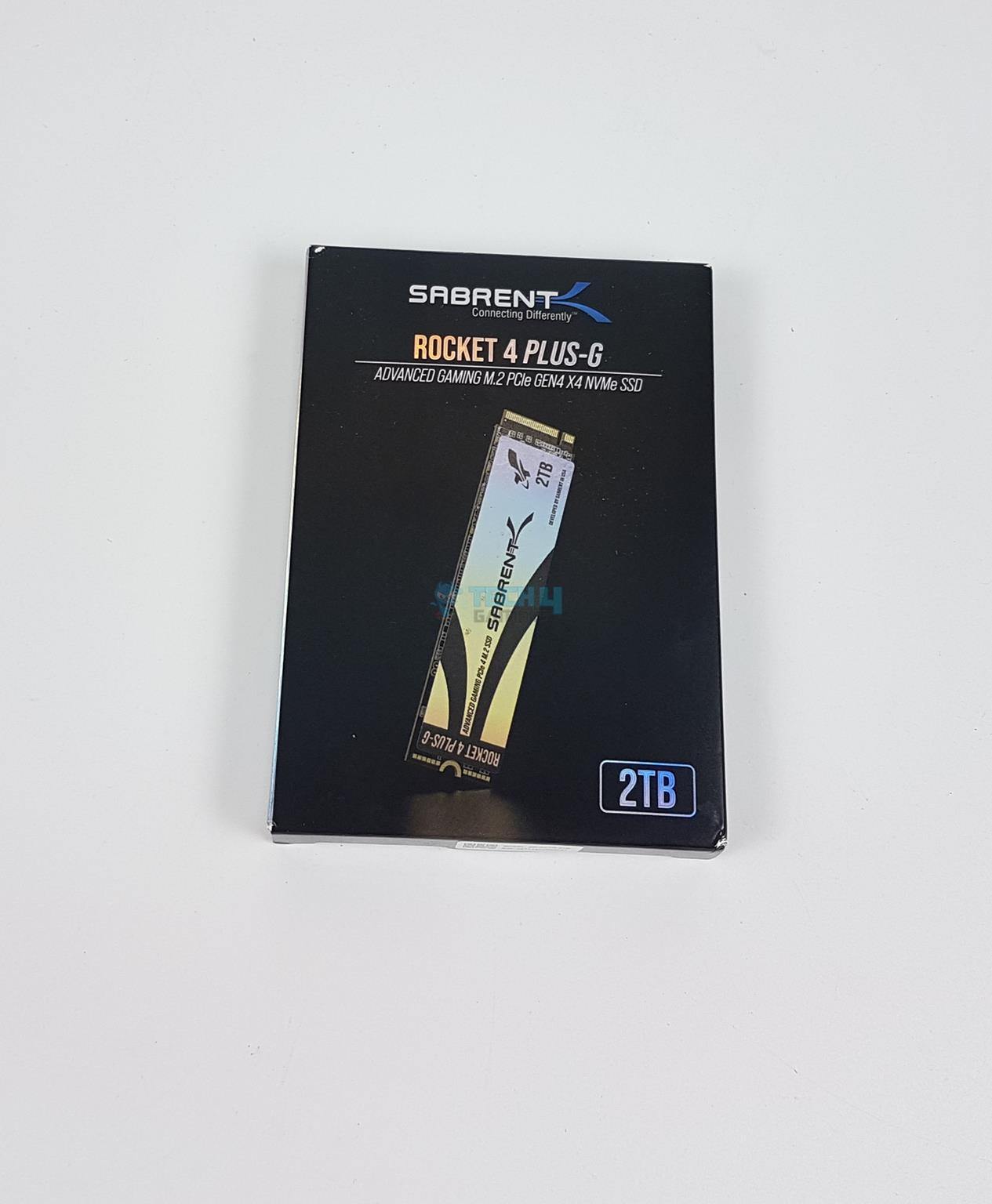 Sabrent is using the same design for its SSD packaging. The outer box is made of the paperboard material. We can see that this is a 2TB version and that it is an Advanced Gaming (G) variant of the ever-popular Rocket 4 Plus series.
SB-RKTG-2TB is a part number of this SSD. Here, SB stands for Sabrent. RKTG stands for Rocket 4 Plus Gaming and 2TB is the capacity of the disk drive.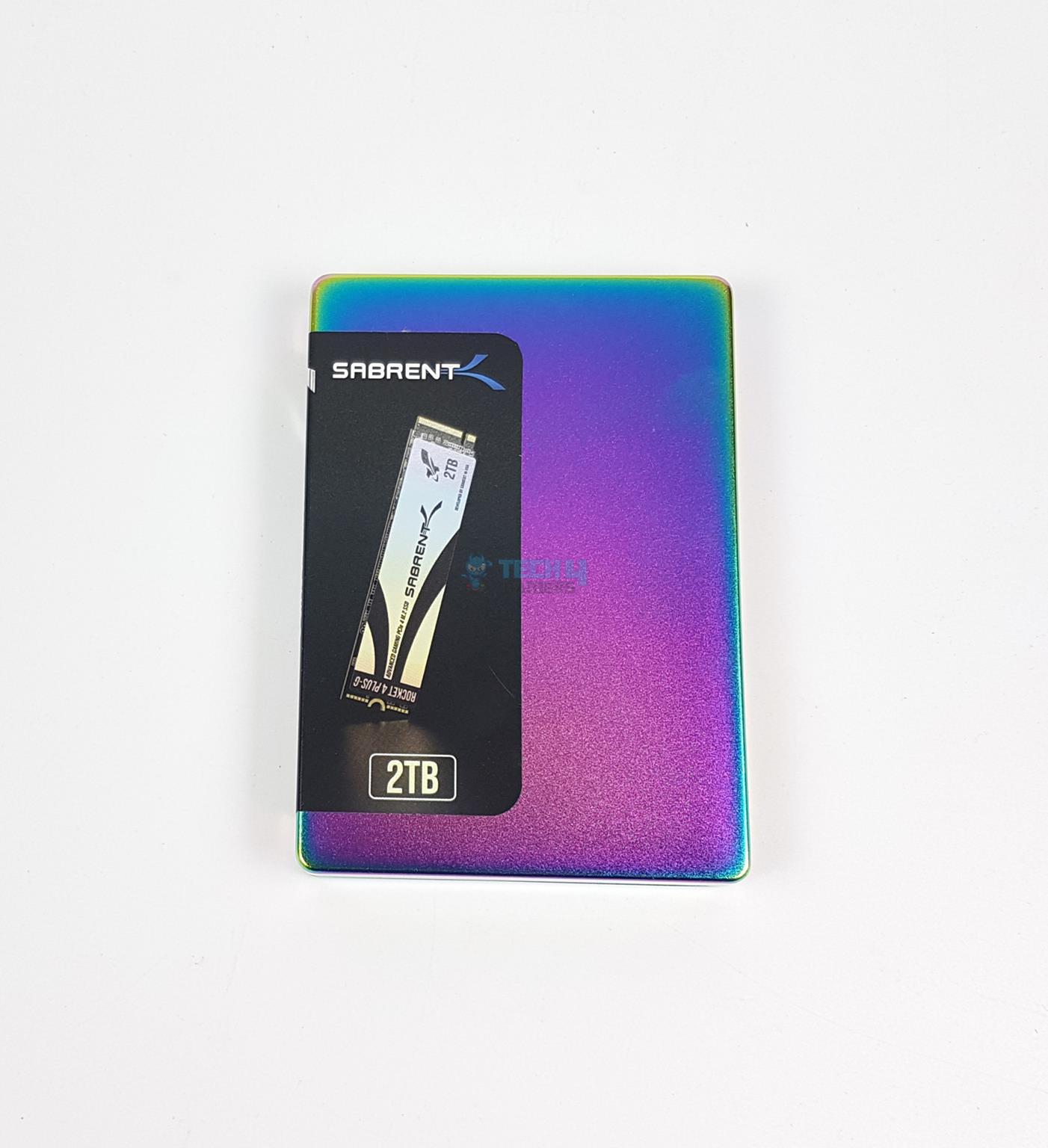 There is a hard metallic shell inside the outer box. It has a colorful teal that reflects different color tones under light. There is a sticker label that overlaps on the opposite side. 2TB is printed here.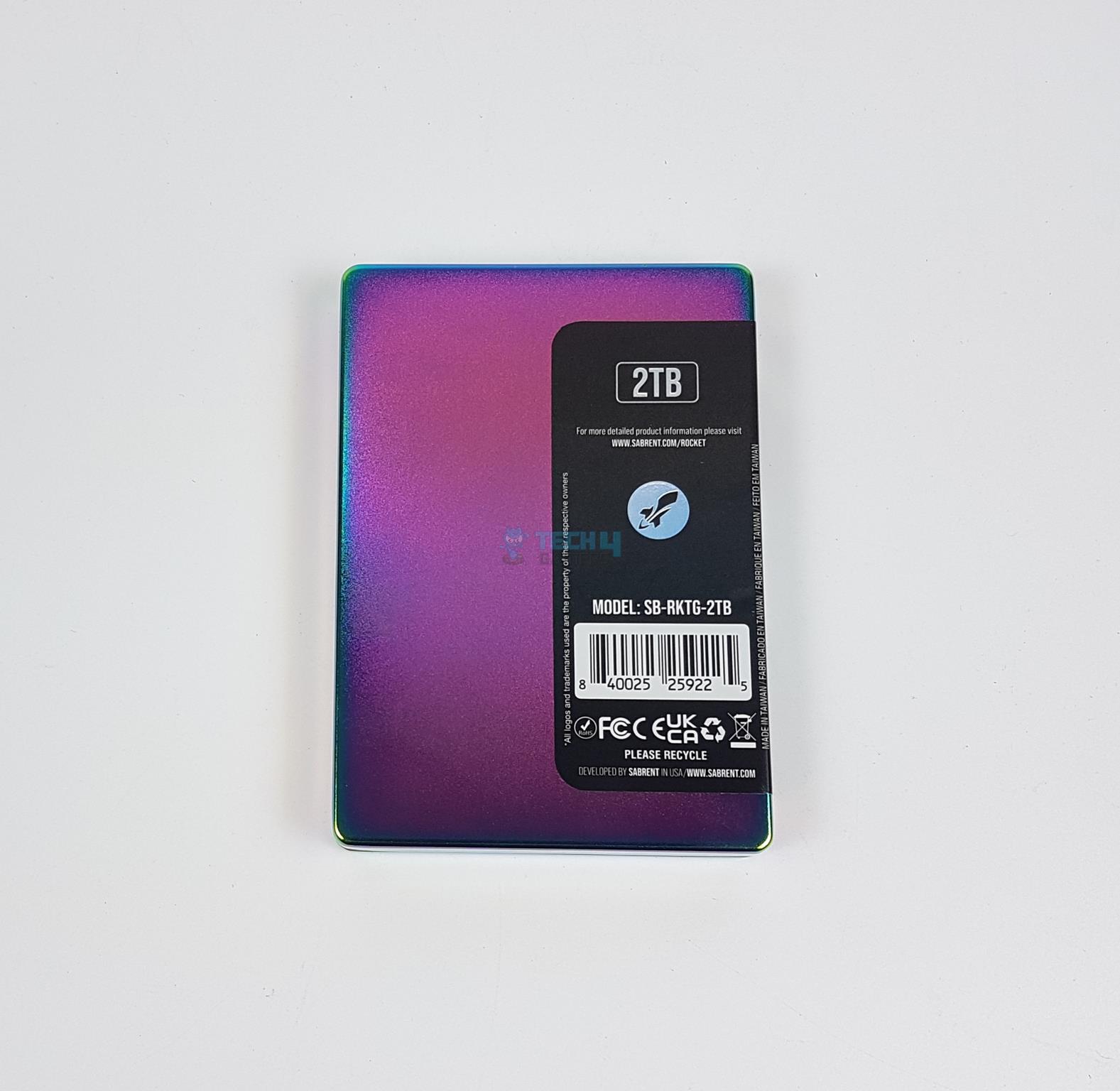 Here, we can see that the same information is printed that we saw on the rear of the outer packing box.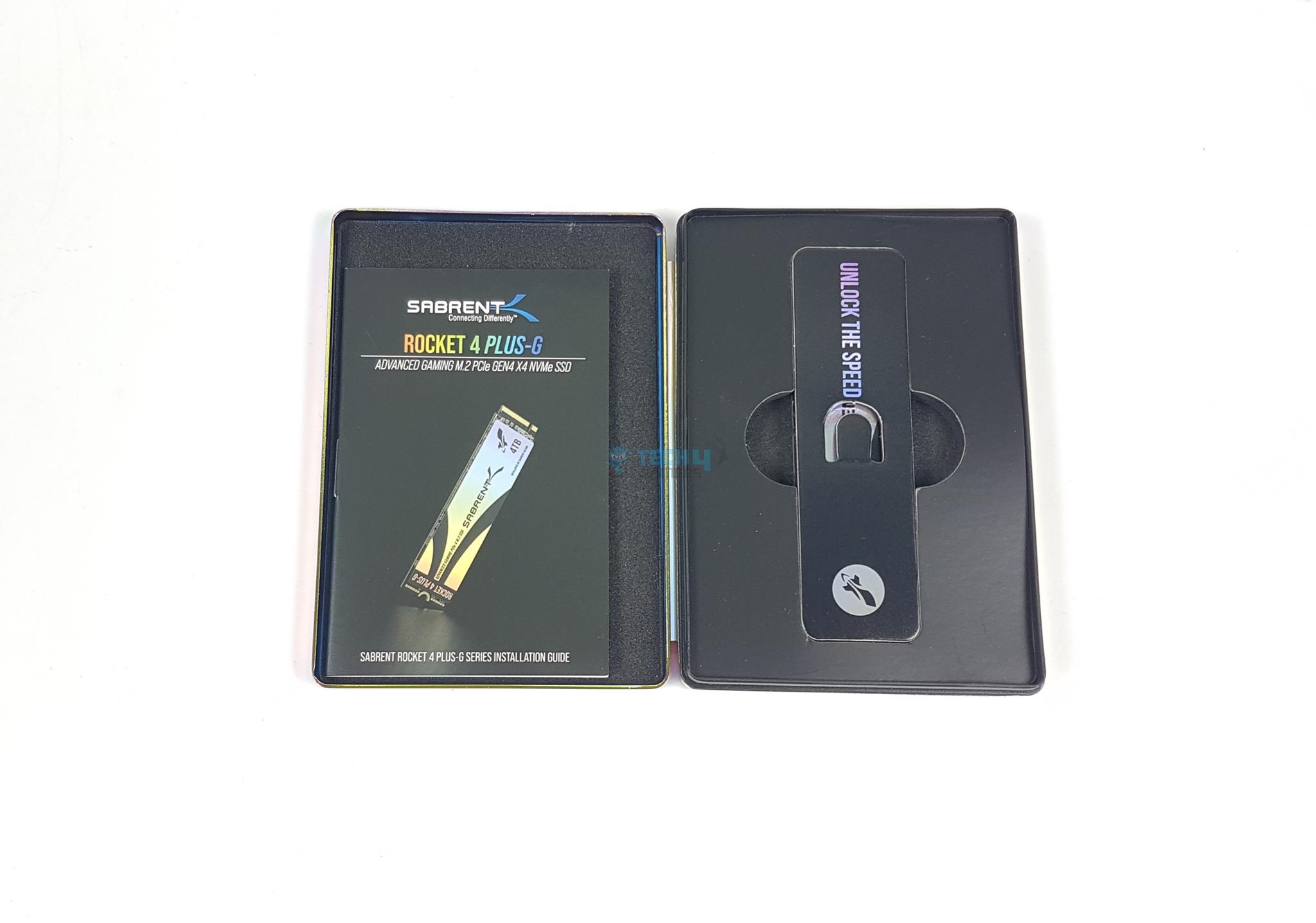 Sabrent is quite good at presentation. There is another container inside that has the SSD. There is a cut-to-size cover placed on top of the SSD. The user guide is also placed here.
Design
Let's start with a statement from Sabrent about this SSD first. "The new Rocket 4 Plus-G is ready for take-off: our state-of-the-art O₂ GO firmware helps launch the fastest storage – on or off the planet – to unprecedented heights. Never let your personal gaming adventure be cut short or hampered by glitchy playback. This is one SSD that can keep up with whatever you throw at it. Endurance is the name of the game and it will never let you down."
The Sabrent Rocket 4 Plus G series of SSDs are available in three capacities:
There is no 8TB variant yet. This is understandable from the costing point of view. Not only the NAND Flash, the controller, but the dedicated firmware would add more to the equation here. These SSDs are using 3D TLC NAND Flash. TLC stores 3 bits per cell as compared to the other NAND flash. This SSD has a form factor of 2280. It is an M Key type SSD which is compatible with M.2 slots on modern motherboards. It is also compatible with PCIe Gen 3 with reduced speeds, though I don't see a reason to buy expensive storage for use on a step-down interface.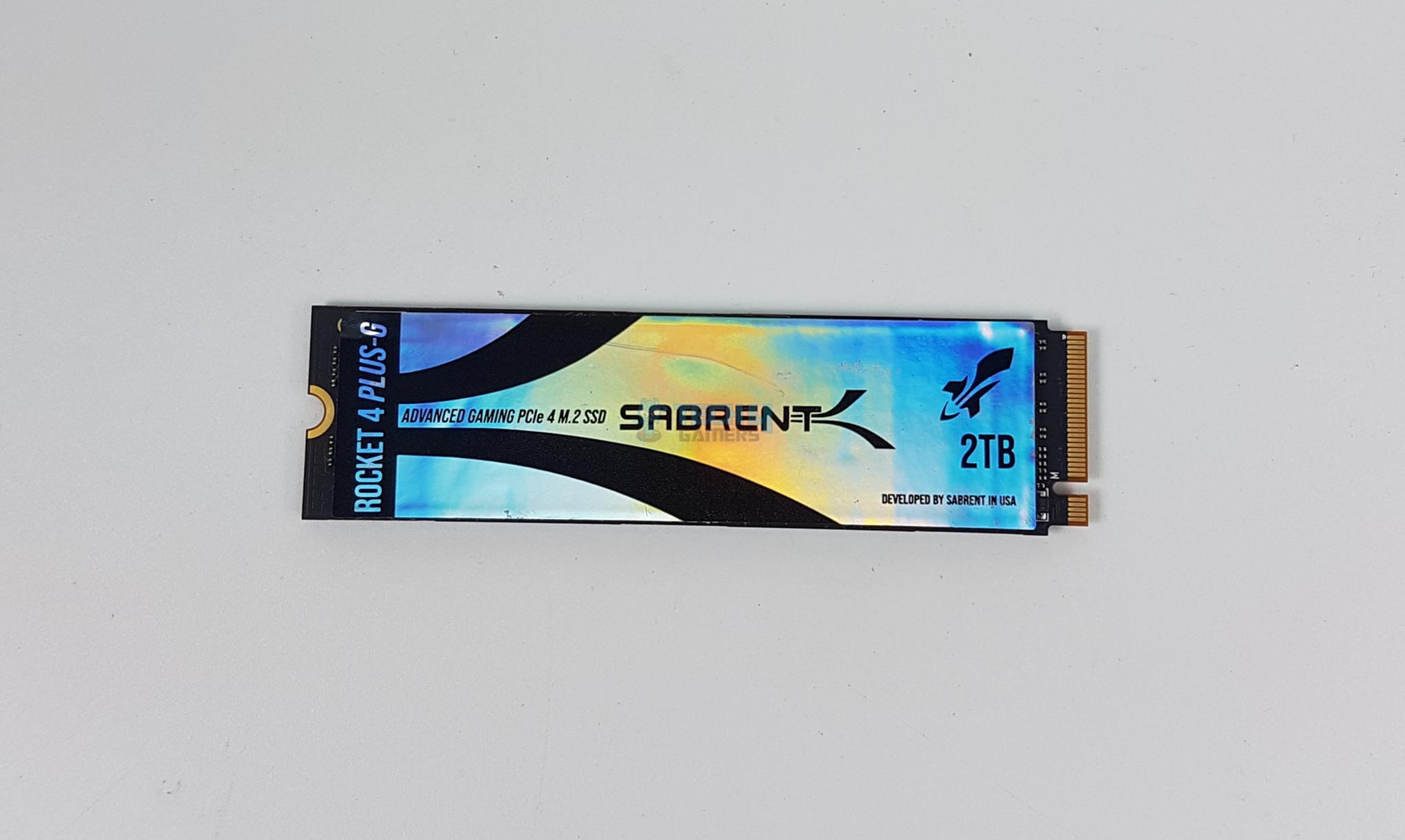 Looking at the top of the SSD, there is a thin layer of copper cover. This is the same as we saw on the Sabrent Rocket 4 Plus 1TB variant, but with one key difference. This version is not in copper's natural color. Rather, it has a colorful sheen that sometimes reflects blue and sometimes yellow color and many a times a combination of both. Anyhow, it is purely aesthetics. It will not boost your data transfer speeds, much like having more RGB will not give you more FPS. Pun intended.
We can see a Sabrent branding here. 2TB is written towards the right side. The SSD is developed in the USA. Rocket 4 Plus-G is written vertically towards the left. Advanced Gaming PCIe 4 M.2 SSD is written right before the Sabrent wording. These days, we don't need drivers for NVMe drives, and the same is the case with this drive. It will work out-of-the-box with Windows 10 and 11.
These drives use the operating system's native NVMe drivers unless the vendor provides a dedicated driver suite. Although Sabrent did not provide measurements of this drive, it seems to have the same dimension as the 2TB variant of Rocket 4 Plus non-G, which is 3.15×0.86×0.11inch (LxWxH).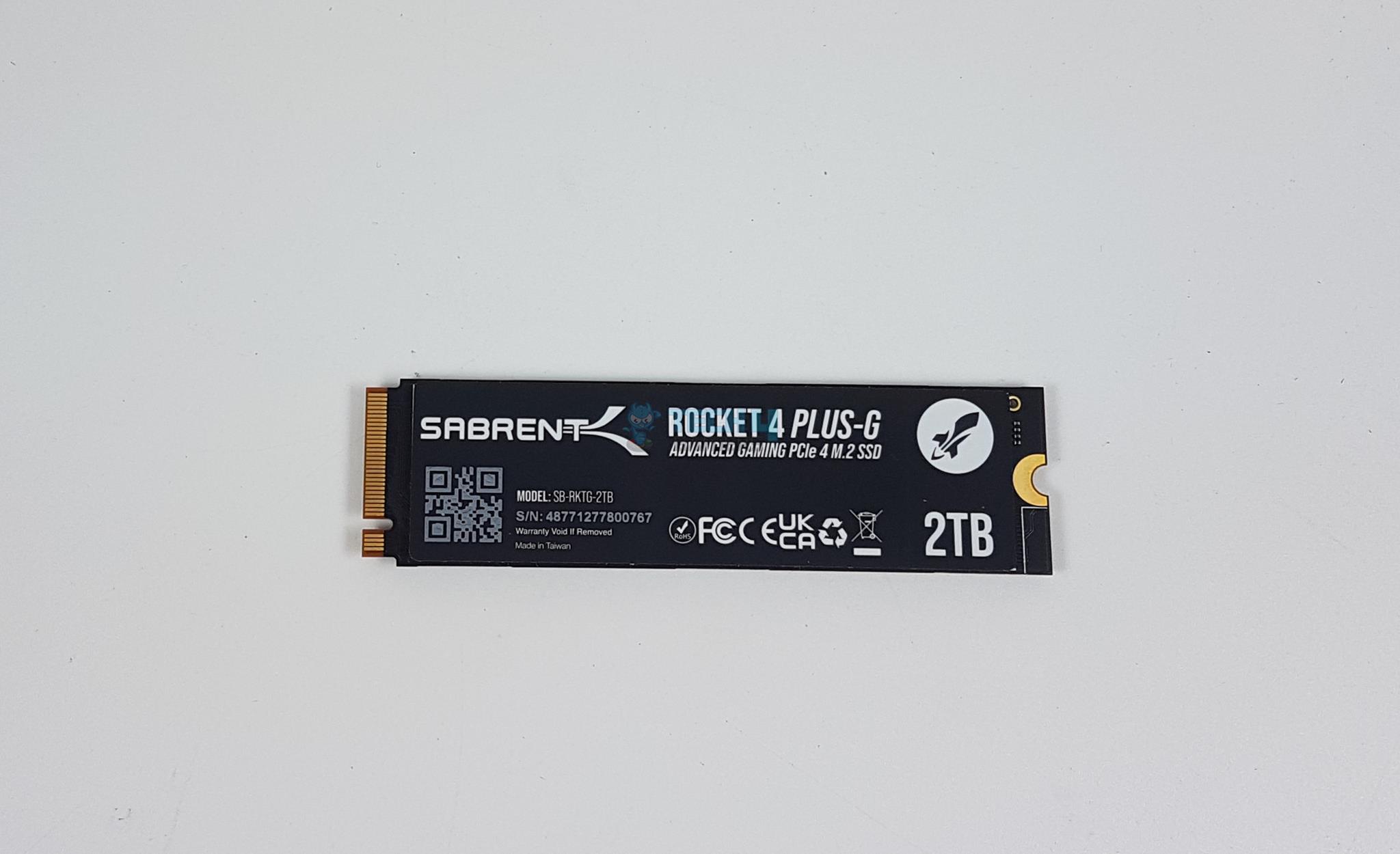 Looking at the backside of this SSD, we can see a single large-size black color sticker label. It has the following information printed:
Serial Number
Part Number
Capacity of the drive
Name of the drive
A scan label
Conformance logos.
We have searched Sabrent's website to get some more detail about these drives, but there is not much data or information provided, which is strange. No performance metrics table can be found under this series, but my wild guess is that this SSD at its core is the same one as one could get from Rocket 4 Plus non-G without that O₂ GO firmware. If that is true, then we have some data from the Rocket 4 Plus 2TB webpage. Clearly, Sabrent needs to update the website regularly.
These seem to have a shock resistance of 1500G if these are indeed the same NAND Flash and controller as are on the Rocket 4 Plus 2TB. The MTBF is mentioned to be 1,600,000 hours. The SSD comes with a 2-year warranty, which can be made for 5 years but only with the registration. The TBW (Terabytes Written) value is mentioned to be 1400 TB, meaning we roughly get a guaranteed of 280 TB per year in 5 5-year warranty.
Sabrent has mentioned that this SSD can do up to 7300MB/s in sequential reads and up to 6900MB/s in sequential writes. There is no 4K random read and write speeds mentioned anywhere. Again, resorting to Rocket 4 Plus 2TB (Non-G), these could have 1,000,000 IOPS in Random 4K read and write.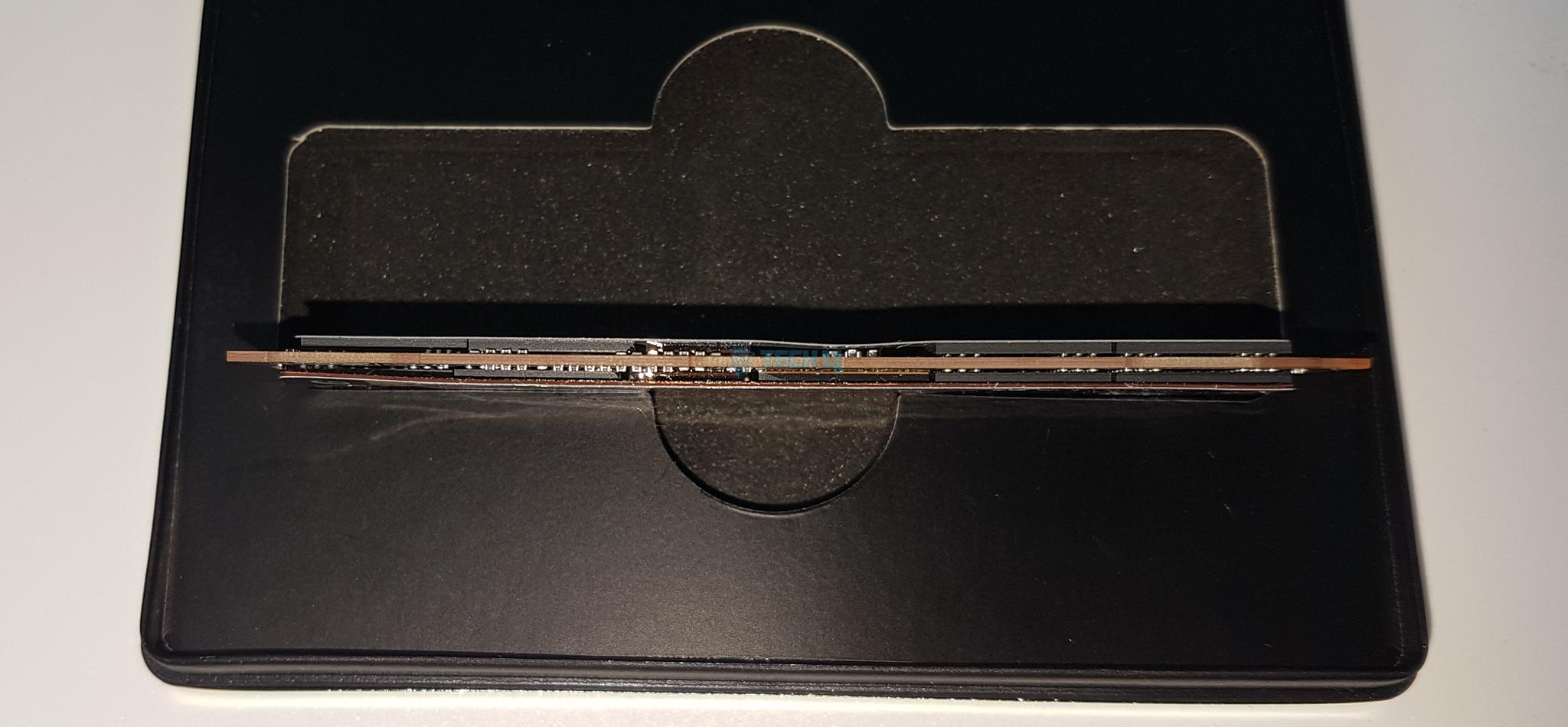 We are showing a picture from the base where we are trying to show you that both sides of the PCB are populated, meaning this is a dual-sided design.
This SSD seems to have:
NVMe M.2 PCIe Gen4 x4 Interface.
PCIe 4.0 Compliant / NVMe 1.3 Compliant.
Power Management Support for APST / ASPM / L1.2.
Supports SMART and TRIM commands.
Supports ONFi 2.3, ONFi 3.0, ONFi 3.2 and ONFi 4.0 interface.
Advanced Wear Leveling, Bad Block Management, Error Correction Code, and Over-Provision.
Upgradeable Firmware.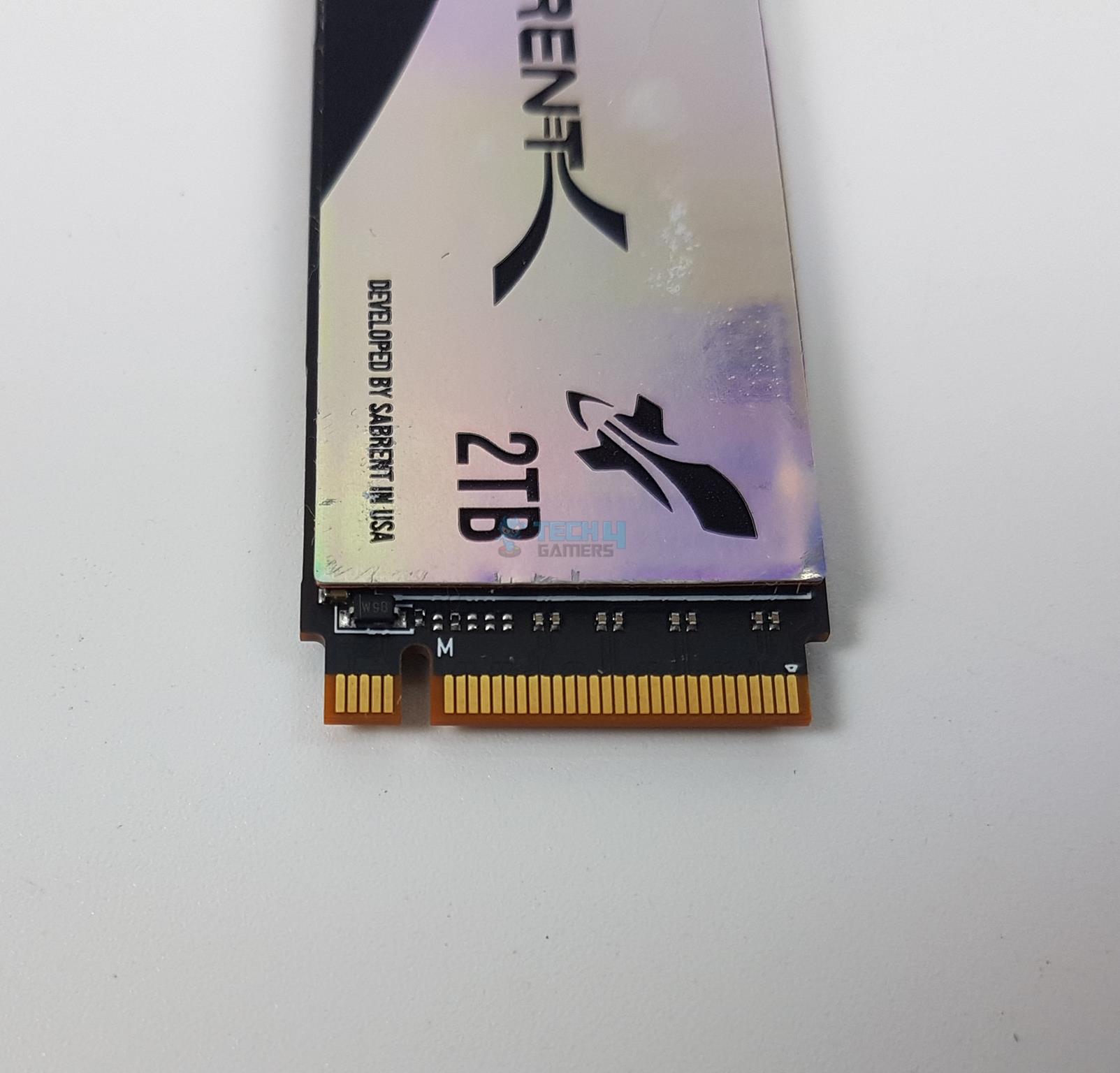 The above picture shows the M.2 port. This is the connector that goes into the M.2 slot of your motherboard.
The Sabrent Rocket 4 Plus G 2TB is powered by a Phison E18-41 controller (PS5018-E8-41). This controller is based on TSMC 12nm process technology that uses a 32-bit ARM Cortex R5 microcontroller in Triple-CPU architecture. It has a support of up to 8 channels. The controller has support for Dynamic SLC Cache and supports 1600MT per channel in DDR4 DRAM. This SSD is using powerful B47R flash chips from Micron. These 176-layered TLC chips are rated for 1660 MT/s. The B47R has 4 dies having a size or, more appropriately, density of approximately 64 GB. This SSD has two DDR4 DRAM or cache chips, each having a size of 1GB from SK Hynix. These are rated at 3200MT/s with latencies of 22-22-22.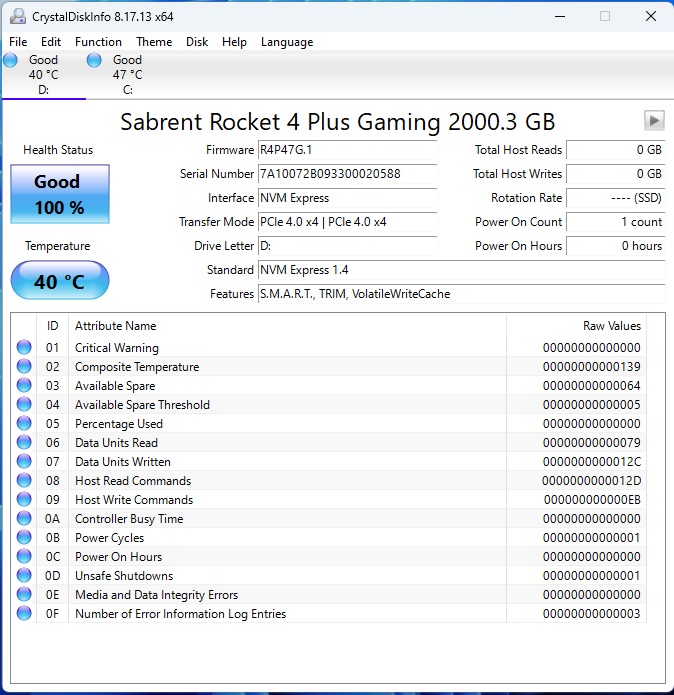 We ran CrystalDiskInfo after installing the disk. It showed that this disk drive is running R4P47G.1 firmware. It also confirmed that the drive is operating at PCIe 4.0 at the x4 speed link and NVMe 1.4 interface. The supported features are S.M.A.R.T, TRIM, and VolatileWriteCache.
Software
There is a utility called Control Panel that can be downloaded from the Sabrent website. In addition, you can download Acronis True Image software with the purchase of an eligible SSD from Sabrent.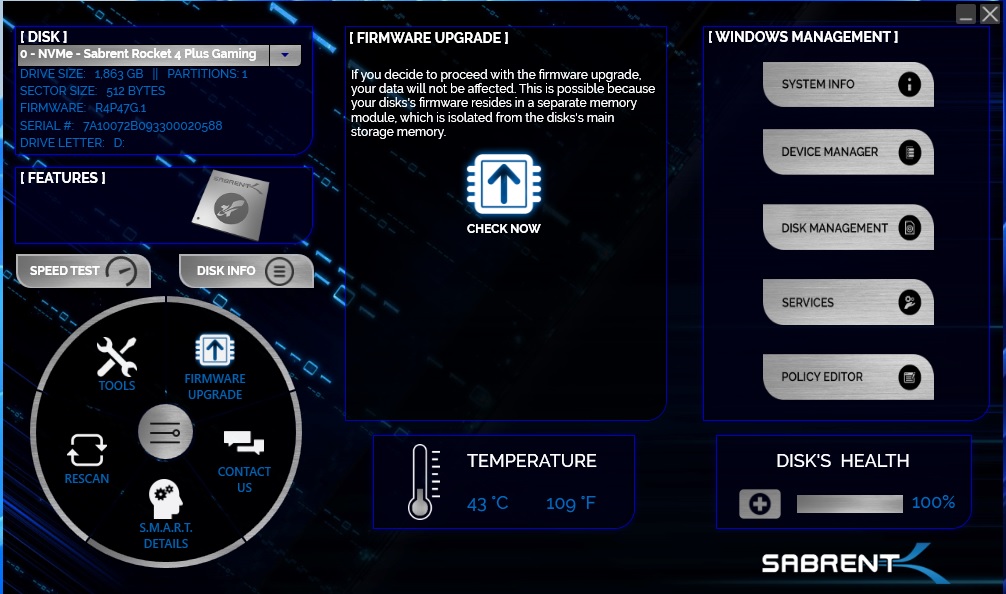 This is a basic utility that gives you information on the Sabrent SSDs and lets update the firmware of the SSD as well. It has links to the native services of the operating system, like Device Manager, Disk Management, etc.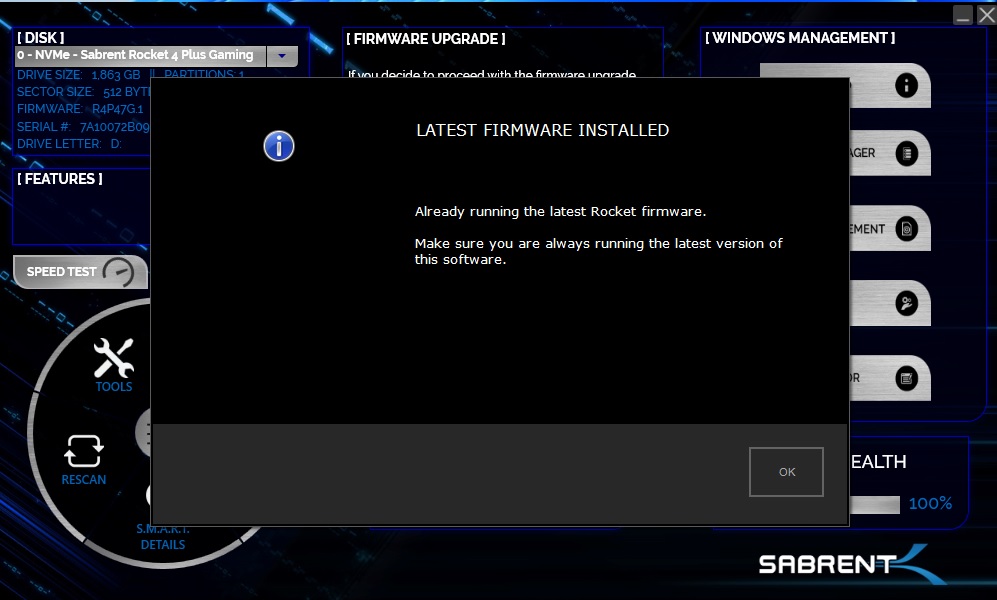 Before testing this drive, we ensured that we have an updated firmware.
Testing
The below-mentioned test build is used:
We have used the following software:
AS SSD
ATTO Disk Benchmark
CrystalDiskMark
Anvil Pro Storage Utilities 1.1.0
DiskBench
Blackmagic Disk Benchmark
3DMARK Storage Benchmark
PCMARK10 Storage Benchmark
1 Benchmark
Microsoft Windows 11 22H2 is used for the testing.
Test Results
Let's go over the results.
CrystalDiskMark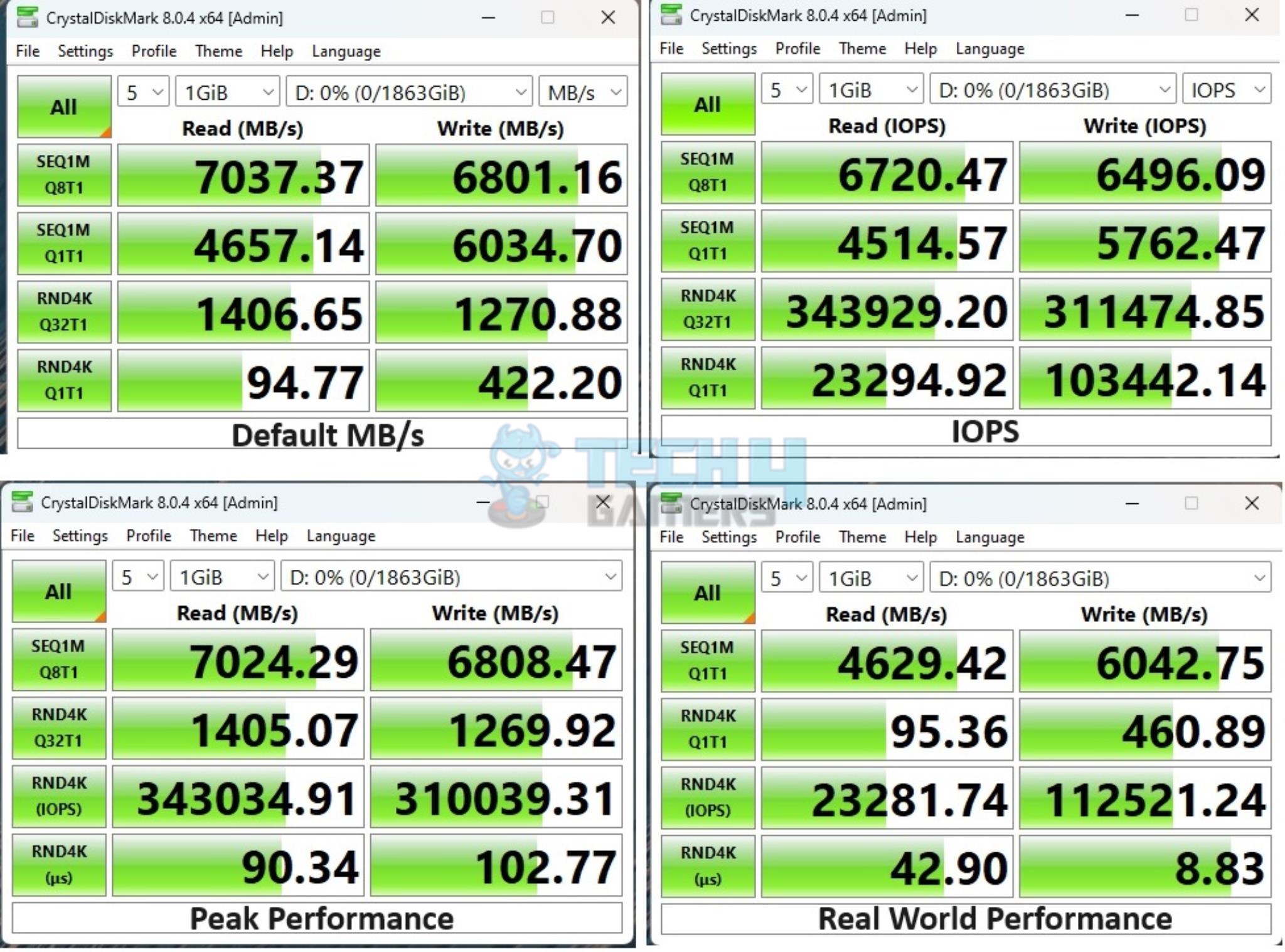 We are starting with a run of CrystalDiskMark. Four different scenarios were run. We have shown all four in a single picture. The first one is a default profile in MB/s. This drive was doing 7 Gbps in sequential reads and 6.8 Gbps in sequential writes, almost verifying the rated speeds. The Random 4k speeds are good as well. This drive has shown good performance in the Real World Performance run as well.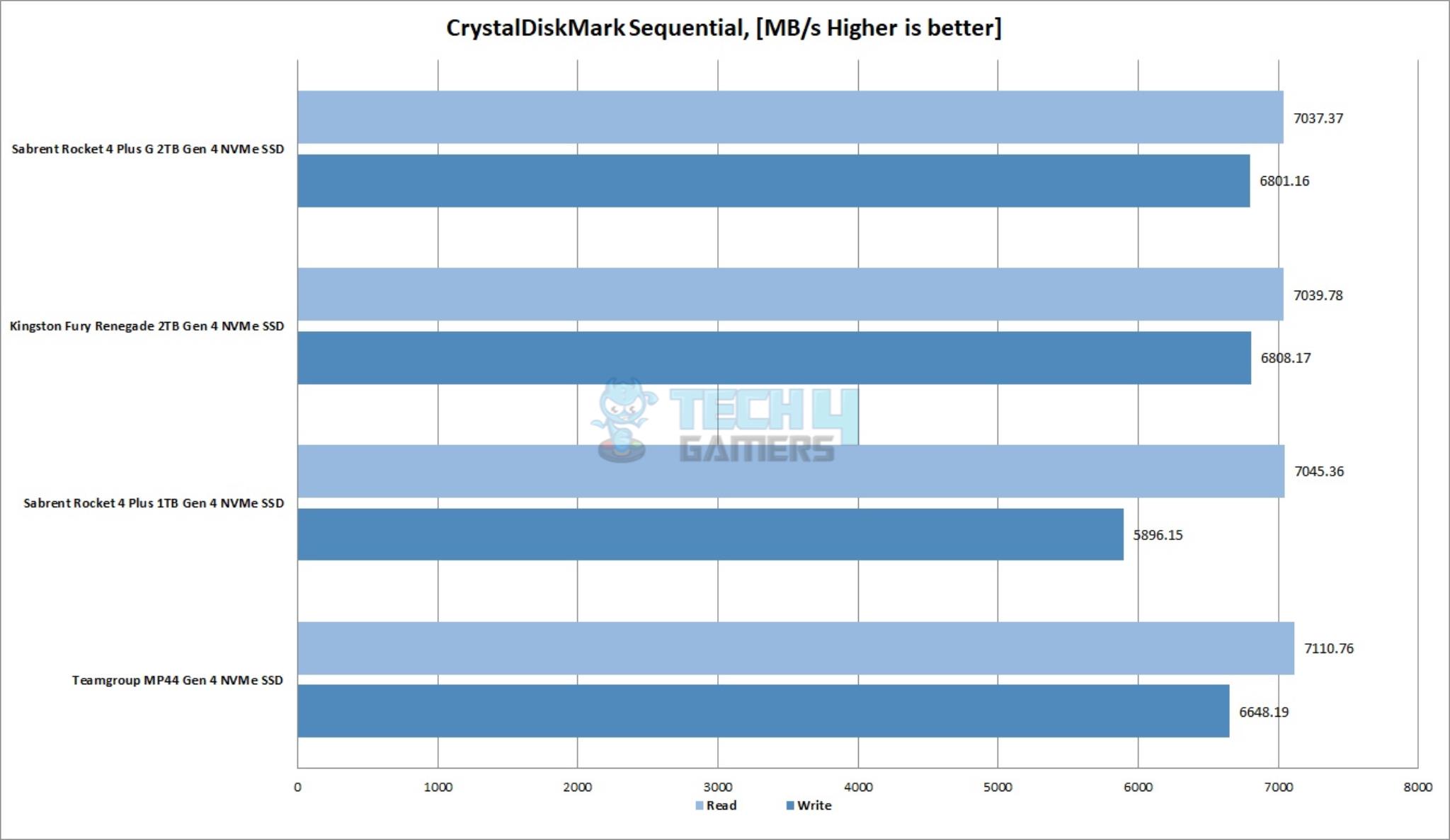 We can see that all four drives are doing above 7 Gbps in sequential reads except Teamgroup's MP44, which was doing 7110. Although marginal, a lead is a lead. This is a close performance from all drives except in write speeds, where Sabrent Rocket 4 Plus 1TB falls behind.
AS SSD Benchmark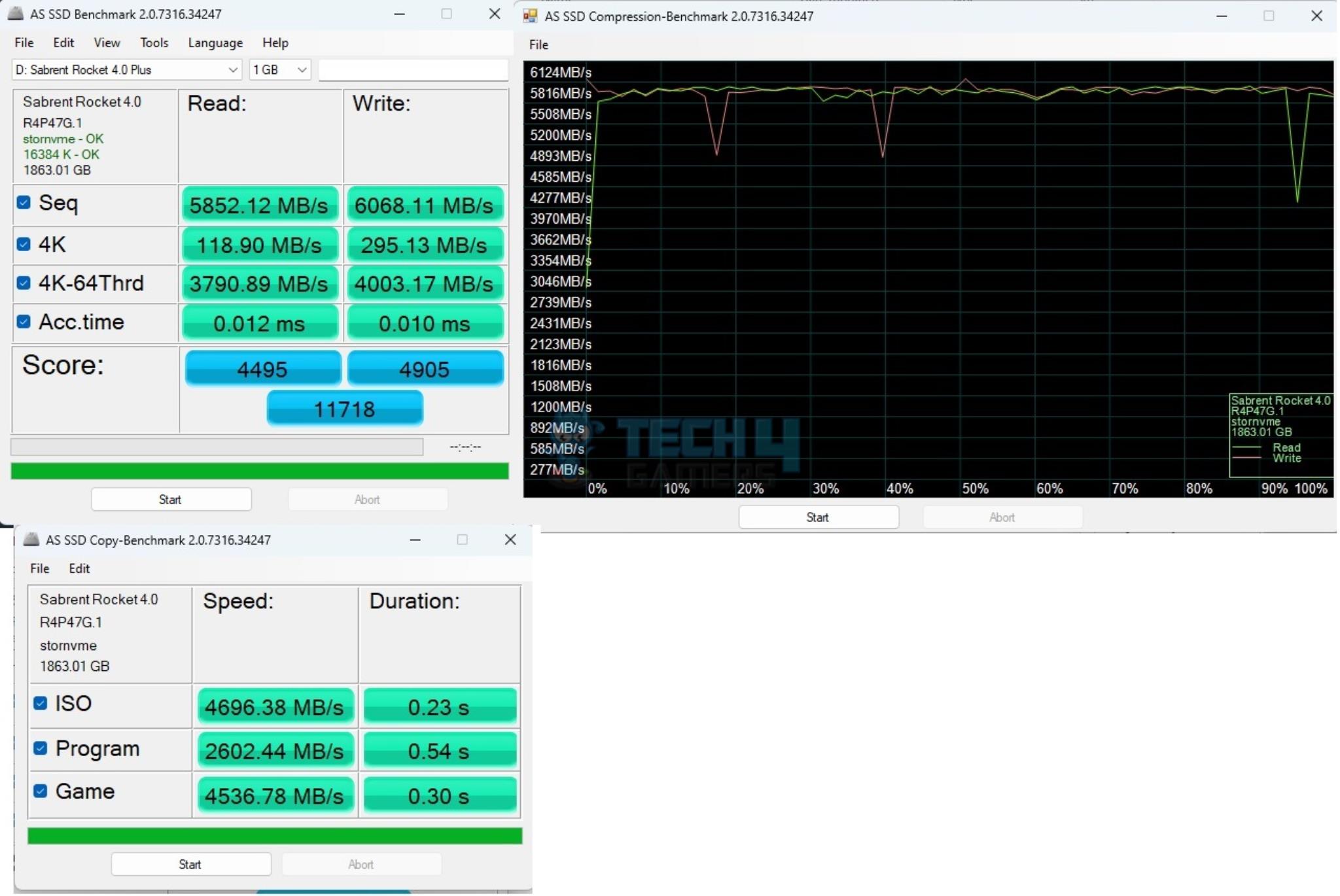 Next, we ran the AS SSD software to test the performance of the drive. Please note that each stress testing software works differently, and there would be variations between software and between two runs, even on the same SSD. Overall performance in this benchmark is good as well, though I was expecting a bit more score from this drive. Looking at the compression test run, we can see two large dips in the write speeds with one spike on the upper side. The reads were more consistent. The copy benchmark shows a good performance, though the program duration could have been a bit better.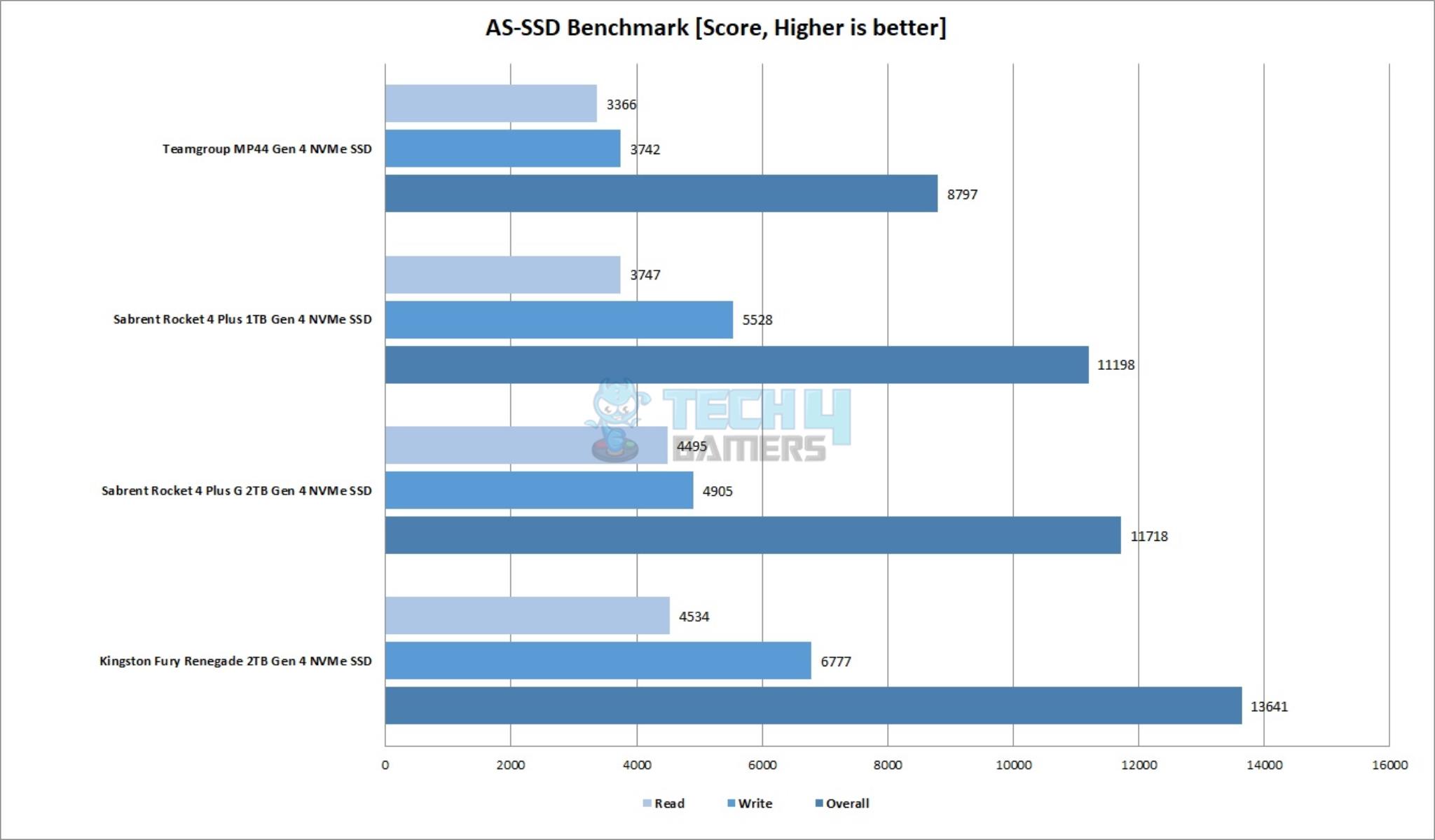 The Sabrent Rocket 4 Plus G 2TB NVMe SSD is second in the graph, following a very good score by the Teamgroup's MP44. The overall performance of Sabrent Rocket 4 Plus G 2TB NVMe SSD is good.
We can see that there is tough competition among the listed drives in this benchmark. The Sabrent Rocket 4 Plus G 2TB NVMe SSD is at third number and surprisingly beaten by Sabrent's own Rocket 4 Plus 1TB NVMe SSD by 0.02GB.
Anvil Storage Utilities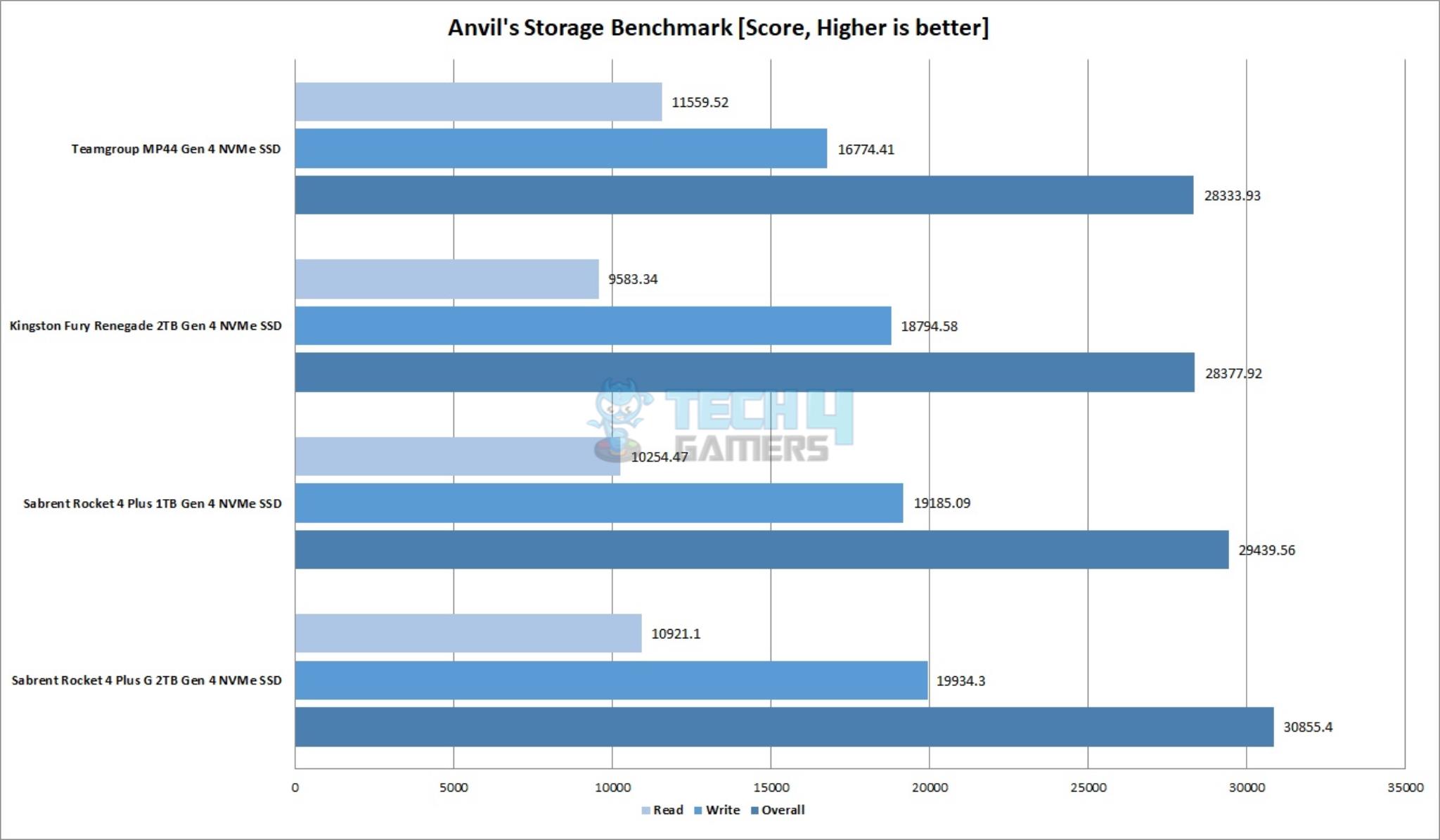 Next, we ran the Anvil Storage Utilities benchmark to test the performance of the drive. The Sabrent Rocket 4 Plus G 2TB NVMe SSD has outclassed every other SSD in this benchmark. This is an impressive performance, for sure.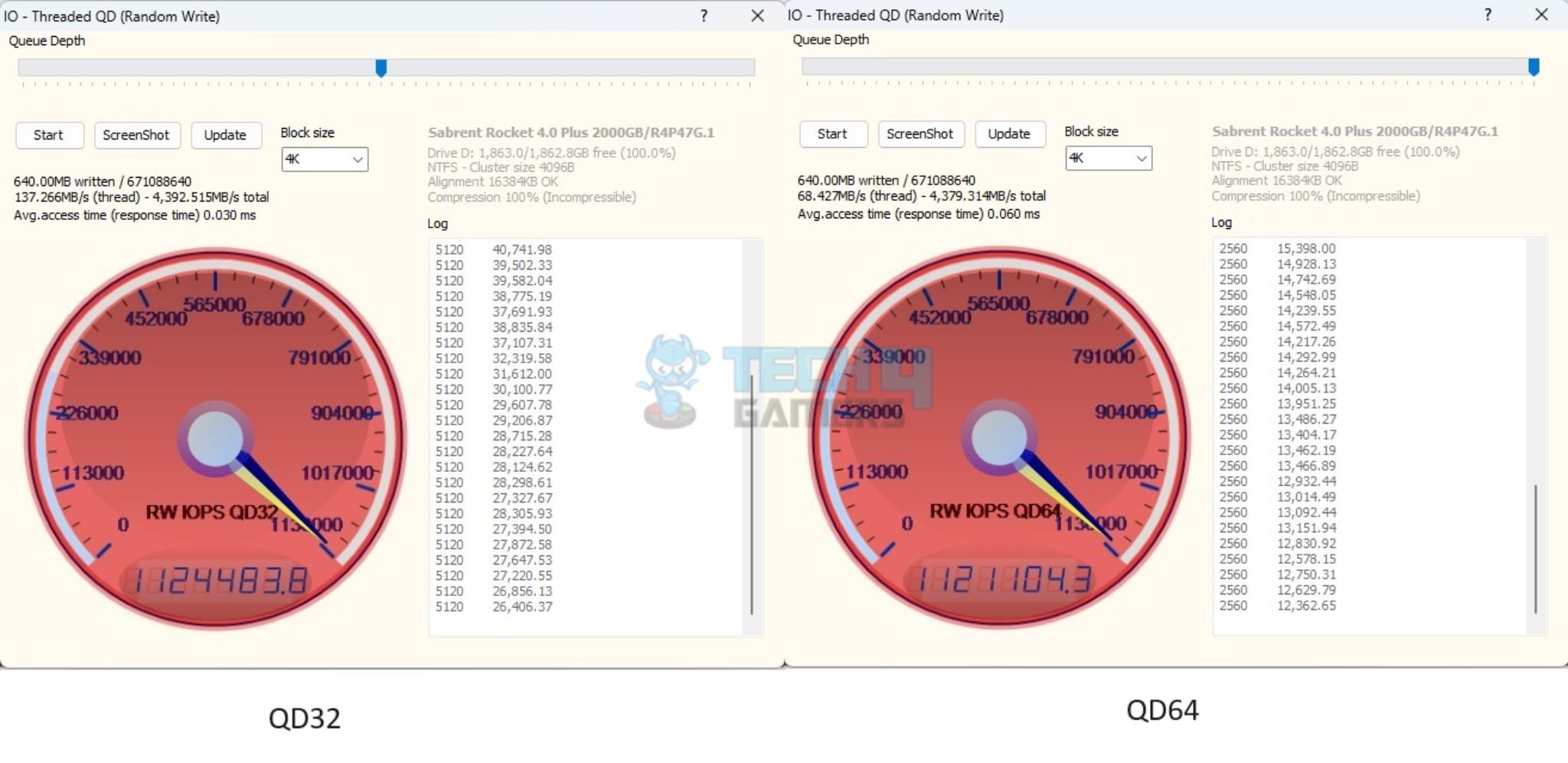 We also ran Threaded Writes in queue depth of 32 and 64. The above picture shows the result of both runs. We have over 1M IOPS in both results which is an impressive result for this SSD.

Next, we ran the Threaded Reads in queue depths of 32, 64, and 128 threads. This drive reached above 700,000 IOPS at 128 queue depth.
3DMark Storage Test
3DMark Storage test is a relatively new test bench measuring the gaming-only performance of the given drive using three games. It measures the load time of the games, recording the gameplay, saving the game, and moving the game. The overall score is given in the bandwidth and access time.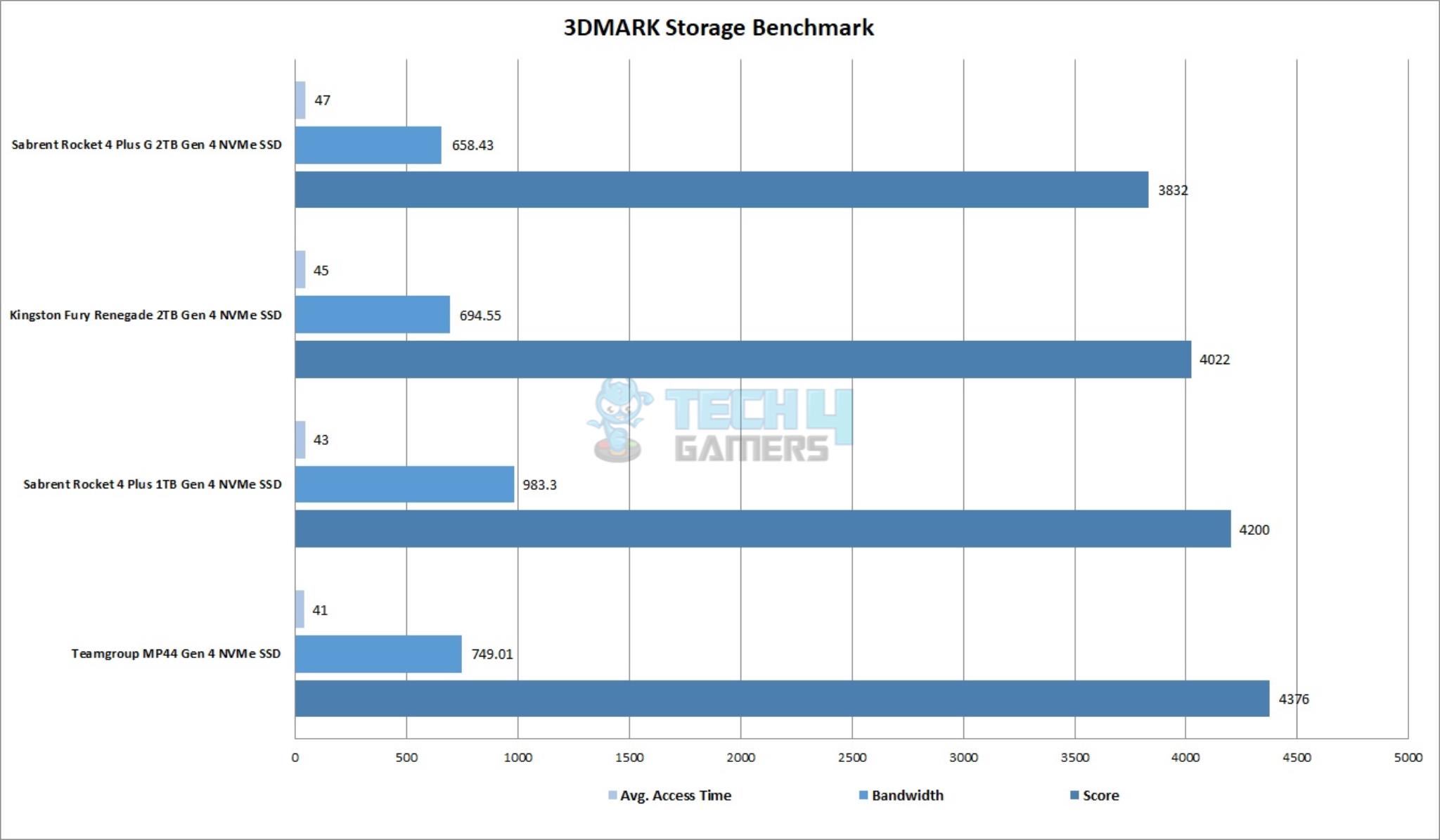 The Sabrent Rocket 4 Plus G 2TB NVMe SSD did a lower score compared to all other SSDs, which is really surprising. I am not sure if Windows updates or 3DMARK updates have done this or otherwise, but it is what it is. This drive did a bandwidth of 658.43MB/s with an average access time of 47µs, scoring 3832.
PCMARK10
We ran two tests from Storage benchmarks in this suite. These are Data Drive Benchmark and Quick System Drive Benchmark.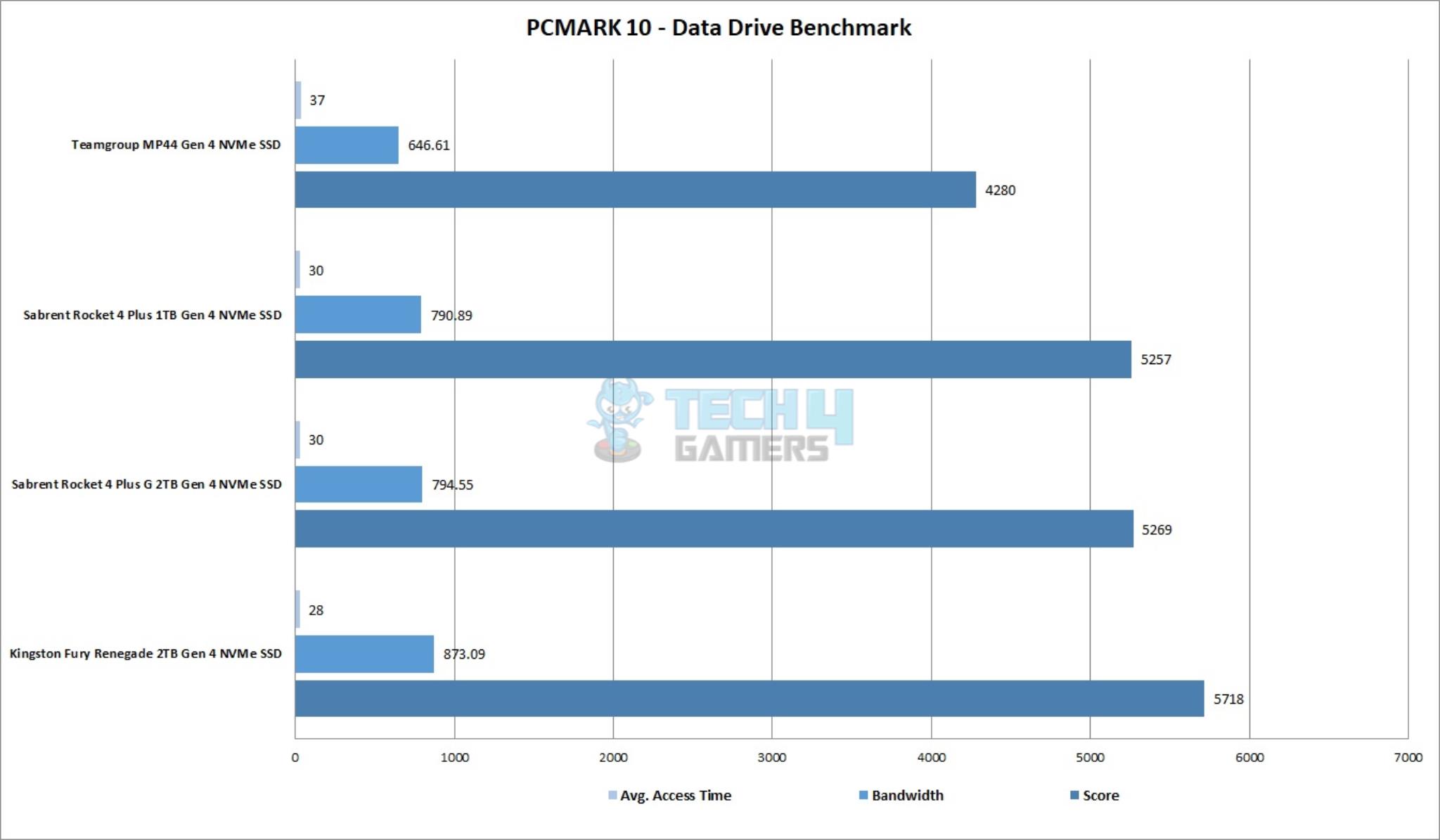 The Sabrent Rocket 4 Plus G 2TB NVMe SSD has performed well in this benchmark, coming in at second number. It has scored 5269 with a bandwidth of 794.55 MB/s and an average access time of 39µs.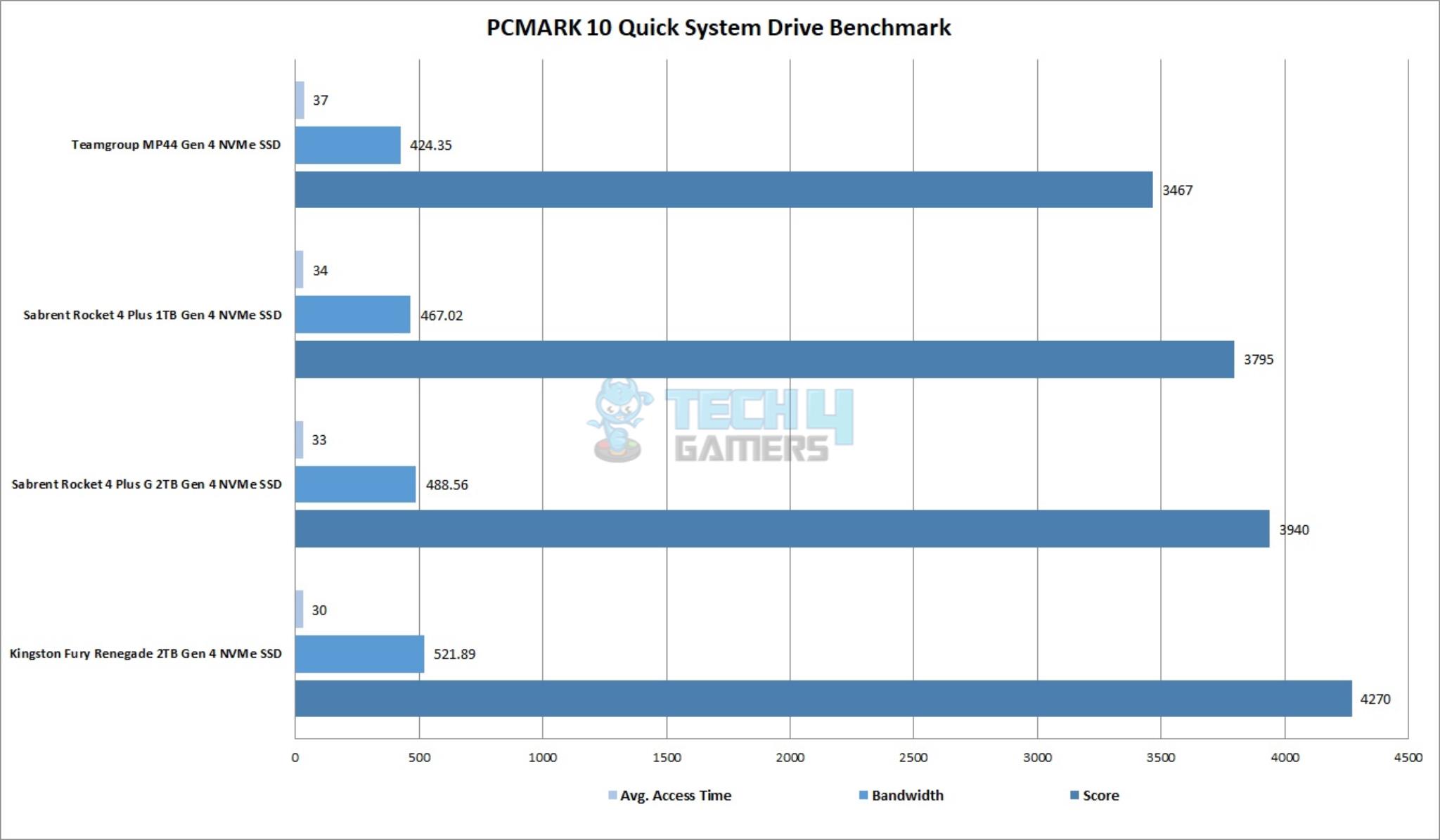 We are seeing a similar result in this benchmark.
Blackmagic Disk Benchmark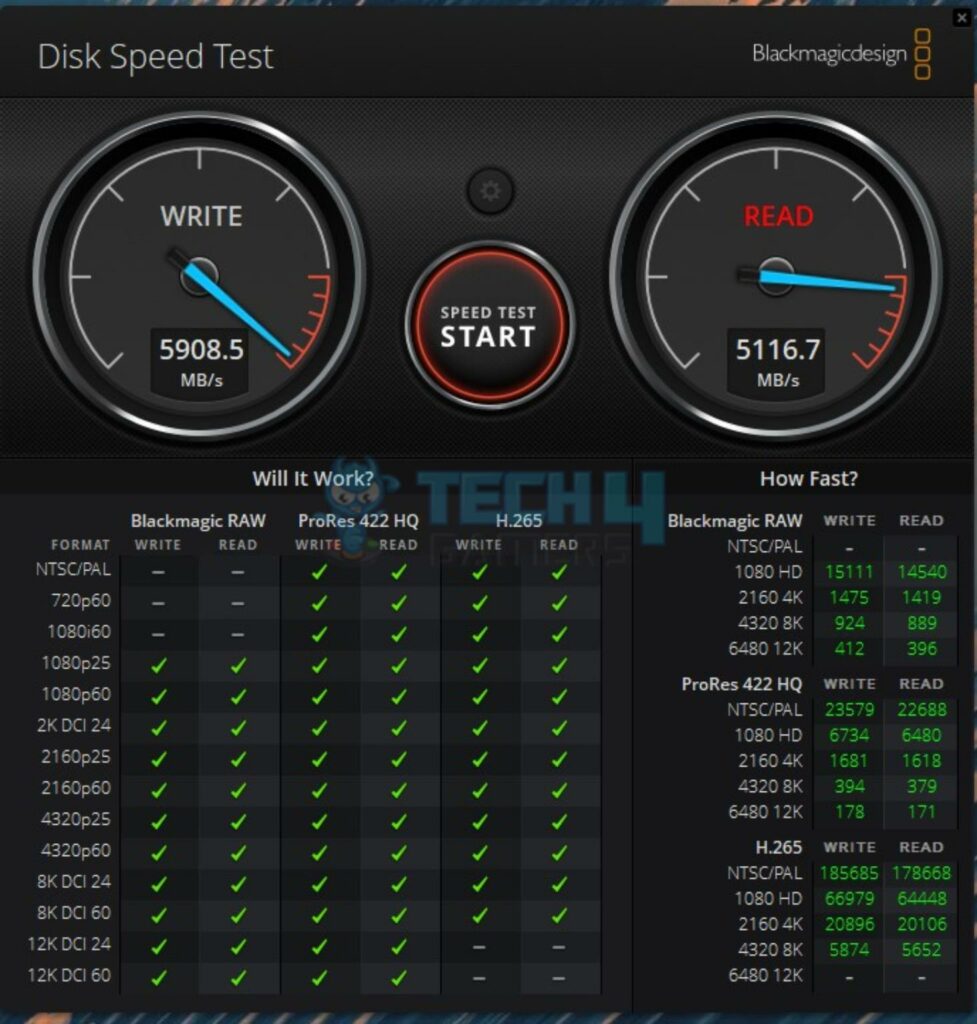 We have used the Blackmagic disk benchmark as well. This is a critical benchmark from the point of view that it monitors the three video compression coders against multiple formats and checks if the drive in hand supports that format, and if it does, then at what speed. The Sabrent drive has a superb performance in this benchmark.
DirectStorage Benchmark
We have mentioned in the introduction that this drive has a dedicated firmware that supports the Microsoft DirectStorage API (DirectX Ultimate). We have run a DirectStorage benchmark showing compressions and CPU usage.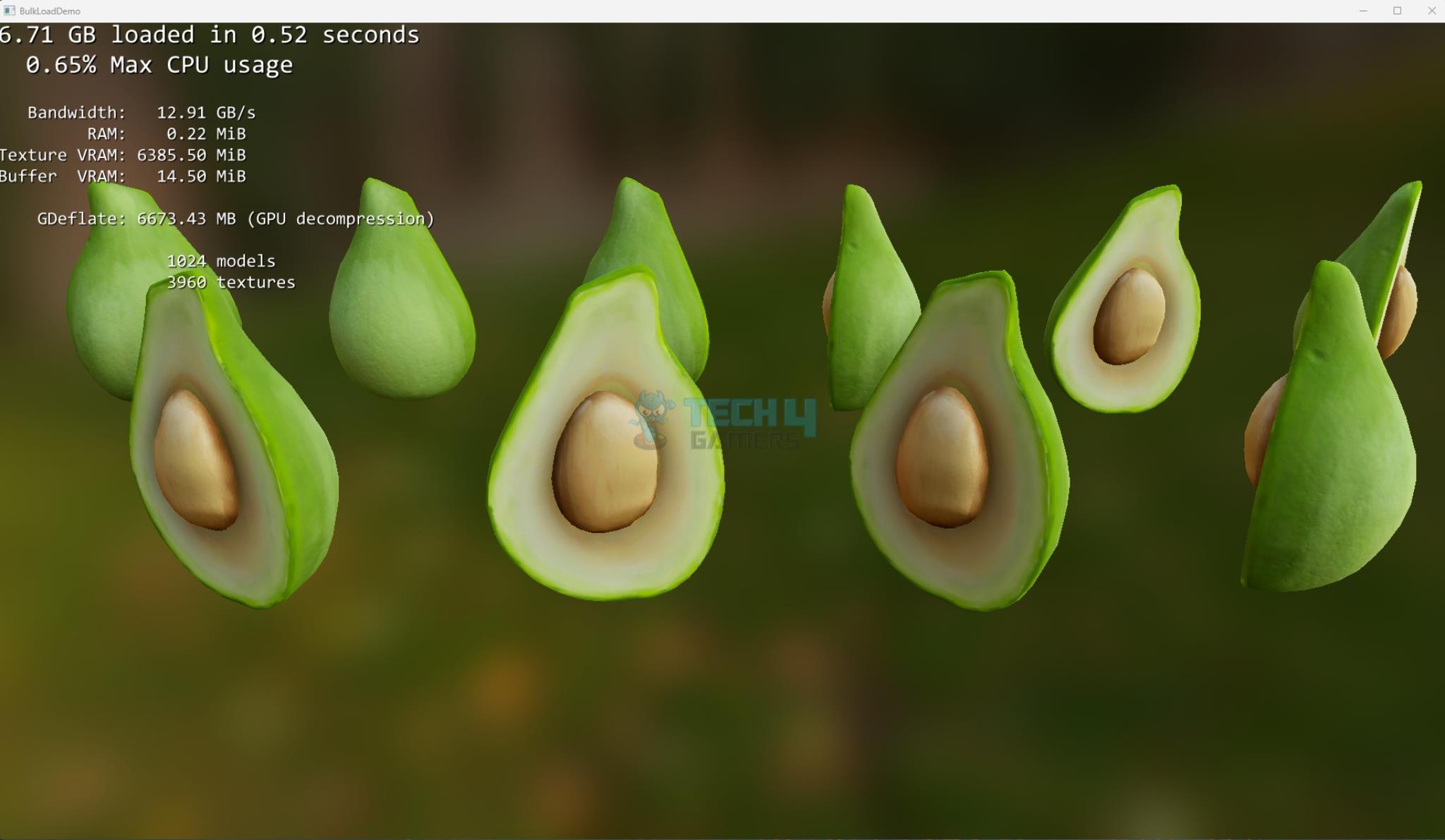 It is impressive that 6.71GB of data was loaded in just 0.52 seconds, and the maximum CPU usage was 0.65%.
Real World Testing
Now, it is time for a real-world use. For that, we have used DiskBench in multiple scenarios to check the real-world data transfer rates. We prepared a data set of mixed files and folders, including compressed files.
A 97GB-sized compressed file was copied to the Rocket 4 Plus-G 2TB SSD. The file was then read from the DiskBench. We have a transfer rate of 3255.565 MB/s, and it took 29.329 seconds to complete this operation. The Sabrent drive did fine in this test and came in second number after the Kingston drive.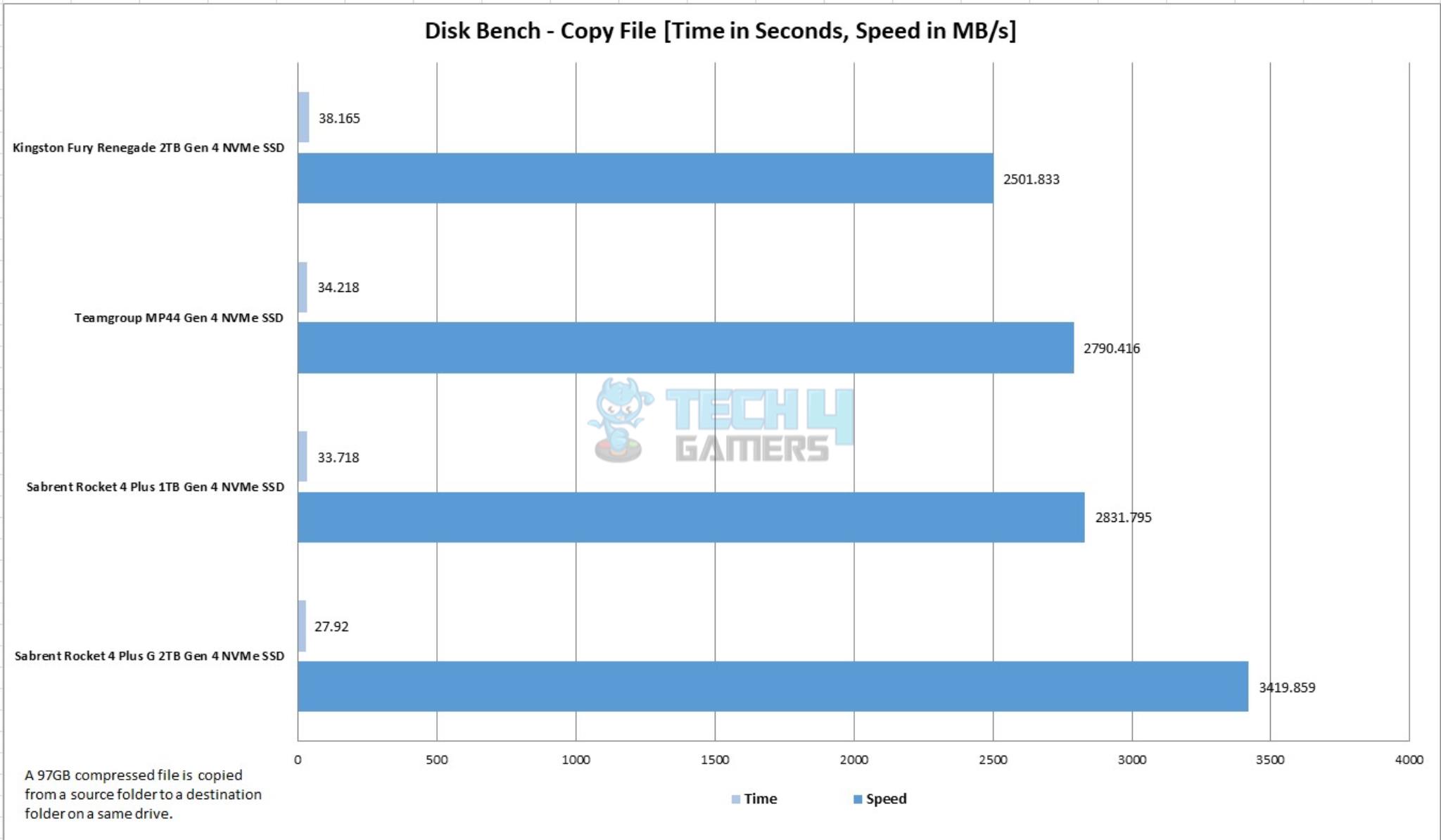 Next, we copied the same compressed file from one folder to another on the same drive. The transfer rate was 3419.859 MB/s and it took 27.92 seconds to complete this operation. The Sabrent Rocket 4 Plus G 2TB NVMe SSD has outclassed all other SSDs in this test.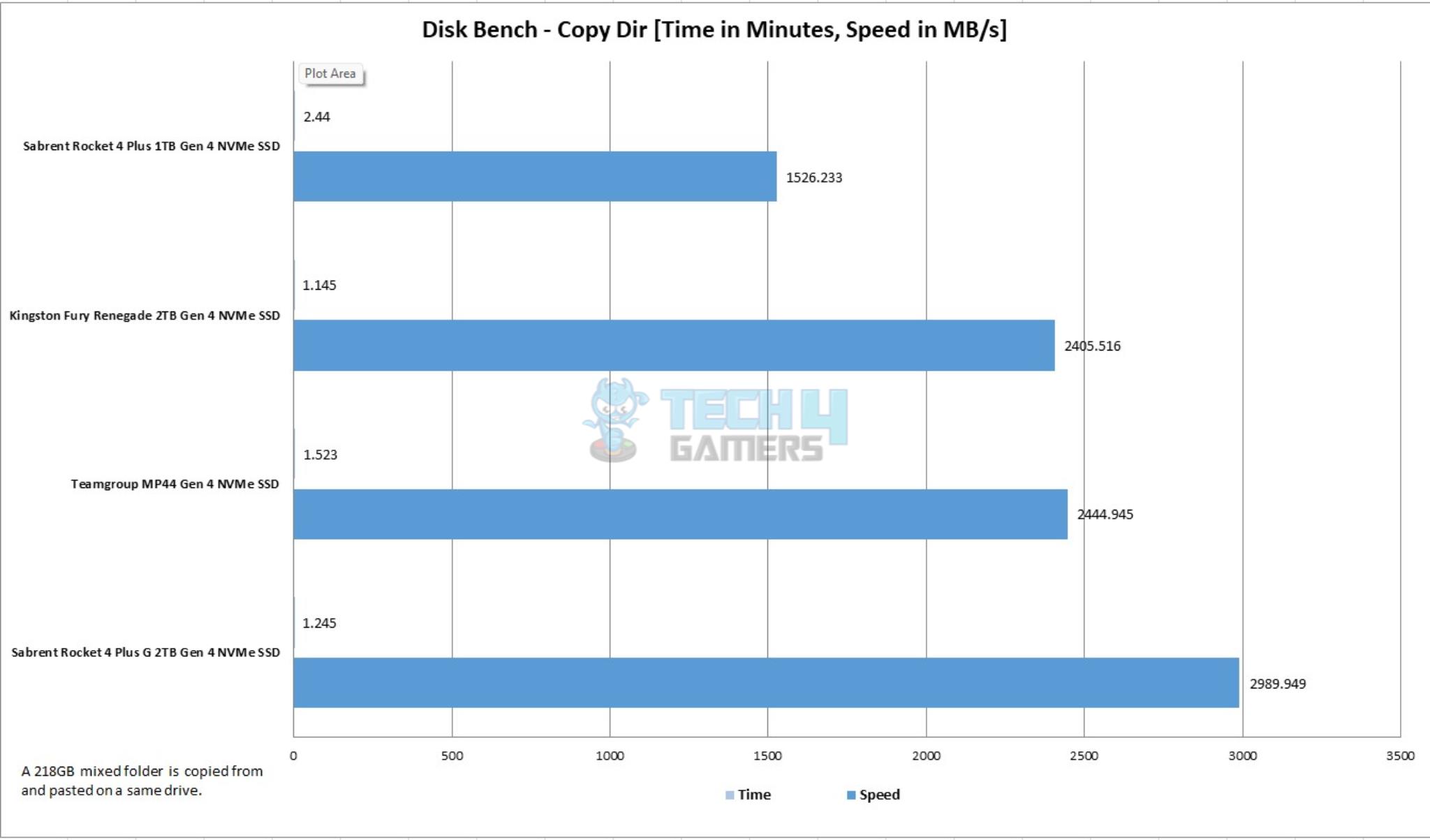 Next, we copied a folder of 220GB size containing multiple compressed files, sub-folders, and mixed files. The main folder was copied from the same drive to a destination drive on the same drive. The Sabrent Rocket 4 Plus G drive again performed fantastically.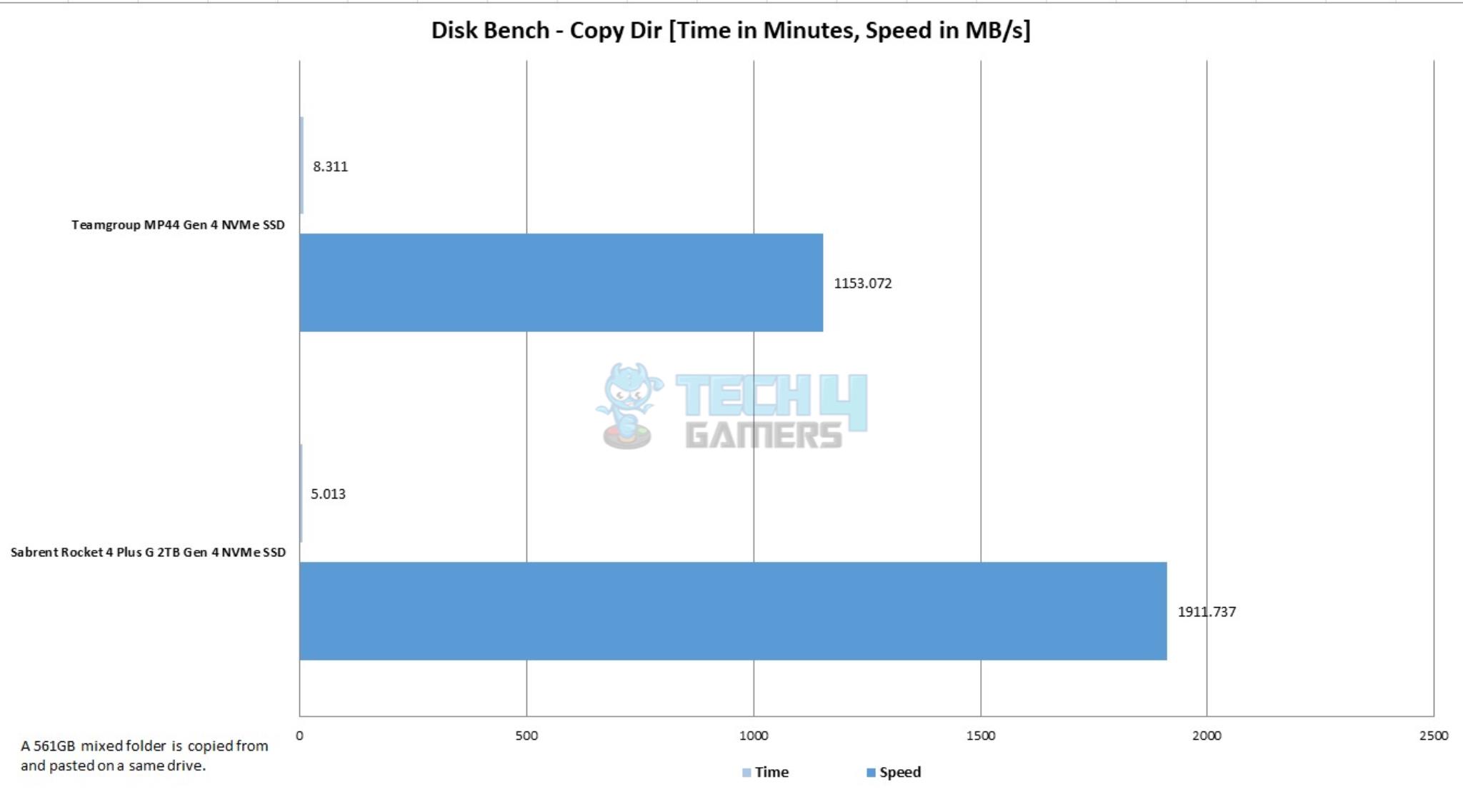 Next, we prepared a heavy data of 561GB and repeated the copy operation. We also used HWInfo64 to record the drive's sensor to see how it performed over time. The Sabrent Rocket 4 Plus G 2TB NVMe SSD has a substantial lead in the graph, but don't forget that Teamgroup MP44 is a DRAM-less SSD, whereas Sabrent SSD has two DRAM cache chips. The lowest value on data transfer rate was 1138MB/s in Reads and 1172MB/s in Writes. This is an impressive performance.
Gaming Load Time
This is the time when gamers are using NVMe SSDs for their games for faster loading. This is why we also test the game load times. This is done using the Final Fantasy XIV: Shadowbringers Benchmark using High settings.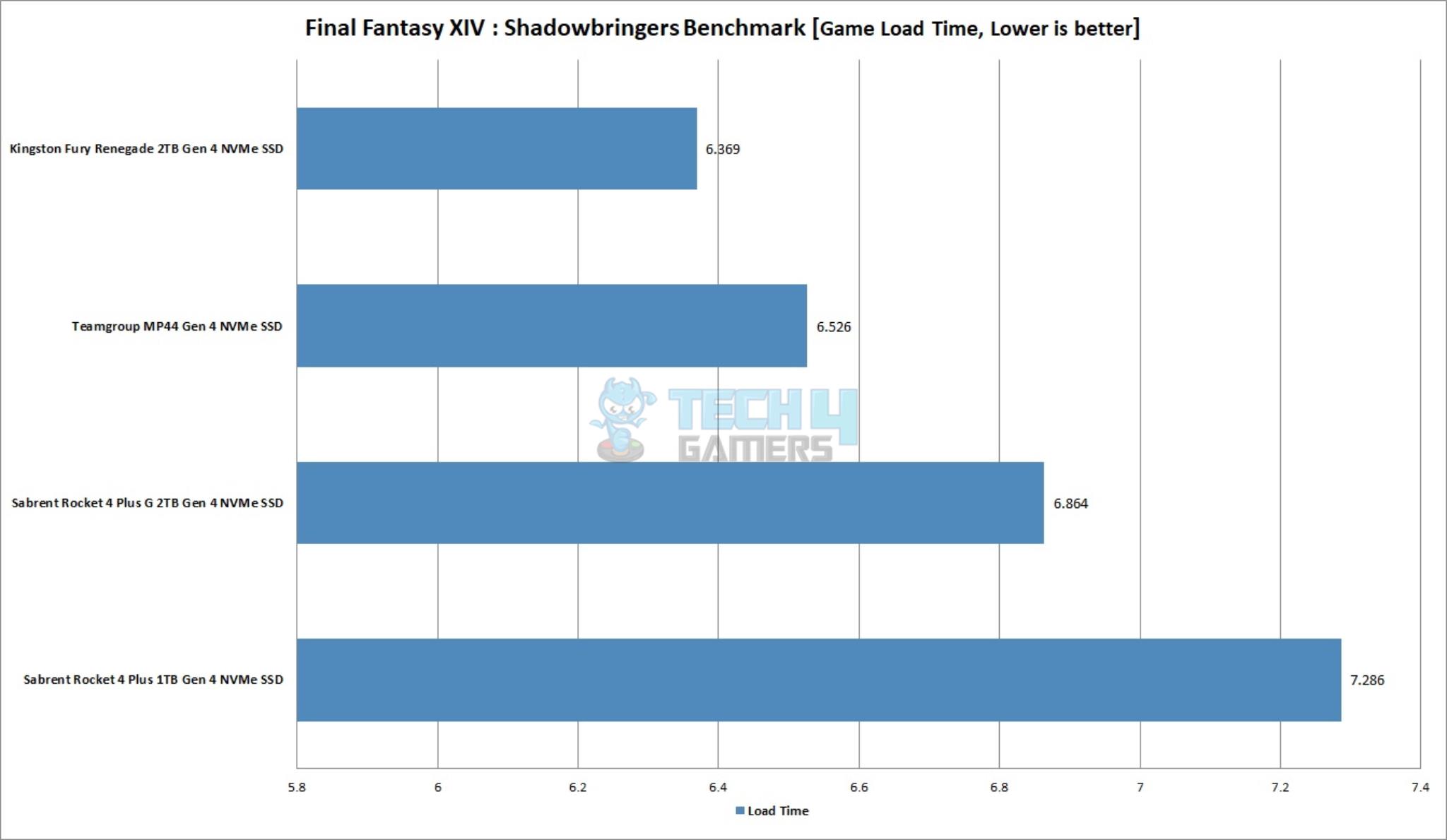 It took 6.864 seconds in total to load the game. Except for the 1TB NVMe SSD, all other NVMe SSDs are in the 6-second range.
Thermals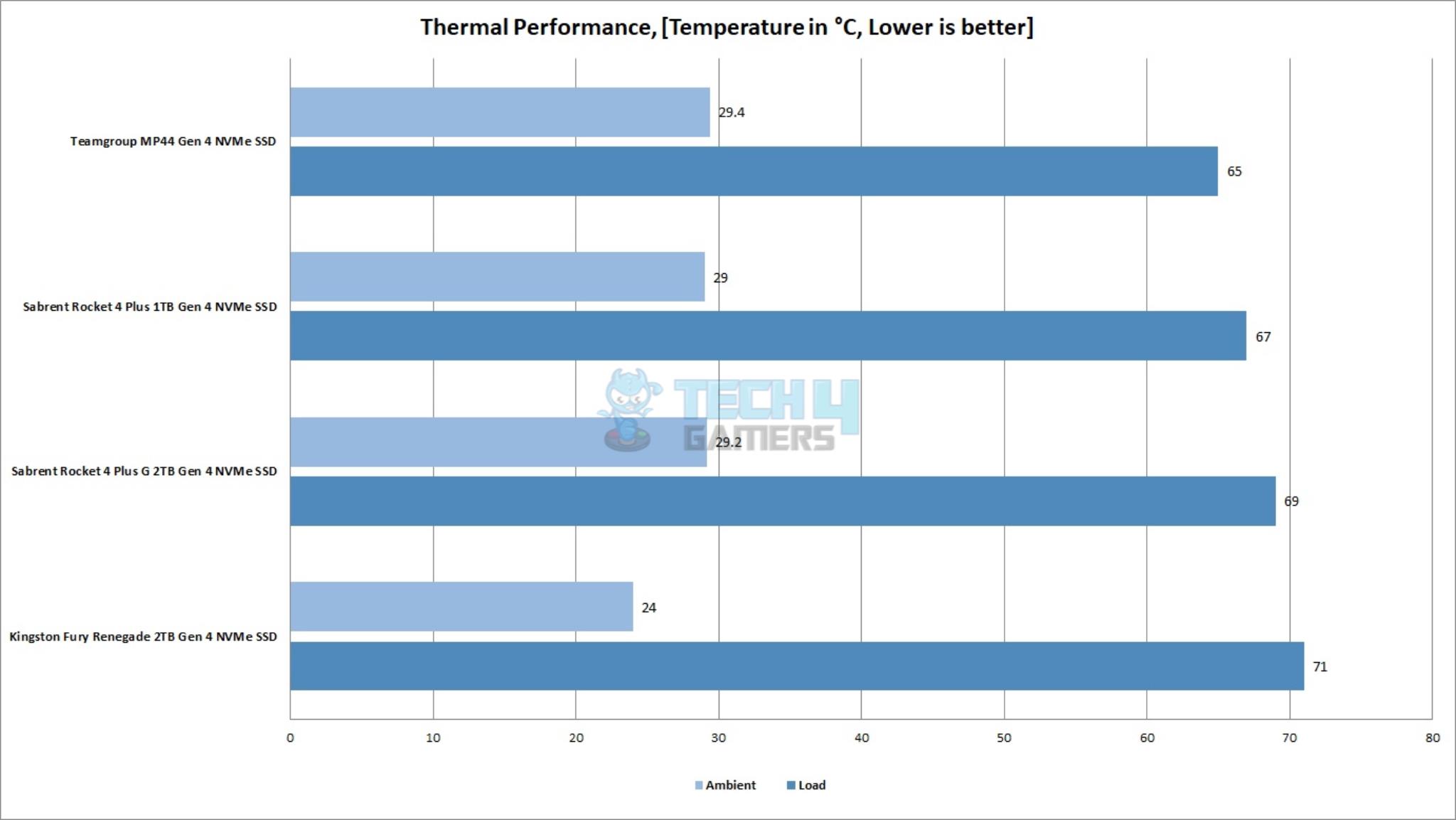 69°C was the maximum temperature recorded when the simultaneous read and write operation of 561GB data was done on this drive. The ambient was 29°C. The SSD was installed under the motherboard's aluminum heatsink, and there was no airflow since testing was done in open air.
Conclusion
In this article, we have tested Sabrent's current high-end NVMe SSD, which is Rocket 4 Plus G 2TB NVMe SSD. G here indicates Gaming or Advance Gaming, and this SSD is one of its kind. While it is still a Rocket 4 Plus at its core, it has a special firmware with a powerful controller, which combined to aim at providing gamers the best of both worlds.
This is Sabrent's take on Microsoft's DirectStorage API, which intends to eliminate the CPU overhead and latencies by bringing the data directly from the NVMe SSD to the system memory, from where it will be brought to the graphics card's VRAM and GPU will perform decompression. While this will not boost the FPS count, it will improve the overall gaming experience. I think this is or was the first SSD that provided full support for the DirectStorage 1.1 API with its O₂ GO firmware, which was developed in collaboration with Phison.
This SSD is available in 1TB, 2TB, and 4TB sizes. This SSD uses 176-layered 3D TLC NAND Flash (B47R) from Micron. These SSDs have a form factor of 2280 and are M key type. They are PCIe 4×4. There is almost no specification on the Sabrent website, which is quite odd. All that is mentioned is a sequential read speed of up to 7300MB/s and a sequential write speed of up to 6900MB/s. Sabrent needs to up the game and start listing full specifications. There is no 4K Random read-and-write performance data mentioned anywhere.
If we take the data of Rocket 4 Plus 2TB NVMe SSD, then 650K Random read and 700k random write can be associated with this drive. I am not sure, but our testing has shown that the controller is powerful enough to drive the random writes above the 1,000,000 IOPS and random reads above the 700,000 IOPS. Since we don't have reference data, we can't compare straight forward, but we can tell that these are impressive figures.
Speaking of the SSD itself, this SSD has a thin copper cover layer on the top, which has a colorful sheen. It has components on both sides. There are a total of eight NAND chips. These chips are powerful as they are rated at 1600 MT/s. The main driver of the SSD is a power horse from Phison, i.e., PS5018-E8-41. This SSD has two Cache chips, each of 1GB, and is rated for 3200MT/s. This SSD uses SLC cache writing. My wild guess is that nearly 500GB or so is set for this caching purpose.
Sabrent has provided a simple tool called Control Panel, which provides a simple interface for the SSD's basic information and firmware update. Sabrent also provides free Acronis True Image software with the purchase of these SSDs. This SSD has performed quite well in our synthetic tests. When it comes to real-world performance, it has trade blows to the other SSDs in comparison, and this is where it is important to perform well. In our testing, this SSD went as low as 1138MB/s in reads and 1172MB/s in writes during heavy simultaneous copy operation on the SSD (561GB data size). The maximum temperature was 69°C at an ambient of 29°C.
The Rocket 4 Plus G 2TB NVMe SSD is listed at USD 149.99 at the time of this writing, which makes this SSD competitive, and given its feature-rich design and powerful real-world performance, this SSD is a must-have. Sabrent is offering a 2-year warranty, which is too low in my opinion. However, this can be set to a 5-year after registering the SSD with Sabrent.
Was our article helpful? 👨‍💻
Thank you! Please share your positive feedback. 🔋
How could we improve this post? Please Help us. 😔
[Editor-in-Chief]
Sajjad Hussain is the Founder and Editor-in-Chief of Tech4Gamers.com. Apart from the Tech and Gaming scene, Sajjad is a Seasonal banker who has delivered multi-million dollar projects as an IT Project Manager and works as a freelancer to provide professional services to corporate giants and emerging startups in the IT space.
Majored in Computer Science
13+ years of Experience as a PC Hardware Reviewer.
8+ years of Experience as an IT Project Manager in the Corporate Sector.
Certified in Google IT Support Specialization.
Admin of PPG, the largest local Community of gamers with 130k+ members.
Sajjad is a passionate and knowledgeable individual with many skills and experience in the tech industry and the gaming community. He is committed to providing honest, in-depth product reviews and analysis and building and maintaining a strong gaming community.