Is It Worth It?
Review Summary
It runs warm, and it is fast with blazing speeds in sequential and Random 4K segments; the Sabrent Rocket 4 Plus 1TB rocks a solid performance punch. I would love to see 1+4 years to be like 4+1 years in warranty. Other than that, this is one heck of a fast and reliable storage solution.
Quality -

9/10

Performance -

9/10

Features -

9/10

Value -

8.8/10
Pros
7000MB/s Sequential Read
5800MB/s Sequential Write
Copper layer for heat transfer
Good sustained performance
Discounted Price
Sabrent has been on rock n roll since they got into a storage solution. There is no stopping them from continuous improvement and bringing out better and improved products with time. We earlier tested Sabrent Rocket 4 Plus 2TB NVMe SSD. This time we are taking a look at a 1TB variant of the same class.
Sabrent Rocket 4 Plus 1TB NVMe SSD utilizes 4x PCIe lanes, and it is a Gen4 drive using NVMe protocol. The sequential read speeds are mentioned to be 7000 MB/s, and sequential writes are rated for up to 5800MB/s. You would want to use a motherboard with a Gen4-based M.2 SSD port to reap these advertised speeds fully. When connected to a Gen4-based M.2 port, the overall read and write speeds would be lowered. When it comes to 4K random read and write speeds, this SSD is rated for up to 350k IOPS in read and 700k IOPS in write. This is using Random 4K QD32 queue depth. This SSD is on discount at this time of writing.
The salient features of this drive include the following:
PCIe 4.0 x4 interface, NVMe 1.3 compliant. APST/ASPM/L1.2 support.
Supports SMART and TRIM functions. Works in an enclosure.
Wide flash compatibility. Uses TLC with DRAM.
Advanced endurance features for a long drive lifespan.
Upgradeable firmware and software support.
0-capable motherboard and M.2 heatsink are recommended, but the drive is backward compatible with PCIe 3.0 and 2.0 M.2 sockets.
Specifications
| Product | Sabrent Rocket 4 Plus 1TB NVMe SSD |
| --- | --- |
| Performance | Up to 7,000/5,800 MB/s Seq. Read/Write |
| Endurance | Up to 700TB Total Bytes Written |
| Dimension | 3.14 x 0.86 x 0.11 inches |
| Weight | 0.2 oz |
Packaging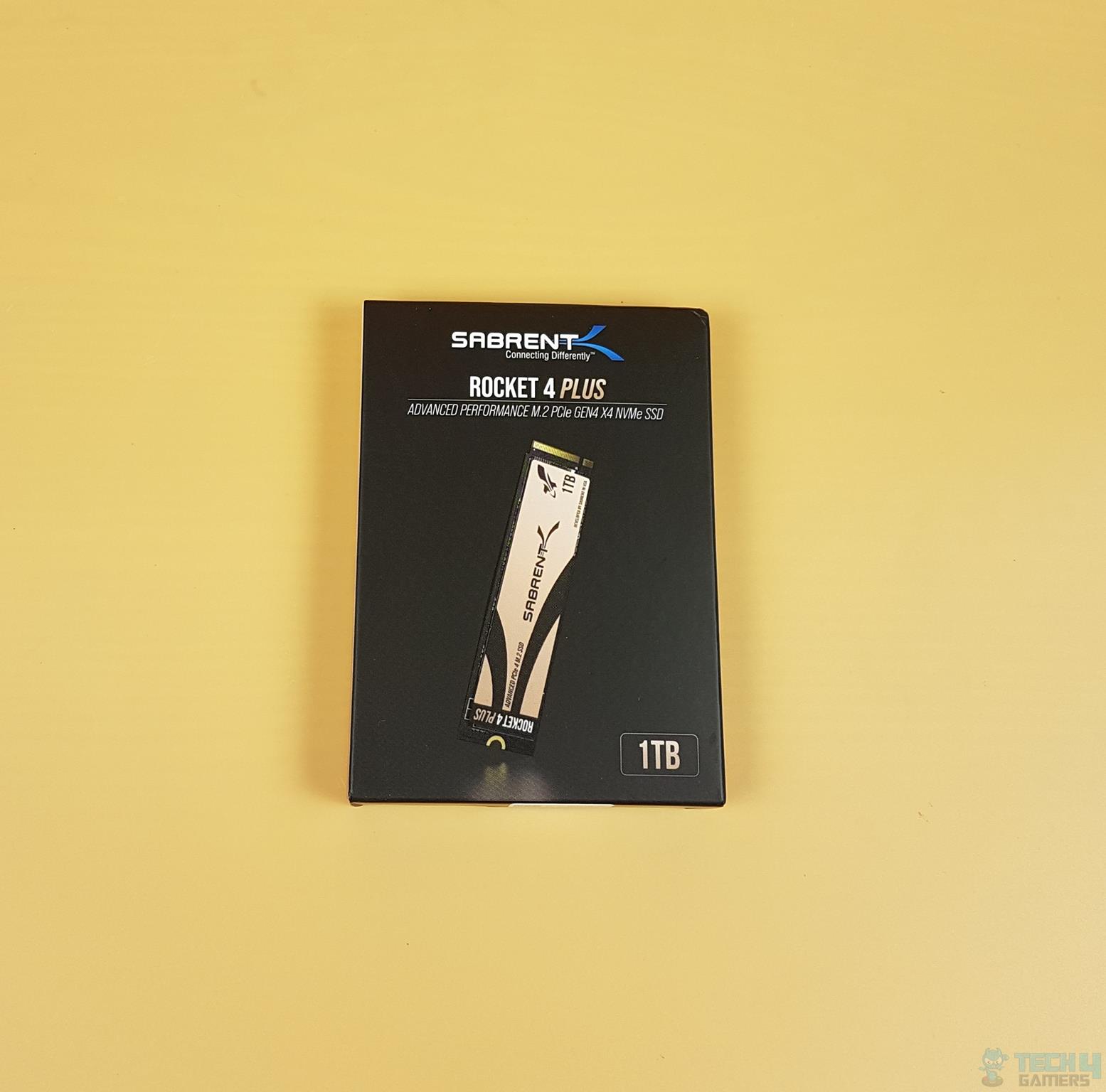 This drive comes inside a paperboard box which is finished in black. The name of the model and capacity are printed over here. Advanced Performance is a marketing tagline to gain attraction, but based on our testing of these drives, their numbers backed this up pretty well.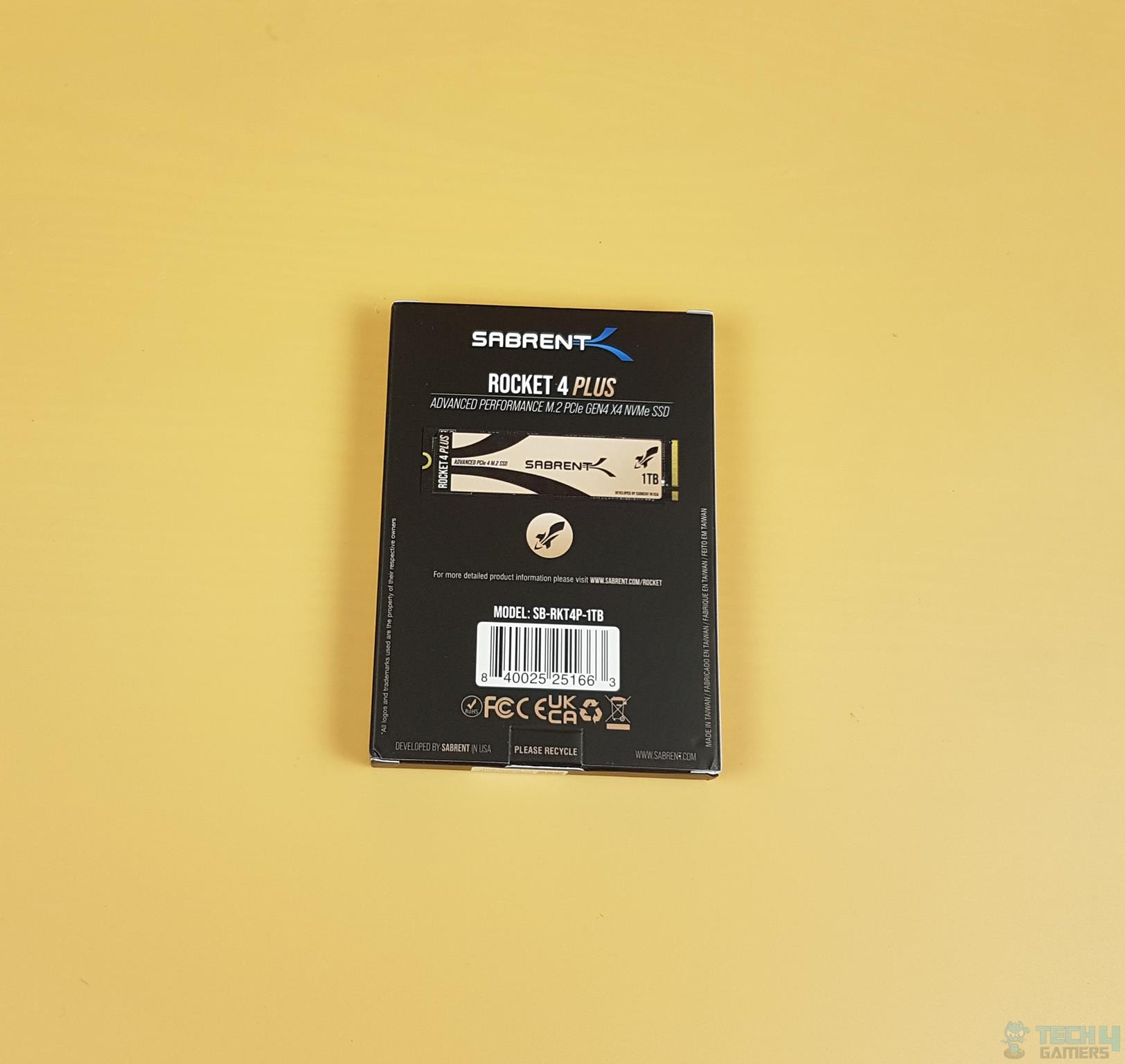 Looking at the backside of this box, we can see a serial number scan label with a model of this drive. Exact model is SB-RKT4P-1TB. This drive uses TLC NAND Flash chips.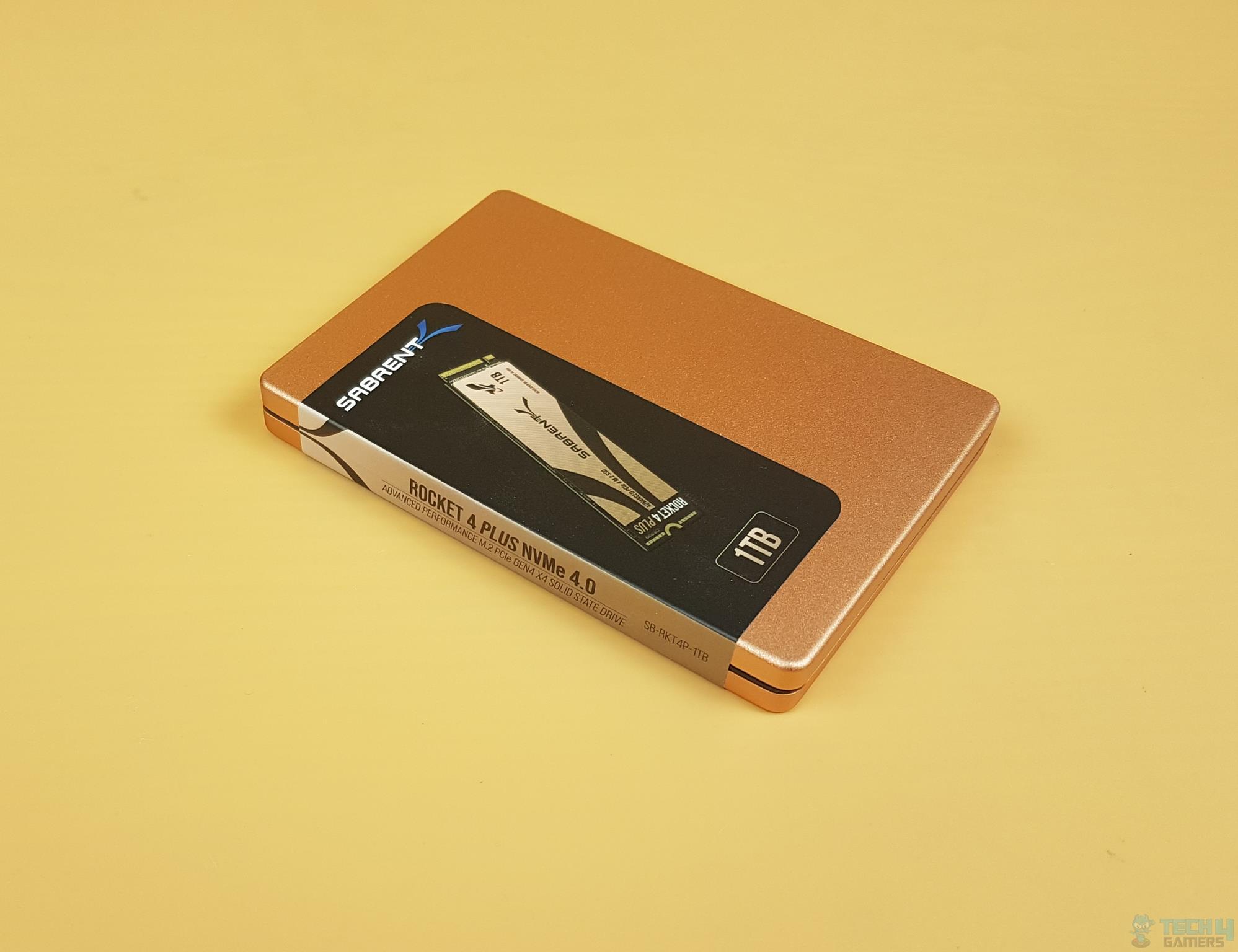 There is a metallic shell inside this paperboard box. It contains all the provisions. It has an overlapped sticker label showing the capacity and other features of this drive.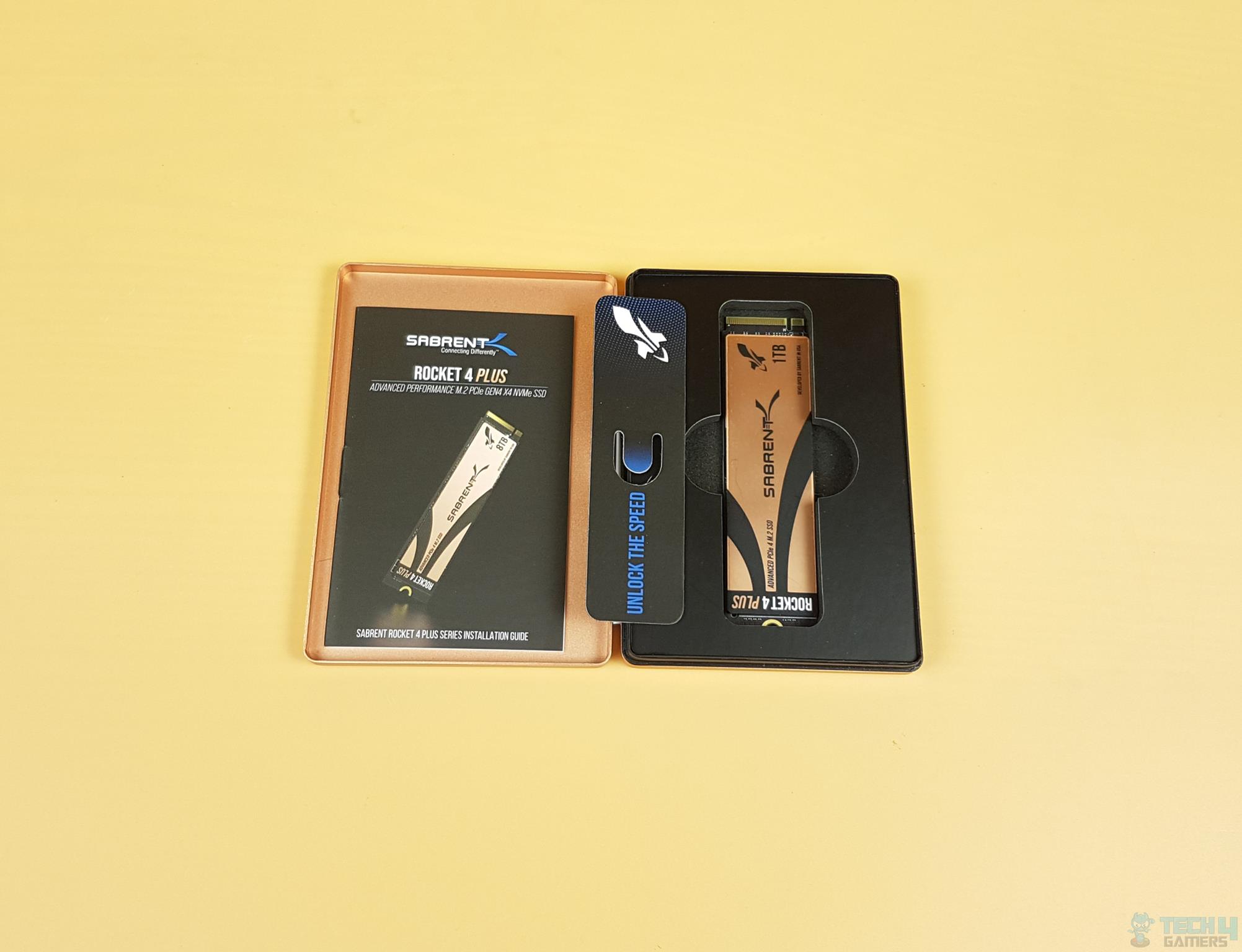 Opening the closure, we found a user guide, an SSD cover, and SSD itself. SSD is placed and tucked on a Styrofoam.
Design
When it comes to SSDs, we have different types of NAND Flash chips. Sabrent Rocket 4 Plus 1TB NVMe SSD uses 3D TLC NAND Flash type to boost performance numbers. The Rocket Q series from Sabrent is based on QLC, which helps in cost-effective solutions in high capacities. However, there is no stopping Sabrent from releasing a whopping 8TB variant of Rocket 4 Plus using 3D TLC NAND Flash. Obviously, expect a high price tag on that drive. This is why if I say that Rocket 4 Plus series is aimed at enthusiasts, professionals, and content creators, it would not be incorrect. Obviously, the gaming sector is always there who are keep to have their games loaded in the lowest possible time and whatnot. TLC stores 3 bits per cell compared to other NAND flash types.
Our earlier tested Rocket 4 Plus 2TB NVMe SSD and this 1TB NVMe SSD are both using a form factor of 2280 using M-Key type for M.2 ports. This SSD is PCIe4x4 interfaced, meaning it is a Gen4 drive using 4x PCIe lanes compared to Gen3x4. Though this drive is backward compatible, at lowered speeds.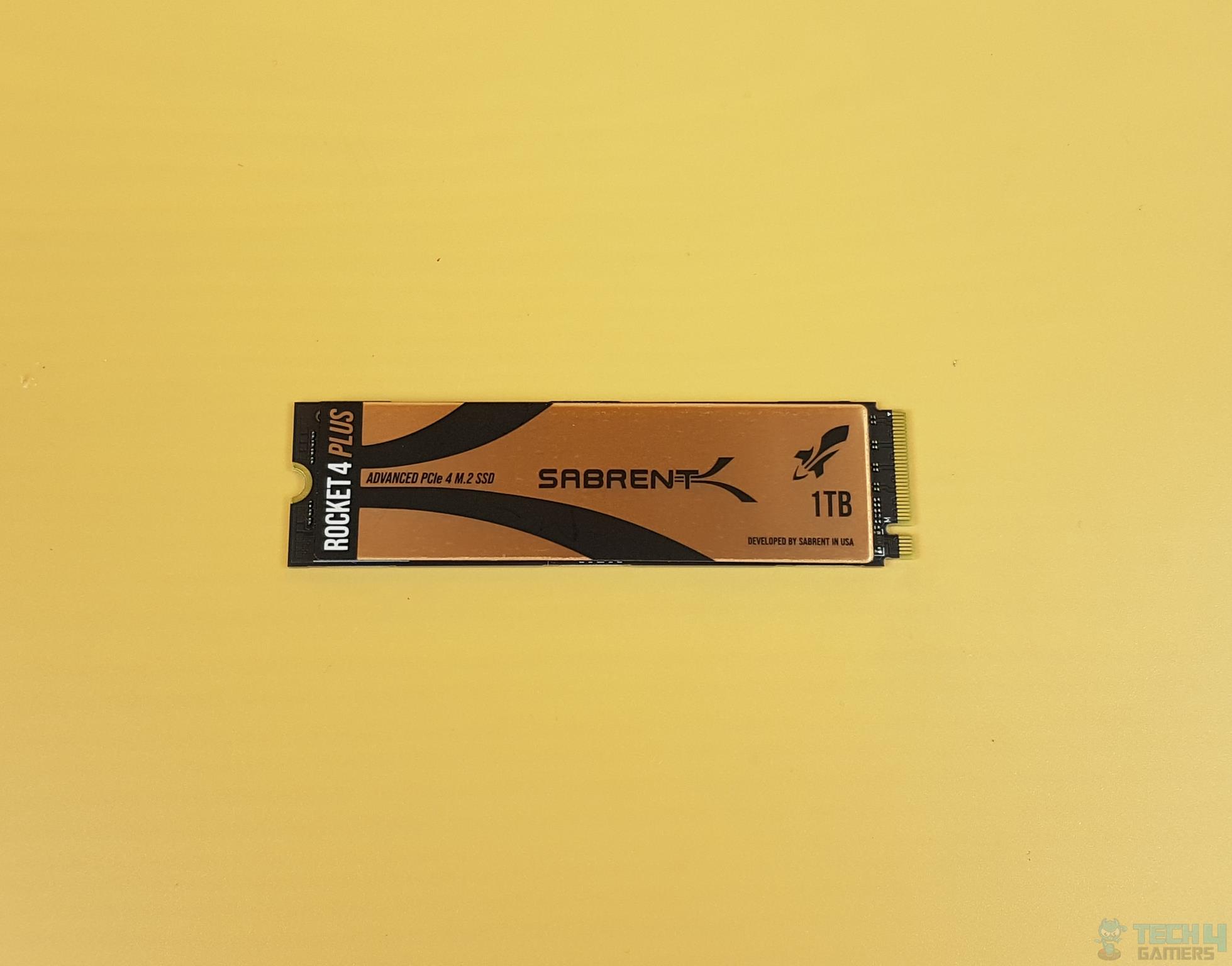 The dimension of the SSD is 3.15×0.86×0.11inches or 80x22x2.8mm (LxWxH), and it has a weight of 0.2 oz. Sabrent has not provided any dedicated NVMe drivers for these SSDs, which is understandable. Windows 10 and Windows 11 will load those drivers and let the users avail fast storage solutions.
Looking at the top side of the SSD, we can see a thin layer of copper that acts as a heat transfer from the SSD to the environment or to any SSD cooler employed over the top. Please keep in mind this thin layer actually increases the overall height of the SSD, which could be problematic for standard-thickness SSDs. We saw a similar issue when we tested WD SN850 Black 500GB NVMe SSD alongside Sabrent Rocket 4 Plus 2TB on GIGABYTE X670E AORUS MASTER.
The thermal pad of the M.2 cover was not making good contact with the WD drive resulting in high temperatures during operations. There is Sabrent branding on this copper cover. Sabrent designs the SSD in the US. The capacity of our test sample is 1TB. PCIe 4 M.2 SSD tells the tale.
Sabrent has rated this SSD to be operated between 0~70°C. Storage temperature range -40~85°C. The shock resistance rating is 1500G. The MTBF is mentioned to be 1,600,000 hours. The SSD comes with a 1-year warranty which can be upgraded to 5 years with registration.
Sabrent should have provided at least a 3 to 4 years standard warranty, which can be further upgraded by registering products on their website. The TBW (Terabytes Written) value is mentioned to be 700 TB meaning we roughly get a guaranteed of 140 TB per year in 5 years warranty. This is half of the 2TB variant.
As we have mentioned above that this SSD can do up to 7000MB/s sequential read and 5800MB/s in sequential write. These speeds are on PCIe4x4. Sabrent has rated this drive for 350k IOPS at 4K Random Read using QD32 and 700k at 4K Random Writes using QD32. These are solid numbers for a 1TB drive using NAND Flash chips.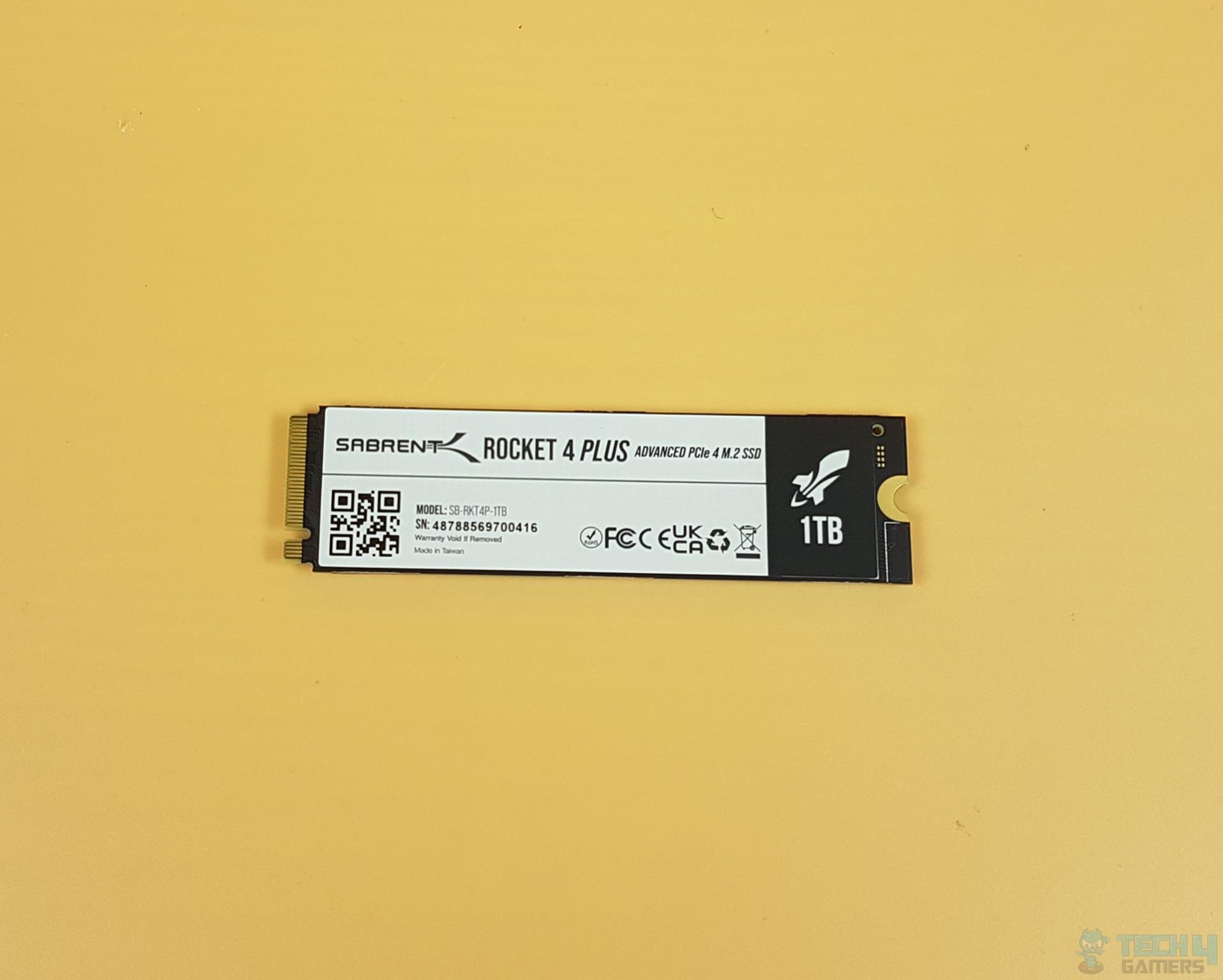 There is a large size sticker on the back side of this unit. The part number and the serial number of this unit are printed on that sticker. The drive is rated to draw 6.3W for Read operations and 6.6W for Write operations. The power supply is rated at 3.3V. These power ratings are a tad below what we saw on a 2TB variant.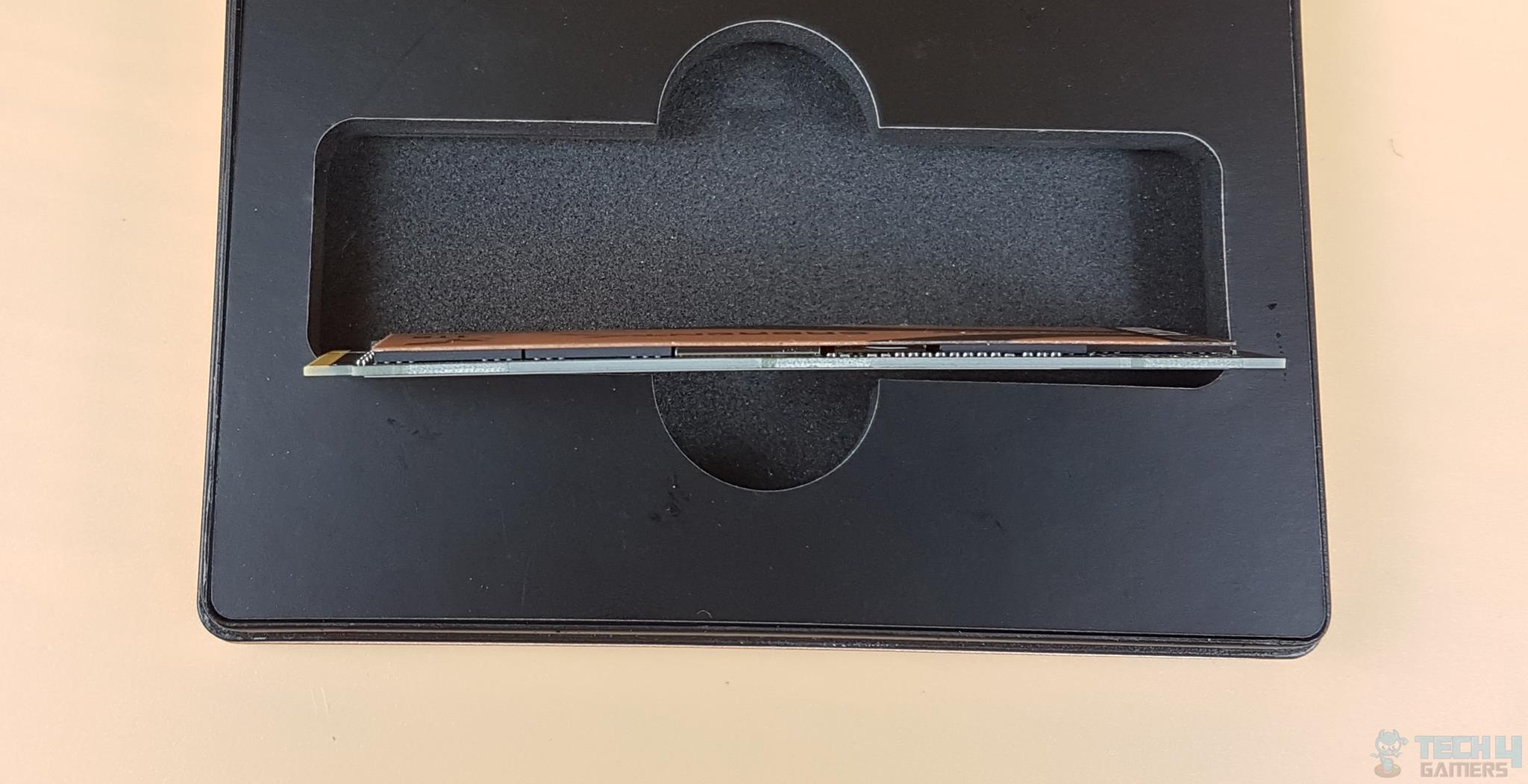 The Rocket 4 Plus NVMe PCIe 1TB is a single-sided SSD meaning all the components (controller, DRAM, NAND Flash, and the circuitry) are on a single side of the PCB. Take a close look at the above picture. The top sticker paper is on a thin layer of copper color heatsink. I would not remove the top cover, for that matter.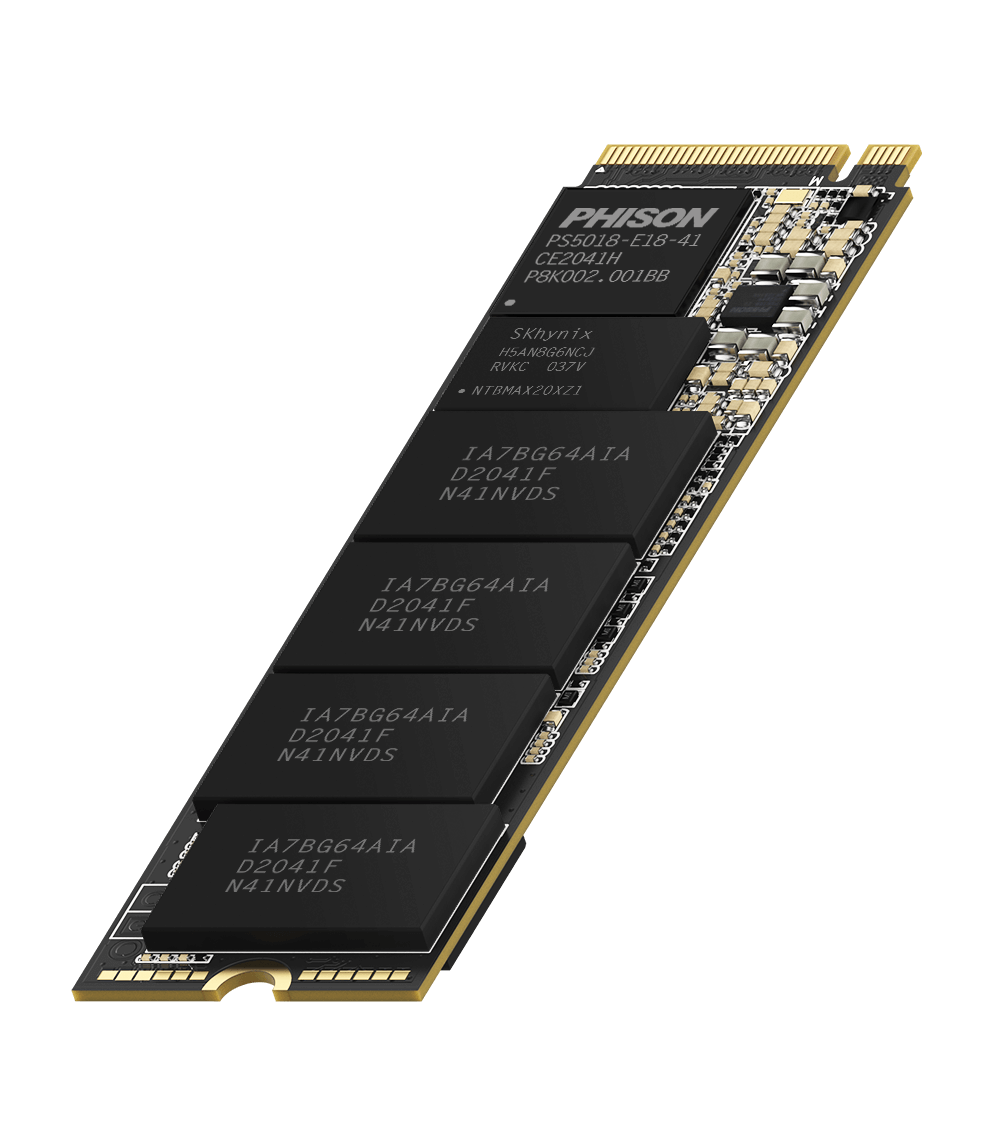 This unit is also powered by the same Phison E18 controller which we saw on Rocket 4 Plus 2TB NVMe SSD. This controller can be found in the majority of high-range SSDs. This controller is based on TSMC 12nm process technology using a 32bit ARM Cortex R5 micro-controller in Triple-CPU architecture with up to 8 channel support. The controller has support for Dynamic SLC Cache and supports 1600MT per channel in DDR4 DRAM.
This SSD packs 4x 3D TLC NAND chips from Micron. Each chip has a 250GB capacity. It seems to be BG132 NAND. We have a DDR4 SDRAM 8Gbit 512M X 16 1.2V 96-Pin FBGA from SKHynix. The H5AN8G6NCJR is an 8Gb CMOS Double Data Rate IV (DDR4) Synchronous DRAM, which is suited for the main memory applications requiring high density and high bandwidth.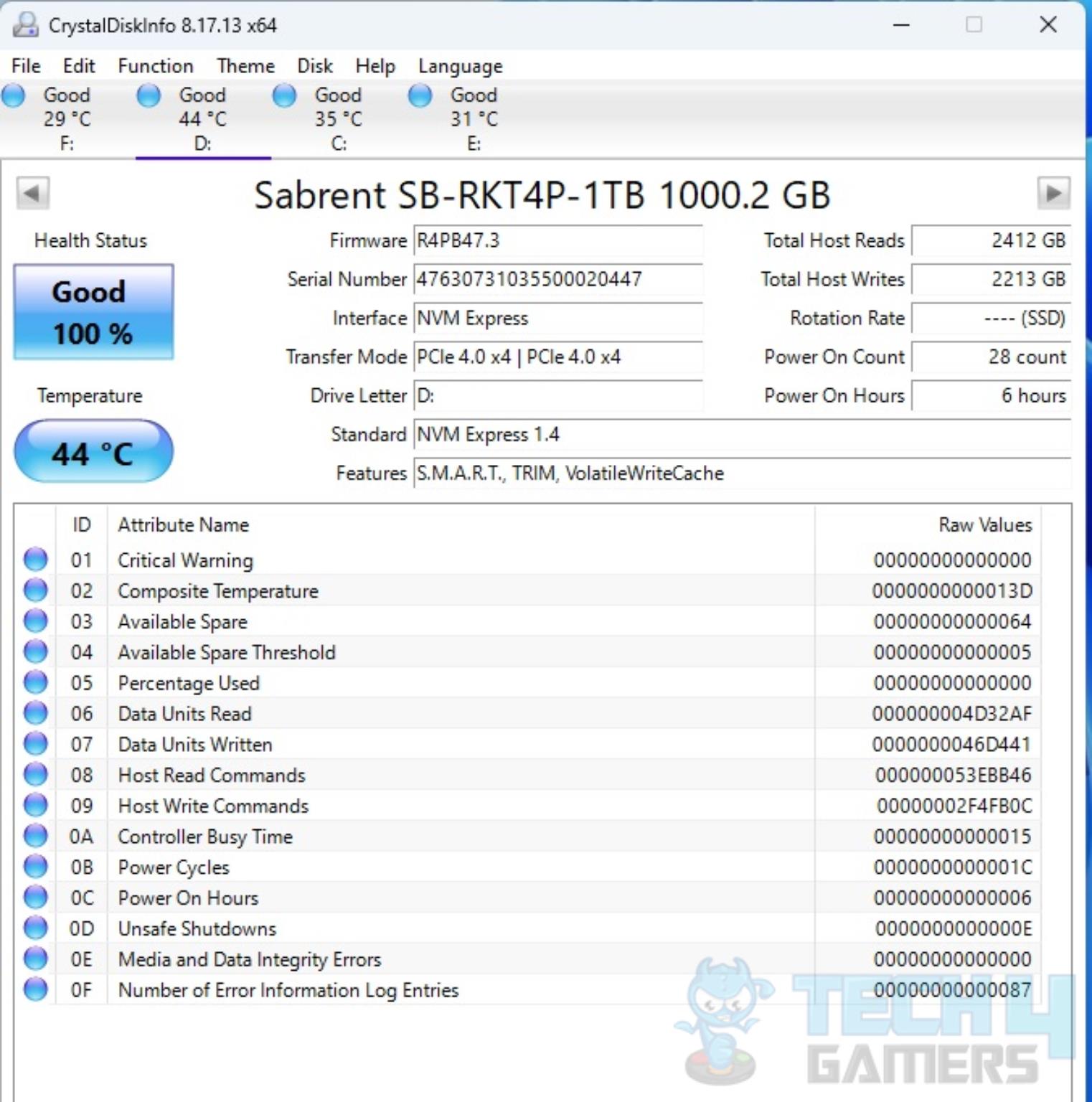 The above picture shows the Crystal Disk Info readout of this drive. The drive has an NVMe 1.4 interface using a PCIe4x4 connection. The unit supports S.M.A.R.T, TRIM, and VolatileCacheWrite. One keynote above is B47-based firmware making these drives even faster. Sabrent released these versions late in 2022, and it seems like these will be carried on for all Rocket 4 Plus NVMe SSDs.
Testing
Below mentioned configuration is used to test this drive:
Sabrent Rocket 4 Plus 2TB NVMe SSD [OS Drive]
GIGABYTE GeForce RTX 3060 VISION OC Rev.2
be quiet! Straight Power 11 850W Platinum PSU
Thermaltake Core P6 TG Snow Edition in an open frame layout
We have used the following software:
AS SSD 1.8.5636.37293
ATTO Disk Benchmark 4.0
CrystalDiskMark 8.0.4
Anvil Pro Storage Utilities 1.1.0
3DMARK Storage Benchmark
AJA Disk Bench
Black Magic Disk Bench
TxBench
DiskBench
Since this is the first SSD being tested on this platform, we are showing the snapshots of the respective software run. Microsoft Windows 11 22H2 is used for the testing.
You would need to access the Disk Management console in the Windows environment to initialize the disk if not already initialized.
Test Results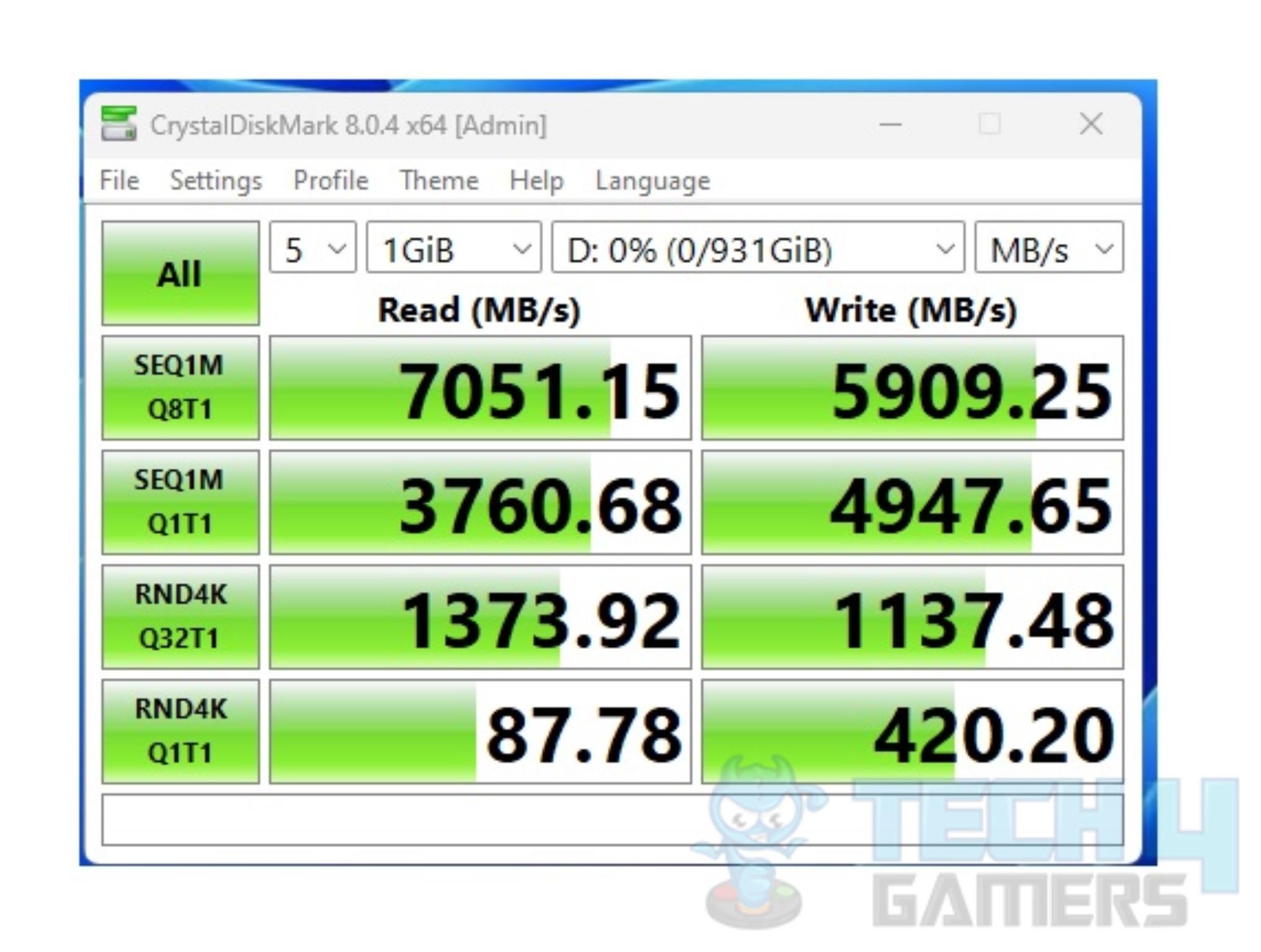 We can see this drive attaining the rated sequential read and write speeds. Not only that, but the 4K performance is quite good as well.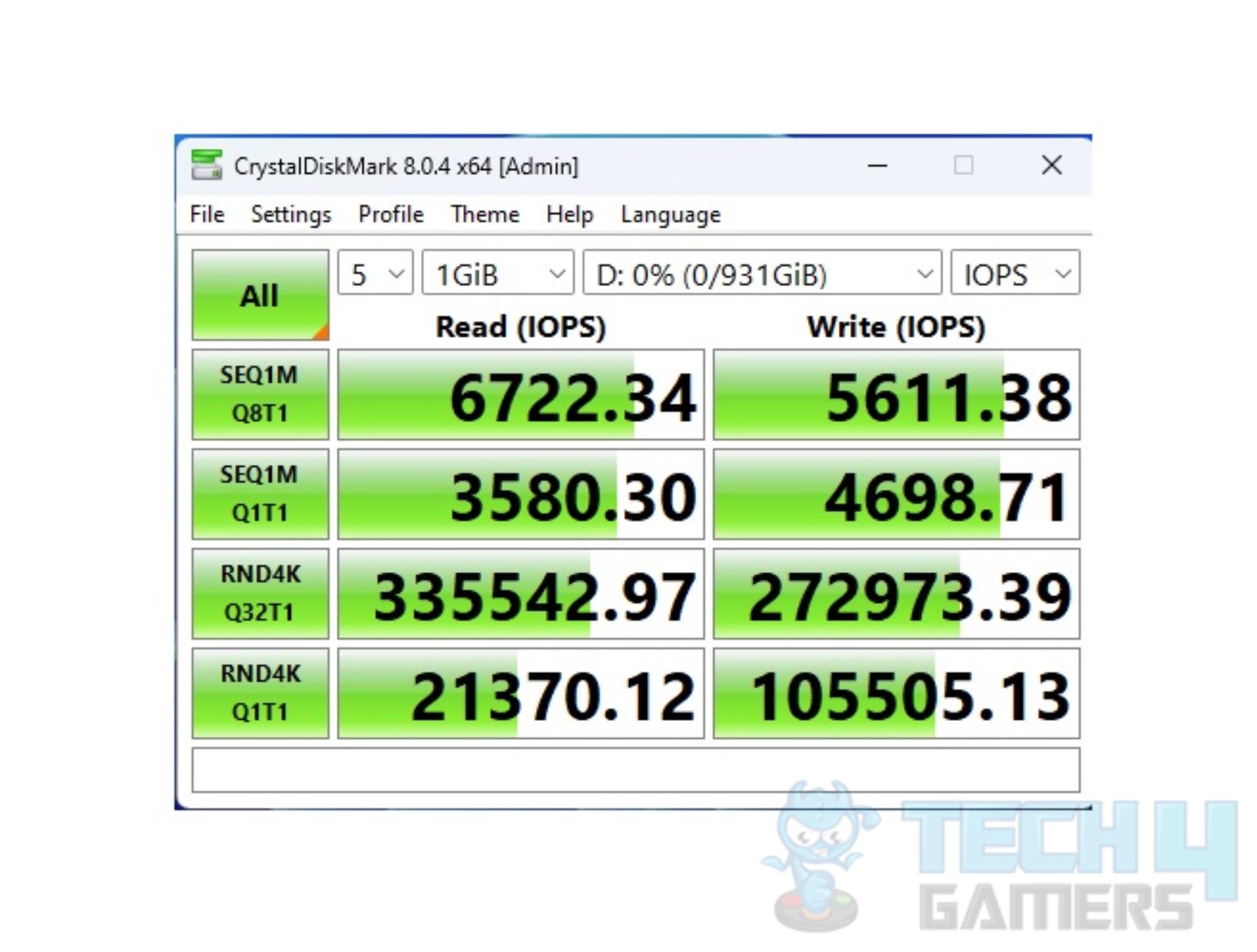 We can see the drive is falling behind the rated specs in QD32 4K Random reads and writes.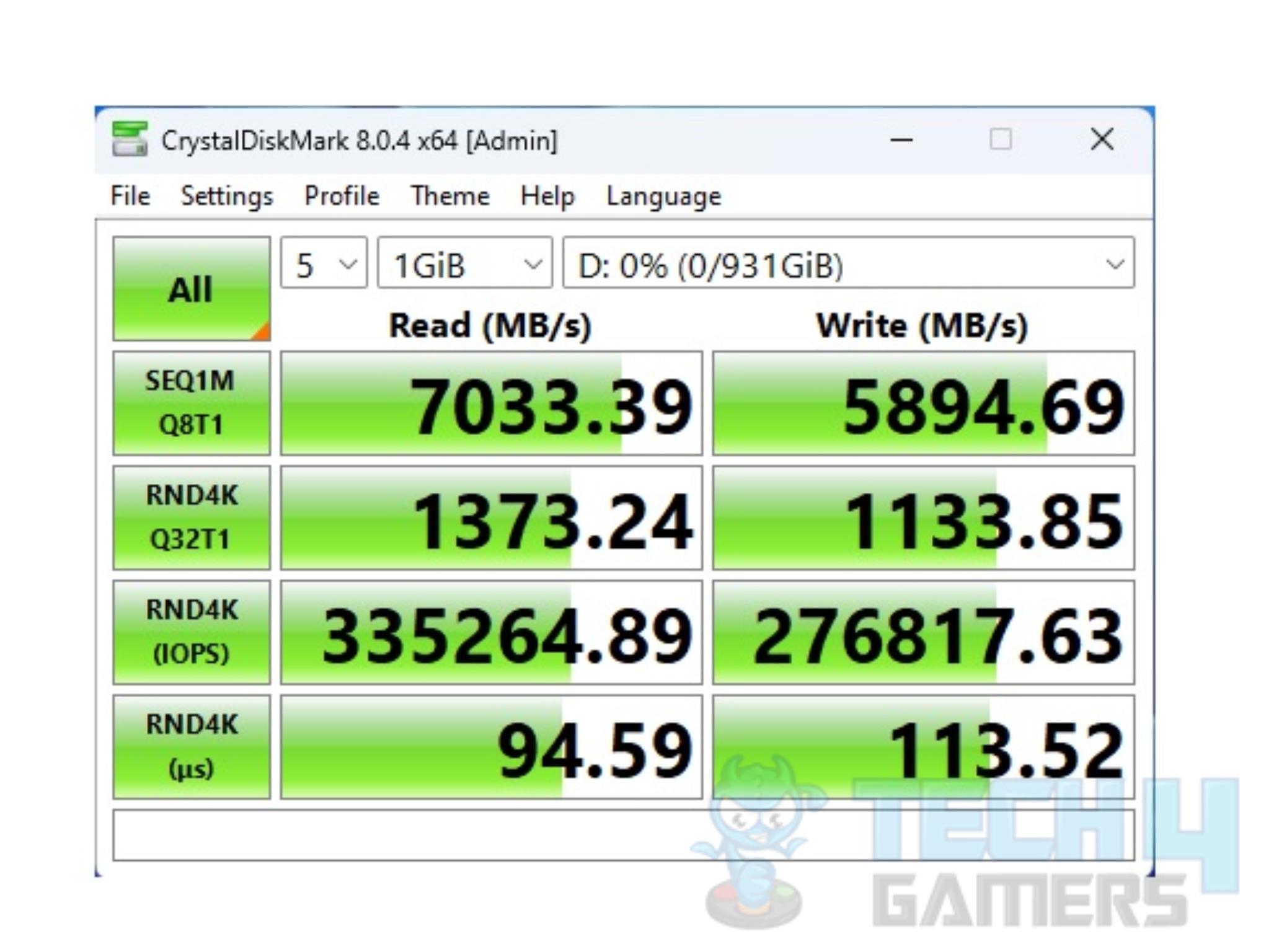 Above is a run result of a Peak Performance. We have a decent response time in 4K Random operations.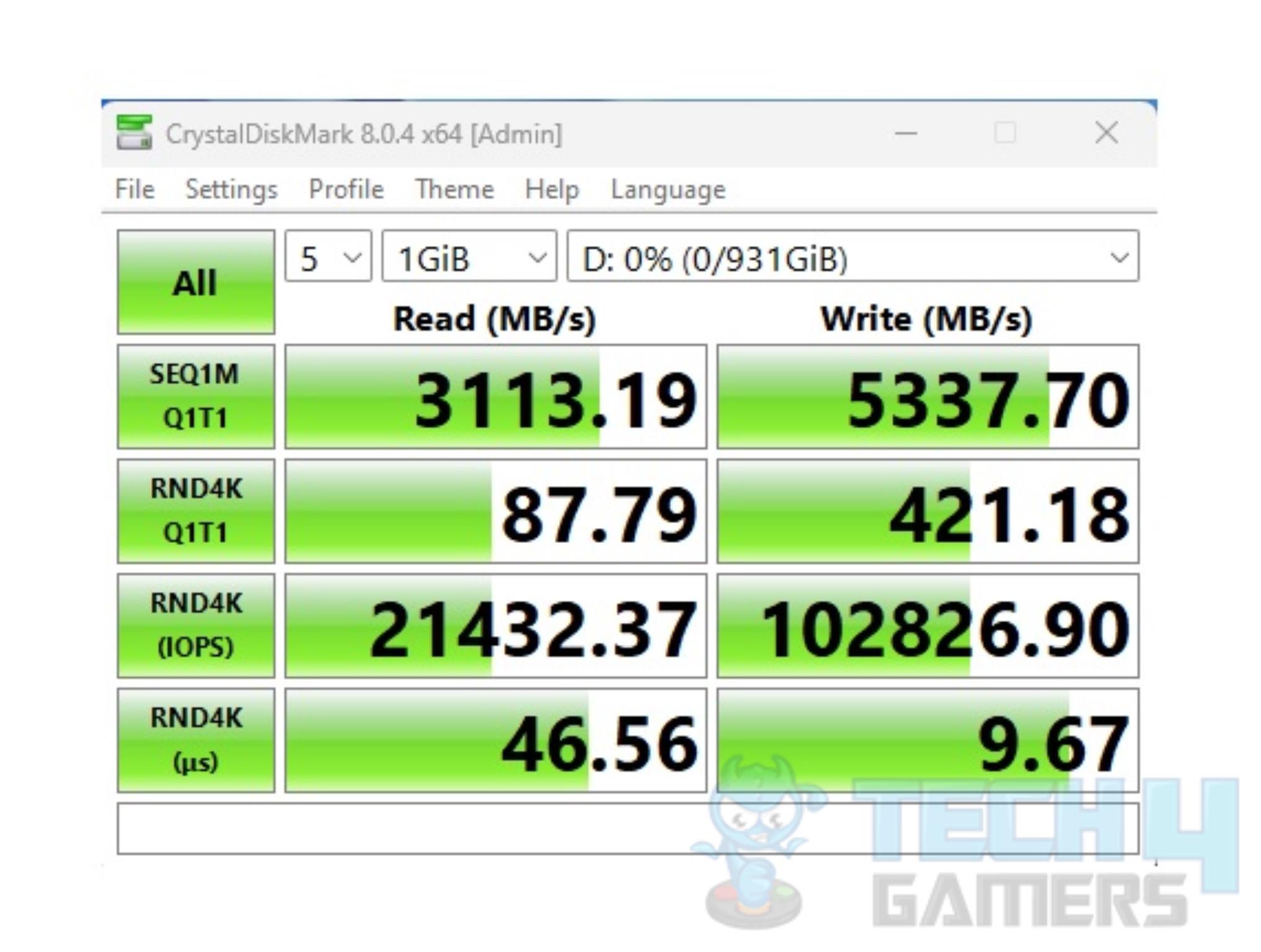 Above is a Real World scenario run result from CrystalDiskMark. The timings in 4K Random are quite nice. Impressive sustained read and write sequential speeds as well.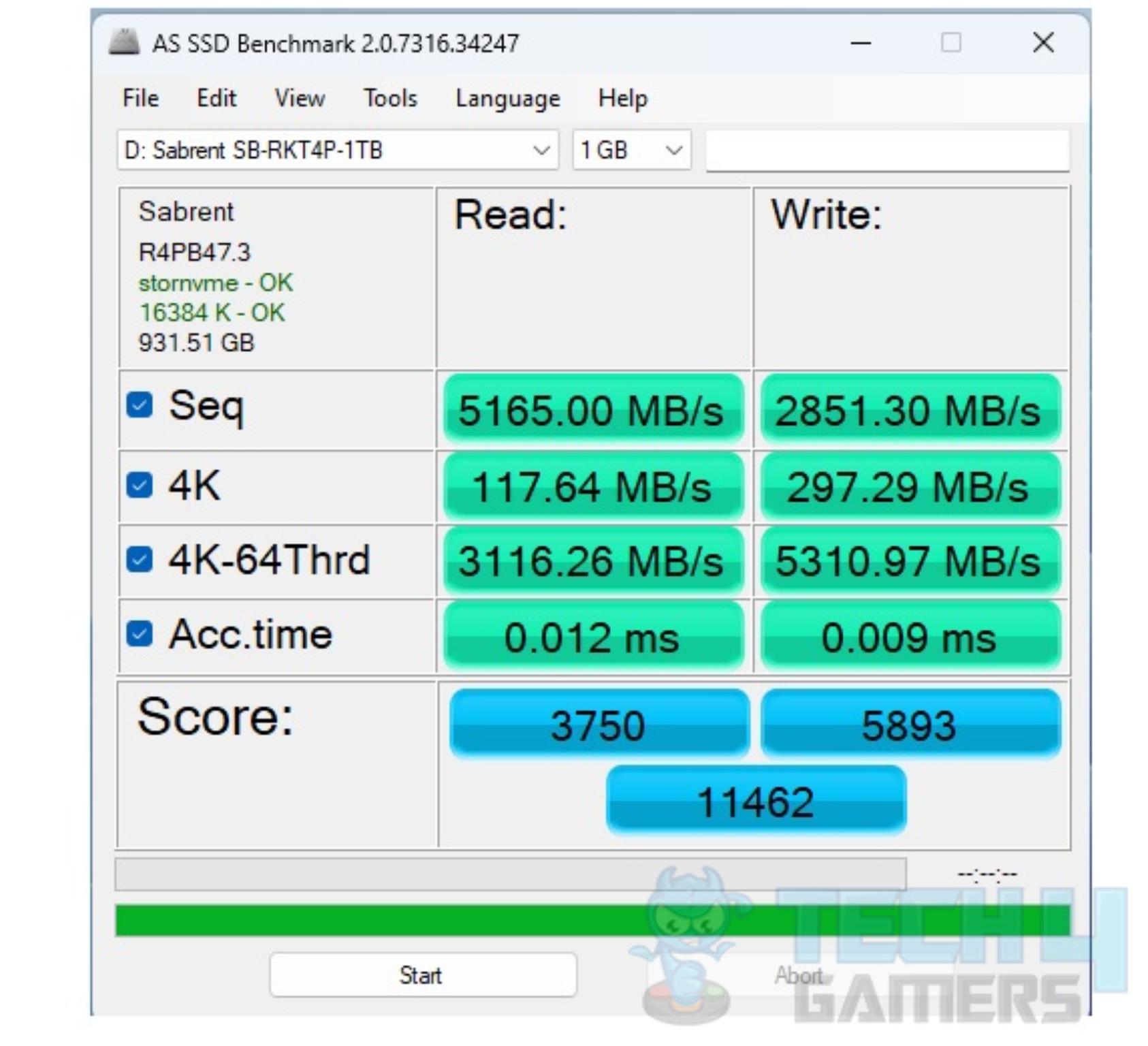 We have a nice score of 11462 from AS SSD.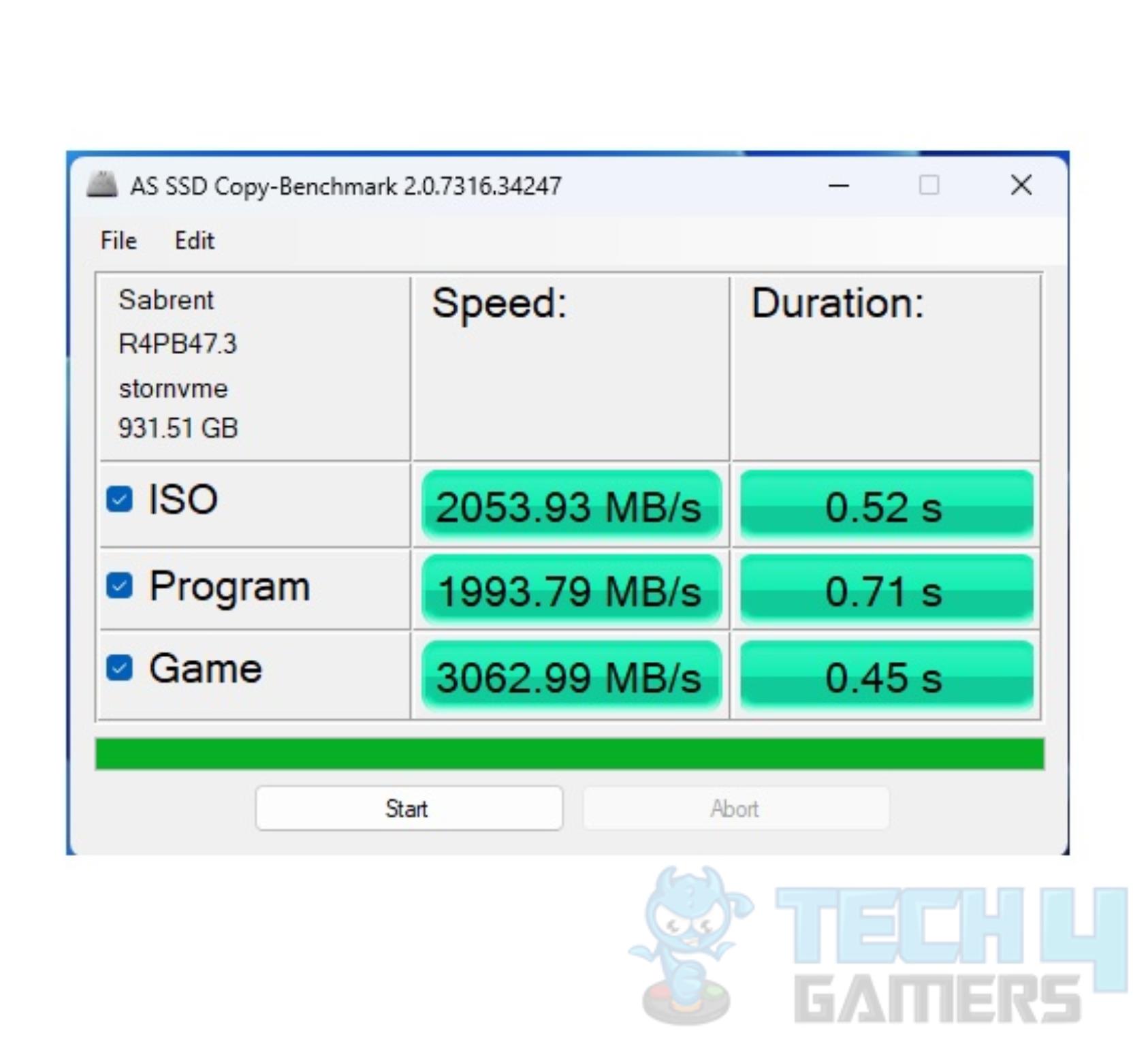 The above is a result of the AS-SSD Copy benchmark. It shows the speed and duration of different workloads giving an idea of the real-world use scenario. The scores are quite good.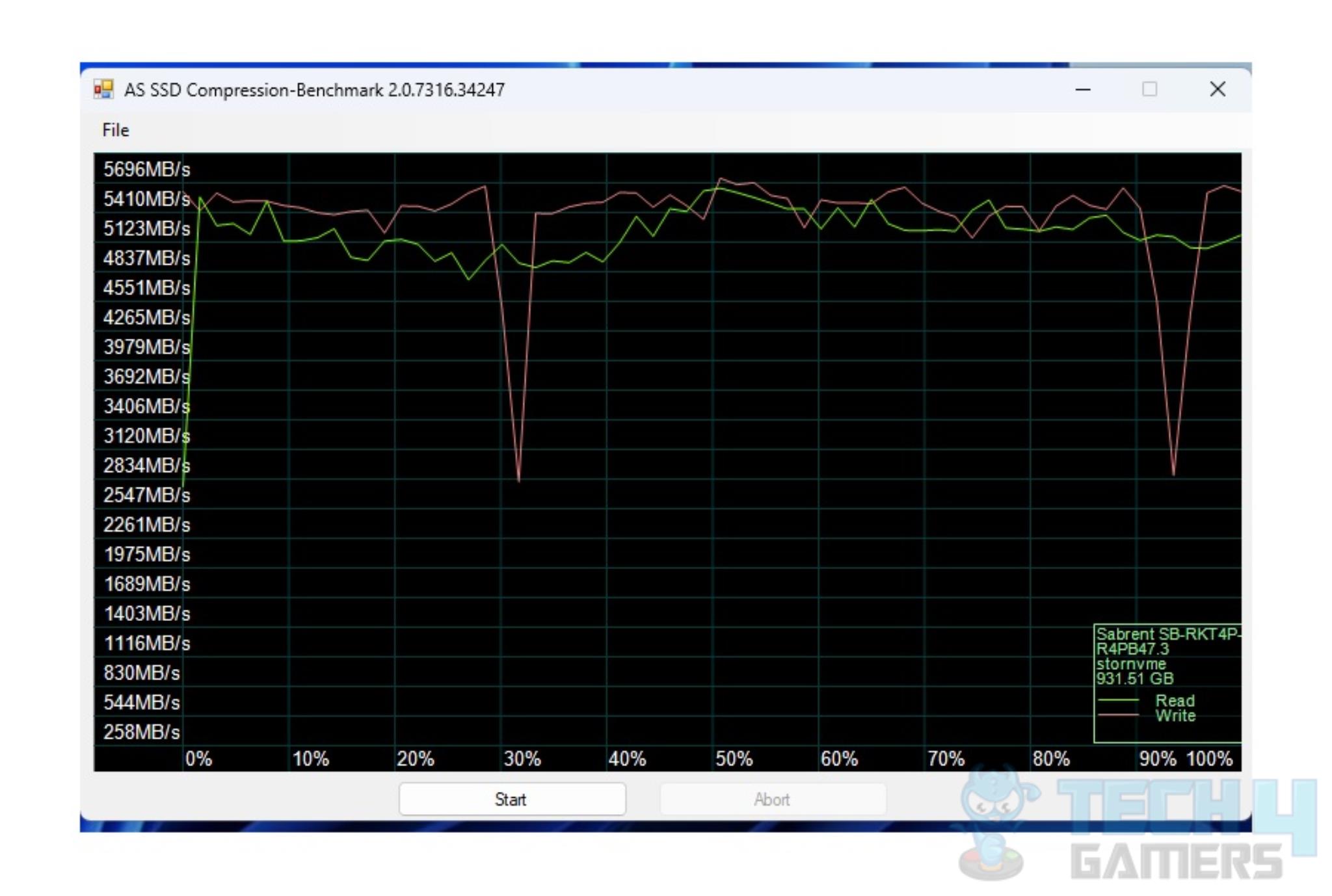 The above pictures show the result of the Compression benchmark run from AS-SSD. Ideally, we would not want dips across the length of the line for both read and write operations. We can see that write operations once crossed the 5800MB/s mark though there are regular dips depending on the load. The read speed max peaked at 5400MB/s though overall, they remain below the mark.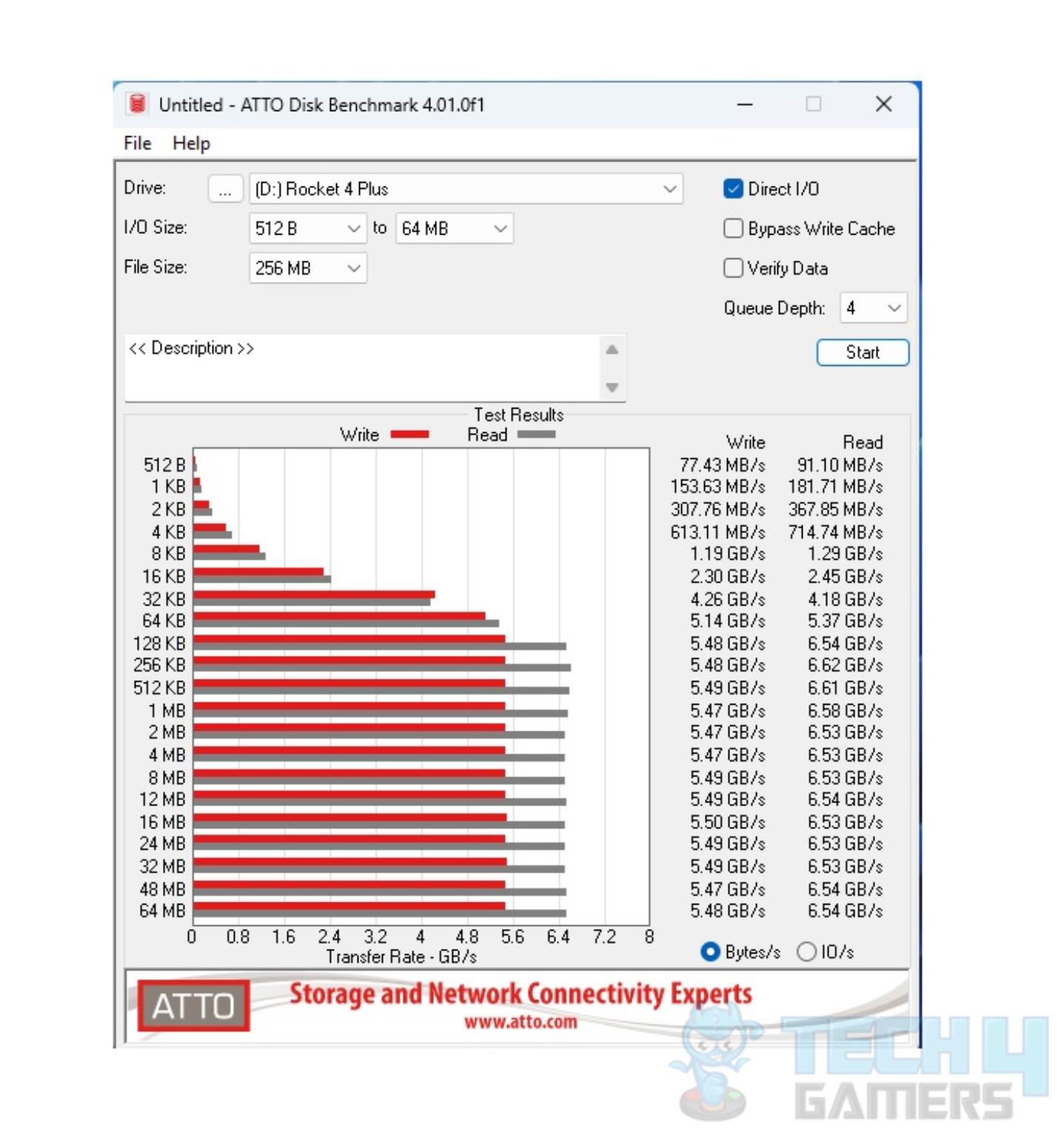 Next, we ran the ATTO Disk Benchmark to test the drive's performance. We have a maximum read (sequential) speed of 6.58 GB/s which is quite impressive. The average is above 6.54 GB/s as well on the reads. The writes remain above 5.47GB/s.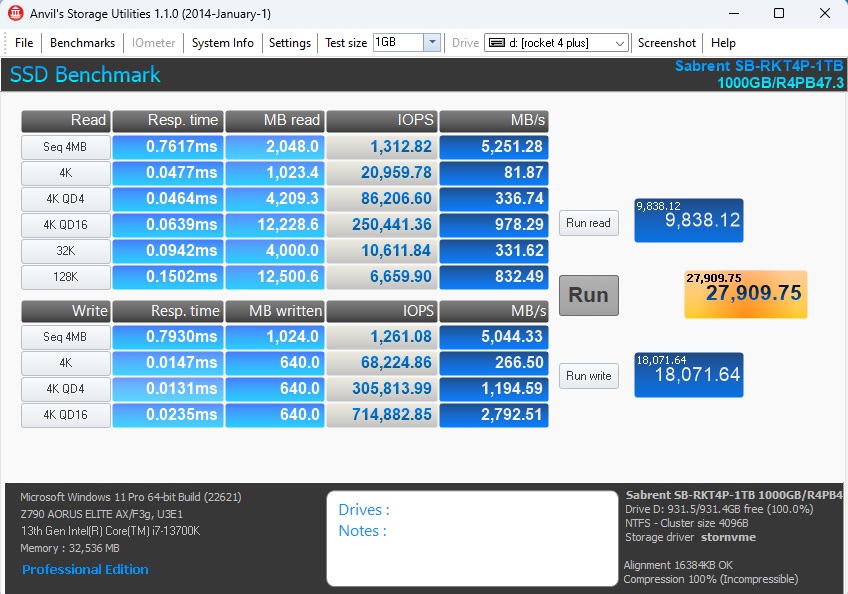 Next, Anvil's Storage Utilities benchmark has given an impressive score. On the default test size of 1GB, the tested read speed score was 9838.12. The write speed score was 18071.64, with an overall score of 27909.75.
We also ran the IO – Threaded QD Benchmark in the Anvil (read and write). Here are the results.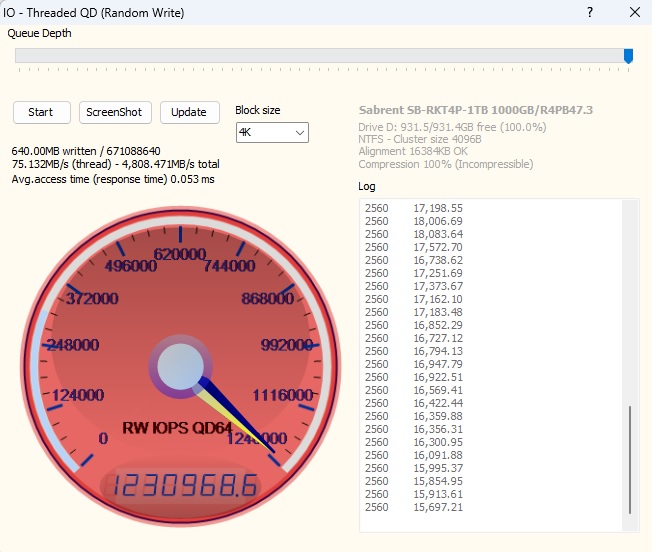 We got 1230968.8 IOPS with a QD64 in the write operations. This is an impressive performance.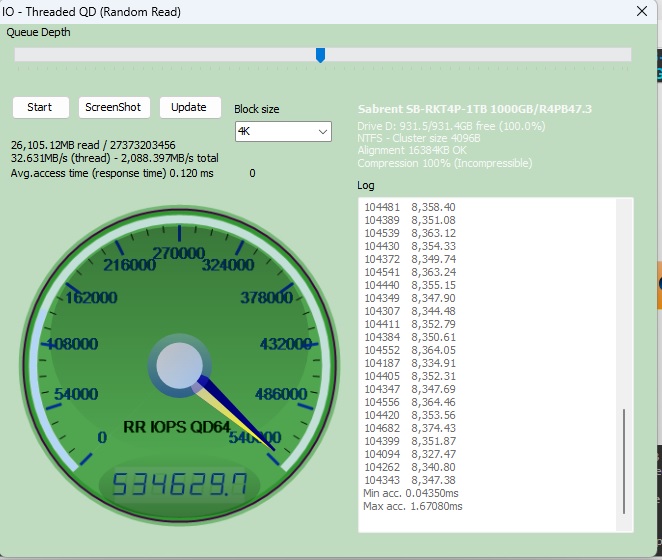 We got 534629.7 IOPS at QD64, which is, again, quite a good performance.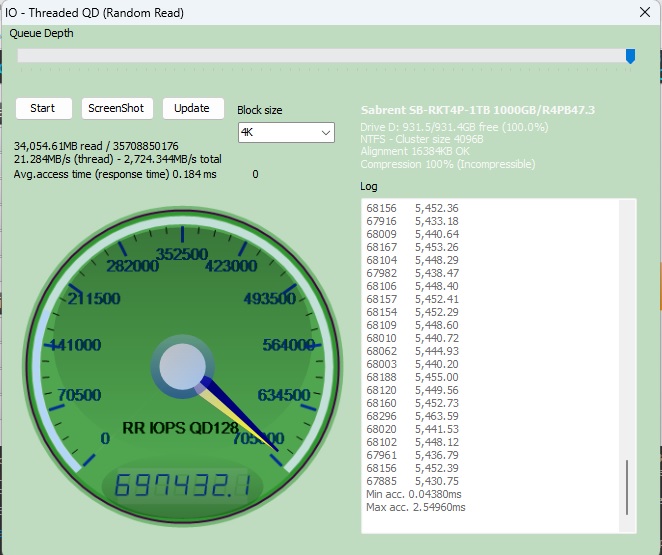 With a queue depth of 128, the read speed was 697432.1.
3DMark Storage Test
3DMark Storage test is a relatively new test bench measuring the gaming-only performance of the given drive using three games. It measures the load time of the games, recording the gameplay, saving the game, and moving the game. The overall score is given in a number, whereas there is also a result for the bandwidth and access time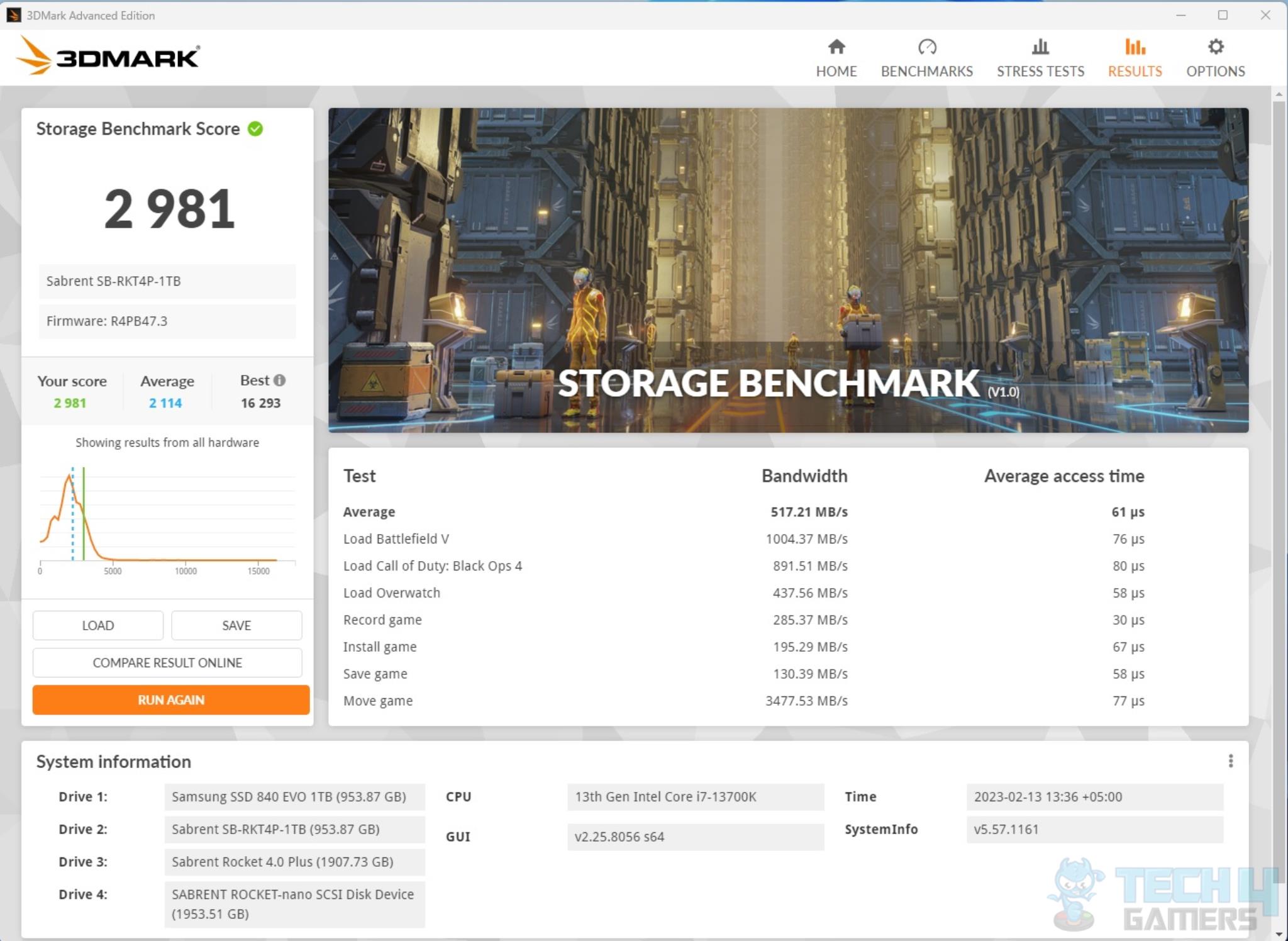 The Sabrent Rocket 4 Plus 1TB NVMe SSD got a score of 2981 which is somewhat a bit lacking, in my opinion. We have got an average of 517.21MB/s bandwidth and 61µs access time.
Real World Testing
We prepared a 110GB size folder containing multiple files and folders, including compressed files. We also prepared a 97GB compressed file separately. DiskBench was then used to observe the real-world data transfer speeds. Here are the results: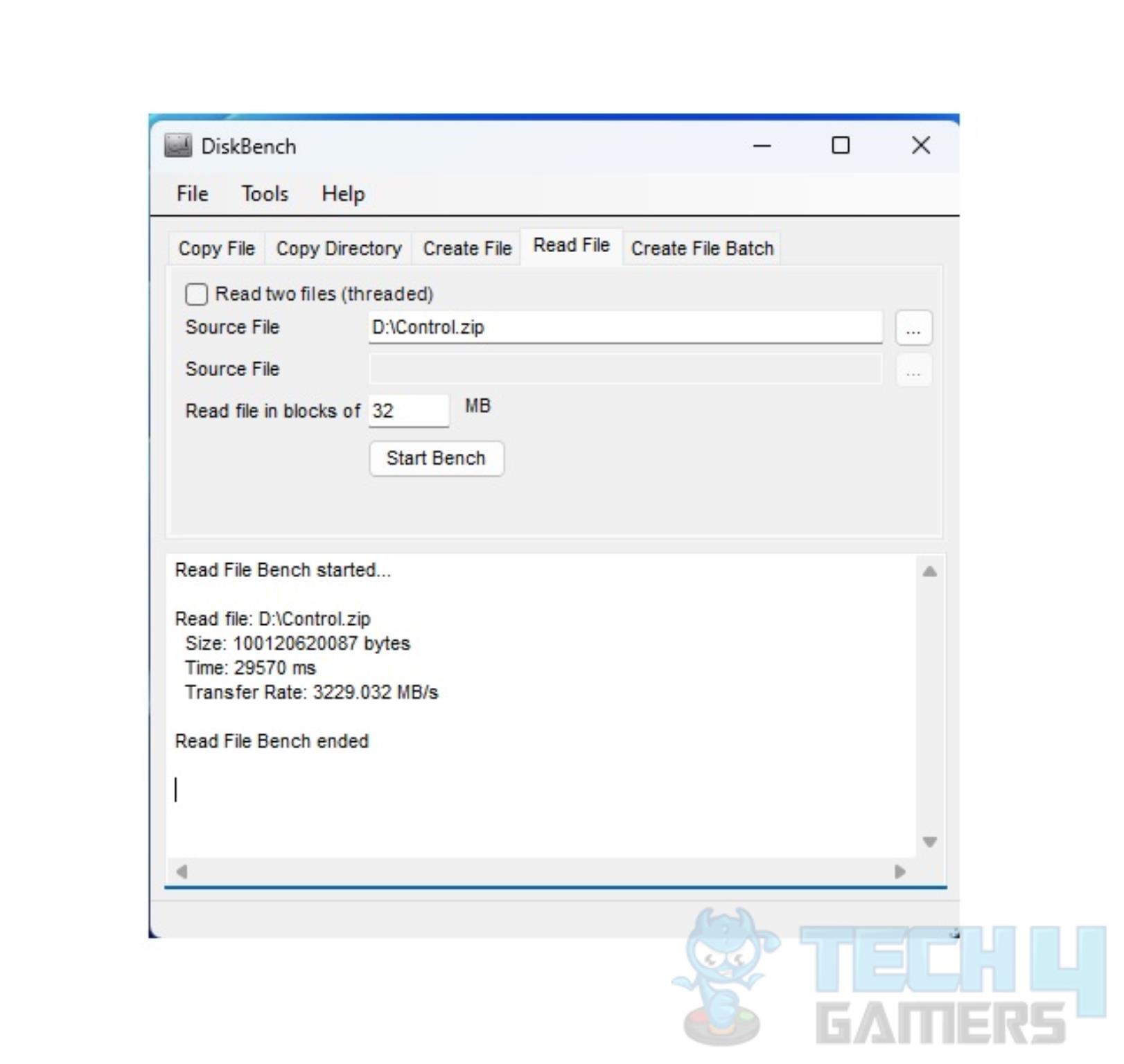 It took 29 seconds to read a 97GB compressed file at a speed of 3229 MB/s. Quite impressive.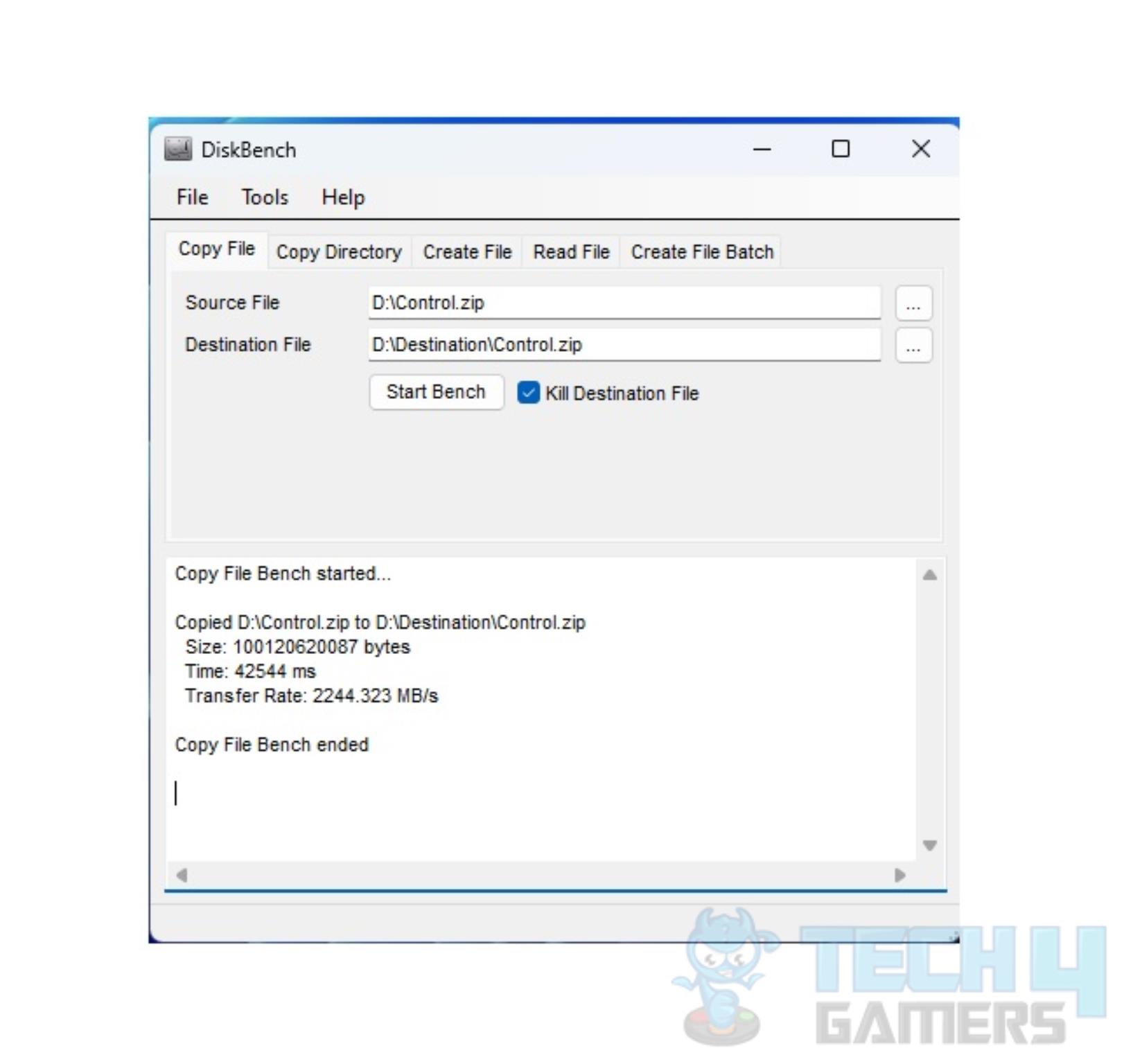 The same file was then copied from the source to the destination folders on the same SSD. The operation was completed in 42 seconds at a rate of 2244MB/s.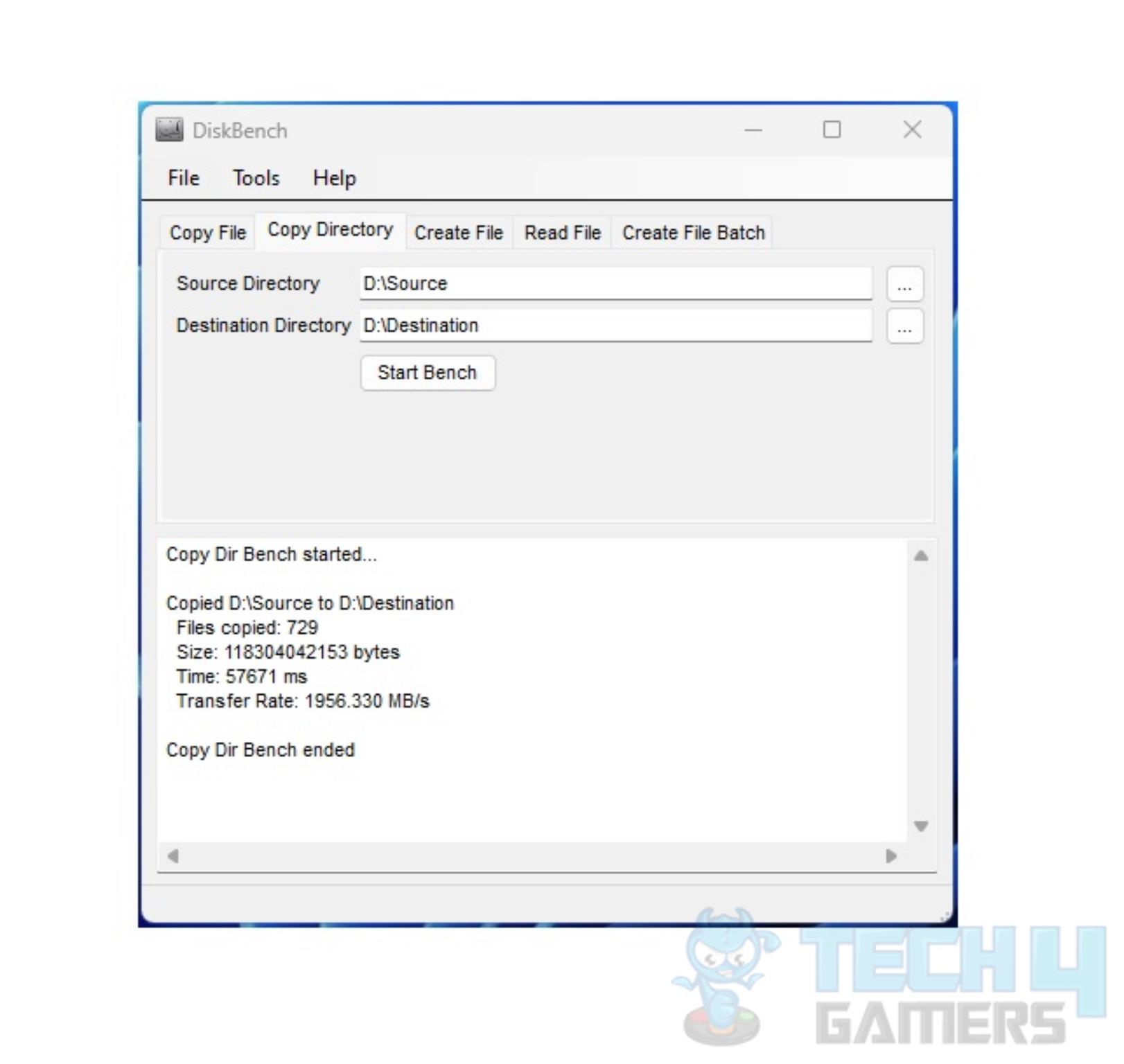 Next, we copied a 110GB size folder to another folder on the same drive. This operation was completed in 57 seconds at a speed of 1956MB/s.
The real-world transfer rates are quite impressive.
Gaming Load Time
Gamers are very particular about these high-speed drives. This is why we have used Final Fantasy XIV: Shadowbringers Benchmark using the Highest Preset to record the game load time on RTX 3060.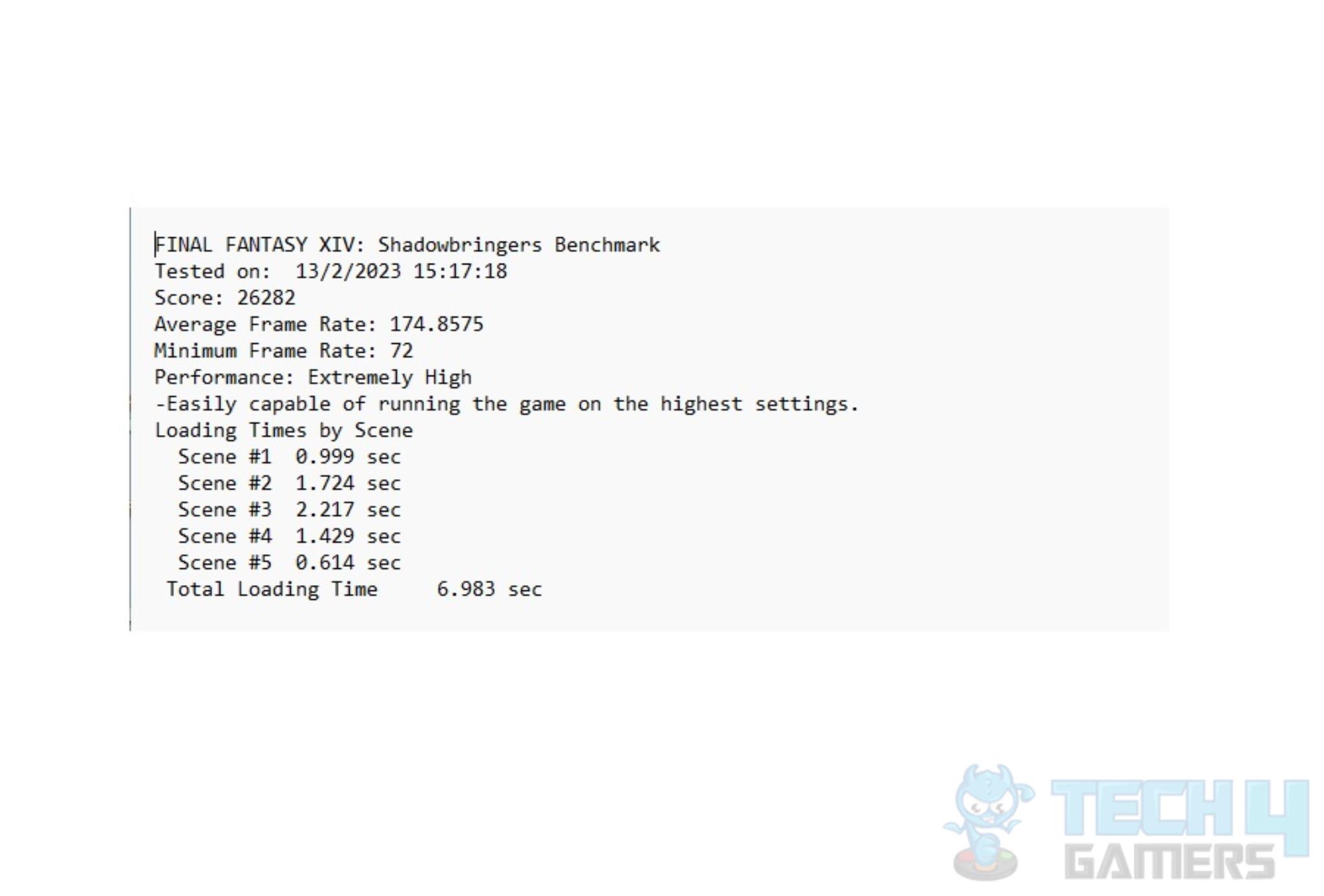 We have a load time of 6.983 seconds. Good job by Sabrent Rocket 4 Plus 1TB NVMe SSD.
Thermal
We saw a maximum temperature of 64°C at an ambient temperature of 20°C on the Rocket 4 Plus 1TB NVMe SSD. We used a custom run of CrystalDiskMark to run for 18 minutes on sequential read and write speeds to stress the SSD for this test.
Conclusion
Sabrent means business with their premium NVMe SSDs under the Rocket 4 Plus line. This series SSDs are based on 3D TCL NAND Flash chips powered by none other than the Phison E18 controller. Sabrent has also started using B47-based firmware updates on this series, which gives more performance boost to these drives. It is expected that Sabrent will soon be releasing all R4P series SSDs using B47-based firmware. The Rocket 4 Plus is aimed at enthusiasts, professionals, content creators, gamers, etc., who would like nothing but the best.
We have tested Rocket 4 Plus 1TB NVMe SSD in this article. This SSD is using PCIe Gen 4×4 connection on NVMe 1.4 interface with backward compatibility to PCIe Gen3. Sabrent has also released an 8TB version of these SSDs. Using premium components, one can easily expect a high price tag on that SSD. The Sabrent Rocket 4 Plus 1TB NVMe SSD uses M-Key type over 2280 form factor.
Speaking of numbers, this SSD is rated for a sequential read speed of up to 7000MB/s and a sequential write speed of up to 5800MB/s. These speeds are for PCIe4x4. These would reduce PCIe3x4. The 4K Random Read speeds are rated for up to 350K IOPS and 700K for Random Write Speeds using QD32.
Sabrent has employed a Phison E18 controller in this SSD and 4x 3D TLC NAND Flash from Micron. There is a 8GB DDR4 SDRAM from SKHynix. This SSD is single-sided in design, meaning all components are on one side of the PCB. Sabrent has also employed a thin layer of copper in its color on top of this SSD to act as a heat transfer medium. This would increase the overall height of this SSD compared to standard-size NVMe SSDs can be an issue when using a standard-height NVMe SSD in parallel on M.2 ports.
This SSD has a TBW rating of 700, which is half of what is on the 2TB version. Surprisingly enough, Sabrent is only giving a 1-year warranty on this SSD which can be further extended to a total of 5 years by registering the SSD. In my opinion, this should have been the opposite. This SSD is NVMe 1.4 compliant and has power management support as well as support for S.M.A.R.T and TRIM commands and status. It also has some other features like advanced wear leveling, bad block management, and ECC. Users can update the firm using Control Panel software from Sabrent.
This SSD is listed at USD 129.99 at the time of this writing though out of stock on the Sabrent site. This SSD packs a solid performance. It easily validated the rated speeds in all spectrums. The real-world transfer speeds are superb as well. Honestly speaking, regardless of what your workload is, SSDs like these are worth the investment.
Thanks to Sabrent for a test sample.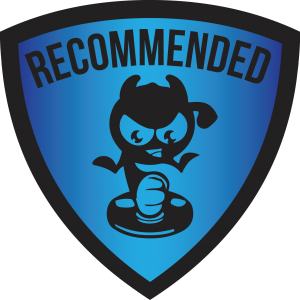 Was our article helpful? 👨‍💻
Thank you! Please share your positive feedback. 🔋
How could we improve this post? Please Help us. 😔