Usually, when we talk about gaming computers and workstation computers, the colors associated with them are oddly similar. However, what if someone doesn't like dark colors or extremely bright and flashy colors? In short, that's where a White PC Build comes in place. That is to say, a simple yet sleek white PC is something many consumers desire. Nevertheless, many cannot afford one or don't know where to find the parts to build a completely white PC. Therefore, let's look at the components you need to build a white PC. Also read our full article on step-by-step guide over the complete build process.
Here is the first White PC Build, we recommend:
Alternate White PC Build Specs
Last update on 2023-10-02
Traditionally, in contrast with white PCs, computers feature a black-ish color with different forms of RGB incorporated in multiple parts. Consequently, many people dislike the rainbow colors and prefer using a single color for their entire build. All things considered, many consumers prefer a bland white build without many colors.
Components Required for a White PC Build
Meanwhile, essentially, a PC consists of a CPU, GPU, motherboard, fans, case, HDD/SSD, PSU, cables, RAM, and a CPU cooler. In addition, a PC also has a monitor, keyboard, mouse, speakers, and if you're going water-cooled, a radiator and coolant. So, we now have an overview of the components required to create an all-white PC build. With this in mind, let's look at the white parts we need for our build.
White PC Graphics Card
Certainly, Graphics cards are an essential part of building a computer. For that reason, consumers usually spend most of their budget on buying a high-end GPU. Then again, if you're planning a white PC build, a white GPU is imperative.
Further on, the problem is that only a few higher-end GPUs have white variants. So, if you have a meager budget, you might want to re-think your white PC dream. Although, you may be able to find a good graphics card even within that budget.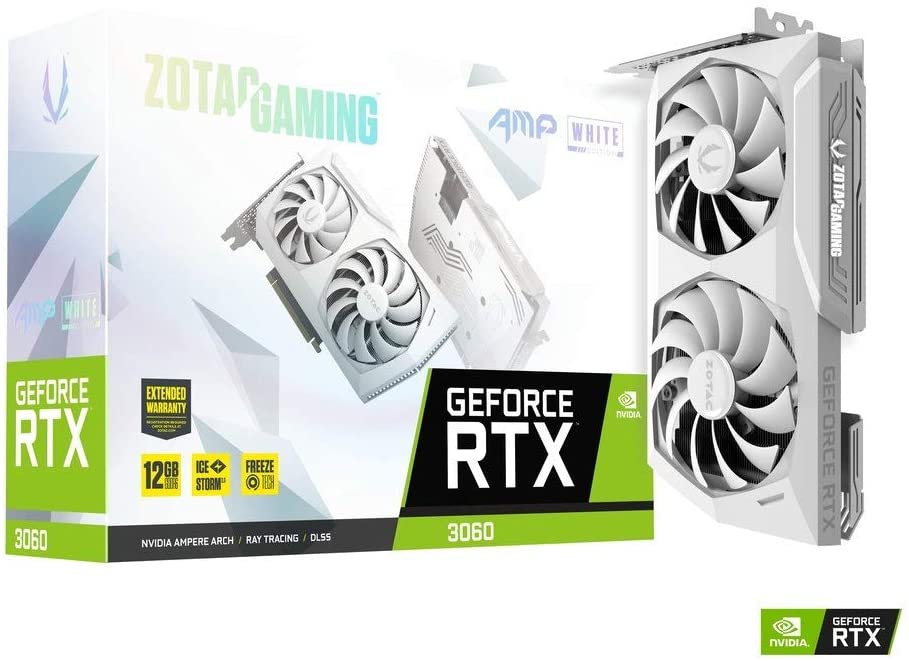 For this PC build, we shall be looking at the RTX 3060 for the most part. NVIDIA's low-end 3000 series GPUs will be more than enough for anyone wanting to game at 1080P. Likewise, the Zotac RTX 3060, a dual-fan GPU, should fit almost all cases. Alongside that, access to DLSS 2.1 and greater RTX capabilities, you're getting an amazing GPU to run your computer.
Also, the 12GB GDDR6 memory is more than enough for everyday gaming and other computational tasks. In contrast to its ancestors, the RTX 3060 is an increasingly budget-friendly GPU.
The pure white color will also blend well with the all-white PC. And the bold "ZOTAC GAMING" will give a nice charm to the overall build. Currently, the 3060 Zotac sells for $451, approximately $100 more than its MSRP. But we can't do anything about these prices due to the increasing global inflation.
Going with the ASUS ROG Strix RTX 3080 is a better option for consumers with more spending power. In conclusion, it's an aesthetic triple fan white GPU with attributes to make your computer a complete powerhouse. For $1389, it's almost quadruple the price of the 3060, so go with it if your budget allows.
Related Article: RTX 2060 Vs. 3060
White PC Motherboard
For clarification, in terms of the human body, a motherboard acts as the skeleton of the computer. While a skeleton in itself is useless, the body cannot function properly without it. Similarly, a motherboard is useless without other hardware, but all the other hardware can't function without it.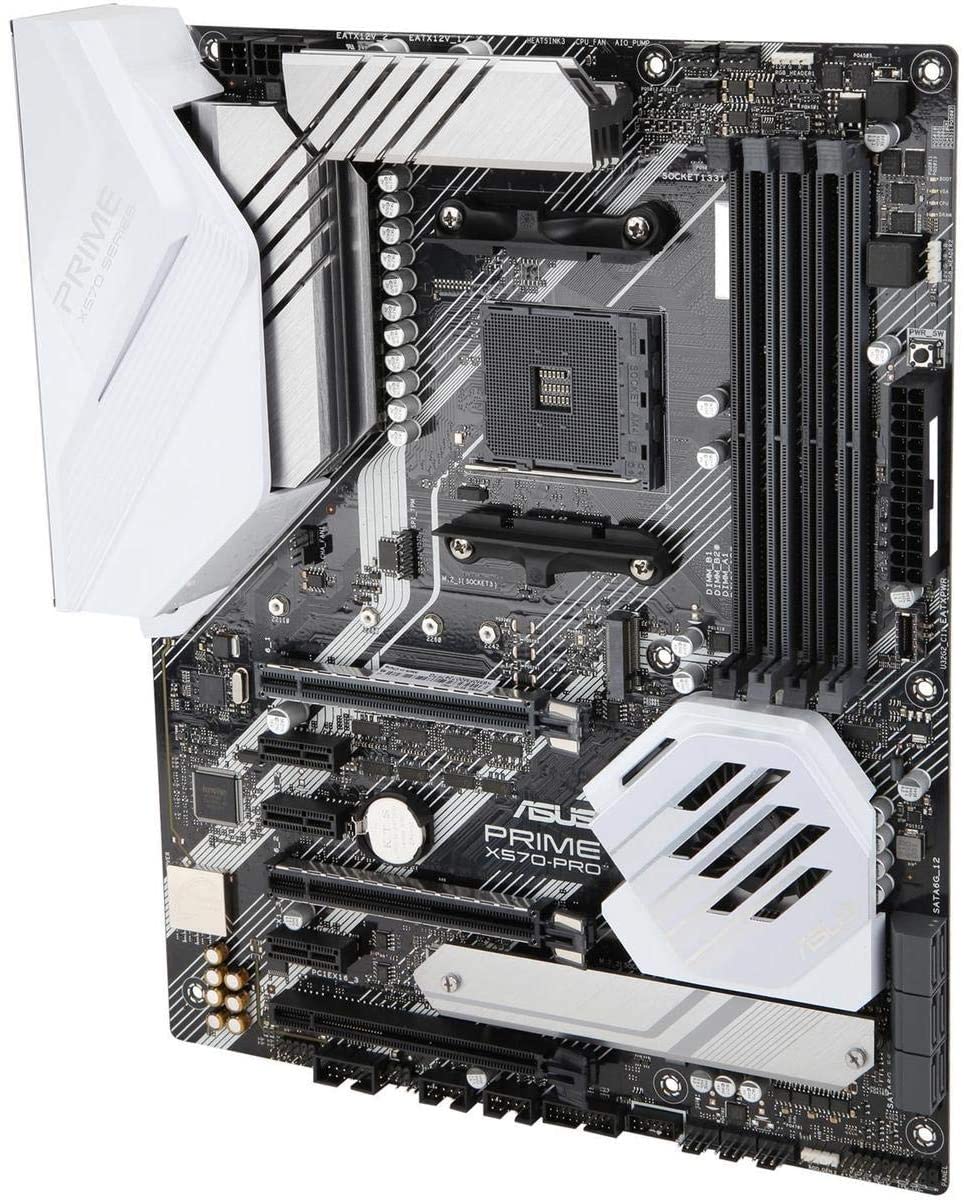 Subsequently, for our white PC build, to keep as many options possible for consumers, we have chosen an AM4 motherboard. Specifically, the ASUS Prime X570-PRO. In case you don't know, AMD processors use the same socket. That's why most Ryzen processors are compatible with even older AM4 motherboards. You may read our detailed article of the ASUS Prime X570-Pro Here.
Suppose you go with AMD's budget 5000 series processors and pick the Ryzen 5 5600x. Nonetheless, the 5600x is an amazing processor for its price and will not bottleneck your RTX 3060 GPU.
Going back to the ASUS Prime X570-PRO, it's an amazing motherboard, but you'll notice it's not completely white. Then again, motherboards aren't completely white, and only the heatsinks on top have a coat of white. Still, if you wish to have a completely white motherboard, you can spraypaint over it. However, we don't recommend doing that to harm your components potentially.
On the other hand, once you place all the parts inside the case, your motherboard will become hidden. For the most part, at least. The same is true for the ASUS X570-PROs, one of the high-end motherboards. To sum up, its cost is currently $249.
On the other hand, consumers might want to build an Intel system. For them, we have chosen the ASUS ROG Strix Z690-A motherboard. Currently, the Z690 costs $320, about $70 more expensive than the X570 PRO. However, it's important to note that only 12th gen Intel processors are compatible with the Z690 motherboard chipset.
White PC Case
Due to a lack of cases with a white variant, there aren't many with amazing specs for pricing. Moreover, the cases in the market might not suit your size or tastes. Overall, we'll tell you which cases you can go for, but you need to keep an open pocket.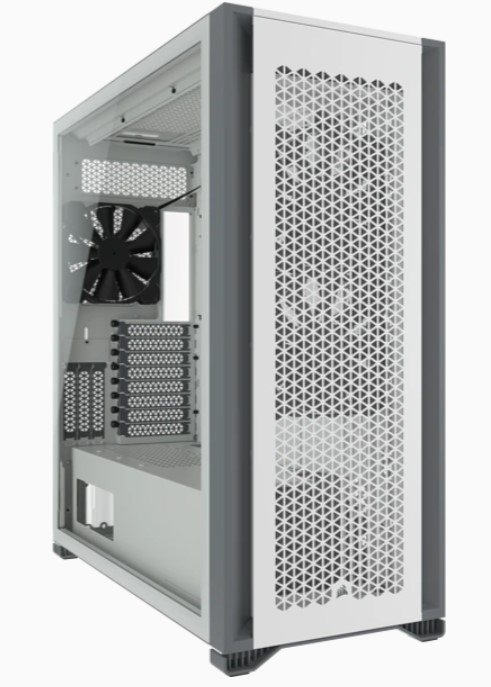 Firstly, let's take a look at Corsair's 7000D white PC case. Above all, being a full tower chassis, the 7000D is compatible with three simultaneous 360mm radiators. Secondly, the 7000D also supports up to 12x 120mm fans or 7x 140mm fans. With this in mind, cooling won't remain a problem in this chassis.
Subsequently, the Corsair 7000D might be heavy, weighing at ~18.7KG. But, with the added weight, customers can install almost any component in this white PC case.
Moving on to the pricing, the Corsair 7000D isn't truly an affordable case and currently costs a hefty $270. However, customers get a white case with impressive specifications for the price.
While sliding the magnetic front cover, the case reveals its front dust filter. On the other hand, the chassis supports tempered glass to improve its aesthetics. Notwithstanding, the 7000D supports 4x USB 3.0 ports and one USB 3.1 port at the front of the case. So, there won't be any problems regarding connectivity with the 7000D.
Furthermore, the chassis supports up to an E-ATX motherboard with a few modifications. In contrast, there aren't many white PC cases that support an E-ATX motherboard. The case is easy to cable manage and doesn't make a mess out of the cables. We also ranked Corsair 700D as the Best White Full Tower PC Case.
If you don't prefer the Corsair 7000D, you can go with their previous case, the Corsair 4000D. It's a smaller chassis with fewer functions but costs half the 7000D.
Related Article: Best White PC Cases.
White PC RAM
After the initial products, we can focus on the RAM we'll use. Because white PC components are difficult to find, the RAM isn't going to be extremely affordable. Also, considering how we're building a white gaming PC, an adequate amount of RAM is necessary.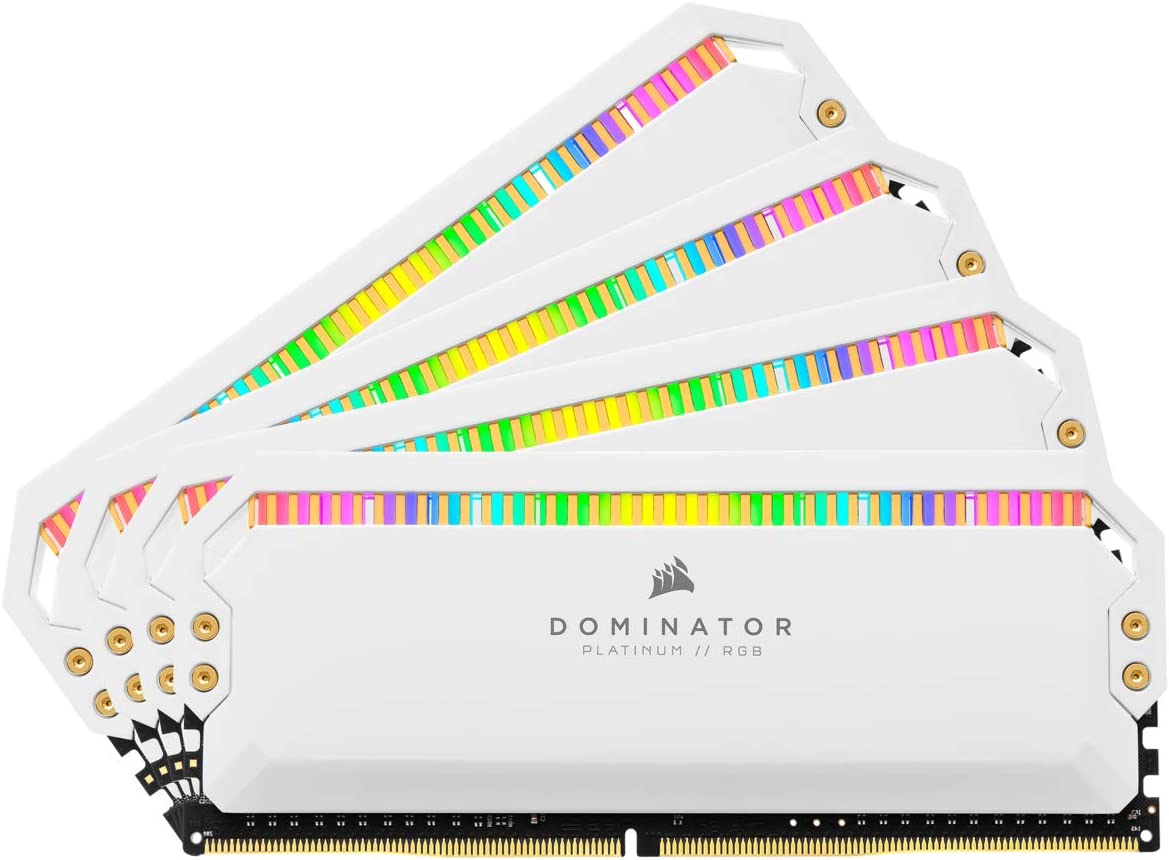 Some of the best RAM kits you can find for Ryzen processors are the Corsair Dominator series. The Corsair Dominator Platinum comes in black and white editions with 16GB and 32GB variants. Because we're pairing this RAM with a Ryzen 7 5600X, 32GB DDR4 RAM is sufficient to support the processor.
The price isn't necessarily bad, at $210 for the 32GB variant. However, it would be best to remember that the RAM is quad-channel. So, it can't fit in dual-channel motherboards. In addition, the CL16 timings are tight enough for overclocking purposes. The voltage output is around 1.35V, which gives greater overclocking boundaries for enthusiasts who wish to do so.
Moreover, the RGB might hinder the white PC setup with the Corsair Dominator RAM kit. But, using the iCUE software, consumers can control the lighting. 3200MHz frequency is pretty decent and will be beneficial for the 5600X.
On the other hand, if you don't have the budget for 32GB RAM, then 16GB of RAM is enough too. For the 16GB variant, we have chosen the Corsair Vengeance RGB Pro. Overall, the RAM has CL16 timings at 3200 MHz speed. Here is everything you need to know about Corsair Vengeance Pro.
Furthermore, being Corsair's RAM, you can easily change RGB settings using their iCUE software. Also, the RAM is a dual-channel kit so that you can fit it in almost any motherboard. To conclude, with a price tag of $78, you're getting a lot of performance for the price.
White CPU Cooler
Now that we have discussed the more essential things let's focus on cooling methods. A good CPU cooler will be necessary because we're going for a dependable white PC build. Generally, consumers don't spend a lot on improving their cooling method, making CPU coolers less important. However, it's important to note that a good CPU cooler makes your system cooler and improves performance. Therefore, we are choosing the DeepCool AAS500 Plus White for this build.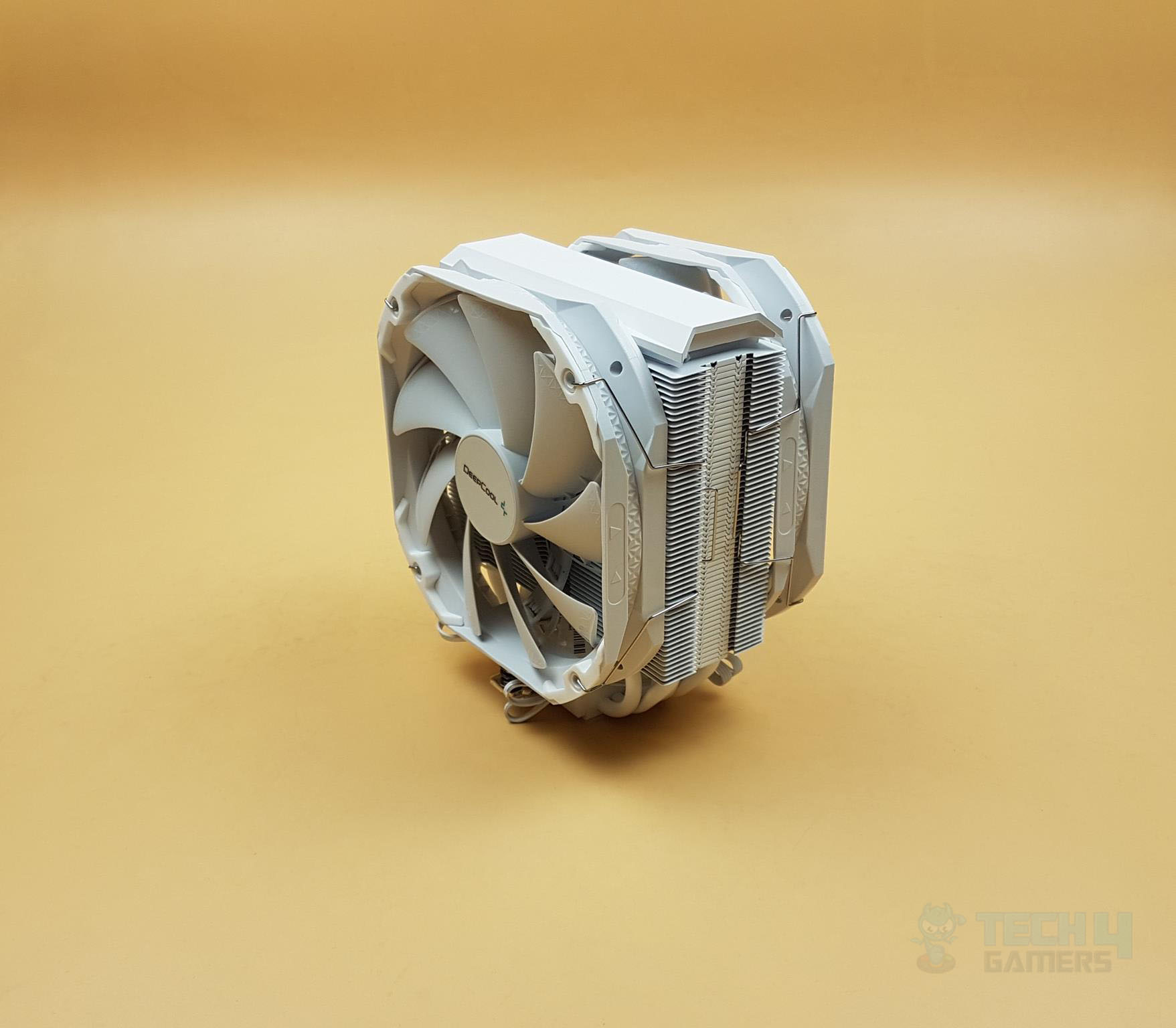 Firstly, the AS500 Plus is a moderately affordable CPU cooler with a price tag of $70. So, if you're struggling with a meager budget, this CPU cooler might help you. Secondly, for its price, you're getting some amazing performance. For example, with a low wattage requirement, the AS500 Plus has a maximum speed of 1200 RPM!
Furthermore, the DeepCool AS500 Plus has a noise level of ~29dB. Considering the price, that's fairly quiet. With attention to its dimensions, the AS500 Plus isn't a big cooler so it can fit anywhere. With a length, width, and height of 142 x 102 x 164mm, you can also fit it in SFF cases.
If you're not pursuing a Ryzen build like us, the DeepCool AS500 Plus will still be valid for you! Simply because the cooler comes with multiple clips to support different Intel sockets as well. To clarify, you can place the AS500 Plus cooler in the LGA 1200/ 115x/ 20xx Intel sockets.
With this in mind, the DeepCool AS500 Plus is a versatile CPU cooler that can fit most sockets. But of course, if you're looking for something fancier, try checking out our list of best white CPU coolers in 2023! To read more about the DeepCool AS500 Plus, check our review!
White AIO Liquid Cooler
Of course, consumers might prefer a stronger form of cooling by using All-in-One liquid coolers. A CPU cooler will not suffice in such cases, and consumers will be looking for radiators. So, if you're someone who wants to liquid cool their CPU, then we have got just the AIO!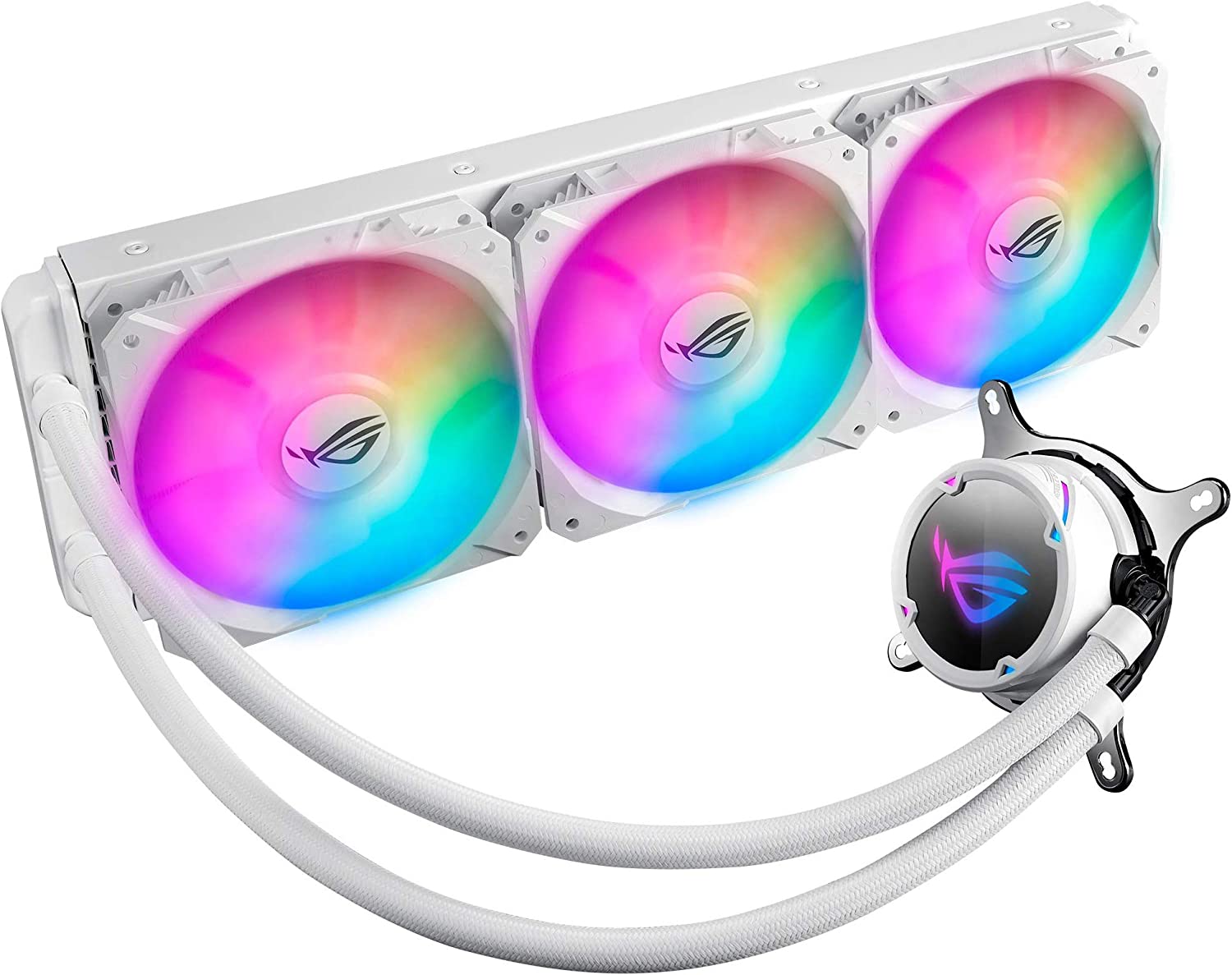 We use the ASUS ROG Strix LC AIO for our white radiator. To explain, the main purpose of an AIO liquid cooler is to liquid cool the processor and air-cool the chassis. Because of this reason, we call these radiators "AIO radiators." Unless you have a small budget, we recommend going with an AIO to improve the thermal performance of your products.
For this reason, the ASUS ROG Strix LC is an excellent option within the abundance of liquid coolers. Above all, with three different sizes, you can choose the 120mm, 240mm, and 360mm AIO. However, the 120mm and 240mm are not available in white. Therefore, if you want a white AIO, choose the 360mm or go with another one.
Furthermore, the Strix LC has a noise level of ~37.6dB making it an adequately quiet cooler on the market. Also, even with that noise level, the AIO supports up to 2500 RPM speeds! Moreover, you can easily change the RGB modes on the AIO and fans.
Lastly, looking at the pricing, with a premium $350 tag, go with an AIO if you can afford it. While it may be true that an AIO will improve thermals, you can cool your PC with an air cooler. On the contrary, the DeepCool AS500 Plus has a price tag of $70, making it ~$280 cheaper. Thus, the AS500 Plus has a better value than the Strix LC.
White PC Monitor
We shouldn't forget about monitors as much as it's important to look into thermals and other hardware components. While a good GPU and processor will increase the FPS, a good monitor will show images with better colors.
So, it's equally important to have a good monitor if you're aiming to have a better GPU. Because if you have a 60Hz monitor with an RTX 3060 or above, you'll be wasting the extra frames. Hence, as we're making a white PC build, we have chosen a good white PC monitor too.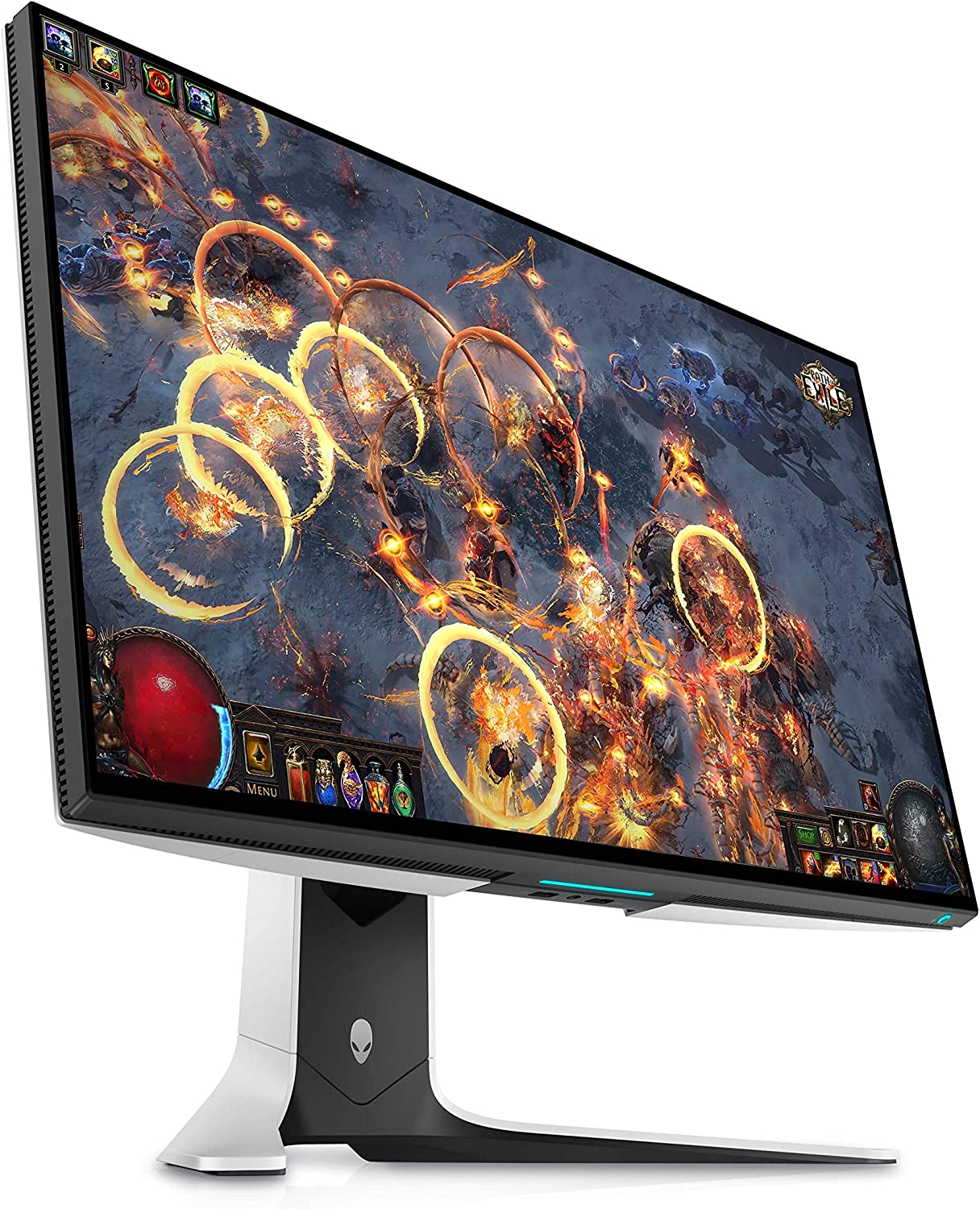 As a result, we are going with the Alienware AW2721D 1440P monitor. Likewise, with a 240Hz framerate, you won't need to worry about losing out on any frames. The Alienware monitor has a four-sided InfinityEdge display, making it a high-end monitor. Furthermore, with multiple HDMI sockets, the Alienware AW2721D allows multiple screen-sharing.
Besides that, for a 27-inch monitor, the screen is sleek, and the IPS display allows for better image quality. Overall, for its $829 price tag, you're getting enough performance at a premium rate.
However, we have another option if you're looking for a monitor with a high framerate but low prices. The Spectre 24-inch monitor offers up to 165Hz framerate with a 1080P display panel. Furthermore, the Spectre has a 1ms response time, meaning there won't be any game input lag. Moreover, the monitor features 98% sRGB, allowing a wider range of colors than most conventional monitors.
The Spectre costs $230, making it significantly more affordable than the Alienware AW2721D. But with its framerate and response time, we recommend going with the Spectre if you have the budget. Lastly, the Alienware AW2721D and Spectre are the best white PC monitors on the market.
White PC Speakers
As much as we love high framerates and vivid colors, audio also plays a significant part in gaming. For this reason, we find competitive players spending hundreds of dollars on expensive headphones. Although, what about players who want good audio without headphones? They're also looking for white speakers for their white PC build.
That is to say, speakers and headphones are a valuable asset for shooter-type games where crisp sound is necessary. Furthermore, a good speaker set is necessary for consumers who work with audio.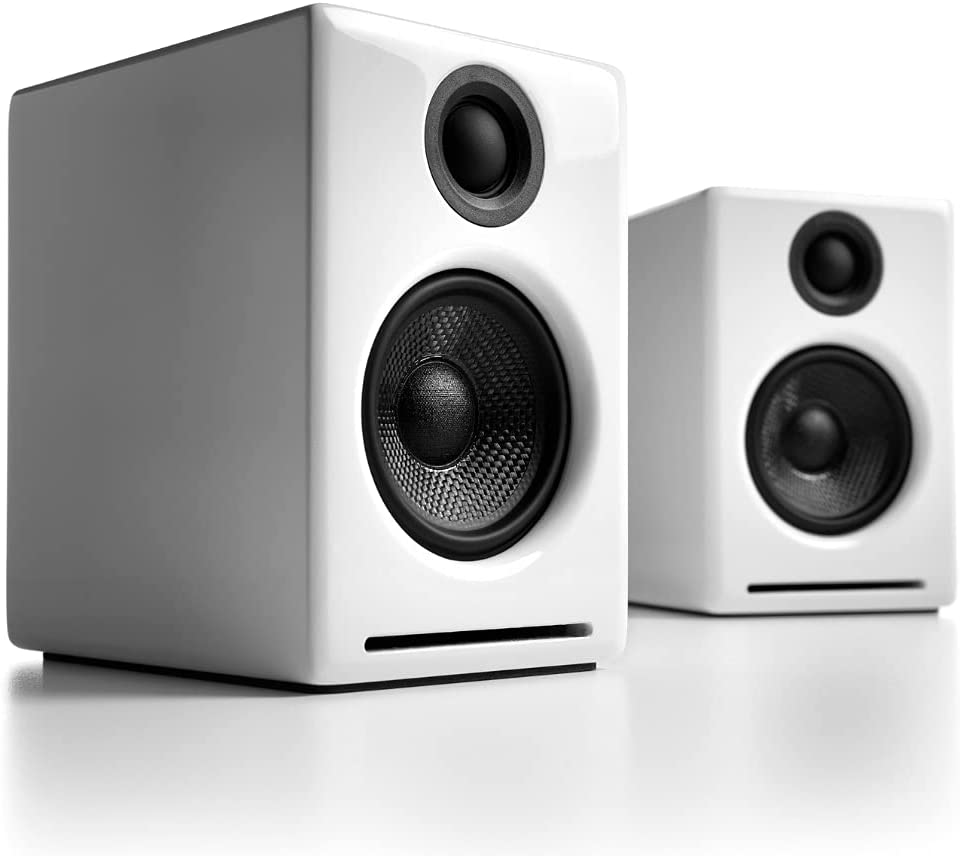 To bring out seamless audio without a lot of cables, we are going with the Audioengine A2+ speakers. In addition to the speakers being wireless, you can connect them with a USB cable if you wish. Also, the Bluetooth range is ~100 feet, so there should be no problems with connectivity.
However, the pricing of the Audioengine A2+ makes them difficult to recommend. But, due to their excellent audio quality, it vilifies the price tag. To clarify, the Audioengine A2+ comes with a premium price of $269. To explain, that's more expensive than the monitors we looked at before.
On the other hand, if you're looking for good speakers in different colors, you can opt for the Audioengine A2+. Because these speakers come in three colors, mainly white, black, and red. Moreover, thanks to the dual analog audio feature, you can connect multiple devices with the Audioengine A2+.
To conclude, the speaker set consumes ~60W of power, making them pretty power hungry. As a result, you will have to keep your power supply in mind when purchasing these speakers. All in all, the Audioengine A2+ is an excellent pair of speakers for multiple purposes. Whether for gaming or work, they won't disappoint.
White Case Fans
Not to mention, like CPU coolers, case fans are an essential part of improving thermals. For example, placing fans properly and strategically within your chassis will help eliminate excess hot air. We generally place three in-take fans at the front, three out-flow at the top, and three in-take at the bottom. We also place one out-flow fan at the back of the chassis.
Now, we need white PC fans for an all-white PC setup too. Whether water cooling your PC or not, you will need case fans. Since water creates heat that needs to flow out of the PC properly, fans are important.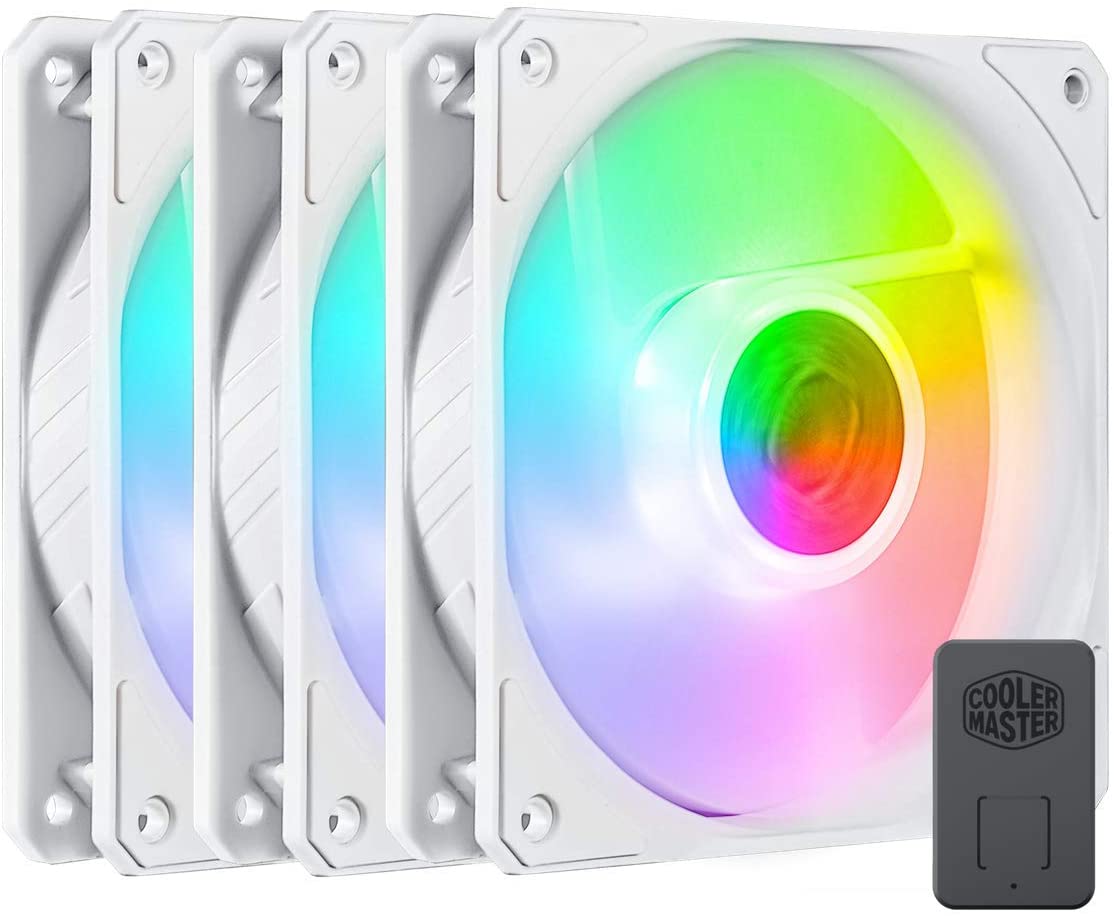 We have chosen the Cooler Master SickleFlow 120mm V2 fans for this white PC build. Seeing that the wattage requirements are low, the SickleFlow fans can go up to 1800 RPM speeds. Also, unlike a white PC radiator, you don't need much space to fit these fans in your chassis.
A point often overlooked is that with water cooling, you need proper piping, coolant, and pumps. While with air cooling, you can get the job done with simple fans placed properly. Furthermore, you don't need to buy different products within a color scheme, such as a white coolant.
Lastly, with a $50 price tag for three fans, you're getting a lot of performance for the price. Although the prices can be lower, the performance cut wouldn't be worth it.
Of course, there must be customers who want less noisy fans, so we have another set with us. The Corsair iCUE SP120 fans are a bit more expensive than the Cooler Master SickleFlow ones. However, they are less noisy, with a noise level of ~18db compared with the ~27db of the SickleFlow ones. So, these are a good option too.
White PC Power Supply
Next up, let's have a look at a white power supply. If a motherboard is a space to connect all components, then a power supply provides energy to all of them. Similarly, to use a computer, you need to have a proper power supply to run all the components adequately.
Moreover, you will need a heavy power supply if you keep upgrading your components. As a result, 600-800W of power is enough to run even the heaviest systems.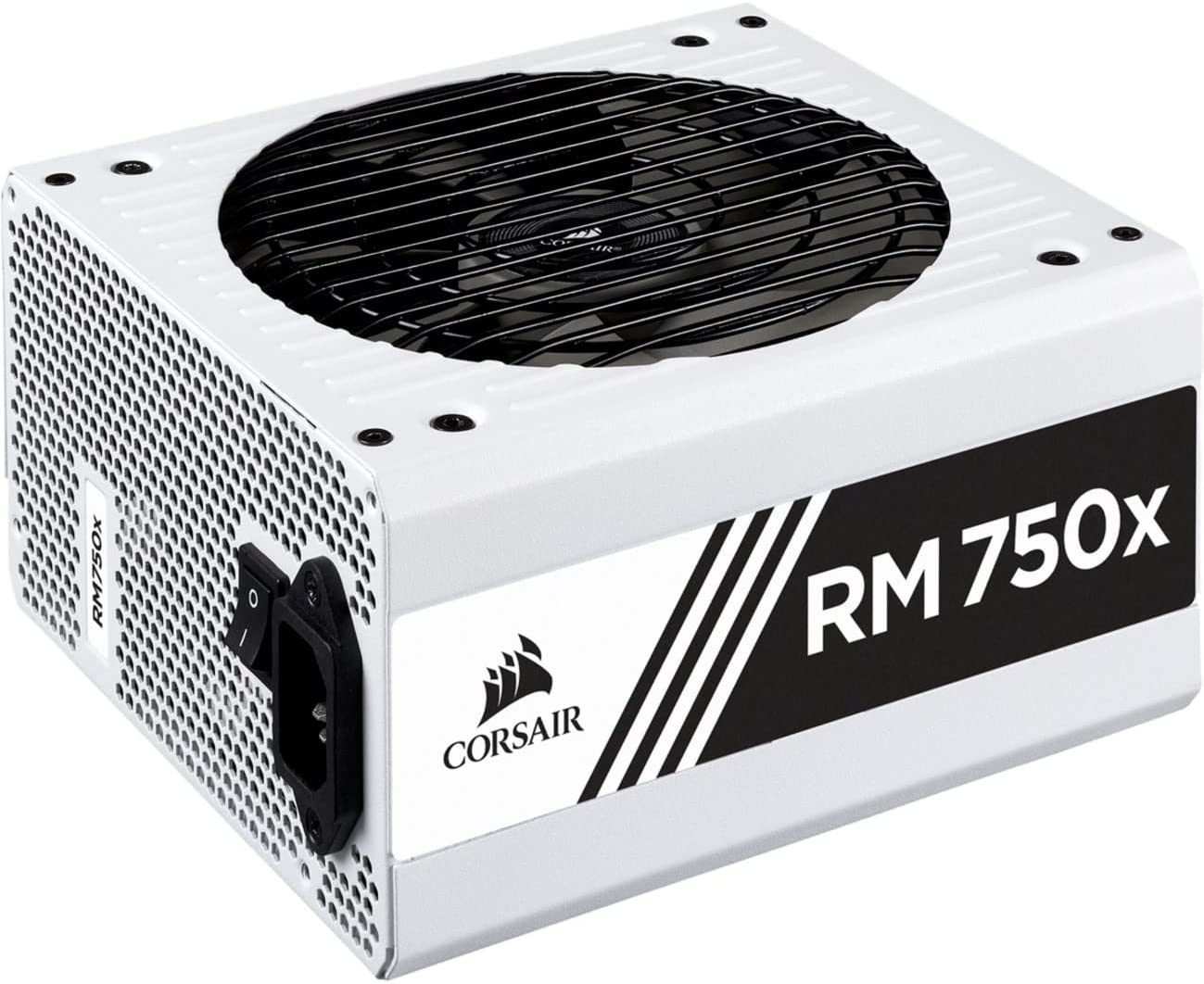 Getting a good PSU is a must, which is why we are using Corsair's RM750x for our white PC build. To explain, multiple types of power supplies are available on the market—for example, modular and non-modular power supplies.
Modular power supplies don't come with pre-existing cables, while non-modular power supplies do. Furthermore, there are different rating levels for power supplies. Such as bronze, silver, gold, platinum, and titanium. In any case, the Corsair RM750x has an 80+ gold rating making it an efficient power supply.
Additionally, the RM750x is a 750W power supply that should suffice almost all high-end PCs. Although, of course, if you are running an Intel 12th gen build, anything below 1000W is useless. Because we are choosing a Ryzen 5000 build with an RTX 3080, 750W should be sufficient.
Lastly, talking about the pricing, the Corsair RM750x is a premium power supply. Despite costing $145, the safety you get with the RM750x is excellent. In contrast, you can easily find other 750W 80+ gold rating power supplies for a more affordable price. To conclude, if you are going with a smaller build, 500W should be enough.
Check out our comparison if you're unsure whether to go with an EVGA or Corsair PSU.
White PC Cables
Unless you use a non-modular power supply, you will need separate PSU cables for your white PC build. Moreover, a good set of cables defines the aesthetics of your build. For this reason, whenever building a custom PC, always take your cables in accord.
To explain, if you build a PC with a red theme and buy white cables, the aesthetics won't match. Therefore, decide on a theme, then the main components, and then finalize the power supply and cables.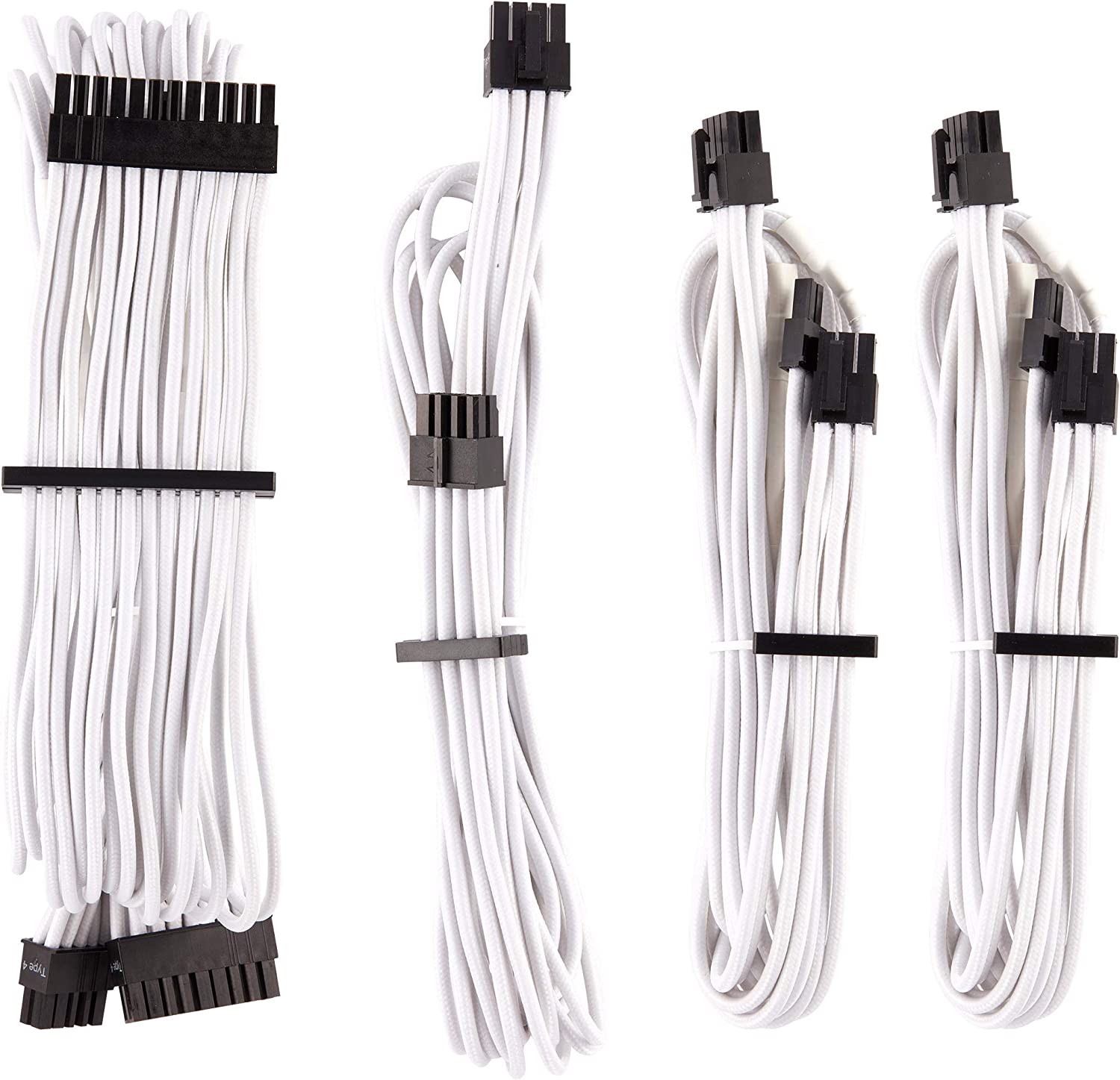 In light of our white PC build, we need to maintain a consistent scheme of colors. As we are using a Corsair power supply, we need to use Corsair cables too.
To clarify, you should not use cables of different brands for different power supplies. Because if you do so, there's a possibility of a short-circuit. Thus, you should use Corsair cables to ensure safety for a Corsair power supply.
Similarly, our Corsair cables come with high-quality sleeves that improve the aesthetics and make them sturdier. In addition, you are getting an ATX 24-pin, 12V EPS, and standard PCIe cables to meet all your power needs.
Furthermore, checking the price tag, the Corsair cables are worth $67. While this price point is a bit expensive, the high quality justifies the tag. Of course, you can buy non-modular power supplies at the cost of customization. However, you can save a lot of money that you can utilize on other components.
Summing up, a power supply is like the heart of a computer. You will lose performance if you try to fit a small PSU with power-hungry components. Moreover, a good set of cables will complement the power supply and the entire build.
Our Criteria For Selecting the Best White PC Build
Planning for a white PC is not an easy task. White is a color that not many people opt for because dirt marks and stains are very prominent on it. It is not impossible to keep it clean, but it requires some struggle. However, white PCs have their charm, and if you're up for the challenge, nothing can stop you from achieving it.
However, the problem is that white color is not available for many PC components as it isn't very common, and the market doesn't have a lot of variety in the domain. You should not worry about this as we took your problem and researched the market to find the Best White PC Build components for almost all ranges, only so you wouldn't need to look for them manually. You might be wondering how we performed this research. Well, we considered some basic benchmarks to judge all components mentioned below.
PC Case
The PC case is an important part of the whole setup; it contains all the important components of the PC. Finding a white PC case is not easy as the market is filled with black colored cases, which are in abundance. Not only this, finding the white case with important features is a task in itself due to limited options. We considered PC Cases with ample space to fit all components; they should have cooling grids and space for adding cooling fans so that the PC does not overheat.
Graphics Card
The choice of graphic card is up to you, but when it comes to a specifically white-colored graphic card, you have limited choices. White-colored graphic cards are only available in some high-end GPU variants. Not all GPUs come in this color, so if you want to go with the white GPU for your aesthetic sake, you will have to pay some extra bucks. We looked into different high-end GPUs and found that the Nvidia GPUs had better availability in white color, especially, RTX 3080 and RTX 3060 are available in this color. These GPUs are a solid choice that can provide performance alongside white vibes; we recommend you go with either according to your performance preferences.
Coolers and Fans
Getting white cooling components is easier compared to major components like graphic cards and PC cases. Due to numerous manufacturers, these small but important components are easier to find in the market in your desired color. But who wants a cooler or a cooling fan with no RGB lights? This specific niche is a bit harder to find in the market. To cater to this problem, we toured the market to find the best coolers and cooling fans that provided RGB lighting and the signature white color we needed. It was a strenuous task considering the diversity in products and finding a specific RGB white colored fan with sturdy quality; in most cases, the quality of the cooling fans was not up to our standards. However, in the end, we found the best white-colored cooling fans that met our criteria.
Power Supply
Power Supply, also known as PSU, is also one of the core components of any PC; it provides power to all the other components in the PC so they can work in harmony to provide the best results possible. There were already many small things we needed to look out for when buying a PSU. One important thing is that the PSU should have enough wattage delivery to provide power to all the PC components per their requirements. If any component gets less power, the rhythm will break, and the user might get errors and problems alongside bottlenecking issues. On top of such conditions, we had to enforce the condition of getting a white PSU; this limited our choices such that we were left with only a handful of PSUs that passed all our requirements tests.
PC Peripherals
The external devices we use to access the inner PC components are the PC peripherals. These are devices like the mouse, monitor, and speakers we commonly use to interact with our computer to play games or perform other tasks. Getting white peripherals becomes necessary if you are going for an all-out white design.
While looking for a white monitor, we focused on finding a monitor with the least response time and the most frequency, so you do not feel any lag in the game and can enjoy your visual experience to its fullest. Whereas, while looking for the speaker, our main priority was a white speaker with crisp sound alongside amazing bass and treble, whether wired or wireless. For wireless ones, we checked their latency time in audio and video alongside battery timing for optimal performance and experience.
Benefits of White PC
Having a white PC has drawbacks but benefits of its own. Owning a completely white PC is not ordinary; not everyone can afford to go to the level where they pay to buy a component that performs and looks good. Having a white PC is very aesthetically pleasing. The computer looks even more beautiful if you go for a white theme on top of it. While using such a computer, you can feel its exquisiteness; all components look beautiful and give off a premium vibe.
Drawbacks of White PC
There are a few drawbacks to making such a computer. One major one is that the dirt marks and stains are quite prominent on the computer, which also ruins the user's mood. White is a very clear color, and even a small mark on such a color is very visible. If you can keep it clean, whatever the case, then go for a white PC build. If not, then opt for some other color. Another major drawback is that getting hold of white components in the market is quite difficult, and those manufacturers who provide such components bless them with premium price tags. So making such a build is quite pricey, but if you can afford it, we highly recommend you opt for it as the premiums of such a build is on another level.
Final Thoughts
While consumers prefer flashy colors, many love simplicity. All in all, white PC builds are not famous, but not unheard of either. Additionally, a white PC build will cost more than other custom builds. Simply because of how uncommon white PC components are. Even a white RTX 3060 costs much more than it should. In our opinion, white PC builds give a professional look and are ideal in formal environments.
On the whole, a white water cooled PC is going to cost even more than traditional air cooling. Because, you need to purchase pipes, reservoir, pump, and AIO, and others. All of these components combine to increase the price exponentially.
Understandably, aesthetics are always costlier than their standard counterparts. Also, the products we have looked through in this article are viable for any build. For example, the Corsair Dominator Platinum 32GB kit comes in a black variant too. So, many readers should find this article helpful. Not to mention, almost all components in the white PC build article support RGB. Therefore, you can customize your build with various colors on the go.
Was our article helpful? 👨‍💻
Thank you! Please share your positive feedback. 🔋
How could we improve this post? Please Help us. 😔