Worth The Big Bucks?
Review Summary
The CORSAIR DOMINATOR TITANIUM First Edition DDR5 memory kit stands out as a limited edition kit, catering to enthusiasts and devoted CORSAIR users. With only 500 units produced, each module boasts an engraved number for exclusivity. The kit competes well in performance, though there is limited overclocking headroom. Unique features like RGB lighting effects and the option to switch to a fin assembly design add a distinctive touch. Overall, we recommend this RAM.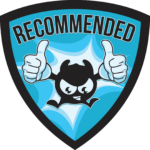 Pros
Operates at 7200MT/s CAS34
RGB Lighting
Fin Assembly for old fashion outlook
Intel XMP 3.0
Stylish Heat spreader
Good Performance
Limited Life Time Warranty
DHT Cooling
Cons
Limited overclocking headroom
Price
CORSAIR is well known for its range of memory products that cater to every market segment. Their top-of-the-line, enthusiast-grade memory series has always been the DOMINATOR series. So far, we have Dominator Platinum as a tagline to describe those beautifully crafted modules with good overclocking headroom and cooling capacity.
This time around, we get to see the DOMINATOR TITANIUM from CORSAIR. This is a limited edition memory module with only 500 total units in making. To mark it such, there is an engraved number on the modules so that customers can identify with this series of extreme memory modules from CORSAIR. The DOMINATOR TITANIUM is available in three colors: Black, White, and Gray.
These kits are available in non-binary configuration as well in multiple 24GB size modules. There are binary modules as well available in 16GB size modules. CORSAIR has done many things differently with these kits, which I will cover in the design section. One particular aspect of these kits is their overall height, which stands at 57mm in total, give or take.
Keep that in mind if using air coolers, though personally, I would use this premium kit with a high-end AIO solution or custom water cooling setup. CORSAIR has sent us the DOMINATOR TITANIUM White edition in a configuration of 2x16GB operating at 7200 MT/s with CAS 34. The kit has two XMP profiles, and it surprised me quite a bit. Wait for that part for a short while.
---
Key Takeaways
The Corsair Dominator Titanium First Edition 32GB 7200MT/s CAS34 kit packs solid stock performance and beautiful looks and is a great option for collectors.
You should get the Corsair Dominator Titanium First Edition 32GB 7200MT/s CAS34 kit if you love CORSAIR products and want a high-performance limited edition DDR5 RAM.
You should not get the Corsair Dominator Titanium First Edition 32GB 7200MT/s CAS34 kit if you are on a budget, want the most overclocking headroom, or have a low-profile build.
---
Specifications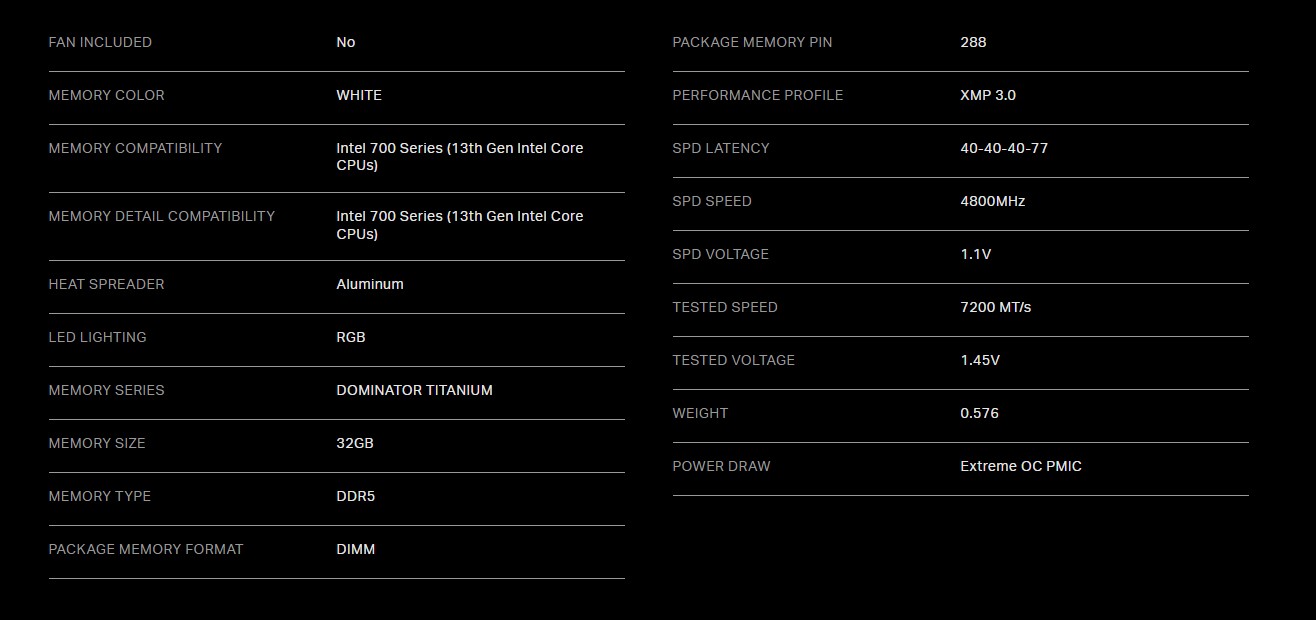 Above, we are showing the salient specifications of this kit. CORSAIR has shown an SPD Latency of 40-40-40-77 with an SPD speed of 4800MHz at 1.1V. This is a JEDEC conformation specification. This kit has a tested speed of 7200MHz operating at 1.450V with a tested timing of 34-44-44-96. I have seen kits operating at 7200MT/s but at a lower voltage of 1.40V which gives them a better overclocking chance. We will see how this CORSAIR kit overclocks.
Packing Box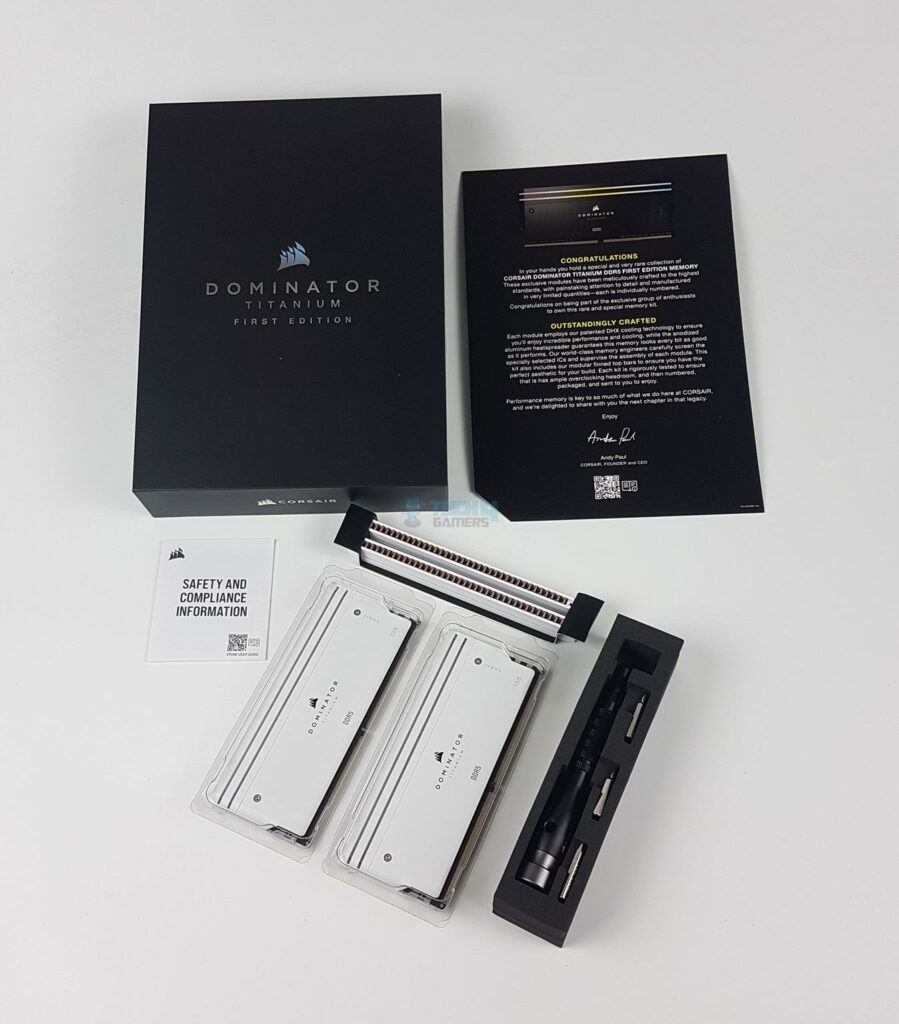 This is a premium product, so expect premium packaging and presentation as well. The kit is shipped inside a large-size cardboard box. CORSAIR DOMINATOR TITANIUM FIRST EDITION is printed over the main packing box. There is a welcome note for 500 special users/customers of this limited edition from Andy Paul, the CEO of CORSAIR. The following are provided:
2x DIMM Modules in a separate container
2x Top Fin Bar Modules
1x Tool Kit
1x Safety and Compliance information paper
What is not visible is the inside of the main packing box. There is a thick Styrofoam pad-made container in the main packing box. It has pockets in which the different parts are tucked for safe shipping. The presentation from CORSAIR is right on the money, though one would be paying a hefty price tag for this.
Design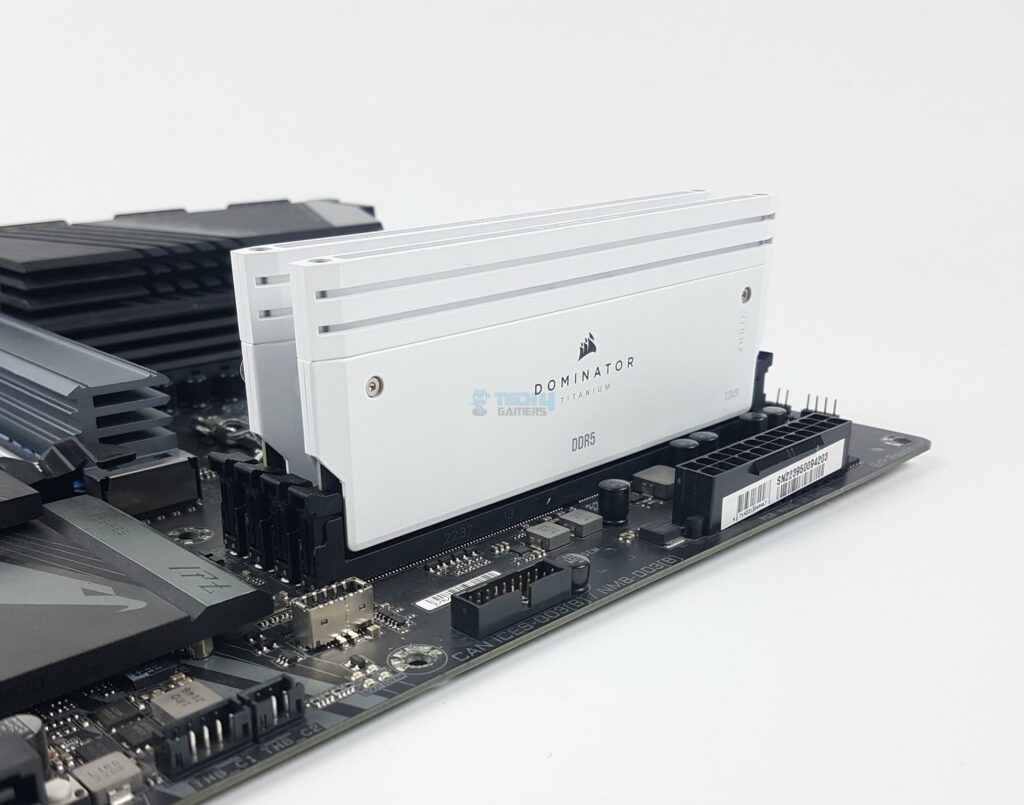 The Dominator Titanium First Edition is a flagship memory solution from CORSAIR aiming at core enthusiasts and hardcore CORSAIR lovers to lift their PC's performance and look in quite some style. CORSAIR has done many things differently in the design department compared to the other available kits in the market. The white edition kits are available in speeds as follows:
6600MT/s with CAS32
7200MT/s with CAS34
7200MT/s with CAS38
They are available in capacities as follows: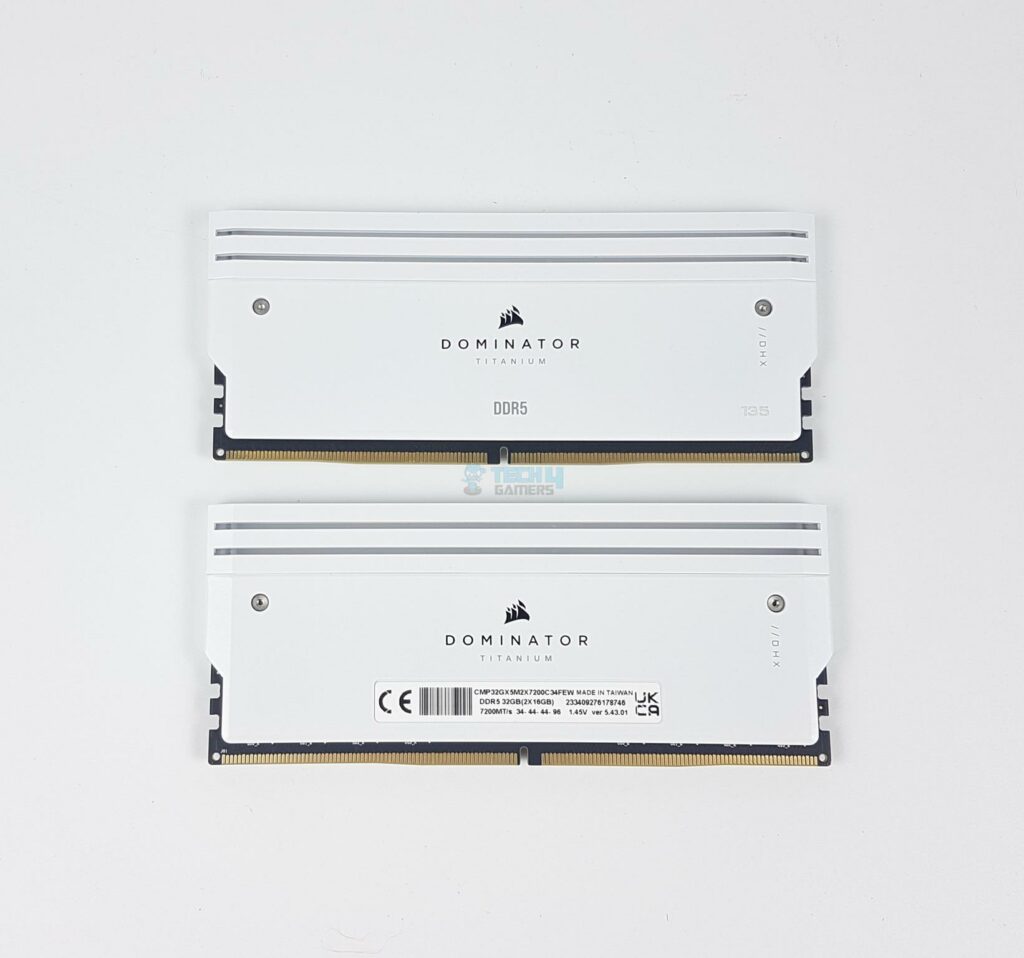 I have shown the front and backside views of the modules in the above picture. One thing you would notice is the height of these modules, which is 57mm. This even obstructed the optimal tube routing on the Teamgroup Siren DUO360 AIO cooler.
Our kit has a unique number of 135 engraved on the bottom right side on the front. The backside has a label showing a part number, a serial number, tested speeds, and a version that is 5.43.01, which identifies the Hynix ICs being used in this kit. There is a CORSAIR brand logo in black on both sides of a module.
There are stylish aluminum-made covers or heat spreaders on both ends of the modules. These covers are finished in white color. We can spot two diffusers on the top bar or cover. This diffuser is exposed on both ends and on the top for some vivid RGB lighting effects. These kits are heavier than we have tested in the DDR5 RAMs.
I am not sure if these memory modules have on-die ECC, which comes in handy for real-time data correction. This kit is an unbuffered DIMM with a 288-pin layout. We can spot a black color PCB under the hood. Each module has 1Rx8, meaning a single rank design using 8 modules.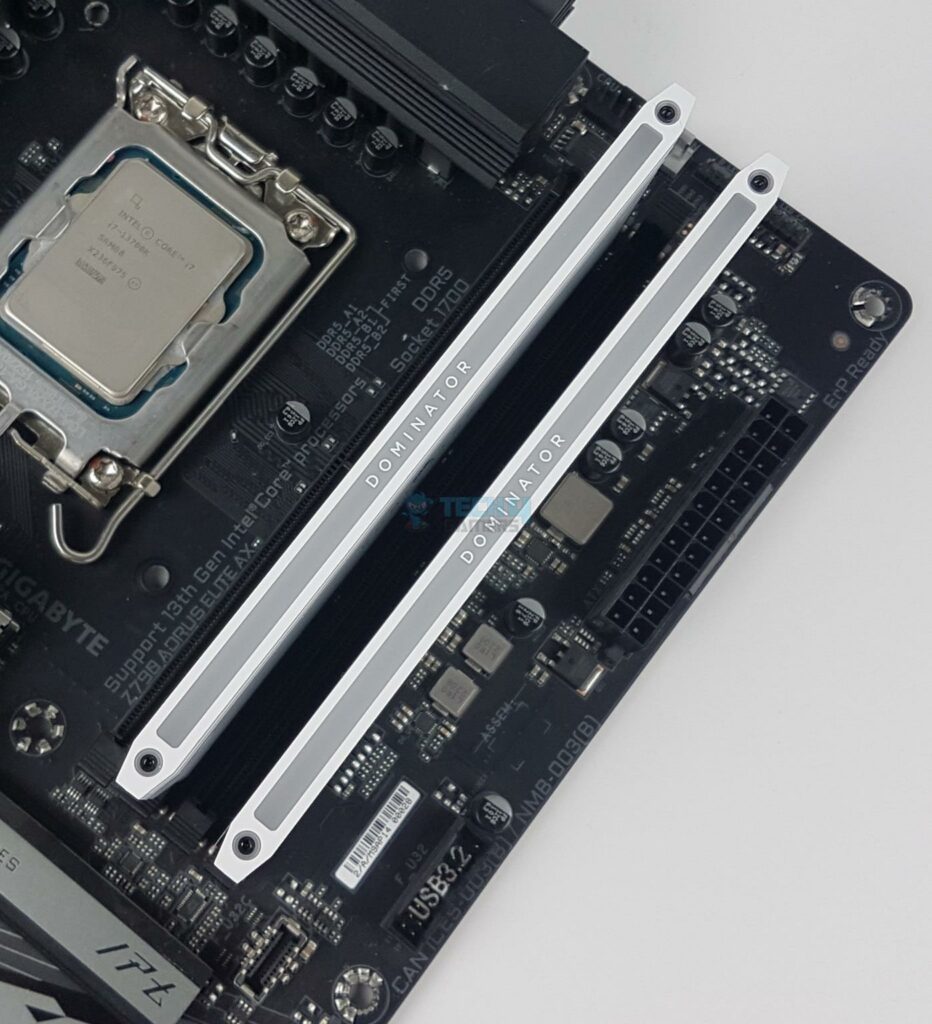 Looking at the top of these modules, we can spot a thick diffuser running on the entire length. There is a white color DOMINATOR printed in the center. I wish for a clean-looking diffuser without any branding, but hey, we need to show it is DOMINATOR RAM in the PC! Both ends have screws that have secured the top cover with the main housing of the modules.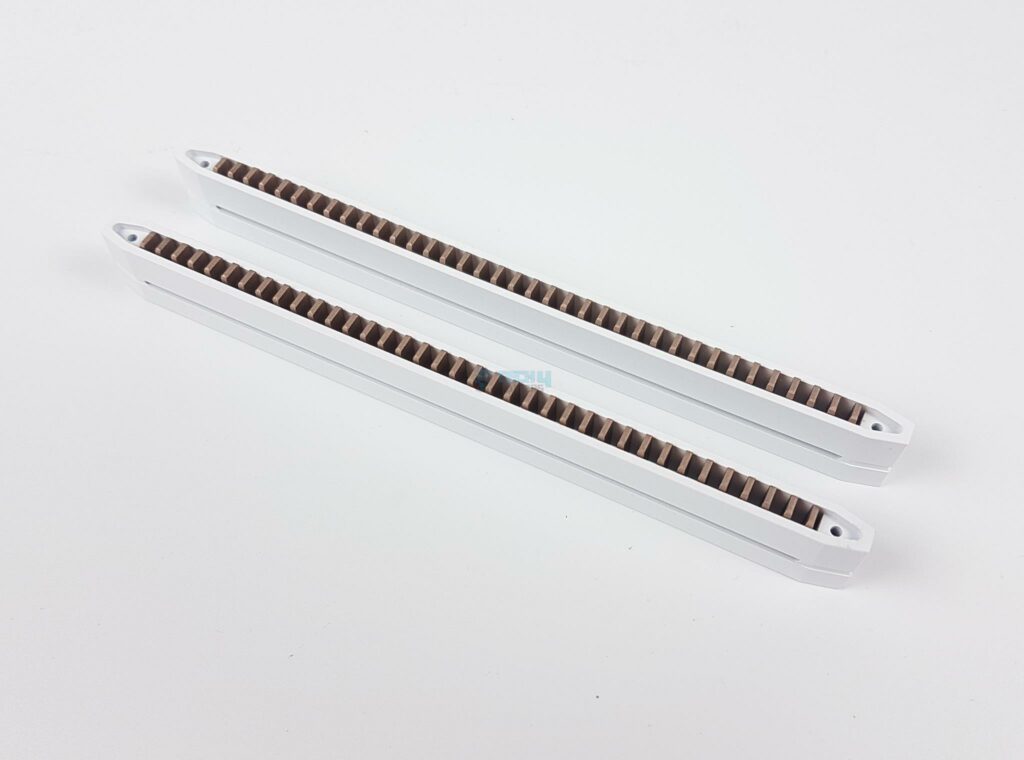 I am showing the Fin Assembly kit that CORSAIR has provided with the box. This optional accessory is listed at USD 29.90 on the CORSAIR website. There is a copper fin under each bar. The user can swap the top RGB cover on the modules with this accessory.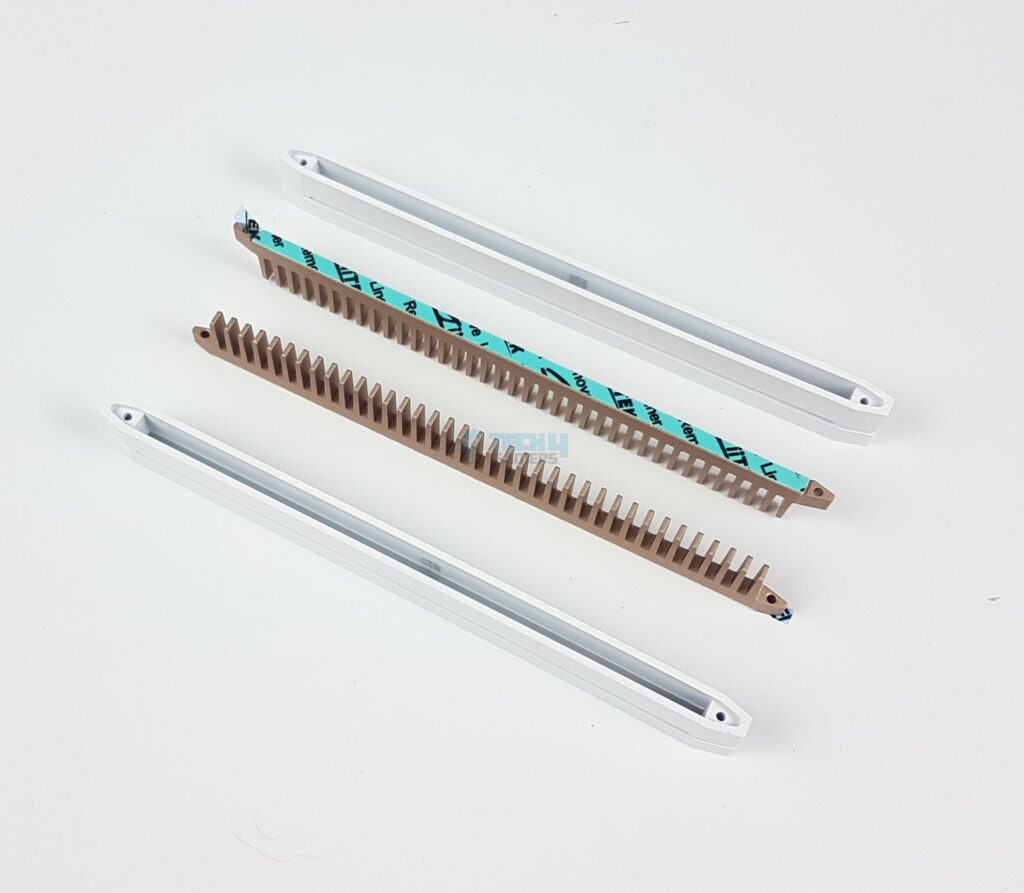 I have removed the fins assembly from the main housing. This fin assembly is supposed to be placed on top of the memory module. They will be pasted over there. Then the main housing will be placed over these fin-assembled memory modules and secured using the same screws. This way, the user can have the old CORSAIR DOMINATOR looks on these Titanium First Edition kits.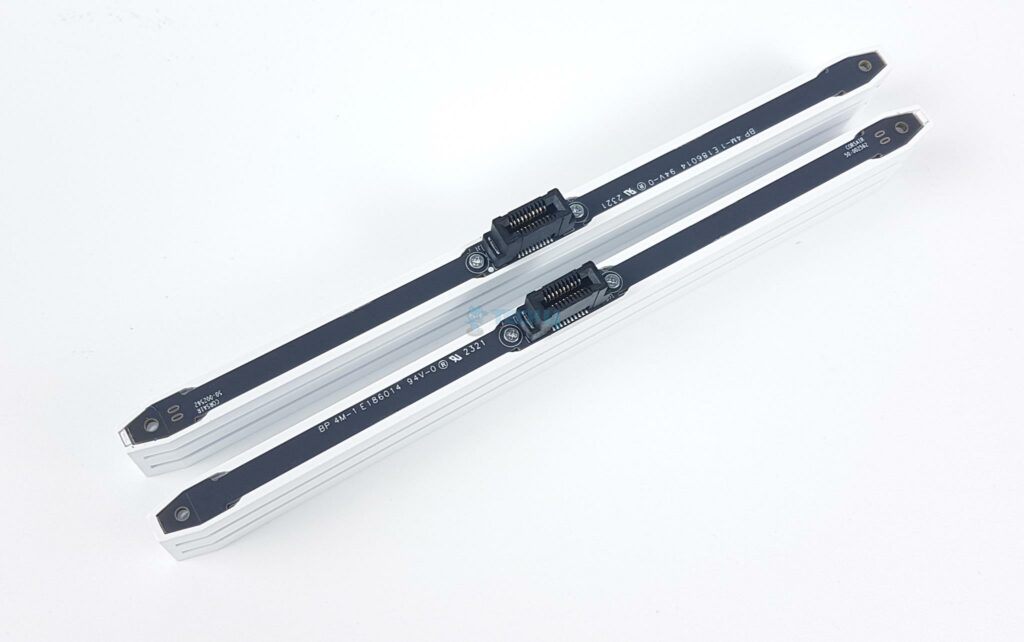 I have removed the RGB top module from both memory modules and showed the underside. There is a connector in the middle that rests on the socket on each memory module. This is not a standard or traditional design since other RAM kits don't use such connectors as there are wires or cables from the diffuser running towards the PCB.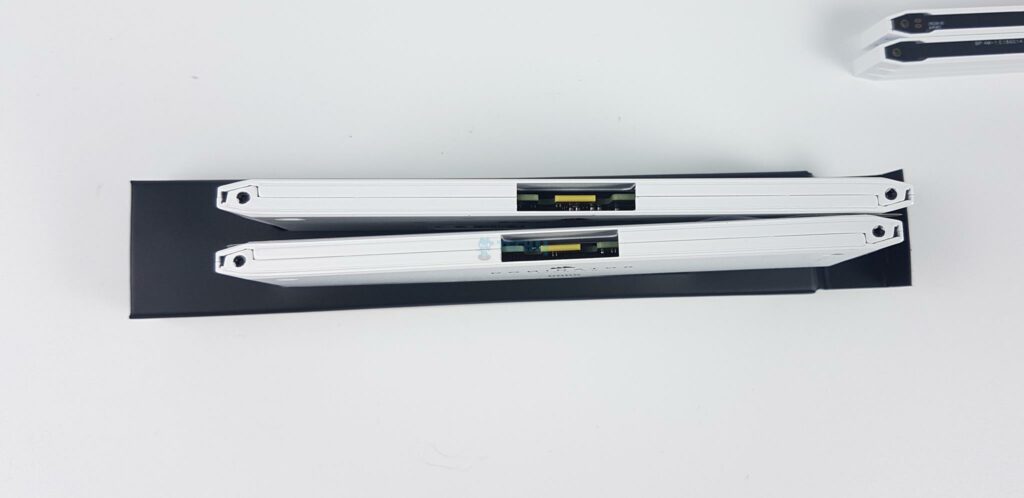 You can see that CORSIAR has adopted a different design here. We can see connectors right into the PCB which is why I have listed Custom PCB design in the features list. The header on the top module makes a full connection with this connector, enabling RGB lighting customization using iCUE software.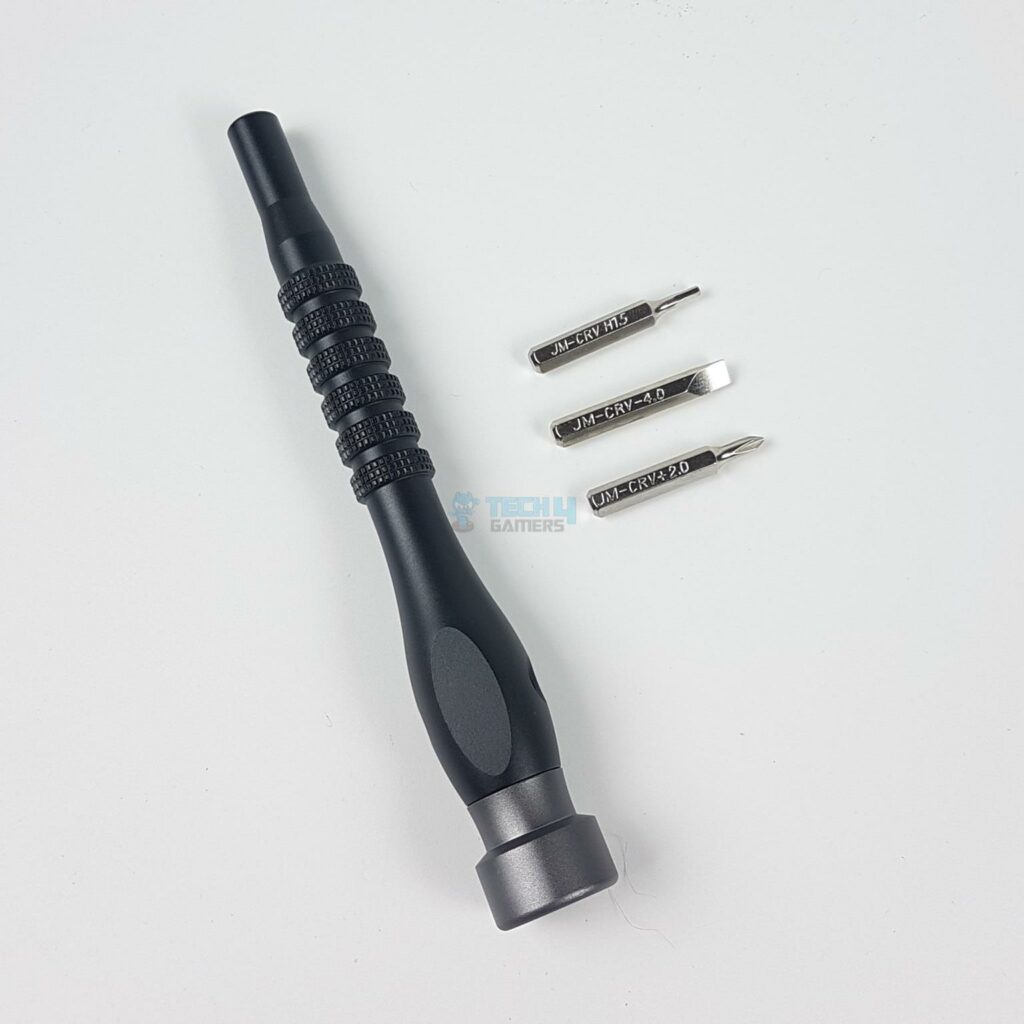 Since I am showing the top bars and their removal, CORSAIR has bundled a tool kit with a magnetic tip screwdriver and four bits to handle all these operations. Both aluminum side panels are also screwed, for which there is a screw bit enabling the user to remove the side covers though one would still need a thermal gun to apply heat on the side covers for their removal.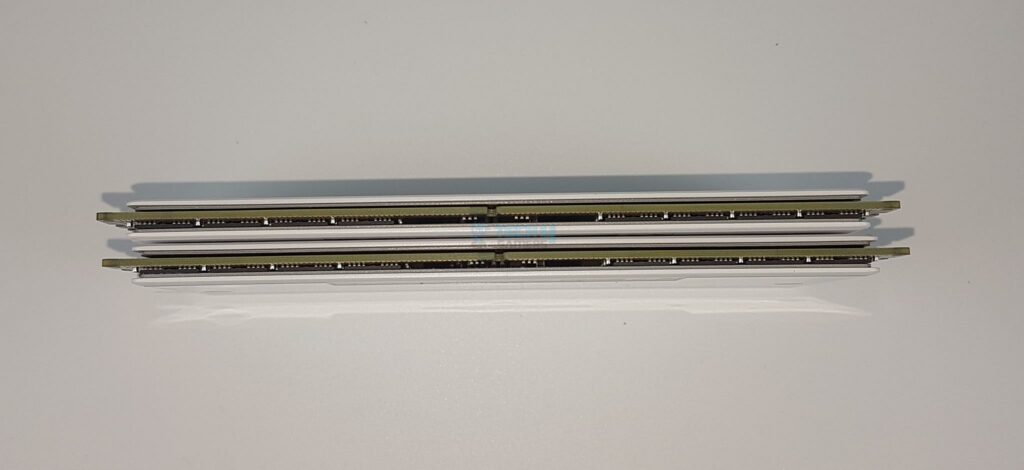 The CORSAIR DOMINATOR TITANIUM White edition kit uses a black color PCB. Only one side of the PCB is populated with the PMIC and memory chip with an active circuit. The opposite end has the same thickness pad. The populated side of the PCB has a PMIC chip in the center.
There are 4x memory chips on the left of this PMIC chip and 4x memory chips on the right side of this controller. This gives a 32GB capacity overall in 1Rx8 using a 2G x 64-bit design. We can also see a thermal pad on these chips. CORSAIR uses Dual-Path Heat Exchange technology in which ICs and the plane of the PCB are both cooled to deliver high performance, particularly during overclocking.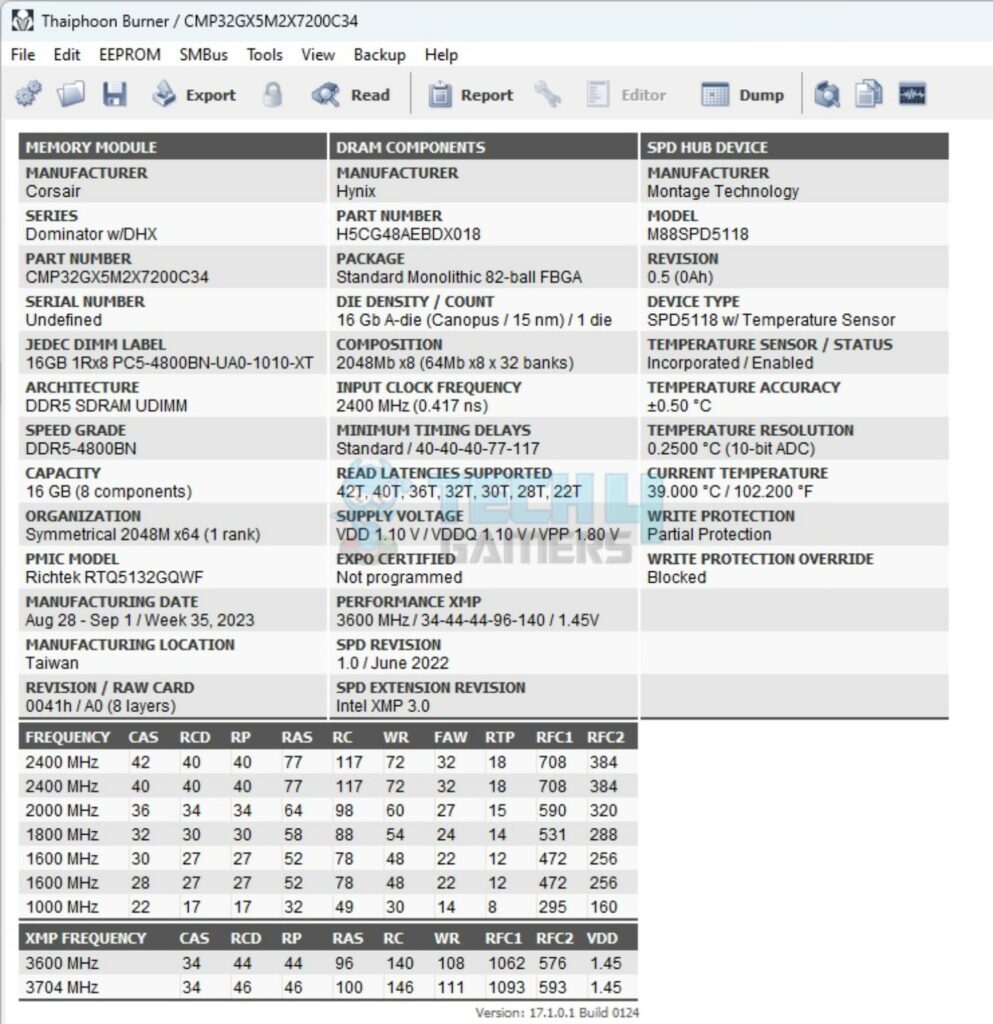 I am showing Thaiphoon burner software read out of the memory details. CORSAIR is a manufacturer of this kit using DOMINATOR with DHX series. This is Hynix A die with part number H5CG48AEBDX018. The PMIC controller is from Richtek, having a part number of RTQ5132GQWF. This kit is manufactured in the 35th Week of 2023.
This kit has two Intel XMP Revision 3.0 profiles programmed. One is operating at 7200MT/s, and the other is operating at 7400MT/s. This kit has an SPD device manufactured by Montage Technology, having a model M88SPD5118, where SPD5118 has a temperature sensor that would report the thermals.
RGB Lighting
I have tested the kit on the GIGABYTE Z790 AORUS ELITE AX motherboard. CORSAIR iCUE software was installed to control the lighting of this kit. I am not going into the details of iCUE since we have already given extensive coverage in our previous reviews. Here are a few pictures:
Testing
We are using the mentioned configuration for RAM testing:
Intel i7-13700K [Stock, Auto]
GIGABYTE GeForce RTX 3060 VISION OC Rev.2 [For Display]
be quiet! Straight Power 11 850W Platinum PSU
Open-air bench
Other kits are:
We are thankful to our sponsors for this test bench. The following software has been used for the testing:
AIDA64 Engineer
SiSoftware Sandra Suite
Performance Test
3DMark Time Spy
Super Pi
BIOS Run
This CORSAIR DOMINATOR TITANIUM kit has two pre-programmed XMP profiles, and I was surprised to look at the XMP2 profile. Traditionally, the XMP1 has the highest speed, but in this case, the XMP2 has the highest speed which is over the stated or rated speed of this kit.
XMP1: 7200MT/s, 34-44-44-96, 1.450V
XMP2: 7400MT/s, 34-46-46-100, 1.450V
We can see that XMP2 has a +200MHz speed compared to the XMP1, where XMP1 is a default profile. Anyhow, there is a free performance pre-programmed on this kit, so take full advantage of that. I did not test the kit using XMP2, as XMP1 is our primary focus.
CPU-Z and AIDA64 SPD Readouts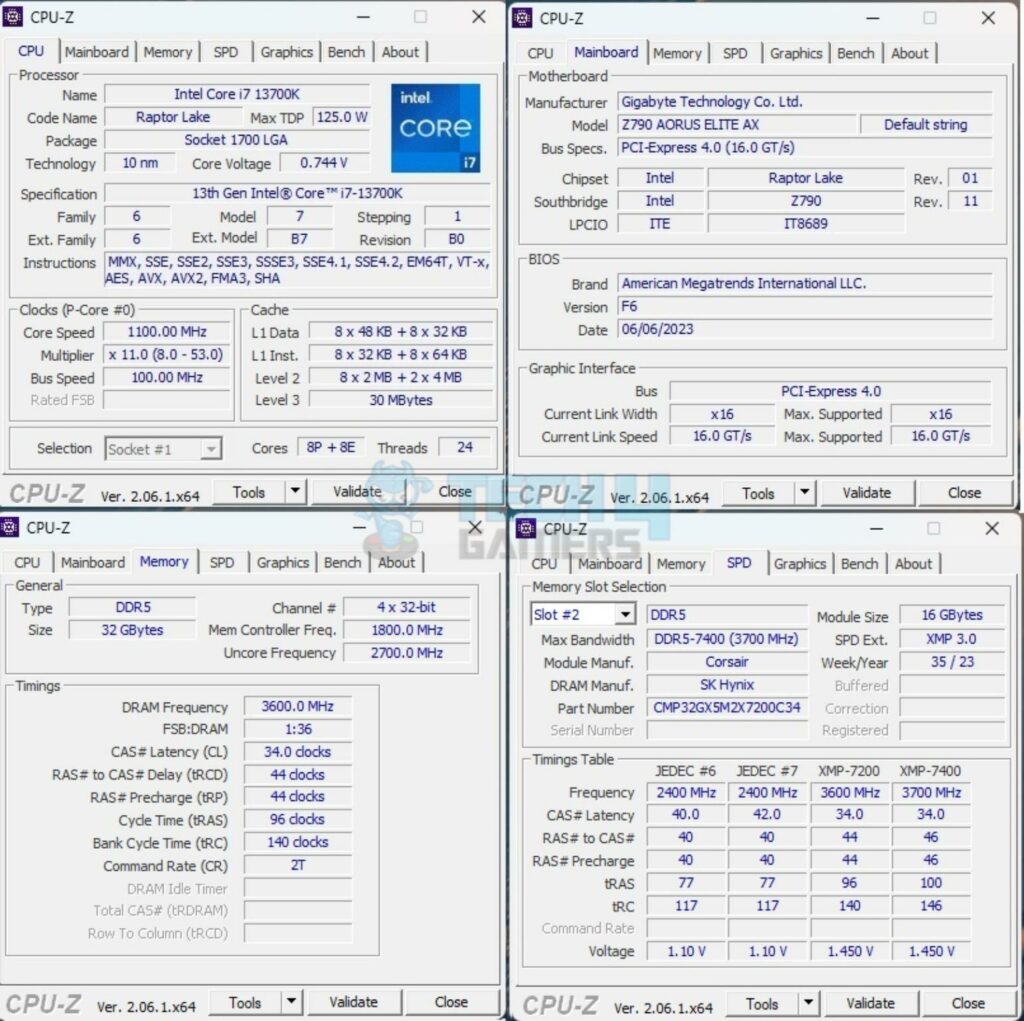 The above is a CPU-Z screenshot. Looking closely, you will notice that the software is reporting the kit to be in quad-channel configuration. The reason for that is with DDR5 kits, we have two channels per module, with each being a 32-bit wide. CPU-Z is confirmed that this kit is operating at 7200MT/s at 34-44-44-96-140, 2T timings.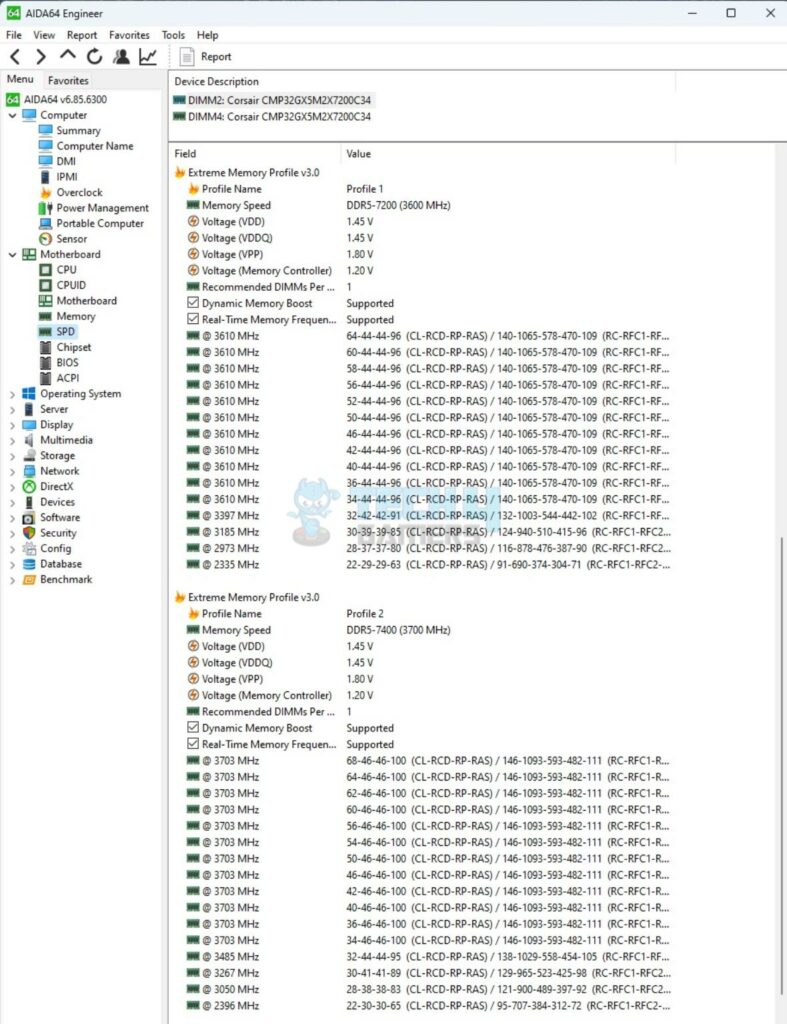 The above is the SPD readout as taken from the AIDA64 Engineer edition. It shows both XMP profiles and their programmed variables.
Results
This is our third kit in the graph operating at 7200MT/s. The other two kits are:
Kingston FURY RENEGADE RGB DDR5 32GB 7200MHz CAS38
V-Color xPrism RGB DDR5 32GB 7200MHz CAS34
So, I will compare the CORSAIR kit against these two kits.
AIDA64 Engineer
Let's start taking the results one by one, starting with AIDA64 Engineer.
All three kits operating at 7200MT/s offer a comparable performance except for a few benchmarks where the difference is obvious.
We are seeing the other two kits offering a similar comparison in the Memory Read operations, but the CORSAIR kit is slightly behind these kits. All three kits are at similar performance levels in the Memory Write operations. The same result can be seen in the Memory Copy operations. We can see that the V-Color xPrism Manta kit is sitting on top in all three benchmarks. The CORSAIR DOMINATOR TITANIUM kit has better timing compared to the other kits.
Other Benchmark Software Results
Now, I will discuss the result from the other 4 benchmarks, starting with the SiSoft Sandra Software.
We are seeing a comparable performance in all three kits. By all means, the CORSAIR DOMINATOR TITANIUM is at the top of the graph with a 2.8 KPT score. In Super PI, the CORSAIR DOMINATOR TITANIUM is in third place. The CORSAIR DOMINATOR TITANIUM kit has performed quite well in the Performance Test, coming in at the top. We saw the CORSAIR DOMINATOR TITANIUM kit sitting on the 4th slot in the graph. We recently had a Windows Update along with a 3DMARK update. I am not sure if those could be hitting the score or what else. Overall, this is a good performance from the CORSAIR DOMINATOR TITANIUM kit.
Overclocking
The CORSAIR DOMINATOR TITANIUM has struggled to overclock on a 4-DIMM board in my testing. The Kit could not even overclock to 7800MT/s despite using 1.55V. The 8000MT/s mark was nowhere on the horizon. The kit even struggled for 7600MT/s as it settled on 1.52V for that, which is quite high for this mere +400MHz above the tested 7200MT/s. Everyone's mileage would be different; hence, it is important to know the configuration on which the overclocking is done.
| | |
| --- | --- |
| Memory Frequency Multiplier | 7600MHz |
| Timings | 34-44-44-96 |
| Gear Mode | Auto |
| VDD A0 | 1.52V |
| VDDQ | 1.52V |
| VPP | 1.80V |
| VCCSA | 1.40V |
| VDDQ CPU | 1.50V |
| VDD2 CPU | 1.50V |
Results
This kit was pushed to 7600MHz for a stable operation with high voltage. Here are the results from this overclock.
In the AIDA64 Memory benchmark, we are seeing a marginal boost in scores compared to the stock run.
There is a performance boost of 3.93% in the Copy benchmark. There is a performance boost of 5.3% in the Write benchmark. There is a performance boost of 5.6% in the Read benchmark. The latency was further improved with this overclock since we did not touch the tested timings. It came down to 58.8ns from 61.5ns. We are seeing a performance boost of 1.5% in Time Spy CPU Scores with this overclock. The overall gain is not that significant.
Should You Buy It?
After testing the DOMINATOR TITANIUM kit across different benchmarks, the main question is, should you buy it?
Buy It If
If you are a CORSAIR lover and enthusiast: The tagline itself is self-explanatory. These kits are more of a collection item. We can get a similar performance from many other kits that would cost you less. But this kit is a must-have for the heavy CORSAIR user or enthusiasts.
Next-level RGB lighting is your thing: The CORSAIR DOMINATOR TITANIUM First Edition kits pack a beautifully crafted top cover with all-together a new layout for RGB lighting effects. This is not a complete story since you can also switch the RGB module to a fin assembly design.
Don't Buy It If
If you already own a DDR5 kit: If you already have a DDR5 kit, then you can probably just ignore this kit and carry on with your daily tasks.
If RAM clearance is an issue: These kits have a height of approximately 57mm. Keep this figure in mind, as this height would obstruct the front-mounted fan on the CPU air cooler, provided that the cooler overhangs the DIMM slot.
Final Thoughts
If you are in the market and looking for extremely high-end and high-performance DDR5 kits, then CORSAIR DOMINATOR TATNIUM First Edition kits deserve your attention. These kits are beautifully crafted, and CORSAIR has come up with a new design signature of the DOMINATOR, one that the community has to accept.
These kits are available in white, black, and gray colors and available in 2x16GB, 2x32GB, and 2x24GB size configurations with the highest speed of 7200MT/s, though technically, the highest speed coming from our kit's XMP2 is 7200MT/s. I am not sure what CORSAIR was thinking when programming these kits. This kit supports Intel XMP 3.0.
CORSAIR has provided fin assembly modules in the box that standalone costs SUD 29.90. These modules will bring the old Dominator Platinum looks to these Titanium kits. CORSAIR has also provided a tool kit in the box. These kits feature DHT cooling technology where the ICs and plain ground of PCB are also cooled. CORSAIR has implemented the RGB connector pin or slot right on the PCB instead of using wires. This is something new in the market.
This is a limited edition RAM kit, and only 500 units will be manufactured. A unique number is engraved on each module, letting the user know their stand in the 500 lot. Our white color Dominator Titanium kit has performed quite well and was offering comparable performance to the other kits operating at 7200MT/s. The only caveat is the low overclocking headroom and that, too, taking high voltage for a marginal overclock. CORSAIR is providing a limited lifetime warranty on this kit.
Was our article helpful? 👨‍💻
Thank you! Please share your positive feedback. 🔋
How could we improve this post? Please Help us. 😔
[Hardware Reviewer & Editor]
Meet Nauman Siddique, a highly experienced computer science graduate with more than 15 years of knowledge in technology. Nauman is an expert in the field known for his deep understanding of computer hardware.
As a tech tester, insightful reviewer, and skilled hardware editor, Nauman carefully breaks down important parts like motherboards, graphics cards, processors, PC cases, CPU coolers, and more.
15+ years of PC Building Experience
10+ years of first-hand knowledge of technology
7+ years of doing in-depth testing of PC Hardware
A motivated individual with a keen interest in tech testing from multiple angles.
I majored in Computer Science with a Masters in Marketing
Previously worked at eXputer, EnosTech, and Appuals.