Sabrent Rocket DDR5 U-DIMM 16GB 4800MHz
Review Summary
Sabrent Rocket DDR5 16GB U-DIMM 4800MHz is a fantastic memory module and even offers a little surprise that some other DDR5 memory modules could be missing. The Sabrent Rocket DDR5 is an excellent option if you're in the market for some new memory modules and can live without RGB illumination. Although, we feel that it's priced a little expensive in retail.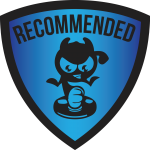 Overclocking -

9.5/10

Performance -

9/10

Value -

8/10

Design -

9/10
Pros
Highly Overclockable
Build Quality
Low-Profile Design
Temperature Sensor
You have probably heard about Sabrent before. They have made a name for themselves in the market for SSDs, and this is how many of us know them. This is understandable, given their status as one of the world's biggest SSD manufacturers. With its extensive expertise, Sabrent has now finally manufactured DDR5 memory modules. Today, I'll be taking a look at Sabrent's Rocket DDR5-4800 16×2 kit.
---
Key Takeaways
The Sabrent Rocket DDR5 16GB 4800 MHz is for anyone looking for a faster DDR5 that also provides decent overclocking headroom.
The Sabrent Rocket DDR5 16GB 4800 MHz is not for RGB enthusiasts or someone who relies on XMP profiles for overclocking.
The Sabrent Rocket DDR5 16GB 4800 MHz showcases excellent performance in our tests thanks to its lower CL timings and higher speeds.
---
Packaging
Packing for the Sabrent Rocket DDR5 U-DIMM 16GB 4800 MHz.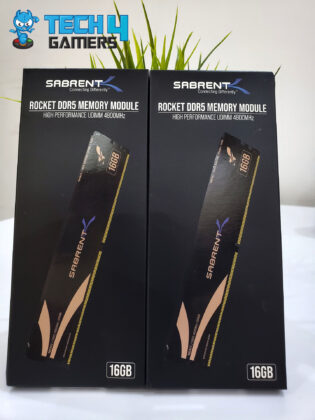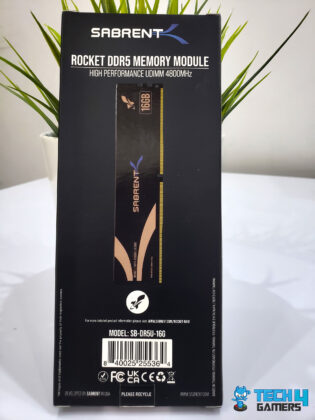 Closer Look at the Modules
Let's take a closer look at the RAM modules.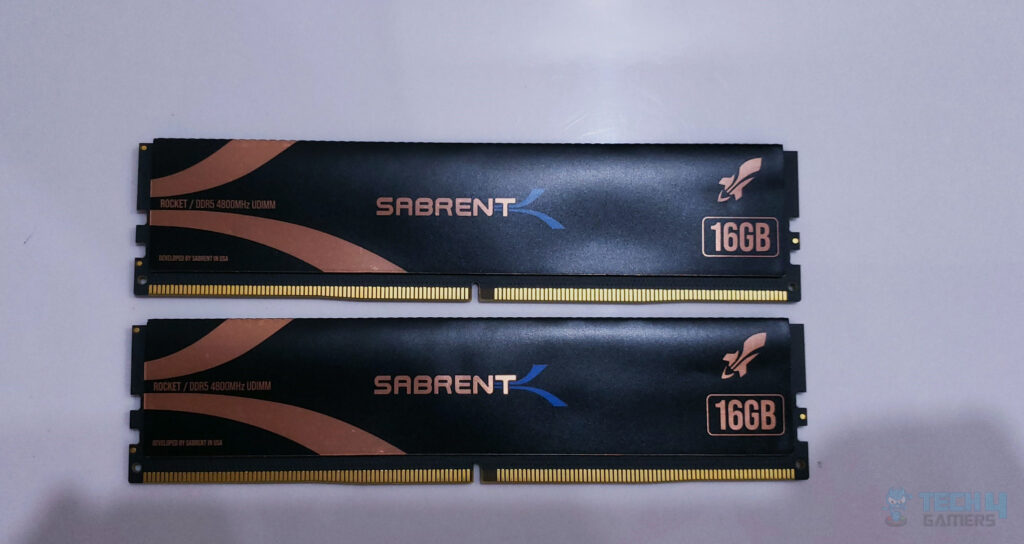 Sabrent's minimalist design extends to its DDR5 modules, featuring a black PCB and a copper heat spreader with a reversed color scheme from its SSDs. The overall storage capacity is 16GB per module, comprising eight 2GB chips. Sabrent's Rocket DDR5 operates at 4800MHz with 40-40-40-77 timings and a DRAM voltage of 1.1V. The Renesas P8911 PMIC is present on each module, and the absence of XMP profiles ensures a straightforward plug-and-play experience.
The memory modules house 8 SK Hynix H5CG48MEBDX014 chips, positioned on one side beneath the copper heat spreader. Unlike some competitors, Sabrent opts for a copper covering instead of an aluminum heat spreader, offering physical durability. The copper layer is and can be easily peeled off, but you shouldn't. Despite the copper layer being prone to dents, overheating hasn't been an issue in our experience.
In any case, utilizing a copper heat spreader is preferable to the alternative of having no protection at all. Even with the Rocket DDR5, we haven't had any problems with overheating. These products do not exceed the JEDEC default standard for DDR5 and are thus not overclocked out of the box.
These sets lack XMP profiles, featuring 288-pin ECC non-buffered DIMMs with standard dimensions of 5.26 x 1.25 x 0.13 inches and a height of 31mm. This information is vital for CPU cooler compatibility. Manufactured in Taiwan and developed in the United States, each stick's maximum speed and capacity are specified, with an approximate width of 3.3mm.
The above is the screenshot of the SPD from the version of AIDA64. A Single Sabrent's Rocket DDR5 at 4800MHz 16 Gigabytes of memory module utilizes 32 banks of SK Hynix memory chipsets. It's important to note that the VDD and VDDQ are rated at 1.1V. On the other side, the VPP is rated at 1.8 V. Using this parameter, the maximum read bandwidth of memory is determined. Therefore, all the memory timings can be seen in the picture.
Testing Methodology
Tech4Gamers makes every effort to provide essential details about the benchmarking procedure, allowing readers to independently verify the findings and try to mimic them on their systems. Our Sabrent Rocket DDR5 U-DIMM review benchmarks are often self-explanatory, with a few notable deviations. Keep in mind that there is always some room for error when using software and that the results may vary depending on the CPU, GPU, and other components you choose to use.
This means that you could have a unique experience. Below are details on accessing these modules and the parameters we utilize. Check how the product measures up against your standards. You should test your existing PC using these benchmarks and configurations whenever feasible if you're planning to build a new PC. A rough estimate of the boost in performance may be derived by comparing your present hardware to the equipment we tested.
Test Build Specifications
Intel i7 12700k [Auto, Stock]
DeepCool LS720 [Fans and Pump at full speed]
Sabrent Rocket 32GB DDR5 @ 4800MHz
be quiet! Straight Power 11 1000W Platinum
Praxis Wetbench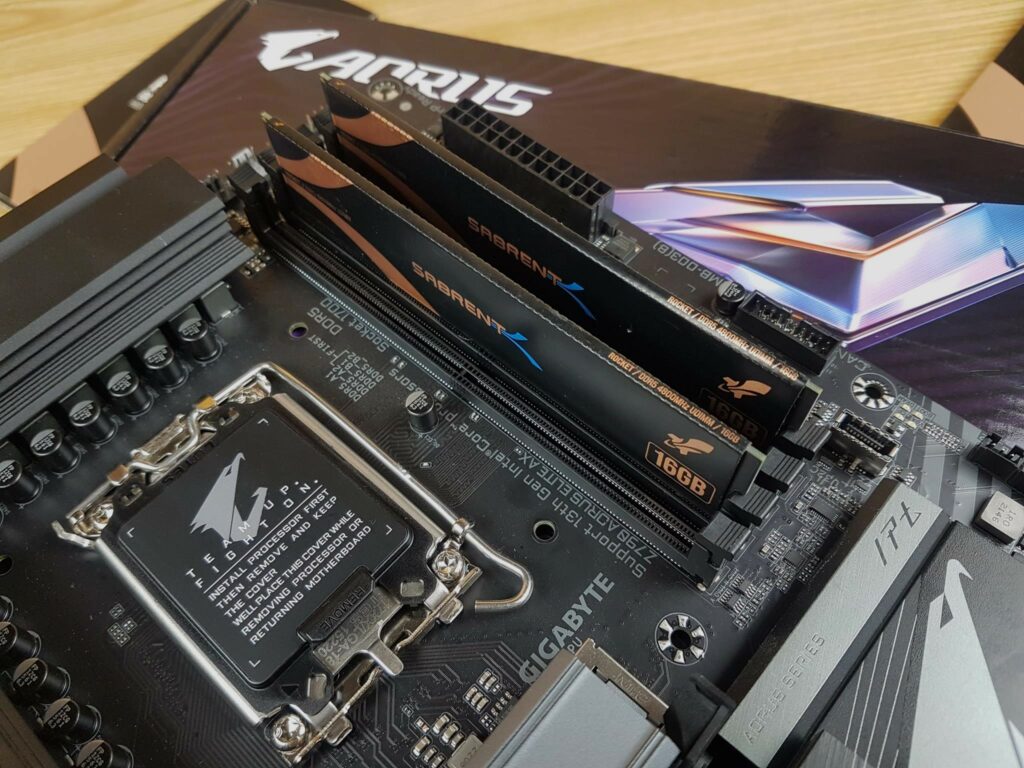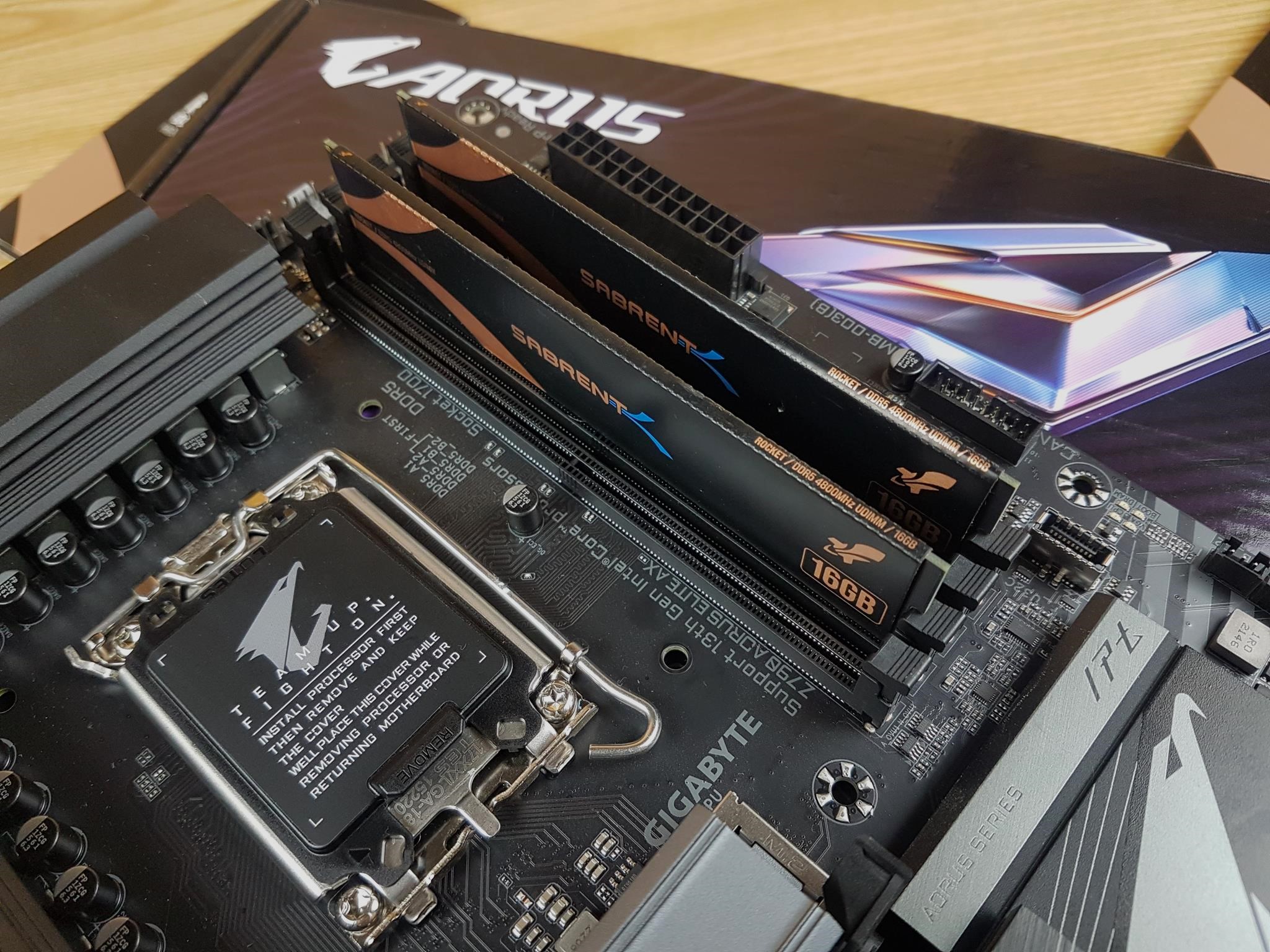 Our DDR5 testing platform is built on Intel's top-of-the-line Alder Lake Core i7-12700K CPU cooled by a DeepCool LS720 installed on a Gigabyte Z790 Aorus Elite AX motherboard. All our Windows 11 benchmarks and gaming data are stored on a Sabrent Rocket 4 Plus 2TB PCIe 4 NVMe SSD. Moreover, our complete setup is powered by the quiet Straight Power 11 1000W Platinum. Lastly, we keep our hardware organized on the Praxis Wetbench.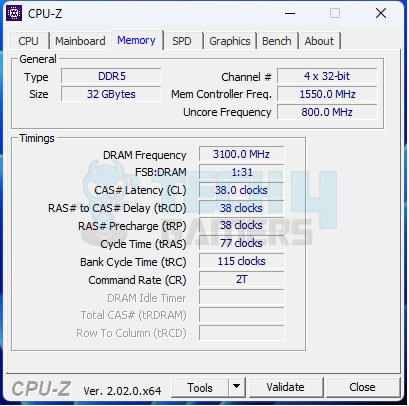 After installing the RAM on our Z790 motherboard, we discovered a plethora of configuration choices in the BIOS. DDR5-6200 CL38-38-38-77 with a command rate of 2 was the memory configuration we settled on for overclocking. This is much beyond our expectations. You'll notice below how well this particular memory does its job. Let's examine this in further detail for the moment.
Overclocking
If you've been hesitant to upgrade to DDR5 due to misinformation from tech enthusiasts, it's time to reconsider. Don't dismiss this RAM simply because it lacks an XMP profile; its performance even without one is impressive. Many gamers settle for whatever memory they get, struggling with overclocking. But tuning DDR5 doesn't have to be complex; it's about adjusting Frequency and CL timings.
Overclocking can be time-consuming and frustrating, potentially causing system instability if not done right. There are various methods, including boosting Frequency, reducing timings, and adjusting voltages, that can be combined for optimal results. In our evaluations, we push the memory Frequency to its limit by adjusting it in the BIOS, starting with the JEDEC profile's clock speed.
With Command Rate 2, we were able to push both kits to an impressive 6200MHz Frequency with tighter timings of 38-38-38-78. While it's possible to boot at higher frequencies, we prioritize complete stability. We settled on 6200MHz as a sweet spot. You can experiment with voltage or timings for more, but the 1400MHz boost met our needs. It's about getting value for your efforts, much like evaluating stock performance. Did you get your effort's worth?
BIOS changes successfully overclocked the modules to a stable 6200MHz, as depicted in the images below. The results are clear: a straightforward 28.9% improvement in our benchmark test, showcasing reduced latency as a bonus. Comparing standard performance to the 6200MHz boost, write speeds jumped by around 26.4%, copy speeds increased by 27%, and latency dropped from 84 ns to 68 ns.
Results
Should You Buy It?
After extensive testing, I was able to identify who the RAM was designed for.
Buy It If:
You are looking for a reasonably fast DDR5 kit: In comparison to other kits, the Sabrent Rocket DDR5 16GB is modestly priced.
You prioritize overclocking: DDR5 buyers who prioritize speed and overclocking will be on the lookout for this module.
Don't Buy It If:
You prefer RGB lighting: This product is probably not for you if you are an RGB enthusiast who is obsessed with lighting control.
You rely on XMP profiles: Anyone comfortable with the mediocrity of point-and-click XMP might not prefer the Sabrent Rocket DDR5 16GB.
Final Words
Although the Sabrent Rocket DDR5's performance is top-notch, we wish it were more affordably priced. All in all, the Sabrent Rocket DDR5 RAM module has performed well. We believe it's fantastic DDR5 memory and even offers a little surprise that some other DDR5 memory modules could be missing. The Sabrent Rocket DDR5 is an excellent option if you're in the market for some new memory and can live without RGB illumination.
Based on our evaluations, this is a great option that we cannot pass up recommending. Many thanks to Sabrent for making a DDR5 memory module for enthusiasts that runs on the reliable SK Hynix IC. We advise Sabrent to publish precise technical specs and highlight the IC customization as a selling point. Most manufacturers don't talk about this, and some use different types of memory IC from time to time.
As far as performance is concerned, we are astounded by the outcomes. The Sabrent Rocket DDR5 far exceeded expectations for "entry-level" memory. This is because the DDR5-4800 configuration's lower CL timings and the DDR5-6200 configuration's higher Frequency make this possible.
The SSD Rocket NVMe earns its acclaim globally, hailed as a top pick by reviewers. Priced at $179.99 according to Sabrent's website, the Rocket DDR5-4800 16GB RAM's price mostly resembles that of similar kits. Sabrent offers a 1-year warranty initially, extendable to 5 years upon registration. In a market where expert opinions endorse their storage goods, Sabrent stands out with both quality and value.
Awards Received By The Sabrent Rocket DDR5 16GB U-DIMM 4800 MHz
The Sabrent Rocket DDR5 16GB U-DIMM 4800 MHz won the following Tech4Gamers Awards.
Recent Updates
---
November 28, 2023: Few text changes to improve readability. Also added galleries
---
Was our article helpful? 👨‍💻
Thank you! Please share your positive feedback. 🔋
How could we improve this post? Please Help us. 😔
[Hardware Reviewer]
Awais Khan is a Tech Geek, conscientious, reliable, and hardworking individual who pays attention to detail with excellent time management skills. Alongside that, he is an expert in PC Hardware; dealing with Benchmarks, Analysis, and testing before sharing information with readers. Whenever free, Awais occasionally shares Gaming Videos on his YouTube Channel.
Get In Touch: [email protected]