Sabrent Rocket DDR5 U-DIMM 16GB 4800MHz
Review Summary
Sabrent Rocket DDR5 16GB U-DIMM 4800MHz is a fantastic memory module and even offers a little surprise that some other DDR5 memory modules could be missing. The Sabrent Rocket DDR5 is an excellent option if you're in the market for some new memory modules and can live without RGB illumination.
Although, we feel that it's priced a little expensive in retail. We looked at the retail costs of competing products and found that alternative DDR5-4800 memory modules are available for less money with things like aluminum heat spreaders and RGB lights.
The lack of a more extended warranty on the Rocket DDR5-4800 might put off some buyers. Without registration, Sabrent's warranty on the memory kit is just one year; registering the device grants a five-year extension.
Overclocking -

9.5/10

Performance -

9/10

Value -

8/10

Design -

9/10
Pros
Highly Overclockable
Build Quality
Low-Profile Design
Temperature Sensor
The new DDR5 memory standard is starting to become mainstream with the arrival of next-Gen Intel 13th Gen Raptor Lake and AMD Ryzen 7000 series processors supporting DDR5 memory. However, the upgrade transition period started last year with the launch of Intel 12th Gen Alder lake CPUs supporting DDR4 and DDR5, AM5 being the only platform you need for DDR5. So we can expect that in the future, DDR5 will be the mainstream memory standard on both platforms with no support for DDR4.
With its extensive expertise, Sabrent has now finally manufactured DDR5 memory modules. You have probably heard about Sabrent before. They have made a name for themselves in the market for SSDs, and this is how many of us know them. This is understandable, given their status as one of the world's biggest SSD manufacturers. Sabrent is a very potent competitor. After diversifying into SD cards, CFexpress, and RAM in 2023, they gained even more prominence in the PC industry.
Sabrent memory modules are available in two distinct size options, including 16GB and 32GB kits. For review and testing, we have received the DDR5-4800 16GBx2 kit. Could you find more price-to-performance ratio DDR5 memory modules in these price ranges? Find out in our in-depth analysis of the Sabrent Rocket DDR5 U-DIMM 16GB 4800MHz Review.
Considerable Changes in DDR5 Memory Compared to DDR4
Before jumping to the main review, let's first discuss the changes in the new DDR5 memory standard. DDR4 seems to have become the standard of the past but now, with the arrival of DDR5, results from motherboard design and computer architecture advancements have enabled memory to spread its wings. With its faster clock rates and lower voltage, DDR5 promises double the bandwidth of DDR4. This lightning-fast speed is excellent for content production, gaming, and more. Additionally, DDR5's internal enhancements contribute to its superior performance.
DDR5's integrated power management helps keep motherboard complexity at a minimum. With the advent of on-die error-correcting technologies, reliability has also increased. The memory availability is enhanced by using the same bank refresh and dividing the inner 64-bit channel onto two separate 32-bit channels. DDR5 guarantees your multi-core CPU will never run out of memory due to its many capabilities, including the ability to use modules with up to four times the capacity of consumer DRAM.
FEATURE/OPTION
DDR4
DDR5
DDR5 ADVANTAGE
Data rates
1600-3200 MT/s
3200-6400 MT/s
Increases performance and bandwidth
VDD/VDDQ/VPP
1.2/1.2/2.5
1.1/1.1/1.8
Lowers power
Internal VREF
VREFDQ
VREFDQ, VREFCA, VREFCS
Improves voltage margins, reduces BOM costs
Device densities
2Gb-16Gb
8Gb-64Gb
Enables larger monolithic devices
Prefetch
8n
16n
Keeps the internal core clock low
DQ receiver equalization
CTLE
DFE
Improves opening of the received DQ data
eyes inside the DRAM
Internal DQS delay
monitoring
None
DQS interval oscillator
Increases robustness against environmental changes
Bank groups (BG)/banks
4 BG x 4 banks (x4/x8)
2 BG x 4 banks (x16)
8 BG x 2 banks (8Gb x4/x8)
4 BG x 2 banks
8 BG x 4 banks
4 BG x 4 banks
Improves bandwidth/performance
Write levelling training modes
Yes
Improved
Compensates for unmatched DQ-DQS path
Read training patterns
Possible with the MPR
Dedicated MRs for serial (user-defined)
It makes the read timing margin more robust
Mode registers
7 x 17 bits
Up to 256 x 8 bits
It provides room to expand
PRECHARGE commands
All bank and per bank
All bank, per bank, and the same bank
PREsb enables precharging-specific bank in each BG
REFRESH commands
All bank
All bank and the same bank
REFsb enables the refreshing of the specific bank in each BG
Loopback mode
None
Yes
Allows testing of the DQ and DQS signaling
Unlike their DDR4 predecessors, DDR5 modules' PCBs have Power Management IC circuitry. To further enhance power efficiency, the operating voltage of DDR5 is 1.1V rather than 1.2V with DDR4. DDR5 is a considerable gain over previous generations, effectively doubling or quadrupling performance, depending on the specifications.
Compared to the fastest DDR4 RAM, DDR5's raw performance is light years ahead, and its midrange typically works around at the 5,000MHz level, putting it competitive with the fastest DDR4 RAM. Compared to the first generation of DDR5 DIMMs, which deliver a stunning 4.8 GT/s, the maximum bandwidth of DDR4 DIMMs is a more modest 3.2 GB/s at a clock frequency of 1.6 GHz. Data rates for DDR5 memory could be increased to 8.4 GT/s in the future. New features like Decision Feedback Equalization allow DDR5 to achieve significantly increased IO speeds and data rates.
The Advent of the New Age
Sabrent's inaugural DDR5 U-DIMM memory module, named Rocket DDR5 Memory, is designed for use in desktop PCs. The Sabrent Rocket DDR5 memory module is advertised as DDR5-4800MHz CL40 and is only purchasable in 16GB and 32GB per stick. The modules use a conventional DDR5 JEDEC SPD and do not include an XMP profile. This kit has 16GB of DDR5 memory per module operating at 4,800 MHz with a CAS latency timing of CL40-40-40-77.
A DDR5 SO-DIMM with the same specs is also available on the marketplace. Error correction and conformance to all JEDEC memory standards are some additional notable aspects of Sabrent's Rocket DDR5. Sabrent seems to be aiming at two types of customers with their Rocket DDR5-4800 C40 memory module. The first category contains regular folks looking for budget-friendly DDR5 RAM for their cutting-edge CPUs. On the other hand, the enthusiast is looking for a budget-friendly memory module to overclock to get performance advantages.
Suffice it to say, however, that Sabrent has not only opened our eyes to what we can expect from them in the future but also to the standard by which we will judge the rest of the RAM in the market. We want to ensure that any prospective customers of Sabrent's Rocket DDR5-4800 stick know how impressed we have been with their products and services in the past. Henceforth, they have sent Tech4gamers a duo of 16GB DDR5 U-DIMM modules to test. After finishing this review, you'll see why utilizing Sabrent products isn't a question of if but when.
Product: Sabrent Rocket DDR5 U-DIMM 16GB 4800MHz
Price: Amazon
Packaging: What's Inside the Box?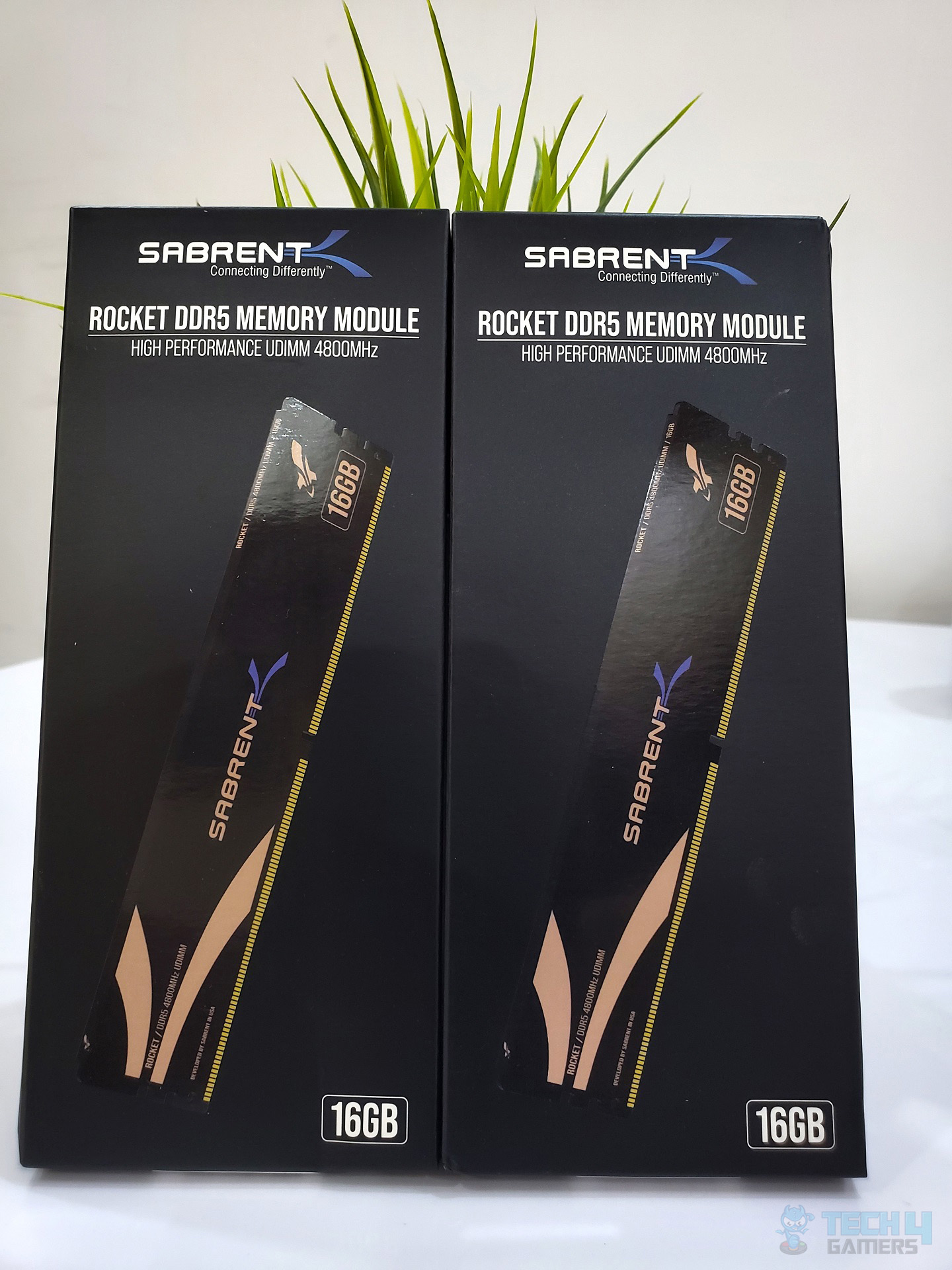 Okay, now let's take a deeper look at the kits. Each module is delivered in its protective cardboard box. As can be seen, we began with two sticks, each of which was packaged separately. This indicates that neither stick was tossed nor were any modifications made to the packaging to make it seem part of a kit.
Each DDR5 module box will include one memory stick. The thickness is shown on the package, and a photo of the sticks within the box may be seen in the middle. Sabrent's logo and the fact that this memory is "Rocket DDR5" are displayed on the front panel's top side.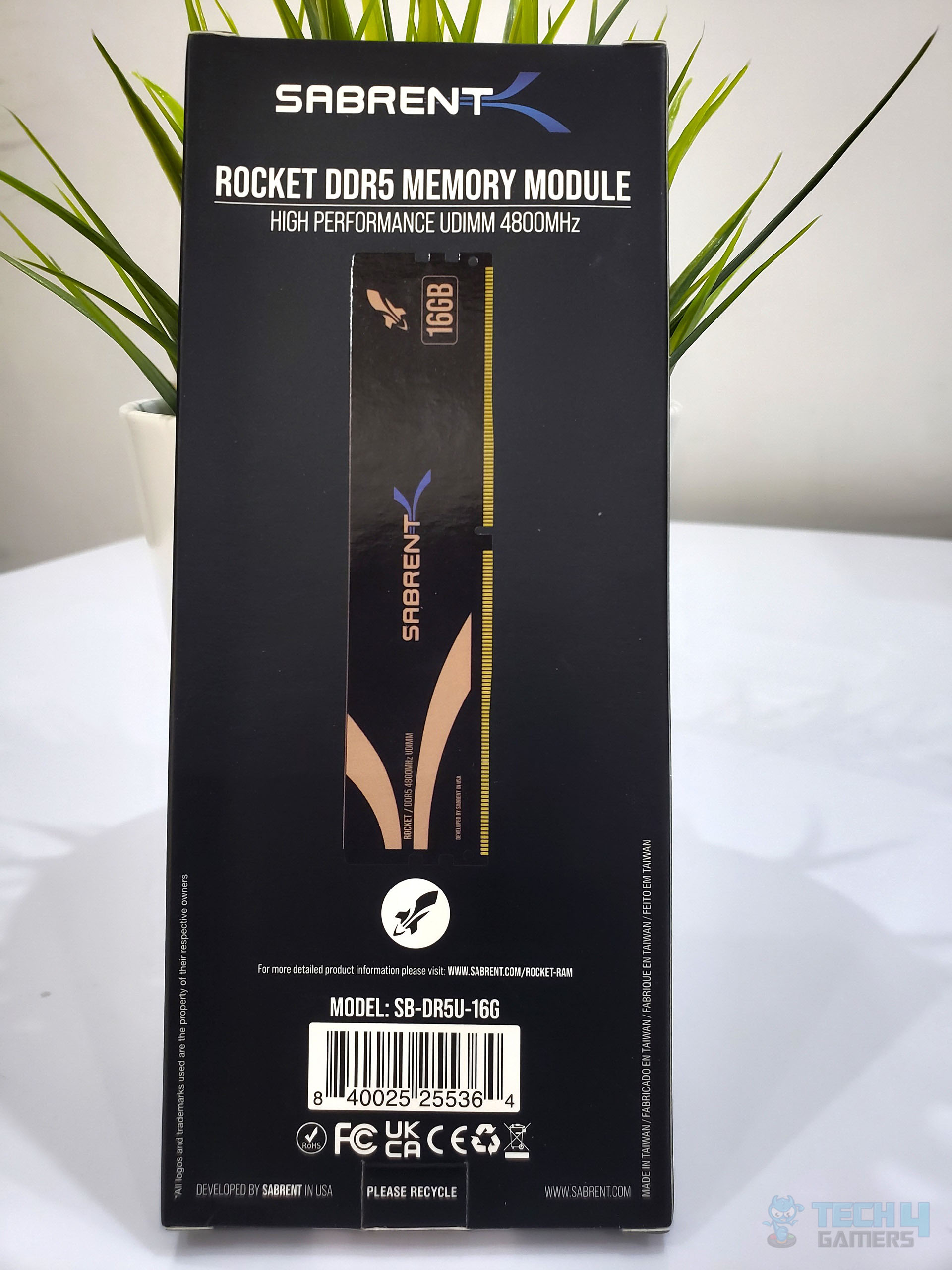 The inside and outer boxes include the necessary information to identify the product. Every unit in this set is an SB-DR5U-16G. Sabrent (or SB for short) is what they are using in this case. Moreover, "DR5" indicates "DDR5". The letters U and 16G suggest that the memory module is a U-DIMM and has 16GB of capacity. The SPD Hub, Power Management IC, inductors, and capacitors are located in the center of the memory module. This memory module from Sabrent has a 0D=9B 409 PMIC.
Closer Look at the Modules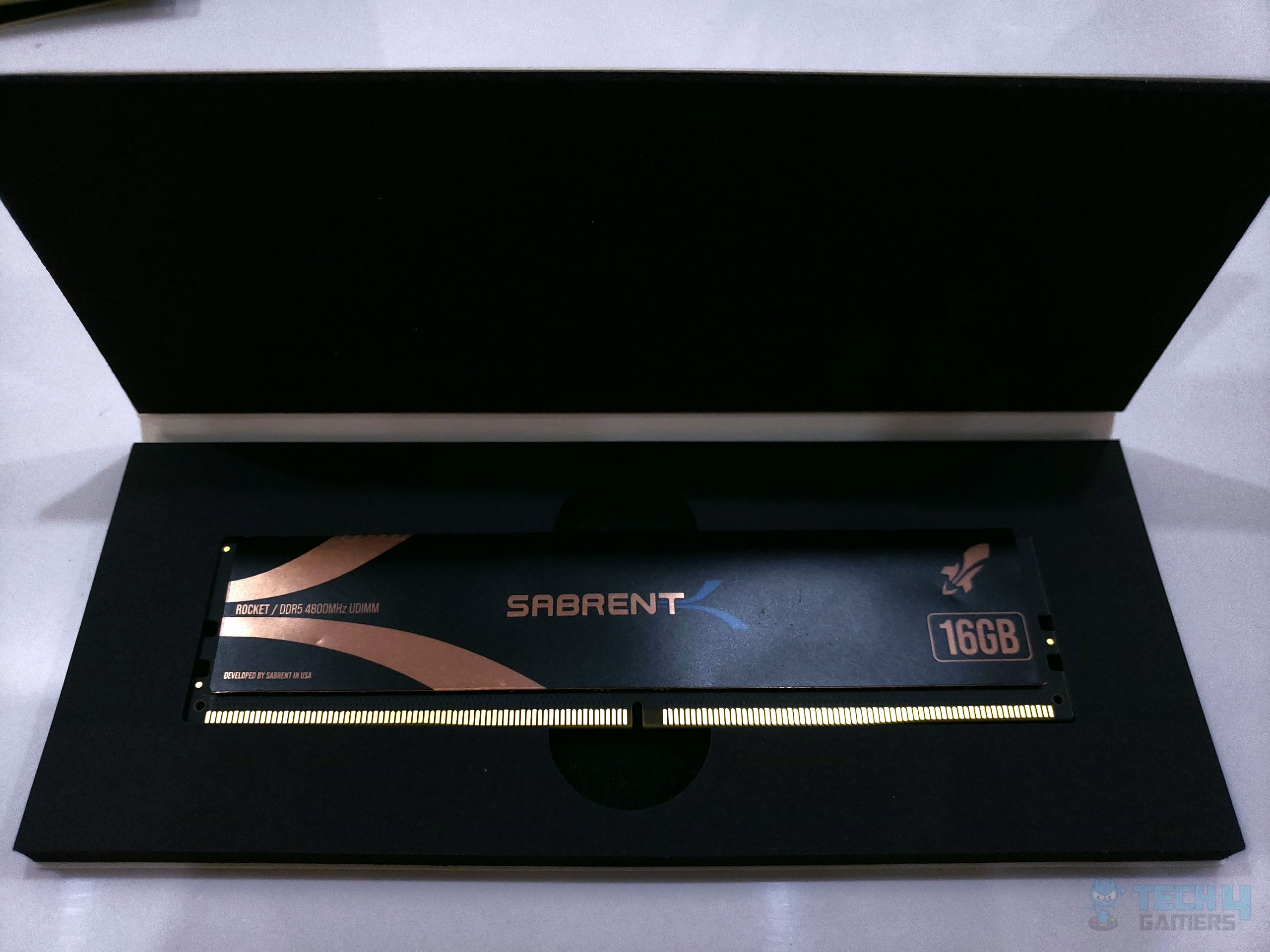 Without exaggeration, Sabrent's packaging conveys the company's satisfaction with the quality of its product. If this is your first time installing RAM into a motherboard, they have included an installation guide, a slide-out internal box with a folding cover, and substantial foam to preserve the modules. The top cover also has a tiny coating of the pad adhered to it. Its closed position would provide a sturdy seal to keep the modules safe. As many might assume, RAM is not shielded by plastic coverings, seeing its price. To keep the contents secure and the folder closed, Sabrent employs thick foam and a magnetic clasp.
Like the rest of Sabrent's offerings, the modules have an appealing minimalist look. The memory has a black PCB and a copper heat spreader with two different colors. Sabrent flipped the color scheme from the SSDs it makes. Sabrent's products, in general, have an attractive, understated aesthetic. A delicate metal sheath for cosmetic purposes covers each module. Above, you can see pictures of the memory sticks and the packaging for Sabrent's Rocket DDR5 memory module.
The overall storage capacity of each memory module is 16GB, thanks to the eight individual 2GB chips. Sabrent's memory modules include the well-known P8911 (P8911-Y0Z001GR-2143TB) PMIC from the Renesas camp. Since they are standard memory slots, no adjustments need to be made. No XMP 3.0 profiles have been loaded. Instead, it's the pinnacle of simplicity when it comes to plug-and-play. Sabrent's RAM is DDR5-4800, 40-40-40-77 timings, and a DRAM voltage of 1.1V.
The 8 SK Hynix H5CG48MEBDX014 memory chipsets were uncovered after carefully removing the heat spreader. In this module, every single chip is located on only one side. The information on the memory stick's other side is minimal at best.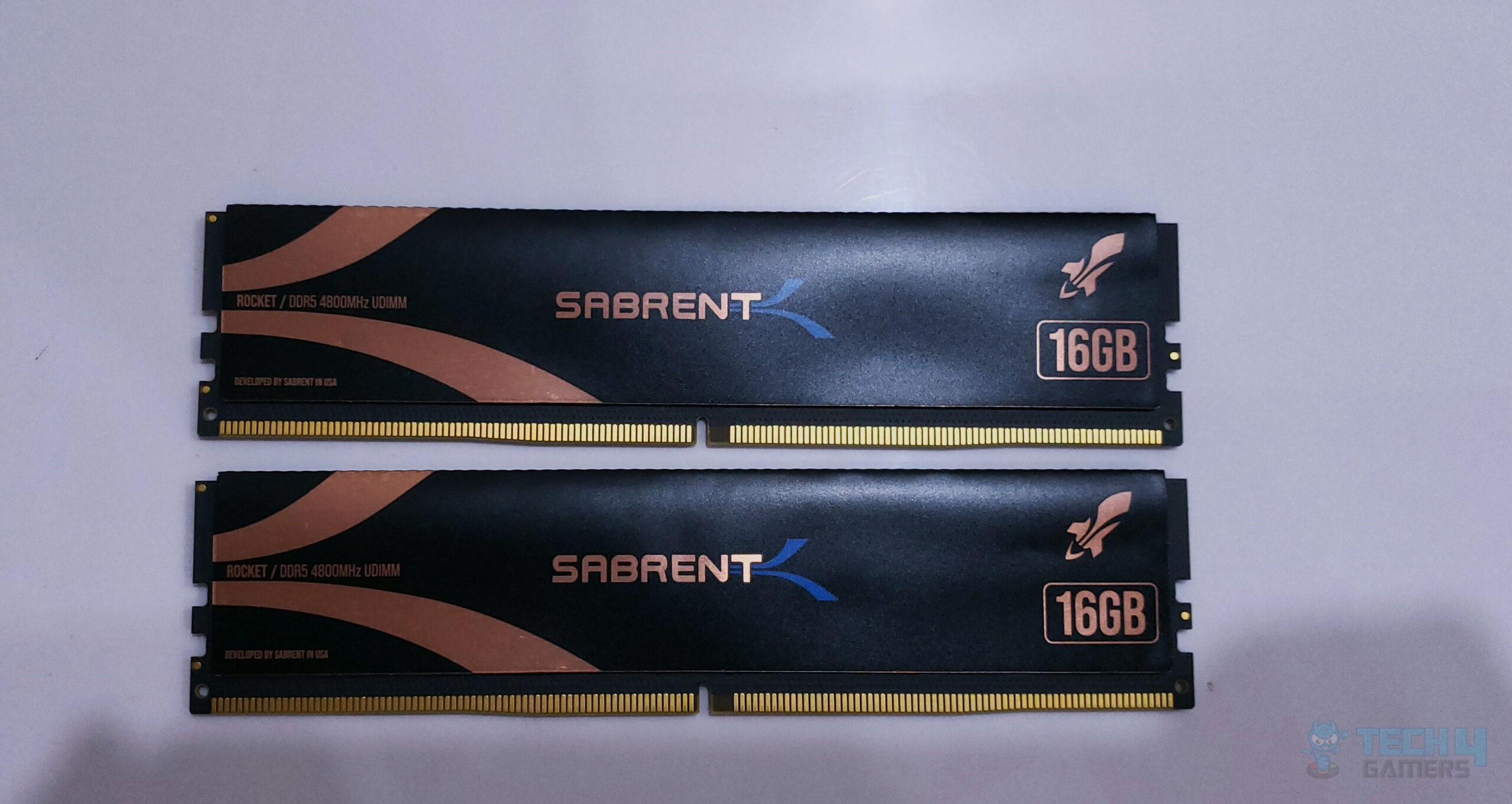 Unlike other DDR5s on the market, the Sabrent Rocket DDR5 memory modules do not feature an aluminum heat spreader. A layer of copper is used as a covering for the memory chip. Dents and creases are easy to make on the copper heat spreader. The heat spreader is well-designed physically, but it functionally is average. The copper layer is and can be easily peeled off, but you shouldn't.
In any case, utilizing a copper heat spreader is preferable to the alternative of having no protection at all. Even with the Rocket DDR5, we haven't had any problems with overheating. These products do not exceed the JEDEC default standard for DDR5 and are thus not overclocked out of the box.
This suggests that these sets do not provide a means of storing XMP profiles. These DIMMs have a 288-pin design and are ECC as well as non-buffered. A module has dimensions of 5.261.250.13in. About 31 millimeters in height, the kit is very standard. This data is crucial as it correlates to the CPU cooler's fan height. All components of the kits are manufactured in Taiwan. However, they are developed in the United States. Each stick's maximum speed and capacity are listed over here. The approximate width per stick is 3.3mm.
The above is the screenshot of the SPD from the version of AIDA64. A Single Sabrent's Rocket DDR5 at 4800MHz 16 Gigabytes of memory module utilizes 32 banks of SK Hynix memory chipsets. It's important to note that the VDD and VDDQ are rated at 1.1V. On the other side, the VPP is rated at 1.8 V. Using this parameter, the maximum read bandwidth of memory is determined. Therefore, all the memory timings can be seen in the picture.
Testing Methodology
Tech4Gamers makes every effort to provide essential details about the benchmarking procedure, allowing readers to independently verify the findings and try to mimic them on their systems. Our Sabrent Rocket DDR5 U-DIMM review benchmarks are often self-explanatory, with a few notable deviations. Keep in mind that there is always some room for error when using software and that the results may vary depending on the CPU, GPU, and other components you choose to use.
This means that you could have a unique experience. Below are details on accessing these modules and the parameters we utilize. Check how the product measures up against your standards. You should test your existing PC using these benchmarks and configurations whenever feasible if you're planning to build a new pc. A rough estimate of the boost in performance may be derived by comparing your present hardware to the equipment we tested.
Test Build Specifications
Intel i7 12700k [Auto, Stock]
DeepCool LS720 [Fans and Pump at full speed]
Sabrent Rocket 32GB DDR5 @ 4800MHz
be quiet! Straight Power 11 1000W Platinum
Praxis Wetbench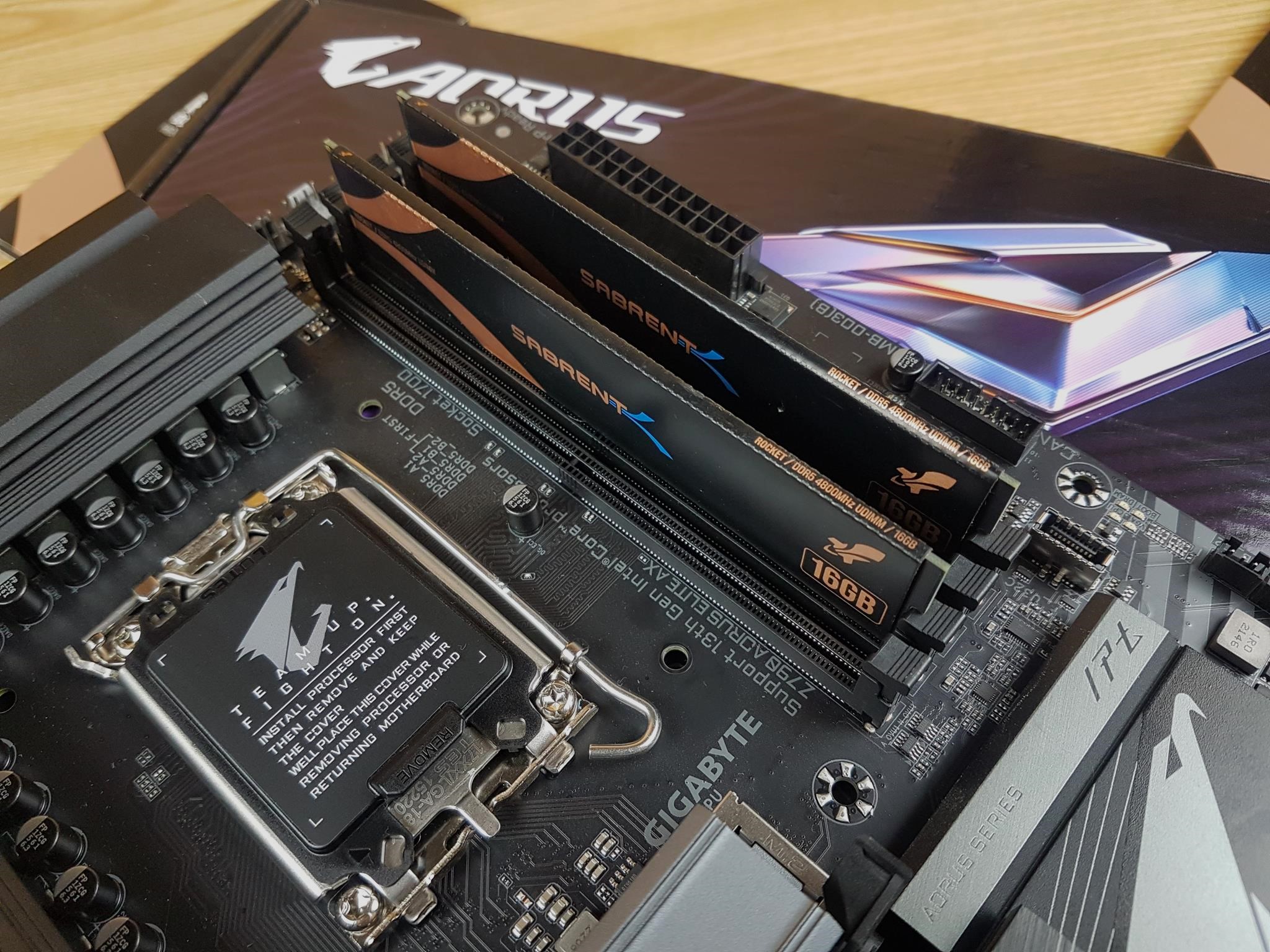 Our DDR5 testing platform is built on Intel's top-of-the-line Alder Lake Core i7-12700K CPU cooled by a DeepCool LS720 installed on a Gigabyte Z790 Aorus Elite AX motherboard. All our Windows 11 benchmarks and gaming data are stored on a Sabrent Rocket 4 Plus 2TB PCIe 4 NVMe SSD. Moreover, our complete setup is powered by the quiet Straight Power 11 1000W Platinum. Lastly, we keep our hardware organized on the Praxis Wetbench.
Testing Softwares Used
AIDA 64 Engineer
CPU-Z
CineBench R23
HWiNFO
PassMark Performance Test
3DMark
Technical Aspects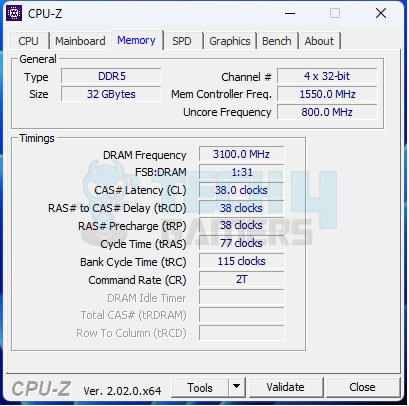 Conventional wisdom has long held that purchasing memory sticks separately is a grievous mistake. Therefore for many years, we have been buying memory in "kits" consisting of two or more modules that are assumed to be compatible. That may be more basic decency than wisdom, given that many memory makers are vague about the IC company utilize for a given SKU, giving themselves the freedom to use whichever IC is at their disposal.
Sabrent offers a fresh perspective on the memory market by breaking away from convention and selling its modules separately. We can only speculate whether this signals that they are faithful and only plan to employ a certain IC component number on the given SKU. Sabrent, like its competitors, does not provide this data in its technical specifications. Sabrent did not give any relevant public technical data for these modules during this Sabrent Rocket DDR5 U-DIMM review.
Therefore, we depend on other programs like CPU-Z to provide the technical specifications. The information above shows that the modules use a conventional DDR5 JEDEC SPD and do not include an XMP profile. If you click on "Auto," the kits will be configured to run at 4800MHz with the factory default timing. Manually adjusting the 4800MHz Frequency to 40-40-40-77 with command rate two timings in the UEFI/BIOS settings panel is an extra precaution you may wish to take.
This kit has 16 gigabytes of DDR5 memory operating at 4,800 MHz with a CAS latency timing of CL40-40-40-77. However, after installing the RAM on our Z790 motherboard, we discovered a plethora of configuration choices in the BIOS. DDR5-6200 CL38-38-38-77 with a command rate of 2 was the memory configuration we settled on for overclocking. This is much beyond our expectations. You'll notice below how well this particular memory does its job. Let's examine this in further detail for the moment.
Pushing the Capabilities With Overclocking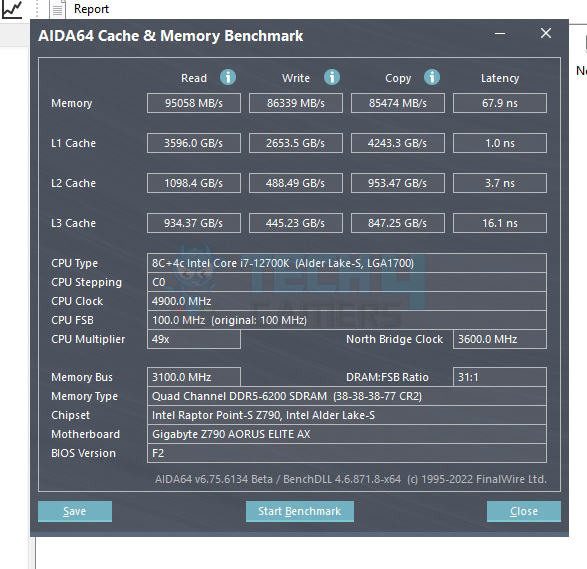 We're going to get into the thinking behind why someone would purchase this particular module. If you've kept putting off upgrading to the most recent DDR5 platform because you are too busy listening to so-called tech enthusiasts, you will soon learn that you have been misinformed about many aspects of DDR5. Most PC gamers struggle with memory overclocking and ultimately accept whatever they are given as long as it can run their favorite games.
You may put that idea out of your mind if you're discounting this RAM because it lacks an XMP profile. Even when overclocked without an XMP profile, this memory shines. Memory tuning may be time-consuming and frustrating, but it need not be complex. DDR5 Frequency, as well as CL timing tinkering, is a hassle, takes time, and may cause instability in the system if not done properly or tested. Multiple methods exist for overclocking memory, such as boosting the Frequency, reducing the timings, and adjusting the appropriate voltages.
Of course, you may also combine these techniques for optimal results. For our evaluations, we always max out the memory's Frequency by overclocking it to the absolute limit. Changing the DRAM frequency in the BIOS is the primary method. First, we take the clock speed established based mainly on the JEDEC profile, and afterward, we raise the DRAM frequency. We should discuss overclocking these kits before looking at the outcomes.
With Command Rate 2, we were able to boost the Frequency of both kits to an astounding 6200MHz, achieving even tighter timings of 38-38-38-78. While it is true that we can sometimes boot at a specific frequency, we have found that until it is completely stable, it is not enough for us, and thus we have settled on a whopping 6200MHz. Again, you could raise the voltage or tighten the timings if you are determined to get the most out of your system, but we found that the 1400MHz boost we got was enough for our requirements. Our favorite adage applies here to how this relates to the company's stock performance. Did you get your effort's worth?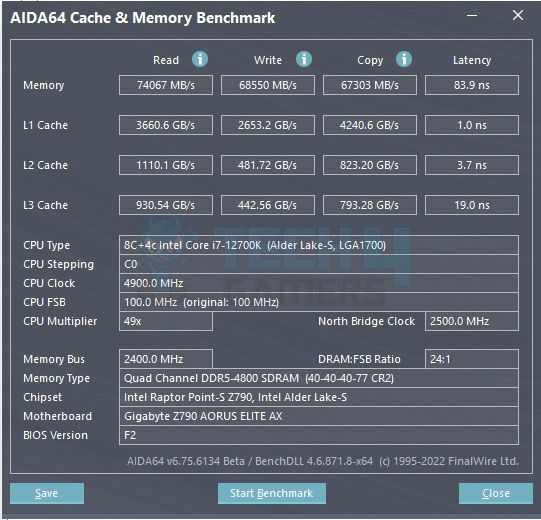 At 4800 MHz, we have read at 74,000 MB/s, write 68,000 MB/s, and copy 67,000 MB/s with a latency of 83.9 ns. As seen in the images, we made changes to the bios. We could overclock them with no issues, and they are now running very steadily at 6200 MHz. The results are shown up there for your consideration. Read speeds can reach 95,000 MB/s. In addition, the maximum write speed is 86,000 MB/s, the maximum copy speed is 85,000 MB/s, and the latency is about 68 ns. The ultimate result is straightforward, plus latency is reduced as a bonus.
We could observe this clearly in our benchmark test, where we saw a whopping 28.9% improvement. When comparing the standard performance to the increase to 6200MHz, the write speeds experienced a comparable performance jump of roughly 26.4%. Additionally, copy speeds had similar performance with a 27% efficiency boost. Moreover, the resulting latency dropped from 84 ns to 68 ns.
Cinebench R23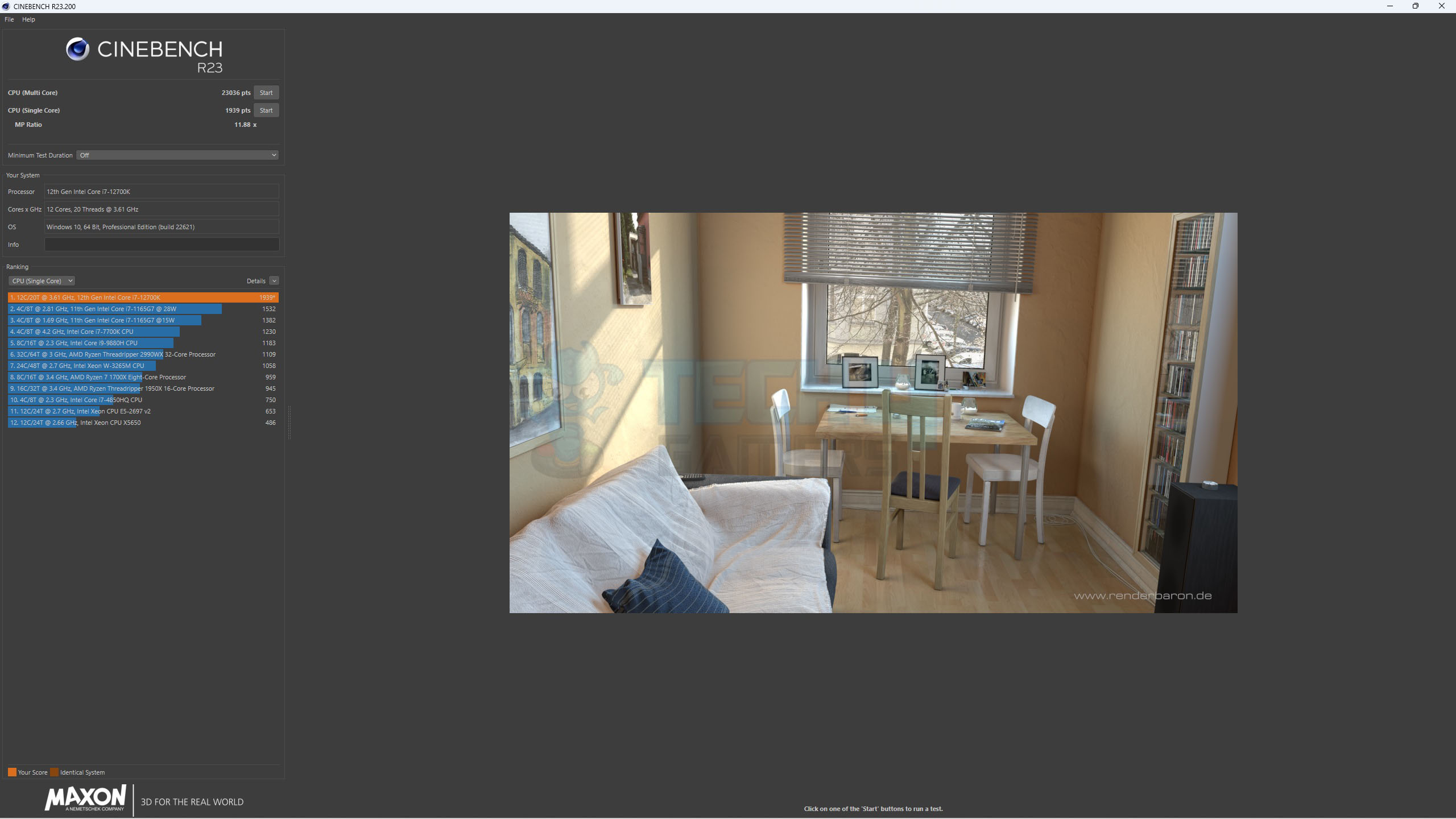 This software was designed to test CPUs. Sabrent's memory kits outperform the competition by a small margin, but only just. It is well known that Cinebench does not have a large RAM scaling influence, so it is encouraging to observe the memory lineup about where we'd expect it to be and be more glanced at as a precise rating for stock performance. The results of these kits in Cinebench R23 have amazed us.
The DDR5-6200 CL38 gives a score of 1939. In comparison, the DDR5-4800MHz CL40 gives an 1888 score on CPU (Single Core) ranking. Sabrent might have the highest out-of-the-box Cinebench R23 score and can maintain its lead over the competition. Although the difference is minor, it may be irrelevant given that it is a CPU-intensive workload.
PassMark Performance Test
The PerformanceTest conclusions might be challenging to understand if you lack a solid grounding in computers. Several potential confounding variables exist in these Memory Benchmarks, including the various system configurations in which the memory is being tested and the chance that individuals have overclocked respective systems. Despite their best efforts, the RAM is still affected by the system's CPU, although the memory test is now less reliant on the CPU.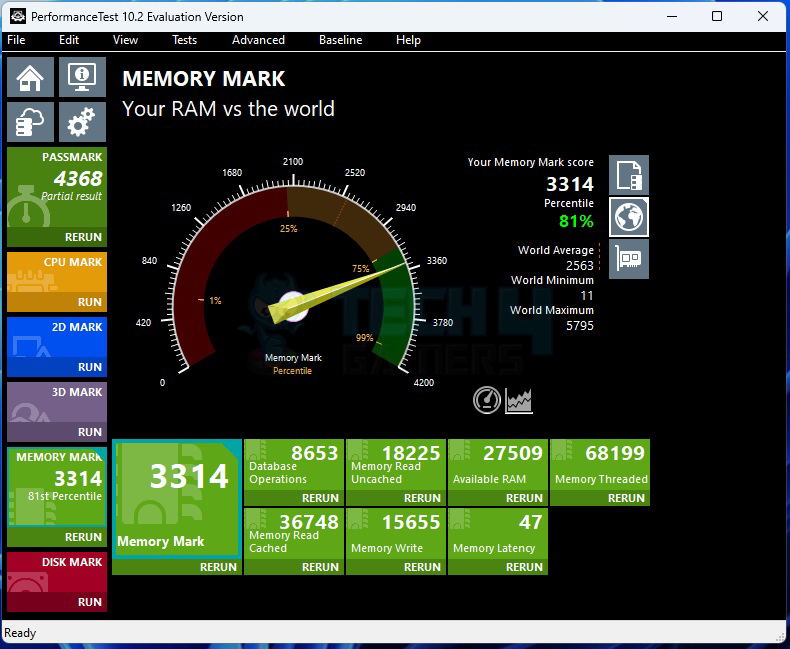 The above screenshot shows the stock speeds of the Sabrent Memory stick at DDR5-4800 CL40 on the Performance Test. The Memory mark is 3314. The module performs significantly well according to its price and delivers satisfactory results to the customer even on stock default factory settings. As you can see, the Database operations, Memory Read Uncached, Read Cache, Memory Write, and Memory latency have a desirable outcome in numbers.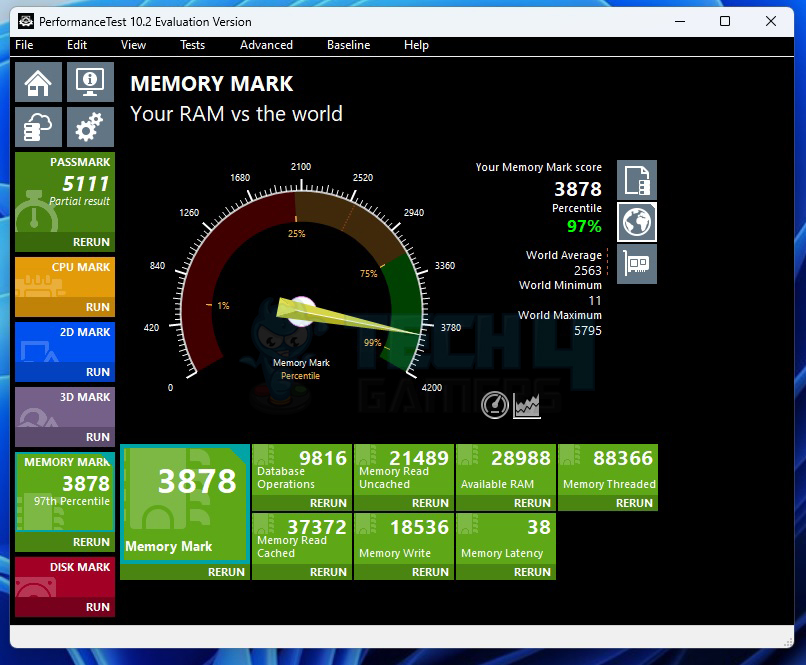 The above screenshot shows the overclocked speeds of the Sabrent Memory stick at DDR5-6200 CL38 on the Performance Test. The Memory Mark is 3878, which is quite a boost compared to its default speeds. Moreover, considering these results, the efforts to overclock are worth the time. There is a considerable improvement in the numbers of the following terminologies. Database operations, Memory Read Uncached, Read Cache, and Memory Write have a 13%, 18%, 2%, and 18% performance boosts, respectively. In addition, the memory latency is reduced from 47 to 38 Memory Latency.
3DMARK Time Spy Extreme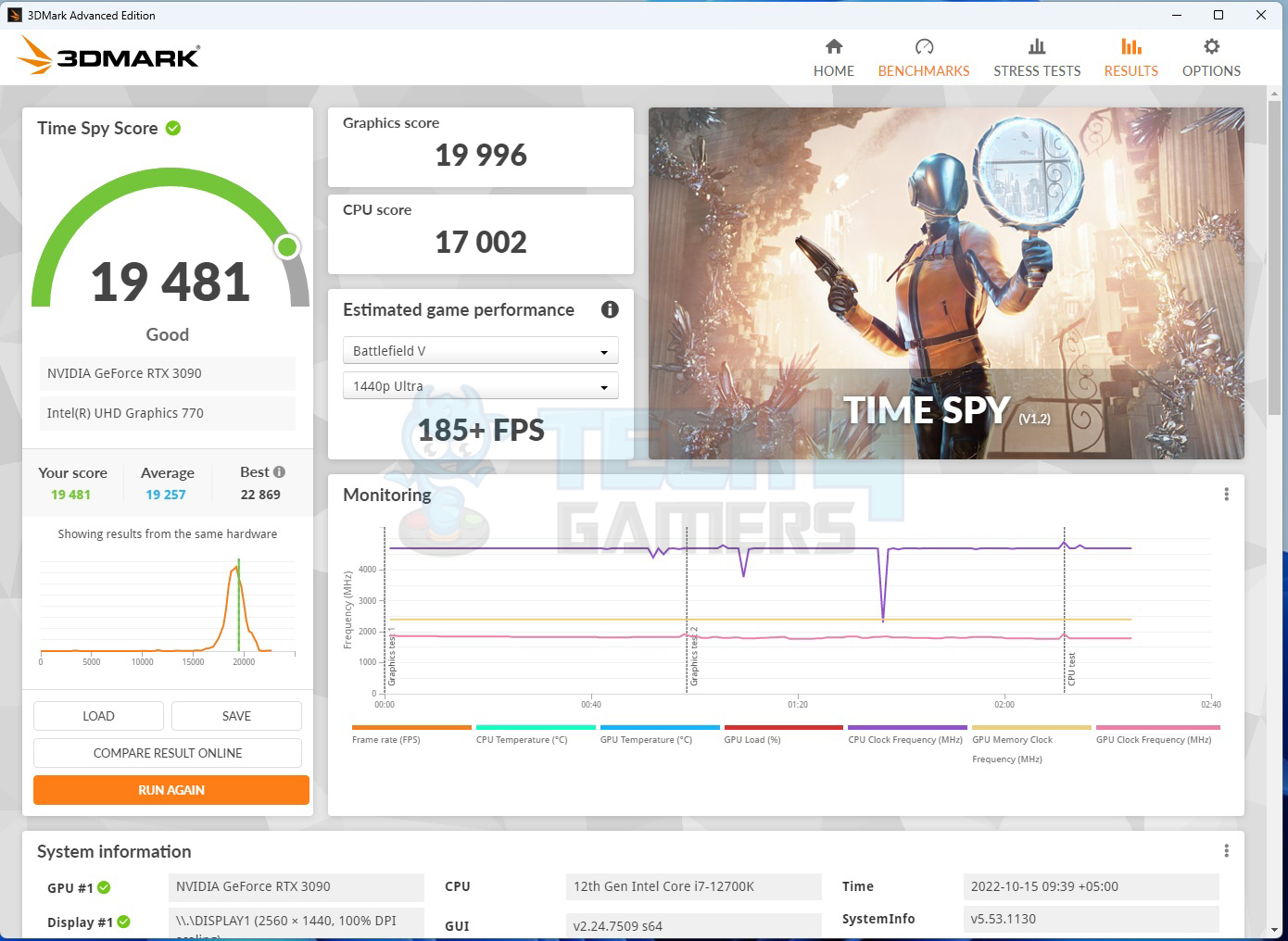 Perhaps some of you wonder whether upgrading DDR5 memory would improve your gaming experience. The findings can be seen in the above screenshot, and there isn't much of a difference. However, adopting a speedier 6000MHz memory kit with only a low CAS Latency does provide some enhancements and benefits. Using 3DMark as a graphics test, the Sabrent Rocket DDR5 RAM fared very well.
Better performance may be achieved by combining a higher memory frequency with a lower CL time. Here we observe how the Rocket DDR5-6000 CL38 configuration can hold its ground. The DDR5-4800 CL40 is also very capable. Perhaps more than raw speed or capacity, the 40-40-40-76 timings make a difference in this benchmark.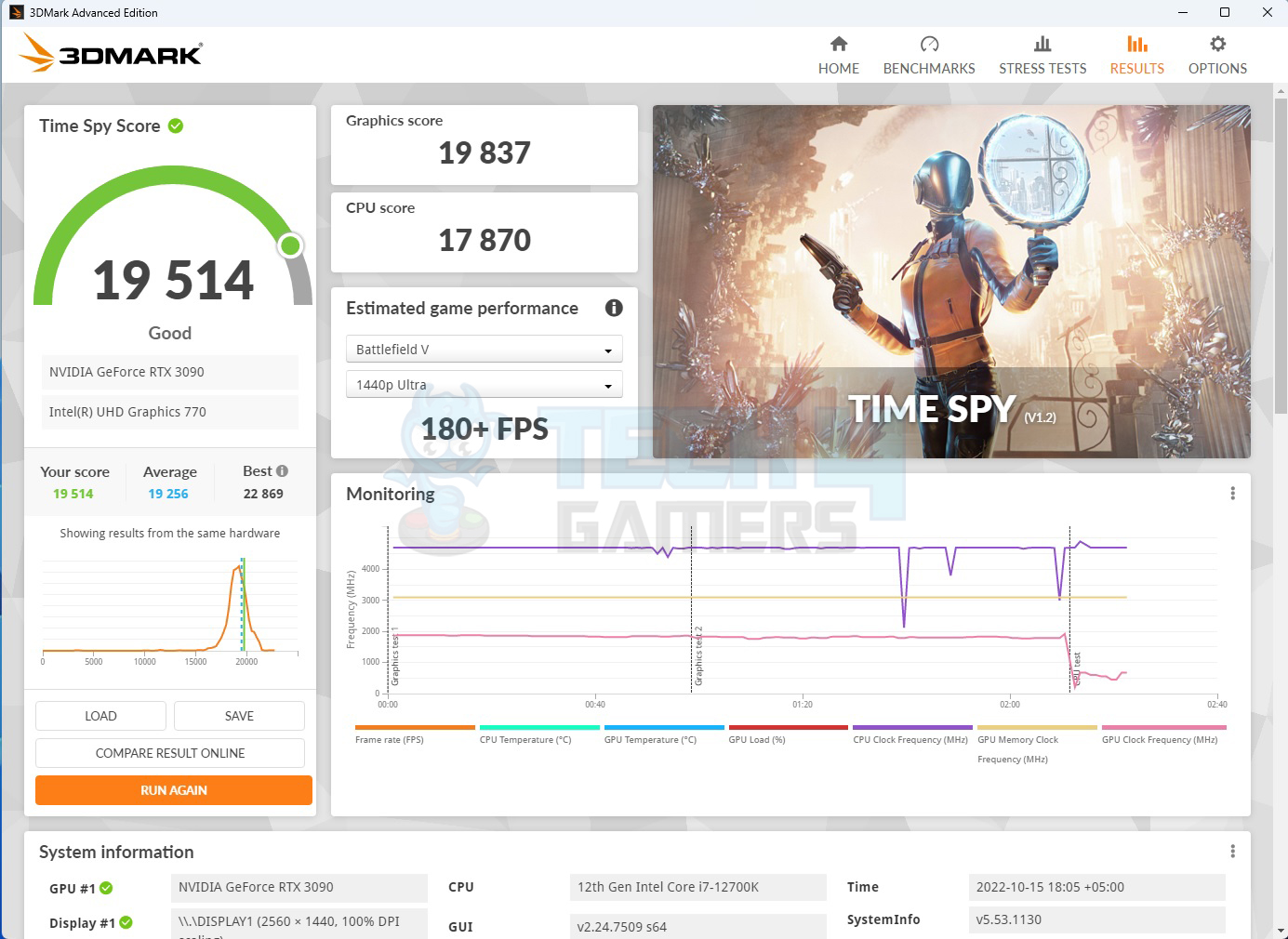 Price and Availablity
It is evident that Sabrent has hit upon a winning formula with this product, and they have done it with apparent ease. We believe they know what they're doing, and as we stated, we think they want to significantly disrupt the industry, much as NVME-based storage systems have done. We tested this equipment and, more particularly, pushed its limits. Here's a business that isn't only interested in expanding its market share and taking the proper steps to do it.
Sabrent's SSD Rocket NVMe has been featured as a top purchase by reviewers worldwide, and for a good reason. According to Sabrent's website, the MSRP of the Rocket DDR5-4800 16GB RAM module is $179.99 as of the day this review was written. Sabrent provides a 1-year warranty initially, with a 5-year extension available upon registration. Sabrent has very competitive pricing on its modules in the market, as determined by expert opinions on their storage goods.
It's also encouraging to note that identical kits from other vendors, rated at DDR5 4800MHz, are now selling for less than $200. Now we can see at a glance that compared to a 6200MHz kit, this one offers far better value for money, allowing us to achieve the same speeds and performance levels while spending much less. For what reason would you consider purchasing anything else? They deliver the goods we want at costs we can afford.
Should You Buy It?
Like every other DDR5 memory tested, this one becomes too hot when first used to overclock, reducing performance and stability. It's a shame that no RAM manufacturer is prioritizing this problem. Generally speaking, they put aesthetics above practicality. Thanks to this kit's design, the sticker over the ram could be removed with little effort and danger. This product is probably not for you if you are either an RGB enthusiast who is obsessed with lighting control or someone comfortable with the mediocrity of point-and-click XMP.
This product delivers the functionality you purchased for as long as you are ready to go head-on and put in the effort required to get that performance. Knowledgeable DDR5 buyers who prioritize speed and overclocking will be on the lookout for this module, and letting them know about it will likely earn you some good nerdy points.
Based on our evaluations, this is a great option that we cannot pass up recommending. Many thanks to Sabrent for making a DDR5 memory module for enthusiasts that runs on the reliable SK Hynix IC. We advise Sabrent to publish precise technical specs and highlight the IC customization as a selling point. Most manufacturers don't talk about this, and some use different types of memory IC from time to time.
We are astounded by the outcomes, and our admiration is mutual. The Sabrent Rocket DDR5 far exceeded expectations for "entry-level" memory. This is because the DDR5-4800 configuration's lower CL timings and the DDR5-6200 configuration's higher Frequency make this possible. It lacks the aluminum heat spreader found on most budget DDR5 memory kits, but at least this one is made of copper, so it looks better than its competitors. Nonetheless, the heat spreader is easily dented and creased, so you'll need to exercise caution while working with it.
Final Words
Although the Sabrent Rocket DDR5's performance is top-notch, we wish it were more affordably priced. All in all, the Sabrent Rocket DDR5 RAM module has performed well. We believe it's fantastic DDR5 memory and even offers a little surprise that some other DDR5 memory modules could be missing. The Sabrent Rocket DDR5 is an excellent option if you're in the market for some new memory and can live without RGB illumination.
The lack of a more extended warranty on the Rocket DDR5-4800 might put off some buyers. Without registration, Sabrent's warranty on the memory kit is just one year; registering the device grants a five-year extension. Sabrent's memory kit is placed at a handicap in a market where a limited lifetime guarantee backs almost all memory.
Finally, this review has come to an end. Let us know in the comments section if you are interested in buying these new modules from Sabrent. Or if you are already using it. It would be appreciated if you share your experience with these RAM with us. Continue with us if you're interested in keeping up with the newest developments in the hardware industry. Until then, as always, see you at the next one.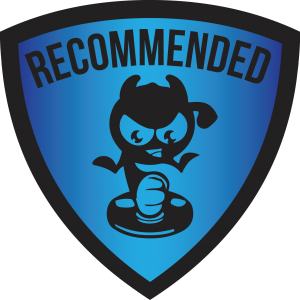 Was our article helpful? 👨‍💻
Thank you! Please share your positive feedback. 🔋
How could we improve this post? Please Help us. 😔