Should You Get It?
Review Summary
The Teamgroup T-Create Expert DDR5 memory kit targets professionals, content creators, and heavy data users. Operating at 7200MT/s with CAS 34 timings, it prioritizes high performance and reliability. The low-profile design, single color option, and efficient cooling via a single-piece aluminum heat spreader cater to creators. Overall, we recommend this kit for content creators and workstation users, valuing performance and durability over RGB lighting aesthetics.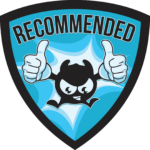 Value -

9/10

Performance -

8.5/10

Quality -

9/10

Features -

9.5/10
Pros
Operates at 7200MT/s CAS34
Single Piece Aluminum Heatspread with porous design
Low Profile Design
Intel XMP 3.0 Profiles
High-Temperature Resistance Capacitors
Workstation grade solution
Decent Performance
Limited Life Time Warranty
Competitive Price
Teamgroup needs no introduction when it comes to high-end and high-performance memory and storage solutions catering to almost every market segment. Their T-Create series of memory kits is aimed at professionals, content creators, heavy data workloads, workstations, etc. There are three main categories under the T-Create emblem: Master, Classic, and Expert.
The Master series of T-Create DDR5 modules are aimed at heavy workstation loads where error correction is of utmost importance. These modules are available in binary as well as non-binary configurations. The Classic is a mainstream option should the users would like to experience this rich performance for regular use.
The Expert series sits between the Master and Classic and is best suited for content creators and other professionals. I am testing a memory kit from Teamgroup named T-Create Expert DDR5 2x24GB operating at 7200MT/s and CAS 34. The overall design of these kits is quite appealing, and they are best suited to my taste.
---
Key Takeaways
The Teamgroup T-Create Expert DDR5 48GB 7200MHz CAS34 kit is a performance-packed DDR5 kit that eliminates extra bells and whistles like RGB to focus on the essentials.
You should get the Teamgroup T-Create Expert DDR5 48GB 7200MHz CAS34 kit if you are a content creator or a working professional whose primary focus is on performance.
You should not get the Teamgroup T-Create Expert DDR5 48GB 7200MHz CAS34 kit if you are into RGB lighting and/or overclocking.
---
Specifications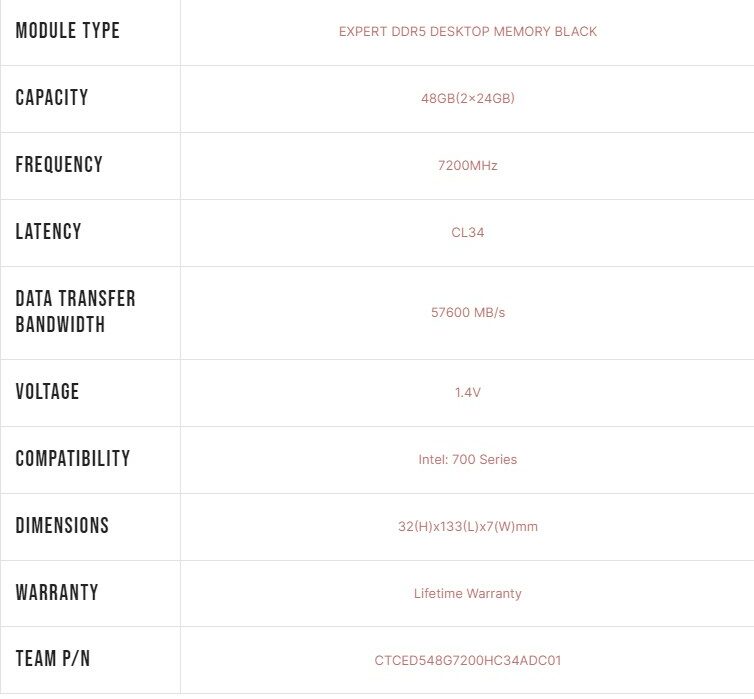 I am showing the specifications of the kit at hand above. This kit has a tested speed of 7200MT/s with tested timings of 34-42-42-84 at 1.40V. What is even more compelling is the low profile design on these kits without compromising the cooling potential. These kits have a dimension of 133x32x7mm. Here, 32mm is the overall height of the kit, making it perfectly suitable for any requirement. Teamgroup has stated Desktop word in the module type which is because these kits are also available in SO-DIMM configuration.
Packing Box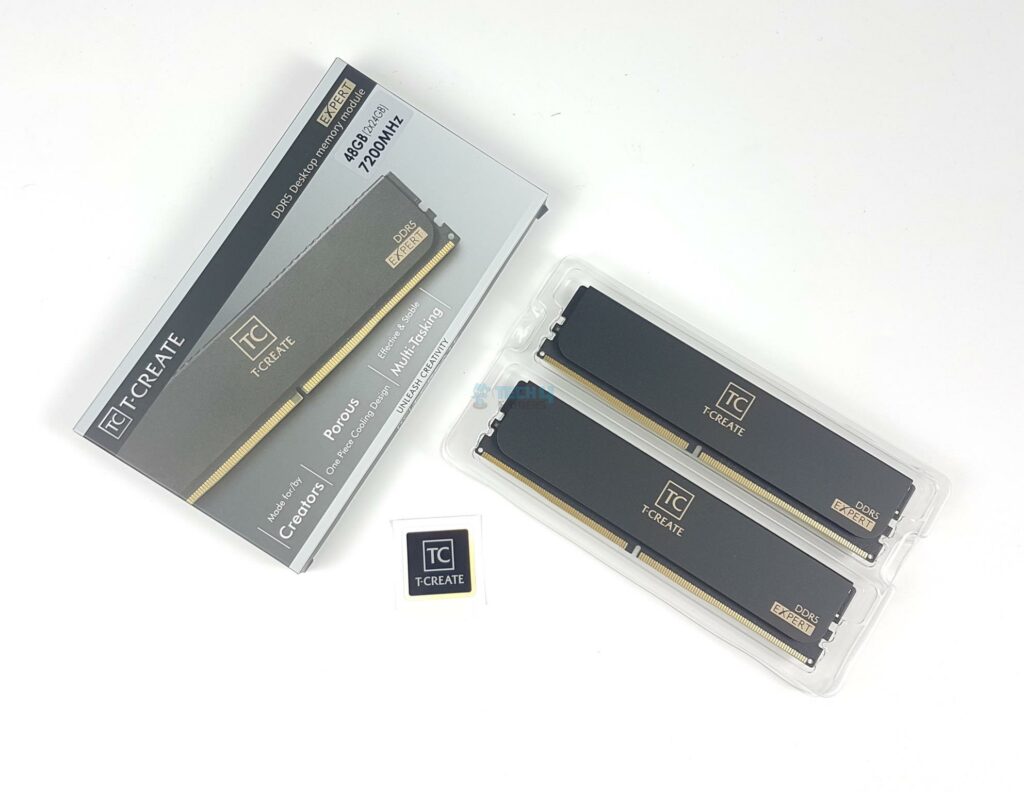 Teamgroup has kept the overall packaging and presentation simple yet effective. There is a paper-board-made outer packing box. It has a transparent container in which both modules are placed. There is a sticker inside the container. The "Made for/by Creators" tagline explains the target market of this product. This does not mean that a regular desktop user can't use these kits. They can, and they should take a look at the Classic series, for that matter.
Design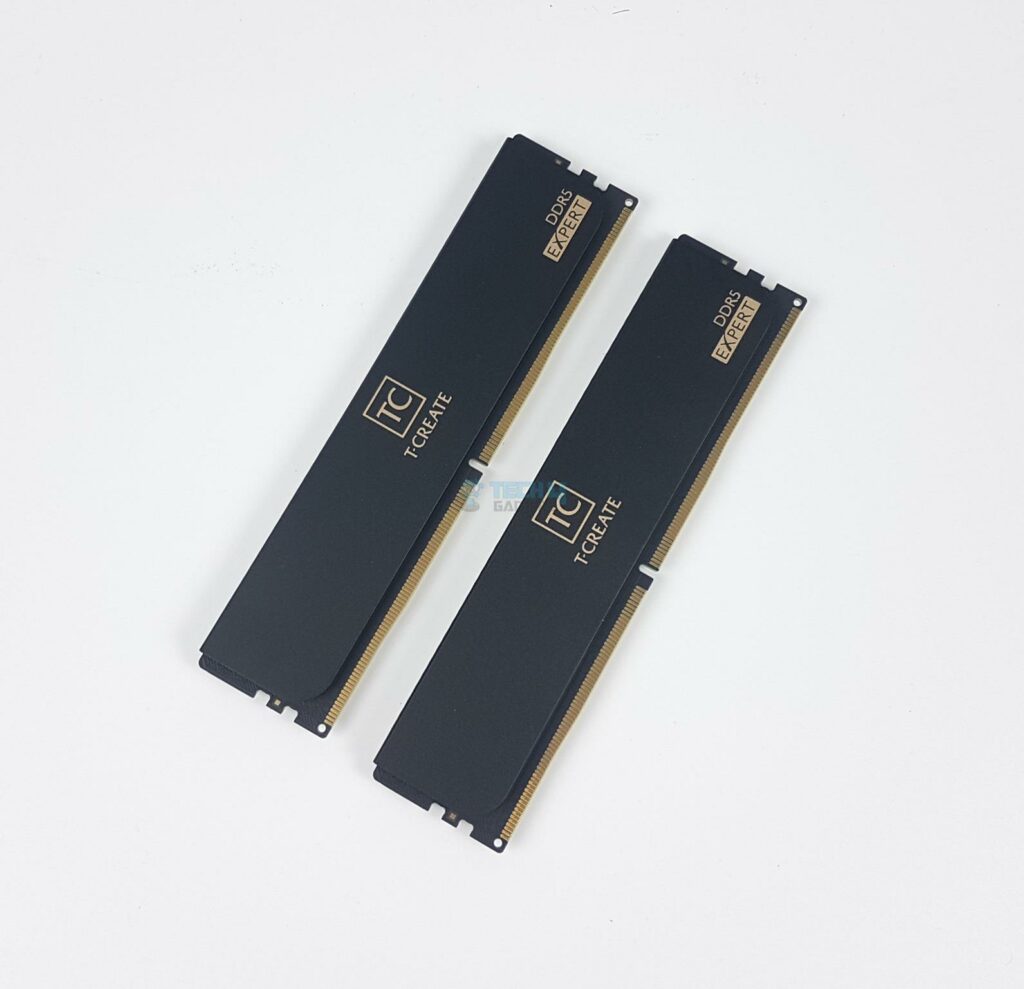 If you are a content creator, heavy data user, or even a power user and are looking for the best RAM kits to fit your portfolio, take a look at the T-Create series of DDR5 memory modules from Teamgroup. These are no frill designs with only one thing in focus which is high performance and reliability. These kits are available in a single color option only, and they are a low-profile design. The Expert series under the T-Create is available in a one-speed option only, which is 7200MT/s with CAS34. They are available in capacities as follows:
2x16GB
2x32GB
2x24GB
2x48GB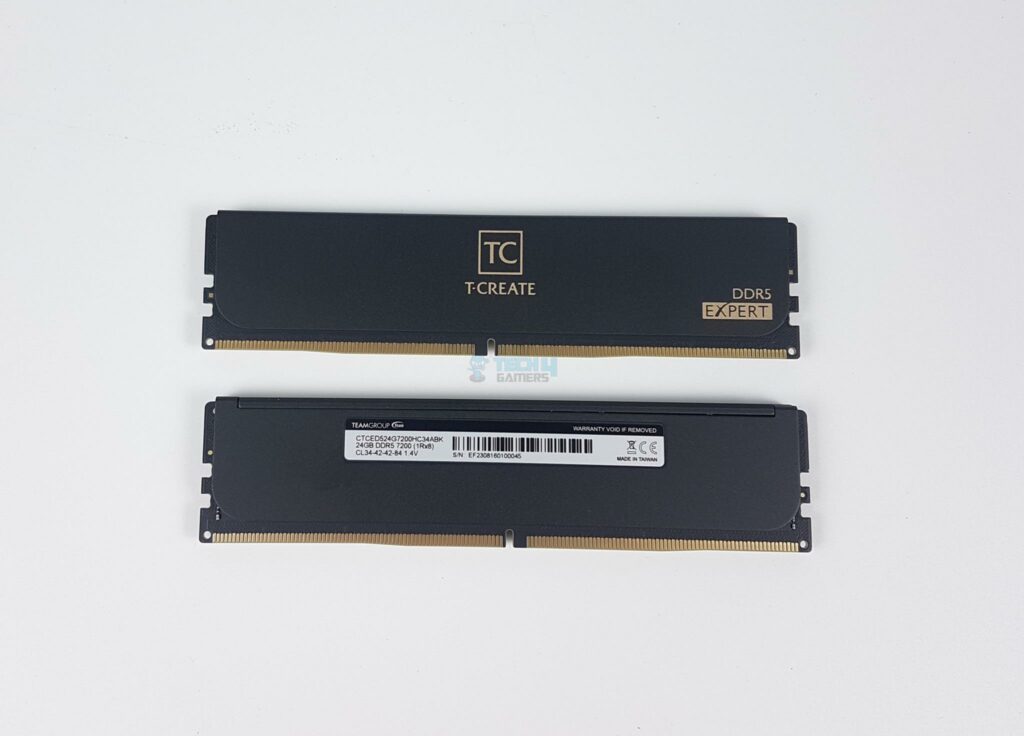 I am showing the front and back sides of the modules in the above picture. TC stands for T-Create, which is a Teamgroup brand for the memory solution. DDR5 Expert is printed over the lower right-hand side. There is nothing else on the front side. This kit is an unbuffered DIMM with a 288-pin layout. Each module has 1Rx8, meaning a single rank design using 8 modules.
There is a label on the backside showing the serial number, part number, and related data of the module. Removing this sticker would void the warranty. We can see the low-profile design of these modules. The height of a single module is a mere 32mm which makes them compatible with many air coolers in the market.
There is a curved layout on the lower edges that complements the overall look and feel of these kits. We can also spot the black color PCB under the heat spreader. These kits are made in Taiwan. These kits have on-die ECC, which comes in handy for real-time data correction.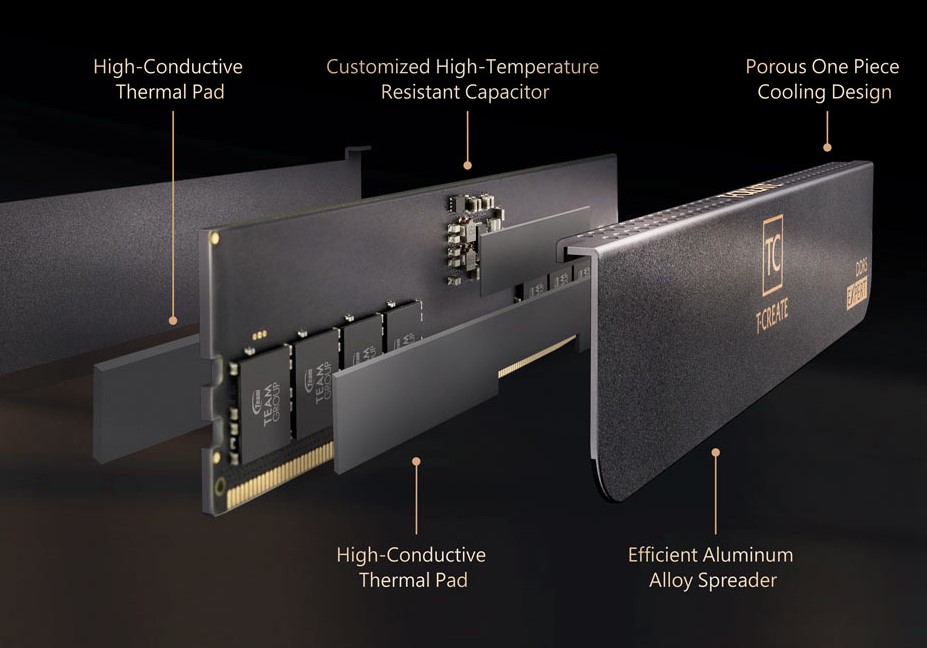 Teamgroup has used a single piece of aluminum material on each module to act as a heat spreader. It is porous and has cutouts on vents for effective heat dissipation. These vents are located towards the top area. Teamgroup has used high thermal conductive pads in these kits and there are high-temperature resistant capacitors on the PMIC.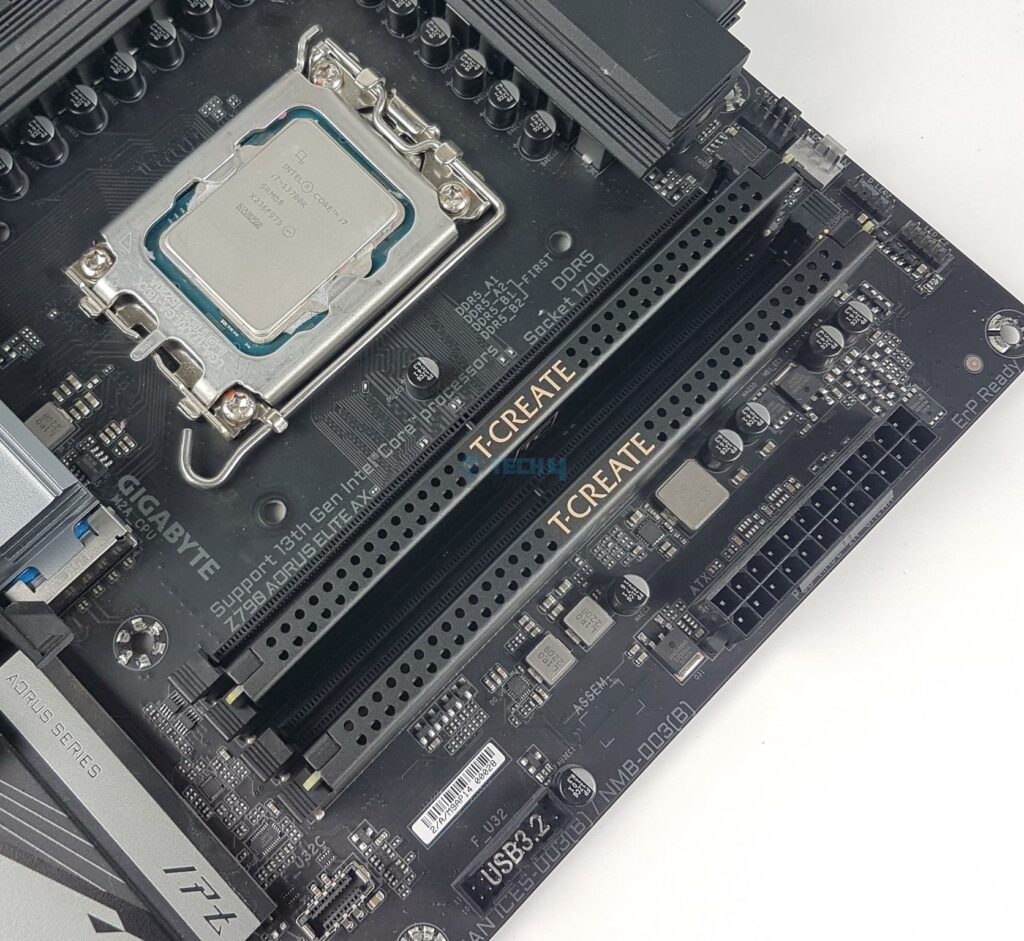 I am showing the top view of these kits. There is a porous design on the top cover and this cover is a part of the main aluminum heat spreader covering the active circuit area. Combining this with thermally high conductive pads would ensure effective cooling performance. There is a T-Create branding in the center.

The T-Create Expert Desktop Memory kit uses a black color PCB. This PCB has a 10-layer design. Only one side of the PCB is populated with the PMIC and memory chip with the active circuit. The opposite end has the same thickness pad. The populated side of the PCB has a PMIC chip in the center.
There are 4x memory chips on the left of this PMIC chip and 4x memory chips on the right side of this controller. This gives a 24GB capacity overall in 1Rx8 using a 3G x 64-bit design. This is important. We have been seeing a 2GB per IC design; hence, we used the term binary.
This time around, we have 3GB size of these chips, making it non-binary because PCs are designed and used to 2GB, 4GB, 8GB, 16GB, 32GB, and so on because that is how the binary system works, but designers have defied the odds and used 3GB memory chips. That is why we have a total of 24GB capacity instead of 16GB size.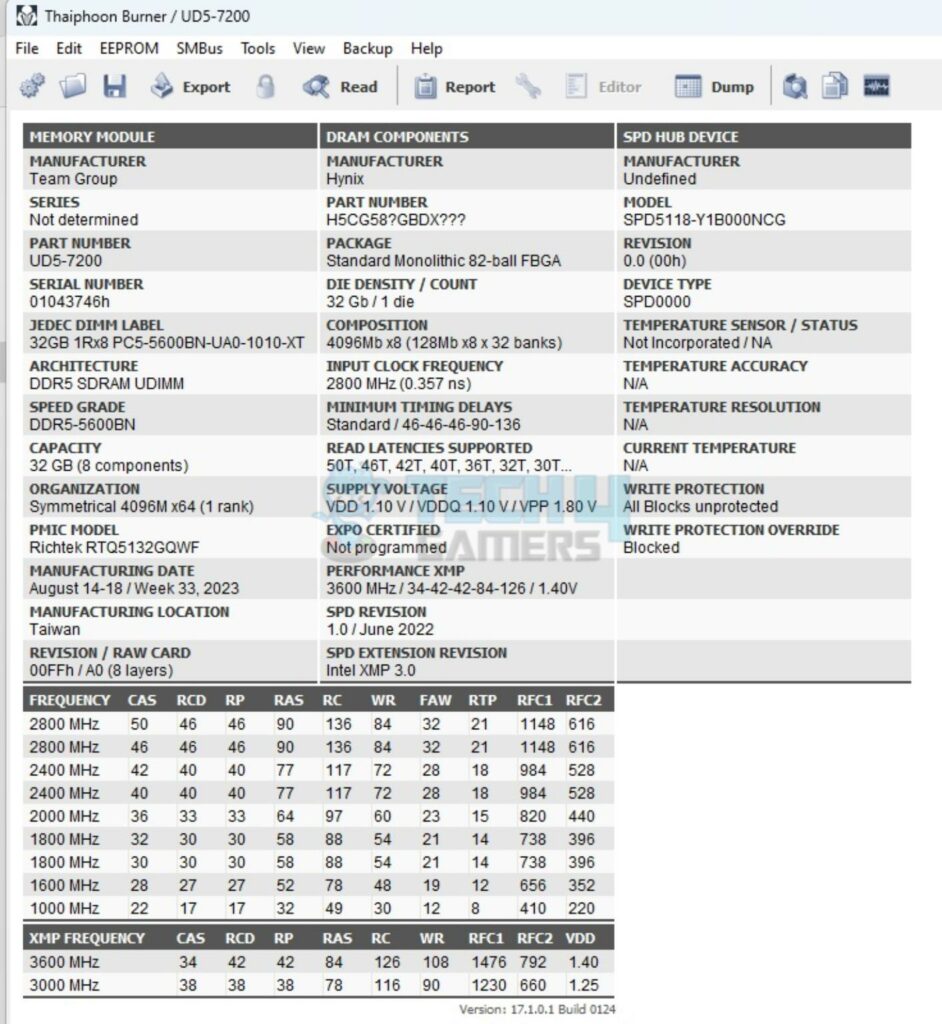 It looks like Thaiphoon Burner needs an update so that they can correctly read the non-binary memory modules. This software is showing 32GB total capacity, whereas we have 48GB total capacity. The memory chips are from Hynix, though the software could not read the die data. I think it is A die, given the 7200MT/s transfer speed.
The PMIC controller is from Richtek, having a part number of RTQ5132GQWF. This is the same controller we saw on the CORSAIR DOMINATOR TITANIUM First Edition white kit. This kit is manufactured in the 33rd Week of 2023.
This kit has a single Intel XMP Revision 3.0 profile programmed. It is 3600MHz / 34-42-42-84-126 / 1.40V. There is also a second XMP profile operating at 3000MHz. The SPD device manufacturer data is not known. It has a model of SPD5118-Y1B000NCG. According to the Thaiphoon burner, there is no integrated temperature sensor, which is incorrect.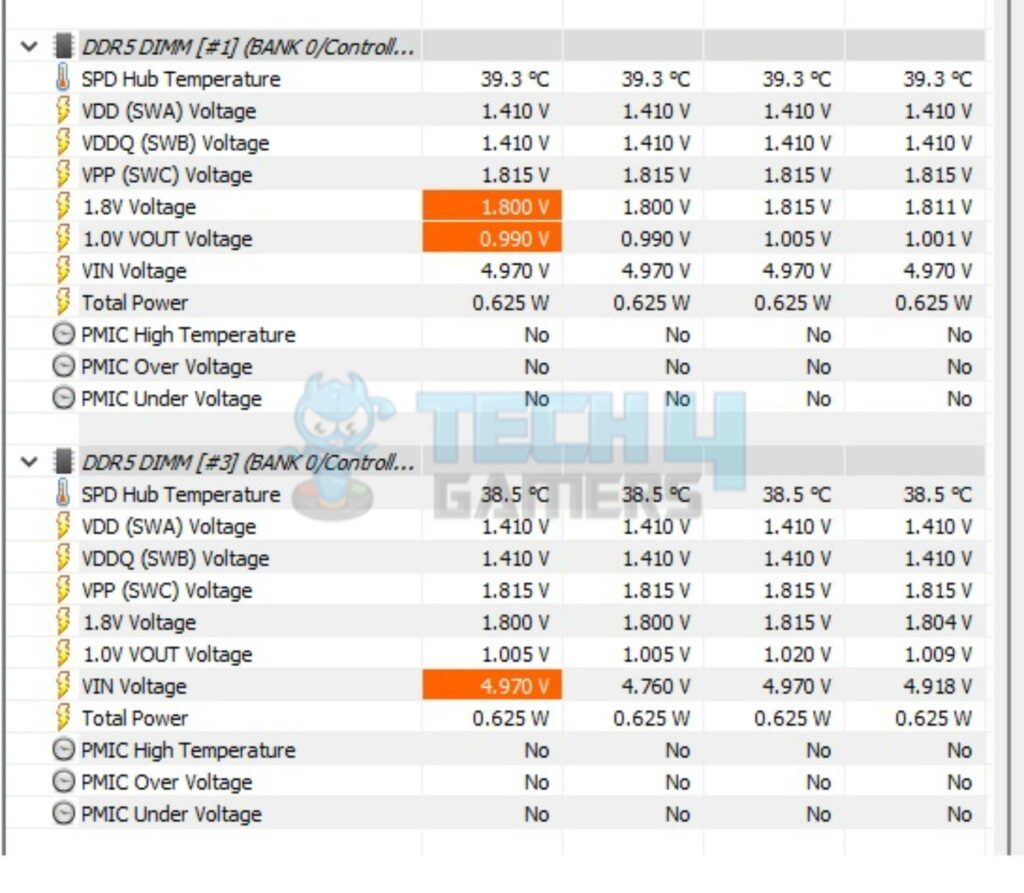 I am showing the HWInfo64 run above. You can see that this software is reading the temperature from both modules, which indicates that there are temperature sensors integrated into the SPD Device Hub on these modules.
Testing
We are using the mentioned configuration for RAM testing:
Intel i7-13700K [Stock, Auto]
GIGABYTE GeForce RTX 3060 VISION OC Rev.2 [For Display]
be quiet! Straight Power 11 850W Platinum PSU
Open-air bench
Other kits are:
We are thankful to our sponsors for this test bench. The following software has been used for the testing:
AIDA64 Engineer
SiSoftware Sandra Suite
Performance Test
3DMark Time Spy
Super Pi
BIOS
The Teamgroup T-Create Expert Desktop Memory kit has two preprogrammed XMP profiles. These are:
XMP1: 7200MT/s, 34-42-42-84, 1.400V
XMP2: 6000MT/s, 38-38-38-78, 1.250V
This kit conforms to JEDEC 5600MHz SPD operating at 46-46-46-90 timings and 1.100V voltage. I have tested the kit with the XMP1 profile.
CPU-Z and AIDA64 SPD Readouts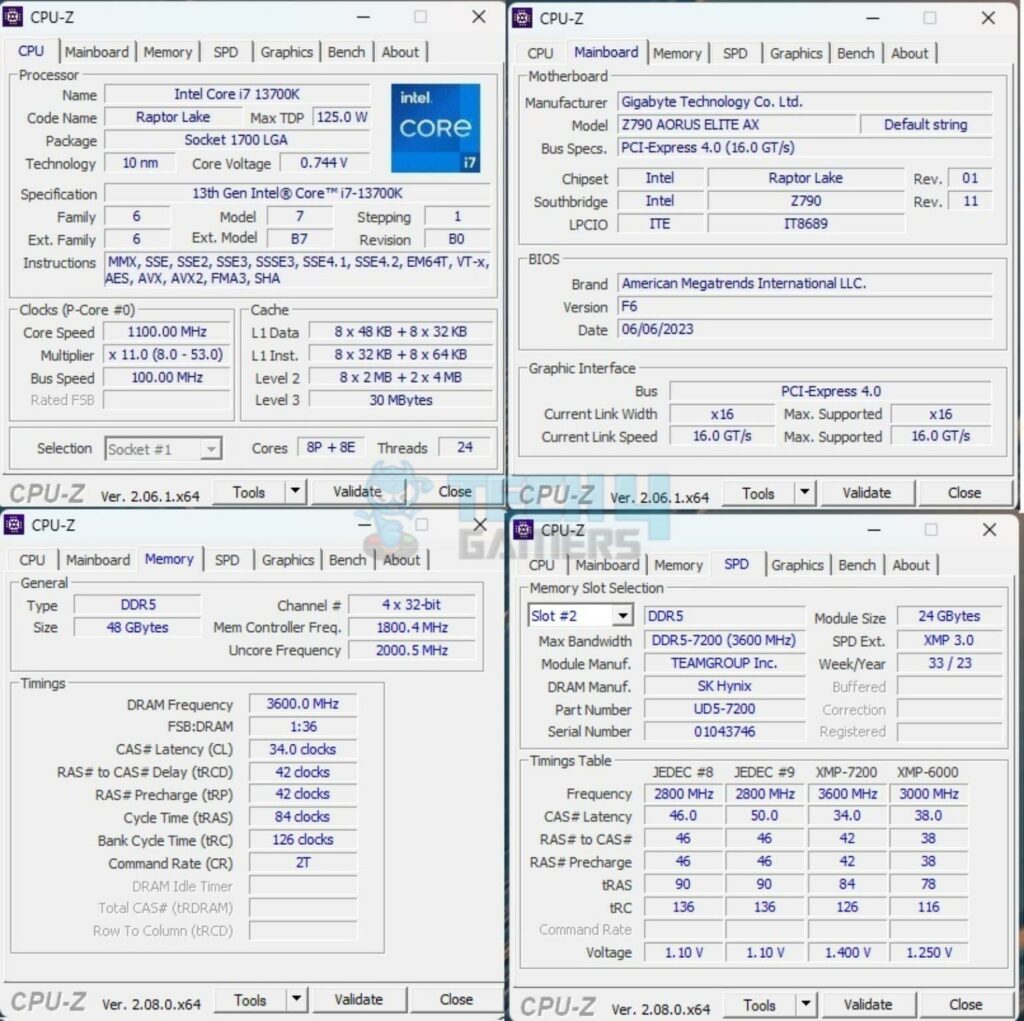 The above is a CPU-Z screenshot. Looking closely, you will notice that the software is reporting the kit to be in quad-channel configuration. The reason for that is with DDR5 kits, we have two channels per module, with each being a 32-bit wide.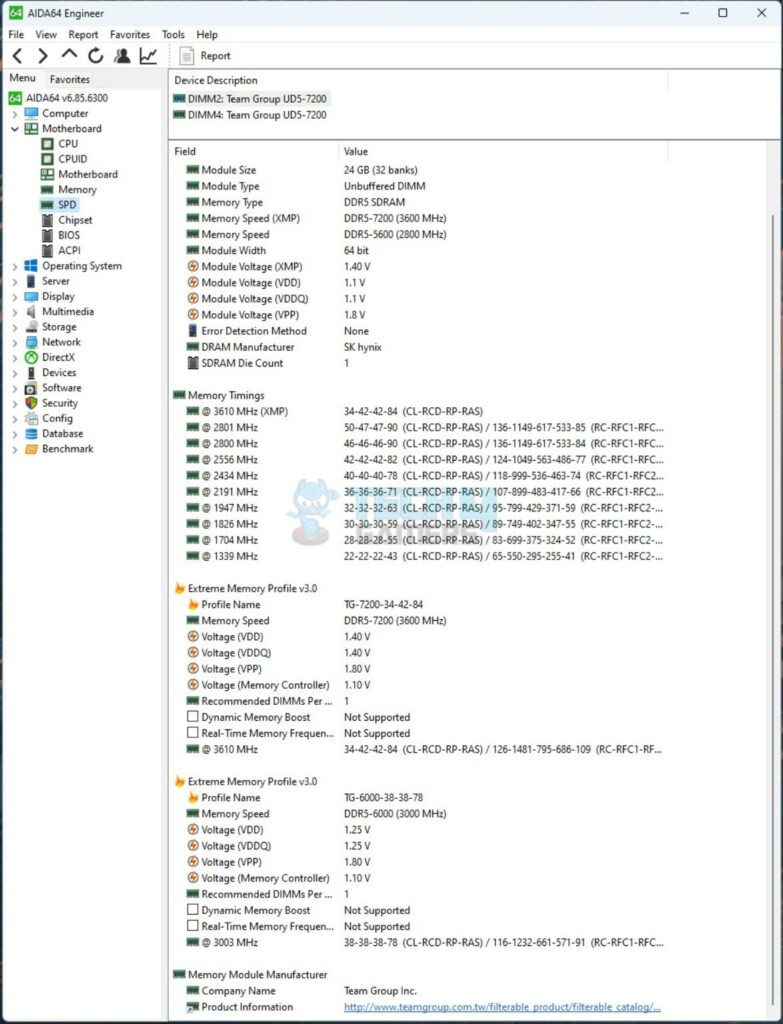 The above is the SPD readout as taken from the AIDA64 Engineer edition. It shows both XMP profiles and their programmed variables.
Results
This is our fourth kit in the graph operating at 7200MT/s. The other kits are:
Kingston FURY RENEGADE RGB DDR5 32GB 7200MHz CAS38
V-Color xPrism RGB DDR5 32GB 7200MHz CAS34
Corsair Dominator Titanium White DDR5 32GB 7200MHz CAS34
However, this is our first non-binary kit, so there is no comparison data for that. Expect a performance difference between binary and non-binary configurations.
AIDA64
Let's start taking the results one by one, starting with AIDA64 Engineer.
All three kits operating at 7200MT/s offer a comparable performance except for a few benchmarks where the difference is obvious. But we can see a substantial difference with the non-binary kit.
This kit does not give any competition to the binary kits, and I think we might need another non-binary kit to make some sense of the data. In the AIDA64 Memory test, this kit has been the lowest of the other three binary kits. The latency hit is also glaring with 66ns. The Asgard Bragi RGB DDR5 32GB kit operating at 6800MHz CAS34 has even managed to come ahead of the T-Create Expert Desktop Memory in a few benchmarks.
Other Benchmark Software Results
Now, I will discuss the result from the other 4 benchmarks, starting with the SiSoft Sandra Software.
We are seeing a comparable performance by all three binary kits by all means. However, the Expert Desktop Memory has a similar performance as we saw in the AIDA64 Engineer's memory benchmark. This kit scored a 2.68 KPT score and sits even behind the Asgard kit.
In the Performance Test, this kit slips behind the Teamgroup's own T-Force Delta RGB kit. We saw more time taken in Super PI for 32M computations by this Expert Desktop Memory kit. 3DMARK Time Spy is the only benchmark where we can see a comparable performance among all 4 kits operating at 7200MT/s. This is good news for gamers as they are likely to see no performance lost using the non-binary kit.
Should You Buy It?
After testing the kit across different benchmarks, should you buy it?
Buy It If
If you are a content creator: The Expert series of Desktop DDR5 kits are best aimed at content creators who would want no-frill, high-performance, and durable memory products to last them longer and work without a hiccup.
If you are a workstation user: Even though Teamgroup has a Master series for the workstation-grade work, this does not forbid users who would want to use Expert series desktop memory kits in their low to medium-grade workstations.
If RAM Clearance is an issue: If you have a consideration of RAM clearance and are not into RGB lighting gimmick, then this kit will help your situation.
Don't Buy It If
If you are an RGB Lover, The T-Create Expert Desktop Memory is a workstation-grade solution; hence, they don't have an RGB gimmick. Don't buy these kits if you are into RGB lighting and want to pop the build out from balanced RGB lighting.
Final Words
Teamgroup's T-Create line of DDR4/5 memory kits is best aimed toward content creators, professionals, and heavy data users. These kits are not ordinary solutions and should not be taken as such. These kits are available in three categories: Master, Classic, and Expert. These are available in binary and non-binary configurations in different capacities.
I have tested my first non-binary memory kit, which is Expert DDR5 48GB (2x24GB) 7200MT/s CAS34. This kit has a low profile design, standing at 32mm height. This kit has a porous, single-piece aluminum-made heat spreader combined with high thermally conductive thermal pads for effective cooling. Teamgroup has kept the design no-frill and basic. This is understandable, given the target audience. Look for T-Force if you are into gaming and would want RGB lighting kits.
Teamgroup has used high-temperature resistance capacitors for the PMIC. Their main objective is to provide a kit with error correction features and longevity. This kit has performed well in the realm of non-binary kits, and I would need more non-binary kits for a better comparison. Teamgroup is providing a limited lifetime warranty on this kit.
Was our article helpful? 👨‍💻
Thank you! Please share your positive feedback. 🔋
How could we improve this post? Please Help us. 😔
[Hardware Reviewer & Editor]
Meet Nauman Siddique, a highly experienced computer science graduate with more than 15 years of knowledge in technology. Nauman is an expert in the field known for his deep understanding of computer hardware.
As a tech tester, insightful reviewer, and skilled hardware editor, Nauman carefully breaks down important parts like motherboards, graphics cards, processors, PC cases, CPU coolers, and more.
15+ years of PC Building Experience
10+ years of first-hand knowledge of technology
7+ years of doing in-depth testing of PC Hardware
A motivated individual with a keen interest in tech testing from multiple angles.
I majored in Computer Science with a Masters in Marketing
Previously worked at eXputer, EnosTech, and Appuals.