G.Skill Ripjaws S5 6000MHz DDR5 Review
Review Summary
The G.Skill Ripjaws S5 6000MHz CL30 is the best of both worlds when it comes to value for money and performance. With a durable build quality and limited lifetime warranty, this is easily a hand-picked kit for mainstream users.
Performance -

9/10

Overclocking -

8.5/10

Value -

9/10

Design -

8/10
Pros
Good Speed
Tight Timing
Intel XMP 3.0
Brushed Aluminum Heat Spreader
Low Profile Design
Better Build Quality
Limited Life Time Warranty
2021 saw a start of a new era when DDR5 was unleashed. Though it took slowly, with a prime reason of high price tags all around, we have come now in 2023, where we are seeing these prices improving down the road.
This game changer started with the Intel Alder Lake platform, but now AMD has joined the ranks with their AM5 platform, which unfortunately could not get a good start, unlike previous Ryzen generations.
On the other hand, Intel has smartly kept the upper hand with the release of the Raptor Lake platform by providing DDR5 options but with continuous support for DDR4. This has kept their game quite ahead of the competition, particularly when it comes to users who would still want to stick with less expensive DDR4 kits and still enjoy the perks of a new platform. This is not all, as Intel also provided the same socket on the 13th generation of Core i-series CPU, making them compatible with the Alder Lake platform.
I am still of the opinion that DDR4 is now a dead path as DDR5 is getting into a mainstream market segment, and AMD, in my opinion, did right by DDR5 only on the AM5 platform. You can differ from my opinion, which is ok. Constructive feedback is always welcome.
We got opportunities to test a few DDR5 kits; this content is all about the test results of those DDR5 kits. The main topic is the evaluation of the G.Skill Ripjaws S5 Series DDR5 kit. This is a 6000MHz kit with CL30 timings. The capacity of this kit is 32GB standing in a configuration of 16GBx2. While this kit is available in both black and white, we're reviewing the black one.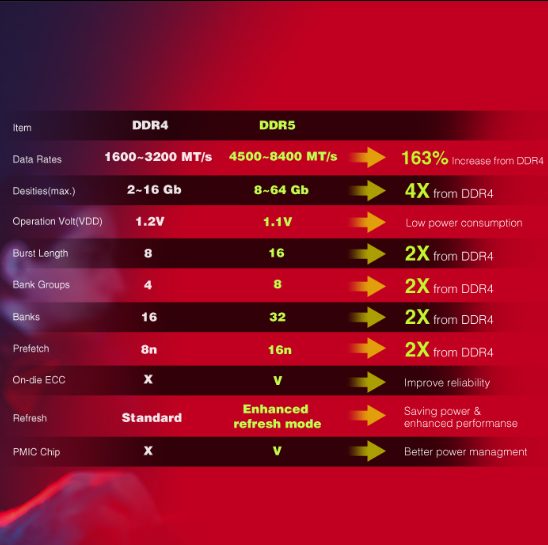 The above table shows the salient differences between the DDR4 and DDR5 modules. Some of the keynotes include 1.1V as compared to 1.2V [JEDEC stock voltage], higher densities, more banks & bank groups, provision of on-die ECC on DDR5, and PMIC on DDR5 modules.
Among the key differences between the DDR4 and DDR5, the position of the key notch is different on both, which would mean DDR5 RAM can't be installed on the DDR4 socket. This is despite having the same pin count. The DDR5 modules contain Power Management IC circuitry on the PCB, which was not the case with the DDR4. The PMIC enhances power supply stability. Its lower operating voltage also makes DDR5 more power-efficient than DDR4. Also, DDR5 integrates I/O resistors with CMD/ADD resistors giving a cleaner look.
DDR5 module provides two times more capacity than DDR4 by packing in more banks and bank groups. In addition, Burst Length and Prefetch are also doubled. ECC technology is also featured for data integrity.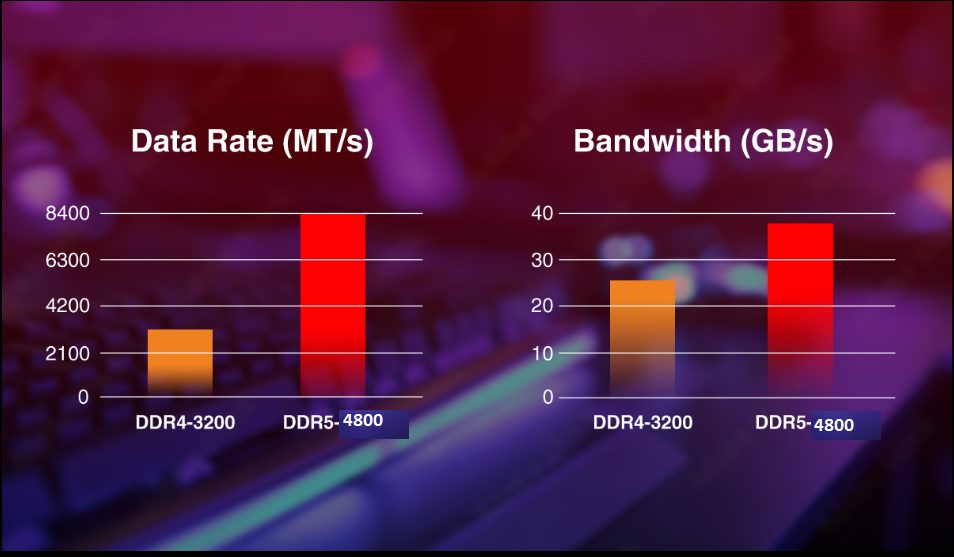 The DDR5 kits boast higher bandwidth and frequency when compared with the DDR kits. According to ADATA, their DDR5 memory modules deliver frequencies of up to 4800MT/s and feature a bandwidth of 38.4GB/s, which is 50% higher than the DDR4-3200. The maximum frequency is increased by 1.63 times compared to DDR4.
Specifications
| Product | G.Skill Ripjaws S 32GB 6000MHz CL30 Kit |
| --- | --- |
| Memory Type | DDR5 |
| Capacity | 32GB (16GBx2) |
| Multi-Channel Kit | Dual Channel Kit |
| Tested Speed (XMP/EXPO) | 6000 MT/s |
| Tested Latency (XMP/EXPO) | 30-40-40-96 |
| Tested Voltage (XMP/EXPO) | 1.35V |
| Registed/Unbuffered | Unbuffered |
| Error Checking | Non-ECC |
| SPD Speed (Default) | 4800 MT/s |
| SPD Voltage (Default) | 1.10V |
| Fan Included | No |
| Warranty | Limited Lifetime |
| Features | Intel XMP 3.0 Ready |
Packing Box
There is nothing fancy about most RAM kits when it comes to their packing box except for some enthusiast-grade kits like CORSAIR DOMINATOR, for example.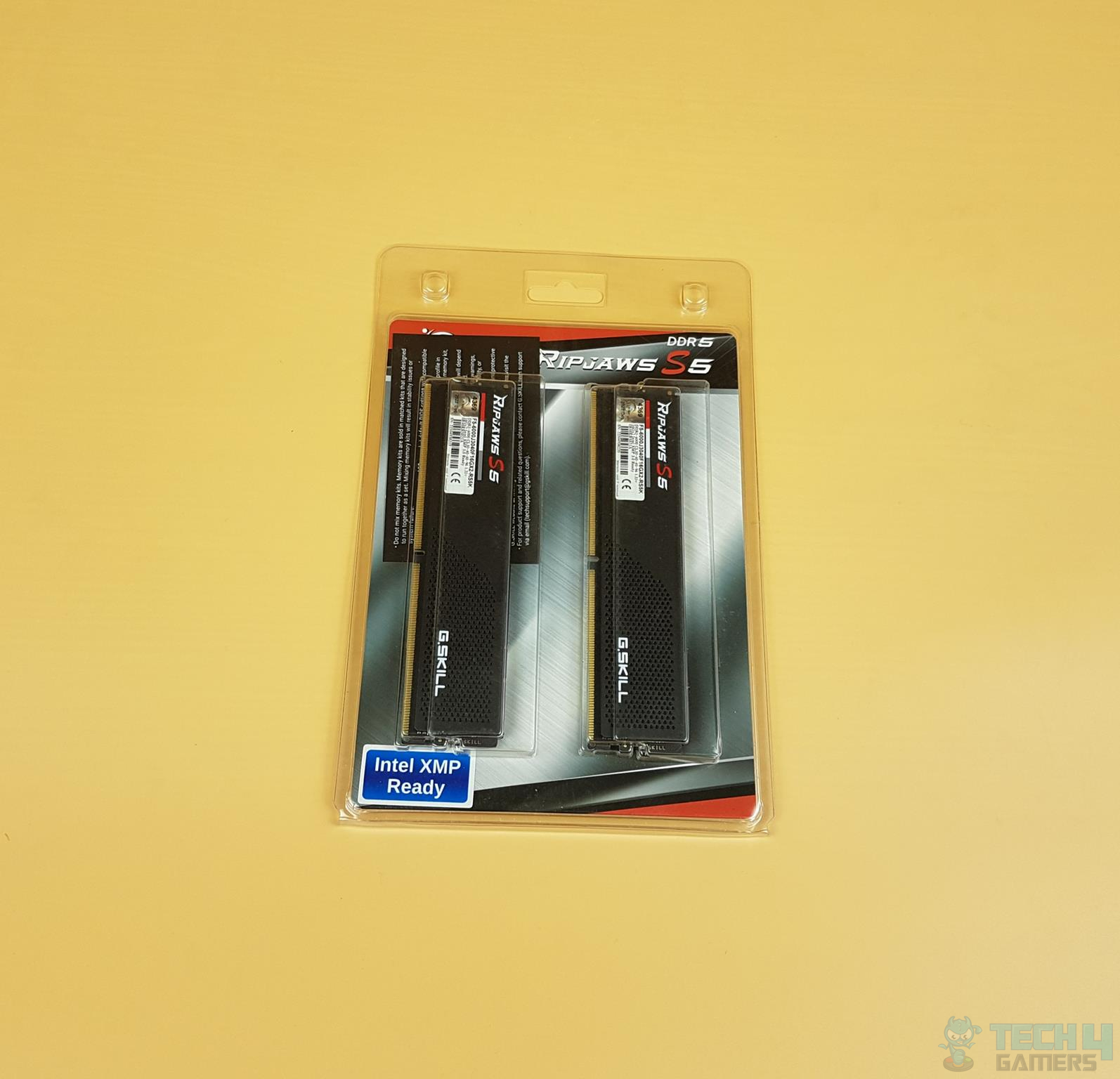 The kit is shipped inside a transparent container. We can see both sticks and their labels. This label will give users what exactly they would get from these kits.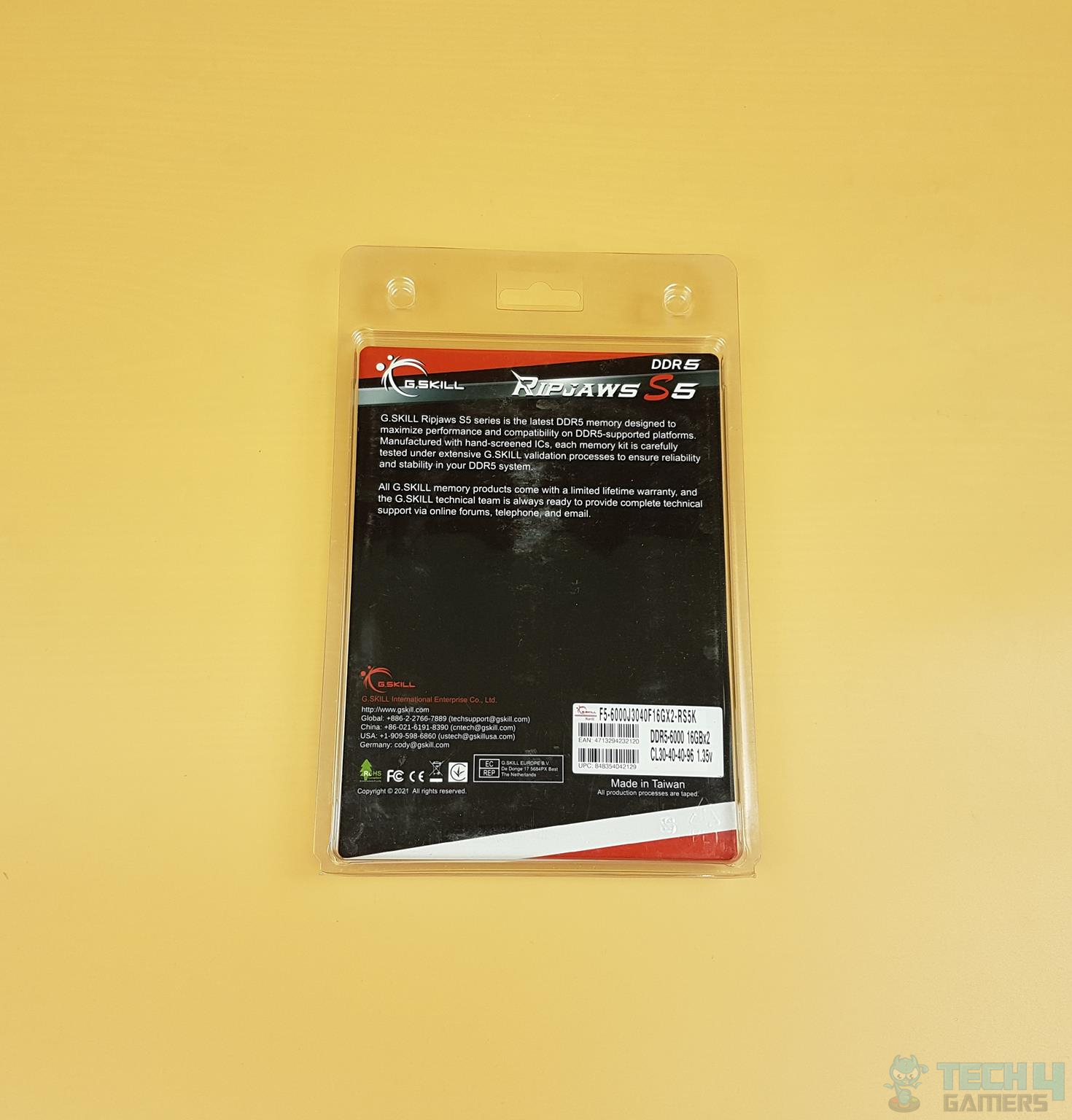 Part number of this is F5-6000J3040F16GA2-RS5K, where 6000 is the frequency of the kit and 30 is CL timing. 16G means a single stick has a capacity of 16GB.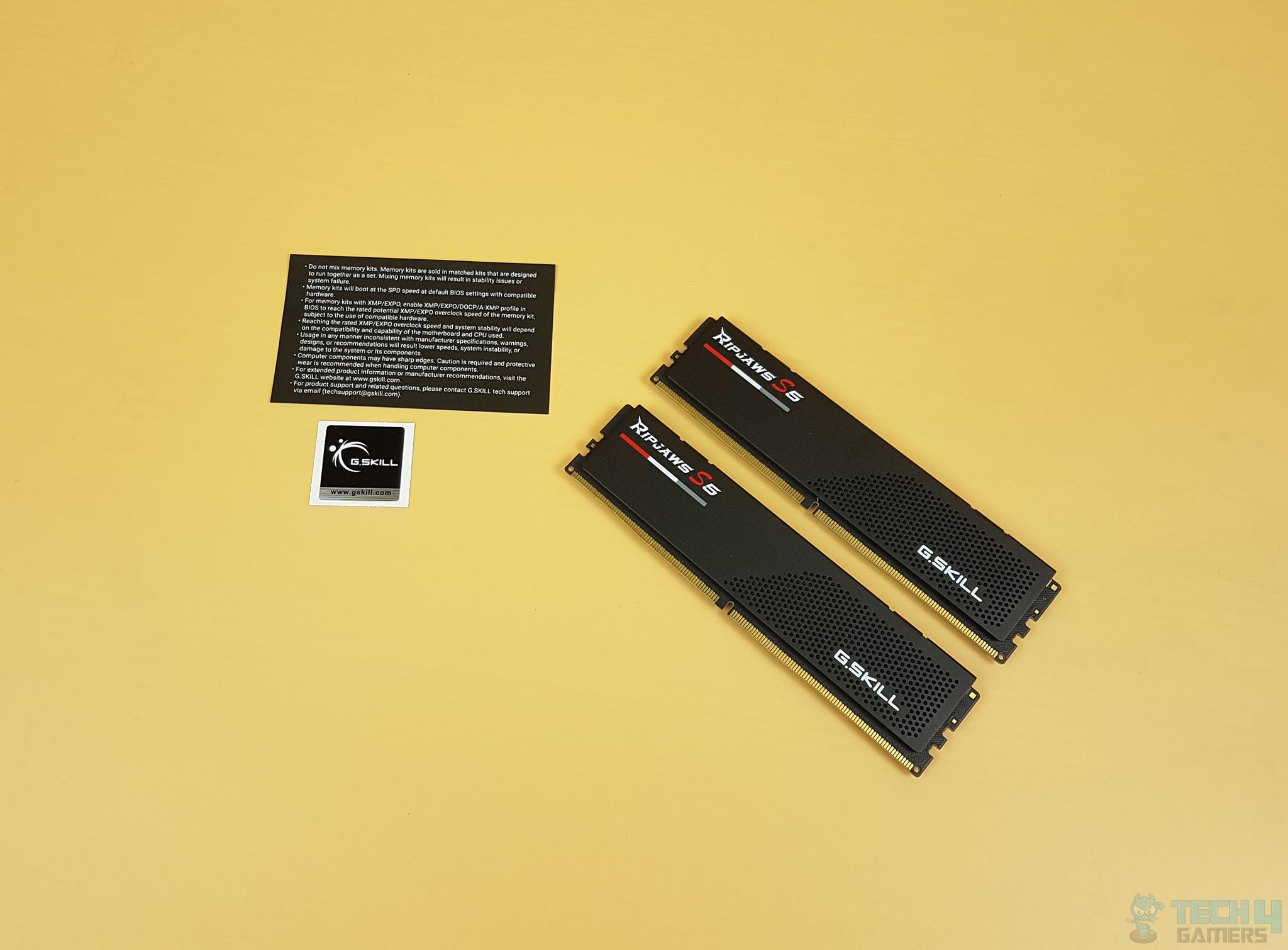 G.Skill has provided:
2x 16GB sticks
1x G.Skill Branding Sticker
1x Instructions card
Design
Let's take a closer look at the kit, followed by the test results with overclocking.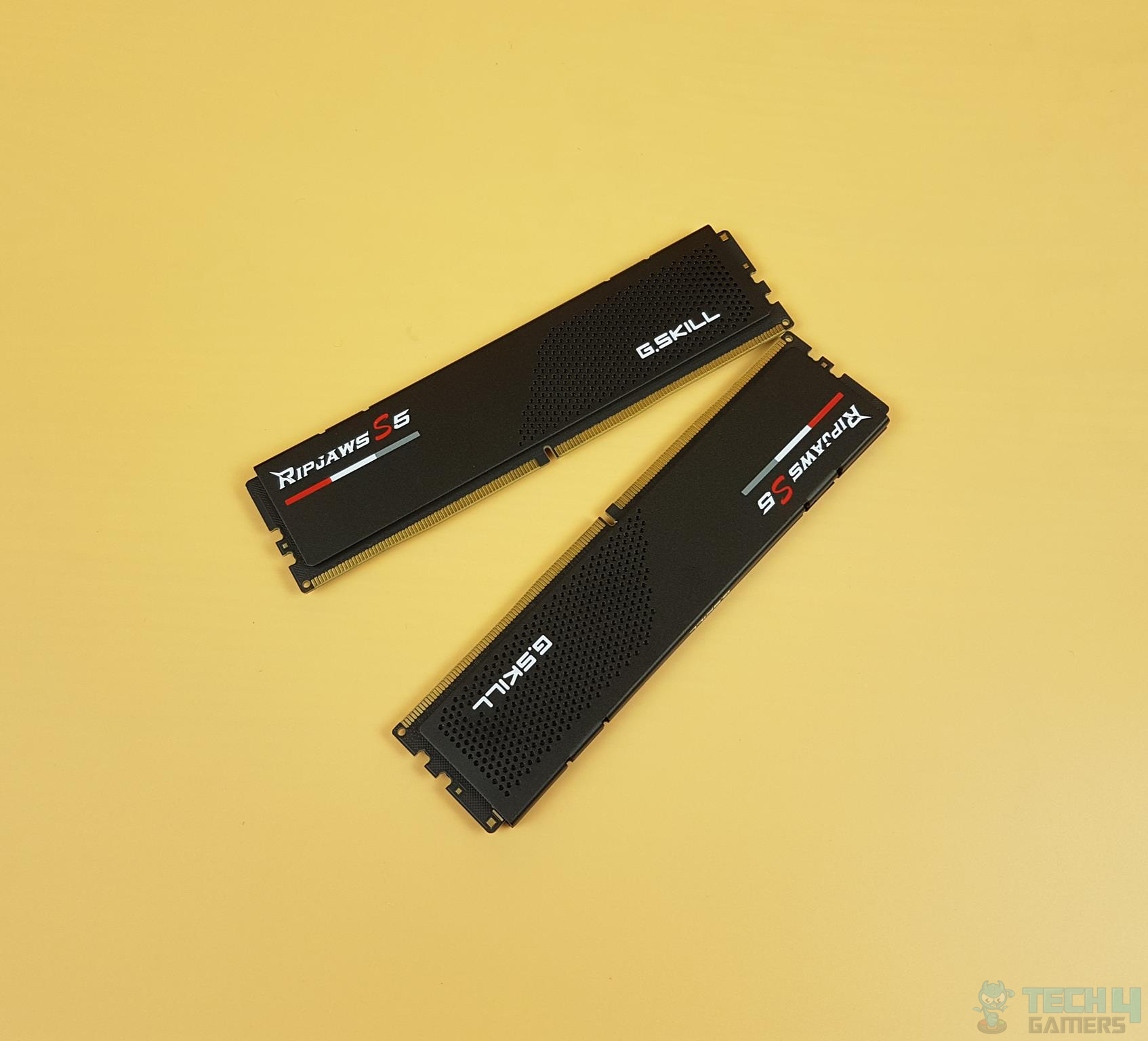 G.Skill Ripjaws S5 kits are available in the following transfer rates configuration:
5200 MT/s
5600 MT/s
6000 MT/s
6400 MT/s
This series has a range of timings starting from 28 and going as high as 40. A complete list is as follows:
28-34-34-83
28-34-34-89
30-36-36-89
30-40-40-96
32-38-38-96
32-39-39-102
36-36-36-76
36-36-36-83
36-36-36-89
36-36-36-96
40-40-40-76
40-40-40-83
40-40-40-89
This series comes in two capacities:
64GB (32GBx2)
32GB (16GBx2)
We can see that no less than 16GB per kit density is available in this series. We are taking a look at the kit with part number F5-6000J3040F16GA2-RS5K. This kit supports XMP 3.0 and EXPO.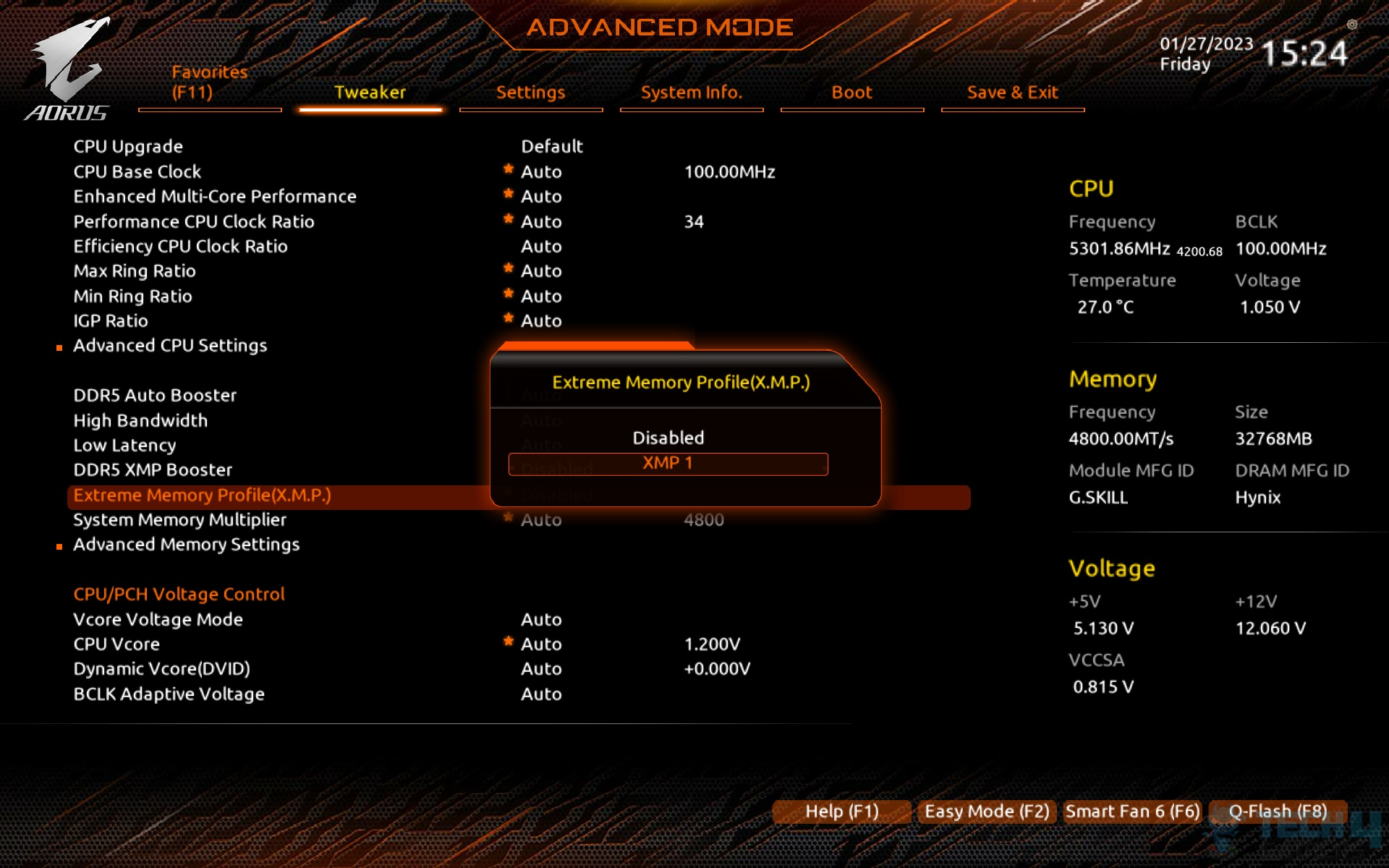 We can see that this kit has a single profile stored in it under XMP 3.0. Please don't confuse XMP with SPD.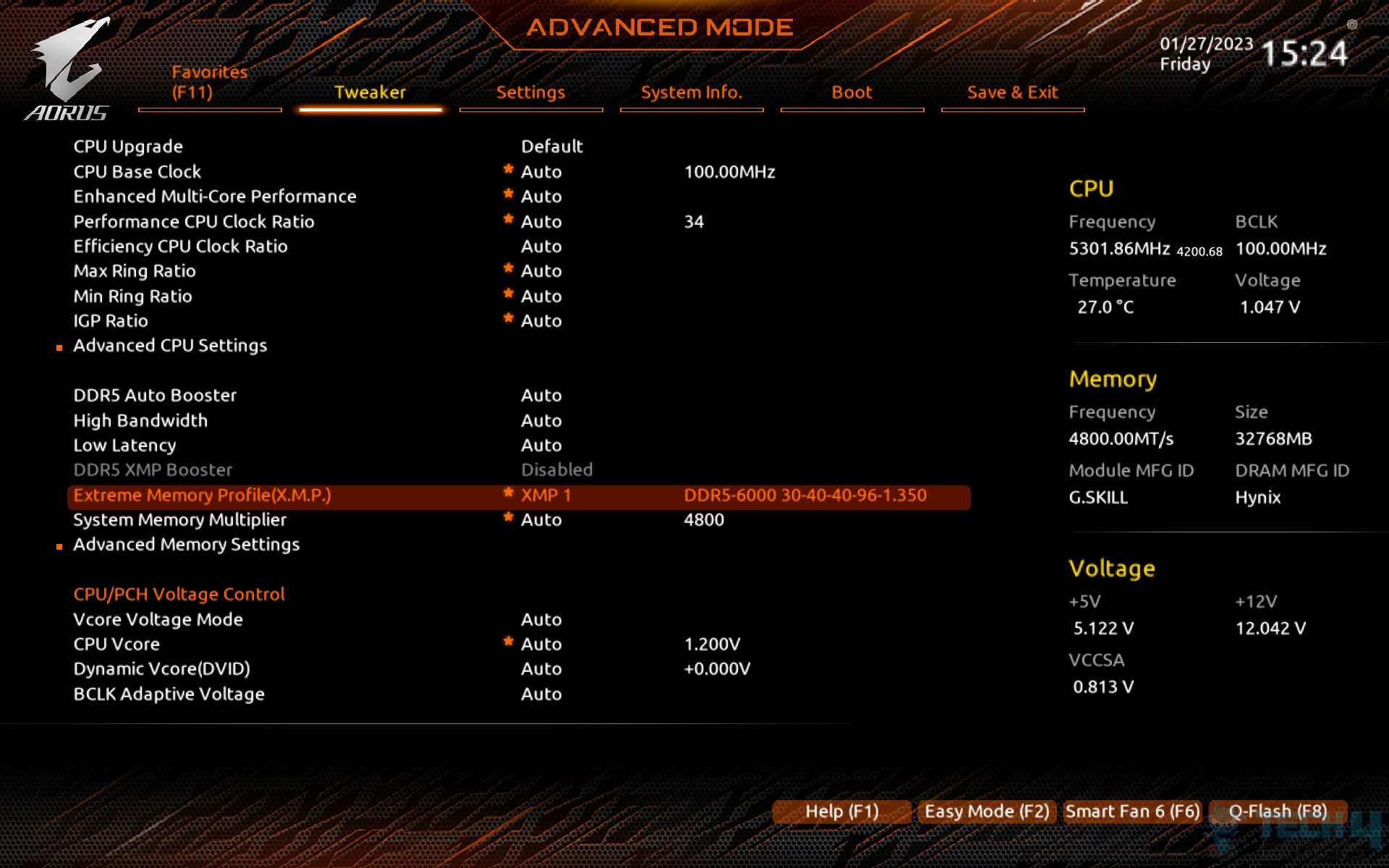 We can see that our kit's XMP 3.0 profile has DDR5-6000 30-40-40-96-1.350 data. This is self-explanatory. If you are wondering why the System Memory Multiplier above is showing 4800. Well, that's because we have just loaded the XMP profile. See the next picture below.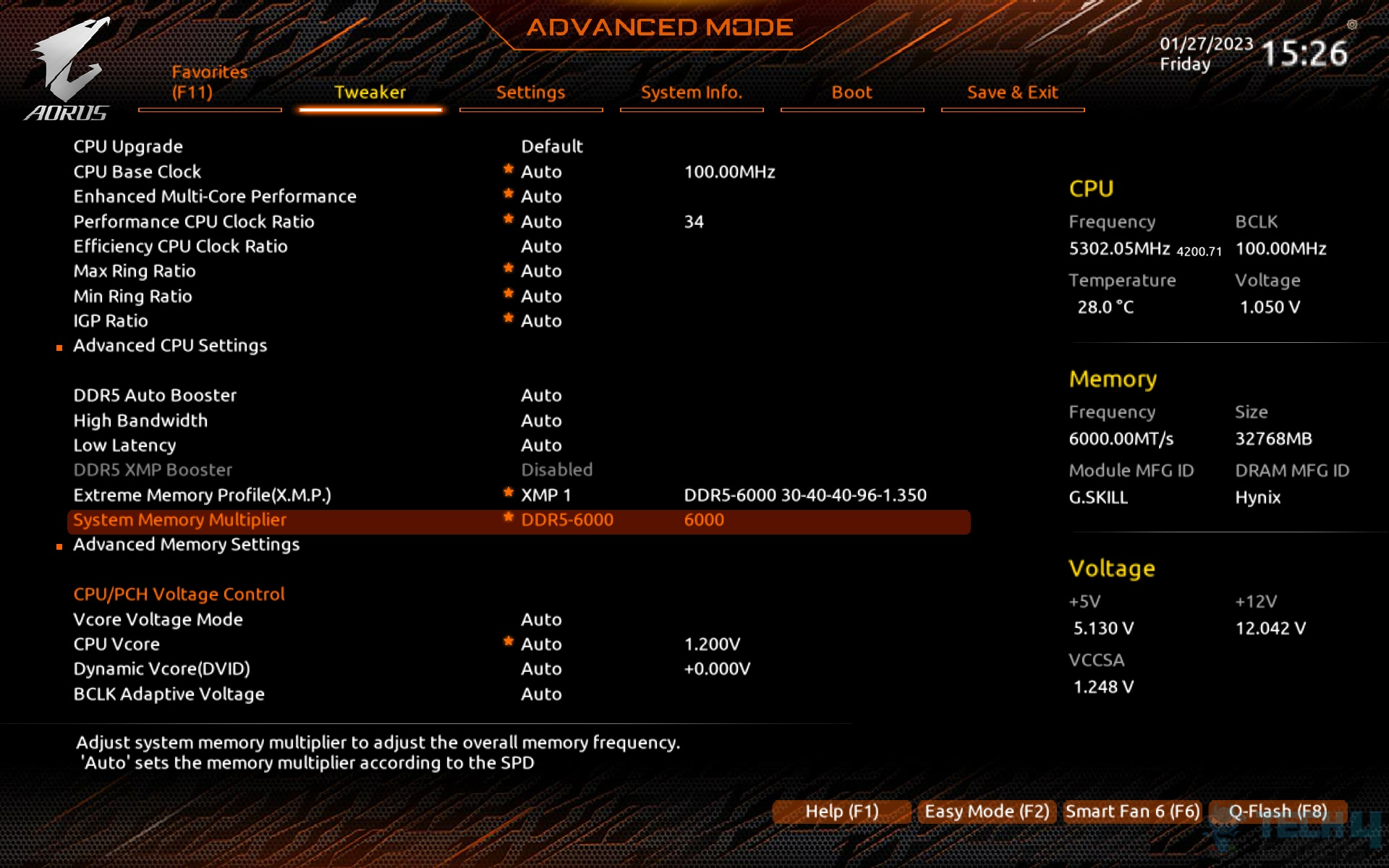 We restart the PC after saving UEFI/BIOS. Now we can a correct System Memory Multiplier.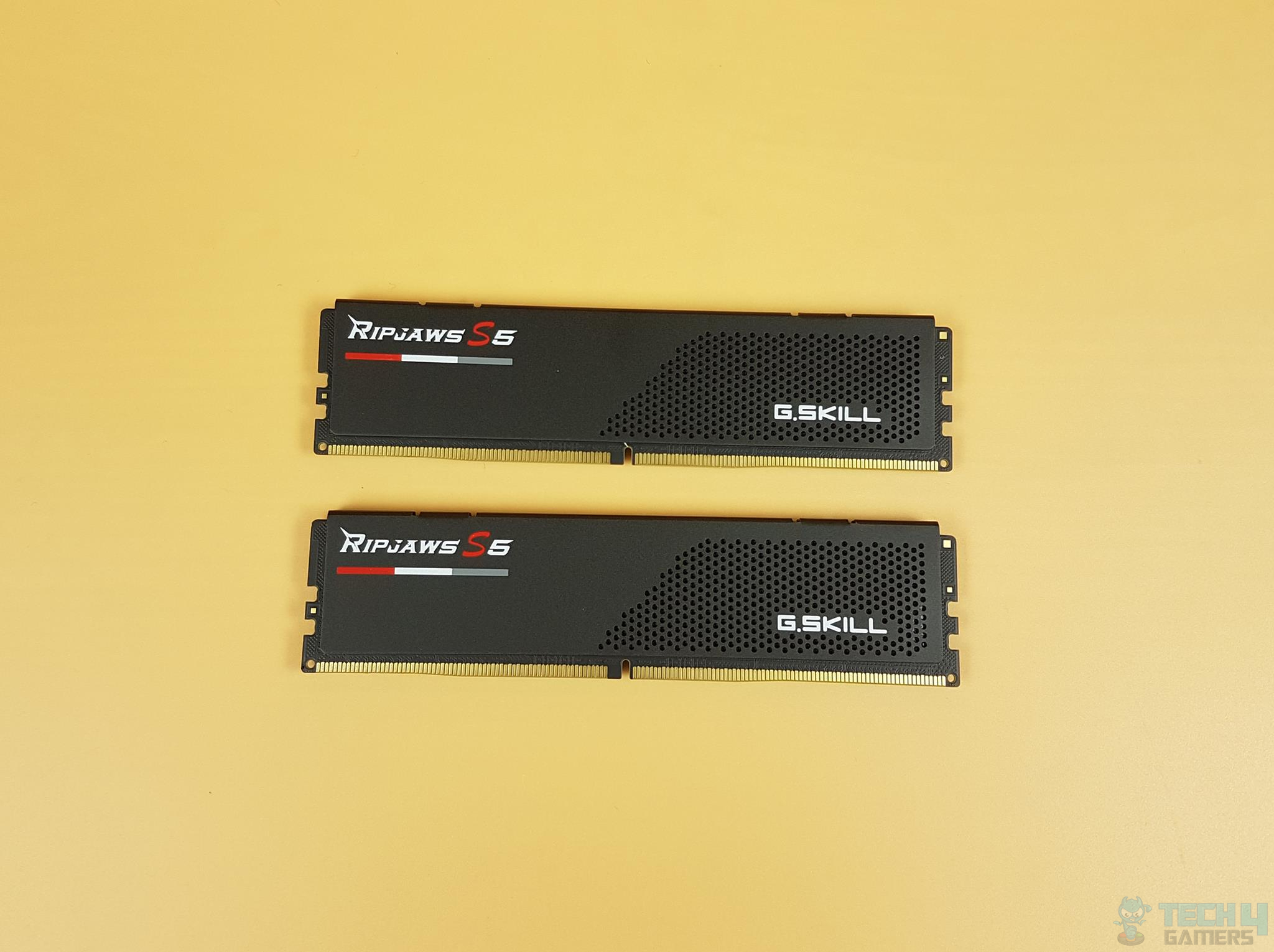 The dimension of this kit is 132x33x5mm (LxHxW). This kit is 33mm tall making it a low-profile despite having an aluminum heat spreader. This will give this a good clearance for the majority of air coolers in the market. It is Non-ECC, Unbuffered DIMM with a 288-pin layout (DDR5). Click here to check the compatibility of this kit with various motherboards.
This kit has an aluminum-made heat spreader housing the PCB, with its design inspired by classic racing stripes and grills. Both black and white colors are matte in design. RIPJAWS S5 is printed in red and white colors on the top left, with red, white, and gray color stripes below the branding. The right portion has a vented portion hence the name grill. G.SKILL in white color is pasted there. While this is a simple design, it is still quite eye-catching, and the provision of a solid aluminum heat spreader makes it easy to vent the heat. We can see the left and right sides of the black color CPB are exposed. They have notches there to catch the lockers of motherboards.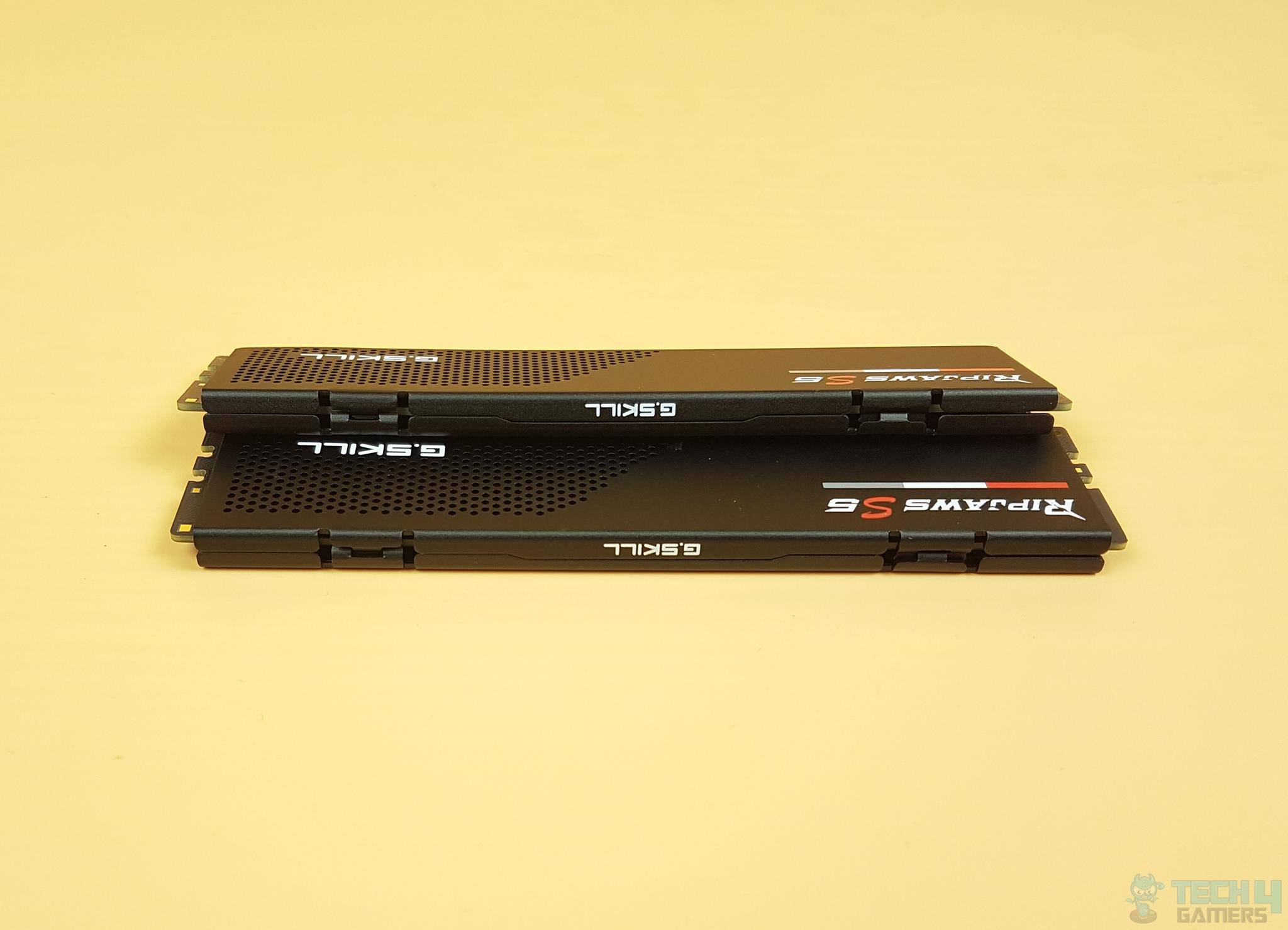 Looking at the top of this kit, we can see a minimalistic design here. G.SKILL is printed in a white color at the center. There is no fancy RGB lighting on this kit. Having a less wide body, these kits are likely not to obstruct the tube side of AIO's pump housing.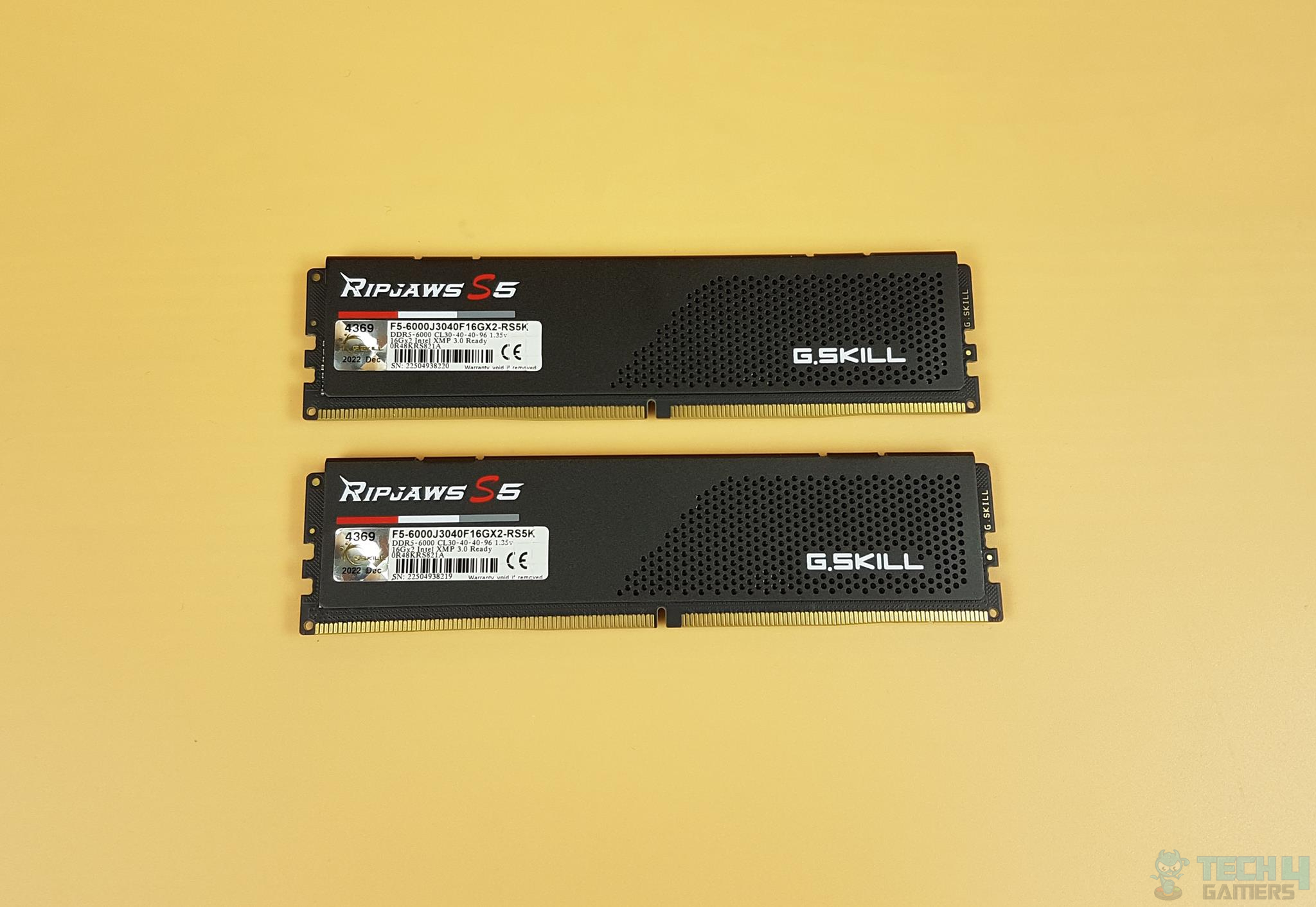 Looking at the backside, we can see that both sides have an identical layout with one key catch. There is a white color info label sticker on the back. The part number of this kit is printed on this sticker. Intel XMP profile data is also printed. This kit is manufactured in Dec 2022. 4369 is a checksum number. A serial number is also printed at the base.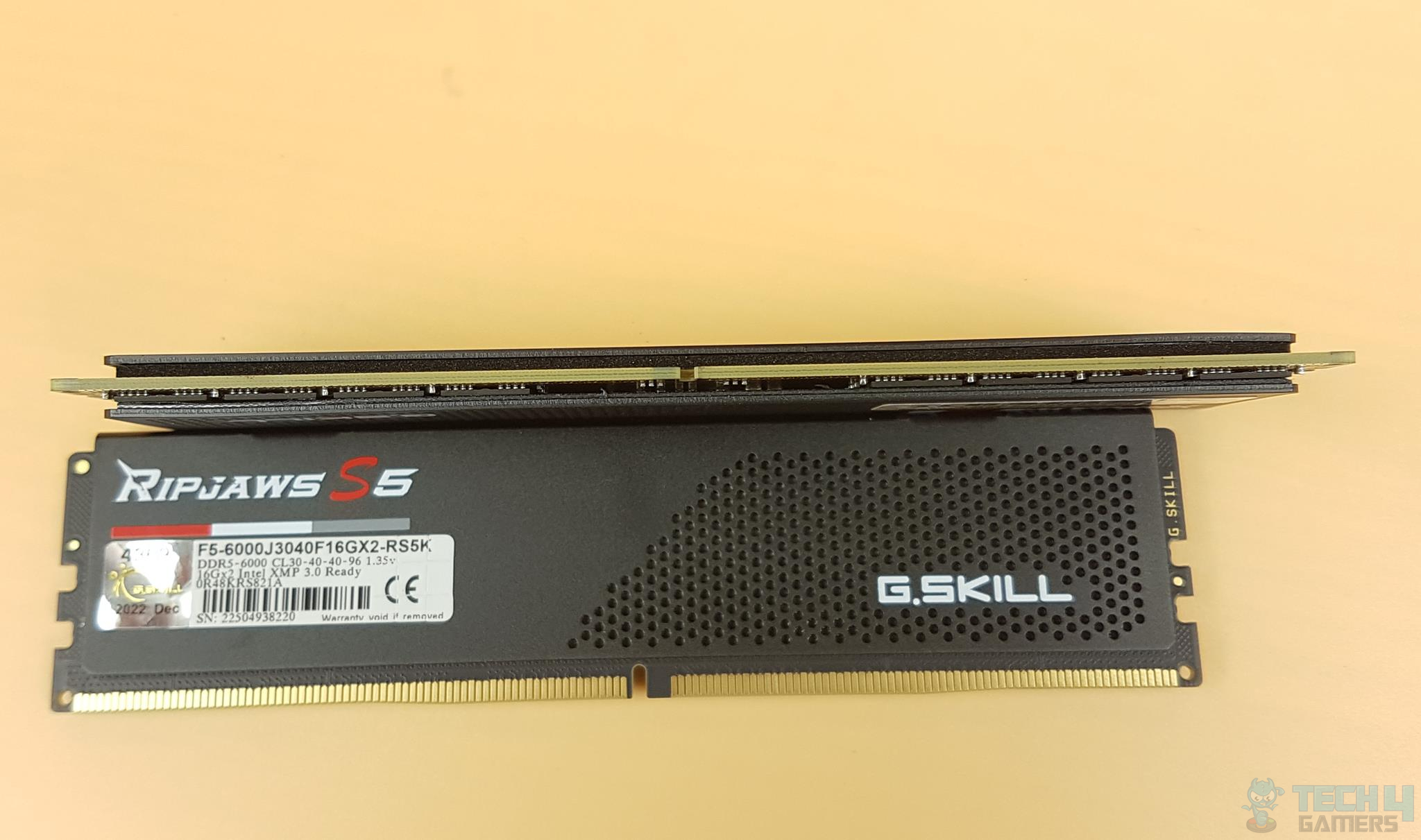 The above picture shows the populated side of the module. We have 8x chips, each having a 2GB capacity. The central chip is the PMIC. The G.Skill Ripjaws S5 kits use SK Hynix chips. There is what seems to be a single thin thermal pad running across the entire length of the heat spreader on the populated side of the PCB. I am not sure if PMIC also has a thermal pad covering. The opposite side of the PCB shows that it is an unpopulated area with thick foam padding running in two groups leaving the central side exposed.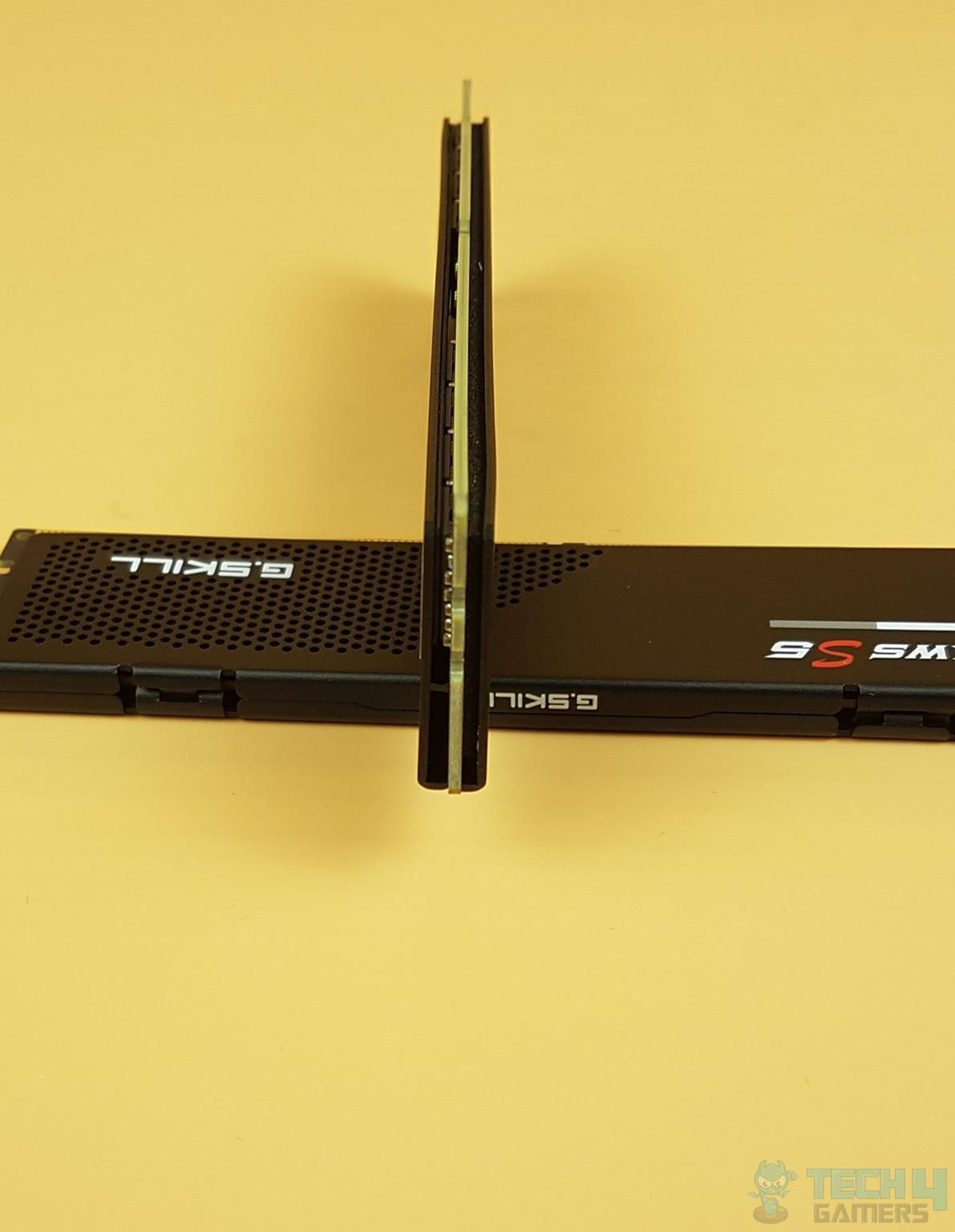 The PCB is protruding from the sides of the heat spreader. This is to make room so that latching can be done when installing the modules in the socket. We can see how slim this kit is.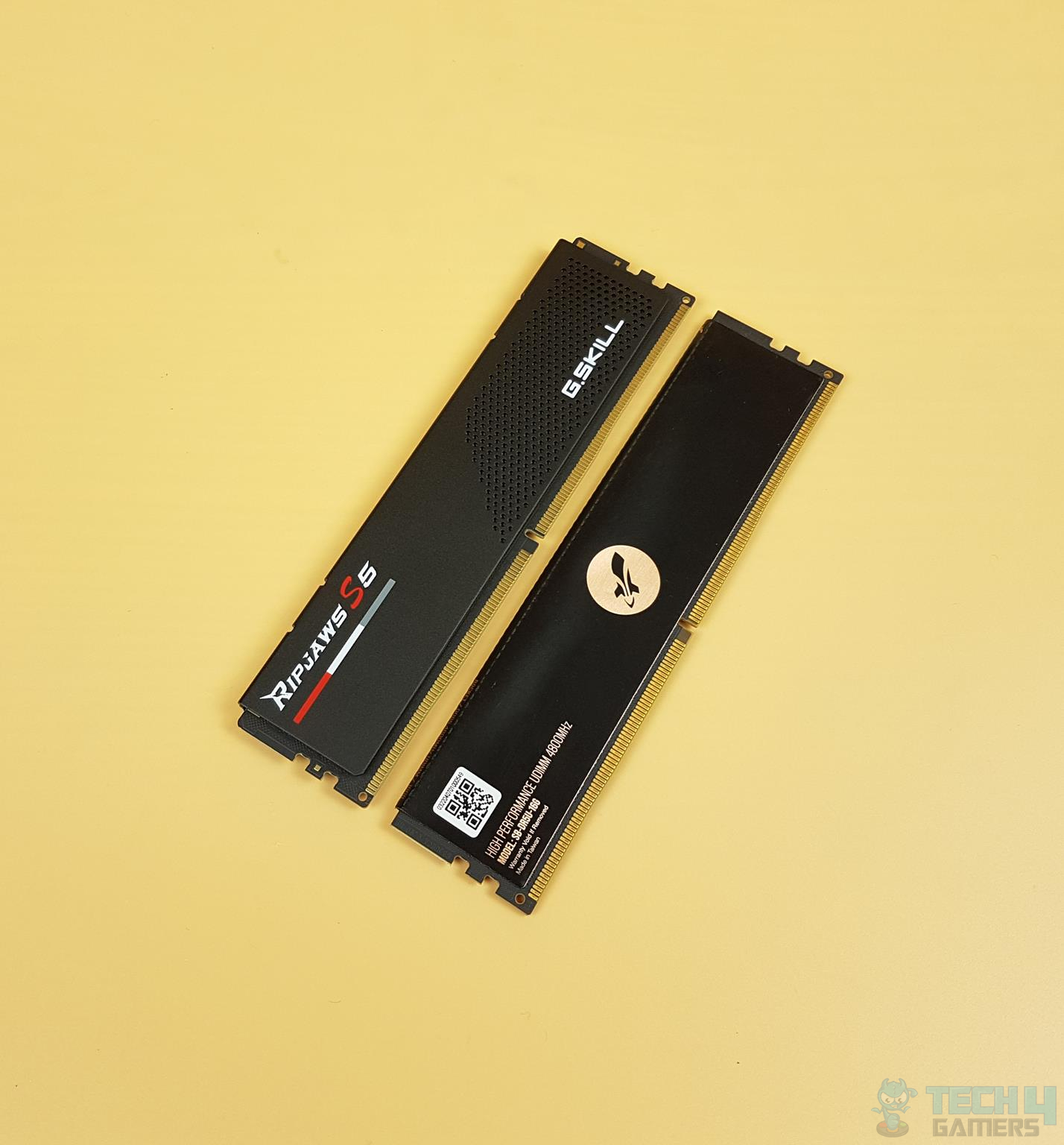 G.Skill Ripjaws S5 kit has a similar height compared to another low-profile kit from Sabrent.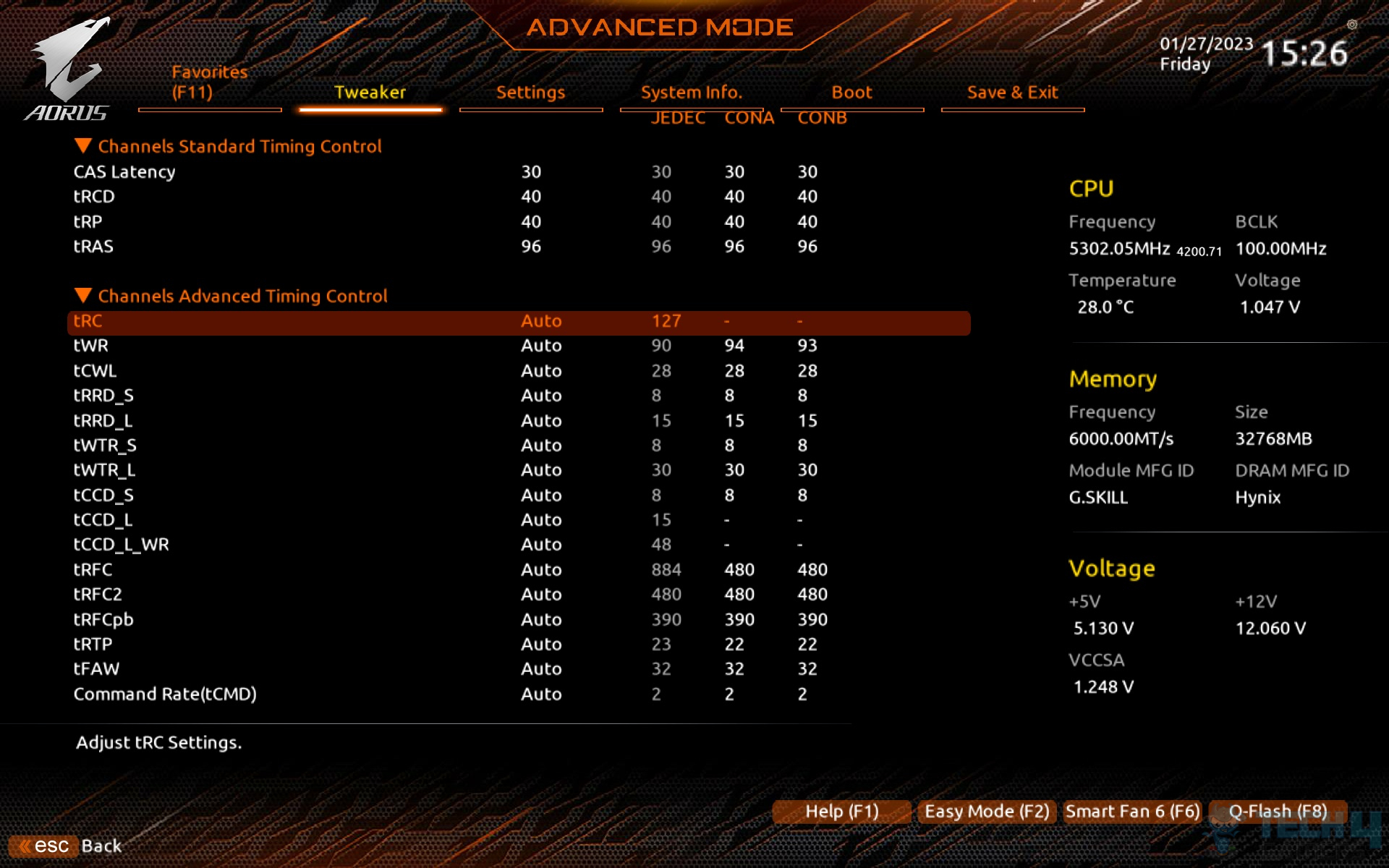 The above picture shows memory timings in USEI BIOS. Since I am a creature of habit, I am used to entering timings manually, regardless. Hence, these are not on Auto.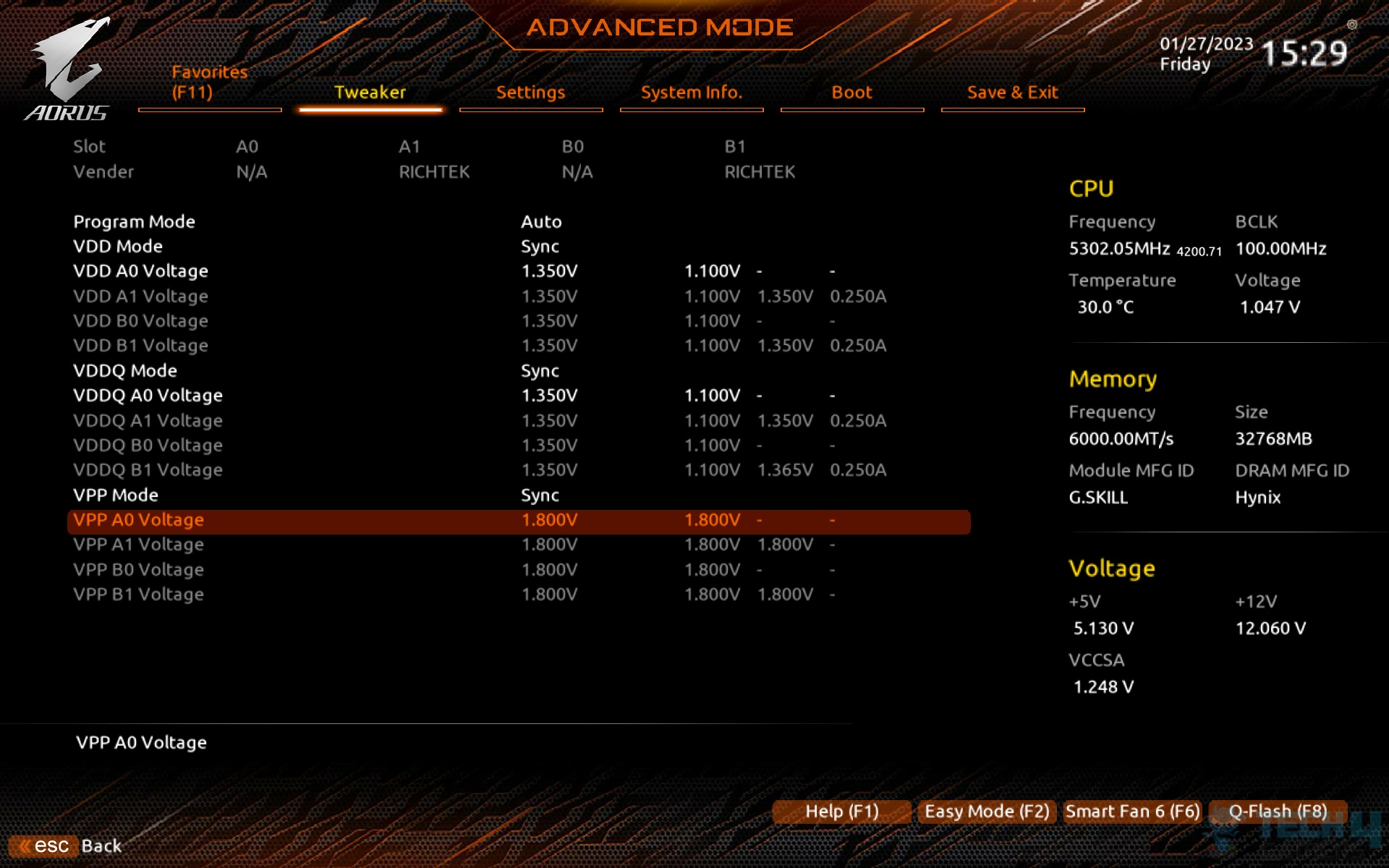 As shown in the above picture, VDD and VDDQ voltages were set to correct 1.35V manually as well. The PIMC chip is from RICHTEK.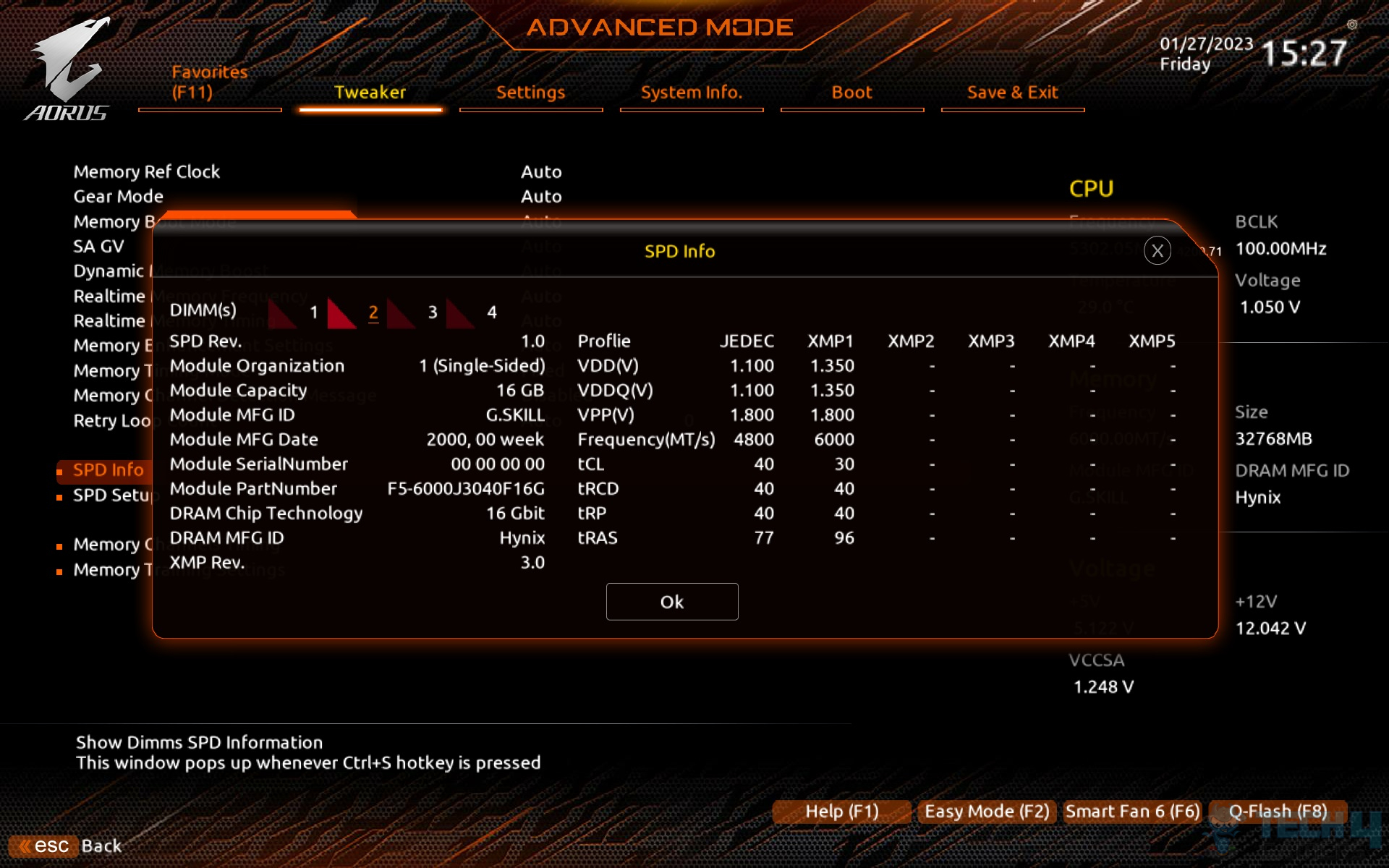 GIGABYTE Z790 AORUS ELITE AX shows the SPD of the DDR5 kit, as we can see in the above picture. There is an SPD writer where users can create their own tested profiles for later use and sharing.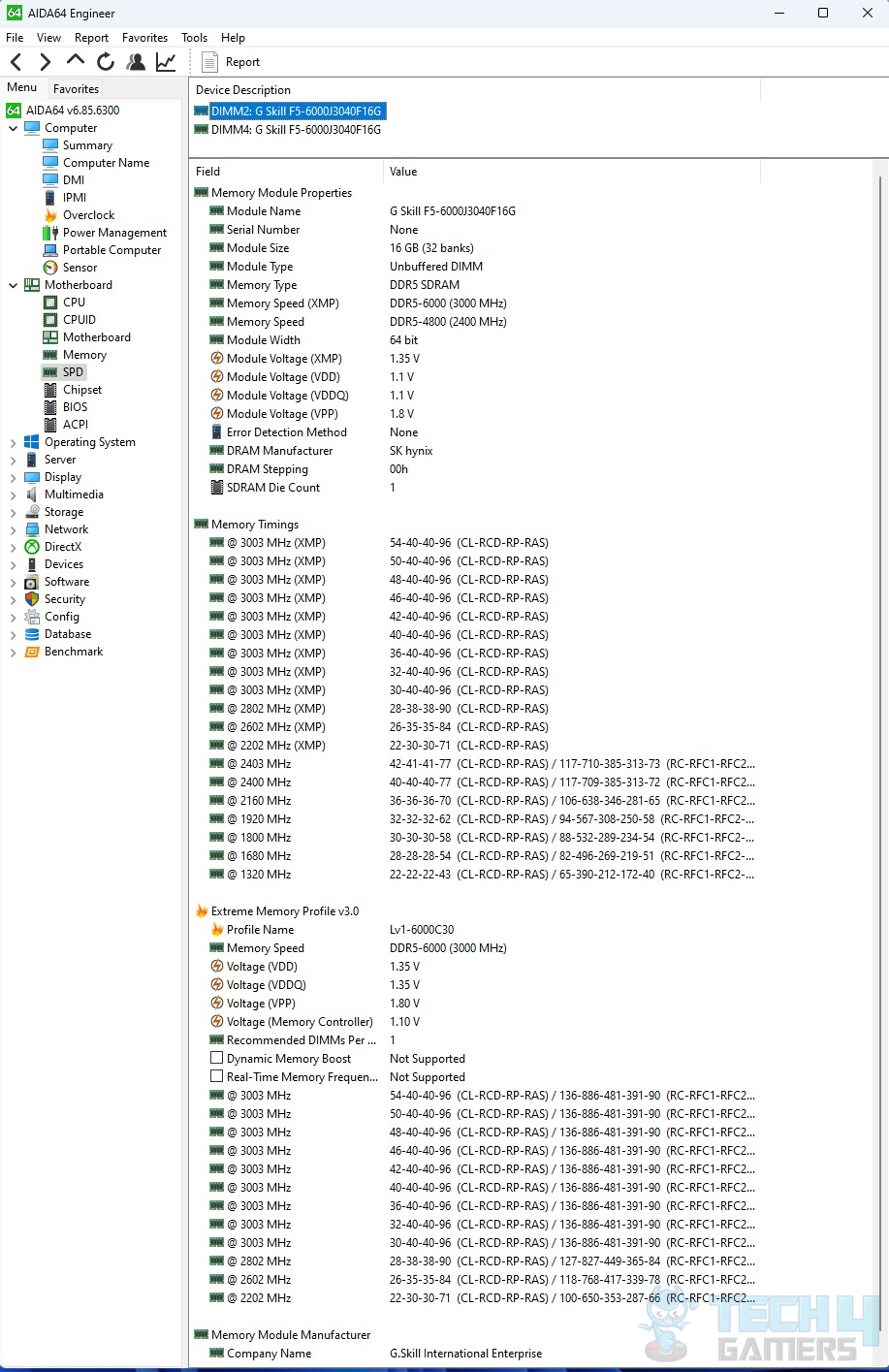 The above is the SPD readout as taken from the AIDA64 Engineer edition. A single module of the G.Skill Ripjaws S5 6000 CL 30 has 32 banks featuring SK Hynix chips. The Memory Controller Voltage in XMP 3.0 is 1.10V.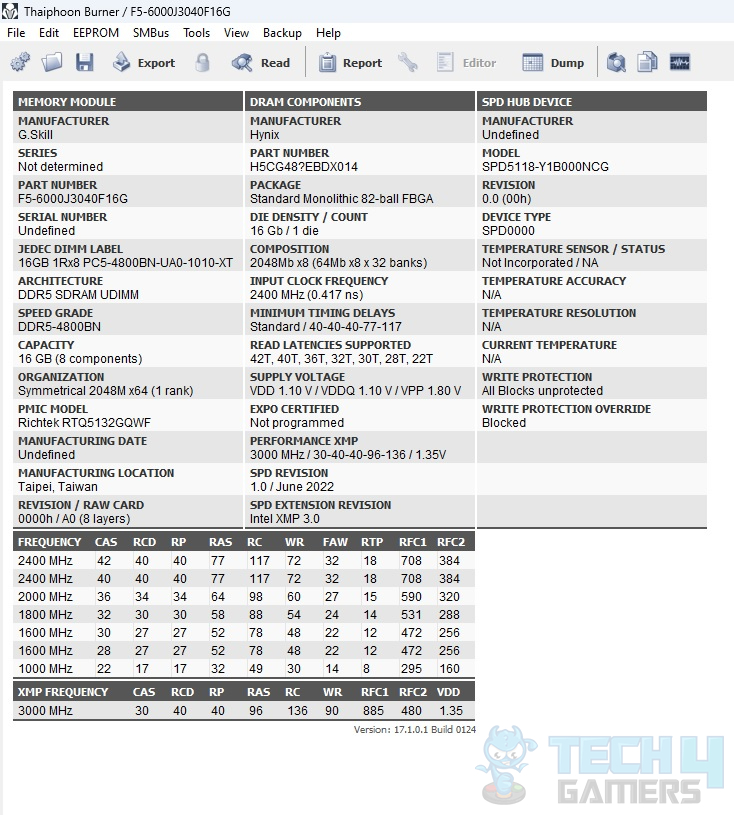 Thaiphoon Burner shows Hynix as a manufacturer of dies employed in this G.Skill kit. This is a single-rank kit. PMIC chip is RICHTEK RTQ5132GQWF. I am not sure about the die type, but after having a chat with Mr. Jon Coulter from TweakTown, our consensus is these are probably M-Die.
Testing
We will be using below mentioned configuration for future RAM testing:
We are thankful to our sponsors for this test bench. The following software has been used for the testing:
AIDA64 Engineer
SiSoftware Sandra Suite
Performance Test
3DMark Time Spy, Fire Strike
Super Pi
Cinebench R23[ Multi]
Before testing, we loaded the XMP 3.0 in UEFI BIOS. The timings and DRAM frequency were manually loaded just in case to ensure the proper working of the kit.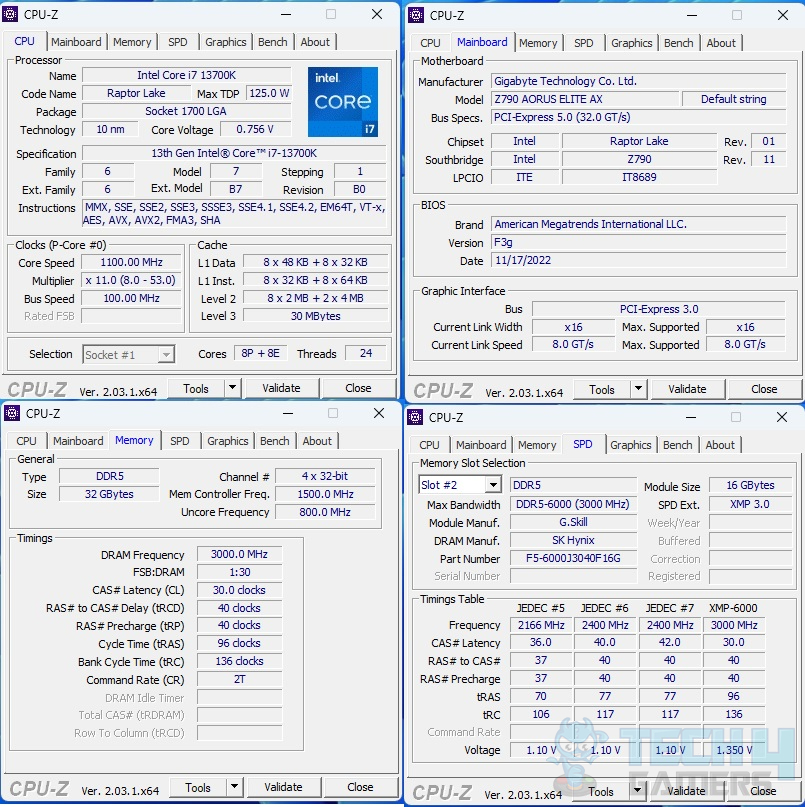 The above is a CPU-Z screenshot. Looking closely, you will notice that the software is reporting the kit to be in quad-channel configuration. The reason for that is with DDR5 kits, we have two channels per module, with each being 32-bit wide.
Results
AIDA64 Engineer
Let's start taking at results one by one, starting with AIDA64 Engineer.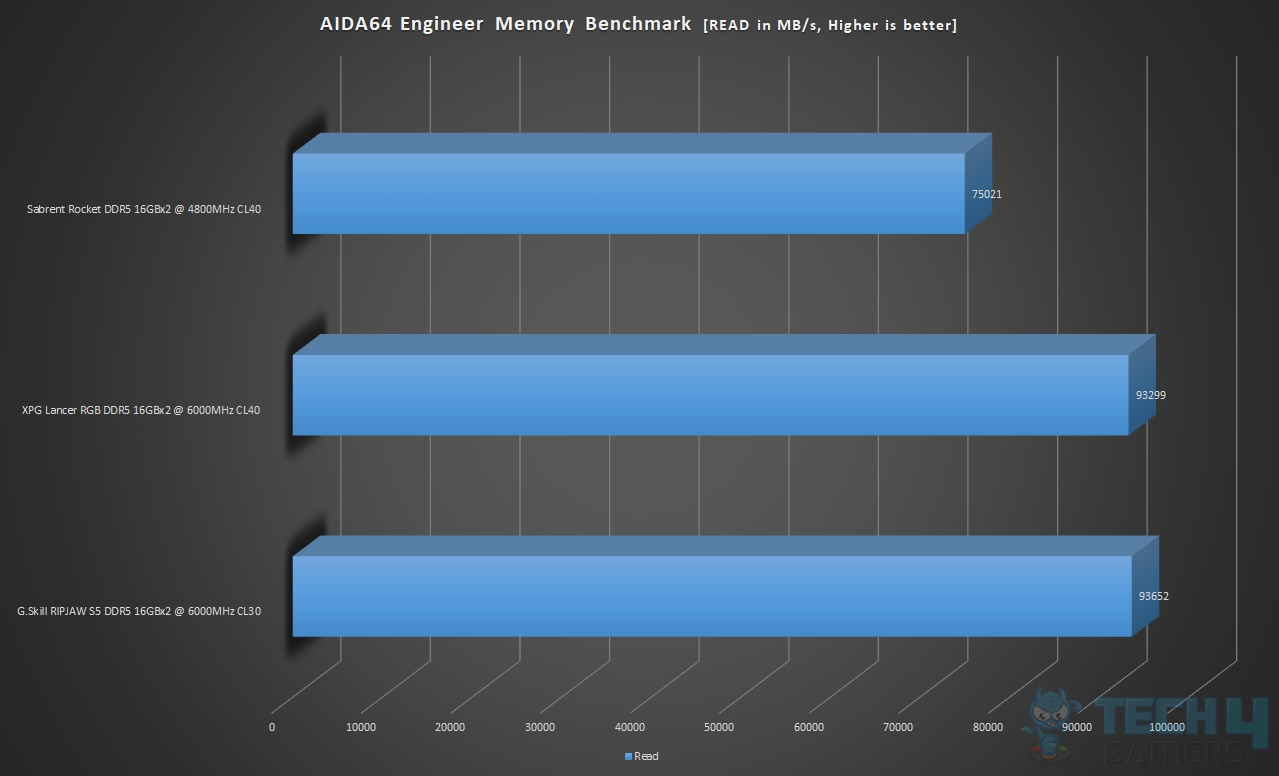 The G.Skill Ripjaws S5 has a score of 93652 MB/s. Though it is highest in this graph, it is close to XPG Lancer RGB 32GB kit simply because both kits are operating at the same frequency of 6000MHz, with a key difference coming from tighter timing on the G.Skill kit.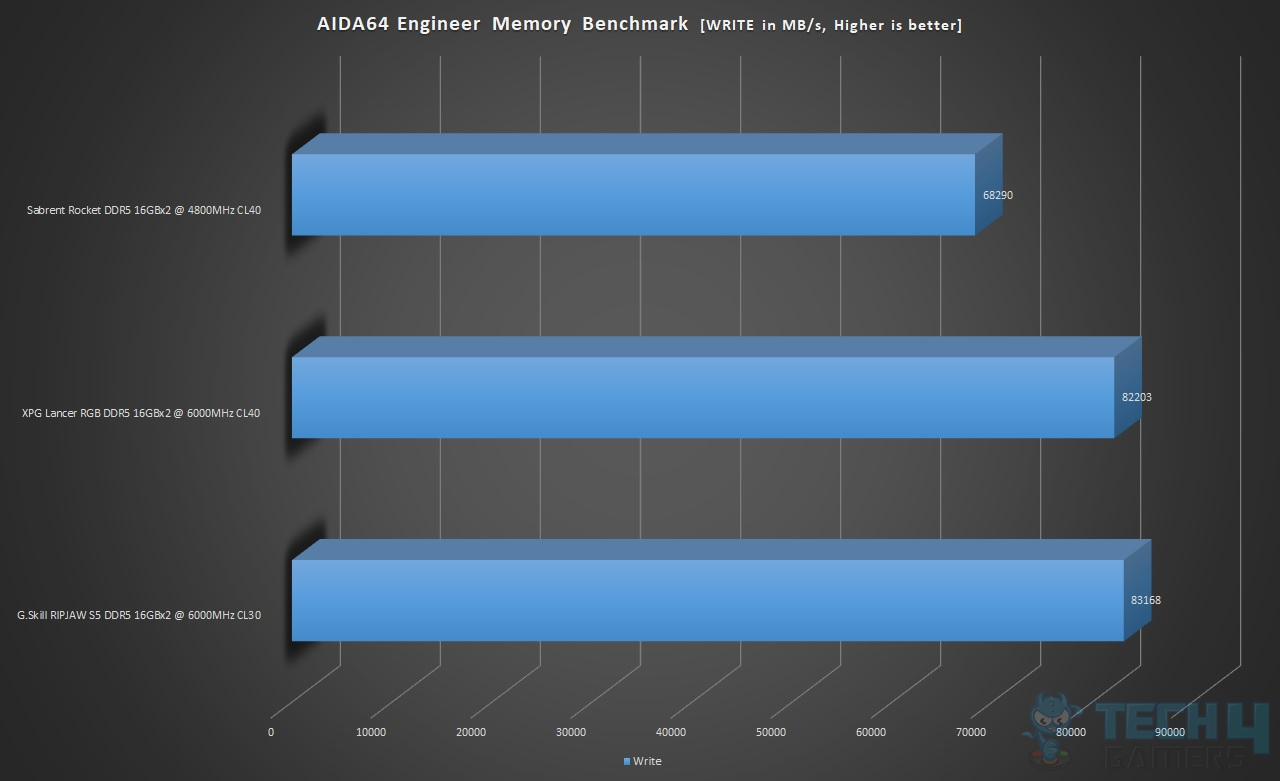 G.Skill Ripjaws S5 has a score of 83168 MB/s. G.Skill kit is above all in this comparison.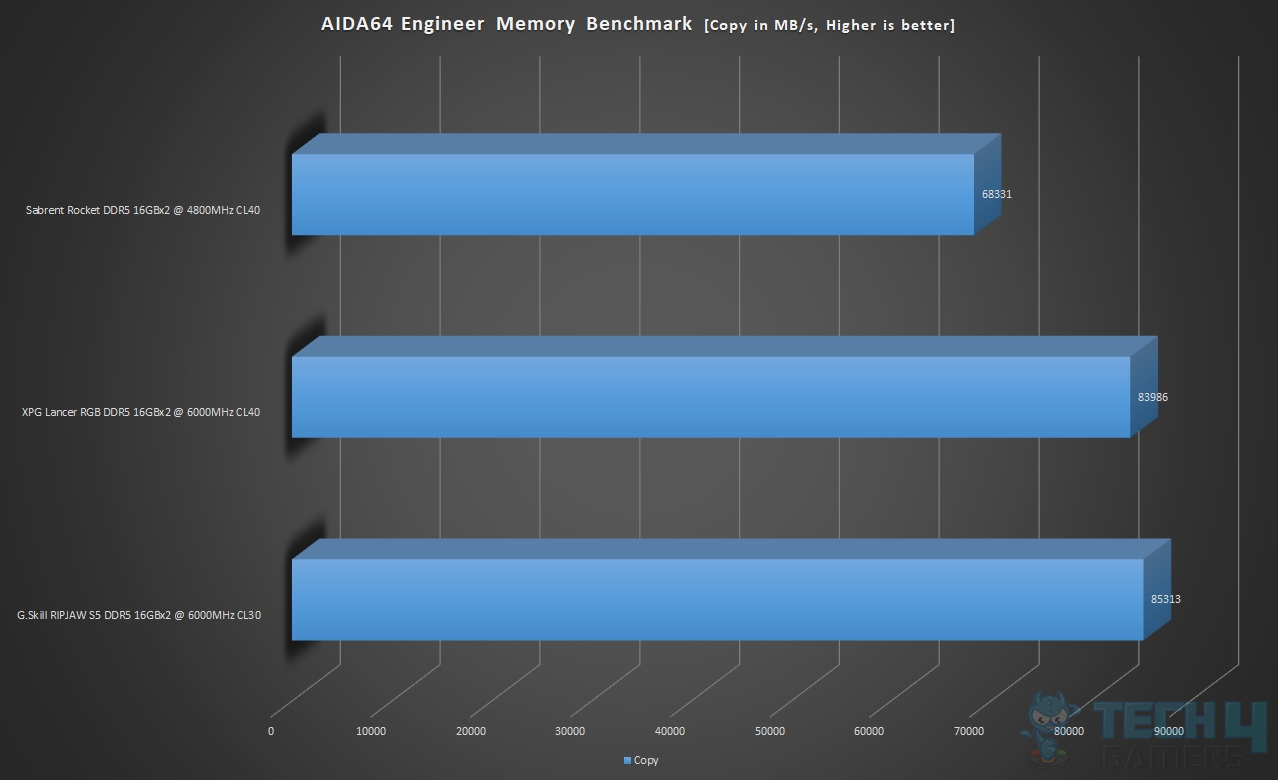 We can see that the G.Skill kit has got a good margin even against the XPG Lancer kit, gaining an 85313 MB/s score.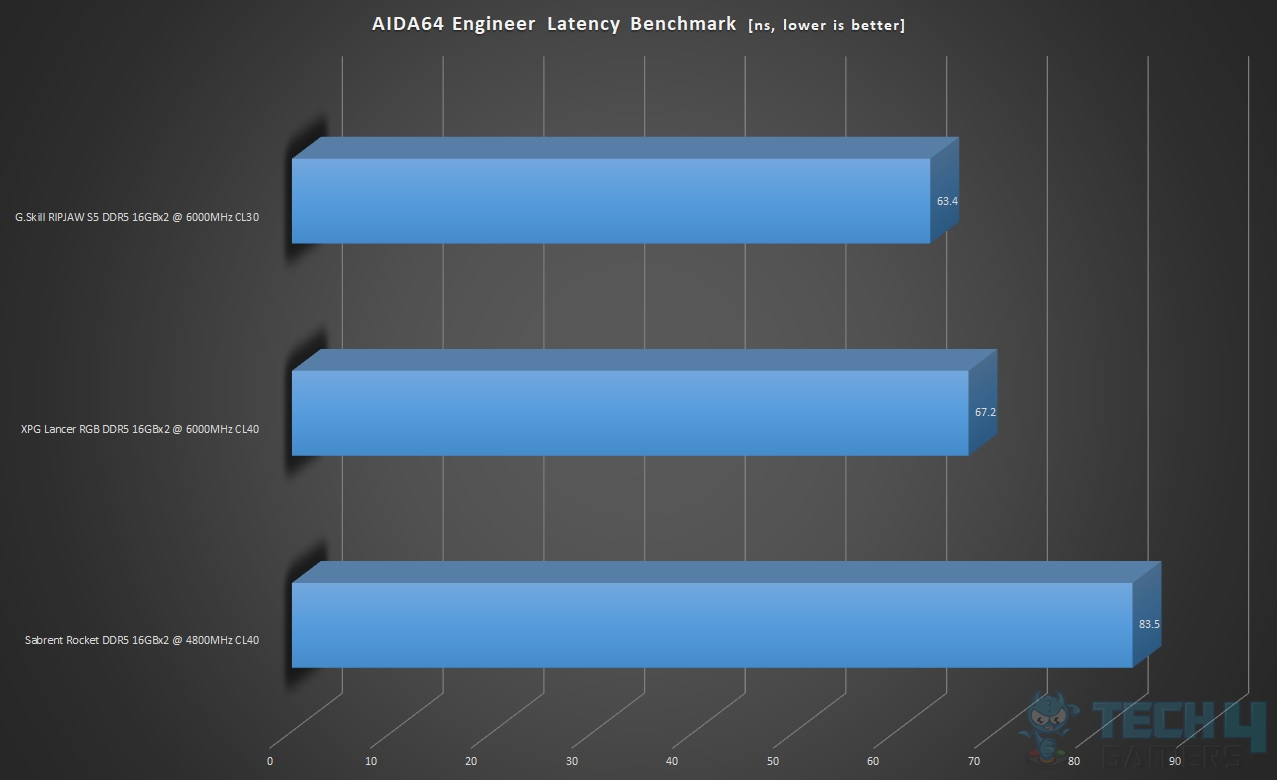 With 63.4ns, the G.Skill kit is leading this graph as well. Though the XPG Lancer kit is not that behind, it is clear that CL30 against CL40 is making an overall decent difference, even at the same speed.
SiSoft Sandra Suite
Now, let's take a look at the results from Sandra benchmarks.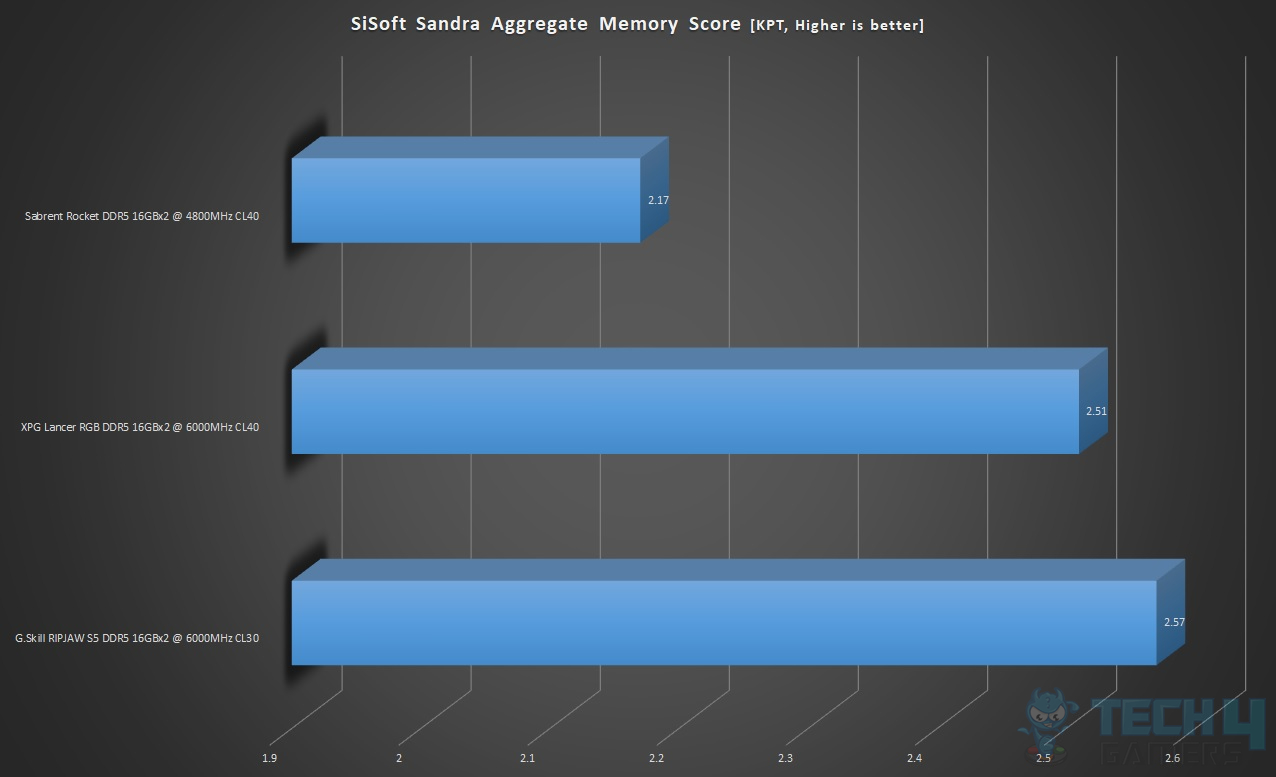 G.Skill, with a score of 2.57 KPT, is leading this graph.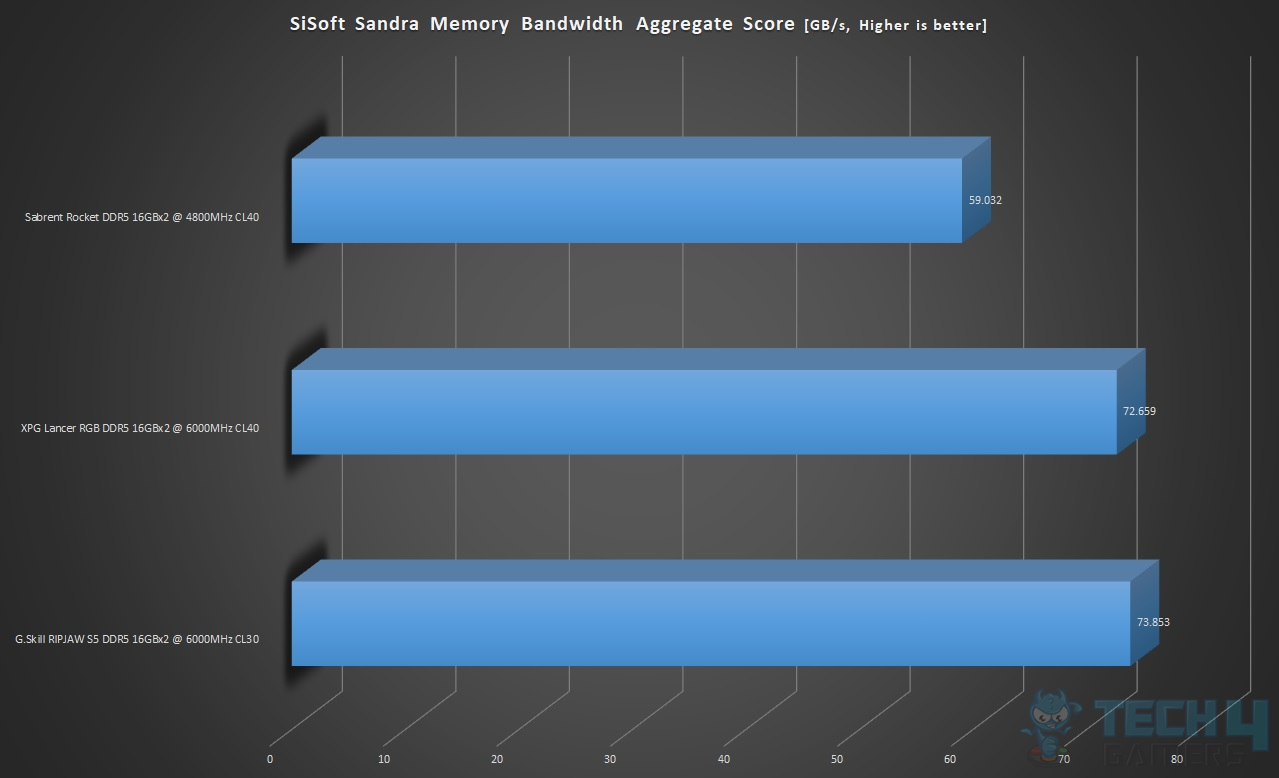 G.Skill kit secured 73.583 GB/s aggregate bandwidth and comes out on top of this graph.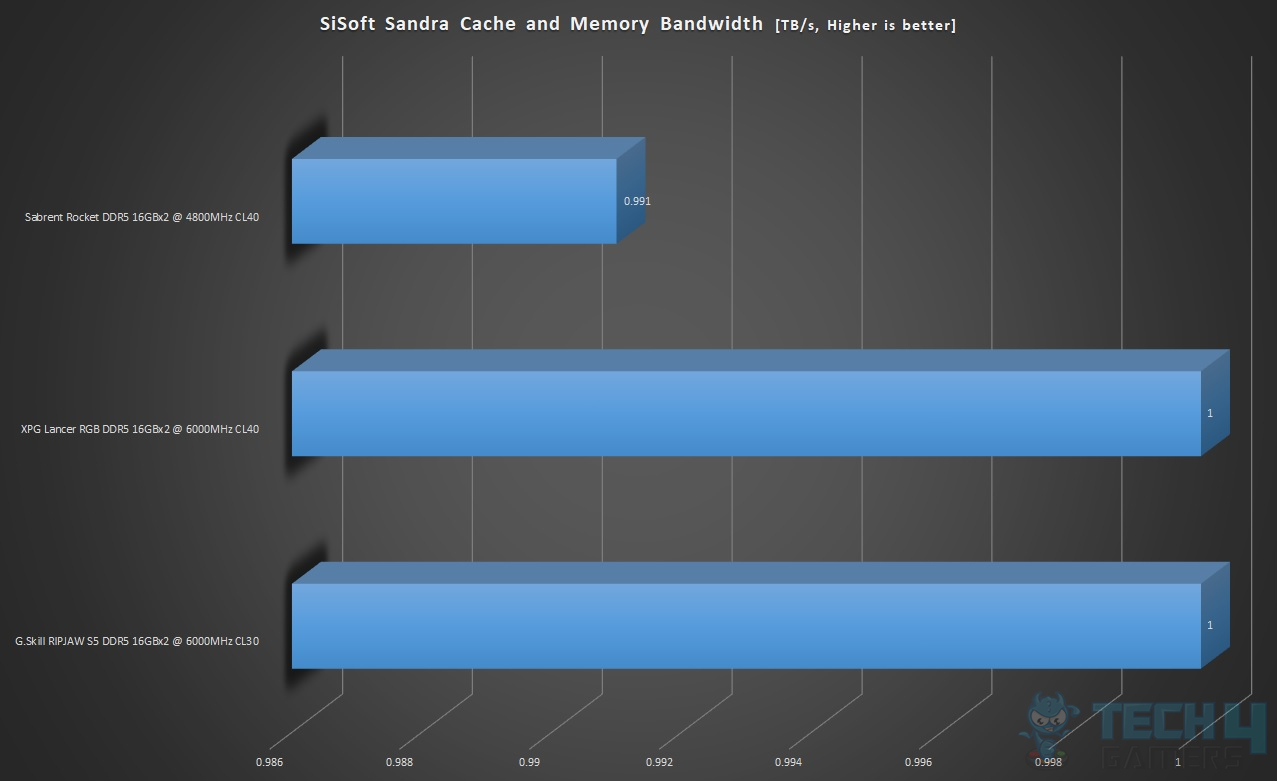 Both G.Skill and XPG Lancer RGB kits were tied in Memory and Cache Bandwidth benchmark. Sabrent kit was doing at 991.1 GB/s.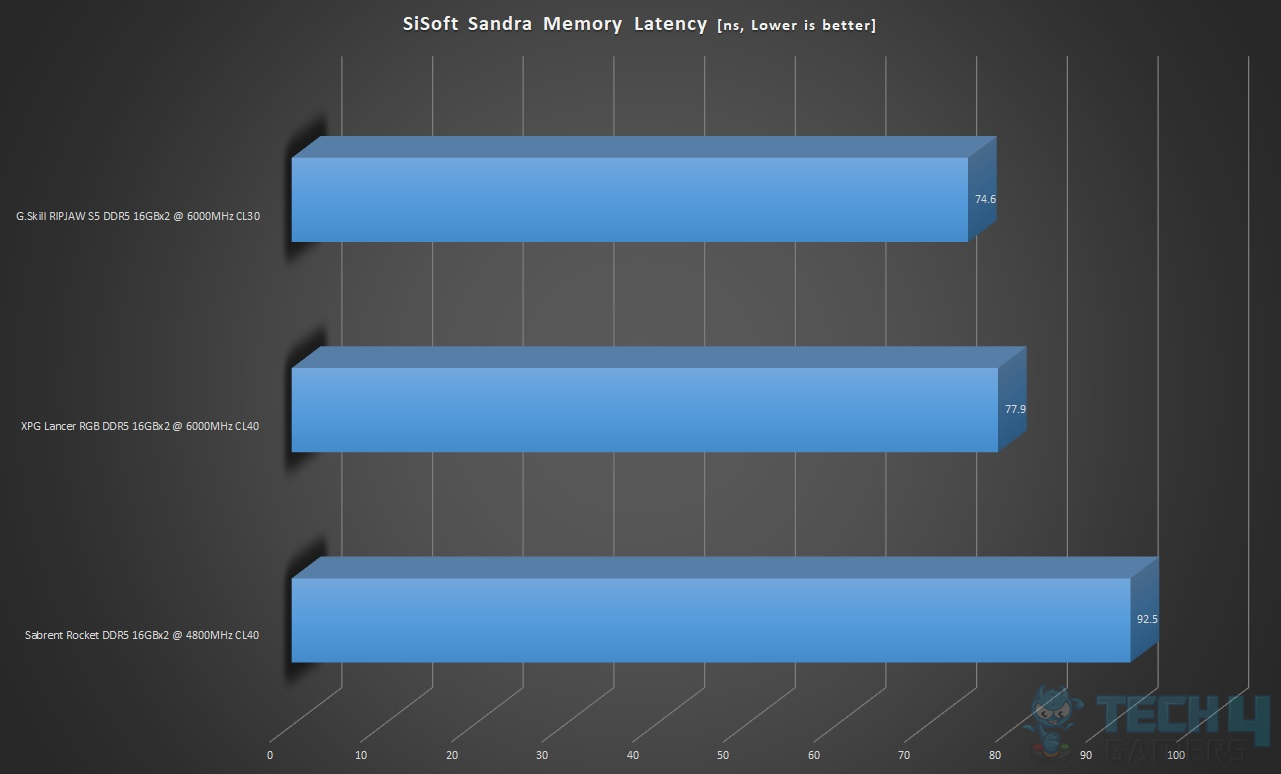 G.Skill is again leading the graph under the Memory and Cache Latency benchmark with 74.6ns.
Performance Test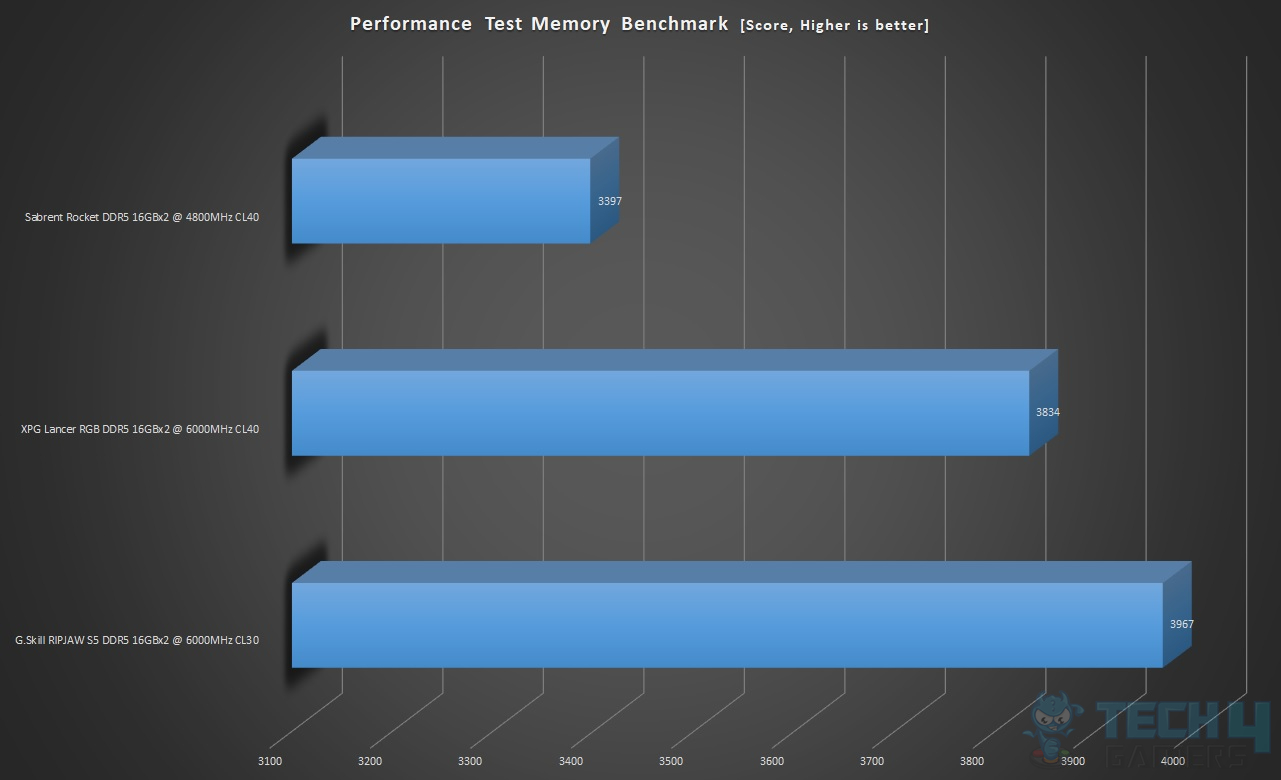 Again, G.Skill Ripjaws S5 is leading this graph with a 3967 overall memory score.
CINEBENCH R23.2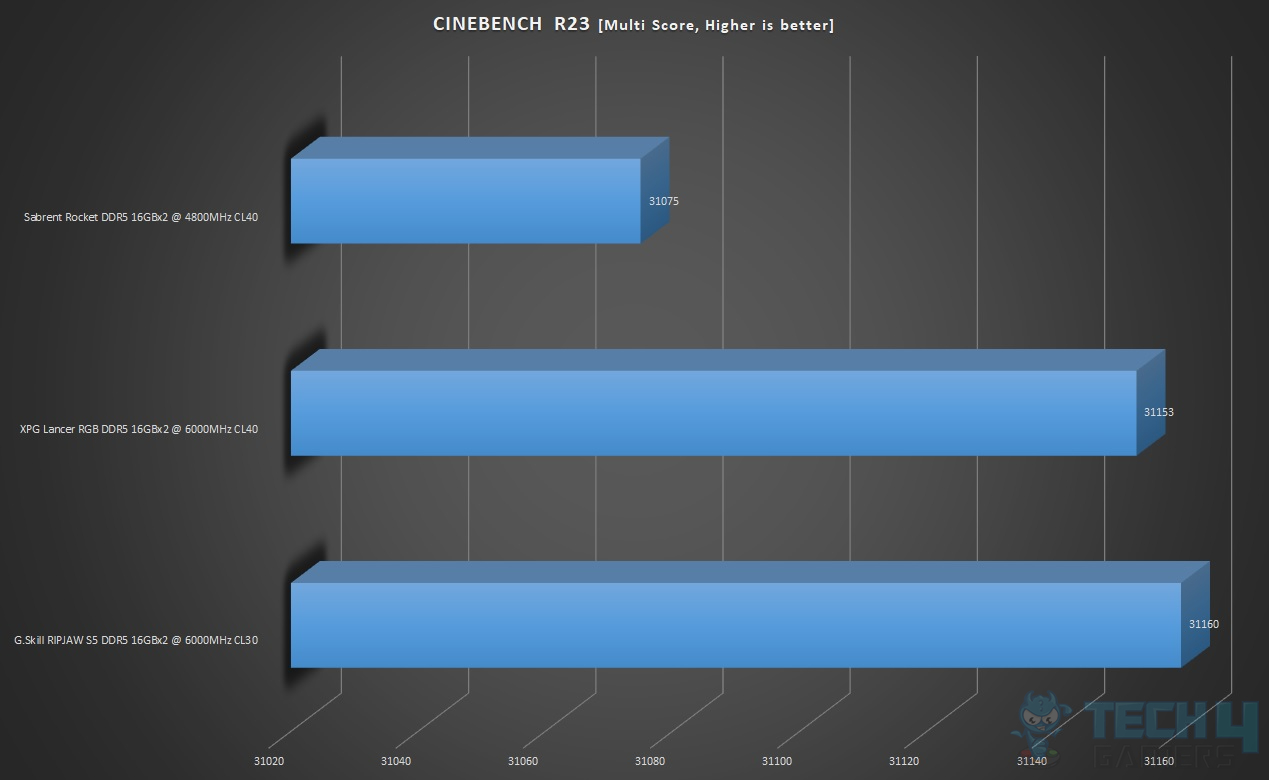 We ran the CPU Multi benchmark in R23.2 software. Here, the gain is very marginal among all 3 kits.
Super PI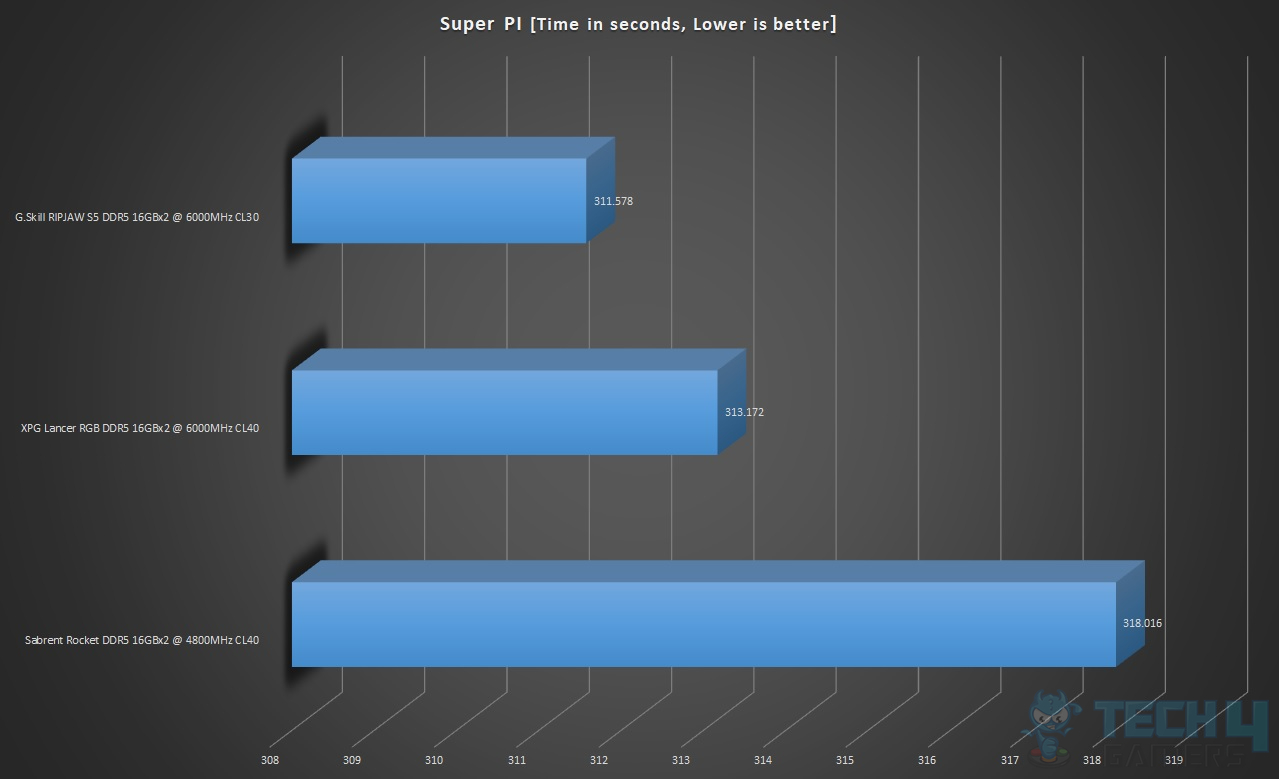 G.Skill Ripjaws S5 is leading this benchmark with 311.578 seconds.
3DMARK Benchmark
We have used Fire Strike and Time Spy benchmarks and are reporting Physics Score and CPU Score. We would want to see the impact of using different speed and timing kits on CPU scores.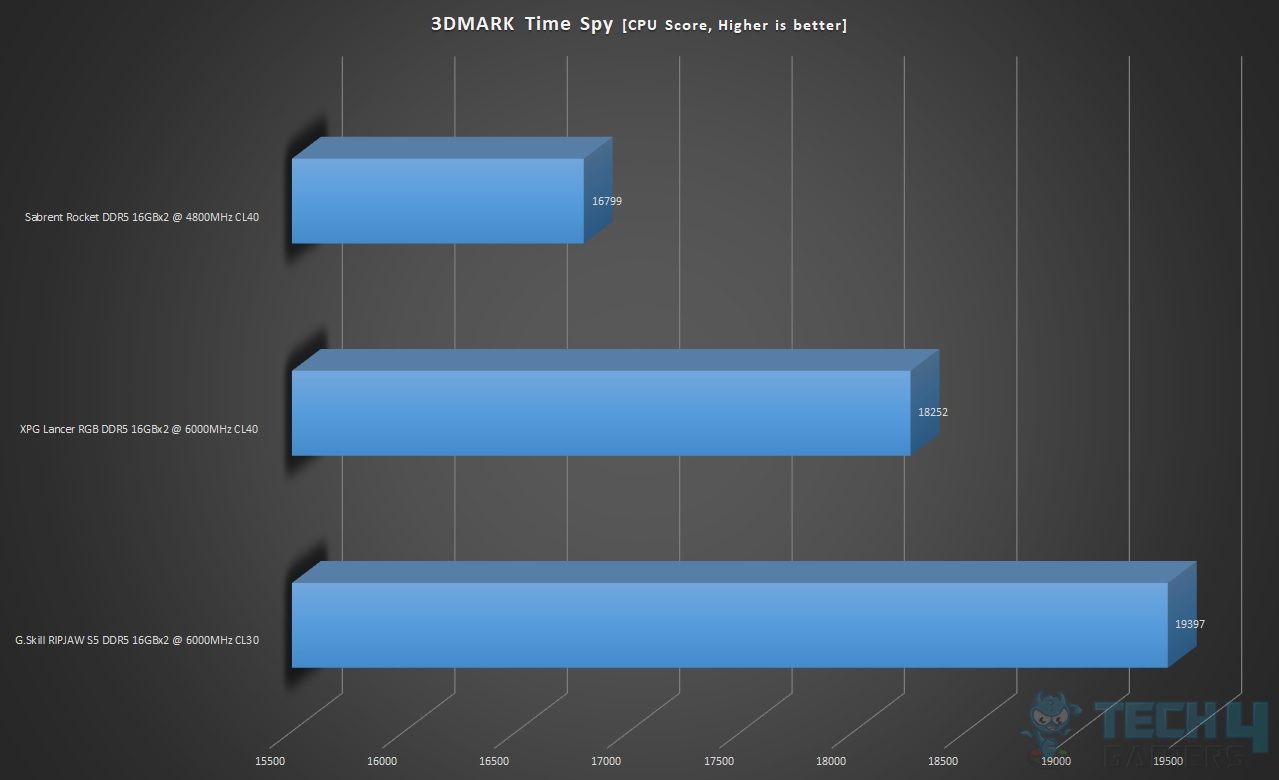 Three runs of Time Spy show large variations in CPU scores. We can see the G.Skill kit contributing more thanks to tighter timings on it, as it got a 19397 score.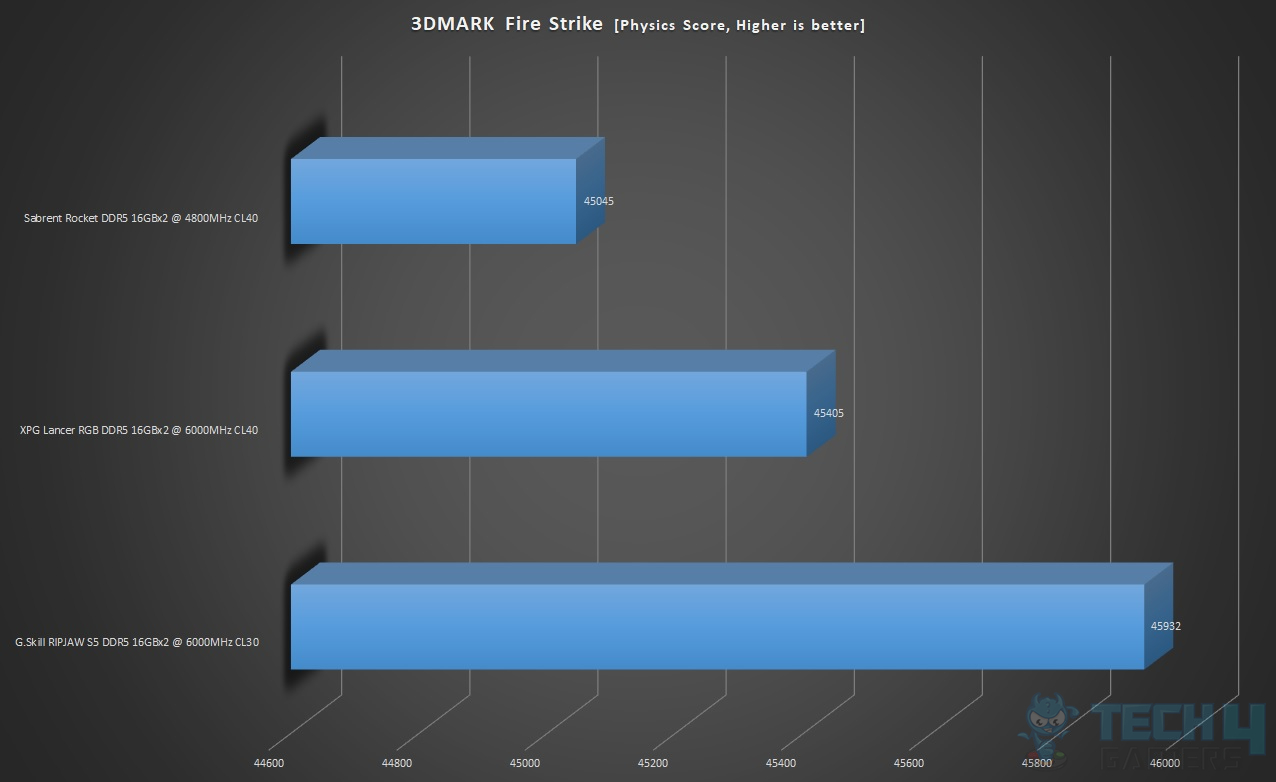 Surprisingly, Fire Strike is showing a minimal gain in comparison.
Overclocking
We usually start overclocking the given kit by manually upping the frequency in a multiple of 100MHz at a time and test for stability, and repeat this process until instability is achieved or where diminishing returns happen. Then we dial back to stock frequency and start tweaking timings. Then we strive to achieve maximum frequency with tight timings. This is not an easy process and takes more time. With the G.Skill Ripjaws S5 kit, we only overclocked it to find a maximum stable frequency at XMP timings.
Our stable settings came as follows:
| | |
| --- | --- |
| Memory Frequency Multiplier | 6600MHz |
| Timings | 30-40-40-96 |
| Gear Mode | Auto |
| VDD | 1.42V |
| VDDQ | 1.42V |
| VPP | 1.80V |
| VCCSA | 1.25V |
We were able to achieve a +600MHz frequency boost. So, we repeated a few benchmarks to see the gain.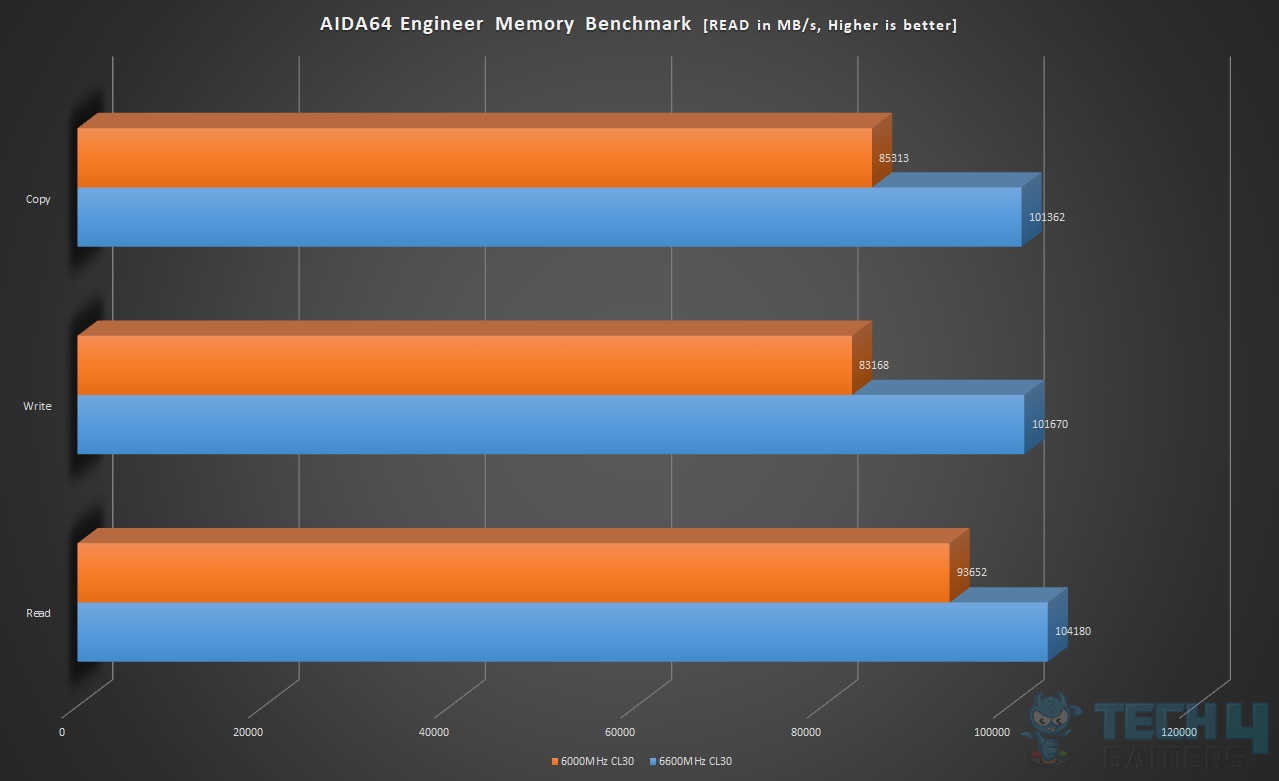 We saw an improvement of 18.18% in Copy, 22.24% in Write, and an 11.24% gain in Read operations.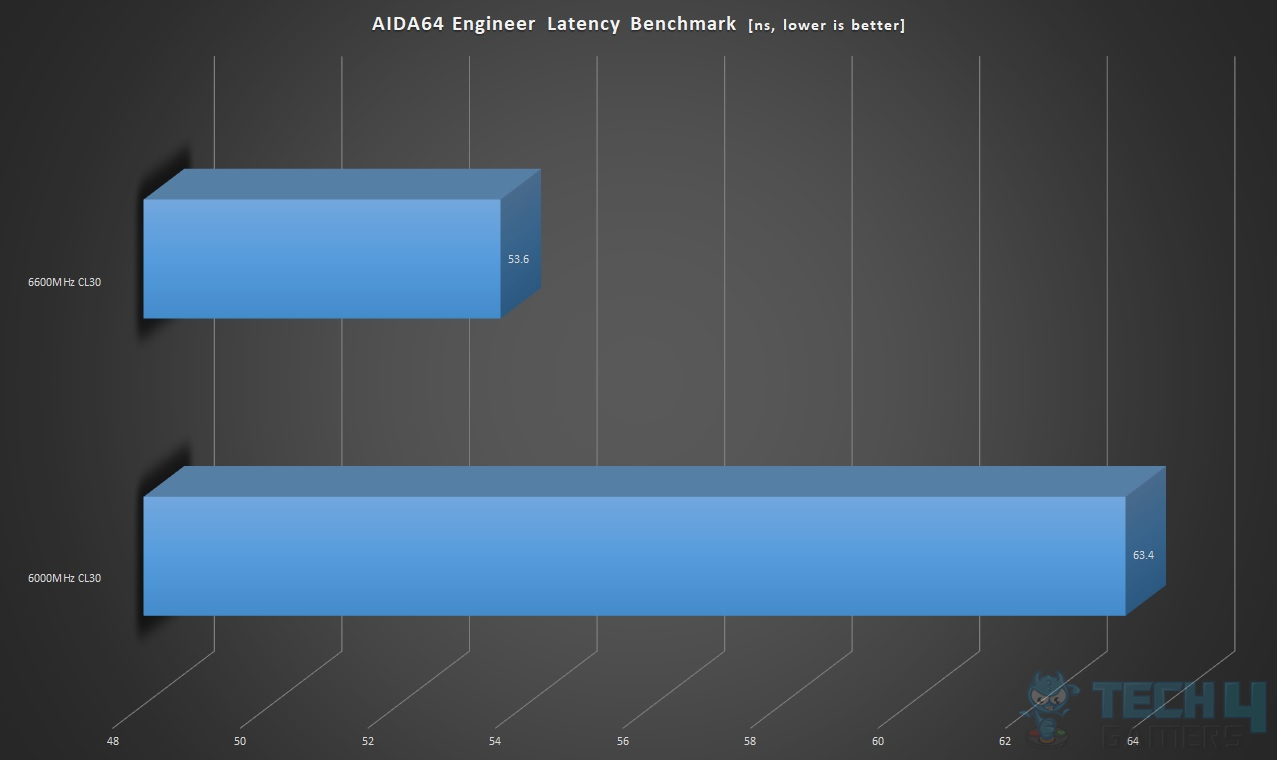 With just improving the frequency at the same CL30, we saw latency further coming down to 53.6ns, which is quite good.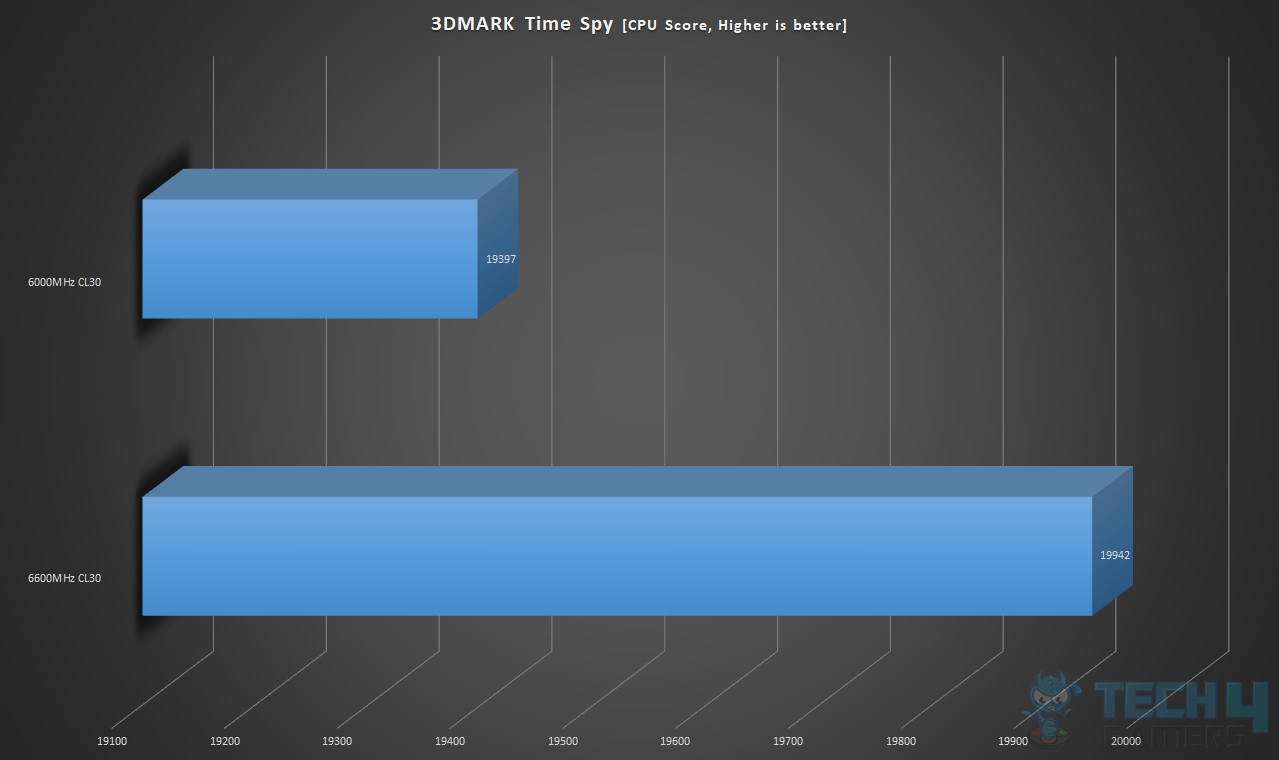 3DMARK Time Spy shows a marginal gain of 2.80%.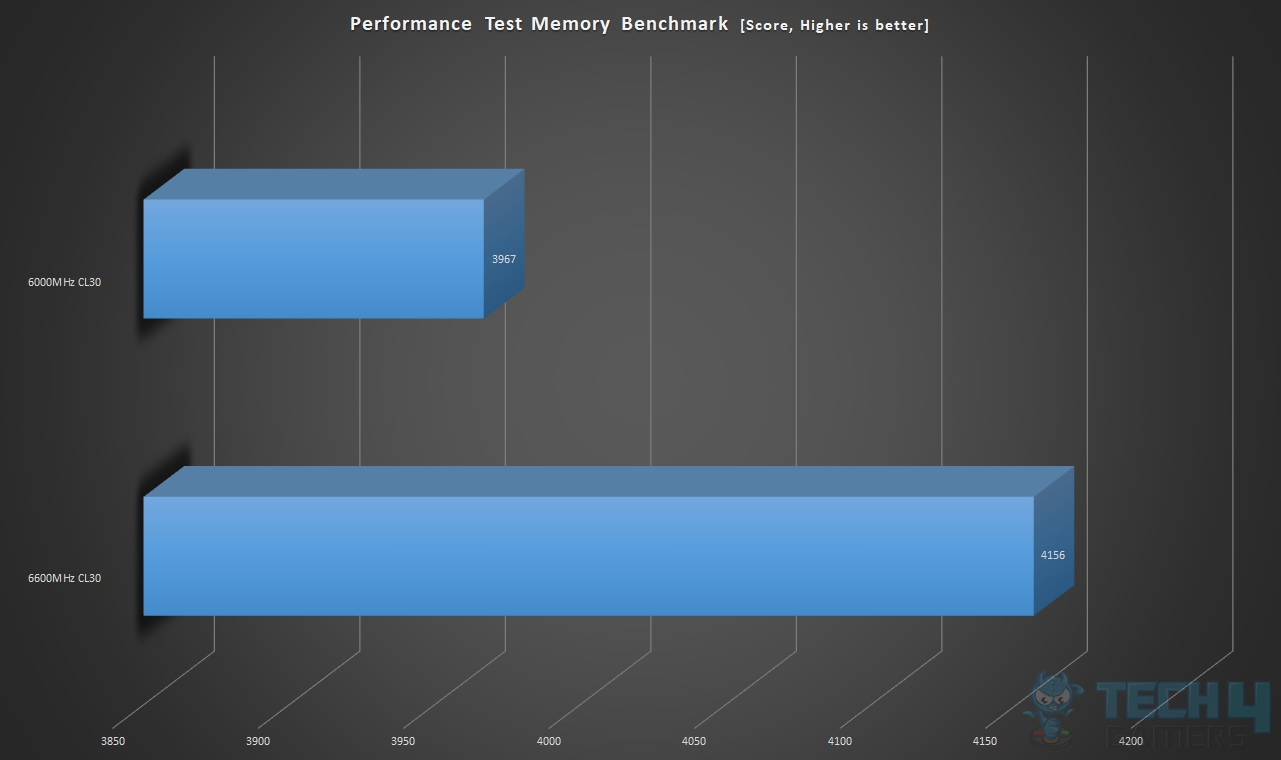 Performance Test shows a gain of 4.76%.
Conclusion
DDR5 was launched in 2021 when Intel launched the Alder Lake platform. Now, we have three platforms supporting DDR5; Alder Lake, Raptor Lake S, and AM5. At its launch, the main lackluster feature was not the performance but the high price tag though latencies were more. Now, we have or are coming to a point where we see tight timing kits with higher frequencies and relatively lower prices. However, DDR4 pricing has taken full advantage of these high-priced DDR5 kits, and with Intel continuing support for DDR4 on the 12th and 13th generations, users have more room but more of a dead future upgrade path, at least on the DDR4 side.
We have tested 3x DDR5 kits from various manufacturers and pitched them against each other in this content with the main focus on the G.Skill kit. These kits are:
G.Skill Ripjaws S5 16GBx2 6000MHz, CL30
XPG Lancer RGB 16GBx2 6000MHz, CL40
Sabrent Rocket 16GBx2 4800MHz, CL40
G.Skill Ripjaws S5 is their main-stream series in the DDR5 category. Ripjaws S5 is a performance DDR5 DRAM memory series made with hand-screened memory ICs that passed G.SKILL rigorous validation tests (according to G.Skill).
Each Ripjaws S5 memory kit strikes a balance between performance, compatibility, and stability and is available in matte black or matte white aluminum heat spreaders. The discounted pricing of these kits makes it a good buy for what they offer. The Trident series is still available for enthusiasts and professionals.
The G.Skill Ripjaws S5s are available from 5200 MT/s to 6400MT/s in various timing configurations and capacities of 32GB to 64 GB. Our kit is of 2x sticks with 16GB per stick, it has a frequency of 6000 MHz standing at 30-40-40-96 timings using XMP 3.0 with 1.350V voltage. This kit supports Intel XMP and has a single profile stored in it.
As strange as it would sound, enabling XMP will actually void the warranty of your CPU and what really catches me is that XMP is also from Intel. Intel only honors sticks running at JEDEC default of the corresponding SKU. Technically, enabling XMP would overclock the RAM kit above JEDEC defaults.
G.Skill Ripjaws S5 series is a low profile kit having a dimension of 133x33x5mm, where 33mm is a height of a stick. These kits feature racing-inspired stripes and grill designs on aluminum-made heat spreaders. There is nothing fancy in the overall aesthetic design department, and we don't have RGB lighting either. 5mm is the thickness meaning it is likely not to obstruct the tube side of AIO's pump housing.
There is a sticker on the backside of each module removal which will void the warranty. Only one side of the PCB is populated, and the PMIC chip is located in the center of the PCB on the populated side. I am not sure if the PMIC chip has a thermal pad on it or not. The XPG Lancer kit does not have a thermal pad on the PMIC chip.
Speaking of the PMIC chip, this controller is from RICHTEK. We are not sure about the die type employed on this kit. This kit is using Hynix dies, and they are probably M-Type though not confirmed.
We have tested the kit on the GIGABYTE Z790 AORUS ELITE AX using Intel i7-13700K. This motherboard can support RAM of up to 7200MHz speed. The other kit, in comparison, has the same frequency, but the key difference is CL30 on G.Skill Ripjaws S5 compared to CL40 on the XPG Lancer RGB kit.
This has shown some fine gain performance lead of the G.Skill kit over the XPG Lancer RGB kit. Sabrent kit operating at 4800MHz at CL40 is nowhere near the other two kits. We even managed to overclock the G.Skill Ripjaws S5 kit to 6600MHz while keeping the same timing. Depending on the software/benchmark, this has given a good boost to the performance of this kit.
G.Skill Ripjaws S5 6000MHz CL30 black is listed at USD 159.99 [NewEgg pricing] at the time of this writing. Compared to the other kits in question, this is a good price tag. G.Skill is offering a limited lifetime warranty on this kit.
This is a retail unit we buy to review and later use in one of our lab's builds.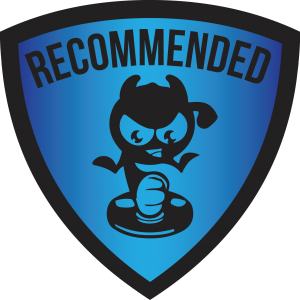 Was our article helpful? 👨‍💻
Thank you! Please share your positive feedback. 🔋
How could we improve this post? Please Help us. 😔