With RGB lighting, you can create infinite color combinations and lighting effects using only the three primary colors. This guide covers everything to know about RGB in gaming to help you navigate the different types of RGB lights and peripherals gamers use to modify their space.
Key Takeaways
RGB Lighting has three colors, Red, Green, and Blue, that blend to give you an immersive gaming environment.
You can incorporate several RGB peripherals into your gaming setups, such as RGB Mouse, RGB Keyboard, and RGB Headphones.
RGB Light Strips, RGB Wall Lights, and RGB Smart Corner Lights are common picks among gamers to revamp the gaming room's vibe.
What Is RGB In Gaming?
RGB stands for "Red, Green, Blue," the primary colors that merge to produce various other colors. RGB lights use these three colors to create animations, visuals, and lighting effects that complement your gaming. It can be controlled using brand-specific software, third-party software, or portable remotes to adjust the brightness and color output.
Also Read: How To Connect RGB Fans To Motherboard
Gaming Peripherals With RGB Lighting
With the advancement in technology and the rising interest of gamers, a long list of gaming peripherals now comes with RGB lights, for example;
RGB Keyboard
RGB Mouse
RGB Monitor
RGB Motherboard
RGB Graphics Card
RGB Headphones
RGB Fans
RGB LED Strips
RGB Coolers
RGB RAM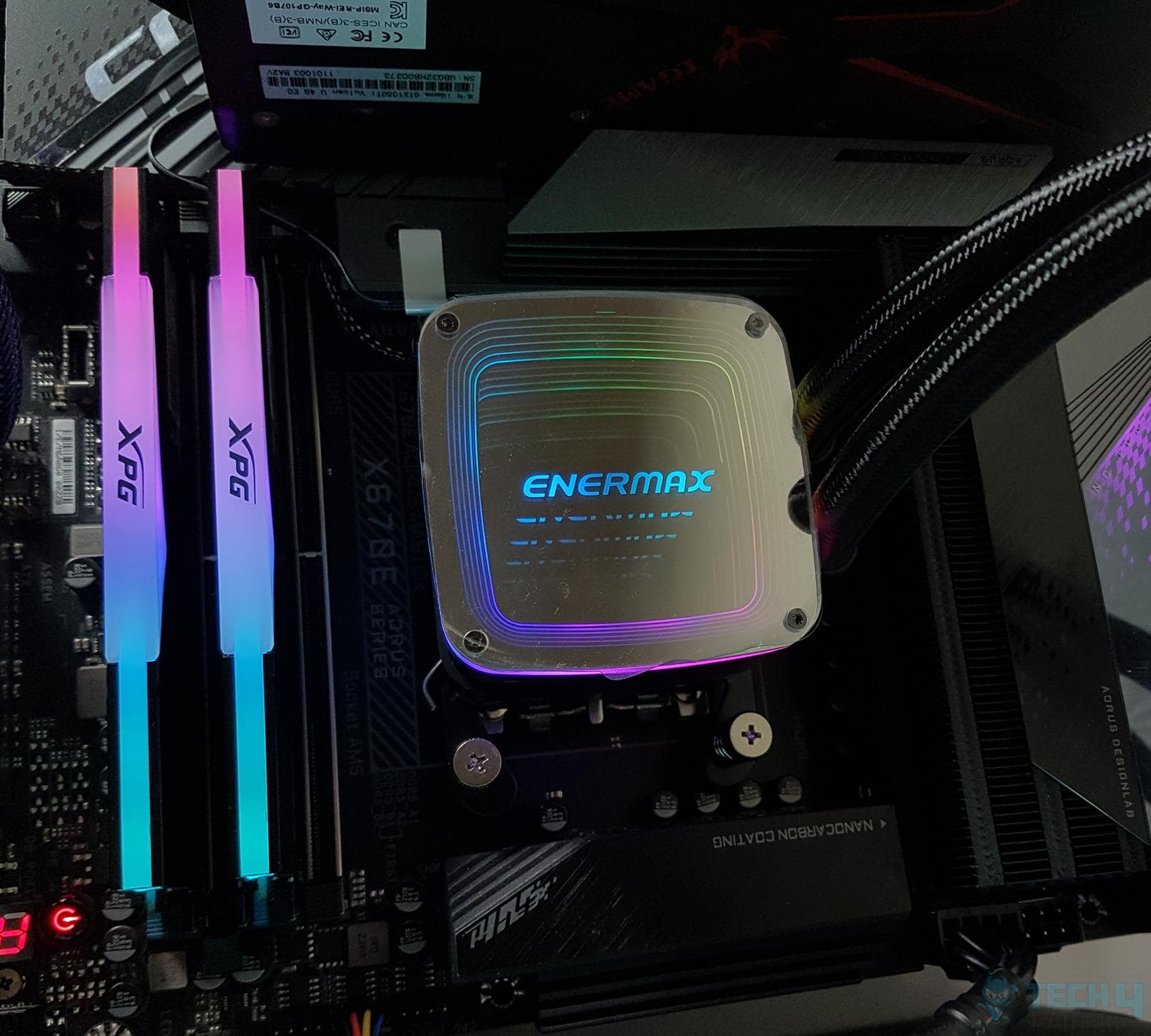 The Benefits Of Using RGB Lights In Gaming
RGB lights have many hidden benefits to enhance your gaming experience. They create an immersive gaming environment and let you match the game's theme by choosing a particular color light. For example, you can switch on Red lights while playing intense battle games or roll back to Blue lights to mimic a softer environment for adventure games.
Furthermore, you can synchronize RGB lightning across various devices, like Keyboard, Mouse, and Monitor, to create an aesthetic effect during the gameplay.
You can also specify color profiles for your RGB Keyboard by selecting varying colors for individual keys. This can aid better gaming controls and quicker reactivity to a game stimulus. Besides, RGB lights let you identify the right keys in a dark room. Also, make sure to read about how to change the CyberpowerPC keyboard color and how to change the color on a Razer keyboard before proceeding further.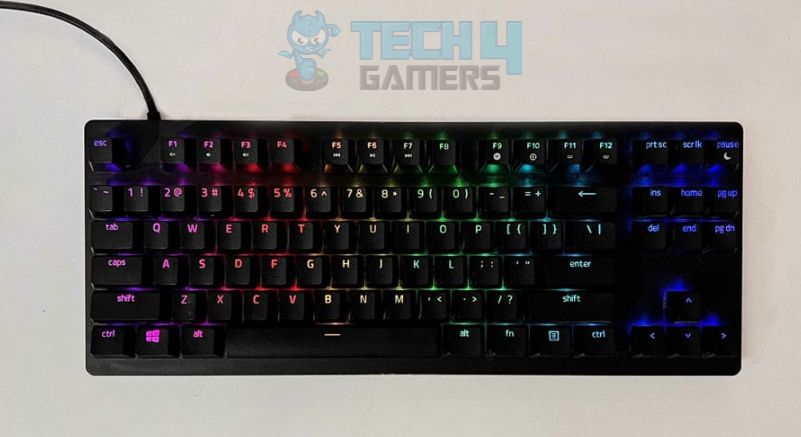 Advanced RGB lighting systems like
ASUS Aura
and
Gigabyte RGB Fusion
are designed to change color to indicate when the CPU Load or Temperature exceeds the ideal. For instance, the lights may change from Blue to Red if the
CPU
is overheating. Consequently, you can tone down heavy gaming once you notice the change in RGB colors until the CPU returns to optional conditions, prolonging its health and life.
Types Of RGB Light Strips
There are two types of RGB Light Strips, Analog and Digital. In Analog RGB Strips, the LEDs are connected in parallel, so when you set the color, for example, Blue, the whole strip lights up in Blue.
Meanwhile, Digital RGB Strips use an advanced system to control the color and brightness of each LED light on the strip. As a result, you can choose different colors for individual lights on the same strip, like one light appears Red and the next turns Blue. If you already have one, we have a guide on how to wire RGB LED strips without a controller in case you want to check it out.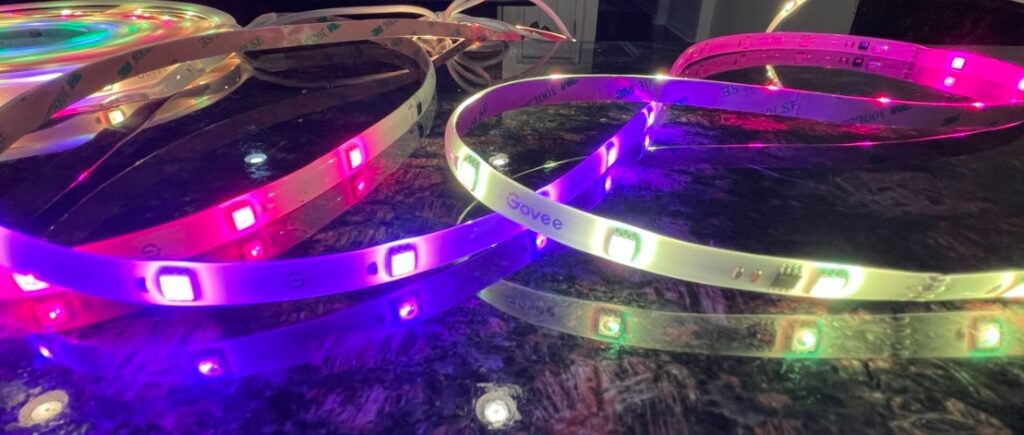 The Best RGB Lights For Gaming
RGB Light Strips is a great pick to better your gaming session. The adhesive property of these strips makes them easy to attach to any peripheral. Also, you can sync the RGB strips with other RGB devices in your gaming room to create a balanced outlook.
Another option is RGB Wall Lights. They act as an attractive backdrop for your gaming PC and can produce a wide range of colors. Apart from these, RGB Smart Corner Lights can also light up your gaming space with many shades of appealing colors.
Factors To Consider Before Getting RGB Lights For Gaming
Although RGB lights are a personal preference that should match well with your gaming setup, there are some common factors you must remember before picking the right RGB lights.
Type
Purchase Analog RGB Strips if you want an easy setup and simple lighting effects for your gaming room. On the other hand, a Digital RGB Strip would be a better pick if you are looking for complex lighting effects and precise synchronization across multiple RGB peripherals.
Furthermore, you also can go for RGB Wall Lights, RGB peripherals, or RGB Corner Lights based on your gaming room's space and requirements.
Colors And Brightness
Assess the precise level of brightness you need in your gaming room. Then, buy the RGB lights with the right brightness and color accuracy, so they do not look odd in your space.
Easy Control
Most RGB lights can be controlled via a portable remote, mobile app, or third-party software. Some popular pieces of RGB controller software are SignalRGB, OpenRGB, and RGB Fusion 2.0. Therefore, get the ones compatible with these apps for easy control. Make sure to also give our how to reset RGB LED controller guide a read.
Customization And Features
When choosing RGB Keyboards, look for ones offering a list of customization options, like setting desired colors for each key on the keyboard, modifying brightness, and programming custom profiles. A good RGB Keyboard will have many color modes, such as Static, Wave, Ripple, Breathing, and more.
Moreover, some RGB Light Strips come with voice reactivity. Connecting them to a music system can produce lighting effects in coordination with the musical highs and lows. Surprisingly, some RGB lights are WiFi Smart, which can connect to your home's WiFi network. As a result, you can even control the lights via Voice Assistants like Amazon Alexa and Google Assistant.
Simple Installation
You do not want to spend hours figuring out the installation process of your RGB lights. Pick the ones with a clear and concise instruction manual to make the installation hassle-free.
This is everything you need to know about RGB in gaming. Before purchasing, assess your gaming demands and room size so you can pick the right RGBs to complement your setup.
Frequently Asked Questions
What Does RGB Means In Gaming?
RGB means "Red, Green, and Blue," a color model that can generate several color outputs to up your gaming aesthetics.
Which RGB Lights Should I Use In My Gaming Room?
RGB Light Strips and RGB Wall Lights are among the top options to level up your gaming experience. Additionally, you add RGB peripherals to your setup and synchronize them for balanced color aesthetics.
Are There Any Downsides To Using RGB Lighting In Gaming?
RGB lights may distract some players while gaming due to their brightness and visual effects. Though, you can turn down the brightness and disable the effects for smoother gaming.
---
Related Articles
Was our article helpful? 👨‍💻
Thank you! Please share your positive feedback. 🔋
How could we improve this post? Please Help us. 😔