Choosing the computer chassis can be difficult for first-time builders unaware of the characteristics of cases. While other components are important, there's no point in purchasing if you can't fit them in your chassis. Therefore, the following article will discuss important points to consider when buying a PC case.
Also Read: How often should I clean my PC?
Key Takeaways
There are four types of PC cases: mini-ITX, micro-ATX, ATX, and E-ATX, and the only difference between each of them is their size.
Your cooling is dependent on the case size. Smaller cases tend to be hotter than bigger ones due to better airflow options.
You must consider several points when buying a PC case: CPU cooler clearance, GPU clearance, aesthetics, build quality, price consideration, cable management, and cooling potential.
Factors To Consider When Choosing A PC Case
There are various factors that you need to consider when choosing a PC case. In this section, we will discuss them briefly.
Form Factors
The first thing a consumer needs to learn when buying a PC case is how many PC case types there are. Mainly, we have four case sizes; the mini-ITX, micro-ATX, standard ATX, and extended ATX (also referred to as an E-ATX).
Mini-ITX cases are the smallest, while the E-ATX cases are the biggest. So, depending on the kind of build you're going for, you'll need to consider the case form factor.
Mini-ITX Cases
These are the smallest of the bunch, and if you have space constraints, then Mini-ITX cases are your friend. They are compatible with only Mini-ITX motherboards. Because of their small size, Mini-ITX cases tend to have compatibility issues with larger GPUs and CPU coolers.
MicroATX Cases
MicroATX cases are slightly bigger than Mini-ITX cases and offer more compatibility with better airflow. If you have just enough room for a MicroATX case, then you should go with them instead of Mini-ITX. A MicroATX case can support both Mini-ITX and MicroATX motherboards.
ATX Cases
Moving towards the next form factor, most consumers utilize standard ATX cases for everyday computer builds. Not only are they compatible with most high-end components, but they also offer plenty of airflow. If you have the room for it, then an ATX case should be the way to go.
Extended ATX Cases
Cases that support E-ATX motherboards are referred to as E-ATX Cases. These cases, as you can guess, are quite big in size. Therefore, if you plan on getting one, then you better have a huge table to accommodate such a case. These cases are mostly used for workstations or for high-end video editing builds that require multiple GPUs and lots of cooling.
These are the four basic form factors that you will be looking at when in the market for PC cases. It is highly recommended that you first pick a motherboard before buying a PC case. This way, you will know the form factor of your motherboard, and hence you can get a PC case of that form factor.
We have covered an in-depth guide on the 11 Things To Consider Before Buying A Motherboard, be sure to read it as it also covers the various motherboard form factors, including their advantages and disadvantages.
CPU Cooler Clearance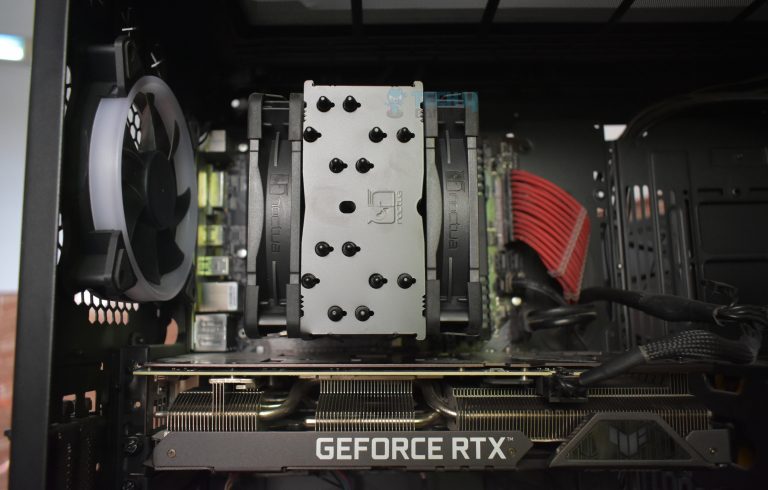 As discussed in the form factors section, the case size showcases whether you can fit a certain CPU cooler. If you're using a mini-ITX case, chances are you'll have to utilize low-profile CPU coolers that aren't bulky.
Mini-ITX cases require users to fit a lot of components in an extremely limited space. For that reason, low-profile CPU coolers that are extremely thin are the best option. If you're using a Ryzen 7000 series processor in a mini-ITX case, the Noctua NH-L9a low-profile CPU cooler is an amazing option.
In the case of MacroATX cases, you can fit most normal air coolers. They might allow users to install a 360mm radiator, but that's about it. You will seldom find MacroATX cases compatible with AIO coolers, let alone custom water cooling.
On the other hand, if you're utilizing a standard ATX case, you can fit most air coolers without worrying about CPU Cooler clearance. Moreover, you can place a 360mm radiator on the front and a 240mm or 280mm radiator on the top. A few ATX cases allow users to fit a 240mm or 280mm radiator on the bottom instead of the top, improving positive air pressure. You can utilize most AIO coolers in ATX cases, but keep the size of the radiator in mind.
Lastly, using an E-ATX case, you can easily fit all air coolers and AIOs and even install custom water cooling on your PC. Furthermore, you can install extra case fans on the bottom, back, and side of the case for better airflow.
GPU Clearance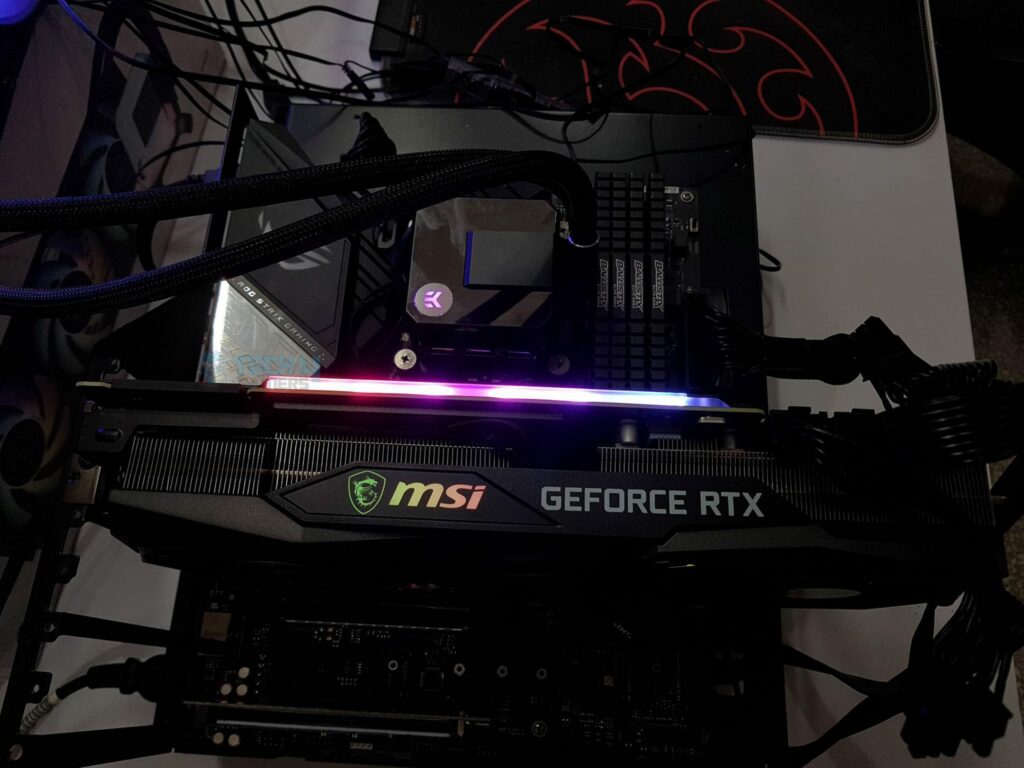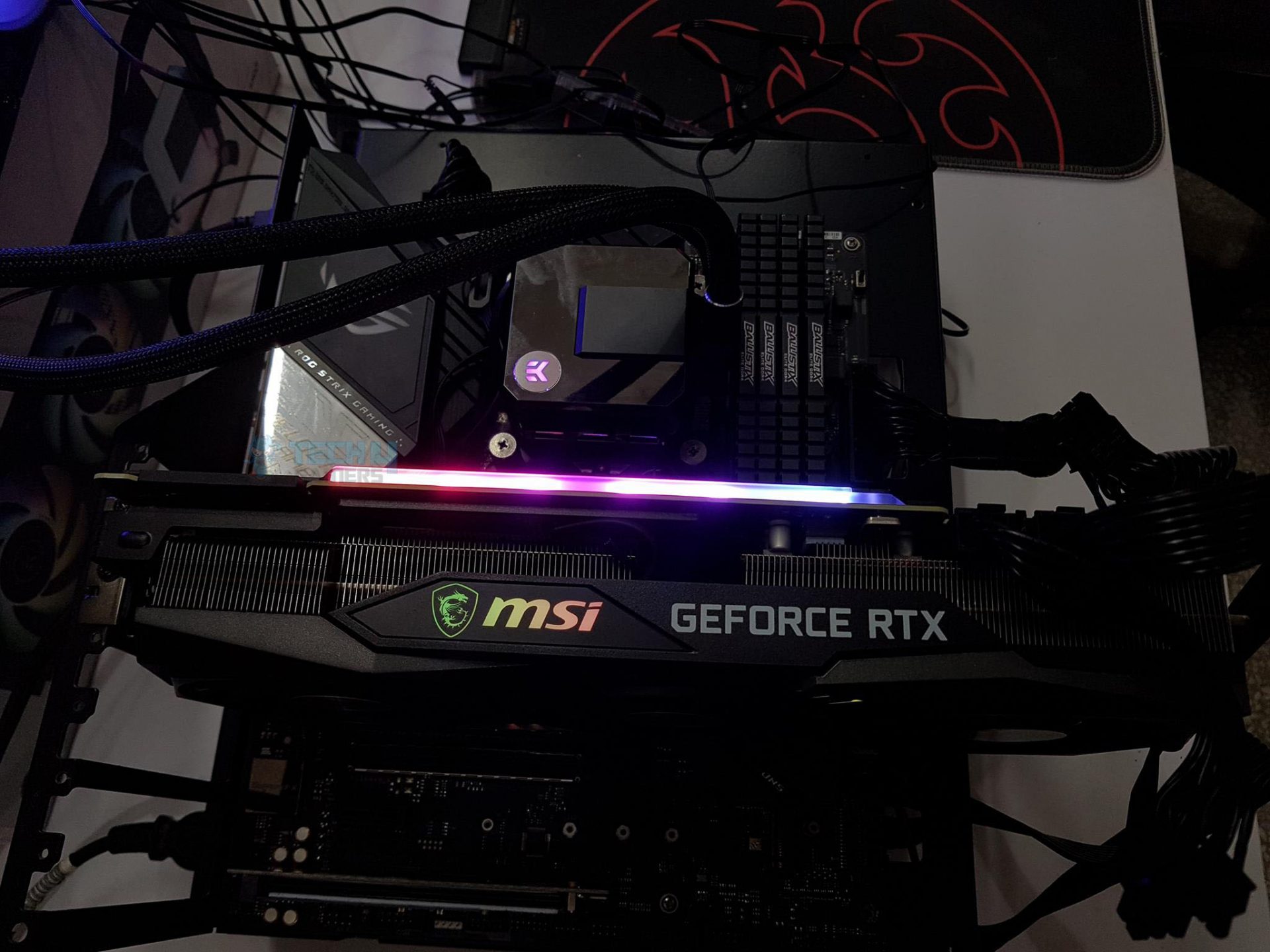 Like CPU coolers, many graphics cards are too bulky for certain PC cases. Therefore, you must know your GPU's slot size and length when purchasing. Because otherwise, you might face a bunch of clearance issues.
You can probably attempt to fit an NVIDIA GeForce RTX 4090 in a mini-ITX case by vertically mounting it, but you won't be able to keep it cool. Thus, choose a chassis depending on the components and cooling requirements of the graphics card. While a GPU might fit smaller cases, cooling it is another story.
Standard ATX cases are the go-to for most gamers because they can fit all "normal" graphics cards. Most high-end GPUs are still difficult for ATX cases, which is where the E-ATX cases come in. Not only can you fit graphics cards the size of shoe boxes, but you can also properly cool them in a bigger chassis.
Cooling Potential (Airflow)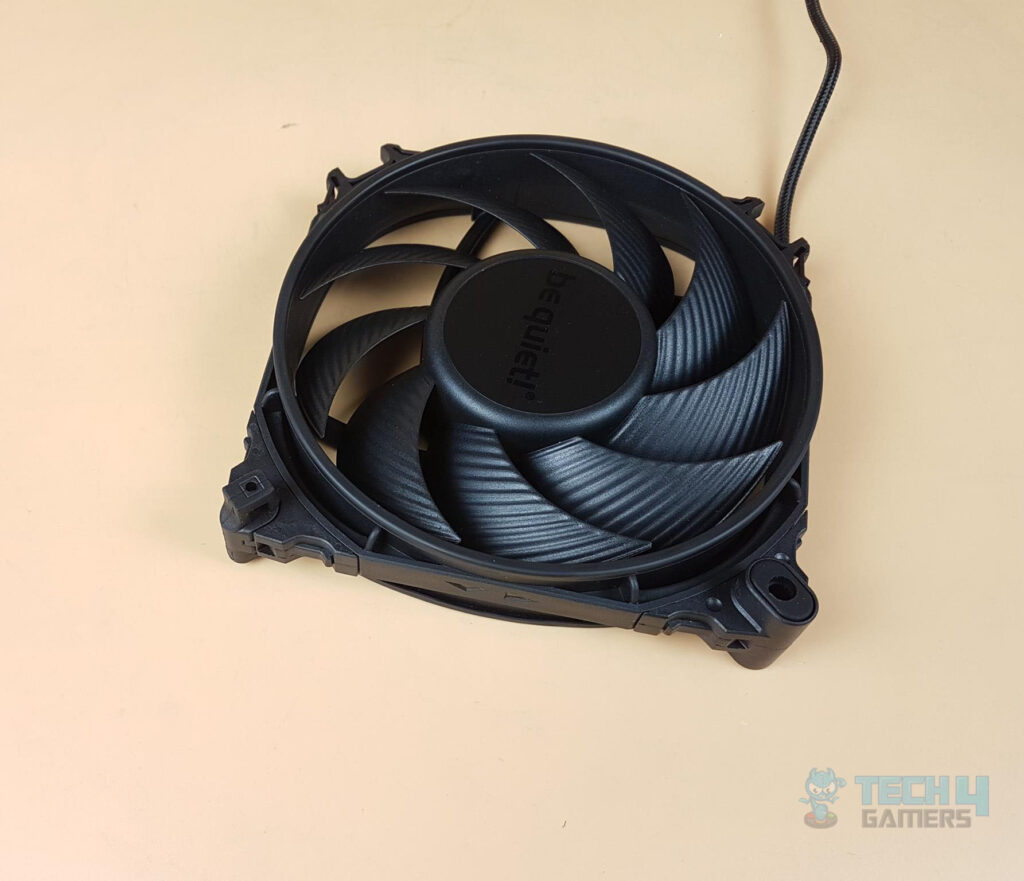 Moving from space restrictions, another major factor to ponder when you consider buying a PC case is the fan orientation of the chassis. Every PC case has its unique fan layout, which users utilize to manage proper airflow.
You can place fans in 2 ways, either intake or exhaust. To identify which side of the fan is intake or exhaust, if the curves of the fan move away from you, you're looking at the intake. To explain, intake fans help bring cool air inside the PC case, while exhaust fans take hot air outside the PC case.
Because hot air accumulates at the top of the chassis, we tend to place exhaust fans at the top of the case while we place intake fans at the front. Similarly, we place exhaust fans at the back and intake fans at the bottom. This basic fan orientation allows users to gain positive air pressure, with ample cool air circling in the chassis.
However, that's not the only thing you should be wary of. For example, fans' Rotations Per Minute (RPM) are important when placing in a case. If you place three 120mm fans at 1,200RPM as intake at the front of the case and an exhaust 120mm fan at 1,800RPM at the back, you won't find any issues. Depending on the placement of the CPU cooler fan, you might start seeing negative air pressure.
Negative air pressure is when your PC case exhausts more and doesn't get enough air inside. Although many users utilize negative air pressure in smaller cases, it's not a common practice in bigger cases. However, if you're using a mini-ITX or macro-ATX case, negative air pressure might be your best bet in cooling your PC.
In conclusion, there are many configurations when choosing your case's airflow, which you must decide based on your components and chassis. While smaller cases don't offer more than one or two fan placements, they can be used for negative air pressure to remove hot air from the case.
Also Read: 120mm vs 140mm Case Fans
Price Consideration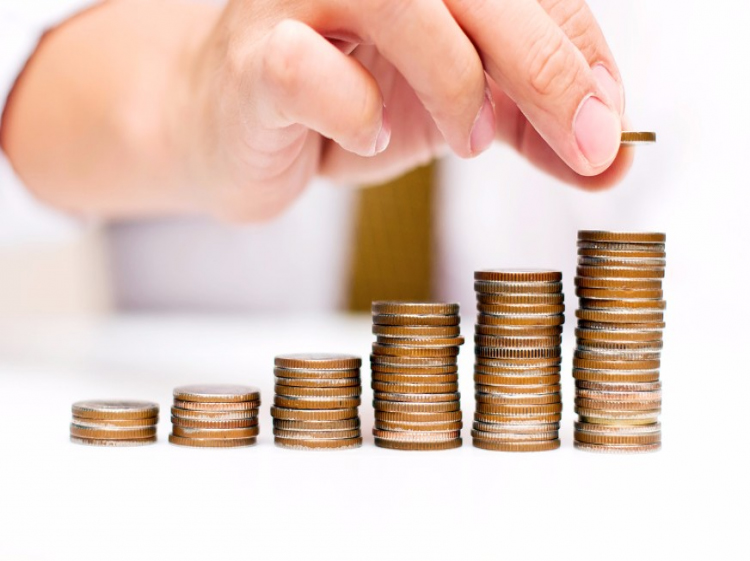 Like any other PC component, cases also have their price ranges. The more features you look for in a case, the more its price will increase. Starting with mini-ITX cases, you can find a decent one for ~$65. Meanwhile, micro-ATX cases have an ongoing range from ~$70 to ~$220 in the open market.
On the other hand, the biggest price fluctuations are found in standard ATX cases, with the more affordable ones costing ~$50 and the expensive models going above ~$210. Lastly, E-ATX cases are the most expensive ones, with a price range between ~$200 to ~$700.
In conclusion, PC prices differ from the use case scenario, and you must consider all the factors before purchasing. Cater to your needs, especially for size, cable management routes, and build quality. Cases that are better thought-out for consumers generally cost more but provide better airflow and cleaner aesthetics.
Also Read: Best PC Case Under $50
Aesthetics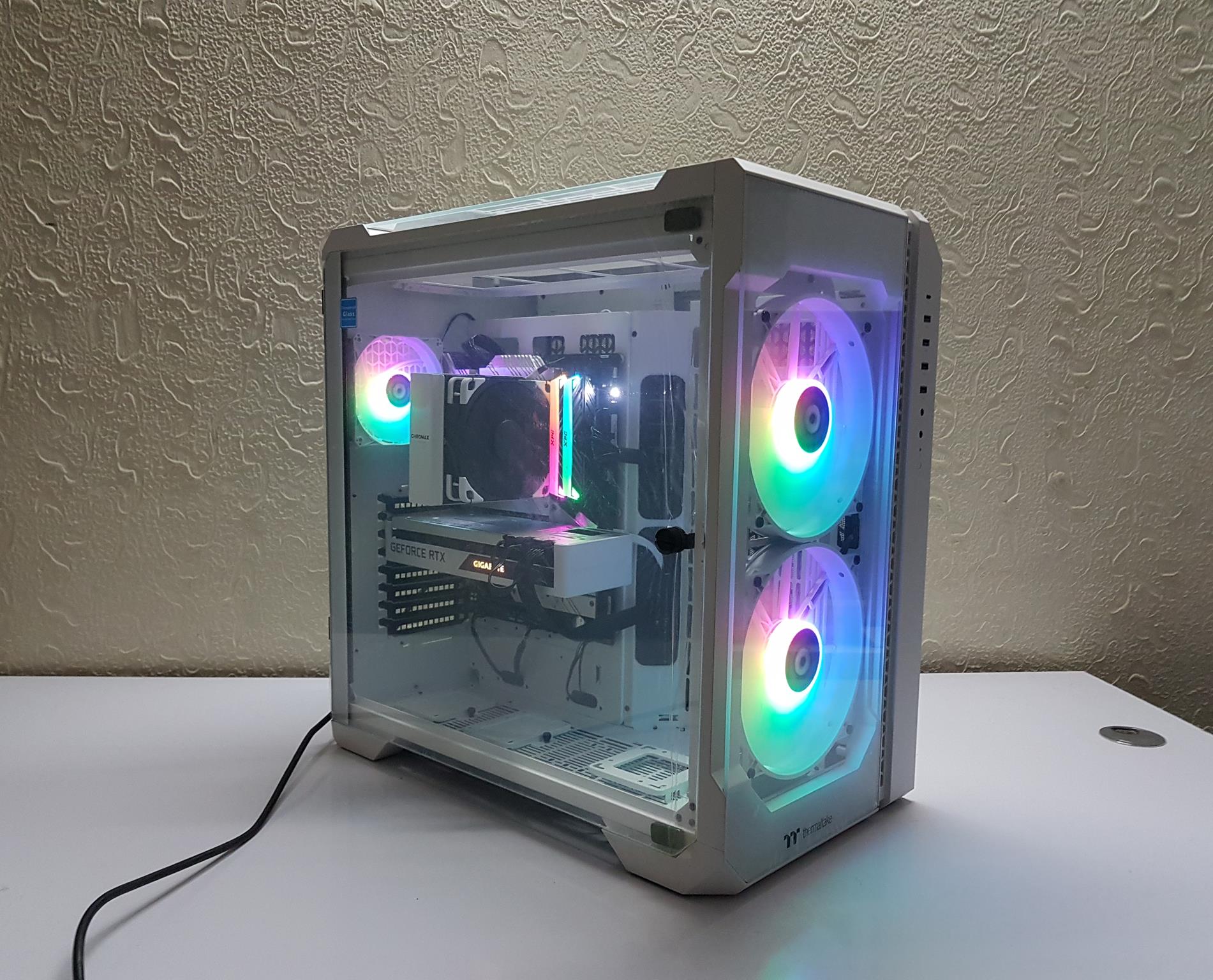 Of course, aesthetics are an important aspect to look into before purchasing. However, a case's looks shouldn't be your primary objective when comparing multiple cases. Depending on your budget, if you have a few extra bucks, you should invest in a better case.
The aesthetics of a case are based on multiple factors, including RGB, chassis color, and other design elements. For example, the Thermaltake View 51 Snow Edition chassis in the above image has complete white aesthetics, making it perfect for gamers who are planning on building a white gaming rig.
Generally, the more visual appeal you go after, the more the prices will increase. Therefore, if you plan on getting a RGB chassis or a one with colored-aesthetics, then you will have to drop a few bucks more.
Also Read: Best White PC Cases
Build Quality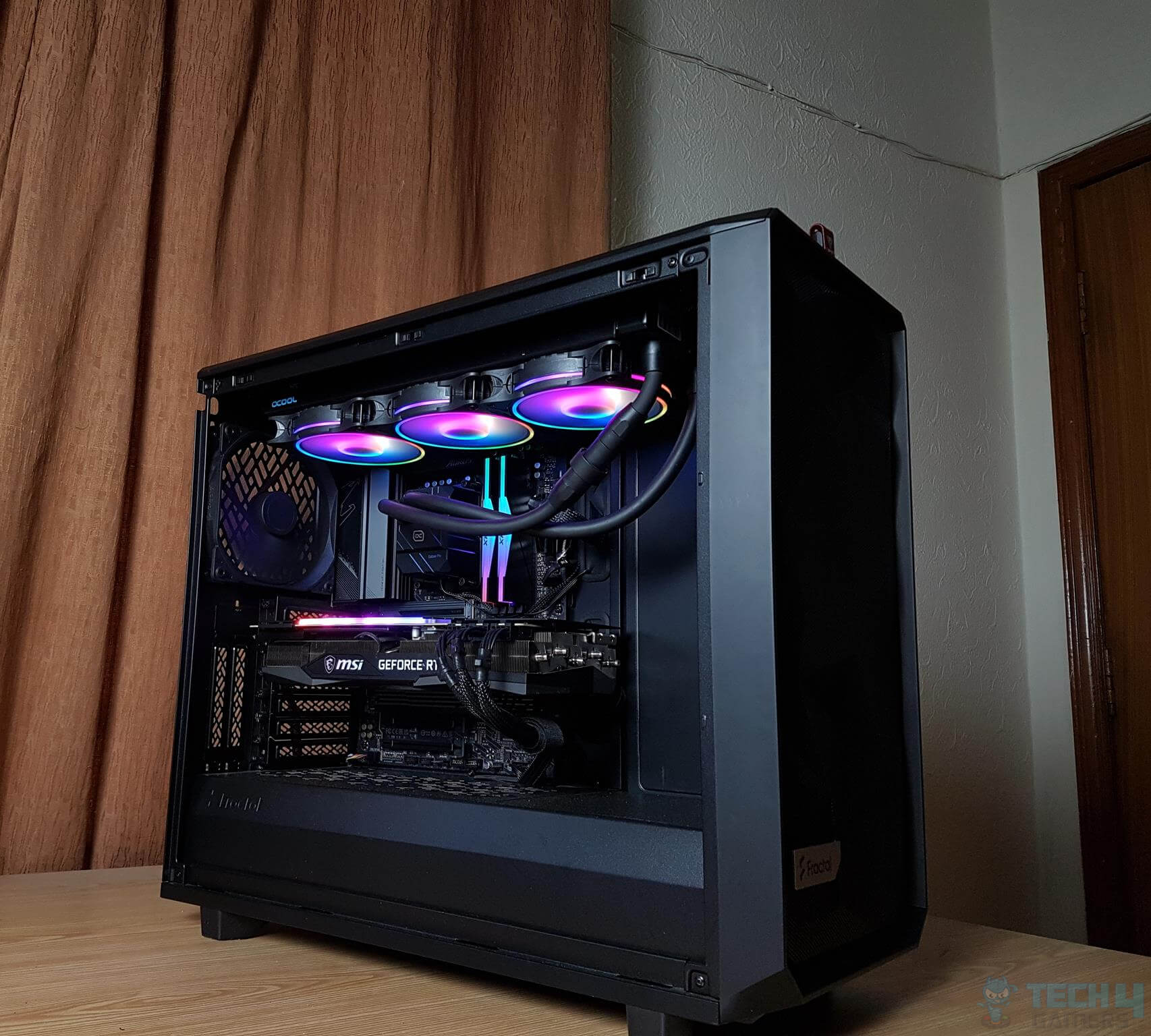 When thinking about what to consider when buying a PC case, the build quality of the chassis is necessary to look into. If you move your case around a lot, the build quality should be one of the main aspects you're looking at. Usually, most cheap cases use a plastic body, which can break more easily.
However, when we go towards the more high-end options, we see better quality side panel tempered glass and alloy steel bodies. Furthermore, Many cases also utilize an entire aluminum body, which provides a high-quality finish.
In any case, depending on your budget and your use case scenario, you should look for the build quality of the case. For instance, an aluminum or steel alloy body is better to water-cool your PC. Additionally, it also ensures that the PC remains sturdy and does not suffer from vibrations.
Also Read: How to Clean Tempered Glass?
Cable Management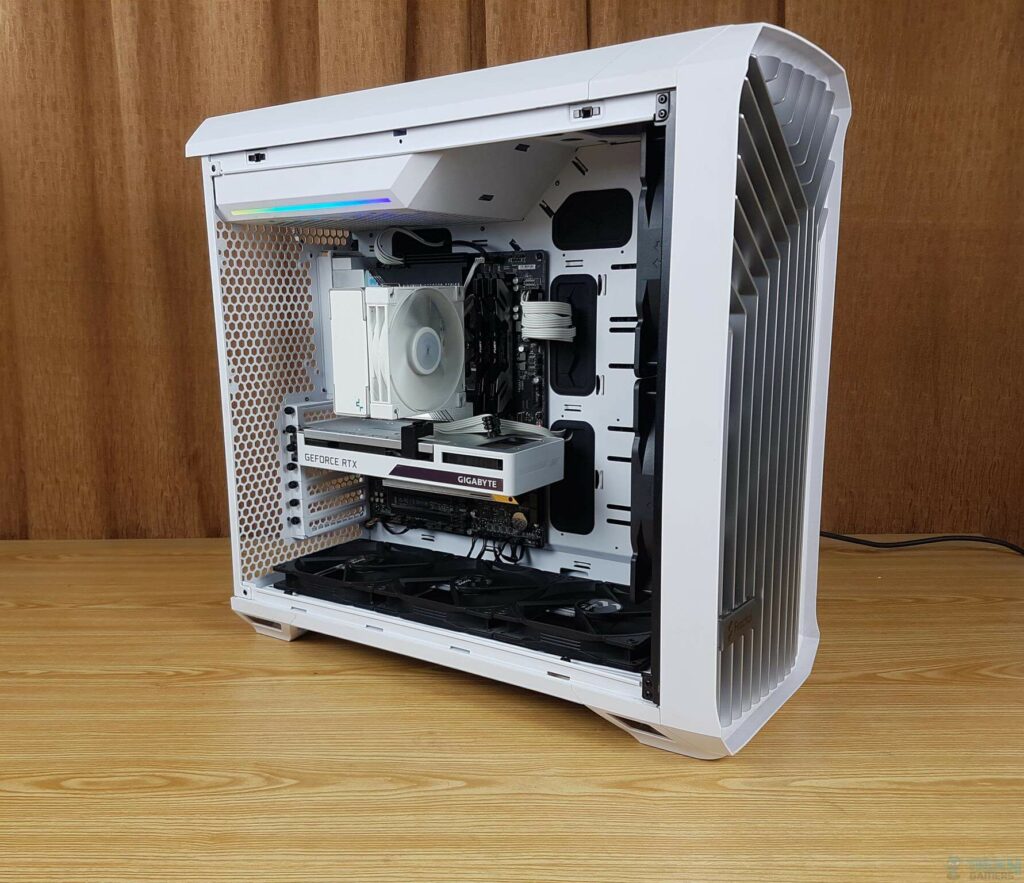 You can't have good aesthetics if your case does nothave the capabilities to hide the countless cables that are routed throughout the case. For that reason, many PC case manufacturers provide backlink cable routes, which users can utilize to hide their cables. Many cases also have cable straps, making bundling all the cables significantly easier.
For example, the Fractal Design Torrent PC case provides cable routes in the form of a black design which complements the case design. You route cables from the back and bring them to the designated components through the provided routes. If you notice the image, the cable routes are located at all the corners of the motherboard, reducing the cable hotchpotch we find in other cases.
Thus, through better cable management, not only do you ensure the longevity of the cables, but you also improve the overall aesthetics of your case. Therefore, regarding the points to consider when buying a PC case, cable management capabilities should be noticed, especially if looking at aesthetics.
Final Thoughts
In a nutshell, as far as the factors to consider when buying a PC case are concenred, all of them are related. For example, if you want better aesthetics in your build, you'll need to keep cable management and build quality in mind. Moreover, if you want a specific case form factor, you'll need to keep the CPU cooler and GPU clearance in mind while also considering the cooling potential of the chassis.
Price consideration is dependent on your budget and your use case scenario. Therefore, while keeping everything in mind, you can choose the perfect chassis for your next build. Of course, you must also consider the motherboard form factor you're purchasing.
You can't fit an E-ATX motherboard in a micro-ATX chassis. However, you can fit a micro-ATX motherboard in an E-ATX chassis. So, depending on your components, you must judge which case best fits your needs and wants.
Frequently Asked Questions
Is it okay if my PC case is open from the side?
Keeping your PC case open from the side exposes it to dust and other particles. However, you can also reduce temperatures slightly due to better excursion of hot air. We don't recommend keeping the PC case open as dust particles can stick to the fans, disrupting the cooling and risking the components' life.
Do PC cases help with cooling?
PC cases are essential to ascertain the cooling you can go with. For example, a smaller case allows fewer fans, but a bigger case can also support water cooling and radiators.
How many case fans should my PC have for proper airflow?
The number depends on the size of your case. If you're using a mini-ITX case, you can barely fit 1-2 case fans at most. If you're using a micro-ATX case, you can fit a 360mm radiator at the front or the top of the chassis. ATX and E-ATX cases allow for 5-10 case fans generally.
Was our article helpful? 👨‍💻
Thank you! Please share your positive feedback. 🔋
How could we improve this post? Please Help us. 😔
[Wiki Editor]
Ali Rashid Khan is an avid gamer, hardware enthusiast, photographer, and devoted litterateur with a period of experience spanning more than 14 years. Sporting a specialization with regards to the latest tech in flagship phones, gaming laptops, and top-of-the-line PCs, Ali is known for consistently presenting the most detailed objective perspective on all types of gaming products, ranging from the Best Motherboards, CPU Coolers, RAM kits, GPUs, and PSUs amongst numerous other peripherals. When he's not busy writing, you'll find Ali meddling with mechanical keyboards, indulging in vehicular racing, or professionally competing worldwide with fellow mind-sport athletes in Scrabble at an international level. Currently speaking, Ali has completed his A-Level GCEs with plans to go into either Allopathic Medicine or Business Studies, or who knows, perhaps a full-time dedicated technological journalist.