Fractal Desing Meshify 2 Review Summary
Summary
Fractal Design has changed the game when it comes to a mid-tower that is so feature-rich that it is hard to ignore the proposition and an open challenge to the competition. The case can be converted into a Storage layout from the default open layout without needing any extra bits and tools. This case has an excellent build quality with attention to detail in every department. It comes recommended by us.
Design -

9.5/10

Build Quality -

9.5/10

Features -

9.5/10

Cooling Provision -

9.5/10

Dust Protection -

9.5/10
Pros
Spectacular Design
E-ATX Support
420mm Radiator
Includes 6 HDD/SSD Trays
Includes 2 SS Trays
14+1 Positions for Storage drives
Open Layout
Superlative Storage Layout with 21 drives
Dust Filtration all around
Removal of the Top Panel for wide access to inside
Hinged Front Panel with removable mesh
The tether-free bezel on Front Panel
Ultra-slim Nexus+ 2 fan hub
Up to 9x 120/140mm fans
Comes with 3 140mm fans
Outstanding Cable Management
Versatile Multibracket
Ventilated PSU shroud with two-part removable
Tool-less, top-latching side
Bridgeless expansion slots
When it comes to PC Case manufacturers, Fractal Design needs no introduction. They are also manufacturing PC cooling, PSU, fans, and accessories. Their build quality and conceptualization are second to none. After having experience with Phanteks and Lian Li, we got an opportunity to test Meshify 2. Last, to say, we are impressed.
Meshify 2 is a mid-tower PC with a bold and stealth-inspired aesthetic. It comes in multiple configurations, which are:
Meshify 2 Black Solid
Meshify 2 Black TG Light Tint
Meshify 2 Gray TG Light Tint
Meshify 2 White TG Clear Tint
We are testing Meshify 2 Black TG Dark Tint. Some of its salient features include:
Bolt-Free, Flushed Tempered Glass Panel
Fully Removable Top
Redesigned Front
USB-C Port on Top
Hinged Mesh Panel with Nylon Dust Filter
Dual Interior Layout
Expansive Cooling Provision
Effective Cable Management
Specifications
| Product | Meshify 2 |
| --- | --- |
| Type | Mid-Tower ATX |
| Power supply type | ATX |
| Motherboard compatibility | E-ATX (max 285 mm)/ ATX / mATX / Mini-ITX |
| Expansion slots | 7 + 2 |
| Dedicated 2.5 drive mounts | 2 included, 4 positions total |
| Front interface | 1x USB 3.1 Gen 2 Type-C, 2x USB 3.0, Audio I/O, Power button, Reset button |
| Front fan | 3x 120/140 mm (2x Dynamic X2 GP-14 included) |
| Top fan | 3x 120/140 mm |
| Rear fan | 1x 120/140 mm (1x Dynamic X2 GP-14 included) |
| Bottom fan | 2x 120/140 mm |
| Dust filters | Top, front and bottom |
| Case dimensions (LxWxH) | 542 x 240 x 474 mm |
| Net weight | Solid: 10.1 kg TG: 10.5 kg |
| RGB | No |
| PSU max length | 250 mm (with HDD cage installed) |
| GPU max length | Open layout: 476 mm (451 mm w/ front fan) - Storage layout: 298 mm |
| CPU cooler max height | 185 mm |
Packing Box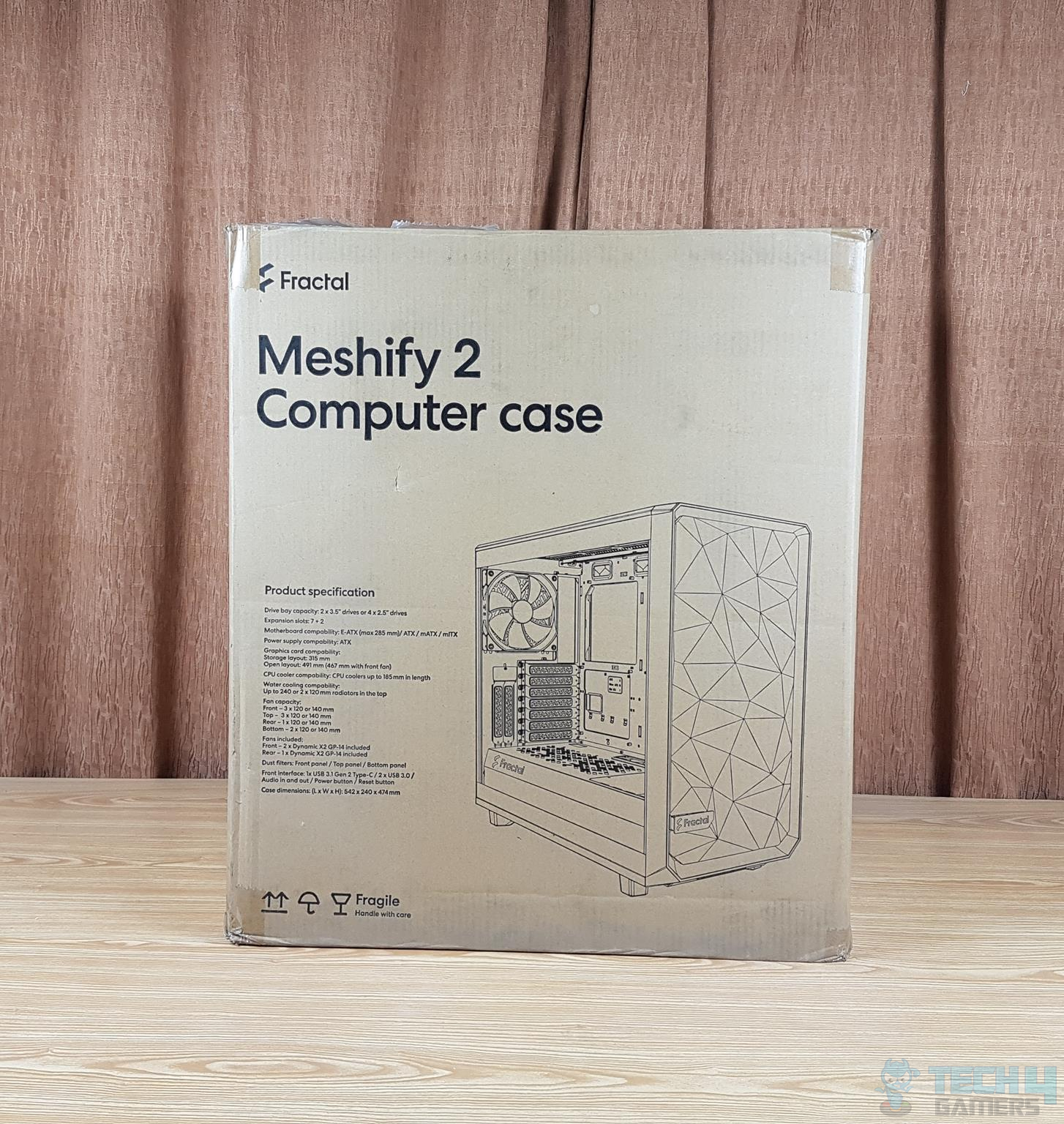 Meshify 2 is shipped inside a standard brown color cardboard box. Product specifications are listed along with a picture of the case. Fragile, Handle With Care is also printed as this product has a tempered glass panel.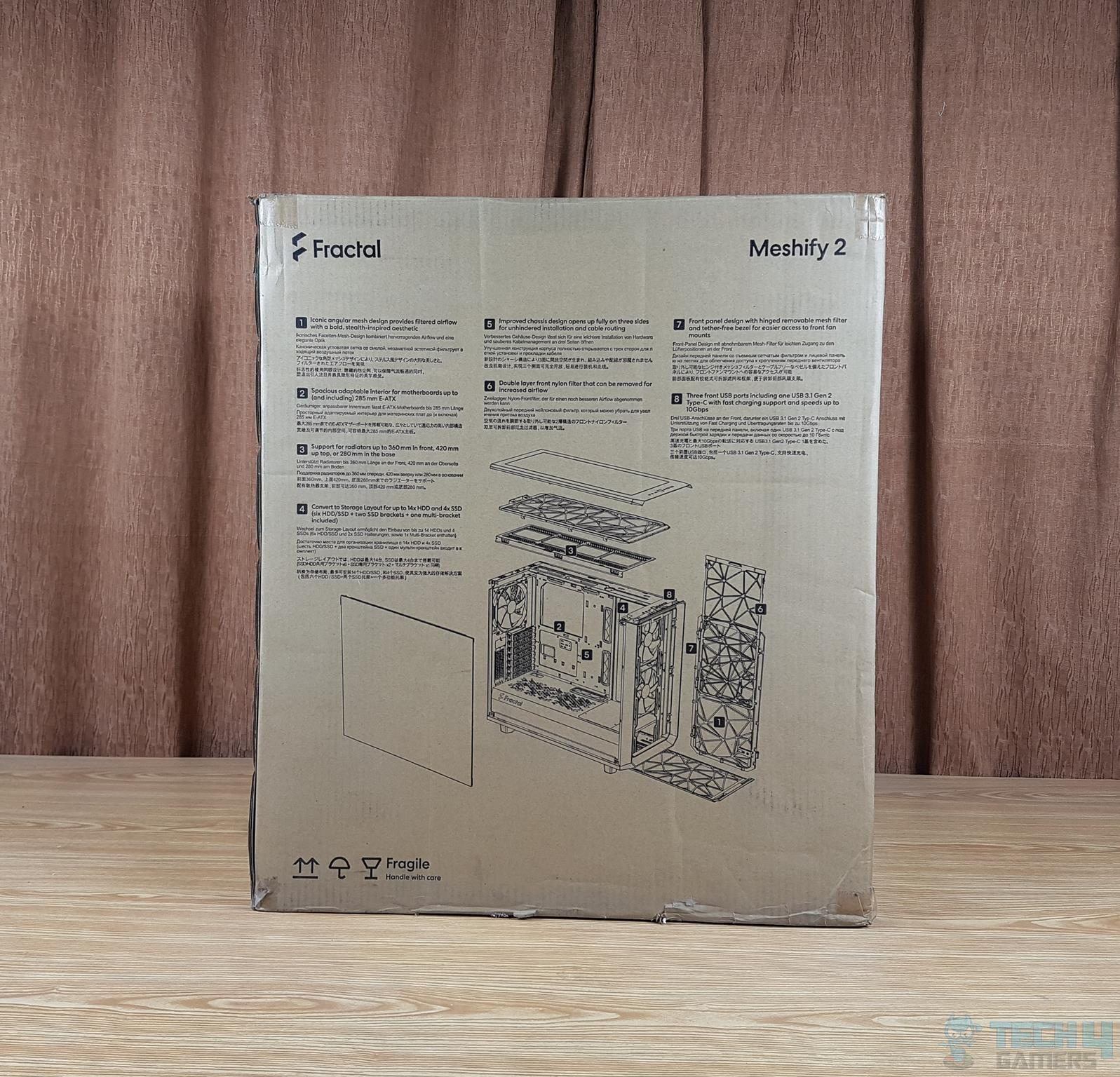 There is a picture and illustration of the modular design of Meshify 2. This is quite remarkable what this mid-tower PC case offers in this size.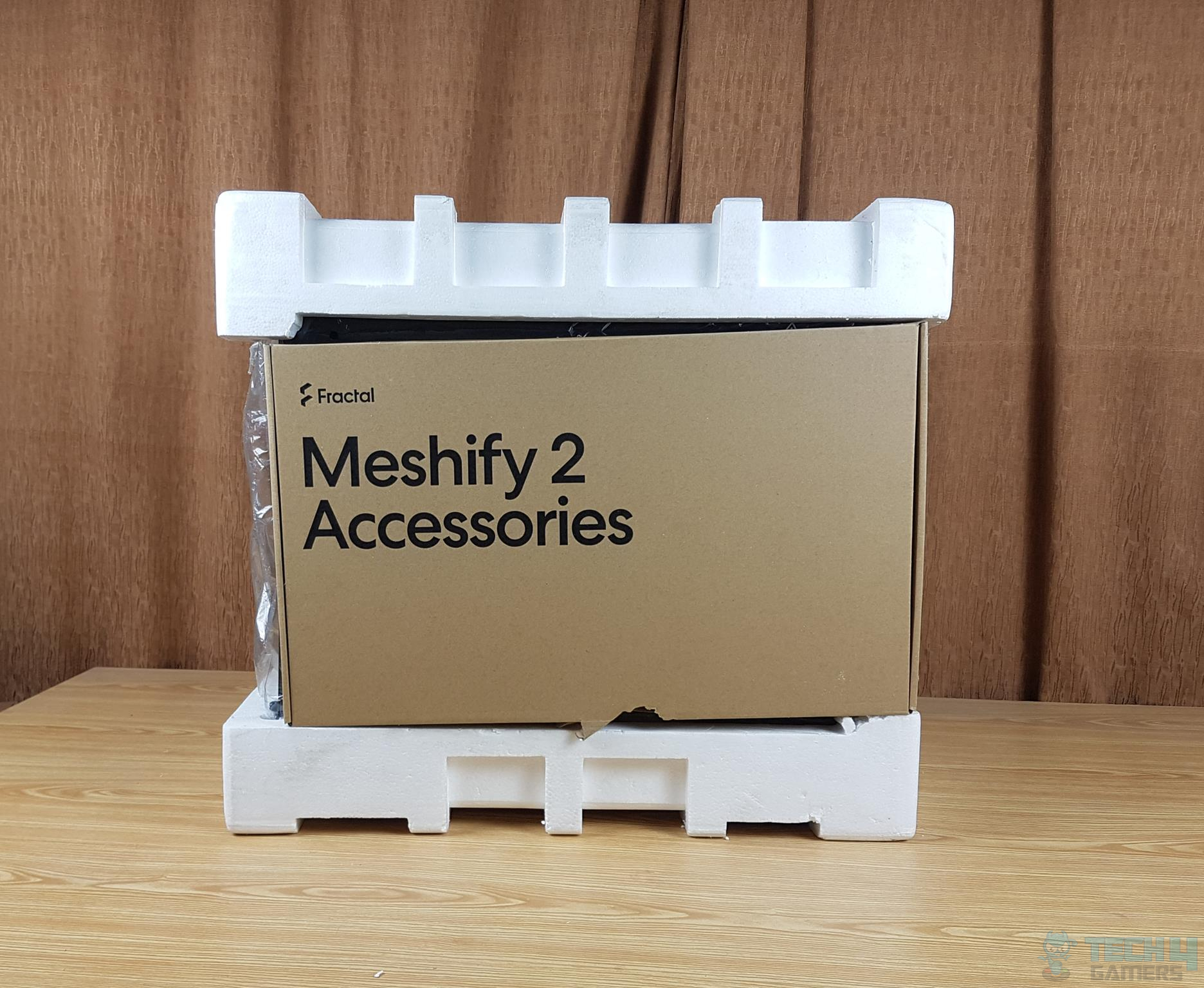 The case is enclosed in a transparent sheet and tucked between two thick white color Styrofoam pads. There is a large-size accessory box with Fractal branding placed between two pads on one side.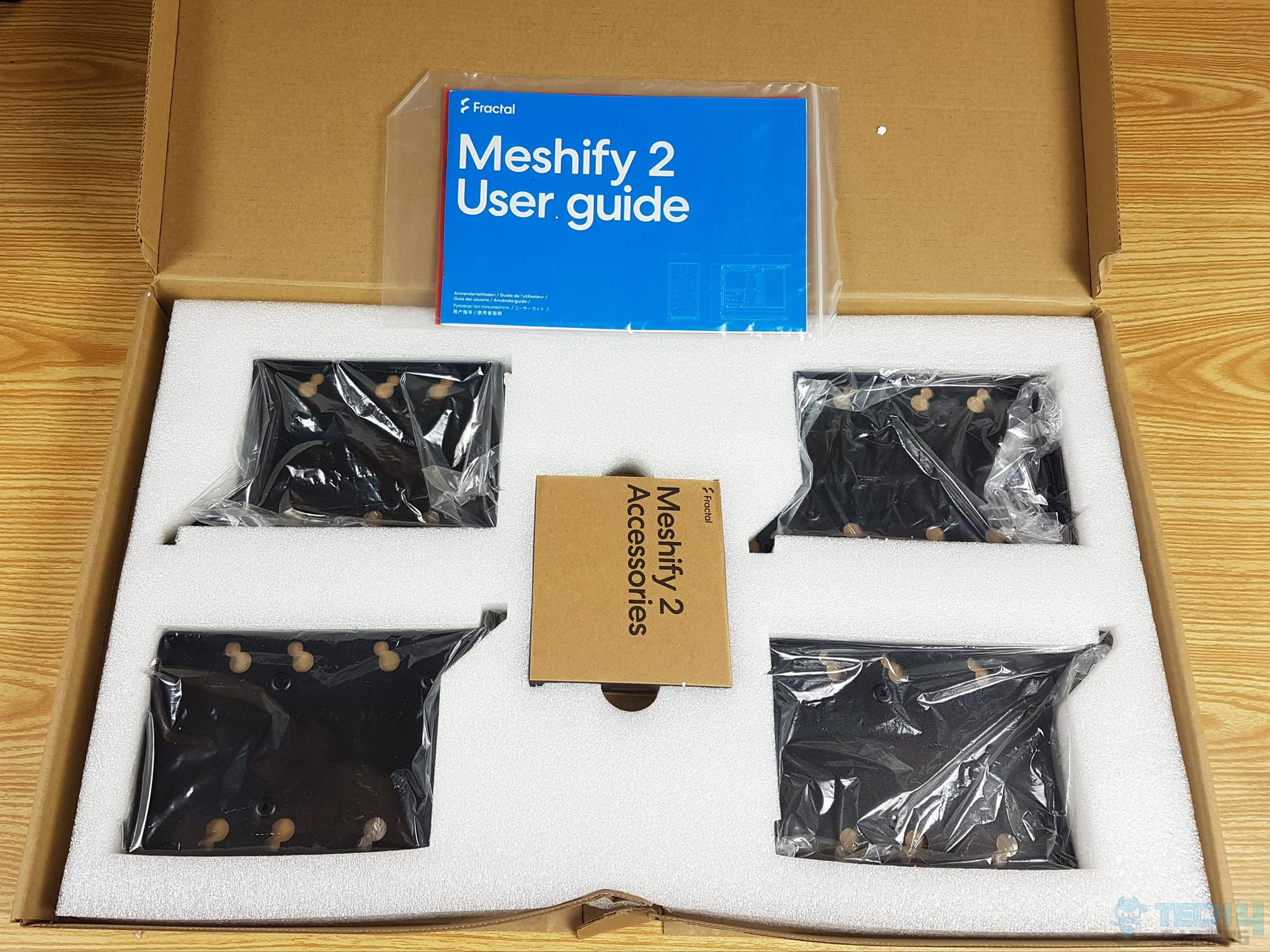 Fractal Design knows how to present its products in quite some style. The accessory box contains:
4x HDD Cadies
1x Box with screws and other mounting hardware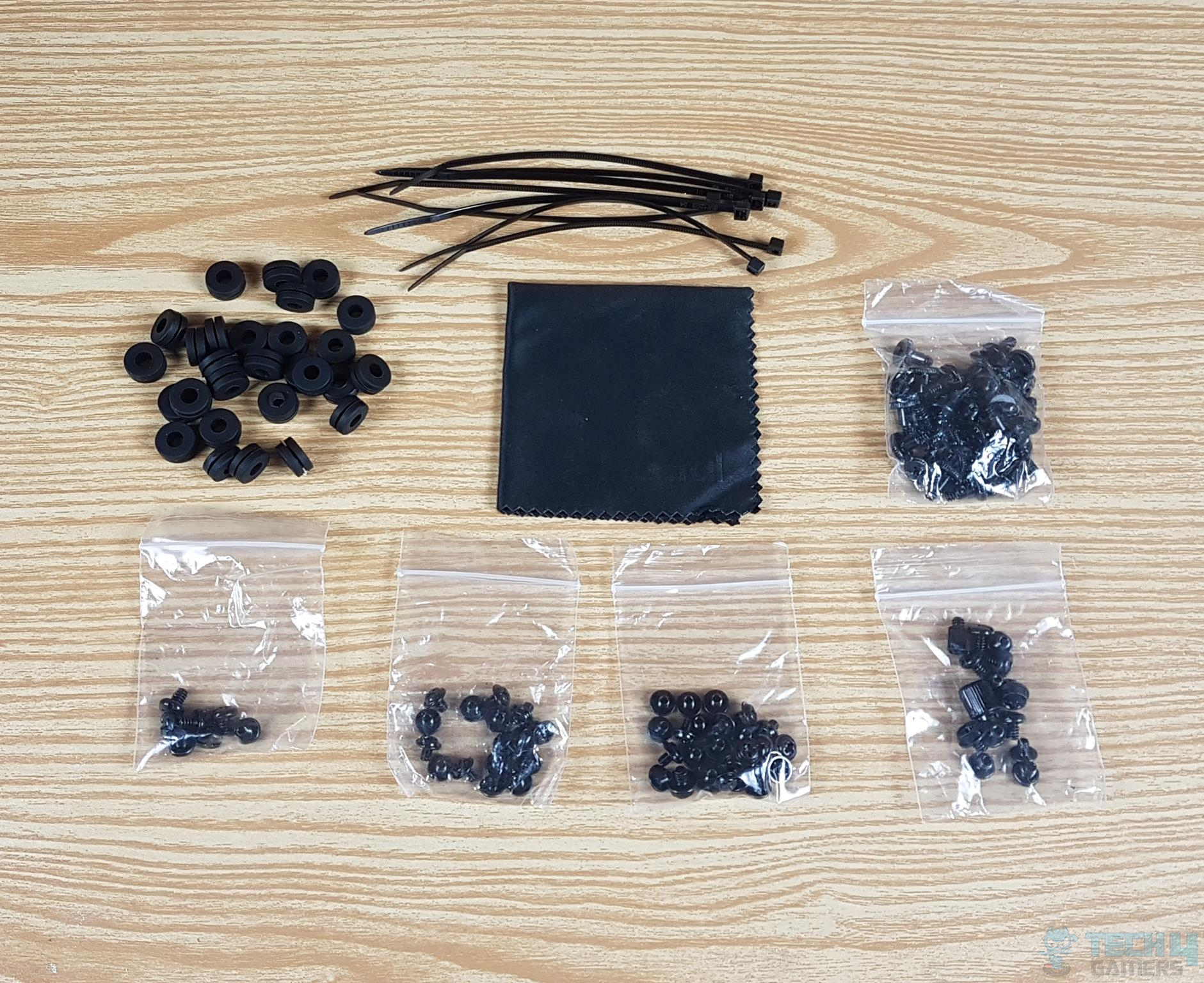 Fractal Design has provided a plethora of various screws, zip ties, micro-fiber cloth, and rubber washers.
Design
It is time to dive deep and see what this case offers to the user. Let's start with what Fractal Design is saying about this case. The new Meshify 2 is a classic evolved with a focus on distinctive design, spacious interior, and rugged good looks.
Iconic angular mesh design provides filtered airflow with a bold, stealth-inspired aesthetic
Spacious adaptable interior for motherboards up to (and including) 285 mm E-ATX
Support for radiators up to 360 mm (front), 420 mm (top), and 280 mm (base)"
The unit we have got is Meshify 2 TG Light Tint Tempered Glass. This case has a dimension of 542x240x474mm (LxWxH) and 541x240x454mm without protrusion/feet/screws. Fractal Design has listed the weight of this case as 10.5 kg. We will start from the front of this case and then move toward the other areas.
Related Read: Best Airflow PC Cases In 2023
So, let's start: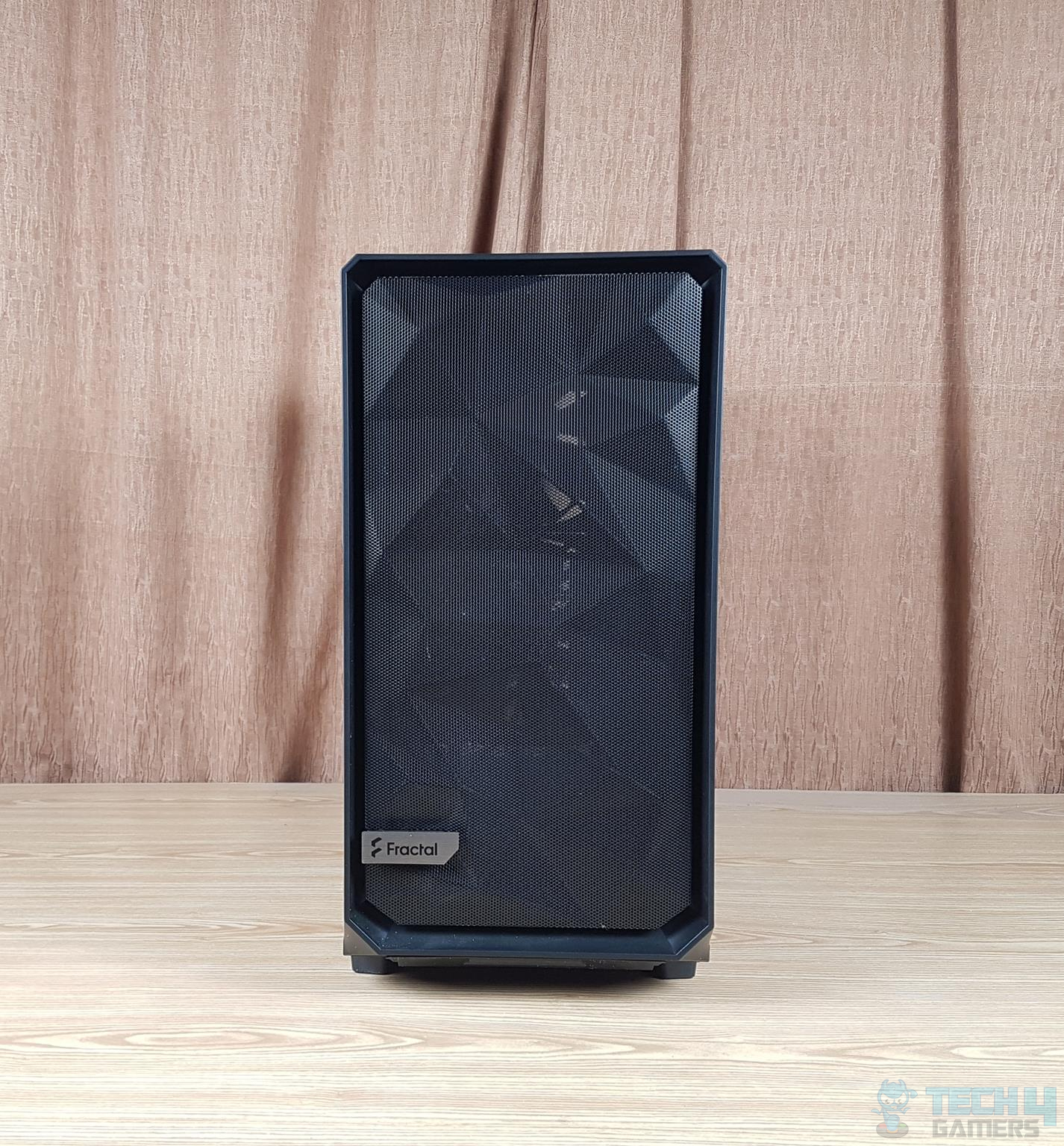 The front of this case features an angular and geometrical design that not only provides dust filtration but also carries a bold and aesthetical view. There is a Fractal branding towards the base. The case is completely black in color.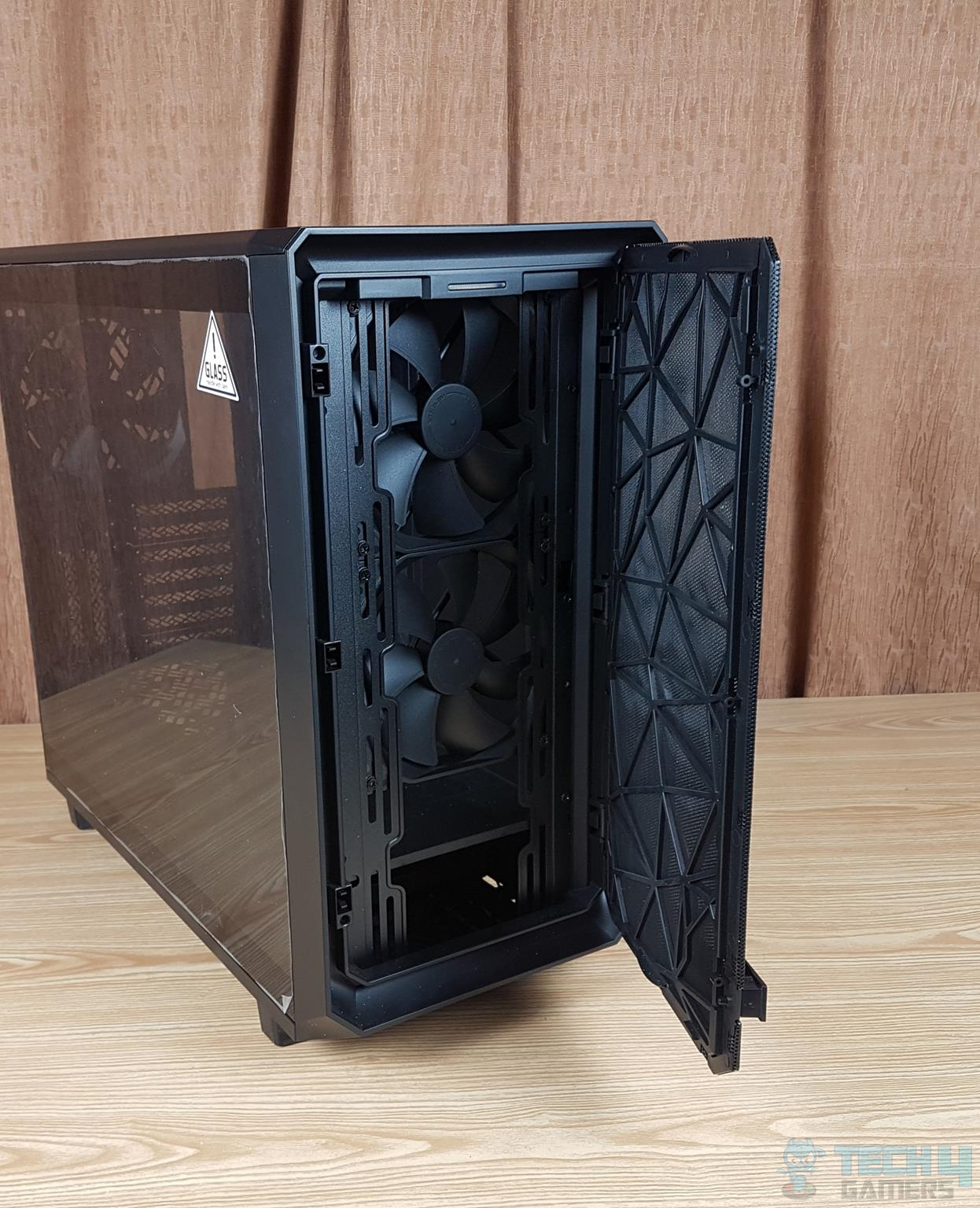 The front angular mesh cover can be opened, as shown in the above picture. We can spot a dust filter inside this cover which is removable. That is a plus to this design. In case a user feels like this cover is somewhat restricting air intake, this dust filter can be removed without comprising the overall look and feel of the front. We can also spot 2x 40mm fans pre-installed.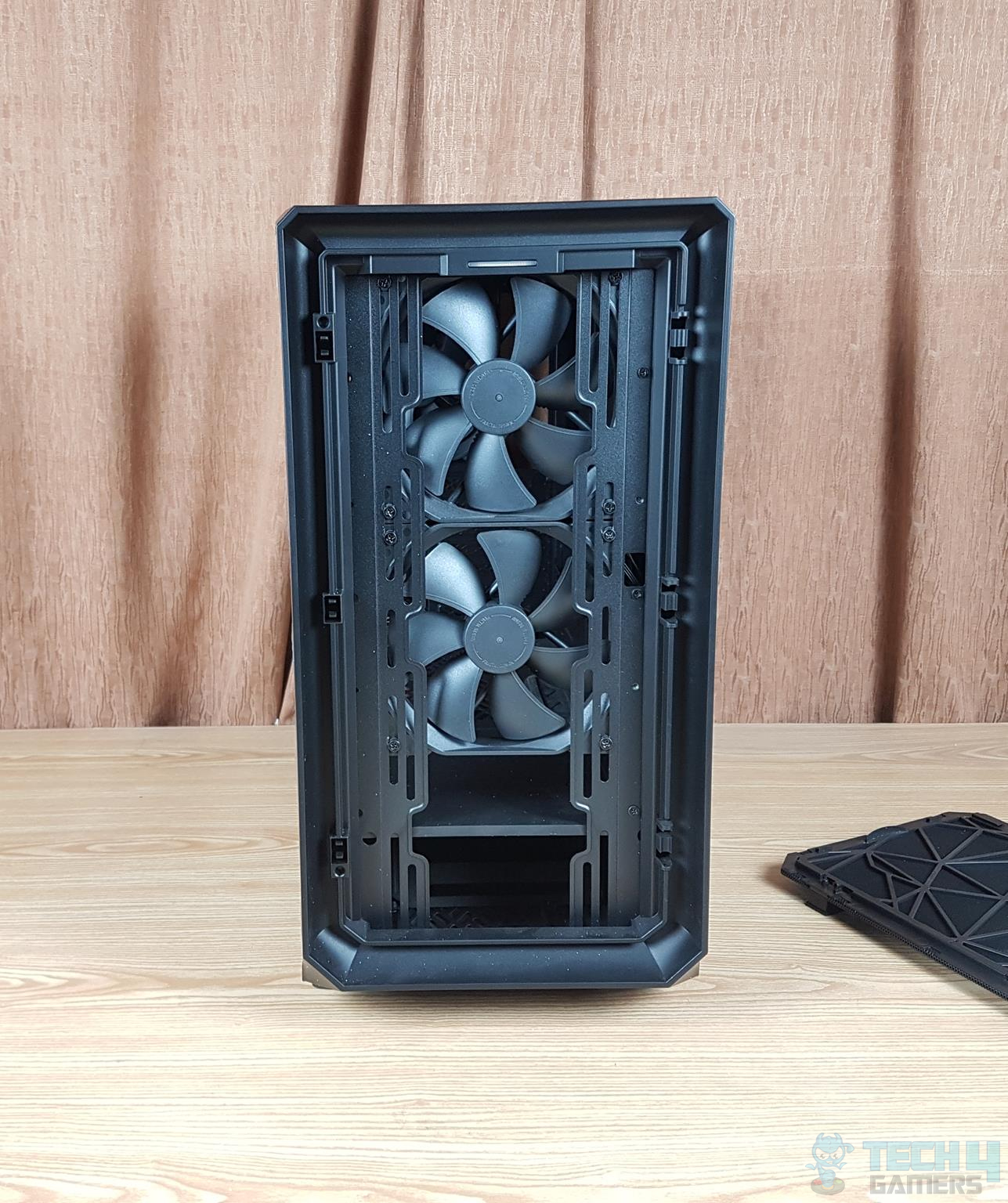 The above picture was taken after removing the front cover. This cover is hinged and can be easily taken and put back in on the slots on the right side of the fan bracket. The fan bracket is not removable. Fractal Design has provided 2x Dynamic X2 GP-14 fans on the front. The following cooling configuration is possible on the front:
Up to 3x 120mm Fans
Up to 3x 140mm Fans
Up to 360/280 Radiator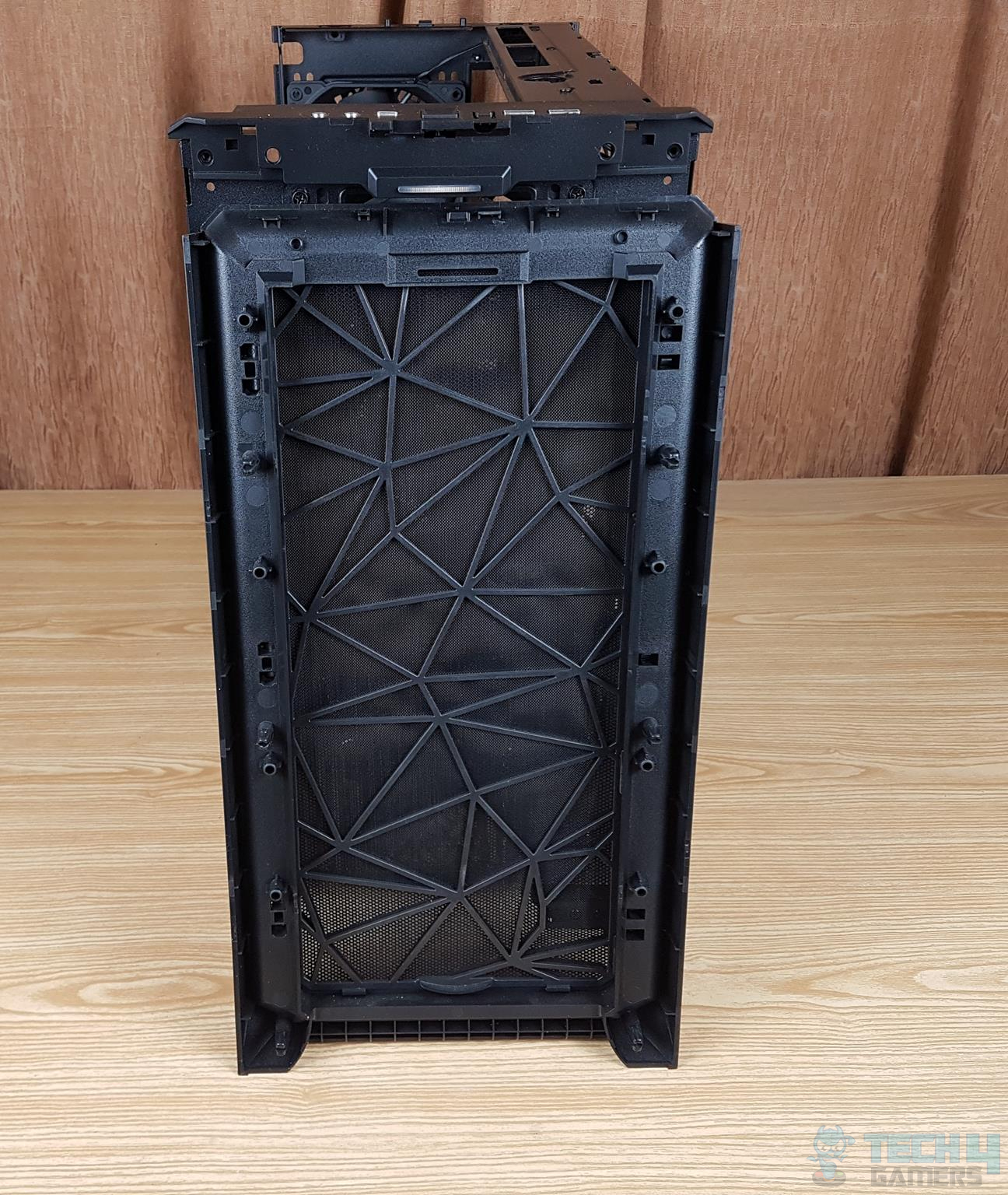 This is not all, as we can also completely remove the front panel. It can be popped out by placing a hand at the base of the case and pulling it out. However, you would need to remove the bottom dust filter as well before pulling the front panel. We can see an inner view of this panel, as shown in the picture.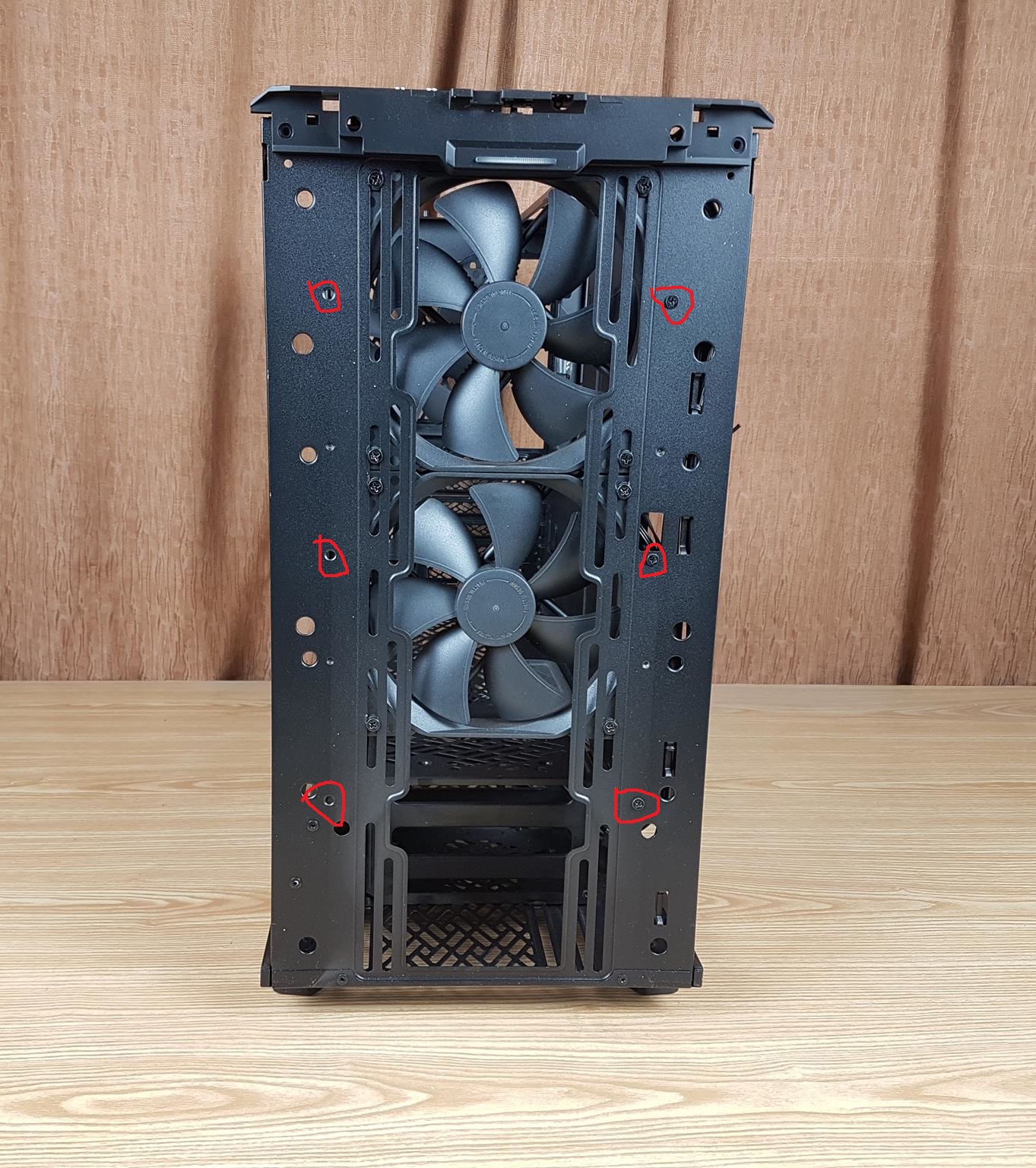 Now we can see a full view of the front side of Meshify 2. Take note of red circles. There are a total of 6x holes or screw mounts highlighted by us. The side panel inside this case is secured on the right by default, and by default, this case is designed to house a server build or a regular PC build with a focus on water cooling in particular. Since this case allows for Superlative Storage design, we would need to remove that side panel and place it on the left. These red circled mounting holes are for that purpose.
Related Read: BEST Water Cooling Cases
This case has a rail mount design for fans and radiators. This is a wise design that allows the users to adjust the position of fans/radiator where possible. 2x 140mm fans are already there, and they are installed on the inner side of this case.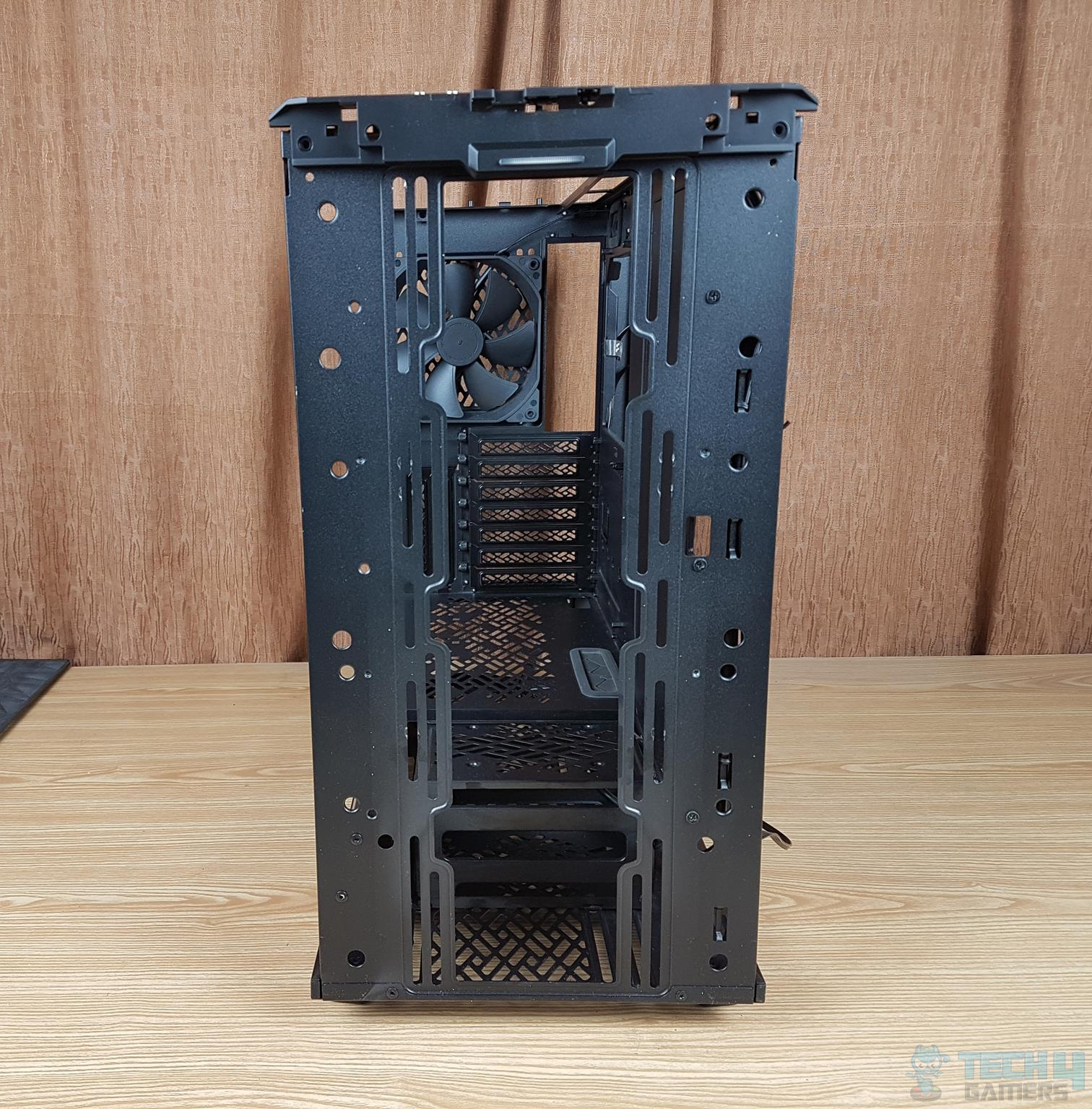 Take a peek at the fully uncovered front of this case.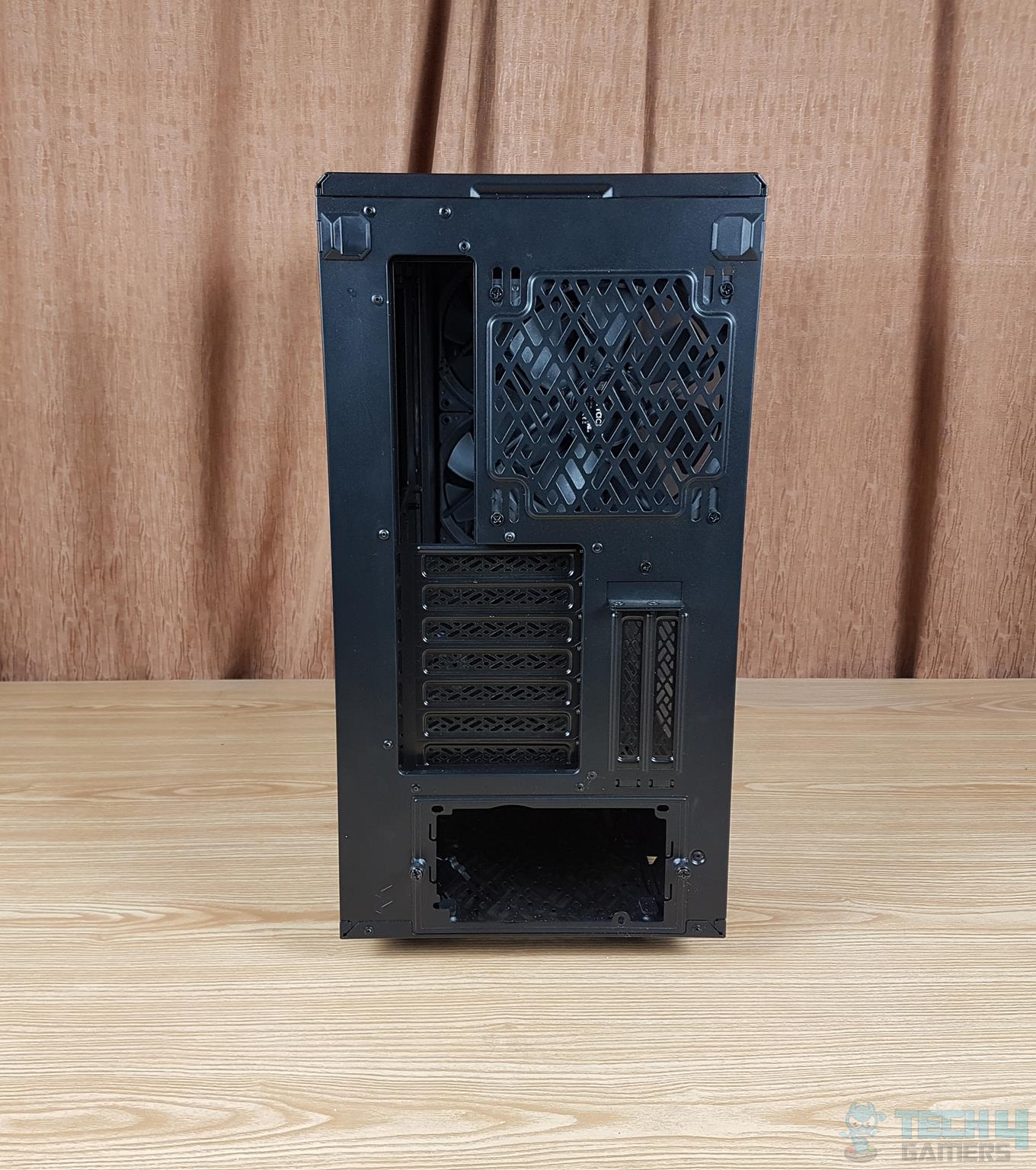 The rear side of Meshify 2 is almost a standard layout. There are two notches on the top left and right. Pulling them will release both panels. An easy and screwless implementation. There is a cutout on the top left where the IO panel of the motherboard will face out. On its right, there is a slotted fan grill. This case supports 140mm and 120mm fans on the rear. It comes with one 140mm fan pre-installed. The good design aspect is that the user can adjust the height of both fans' sizes. One can install a 120mm radiator here as well. The center portion has 7x PCIe slot covers. These are removable and vented for ventilation. This is a bridgeless design which is my personal favorite.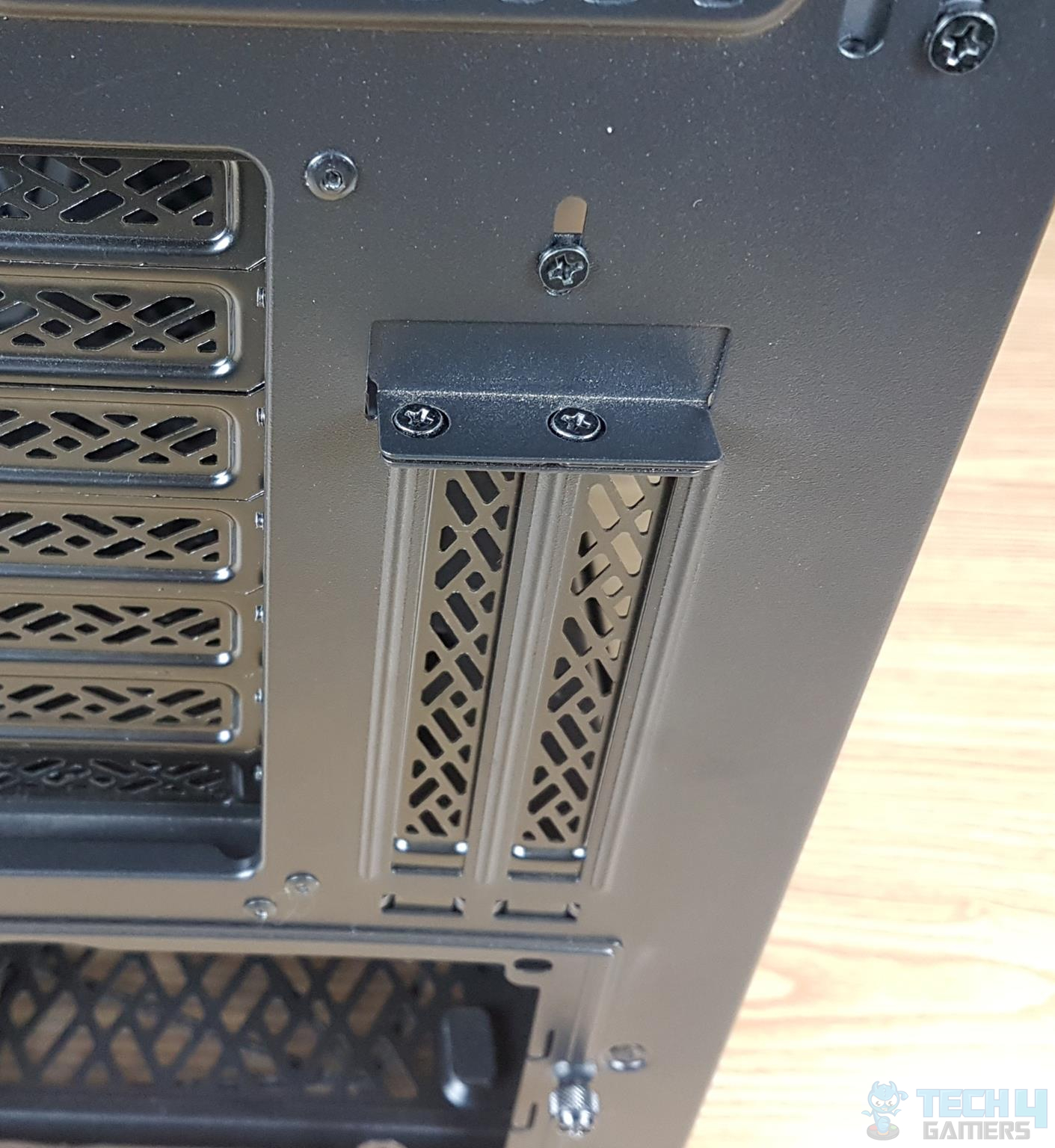 The Meshify 2 has two PCIe vertical slots, which have reusable slotted covers. As you can see, the top screw is holding the cover of these slots. Slightly unscrew it so that cover can slide up or down, and remove those covers if needed.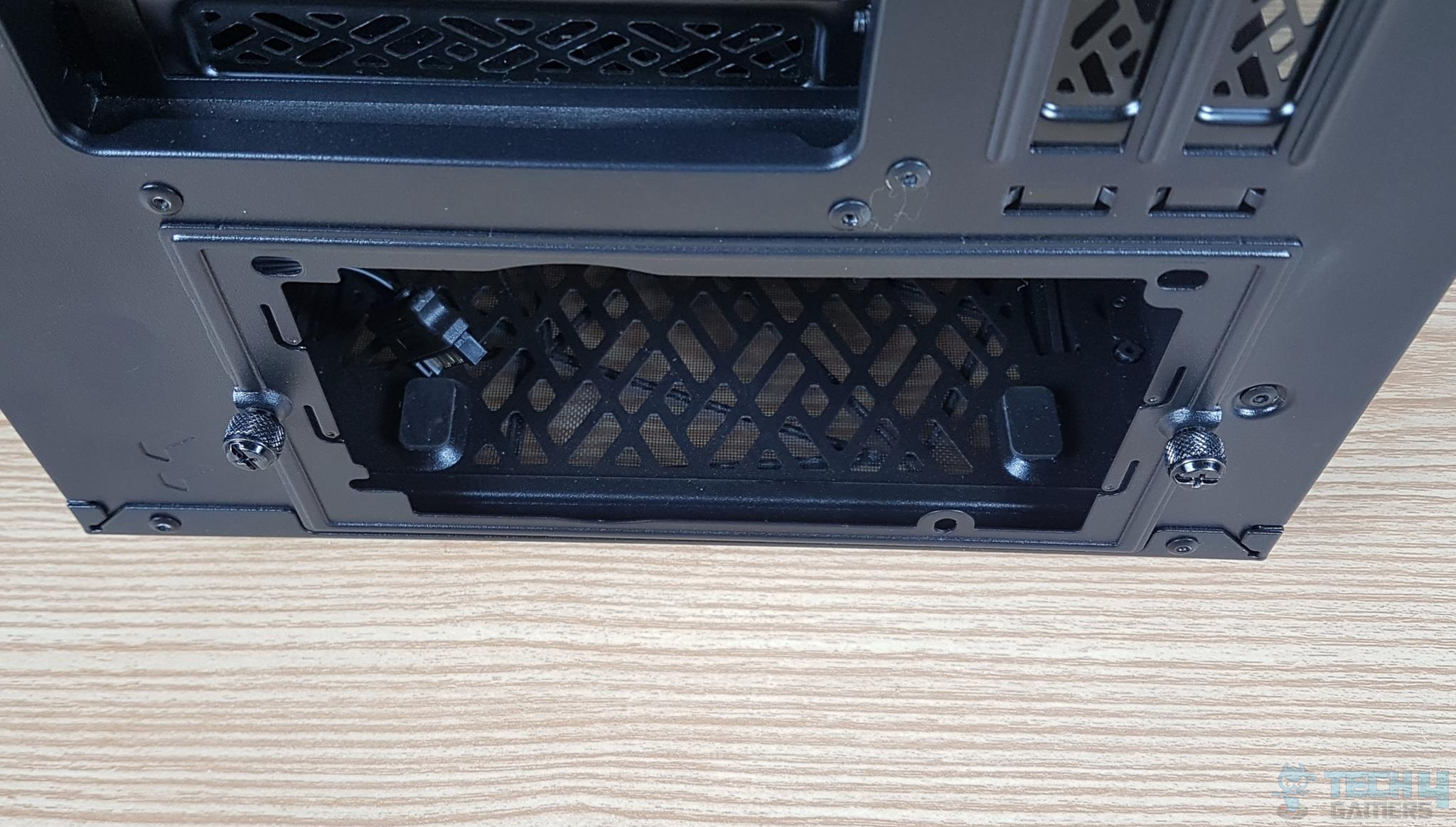 The PSU area shows a standard ATX PSU design. Fractal Design has provided a PSU bracket. A user would need to take this bracket out, install it on PSU and slide PSU inside its chamber in this case. Finally, use the two captive screws to secure the complete assembly on the frame of this case.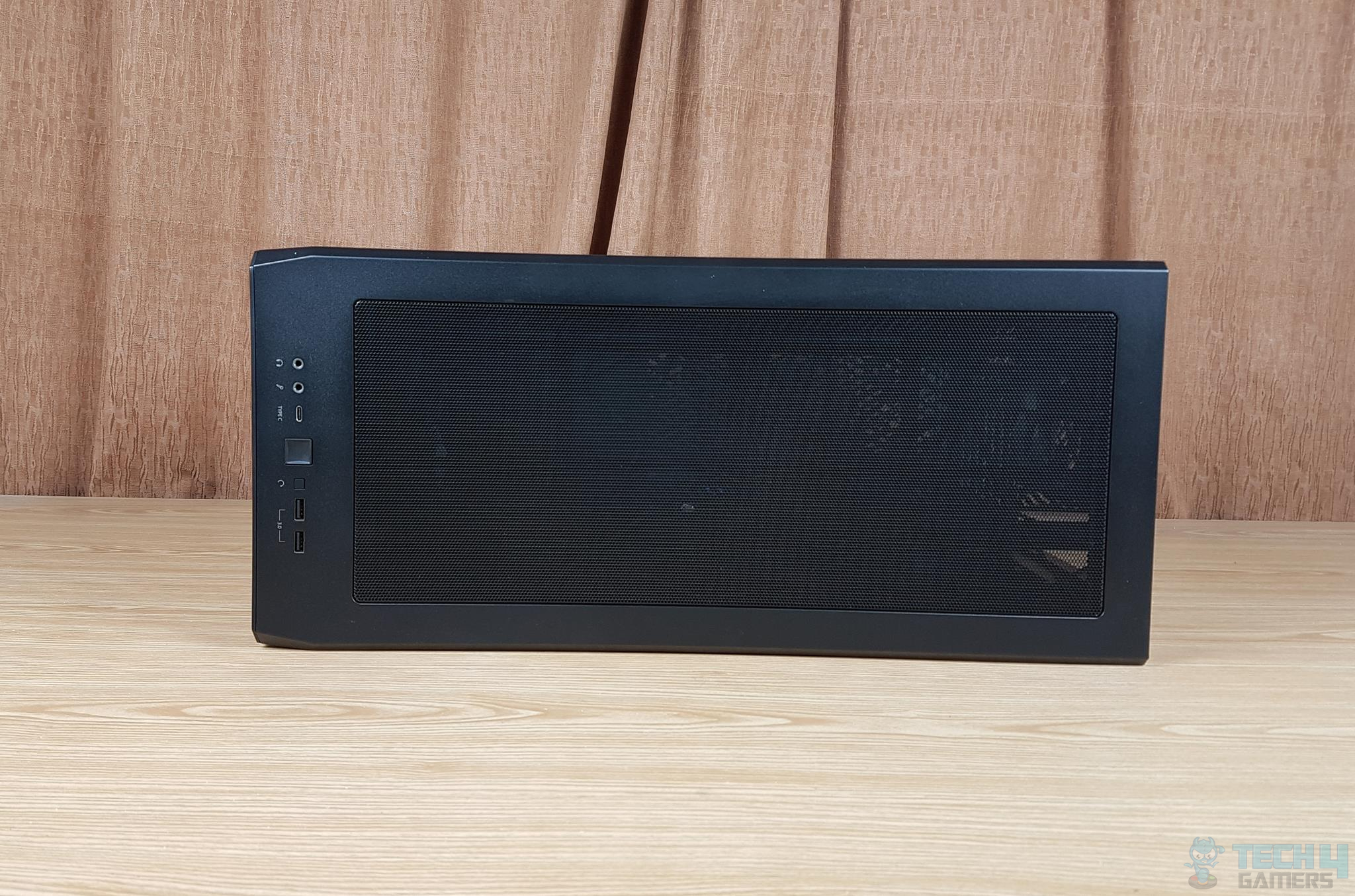 There is a dense mesh on top of Meshify 2. We can see the IO panel towards the left or what should be called the front side. We have a dark black color frame all around. The top left side shows an angular touch which is quite pleasing. What is more plausible is that this top panel is fully removable.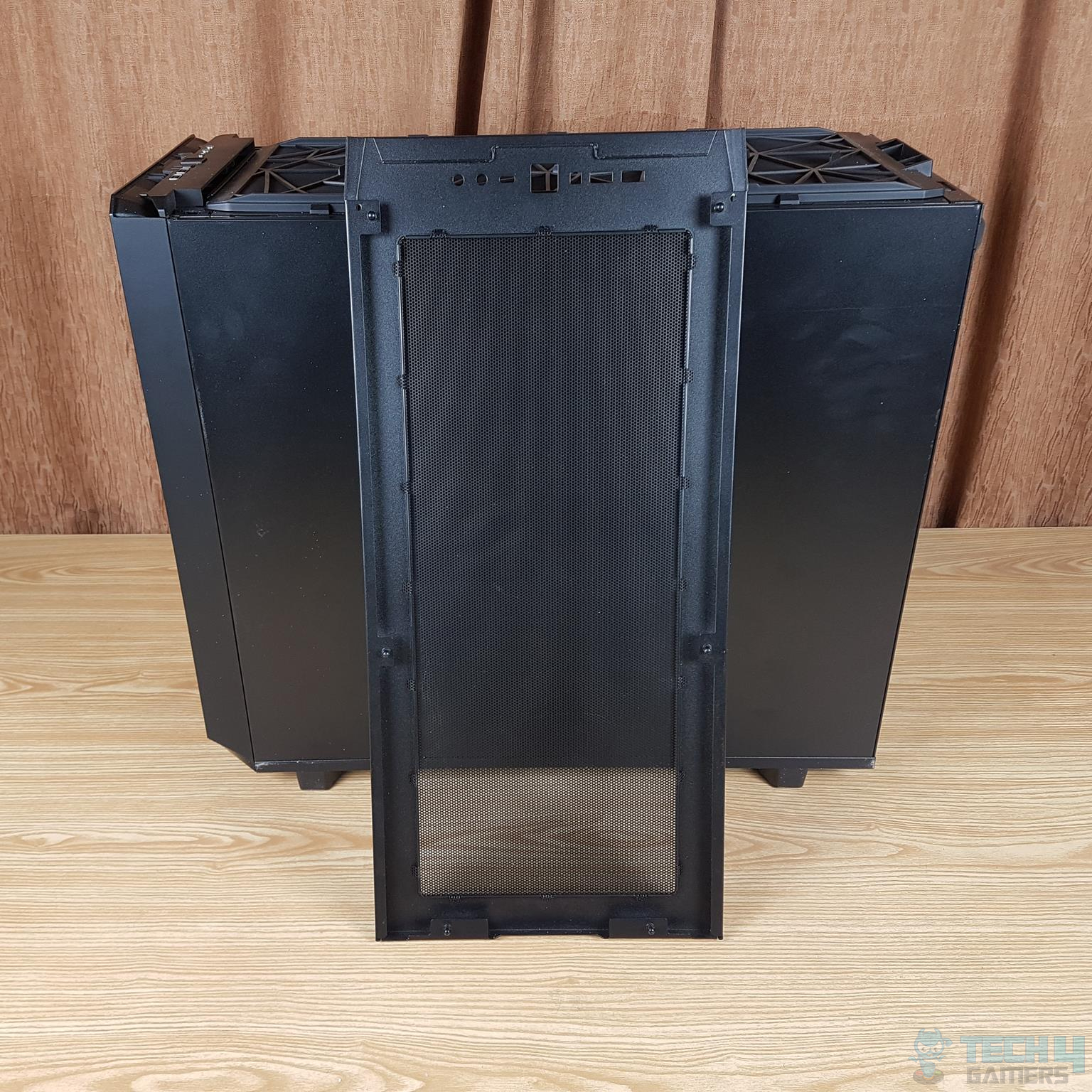 We are showing the removed panel. It has 6x tabs to secure this panel on the main frame. Mesh is a permanent feature and can't be removed. This is not it, as we have another layer of dust filtration.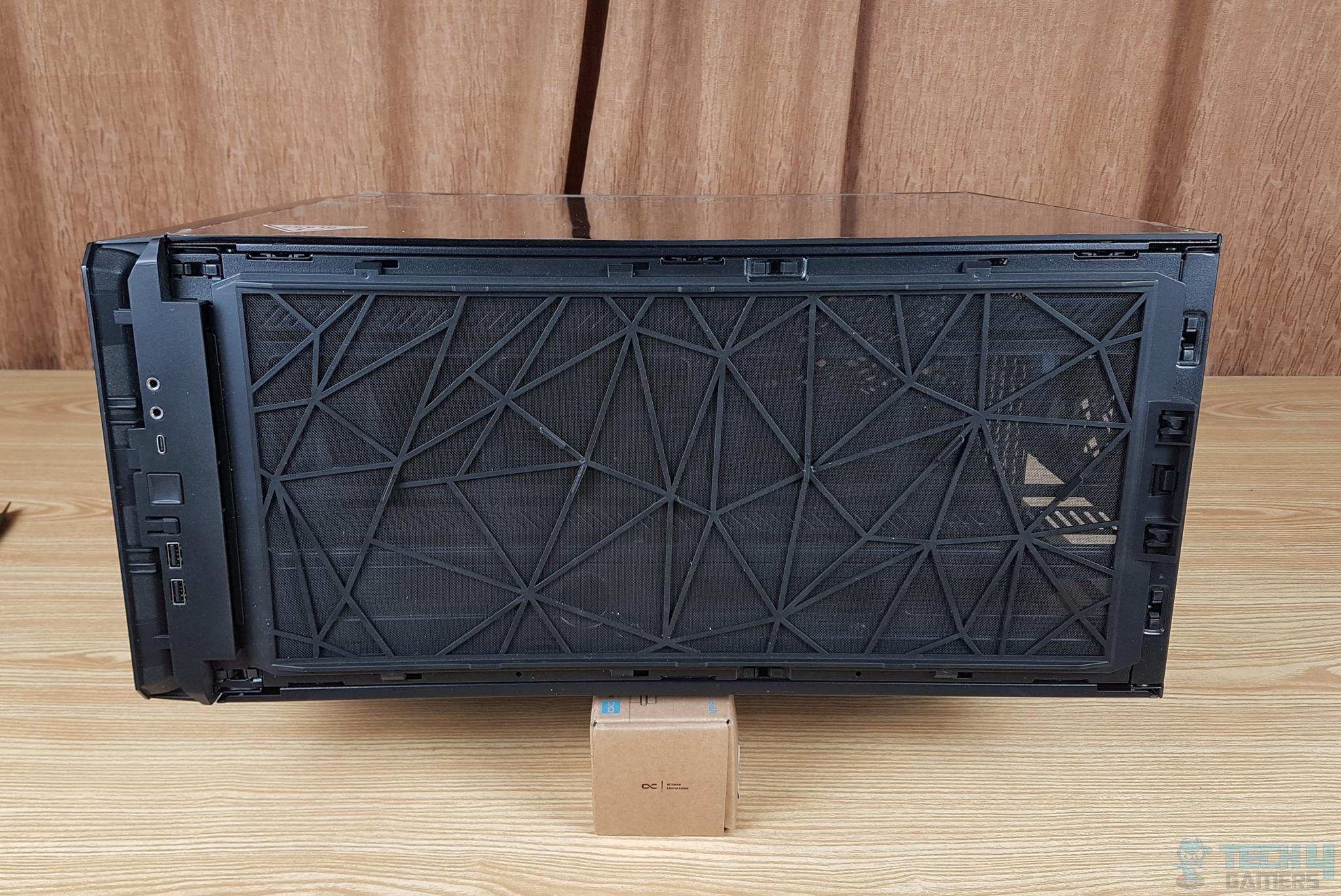 There is an aesthetically designed mesh on top. To remove this filter, simply slide it toward the rear, and it will unlock. Then pull it, and the mesh is off.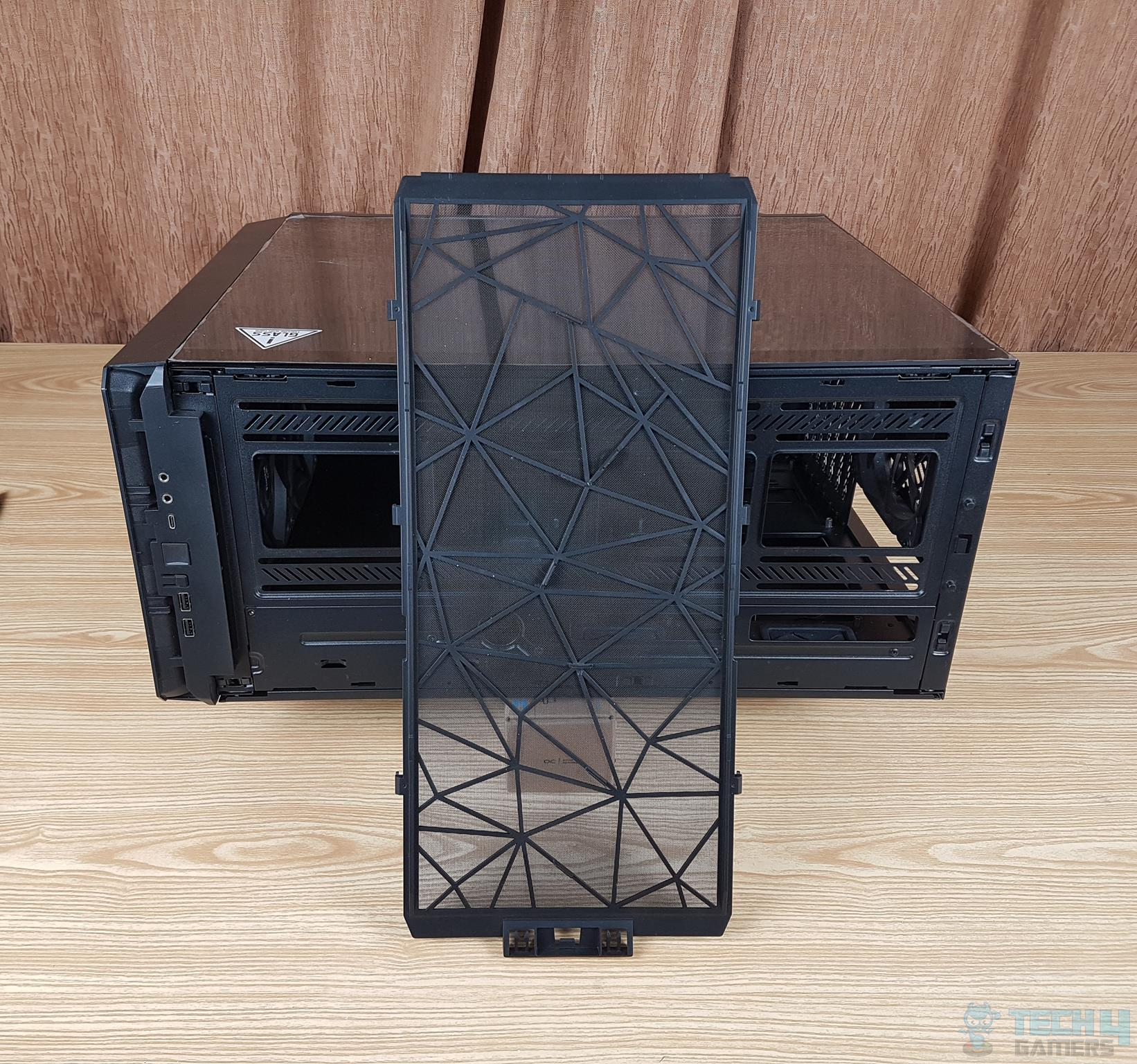 We are showing a complete mesh after removing it from the top of this case.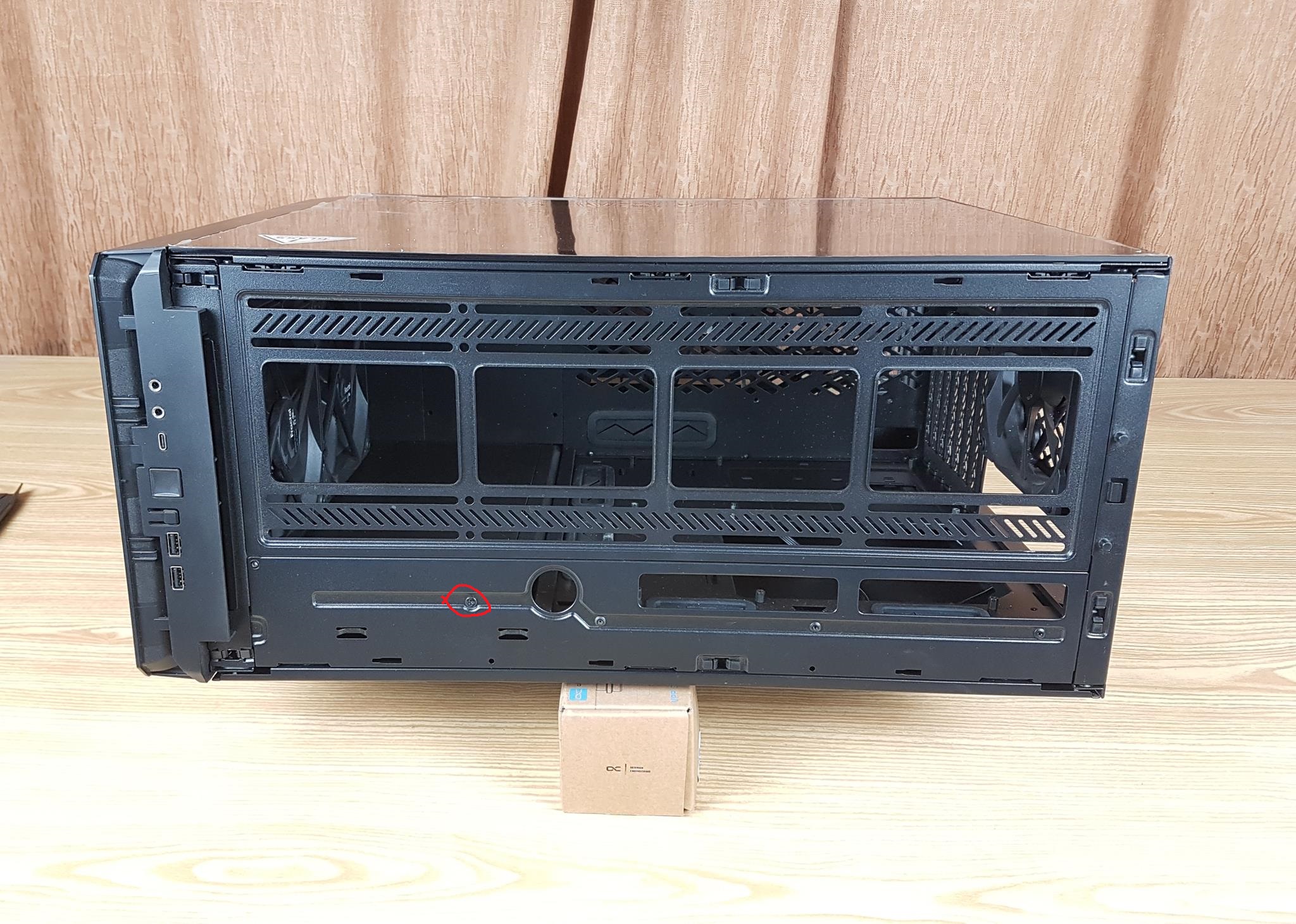 We are left with a fan bracket. If you think we are done with the top, then no, sir, we are not. This bracket is also modular, meaning we can remove this bracket, install fans/radiator on it, and put it back on the case. That simple!
The complete top portion is not removable. Additionally, the area towards the backside of the case is fixed. Take note of a circular hole. This is to provide access to the fill/refill port on your reservoir if doing DIY cooling in this case. Clearly, Fractal Design was way ahead of its game when it came to giving due attention to the design elements of this case.
Also, take note of another red-circled screw. This screw is among a total of 5x screws that are holding the side panel or bracket of this case.
Since we are at it, the following cooling configuration is possible on the front:
Up to 3x 120mm Fans
Up to 3x 140mm Fans
Up to 360/420mm Radiator
Fractal has gone all out, as one can fit in a 420mm radiator in this case. We have a limited number of 420mm AIOs in the market. If I am not mistaken or forgetting, we have CORSAIR, ALPHACOOL, and ARCTIC, making 420mm AIOs.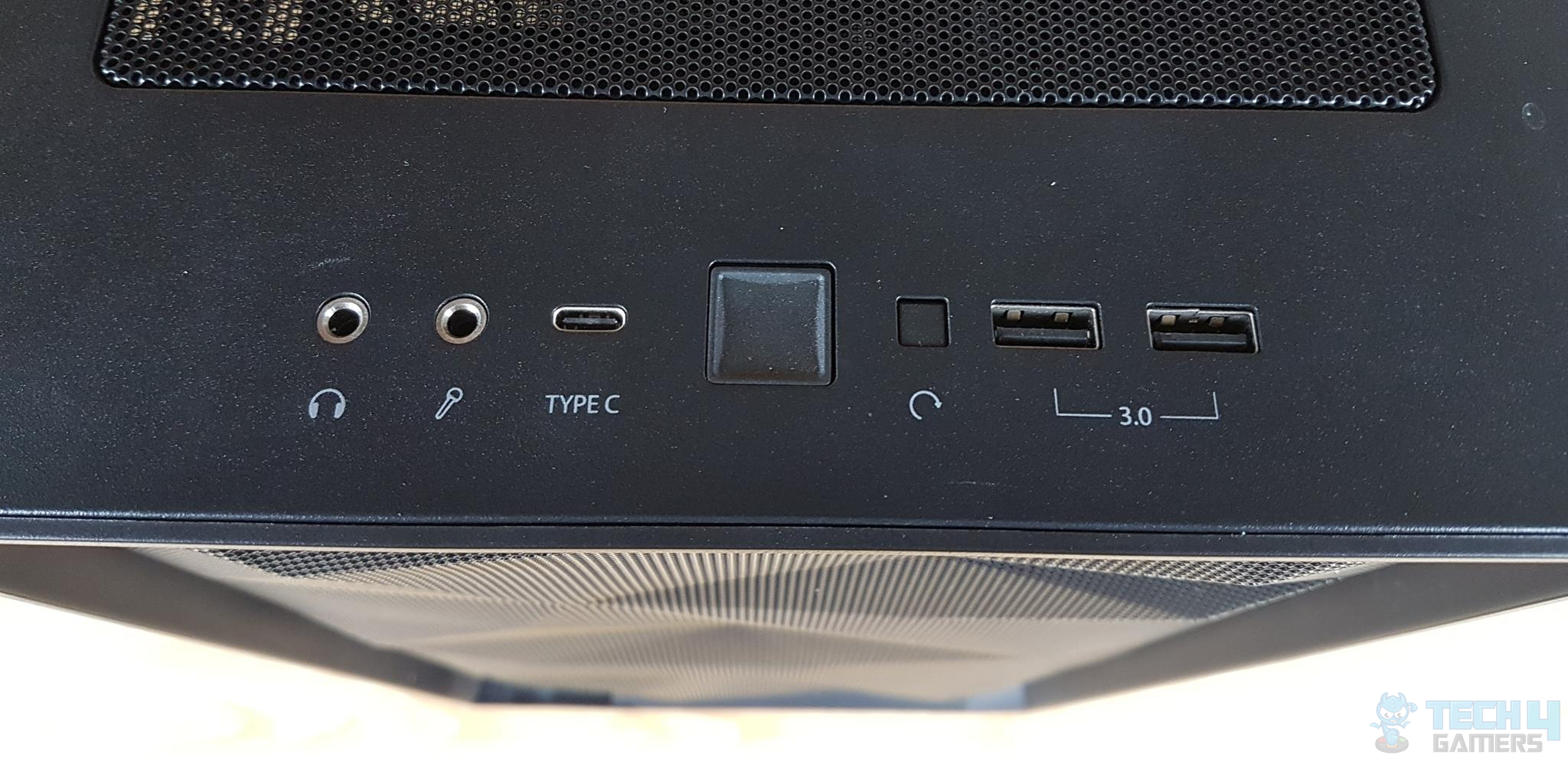 We have the following configuration options:
2x Audio Jacks
1x USB 3.1 Gen 2 Type-C (10 Gbps)
Power Button
Reset Button
2x USB 3.0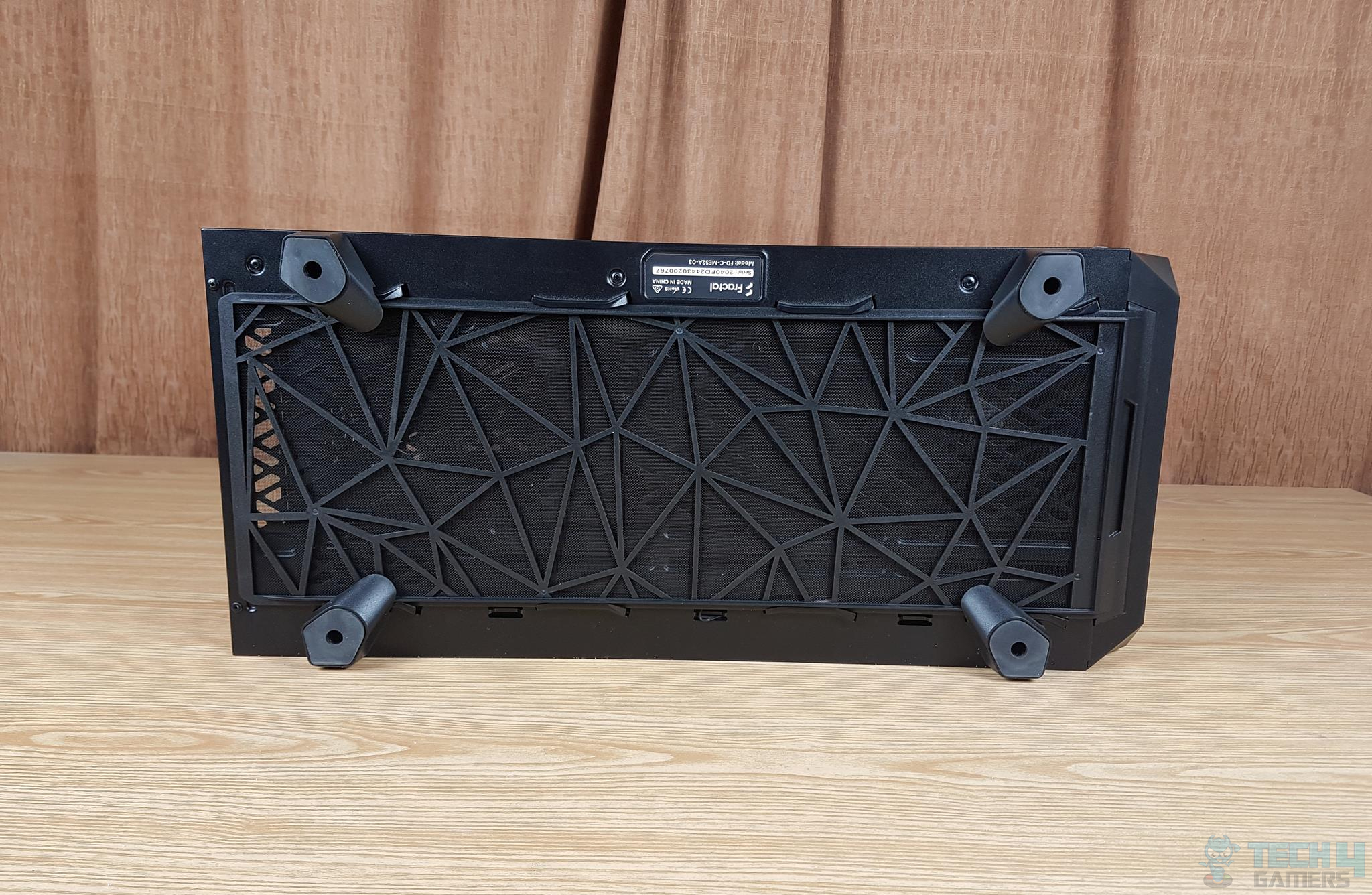 Looking at the bottom of this case, we can stylish 4x feet, which gives enough lift to this case from the surface. There is a full-length dust filter here. A serial number sticker is also placed. Quite a strange area, they decided to put a sticker, but it hides well, not ruining the overall aesthetics.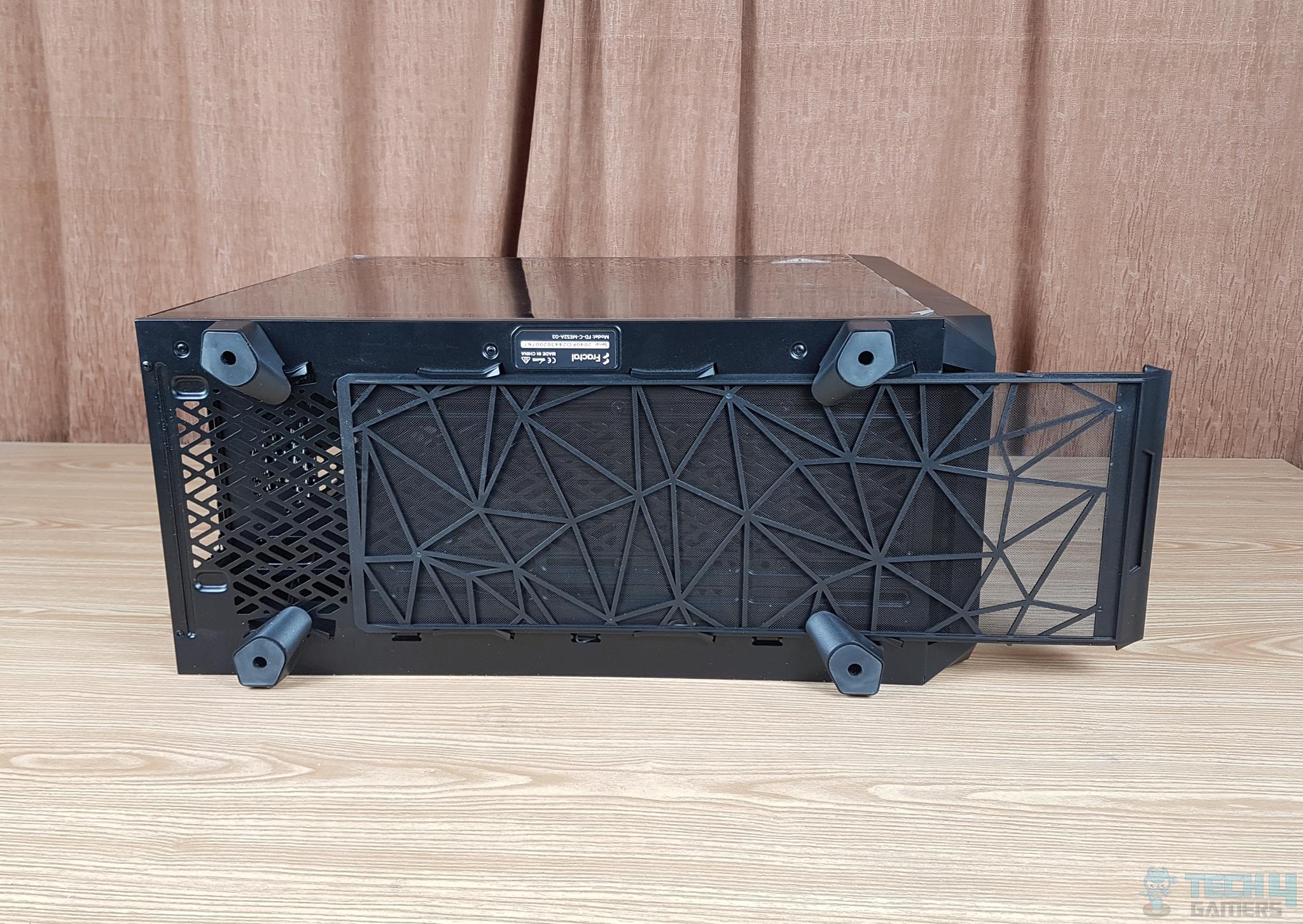 The above picture shows the removal of a dust filter. Filter needs to be pulled from the front of this case which is a wise design.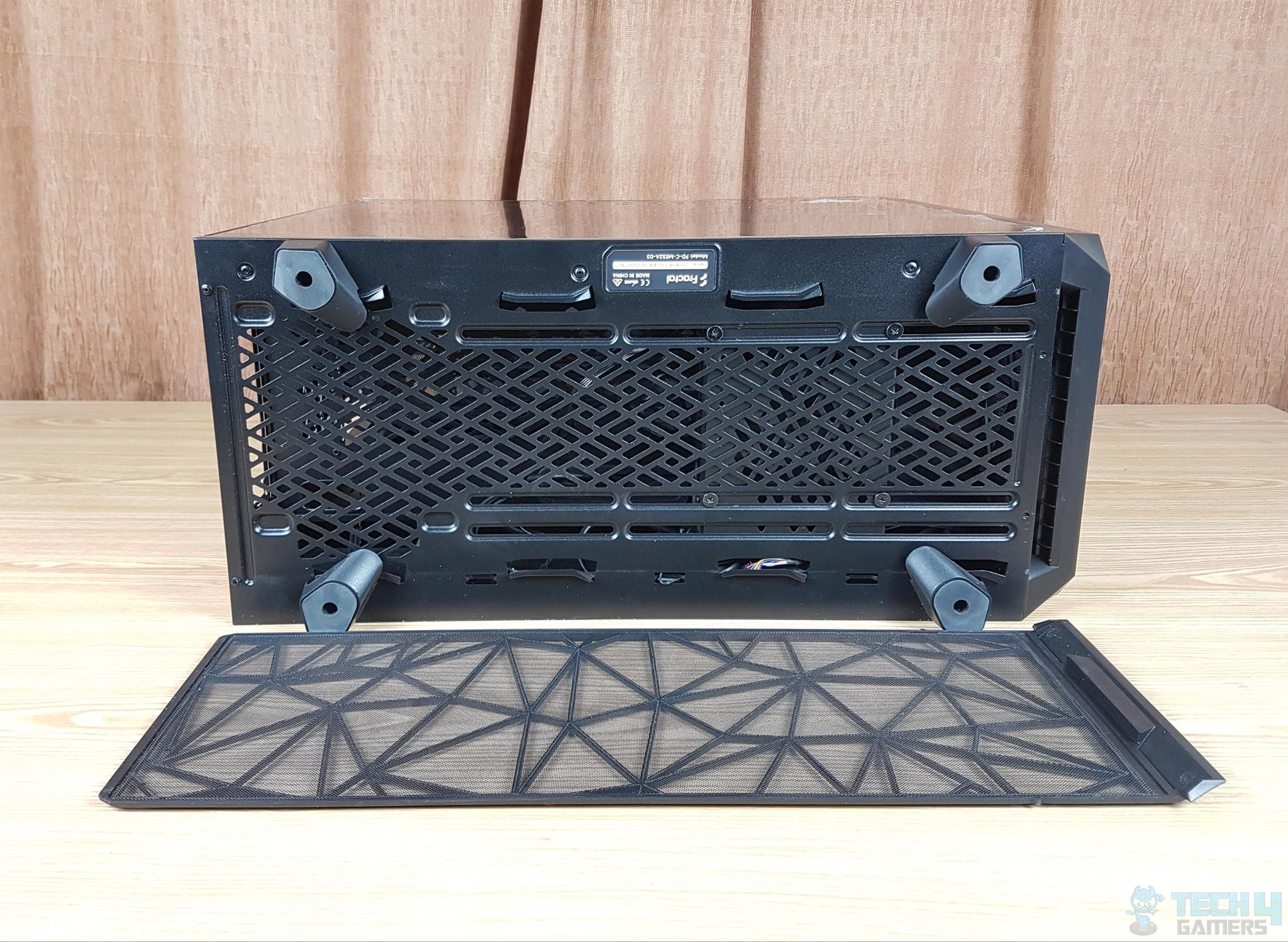 Now, we have a fully exposed, properly slotted area visible on the bottom. We have a spacious length for PSU and HDD cage.
Another positive of this design is that position of the HDD cage can be adjusted as well as it can be removed fully from this case. There are 4x screws securing this cage on the base of this case. There is an option to install 2x 120mm or 140mm fans or 240mm or 280mm radiator on the base. Keep in mind that the HDD cage would need to be removed for this installation.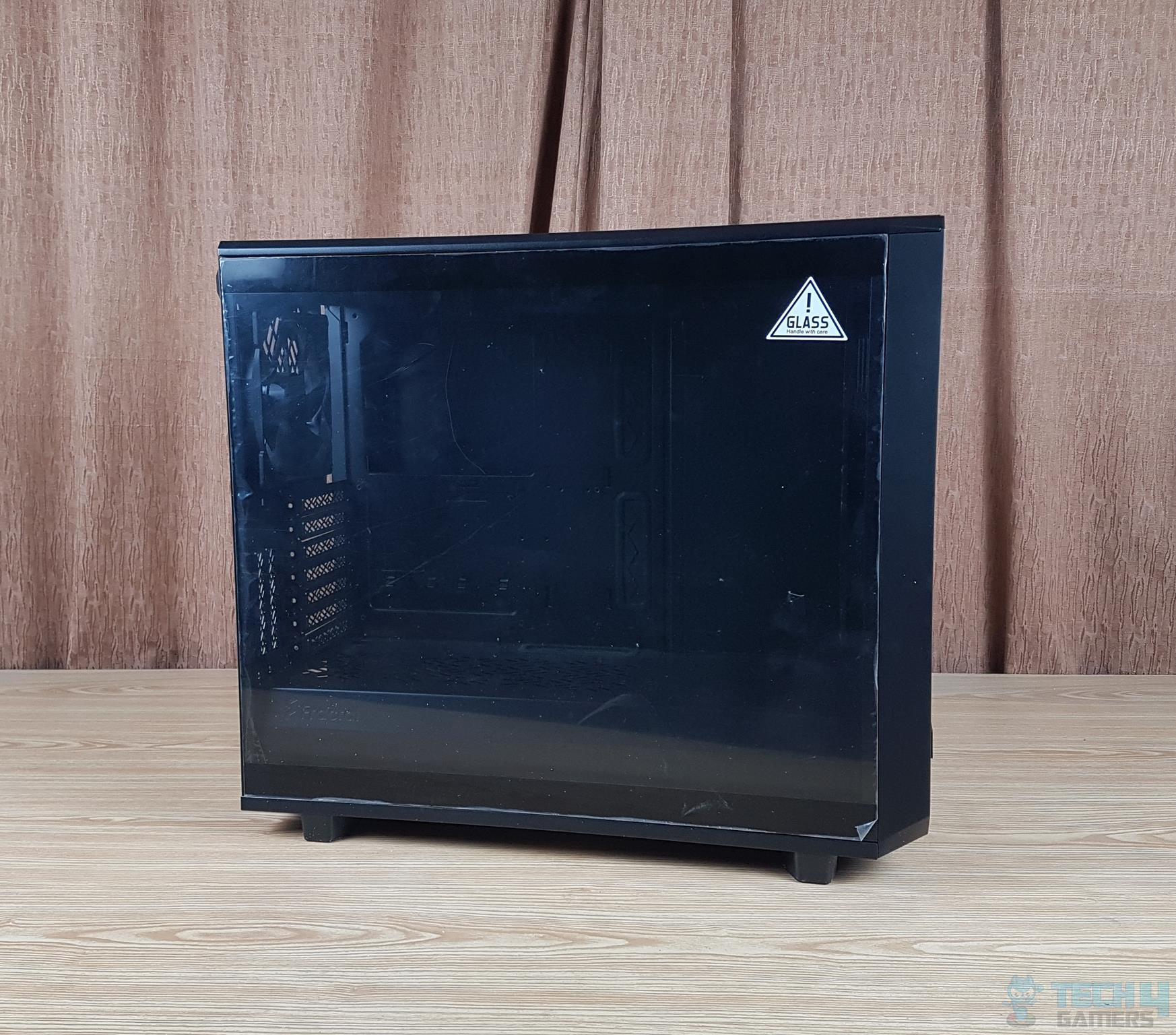 This variant of Fractal Design Meshify 2 comes with a light-tinted tempered glass panel roughly 4mm thick. This panel is not hinged, and it is not using screws for mounting. It is based on top-latching. The panel sits fully flushed with a frame of this case. There is a warning sticker cautioning to handle it with care.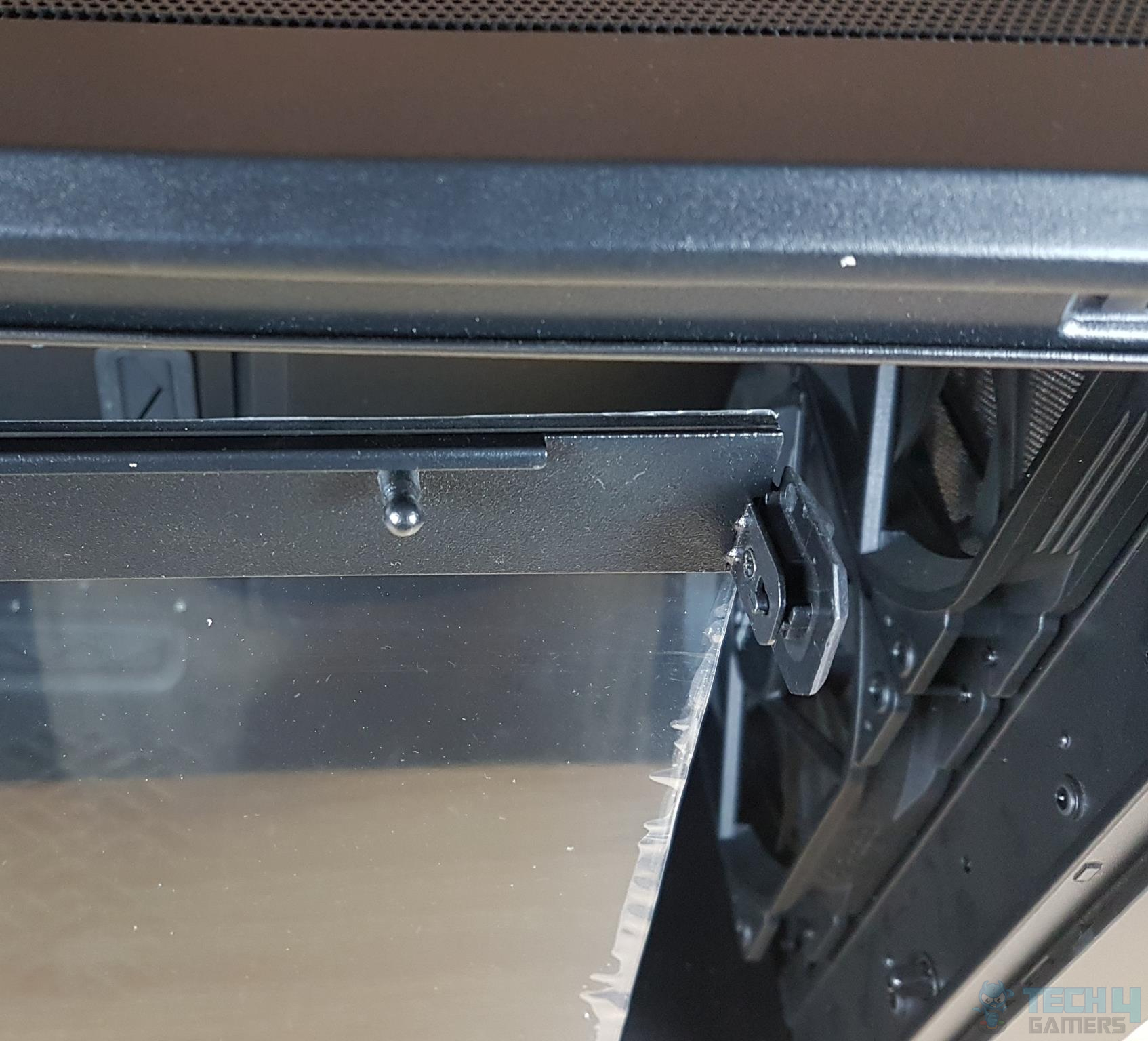 We are showing the mounting mechanism of this glass panel above. This panel has bolts, as can be seen, and extenders to catch up with the frame of the case. Please keep in mind that as soon as this panel is pulled using a thicker handler on the rear of this case, one would need to hold this panel else it will fall.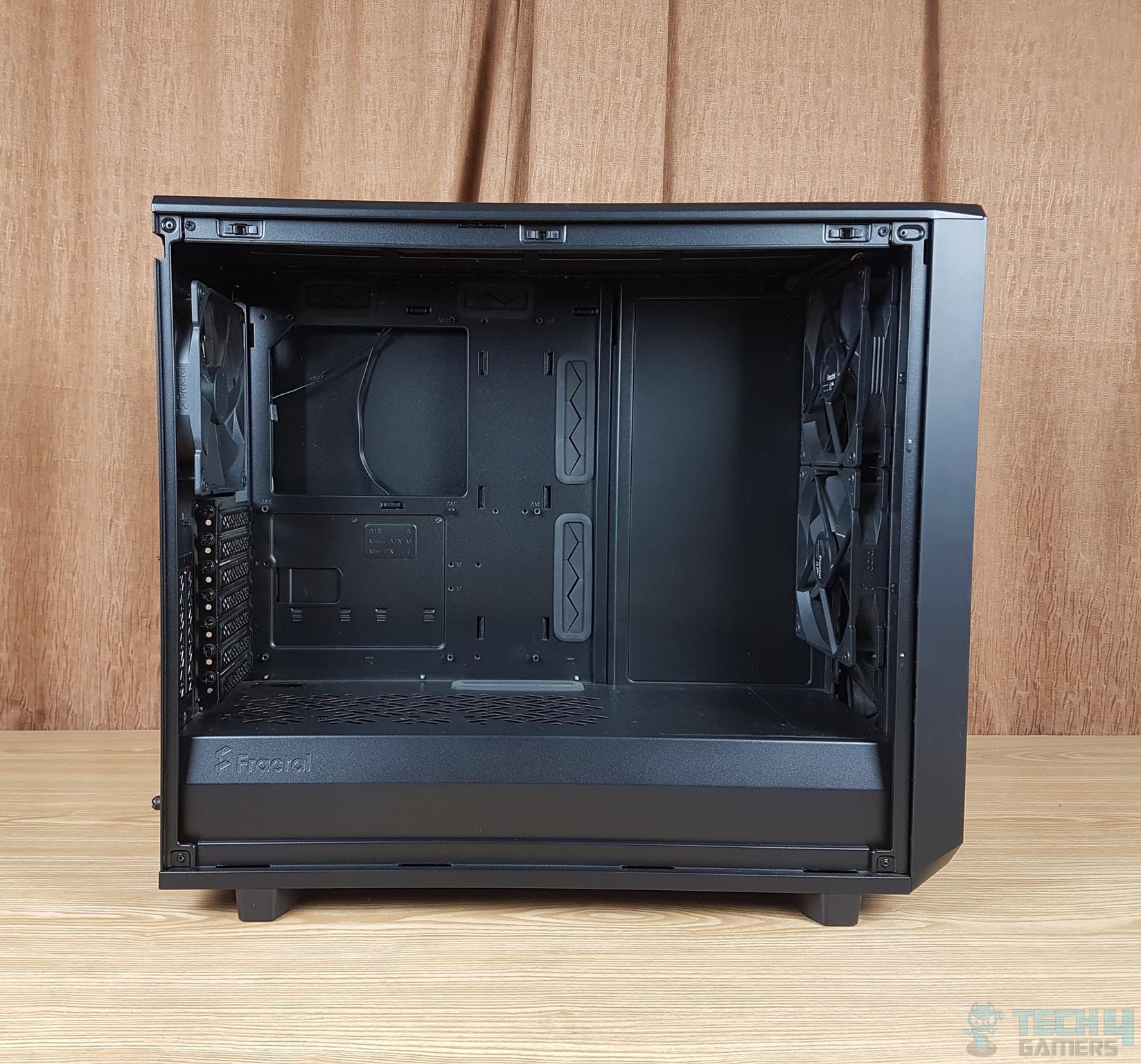 Take a peek inside the Meshify 2 after removing the glass panel. There is a full-length PSU shroud or cover, which is also angular. We can see Fractal branding towards the rear end. The motherboard plate or tray has a legend embossed on it identifying holes type with regard to motherboard size (ATX, mATX, etc.). This case is black from the inside out. The inner length of this case is approximately 492mm, which is quite good, whereas the height is 340mm. Fractal could have increased this height a bit, but nothing biggie. There is a displacement of 30mm from the top of the case to the motherboard's top.
Following is clearance and compatibility info:
Motherboard: ITX, mATX, ATX, and E-ATX (max 285mm width)
PSU Max Length: 250mm with HDD Cage
Graphics Card Length in Open Layout: 491mm without a front fan, 467mm with front fans
Graphics Card Length in Storage Layout: 315mm
CPU Cooler Height: 185mm
There is a large size cutout on the motherboard tray. One can easily install a CPU cooler with a motherboard installed in this case. However, Fractal Design has mentioned in the user guide to install a cooler outside of this case on the motherboard. We have two large-size cutouts with rubber grommets on the right side in a vertical layout. There are two small size cutouts on top of the motherboard tray, and they also have rubber grommets. In my opinion, there should have been three such cutouts or at-least two large-size cutouts.
We mentioned above about the side cover or bracket on the motherboard tray. This is a key feature of Meshify 2. This bracket is used to convert an open layout into a Superlative Storage layout. In an open layout, this bracket provides a clean and aesthetically pleasing look inside this case.
We can see that 8x standoffs are pre-installed in this case. If you are wondering why not all 9, then it is because the center has a raised tab or stud to catch the motherboard. Personally, I like this design better than having 9x standoffs.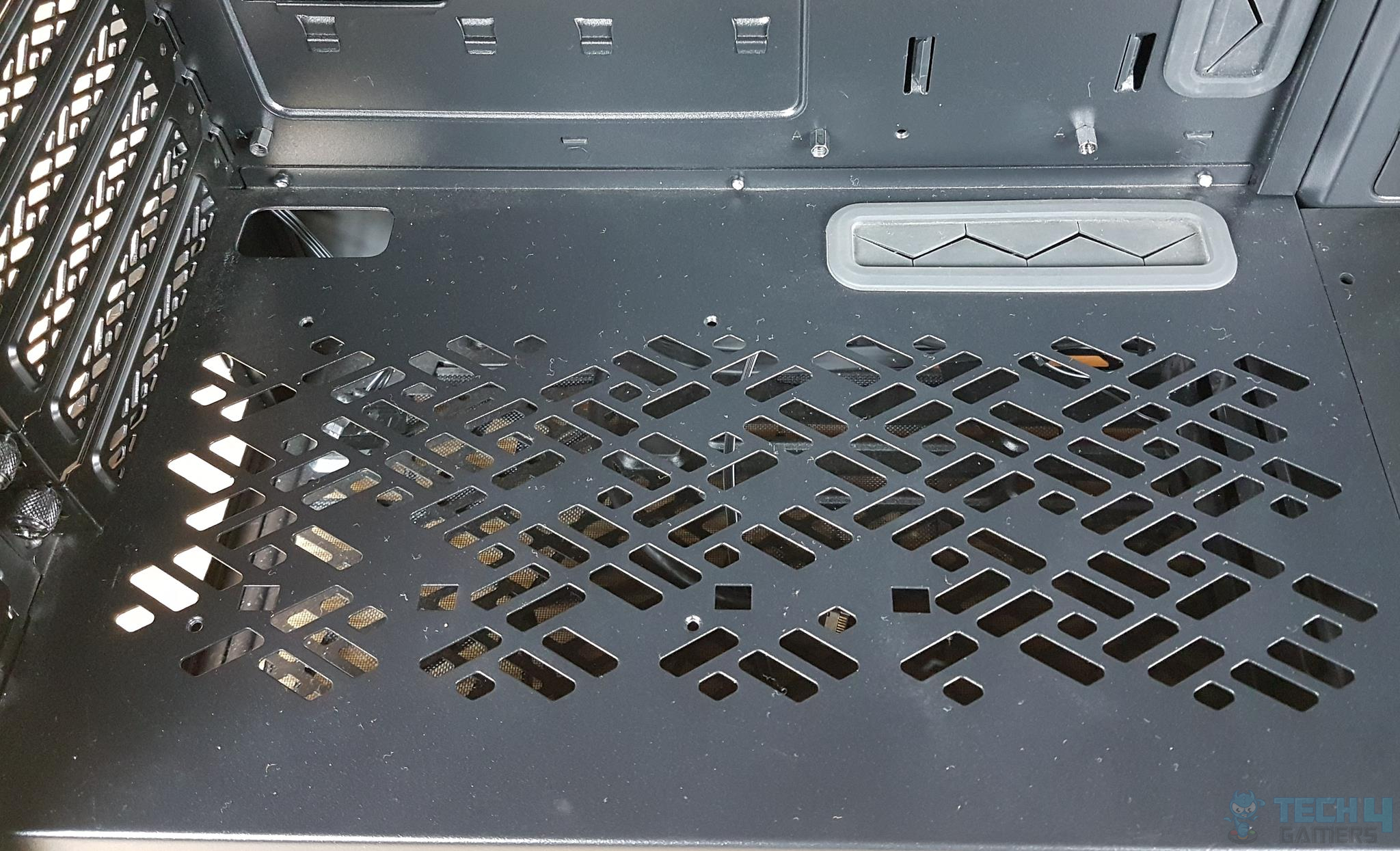 The area facing PSU is slotted for effective ventilation. Take note of mounting holes. A user can install two 2.5" drives here on the brackets. Fractal Design has provided only such brackets, and they are on the back side of the motherboard tray.
There is a large size cutout below the motherboard tray on the PSU shroud. It has a rubber grommet. A user can pass cables through this cutout for bottom connectivity with the motherboard. There is another small size cutout on the far left side. I appreciate the attention to detail from their design department.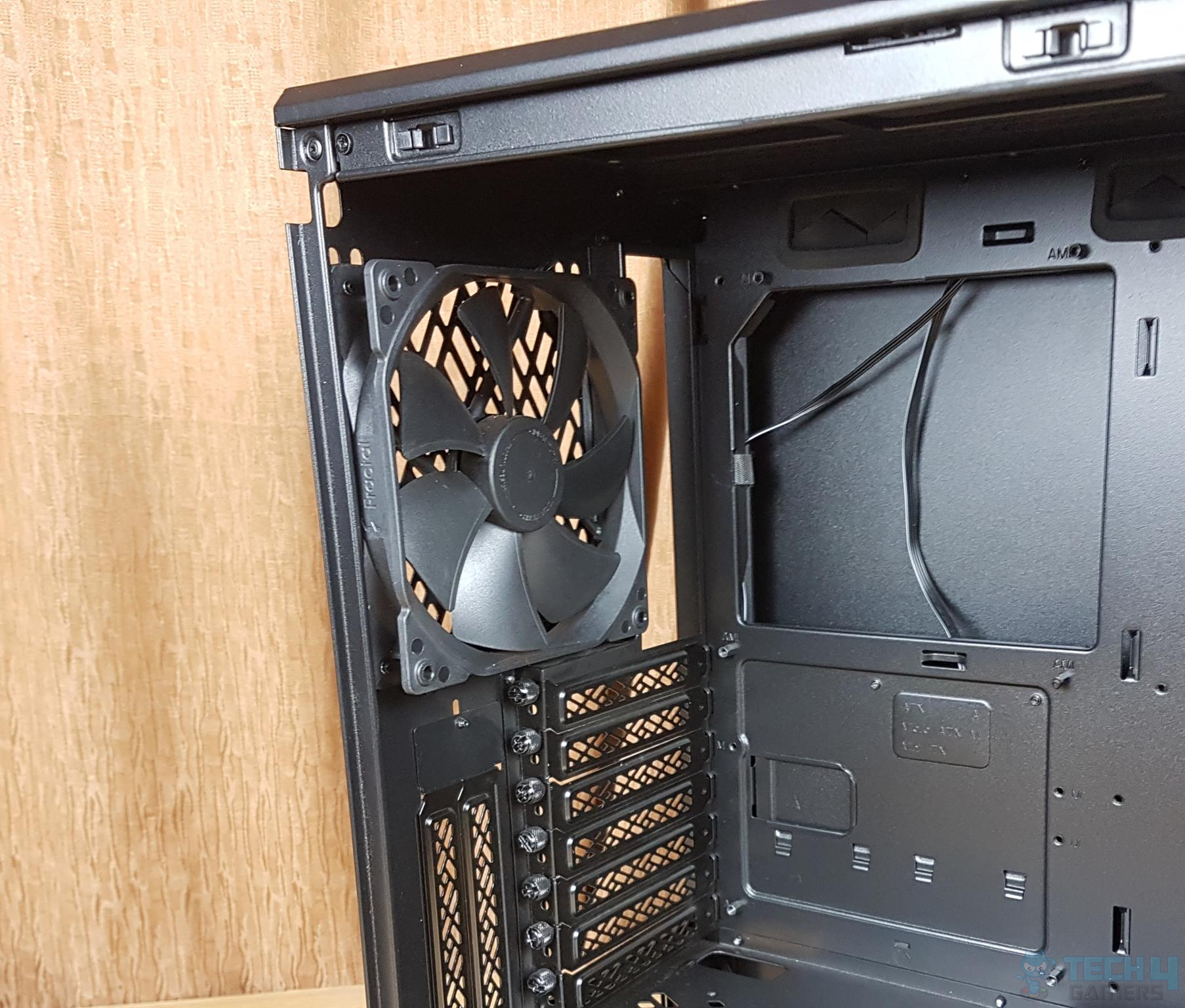 There is a 140mm Dynamic X2 GP-14 fan on the rear. Fractal Design has provided a total of 3x 140mm fans in this case which should suffice for a majority of users' needs.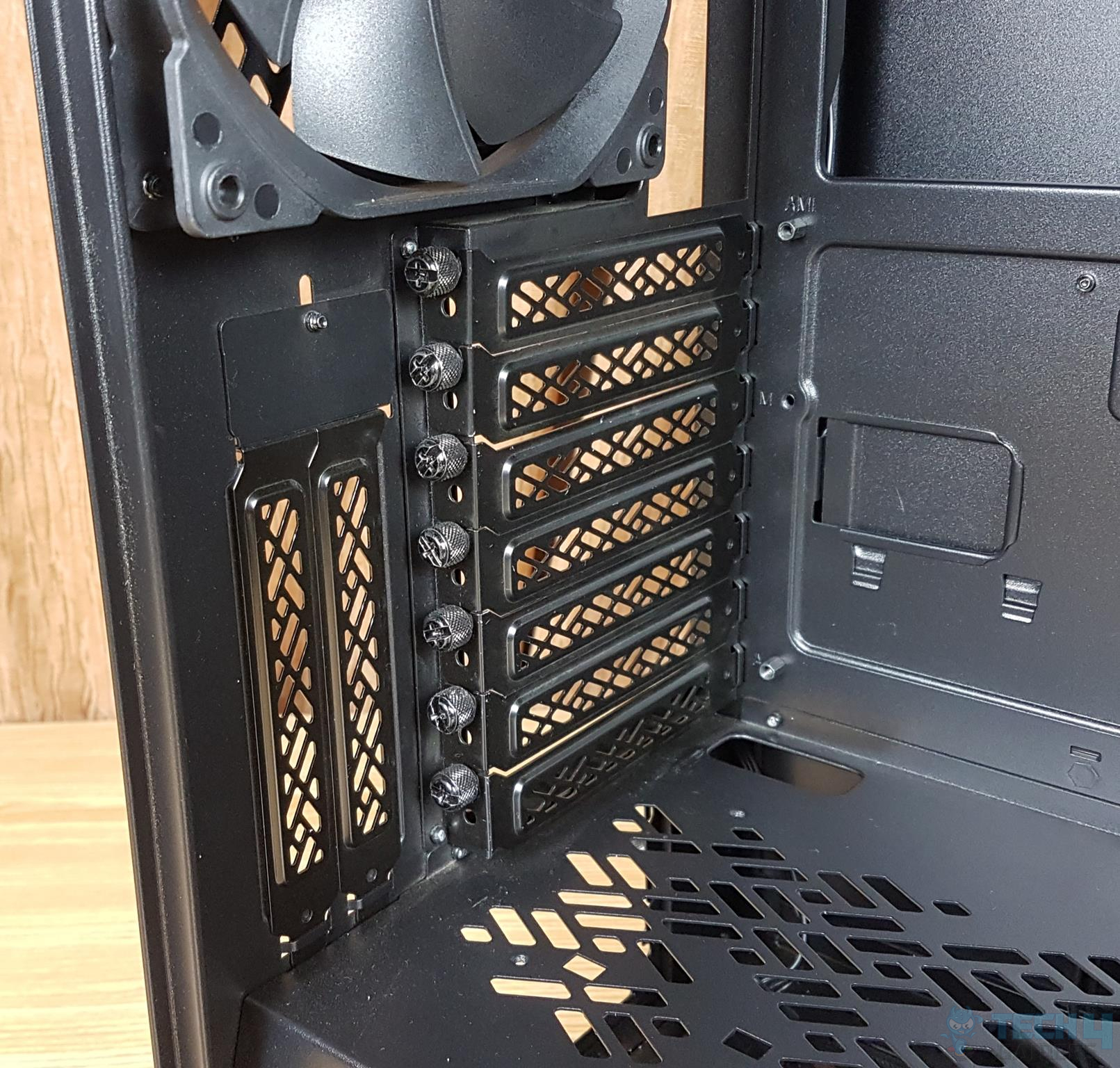 There are 7+2 PCIe slots in this case. They have removable covers, and these covers are vented as well for effective heat dissipation from the inside of the case. These are not captive thumbscrews; otherwise, it would have been an added advantage. This is a bridgeless design which is my personal favorite. By bridgeless, we mean that there is no supporting beam or rod between any two PCIe slots. Removing all slots would simply give you a fully uncovered and unobstructed area.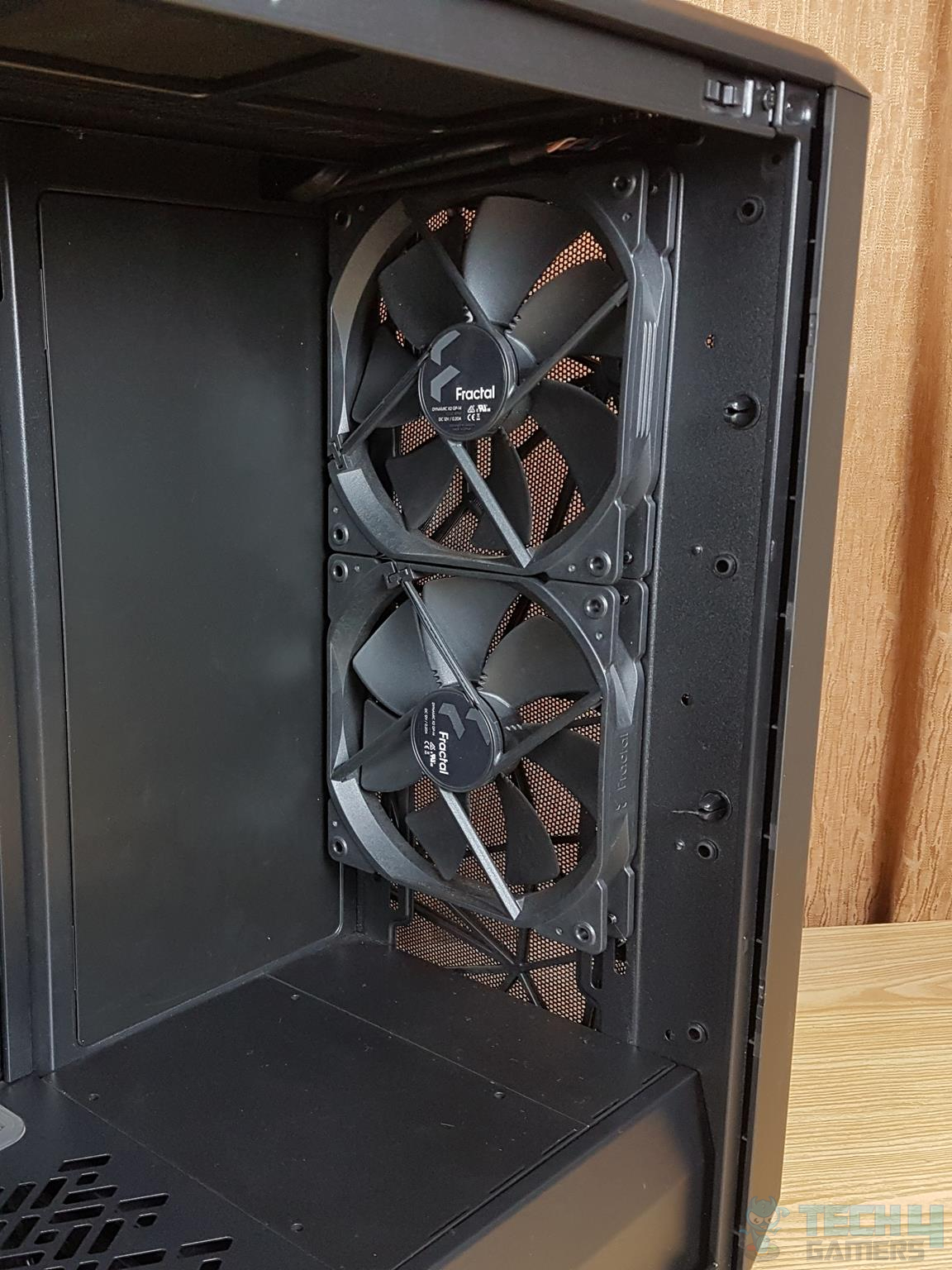 As we mentioned above, this case has a fixed fan bracket with a rail design on the front. There are two GP14 fans pre-installed there. Take note of the black color base. There are two plastic-made covers facing this bracket. These can be removed for multiple scenarios, like installing a pump and reservoir on a base of this case using a multi-bracket or removing the far right side to accommodate thicker rads.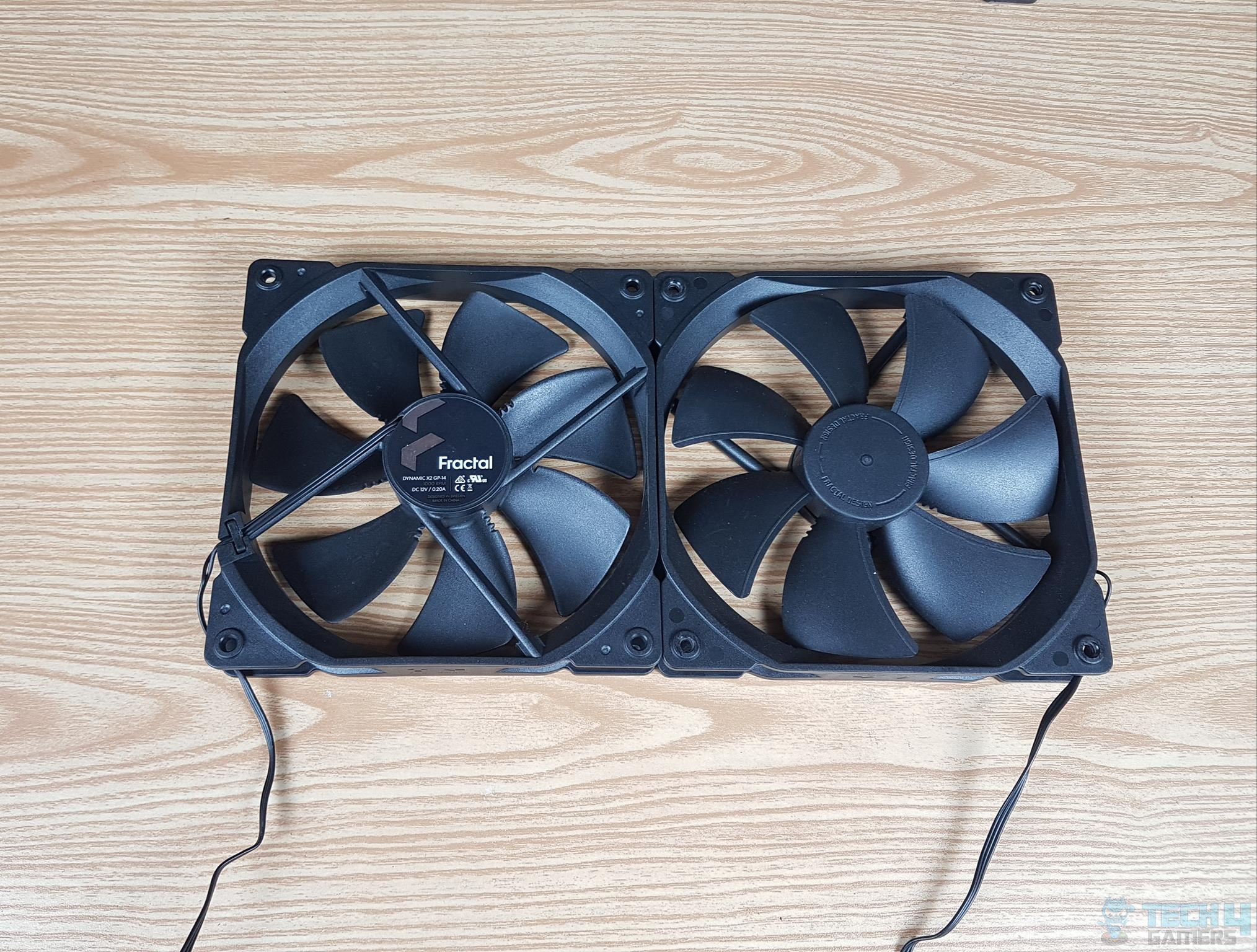 We can see Dynamic X GP14 fans above. These fans feature 7 blades with a rounded stepped inlet design on the frame. These are rated for up to 1000 RPM at 19dB(A) sound.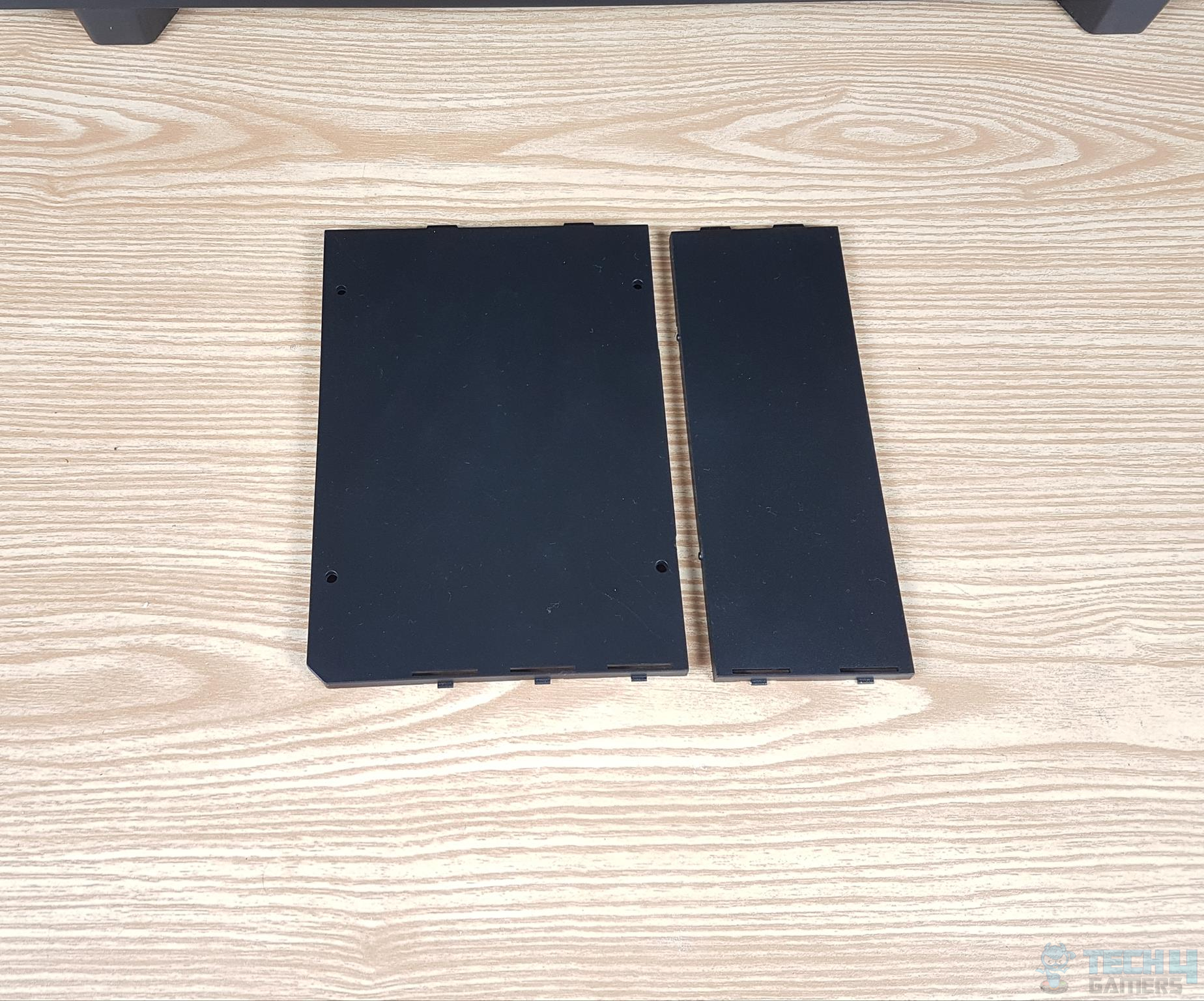 We are showing plastic covers after removing them from this case. One is wider than the other, and it is another attention to detail from Fractal. In case of a slim rad or relatively less thick radiator, we can remove the less wide cover to still give us concealed design.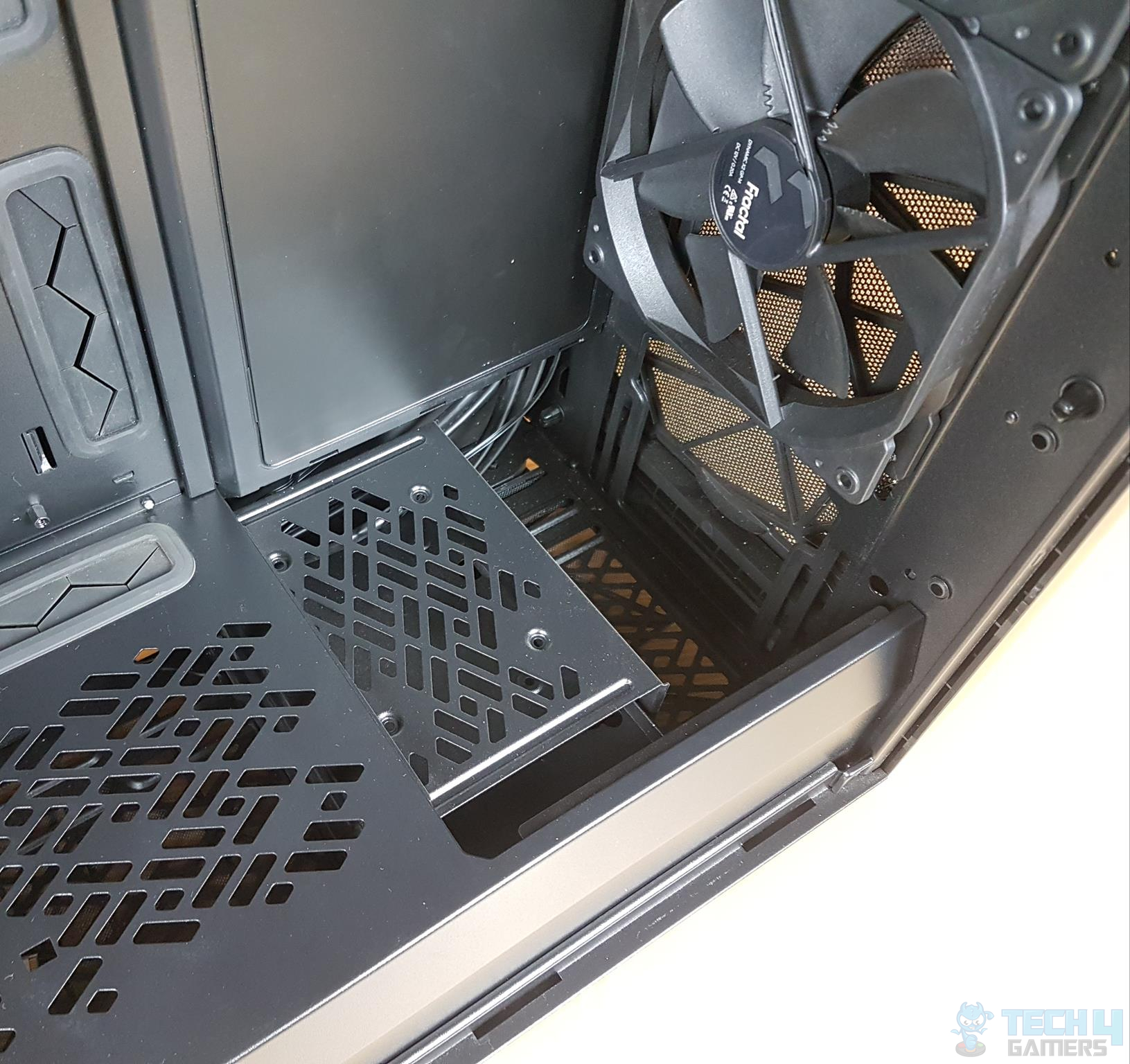 The above picture shows an area of this case with plastic covers. We can see the exposed HDD cage and the rest of the fan bracket area.
Now let's turn our attention to one of the unique features of this case which is a complete removal of the top panel.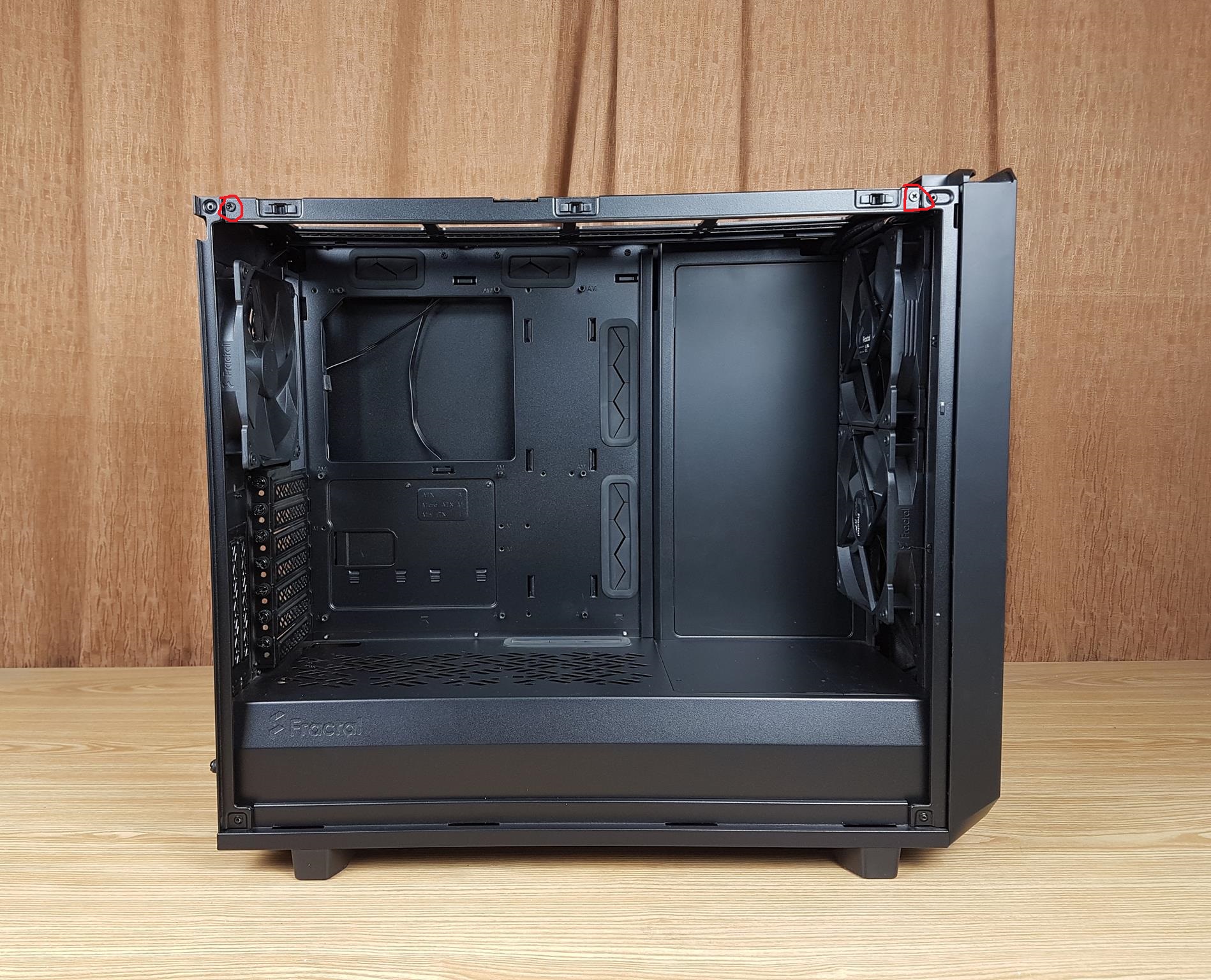 As we can see in the above picture, the top panel and nylon dust filter are removed. What remains is a fan bracket, and we are off. The fan bracket is secured using two Philips screws. We have red-highlighted these screws in a picture for easy reference. Unscrews these and take off this bracket. That is it.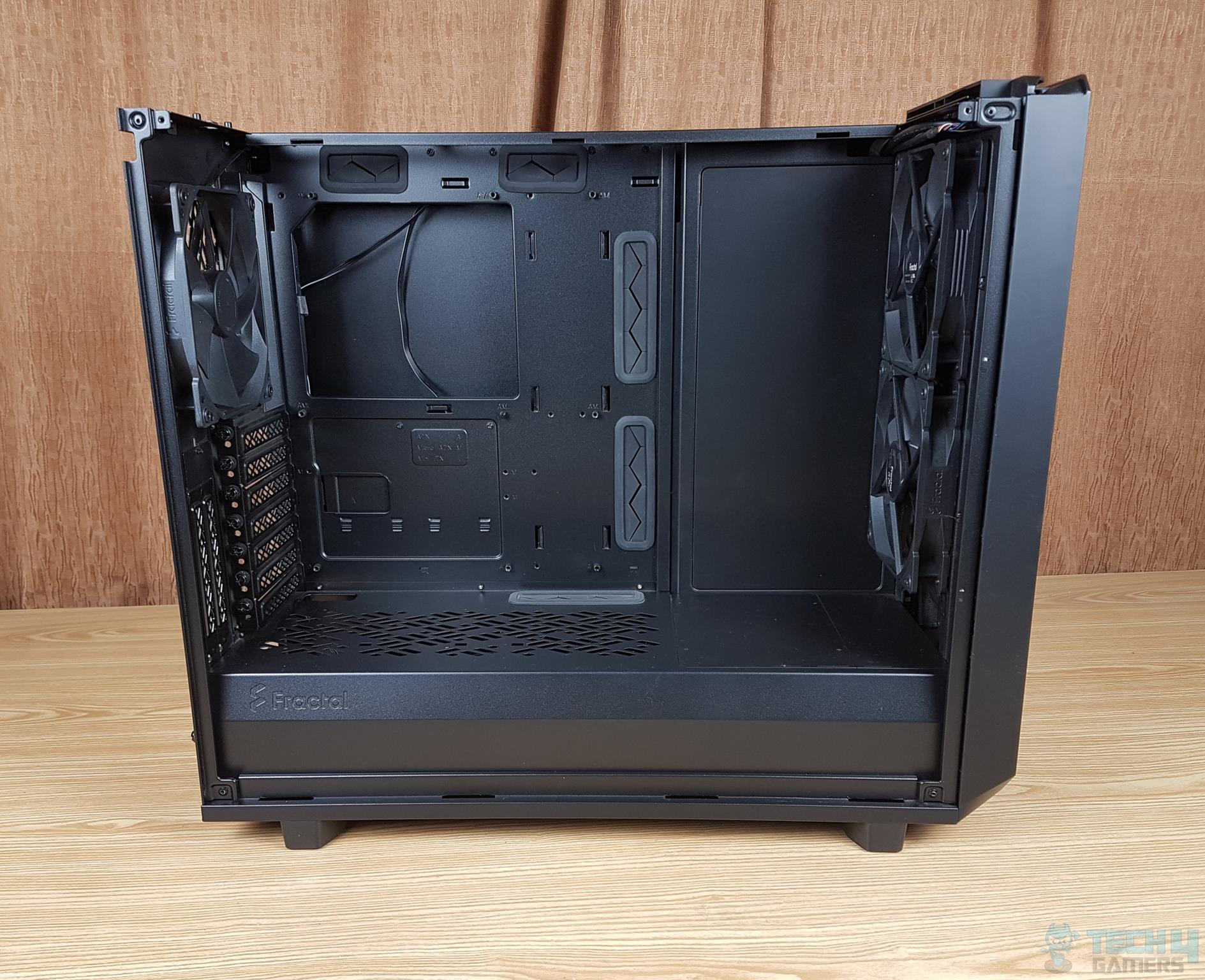 Behold the new Meshify 2. Pun intended! Fractal Design means business when it comes to doing a build with utmost convenience in this case.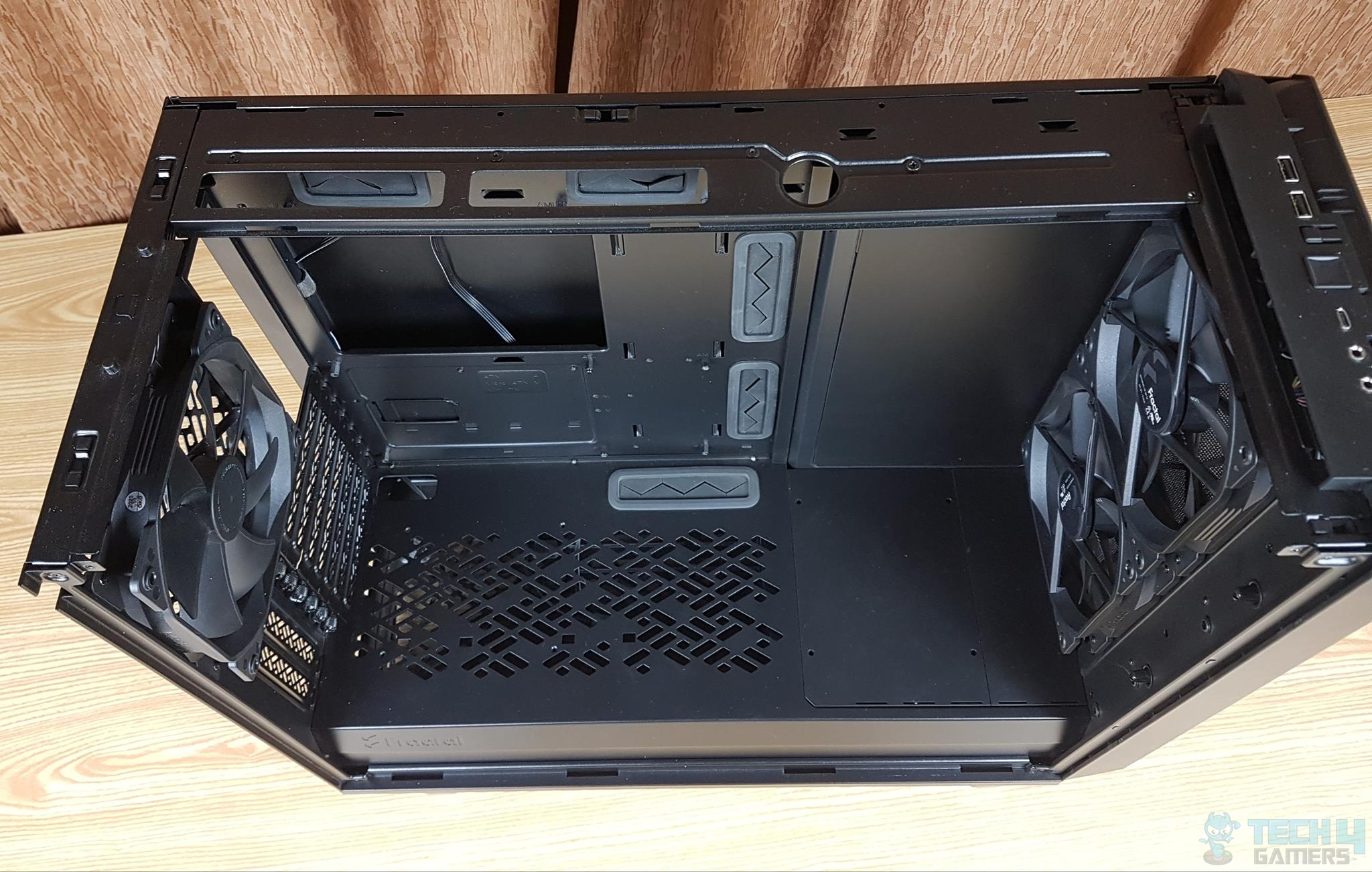 The above picture shows a better view of what we are talking about here. We can easily assemble any build and then bring on the fan bracket. However, take note that if you are installing a radiator on this fan bracket, then this fan and radiator assembly will obstruct your access to the top two cutouts. Better connect all required cables beforehand. You have been informed!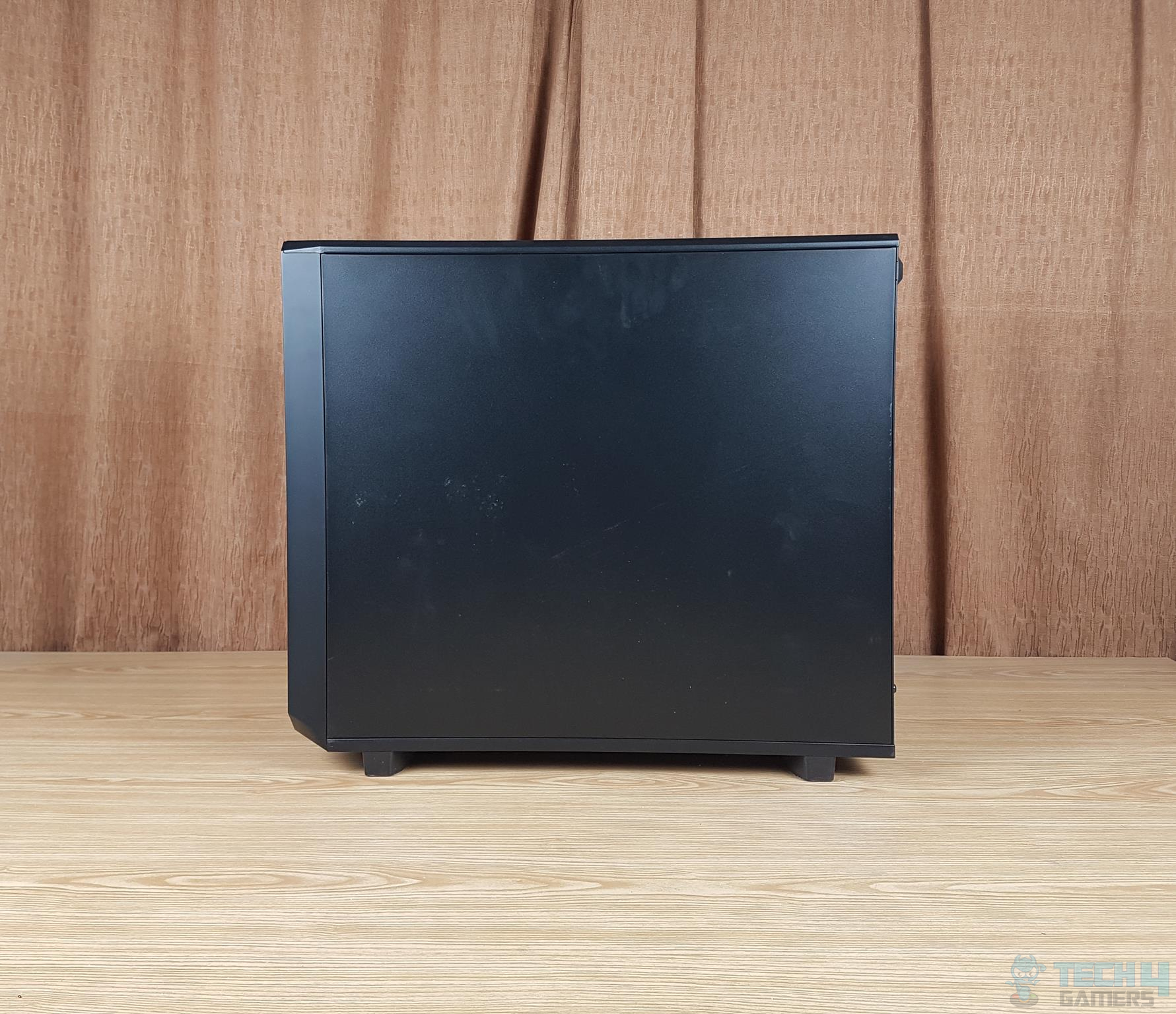 The back panel is made of steel and is quite sturdy. As usual, it is also black in color and is quite a fingerprint magnet. It has a similar mounting as we have seen on a glass panel.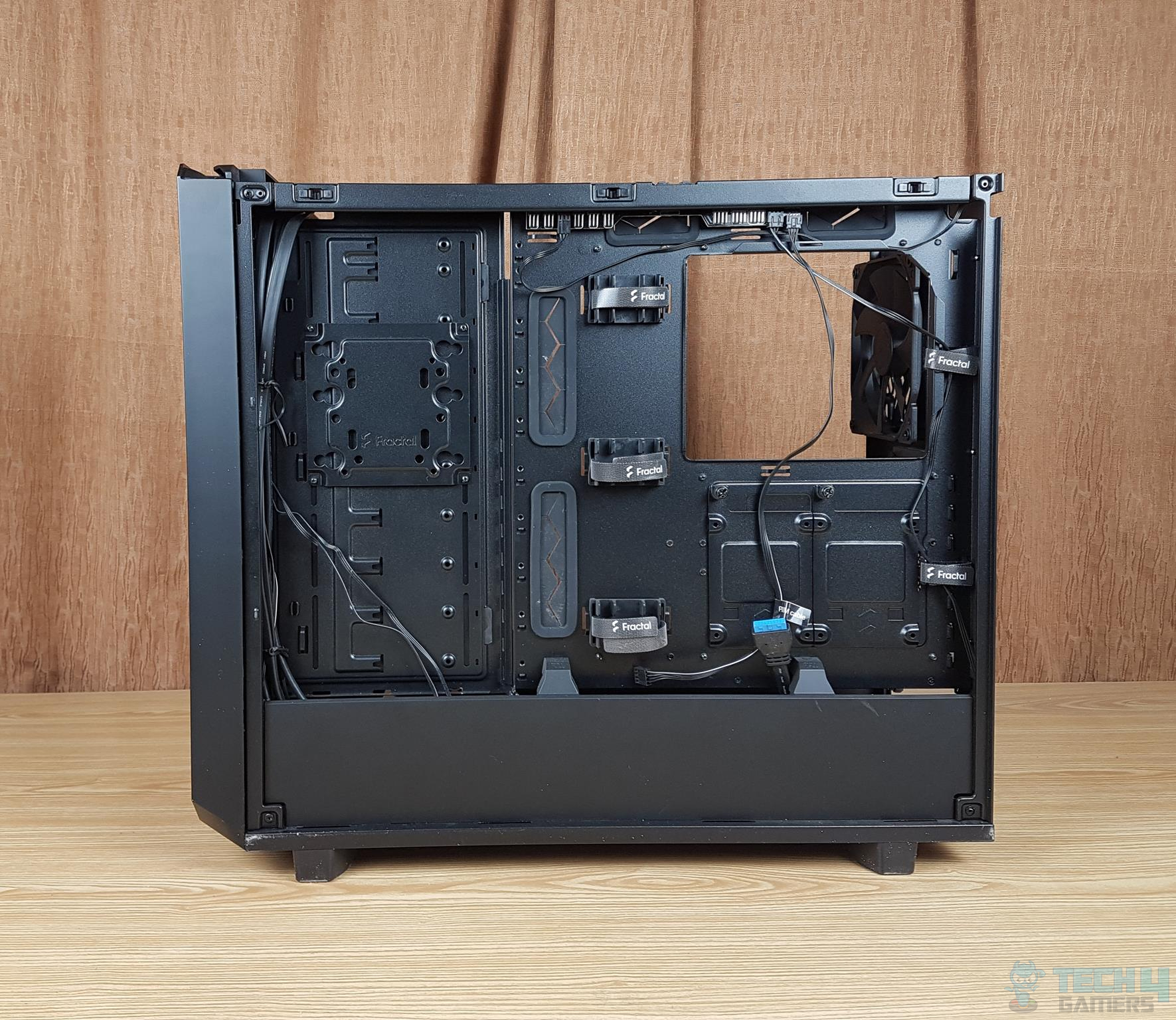 Take a look at the back side of Meshify 2, as we have shown after removing the side panel. We can see a plastic-made full-length cover at the base. It conceals cables, HDD Cage, and PSU brilliantly, giving a clean look. This also frees the user from thinking of cable clutter in the base. Rather the user will only focus on cable management up top. The cable management space is 30mm, which is quite good and provides enough clearance for nice and clean cable management.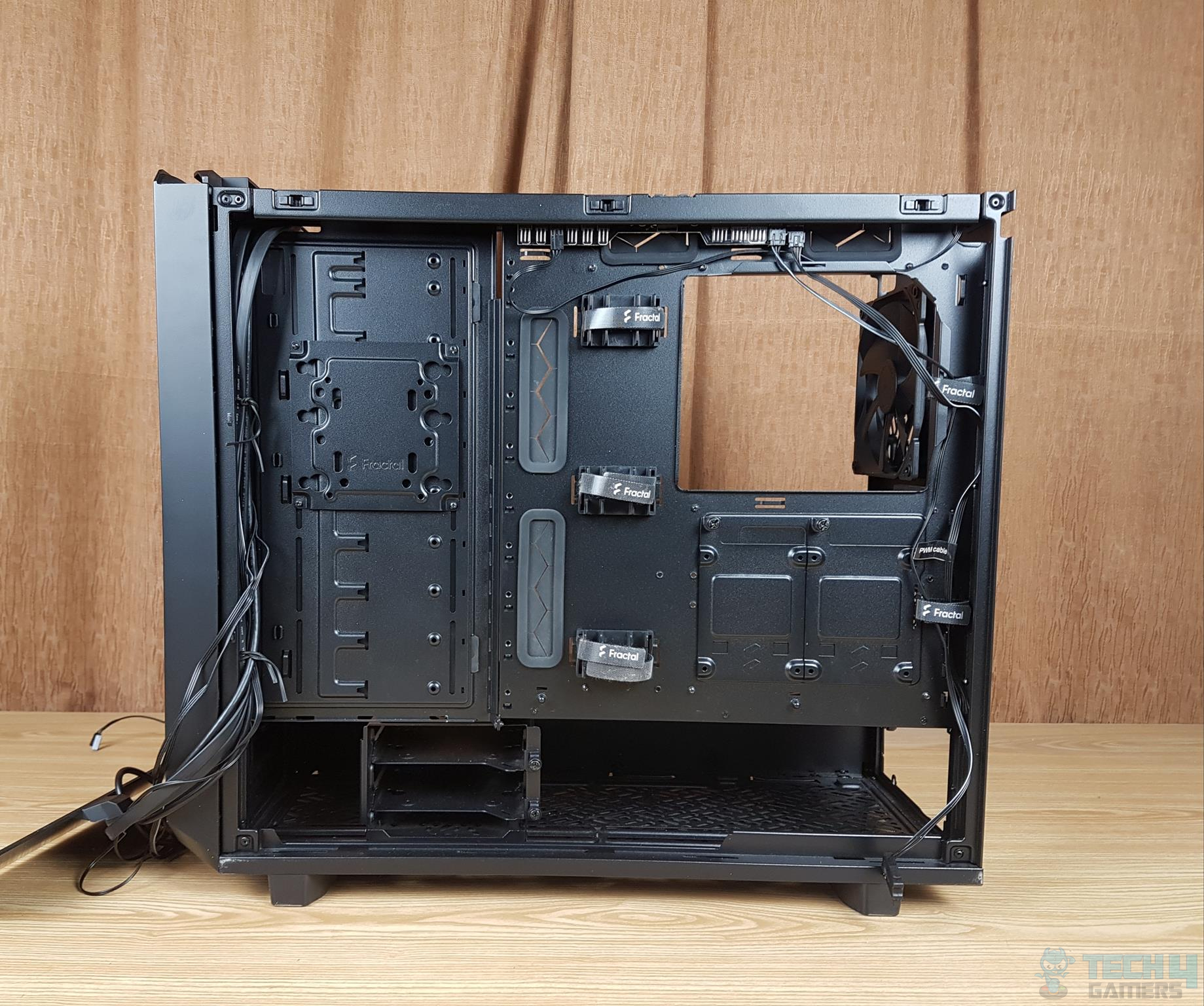 Now that we have removed that cover, we can see a full view of what is provided here. There is a multi-bracket on the left. Its access is trivial and not user-friendly. It can be used to mount a 2.5" drive, a 3.5" drive, or pump housing; you name it. There are 2x 2.5 drive brackets behind the motherboard tray. This is a dual-chamber design. We can see an HDD cage and PSU bay in the lower chamber.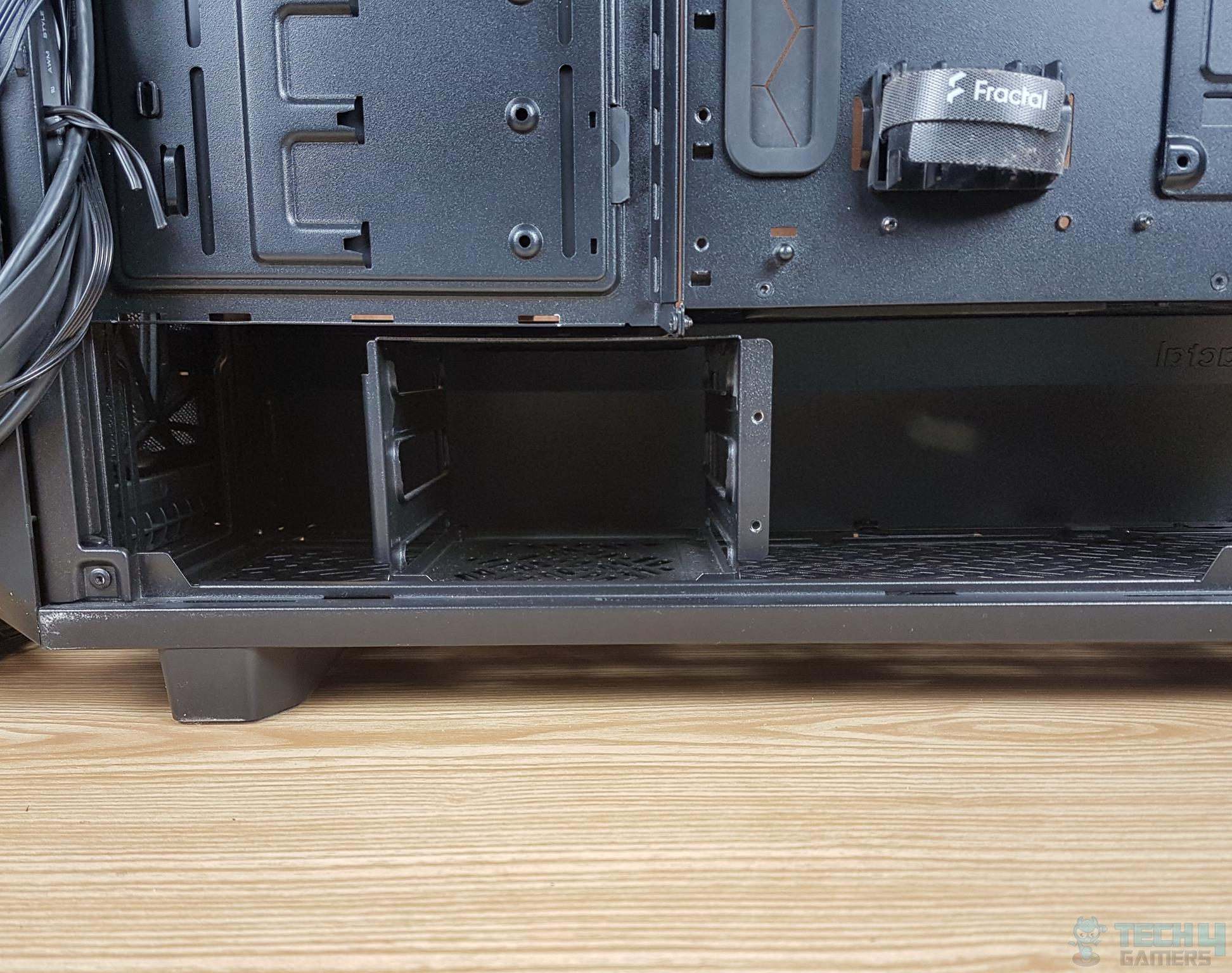 HDD cage can house up to 2x caddies and is made of steel. It is a solid build and does not flex. We mentioned that it is secured on the base using 4x screws. You would need to pay attention to removing or adjusting the position of this cage, and you would need to access the bottom of this case.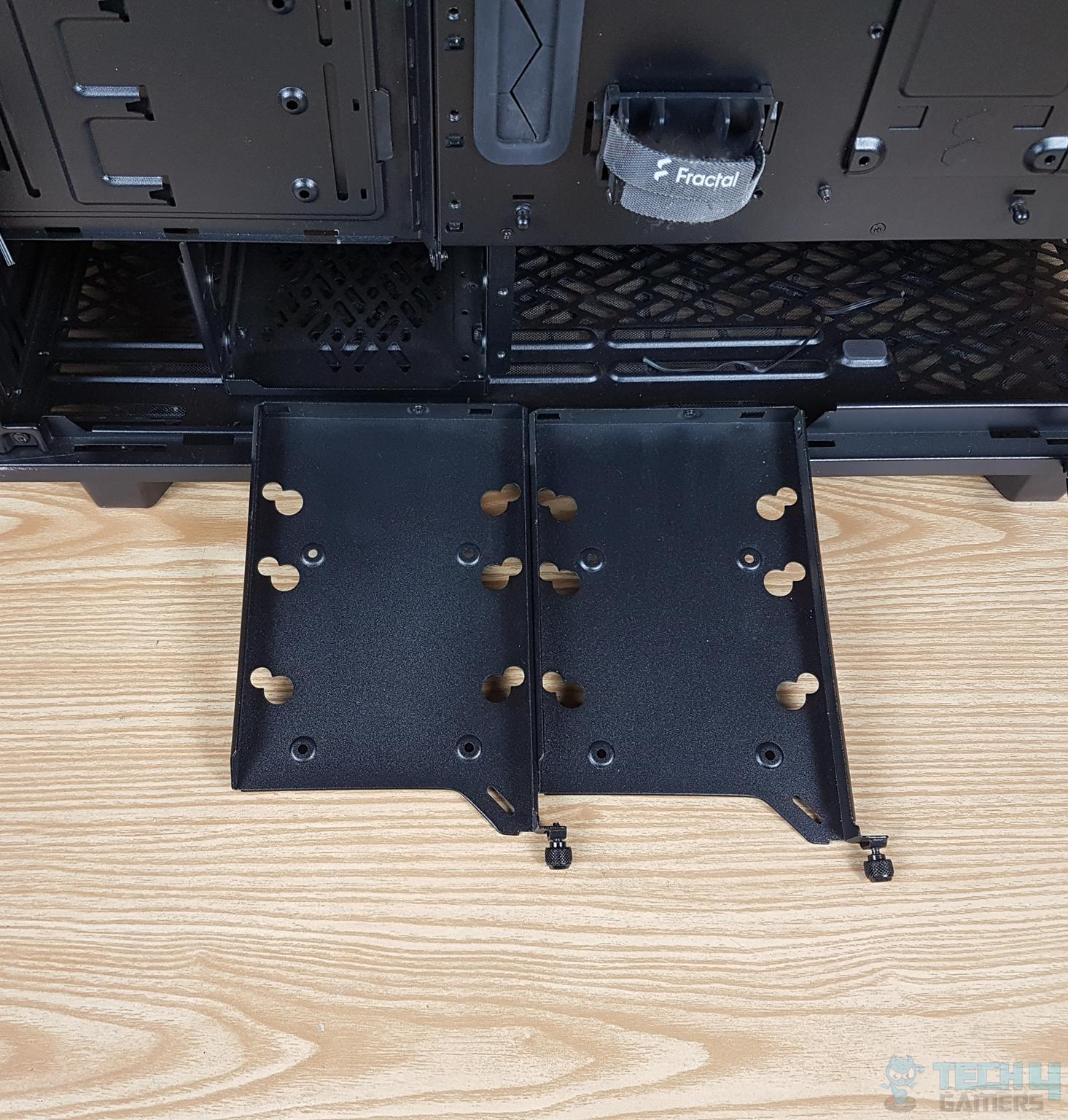 HDD cage comes with 2x caddies. Fractal Design has provided 4x more caddies in the accessory box, making a count of 6x. We can install a 3.5" drive or a 2.5" drive on this caddy.
In terms of storage provision, this case provides:
Up to 14 positions for 3.5"/2.5" with 6 included.
Dedicated 4x positions for 2.5" drives with 2 included.
1x Multi-bracket in addition to above
No 5.25" drive support
14 positions are quite some figure. We can see that this case can easily be used for a Storage server with a superlative layout.
All storage brackets have captive thumbscrews, and Fractal Design gets my thumbs up for this.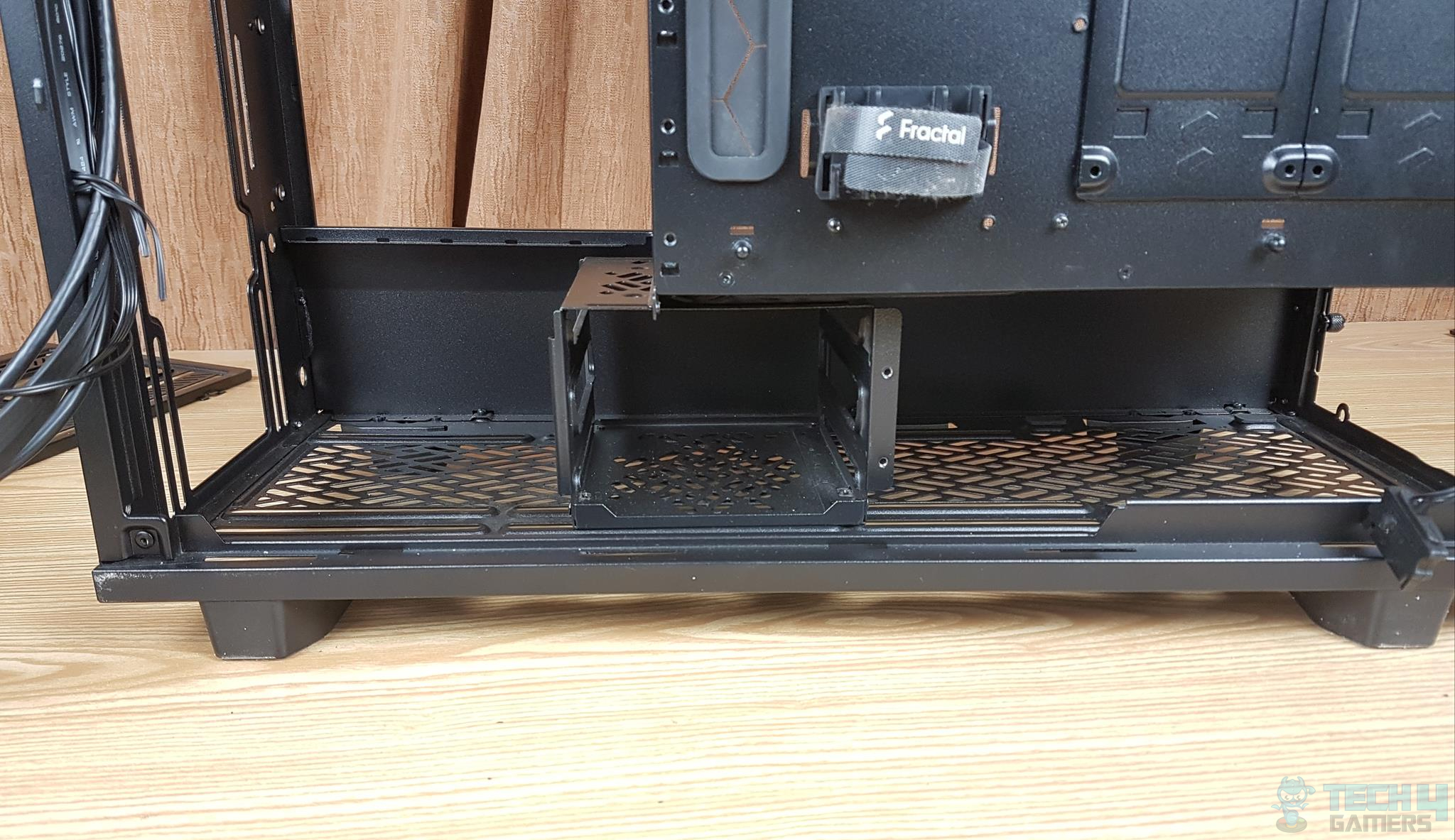 Users can adjust the location of this HDD cage inside the case. Just unscrews 4x screws on the bottom. Place the HDD in the desired location and screw it again. However, adjusting this cage towards the PSU bay will impose a length restriction on PSU with cables that are 250mm by default. Similarly, moving this cage towards the front will restrict radiator placement. Users can remove this cage completely as well.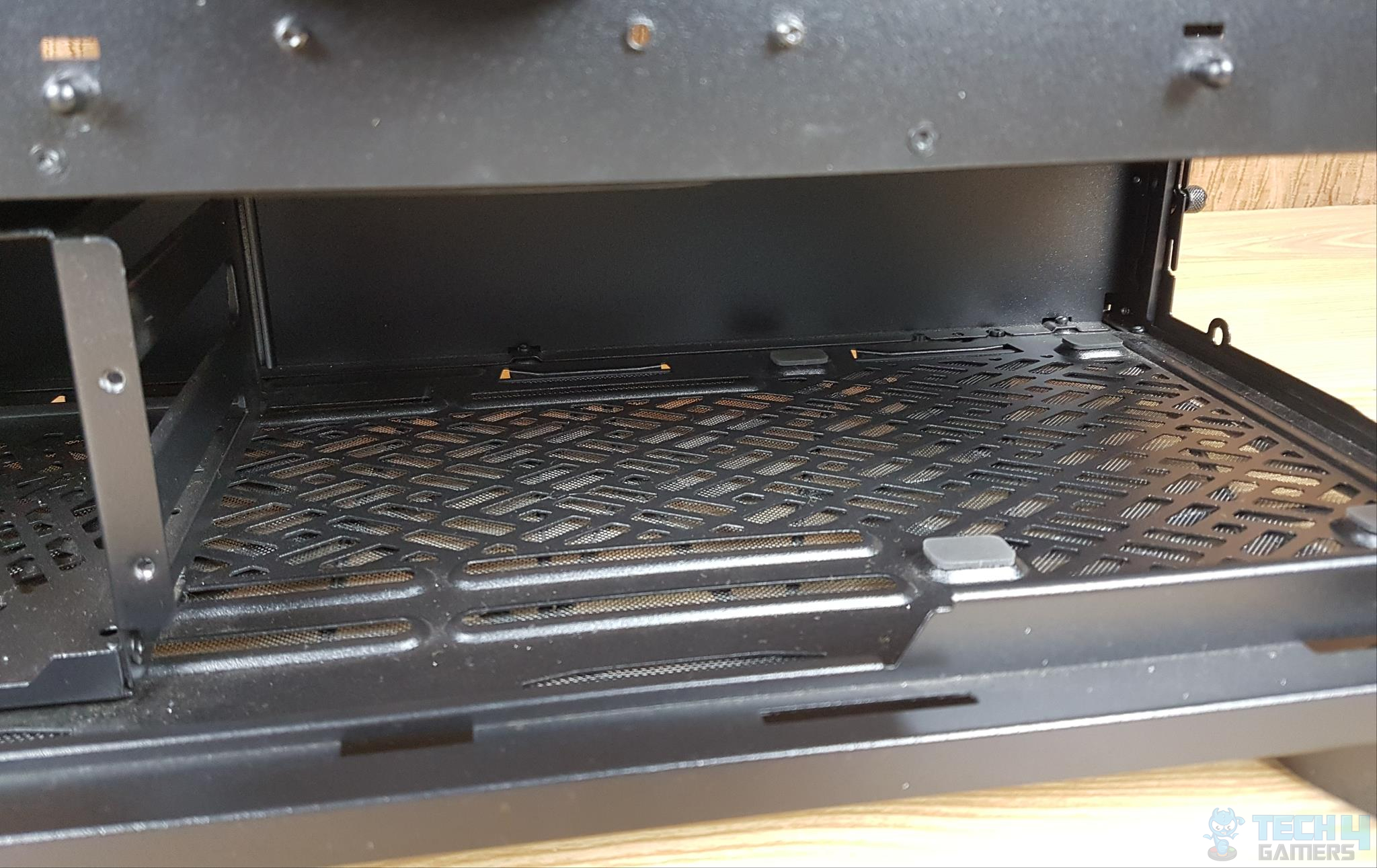 The PSU bay has a clearance of 250mm, as mentioned above. There are 4x raised surfaces or feet with cut-to-size anti-vibration pads on them. PSU is placed on these feet. The bottom area is vented with a nylon dust filter underneath. This bay has a length of 310mm, excluding the HDD cage.
We removed the HDD cage and take a long and spacious area of the lower chamber. As mentioned above, we have the option to install either 120 or 140mm fans or 240/280mm radiators here.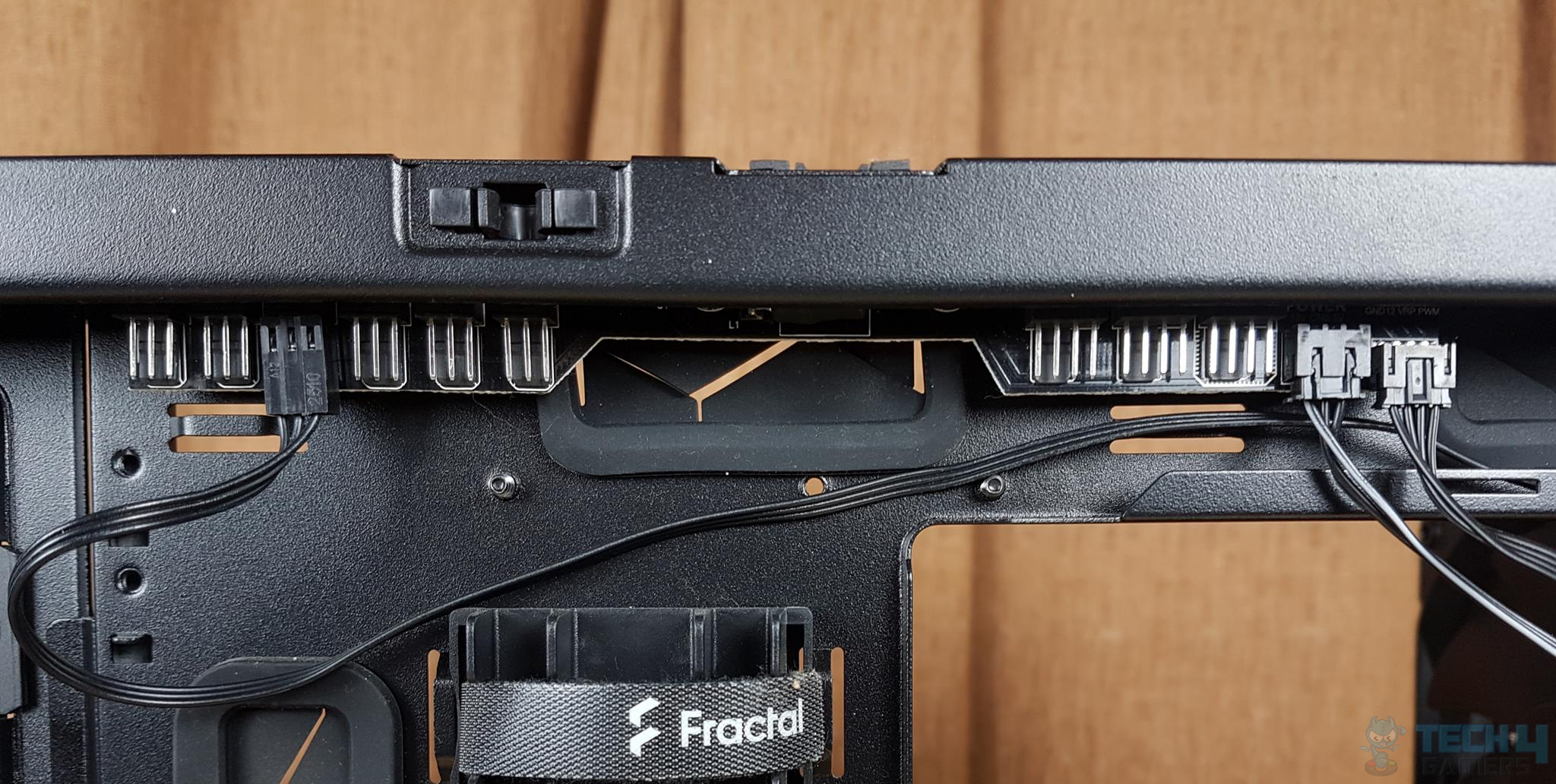 Fractal Design has provided an ultra-slim and low-profile fan hub in this case. It is called Nexus+ 2. It can house up to 6x 3-pin fans and 3x 4-pin PWM fans. It is SATA powered, and there is a 4-pin PWM connector cable coming out from this hub which can be connected to a 4-pin PWM header on the motherboard. This way, we can control all connected fans. However, in our case, this connector does not report the RPM of GP14 fans. It seems like it is getting a speed signal from a 4-pin connector, not a 3-pin one.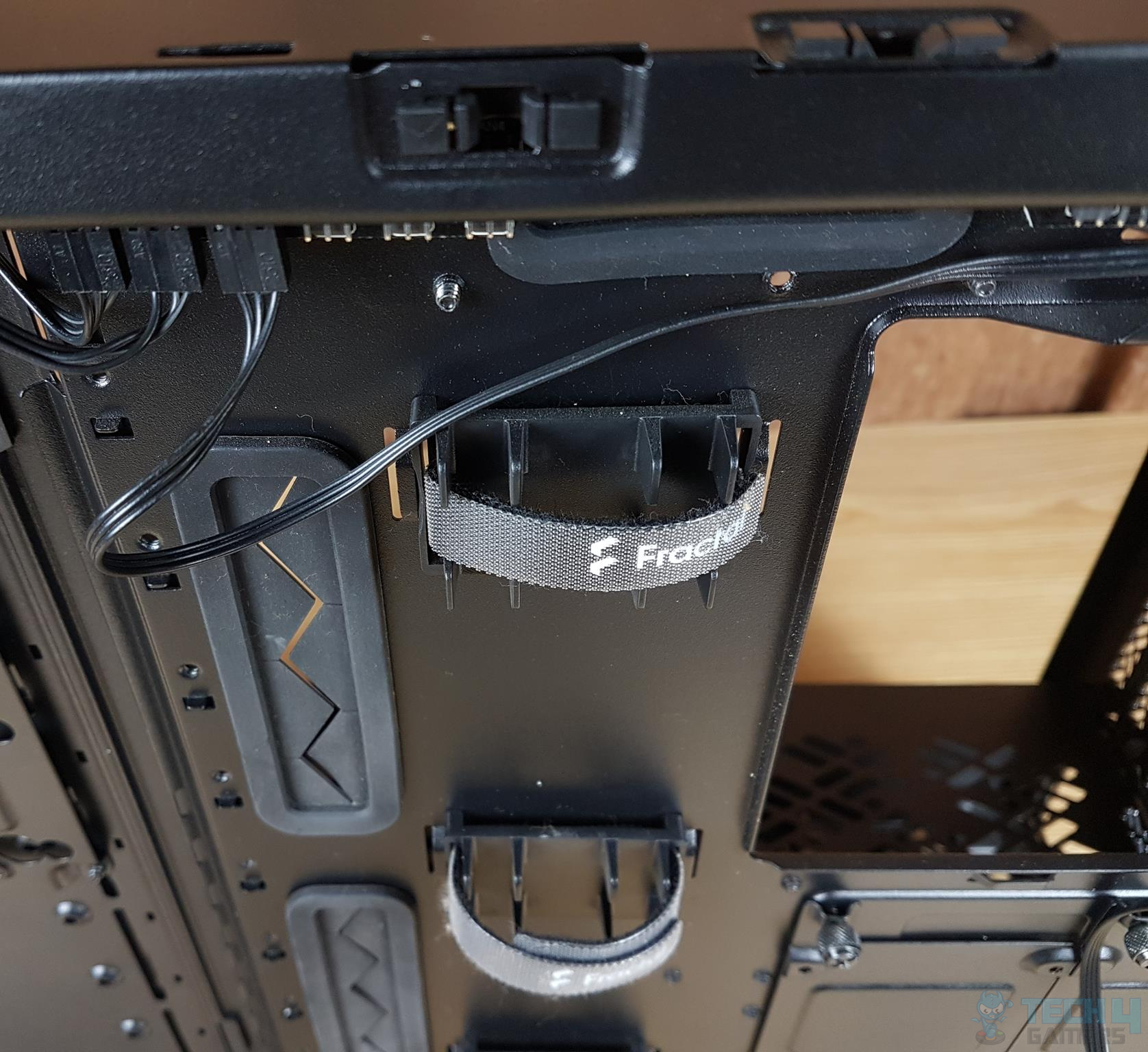 Another key feature of this case is integrated cable guides with velcro straps. There are 3x of these, which are evenly spaced out. They simplify cable management behind the board and provide what we can call a probable best way to route your cables with a clean outlook.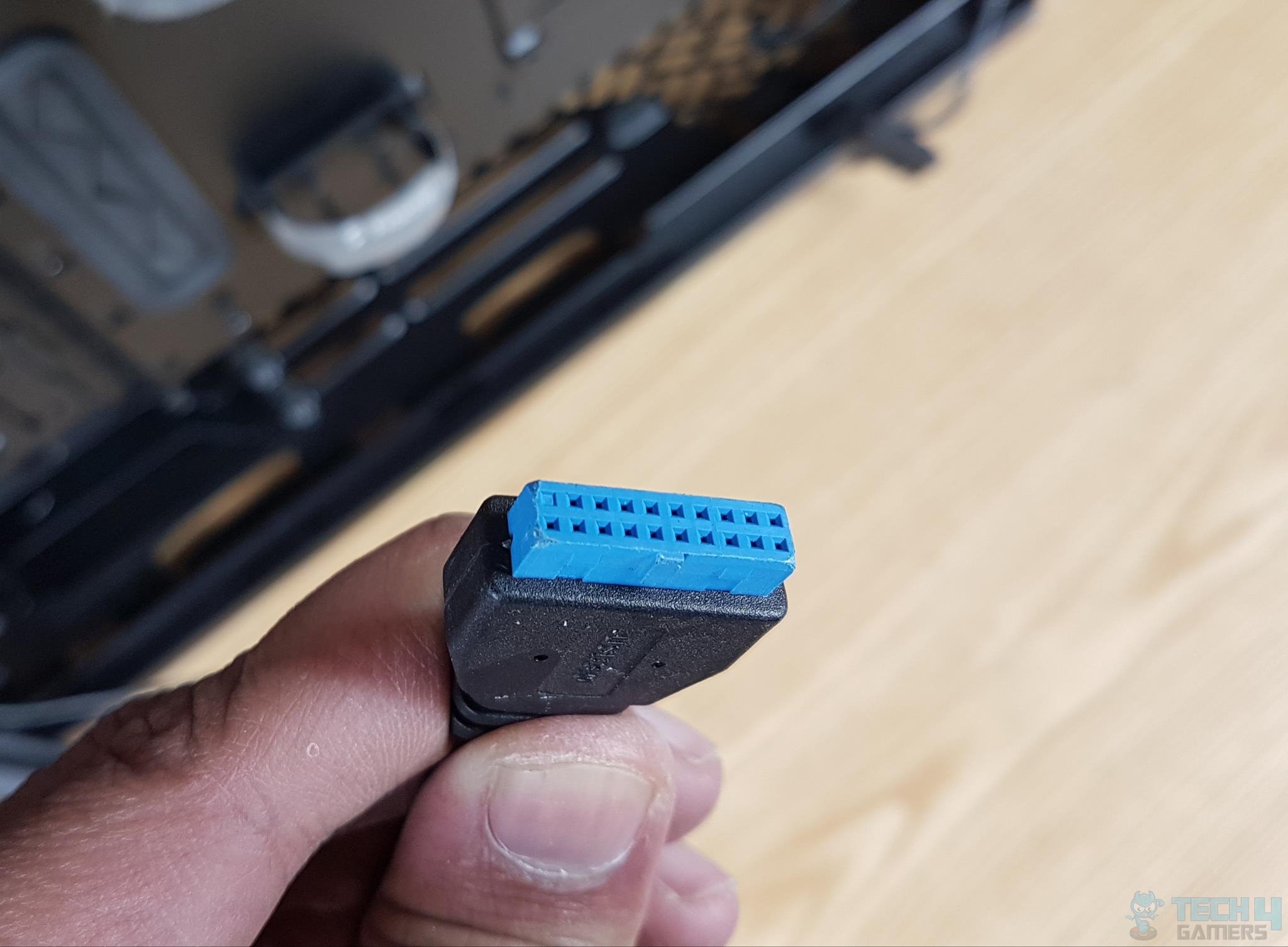 There is a USB 3.0 connector cable for the top IO panels' 2x USB port.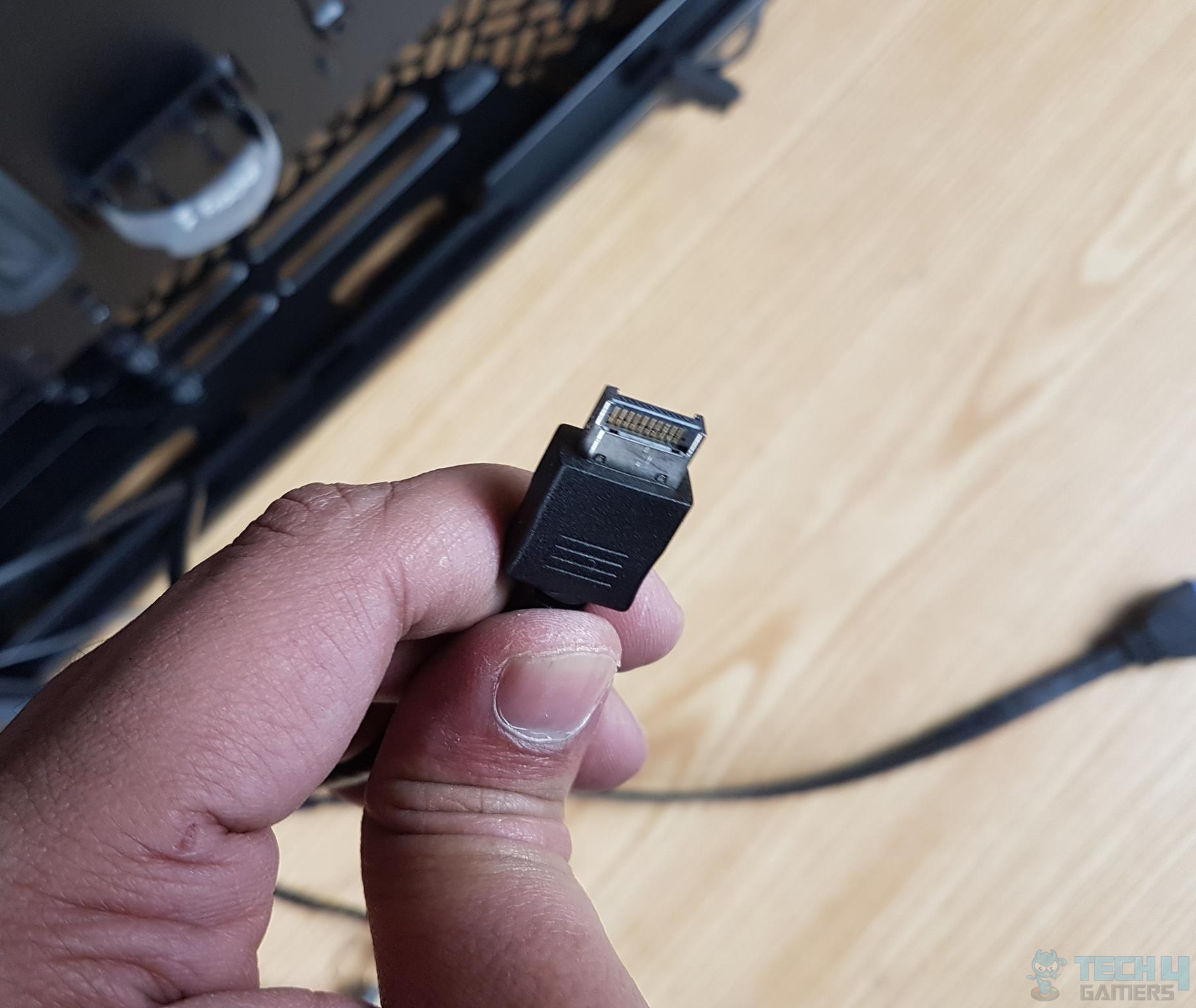 There is a USB 3.1 Gen2 Type-C connector as well.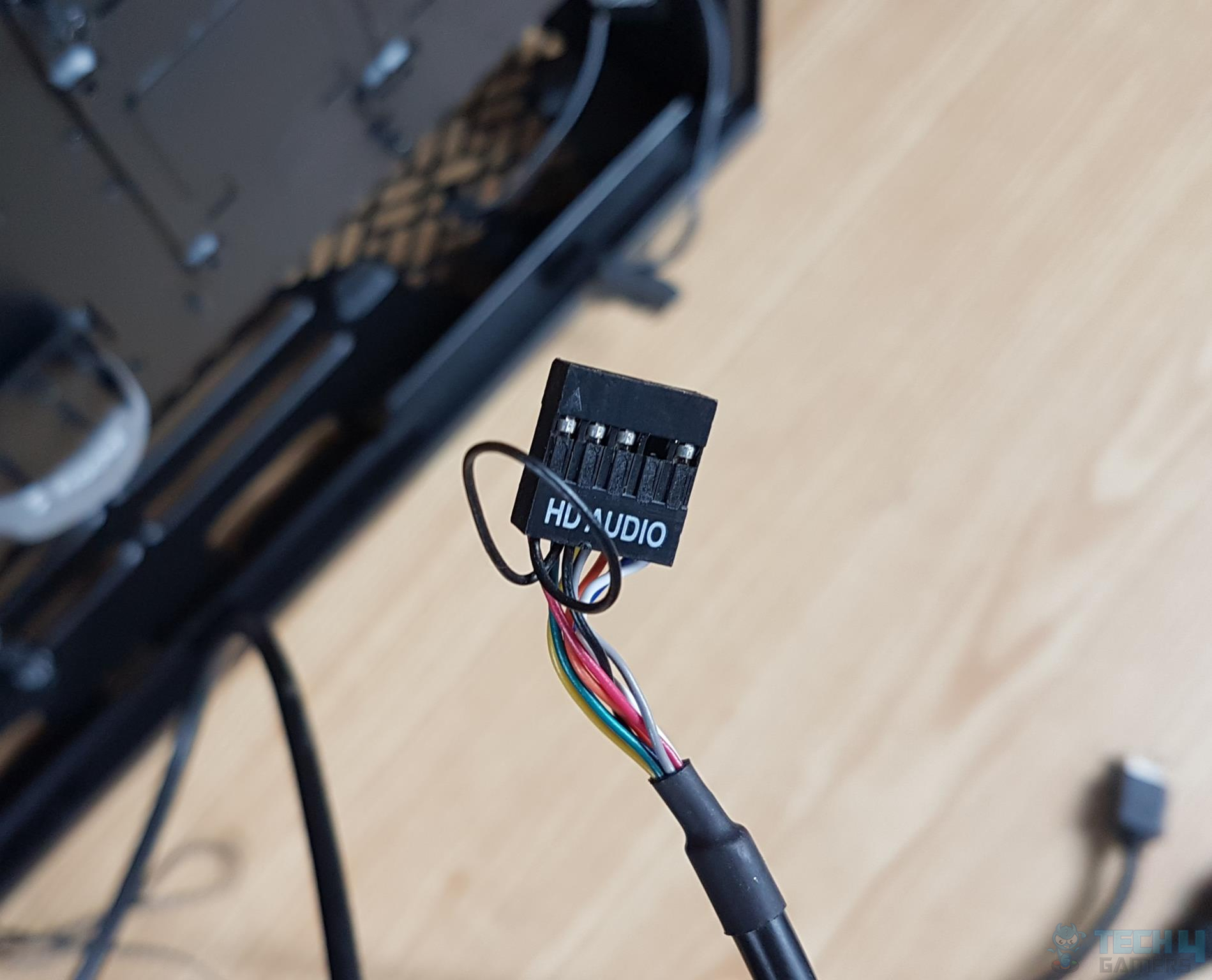 There is an HD Audio connector.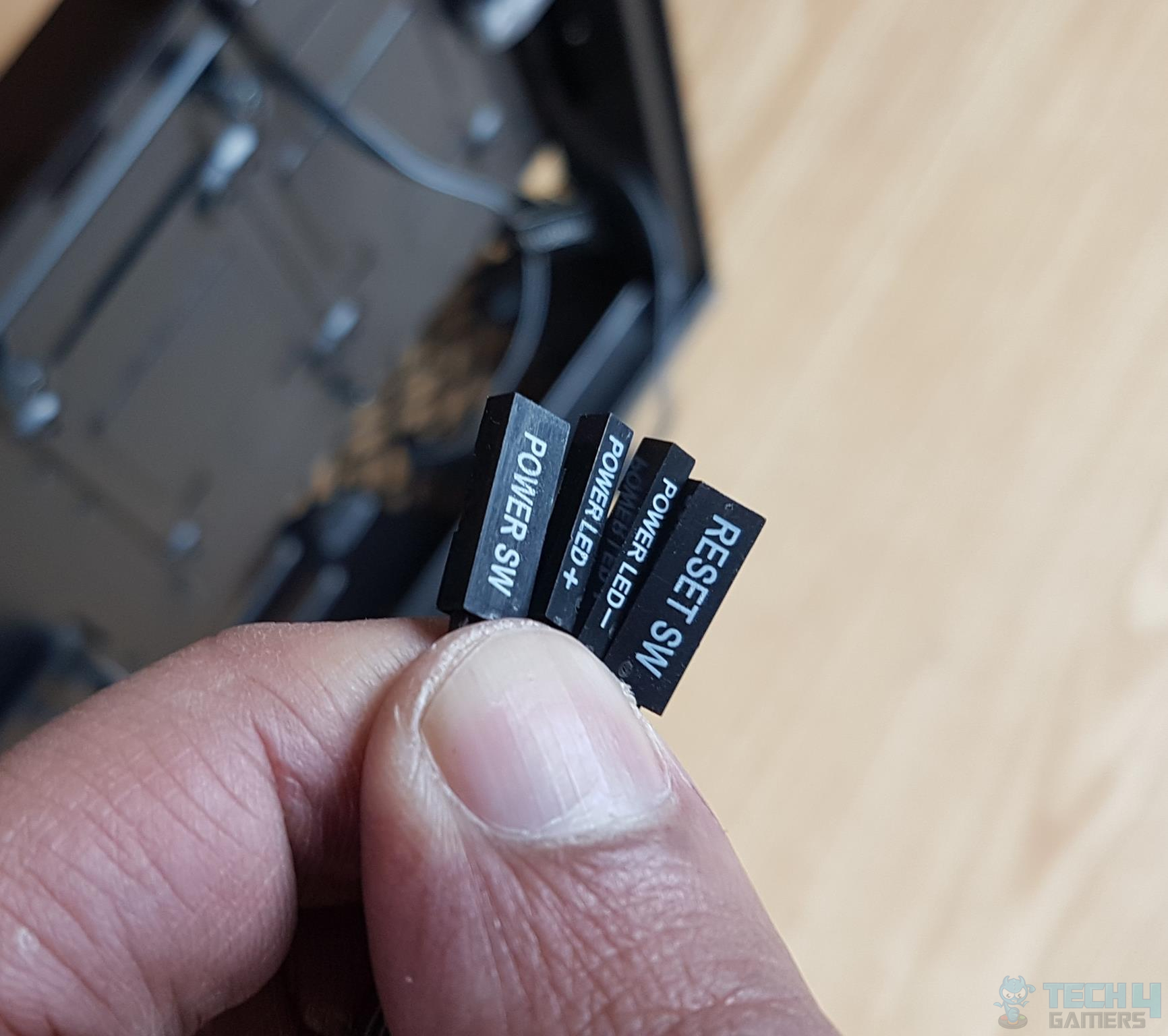 There are system panel connectors as well.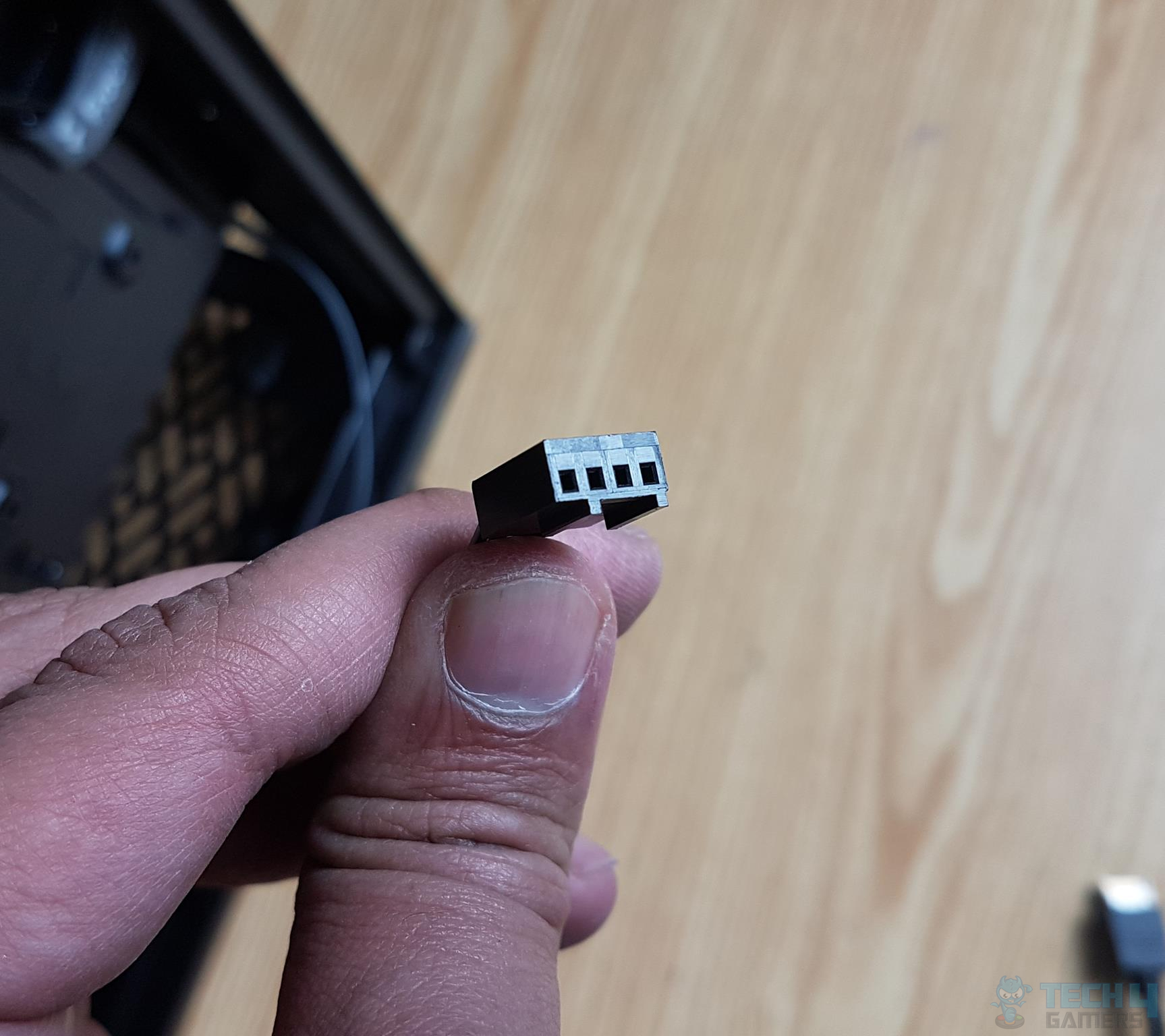 There is a 4-pin PWM connector coming out of the Nexus+ 2 hub.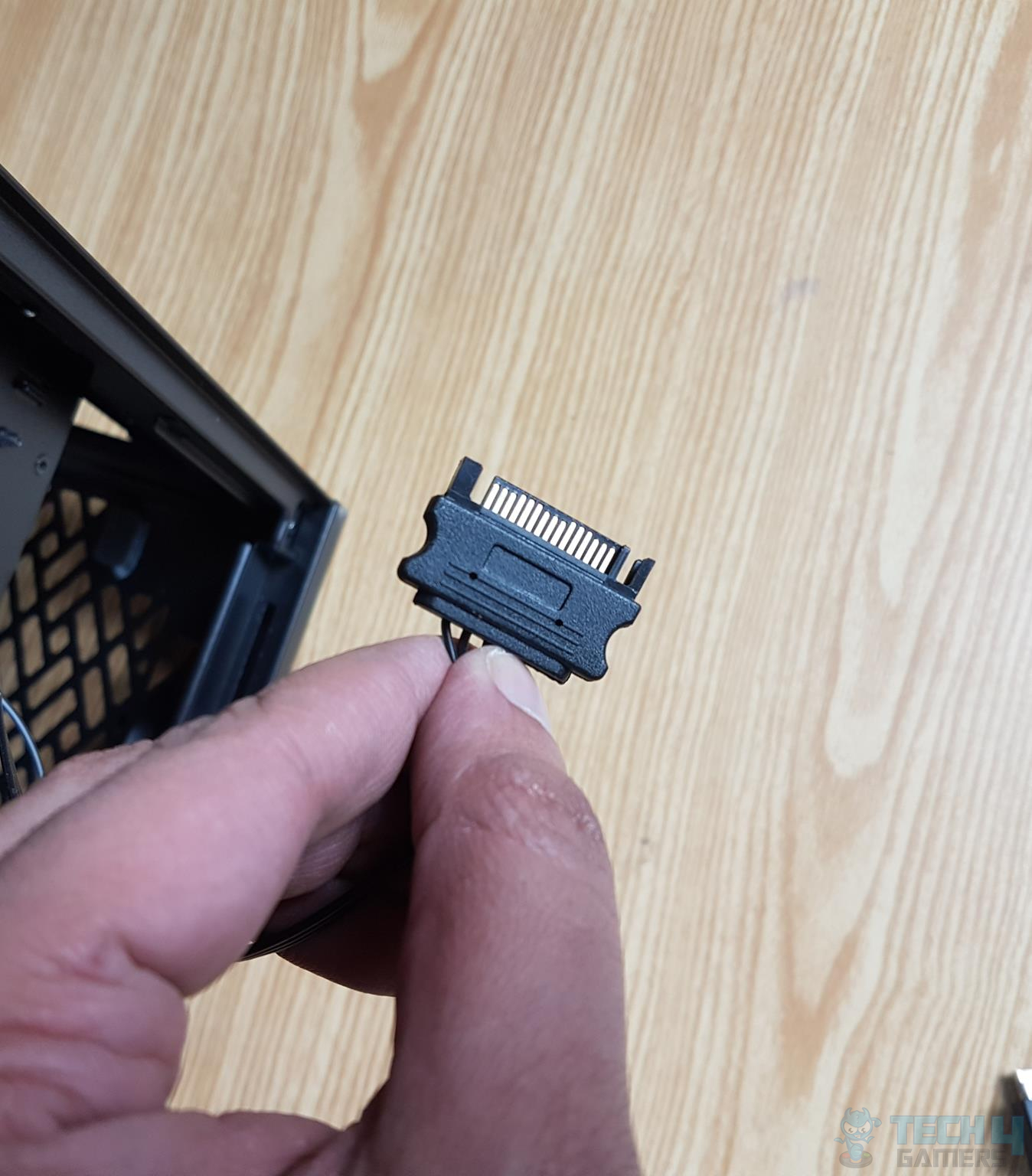 There is a SATA connector to power the Nexus+ 2 hub.
So far, we have discussed an open layout of this case. It is time to convert this into a storage layout. But first, let's discuss the side bracket/cover.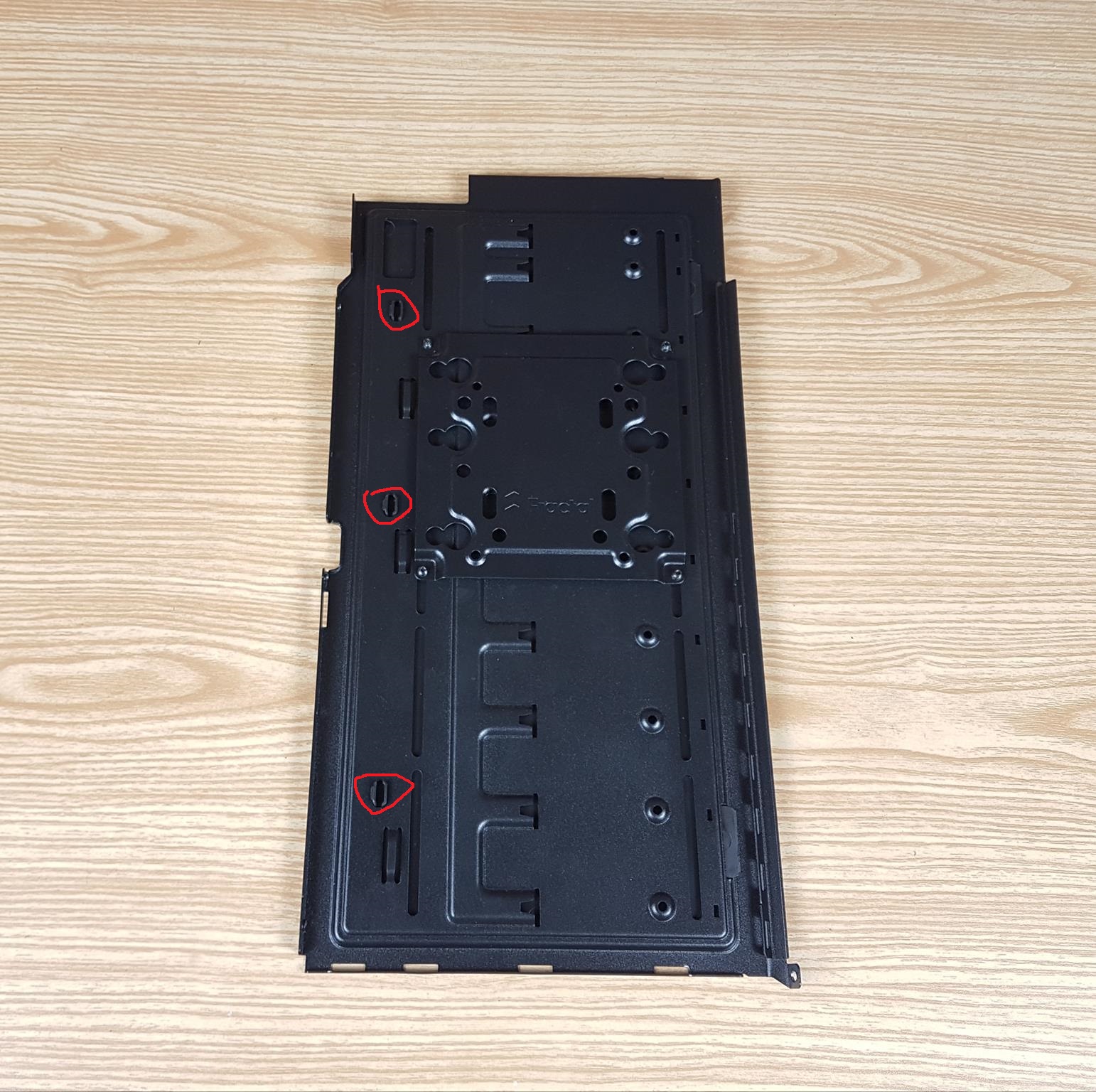 This bracket is made of steel material, and it is also black in color. It houses a multi-bracket with Fractal branding on it. The opposite side of this bracket which we saw inside the case, is made of plastic material. Take note of the red circled tabs. Pinch or press them will release the plastic cover. This is not a user-friendly design at all. Why do we need to remove this cover? Because we can't remove the multi-bracket without removing this cover first. Multi-bracket is screwed from the opposite side.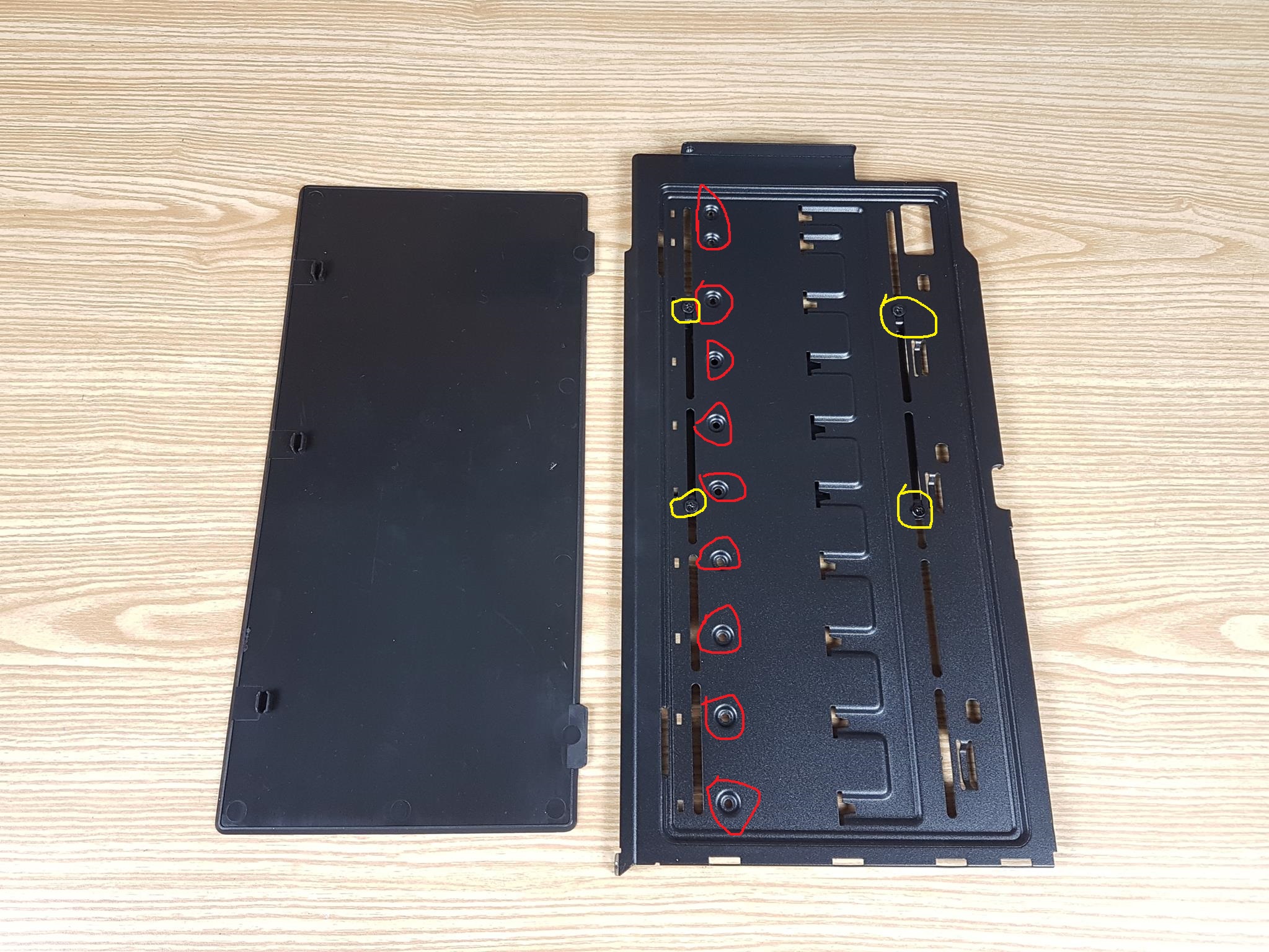 Take a look at the side bracket with its back cover removed. The red circled mounting holes are where the drive caddies will be installed. Similarly, the yellow circled screws are holding a multi-bracket with this bracket.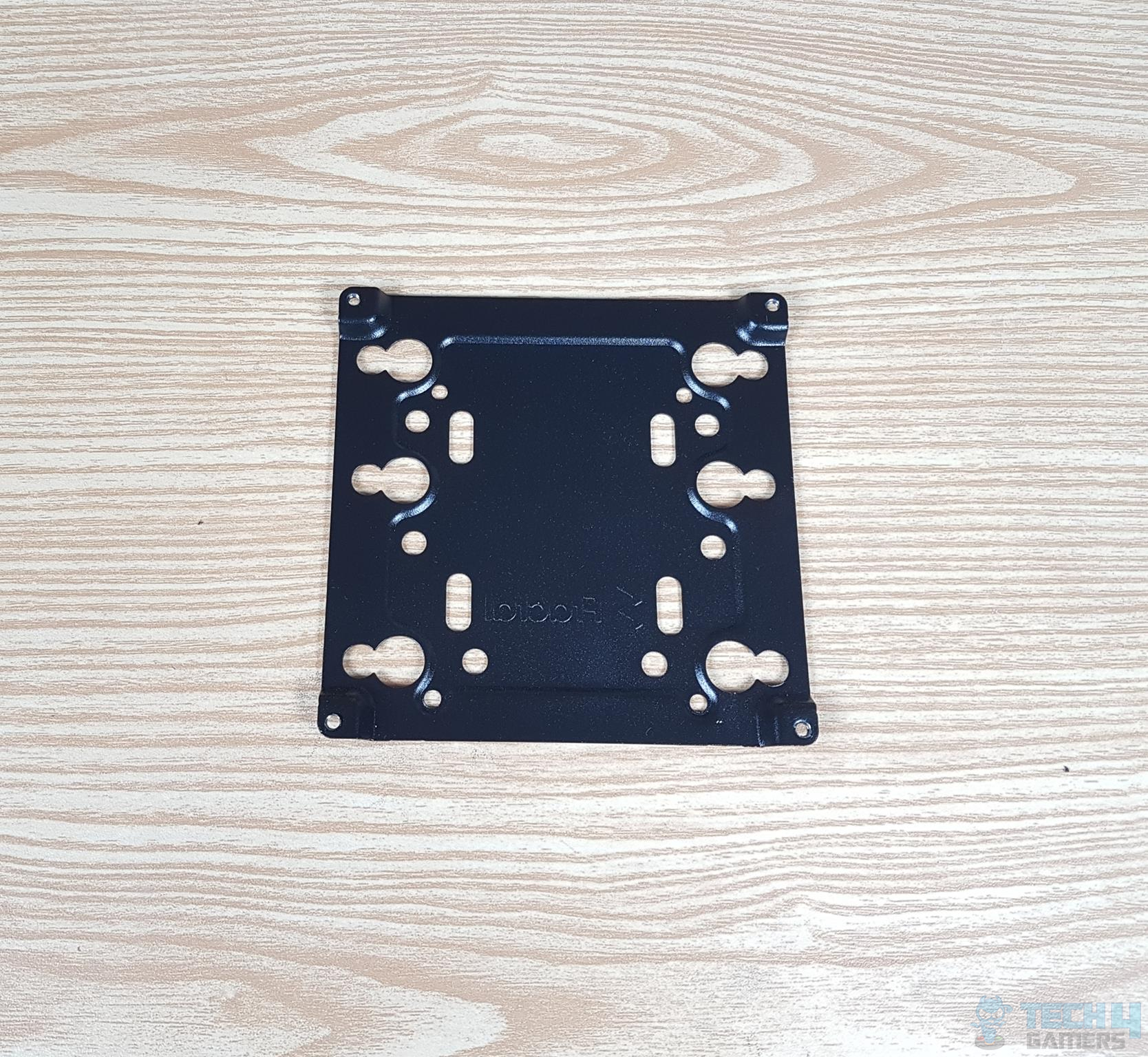 The Multi-Bracket can house a 2.5" drive or a 3.5" drive. It can also house a water pump. Given its standard 120mm spacing, it can be placed anywhere in the case with a 120mm mount.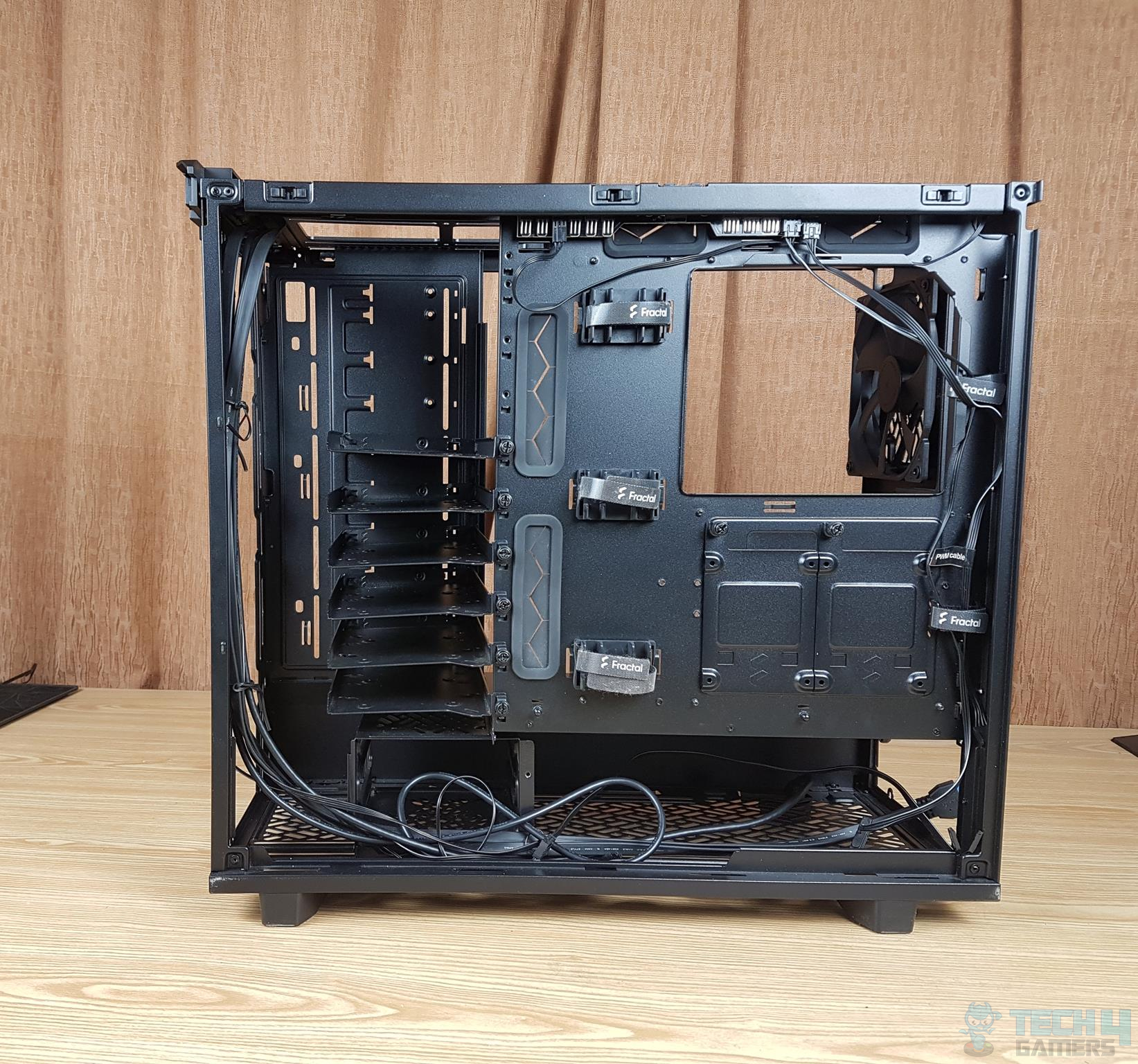 Take a look at Meshify 2 with a frame converted from open to storage using a Superlative storage style. Since we had 6x caddies, we have used them to showcase what is meant by storage layout. We have to remove the side bracket from the back of the case and install it on the front side. That is all that is needed for this conversion.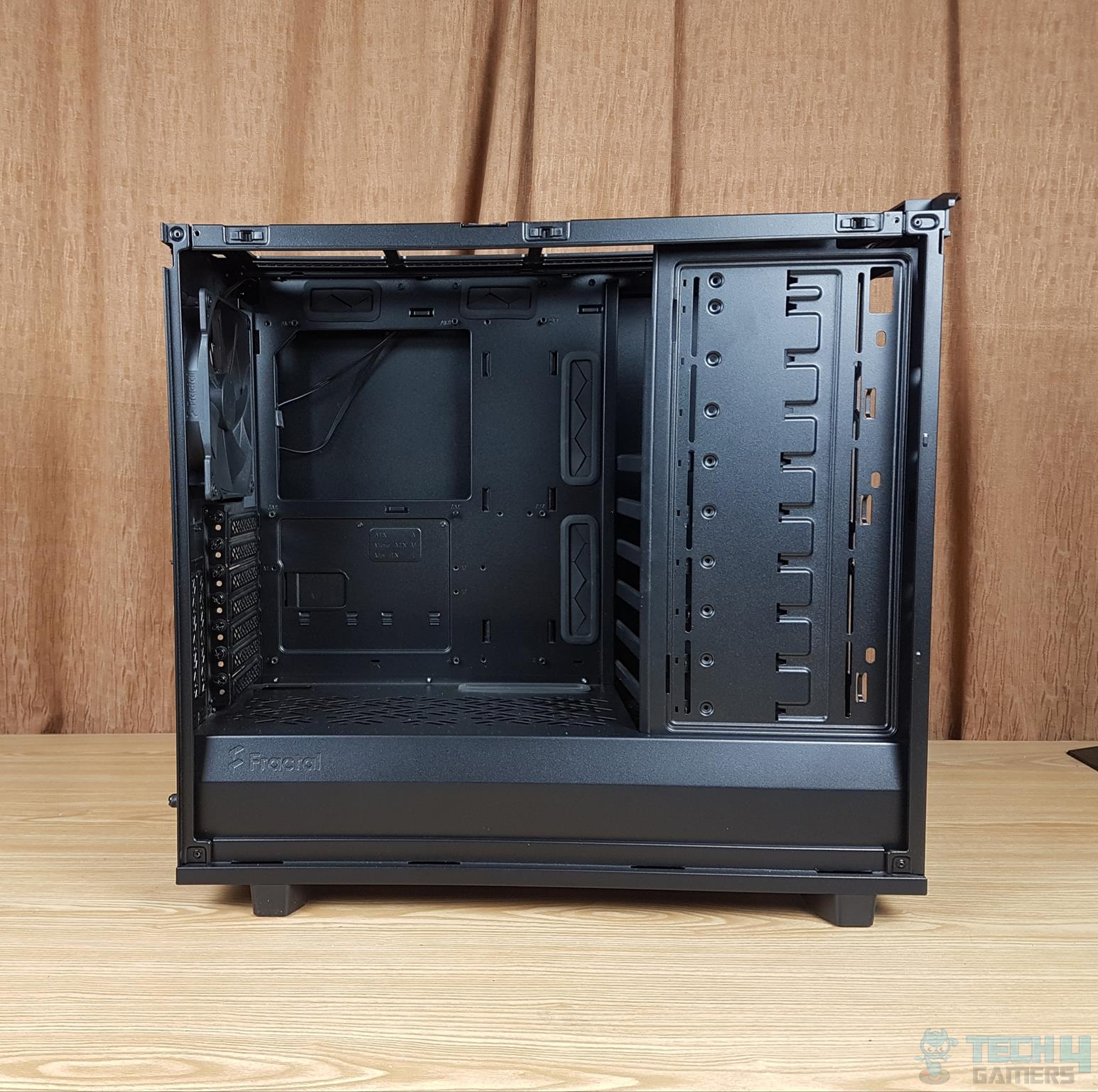 Converting the frame layout of Meshify 2 from open to storage has considerations from a cooling perspective. We can still install 25mm thick, 120mm, or 140mm fans on the front, but the radiator can't be installed on the front. The graphics card length is reduced to 315mm. It would be challenging to do a custom loop in this configuration. But with standard 120mm pump/reservoir combo units, it is still doable. One thing I really appreciate is that even in the Storage layout, we get a clean and aesthetically pleasant look.
Test Build Experience
Assembling a simple PC in Fractal Design Meshify 2 is convenient and super easy.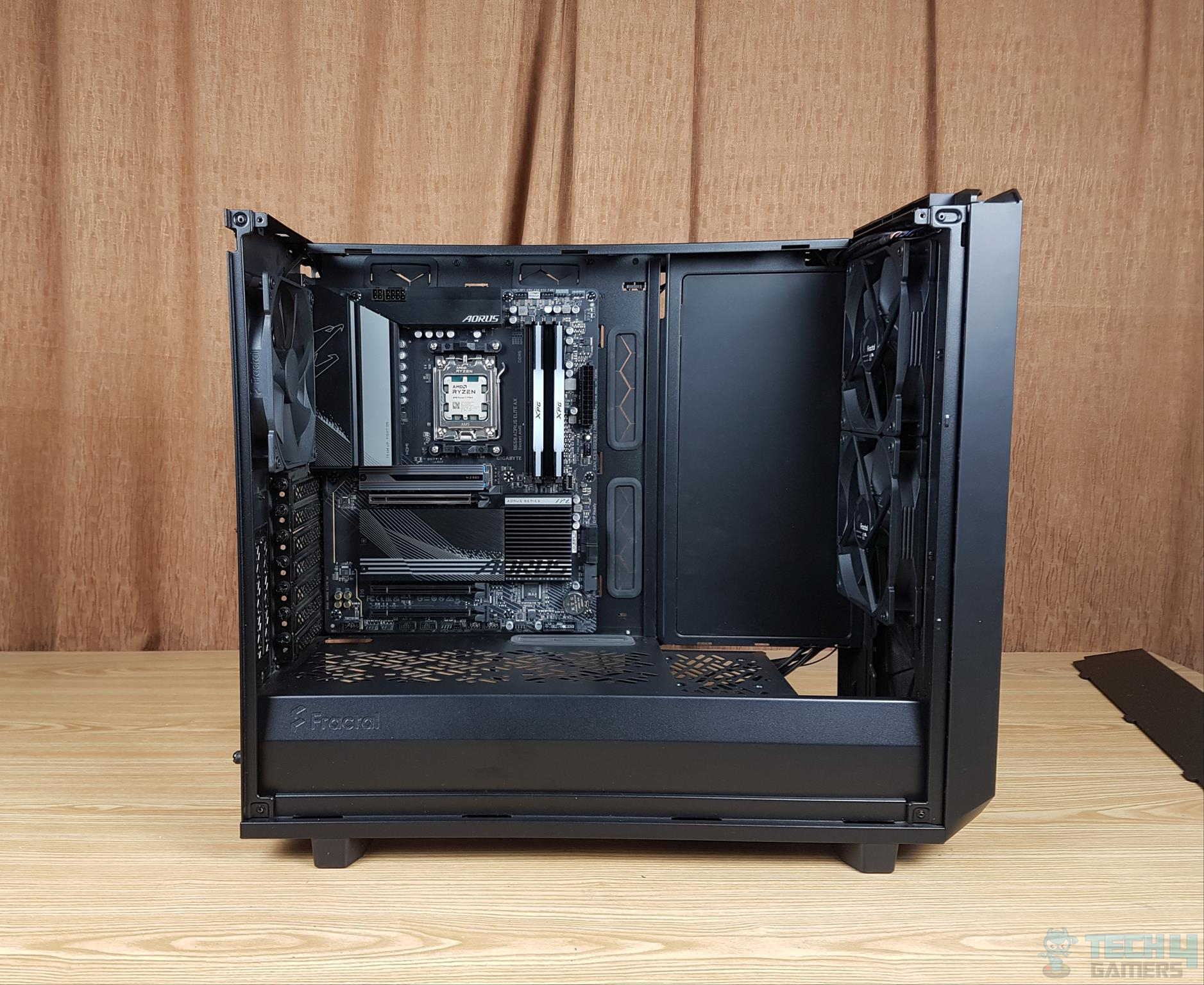 We started with installing a motherboard in this case. RAM was pre-installed on the motherboard before putting it in the case.
PSU was attached to its frame or bracket, and it slid inside the PSU bay of Meshify 2. It is super convenient to install PSU this way instead of placing it inside from a side of any case.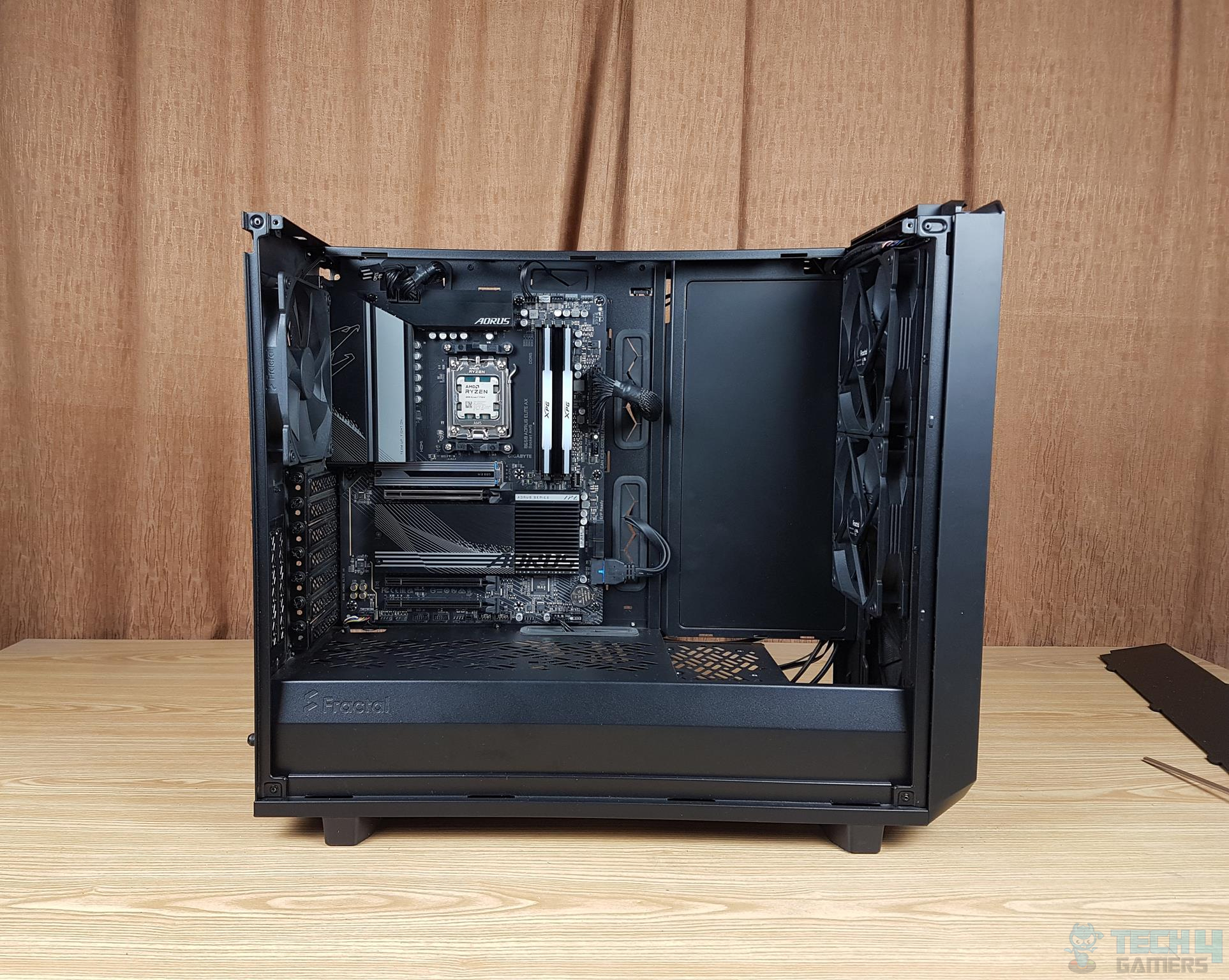 The 24-pin ATX and 8+4 EPS connectors were attached to the motherboard. USB 3.0 connector was attached to a header of the motherboard.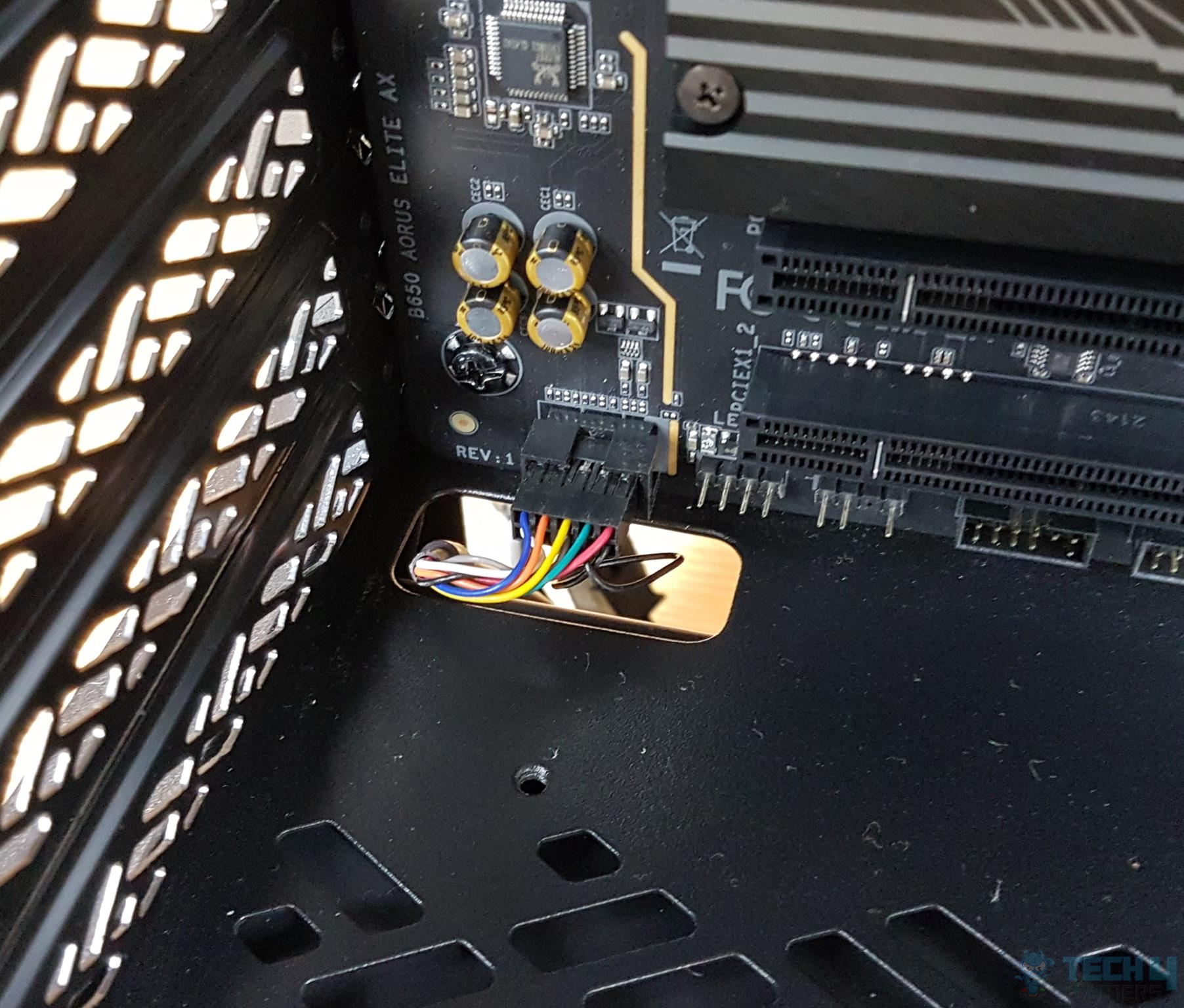 HD Audio cable was routed through a last cutout on the PSU shroud and attached to the motherboard.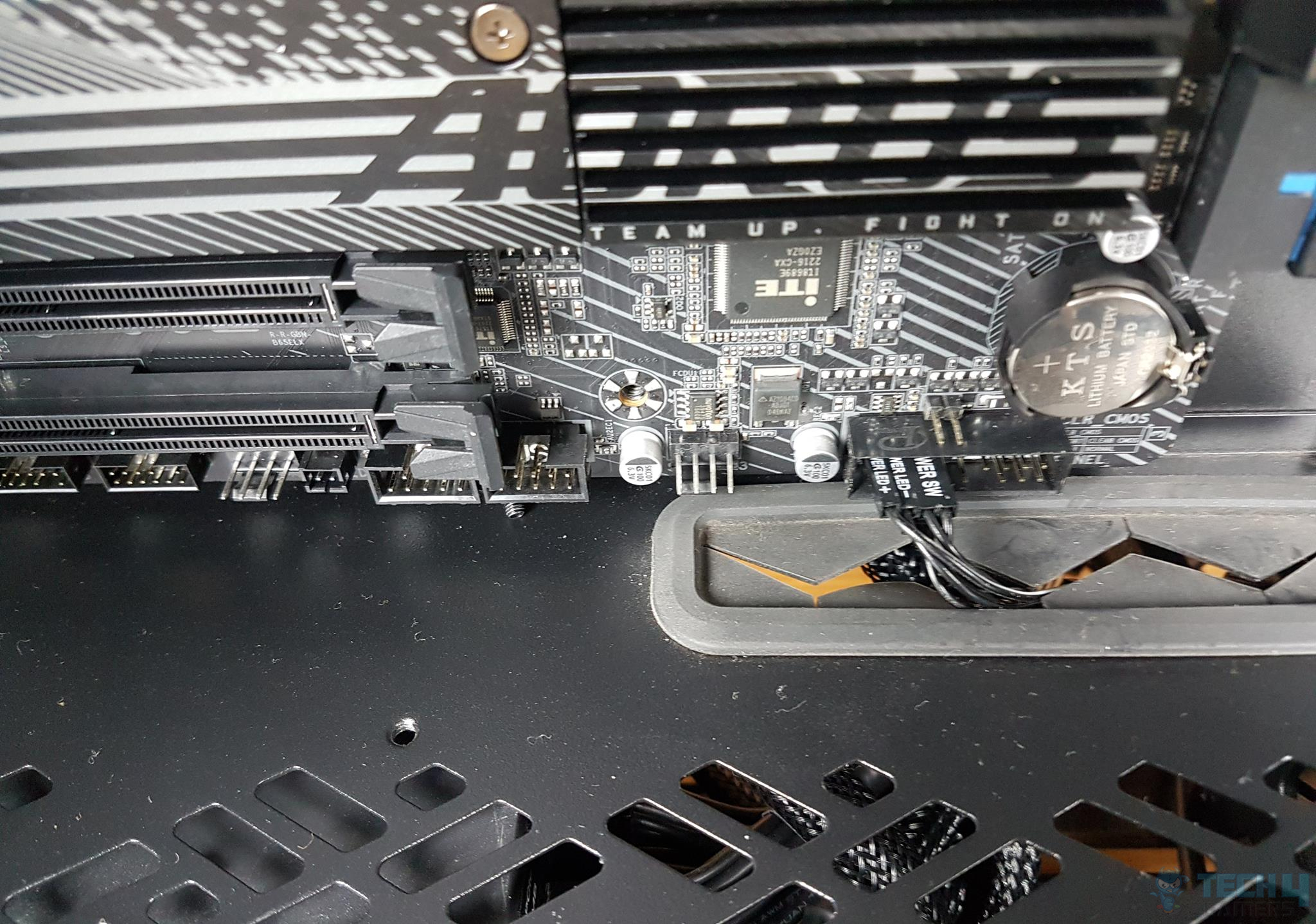 Front panel connectors were attached to a header.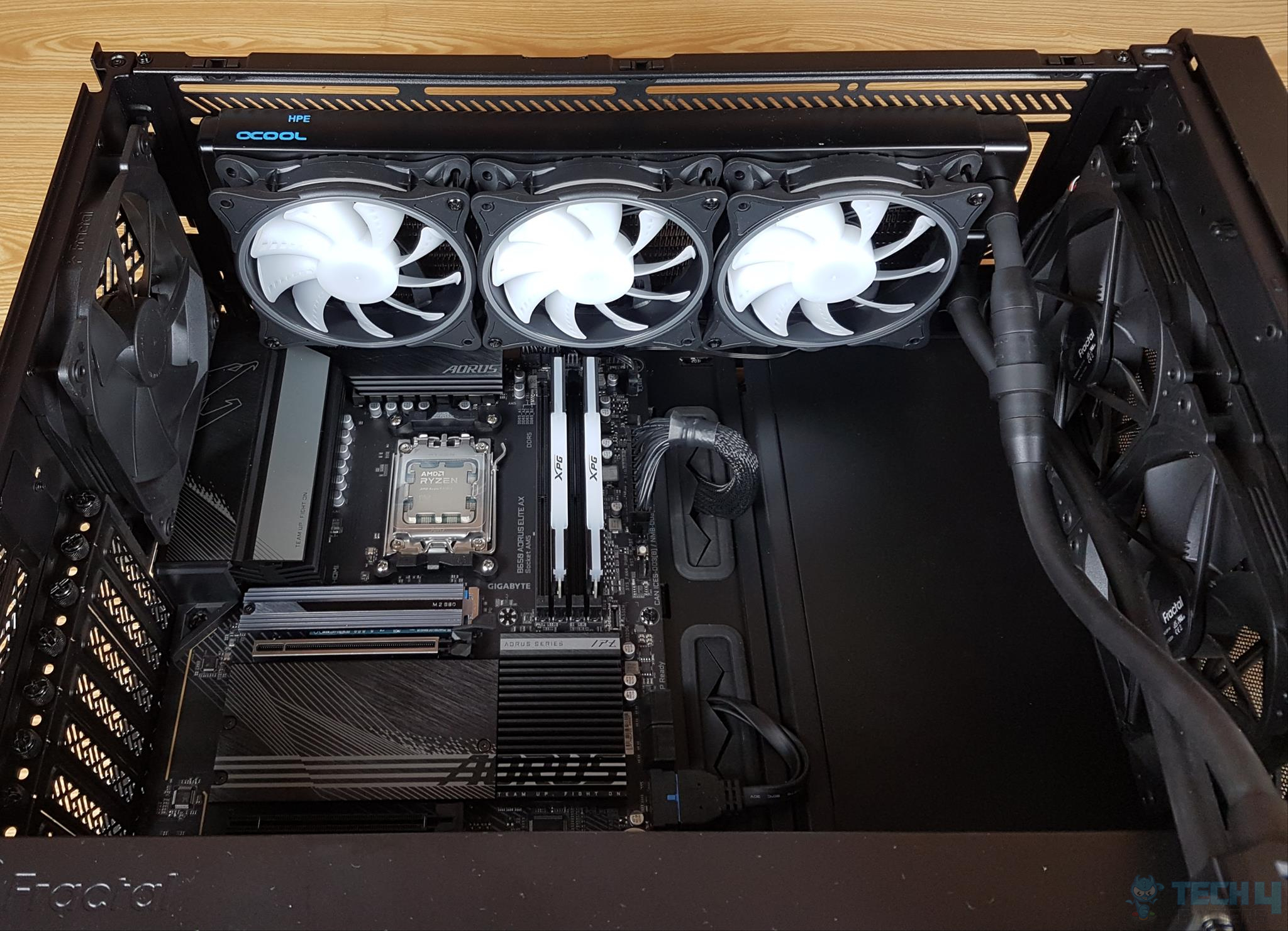 Radiator and fans of an AIO were installed on the top fan brackets outside of this case. The bracket was put back on with total convenience.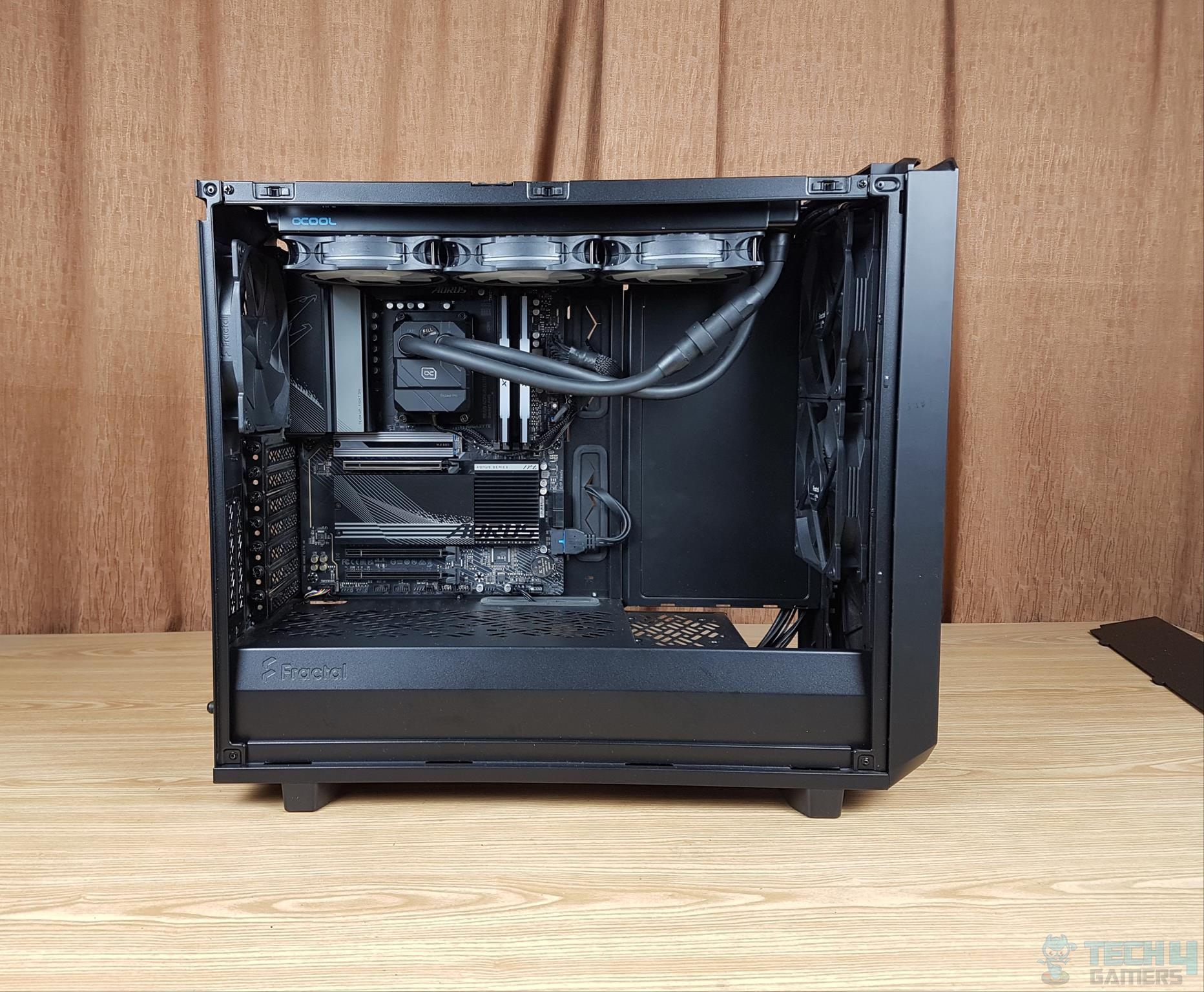 Cooler's installation was completed. As you can see, after this installation, access to top cutouts and the top area of the motherboard was obstructed by this cooler. The cutouts on the fixed top frame were of no help. It is important to connect the required cables on the top headers of the motherboard as per requirement before the cooler's installation.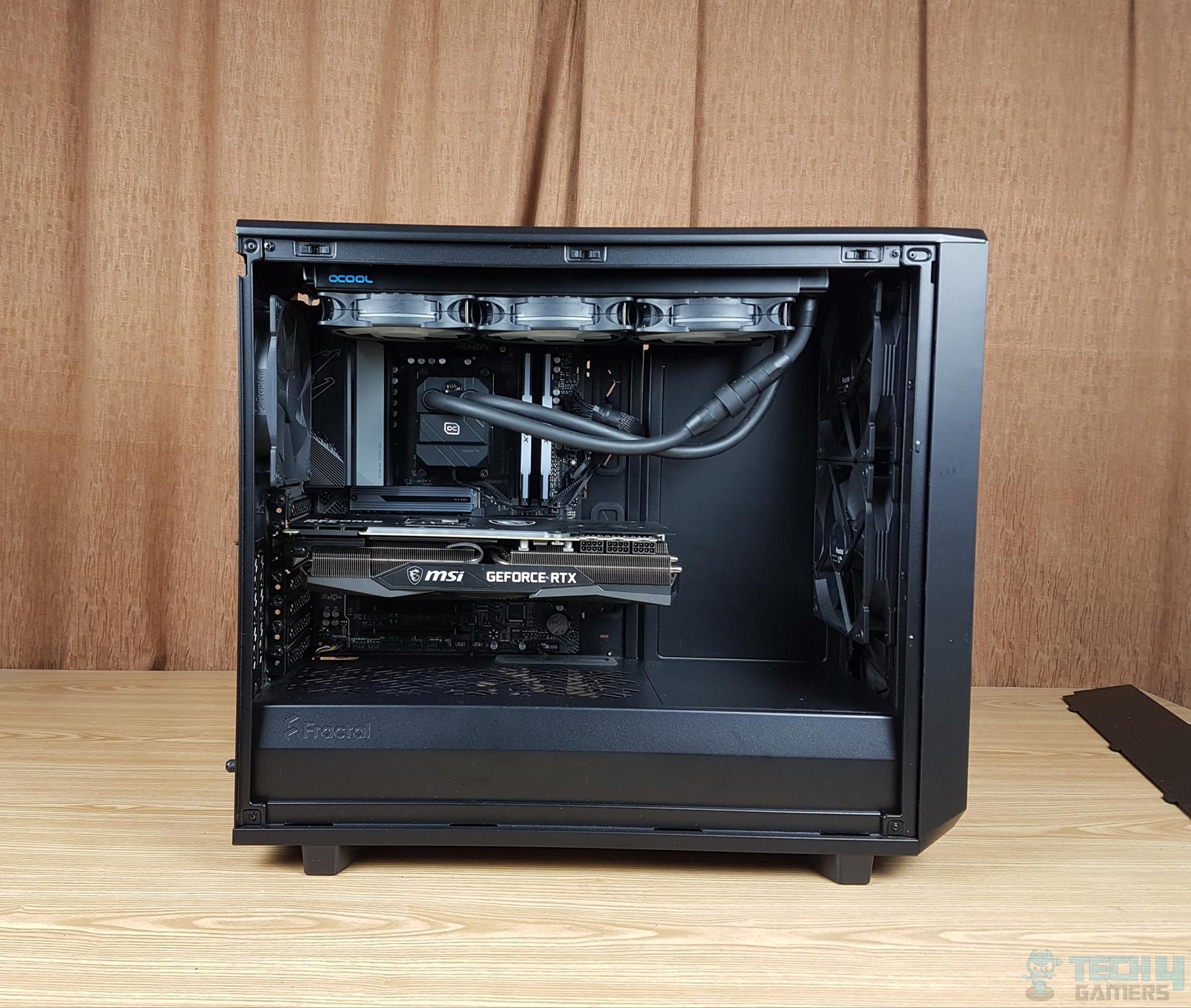 Next, a graphics card was installed.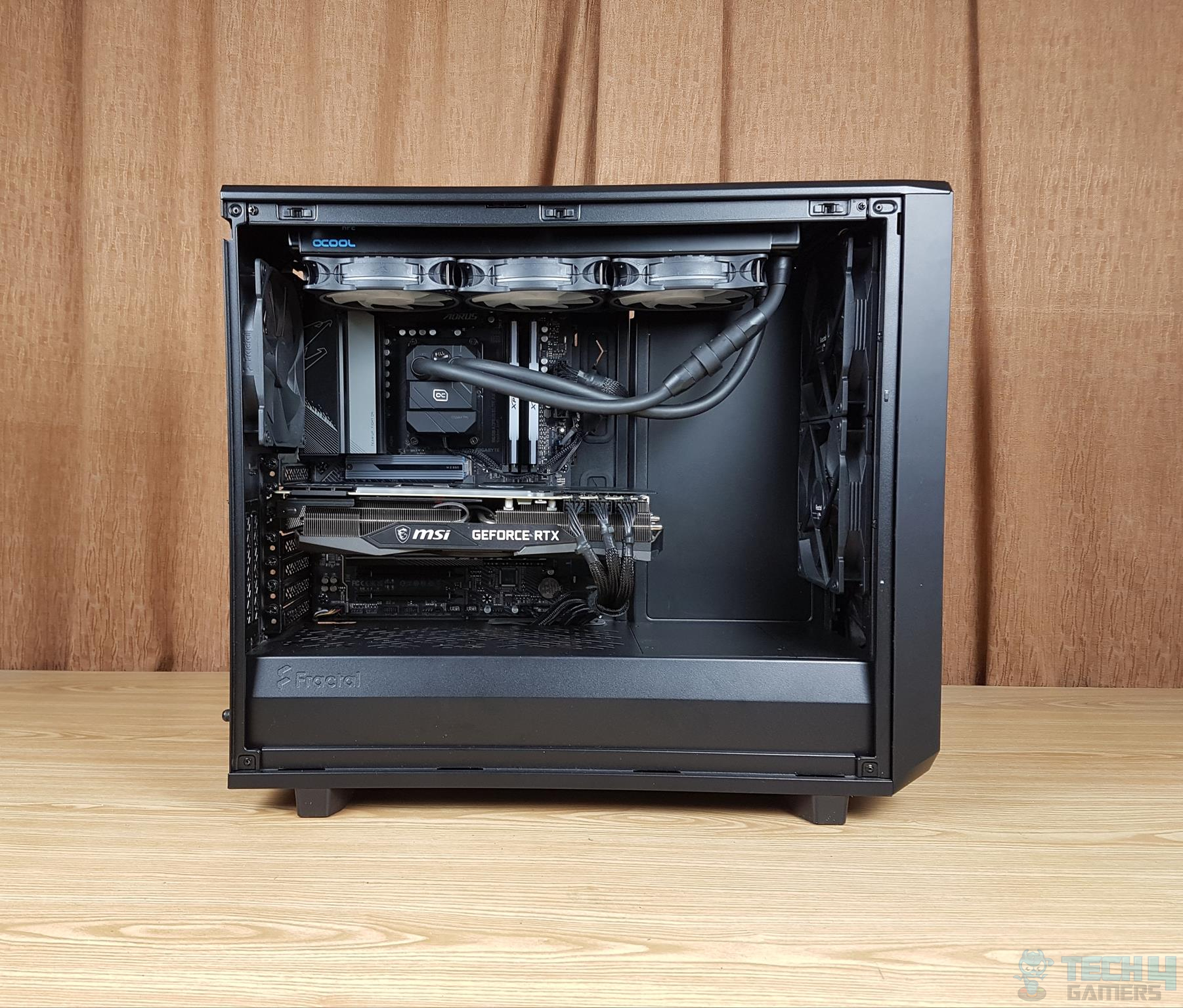 PCIe or PEG cables were routed through a large-size cutout on the PSU shroud and connected to the graphics card.
We are done on the front side of this case.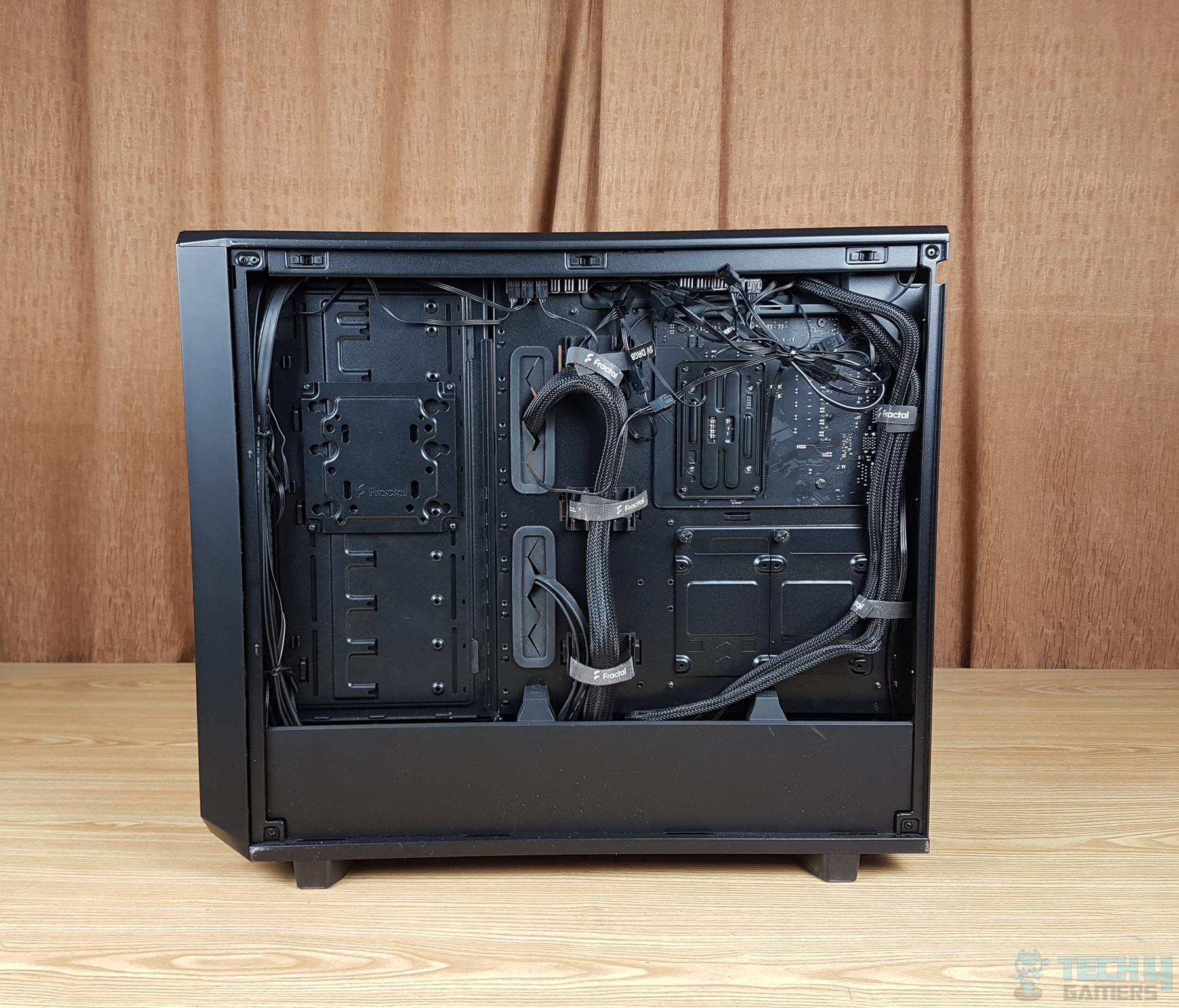 We did minimal cable management to see if the side panel closed. It was an easy job. The bottom chamber is well concealed, hiding a bulk of cables and the HDD cage altogether.
Our test build is completed and ready to be tested.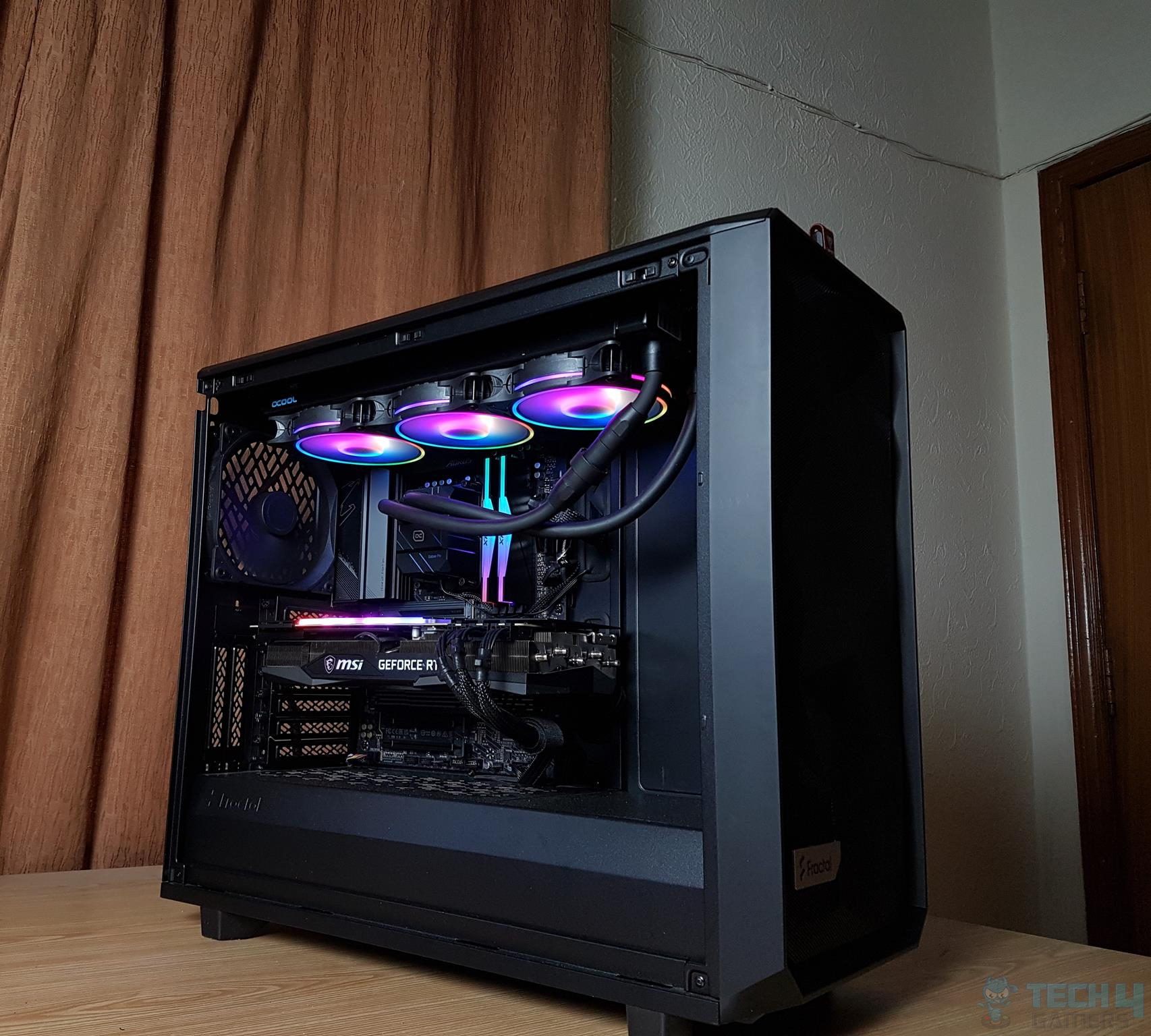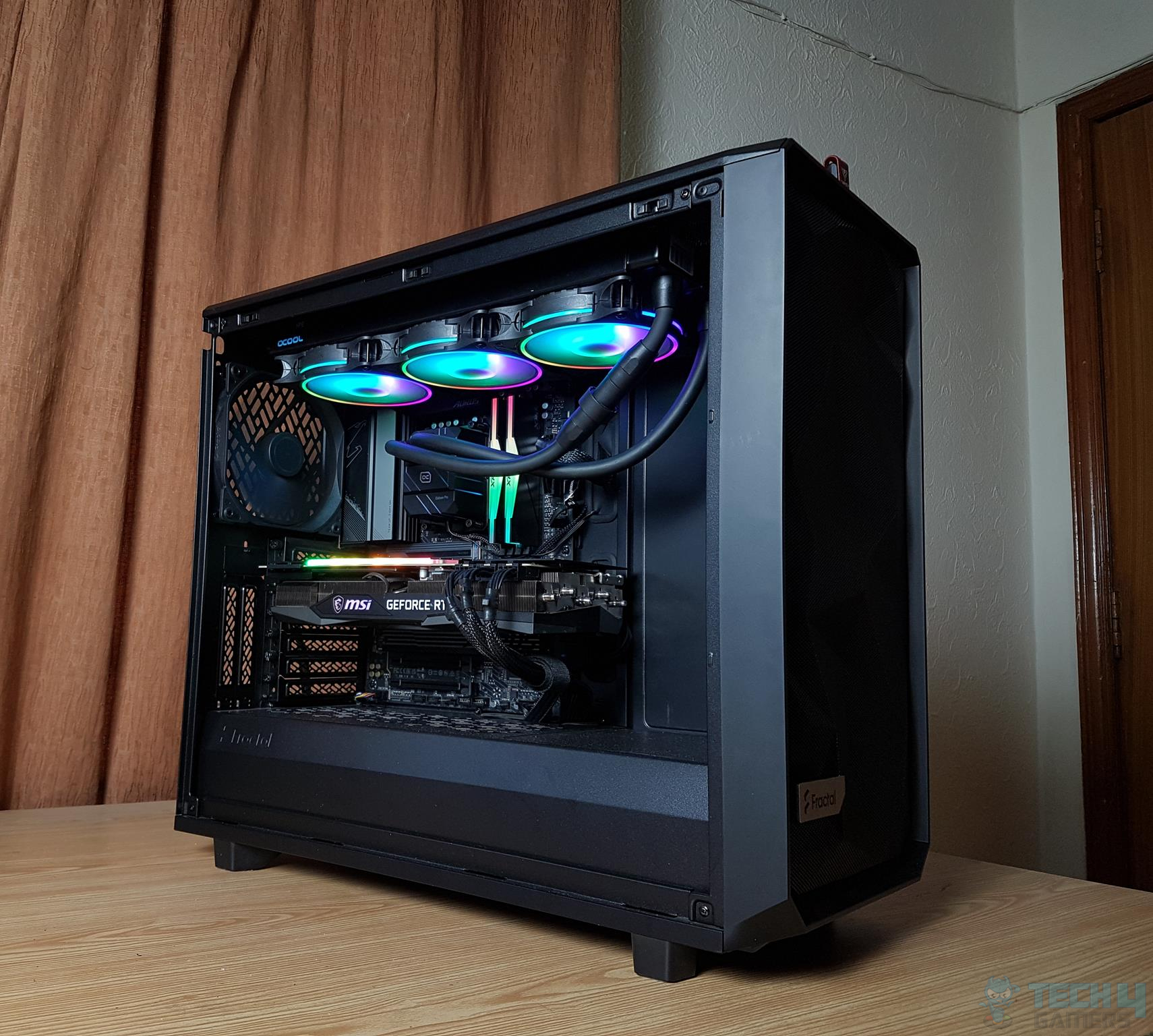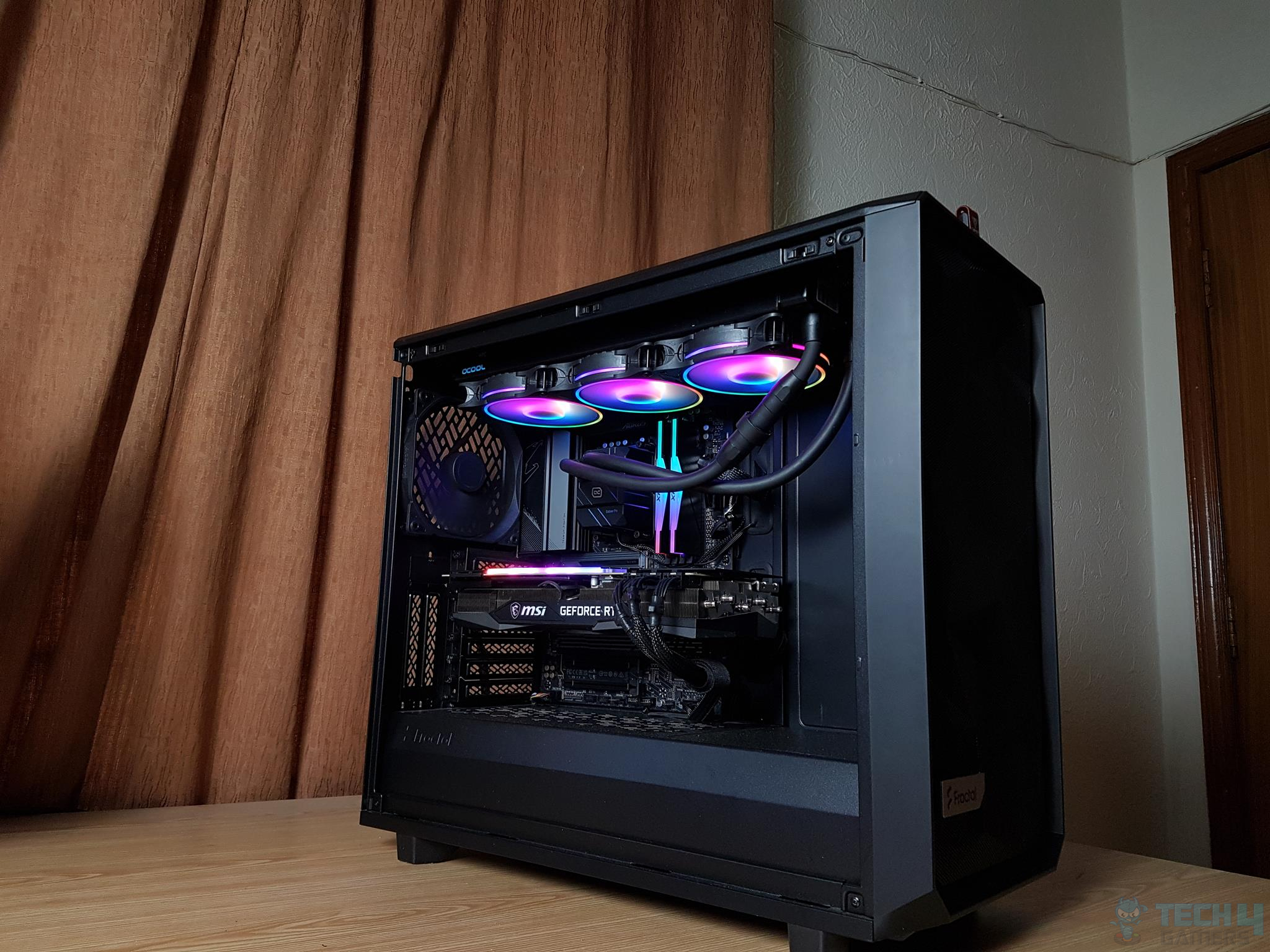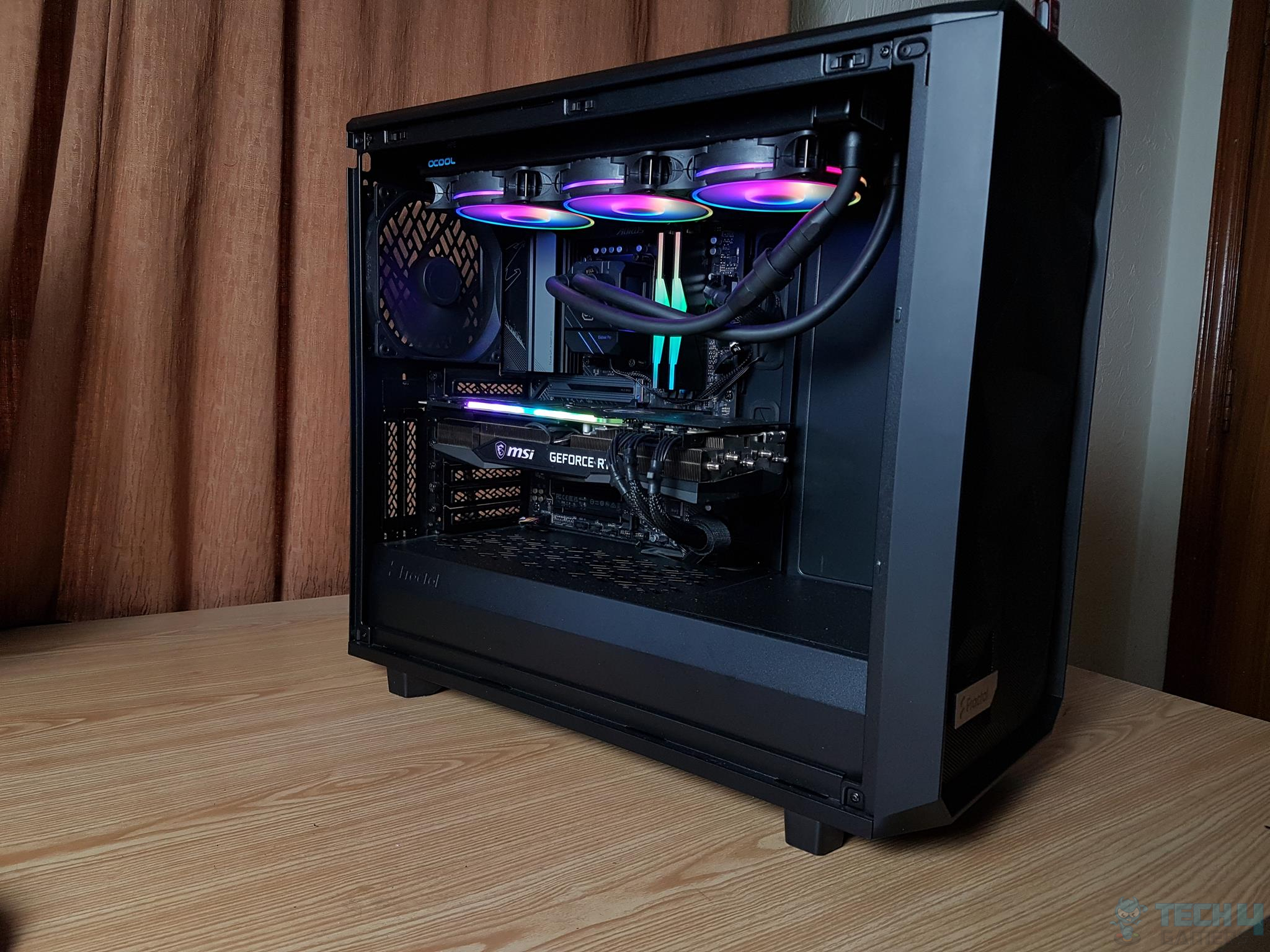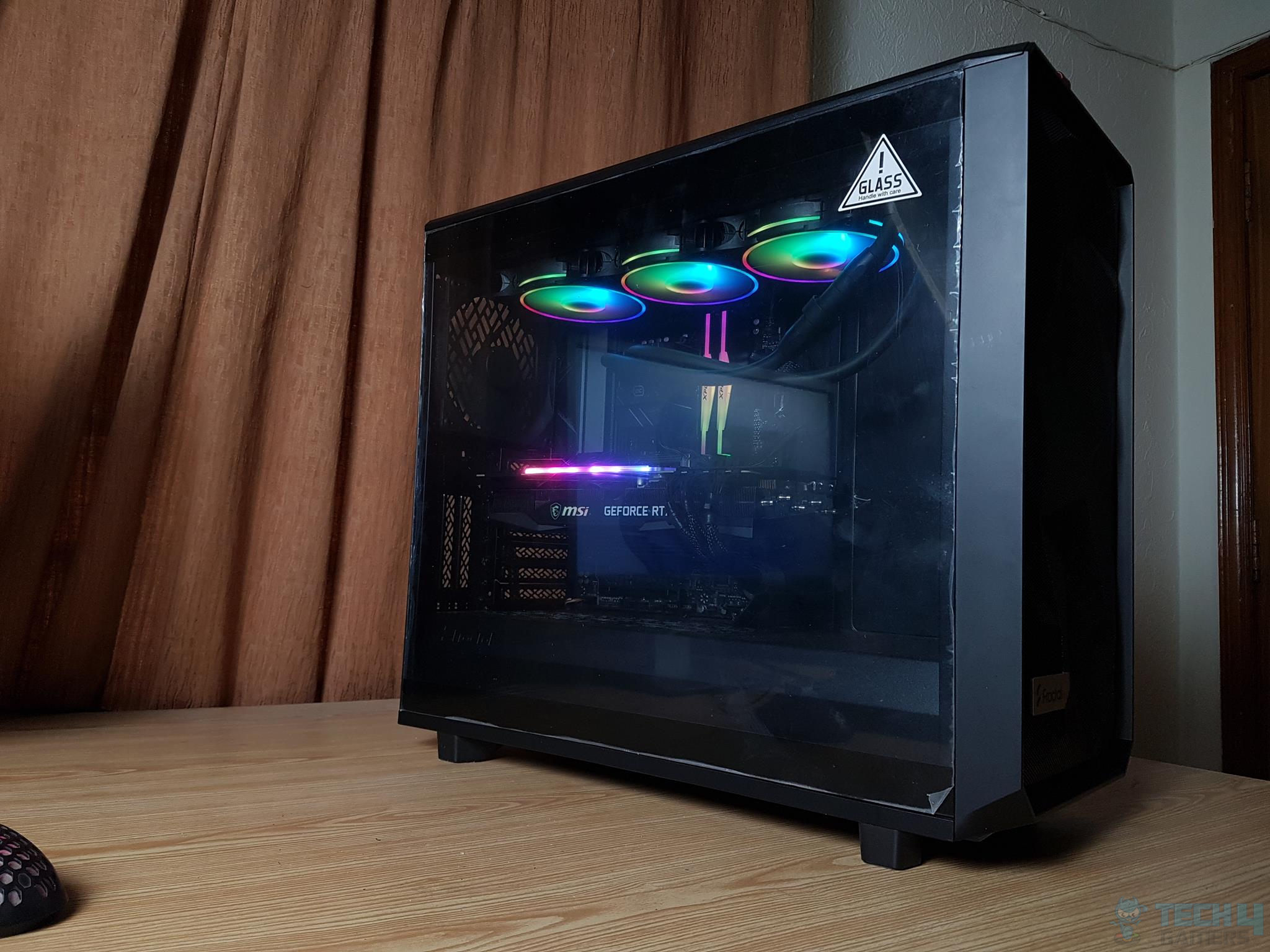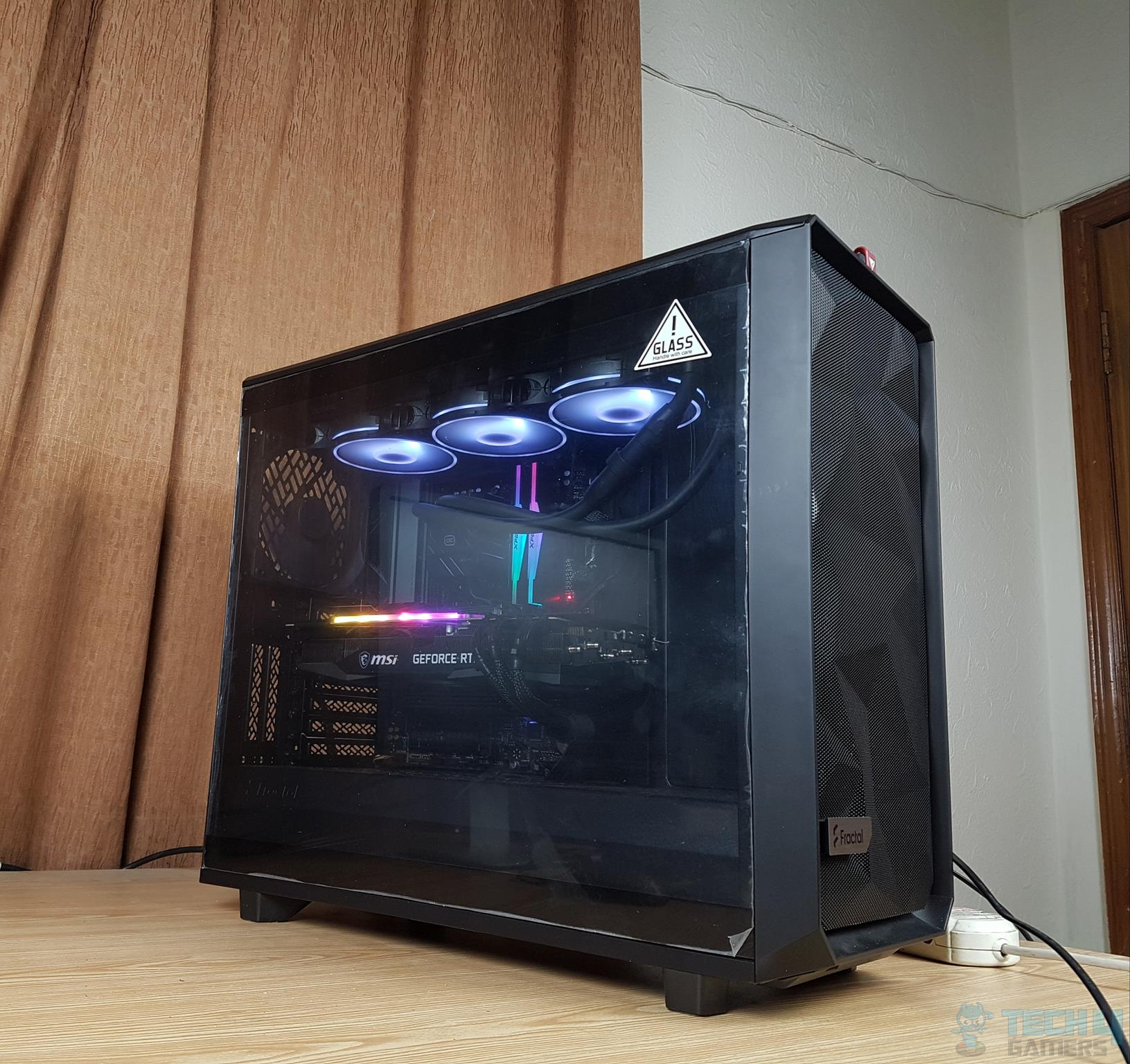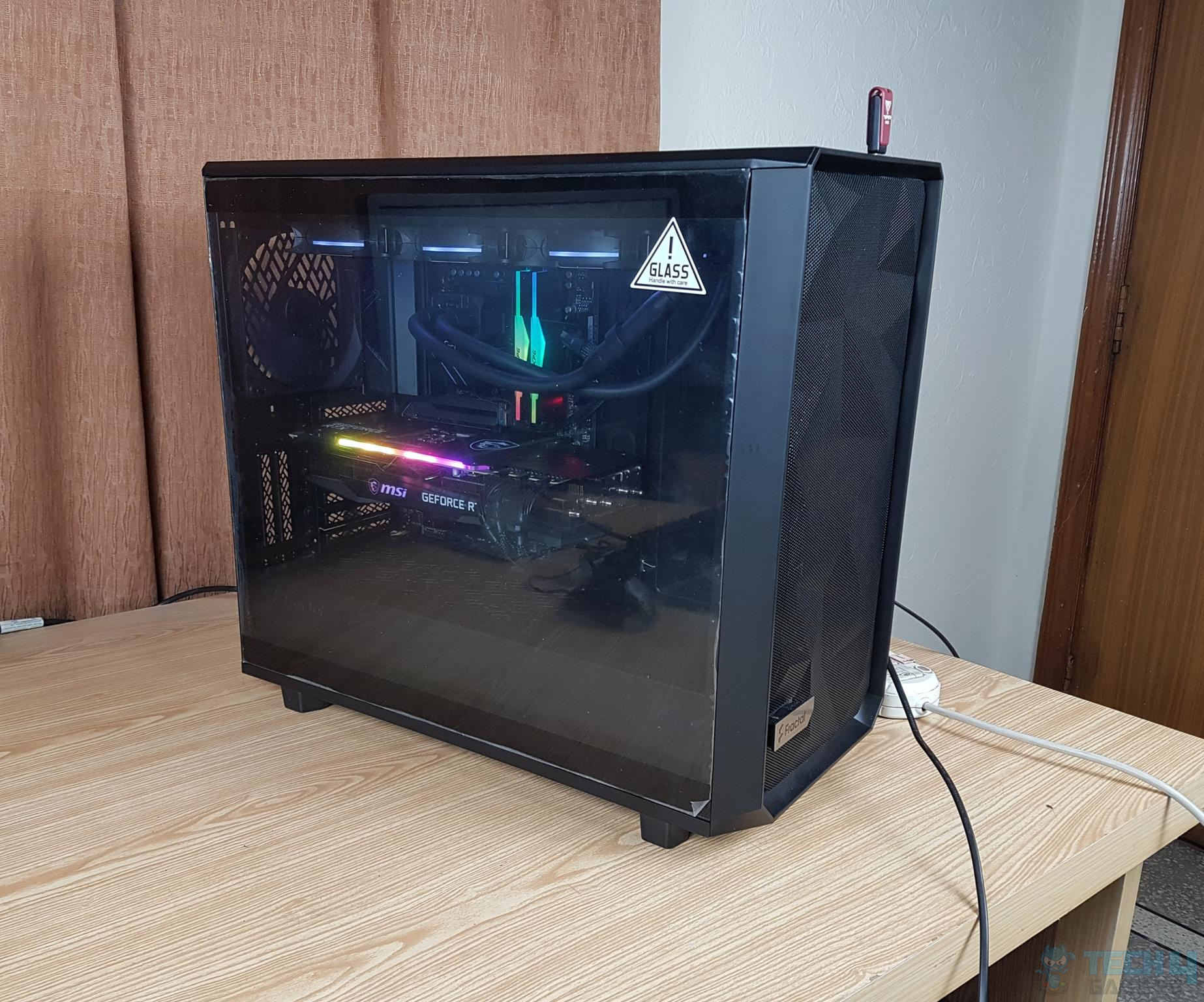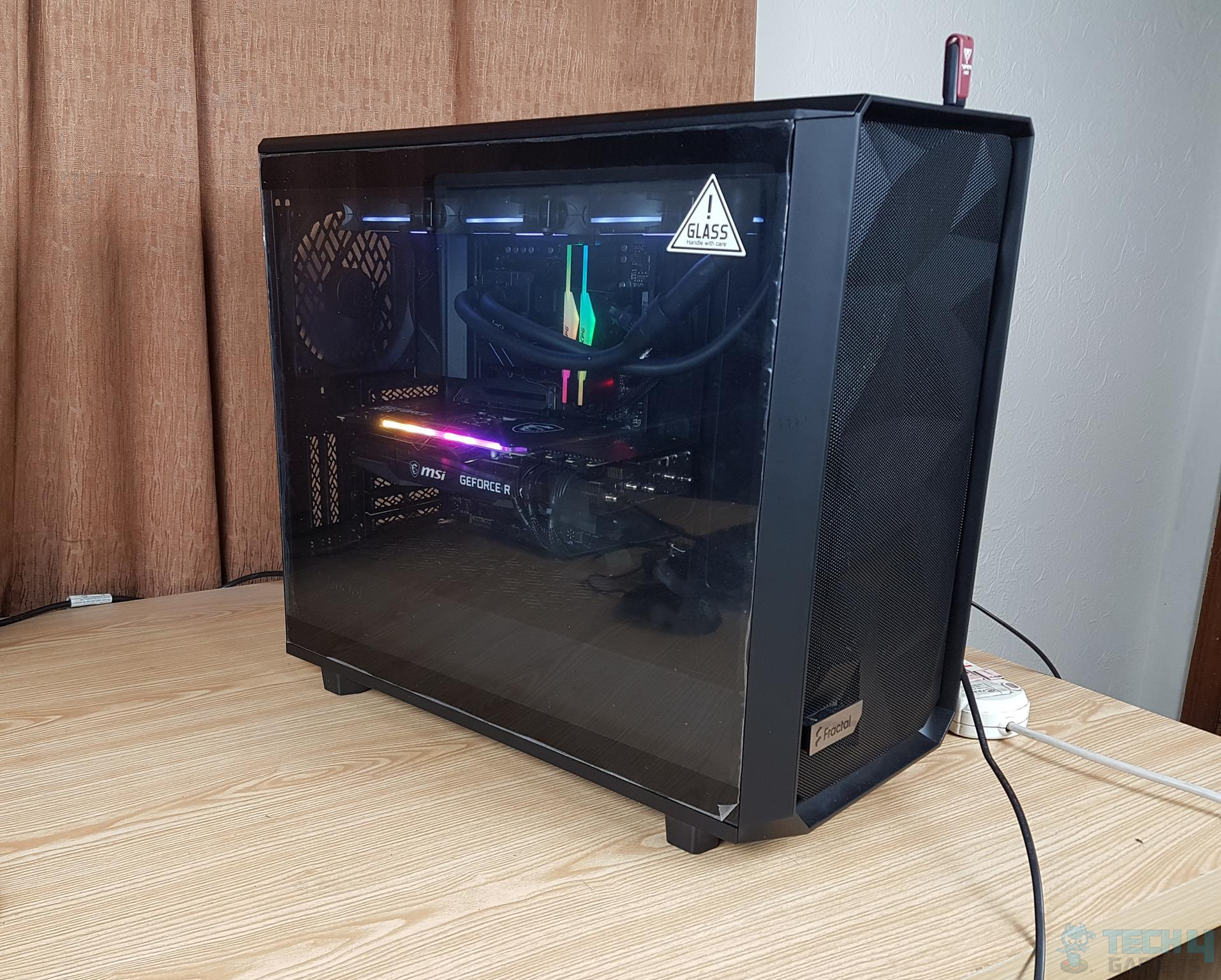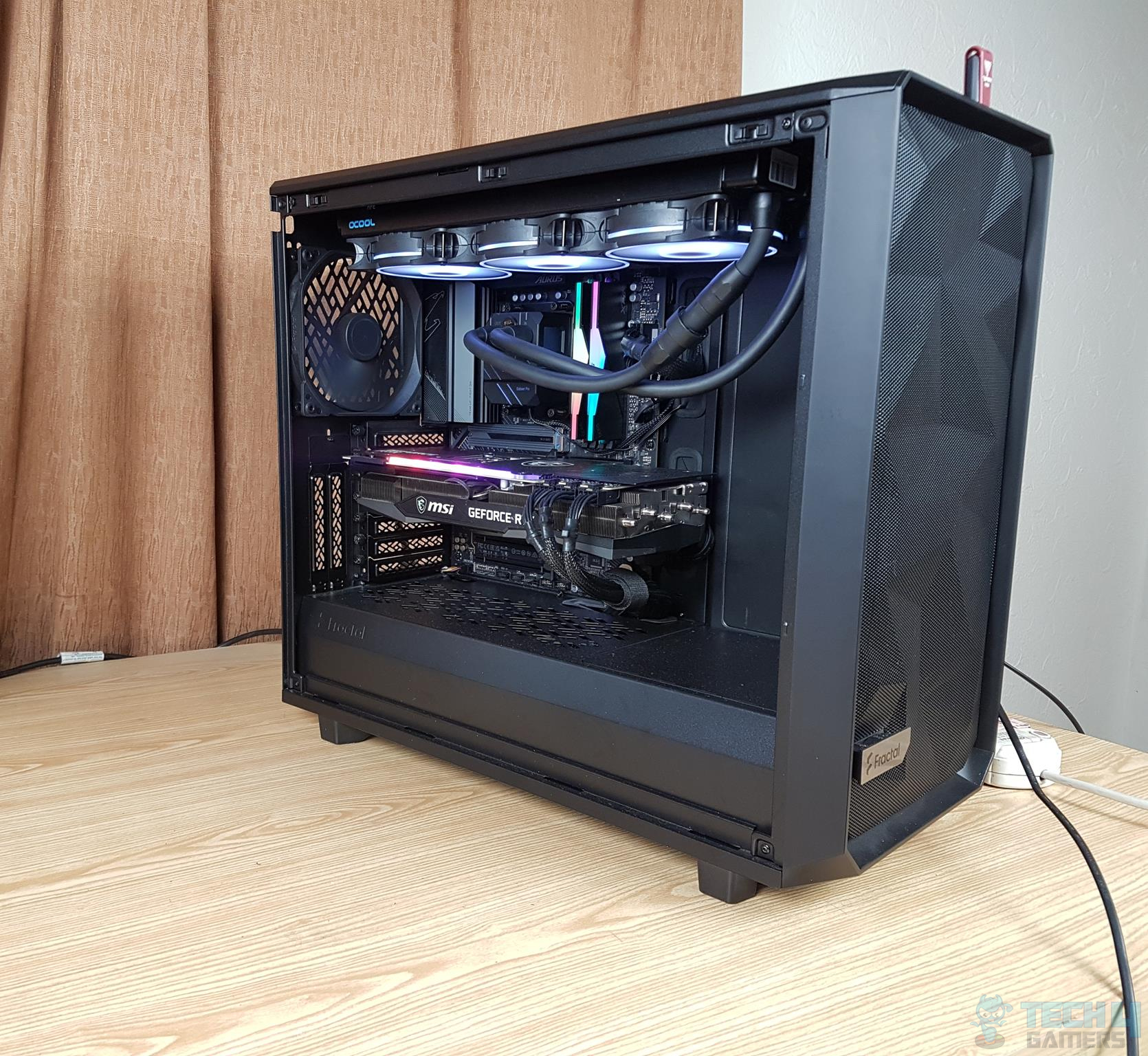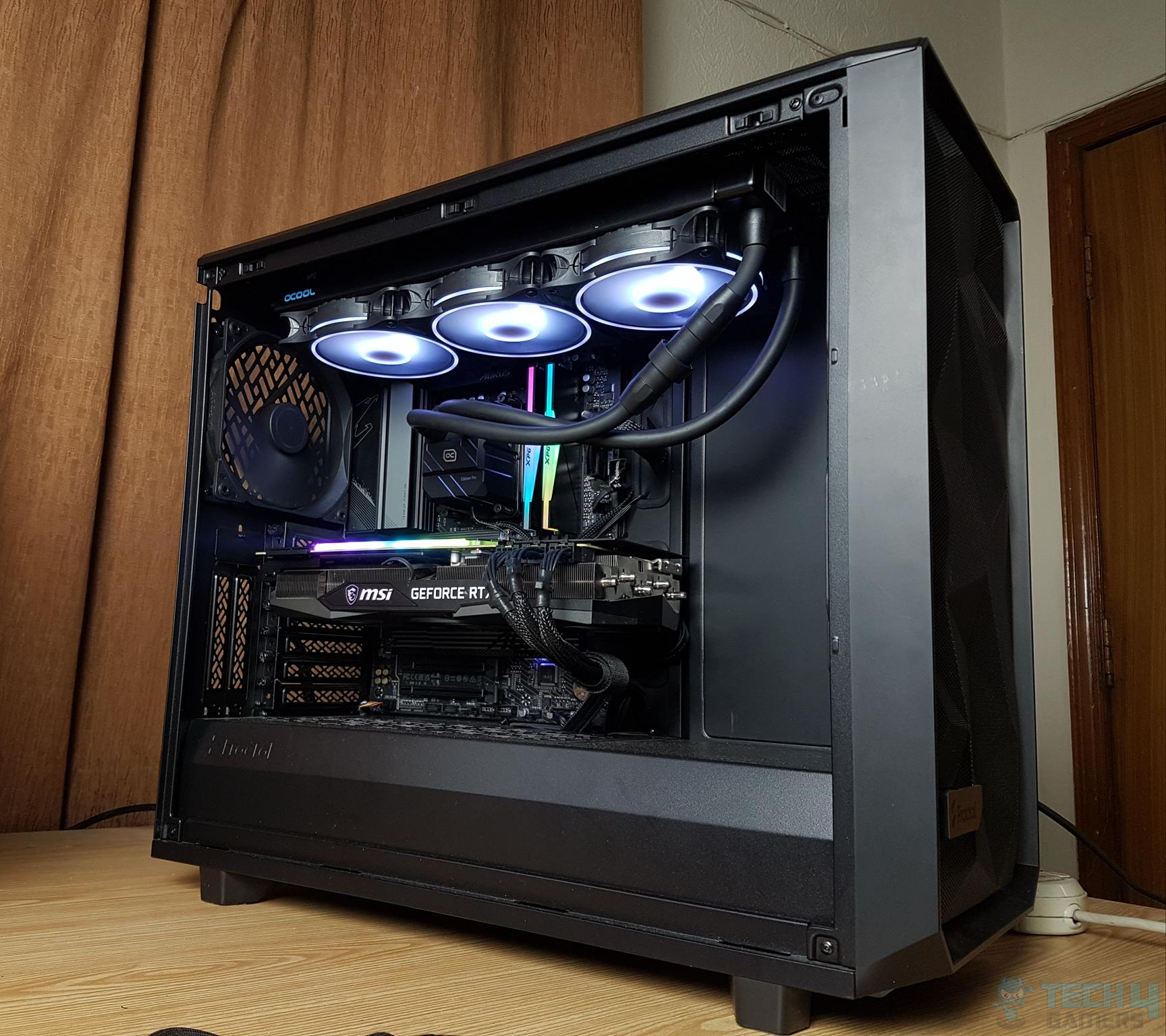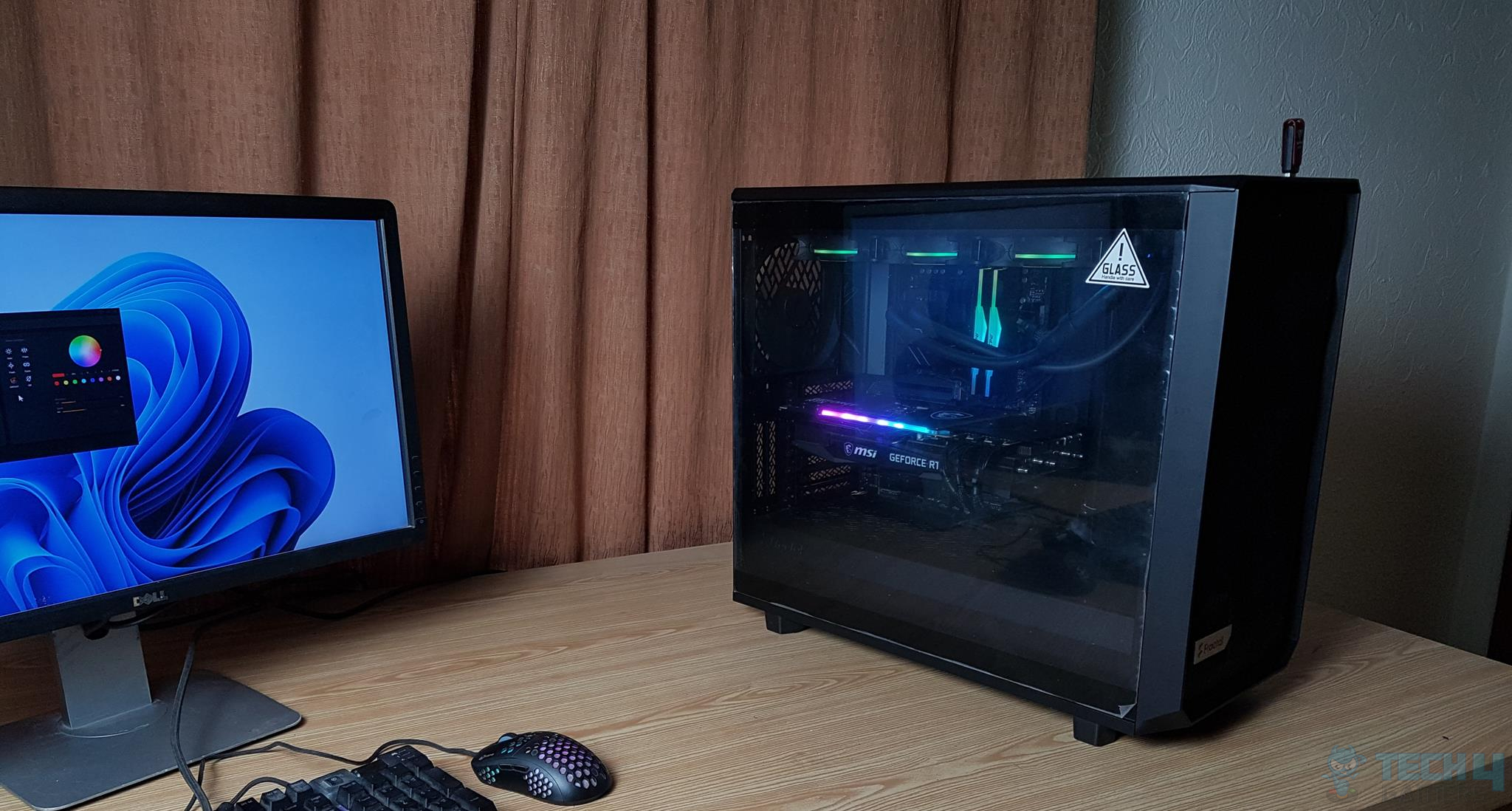 Above are a few pictures of a test build.
Thermal Testing
We have used the following configuration for testing:
Alphacool Eisbaer PRO AURORA 360 HPE
be quiet! Straight Power 11 1000W Platinum PSU
We have used Alphacool Sub-Zero thermal paste. Testing was done on Windows 11 22H2 using CINEBENCH R23.2 to stress the CPU. HWInfo64 was used for monitoring sensors. Fans and the pump were set to run at their full speed. GP14 fans were set to run at full speed.
Also Read: How We Test PC Cases
AMD Ryzen 7 7700X was set to 5.2GHz on all cores using Auto Voltage. This actually helps in lowering overall temps. CPU was stressed for 30 minutes. Idle and Load temperatures were recorded. A gameplay of Cyberpunk was used, and thermals on a graphics card were recorded by MSI Afterburner.
Testing was done on the default configuration of Meshify 2 without removing any dust filter or panel.
Let's take a look at the results.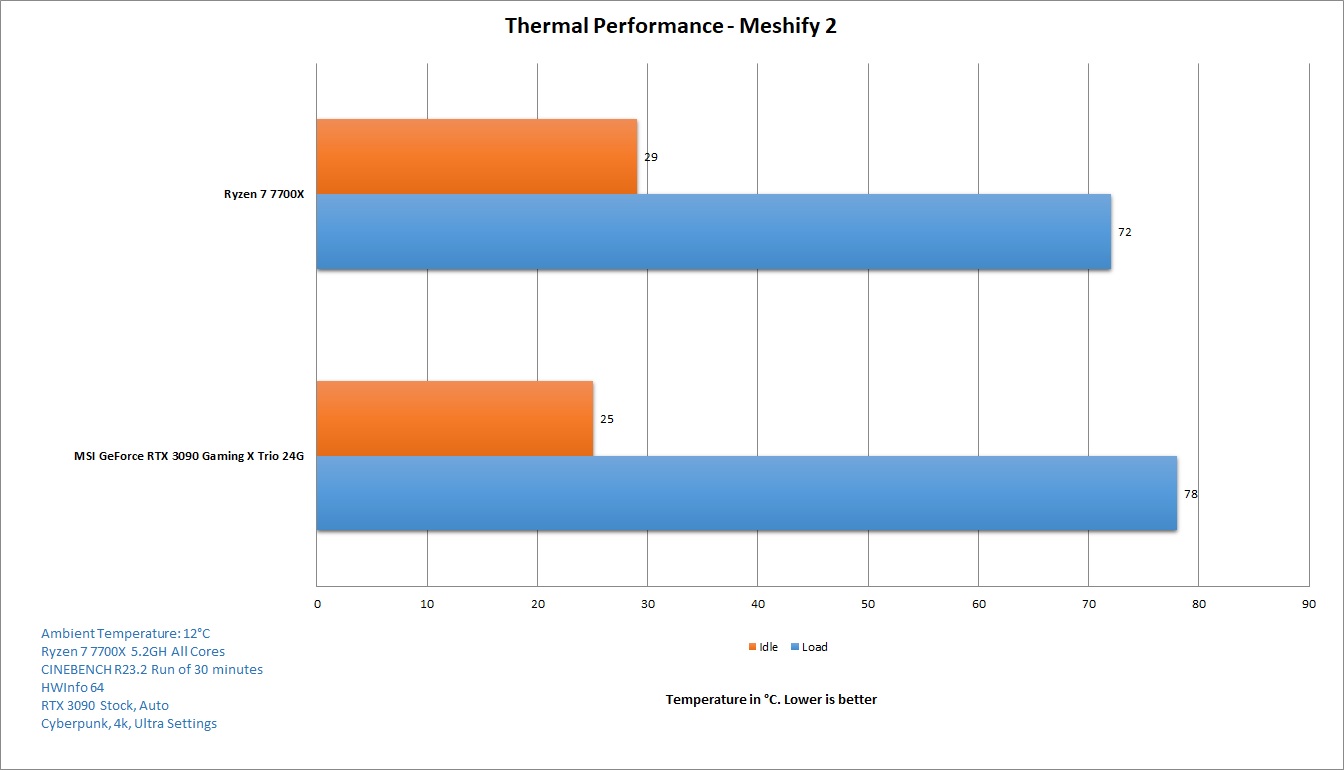 Testing was done at an ambient of 12°C. Winters are here, and we love lower temperatures without doing much during this time. Reported temperature values are absolute. No delta values are shown. We have a good performance all around. Even if there would somewhat airflow restriction from the front, we can remove the inner nylon-made dust filter to improve that airflow but nothing significant.
Conclusion
Fractal Design is well-known among PC enthusiasts. Their PC Cases tract high attention given unique but versatile designs, good build quality, and better customer service. Their Define series cases are among the popular ones out there.
We got an opportunity to test Meshify 2, which is another of their premium PC Case but from a different product line than Define. Fractal Design, at the time of this writing, carries 11 product lines in PC Case alone.
Meshify 2 is a next-level PC Case taking on Meshify C and Meshify S2 cases. It is a mid-tower case that can still accommodate more than any regular mid-tower can do. This case is available in 5 configurations, as we mentioned in the introduction. We have tested Meshify 2 Black TG Dark Tint. This case is black in color from the inside out.
The case stands at 542x240x474mm (LxWxH) with a net weight of 10.5 kg. We can see that this case has more length measuring 542mm, with a depth of 240mm. These two measurements are quite good. However, I would have loved to see a bit more height than 474mm. This is only a wish, not a complaint.
Fractal Design Meshify 2 is configurable in two variants. It comes in an open layout by default. This layout is best suited to a general PC user and water-cooling lovers. However, we can convert this layout into a storage one which Fractal Design calls Superlative Storage, as we have layers of storage drives stacked on each other. This way, we can use this case to serve as Storage Server. It is like having Vanilla and Chocolate flavors in a single serving.
The front of this case has a fantastic design featuring an angular mesh panel that is hinged on the main frame. This panel has a nylon dust filter inside, which is also removable. We can open this panel like a door, and it can be removed as well.
When it comes to panel handling, this case is toolless. We have a dark-tinted tempered glass panel on one side and a solid frame made of steel on another side. Both use a top-latching mechanism for easy handling.
This case supports motherboards starting from ITX and going as high as E-ATX (maximum 285mm width). We have tested this case with an E-ATX motherboard having a width of 269mm, and it covers the right side cutouts. Keep that in mind when planning a build. A CPU cooler of a maximum of 185mm height can be installed.
Similarly, a graphics card of length 491mm can be installed without front fans. This length reduces to 467mm with front fans. This length is 315mm in Storage Layout. PSU clearance is 250mm. All this is thanks to the 542mm length of this case and 240mm depth.
Speaking of storage provision, this case has a total of 15 points or positions. It has 6x included provisions for 3.5"/2.5" drives and 2x included provisions dedicated to 2.5" drives with a total of 4x position. Fractal has provided 2x 2.5" brackets. They have also provided a total of 6x caddies. These brackets and caddies have captive thumb screws.
From a filtration point of view, we have nylon-made non-magnetic dust filters on the front, top, and bottom. The bottom dust filter runs to the full length of this case and can be taken out from the front side. Going over the ventilation, the PSU area on the bottom and on the shroud is vented.
Not only that, but the position of the HDD cage can be adjusted as well. HDD cage can be completely removed. Since we need to access 4 screws from the bottom side of this case for the HDD cage, plan well for your storage. Fractal Design has provided a multi-bracket that can be used to house either a 2.5" drive or a .5" drive. It has a 120mm fan mounting and hence can be placed anywhere in the case.
Coming to the cooling support, this case comes with 3x Dynamic X GP14 fans pre-installed. These are 140mm fans rated for up to 1000 RPM speed and 19 dB(A) sound level. The front fan bracket is fixed to a frame, and it has a rail design. Users can install up to 3x 120mm or 140mm fans as well as up to a 360mm or 280mm radiator.
This is not all, as the same configuration is supported on the top bracket but with one exception. A user can install a 420mm radiator on top as well. The top bracket is removable for easy installation of fans and radiator. Fractal Design has actually provided a mechanism in which the complete top panel comes off.
A user can also install a 240mm or a 280mm radiator in the base or 120 or 140mm fans there. The rear mount can either house a 120mm fan or a 140mm fan with one fan pre-installed there. A 120mm radiator can also be housed there. There is an ultra-slim Nexus+ 2 fan hub with up to 6x 3-pin connectors and 3x 4-pin connectors. It is SATA powered and also provides a 4-pin PWM connector which can be connected to a motherboard header.
Fractal Design has provided a cable guide with Velcro strips on the back for effective cable management. The cable management space is 30mm, and there is a plastic cover for the bottom chamber. Focusing on the IO panel, it is located on the top panel, and it has a USB 3.1 Gen 2 Type-C port as well. This is 10 Gbps connectivity. We don't have HDD LED indicator. There is a white color LED for power status.
Related Read: Best White PC Cases
I think I have covered almost all the features in this case. Assembling a PC, in this case, is super easy and very user-friendly. If you are installing a liquid cooler with a radiator and fans on top, then you better connect all required cables to top connectors on the motherboard and route them through two cutouts with rubber grommets. After installing the cooler, the top area will be restricted. Fractal Design has mentioned in a user guide for installing a cooler outside of the case. We could not test that since we have used the AM5 platform.
Fractal Desing Meshify 2 is retailing at USD 159.99 at the time of this writing. This is a NewEgg pricing. Its MSRP was USD 129.99 when it was launched.
Was our article helpful? 👨‍💻
Thank you! Please share your positive feedback. 🔋
How could we improve this post? Please Help us. 😔
[Hardware Reviewer & Editor]
Meet Nauman Siddique, a highly experienced computer science graduate with more than 15 years of knowledge in technology. Nauman is an expert in the field known for his deep understanding of computer hardware.
As a tech tester, insightful reviewer, and skilled hardware editor, Nauman carefully breaks down important parts like motherboards, graphics cards, processors, PC cases, CPU coolers, and more.
15+ years of PC Building Experience
10+ years of first-hand knowledge of technology
7+ years of doing in-depth testing of PC Hardware
A motivated individual with a keen interest in tech testing from multiple angles.
I majored in Computer Science with a Masters in Marketing
Previously worked at eXputer, EnosTech, and Appuals.