PC gaming technology has been rapidly advancing in the past decade. With this technology becoming more and more powerful by the day, we've also been seeing more innovative (and sometimes unusual) PC cases coming into the market. The pinnacle of these cases is dual-chamber PC cases. In this article, we'll guide you about these cases: what they are, their pros and cons, and whether you should buy them or not.
---
Key Takeaways
Dual-chamber cases are mostly full-tower ATX cases.
They provide optimal airflow and easy cable management.
A good dual-chamber case will cost you around $100; they are slightly more expensive than normal PC Cases.
Benefits of Dual Chamber PC Cases include Vast Build Space, making cable management easier, better cooling, airflow, and support for Custom Liquid Cooling & Dual PC Setups.
---
What Are Dual-Chamber PC Cases?
As the name suggests, these are cases with two chambers. Most dual-chamber cases are full-tower ATX cases, but mini-ITX and micro-ATX options are also available.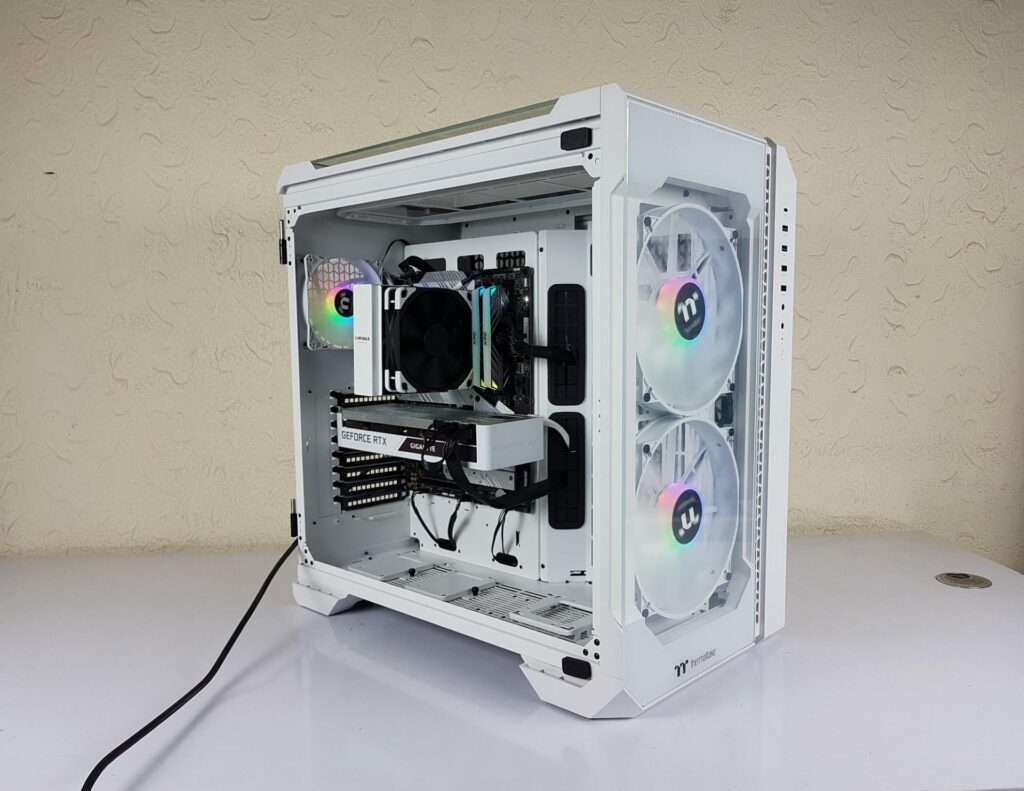 The main goal of these cases is to separate the warm components (mainly the CPU and graphics card) from the rest (storage and power supply, etc.). This design with two separate compartments helps to achieve that goal.
Also Read: BEST Budget PC Cases
Benefits Of Dual-Chamber Cases
There are many advantages that come with this dual-chamber design, but these cases have some demerits, too. Let's discuss them.
Note: Most of these factors may not apply to mini-ITX dual-chambered cases, which are rare anyway.
Vast Space And Optimal Airflow
The first major advantage that dual-chamber cases have is the very purpose they fulfill. They provide ample space for all your components and allow you to separate the main, power-hungry components from the rest. This, in itself, provides you with an edge for a variety of reasons, which will be discussed in the following headings.
Ideal Aesthetics
Separating the fundamental components from the remaining ones, especially the power supply, benefits you greatly in terms of aesthetics. You get to display the juicy, powerful components in the front and the somewhat messy and unappealing components in the back.
Easy Cable Management
Cable management is made extremely easy with the power supply going into the back compartment. You can manage the cables and have them look neat without putting in much effort.
Better Cooling
Separating the main components also helps them to run cooler since the heat from the other components is dissipated from their own chambers. Thus, all the components will be running as cool as possible. Furthermore, all the components get optimum breathing room, and air ventilation faces no obstacle.
Wide Compatibility For Liquid Cooling
The large amount of room also makes it possible to house even the most expensive water-cooling kits and all-in-one coolers. Most dual-chamber cases have space for more than one radiator (typically 360mm ones for entry-level cases), so you can water-cool your CPU and your GPU. You can also install multiple graphics cards in dual-chamber cases.
Support For Dual-PC Setups
Some dual-chamber cases can even double as dual PC cases, allowing you to install two sets of components in one case, sharing a single power supply.
Downsides Of Dual-Chamber Cases
Dual-chamber cases don't have any cons per se, but two obvious factors need to be noted:
Prices
Unlike standard ATX and ITX cases, dual-chamber cases are more toward the expensive side of things. In terms of ATX options, you'll be paying no less than $100 for a decent option, while most mid-range options are priced around the mid-$100s.
Mini-ITX dual-chamber cases are rare, but one option is Thermaltake's Core V1 which is available for $59 on Amazon. This makes it one of the cheapest available dual-chamber cases.
You may need to upgrade your desk and get a larger one to accommodate these cases, which takes us to the next point.
Large Size
If you're looking to buy a dual-chamber PC case, you may already be aware that you'll need to sacrifice a decent bit of space for one of these cases. Thus, one of the advantages of these cases also proves to be their disadvantage. Dual-chamber cases take up significantly more volume in both width and length. Consequently, it would be best if you took note of the dimensions of the case you're looking to buy and make sure it fits on your desk.
Popular Options
So we've discussed the pros and cons of dual-chamber cases. Now, if you're considering buying one of these cases, what options do you have? Let's discuss some of the popular ones:
Lian Li PC-O11 Dynamic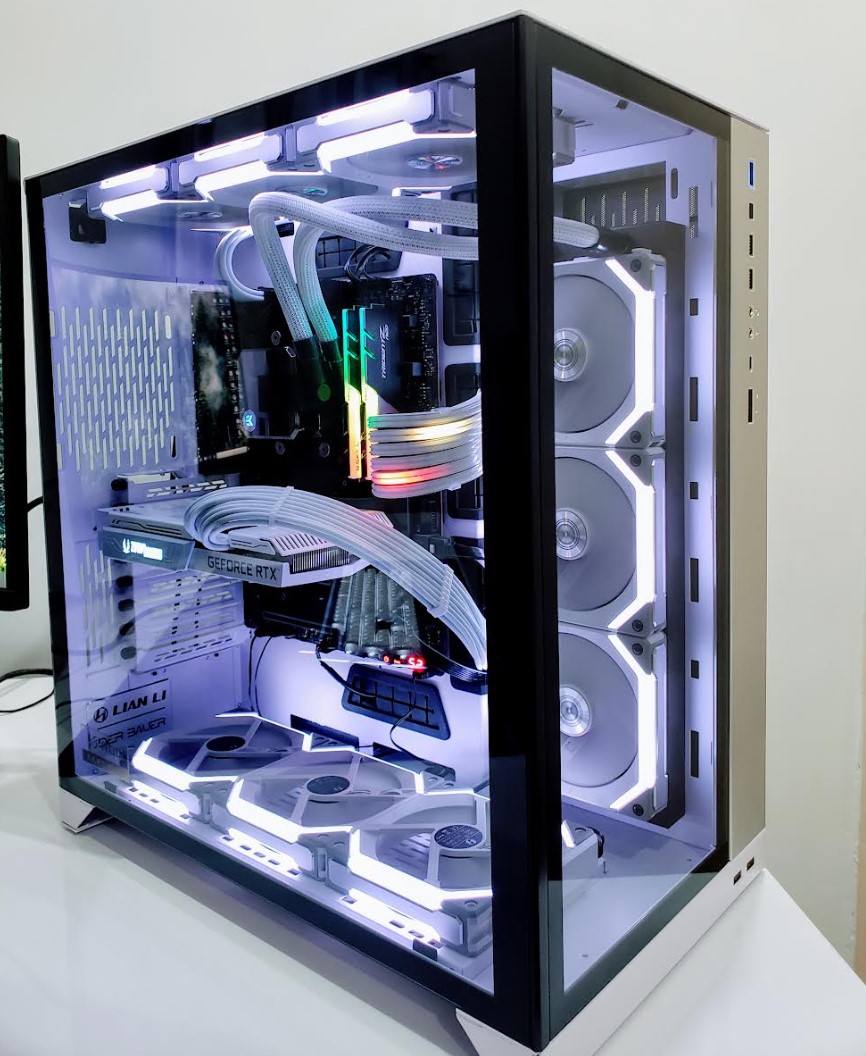 Lian Li is one of the most popular case manufacturers, especially for enthusiast-grade cases. They launched their PC-O11 Dynamic in 2017, and it has been one of the highest-selling dual-chamber cases ever since.
It has a tempered glass side panel and front, with a small area of aluminum that features USB ports and headphone jacks. This case can support three radiators and dual PSUs as well. It also has gaps on the side panels and the back for proper ventilation.
The case has black-and-white options and is currently priced at $159.
Corsair Carbide Air 540
Corsair is also one of the go-to brands if you're looking for PC cases. Their Carbide Air 540 has been a well-received option for dual-chamber cases.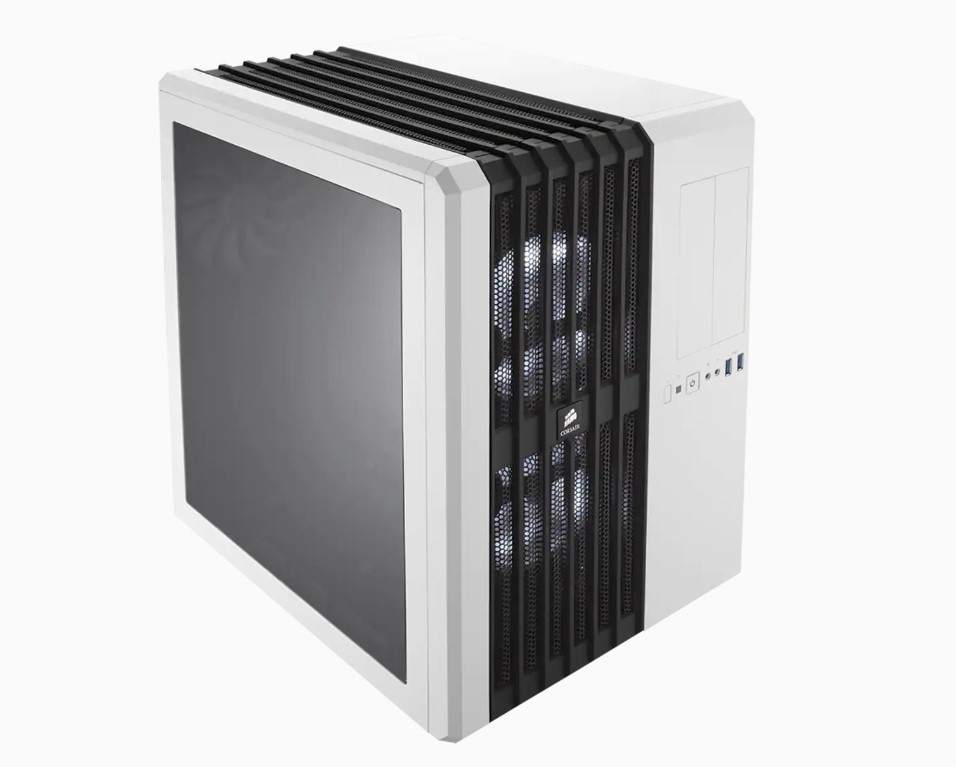 This case features what Corsair calls the "Direct Air-Flow Path," which makes use of the dual-chamber design for optimal airflow. It is a steel case and has an acrylic side panel. The front features two USB 3.0 ports and the standard 3.5mm headphone jacks. It can house a 240mm or 280mm radiator on the top and up to a 360mm radiator on the front, too. Finally, it features two of Corsair's AF140 fans in the front for intake and one in the back for exhaustion.
This case is available in black and white options and is priced at $139.
Thermaltake V1 Core
As mentioned earlier, the Thermaltake V1 Core is one of the budget options for dual-chamber designs and is a mini-ITX case.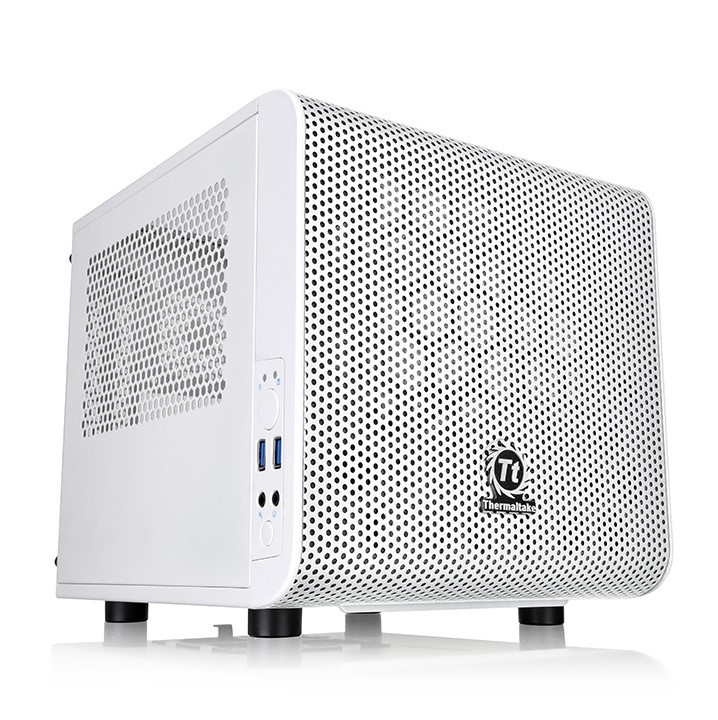 In this case, the bottom chamber is reserved for the power supply and the cables, with two (removable) 3.5-inch drive bays and two 2.5-inch bays. It has interchangeable side panels and an acrylic window at the top. The case sports a massive 200mm fan preinstalled, which does a great job of intaking air. The front fan can be removed to install a 120mm or 140mm radiator for liquid cooling. It houses two USB 3.0 ports and 3.5mm headphone jacks on the side.
This case also has both black and white options and costs $55.
Should You Get One?
Our brief discussion on dual-chamber PC cases leads us to conclude that these cases are completely worth it. Most of these cases provide a huge amount of space no matter what components you want to fit in them. Except for mini-ITX cases, they openly support custom-loop water cooling, and many of them also support multiple radiators for all-in-one coolers. The large amount of space also ensures hassle-free airflow. Related Read: Best Airflow PC Cases.
These cases have many benefits, and their pros outweigh the cons. If you don't mind the larger-than-usual volume they take up and have a budget over $100, then you should consider them.
Also Read: BEST Full Tower Cases
FAQs
Are dual-chamber PC cases worth it?
Dual-chamber PC cases are a great option if you have the budget and ample space on your desk.
What are some good options for dual-chamber cases?
There are plenty of options available in the market for dual-chamber cases. Lian Li's PC-O11 is one of the most popular options with a decent price tag. Corsair's Air 540 and Rosewill's Cullinan PX are also good options.
What are the benefits of dual-chamber PC cases?
Dual-chamber PC cases have many benefits. These include ample space for water cooling, better thermals and airflow, and also better aesthetics since you can display your favorite components in one chamber and hide the rest.
Was our article helpful? 👨‍💻
Thank you! Please share your positive feedback. 🔋
How could we improve this post? Please Help us. 😔