It is important to learn how to clean a motherboard, as a small mistake can end up ruining it. This is because the motherboard connects all of the components with each other, so you have to be extremely careful during each step.
Related: How To Lower CPU Temperature
Key Takeaways
Giving your motherboard a routine cleanup is important because if any of its connections get impaired by dust or grime, your entire computer can stop functioning.
You'll need a can of compressed air, 99% pure isopropyl alcohol, and cotton swabs to clean your motherboard.
Cleaning the motherboard is a two-step process. First, use the compressed air can to blow out the dust from the motherboard. Then use isopropyl alcohol and cotton swabs to get into small spaces where compressed air can't reach.
Why Should You Clean The Motherboard?
Cleaning the motherboard is more important than you think. If there's a lot of dust buildup inside your PC case, it's affecting the different connections on the motherboard; your PC may heat up and stop functioning. Suppose you go without cleaning your system for over a year, and your case doesn't have excellent dust prevention measures. In that case, that's when dust accumulates on different parts of your motherboard. Also, you might be interested in learning about how to clean PC fans.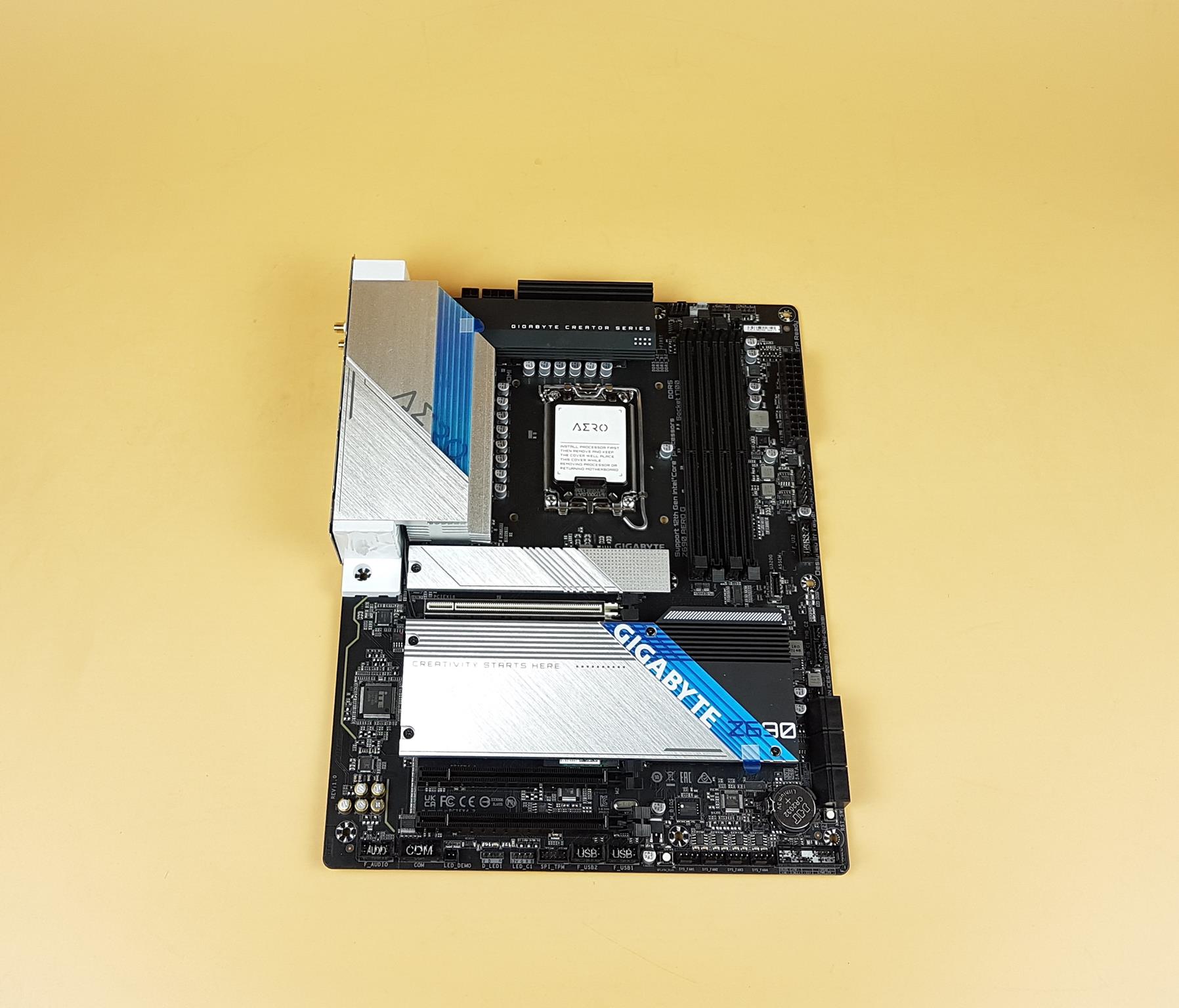 To avoid this from happening, you should give your computer a
good cleanup
from time to time. While it depends from PC to PC, a general rule of thumb is to give your PC a
thorough cleanup
every three months
.
How To Clean A Motherboard?
While there are many ways you can go about cleaning your PC's motherboard, we'll discuss the most common and efficient method in this guide. To clean your motherboard, you need to have the following tools.
Compressed Air
Among the various items you can use for cleaning your PC, the most important is compressed air. You'll be using it to blow all the air out from the surface of the motherboard.
Isopropyl Alcohol
Another essential item for cleaning PCs is Isopropyl Alcohol or IPA. It is excellent for removing dust and grime and doesn't damage any PC components because it evaporates quickly. Moreover, it's not conducive because it doesn't have any water, especially if you're getting the 99.9% pure chemical.
Cotton Swabs
To apply the IPA on the different surfaces, you need to get some cotton swabs or cotton buds. Any sort will do as long as it can get into the small spaces and closed areas where regular compressed air can't reach.
Paper Towels
For larger surfaces, you will need paper towels or tissues to spread the IPA over the different surfaces by hand.
Also Read: How To Clean A PC Without Compressed Air
Steps For Cleaning The Motherboard
Before cleaning the motherboard, turn off the PC and remove all the cables. Then place the computer in an area where you can easily clean up afterward as there'll be a lot of dust coming out of the PC.
Open The Case
To clean the motherboard, you need to open the side panel of your PC case. Doing this will allow you to access the internal components of your PC. Carefully remove the components installed on the motherboard, such as the graphics card, RAM modules, and CPU. Now you'll need to unplug all the cables attached to the motherboard. Once that's done, unscrew the motherboard and take it out of the case.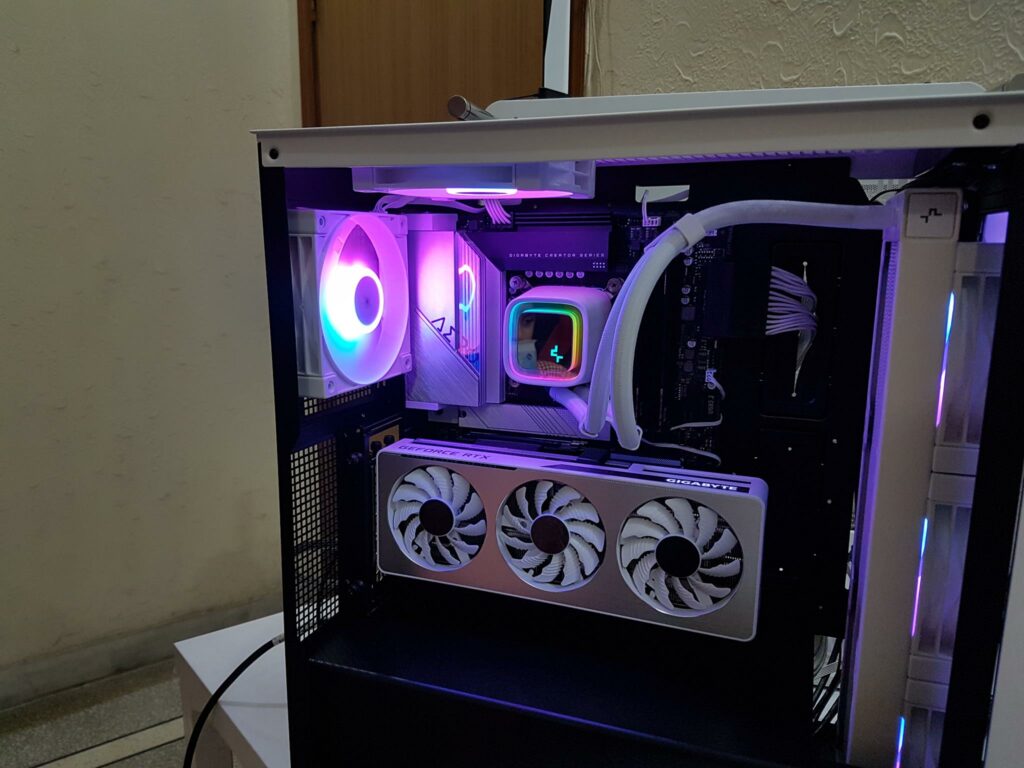 Take Out The VRM And Chipset/PCH Heatsinks
There might be more than one heatsink in some cases, and in others, there might be none. To take out the heatsinks, you'll need to flip over the motherboard and find the screws holding it together. Thermal pads cover the motherboard's backside in some motherboards, but this is usually different. Once unscrewed, flip over the motherboard again and take out the heatsinks.
Clean The Heatsinks
With the heatsinks separated from the motherboard, it's time to clean them. First, use the compressed air to blow away all the dust accumulated on the heatsinks. Then for areas where there's still dust caked up, use cotton swabs and IPA to clean those surfaces. With this done, you can get into cleaning the actual motherboard.
Use Canned Compressed Air For Dust
Using the can of compressed air, you'll need to get rid of all the dust-caked up on your motherboard. As most motherboards are placed vertically in a top-to-bottom configuration, the dust usually settles on the surfaces on the motherboard that's placed horizontally.
These surfaces could be the tops of PCIe slots, DIMM slots, and rear IO ports. This is why it's best to start blowing air from the top and work your way down when cleaning the motherboard with compressed air.
Examine The Motherboard For Traces Of Dust
After cleaning the motherboard with compressed air, check if there are any areas you missed or places where compressed air can't reach.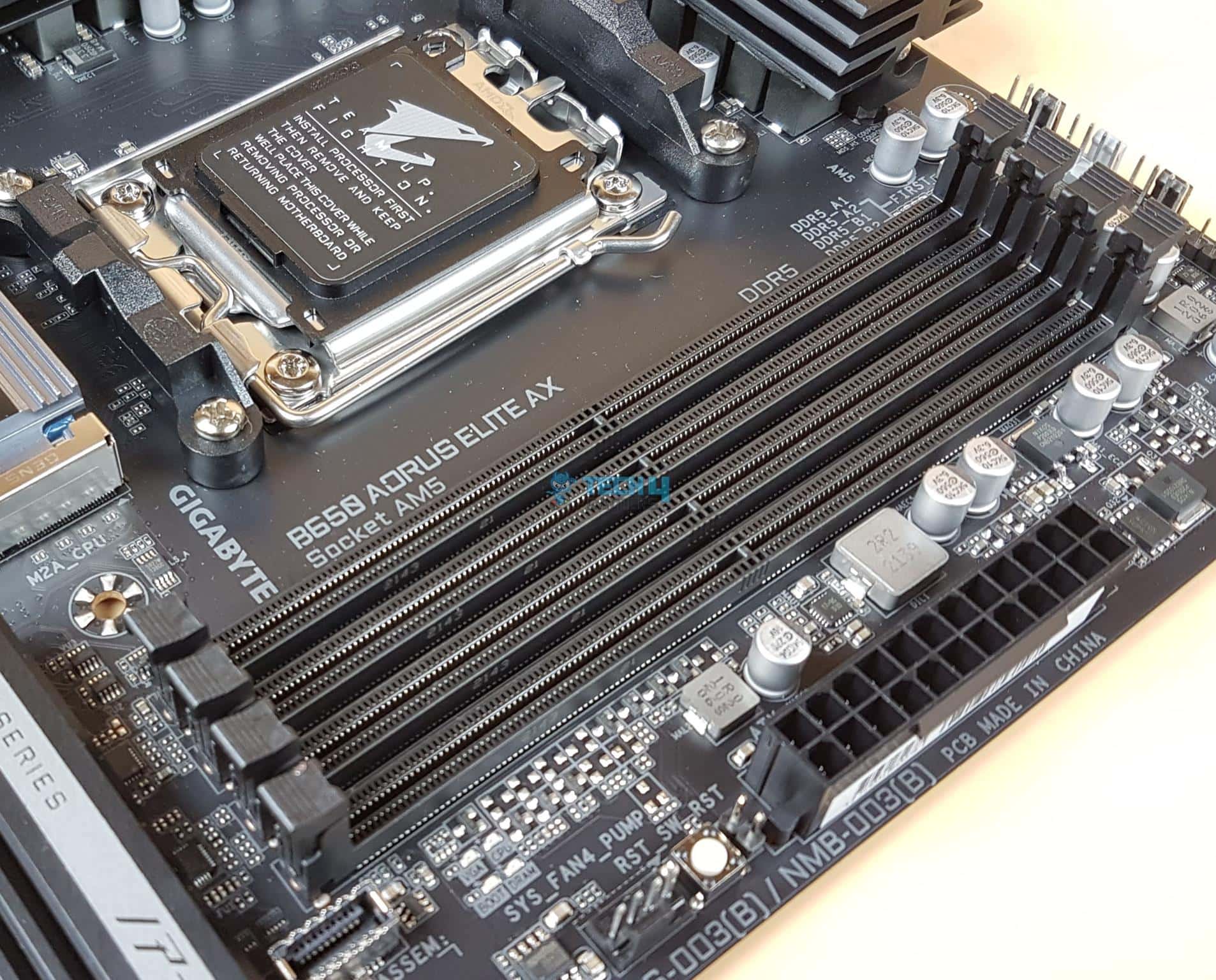 Also Check:
How To Clean Tempered Glass Of A PC Case
Cleaning With Isopropyl Alcohol
If you find one of these areas, you'll need to clean them using cotton swabs and IPA. As mentioned, these areas are typically the top sides of PCIe slots, DIMM slots, and rear IO ports. Once you're done cleaning the tops of each of these surfaces, make sure to clean the insides of the ports of the rear IOs, as they can gather a bit of dust as well. For larger surfaces, use paper towels for cleaning.
While your motherboard is out of the case, you might want to replace the thermal paste of your CPU, too, if you haven't done it in a long time. We have a detailed guide on how to clean thermal paste off the CPU, and it can help you greatly.
Reassembly
Reassembling the whole thing back together is straightforward. First, reattach the heatsinks by screwing them on the motherboard. Then attach the CPU and RAM modules to the motherboard. Once you're done with that, screw the motherboard back onto the case and connect the graphics card.
Then plug in the cables of the PSU and close the side panel. With that, you're finished cleaning the motherboard of your PC. It's a good idea to check if the PC boots up fine without putting the motherboard back into the PC case, so if there's a problem, it'll be easier to look into it.
Can You Damage A Motherboard While Cleaning It?
Now that you have learned how to clean a motherboard, let's discuss how you can end up damaging it. Damage may be caused by one of the reasons below:
Static Electricity
If you take your motherboard out of your computer to clean it and forget to put it on an anti-static surface like the motherboard box, you might risk static electricity damaging your motherboard.
Static electricity can cause a short circuit in your motherboard's components, leading to the risk of completely frying the part.
Water Damage
Cleaning your motherboard might involve using a moist fabric to remove particulates from your board, but if you do not take the proper measures while cleaning, this might lead to water damage to your motherboard.
To avoid this, let your motherboard air dry completely before putting it back into your system and powering it on.
If you want to be extra safe, you can use isopropyl alcohol to wipe your motherboard instead of water, as it evaporates much quicker than water and does not have the same high electrical conductivity, making your system less at risk for a short circuit.
Physical Damage
If you use any type of excessive force or pressure on your motherboard while cleaning it, there is a definite chance that you will break something.
While cleaning, key components to be gentle with include the CPU socket pins, the Voltage Regulation Modules and the various capacitors poking out from the motherboard.
Things To Keep In Mind While Cleaning Your Motherboard
Your motherboard connects all of your other PC components together, so it is necessary to be super careful while handling it. These are the main things you should keep in your mind while cleaning your motherboard:
It is very easy to damage other system components by pairing them with a damaged motherboard, so be extra cautious while handling it.

Make sure your motherboard is completely disconnected before you start handling it.

Use an anti-static surface to put your motherboard on while cleaning it.

This is not something you want to be often doing, so do it well enough that you can go a while before dismantling your system again.

Try to use isopropyl alcohol instead of water. If you use water, dry out your motherboard completely before putting it back into your system.

Be sure to clean your motherboard in a dust and debris-free environment to make sure it is actually pristine after you are done cleaning it.

Make sure to keep your can of compressed air upright while using it; any liquid that might spill out of it will damage your computer.

Try not to touch the motherboard with your hands too much. Apart from the slight risk of breaking a component, there is a chance that the oils from your hand can damage your board.

After you're done cleaning your motherboard, be sure to give it a final check for bent pins or broken capacitors before putting everything together.
Tips For Cleaning The Motherboard
As you give your PC a good cleanup from time to time, you should also add the cleaning of the motherboard to your routine. To do a routine cleanup, you won't need to remove the motherboard from the case and use compressed air to blow out most of the dust. Then apply IPA in areas that have caked up dust and grime using cotton swabs and tissues. As for deep cleaning, you should know about that by now.
When cleaning the motherboard on a PC, always use 99.9% pure isopropyl alcohol. Chemicals with less purity than this have more addition of water, which can be damaging to components on your motherboard. If you use a less-purple substance, ensure the motherboard is completely dry before plugging it back on. You should never use anything else other than pure isopropyl alcohol for cleaning the motherboard of your PC.
Final Thoughts
This article discussed many things about how to clean a motherboard. By now, you should know why it's important to clean the motherboard, what items you need and what steps to follow. It can be a bit intimidating at first. Still, if you follow the steps correctly, you can clean it without any problems.
If you're in the market for motherboards, then take a look at our 8 BEST Motherboards For i9-13900K and Best Motherboards For Ryzen 5 7600X [Top Rated].
Also Read: How To Lower GPU Temperature
FAQs
Can I damage the motherboard while cleaning it?
Yes, you should be extremely careful while cleaning your motherboard as it can get damaged easily.
Can I clean my motherboard with water?
Cleaning the motherboard with water can damage it, so you must avoid doing it at all cost.
Can I clean my motherboard using compressed air?
Yes, it is safe to clean the motherboard using compressed air. In fact, it is one of the best ways to clean it.
Was our article helpful? 👨‍💻
Thank you! Please share your positive feedback. 🔋
How could we improve this post? Please Help us. 😔