Shutting down your computer might seem like a trivial thing. However, there are some cases when it is very inconvenient to reach the Power Off button on the computer, which can happen for too many reasons. But did you realize you can shut off your computer with a keyboard shortcut? Yes, many people don't know how to shut down a PC with a keyboard.
---
Key Takeaways
Keeping the PC running for a long run can decrease the PC's lifespan as the health of the PC gets affected.
Apart from the below-given shortcut keys, one can make a shortcut key of their own which they can use whenever required as per their wish.
Alt + F4 or Win + X are the two most commonly used shortcut keyboard keys for quick shutdown.
---
What Are The Different Methods of Shutting Down a PC?
There are a few different ways that you can turn down your PC. One way is to simply turn off the power button on the back of the computer. This will cause an immediate shutdown of the system. Another way is to use the shutdown command in the Windows operating system. This will adequately close all programs and files before shutting down the computer.
You can also put the computer into sleep mode, allowing it to resume quickly when turned back on. Another method is to use the power button on the front of the computer. Finally, you can unplug the power cord from the back of the computer.
But what if you are in a hurry or in a situation where you just have to quickly turn off and shut down the whole system in just a moment? That's where Keyboard shortcuts come into play. And this guide is for these keyboard shortcut keys. Also, make sure to check our guide on how to unlock the keyboard on HP Laptop.
Different Short Keys For Shutting Down A PC
One can turn off the PC using the keyboard, but to do that, you can choose from the given options, or you may say methods. All of those will perform the job admirably.
Alt + F4
The most commonly and widely used short key to shut down pc with the keyboard in a moment is by pressing ALT + F4. If you have some window already opened, it does that as if you have pressed or clicked the cross Sign (X). It will first terminate the window, and then after all your windows are closed, it will show you a window like this:
By clicking ALT + F4, you will get this dialog box, and now you know what to do, right? Simply pressing ENTER will cause your computer to shut off.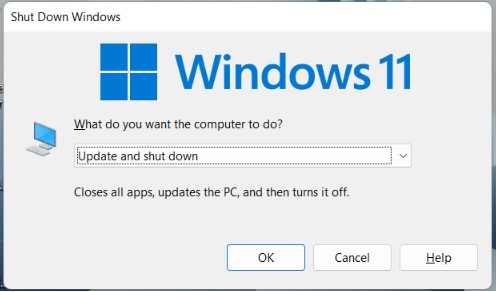 Additionally, before pressing ENTER, you can change your options from Shutting down to Sleep mode or Restart. By selecting the down-headed arrow, you can pick one of these alternatives.
Win + X
Win + X is another shortcut keyboard key for shutting down a PC in no more than just 10 seconds. What this shortcut does is basically push forward a Power User Menu which consists of many options. At the bottom, you will get to see an option "Shut Down or Sign Out." By clicking that option, you can shut down your PC. To have things done more precisely, follow the methods outlined below.
Press and hold the Windows (Win) and the X key on your keyboard.

Press U to expand the Shutdown or sign-out section.

To shut off the PC/Laptop, press U once again.
Ctrl + Alt + Del
Another short keyboard formula to turn off a PC easily is none other than Ctrl + Alt+ Del. This method is just the quickest no matter how many windows or tabs you have been already working on; this key overrides everything and gives you a screen in which you will have options like Shut Down, Sleep or Restart. And by choosing Shutdown, you are all done. Simple and easy, but if you need to see the steps in bullet points, then here you go.
At that exact moment, click and press the control (Ctrl), alternate (Alt), and delete (Del) keys on your keyboard.

After pressing the button, a new menu or window will appear.

You should now see a menu with several options, including Shut down.

Using the arrow keys, choose the choice and press enter.

Click on the "Shutdown and Sign out option" to proceed
The Command Prompt Method
There is still a way to go about how to shut down a PC with the keyboard. When shutting down your computer, the Command Prompt tool might be helpful. Here's how to put it to use.
To launch the Run dialogue box, use "Win + R."

Press on Win + R
In the Run box, type "cmd," then press "Enter."

Type "cmd"

Enter "shutdown/s" in the Command Prompt window that opens and press "Enter."


Type "shutdown/s" in the command prompt, as shown in the picture.
This is it; your PC will shut down now.
The Run Method
To switch off your device, utilize the Windows Run dialogue box. To utilize it, follow the instructions below.
To launch the Run dialogue box, use "Win + R."

Press Win+ X.
In the Run box, type "

Shutdown –s

"

then press "Enter."

Type "Shutdown-s" and then press "okay"
An alert will appear informing you that your computer is about to shut down.
Shutdown Mac From Keyboard
All these previously discussed methods in this guide on how to shut down a PC with a keyboard were applicable to Windows users. Now, if you are a Mac user, do not worry; there is a keyboard shortcut key for you guys.
Following key combinations will make your mac go to shut down quickly.
Command + Option + Control + Power Button
This key will help you in shutting down your MAC with the keyboard.
What Is Meant By Keyboard Shortcut Keys?
Keyboard shortcut keys are a set of keys that are assigned to perform specific tasks. Usually, they consist of pressing two or more keys at once. Keyboard shortcut keys can be used to quickly perform tasks that would otherwise require using a mouse or other pointing device.
Some keyboard shortcut keys are standard and the same on all computers. For example, the shortcut key to open a new document is typically Control+N. Some keyboard shortcut keys are specific to a particular operating system or application. Keyboard shortcut keys can be very useful for increasing productivity and efficiency.
However, it is crucial to recognize that they are not always the best choice for every task. When doing a job, it is sometimes preferable to utilize a mouse or other pointing device.
Hence it is always a better option to shut down pc in its conventional method, but if you cannot do it because of some issues, this guide tells you to use Keyboard Shortcut Keys to shut down the PC. Before proceeding further, you might be interested in learning how to change your keyboard's color.
What Happens To The PC If We Do Not Shut It Down?
Various things can happen if you don't shut down your PC for a long time. The most obvious is that your PC will continue to run and use up electricity. Additionally, your PC will generate heat, potentially damaging components if left unchecked. If you have any programs running, they will continue to do so and may cause unexpected behavior or errors.
Over time, dust can build up inside your PC, which can lead to overheating or other issues. In short, it's not a good idea to leave your PC on for extended periods of time without shutting it down. All of these things can lead to a shortened lifespan for the PC. Therefore, it is always best to shut down the PC when it is not in use to avoid these issues.
Conclusion
We hope you enjoyed our post about how to shut down a PC with a keyboard. Nowadays, a keyboard is a very valuable tool, with many shortcut keys which can make us do hectic tasks at our fingertips. Not everyone wants to walk across the room to turn off their PC, especially if they're just doing a quick task and won't be working on it for much longer.
---
Related Guides:
Was our article helpful? 👨‍💻
Thank you! Please share your positive feedback. 🔋
How could we improve this post? Please Help us. 😔