Macs are famous for being powerful and reliable, but they must catch up to Windows in the gaming world. Well, you got a Mac and want Windows games? Now that technology advances, playing Windows games on a Mac is possible through some potential methods.
Key Takeaways
Mac needs to catch up in gaming compared to Windows, but playing Windows games on Mac is possible thanks to the advancing technology.
Always check if the Windows game already has a Mac version before diving into the technical methods because some developers provide both versions.
Boot Camp, Wine, Emulators, and GeForce Now are ways to make your Mac play Windows games.
Do Windows Games Run On A Mac?
Although it's more complex than downloading and playing your favorite game on Mac, it requires effort to run Windows games. If your Mac can run Boot Camp, it is the best method for playing Windows games.
When you turn on your Mac, you can switch from macOS to Windows and play any game without compromising performance. However, there are some alternative methods if your Mac has supporting issues or you want to avoid installing Windows on your Mac.
Check For The Mac Version Of The Game
First and foremost, check for the Mac version of the game while looking for ways to play Windows games on Mac. To your knowledge, some games are compatible with Windows and Mac.
Prince of Persia (2008) is a famous game with Windows and Mac versions. Several games are compatible with Mac, such as Call of Duty Black Ops III and Shadow of the Tomb Raider.
You can check if a game is available for Mac using the desktop apps for Good Old Games (GoG), Battle.net, Steam, and Epic Game Store. Just sort the games in your Library according to the operating system. Also, you can look for the Apple logo or open categories section to check for the macOS version availability of any game.
If you are looking for a game on any storefront, apply a filter to display titles having a Mac version. However, you should remember that 32-bit Mac games will no longer function if you are on macOS Catalina or later.
Ways To Play Windows Games On Mac
Following are the methods that can help you with playing the games.
Wine
It makes a compatibility layer for Mac and Linux systems to run Windows programs and allows you to play Windows-only games in macOS. Wine seems complicated to set up to play games, but some third-party tools can help.
WineBottler
Windows Games are very easy to download through WineBottler, which functions as Wine's platform and is free.
Here are the steps for the setup:
Download the app by going to WineBottler's official website.
Get a compatible version according to your Mac rather than the latest version if it isn't compatible.
To install it, go to the downloads, drag Wine and WineBottler drop it into the Applications folder.
Now open WineBottler.
Go to the Games section and click on Install at Steam.

Install Steam – Image Credits (Tech4Gamers)

Now register an account with Steam or sign in if you are already registered.

Sign Up To Steam – Image Credits (Tech4Gamers)

Find your favorite games and download them. You don't need to pay for some games because Steam provides many top-notch games for free.
When the games complete installation, go to your Library and click Play.

Click Play – Image Credits (Tech4Gamers)
The games are limited because only Wine-compatible Windows games can be played by WineBottler.
Also Check: Mac: Your Computer Is Low On Memory
Porting Kit
Opt for a Porting Kit; it does a lot of work for you. Go to their official site and download the setup; once the setup is finished and a screen appears having Porting Kit folder and Applications folder, drag and drop the Porting Kit in Applications. Now open the software, and you will see many games in the Library, choose one and download it to play.
Or look up a game using Porting Kit's website, such as the Among Us. You will see an Install Now button.
The Porting Kit comes with tutorials to assist you. When you get a game started for the first time using it, then that game will be easily accessible every time as it will show up in your Applications folder like all the other Mac applications.
While Porting Kit is the simplest and latest tool for installing games with Wine, similar functions are available on PlayOnMac and CrossOver. You can also check for specific ways to play a game on Mac if you cannot find that one in the Library!
CrossOver
CrossOver is yet another software that makes use of Wine. It is a paid tool for $40 but has a more practical approach than a WineBottler because of its smooth UI.
However, some of the games ate not supported by it, so first check the list of games to see if they have all the ones you need. You can get a trial version which is limited to 4 days. CrossOver and Parallels are the two programs that allow Windows games to run on the latest M1 processor Macs.
Here's how to play games on Mac using CrossOver:
Go to the CrossOver website, download the setup, and install the software.

CrossOver Website – Image Credits (Tech4Gamers)

Launch CrossOver now, then select Install a Windows Application.
In the search field, type the software name you wish to download, such as Steam.

Search Field – Image Credits (Tech4Gamers)

Click Install and follow the on-screen instructions.
When Steam or whatever software you have installed finishes the setup, could you open it and find the games? All the Windows games will be available in it.
Now find your favorite games, download them, and play through the Library.
Also Read: How To Perform Disk Check? [Mac, Windows & Linux]
Boot Camp
It is a well-known method for setting up Windows on a Mac. You can boot Windows or macOS here; all the resources will work only for games. Unlike a virtual machine, the only drawback is that real-time switching to Mac will not be available.
You can set up the Boot Camp with the use of the following instructions:
First, you need to download Windows 10 installation media tool from Microsoft's official site; you will also need license for installation.

Windows10 Tool – Image Credits (Tech4Gamers)

Navigate to Spotlight and open Boot Camp Assistant. Click Continue, as it will help you install Windows 10.

Boot Camp Assistant – Image Credits (Tech4Gamers)

Be attentive that some video games take up much space when choosing the Windows partition's size. The partition size cannot be changed afterward. Hit Install when you are done choosing everything as per requirement.
Now configure Windows 10.
Select language preference and click Next on the main window.
First, you need to click on I don't have a product key then go for Windows 10 Home edition.
Once installation is complete, the Mac will restart and start Windows.
Driver installation is the last step. Boot Camp must be already open on your Mac. To update the drivers on your Mac, you must perform this installation. However, if Boot Camp doesn't open automatically, go to PC and then OSXRESERVED to open it.
GeForce Now
Use GeForce Now to play the latest PC games on a Mac. It is a cloud-based streaming service that runs on Nvidia's servers and will let you play the games on Mac even if your hardware isn't that powerful.
However, you only have to ensure high and consistent internet speed. Also, you can easily play even heavy multiplayer games, like Fortnite, thanks to the long beta's majority of flaws being ironed out.
GeForce Now has a large collection of games from Battle.net, Steam, and Uplay, and you can play a game on the go cause of their cached versions. GeForce Now is free, but waiting is required in the queue, and you can only play for one hour. For $10, you can continue playing with a Priority Membership.
Open the NVIDIA official website in your browser.
Before downloading GeForce Now, register for a free account or log in using Gmail or Facebook.

NVIDIA Register Account – Image Credits (Tech4Gamers)

Install the setup on your Mac after downloading it.

Download NVIDIA Mac – Image Credits (Tech4Gamers)

After installation, click the login button to redirect you to a browser page. To finish, click on the NVIDIA logo in the screen's center.
You will have many games to play through GeForce Now, but you must sign in to Steam or another gaming service for paid games. Also, remember that you can only access GeForce Now if you live in Europe or the US.
Also Read: Nvidia Control Panel Crashing
Through Virtual Machines
Due to virtual machines' higher resource requirements, this approach might not be effective for some users to run Windows games on a Mac. The benefit is that, if necessary, you can switch to Windows OS without restarting your Mac.
Two free and high-end virtual machines are VMWare Fusion and Parallels.
Parallels
Parallels are efficient, quick, and compatible with Apple's newest silicon M1 Macs. Despite being paid, you can use it for nothing for 2-weeks as a trial period.
Register an account on Parallels website.

Parallels Signup – Image Credits (Tech4Gamers)

Download the setup and jump to Parallels Desktop from Dashboard for Mac Technical Preview page.

Parallels Desktop for Mac – Image Credits (Tech4Gamers)

You will get the latest version of Parallels after scrolling down and clicking on the Install and Activate section. There's also an activation key that will be required later.
Now you need to download Windows. Remember, the ARM-ed version should be chosen for an M1 processor Mac. It is necessary for building virtual machines and is not optional.
Now, go for the registration as Windows Insider. It is a must and costs nothing.
Start installing Parallels Windows. After downloading, return to the Installation Assistant and hit Continue for a virtual machine setup.
After detecting Windows 10 automatically by Parallels, click Create.
To continue configuring Windows 10 with Parallels, enter the activation key by copying it from the webpage, then paste it in the appropriate field, and click Activate.

Parallels Activation Key – Image Credits (Tech4Gamers)

You will be getting to use it in a short while.
Go to Microsoft Edge to look for Steam. Install it and sign up if you still need to register.
Also Check: How To Play Roblox On A School Computer
VMware Fusion
Fusion has greater functionality, and VMware offers superior support compared to the competition. Ensure you are prompt; this setup will take up to one hour to complete.
Install VMware Fusion after downloading it. Enter the license code if you have a paid copy of VMware Fusion; otherwise, continue the installation, as you can buy it later and enter the license code anytime.
To run the VMware Fusion software, double-click the icon by navigating to the Applications folder.

VMware Fusion Software – Image Credits (Tech4Gamers)

Jump to New Virtual Machine Assistant and click New.
Click Continue on the new window that appears to start the process.

Continue For Process – Image Credits (Tech4Gamers)

Select the Windows OS as per your requirement or liking.

Select Windows OS – Image Credits (Tech4Gamers)

Type your virtual machine's name and choose a folder to store it.

Virtual Machine Name – Image Credits (Tech4Gamers)

Now configure the Windows hard drive and remember that this folder is in your Mac, and storage space will not be available. Even if you delete any application from Windows, the virtual machine file size will not be reduced.

Configure Windows – Image Credits (Tech4Gamers)

Opt for the Window Easy Install feature from VMWare Fusion. You only need to type your name, password, and Windows Product Key, and it will do the rest.
You can go for the option to Make your hard drive accessible to the virtual machine, but it's a bit risky because if you give read-and-write permissions and face a virus attack, it will mess with your Mac. Think before you do!
Open your Mac's disc drive and insert the installation CD.
Now, to start the installation, click Finish.

Start Installation – Image Credits (Tech4Gamers)

If everything is going fine, your virtual machine will start installing Windows through the CD, and you will see so many flies flying on a blue screen which is perfectly normal.
When some critical files are installed, the machine will restart and install some other necessary files, which will take some time.
After the setup finishes the installation, you will see the Windows screen, and then Windows will take a while to configure.

Configure Files – Image Credits (Tech4Gamers)

Now, VMWare has started installing some very important tools for Windows to work within your Mac and VMWare. Do not interrupt or stop the installation; otherwise, the VMWare setup will be messed up.
After the process ends, Windows will restart one last time, letting the virtual machine reboot, and you are ready to use Windows on your Mac and enjoy your favorite games!
Also Read: How To Play Roblox On Oculus Quest 2 Without PC
Through Emulators
Your favorite old games can be emulated on a Mac if you search for those that lighten up your childhood gaming experiences. Several vintage gaming console emulators are available, but macOS users get it easily with OpenEmu, which keeps all the games in one location. You're ready to go once you install the program and choose the systems for emulation.
To add a game to your Library, drag it into OpenEmu's main window after obtaining the necessary ROM files from the top and trustworthy site. If you're looking for new and free games for the old systems, click the Homebrew category.
The DOS programs from yesteryear can also be emulated with DOSBox, but OpenEmu works around old gaming consoles. DOSBox is not a plug-and-play like OpenEmu; it requires you to enter some commands in the command line as we did in the old days of DOS. However, not all games require any of this and can run.
Look for the particular game file and download it.
Once you have them in a default folder, make a folder in Documents by DOSgames.
Open DOSBox and use the command mount c ~/Documents/DOSgames to transform the folder in the emulated C: drive.
You can launch and play the game by typing the path in the EXE file.
It would help if you looked for a DOSBox compatibility list or searched for your preferred games to know the necessary modifications because some games might need more tweaking to make them run.
Unofficial Ports
Sometimes fan-made ports are available to make a game playable on Mac if the developer still needs to provide an official version.
You must be aware of a famous game, Diablo, that you can play through DevilutionX on a Mac if it is 64-bit. Mac Source Ports is another great website. The unofficial ports created for games whose source code has been made available to the public are collected on this website as source ports.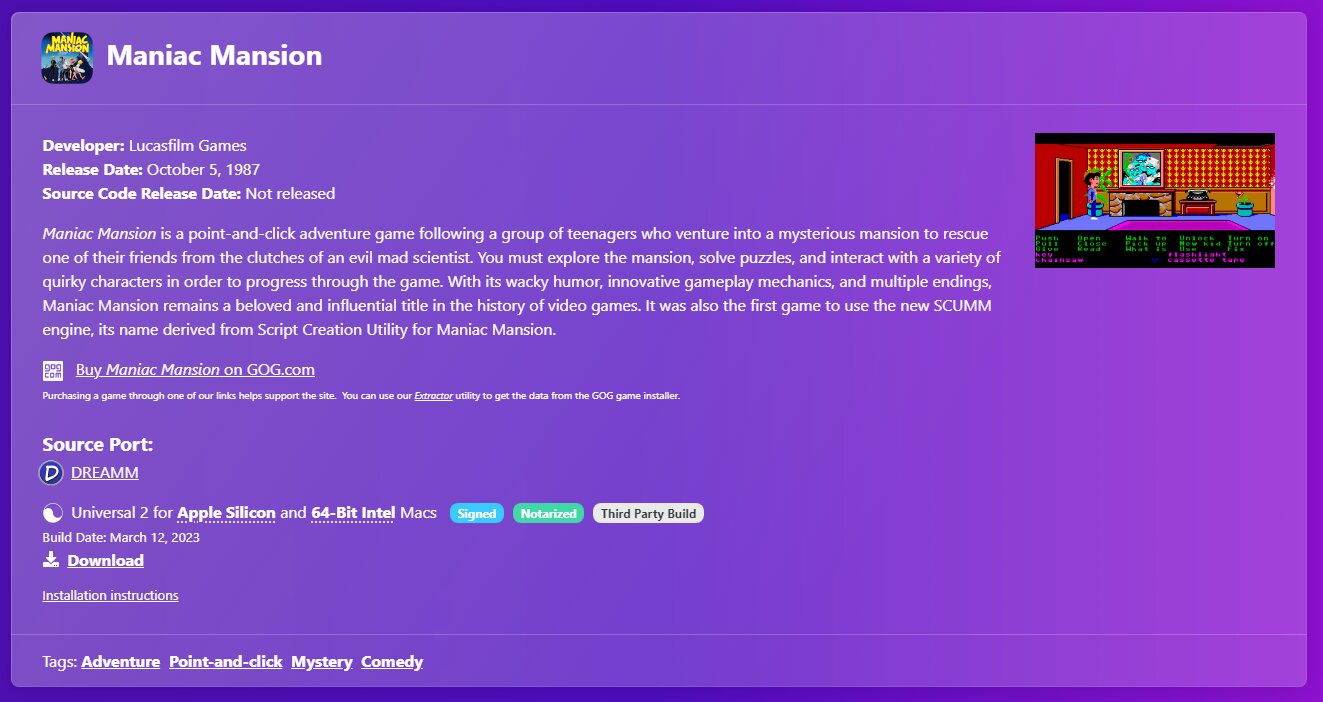 It will require you to purchase the original game, and after conversion using the provided methods, you'll have a game that functions flawlessly on macOS.
Wrapping Up
There are several ways to play Windows games on a Mac, but the solution you choose from the ones listed on this page will depend on the hardware setup of your Mac and the expense of making it work. Playing Windows games on a Mac will only sometimes be as enjoyable as playing the Mac versions of the same titles.
Are you facing low memory? We have a solution if you need help performing the methods above due to storage errors.
Common Questions Answered
Can Windows games run on Mac?
Some potential methods can help you play Windows games on your Mac, such as virtual machines, Parallels and VMWare, Boot Camp, NVIDIA GeForce Now, and through unofficial ports.
Do all Windows games run on Mac?
Some games not compatible with Mac can only run using Wine, designed to run Windows programs on Mac and Linux systems through a compatibility layer. For games, it isn't easy to set up, but things get easier by using a third-party tool.
Are Macs good for gaming?
Although Macs can play games in general, Apple has not made gaming one of the main focuses nor designed any Macs for gamers. Therefore, gamers never preferred using even the latest Macs for gaming.
Was our article helpful? 👨‍💻
Thank you! Please share your positive feedback. 🔋
How could we improve this post? Please Help us. 😔