This guide talks about how to update Xbox in every way possible to eliminate Xbox errors, glitches, or temporary bugs. Besides, timely updating the console gives you access to the latest features and enhances compatibility.
Key Takeaways
You can update your Xbox console in two ways; online and offline.
Use an empty USB formatted as NTFS to avoid losing data.
For online updates, we recommend choosing a wired internet connection over WiFi so the installation can occur without hindrances.
How To Update Xbox?
Updating Xbox consoles is a tried and tested method to troubleshoot the persisting system and in-game errors that may affect your gaming experience. Meanwhile, also check out our guide on updating PlayStation.
Xbox 360
There are two ways to update your Xbox 360. We prefer the online method since it is quicker and more convenient. On the other hand, you can also resort to offline updates if there are network issues.
Online Update
Run an online update using these steps:
Hold your Xbox controller and press the "Guide" button.
Head to the "Settings" tab and then select "System."

Xbox Settings (Image By Tech4Gamers)

Go to "Network Settings" in the dialog box.

Network Settings (Image By Tech4Gamers)

NOTE: We prefer connecting to the internet via a wired connection using an "Ethernet Cable" for smoother updates.

Choose "Wired Network."

Wired Network (Image By Tech4Gamers)

Now, "Test Xbox Live Connection."

Test Connection (Image By Tech4Gamers)

Hit "Yes."

Yes (Image By Tech4Gamers)

Let the scanning complete, and then choose "Yes."
The console will start "Downloading Updates From Xbox Live."

Downloading From Xbox Live (Image By Tech4Gamers)

The "Downloading" of updates should begin now.

Downloading Updates (Image By Tech4Gamers)
Also Read: How To Turn Off Xbox Controller On PC? [Answered]
Tip: Keeping your console up-to-date makes thing run smoothly.
Offline Update
Get an empty USB with at least 6GB space to carry on a hassle-free installation of system updates. You might lose any data you may previously have on the USB.
Format USB
This is how you can format a USB to NTFS:
Attach a USB to your computer.
Click on "This PC" on the "Desktop" screen.

This PC (Image By Tech4Gamers)

Once detected, right-click on the USB folder.
Select "Format" from the mini-menu.

Format Option (Image By Tech4Gamers)

In the "File System" box, set "NTFS." Similarly, keep "Allocation Unit Size" as "4096 Bytes."
Hit the "Start" button.

Format USB (Image By Tech4Gamers)

Choose "OK" to initiate formatting the USB.

OK (Image By Tech4Gamers)
Install OU1 File
The steps to download OSU1 are mentioned below:
Go to the "Xbox Support" website.
Expand "Step 1: Downlaod The Offline System Update File" section and then download the "OSU1 File" mentioned in the steps.

Download OSU1 File (Image By Tech4Gamers)

Then, extract the ZIP file once installed.
Copy the extracted folder into the USB.

Copy File (Image By Tech4Gamers)

Plug out the USB and connect it to your Xbox console.
Update The System Software
Finally, install the offline updates with these instructions:
Completely turn off your Xbox.
Altogether, hold the "Bind+Eject" buttons. Keep holding them and then press the "Power" button.
Do not release the two buttons until you hear two beep sounds from the console.
The "Troubleshoot" menu will appear on the screen.
If you have correctly connected the USB to the Xbox, you will see an "Offline System Update" option in this menu. Click on it.

Offline System Update (Image By Tech4Gamers)

Let the console get ready for the update.

Preparing Console (Image By Tech4Gamers)

It will then proceed to the "Updating" screen. Ensure not to turn off the console or press any buttons until the process completes.

Updating Console (Image By Tech4Gamers)
Xbox One/ Xbox Series X/ Xbox Series S
Because all these models have a similar interface, you can use the same steps to run a software update.
Online Update
Updating your Xbox consoles online becomes easier with these instructions:
Come to the "Xbox Homescreen."
Hit the "Guide" button on the controller.
You will see a side menu appear from the left of the screen.
Navigate to the "Profile And System" symbol and launch the "Settings" menu.

Side Menu (Image By Tech4Gamers)

On the left pane, scroll to "System."
Then, select "Updates And Downloads" or "Updates."

Updates And Downloads (Image By Tech4Gamers)

Choose "Update Console."

Update Console (Image By Tech4Gamers)

Press "Start Update" to begin installing the newer software updates.

Start Update (Image By Tech4Gamers)
Offline Update
Format the USB as prescribed in the section above and install the "OSU1 File" using the same steps.
WARNING: Make sure not to turn off your console while it's updating, as this can end up damaging the system files.
How To Update Original Xbox One?
It might be a bit complicated to update Original Xbox One compared to the other models discussed in this guide. However, we have simplified the process for you in this section.
Verify The Current OS Version
On the "Console Settings" page, choose "Console Info" in the "System" tab.

Console Info (Image By Tech4Gamers)

Note the "OS Version" and write it down somewhere.
Match The OS Build
In case the current build on your Xbox matches with any of the following, download the OSU1 File and perform an update once.
6.2.11791.0 (xb_rel_1411.141114-2300) fre

6.2.12521.0 (xb_rel_1503.150305-1449) fre

6.2.12998.0 (xb_rel_1506.150601-2200) fre

6.2.13326.0 (xb_rel_1508.150810-2029) fre

6.2.13332.0 (xb_rel_1508.150903-2141) fre

10.0.10586.1006 (th2_xbox_rel_1510.151107-2322) fre

10.0.10586.1016 (th2_xbox_rel_1510.151118-2147) fre

10.0.10586.1024 (th2_xbox_rel_1510.151203-1909) fre

10.0.10586.1026 (th2_xbox_rel_1510.151217-1035) fre

10.0.10586.1100 (th2_xbox_rel_1602.160210-2122) fre

10.0.10586.1194 (th2_xbox_rel_1603.160317-1900) fre
For the build, 6.2.9781.0, update Xbxo with the OSU2 File. In addition, download the OSU3 File and perform software updates using it if the OS Version does not match any of the abovementioned ones.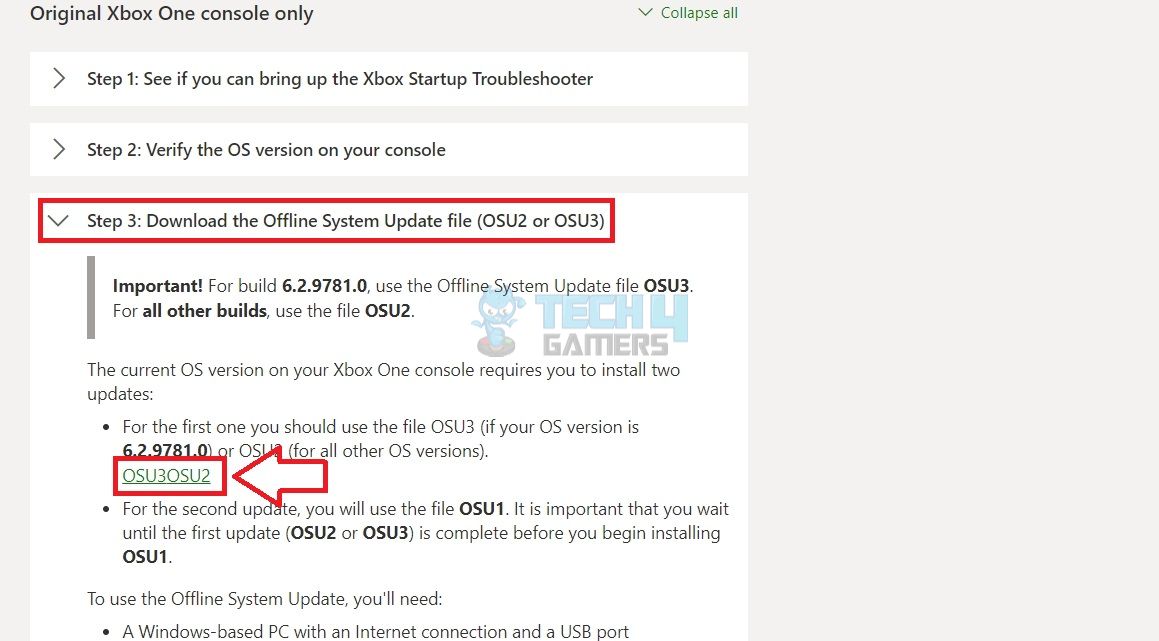 Also Read: How To Reset Network Settings In PlayStation?
Offline Update
The number of updates the console requires depends on which OSU file you have downloaded:
Download OSU3 on the computer and transfer it to the USB.
Connect this USB to the console and run an "Offline Update."
Next, remove the USB from the Xbox once the update is finished.
Again, connect the USB to the computer and delete the existing OSU3.
Download OSU2 and update the console using the same process.
Repeat this for OSU1 to perform the third and final update.
Also Read: How To Clear Cache On Xbox?
When Should You Update Your Xbox?
Certain occasions call for an Xbox update, for instance;
Glitches or bugs in the system.
Occurrence of Xbox or profile errors.
Problems with the appearance of Xbox themes or your profile avatars.
Issues with game performance or slower loading times.
Unable to detect Xbox controller or other external devices.
Screen freezes, system crashes, or lags.
What Are The Benefits Of Updating Xbox?
Several benefits come with updating your Xbox console, such as it;
Improves performance and speed.
Better in-game performance and loading times.
Eliminates persisting errors or glitches.
Enhances console's compatibility with newer games and apps.
Brings a ton of new features, themes, and more.
Allows you to access the latest Xbox services.
Improves the overall security of your device.
Better graphics and multiplayer experiences.
Does Updating Xbox Resolve Errors?
We have noticed that our Xbox console exhibits unusual performance whenever it has newer updates available we are yet to install. Such errors go away as soon as we perform the software update. This happens since running these updates clears the faulty cache and other temporary data to remove glitches and errors.
Frequently Asked Questions
How Do I Update Xbox?
You can update your Xbox console online using the internet or offline via the OSU file and a USB.
How Do I Know If My Xbox Software Is Up-To-Date?
In the "Settings," open the "System" tab. Then, go to "Updates And Downlods" and notice the "Console Update Status."
Can I Use My Xbox While It Updates?
You should not press any buttons or turn off the system when it is updating since doing so may interrupt the installation.
Was our article helpful? 👨‍💻
Thank you! Please share your positive feedback. 🔋
How could we improve this post? Please Help us. 😔