Controlling case fan speed is essential for maintaining optimal cooling and noise levels in your computer. Adjusting fan speeds can help you strike the right balance between efficient cooling and a quiet system. Therefore, it is important to learn about how to control case fan speeds so you can start adjusting them accordingly.
Key Takeaways
Adjusting case fan speed is crucial for maintaining a balance between efficient cooling and a quieter computer environment.
You have various options for fan RPM control, including BIOS settings, fan controllers, and software tools like SpeedFan or MSI Afterburner, allowing you to choose the method that best suits your needs.
Continuously monitor your system's temperatures to ensure they remain within safe limits while adjusting fan speeds, optimizing performance, and preventing overheating.
Prerequisites
Here are some things you need to take care of before you begin the process of setting up your fan speed:
Ensure your computer is turned off and unplugged from the power source before making any hardware adjustments.

Depending on your chosen method, you might need fan control software, a fan controller, or a motherboard with PWM (Pulse Width Modulation) support.
WARNING: If your case fans are making noise even after you adjust their speeds, you might need to clean them.
Also Check: How To Clean PC Fans
How Can You Control Case Fan Speed?
In this section, we'll go over different methods to control case fan speed, which are mentioned below.
BIOS/UEFI Settings

Fan Control Software

Fan Speed Controller Hub

External Fan Speed Controller

Control Panel
BIOS/UEFI Settings
Many motherboards allow you to control case RPM directly through the BIOS/UEFI settings. Read our detailed guide for accessing BIOS in Windows 11.
Here's how:
Restart your computer and press the appropriate key (usually Del, F2, or F12) during startup to access the BIOS/UEFI settings.

Restart PC – (Image by Tech4Gamers)

Look for a section related to hardware monitoring or fan control. The exact location and options may vary depending on your motherboard manufacturer.

AMI BIOS/UEFI Interface – (Image by Tech4Gamers)

You can usually set fan speed control to either "PWM" or "Voltage." PWM offers more precise control. Set the desired fan speed for each fan header.


Changing fan speed – (Image by Tech4Gamers)

Save your changes and exit the BIOS/UEFI. Your fans should now operate at the desired speed.
Fan Control Software
Using fan control software can be an effective way to adjust your case fan speeds without the need for additional hardware.
Here's how to control fan speed with three popular software options:
Using SpeedFan
Visit the official SpeedFan website and download the latest version. Install the software on your computer.

SpeedFan download – (Image by Tech4Gamers)

Open SpeedFan after installation. The main interface displays various temperature readings and fan speeds. You can see your case fans listed with labels like Fan1, Fan2, and so on.
Check the "Automatic fan speed" box on the right and then click on "Configure"

Configure SpeedFan – (Image by Tech4Gamers)

Select the "Advanced" tab and choose the chip that lists the names of the fans you want to change the speed of.

Choosing the chip – (Image by Tech4Gamers)

Select the fan headers of your choice, set them to "Software Controlled" and check the "Remember it" box.

Set it to Software-controlled – (Image by Tech4Gamers)

Now, you can go back and change the PWM directly by adjusting the values.

Changing PWM – (Image by Tech4Gamers)

You can also adjust your fan speed by creating a profile for your case fan in Configure > Fan Control and manually adjusting the curves to your liking.

Adding a fan controller profile – (Image by Tech4Gamers)

Adjusting Fan Curves – (Image by Tech4Gamers)

Once you're satisfied, save your settings and minimize SpeedFan to run in the background.
Also Read: Case Fan Not Spinning
Using MSI Afterburner
MSI Afterburner is primarily designed for overclocking graphics cards but also allows fan speed control for case fans if your motherboard supports it.
Visit the MSI website or other reputable sources to download MSI Afterburner. Install the software on your computer.
Open MSI Afterburner. By default, it will display information about your graphics card.
Click on the "Settings" button in the bottom-right corner. In the settings window, select the "Fan" tab.

Settings – (Image by Tech4Gamers)

Check the box that says "Enable User Define Software Automatic Fan Control." This allows you to customize fan speed settings.

Changing fan speed with MSI Afterburner – (Image by Tech4Gamers)

You can now set a custom fan curve by clicking the "Curve" button. Drag the points on the graph to specify fan speeds at different temperatures. Click "OK" to apply the curve.
Click "Apply" in the settings window to save your fan speed adjustments.
Keep an eye on your system's temperatures while MSI Afterburner automatically adjusts fan speeds according to your custom curve.
Also Read: How To Fix CPU Fan Speed Error Detected? [6 Methods]
Using HWMonitor
HWMonitor is primarily a monitoring tool, but some motherboards may allow limited fan control through it.
Download HWMonitor from a reputable source and install it on your computer.
Open HWMonitor. It will display various temperature and voltage readings for your hardware components.
Look for the "Fans" section in HWMonitor. It should display the current fan speeds of your system.
HWMonitor may provide basic fan control options, such as setting a fixed fan speed. However, not all motherboards and systems will support this feature.
If your motherboard supports fan control through HWMonitor, you can typically set a fixed fan speed by selecting the desired fan and entering a value or percentage.
Fan Speed Controller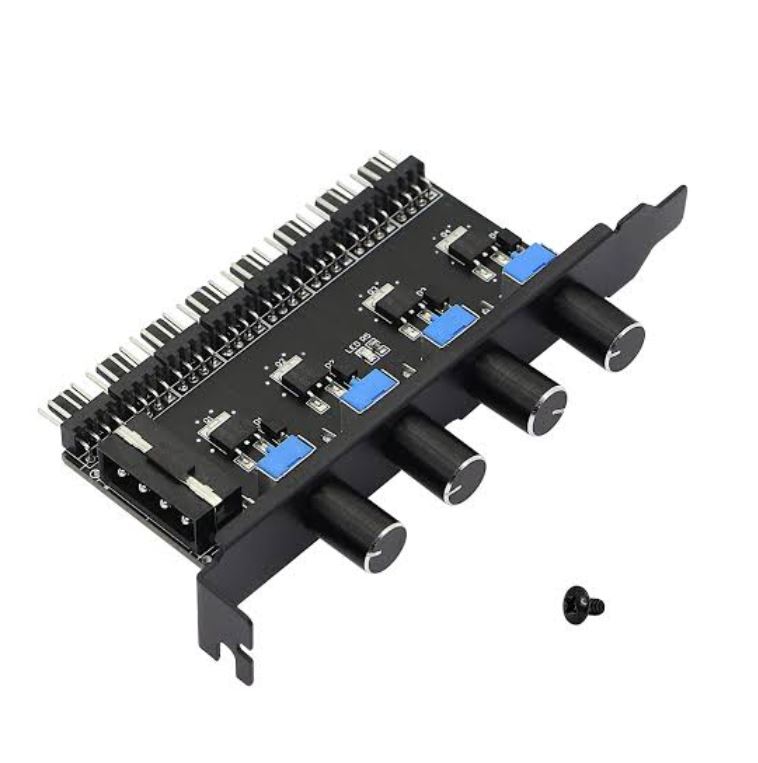 A fan speed controller hub is a device that allows you to control multiple fans at once, often with a remote control. Also, read our guide on how to fix case fan not spinning, but light works.
Here's how to use one:
Purchase a fan speed controller hub suitable for your needs, ensuring it can accommodate the number and type of fans you have.

Follow the manufacturer's instructions to install the fan speed controller hub. Typically, you'll connect your fans to the hub, which is then connected to the power supply.

Many controller hubs come with a remote control that allows you to adjust fan speeds easily. Use the remote to increase or decrease fan speeds as desired.

Regularly check your system's temperatures to ensure they remain within safe ranges while adjusting fan speeds.
Control Panel
While you cannot directly control fan speed via the Control Panel, you can adjust power settings that may indirectly affect how your fans operate.
This method focuses on configuring the power plan settings:
Press Win + X and select "Control Panel" from the menu that appears. Alternatively, you can search for "Control Panel" in the Windows search bar.

Control Panel – (Image By Tech4Gamers)

In the Control Panel, select "Power Options."

Power Options – (Image by Tech4Gamers)

Click on "Change advanced power settings" to access more granular settings.

Change advanced power settings – (Image by Tech4Gamers)

Expand the "Processor power management" section and adjust the "System cooling policy." You may have two options: "Active" and "Passive." Active cooling will make the fans run at higher speeds to cool the system more aggressively, while passive cooling may allow the system to run quieter by using lower fan speeds when possible.

Change system cooling policy settings

After making your adjustments, click "Apply" and then "OK" to save the changes.
Also Read: How To Fix Graphics Card Fans Not Spinning
Frequently Asked Questions
Can I control my CPU fan speed?
Yes, you can control your CPU fan speed through BIOS settings, fan control software, or motherboard-specific utilities.
What fan speed is best for cooling?
The best fan speed for cooling depends on your hardware and system requirements, but it's generally a balance between cooling performance and noise levels. Custom fan curves can help achieve optimal results.
Does fan speed affect FPS?
Fan speed can indirectly affect FPS in gaming by maintaining lower temperatures, preventing thermal throttling, and ensuring stable performance, but the impact is usually minimal compared to other factors like CPU and GPU performance.
Was our article helpful? 👨‍💻
Thank you! Please share your positive feedback. 🔋
How could we improve this post? Please Help us. 😔