Best White DDR5 RAM?
Review Summary
CORSIAR VENGEANCE RGB 2x16GB DDR5 kit 6000MT/s CAS36 offers good and stable performance out of the box. This kit offers brilliant digitally controllable RGB lighting with even diffusion and vivid colors. iCUE support gives this kit a competitive advantage as well. Another key advantage is the creation of customized XMP profiles. This kit is suitable for a white-themed build and comes recommended by us.
Value -

8/10

Performance -

9/10

Quality -

9/10

Features -

9.5/10
Pros
High-Speed Kit
Integrated Temperature Sensor
Intel XMP 3.0
Custom Extreme Memory Profiles Creations
Aluminum Heat Spreader
Better Build Quality
Limited Life Time Warranty
Stable XMP Profile
Overclocking
Unlocked PMIC
iCUE Support
Cons
White color hides the design pattern
The price could be better
What is the first brand name that comes to mind when considering a RAM, PC Case, or Peripherals? My answer is CORSAIR, and given my history as an avid CORSAIR user. CORSAIR does not need any introduction as they are well established not only in the market but in the minds of the customers.
Founded in 1994, CORSAIR quickly established a reputation as a high-performance memory manufacturer. There was no stopping this brand from further adventure as they ventured into peripherals, PSUs, PC Cases, Monitors, storage drives, accessories, etc. You name it.
CORSAIR has an extensive products range in their Eco System, and all of this is bound by iCUE when it comes to the brilliance of Lighting. Unlike one ring to bind them all; one call to rule them all from Lord of the Rings, iCUE syncs them all.
Oh, and did I forget about PC Cooling and collaboration with other brands to offer liquid cooler graphics cards? CORSAIR is a premium brand, and one thing I love about them is the excellent customer support service. Now, don't think I am praising needless or that I may be biased. I am saying this based on my personal experience, and trust me, this is our first official product from CORSAIR for review.
CORSAIR has sent us a VENGEANCE RGB DDR5 kit in white color. This particular kit has a part number CMH32GX5M2D6000C36W. This is a 2x16GB kit having a frequency or speed of 6000MT/s at CAS36.
This kit has a timing of 36-36-36-76 using 1.35V voltage. VENGEANCE is a mainstream DRAM solution from CORSAIR aimed at regular gamers, users offering performance kits having hand-picked and tightly screened chips with a nice blend of RGB lighting.
These kits are also available in non-RGB versions. If you are looking for an enthusiast-grade DRAM from CORSAIR, being a content creator, professional, or heavy user, then aim at their premium high-performance DOMINATOR PLATINUM kits.
While the users were enjoying DDR4 memory modules in 2 to 3 years, particularly when higher frequency kits started entering the mainstream, we saw a bunch of DDR5 platforms.
This is what it is, as I remember a switch from DDR2 to DDR3 and then DDR3 to DDR4 almost in the same fashion, albeit this time, things moving forward quickly.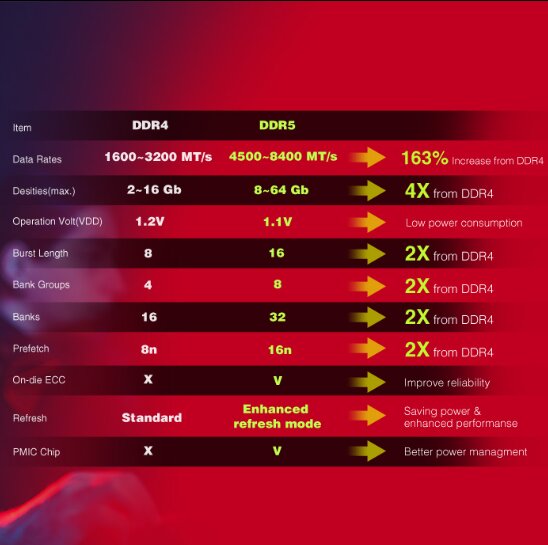 The above table shows the salient differences between the DDR4 and DDR5 modules. Some of the keynotes include 1.1V as compared to 1.2V [JEDEC stock voltage], higher densities, more banks & bank groups, provision of on-die ECC on DDR5, and PMIC on DDR5 modules.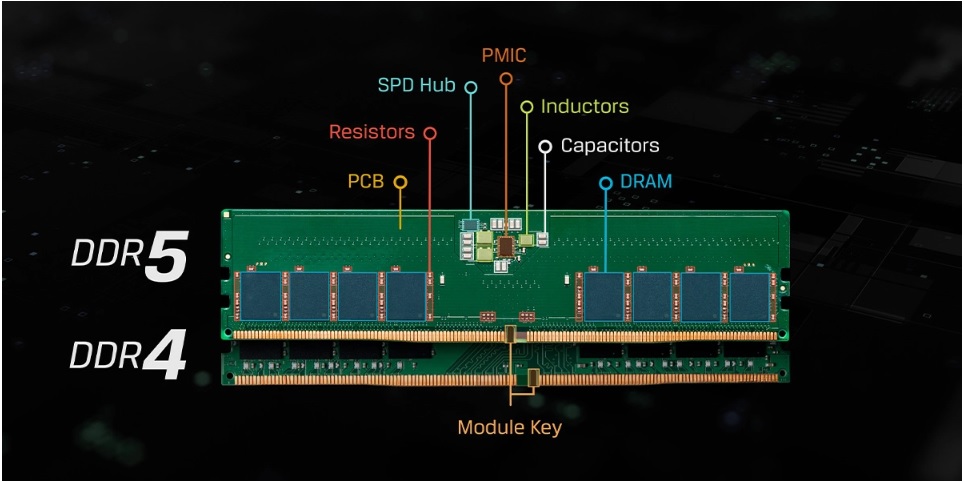 Among the key differences between the DDR4 and DDR5, the position of the key notch is different on both, which would mean DDR5 RAM can't be installed on the DDR4 socket. This is despite having the same pin count.
The DDR5 modules contain Power Management IC circuitry on the PCB, which was not the case with the DDR4. The PMIC enhances power supply stability. Its lower operating voltage also makes DDR5 more power-efficient than DDR4. Also, DDR5 integrates I/O resistors with CMD/ADD resistors giving a cleaner look.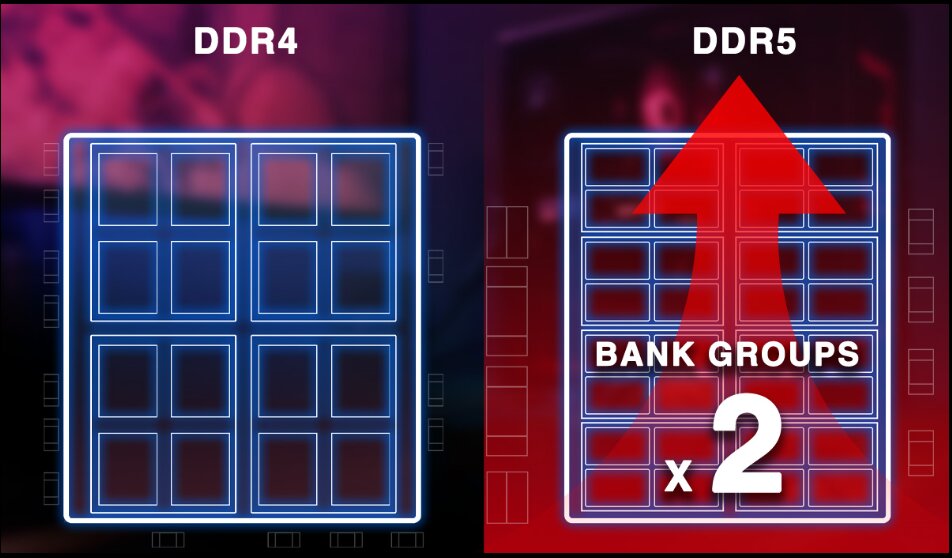 DDR5 module provides two times more capacity than DDR4 by packing in more banks and bank groups. In addition, Burst Length and Prefetch are also doubled. ECC technology is also featured for data integrity.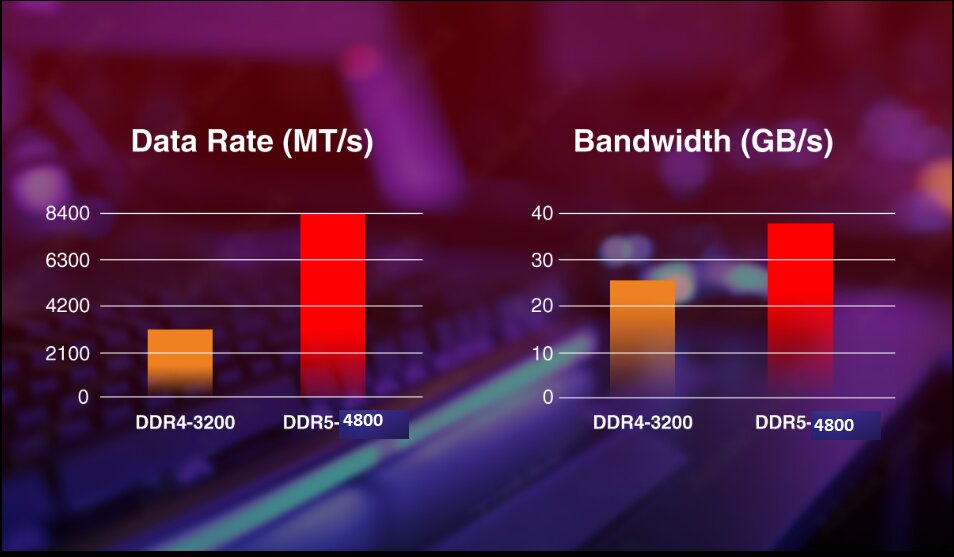 The DDR5 kits boast higher bandwidth and frequency when compared with the DDR kits. According to ADATA, their DDR5 memory modules deliver frequencies of up to 4800MT/s and feature bandwidth of 38.4GB/s, which is 50% higher than the DDR4-3200. The maximum frequency is increased by 1.63 times compared to DDR4.
Specifications
| Product | CORSAIR Vengeance RGB DDR5 |
| --- | --- |
| Speed | 6000MT/s |
| Latency | CL36 |
| Voltage | 1.35V |
| Memory Size | 32GB (2x 16GB) |
| Testeed Latency | 36-36-36-76 |
Packing Box
Yellow is a CORSAIR brand theme color. This kit is shipped in a paperboard box. This packing box has a yellow color finish. CORSAIR made that switch quite some time ago. This kit is tested for 6000MT/s CAS36. This is a performance RGB DDR5 kit. It is Intel XMP-ready.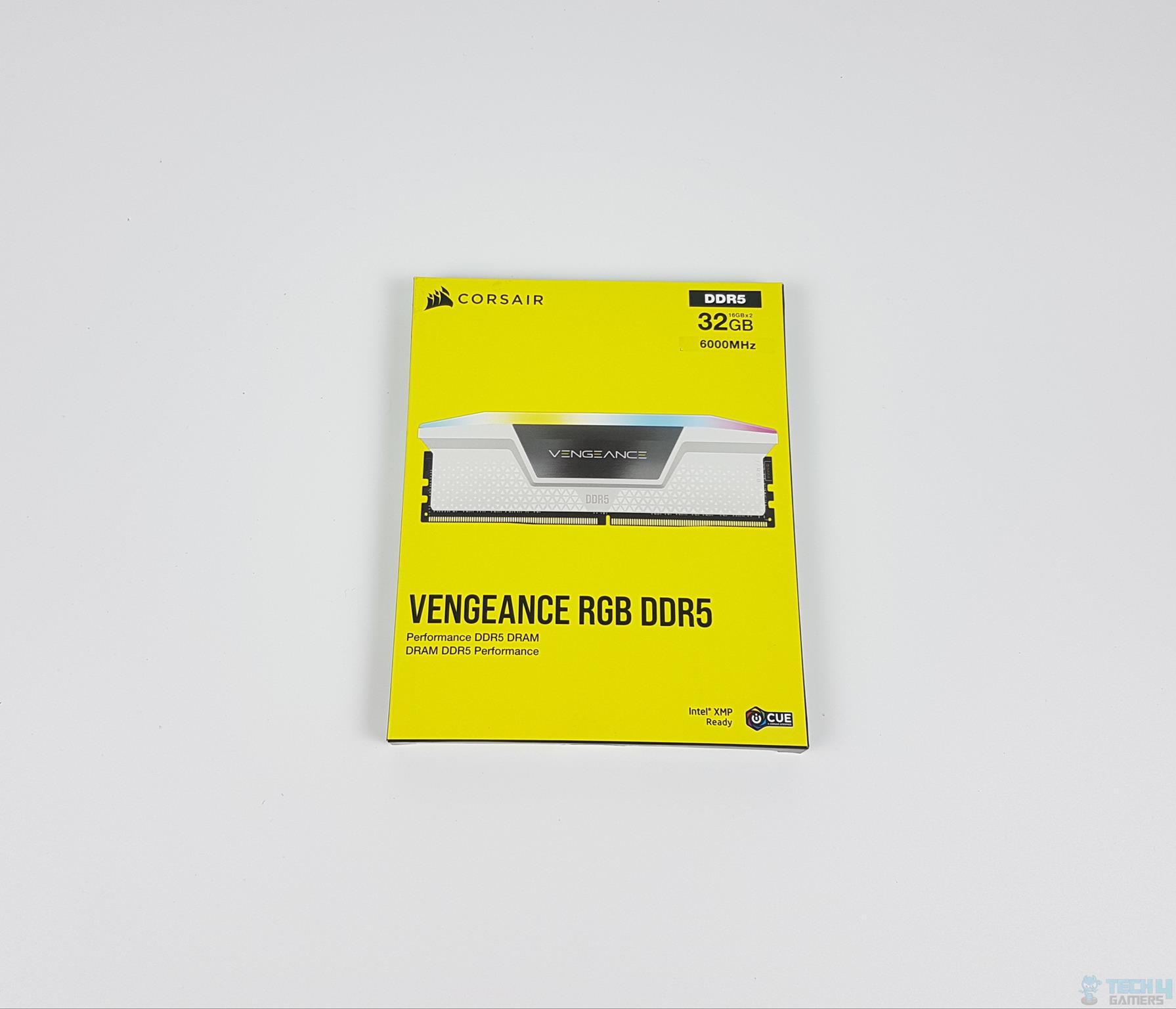 Looking at the backside of this packing box, CORSAIR has highlighted RGB lighting and iCUE in particular. There are two cutouts in the center of this box and we can see the info labels of both modules. There is a sticker pasted towards the lower right side showing the serial number, part number, and other related data.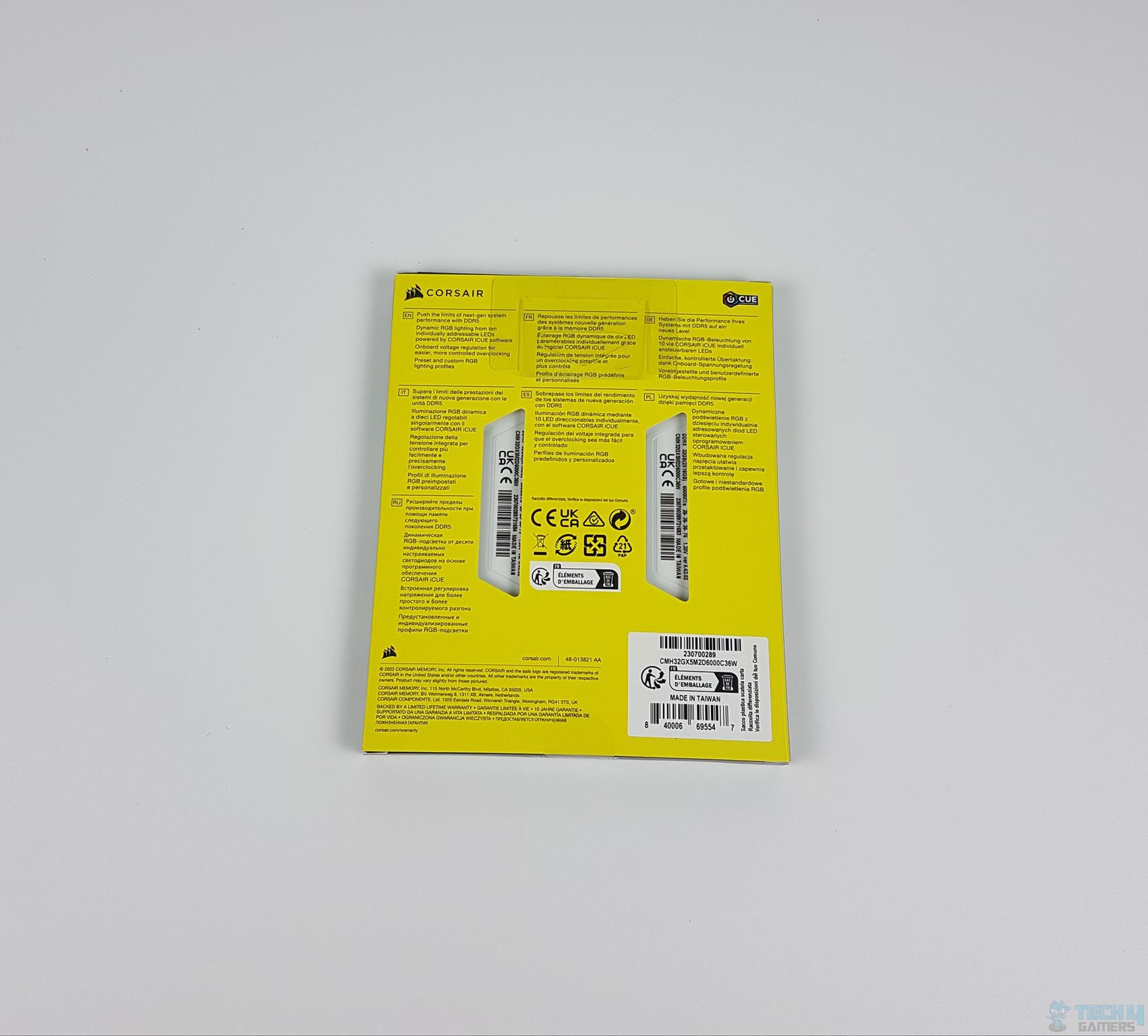 There is a transparent container inside the main packing box. It has both modules. This way, it is ensured that the product remains safe from any damage during handling or shipping.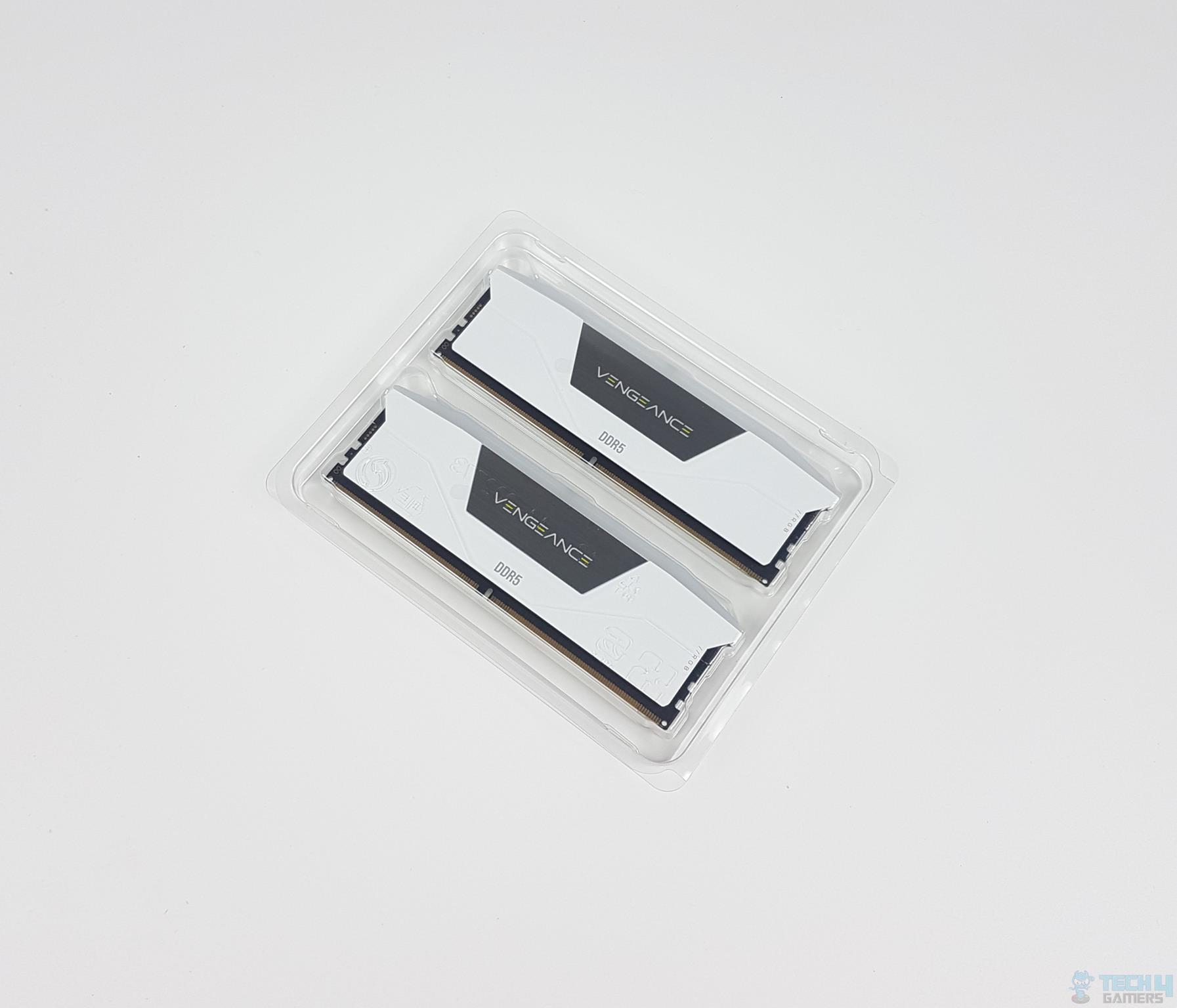 CORSAIR has provided a user guide paper in the main packing box.
Design
Let's take a closer look at the kit followed by the test results with overclocking.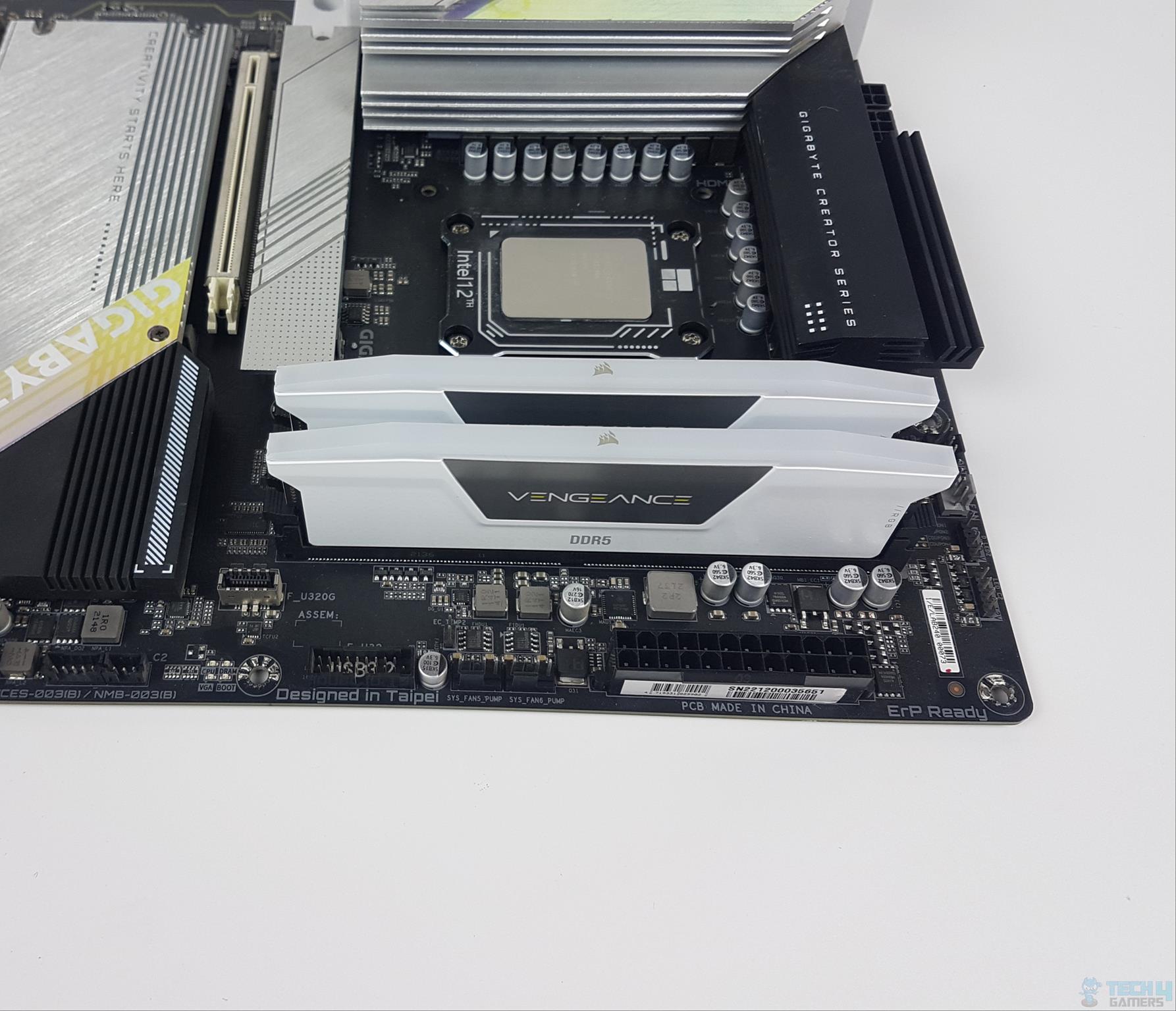 VENGEANCE is a Performance category DDR5 kit from CORSAIR. These kits are available in RGB as well as non-RGB versions. These kits are available in White, Black, and Cool Grey colors. We have got an RGB edition in white color. This series has the following transfer speeds, capacity, latency, and voltage range:
| Transfer Speeds | Capacity | Latency | Voltage Range |
| --- | --- | --- | --- |
| DDR5-4400 | 16GB | CAS30 | 1.10V |
| DDR5-4800 | 32GB | CAS32 | 1.25V |
| DDR5-5200 | 48GB | CAS34 | 1.30V |
| DDR5-5600 | 64GB | CAS36 | 1.35V |
| DDR5-6000 | 96GB | CAS38 | 1.40V |
| DDR5-6200 | | CAS40 | 1.45V |
| DDR5-6400 | | | |
| DDR5-6600 | | | |
| DDR5-6800 | | | |
| DDR5-7000 | | | |
| DDR5-7200 | | | |
It is time to take a look at the statement from CORSAIR about this kit. "CORSAIR VENGEANCE RGB DDR5 memory delivers DDR5 performance, higher frequencies, and greater capacities optimized for Intel motherboards while lighting up your PC with dynamic, individually addressable ten-zone RGB lighting.
Tightly-screened high-frequency memory chips enable faster processing, rendering, and buffering than ever, with onboard voltage regulation for easy, finely controlled overclocking. Take control with CORSAIR iCUE software and enable RGB lighting customization, real-time frequency monitoring, onboard voltage regulation, and Intel XPM 3.0 profile customization.
A custom PCB provides superb signal quality for high performance and stability on the latest Intel DDR5 motherboards. For cutting-edge DDR5 performance with mesmerizing RGB lighting, VENGEANCE RGB DDR5 lights the way."
Key features of this kit include:
Cutting-Edge Performance

Dynamic Ten-Zone RGB Lighting

Onboard Voltage Regulation

Custom Intel XMP 3.0 Profiles

iCUE support

Maximum Bandwidth and Tight Timings

Stylish Solid Aluminum Heat spreader

Limited Lifetime Warranty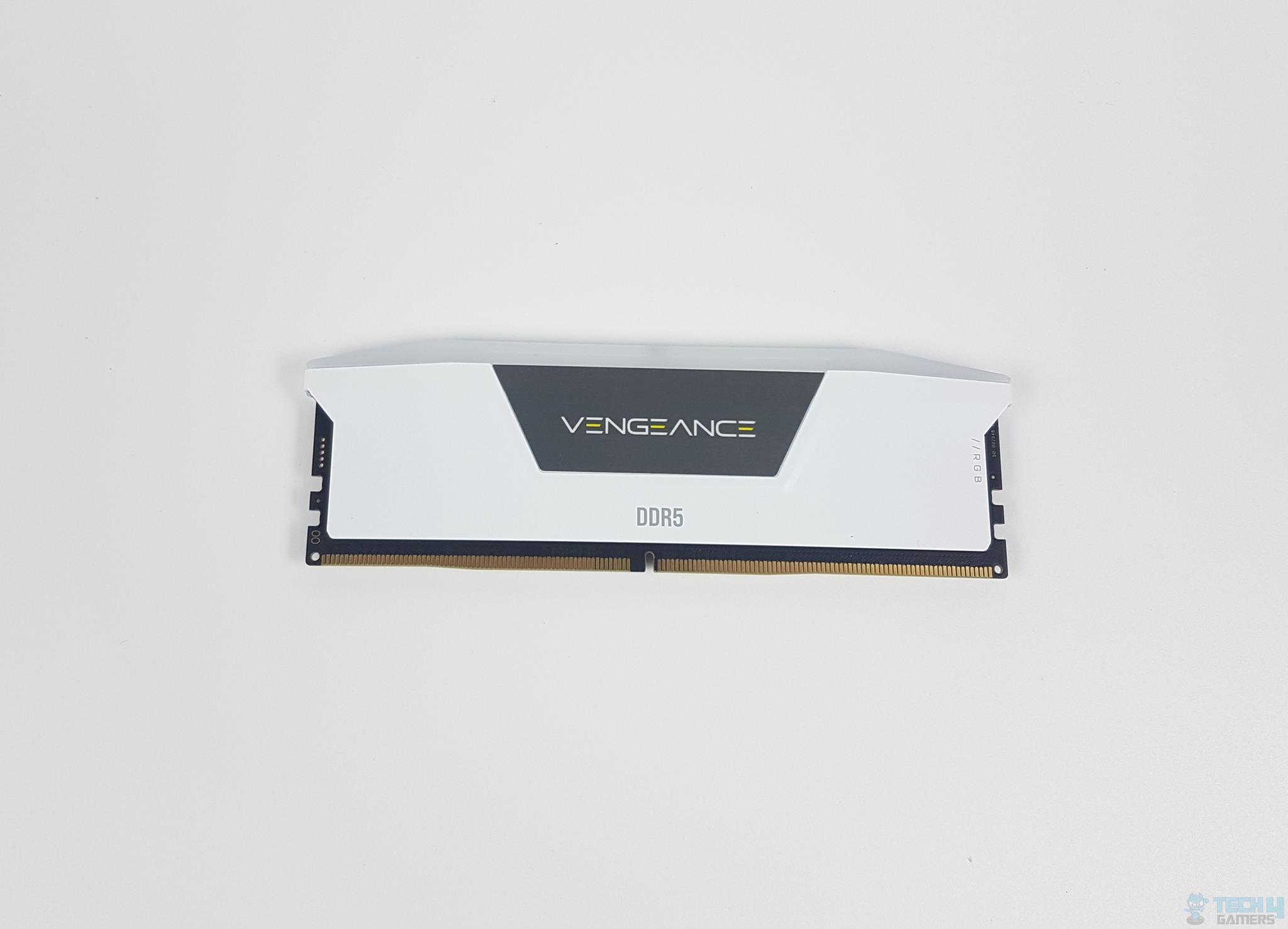 This kit has a dimension of 135×44.5×7.5mm as per our calculation. CORSAIR has mentioned 135x8x56mm. 44.5mm is an overall height of a single module including the connectors.
This is still an acceptable height for the majority of air coolers in the market though we would suggest users do proper homework when it comes to clearance and compatibility of cooling solution and memory height. This kit has a width of 7.5mm approximately which is fine. It is Non-ECC, Unbuffered DIMM with a 288-pin layout (DDR5).
CORSAIR has given a new design to the VENGEANCE series in the DDR5 category compared to DDR4. There is a diffuser on the top having 10x RGB LEDs underneath. We have a stylish aluminum-made heat spreader covering the black color PCB. There is a gray color portion in the center.
It is a brushed aluminum design and VENGEANCE branding. These kits have a beautiful upward/downward triangle pattern design all over the heat spreader. We made one important observation here. As this kit is white, it is so overly done in this color that it in fact has concealed or covered the beautiful textured pattern on the heat spreader.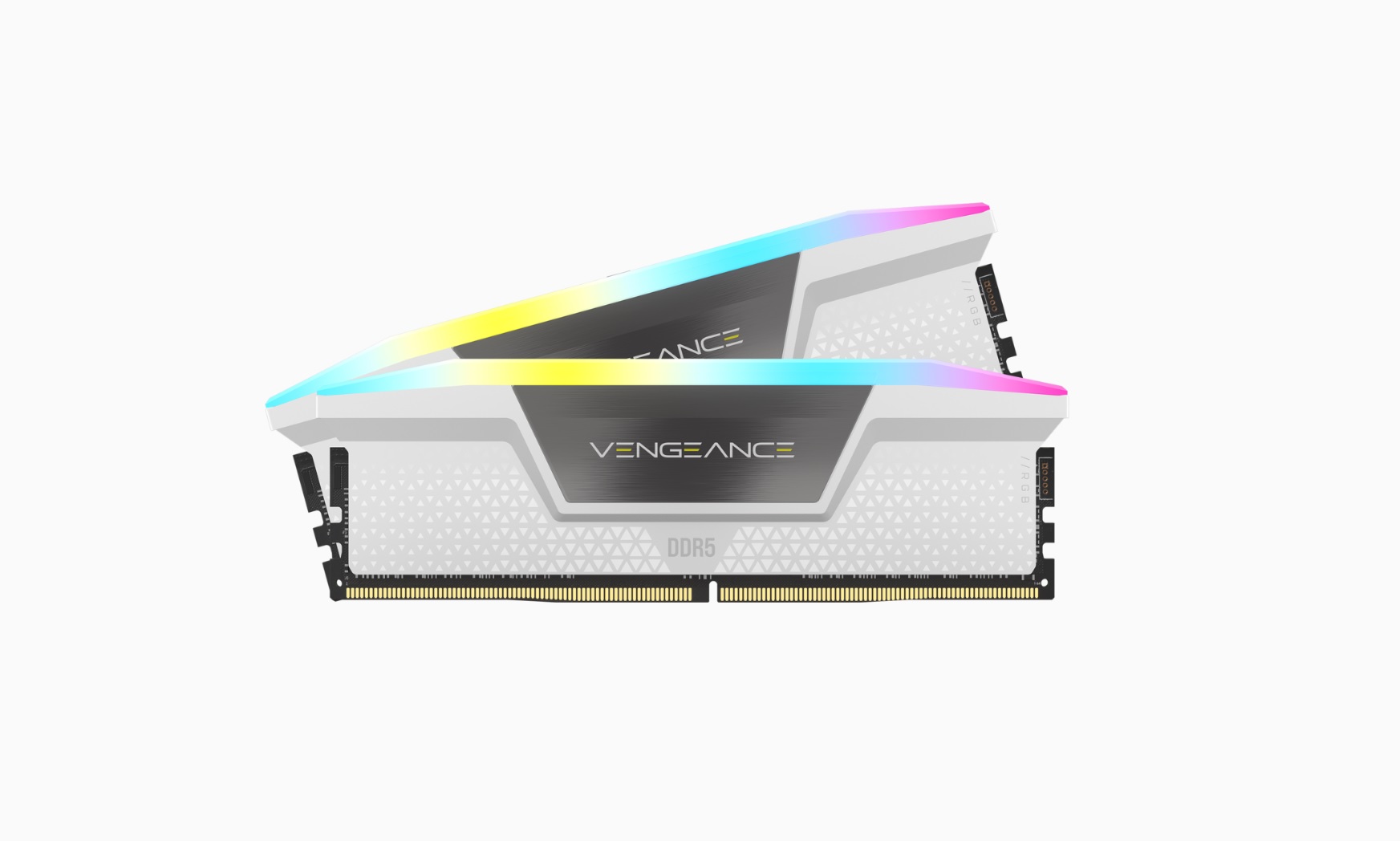 Take a look at the above picture. We have taken this picture from the CORSAIR website. You can see a triangular pattern design all over the heat spreader. Unfortunately, this can't be seen clearly on this white color kit from CORSAIR. I am not complaining but rather mentioning that the white color should be done in balance so that pattern becomes visible.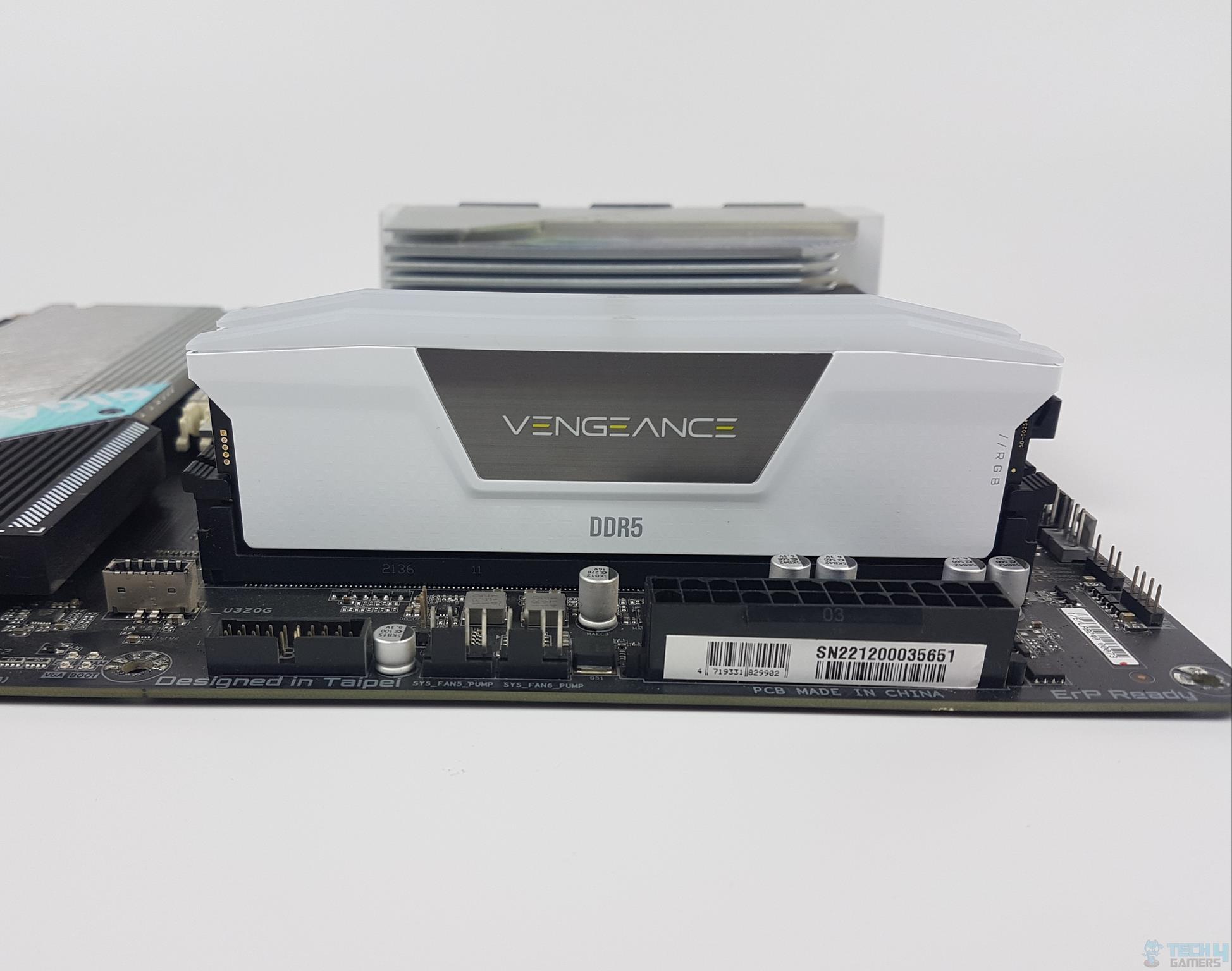 Take a look at the installed kit on the motherboard. We are still having hard time highlighting the pattern. Only certain angles make this pattern somewhat visible on white color kit. I am sure this will not be the case on black color kits.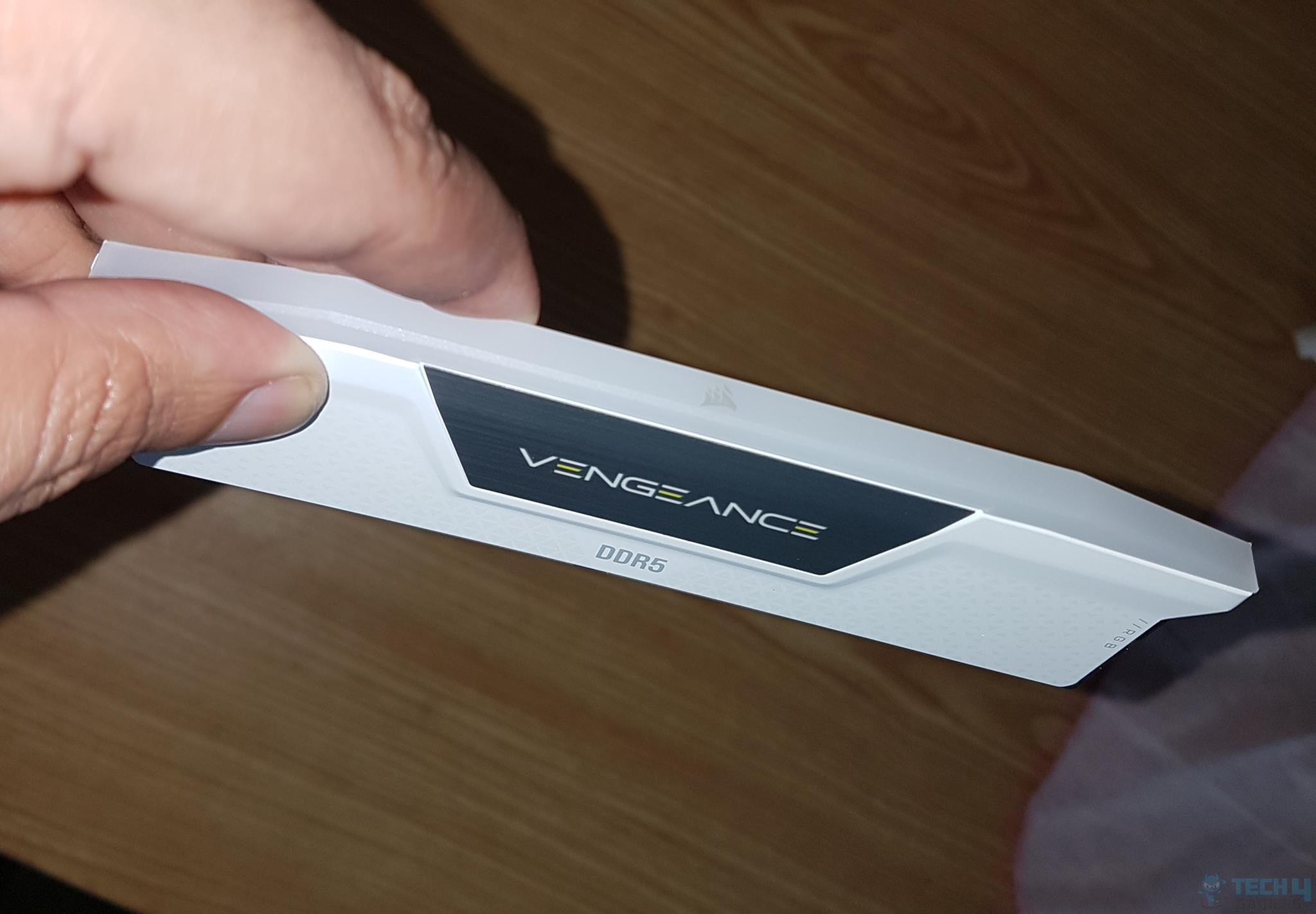 Flash from the camera and this particular angle show the design pattern. Anyhow, coming back to the main design, the upper portion of the heat spreader is protruded and runs on the entire length covering the central gray color contrasting portion.
DDR5 is printed in a gray color towards the base of the heatsink. RGB is printed in a small size font towards the right side of this heatsink. CORSAIR has done a fantastic job in terms of design layout. They have kept it simple yet a good-looking outlook.
The heatsink extends over the PCB from the top side to provide a complete run of the diffuser up top. We can see a border of PCB with notches on both sides. This side will sit in the DIMM slot and will make the maximum white color of this kit exposed to the user as can be seen in the above picture.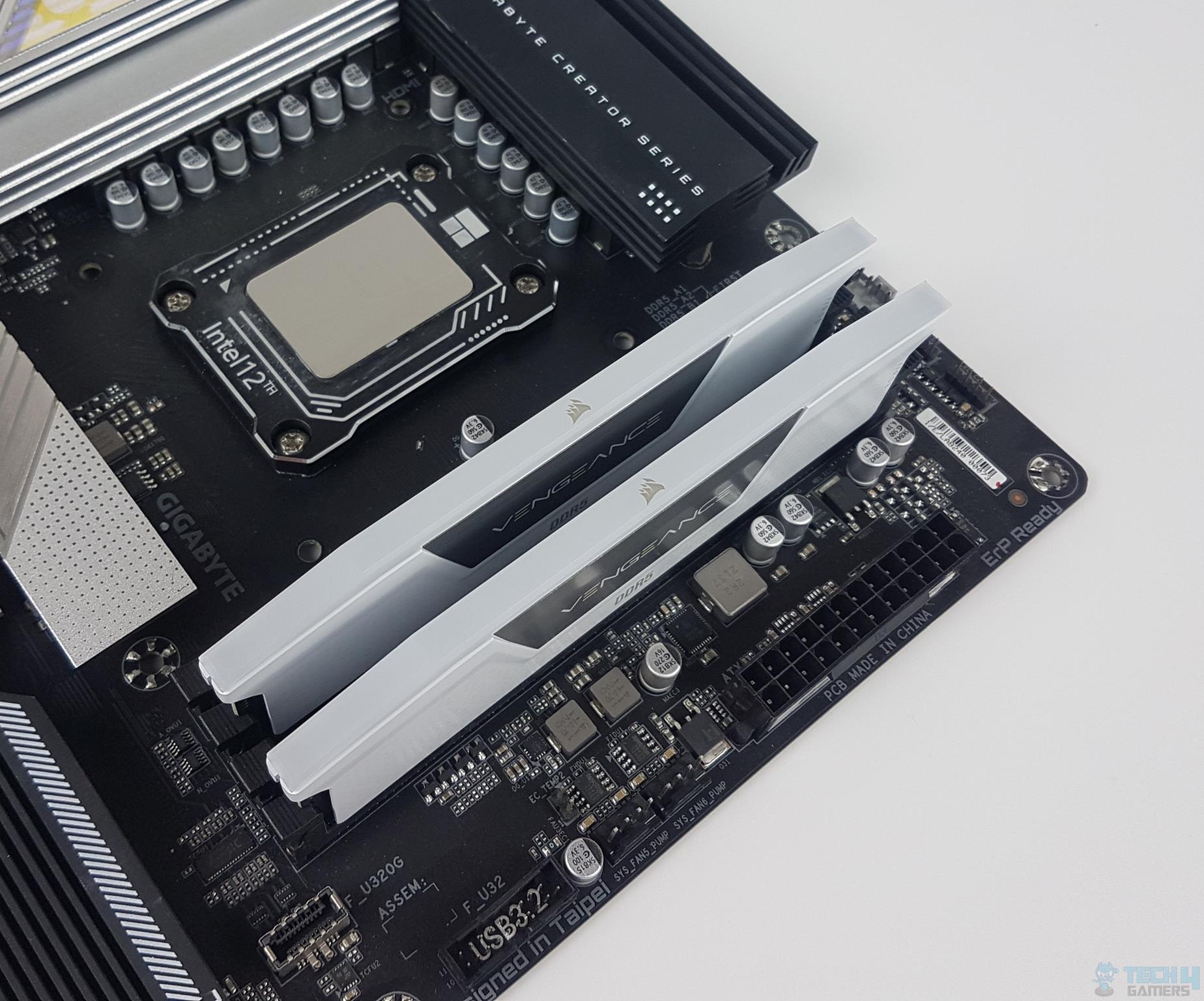 Looking at the top of this kit, we can see the diffuser running on the entire length. The maximum area of these diffusers is in a straight-line design whereas the sides have a slope-down effect which looks cool when lit up.
There is a CORSAIR logo in the center. This logo is kept small in size which is good thinking by the design team. Unlike DDR4 base VENGEANCE Pro kits these DDR5 VENGEANCE kits have an unobstructed diffuser giving a clean look. This kit is obviously for a white color-themed build.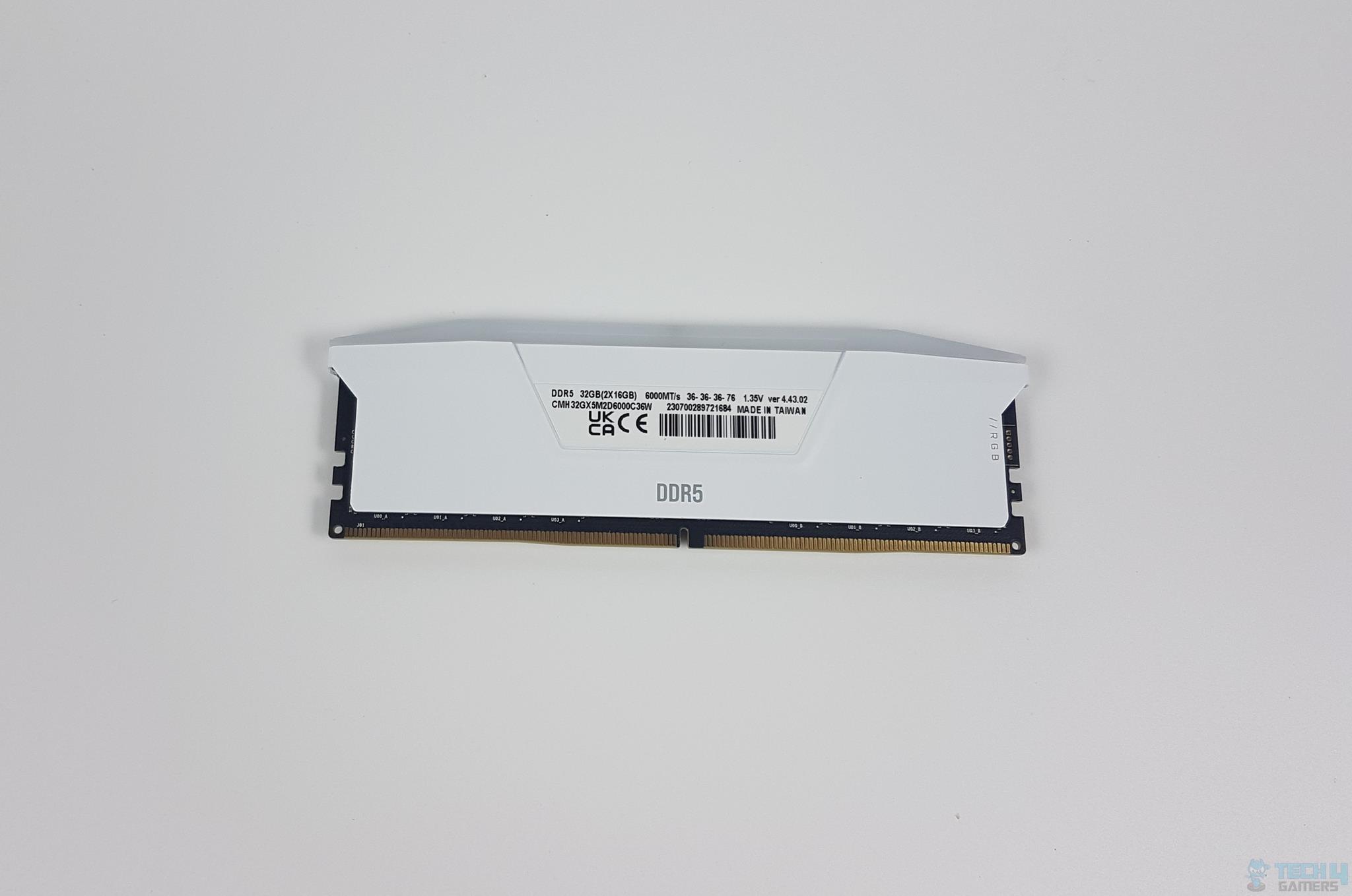 Looking at this from the backside, we have a similar layout as is on the front side. However, there is no gray color plating up top. In fact, there is a white color sticker there. It shows the part number of this kit along with speed, capacity, timings, and voltage.
This kit has a version of 4.43.02. It is made in Taiwan. The sticker area has an indent. Seems like this indent is also on the front side and gray color plating is placed on this indented area.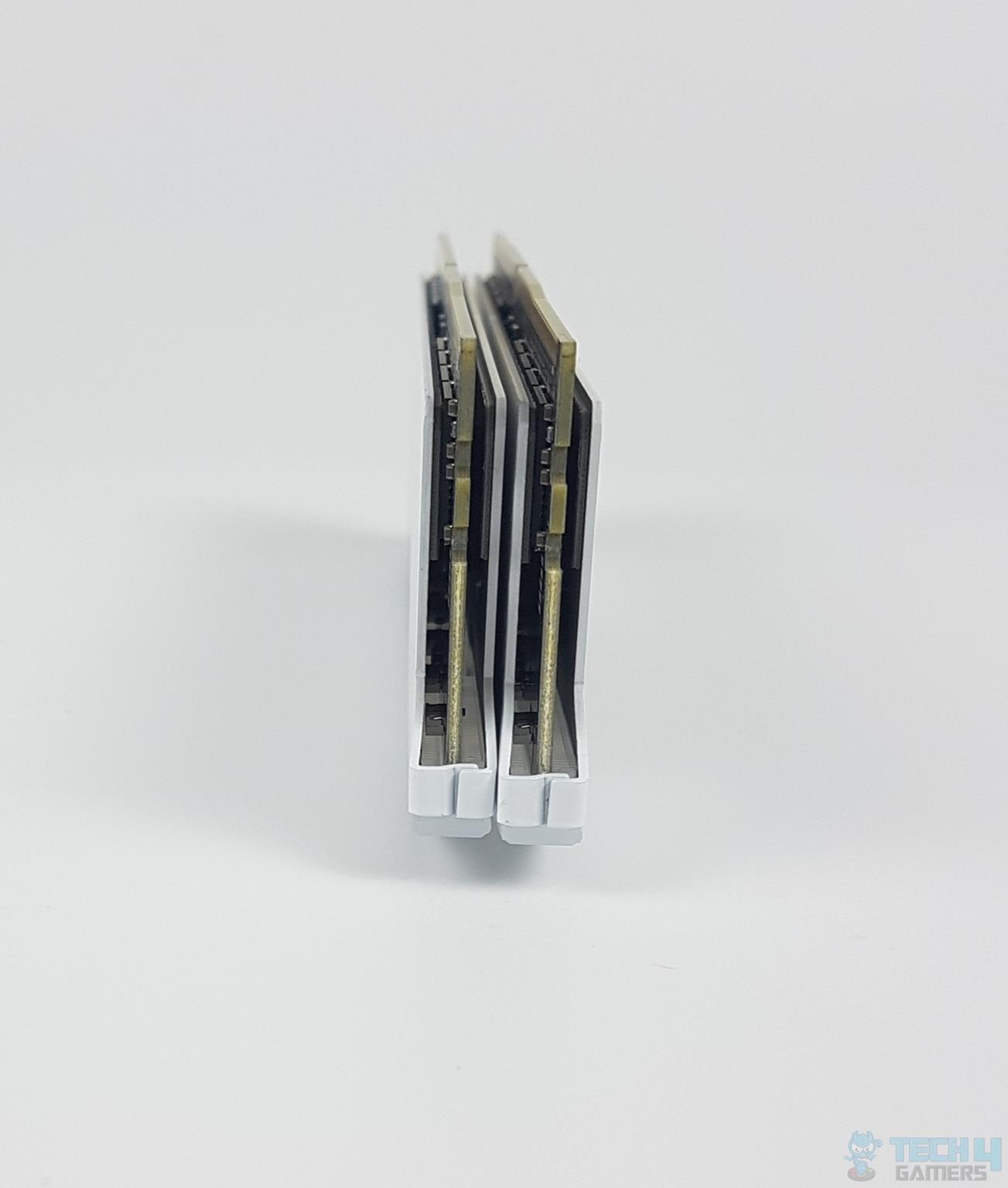 The above picture shows the sides of both modules. We can see one side of the PCB is populated whereas the opposite side has thick black color padding. And a closer look will in fact show one RGB LED on both modules as well.
This kit has a thickness of 7.5mm per our calculation. CORSAIR has mentioned this width to be 8mm. These are almost within approximation. We can see that heatsinks have a joint on the exterior side unlike on top in the VENGEANCE PRO DDR4 design.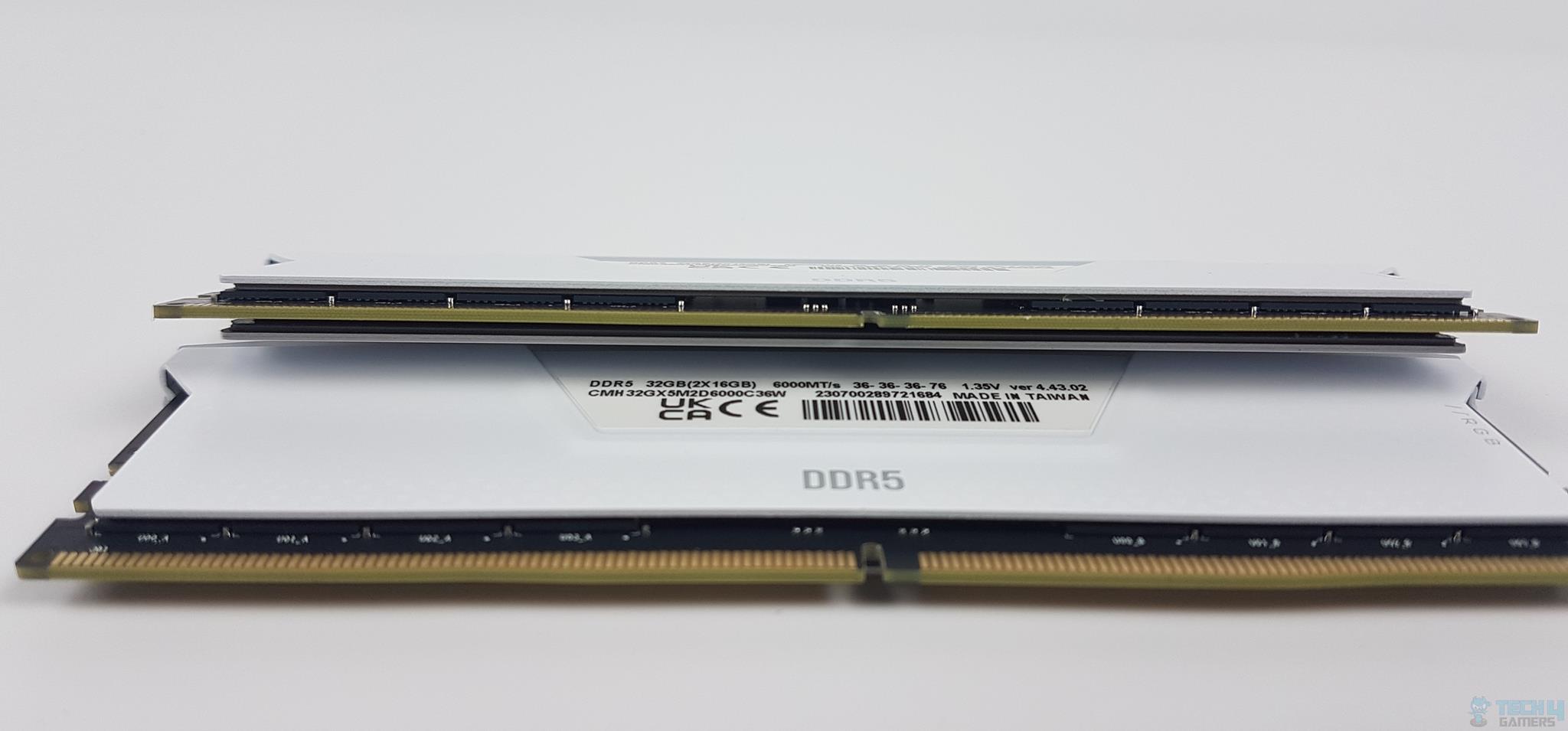 One good thing about this kit is that the memory chips and PMIC controller have a thermal pad covering. There is a single thin thermal pad sitting between these chips and a heat spreader. This kit is a single-rank design.
As mentioned above, we have one side of the PCB populated whereas the opposite has equal length and same thickness foam placed over PCB so that we can have an equal thickness on both sides of this PCB.
As is the case with DDR5 kits, there are 4x memory chips on one end and 4x chips on the opposite end on the same side of the PCB with PMIC being located in the center, up top.
CORSAIR has employed SAMSUNG B-Die on this kit. We are not sure if all kits in this specification come with this die or not. The part number of SAMSUNG memory chips is K4RAH086VB-BCQK.
Each chip has a 2GB capacity using an 8-bit FBGA component design. The PMIC controller is from RICHTEK having model number RTQ5132GQWF. This kit is made in Week 7 of 2023. The SPD Hub device is from Montage Technology having a model number of M88SPD5118 and it is a temperature sensor device type meaning this kit has an integrated temperature sensor with an accuracy of ±0.50°C.
By the way, this SPD device and PMIC controller are as we saw on Kingston Fury Renegade 2x16GB 6400MT/s CAS32 kit. This kit does not have a pre-programmed EXPO however it supports Intel XMP 3.0.
So, we installed the kit on the GIGABYTE Z790 AORUS ELITE AX motherboard and hit the BIOS. Let us first go through the BIOS interface showing this kit's settings.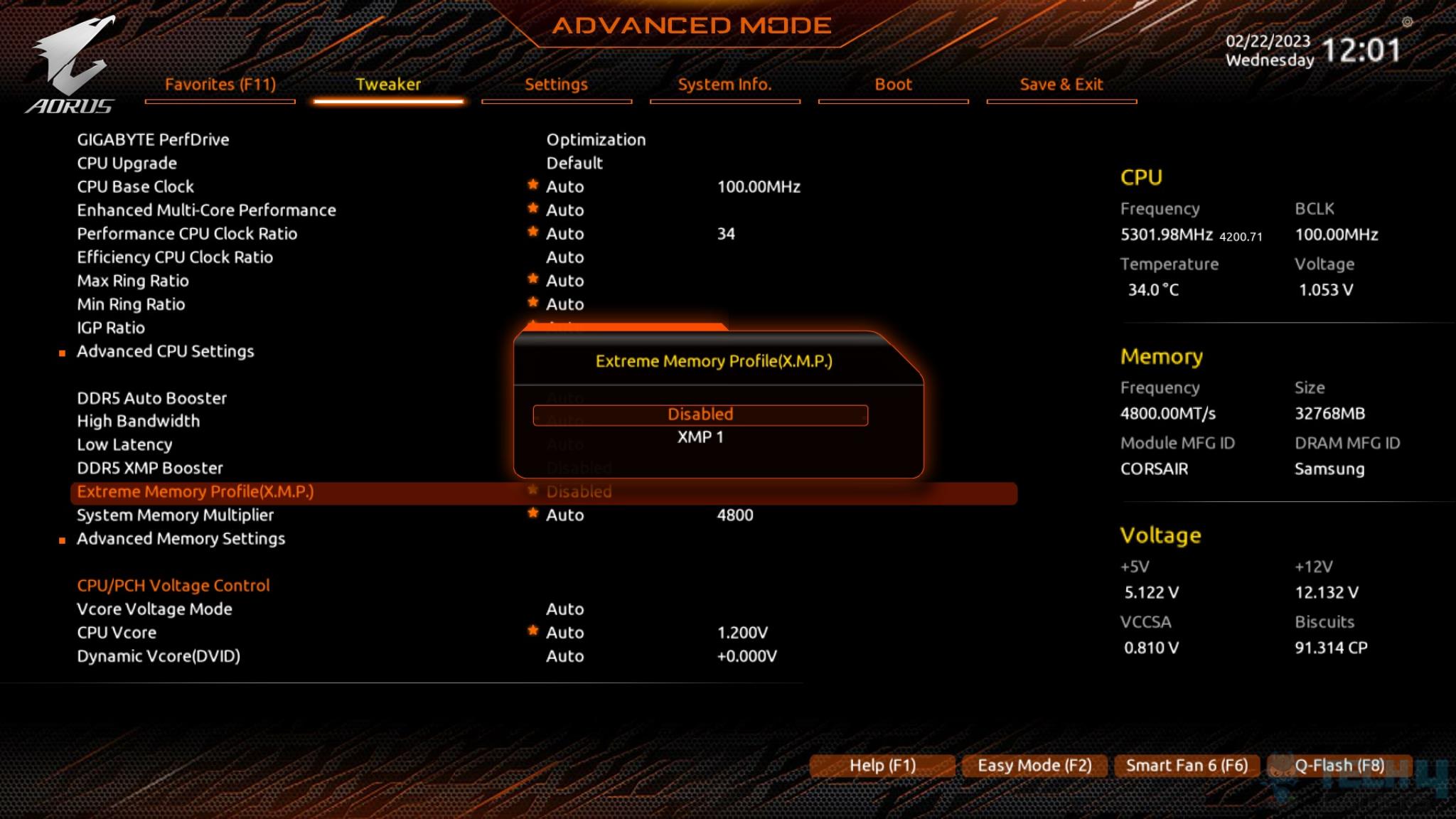 This kit has a single XMP profile on it named XMP1.
Load the XMP profile. Save and restart the system to put it in effect. We came back in BIOS and saw that XMP was loaded properly.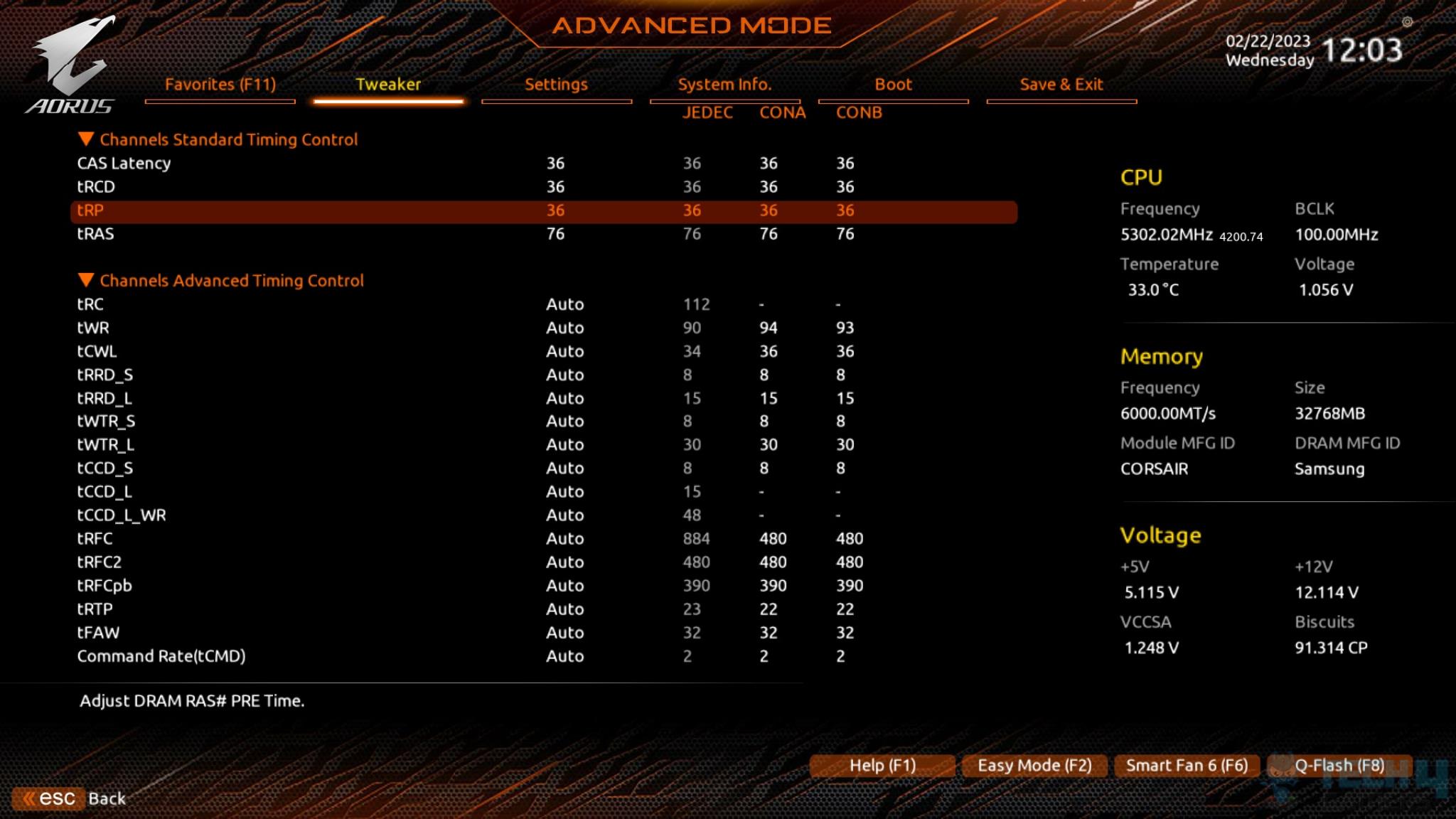 I have a habit of typing in the primary timings and voltages myself despite XMP doing it for us. 36-36-36-76 is loaded.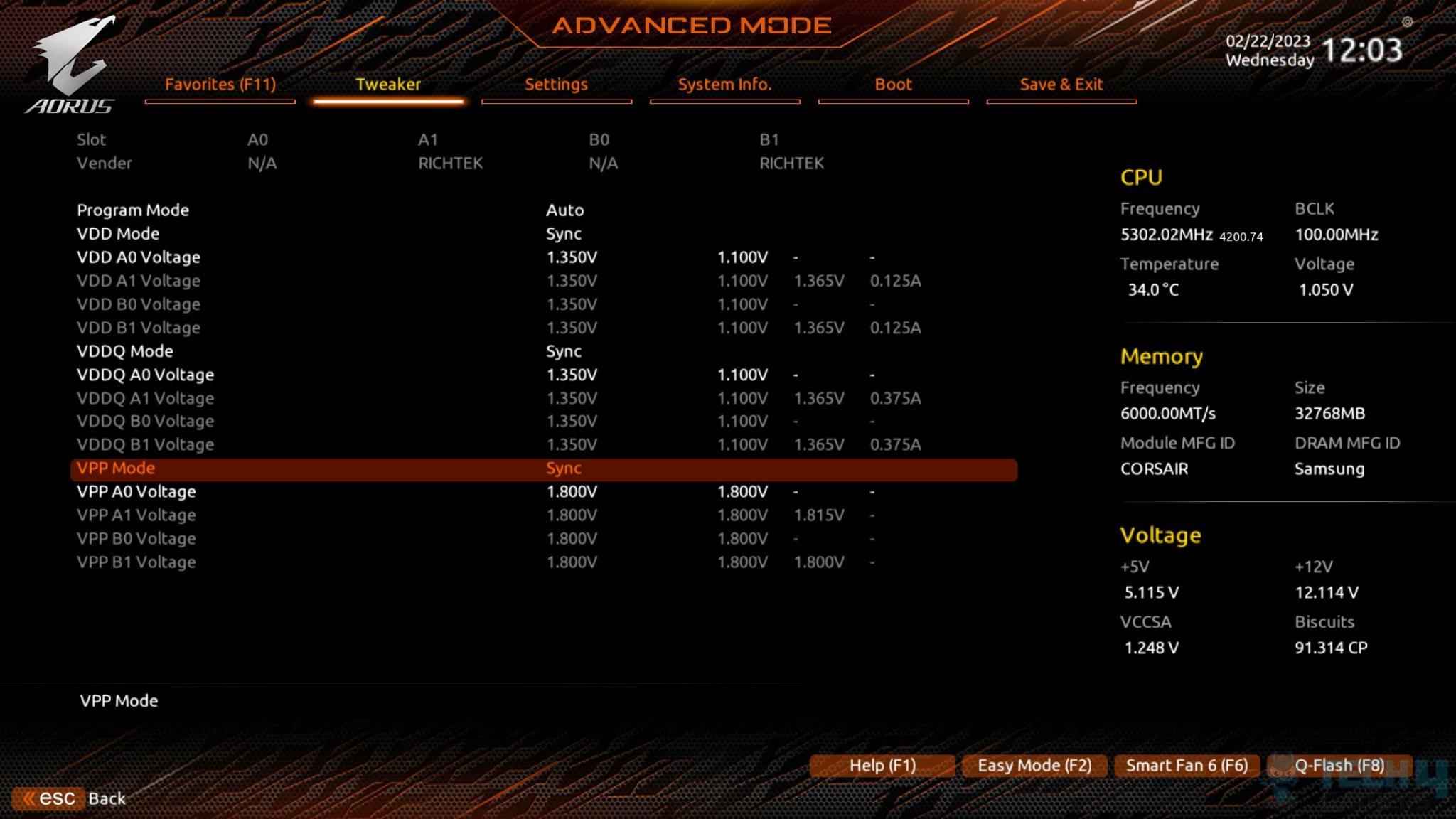 You can see RICHTEK listed under Vendor information for PMIC. The same was verified by Thaiphoon Burner. The voltages were set to 1.350V on VDD and VDDQ.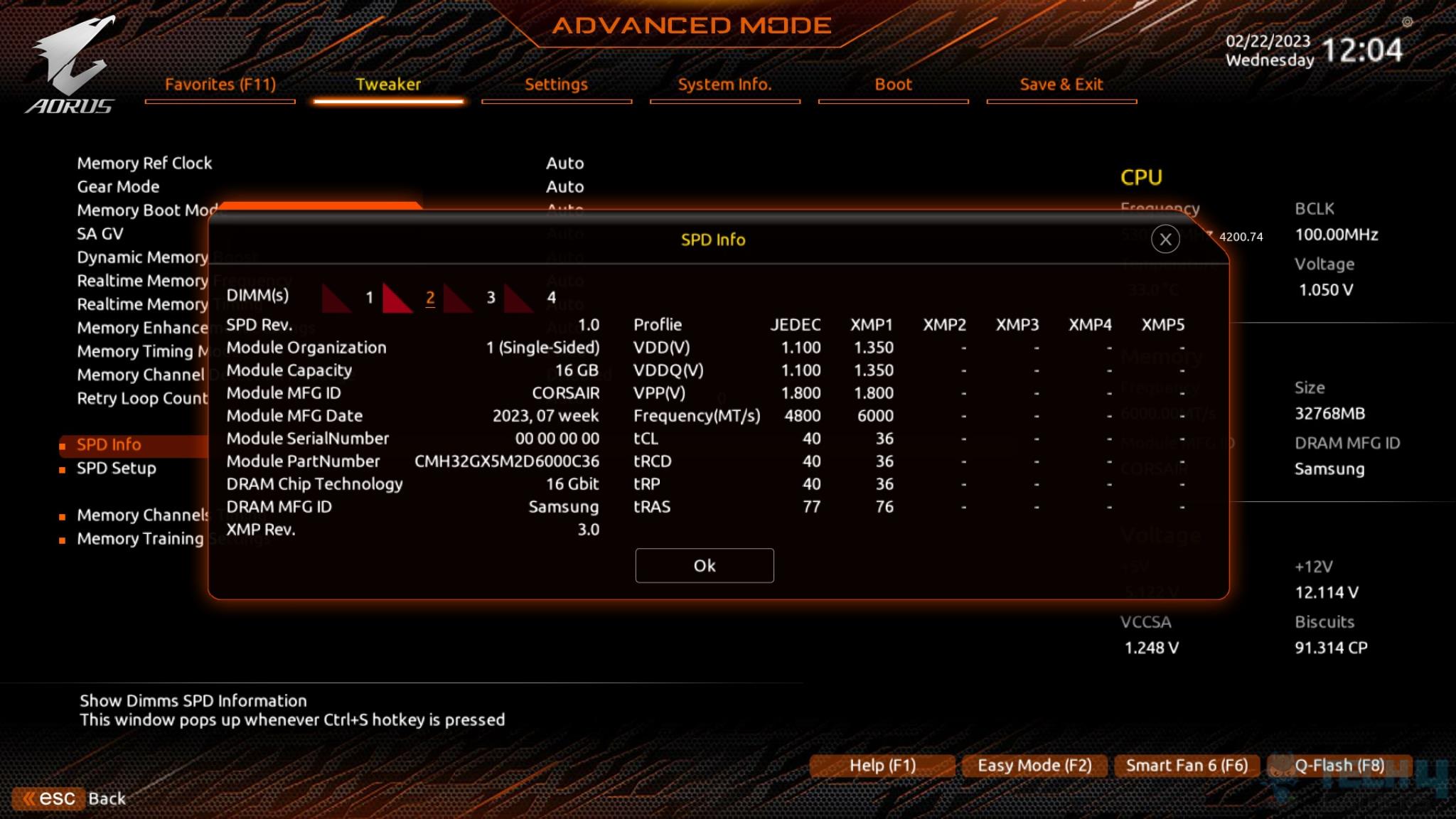 We did a quick check and SPD info was showing all settings loaded properly.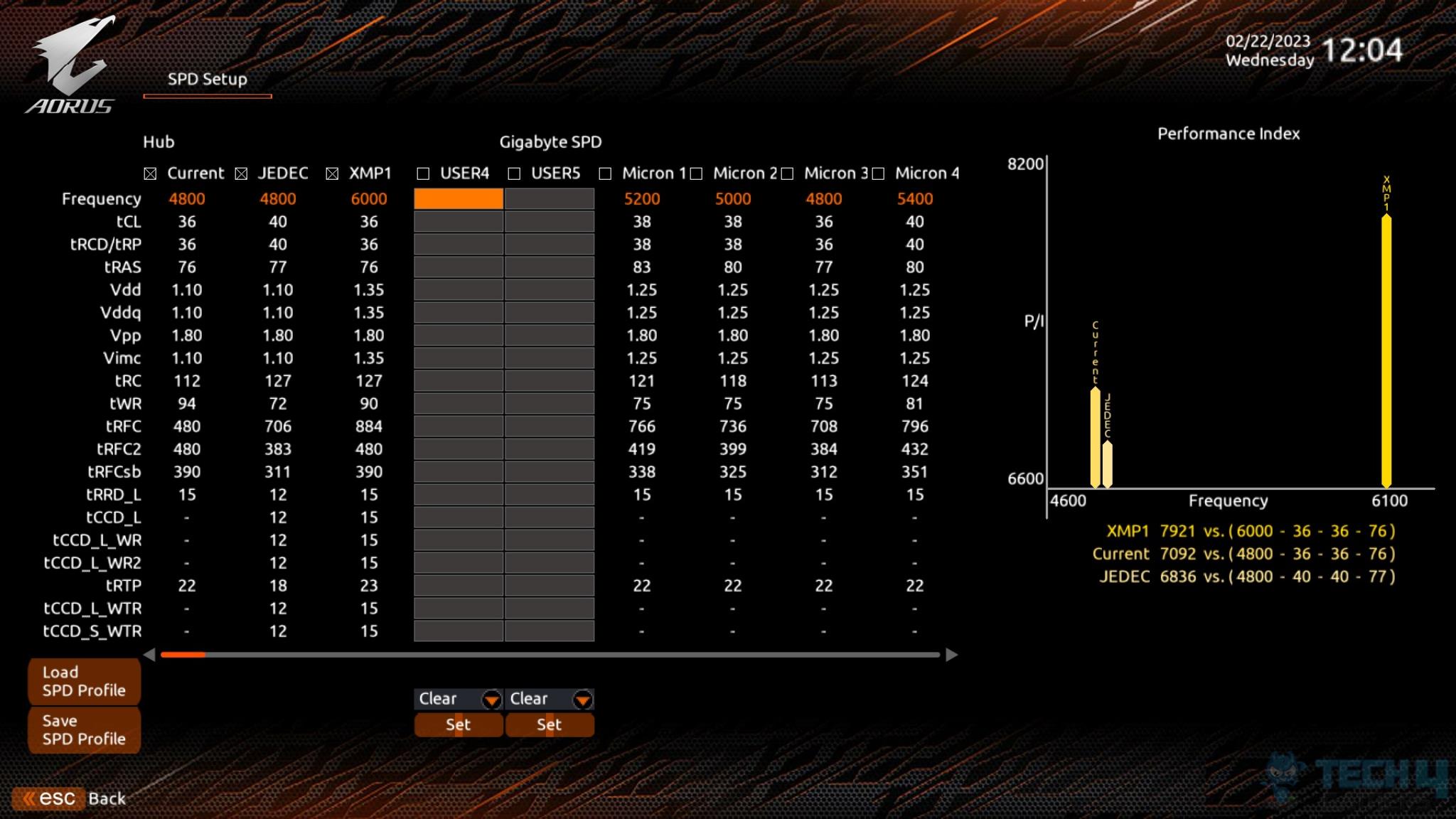 One good thing with this kit is that it allows the users to define up to 2x XMP profiles that can be saved and loaded for later use on other PCs as well. However, your motherboard BIOS must support this feature. This is a new feature introduced with Intel 13th generation and AMD AM5 platforms.
Test Bench
Below mentioned configuration is used for testing:
DIY Cooling using ALPHACOOL Stuff

CORSAIR VENGEANCE RGB DDR5 32GB 6000MHz CL36

GIGABYTE GeForce RTX 3060 VISION OC Rev.2 [For Display]
be quiet! Straight Power 11 850W Platinum PSU
Thermaltake Core P6 TG Snow Edition in an open-frame layout
We are thankful to our sponsors for this test bench. The following software has been used for the testing:
AIDA64 Engineer
SiSoftware Sandra Suite
Performance Test
3DMark Time Spy
Super Pi
Cinebench R23 [Multi]
Other DDR5 kits include in comparison are:
Before, testing, we loaded XMP 3.0 (XMP1) in UEFI BIOS. The timings and DRAM frequency were manually loaded just in case to ensure the proper working of the kit.
The above is a CPU-Z screenshot. Looking closely, you will notice that the software is reporting the kit to be in quad-channel configuration. The reason for that is with DDR5 kits, we have two channels per module with each being 32-bit wide.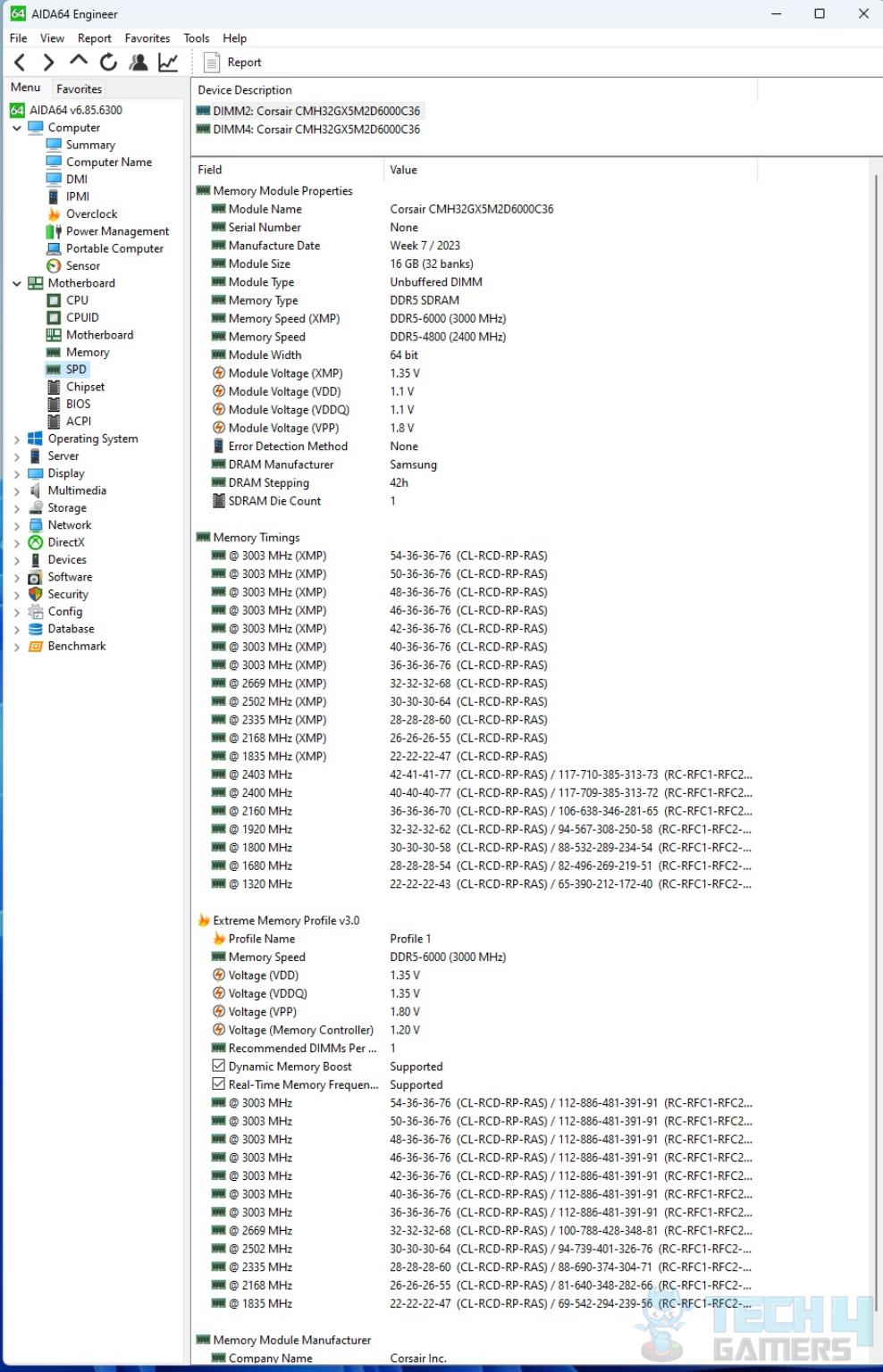 The above is the SPD readout as taken from the AIDA64 Engineer edition.
Results
Let's start taking at results one by one starting with AIDA64 Engineer.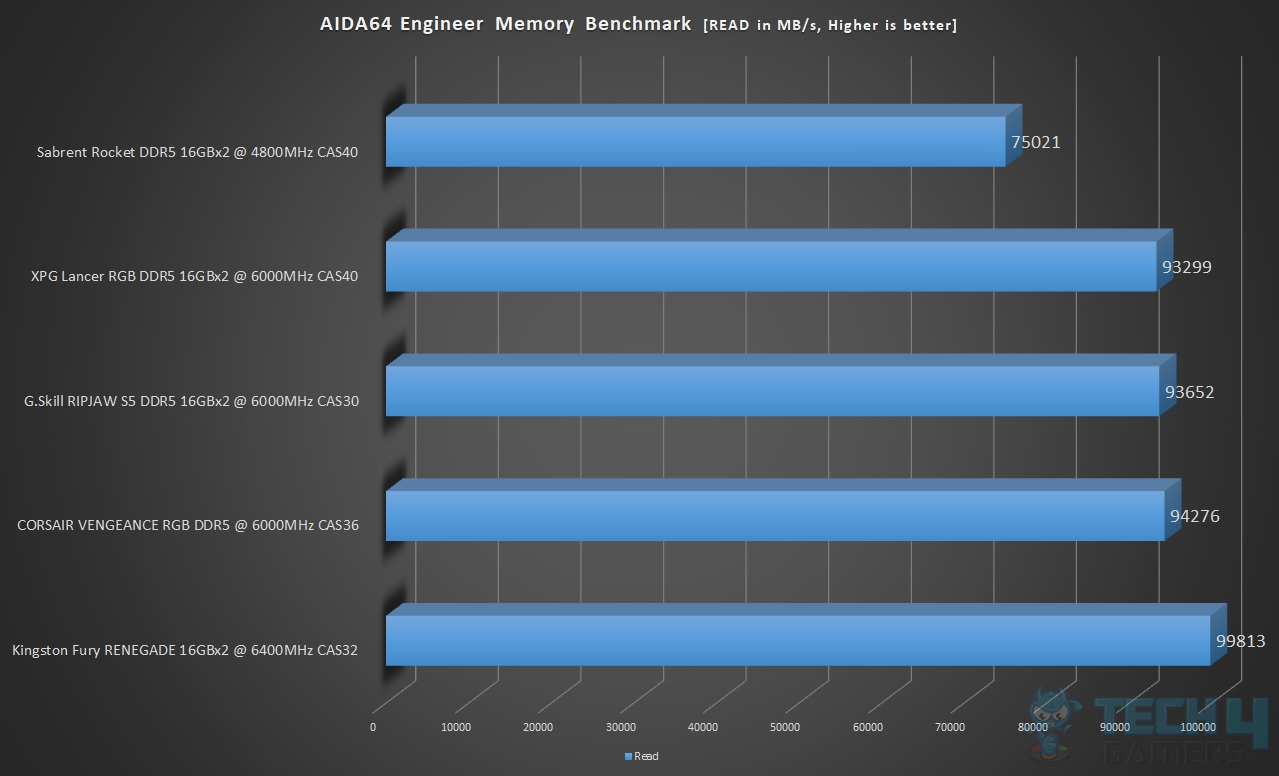 CORSAIR VENGEANCE RGB DDR5 32GB 6000MT/s CAS36 kit has a score of 94276 MB/s. It is a surprising result since we have two more kits in this comparison operating at the same 6000MT/s speed but with different timings.
Theoretically, this CORSAIR kit should sit between the XPG Lancer RGB kit with CAS40 and G.Skill Ripjaws S5 kit with CAS30.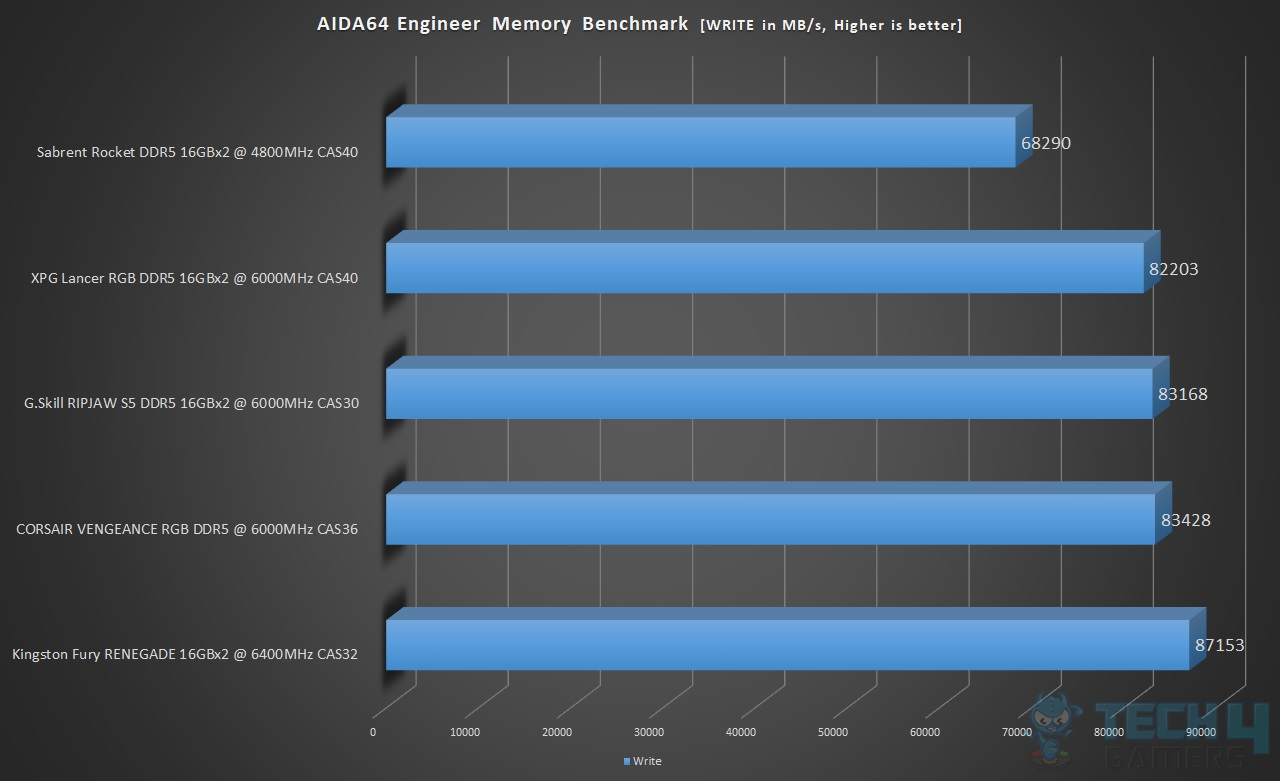 CORSAIR VENGEANCE RGB DDR5 32GB 6000MT/s CAS36 kit has a score of 83428 MB/s.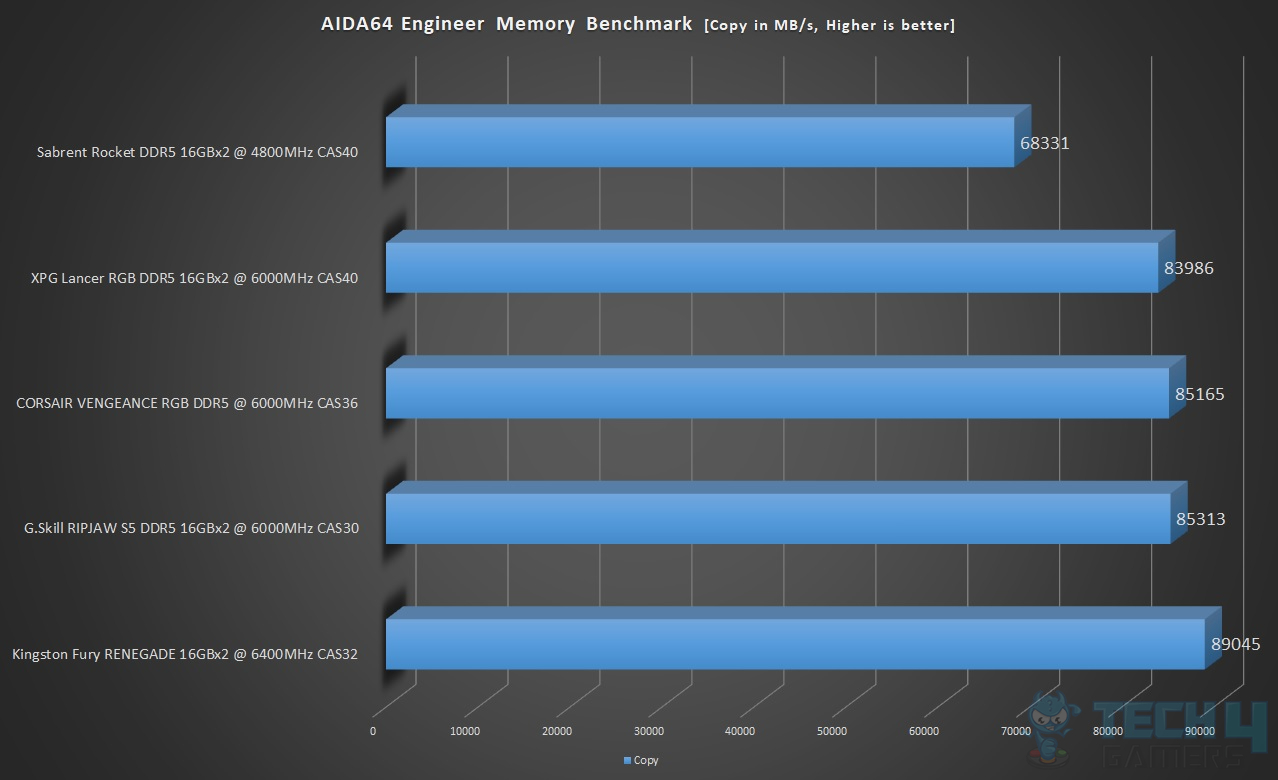 CORSAIR VENGEANCE RGB DDR5 32GB 6000MT/s CAS36 kit has 85165 MB/s score.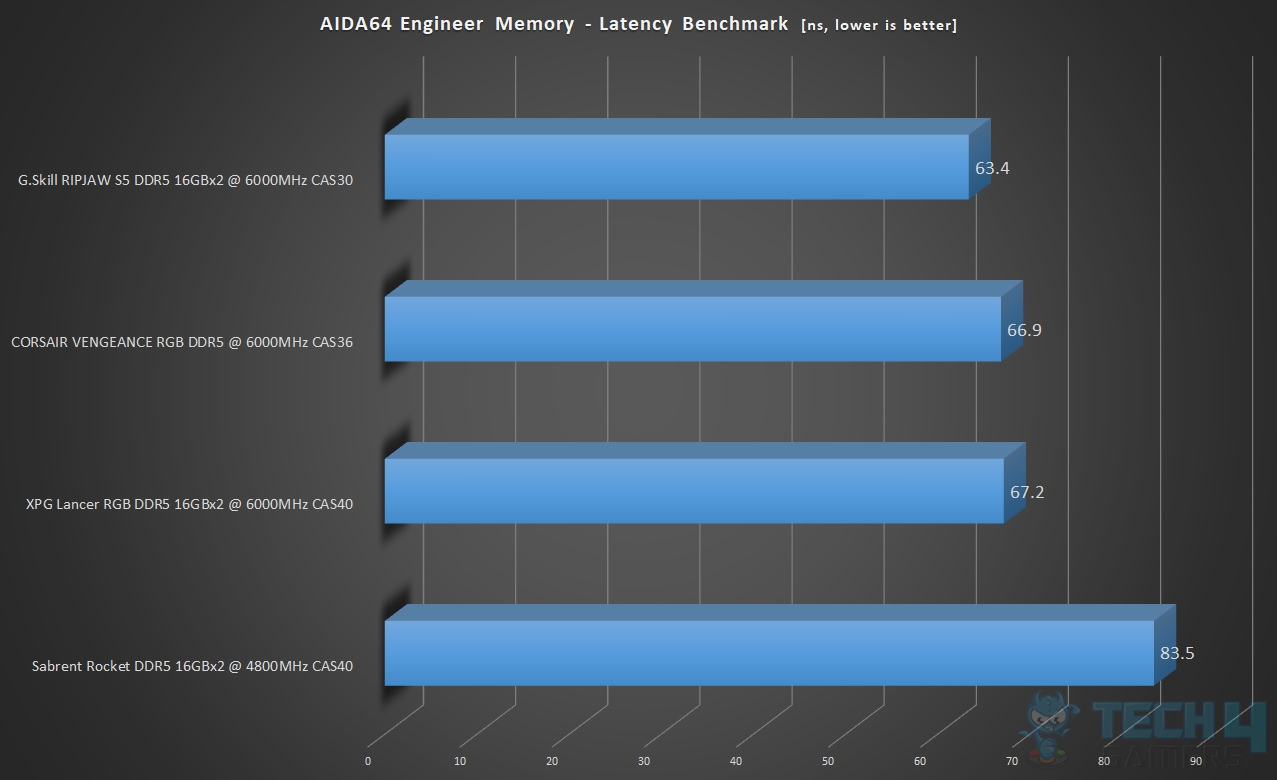 CORSAIR VENGEANCE RGB DDR5 32GB 6000MT/s CAS36 kit got 66.9 ns sitting between the other two 6000MT/s kits.
SiSoftware Sandra Suite
Now, let's take a look at the results from the Sandra benchmarks.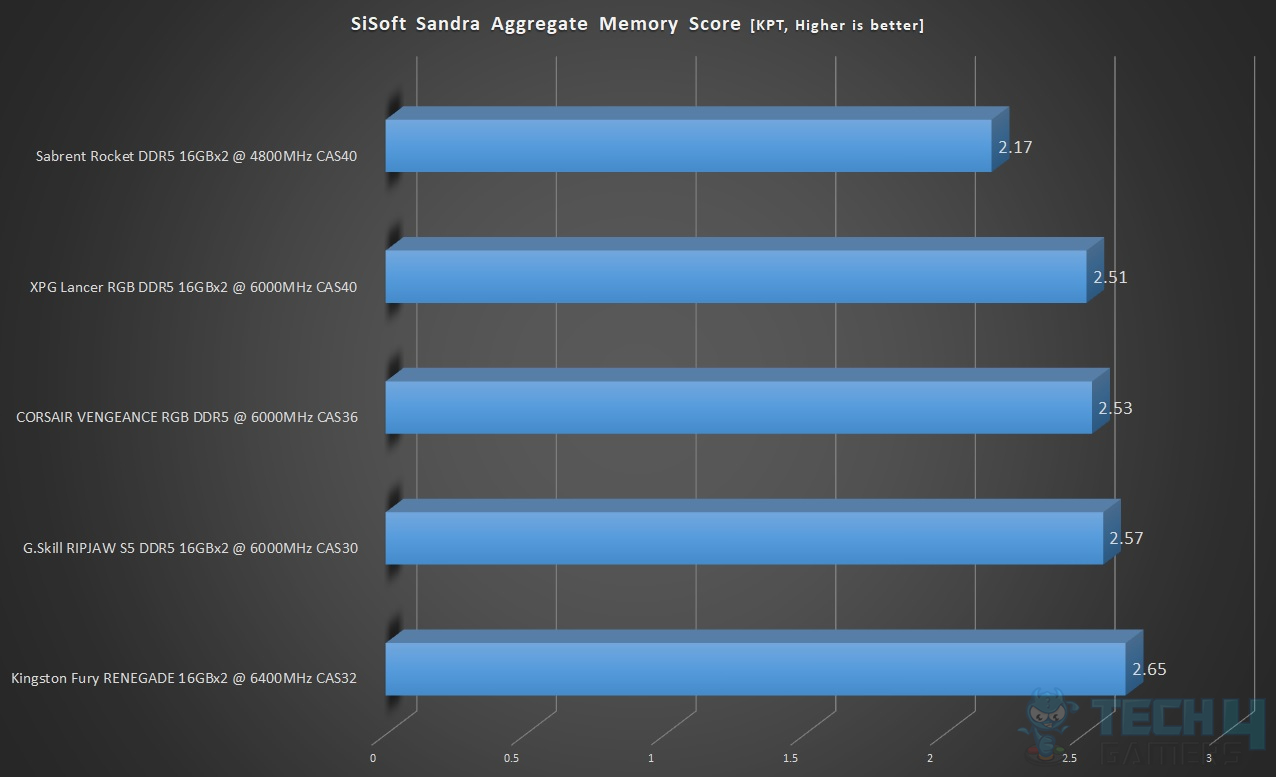 CORSAIR VENGEANCE RGB DDR5 32GB 6000MT/s CAS36 kit got a score of 2.53 KPT sitting between the other two kits operating at 6000MT/s.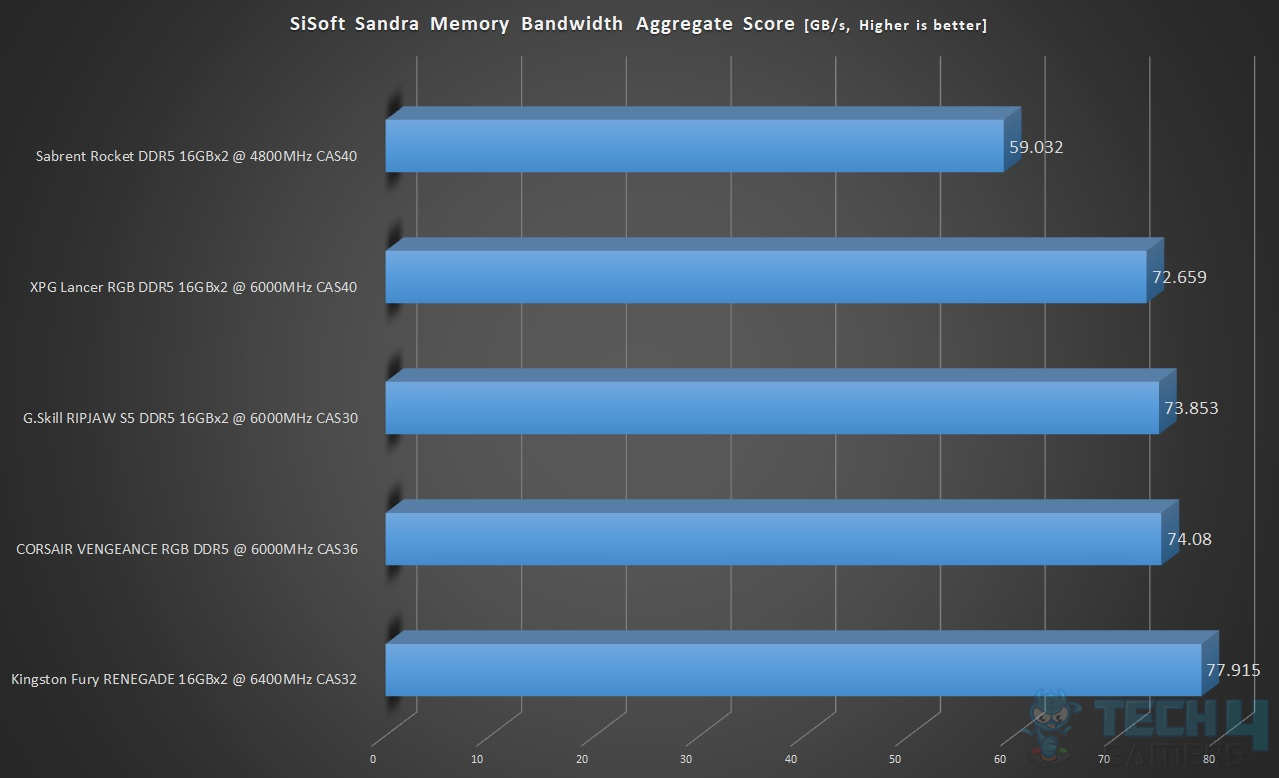 CORSAIR VENGEANCE RGB DDR5 32GB 6000MT/s CAS36 kit secured 74.08 GB/s aggregate bandwidth.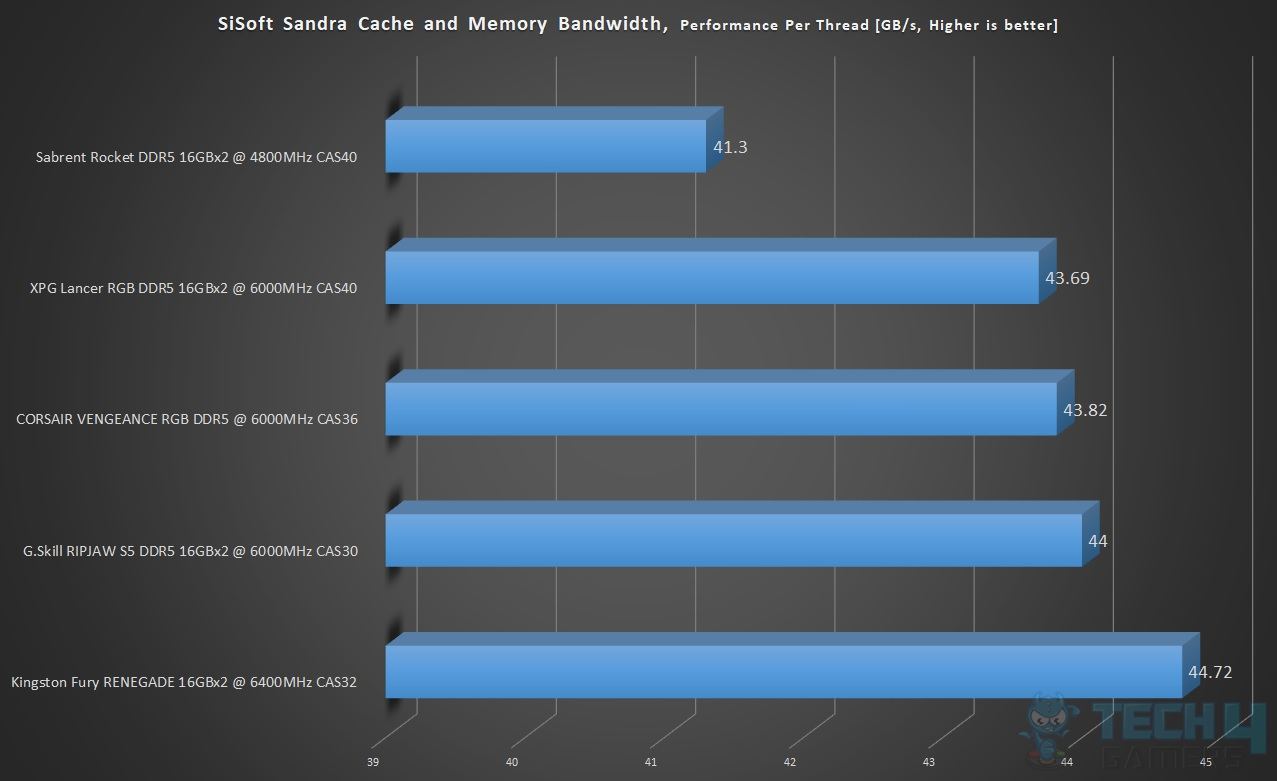 CORSAIR VENGEANCE RGB DDR5 32GB 6000MT/s CAS36 kit has 43.82 GB/s per thread bandwidth.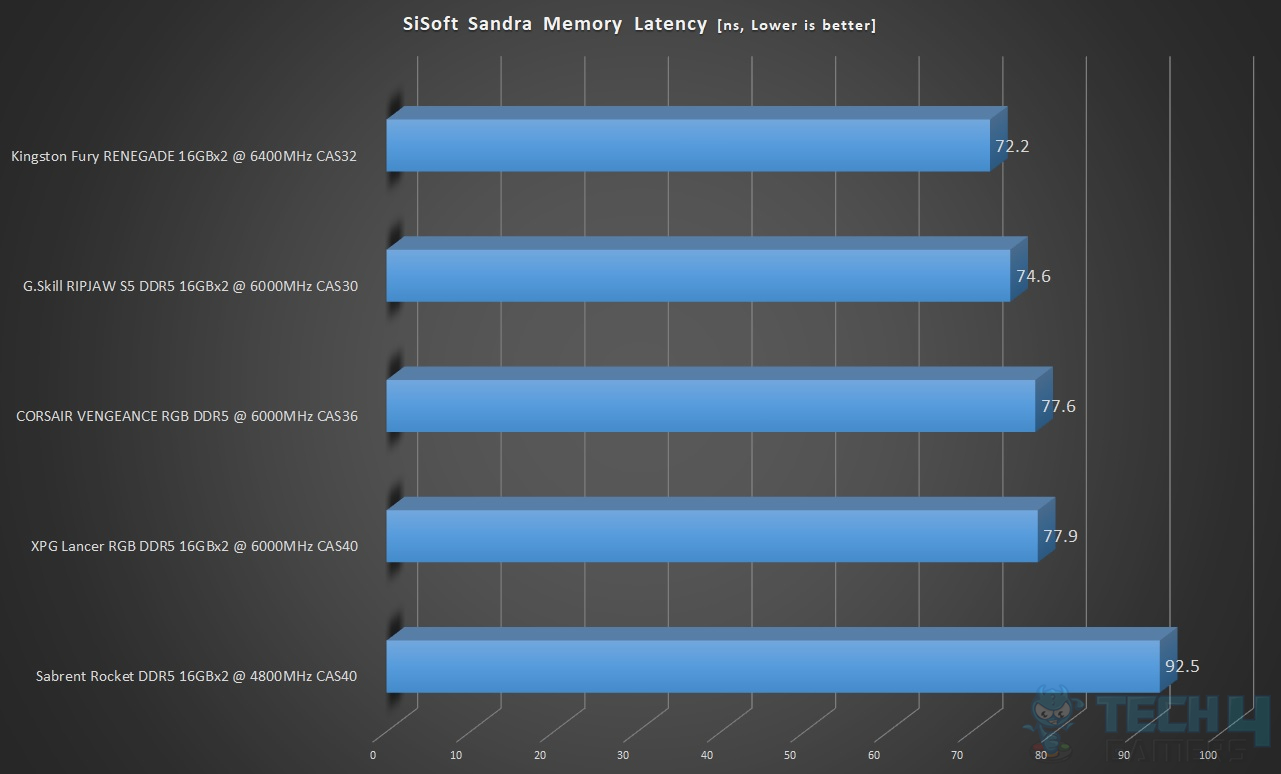 CORSAIR VENGEANCE RGB DDR5 32GB 6000MT/s CAS36 kit has got 77.6ns.
Performance Test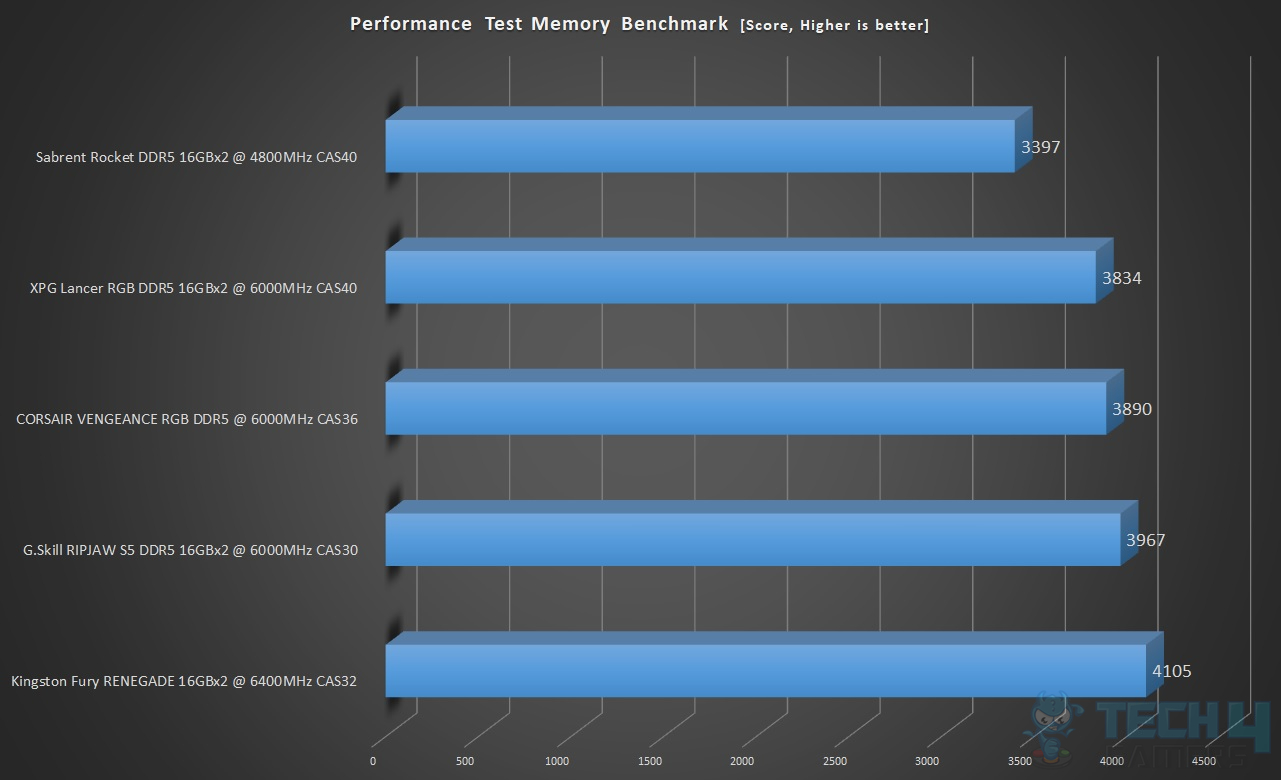 CORSAIR VENGEANCE RGB DDR5 32GB 6000MT/s CAS36 kit has got a 3890 score and sitting between the other two kits operating at 6000MT/s.
CINEBENCH R23.2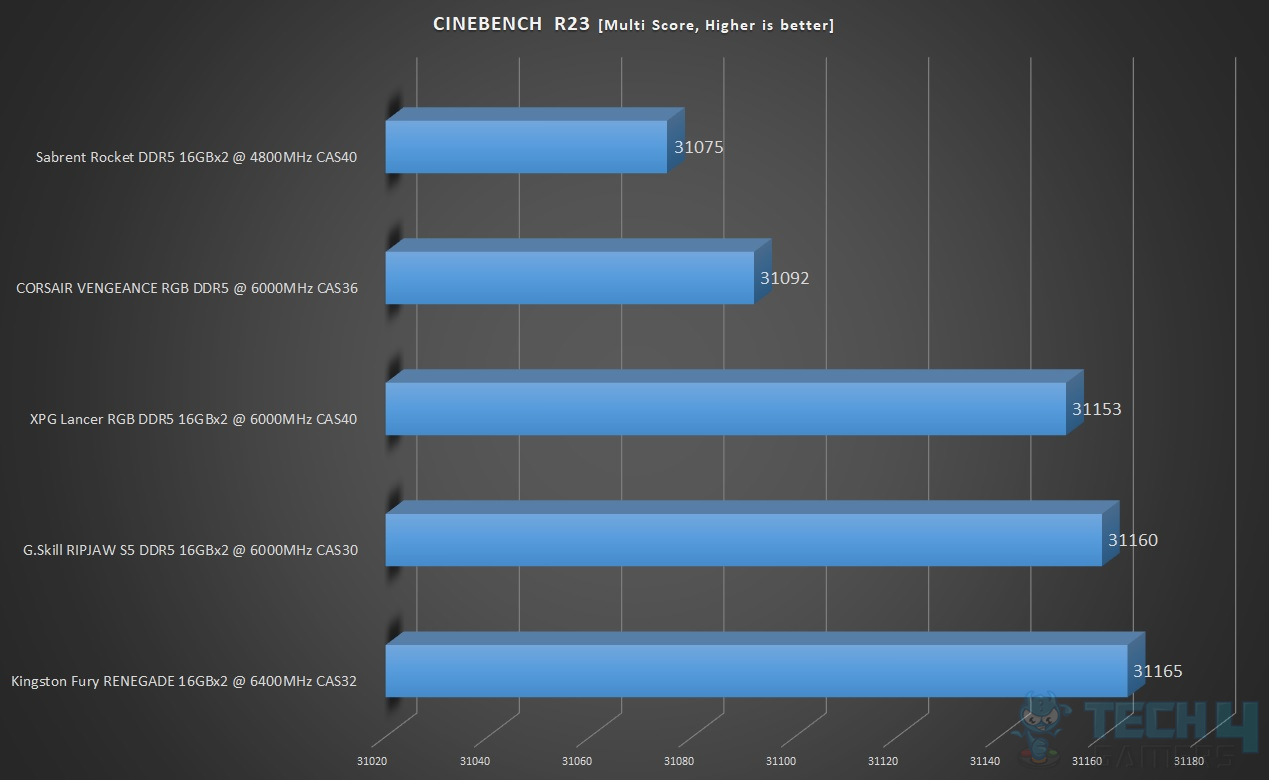 We ran the CPU Multi benchmark in R23.2 software. Here, the difference is marginal among all 5 kits.
Super PI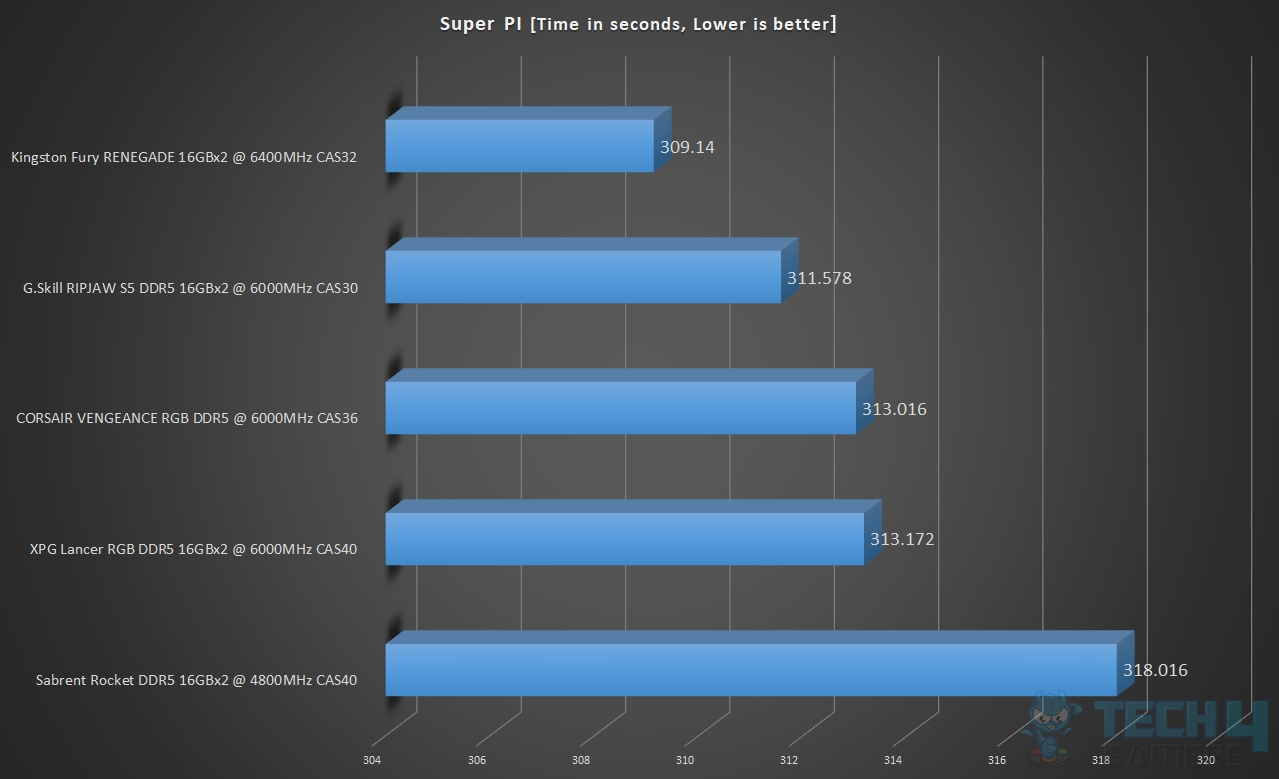 CORSAIR VENGEANCE RGB DDR5 32GB 6000MT/s CAS36 kit has 313.063 seconds and it is sitting between the other two DDR5 kits operating at 6000MT/s.
3DMARK Benchmark
We have used the Time Spy benchmark and are reporting CPU Score. We would want to see the impact of using different speed and timing kits on CPU scores.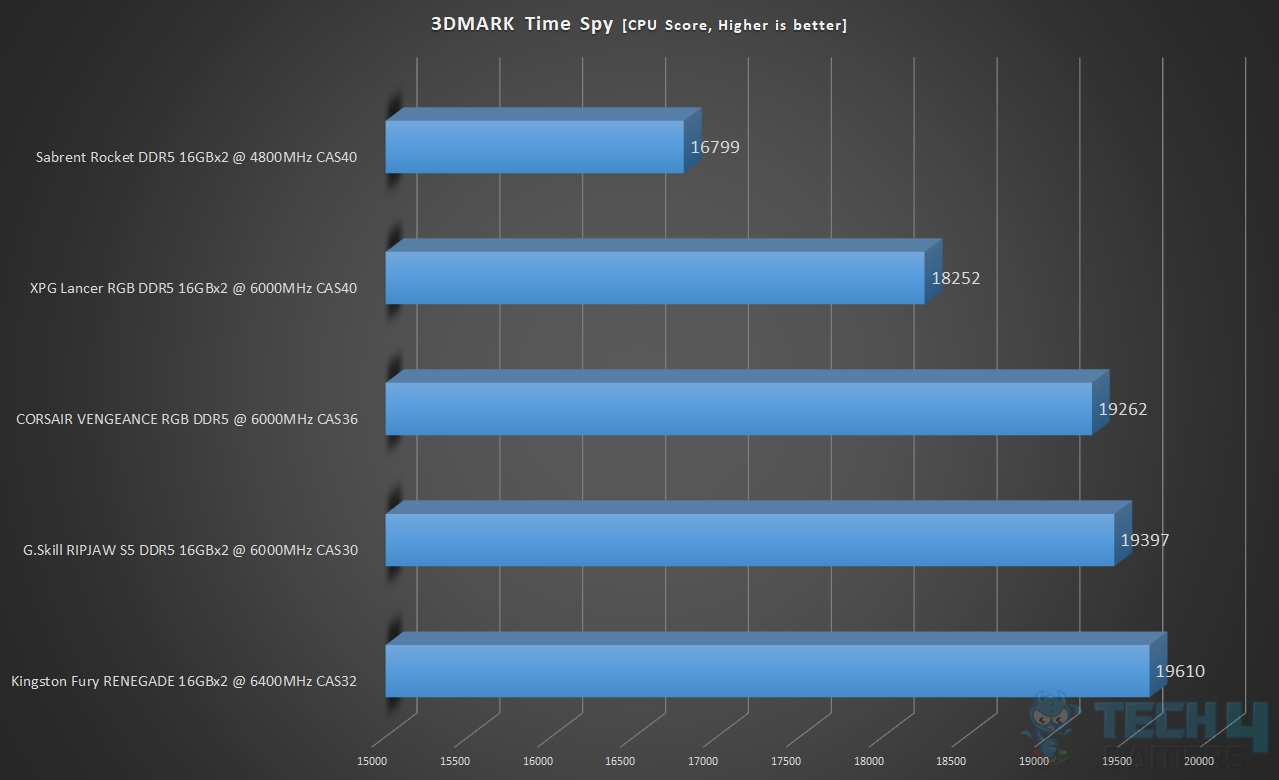 CORSAIR VENGEANCE RGB DDR5 32GB 6000MT/s CAS36 kit got 19262 score.
Overclocking
We usually start overclocking the given kit by manually upping the frequency in a multiple of 100MHz at a time and test for stability and repeat this process until instability is achieved or where diminishing returns happen. Then we dial back to stock frequency and start tweaking timings. Then we strive to achieve maximum frequency with tight timings. This is not an easy process and takes more time. This also corrupts Windows files and SFC/SCANNOW is our best friend. We were able to push CORSAIR VENGEANCE RGB DDR5 32GB 6000MT/s CAS36 kit to 6800MHz using the below settings.
| | |
| --- | --- |
| Memory Frequency Multiplier | 6800MHz |
| Timings | 36-36-36-76 |
| Gear Mode | Auto |
| VDD | 1.45V |
| VDDQ | 1.45V |
| VCCSA | 1.35V |
| VDDQ CPU | 1.45V |
| VDD2 CPU | 1.40V |
We managed to gain a +800MHz over the 6000 MT/s using 1.450V. This is a good gain from this kit using SAMSUNG B-Die. We repeated a few benchmarks to see the gain.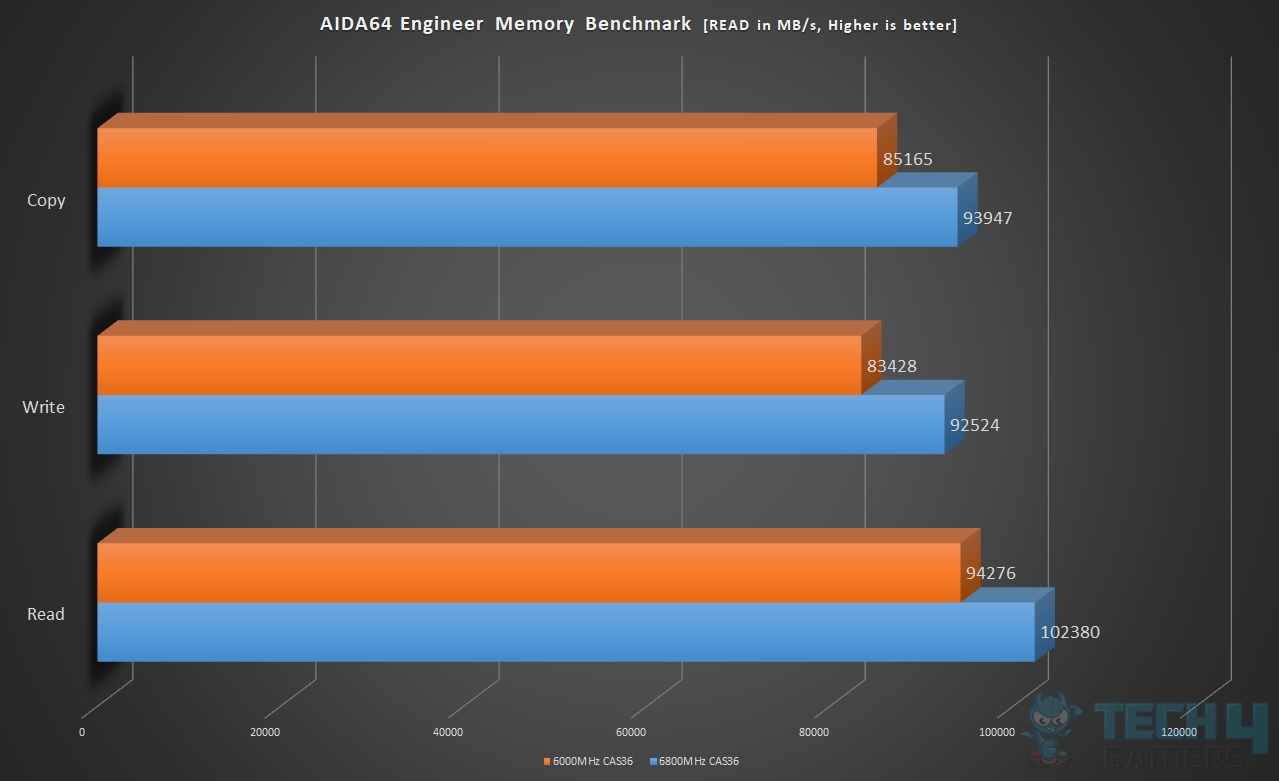 We saw a performance gain of 10.31% in Copy operations. Similarly, we saw a performance gain of 11.03%. 8.5% performance gain was in the Read operations. Overall, this is a healthy boost.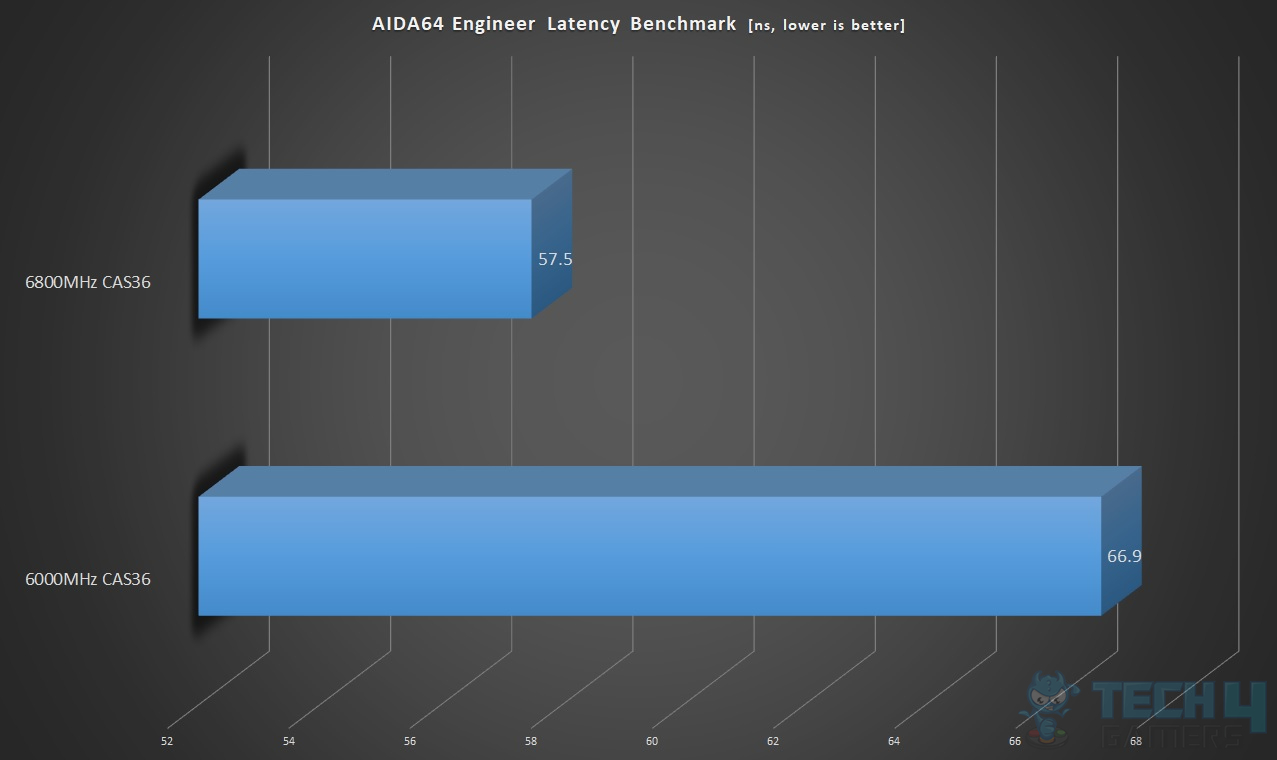 We saw latency improvement from 66.9ns to 55.7ns without playing with timings.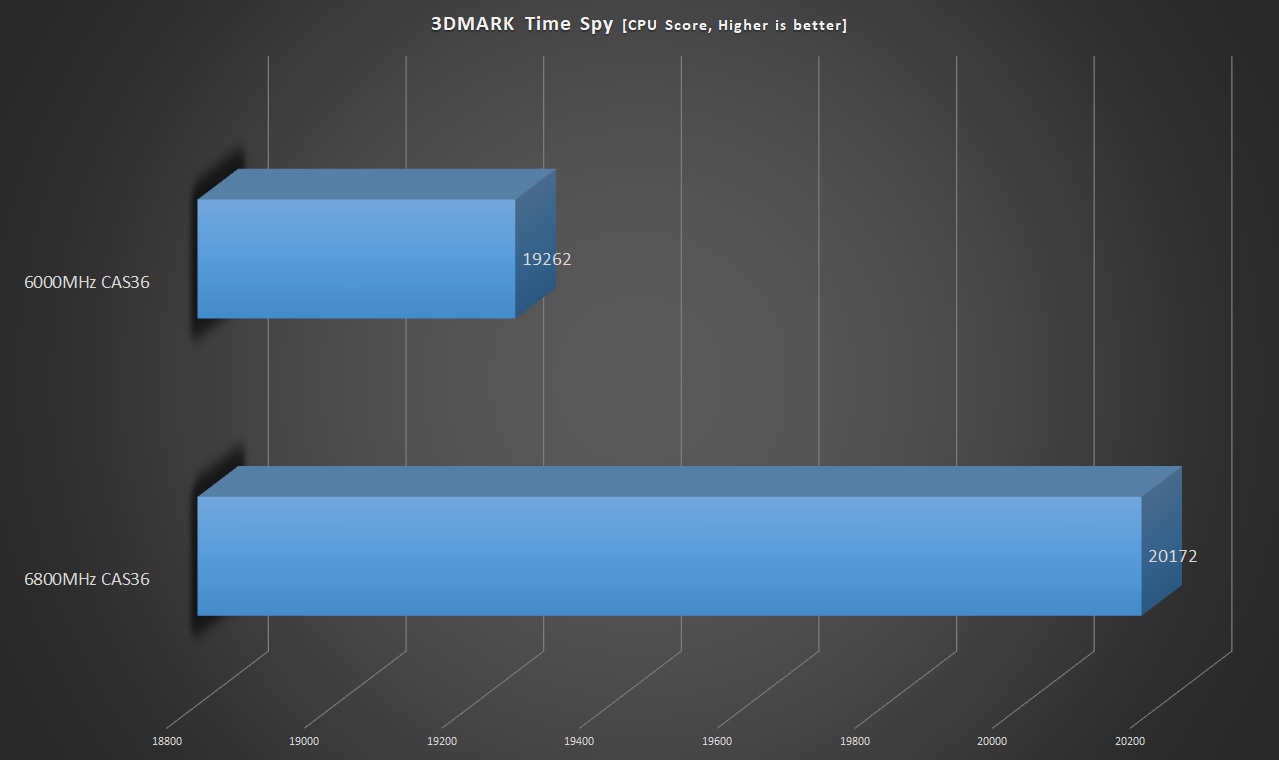 A marginal gain is seen in Time Spy.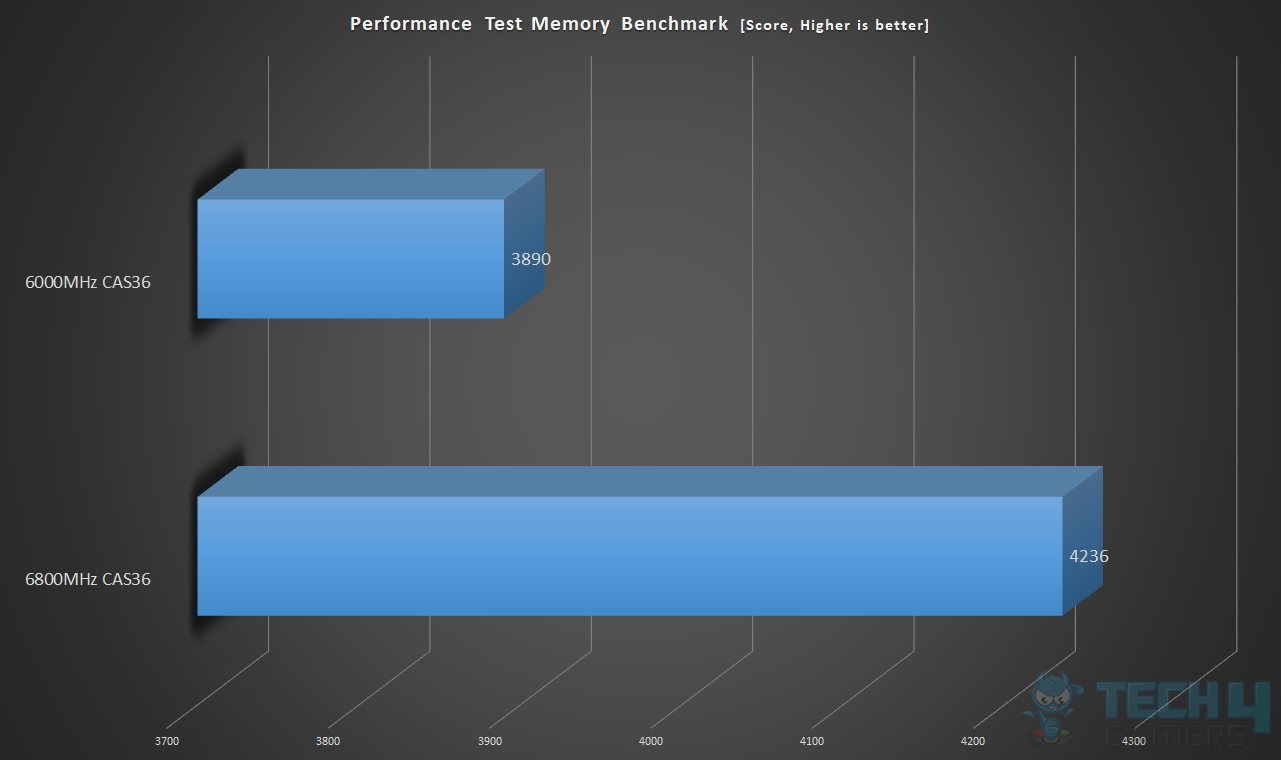 We are seeing a nice score boost in Performance Test from this overclock.
RGB Lighting and iCUE
We can't complete this content without talking about the RGB lighting and more importantly, iCUE software. I have seen CORSAIR's journey starting from CORSAIR LINK and then progressing towards a unified and more extensive software as the Eco System of CORSAIR grows.
Say hi to iCUE which is now superseded all previous launches and is now an integral part of the CORSAIR. This single software handles everything that a given CORSAIR product offers and it does so in a simplified manner.
One thing I really appreciate CORSAIR for doing is that they have kept the interface simple and easy to use while providing an extensive feature set that a user would need or even expect.
CORSAIR has to say this about iCUE, "Your custom-built PC is an extension of yourself – so make it personal. CORSAIR iCUE software puts your entire setup at your command, all through a single interface.
Orchestrate every last detail of your system, from dynamic RGB lighting effects synchronized across your whole setup to automating fan curves that adjust fan speeds based on your system's thermals.
Expand the capabilities of your peripherals: execute multiple commands at once with custom macros, hone your mouse's sensitivity in single DPI steps, and fine-tune your audio for whatever you are listening to. Monitor critical details like system temperature, fan speed, and voltages, so that you know all of your components are working smoothly in a united setup."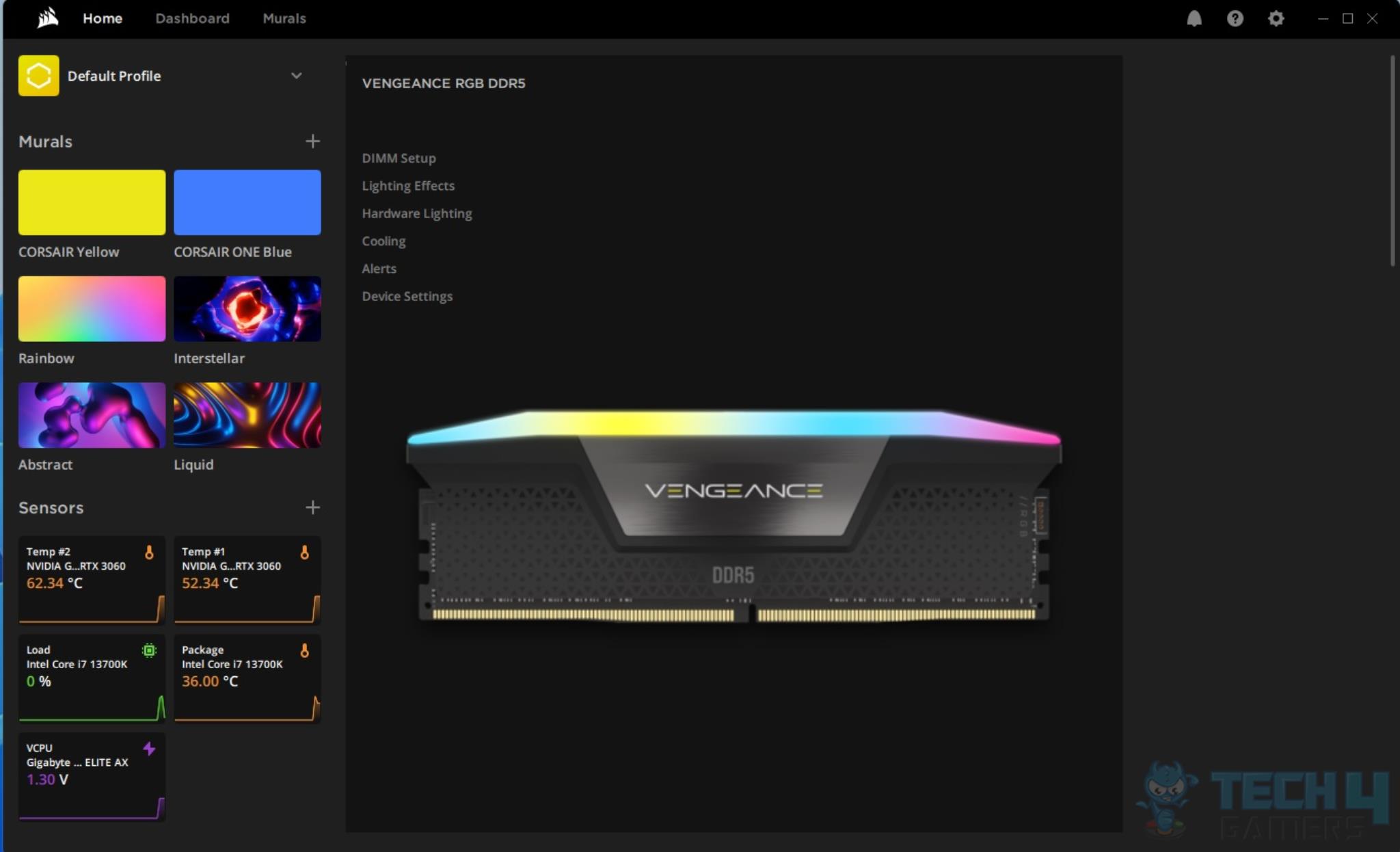 We downloaded the latest version from the CORSAIR website. 1.1GB is the size of a download file. Installation was straightforward and this did not even require a Windows restart. As soon as we launched the iCUE, it immediately picked the CORSAIR VENGEANCE RGB DDR5 kit.
The first page is called Home. The main windows pane lists the CORSAIR products along with the possible settings above them. The left side has 6x pre-defined Murals which are at a distance of one click. We can see sensors at the bottom left side. These can be customized as well.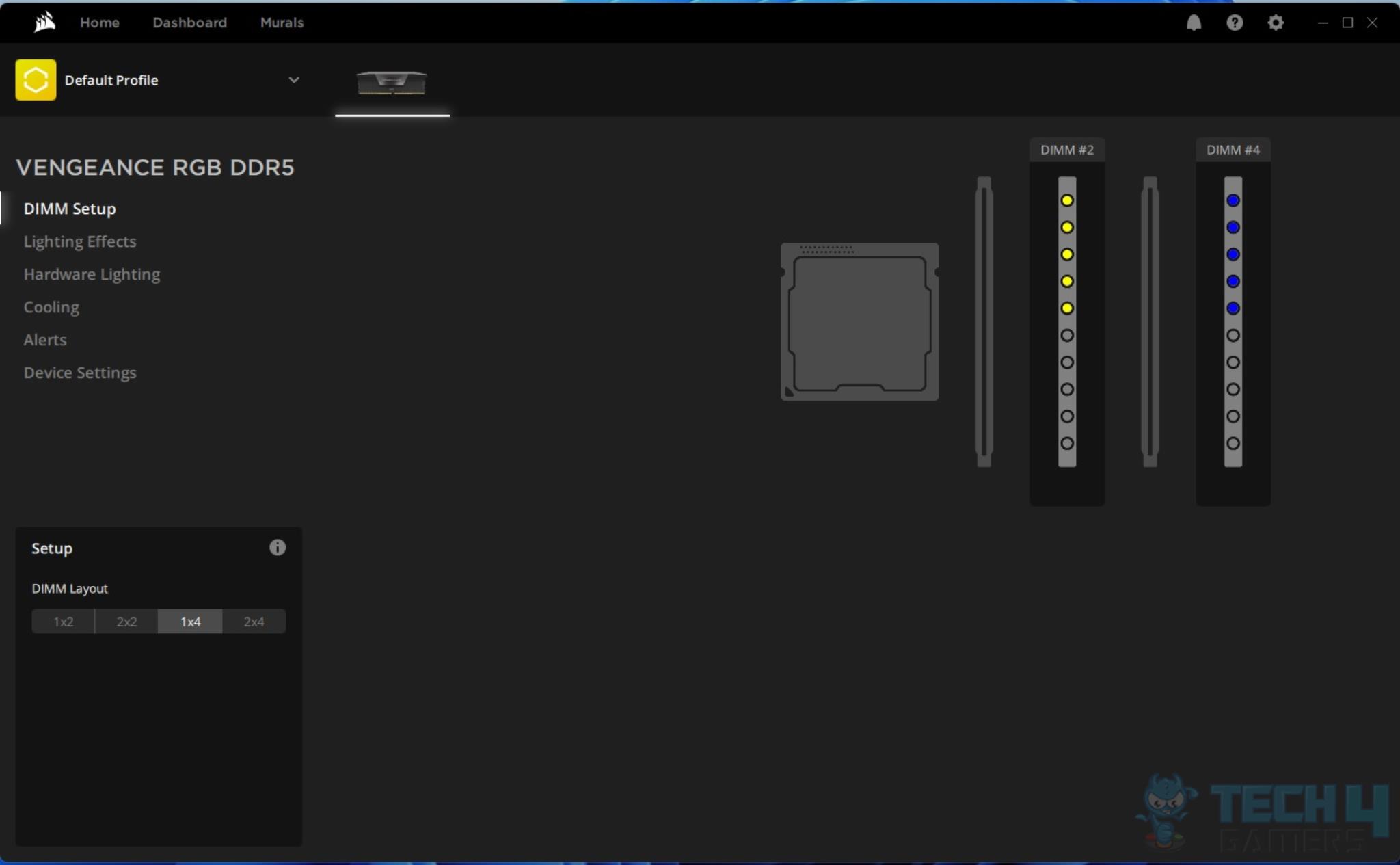 Now, we are under a Default Profile of the CORSAIR VENGEANCE RGB DDR5 kit. Users can define multiple profiles with each profile having different lighting effects etc. We can define the setup of this kit by dragging each module to the right DIMM slot.
Please keep in mind that, this software also supports quad-channel setup using 1×4 and 2×4 naming conventions.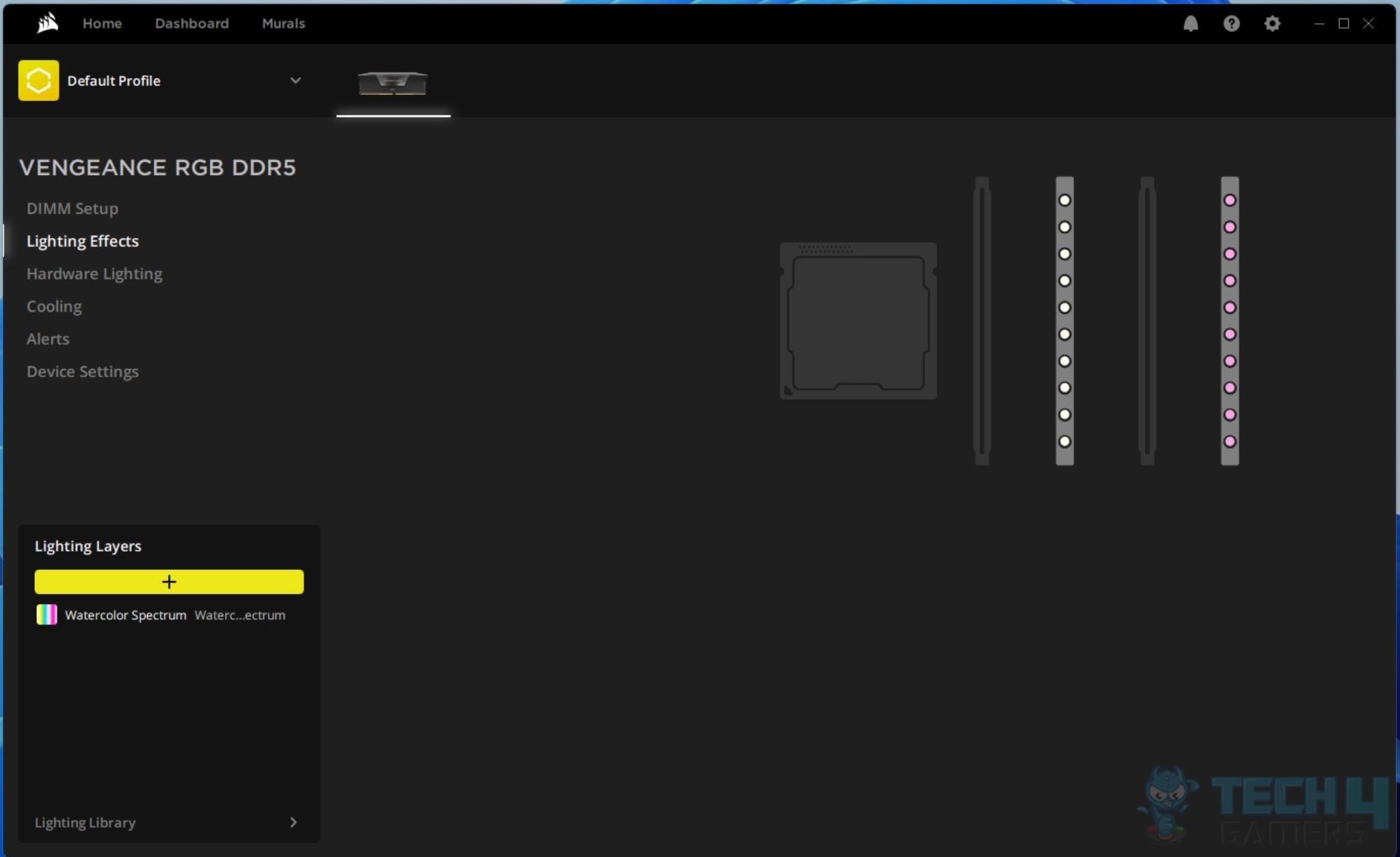 After correctly setting up the modules, we can start playing with the main element which is Dynamic Ten-Zone RGB lighting. This is a fancy way of telling a user that you can individually control 10 RGB LEDs per module.
Users can create multiple layers with each layer having a different lighting effect from a plethora of pre-defined effects or creating one.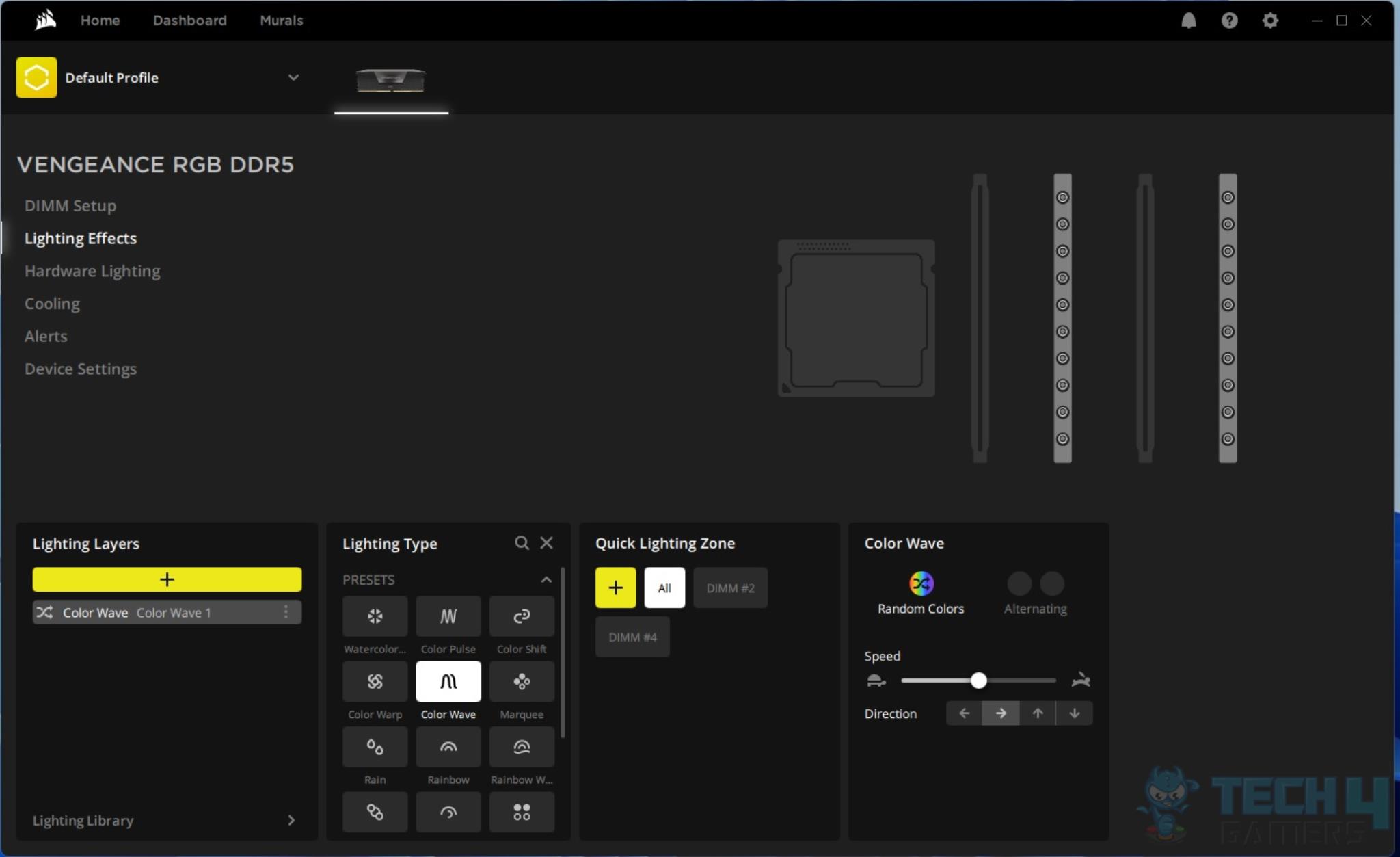 We selected Color Wave. This is not the default color mode on this kit. We can see that this effect can be defined separately for each module.
The arrow directions provide iCUE to set the direction of dynamic color mode like a down arrow would mean RGB lighting would start from the top of each module and flow downwards etc.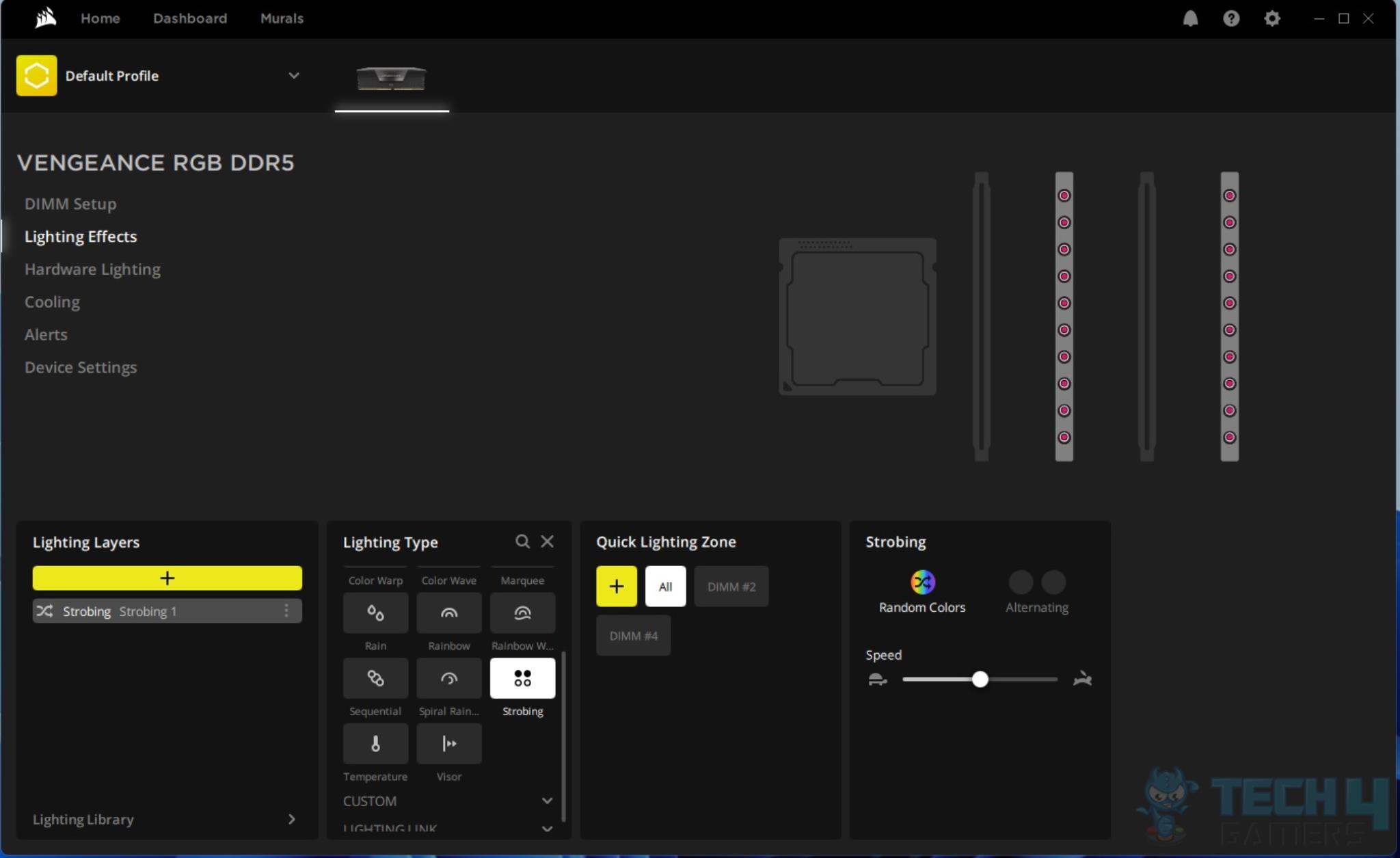 Next, we selected Strobing effect. You can let iCUE decide between the colors or use your input colors for an alternate function. Turtle and Rabbit are self-explanatory though.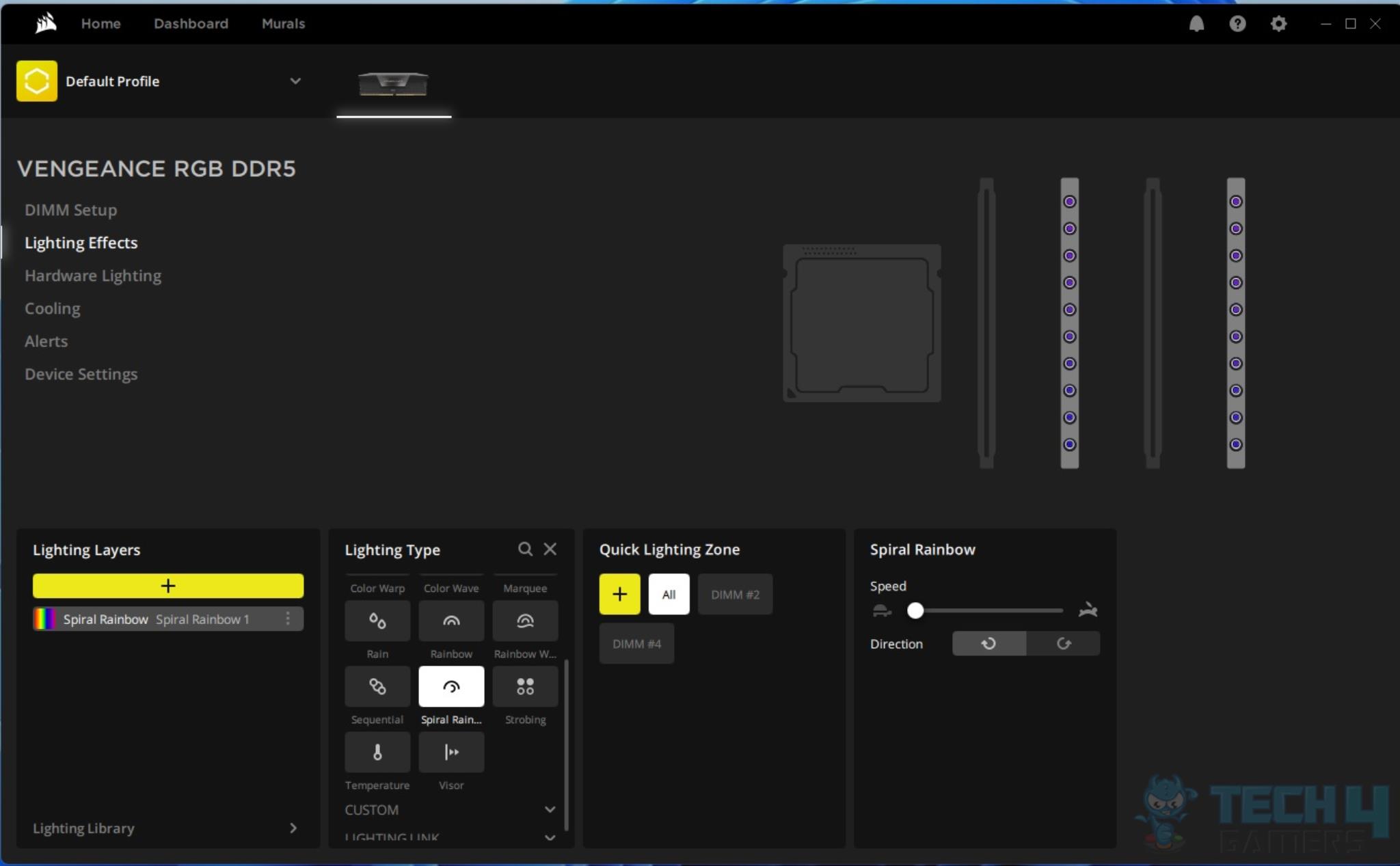 Spiral Rainbow mode was loaded next. You can control the direction of lighting flow and speed as well.
You can also use Custom options for finer tune lighting modes and Lighting Link as well.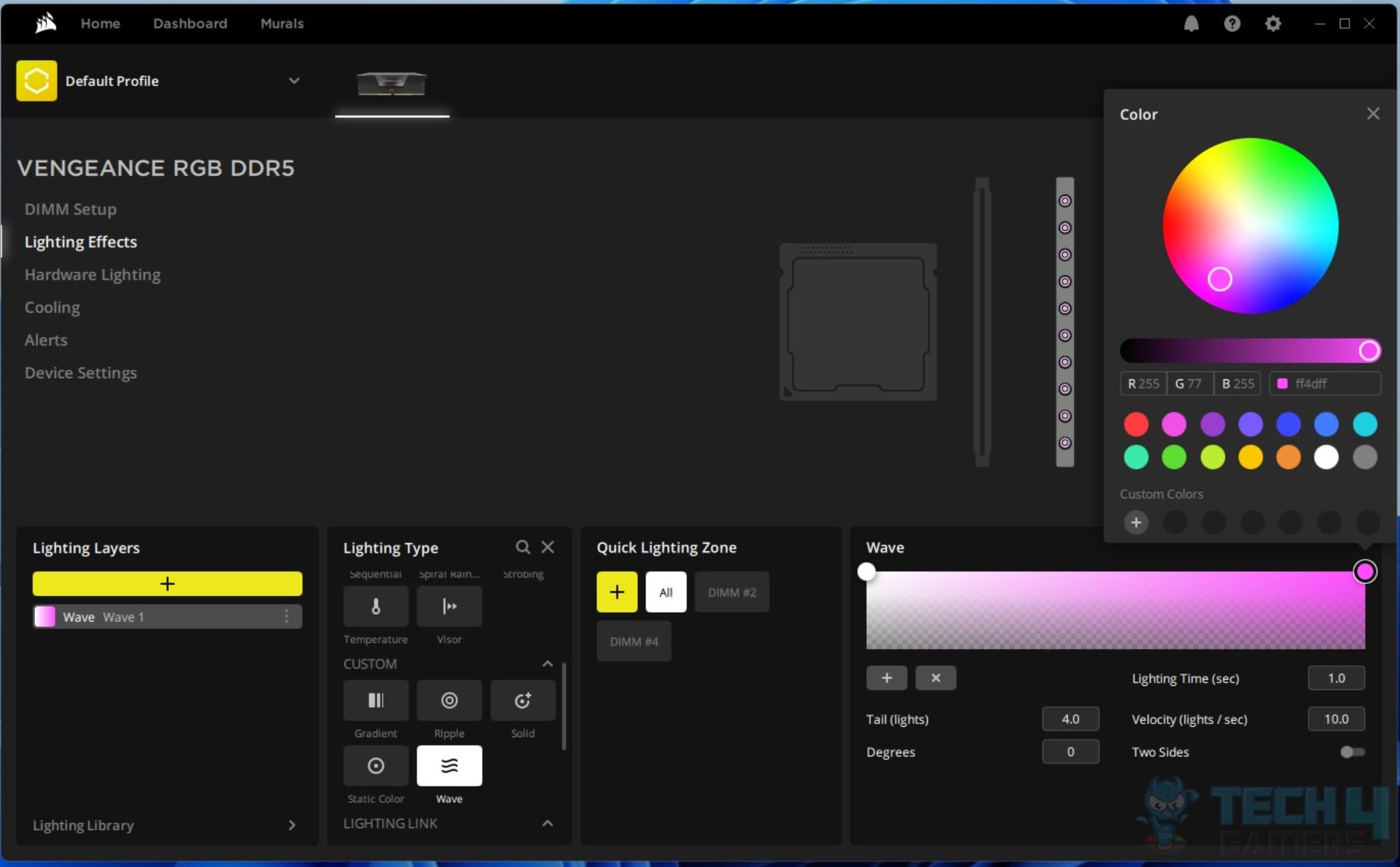 Here we selected Wave under the Custom option. Now, you can see the extent of functionality that iCUE offers. You can set the time of Lighting and also the visibility timing starting from the tail side. You can select any color from a pallet and even create custom colors. This will make a fading color design on the kit.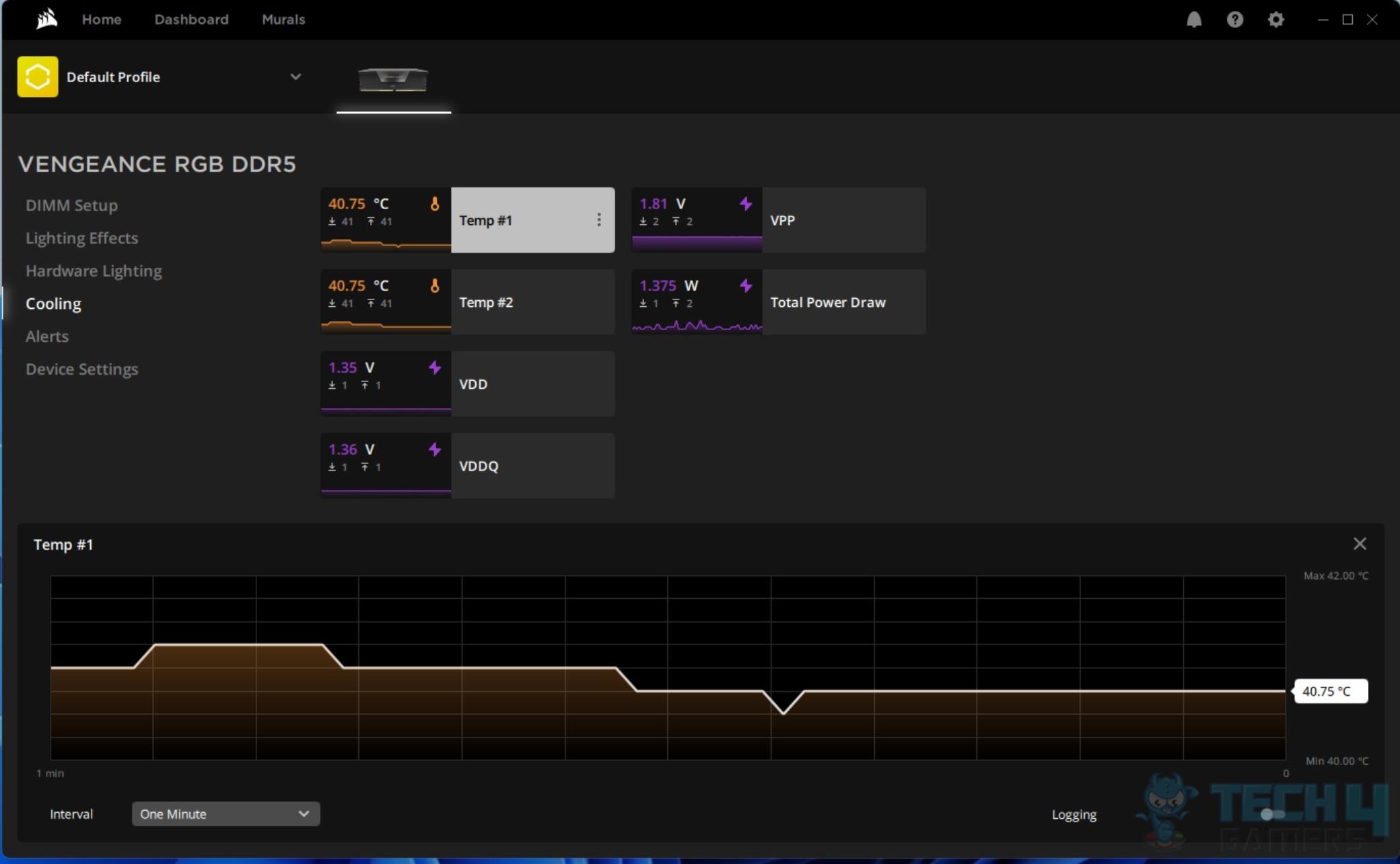 Coming to the cooling side of this device, there are sensor logging and graphs as well. This is what has been available from day 1 from CORSAIR LINK and is present in iCUE as well.
We can see VDD and VDDQ voltage readouts, total power draw, and temperature sensors. This kit has a temperature sensor so we are getting temperature readout as well. I am not sure if this temperature is of a specific component or a general PCB-wide temperature.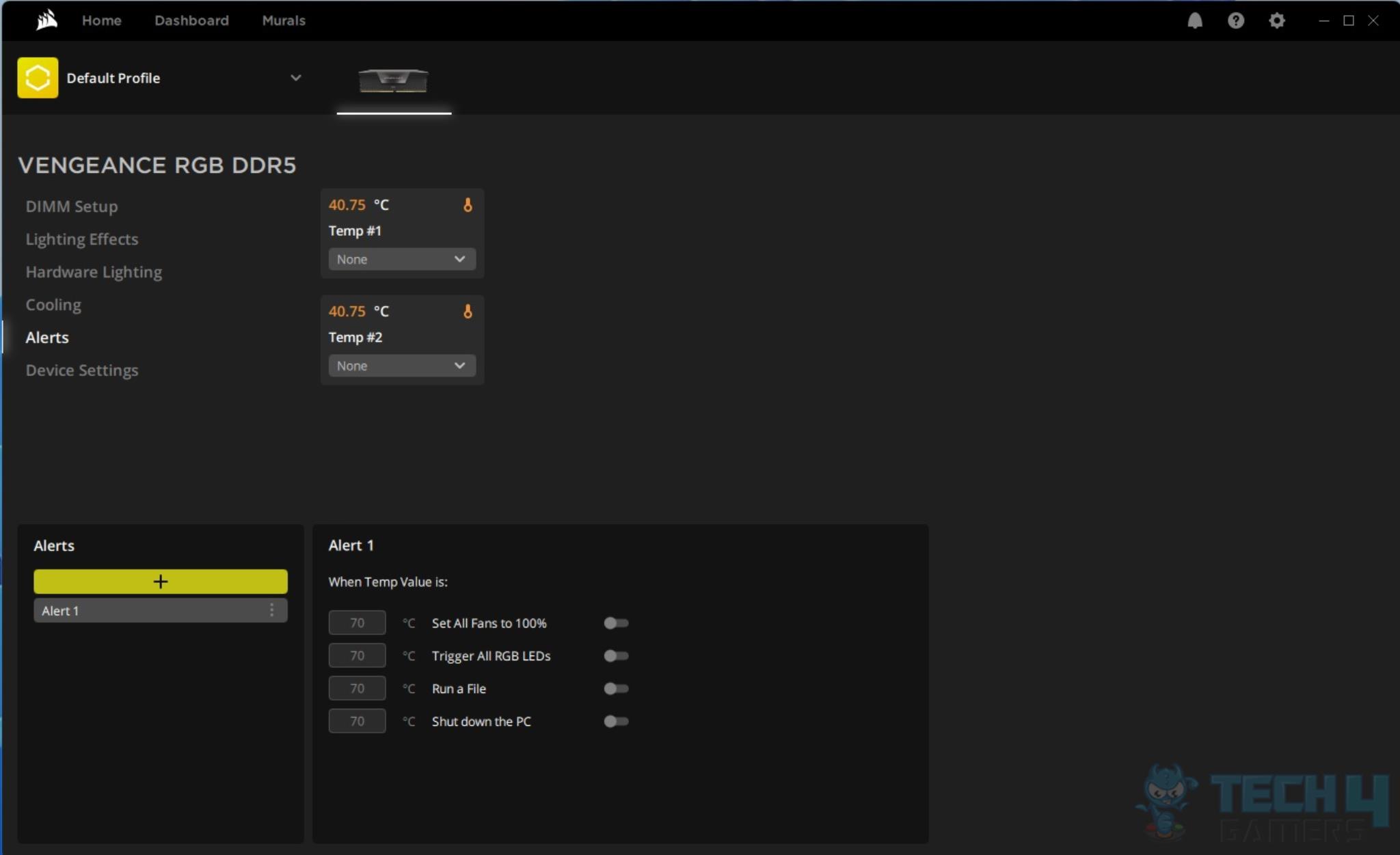 Users can create alerts. Usually, these alerts can be made on the basis of high power draw or temperature and it would vary from product to product. In our case, we can have a specific color that can be put on both modules provided temperature values reaches or crosses the defined value.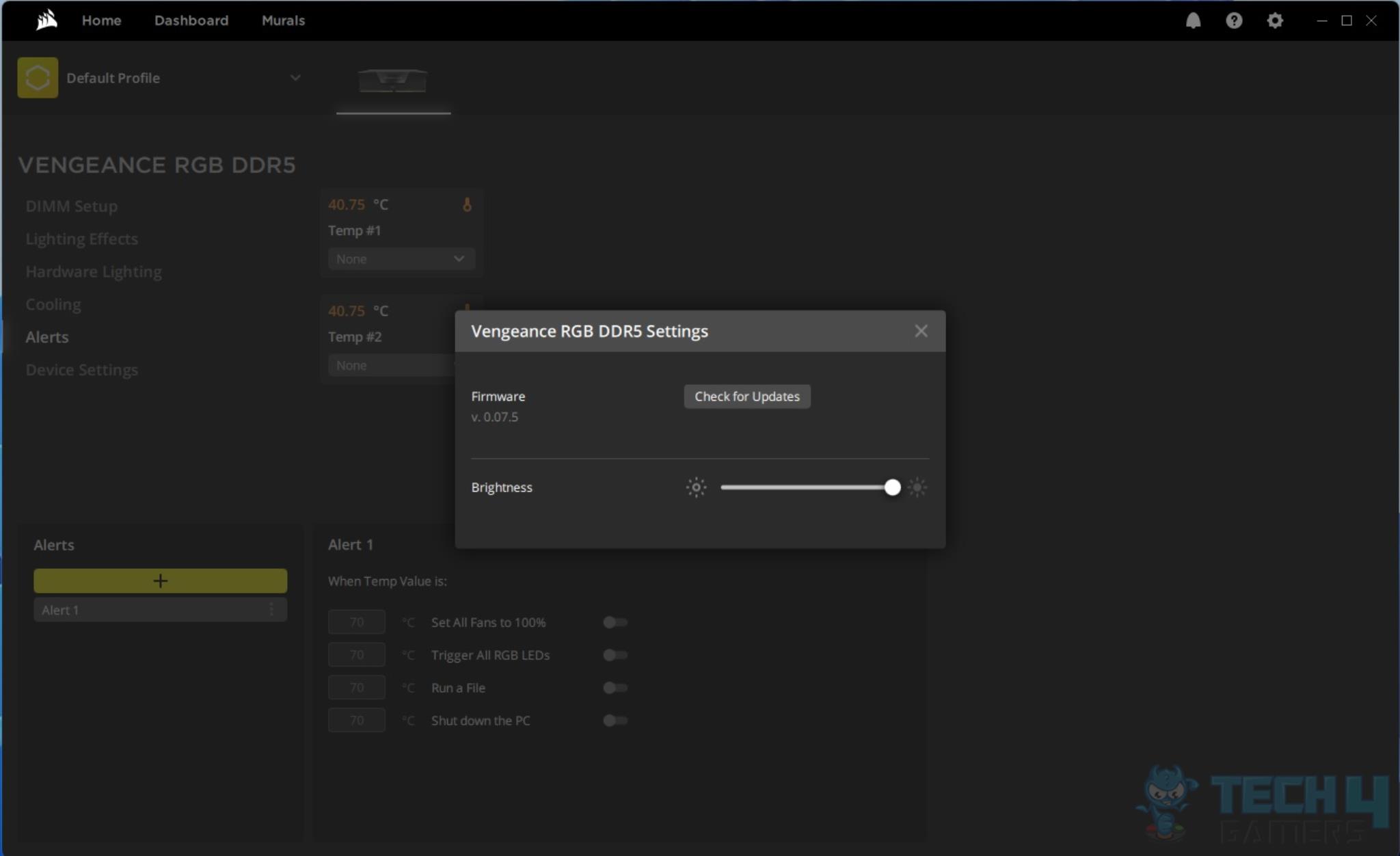 We can control the brightness level of this kit under Device settings. We can also check for a firmware update, if available for the selected device.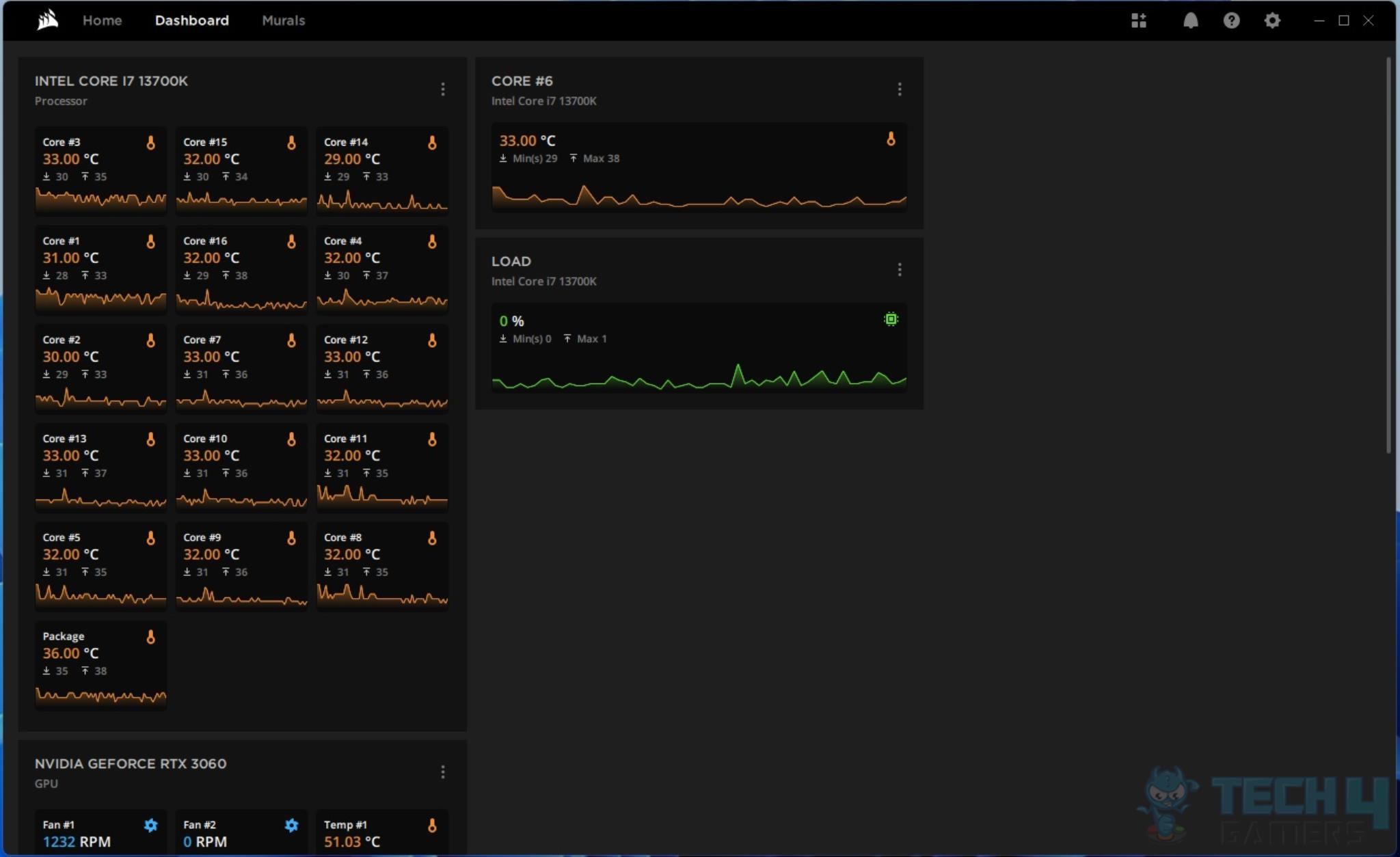 On the Dashboard page, we have a plethora of sensors listed. This is totally customizable at the user's discretion. By default, we are seeing CPU and Graphics Card sensor readouts.
You can decide which component to be included in the monitoring. VENGEANCE RGB DDR5 was not enabled by default. We made it enabled from this page.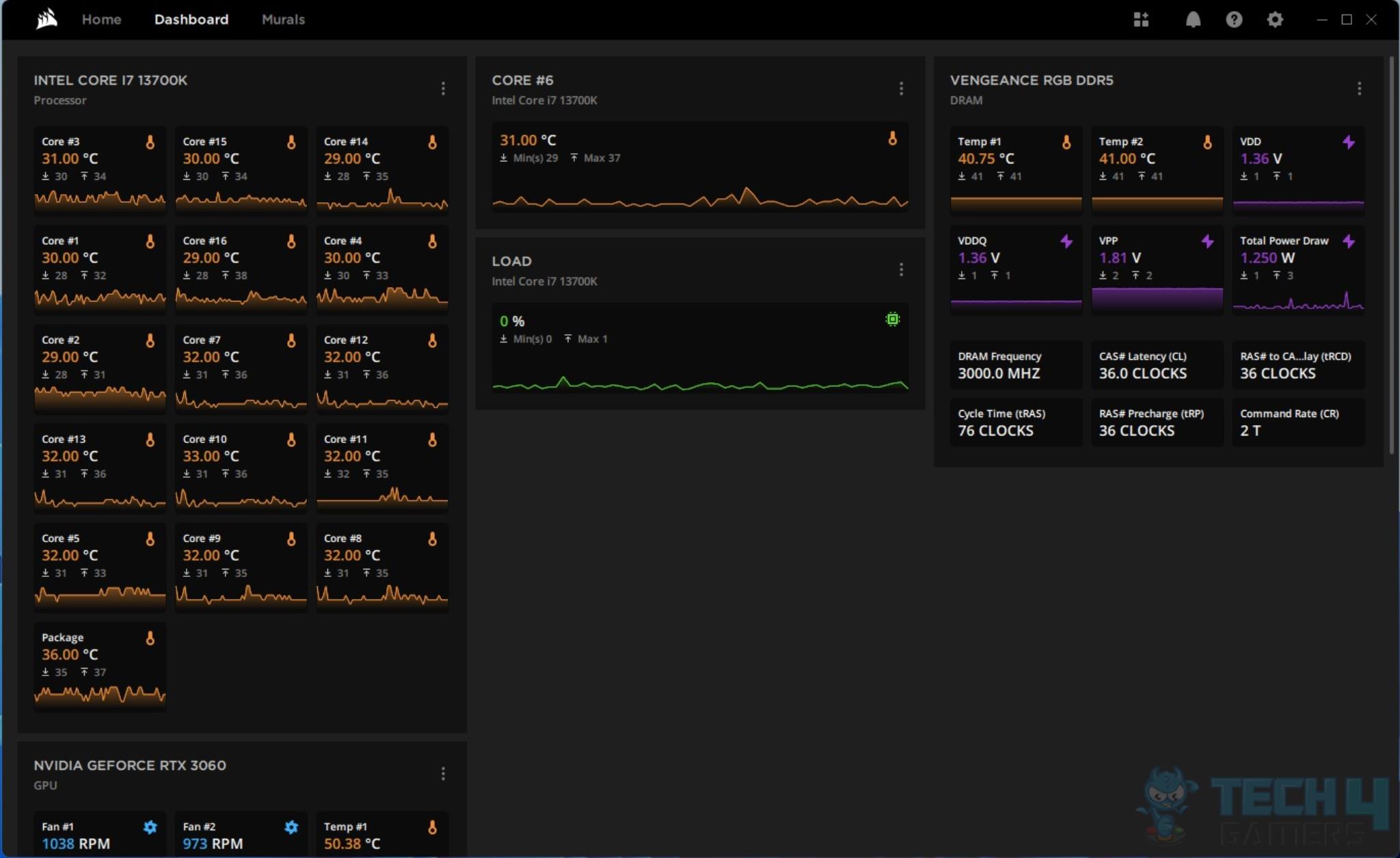 Now, we are monitoring a plethora of sensors for this kit. DRAM Frequency is mentioned as 3000MHz. Since this is a double data rate so effective frequency will be 3000×2=6000MHz. They have provided primary timings and command rates as well.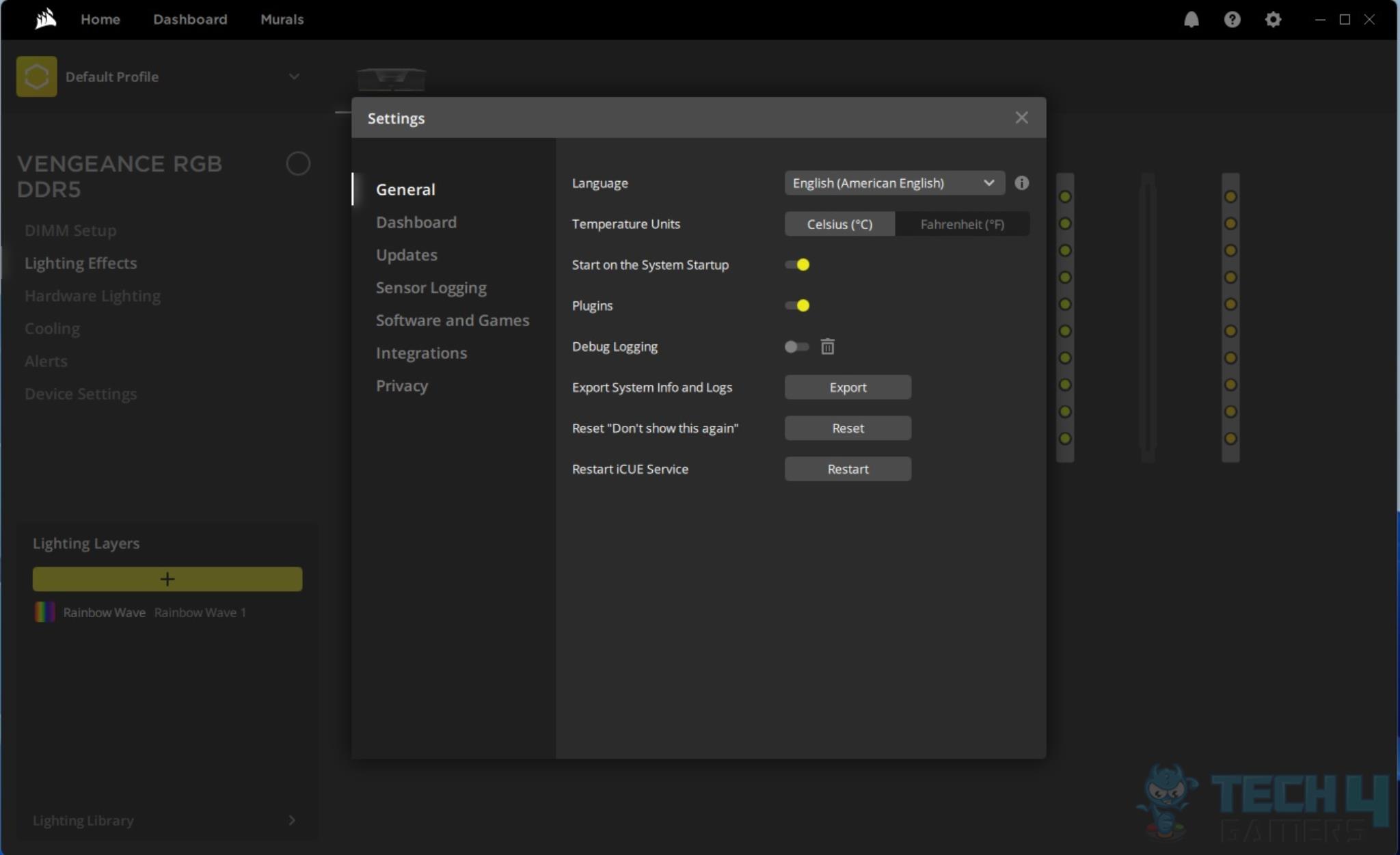 Now we are traversing the iCUE's own settings. In case you are experiencing issues with the software, you can restart the iCUE services here. The temperature unit can be changed as well. You can also disable iCUE startup at Windows launch.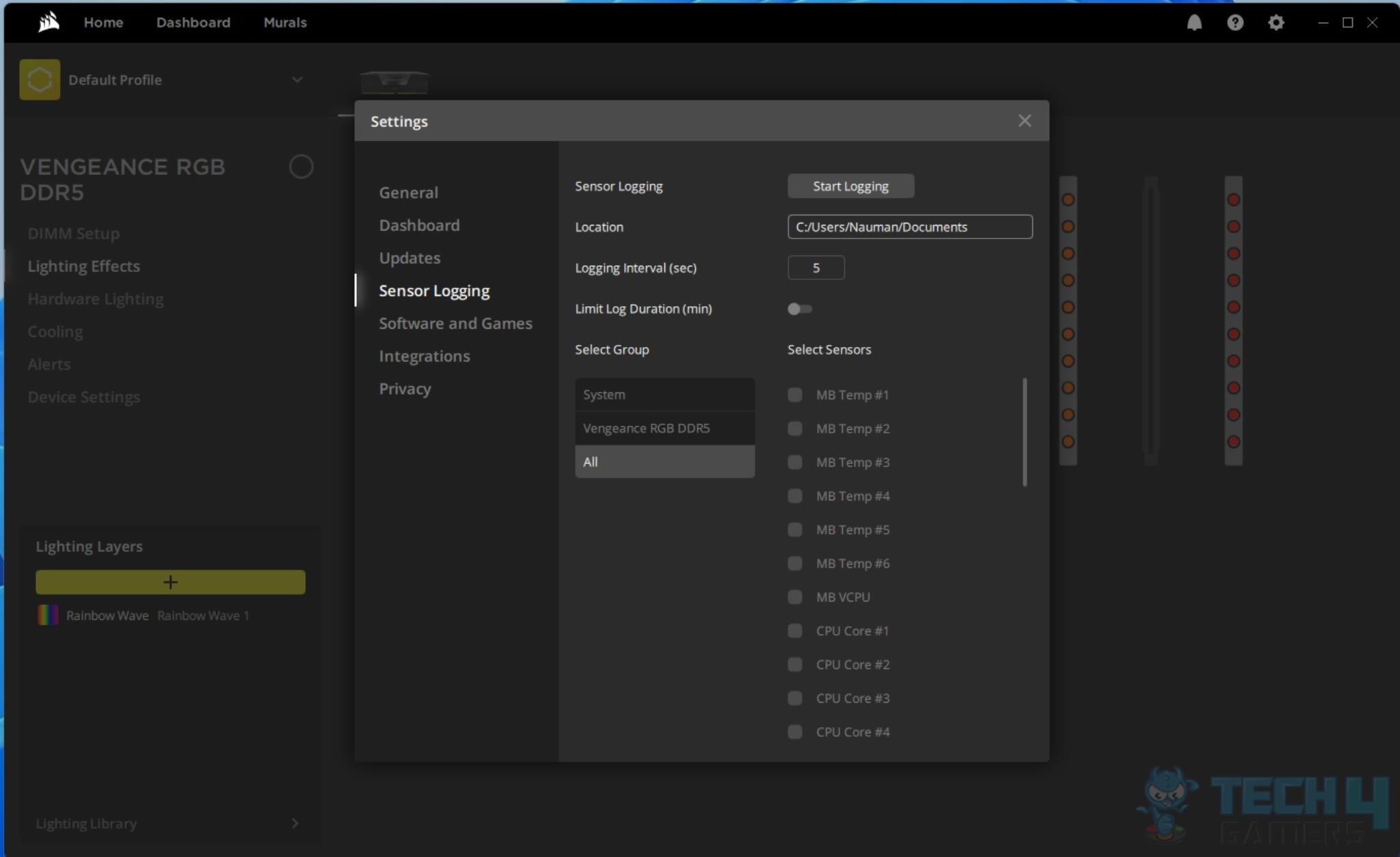 Sensor logging is an important aspect. The location of the sensor log file is shown as well. All sensors are listed under All. You can also do device-based sensor logging.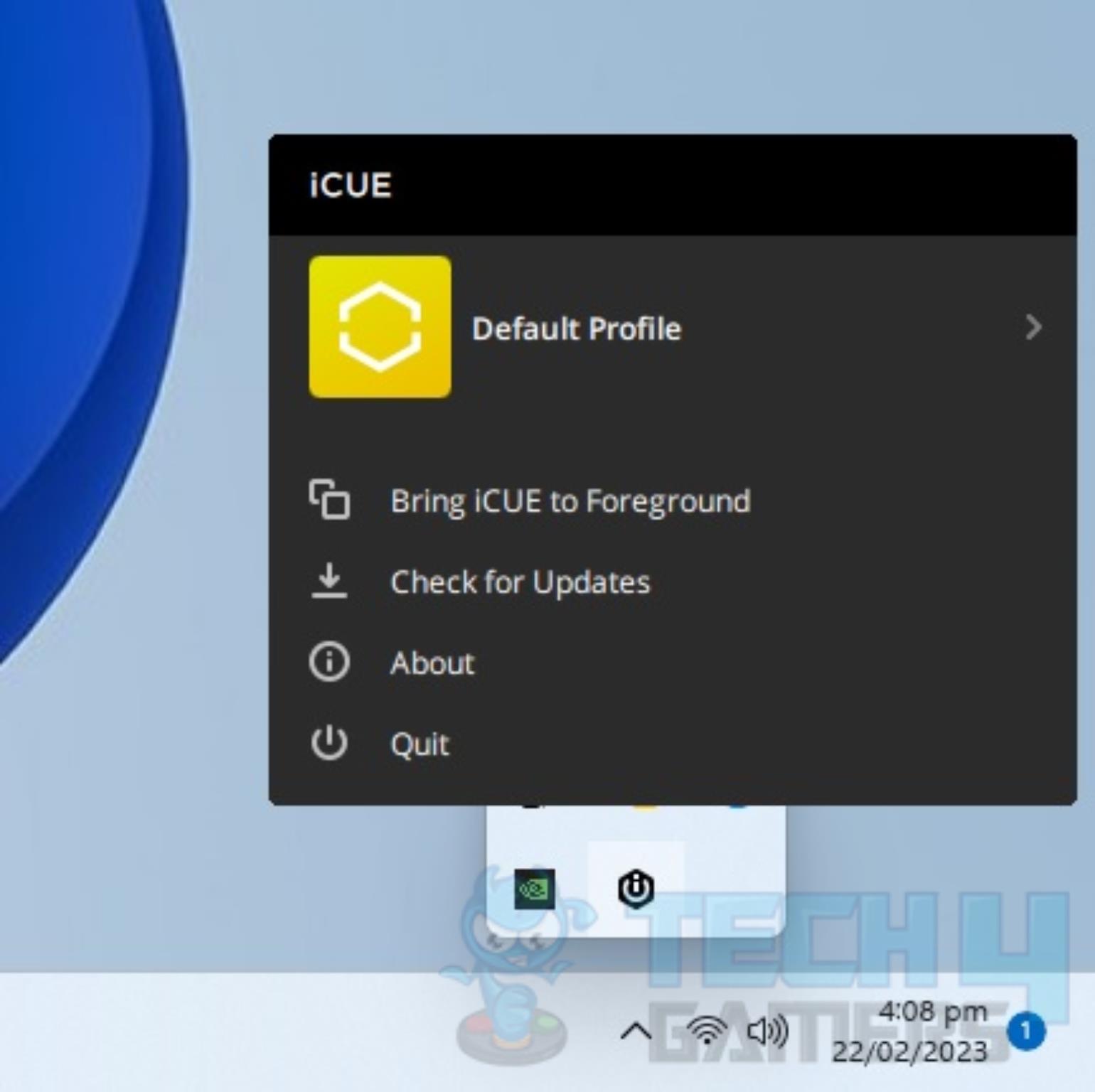 iCUE icon remains available in taskbar system icons. Right-clicking this icon will show some options. In case more than one profile is defined, you can make a quick switch from here.
Here are a few pictures:
Conclusion
When I heard that a RAM is coming from CORSAIR, it jogged some good memories from memory lane back in time when I used to be an avid CORSAIR user to the extent of once having all CORSAIR based build.
I still get this itch to have a complete CORSAIR-based build. When 760T was launched, I went through all the troubles of getting one unit imported from the US and paid more than double the price but it was worth it.
One of several reasons for my choice of sticking with CORSAIR is its customer support service. I am a key believer that no matter how good your product is, it will not matter if customer service is not up to that mark. Based on my personal experience with their customer support, I have been recommending CORSAIR products.
The other reasons are obviously the products themselves. It has been quite some time since I have used any of CORSAIR's products except my trusty AX1200i.
Anyhow, I digress, coming back to the main topic, CORSAIR has sent us VENGEANCE RGB DDR5 32GB 6000MT/s CAS36 kit for review. They have also sent a Sabre RGB Pro Wireless mouse for review which will follow soon.
We have recently tested the Kingston Fury Renegade 2x16GB DDR5 kit along with G.Skill Ripjaws S5 2x16GB DDR5 kit. Earlier we tested XPG Lancer RGB 2x16GB DDR5 kit and the Sabrent Rocket 2x16GB DDR5 kit as well.
Our sample of the CORSAIR VENGEANCE RGB DDR5 kit is in white color though this series is available in white, black, and cool grey colors. This series is available in multiple densities starting from 16GB per module to going as high as 96 GB.
48GB and 96GB are new addition in DDR5 and RAM manufacturers are releasing these density kits as well including CORSAIR. So far, 6000MT/s has been termed as a sweet spot in DDR5 but the game is going high for sure.
Our test sample has a part number CMH32GX5M2D6000C36W. Here W means white. We have got a kit comprising 2 modules each of 16GB capacity. This kit is rated or tested for 6000MT/s and has a timing of 36-36-36-76-2T using 1.35V.
This sample is manufactured in the 7th week of 2023 and this has important consideration from defining custom XMP profiles. This kit comprises 2Gx64-bit (32GB) memory chips from SAMSUNG. This is our first DDR5 kit using SAMSUNG chips and it is a B-Die.
So far, we have seen Hynix M-Die and A-Die termed as game changers, and from the looks of it, SAMSUNG is not enjoying what they have with B-Die in the DDR4 market. Though our experience with this kit is very good, the mileage could also vary depending on the CPU and motherboard.
This is a single-rank design and each 2GB chip is an 8-bit design on the FBGA package. CORSAIR VENGEANCE is a mainstream memory solution. If you are looking for a high-performance solution from CORSAIR, look at DOMINATOR PLATINUM.
Speaking of DOMs, I have used 32GB (4x8GB) DOMINATOR PLATINUM in DDR3 on ASUS FORMULA Z87. Man, those were golden days. The VENGEANCE series is available in RGB as well as non-RGB versions.
These kits also carry hand-picked, tightly screened memory chips. The CORSAIR VENGEANCE RGB DDR5 kit has a dimension of 135×7.5×44.5mm as per our measurement. CORSAIR has mentioned the dimension as 135x8x56mm. I am not sure where this 56mm is coming from.
Maybe they made a typo based on DDR4 VENGEANCE PRO kits but I am not sure. Anyhow, it would be sufficient to say that other than height, the measurements are within the error of margin.
44.5mm height is still doable with respect to CPU air coolers though I would suggest users do proper homework before buying components. I would not want to hide or conceal the beautiful RGB Lighting on this kit under an air cooler anyway though it is my personal opinion.
CORSAIR is using an aluminum-made heat spreader on this kit. This heat spreader is in white color. There is a gray color brushed aluminum cover on the front side which really contributes to the overall pleasant outlook of this kit.
We noted that this white color on the heat spreader is done in a way that it actually hides the triangle-marked textured pattern on the kit. There is a beautiful pattern all over this heat spreader which is somehow only visible at certain angles on this kit.
I am sure the black version would show that texture better. Once inserted in the PC, this would not matter as such.
CORSAIR is using a black color PCB. This PCB has one side populated and the other side has thick foam padding to make up for the equal distance of the aluminum heat spreader on this kit. The PMIC and memory chips have thermal pad covering as well.
PMIC is from RICHTEK. This is the same controller which we saw on the Kingston Fury Renegade kit. CORSAIR has used an SPD hub device for temperature sensors with an accuracy of ±0.50°C. This SPD Hub is from Montage Technology having a model of M88SPD5118.
There is a frosted diffuser on top of each module. It has a CORSAIR logo in middle. This logo has been kept in a small size which is a nice touch. CORSAIR has provided 10 RGB LEDs. Each LED can be individually controlled using iCUE.
CORSAIR is calling this feature Dynamic Ten-Zone RGB Lighting. The RGB lighting customization in iCUE is at another level and the overall color spectrum is quite good. We have even light diffusion on both modules.
This kit packs a single XMP profile. It is not programmed for AMD EXPO. However, you can still use it on the AMD platform. We did not observe any issue loading the XMP profile in BIOS. This kit allows users to define custom XMP profiles for which your motherboard should have this feature. GIGABYTE Z790 AORUS ELITE AX has this feature.
It will allow users to define their own profiles and save them for later use or even use on other PCs. Please make a note that running a memory kit above JEDEC Default is considered overclocking and despite XMP coming from Intel, Intel will not honor the warranty if the CPU got damaged with the XMP profile loaded. As strange as it sounds, it is what it is!
Other kits included in testing are:
Kingston Fury Renegade 16GBx2 6400MHz, CL32

G.Skill Ripjaws S5 16GBx2 6000MHz, CL30

XPG Lancer RGB 16GBx2 6000MHz, CL40

Sabrent Rocket 16GBx2 4800MHz, CL40
When it comes to the performance of the CORSAIR VENGEANCE RGB DDR5 32GB 6000MT/s CAS36 kit, we got a good overall performance using the XMP profile. Even we saw this performing better in a few runs against G.Skill Ripjaws S5 6000MHz, CL30 kit.
We were able to push this kit to an impressive 6800MHz mark giving us a +800MHz boost over 6000MHz. A performance gain of as high as 11% was noted though it would vary from software to software.
CORSAIR VENGEANCE RGB DDR5 32GB 6000MT/s CAS36 is listed on AMAZON at USD 172.99. This is a steep price for a kit operating at 6000MHz CAS 36. A quick comparison on NewEgg and we saw that other manufacturers' offers stand between USD 148 to 159 range (using RGB kits).
I am not sure if those kits provide XMP profile creation or not but other than that, the price variation is large. CORSAIR is providing a limited lifetime warranty on this kit.
Thanks to CORSAIR for the provision of a test unit.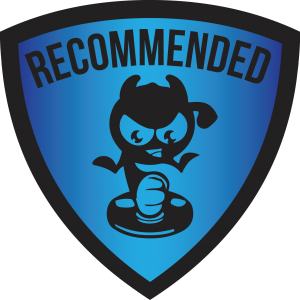 Was our article helpful? 👨‍💻
Thank you! Please share your positive feedback. 🔋
How could we improve this post? Please Help us. 😔