Best Wireless Gaming Mouse?
Review Summary
CORSAIR Saber RGB Pro Wireless has got a good game at hand when it comes to providing a powerful wireless connection at a strong polling rate and low latency for quick and buttery fast response. It has good tracking and offers a good blend of features as well.
Quality -

9/10

Design -

9/10

Performance -

9/10

Features -

9/10
Pros
Good Performance
Powerful Sensor
OMRON Switches
Up to 2000MHz Polling Rate
5ms Timing
SPLITSTREAM Wireless Connectivity
Bluetooth Connectivity
79gm weight
Claw Grip and Palm Grip
CORSAIR QUICKSTRIKE Buttons
Onboard memory
iCUE Support
RGB Lighting
Cons
Pricing ($109) could have been better
Wireless peripherals, particularly wireless gaming mice, are in trend these days, and almost all brands are catching up with the trend and releasing their solution with customizations. We recently tested CORSAIR VENGEANCE RGB 32GB 6000MT/s CAS36 kit.
This time we have spent some time with Sabre RGB Pro Wireless Gaming Mouse from CORSAIR. Some of the key features of this mouse include:
Up to 2000MHz Polling Rate
SPLITSTREAM Wireless Connectivity
Bluetooth Connectivity
Wired Connectivity
Low Latency Wireless Connectivity
79gm weight
FPS/MOBA Gaming Genre Support
Claw Grip and Palm Grip
PTFE Glide Pads
CORSAIR QUICKSTRIKE Buttons
MARKSMAN 26k Sensor
5 onboard Profiles
iCUE Support
There is a wired version of this mouse available as well. There is subtle RGB lighting on this mouse, and iCUE provides extensive customization support for this mouse.
Specifications
Product
SABRE RGB PRO WIRELESS CHAMPION SERIES Ultra-Lightweight FPS/MOBA Gaming Mouse
Mouse Warranty
Two years
Prog Buttons
7
DPI
26,000 DPI
Sensor
MARKSMAN 26K
Sensor Type
Optical
Mouse Backlighting
1 Zone RGB
On Board Memory
Yes
On-board Memory Profiles
3
Mouse button Type
Omron
Mouse Button Durability
50M L/R Click
Connectivity
Wireless
Grip Type
Palm, Claw
Weight Tuning
No
Hand Size
Medium
Game Genre
FPS, Battle Royale
Weight
79g (w/out cable)
Cable
1.8m Drag-Reducing Paracord
CUE Software
Supported in iCUE
Report Rate
Selectable 2000Hz/1000Hz/500Hz/250Hz/125Hz
Battery Life
2.4GHz SLIPSTREAM: Up to 60hrs continous use
BLUETOOTH: Up to 90hrs continuous use
Packing Box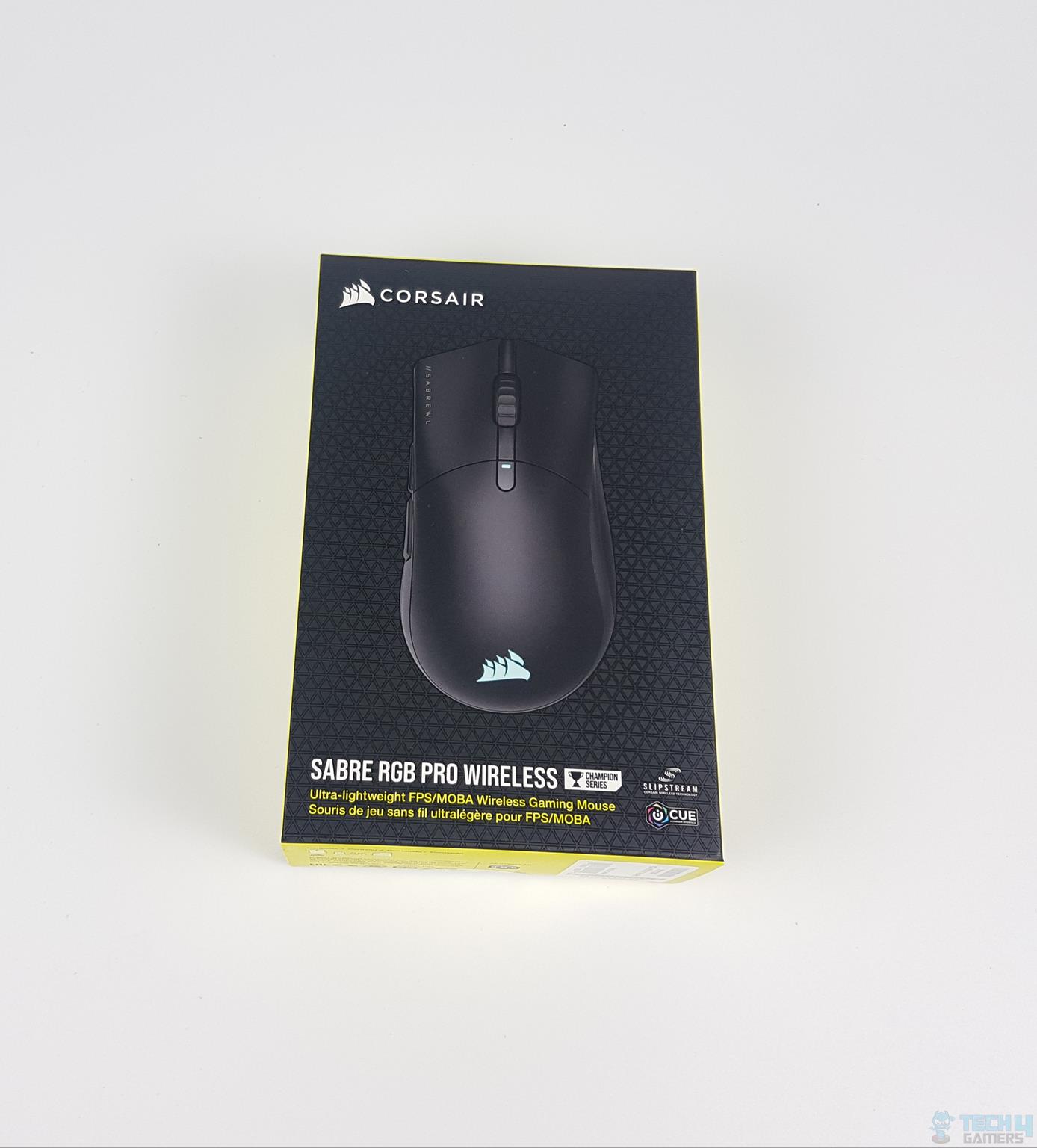 Mouse is shipped inside CORSAIR's yellow and black color-themed box. There is a picture of a mouse on the front. This mouse is from the Champion series, as eSports professionals have used this mouse and recommend it.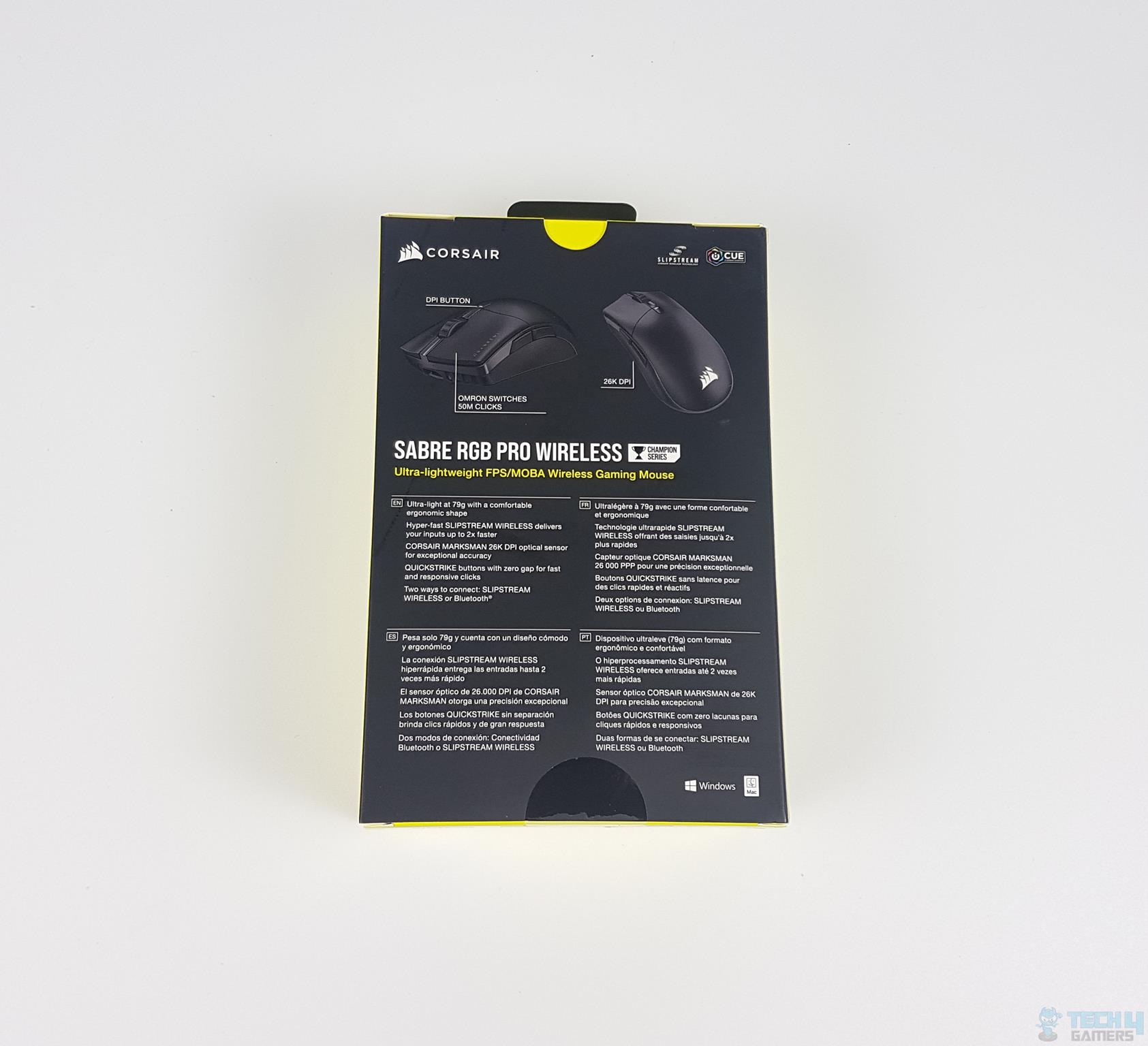 This mouse features OMRON switches rated for 50M clicks. I am not sure if this is a combined lifetime of both switches or of a single switch. Mouse has a DPI rating of up to 26000, which is quite extensive. Clearly, CORSAIR is aiming at professional gamers and the eSports arena with this mouse.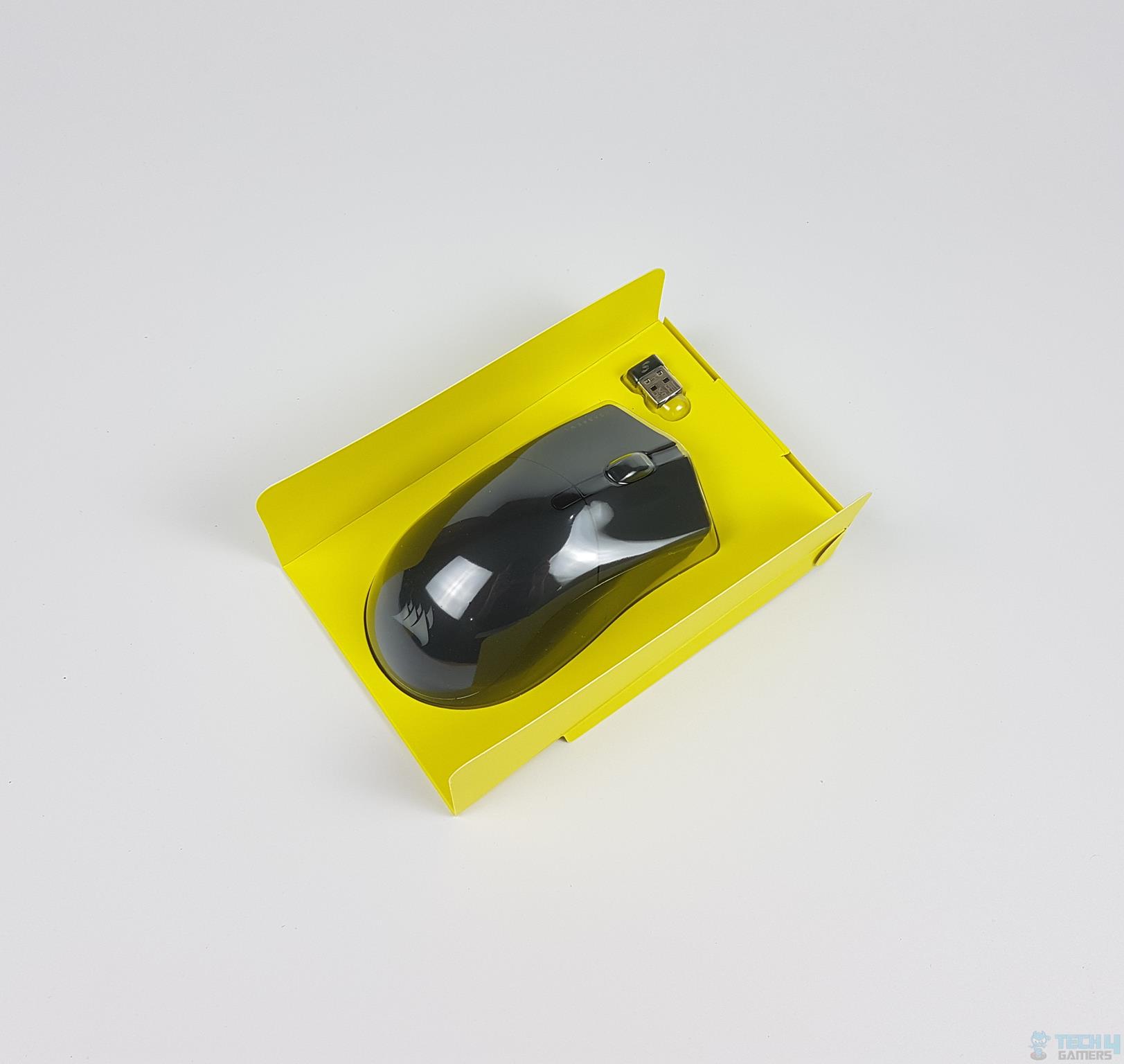 There is a yellow color paperboard container inside the main packing box. It has a mouse nicely and securely tucked inside, and there is a USB receiver as well. What is not visible in this picture is a USB cable.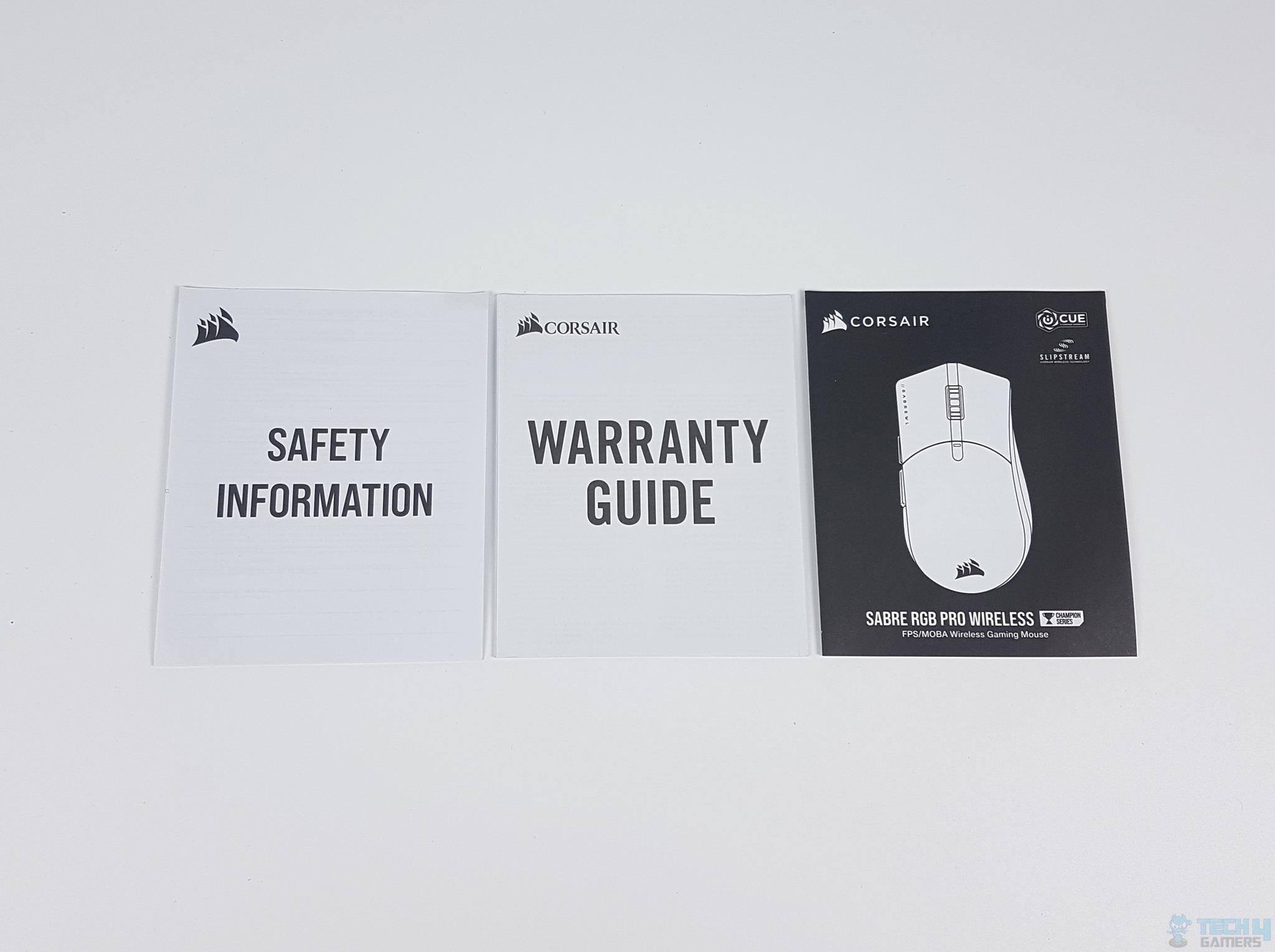 CORSAIR has provided the following:
Safety Information Guide
Warranty Guide
User Guide
Design
I have used CORSAIR M65 and its variants for quite some time until they all started double-clicking issues. Though CORSAIR customer support has been exceptional, I ended up changing the mouse due to repeated failures.
It has been some time since I have used CORSAIR peripheral. No more, as CORSAIR sent the Sabre RGB Pro Wireless gaming mouse for a review. I have been using this mouse for some time now. It was a good time as I was testing GeForce RTX 4090 and GeForce RTX 3090, playing games, doing desktop work, etc.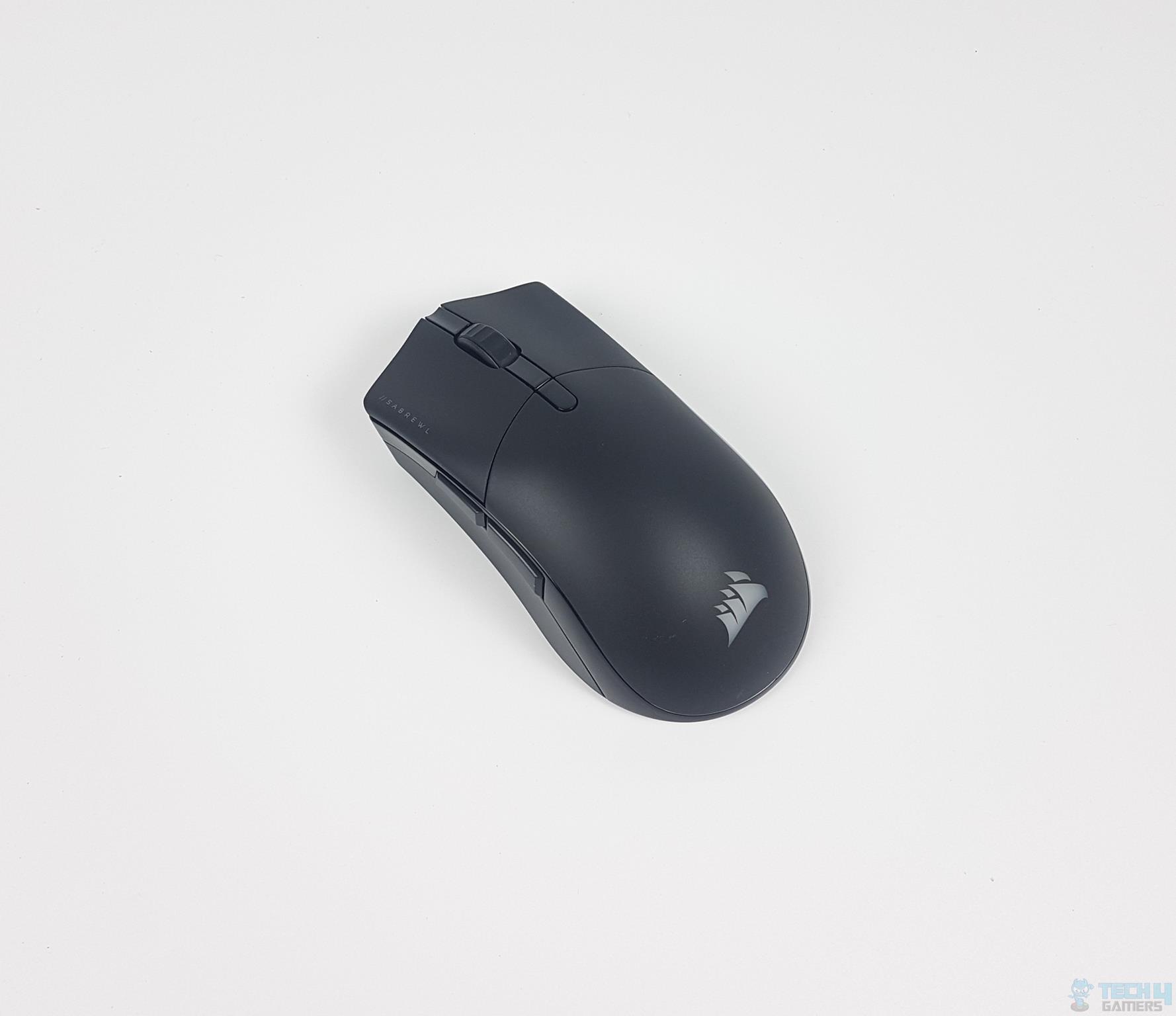 The dimension of this unit is 129x70x43mm (LxWxH). I am showing maximum values in the dimension field. The mouse is black in color. One of the peculiar features is the weight of this mouse which is 79gm. Note that this weight is for the mouse only and does not include cable.
This makes sense as we are dealing with wireless connectivity. This mouse has 7 buttons. This mouse does not seem to be made of aluminum material to keep its relevant weight low. The overall look and feel of the mouse design are simple but functional.
This is not an ambidextrous design meaning it is designed for right-hand use. Keep that in mind when shopping for a mouse.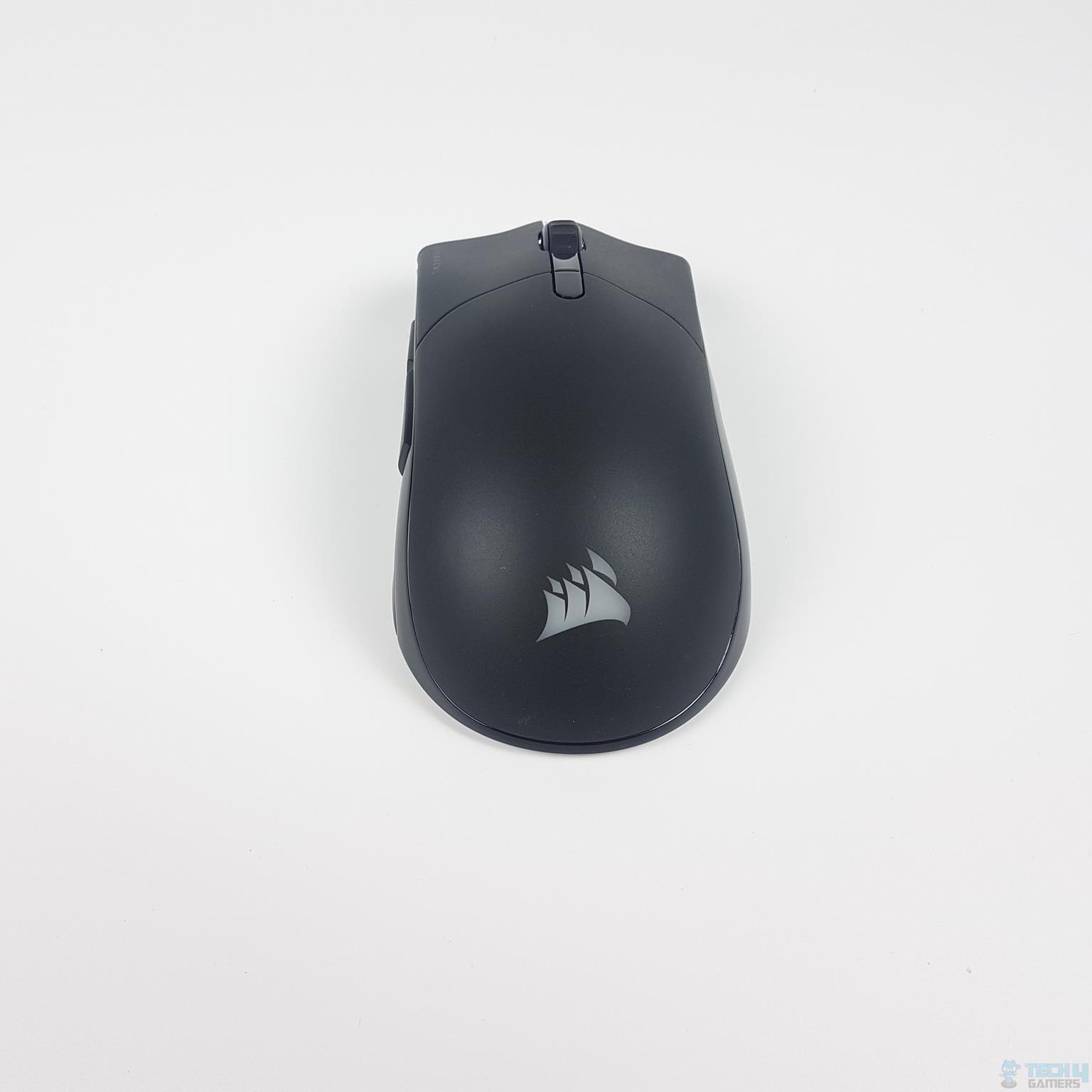 Looking at the backside of this mouse, we can spot a CORSAIR logo that is RGB backlit using iCUE. The curvatures on the left and right sides of the mouse are designed precisely to go in sync with the bulk of the mouse mass being at the top right before the slope of the recess on the backside.
This makes the mouse a good candidate for palm as well as claw grip style. The width of the mouse from this side is 70mm.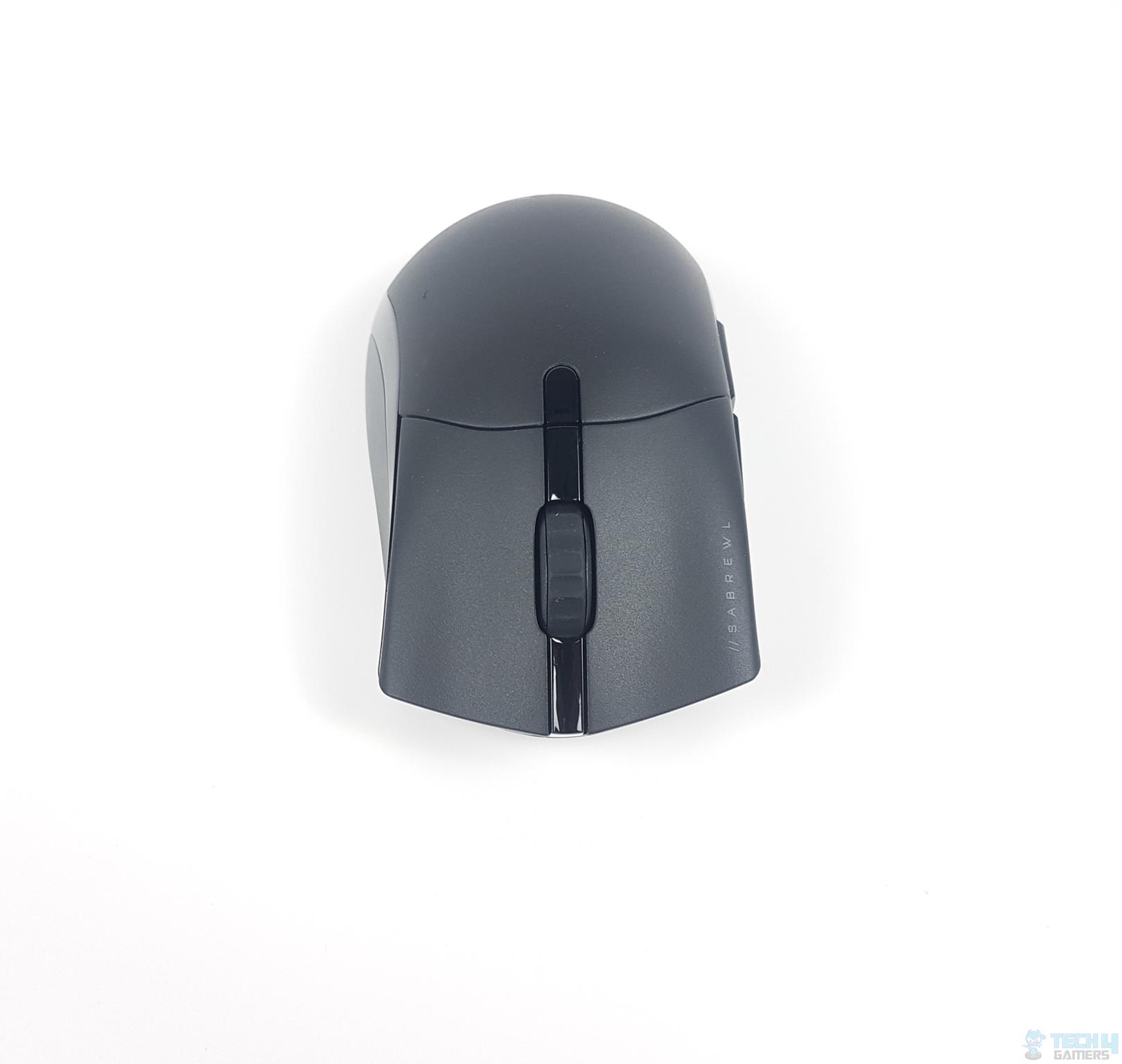 Taking a peek at the front side of the Sabre RGB Pro Wireless mouse, we can spot shiny lining and buttons in the plane of a scroll wheel. The wheel itself has a textured grip which is a nice touch.
SABREWL is printed towards the right side, indicating that this is a wireless version. There is a DPI button that changes the DPI on the go. It can be customized in iCUE as well. There is also an LED indicator above the DPI switch. The width of this mouse from this side is 60mm.
CORSAIR has used OMRON switches in this mouse which are rated for 50M clicks (R/L). There is another feature introduced by CORSAIR. CORSAIR is using what they refer to as QUICKSTRIKE.
In this design, they have introduced a zero gap between the buttons and switches that would result in more clicks resulting in more speed and responsiveness. This is a spring-loaded design.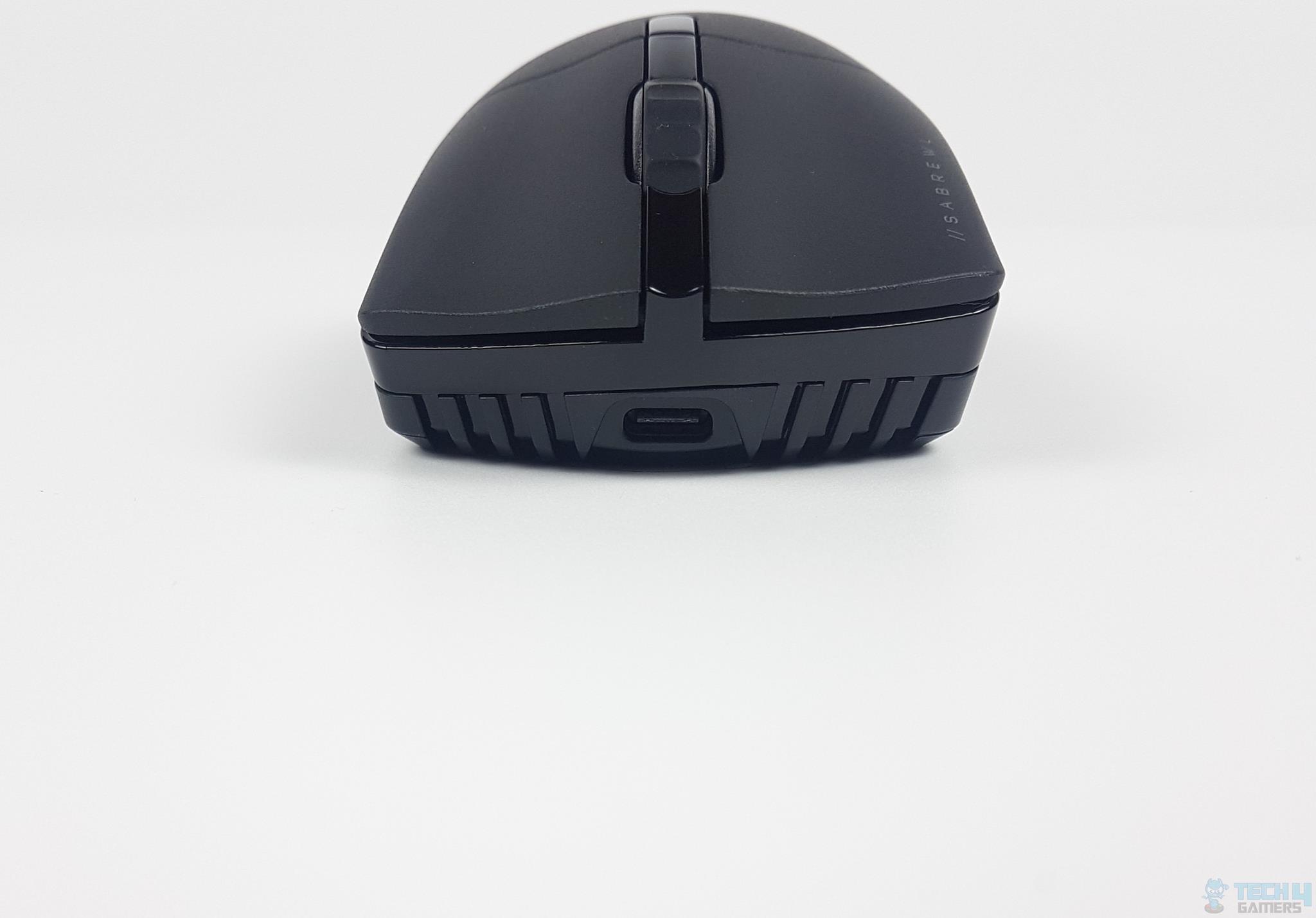 The above picture shows a close-up view of the mouse from the front side. We can spot a USB Type-C port at the base. The design aspect clearly tells us the slope-down approach from left to right. The left button is raised compared to the right.
This is an ergonomic design. The line pattern at the base gives a bold outlook to this unit.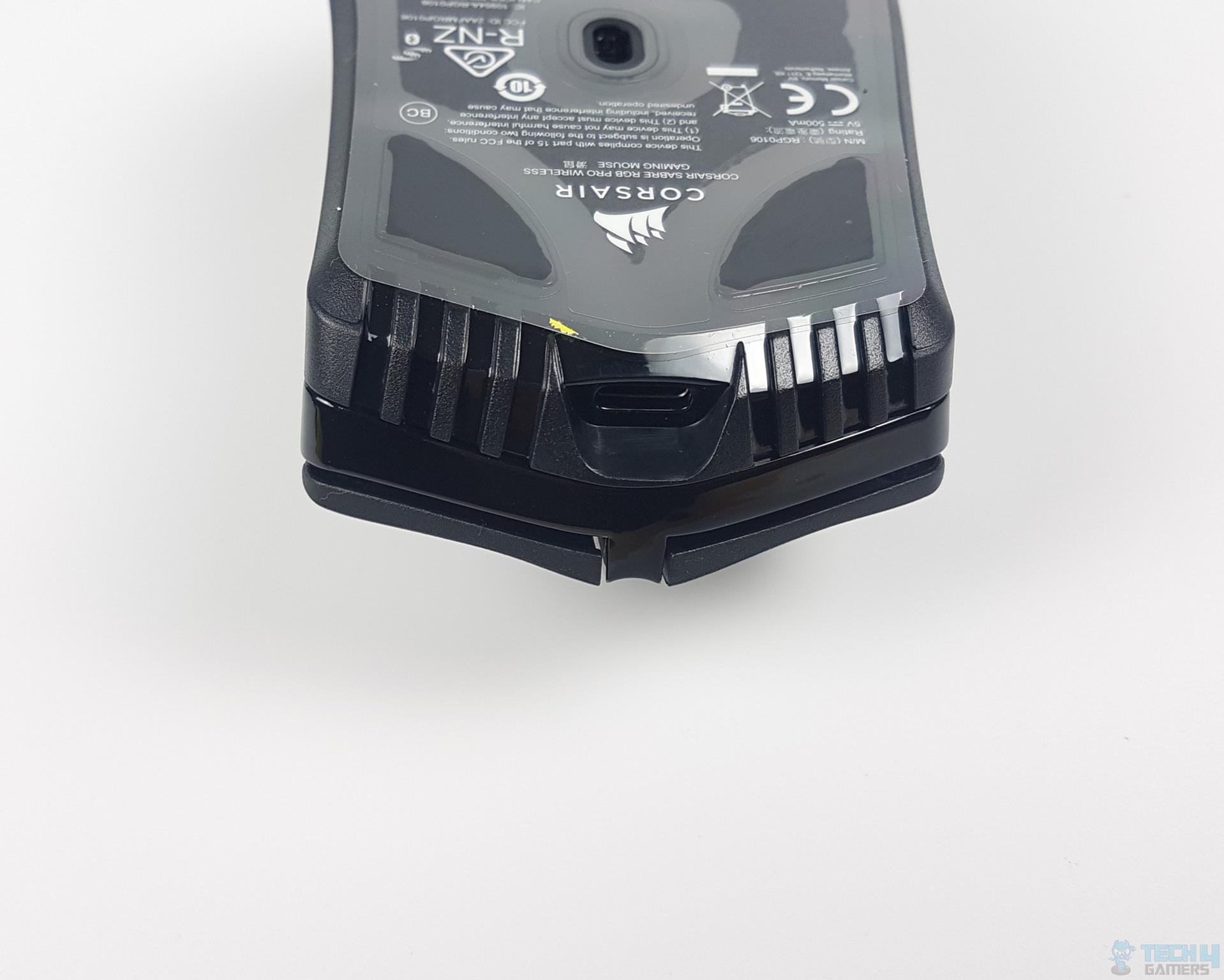 Here we can see the USB Type-C port clearly. It is recessed in the main frame. There is a protective cover on the bottom side of this mouse.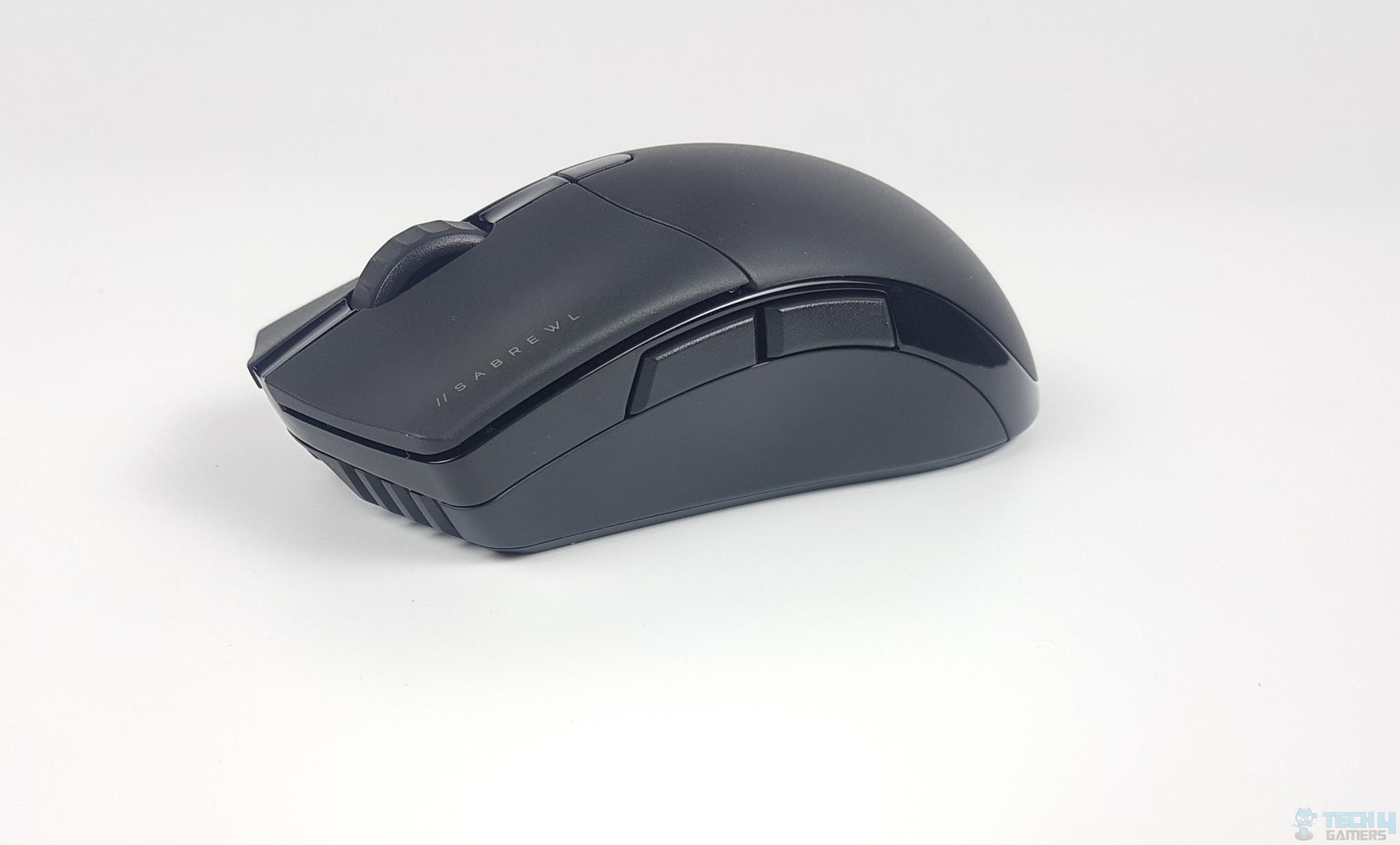 Looking at the side of this mouse, we can see two large buttons which are pre-programmed but can be customized. The curvature below these buttons is shallow, but the very placement of these buttons provides a firm grip for your thumb over this area.
However, there are no textured anti-slip guides on the sides of this mouse. Users can increase DPI by 50Hz using a combination of the DPI button and the forward button. You would need to hold the DPI button and then press the forward button.
Similarly, DPI can be reduced by a step of 50Hz using the combination of DPI and backward buttons. One can reset the DPI stage by holding the DPI button, forward button, and backward buttons simultaneously for 2 seconds.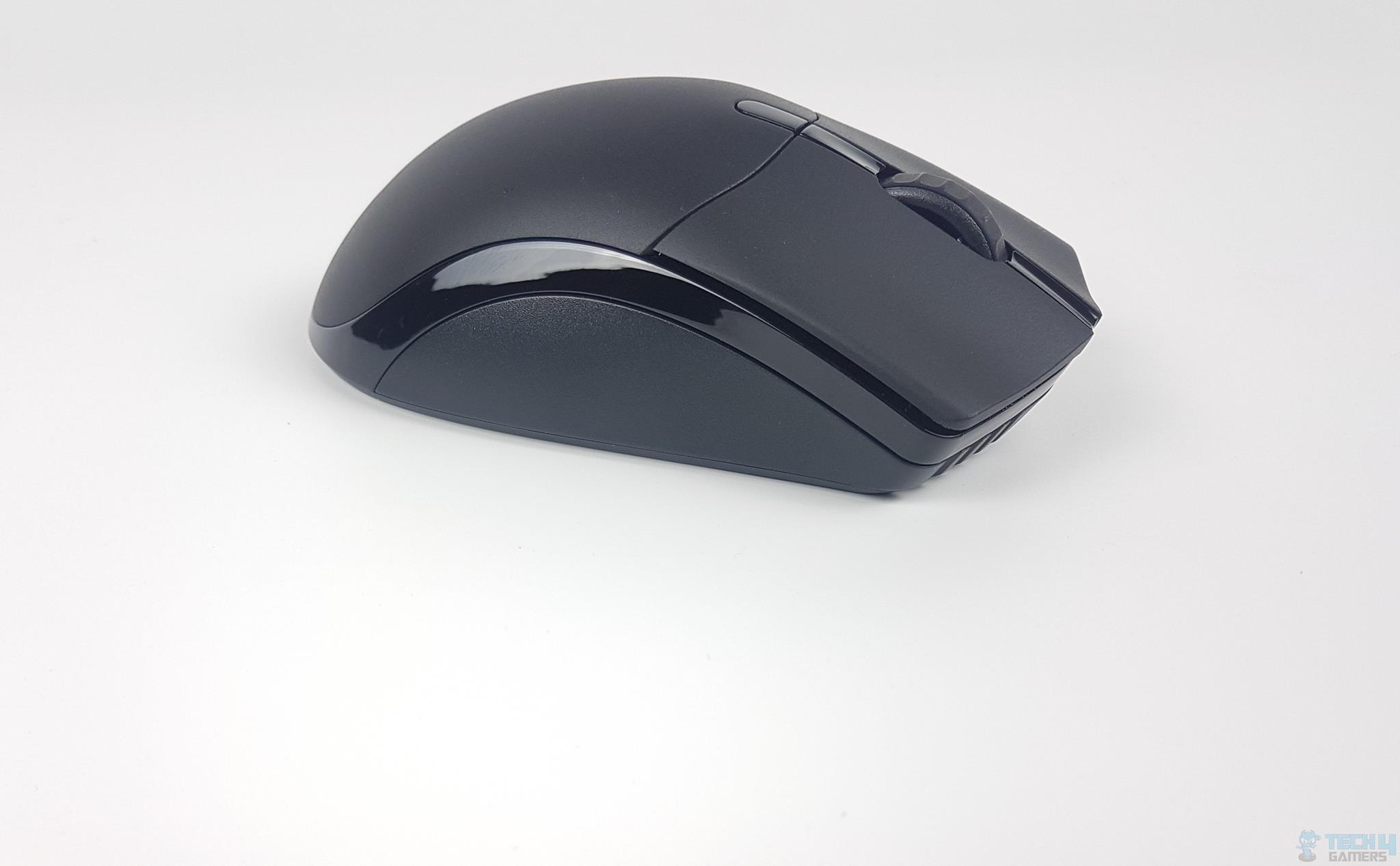 Looking at the opposite side, we can see a shiny black color frame running the entire length of this mouse. The top and base portions of the frame are finished in matte black color.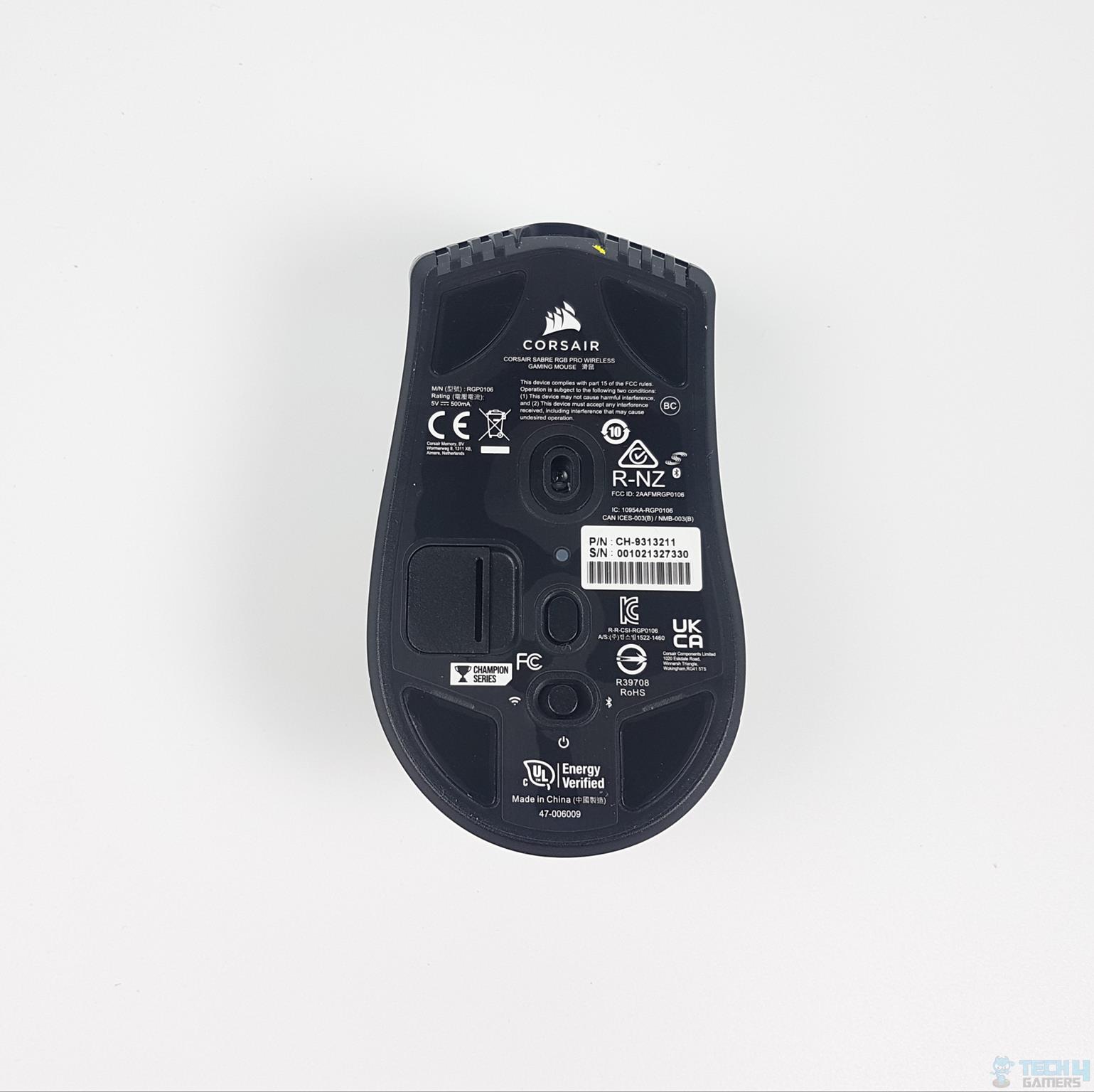 Looking at the bottom of this mouse, we can spot several design features on this single side. This mouse comes with 100% PTFE glide pads which are removable. They are placed on top and bottom areas. In the center, we have a MARKSMAN sensor which is capable of providing a resolution of up to 26000.
Since we are at it, the polling rate of this mouse includes the following:
125Hz
250Hz
500Hz
1000Hz
2000Hz
A wireless mouse providing a polling rate of 2000Hz is quite a good offering in that very aspect. Traversing further down, we have a profile switch button. There is an LED indicator right above this button showing which profile is loaded.
There is a case on the left side profile switch button that can house the USB receiver. Then we have a button to change the wired mode to wireless mode either in SPLITSTREAM or Bluetooth. The benefit of SPLITSPTREAM is its sub 1ms wireless connection for low latency operations.
There is a built-in battery that CORSAIR has mentioned to last up to 60 hours on SPLITSTREAM continuous use and 90 hours continuous use on Bluetooth mode. There is no weight-tuning mechanism on this mouse, unlike the M65 series. No, this is not a bad thing at all, as this is a lightweight mouse.
This mouse has an acceleration rating of 50G and 650 IPS tracking speed.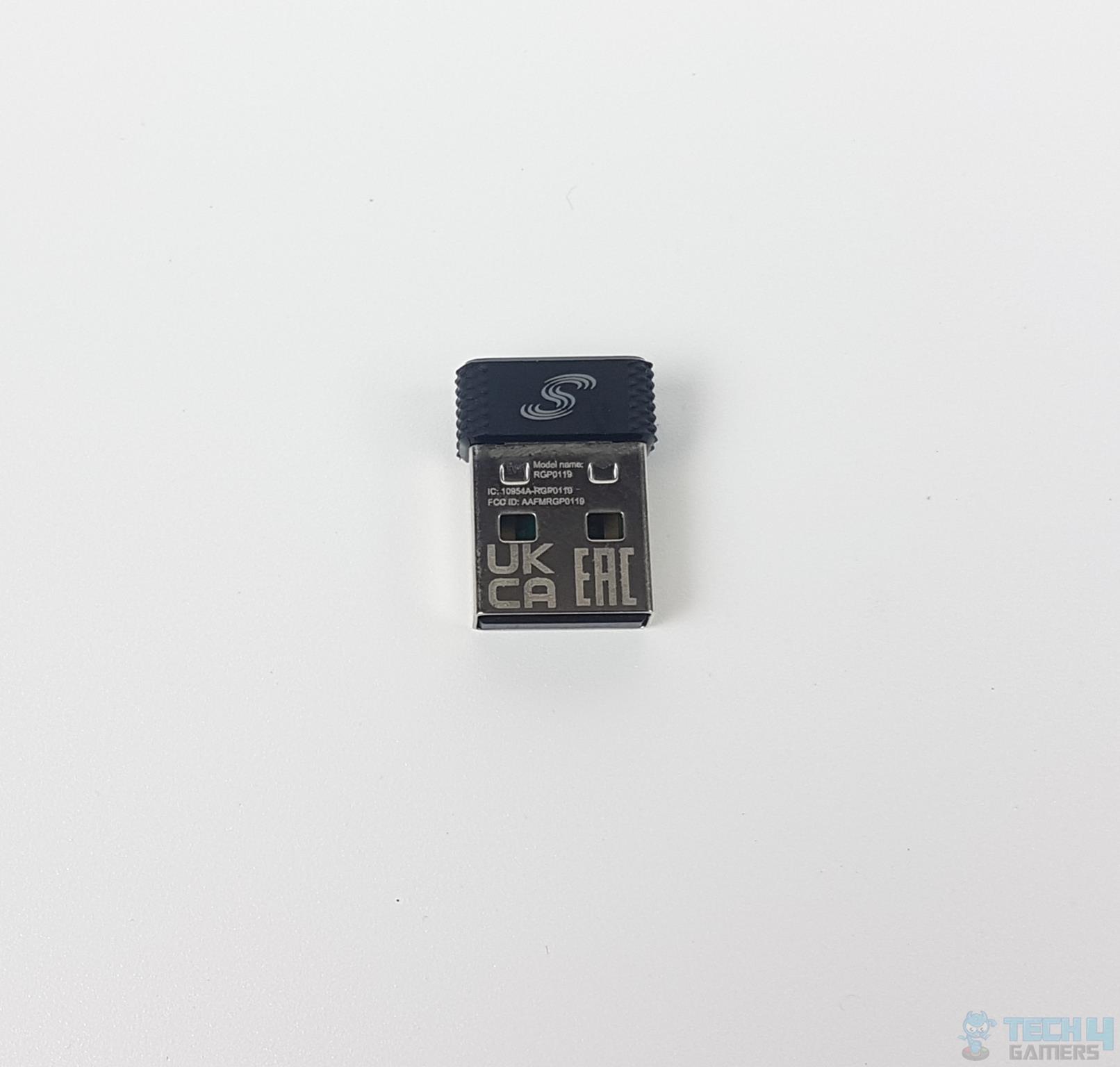 There is a low-profile USB dongle provided with this mouse. Connect it to your PC and turn on the wireless mode using SPLITSTREAM, and the mouse will be fully functional.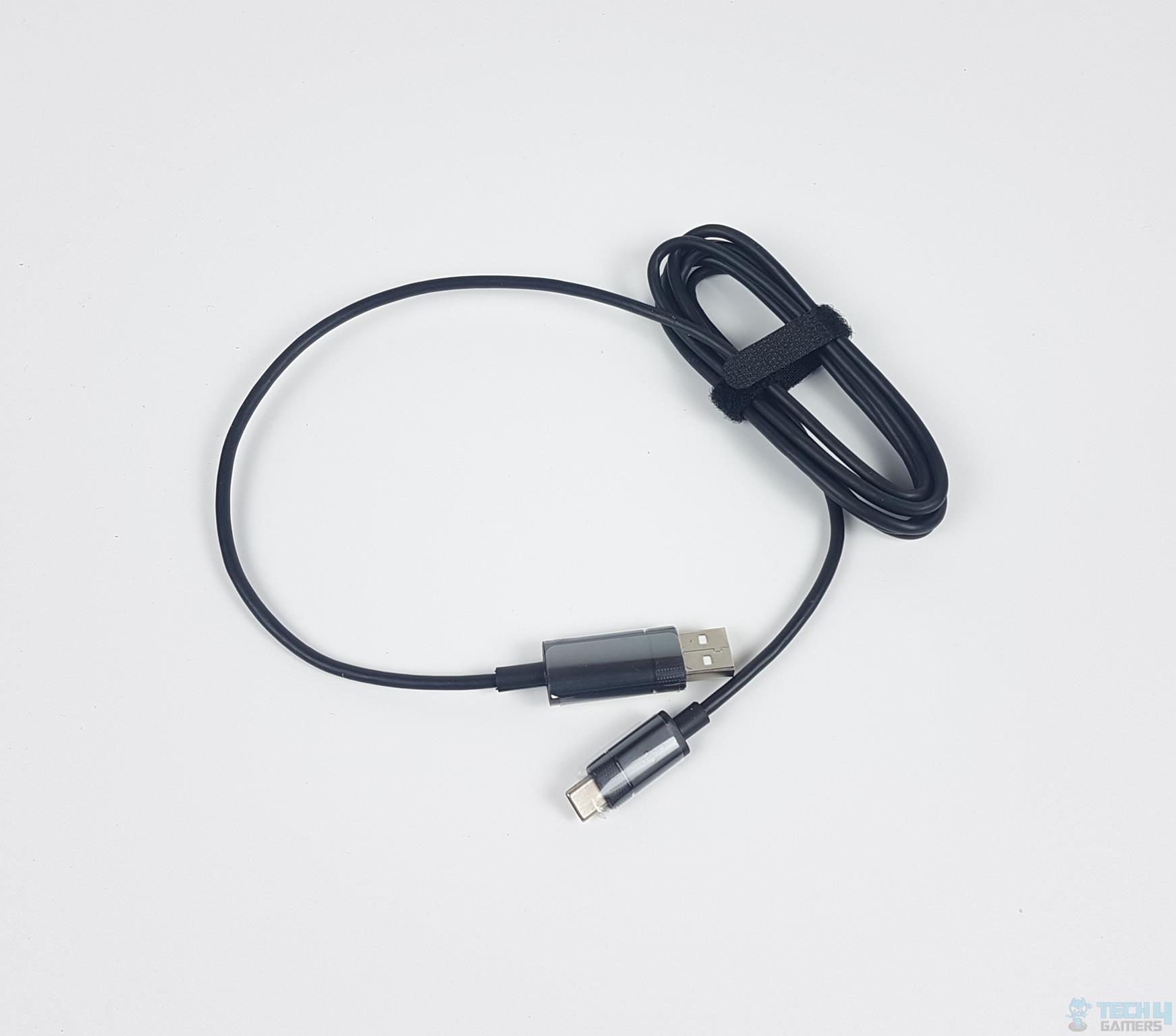 CORSAIR has provided a 1.8m drag-reducing Paracord with this mouse.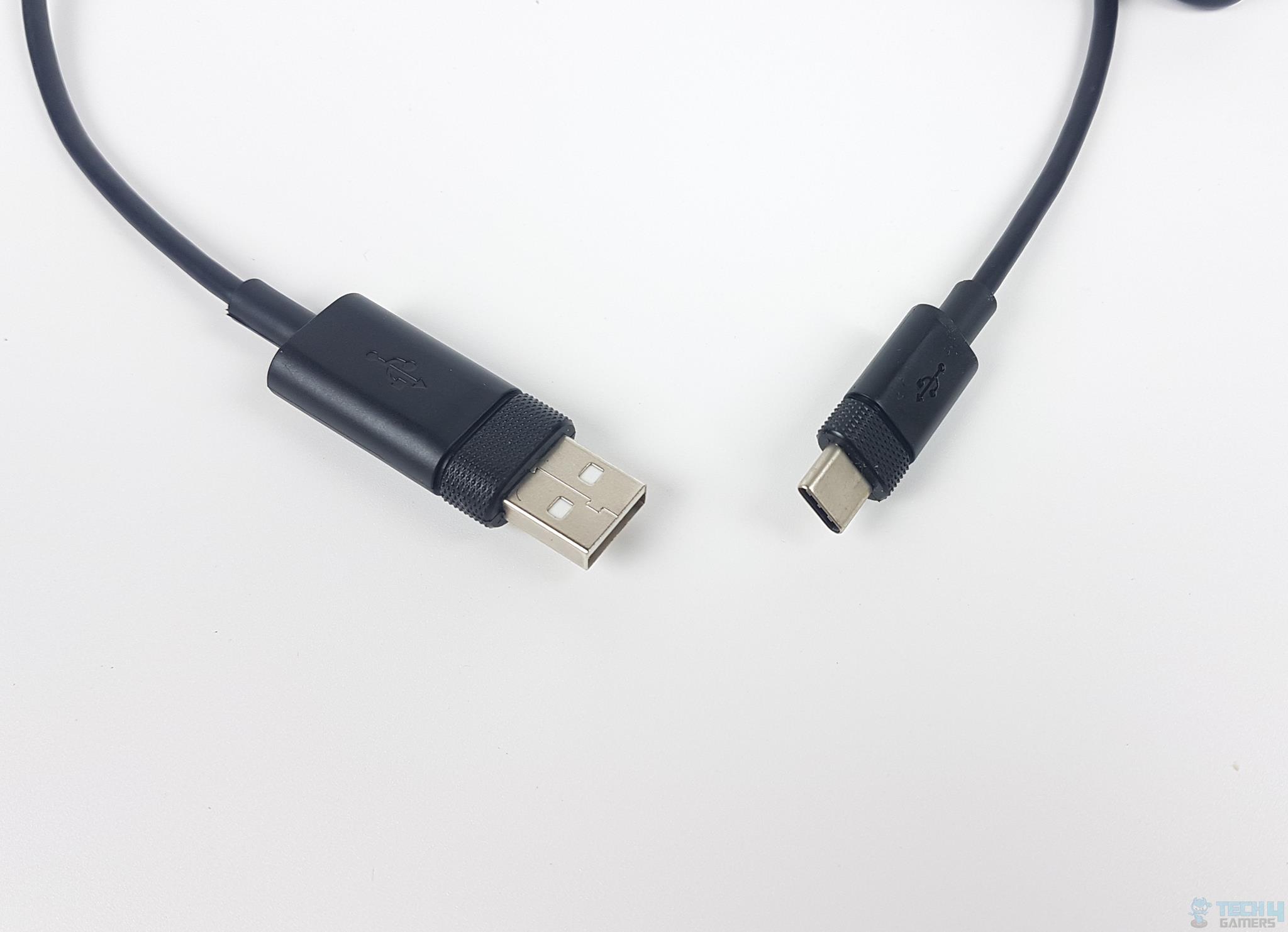 One end of this USB cable has a Type-C connector, and the other end has a standard Type-A connector. Users can use this cable for wired connectivity and also to charge the mouse battery.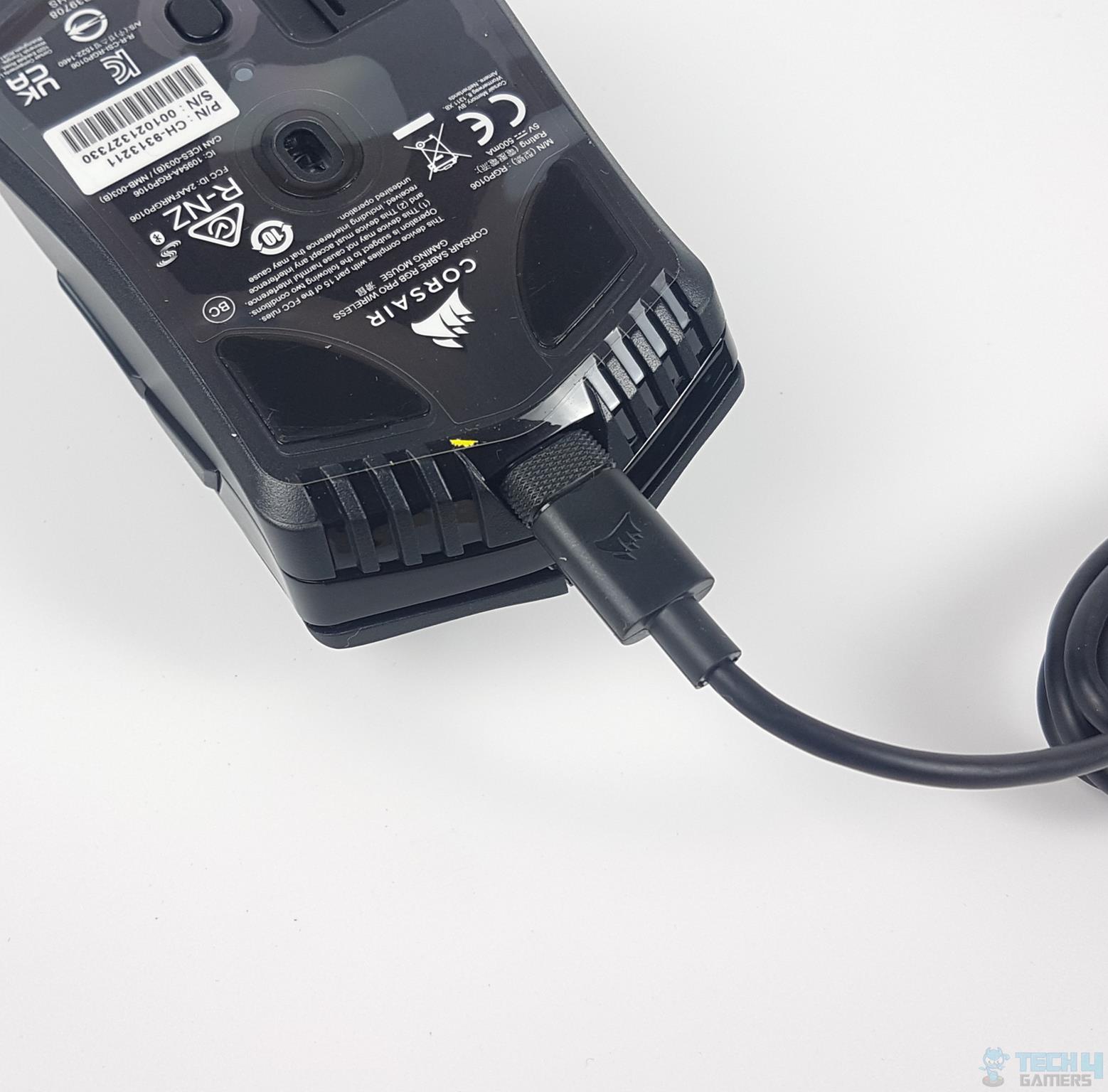 The above picture shows a close-up view of the USB Type-C connector attached to the mouse.
The below table lists various modes and profiles and their LED indicators:
| | |
| --- | --- |
| Battery Status | |
| Charging | Pulsing Green |
| Critical | Pulsing Red |
| Low | Blinking Red |
| Medium | Blinking Amber |
| High | Blinking Green |
| Charged | Green |
| Wireless Status | |
| 2.4GHz Pairing | Blinking White |
| 2.4GHz Paired | White |
| 2.4GHz Pairing Failed | Pulsing White |
| Bluetooth Pairing | Blinking Blue |
| Bluetooth Paired | Blue |
| Bluetooth Pairing Failed | Pulsing Blue |
| DPI Stage Status | |
| STAGE 1 400 DPI | Red |
| STAGE 2 800 DPI | White |
| STAGE 3 1200 DPI | Green |
| STAGE 4 1600 DPI | Purple |
| STAGE 5 3200 DPI | Capri |
| Onboard Profile Status | Profile LED Indicator on the back |
| Profile 1 | Red |
| Profile 2 | Green |
| Profile 3 | Blue |
iCUE
This content can't be completed without taking a look at iCUE. Here are some of the key benefits of using iCUE for this mouse:
Key Assignment
Surface Calibration
DPI Change
RGB Lighting
Battery Status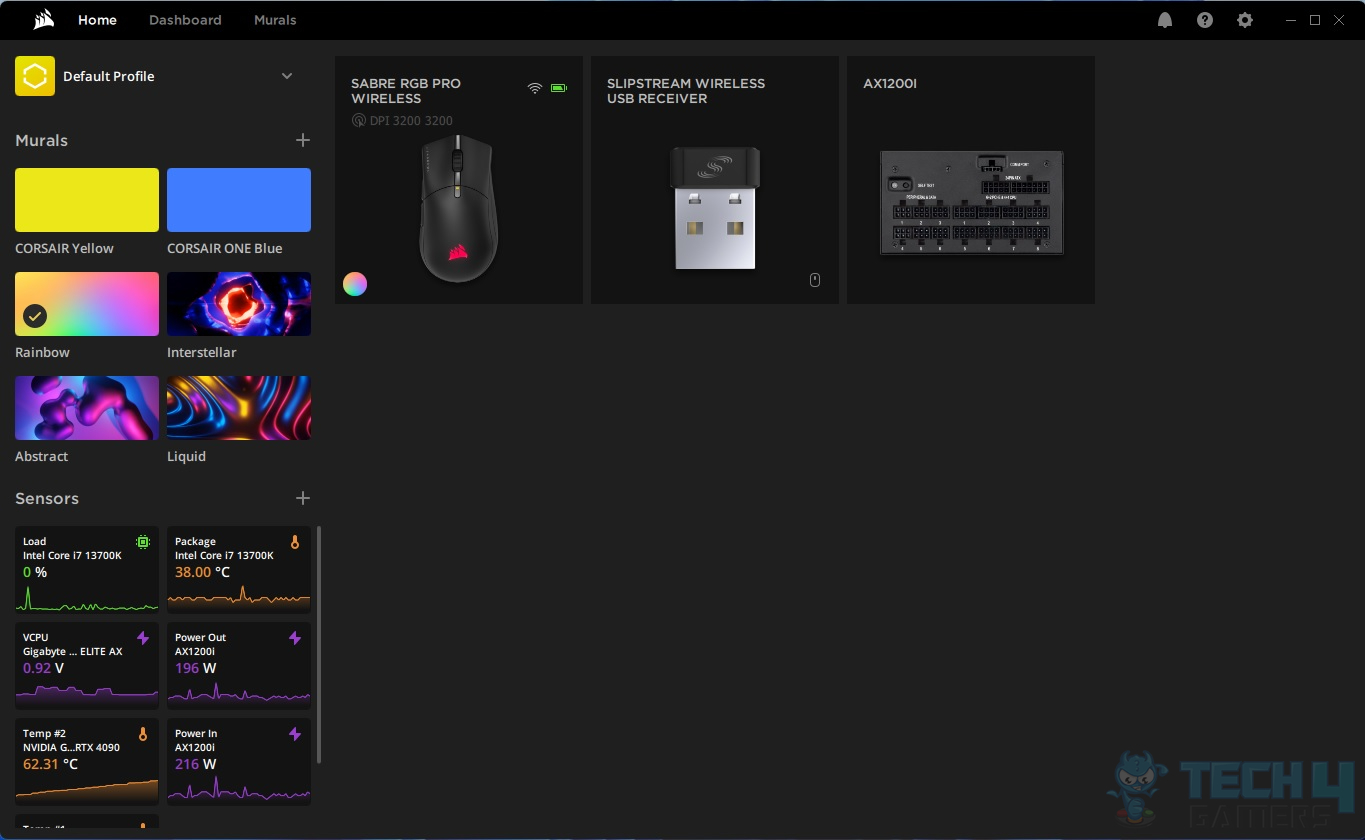 The above picture shows all CORSAIR products in iCUE. AX1200i was used for GeForce RTX 4090 testing; hence you can also see that in this list. The USB Receiver is shown separately as well. There is a battery indicator on the mouse product picture.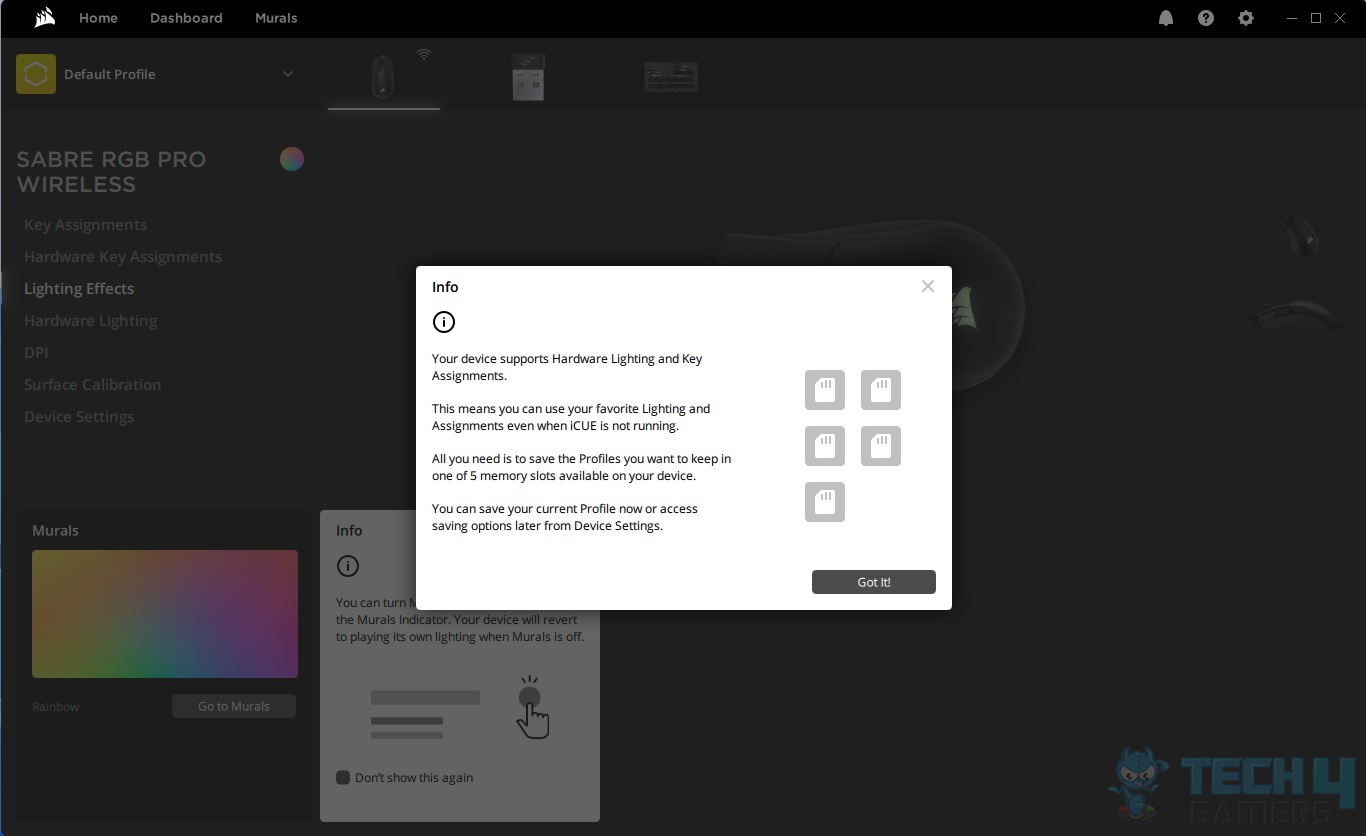 As soon as iCUE was launched and the Sabre mouse was selected, iCUE informed the supported features of the mouse.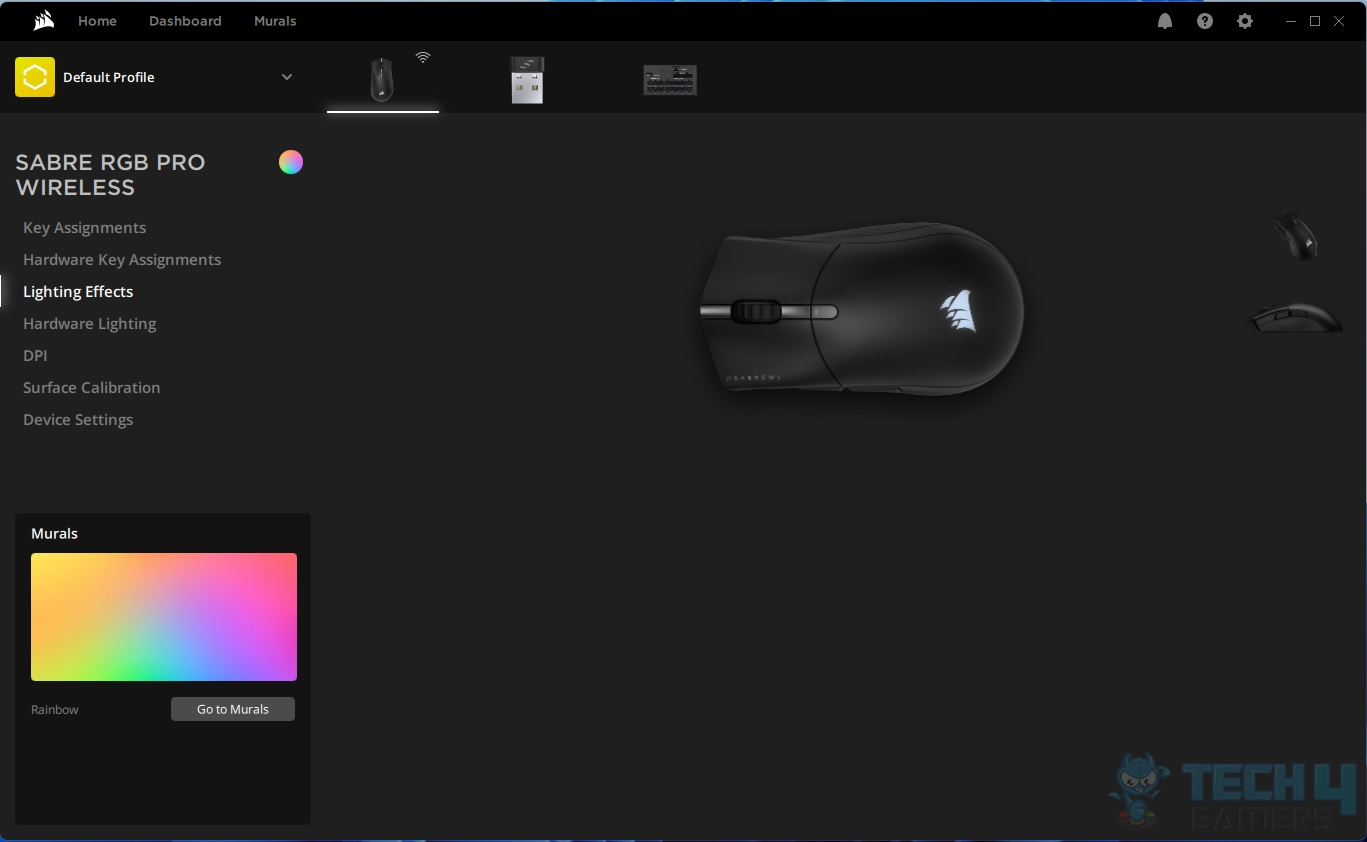 We can take different views of the mouse in this window. The left-hand side shows multiple options to control various aspects of this mouse.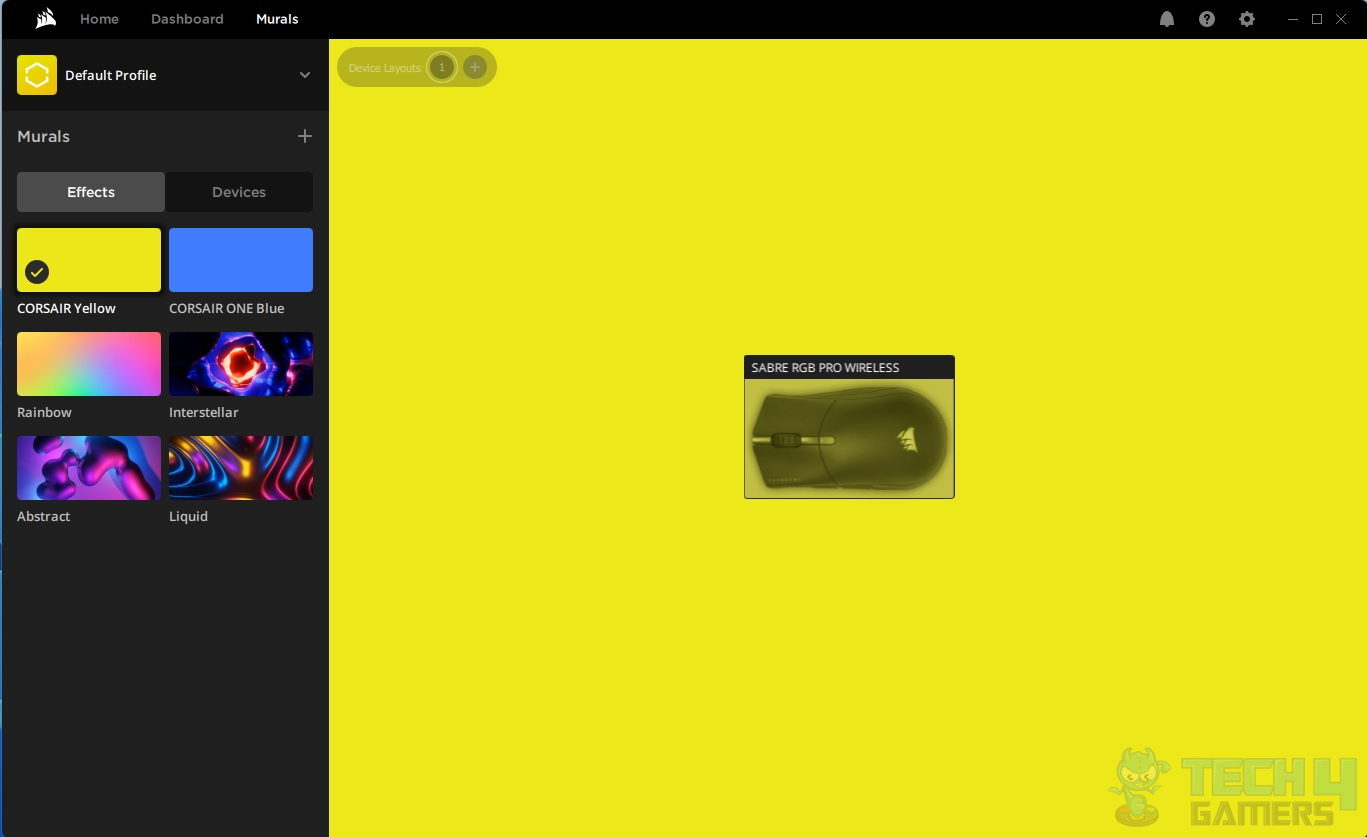 You can use Murals to load pre-defined RGB lighting.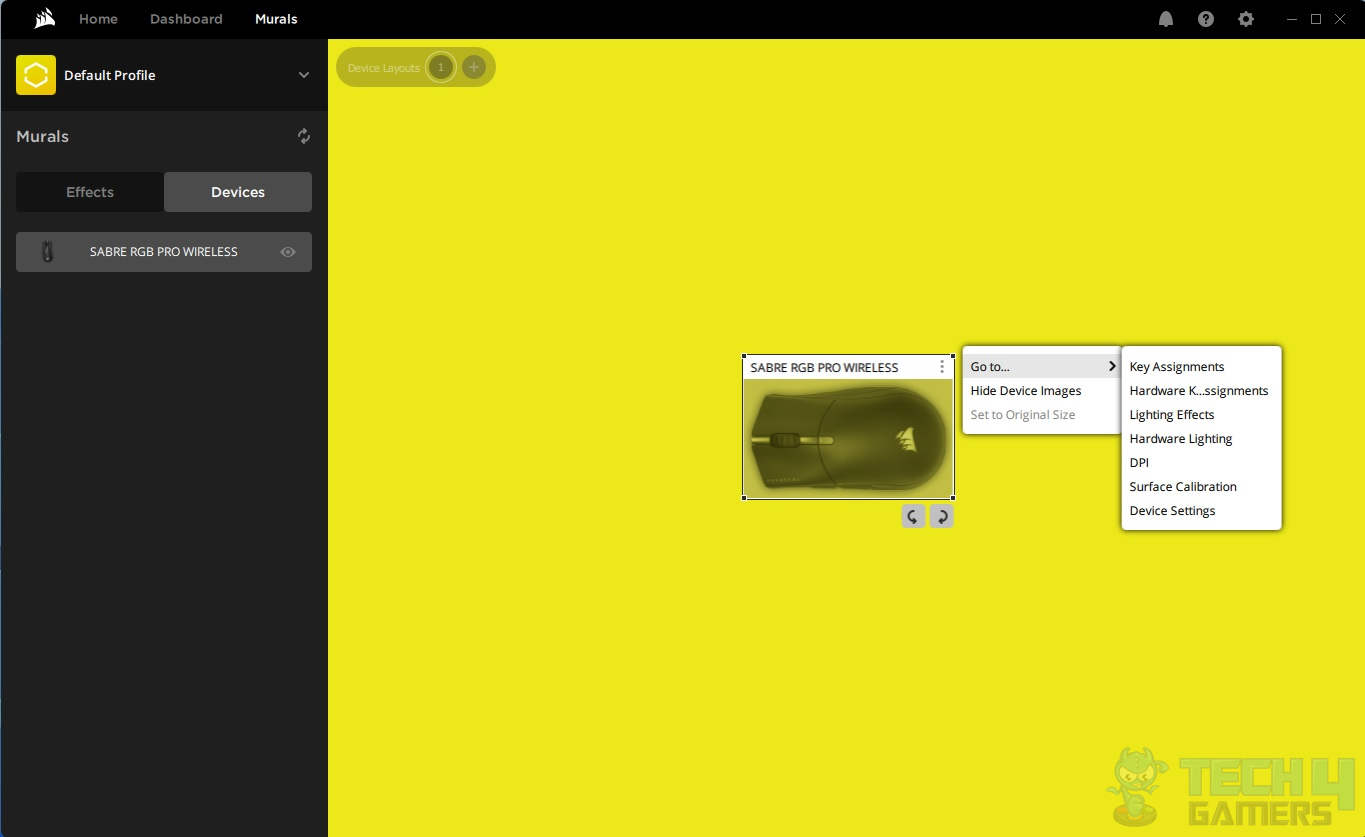 iCUE also allows access to control options by selecting the device and right-clicking it.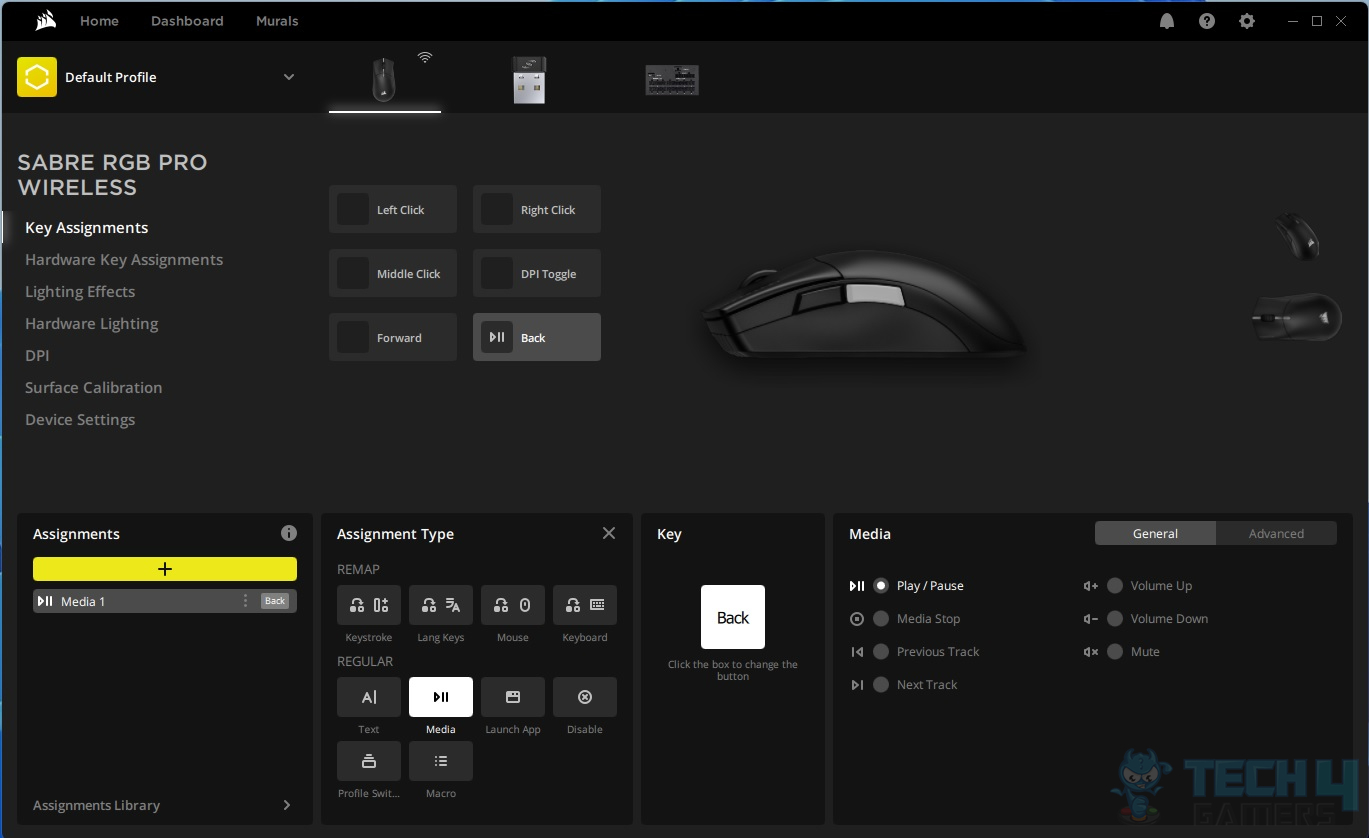 In Key Assignment, you can define Macros as per your requirement and assign them to 6x keys on this mouse. There are more options besides Macros, like opening media files, launching apps, etc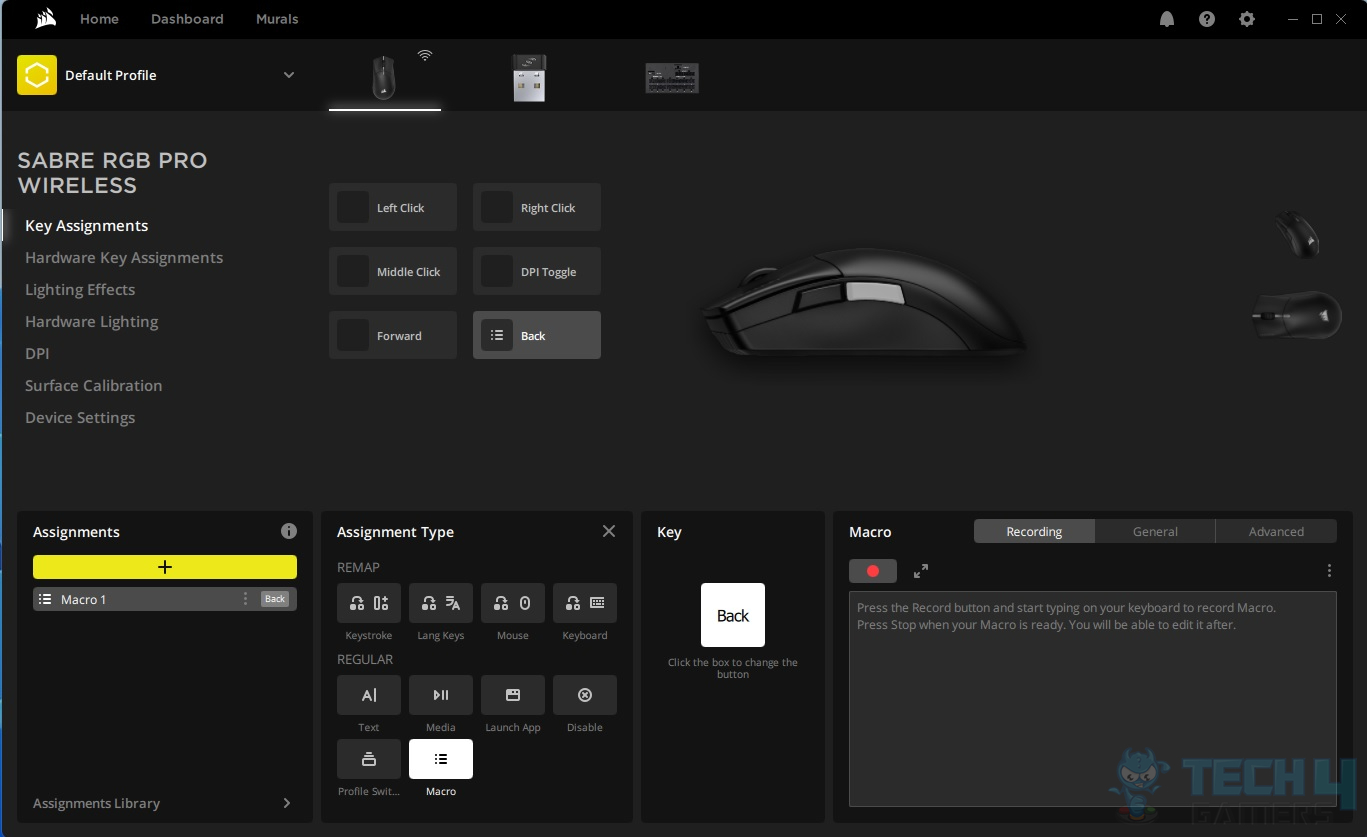 The above picture shows Macro options.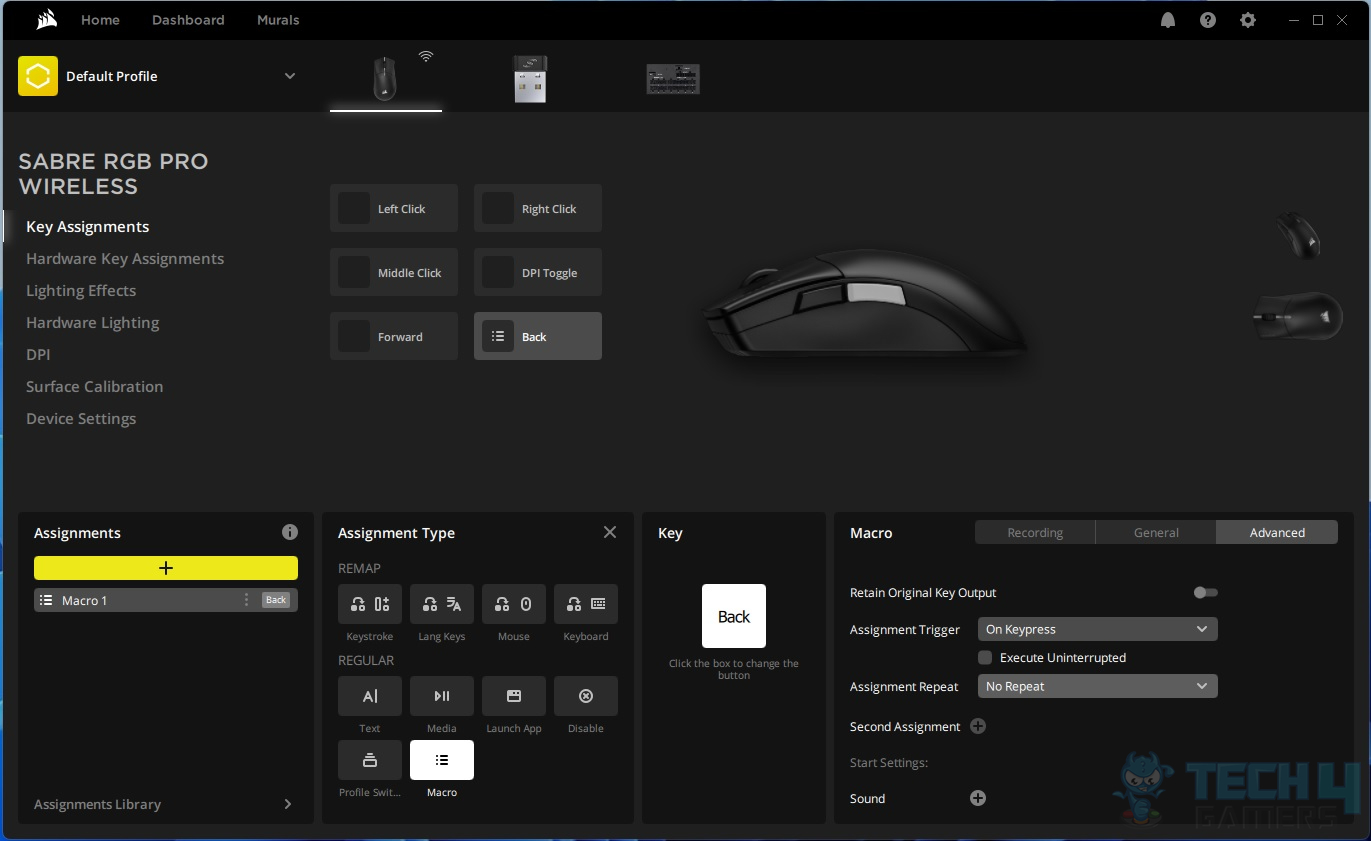 There are more options on the advanced page under Macro, showing the versatility of this software.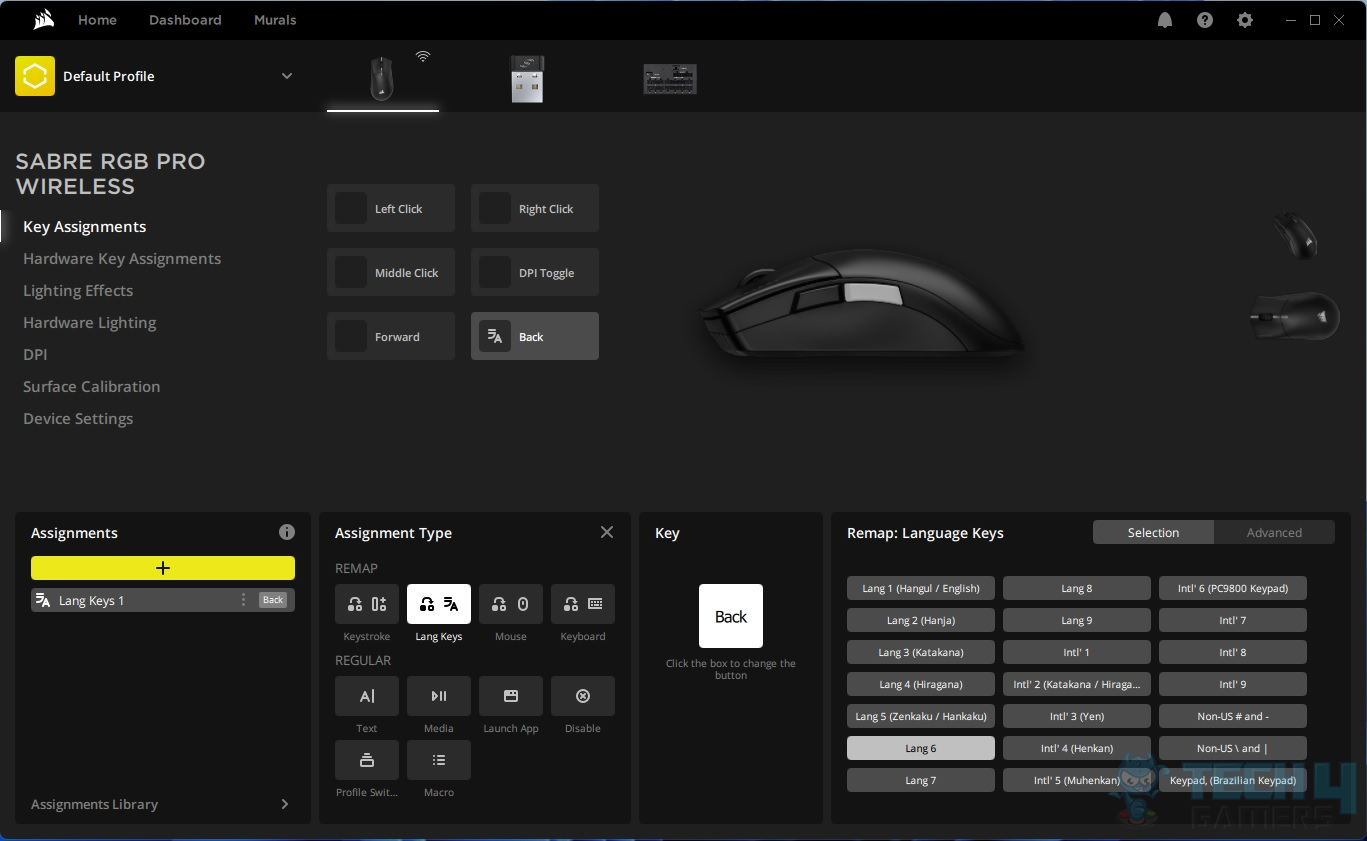 You can also assign languages to keys.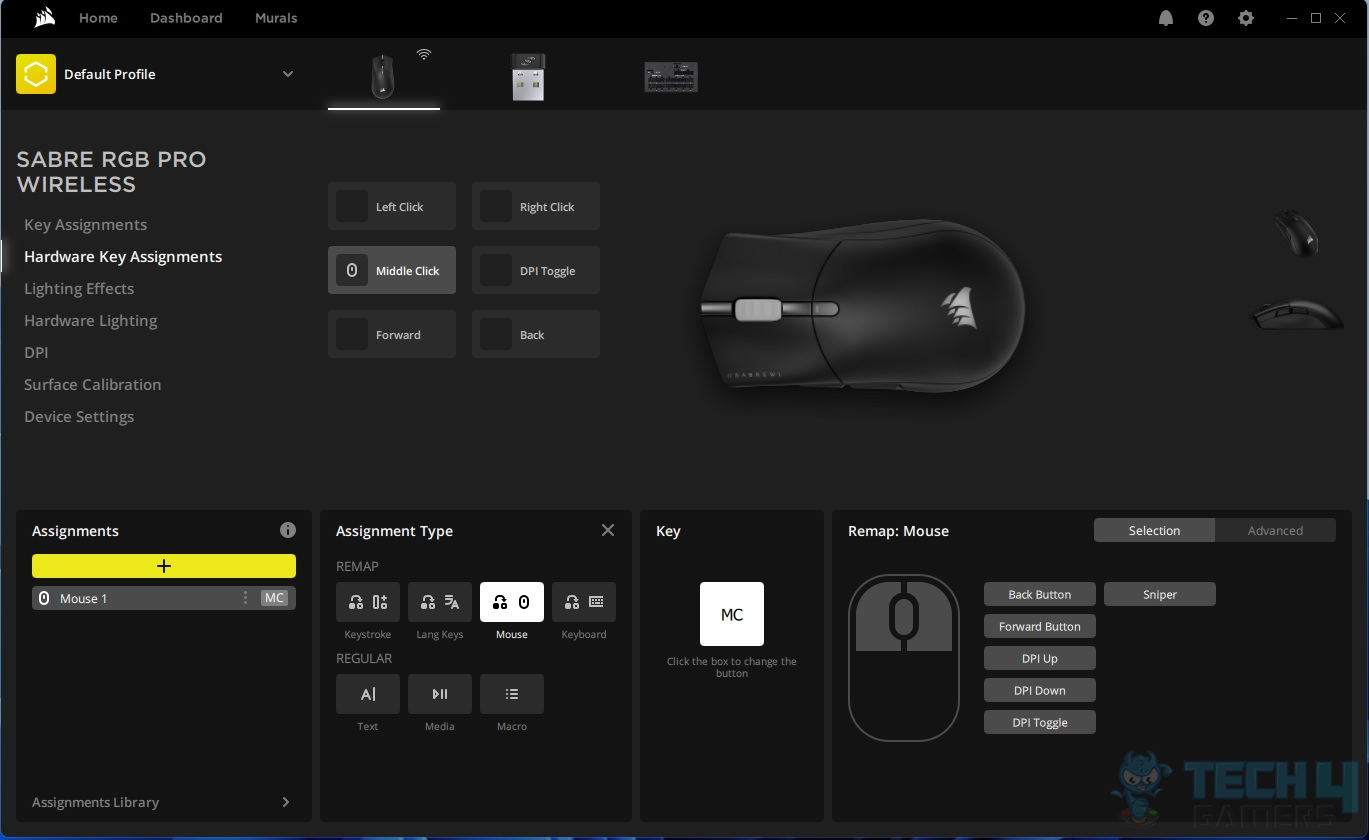 You can remap the mouse buttons as per requirements.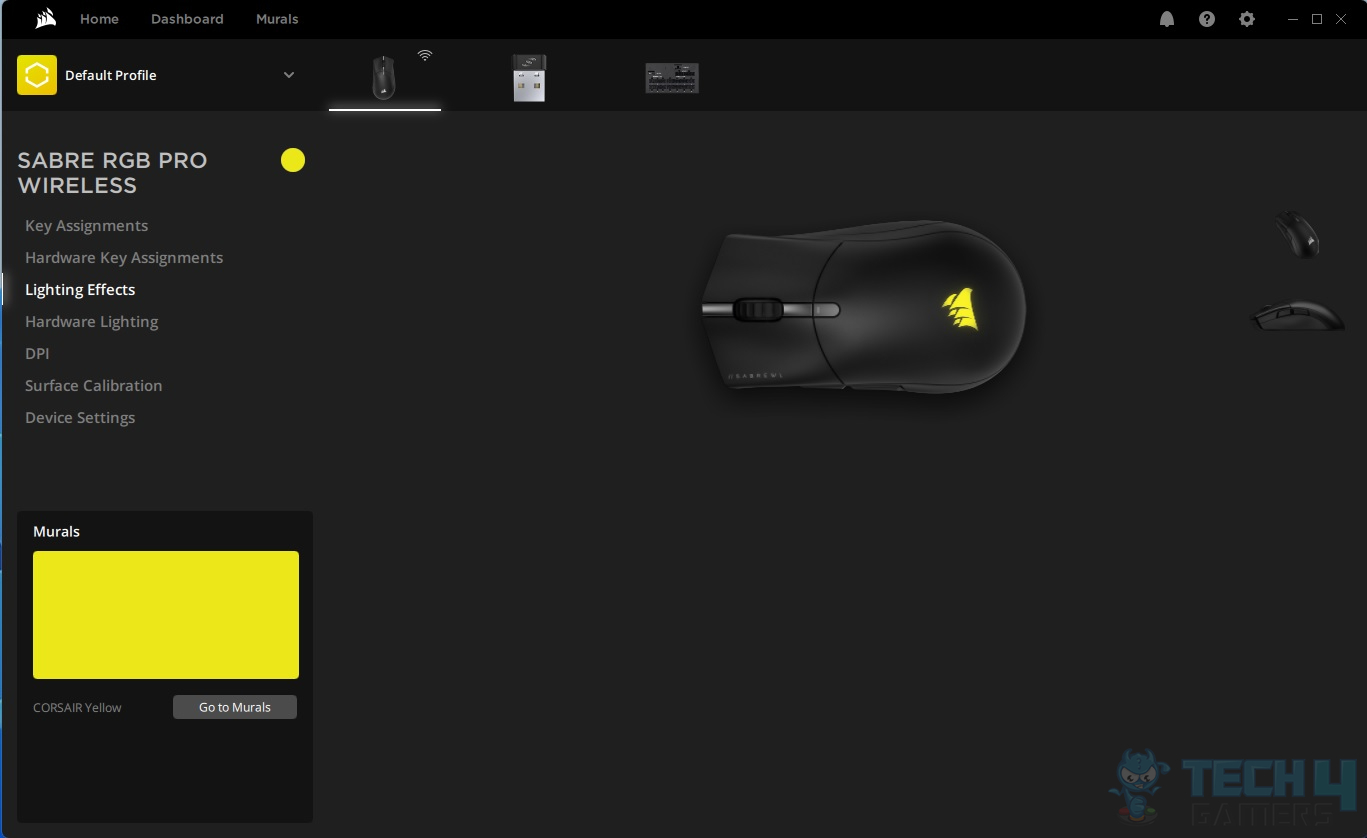 Lighting gives you access to change the RGB lighting on this mouse.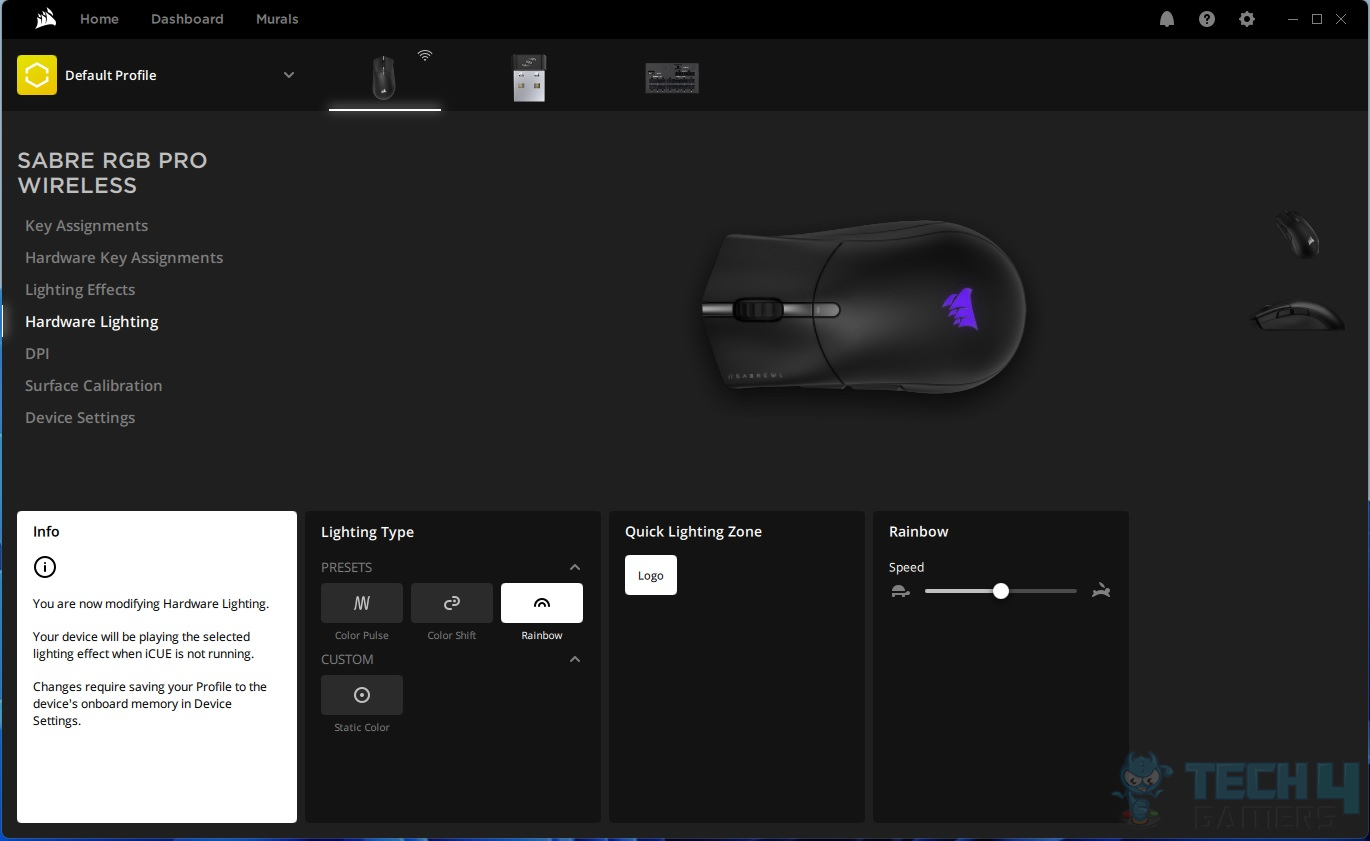 There are a few modes that can be used for RGB lighting. The selected one will be saved in the onboard memory of this mouse.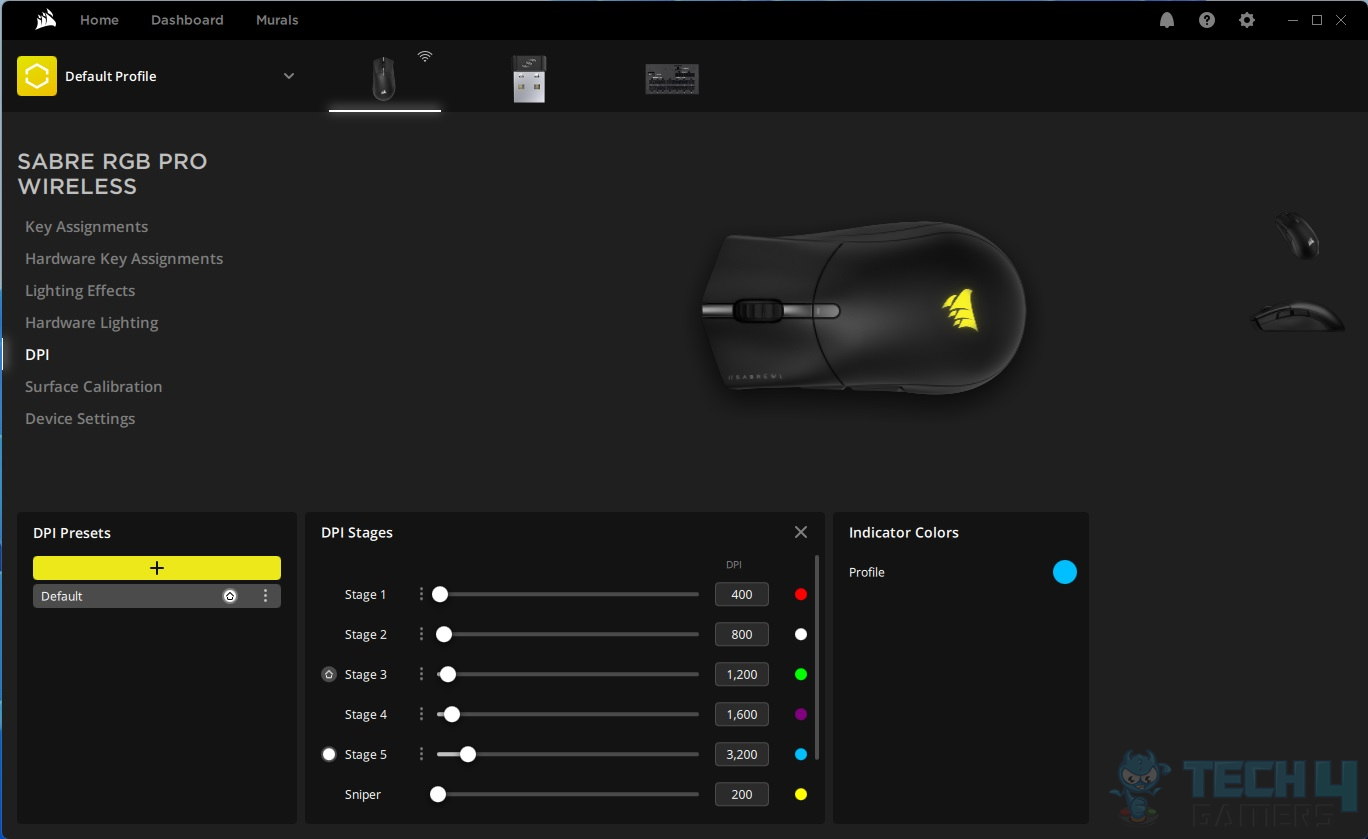 Here, you can see 5 DPI stages and their corresponding color. There is also a sniper mode. You can increase any stage to a maximum of 26000.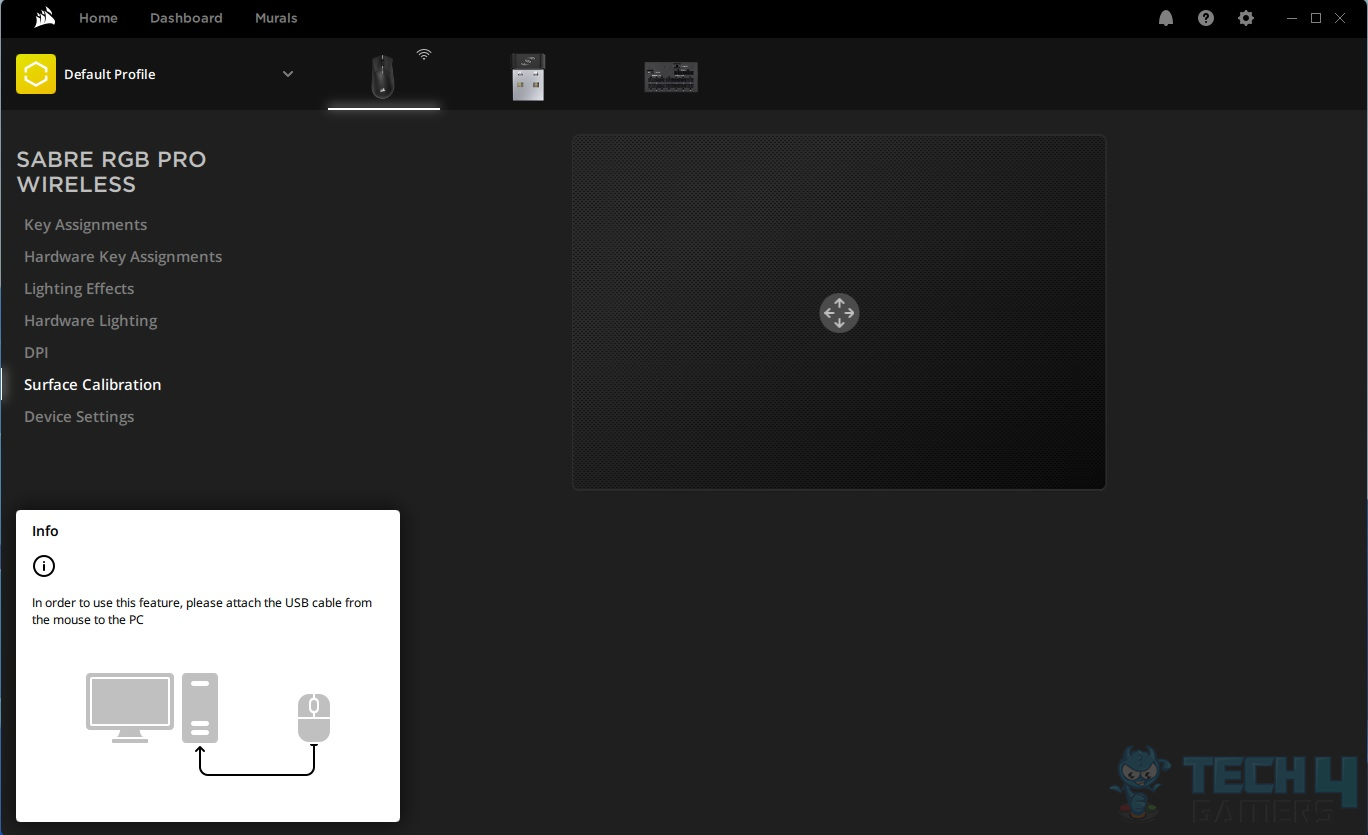 You would need to have this mouse connected using a USB cable for surface calibration.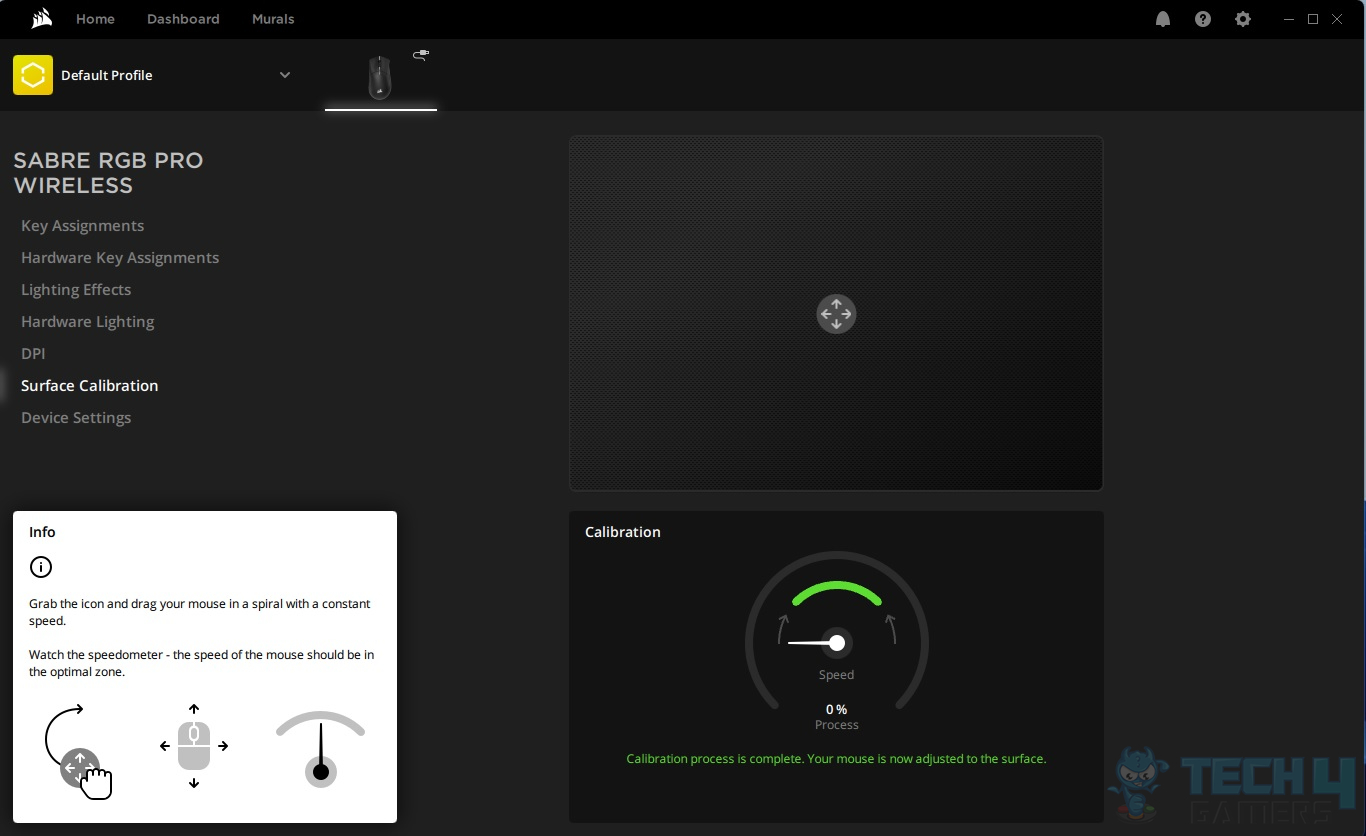 You will be asked to move the mouse on the mouse pad in slow and fast movements for calibration. Once successfully completed, the mouse will be calibrated to that particular mouse pad.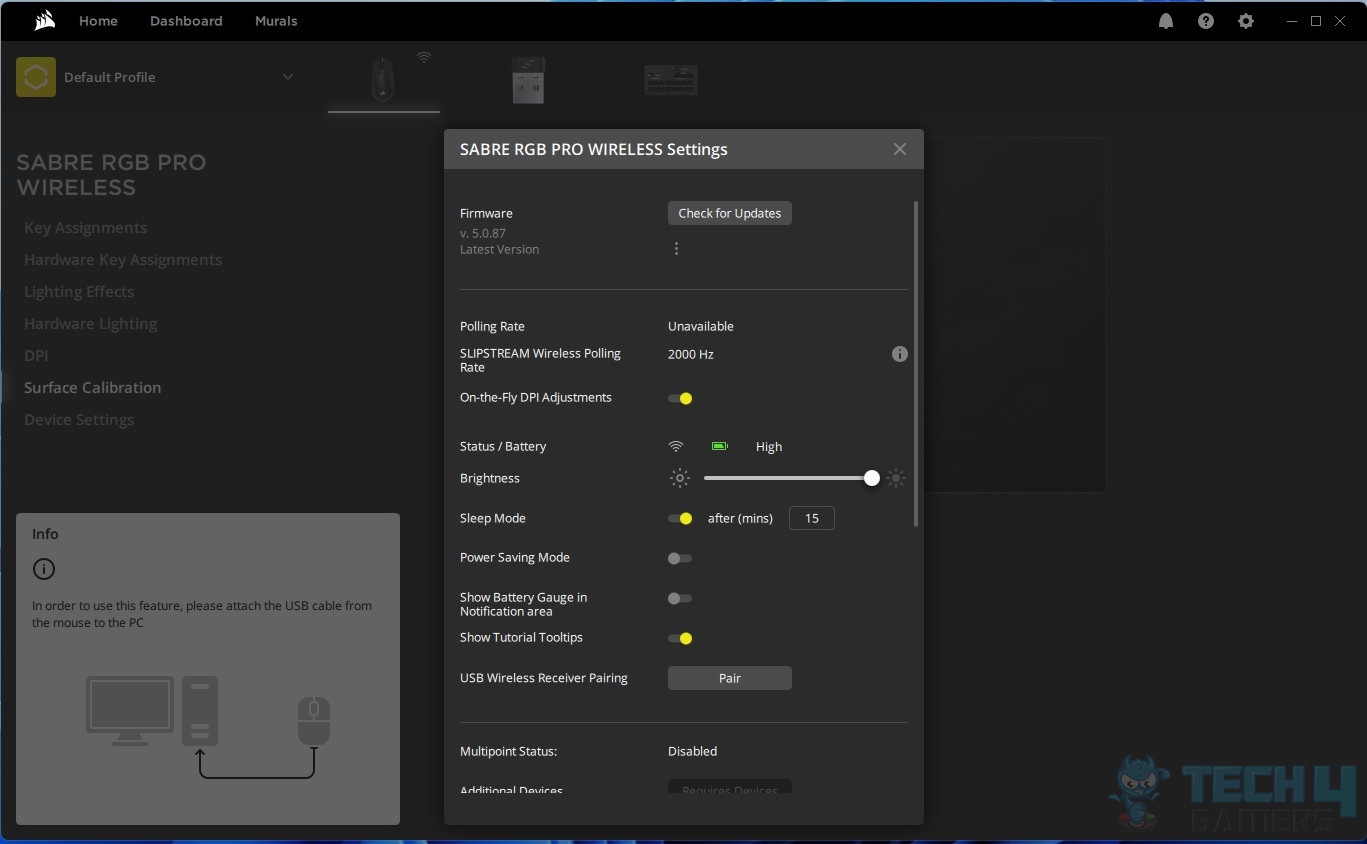 Device settings show more options for this mouse. You can switch the polling rate from this interface. The battery status indicator shows a high charge. The brightness of the CORSAIR logo light can be controlled here. A firmware update can also be performed.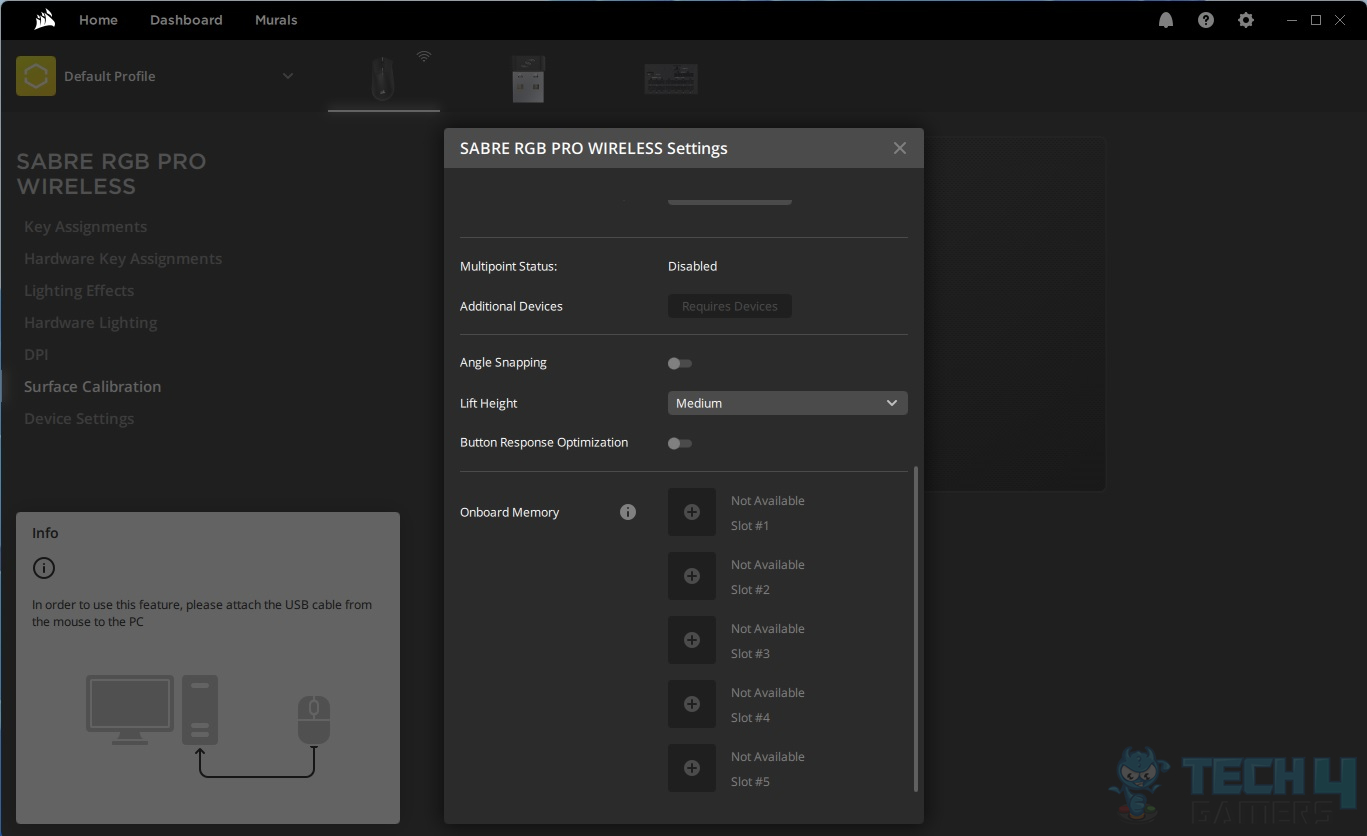 There are five slots in onboard memory to save your profiles.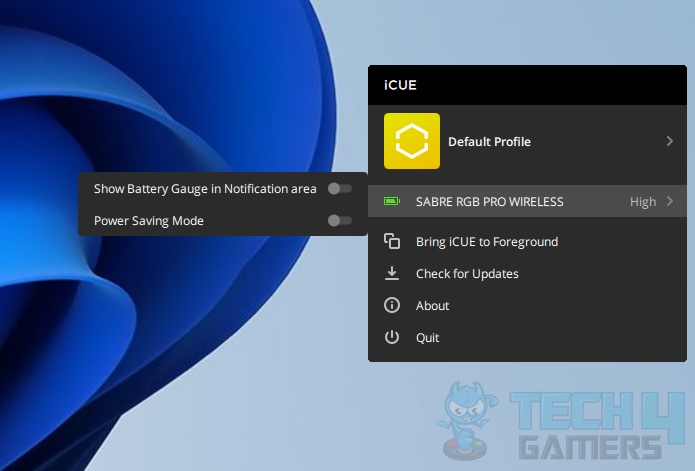 The iCUE logo in the system panel icon shows more options for this mouse, as can be seen in the above picture.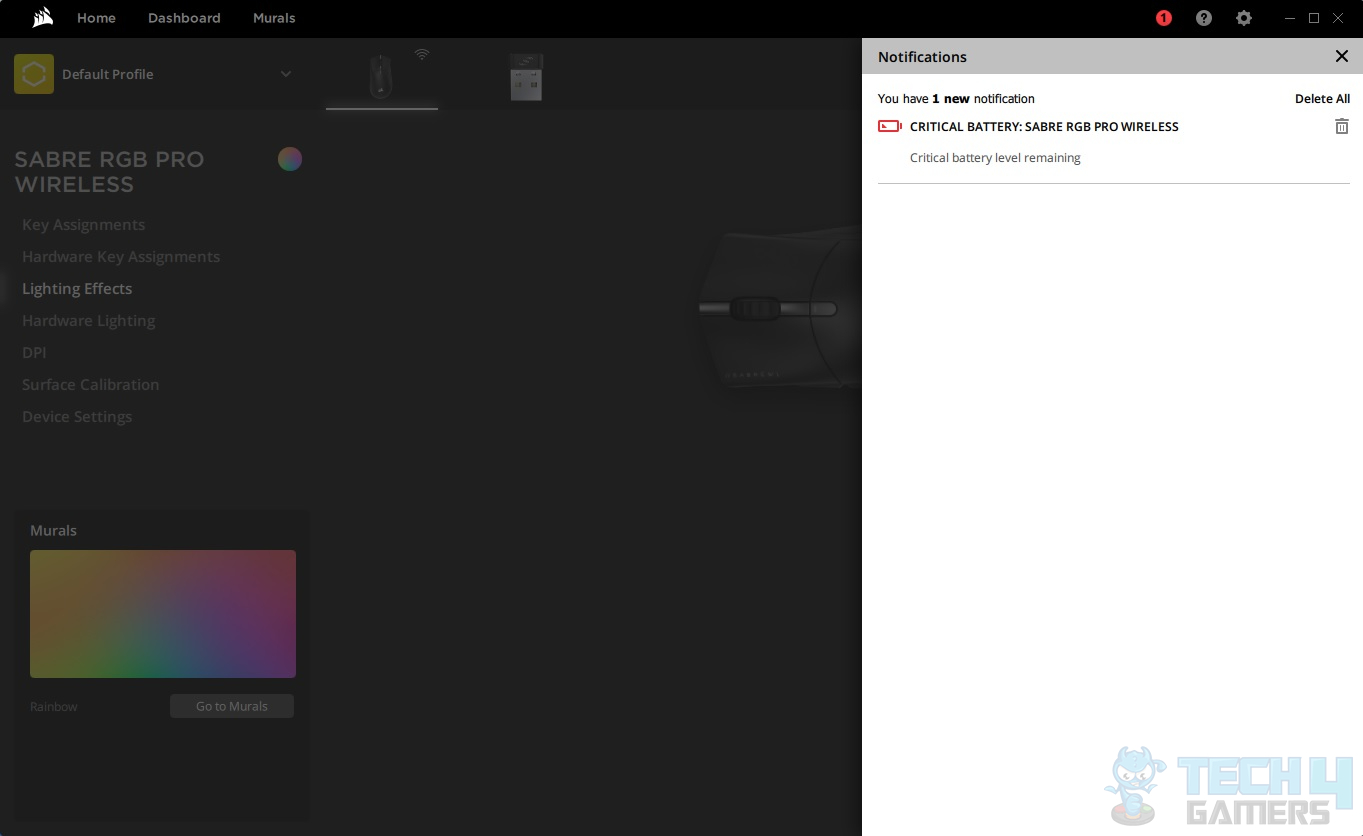 One charge of this mouse battery lasted for 5 days of hectic graphics card testing. You will get a notification of Critical, meaning if you are not connected to the charging port; the mouse will be powered down.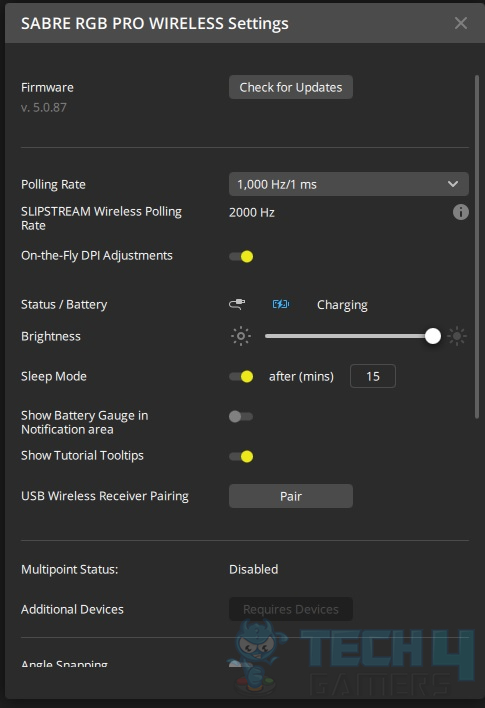 The above picture shows that the mouse is being charged.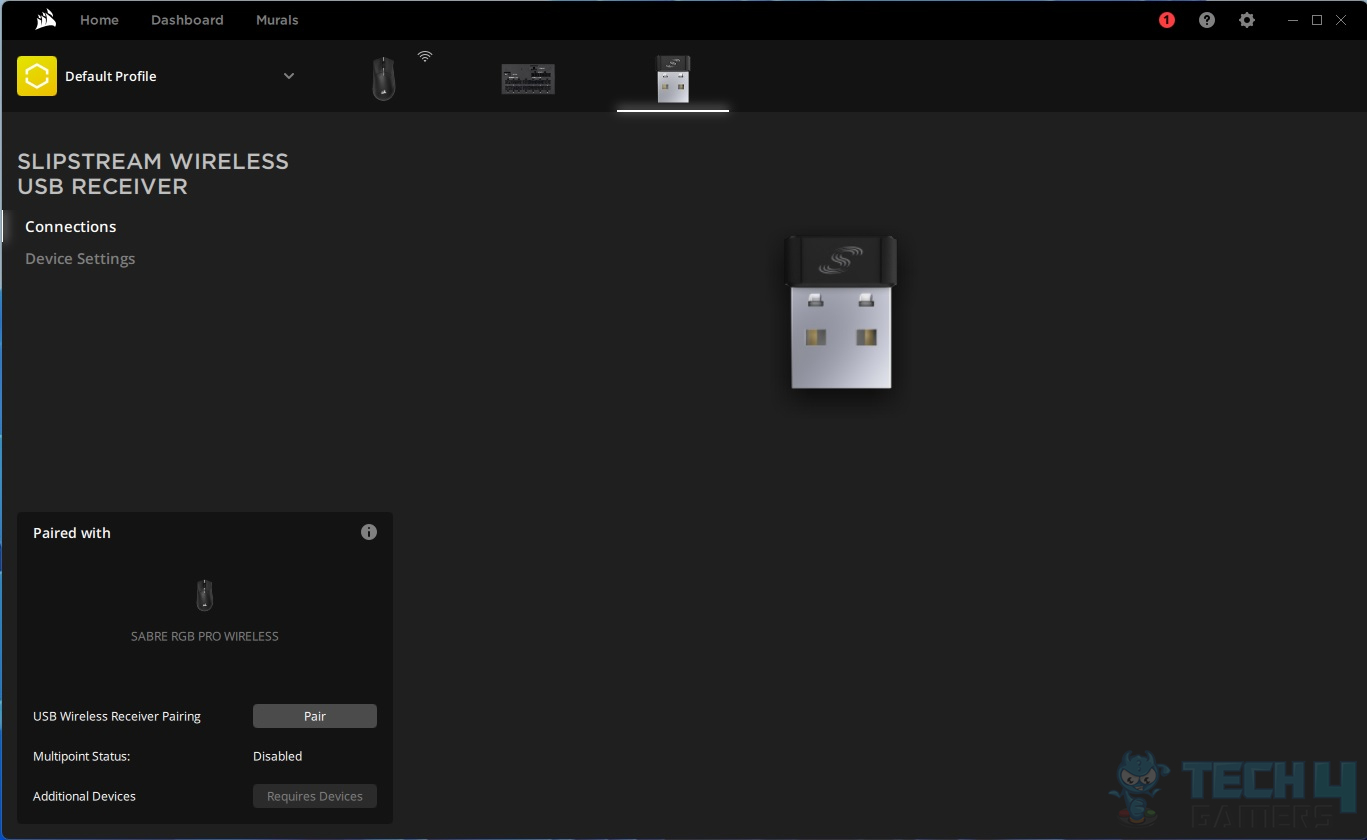 We have two options for USB receivers; connection and device setting.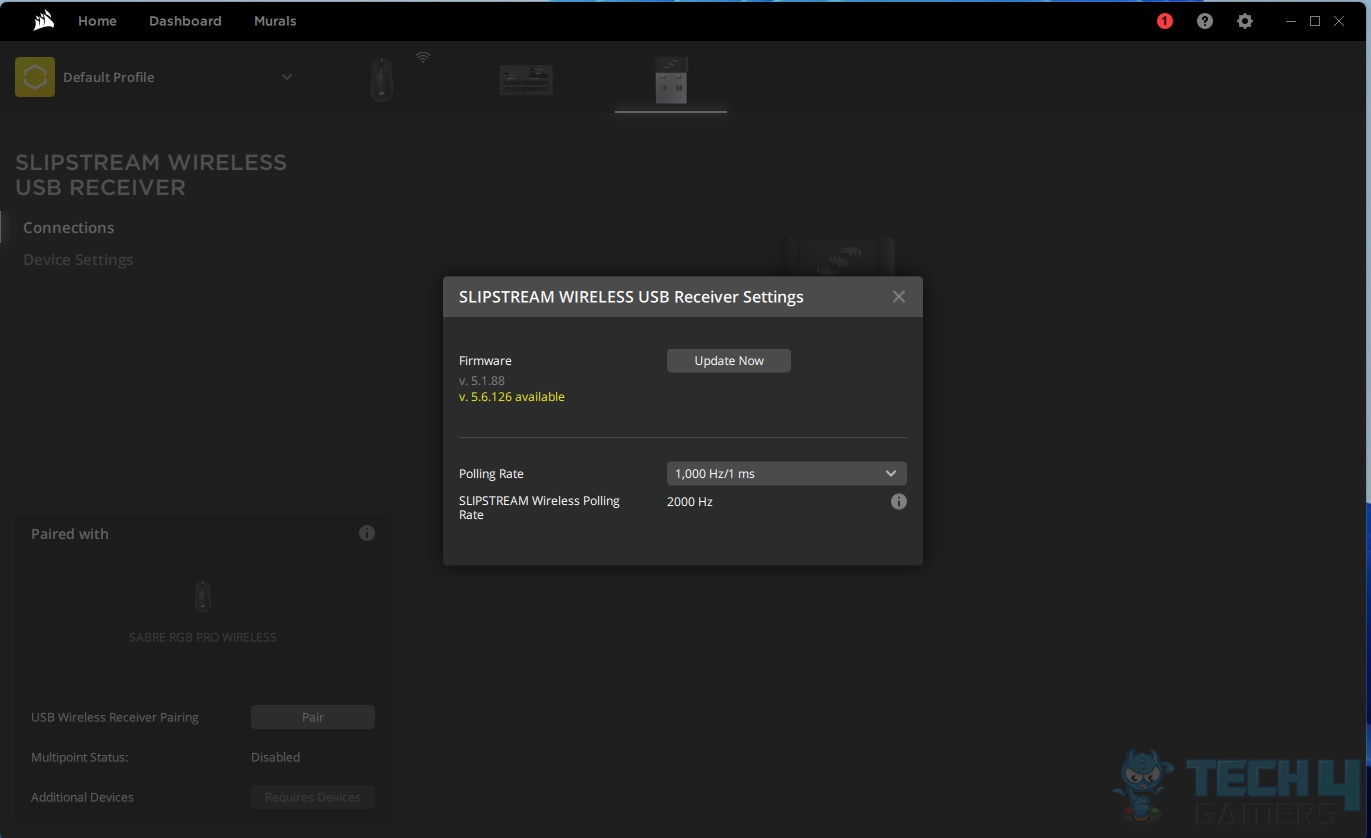 Users can update the firmware and select the polling rate.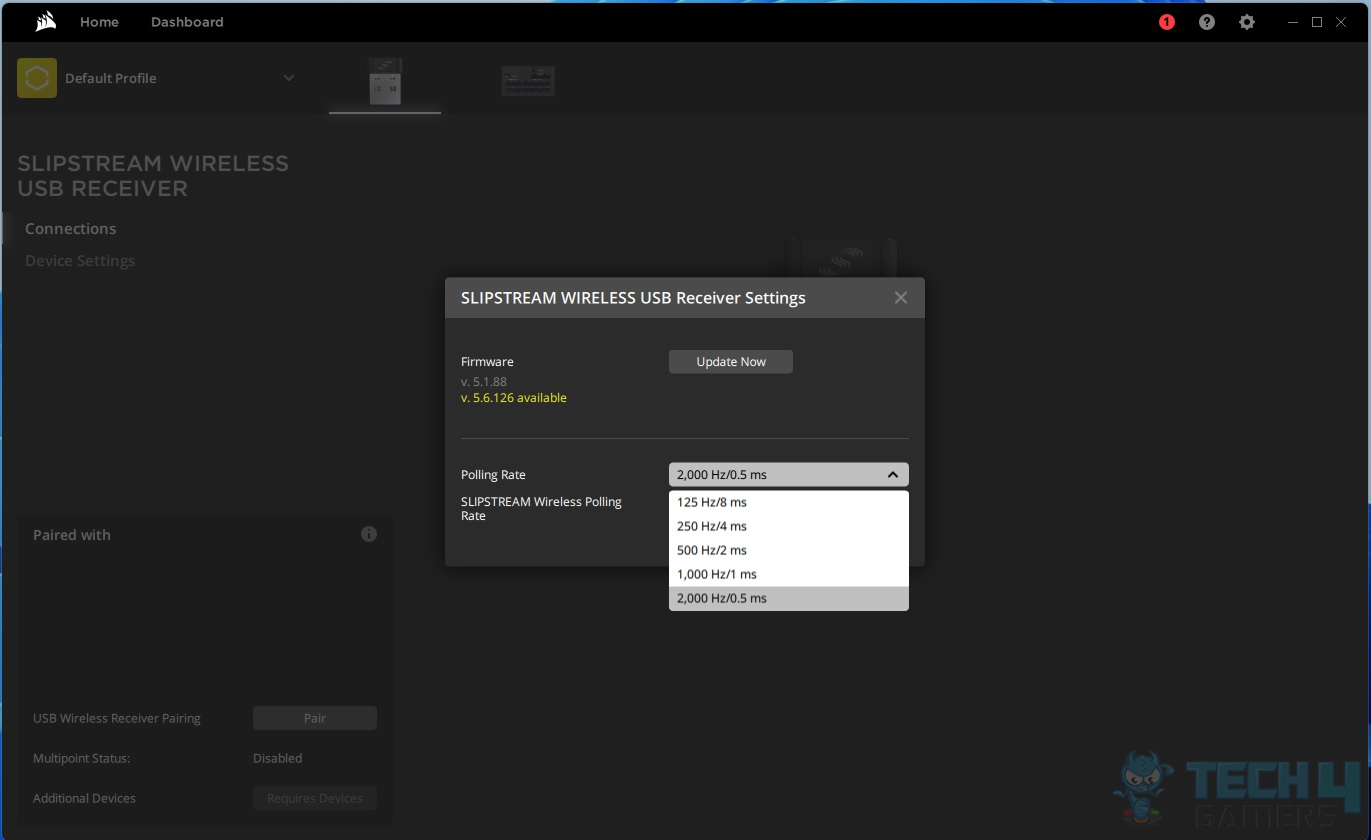 Man, 2000Hz at 0.5ms is too good to have.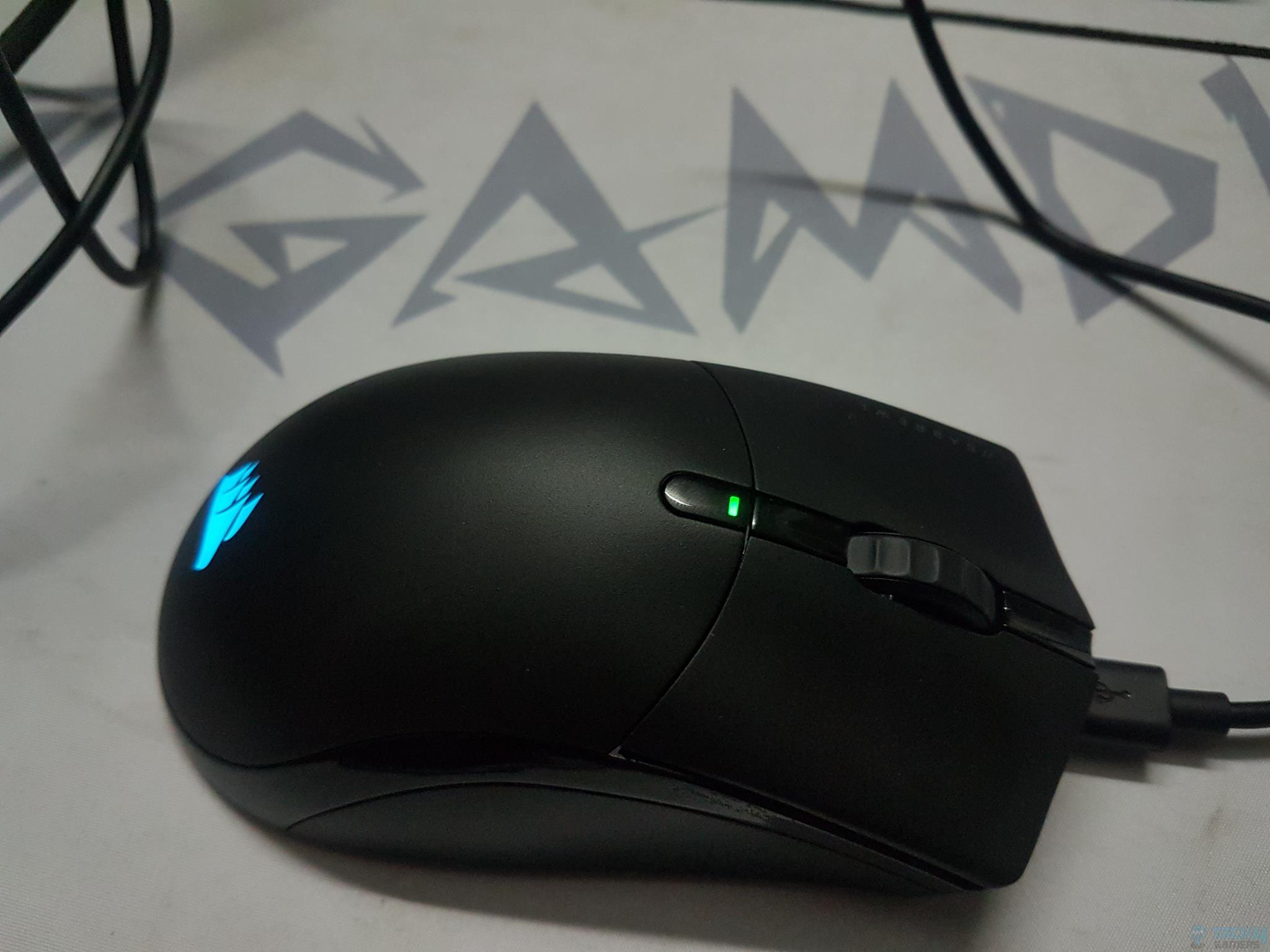 The above picture shows the mouse in a charging state, indicated by the green color.
Here are a few pictures of this mouse with RGB lighting.
Conclusion
We have spent some time on CORSAIR Sabre RGB Pro Wireless Gaming Mouse for its evaluation, and it could not have been a more perfect time than testing GeForce RTX 4090 and 3090.
This is a Champion series mouse, and as the name indicates, it is wireless. The wired edition is also available. The dimension of this mouse is 129x70x43mm (LxWxH). The main frame is finished in matte and shiny black color finish.
The weight of the mouse is 79gm excluding cable. This is a lightweight gaming mouse that is a major trend these days in the market. This mouse has a total of 7 buttons, and 6 of them are programmable using iCUE. It has onboard memory with 5 slots and 3 profiles.
CORSAIR is using OMRON switches with 50M clicks on the right and left keys. I think 50M is a combined figure. CORSAIR has designed the buttons such that there are zero gaps between spring-loaded buttons and actual switches resulting in more speed and responsiveness. CORSAIR calls it QUICKSTRIKE.
The clicking operation of these buttons is not loud. This is not an ambidextrous design, as this mouse is for right-handed persons. There is a slope design towards the rear with bulk almost in the center and a gradual recline towards the front, making this mouse good for claw and palm grips.
Also, this mouse has aimed at FPS and MOBA genre gaming. The rear side has the CORSAIR logo, which is RGB backlit. That is the only area of this mouse that has a lighting element making this a subtle design.
There are two buttons on the left side. One is termed forward, and the other backward, which is standard. There is no anti-slip provision below these buttons, and in the long run, with sweaty hands, the thumb could slide though I did not experience it during my use as it is 25°C here.
The right side has no button. There is an LED indicator behind the scroll wheel, and then we have a DPI change button. The scroll wheel has a textured grip on it and is quite smooth during operation. Also, there is an option to gradually increase or decrease the DPI level by a step of 50Hz using a combination of DPI, forward, and backward buttons.
The front side has a USB Type-C port. Users can connect a provided USB cable to it, which serves two purposes: one allows this mouse to be used as a wired one, and the other is to charge the mouse battery. The cable has a USB Type-A connector at one end and a Type-C connector at another end. It has a 1.8m length, and it is Paracord.
Now coming to the main features of this gaming mouse, it houses a powerful sensor from MARKSMAN, which is capable of providing up to 26k resolution. This is insane, man. That is not all; even by connecting this mouse wirelessly, you can have a 2000Hz polling rate.
It is clear CORSAIR means business with this mouse, and no wonder eSports professionals have commented positively about this game as per CORSAIR's website. The game is strong with this gaming mouse. There are 4x PTFE glide pads on this mouse for smooth tracking. Speaking of tracking, this mouse can do 650 IPS at 50G acceleration.
All specifications point toward a powerful gaming product.
There is a profile indicator button on the bottom of this mouse, along with a profile switch button. Sorry but the placement of these is not convenient. During gaming sessions, I would not want to lift the mouse and see the profile color.
You better do it before starting a game. Then we have a button to switch this mouse to wireless mode. And for that, we have two options: using CORSAIR SPLITSTREAM wireless connectivity or standard Bluetooth connectivity. CORSAIR has mentioned that battery timing on continuous use is 90 hours on SPLITSTREAM and 50 hours on Bluetooth.
In my use, this mouse lasted me for 5 days on a single charge with a total of 48 gaming sessions and routine desktop use, including graphics work. The tracking of this mouse is good, and using SPLITSTREAM's sub 1ms latency timing is too good.
You can almost do anything with this mouse using iCUE. Users can change lighting, define custom macros and save them in five slots of this mouse's onboard memory. DPI settings can be changed.
I usually play at the 5200 mark, and this is what I custom-defined on Stage 1. Mouse remembers this setting without iCUE running in the background. Polling rate, power saving mode, surface calibration, etc., all can be done using iCUE.
CORSAIR Saber RGB Pro Wireless Gaming Mouse is listed at USD 109 on CORSAIR's website. However, AMAZON US has this mouse listed at $72 at the time of this writing. We usually take AMAZON pricing, so we are sticking with this price.
CORSAIR is giving two years warranty on this mouse, which in my opinion should have been a minimum of three years but no complaints given the effective customer service by CORSAIR. The performance of this mouse is quite good.
From tracking to faster response time and sub 1ms timing is too good. I usually do FPS gaming, and this mouse is a fantastic option for that. It is an ergonomic design and provides a comfortable grip during gaming sessions.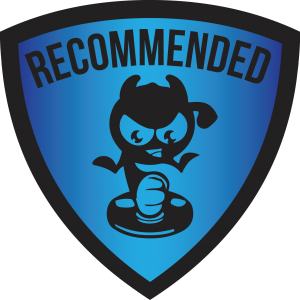 Was our article helpful? 👨‍💻
Thank you! Please share your positive feedback. 🔋
How could we improve this post? Please Help us. 😔