Having the best mouse for Valorant is almost compulsory for you to be able to ace at the game. You're going to need pinpoint precision along with great accuracy, the two most important skills of almost all first-person shooters. A precise, ergonomic gaming mouse will be your perfect companion during your journey of mastering those skills and becoming a pro and getting those headshots in Valorant. Even when you have got the potential to be a master of the game, an unresponsive peripheral or Valorant Mouse will keep you at a great disadvantage against your opponents. 
Those who have played the game know the answer to this question. Valorant being a first person shooter requires a mouse with quick response time and precision. Even the tenth of a second can turn the tide of the game, so that 0.1ms quicker response time will allow you to shoot your opponents' head before them in a duel.
Since, in a game like this opponents always pop up from unexpected angles which means you have to move your crosshair towards them. In order to ensure swift and accurate movement, you need a light-weight Valorant Mouse with a top-notch sensor and precise tracking.
All things aside, today we will review all Valorant Mice with their suitable types, prices, budget, Wireless, Grip, Ergonomic and everything that you need to consider before buying. Now without any further wait, let's begin.
Best Mouse For Valorant 
Now that we have established the need of having the Valorant mouse in your gaming arsenal, the next step is deciding which one to buy. Whether you like it or not, the market for gaming mice has grown exponentially over the recent years. You'll often notice that the catalogue for mice on any online store is pretty much never-ending.
Add to that the confusion of whether to opt for wired or wireless mouse for valorant simply makes the process even tougher. In short, it is easy to fall victim to the endless marketing jargon of companies and ultimately making the wrong decision. To save you from all these hassles, we have rounded up a list of seven best mice for Valorant. In our books, comfort and performance are the two essential components of a Valorant mouse, and these seven entries fulfill the two criterias rather brilliantly. Now all things aside, let's look at the Best Valorant Mouse.
Finalmouse Starlight-12
Best Overall Mouse For Valorant 2022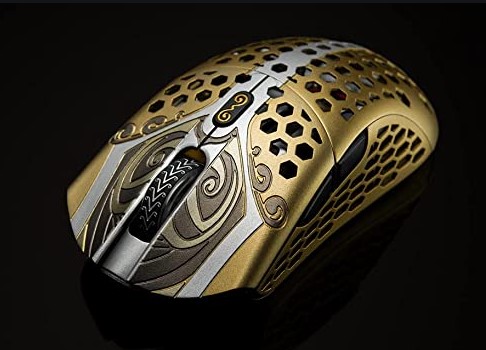 The attention to detail is quite impeccable: even the scroll wheel carries the same royal-gold theme.
The build quality of Finalmouse Starlight-12 is amazing; it features a honeycomb shell made out of a magnesium alloy that is both sturdy and lightweight. Mind you – 42 grams is an incredible value for a mouse's weight. Obviously, this Valorant Mouse is bit pricey, but there are some alternatives which offer exactly same aesthetics, more on that in our Review.
Finalmouse Starlight-12 has an ambidextrous shape, so that's good news for our left-handed friends out there. The design itself is quite comfortable, and perfectly suits all kinds of grips including palm, fingertip, and claw. It might not be very well-suited for large hands though, considering that this is a relatively small mouse.
As much as it is pleasing to look at, the Starlight-12 is equally impressive to work with. It is powered by the 'Finalsensor' optical sensor rated at 3200 DPI. The polling rates are adjustable between 125, 500 and 1000Hz, and the minimum lift-off distance is 1.2mm.
All these figures work together to produce an amazing gaming experience, especially in Valorant. There's no bundled software with the Starlight-12, so the settings are all adjusted using dedicated buttons on the mouse itself. Thanks to its ultra-lightweight and plug-and-play functionality, the Starlight-12 is extremely portable as well. The premium feel is continued onto the buttons that make use of mechanical switches for greater durability and satisfying clicks.
The click latency of 15ms is good, but it could have been better. The PTFE feet are a prime example of the Starlight-12's solid build quality. The only recurring issue that stands with pretty much all Finalmouse mice is their limited availability. For this very reason, Final-Mouse Starlight-12 sells for higher prices than your average gaming mouse. But then again, our verdict from Review is that the uniqueness of the Starlight combined with its rarity really does make it worth owning one.
On that note, the Finalmouse Starlight-12 is a star candidate on our list. It is the ultimate choice that excels in every department, hence it is titled the best mouse for Valorant In 2022.
Pros
Surface made from Ultem that helps the wireless signals to escape smoothly from mouse's surface
Made from lightweight potent materials to enhance your gaming experience
Comes with a full 1-year warranty by the manufacturer
Finalmouse Starlight-12 is our recommended Best Valorant Mouse In 2022.
Cons
Not suitable for gamers who like heavyweight mice for a strong grip
Razer Viper Ultimate

Best Wireless Mouse For Valorant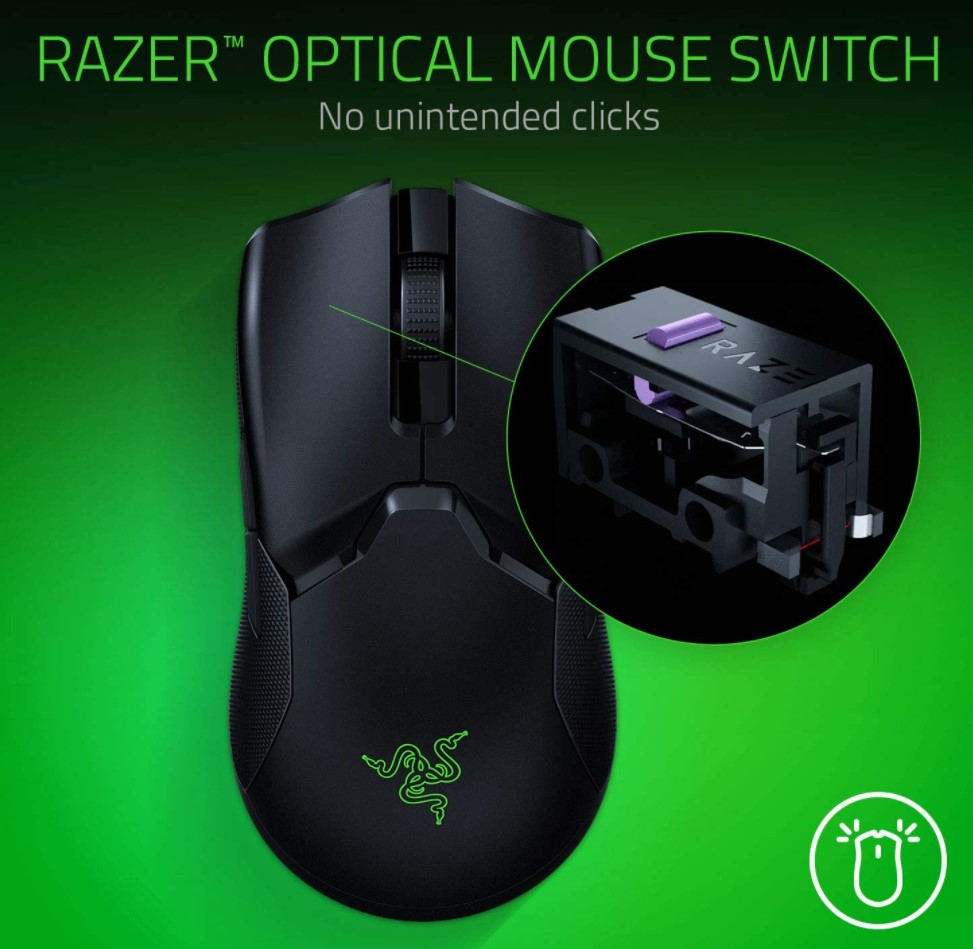 Razer always manages to stay on top of the charts, thanks to their excellent brand value and high-quality products. Their Viper Ultimate has been one of their best-sellers since the day it was launched, and for all the good reasons.
Not only for Valorant, but this mouse is suited for pretty much every game. There's a word that perfectly sums up the aesthetics of the Viper Ultimate: iconic. With the infamous Razer logo and simplistic design language, the Viper Ultimate has surely created an identity of its own.
As we saw in our Review, It features a true ambidextrous design, with two side buttons on either side. Build quality is a solid ten out of ten. The body, despite being constructed from plastic, feels incredibly premium to the hand.
Razer Viper Ultimate is impressively lightweight, too – weighing in at just 74g, the Viper Ultimate definitely is one of the lightest mice out there. Comfort has always been a strong point of Razer peripherals, and it's no different with the Viper Ultimate.
It features a low profile back, with rubber on the sides for better grip. It's not very large, so it shouldn't bother those with small hands. Under the hood, the Viper Ultimate features Razer's latest and greatest Focus+ optical sensor. This sensor has a maximum DPI of 20,000 and a tracking speed of 650IPS.
When you're playing a fast-paced shooter like Valorant, those numbers come in quite handy. In addition, Razer has also equipped the Viper Ultimate with smart features like motion sync, asymmetric cut-off, and smart tracking. The use of PTFE skates allows for a smooth user experience while playing Valorant.
A rechargeable Li-ion battery rated at 70 hours endurance will last you through the longest of Valorant gaming sessions. You can also buy a wireless Razer charging dock (sold separately) for better convenience.
If you are asking, Is Wireless Mouse Good For Valorant? In previous years, wired mice ruled the mouse regime, and wireless ones were nowhere in the picture. However, with their HyperSpeed Wireless technology, Razer has completely filled the performance gap that once existed between their wired and wireless mice.
With a click latency of 0.2ms, the Viper Ultimate proves to be at par with its wired competitors. Razer has opted to use optical switches instead of the more traditional mechanical ones for better longevity.
To be specific, the switches are rated at up to a whopping 70 million clicks. Last but not the least, the mouse can be controlled using Razer's Synapse 3.0 software. As with any other mouse, you can create and store five onboard profiles for all your favorite games. The Synapse toolkit also allows you to create macros and reprogram all eight buttons. There's obviously not a lot of RGB to play with on the mouse itself, except for the backlit Razer logo. However, you can still configure the lighting on the wireless charging dock and sync it with other Razer peripherals. 
Verdict: In simple words, the Razer Viper Ultimate has got all that it takes to be entitled the best wireless mouse for Valorant. If the Finalmouse is a bit too overwhelming to your taste, then the Viper Ultimate is your next best option.
Pros
Excellent Build Quality
650IPS Tracking Speed
70h Battery Life
0.2ms click latency, extremely reliable for competitive games like Valorant
Cons
74g seems a bit heavier after release of lighter mice. You might get tired quickly
Logitech G Pro X Superlight
Best eSports Mouse for Valorant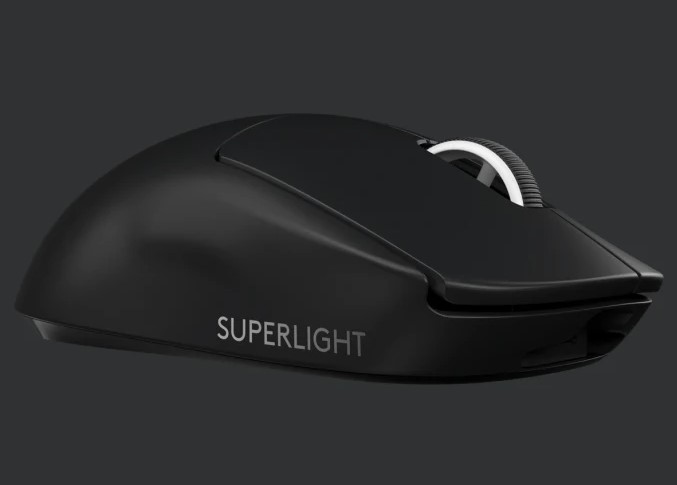 Coming in at the third spot for the best mouse for valorant is the G Pro X Superlight. As the name suggests, this mouse is extremely lightweight and well-suited for FPS games like VALORANT.
Before Finalmouse came in with their Starlight-12, this was hailed as the lightest gaming mouse ever released. The design language is pretty simple and minimalistic with an elevated hump making it suitable for claw and fingertip grip styles.
Logitech G Pro X Starlight features a false-ambidextrous design as there are no side buttons for left-handed users. An impressive thing to note is that Logitech managed to achieve a 60g weight without a honeycomb shell, which is lighter than most mice with a honeycomb shell.
While reviewing the mouse, let me tell you, there are absolutely no issues with the build quality of the Superlight, in case you were thinking that the weight must be a result of low quality. Although there are no rubber sides, the mouse still feels grippy and does not slip out of the hand. Still, Logitech has included a grip tape in the box for your convenience.
In terms of performance, it packs Logitech's most accurate and renowned HERO 25K sensor. The sensor is rated at 25,600DPI and has a 400IPS tracking speed with no acceleration whatsoever.
Pair that with an extremely low click latency and you get ultimate performance. The mouse switches are equipped with click tensioning which reduces the force needed to register a click.
No RGB and an efficient sensor grants a 70 hour battery life to this mouse, which is amazing. However, you can get the Logitech Powerplay mouse pad to charge your mouse while actually using it. We believe that the Powerplay is better than Razer's charging dock, since you can actually play and charge simultaneously.
Logitech's Lightspeed wireless technology is one of the best wireless solutions and provides on par performance with wired mice. It boasts a response rate of as low as 1ms, however, Razer has them beat with a 0.2ms latency.
As for the switches, there is no confirmation by Logitech but reportedly, they have implemented omron switches rated for 20 million clicks which is pretty underwhelming for today's standards.
The mouse gliding experience on this Valorant Mouse is highly smooth, all thanks to the non-additive PTFE glides. The software compatible with the Logitech G Pro X Superlight is the Logitech G Hub software.
It offers plenty of customization options starting from the DPI, polling rate to reprogramming of buttons and also onboard memory. However, there is no RGB which is a bummer. The mouse is extremely easy to carry due to its compact shape and lightweight.
Even many Valorant Professional PLayers use the G Pro X Superlight as their primary mouse. Its popularity is not just limited to an individual level; for example, TSM's (a professional Valorant team) whole lineup uses this mouse.
All in all, the Logitech G Pro X Superlight, the lighter version of the original G Pro is an excellent pick for Valorant players due to its on-point accuracy, smooth gliding and amazing battery life.
We title Logitech G Pro X Starlight as the best professional mouse for Valorant, which is also evident by its popularity among the professional VALORANT players.
Pros
Advanced wireless technology to deliver lag-free signals to your PC
Around 20% lighter than standard VALORANT mice
Comes with a newly equipped 25k sensor for high precision aim
Cons
Short battery life – Thus, bad for Long Hours of Valorant
SteelSeries Prime+
Best Budget Mouse For Valorant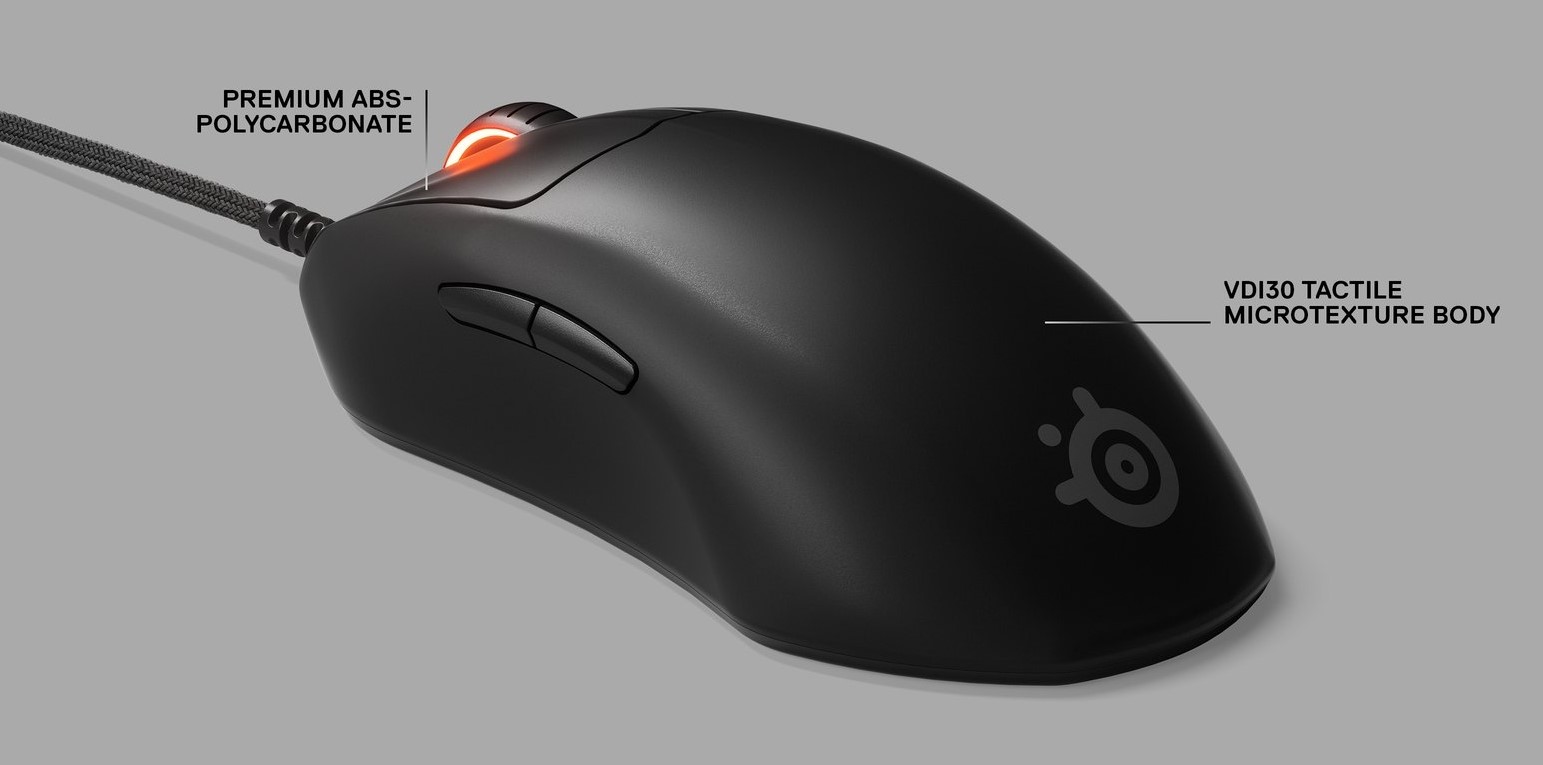 So far, we've looked at three of the finest choices for Valorant. They're all absolute pinnacles of tech, but let's face it – they'll probably cost you a fortune.
When you're low on budget and you need something that is at par with the top three contenders, you want something a bit more wallet-friendly – enter the SteelSeries Prime+. The SteelSeries Prime+ features a very conventional design in a matte black build.
The only aesthetic elements are the SteelSeries logo on the front, and RGB lighting around the scroll wheel. Interestingly though, the Prime+ has a built-in OLED screen at the back, which can be used to configure key settings of the mouse including DPI, RGB lighting, polling rate and so on. The build quality is decent enough, and the mouse manages to weigh a mere 71g without a honeycomb build. This is similar to its competitors, Read Review.
However, there are a few slight downgrades when you compare it with other Valorant mice. It's a purely right-handed mouse with not the best ergonomics. A normal Valorant Player will get used to it pretty quickly, but a mouse enthusiast/professional will recognize the difference.
Moving on to specifications, the Prime+ is powered by the SteelSeries TrueMove Pro+ optical sensor rated at 18000 DPI and 450 IPS. You can adjust the polling rate between 125Hz, 250Hz, 500Hz and 1000Hz.
Apart from the primary sensor, SteelSeries has also installed a secondary sensor whose purpose is to minimise lift-off distances and bring it down to 0.5mm. With that said, the Prime+ offers excellent performance and fluid responsiveness.
The ability to configure settings on-the-go using the OLED screen is convenient for the most part. However, the scores are let down by a high click latency, more on that in a bit.
With the Prime+, SteelSeries has made use of magnetic optical-mechanical switches for their buttons. Everything about the buttons is great, apart from the click latency which is 20ms. It is a tad bit higher than most wireless mice designated for gaming.
But other than that, the Prime+ ticks all the boxes. The PTFE feet design ensures silky smooth gliding on the mousepad.
The SteelSeries GG companion software can be used to adjust DPI/polling rate, reprogram the buttons, create macros, and control the limited amount of RGB lighting zones. You can also create and store five profiles on the mouse's onboard memory.
To sum up the review of SteelSeries Prime+. It is (almost) the complete package for a reasonable price. It has multiple interesting quirks that separate it from its competitors. The price-to-performance ratio with this one is impeccable, which helps SteelSeries Prime+ claim the title of best budget Valorant mouse.
Pros
Quiet buttons for a noiseless gaming experience and better for competitive matches
Adjustable DPI for exceptional games
Water and Sweat Resistant – long hours of Valorant would be fun on this mouse
Cons
Way less battery life than mentioned in the description
Xtrfy M42
Best Cheap Mouse For Valorant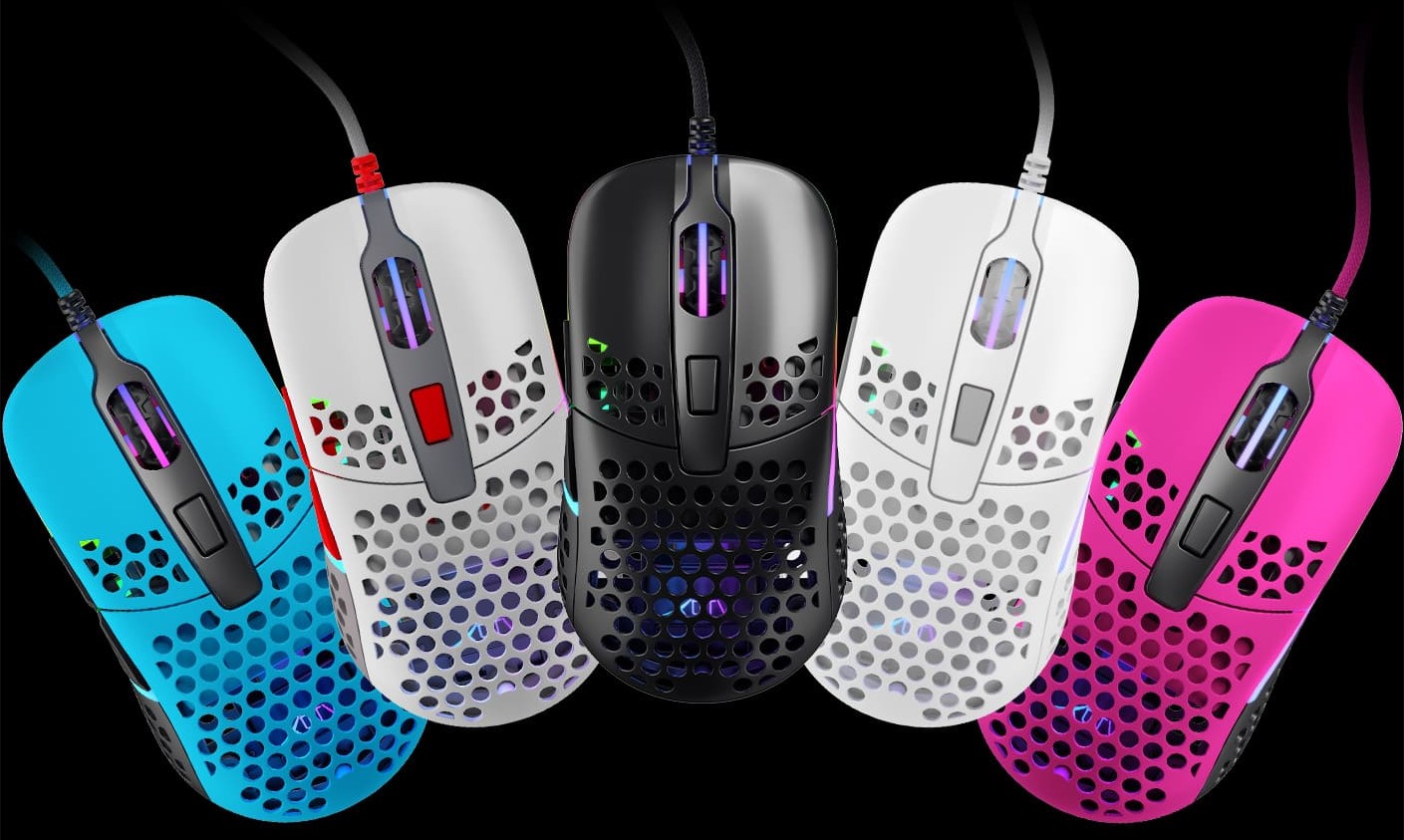 The next competitor for the best mouse for Valorant is from a company that recently became popular due to producing high-end mice at fairly low prices. Xtrfy now has had multiple launches and they named their fourth mice lineup as project 4 which has two lineups, the Xtrfy M4 and Xtrfy M42.
Each project has the same model, albeit with varying colors. What mostly caught the attention of the consumers was unique colors like Miami blue and pink for the mice shells.
The Xtrfy M42 features a symmetrical shape with a honey-comb shell to achieve that 60g weight. However, side buttons can only be seen on the left side of the mouse which makes it unsuitable for left-handed users.
A lightweight mouse with a honeycomb shell certainly does not mean low quality, and the Xtrfy M42 is evident to that. Not only does it have commendable quality, but it also has a coating to protect the circuitry from any dust or water splash.
An interesting addition is the swappable back shell to adjust it according to your hand size. Moreover, you are also provided with a file of the 3D design if you want to 3D print your own shell. Xtrfy has opted for the Pixart PMW3389 sensor that boasts a 20,000 DPI and a 400IPS tracking speed configuration.
The sides also have honeycomb holes which help in gripping the mouse. The interchangeable shell allows you to fit the mouse perfectly in your hand, which makes it comfortable to use even for long hours. Moreover, there are subtle grooves in the primary clicks which add to the comfort of the mouse.
Xtrfy has made use of the Omron switches rated for 20 million clicks, which is a good number of clicks but 50 million or more would have been better. The Xtrfy M42 is not only lightweight but also features a lightweight paracord cable which is quite flexible. However, it might get kinks while unboxing so be careful.
Now for the gliding experience, it is extremely smooth, all thanks to the PTFE feet under the mouse. Xtrfy has also included extra mouse feet in the box so you can replace the pre-installed one in case they wear out later. The M42 has a DPI switch present under the mouse which allows you to switch between eight presets: 400, 800, 1200, 1600, 3200, 4000, 7200, and 16000. The polling rate can also be changed from another button present under the mouse.
RGB effects can be cycled through a button present just below the scroll wheel (mouse3). Moreover, the brightness can be adjusted using a combination of mouse3 and mouse4 or mouse5 (for increasing and decreasing).
In conclusion, the Xtrfy M42 is a mouse with all the things done right at a cheap price. It is the cheapest mouse on this list and packs all the features you can expect in a premium mouse. In fact, it is the best cheap mouse for Valorant on our list. 
Pros
Changeable covers for matching your gaming rig's coloration
Light Weight materials for faster aim
Small pores on surfaces for strong grim while sweating
Xtrfy M4
Best Ergonomic Mouse For Valorant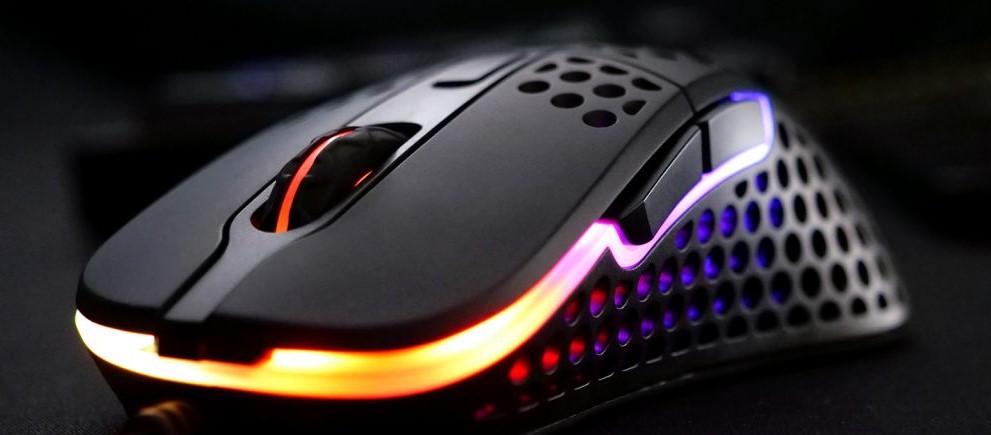 The next entry on our list is yet another product from Xtrfy. It is also a part of the project 4 lineup however, it was released before the M42. It is priced the same as the M42 and is also very similar in terms of specs. The main difference is the shape as the M4 is designed purely for right-handed users. The Xtrfy M4 is also built using a honeycomb shell design with an ergonomic shape.
It weighs in at 69 grams, which is pretty light but again with companies like Finalmouse bringing a 42g mouse to the table, it fails in comparison. The shape is somewhat unusual if you ask me. It has a wide back and a narrow grip width and looks bigger than it actually is.
However, it is comfortable in the hand and you should have no issue using it for long hours. Unlike the M42, there is no modular back this time, so you cannot adjust the size of the mouse. For the performance part, you get a Pixart PMW3389 sensor rated for 16,000 CPI and a tracking speed of 400IPS.
The CPI can be adjusted from 400 all the way up to 16,000 and the polling rate can be adjusted between 125, 500, and 1000Hz. Even with a honeycomb shell, the M4 feels solid and has no wobbly parts. Hats off to Xtrfy for amazing quality. It fits in the hand nicely and suits all grip styles.
Just like the M42, the Xtrfy M4 is also equipped with Omron switches rated for 20 million clicks. The cable is also the same, which Xtrfy calls the 'EZcord'. It means the same flexibility and light weight however, you might also encounter kinks while unboxing. Under the mouse, there is a slight difference from the M42 which is the PTFE feet.
The M4 has 4 small feet whereas the M42 has 2 large feet. Four feet definitely allow for a bit smoother glide but again, the difference really isn't noticeable. Since there is no software, there are presets available for all the settings.
DPI has presets of 400, 800, 1200, 1600, 3200, 4000, 7200, and 16000 that can be switched from the button present under the mouse. The same goes for the polling rate.
Even the flashy RGB has presets that can be configured from the button between the mouse switches which is the DPI switch in most mice. The plug-and-play feature is beneficial for those who travel a lot and do not want to spend a long time customizing their mouse settings.
To sum up, the Xtrfy M4 is another amazing mouse at an economical price and offers amazing features for the price. It has an excellent ergonomic shape which earns it the title of the best ergonomic mouse for Valorant.
Pros
Highly responsive 1000Hz Sensor
Ability to change color and brightness of RGB lights
Light Weight potent materials for high durability
Cons
Very low battery capacity
Zowie EC2-B
Best Gaming Mouse For Valorant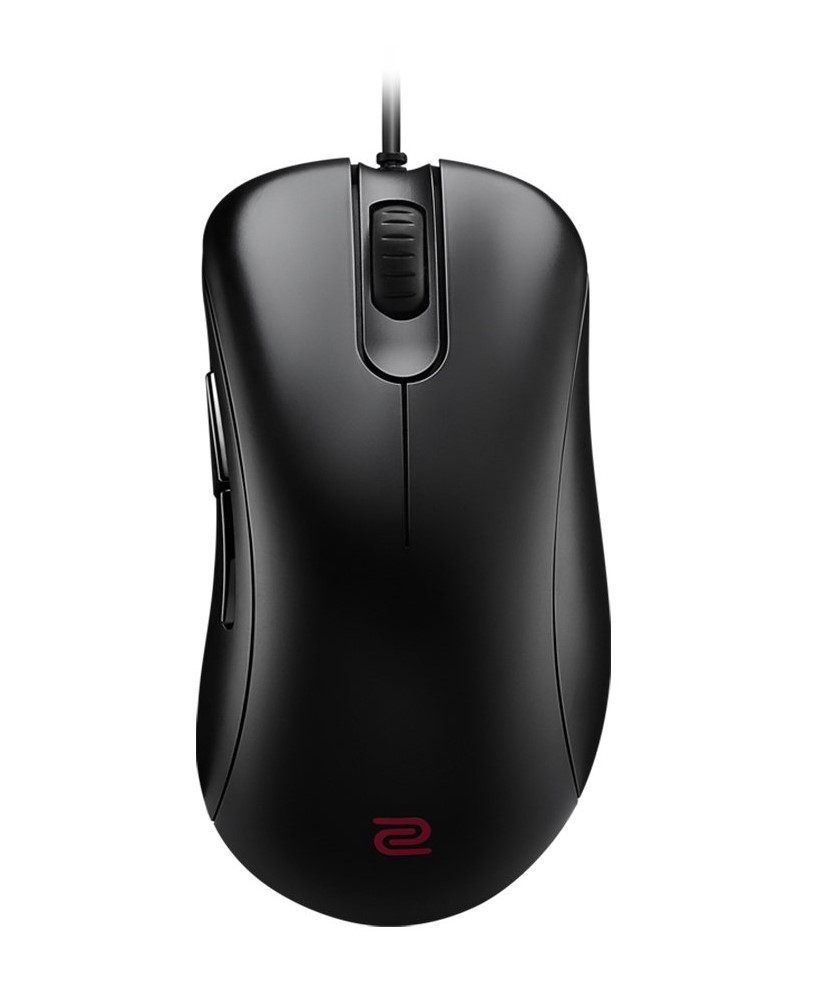 This list would have been incomplete without an entry from Zowie. It's their prestigious EC2-B making it to the top seven, a solid mouse for hardcore gamers and enthusiasts alike. Upon first impression, the EC2-B looks just like your ordinary office mouse. That's because it does not have an aggressive design or boatloads of RGB, as Zowie likes to keep its aesthetics plain and simple.
The mouse's body has a matte-glossy finish, with the Zowie logo upfront and the BenQ logo on the side. The EC2-B does not have an ambidextrous design, so you'll have to work with two buttons on the left side. Regardless, the shape of the mouse itself is very ergonomic, and the size feels just about right for all kinds of grips.
In terms of dimensions, it is as good as it gets, apart from the weight. Weighing in at 90g, the EC2-B is, in fact, the heaviest mouse on this list.
Zowie's products might not be the best looking, and that's because they're all about performance. The case is no different with the EC2-B, which packs Zowie's latest and greatest 3360 sensor. This is, without a doubt, an impressive sensor that has all the responsiveness required in Valorant; in other words, it won't let you down. It is mainly due to this reason that many Valorant professionals use the EC2-A and the EC2-B.
The sensor has a maximum DPI of 3200, and adjustable polling rates of 125Hz, 500Hz, and 1000Hz. Since this is essentially a plug-and-play mouse, the buttons for adjusting DPI and poll rate are positioned at the bottom of the device.
When it comes to the build quality, the EC2-B does okay, but not great. It is nowhere near as good as higher-end mice, but within its price category, it doesn't seem to be a deal-breaker at all.
The buttons make use of Huano switches that have a durability of up to 20 million clicks. Interestingly, the scroll wheel has relatively fewer steps as compared to other mice. It makes the wheel more 'rigid', and supposedly allows you to switch guns more effectively in FPS games.
You might see it as a convenient gaming feature or a serious drawback, it all depends on your preference. Another interesting change from the last generation EC2-A is the implementation of new mouse feet.
The EC2-B features four small mouse feet instead of two large feet on the A-series. The result is a much smoother gliding experience. This is again a subjective matter, as the extra smoothness could be overkill for some people. You might be wondering – if there are loopholes, why do people prefer the EC2-B?
Well, it's because of the 3360 sensor that is too good in its business. Secondly, the EC2-B is a reliable and safe choice that gets all things done right, so you can never go wrong with one of these. Thirdly, the price tag is very attractive for gamers who are on a restricted budget.
In conclusion, Zowie's EC2-B is an excellent middle ground between cheap and premium mice. It provides a taste of all the features offered by a high-end mouse at a lower price. For its impressive capabilities in the gaming space, Zowie EC2-B is titled the best gaming mouse for Valorant. 
Pros
Four different DPI variations for all types of games
Plug and Play (No software required for installation)
USB 2.0 & 3.0 support
How We Chose The Best Mouse For Valorant
Let's be fair, every high-end mouse can deliver top-notch performance and impressive numbers, nothing difficult about that. However, not every mouse is ergonomically suitable for all games including Valorant.
Hence, it all comes down to personal preference when choosing amongst the best out of the lot. The way you interact with your mouse largely affects your buying decision. In our books, a mouse that feels like home to your hand is the perfect one.
To achieve that feeling, there are certain boxes that you should tick to find your ideal mouse for Valorant. Following are some of the key factors you should consider before shortlisting a Valorant mouse that completes your gaming rig.
Weight
When you're playing FPS games, you tend to move and flick your mouse all over the mousepad. Therefore, you would need something that's lightweight and glides smoothly over the surface. Although lightweight mice might be a general preference for the vast majority of us, there are some people who enjoy using a chunky, heavy mouse. Thus, it's all about determining your preference, and keeping a sturdy balance between weight and build quality.
Grip Style
When it comes to gaming, grip style is one of the main factors that determine your ideal mouse. There are three fundamental grip styles: claw grip, palm grip and fingertip grip. Generally, claw grip is more popular in FPS games, as you get a subsequently better control over your mouse. Palm grip and fingertip grip, on the other hand, are a bit unconventional and could be challenging to master.
However, that does not mean that having a particular grip style will put you at a disadvantage. When you've got a mouse that's purposely built for those grips, the learning curve will be less steep. Also, if you're left-handed, a mouse that features a true ambidextrous design would be your best bet.
Skates
Skates are an essential part of the mouse as they allow you to glide the mouse over your mouse pad. Better the skates, better the gliding experience. Mice are equipped with PTFE skates that are excellent for smooth gliding.
The quality and implementation of skates vary from mouse to mouse. For example, some mice have two large skates whereas some have four small ones. Moreover, skates tend to wear out with time so make sure that the mouse you buy has extra ones included in the box.
Frequently Asked Questions
Is Razer Viper Ultimate good for palm grip?
The Razer Viper Ultimate has a low profile back and a shorter body which makes it suitable for all types of grip styles. Palm grip users can opt for the Razer Viper Ultimate but certainly there are some better options that are better suited for palm grip.
What are the best mouse settings for Valorant?
This is a very subjective matter and each person has his/her own setting that suits them the best. The user has to find out their best mouse settings through trial and error. However, one of the most famous players of Valorant, TenZ has his DPI set to 800 with 0.440 in-game sensitivity.
Which mousepad is the best for Valorant?
There are mainly two types of mousepad: control and speed. It depends on the need of the user to decide which one to opt for. A player who flicks more often and has quick movements will be better off with a speed mousepad. Whereas, a player who wants precise and accurate control over their mouse would want a control mousepad. Some of the best mousepads for Valorant are the Logitech G640, Zowie G-SR-SE, and SteelSeries QcK Heavy.