CORSAIR HS60 Pro Surround Gaming Headset Review Summary
The Corsair HS60 Pro surround gaming headset has memory foam ear cushions and 50mm neodymium audio drivers that have been specially tuned. It provides one of the most comprehensive and well-designed bundles for the money. In some ways, it competes with the more expensive Corsair Void Pro. It improves a good low-cost gaming headset in subtle but significant ways. Both the build quality and the sound of the Corsair HS60 Pro Surround are excellent for the price. With a solid mic, a USB adaptor with sidetone, 7.1 surround, and robust bass for good measure, this headset epitomizes the phrase "punching beyond your weight."
Build Quality -

9/10

Audio Quality -

8/10

Microphone -

7/10

Comfort -

8/10

Value -

9/10
Pros
Good level of comfort.
A visual equalizer is available through the accompanying Software.
Premium finish
Feel sturdy in your ears.
Superb audio quality.
Worth it for its price.
Cons
Sound Leakage
Poor at filtering ambient sound.
The wire may become tangled up quickly.
The quality of the microphone's recordings is only adequate.
There are a lot of identical Corsair models available at this pricing.
How about a virtual surround experience? No, thanks
Mid-range headsets are seeing somewhat of a surge in the market with the Corsair HS60 Pro. Variety is fantastic, but it's not always straightforward when there's a tangle of models with comparable prices. The market for inexpensive gaming headsets is now saturated. Moreover, manufacturers are flooding the market, making it difficult to navigate. Because of this, and many stores that sell their products at extravagant rates, choosing the ideal gaming headset might be challenging.
---
Key Takeaways
The Corsair HS60 Pro has 50mm Drivers, a frequency response of 20Hz – 20 kHz, a sensitivity of 111dB (+/-3dB), and an impedance of 2 Ohms @ 1 kHz. Moreover, it has a microphone type Uni-directional with a noise-canceling, a frequency response of 100Hz to 10kHz, a sensitivity of -40dB (+/-3dB), and an impedance of 2.0k Ohms.
You should get Corsair HS60 Pro if you are on a tight budget and looking for a comfortable headset with comfortable earcups and are looking for a mix of the industry's average standard music, gaming, and microphone performance.
You should not get the Corsair HS60 Pro Surround Gaming Headset if you are going to wear it in a crowded environment, as this headset does not sit well on your head and has a sound leakage. Moreover, the quality of the microphone's recording is inadequate and has an awful virtual sound experience.
The Corsair HS60 Pro is a perfect fit for audiophiles looking to tweak audio preferences according to their preferences, as it offers a huge pile of customization features in iCUE. Furthermore, the headset has a premium finish, a good level of comfort, and superb audio quality. It also supports multi-platform compatibility.
---
Corsair provides a headset for any budget statement, from the cheapest to the most luxurious. The term "Corsair" is likely instantly recognizable to every gamer. Corsair has been a go-to brand for many hardware aficionados for years. They manufacture almost every product you may need for your PC gaming needs. This encompasses peripherals like mice, keyboards, headsets, casings, RAM modules, power supplies, and even fully assembled computers.
Corsair has been making gaming headsets and other peripherals for a long time. They specialize in producing high-caliber gaming accessories. Despite being on the more basic end of the spectrum, the Corsair HS60 Pro surround nevertheless has valuable options like surround sound. When we talk about professional gaming, we can't ignore the importance of sound.
You probably don't need us to explain the significance of sound to your gaming needs, but here it is anyway: Having a good headset that makes it simple to locate the source of enemy footsteps gives you a distinct edge. In addition, it's crucial to the immersive experience. The Corsair HS60 Pro is expected to be an excellent headset.
Incorporating durable components ensures solid construction. It blends excellent sound with a sleek, low-profile design and user-friendly, configurable Software. All things considered, the bundle is excellent, but is it worth the asking price? The question is whether or not the Corsair HS60 provides enough. I say we find out.
Also Read: Corsair Vengeance RGB Pro Review
Overview
Corsair has improved its well-liked HS Gaming Headset lineup. A simple, low-profile headset with all the essentials. Corsair's HS60 PRO Surround is an anachronistic return to the design principles of a traditional headphone headset. The Corsair HS60 Pro Surround is the enhanced version of the original HS60. The HS60's advantages were many, ranging from its high standard of build quality to its high quality of sound and pleasant design.
The HS60 Pro Surround, however, has improved microphone performance, more comfortable memory foam ear cups, and fine-tuned drivers. It won't make current HS60 users cry out to the heavens for their misery, but it might entice anyone in the market for a brand-new headset. A high-quality stereo headset equipped with plug-and-play drivers.
The HS60 PRO model we have here is an upgrade above the HS50 since it has a USB dongle or USB soundcard. It grants users access to iCUE and the EQ controls when they connect the headset via a USB dongle. A new noise-canceling boomstick Mic has been included in the bundle; it's discord-approved. There is a wide range of colors available for this headset from Corsair.
Once again, Corsair used two high-quality Neodyne 50mm drivers. These headphones have a frequency range of 20 Hz to 20,000 Hz and a bit depth of 16 bits/48 kilohertz. Although this headset lacks RGB illumination, its full performance requires the current version of iCUE Software, which enables you to customize the music to your audiophile choice.
The headset is equipped with surround-sound technology, creating a more immersive gaming experience with authentic multi-channel sound. As a result of all of this, we have a headset that costs just $69 US and provides excellent comfort and sound quality. In addition, it has a good microphone and may be used with any device that supports 3.5mm headphones. It seems that the Corsair HS60 PRO has a very difficult task ahead of it; can it be one of the finest PC headsets for gaming, or is it just another filler model?
Specifications
If you're curious about the headset's features, I've snatched them from Corsair's website and inserted them below:
| | |
| --- | --- |
| Weight | 0.325 |
| Headset Frequency Response | 20Hz – 20 kHz |
| Headphone Sensitivity | 111dB (+/-3dB) |
| Impedance | 32 Ohms @ 1 kHz |
| Headset Drivers | Headset Drivers 50mm |
| Cable Length | 1.8m |
| Audio | 7.1 Surround |
| Microphone Type | Uni-directional with noise-canceling |
| Microphone Impedance | 2.0k Ohms |
| Microphone Frequency Response | 100Hz to 10kHz |
| Microphone Sensitivity | -40dB (+/-3dB) |
Packaging and Unboxing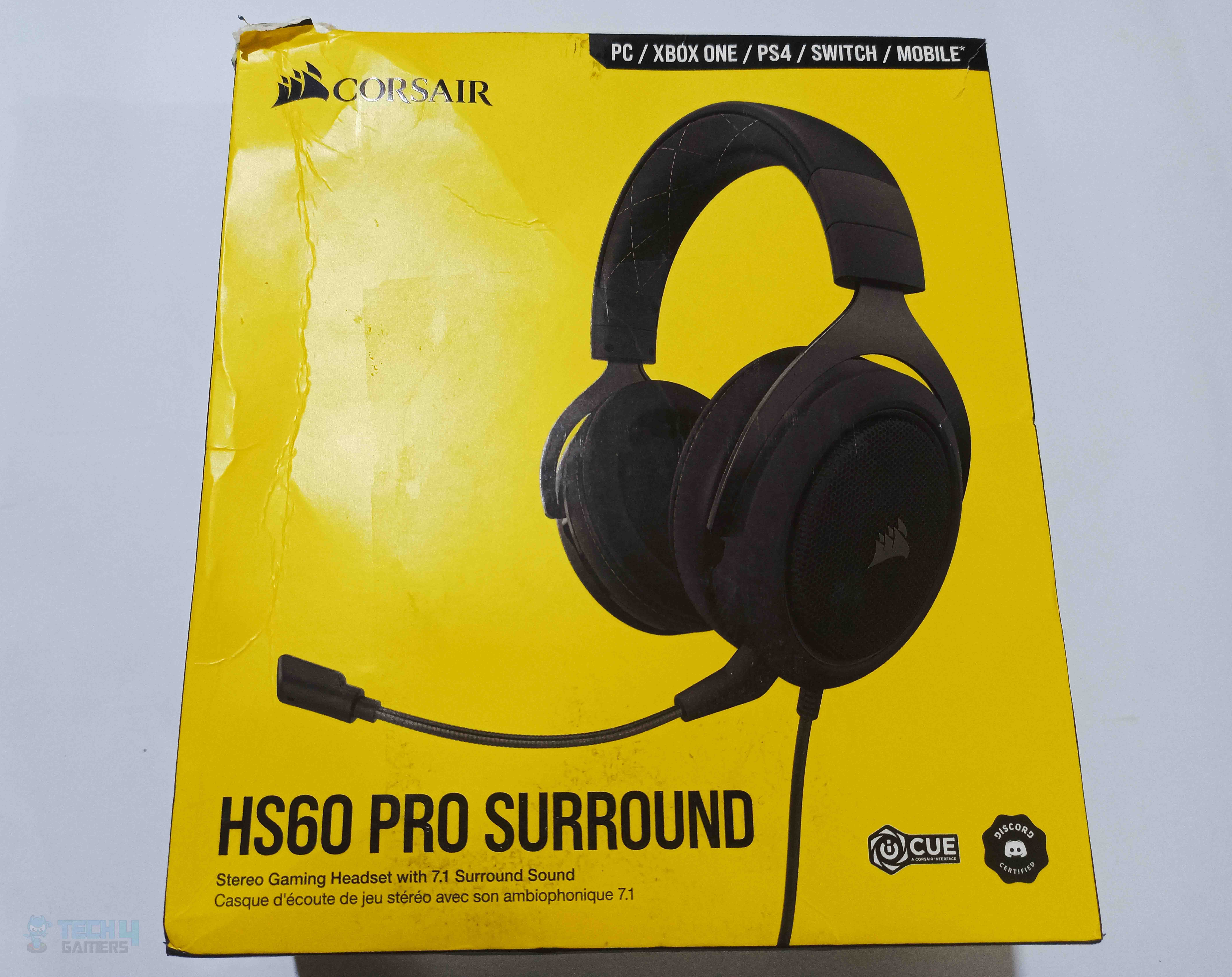 Let's start with the unboxing procedure itself. The packaging is monochromatic black and yellow. To that end, the retail packaging for the Corsair HS60 Pro Surround displays a modernized design compared to the original HS60 Surround headset. Most of Corsair's more recent products have a similar design for their packaging and color scheme.
The Corsair logo and an image of the HS60 Pro can be seen on the front side of the box. You can also discover a brief description of the product: "Stereo Gaming Headset with 7.1 Surround Sound," right below the product's name. At the very top, it advertises compatibility with a wide range of devices and gaming consoles. Outside of that, there isn't a whole lot to discuss.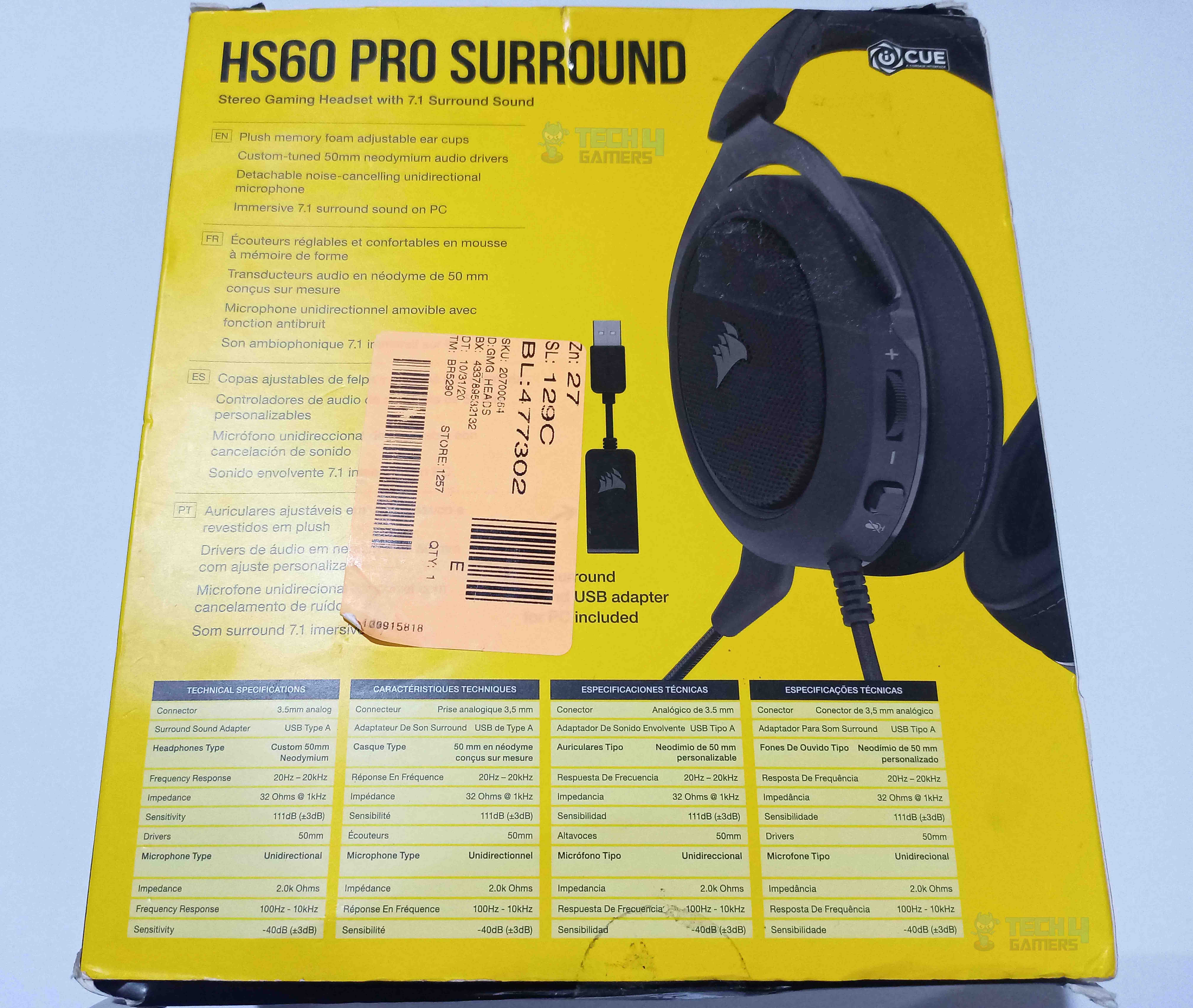 The box's left side provides some background about the audio-tuning tool Corsair iCUE. All of the headset's components are clearly labeled and described on the box's backside. Damage is unlikely during shipping because of the HS60 PRO Surround's secure packaging. Throw that out of the way, and let's talk about the contents.
Box Contents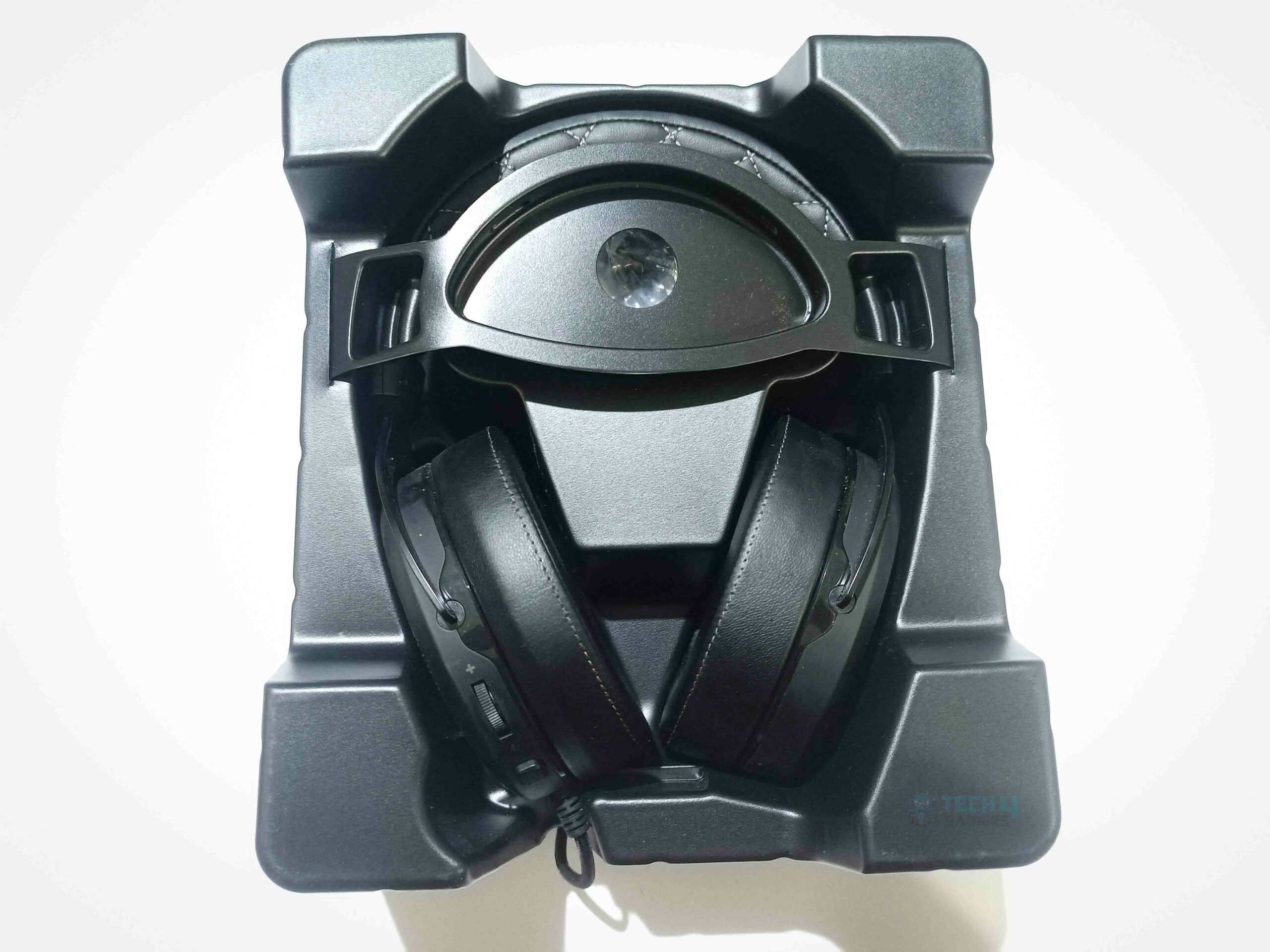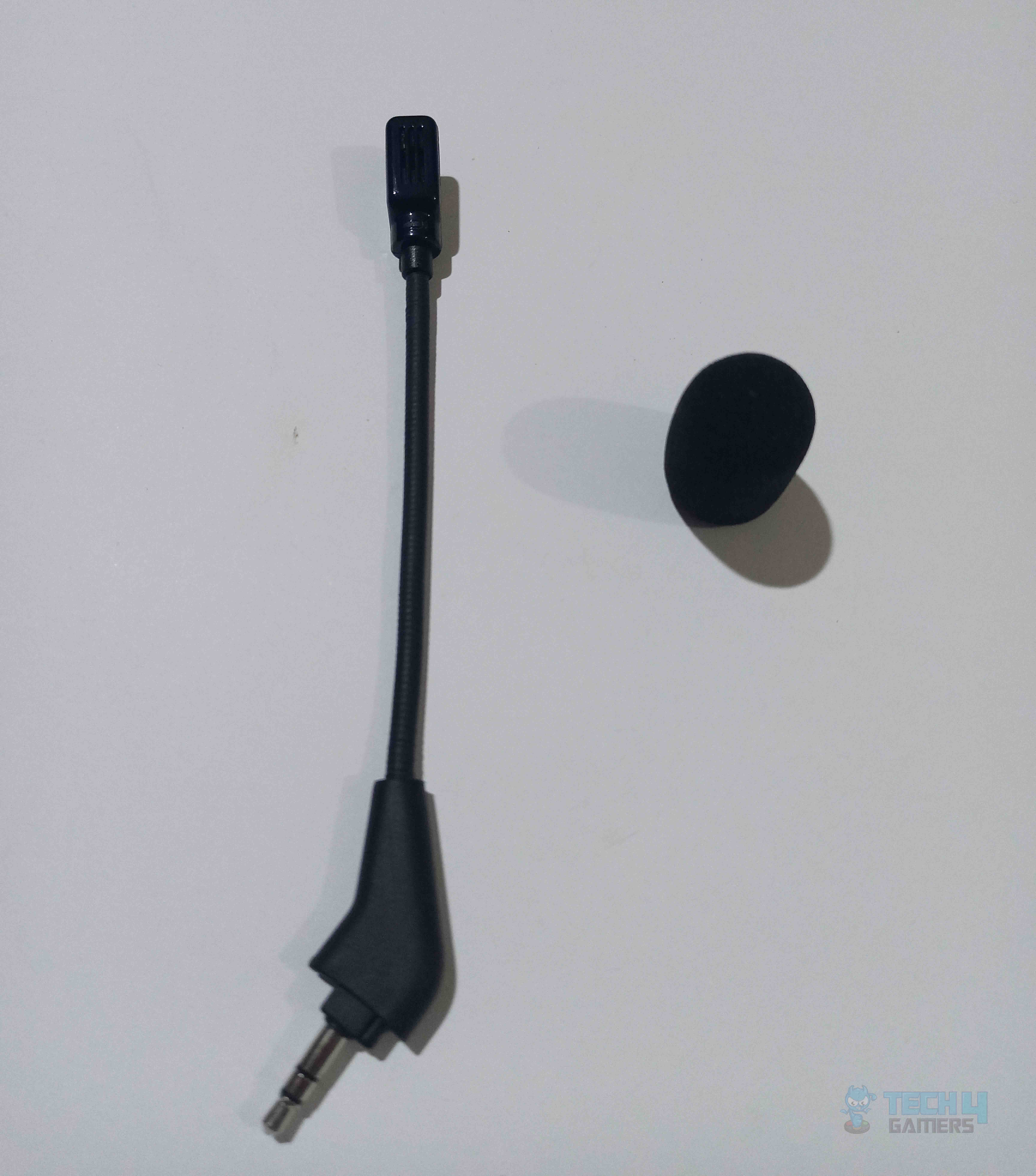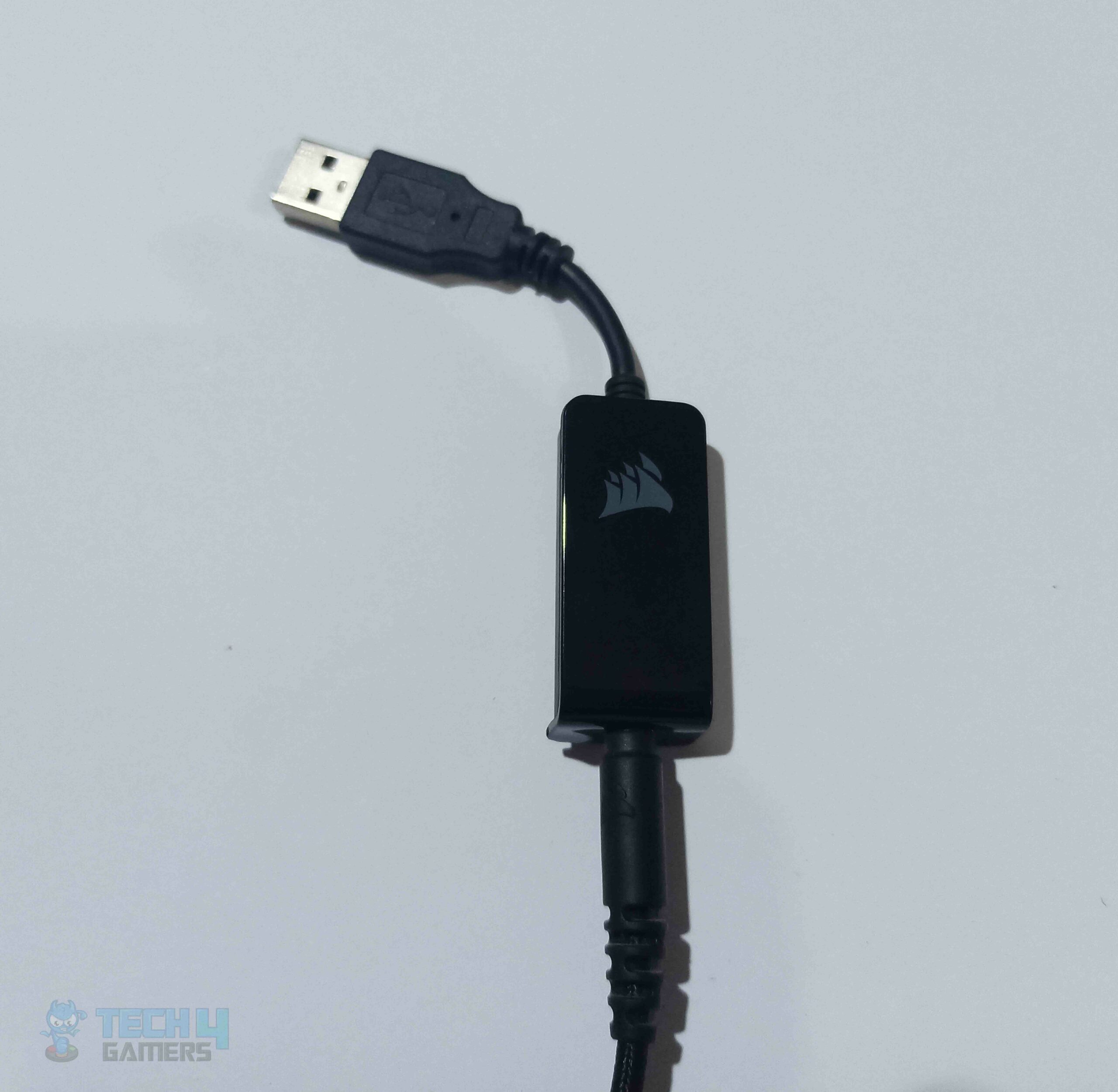 The package is simple and easy to open. It came in a cardboard box with a plastic sleeve to protect the Corsair HS60 Pro Surround while it was being sent. Like its predecessor, the HS60 Surround does have a 3.5mm to USB audio adapter. The only functions on it are the Corsair branding and a 3.5mm jack for the headset. However, this is acceptable because the headset itself has all of the controls.
There is a silver USB plug on the opposite end. You must have this connection if you wish to use the HS60 Pro's virtual 7.1 surround capabilities. Even if this is not your intention, the USB adaptor nonetheless ensures a constant sound quality across numerous devices, which you cannot say for the analog input.
This is helpful if your gaming setup consists of a laptop or a low-cost computer because these devices may not always have the best audio output. Therefore, even if you don't utilize Corsair's Software, I believe utilizing this sound card is worthwhile, or you can use the 3.5mm jack that may be directly connected to your motherboard or sound card.
However, the USB dingle soundcard is preferred since it establishes a digital link and allows for iCUE management. iCUE gives you control over the equalization and the option to switch between stereo and surround sound modes. There is also a microphone that may be detached if desired.
These two parts were kept in separate plastic bags. The parameters for this remain the same, with a frequency response of 100Hz to 10kHz. It also still has the movable arm on which it is seated, which is fantastic to see. The microphone is stationary in addition to being able to swing in several directions.
Additionally, Corsair supplied a tiny wind muff to shield breathing noises from recording. Corsair claims that the audio and microphone have undergone rigorous testing for quality and compatibility with the Discord voice chat tool. The below sections page will examine the implications in the actual world.
Moreover, two brief guides are also provided. One is an instruction manual for setting up and using the headset. The other is clearly labeled as a warranty handbook and contains details on Corsair's warranty coverage. Note that Corsair's audio equipment typically comes with a two-year guarantee. We're done with the packaging and unboxing. So, let's dive ahead into the perceptual examination.
Design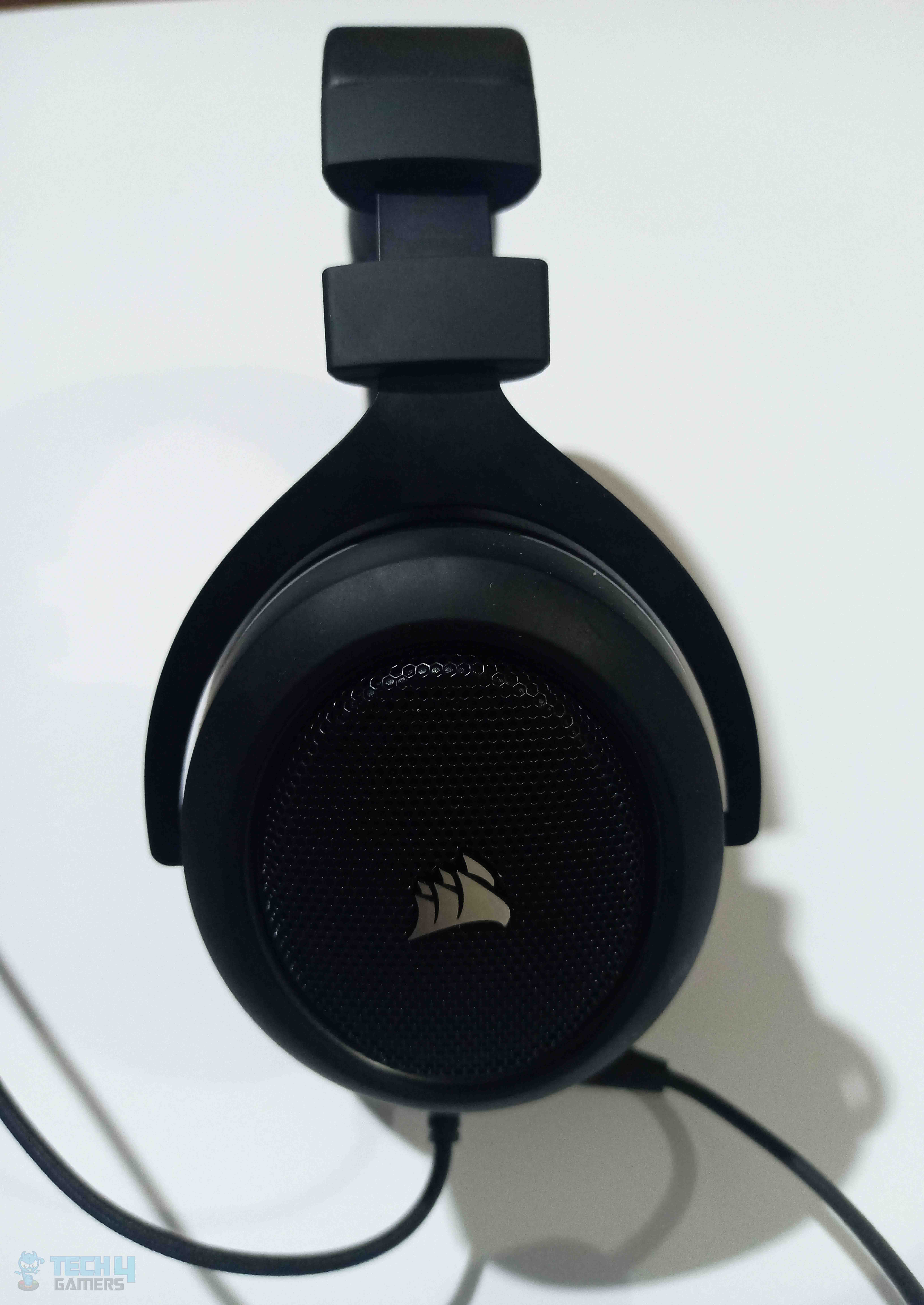 The grey stitching on our Corsair HS60 Pro Surround testing unit designates it as the carbon type; a yellow version is also available. The headset has a leatherette headband with a stitched design in carbon for style. This is another striking design option that results in a surface resembling bubbles and dotted with pockets. However, this edition does not introduce a great deal of distinctive design regarding its looks.
The peculiar grille design from Corsair, which gives the appearance of an open-backed headset, has returned. However, they are still largely closed-backed; from what we can see, the grille serves only as an ornament rather than as a ventilation mechanism. Not that it's a negative thing, considering how good the design is in general.
This is much welcomed since the headset's subtle design makes it ideal for competitive gaming and music consumption. That being said, its overall matte black appearance gives it a low profile, likely to appeal to minimalists. The company's name is inscribed on the top of the band, and there are Corsair sails logos on each ear, so it's clear that they are meant for gamers.
Also Read: Corsair K70 RGB MK.2 CHERRY MX Low Profile Speed Review
There is no cluttering in the branding in any way. The headset's outside shell is plastic, while its inside has a plush feel. A few spots shine brighter than others. The ear cups and the rest of the internal construction are held in place by an aluminum alloy metal. The headband of the headphones is crafted from leatherette for a premium feel. The headphones have an overall pleasing blend of portability and durability.
Some people may mistake them for open-back headphones if they only see them from the front. Don't let the grille-like appearance on the side fool you; they have closed backs. Depending on the color you choose, the earcups, earcup lining, and headband will all be either black or yellow. Between the ear cups and the matte finish outer is a clever and discrete band of high-gloss plastic that feels amazing to the touch and is almost rubberized. Although the gloss portion is readily fingerprinted, it is relatively small. Thus, you are unlikely to touch it.
If you're concerned about the durability of this headset, you shouldn't be. Although most of the materials in this headset are plastic, it doesn't make it seem cheap. The headgear weighs about 317g, so it's not exactly light. They are middleweight headsets that are quite evenly distributed by the aluminum headband's strong gripping force.
Comfort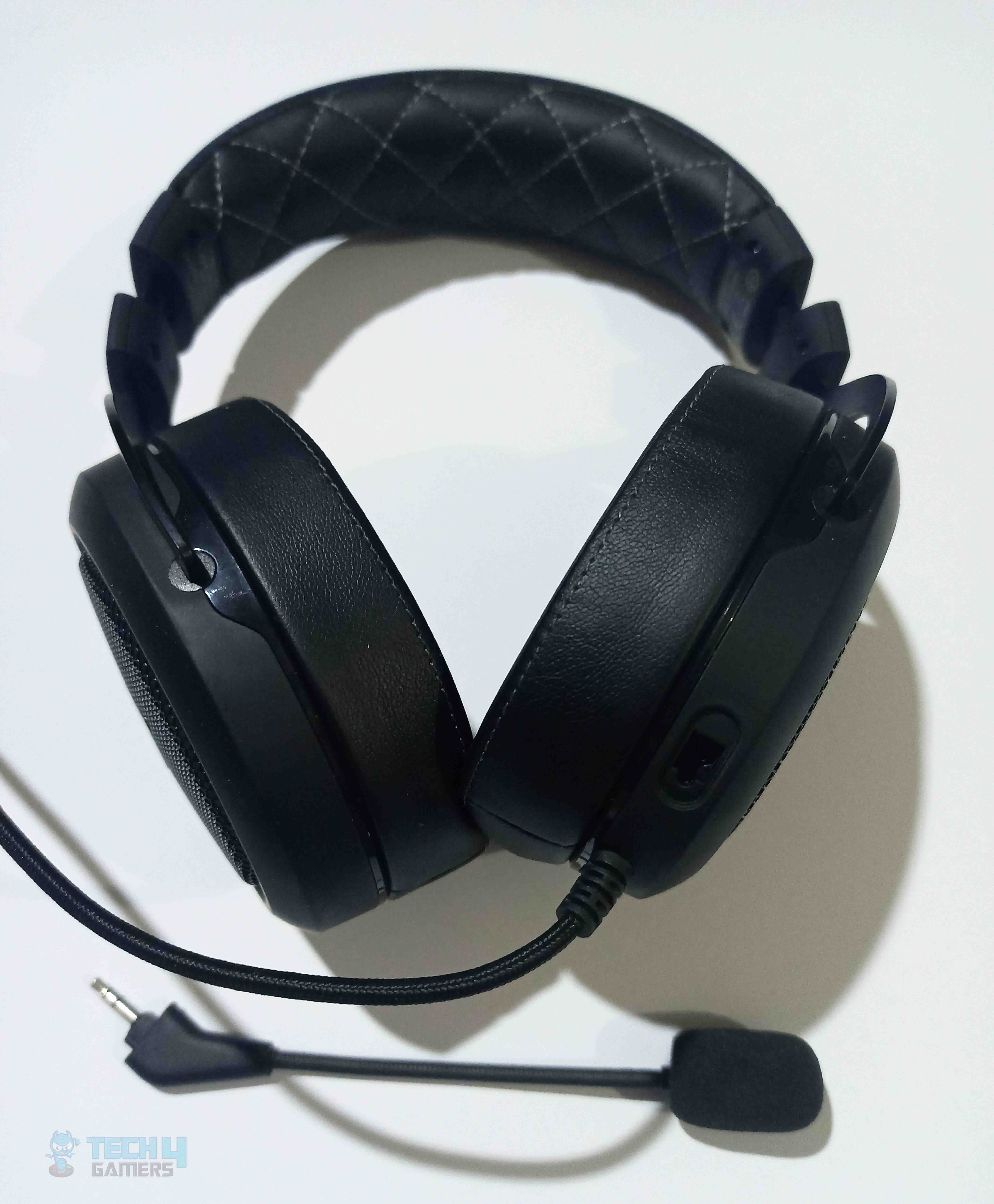 The Corsair HS60 Pro can be considered a "refreshed" or updated version of the HS60. Although the HS60 was a fantastic headset, it also possessed a few comfort issues. So the point is, how does the HS60 Pro differ from that? The quick response is a hearty "yes." But everything isn't ideal. Let's start by discussing the positive aspects.
After taking them out of their packaging, you'll see that the frame is made of steel, is relatively durable, and that the ear cups are filled with memory foam and other materials for comfort. The HS60 PRO has a circumaural ear connection, a comfortable headband, and attractive black earcups. However, they can be easily damaged by scuffs and dents.
Big, cushioned ear cups are included. Cups, in general, are quite convenient and easy to wear. It's quite comfy since it rests so perfectly on your head. I believe this is another area where the new HS60 excels over its predecessor; my desire for thicker, plusher foam seems to have been met. The level of comfort has increased, in my opinion. The cup's overall size and oval structure make it suitable for use with ears of varying sizes. Inside, a tiny mesh lining prevents your ear from coming into contact with the plastic shell.
The bigger ear cups on the Corsair HS60 Pro Surround are the primary reason I find them more comfortable than their predecessors. The memory foam feels softer and more spacious than in the HS60 because of the protein leather covering it. I wear glasses, unlike many headsets. I had very little weariness when using this one. This headset is a little heavier than the first at 319g, but it doesn't seem too heavy to wear.
One downside is that because the ear cups of the Corsair HS60 Pro Surround cannot be rotated, they may not provide the best comfort if you lay the headset around your neck. As people's heads vary in terms of size, the length may be altered to fit your particular head. Notches and corresponding numerical markings on the frame let users keep track of how far the headset has to be extended for a good fit.
Regarding the headset's extending capabilities, I have a large head and felt that there was still a little more space to stretch, but I would advise giving them a try before buying. The headset may be adjusted so that the cups sit lower on a larger person's head or higher, depending on his personal choice and the shape of his noggin.
Build Quality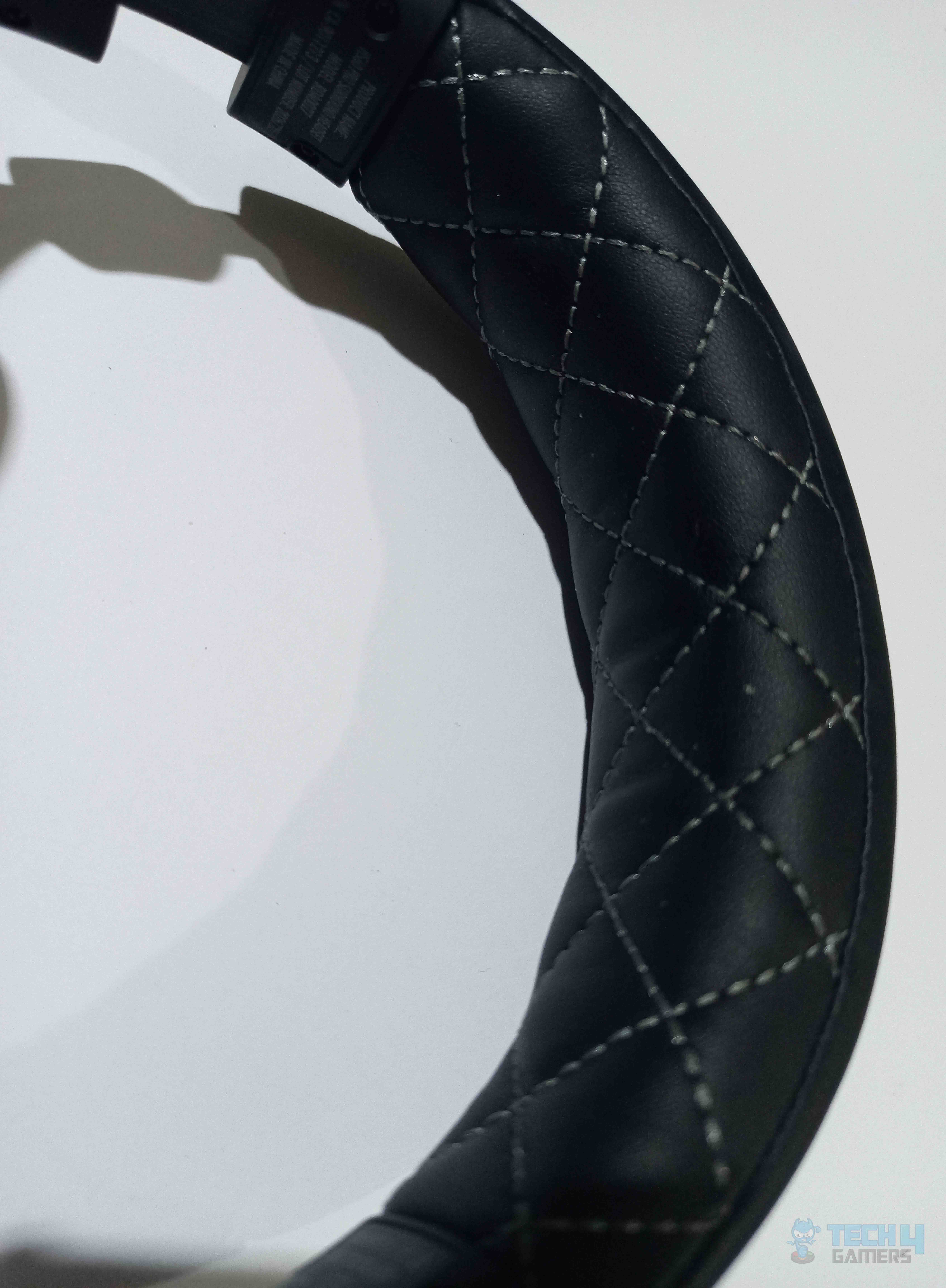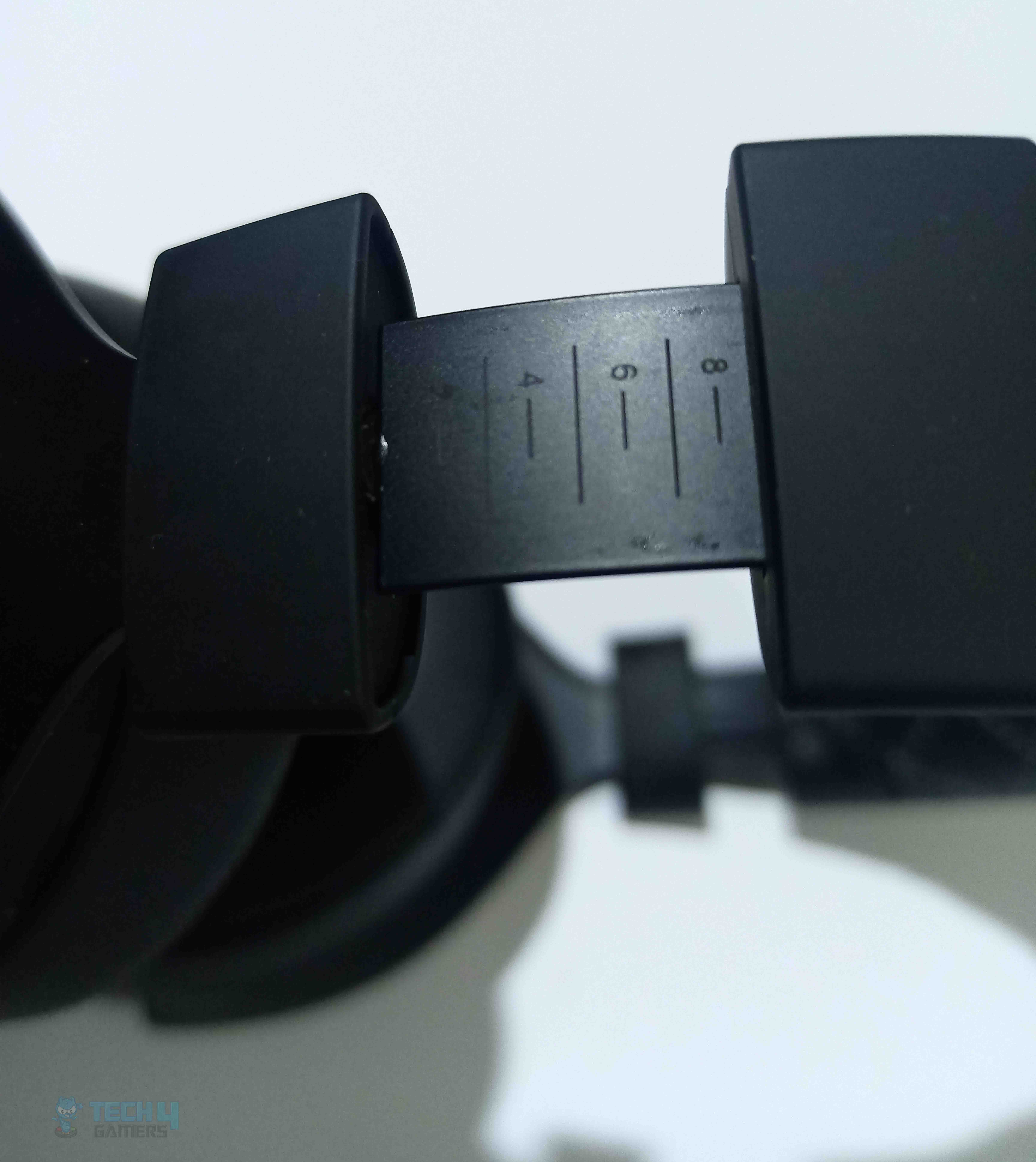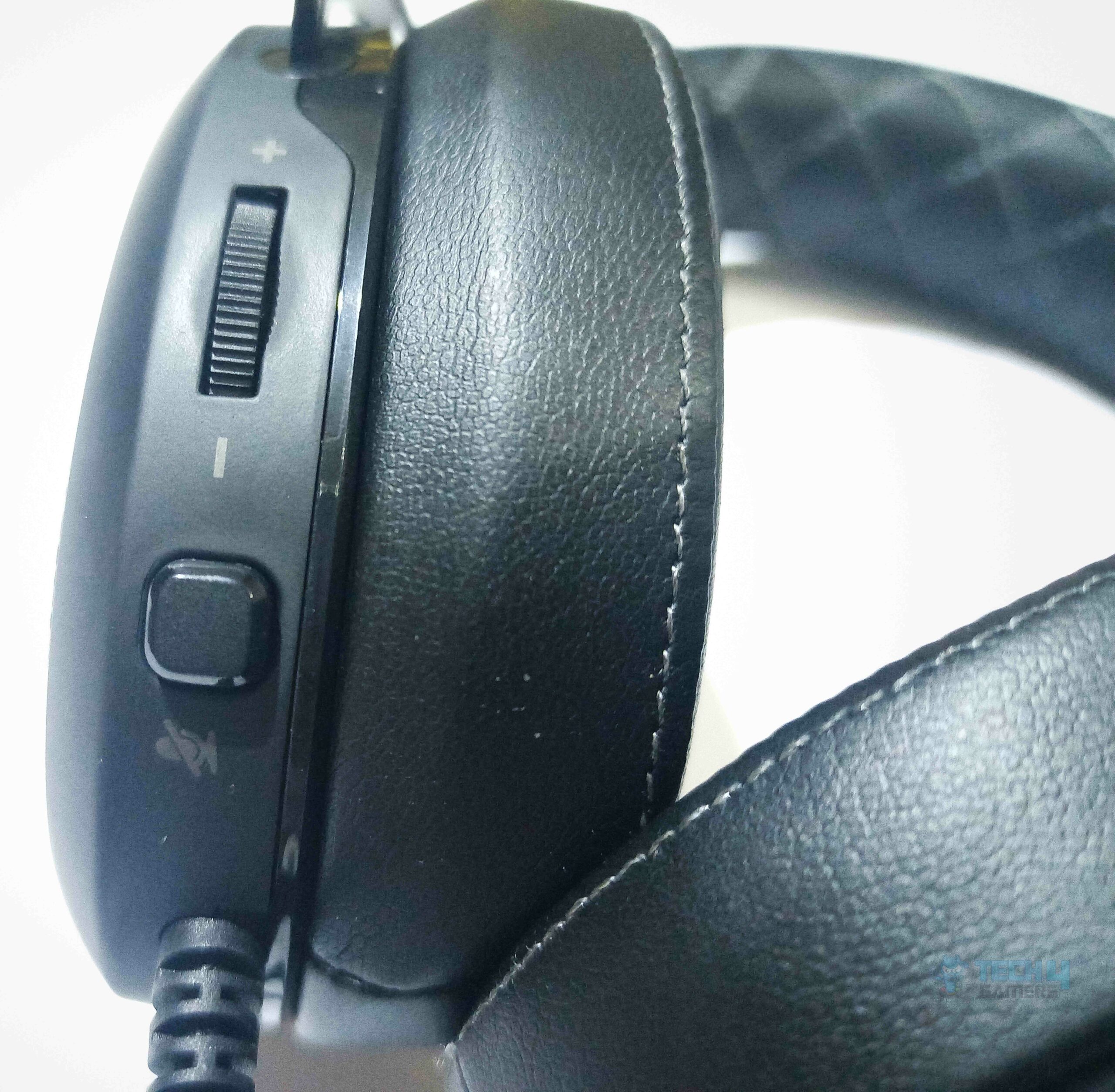 This headset is simply exceptional in terms of design and material selection. The inner headband's stitched grid pattern is extremely well-finished. A volume up/down rotary knob is provided. This enhancement is complemented by the dial's increased stability, allowing for finer tuning without compromising user-friendliness. My only issue with the earlier headset in this lineup was its loose dial.
Thus the improved resistance is appreciated. A mute button has been provided below for your convenience. Sometimes it's difficult to remember whether you're muted. The distance between muted and activated phases is somewhat longer. Still, it's not enough to replace a clear audio cue or a lighting signal, which is what the Void utilizes to prevent call-outs to no one in online games.
As it turns out, I didn't use this button or the volume control all that much because of their peculiar positioning. Instead of carrying along a bulky boomstick, you can connect a microphone to the other end by plugging it into a regular socket with the included rubber plug. The noise-canceling microphone has been certified by Discord, so your voice will come through loud and clear.
Minimal discomfort was experienced when wearing the headband. I believe it now incorporates memory foam, which adapts to the shape of your head depending on your body temperature. The hinges and swivel points on the headband have been improved from prior models, making this version more durable. The old rubber cable has been replaced with a more durable braided option. This texture appeals to me since it can bend without kinking in weird places.
This one is much better than the old rubber cable, which occasionally caught on cloth. Other than that, this cord is fixed to the left earpiece. The 1.8-meter length of the cable should be plenty for any player, regardless of their preferred gaming platform (PC, console, or mobile). It would be ideal if the cable could be detached, but the fact that it is braided makes up for its shortcomings.
The cable length seemed a little short to me. The detachable hinge also seems sturdy, and unlike on cheaper headsets, there is no squeaking while adjusting the angle. Considering the low cost, the high quality and durability are quite remarkable. The headset is undeniably very comfy. The headband's cushioning is excellent, and the stitches don't truly pressure your head.
The clamping force was the only peculiarity I discovered. The headband itself exerts very little pressure. Thus, all of the weight is pressing on your ears. This isn't a big problem for a few hours, but after approximately some hours, tiredness begins to set in. Again, not a big issue, but comfort would be unimaginably beautiful if the clamping force was somewhat more balanced.
Audio Quality
The Corsair HS60 Pro is proving to be a competent headset, particularly considering its low price. But we can't forget about the most vital feature of a quality headset. This, of course, refers to the audio quality. Before we go any further, it's vital to remember that sound signature is sometimes a matter of taste. However, this is a topic that has to be discussed, so let's keep going.
Stereo and 7.1 virtual surround sound are supported, as the name says. Virtual surround sound was helpful in very specific applications. With bigger 50mm speakers becoming the norm in 2023, we realize that stereo is a better choice than virtual surround. The mix of sophisticated mathematics and dark sorcery employed to achieve 7.1 may muddy the waters since the enhanced bass response you normally receive from a bigger speaker can confuse things.
Virtual surround on all of the 50mm models we tested sounded synthetic, with the bottom end echoing in a way that detracted from the overall tone, but on some 40mm sets, it was almost acceptable. Similar results can be expected with the HS60 Pro Surround. These headphones have two high-quality 50mm drivers.
However, the 50 mm speakers provide clean, pleasant bass rather than a digital muddle when used as a stereo headset. The mids and lows are welcoming as well. If you keep your sound card's EQ settings reasonably standard, the neodymium magnet drivers can pump out a respectable volume with little bass distortion while maintaining enough clarity.
Software presets allow for the shaping of flat EQs, but hard-tuned responses are more difficult to flatten. In general, you sacrifice some degree of sound manipulation. In the year 2023, we want to be able to take our headsets outdoors and utilize them with other devices. For that reason, the HS60 Pro Surround offers two different connection modes (3.5mm and USB) to suit your needs.
The Corsair HS60 Pro features a 3.5mm connection, and you may plug it straight into your PC. The USB adaptor is included in the package so that you can use the mic immediately. The drivers for the 7.1 virtual surround sound are included in this USB dongle. Avoid the hassle of the USB adaptor and connect the cord to the console's audio port if you'd want to use it with that. Keep in mind that consoles do not support the 7.1 surround sound feature.
Gaming Performance
It necessitates a great deal of practice and expertise to be able to make a fair evaluation of audio devices, and Tech4gamers is no exception. It may be difficult for even the most experienced audiophiles to provide a definitive verdict on a product if they don't have anything quite similar at their disposal to serve as a point of comparison.
Since they would most likely be utilized for gaming, let's start with the game audio. All of the consoles can use the headset, which is a huge plus in our view. Generally speaking, the acoustic atmosphere here is fairly pleasant. It's a joy to use these headphones for video games. The sound in games is crisp and loud. The voice acting is clear and not drowned out by the game's soundtrack.
Compared to the standard closed-back headphones, this one is a huge step forward. This allows you to readily identify the location of opponent footsteps, even in stereo mode, giving you a tactical edge. The EQ may be adjusted in certain competitive games to boost crucial audio cues. What's more, the surround sound was crucial. Surround sound adds a new layer of realism to games like Fortnite and Call of Duty.
With this headset, even gunshots and explosions are crystal clear. This has a very standard sound signature for a headset designed for gaming. The bass is amplified enough. This makes the sounds of explosions and gunshots in games seem more powerful and real. The bass is noticeable due to its deep, powerful, and resonant kick. Given that it's a headset designed specifically for use while gaming, this is to be expected.
Furthermore, when used for gaming, the headset delivers an experience like no other. There wasn't any muddying or haziness to the music, and I had no issue distinguishing between frequencies. As I said before, the audio is well separated if you're the kind to seek directional sounds. Consequently, the midrange is not neglected due to the bass' prominence.
There are instances when the bass is a little too strong, but the voices and other elements are just as apparent. The highs are excellent, and they aren't too harsh, which is how I enjoy my music. Even if the taste is ultimately the deciding factor, I believe that the vast majority of gamers will be satisfied with this headset.
I feel compelled to mention the simulated 7.1 surround sound system before continuing. If I had to provide my honest opinion, I'd say to keep it at stereo. The synthetic 7.1 surround isn't very great, and the sound quality suffers as a result. As a result, the compression is reduced somewhat, and the sound quality suffers. When you need directional audio, the stereo will do just fine.
Music Performance
This is important enough to bring out in many headset evaluations, particularly those focusing on inexpensive models. Truthfully, if you are a serious music fan or audiophile, you shouldn't have high hopes for a low-priced gaming headset. You can tell that they weren't made with the intention of providing you with audio of high quality. Therefore, some tolerance ought to be shown.
I didn't have high hopes for this headset, so I was pleasantly surprised by how well it worked. Listening to them put to rest any concerns I had that this would be bad for music. First, let's focus on the bright side. This headset's treble is enjoyable. Higher-pitched instruments, and particularly voices, come over incredibly clear and distinct. The highs, though, aren't very piercing or dazzling.
You may appreciate that feature, or you may not, depending on your tastes. In the highest treble range, the high-hat clashing and higher-range sounds like violins faded out. The same dryness seen in the upper midrange was present here, with the treble becoming nearly too harsh at points. This time around, the Corsair HS60 Pro Surround put more attention on low-end frequencies.
These areas were often well-delineated. However, It didn't seem as substantial or rounded off as I would have wanted, leaving an empty impression. The Corsair HS60 Pro Surround's midrange was significantly more prominent than the original HS60. Vocals, acoustic guitars, electric guitars, keyboards, and other instruments were all audible, but they maintained a dry tone, particularly at the top end of this middle part.
The same dryness was there, despite the natural feel of resonance from a few of the acoustic instruments, notably the wooden resonance of pianos and guitars. Vocals in the midrange lacked warmth and were a little dry. Overall, combining the three layers resulted in a rich and detailed sound. Although all audible frequencies were there, I thought they were a little more muffled than usual.
When the song became more intricate, the instruments began to blur together, and I found myself wishing for greater separation between them. The USB sound card's digital-to-audio converter may be to blame for the muddy output, but I still believe Corsair can do better. Other than that, frequency ranges were relatively separated. However, the absence of cleanliness harmed this case.
Several jarring transitions between the middle and the treble may have been avoided. While this may not have much of an impact on gameplay, it does degrade audio quality overall. The Corsair HS60 Pro Surround has passable noise isolation, being able to block out both internal and external sources of disturbance.
However, it is prone to leaking noise, so you may want to keep the volume down in more peaceful environments. Regarding video games, I've previously mentioned the bass up above. The same may be said about musical performances. Listen to this if you seek bass that is heavy and resonant. However, there are instances when it becomes too much.
The question is whether or not audiophiles will be satisfied with the sound quality of the Corsair HS60 Pro. I wouldn't say that, but it's fantastic for what it is. Additionally, the soundstage is rather expansive, allowing for clear delineation between the various frequency ranges. In terms of music, I found that my time spent with them was generally satisfying.
Corsair HS60 Pro Microphone: How Does it Sound?
You already know that a headset's microphone is crucial to its success. A good mic for communication is the primary reason for purchasing a headset rather than a high-quality pair of headphones. If you're playing with teammates, a poor microphone might ruin the experience by preventing clear communication.
So far, it seems that the bigger capsule has not affected the mic's performance. It's thin and nasally, but the accompanying pop filter helps situate the mic more simpler, and its sensitivity is sufficient for usage with a pc or console. The microphone and the overall sound profile are both typical of those used in video games. Most of the bass has been taken out.
This will aid in suppressing the low-frequency rumbling sounds that may otherwise be heard. However, this also implies that your voice may come off as robotic or otherworldly if your voice is on the lower end. The Corsair HS60's microphone isn't the greatest available, but it gets the job done. Quality-wise, it is acceptable, although I've heard better (particularly at higher settings, when distortion becomes more noticeable).
Even worse, it performs a poor job of filtering out ambient noise. It still takes up some ambient sounds, even with the foam end cover included in the package. But if you want to utilize it as a means of communication, it's not dreadful at all. You can be sure that your teammates will be able to hear you, which is all that counts. Though it works Absolutely fine for in-game voice chat and calls, I wouldn't recommend it for other uses, such as streaming.
Using the microphone on Discord has never been an issue for me. The iCUE app doesn't provide any settings for the headset's microphone, which is disappointing given that downloading the app may be required for complete use. Nonetheless, I have never seen a case with significant clarity problems. However, the mic's portability allowed me to maintain it in a consistent spot, and the adjacent mute button was a welcome convenience.
Software Support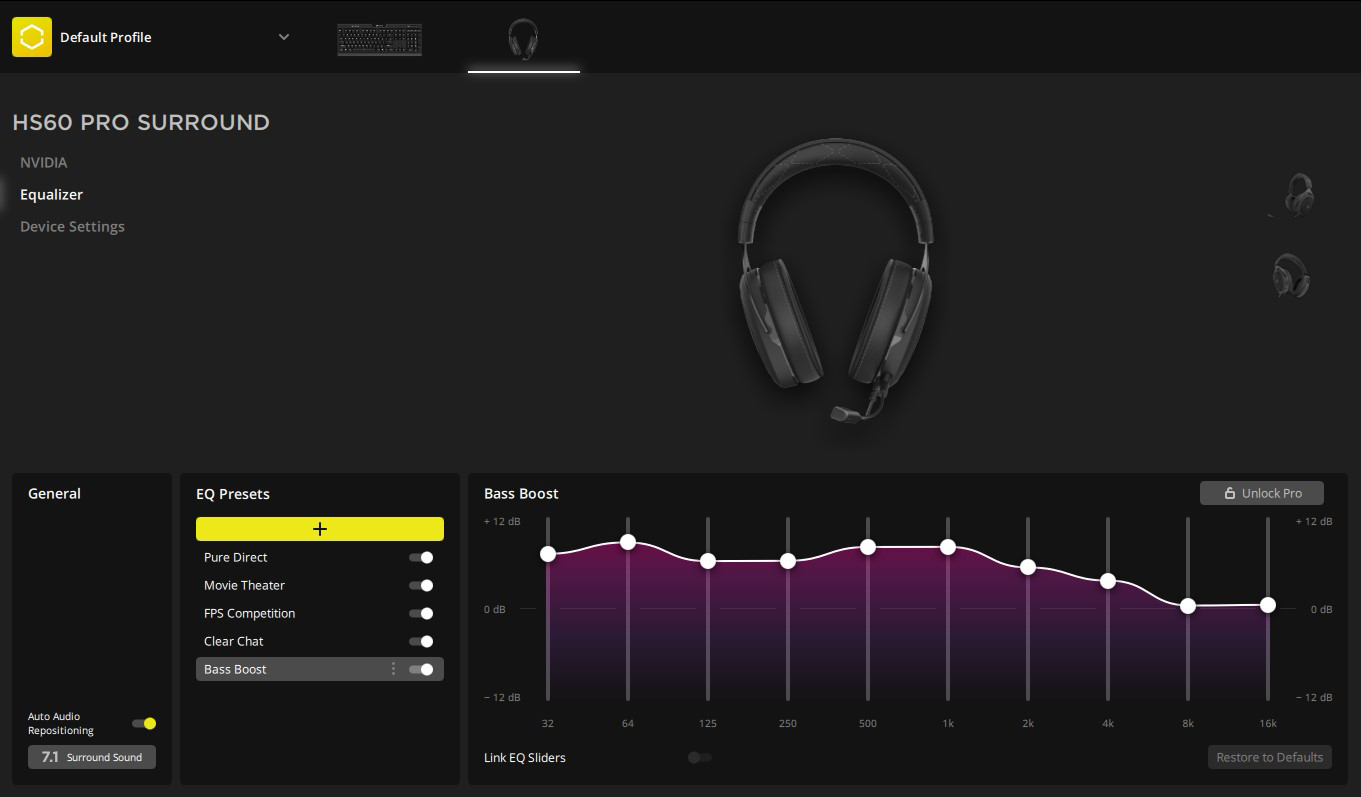 There has been iCUE Software on the market for quite some time. We enjoy how the control panel keeps things simple. The top portion of the program's interface is dedicated to displaying the currently connected Corsair hardware. There was no difficulty in identifying the headset. You may quickly switch between devices by clicking on them.
The accompanying Software doesn't allow for a lot of customization, but I feel it's important to mention it regardless. Common practice calls for the use of the Corsair iCUE program to adjust audio and visual settings. Given that the headset has no RGB lighting or other visual customization options, any auditory preferences must be adjusted separately. You may choose between stereo and 7.1 virtual surround sound in the settings.
If you're still not satisfied with the overall sound quality, you may adjust the equalization (EQ) to your satisfaction. The five equalization profiles included in the Free Software were designed with practical applications in mind and welcome restraint. You may toggle between all the available settings with a single click.
The clear conversation setting boots 1K to 4K for unpleasant Discord calls when it's impossible to make out what's being said, and the FPS Competition preset, which raises low mids from 125Hz up to 2K, did succeed in bringing out the essential elements in CS: GO. Interestingly, when you mute the mic, you don't get a notification like when you change a preset or turn the surround sound on or off. I felt that making these little alterations greatly increased the headset's adaptability.
You may adjust the equalization to your liking and store the settings as a profile inside the program. You may create unique profiles for each to better organize your gaming and listening experiences. Using the USB sound card that came with the headset is required for this program to function since, without it, the headset will not be detected. While iCUE does not come with many bells and whistles, it does function well and may be used in combination with other Corsair products.
Conclusion
In appearance, the Corsair HS60 PRO is practically indistinguishable from the original HS60. The main distinguishing features between this and the previous generation are the white stitching on the band and the somewhat thicker padding on the ear cups. They also come in yellow, distinguished by yellow stitching and an outer yellow ring on the ear cups. Comfort-wise, the Corsair HS60 PRO is on par with the standard HS60.
The headphones' greater cushioning on the ear cups makes them marginally more pleasant to use, but they also sit snugly on the head. The experience isn't terrible, and the headphones' comfort level remains high. The Corsair HS60 PRO has the same mediocre control layout compared to its predecessor. You can adjust the volume using a wheel and toggle your microphone on and off with a button.
You can easily see what volume setting you're using since the wheel stops at minimum and maximum. Although comfortable, the Corsair HS60 PRO isn't the most portable headphones. They don't fold up. Thus, they take up a lot of space and are typical of gaming headphones in general. You can tell that the Corsair HS60 PRO was built with quality and longevity in mind.
They're the same strong metal design with well-padded ear cups and headbands as the previous model. They don't have a cord that can be removed. Therefore, if it is broken, you'll have to buy a new set of headphones. The hinges, like the ones in the original version, don't allow for much movement and seem like a weak spot. The Corsair HS60 PRO headphones are secure enough for couch or desk gaming, but they slip about with even little head movement.
They're snug enough to keep in place while casual jogging, but you probably shouldn't wear them to the gym or in the long run. Because they are attached to a wire, they might get entangled and yanked off your head. The Corsair HS60 PRO has a bass-heavy, energetic sound. It's important to remember that, like the majority of large, over-the-ear gaming headphones, their reliability varies widely across users. For this reason, since our findings are averages, you may have a different experience with sound reproduction than we did, particularly in the sub-bass zone.
However, the bass is not too overbearing and shouldn't drown out conversations and vocals. It brings up explosions and gunfire in video games compared to the previous model. This is probably because of the increased padding that provides a more secure fit and seals. They generally excel at bass-heavy music like electronic dance or hip-hop. However, they can be used in almost any style. These headphones have well-designed accompanying Software.
In terms of personalization, it doesn't provide a ton of choices. Still, it does include a graphic equalizer, several presets, and the ability to activate or deactivate the simulated surround sound. However, none of those small complaints can overshadow the HS60 Pro Surround's overall superiority in terms of comfort and build quality. It's the crown prince of the HS series in this aspect, as planned, but it's also potentially more comfortable than the Void line, which paradoxically gives people choosing between the two a little trouble.
Up Next: GLORIOUS Model D Minus Mouse Review
Was our article helpful? 👨‍💻
Thank you! Please share your positive feedback. 🔋
How could we improve this post? Please Help us. 😔