Launch of lighting solutions for PC products and markets, this trend has spread like a pandemic and this fever is what the majority of PC enthusiasts love today albeit a few advocating the other way around. It is about time that Corsair released their addressable RGB Lighting enabled DDR4 kits called Corsair Vengeance RGB Pro. Without further ado let's begin with my review of these kits.
---
Key Takeaways
The Corsair Vengeance RGB Pro is for those who want a flawless out-of-the-box experience along with customizable RGB lighting.
The Corsair Vengeance RGB Pro is not for anyone who prefers a simpler design.
The Corsair Vengeance RGB Pro offers solid value along with reasonable performance, while also incorporating RGB lighting into the mix.
---
Specifications
Corsair Vengeance

Packaging and Unboxing
The kit is shipped in Corsair's typical packing box made of paperboard finished in the black and yellow colors
Corsair Vengeance

Closer Look
It is time to take a look at the kit and discuss its design elements followed by the RGB lighting effect.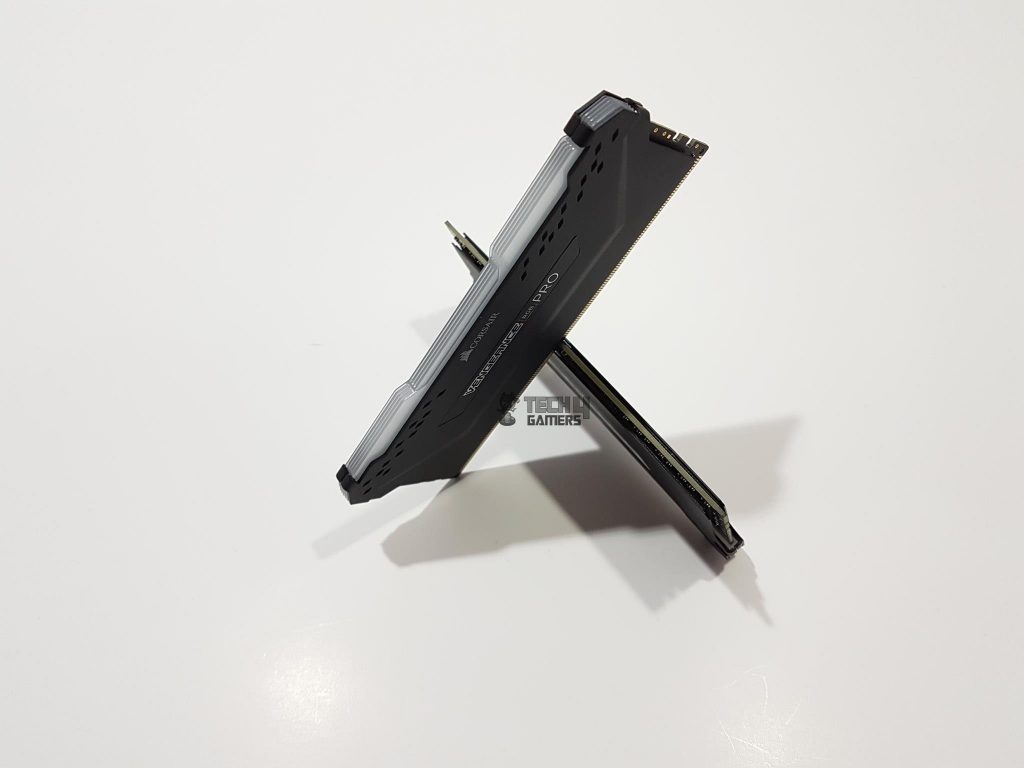 The Corsair Vengeance RGB Pro Review offers modules in black and white, with capacities starting from 8GB. Ranging from 2666MHz to 4700MHz, not all kits support the highest frequency, so check specifications before purchasing. Each module has a thermal sensor, readable only by iCUE software. Our 8GB modules have a base SPD latency of 15-15-15-36 at 2133MHz, while the rated timings are 16-18-18-36 at 3200MHz, both at 1.20V.
These Non-ECC, Unbuffered DIMMs have a 288-pin DDR4 layout. Tested for reliability and compatibility on Intel and AMD platforms, they are Intel XMP 2.0 ready. Notably, they are compatible with AMD Ryzen chips on an AM4 socket, making them suitable for AMD-based systems. Corsair sponsored our AMD platform test bench.
The kit features a black multi-layered PCB with ICs on both sides, suggesting a uniform design for various capacities. Each module is single-sided, with four memory chips on each side. The thin thermal pad spans the length of the non-populated side, while on the populated side, each chip has its own thermal pad.
Measuring 142x45x7mm (LxHxW), the module's total height is 50mm with the connector and 45mm without the exposed PCB. The heat spreaders are anodized aluminum, vented on both sides for aesthetics and ventilation. They showcase a bold design with the Corsair brand and logo in silver.
The modules boast carefully screened ICs for top-notch performance and overclocking potential, starting at 2666MHz and reaching up to 4700MHz. The heat spreader design, though a fingerprint magnet, complements the kit's overall look. The PCB is partially exposed on the left and right sides for ventilation.
WARNING: Verify RAM clearance in your PC case, as the Corsair Vengeance RGB Kit's height may pose installation challenges in compact builds.
The top of the modules features a translucent diffuser with a layered design and 10 RGB LED zones controlled by Corsair iCUE software. Despite using Samsung B-Dies, the kit may include chips from other manufacturers. The XMP 2.0 certified kit has a 16-18-18-36-54 profile at 1.35V and includes in-built thermal sensors by Seiko Instruments, enhancing temperature monitoring.
RGB Lighting and iCUE
Before proceeding to our testing section, let's talk about the digital RGB lighting effects on this kit as this is a primary aspect of these modules in addition to the performance. As mentioned above, there are 10 RGB LED lighting zones under the diffuser. Each zone can be controlled individually using the iCUE software.
It is worth mentioning that I was facing detection issues with iCUE on both Intel-based PCs. I resolved the problem on my Asus Strix X470-F motherboard by downgrading the BIOS to version 4202. This, combined with the latest iCUE version, enabled the software to detect the Corsair Vengeance RGB Pro kit.
The kit's built-in thermal sensors from Seiko Instruments can only be read by iCUE, not AIDA64 or HWInfo64. HWInfo64 displays memory thermals but not the built-in sensors. In the Default Profile, the DIMM setup allows users to visually configure memory based on the motherboard's dual-channel or quad-channel setup and the number of installed modules. Corsair's implementation of this feature deserves praise.
PRO TIP: Fine-tune your Corsair Vengeance RGB1 Kit's lighting effects by exploring iCUE's advanced customization options, leveraging features like layering, gradients, and synchronized patterns to create a personalized and visually stunning lighting ambiance.
A few of the modes have fewer control options like Spiral Rainbow has only speed and direction of lighting flow control whereas others have;
It is worth noting that Sensor Logging will allow you to select the sensors of which you want to monitor the telemetry. I am particularly showing the sensor options of both modules in the select. OSD allows the user to enable the selected parameters to be displayed in the OSD.
All in all, the Corsair iCUE is one heck of a complete software that gives the user total control over the connected Corsair devices and to color coordinates and sync the lighting effects on multiple Corsair devices. Here are a few of the lighting pictures. These don't serve the purpose truly but would still give you a hint of the brilliance that Corsair has served us with;
Corsair Vengeance RGB Pro Testing
Since this kit has been sponsored for our AMD test bench it is tested on AM4 with the following configuration:
AMD Ryzen 7 2700X
Asus Strix X470-F Gaming
Adata XPG SX950U 250GB
Antec HCP 1300
Primochill Praxis Wetbench
The kit has been tested using AIDA64 Extreme and SiSoftware Sandra suite. XMP was loaded for the tests. APU Frequency was kept at 100MHz. The kit was overclocked manually using the voltage regulation. With XMP the DRAM timings and Voltages were verified as per the manufacturer's rated specification.
PRO TIP: Incremental overclocking and vigilant temperature monitoring lead to a stable and optimized performance without compromising system reliability.
Using the Asus motherboard with BIOS version 4207, I overclocked the Corsair RAM kit to 3466MHz without changing timings, a straightforward process. However, attempting to go beyond 3466MHz resulted in a boot loop due to motherboard limitations. I successfully achieved 3466MHz with reduced timings of 14 CAS at 1.380V, which is an amazing performance. In comparison, the ADATA XPG Spectrix D41 with 2666MHz served as a benchmark.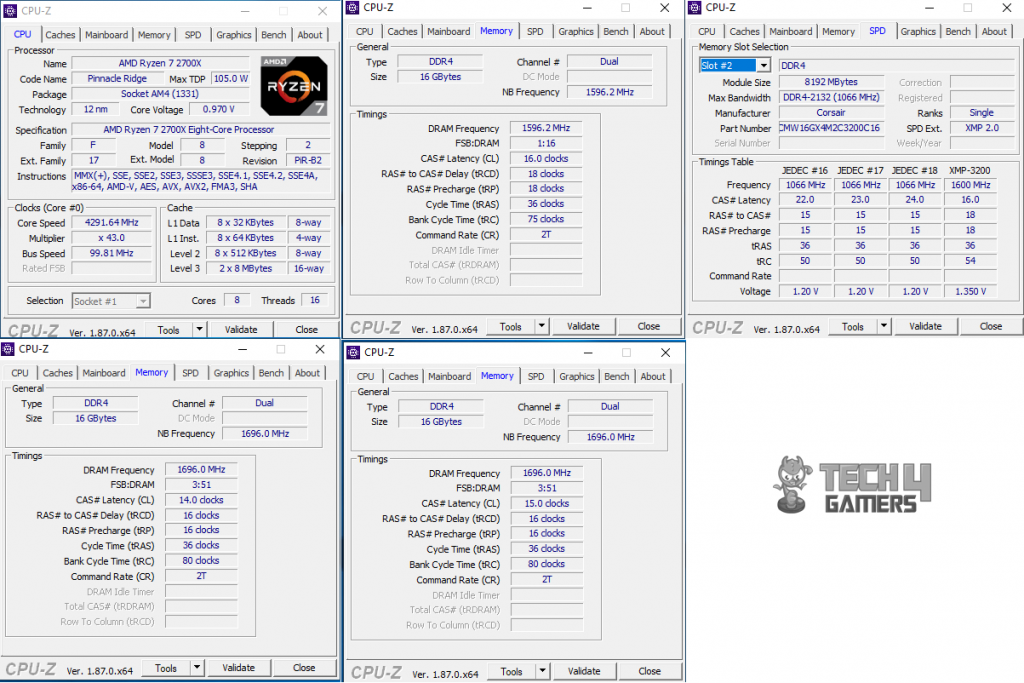 Above is a picture of the kit at various speeds and timings.
Results
Here are the results.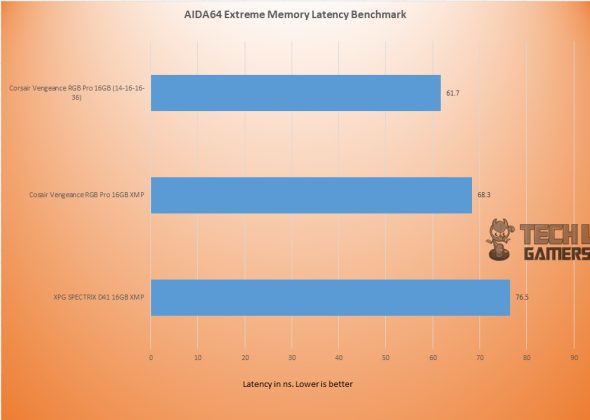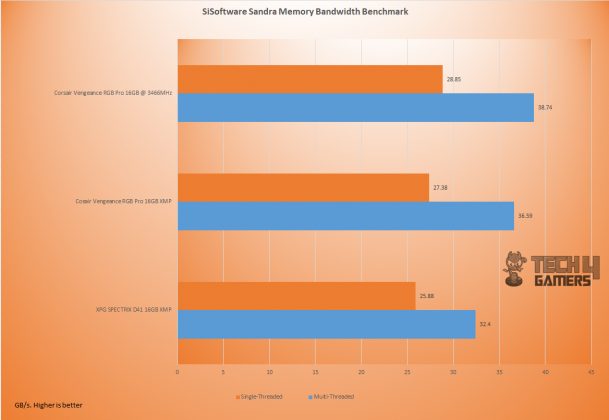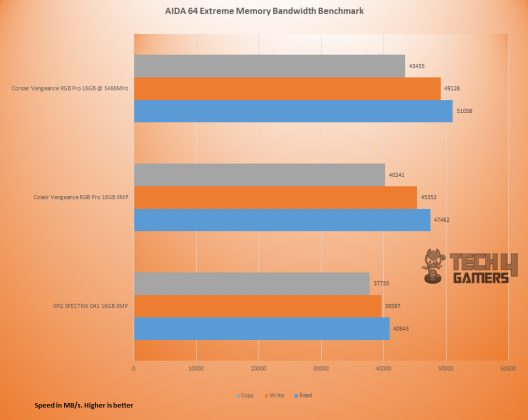 Should You Buy It?
Buy It If:
✅You own a DDR4 System: The Corsair Vengeance RGB Pro will serve as a suitable addition to anyone who already owns a DDR4-compatible motherboard
✅You want customizable RGB: With a ten-zone lighting design, the Corsair Vengeance RGB Pro gives users the ability to customize the RGB to their linking.
Don't Buy It If:
❌You prefer a simpler design: The flashy ten-zone lighting system on the Corsair Vengeance RGB Pro might not be everyone's cup of tea.
❌You want a low-profile kit: Standing at a height of 50mm, the Corsair Vengeance RGB Pro can pose some clearance issues if you are working with a small form factor system.
Conclusion
Corsair introduces digital RGB lighting in their Dominator Platinum RGB and Corsair Vengeance RGB Pro DDR4 memory kits, both featuring high performance and captivating lighting effects. Our review focuses on the Vengeance RGB Pro 16GB kit, sponsored by Corsair for our AMD test bench in collaboration with AMD, Asus, and Antec. Our future content will have test results from both platforms (Intel and AMD).
The module dimensions are 142x45x7mm (LxHxW), with a total height of 50mm, including the 288-pin connector, and 45mm without the exposed PCB and connector. Consideration of CPU cooler height is crucial to avoid blocking the RGB-enabled modules. The anodized aluminum heat spreaders, with a bold design, don't cover the entire PCB length.
I credit Corsair for incorporating 10 ARGB LEDs into a compact space, delivering an impressive visual experience unaffected by surrounding light, unlike my observation with the ADATA D41 kit. The Vengeance RGB Pro's lighting solution meets my expectations for Corsair's standards. iCUE continues the trend, streamlining RGB coordination for Corsair products with customizable modes. The software also includes a useful feature to monitor memory thermal sensor readings, a thoughtful addition by Corsair.
At present, Easetec is selling Vengeance RGB kits. With RAM prices coming down, this price is a damn killer deal enabling the user to experience the truly immersive lighting at 3200MHz using CL16. In terms of performance, I was able to push this kit to 3466MHz using CAS 14 at 1.380V. I am sure this kid could do much better as I was struck with maximum supported frequency on the AMD Ryzen platform. I am thankful to Corsair and Easetec for giving us the opportunity to review the Corsair Vengeance RGB Pro 16GB 3200MHz black kit
Awards Received By Corsair Vengeance RGB Pro
Here are the Tech4Gamers awards received by the Corsair Vengeance RGB Pro.
Recent Updates
---
November 8, 2023: Few text changes to improve readability. Also added galleries.
---
Was our article helpful? 👨‍💻
Thank you! Please share your positive feedback. 🔋
How could we improve this post? Please Help us. 😔
[Editor-in-Chief]
Sajjad Hussain is the Founder and Editor-in-Chief of Tech4Gamers.com. Apart from the Tech and Gaming scene, Sajjad is a Seasonal banker who has delivered multi-million dollar projects as an IT Project Manager and works as a freelancer to provide professional services to corporate giants and emerging startups in the IT space.
Majored in Computer Science
13+ years of Experience as a PC Hardware Reviewer.
8+ years of Experience as an IT Project Manager in the Corporate Sector.
Certified in Google IT Support Specialization.
Admin of PPG, the largest local Community of gamers with 130k+ members.
Sajjad is a passionate and knowledgeable individual with many skills and experience in the tech industry and the gaming community. He is committed to providing honest, in-depth product reviews and analysis and building and maintaining a strong gaming community.