AMD's top-of-the-line processor, the Ryzen 9 5950x was first unveiled in October 2020. It later released in November of the same year. A beast for a "gaming processor" the 5950x quickly overtook all Intel processors and became the best processor for consumers. Seeing how prices have recently dropped for the processor, I can assume you're here searching the best RAM for Ryzen 9 5950x.
Here our Ryzen 9 5950x Ram Picks; all compared to each other, focusing on different types of users:
RAM
G.Skill Trident Z Neo Series 32 GB
G.Skill Trident Z Neo Series 64 GB
Corsair Vengeance RGB Pro 32 GB
ThermalTake ToughRAM RGB DDR4 4600 MHz
TeamGroup T-Force Xtreem ARGB 3600 MHz
Lexar Hades 32 GB RGB LED Lighting 3600 MHz
How It Looks
RAM
G.Skill Trident Z Neo Series 32 GB
How It Looks
RAM
G.Skill Trident Z Neo Series 64 GB
How It Looks
RAM
Corsair Vengeance RGB Pro 32 GB
How It Looks
RAM
ThermalTake ToughRAM RGB DDR4 4600 MHz
How It Looks
RAM
TeamGroup T-Force Xtreem ARGB 3600 MHz
How It Looks
RAM
Lexar Hades 32 GB RGB LED Lighting 3600 MHz
How It Looks
Last update on 2023-12-09
Best RAM for Ryzen 9 5950x Detailed
With the introductions and specifications aside, let's take a look at some of the best RAM available for the Ryzen 9 5950x. These are the 6 RAM that we personally nitpicked, which serve to be the best in their respective areas
G.Skill Trident Z Neo Series 32 GB

G.Skill Trident Z Neo Series 64 GB

Corsair Vengeance RGB Pro 32 GB

ThermalTake ToughRAM RGB DDR4 4600 MHz

TeamGroup T-Force Xtreem ARGB 3600 MHz

Lexar Hades 32 GB RGB LED Lighting 3600 MHz
G.Skill
Trident
Z Neo Series 32 GB
Best Gaming RAM for Ryzen 9 5950x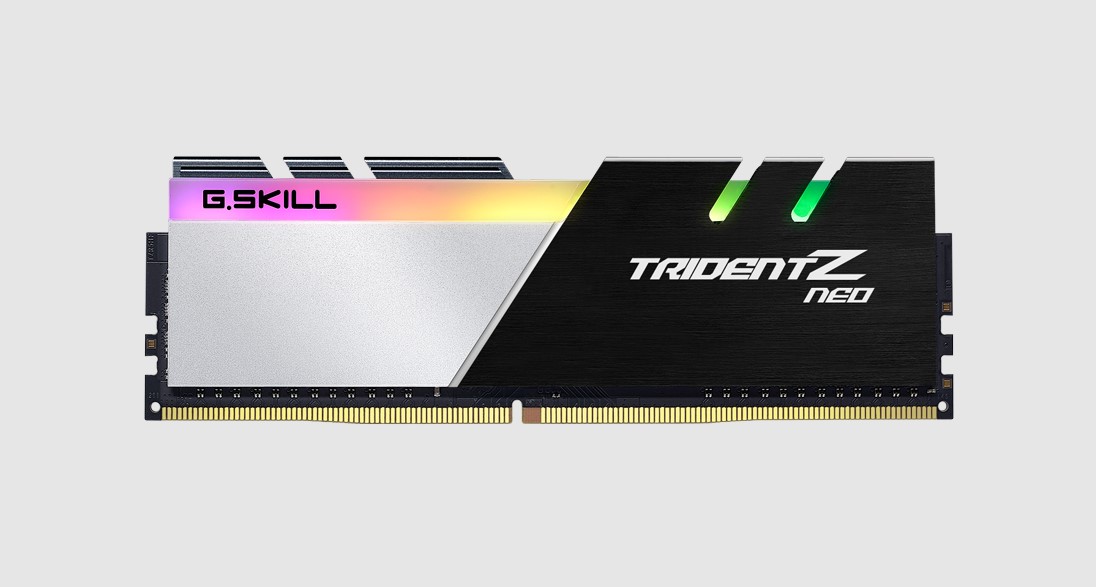 Specifications: Type: DDR4 | Speed: 3600 MHz | Timings: 16-19-19-39 | Capacity: 32 GB (2×16) | Voltage: 1.35 V | CL: 18
Pros
The RAM has amazing XMP performance. It'll serve well for gaming purposes.

There are multiple manual tuning options. You can tune your CL timings as you wish. They can become tighter for more CPU intensive tasks such as rendering, photo editing, video editing, CAD editing and more.

RGB options. You can change the RGB of the RAM through multiple software. You don't need to download multiple software for all of the RGB galore in your PC — at least not for this Ryzen 9 5950x RAM.
Cons
The G.Skill Trident Z Neo RAM is a bit on the

pricey

side.

Might be difficult to fit in the PC if you have a huge air cooler.
A product from the extremely popular "Trident" lineage, the G.Skill Trident Z Neo DDR4 RAM (2×16 GB) has been created in order to satisfy even the pickiest buyers, to be solely focused for AMD builds . With an advertised speed of 3600 MHz, you won't be feeling any form of stutters with this RAM.
The aesthetics of these RAM sticks are amazing as well. Featuring the tri-fin design as we have seen in other Trident RAMs, the Trident Z Neo also has a two-face design too. Half of the aluminum heatsink has a brushed finishing while the other half showcases a decent silver to complement the aggressive brushed finish.
The aluminum heatsink isn't only for show, though, as it provides adequate cooling for the RAM sticks making them effective to overclock as well. Be mindful though, as any RAM you buy will only run at a max clock of 2133 MHz unless you go to the BIOS and enable XMP. Only by enabling XMP in the BIOS you can get the 3600 MHz speed. You can further tighten the timings too, if you wish to do so.
The RAM itself is ~1.73 inches (44 mm) tall, something you'd want to know if you have an enormous air cooler in your build. Talking about Cooler, Make sure to check our Best CPU Cooler For Ryzen 9 5950x guide. Back to where we were, on the top of the RAM you'll find pretty customizable RGB lights. As one can expect from Trident RAM, there are 2 possible ways to customize these RGB lights. You could either do it through Trident Z's included software or you could use whatever software your motherboard is using. MSI's Mystic Light Sync, ASUS's Aura Sync or even Gigabyte's RGB Fusion 2.0 will be able to customize this RAM's RGB lighting.
The 16-19-19-39 timings will prove to be more than enough for gaming. With 32 GB of RAM, you're basically all set up for your craziest gaming desires with this Ryzen 9 5950x RAM package.
Verdict
The G.Skill Trident Z Neo Series 32 GB DDR4 RAM is a top-notch Best Gaming Ram For Ryzen 9 5950x – offering impressive tight timings, customizations and compatibility with the Ryzen 9 5950x. It offers great overclocking capabilities along with some beautiful RGB lighting. If you're looking for some good-looking RAM with amazing performance, this one is going to grab your attention.
G.Skill Trident Z Neo Series 64 GB
Best 64 GB RAM for Ryzen 9 5950x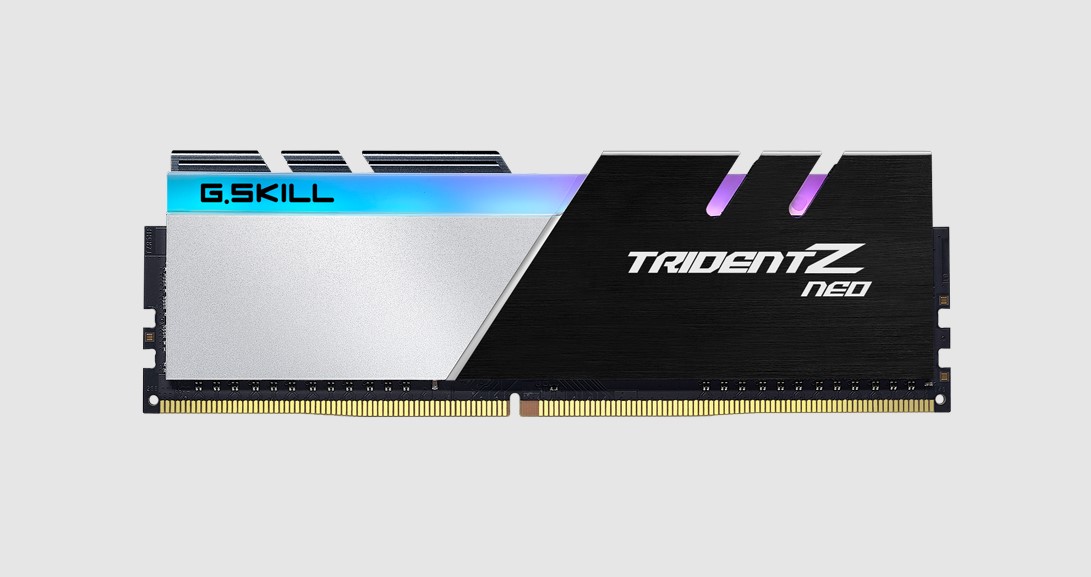 Specifications: Type: DDR4 | Speed: 3600 MHz | Timings: 16-19-19-39 | Capacity: 64 GB (16×4) | Voltage: 1.35 V | CL: 16
Pros
Tight timings serve for better performance, especially for high-end Ryzen processors.

64 GB DDR4 is plenty of RAM to keep you on-par with standards for many years to come.

Multiple RGB options lets you customize your RAM as you please. You can customize it through the provided software or use your motherboard's software to do it as well.
Cons
Quad channel memory might be unappealing to overclockers and consumers who only have

dual channel motherboards

.

The height of the RAM might be an issue for consumers who have a big air cooler.
Okay, I promise you I'm not a die-hard Trident Z fan boy. It's just that I can't help it when G.Skill makes such amazing products. Right after their 32 GB DDR4 kit, their 64 GB DDR4 kit is a complete banger. If you don't care about the premium price then this is basically the only 64 GB kit (4×16 GB) you should be looking at.
You're getting all of the features from the 32 GB kit of the G.Skill Trident Z Neo Series with this one except it's like having 2 of those kits for quad channel memory. As you may already be aware of, AMD Ryzen processors simply love RAM frequency and tight timings that's why this kit is an appealing one!
You can get the advertised 3600 MHz by enabling XMP or DOCP from your BIOS and play around with the timings as you please. The 4 sticks also provide you with quad channel memory. Four channels of memory provide the CPU with four memory lanes which may improve gaming performance by a small margin. It would be a big no for overclockers, however, as quad channel memory can often be unstable and may end up crashing the PC altogether.
Like the previous kit, the 64 GB kit sports a similar design with the tri-fin design beside a two-face design too. One half of the aluminum heatsink has a brushed finish while the other half has a radiant silver to complement the brushed finishing. The heatsink on the RAMs aren't simply for show as they provide adequate cooling which will help consumers to overclock their RAMs if they wish to do so.
The tight 16-19-19-39 timings will give your gaming performance an uplift along with any other CPU intensive task as well. The Ryzen 9 5950x is a frequency, capacity and timing hungry processor — therefore, this DDR4 kit is simply a godsend for anyone willing to spend the money on it.
Verdict
All-in-all, the G.Skill Trident Z Neo Series 64 GB DDR4 kit is the best 64 GB RAM Kit for Ryzen 9 5950x with amazing timings, RGB options, aesthetics and pure charisma within it. Its compatibility with the 5950x also makes it an amazing option for anyone who's looking to buy decent-looking RAM with tight timings in a 64 GB DDR4 kit.
Corsair Vengeance RGB Pro 32 GB
Best White RAM for Ryzen 9 5950x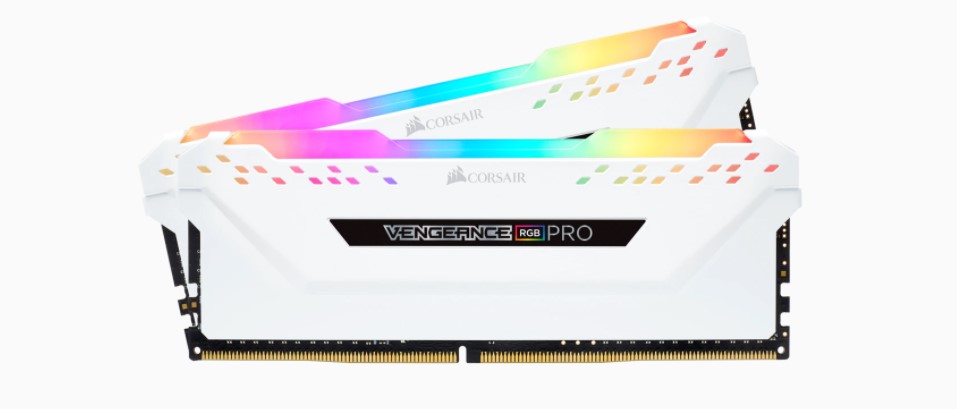 Specifications: Type: DDR4 | Speed: 3200 MHz | Timings: 16-18-18-36 | Capacity: 32 GB (2×16 GB) | Voltage: 1.35 V | CL: 16
Pros
Tight CAS 16 timings, such timings will prove useful for faster processing and better overclocking.

Available in both RGB and non-RGB versions. The non-RGB is about ~$10 cheaper than the RGB version.

Timings can be adjusted even more, improving overall performance. You will have to overclock your FCLK and hope for the best, however.
Cons
The white kit is barely available as of now. You'll be able to find a kit if you're lucky, else you'll have to live with the black version of the RAM.

Comes with a premium price tag which may not fit in everyone's budget.

The RGB lights can be pretty muddy at times. The lights may also reflect off of the white color.
Is your PC's color theme white by any chance? Finding pure white components can be such a hassle. Especially when you're looking for components where you don't have to give up too much on the performance too. How many RAM kits are you going to find that are completely white? Barely a handful. Even with those, either their capacities will be too less or their timings will be too loose. Who'd want to spend so much cash on a product that won't serve them well, yeah?
Well, you don't have to worry about that anymore! Corsair's Vengeance RGB Pro White 32 GB DDR4 kit (2×16 GB) has you covered. You're getting a good amount of RAM in a not-so-bad frequency rating at 3200 MHz with decent 16 CL timings.
You're most likely going to feel that the speed is a bit slow if you're pairing this RAM with a Ryzen 9 5950x, but the tighter timings help curb that curve. The aluminum heat spreaders also help provide decent cooling which help with overclocking the RAM, making the timings tighter. You can also increase the frequency up to 3600 MHz and according to Corsair, all the way up to 4600 MHz too!
The aesthetics of the RAM aren't bad either. The top is illuminated with a RGB panel which can be customized using Corsair's iCUE software. The colors can be a bit muddy, however. You'll also notice that the shiny white color may reflect some of the lighting off, which may be annoying to some enthusiasts.
Verdict
As we saw in our Review – the Corsair Vengeance RGB Pro 32 GB DDR4 kit is one of the only white RAM kits that provide consumers and enthusiasts with competitive CAS timings and frequency. Most of the time you will only see speeds of 2600 MHz or lower with CAS latency of 18 ns or higher. The current 3200 MHz frequency with 16 ns CAS latency puts the RAM in the perfect 10 ns range. If you're going with a white themed build, this is one of the best Ram for Ryzen 9 5950x.
ThermalTake ToughRAM RGB DDR4 4600 MHz
Best High-Performance RAM for Ryzen 9 5950x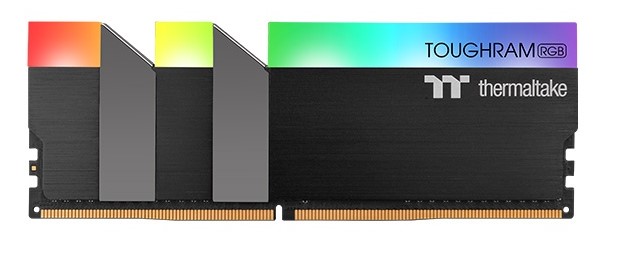 Specifications: Type: DDR4 | Speed: 4600 MHz | Timings: 19-26-26-45 | Capacity: 16 GB (2×8) | Voltage: 1.5 V | CL: 19
Pros
Insane 4600 MHz frequency. There are only a few kits offering this much frequency.

Some of the prettiest RGB Lighting you'll get to see.
Cons
Might be problematic to run with AMD processors. You will most likely need to underclock your RAM a little bit.

Requires over 1.5 V with XMP enabled.

There's barely any headroom for overclocking. You'll most likely be

underclocking

it.
This piece of RAM is quite controversial. Some of you might know why, some of you — not so much. It's quite problematic for Ryzen processors. For those who don't know, Ryzen processors work best with RAM that runs synchronously with the Infinity Fabric, also known as, FCLK. At stock settings, both the Ryzen 3000 series and Ryzen 5000 series processors run the RAMs at "double data rate". That means, if your processor's Infinity Fabric is at 1800 MHz then your RAM will be stable at 3600 MHz. Anything faster than that will either not boot at all or will be unstable.
You could always overclock your FCLK to 1900 MHz taking your RAM speed up to 3800 MHz but anything more than that depends on whether you won the "silicon lottery" or not. That's why, 4000 MHz RAM comes with a big if attached to it when we're talking about the Ryzen 9 5950x or even any Ryzen 3000 or 5000 series processors. For the record, to run this RAM at max frequency, you would need to overclock your FCLK to 2300 MHz and keep it stable.
With that "scary" introduction out of the way, let's say you want to buy this 4600 MHz RAM and want to try your luck out. This is some of the best 4600 MHz RAM you'll find in the market. Obviously, with the ultra-fast frequency, you're going to see some ultra-high prices too. This RAM For Ryzen 9 5950x is some of the most expensive ones we're adding in this article. Do take note that this is only 16 GB of RAM.
Just like all of the previous RAM kits we mentioned, this one has RGB lighting on the top as well. The lighting can be controlled by ThermalTake's TT RGB Plus software or by using select 3rd party applications such as MSI Light Sync, Razer Chroma, ASUS Aura Sync, among others.
The timings on this RAM are decent but we don't recommend you depend a lot on them. This RAM will most likely only be appealing for users who have to deal with workloads catered towards higher frequencies.
Verdict
ThermalTake's ToughRAM RGB 4600 MHz (2×8 GB) kit is definitely the Best Performing Ram For Ryzen 9 5950x. It is not catered towards a typical user who would install the RAM in their PC and forget about it. To properly utilize this RAM For Ryzen 9 5950x – you need to manually adjust its speeds and timings to get the best performance out of it. Overall, you're getting some amazing performance for the price. However, you need to keep in mind that the kit is only 16 GB. For a Ryzen 9 5950x that may not cut it and you should, instead, be looking for about 32 or 64 GB kits.
TeamGroup T-Force Xtreem ARGB 3600 MHz
Best Overclocking RAM for Ryzen 9 5950x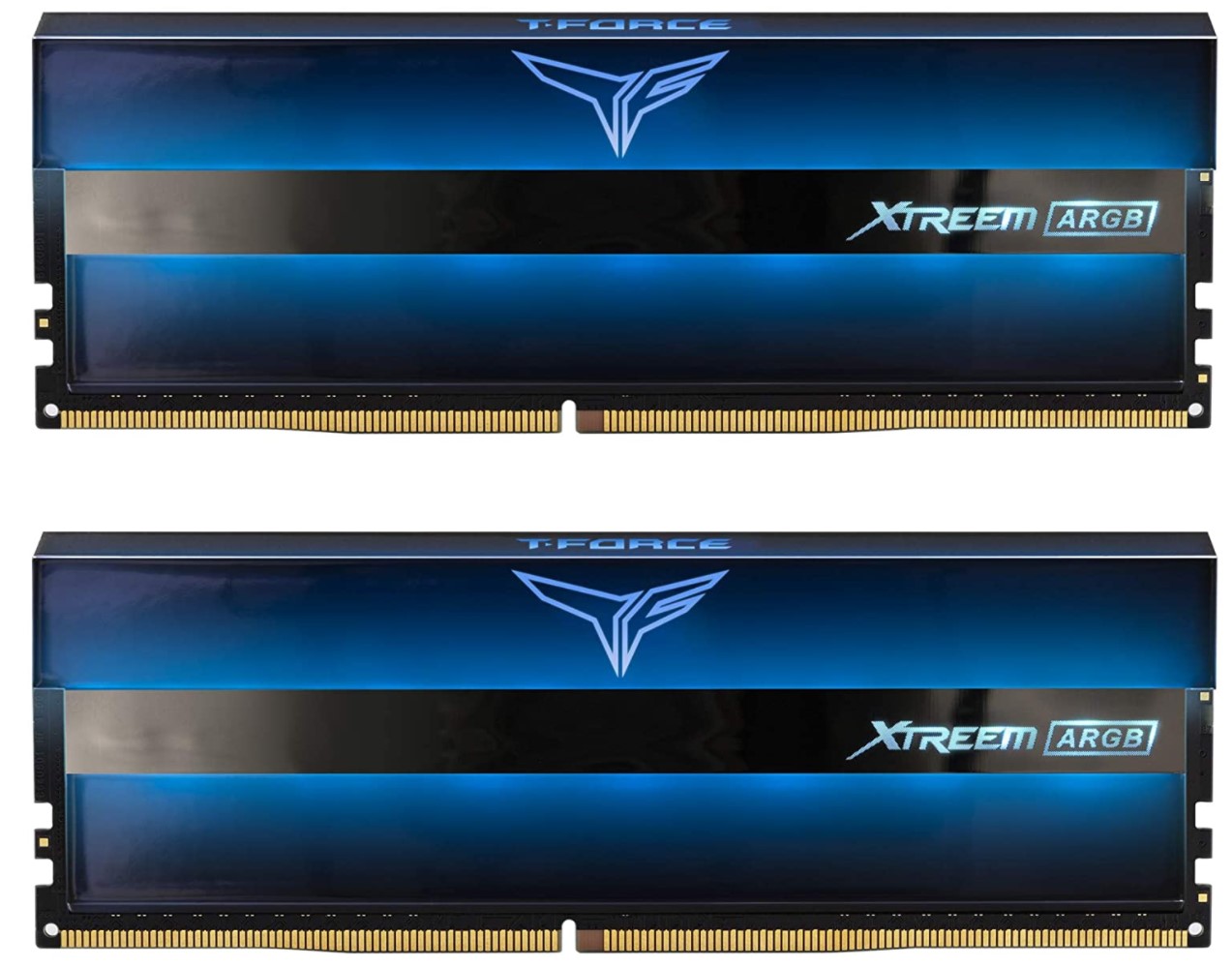 Specifications: Type: DDR4 | Speed: 3600 MHz | Timings: 14-15-15-35 | Capacity: 32 GB (16×2) | Voltage: 1.45 V | CL: 14
Pros
Extremely tight latency timings at 14-15-15-35. Even without overclocking you're getting amazing performance.

Extreme overclocking capabilities mean you can get greater performance without having to pay extra!

Killer aesthetics will make your build

shine

, literally. These are some of the brightest lit RAM kits around.
Cons
The kit comes with a premium price tag. It is solely targeted towards enthusiasts who can fully utilize all the features of the RAM.
TeamGroup's T-Force Xtreem ARGB kit is some of the most aesthetically beautiful RAM I have seen in the market yet. It comes in two main colors; white and blue. Breaking apart from the norm, TeamGroup made a light diffuser heat spreader which looks absolutely gorgeous.
The RAM in itself has some amazing timings going at 14-15-15-35 making it one of the best, if not the best, overclocking RAM in the market. CL14 at 3600 MHz only paves way to steadier overclocks. While keeping the latency at stock settings, you can get to frequency speeds of up to 4000 MHz by increasing the voltage output from 1.45 V to 1.50 V only!
This is by far some of the best RAM you can equip with your Ryzen 9 5950x as it will increase performance by a ton! Like I explained previously, Ryzen processors love RAM in higher capacities with tighter timings. This kit gives just that, thus, making it an overclocking beast.
The RAM's RGB lighting can also be controlled through any motherboard RGB control software such as MSI Light Sync, ASUS Aura Sync and Razer Chroma.
You're getting aesthetics with amazing performance in this Ryzen 9 5950x RAM. If you have the budget, we definitely recommend getting this kit. I personally liked the blue version more, but you can go around your own build theme and look at what you like.
Verdict
TeamGroup's T-Force Xtreem ARGB RAM kit offers some of the best overclocking capabilities you can find in the market as of now. With extremely tight timings and completely illuminated mirrors, you're getting a RAM kit with unbelievable performance along with beautiful aesthetics. All-in-all, if it fits in your budget, we definitely recommend pairing the TeamGroup T-Force Xtreem ARGB RAM kit with your Ryzen 9 5950x.
Lexar Hades 32 GB RGB LED Lighting 3600 MHz
Best Value RAM for Ryzen 9 5950x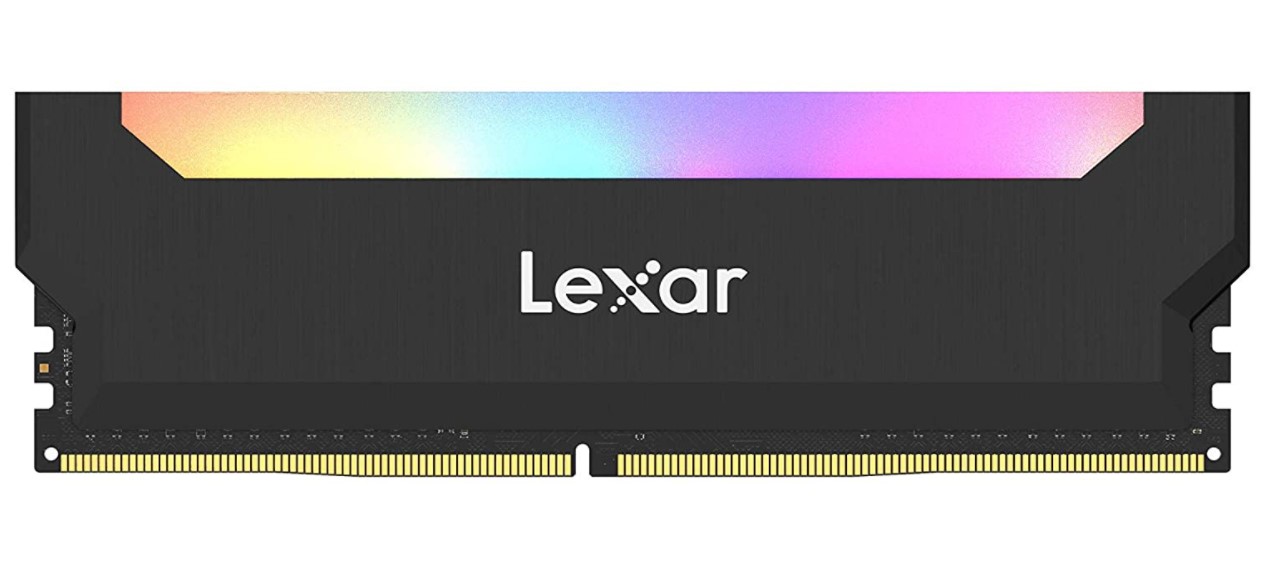 Specifications: Type: DDR4 | Speed: 3600 MHz | Timings: 18-22-22-42 | Capacity: 32 GB (16×2) | Voltage: 1.35 V | CL: 18
Pros
Extremely affordable with most features still being present.

Clean and basic aesthetics mean the RAM will blend in with the full build well.

RGB lighting is pretty decent and can be changed on the go.
Cons
Not suitable for overclocking. Zero to none benefit gained from overclocking.

Pretty tall RAM so might not fit in all builds.
As many of you might already know, Lexar is well-known within the storage department and only recently shifted their focus over to memory. The Lexar Hades 32 GB RGB kit is the first RGB kit the brand has launched and such this is one of the most affordable RAM kits which offer RGB lighting and decent performance as well.
The kit itself isn't too decorative as the brand seems to have gone with normalcy with this product. The rectangular heat spreader has a nice brushed finish to it and other than the "Lexar" logo there's nothing else to see. The top of the heat spreader which has a RGB light bar fixed onto it lights up using either the Lexar RGB Sync software or your motherboard's software.
You're getting 32 GB of DDR4 RAM with a frequency of 3600 MHz in a measly amount. There's got to be a catch, right? Well, the heat spreaders aren't the best out there. You can also barely overclock this RAM For Ryzen 9 5950x. If you want to overclock your computer then we don't suggest you look at this kit. However, if you're someone who has a smaller budget and needs a reasonable kit then the Lexar Hades kit has been made specifically for you.
You're getting pretty average 18-22-22-42 timings which can't really become any tighter due to an unsatisfactory overclocking support. These timings are still pretty relevant with the Ryzen 9 5950x, though. The RAM also doesn't take too much voltage unlike all the other kits mentioned in this article with an average of about 1.40 V; Lexar Hades takes about 1.35 V, making it more power efficient.
This Ryzen 9 5950x RAM comes with clean aesthetics and a basic design so it should blend with your computer fairly well, however, it is roughly 1.8 inches tall so you'd best want to check whether it can fit beside your CPU cooler or not.
Verdict
For its amazing price, the Lexar Hades 32 GB DDR4 RAM kit is the Best Budget RAM For Ryzen 9 5950x – basically a steal. It is one of the only kits with such an amazing value. You're obviously losing out on some performance but overall Lexar Hades 32 GB DDR4 RAM is perfect for those who want to use a Ryzen 9 5950x and want 32 GB of memory with decent specs all over the spectrum.
Related Article: Best RAM for Ryzen 9 5900x
About Ryzen 9 5950x
Ryzen 9 5950x Features
AMD's 5000 series processors are based on the Zen 3 architecture. An impressive uplift from its Zen 2 predecessor, mainly due to the changes in the L3 memory cache. Zen 3 has given (for example) 8 CPU cores access to one large 32 MB L3 memory cache rather than the two 16 MB splits for 4 cores each we saw in Zen 2.
This is quite an improvement for the architecture itself as many games depend on memory systems within the CPU itself. Most of the data required to maintain the world map of a game is stored within this memory cache. With this improvement, any of the cores can access any form of data stored within this memory pool rather than having the data travel through the infinity fabric. This ultimately means faster processing and lower latency in games.
This process for the Ryzen 9 5950x is split with two 32 MB L3 memory cache pools. Each pool is connected with 8 cores giving a total of 16 cores with 64 MB of L3 memory cache. In the older 3000 series processors we saw 4×16 cache sections with 4 cores over 16 MB of L3 memory cache.
Apart from memory cache changes, Ryzen 5000 series processors also come with a new software known as "Smart Access Memory" (SAM) as well. SAM can only be enabled when an AMD Ryzen 5000 processor is paired with a Radeon 6000 graphics card. Through using SAM, the combined memory between the processor and graphics card becomes more efficient lowering buffers and latency issues. A one-click overclocking feature has been introduced, also, known as "Rage Mode".
Ryzen 9 5950x Specifications
Model: Ryzen 9 5950x
CPU Socket: AM4
Max CPU Boost Clock: 4.9 GHz
Base CPU Boost Clock: 3.4 GHz
Number of Cores: 16
Total PCIe Lanes: 24
L2 Cache: 8 MB
L3 Cache: 64 MB
Memory Support: DDR4
Process Technology: TSMC 7 nm
Max RAM Support: 128 GB
Official RAM Speed Support: 3200 MHz
Ryzen 9 5950x RAM Compatibility
The Ryzen 9 5950x is the current flagship processor for AMD in March, 2023. As such, the processor requires a lot of RAM as well. Looking at the 5950x's system specifications, we know that the processor supports up to 128 GB of DDR4 RAM. It's a bit problematic when we get to the frequency speeds of these RAM kits.
For the most part, it's pretty easy to run 3200 MHz or 3600 MHz on your Ryzen 9 5950x. However, going further down to 3800 MHz or 4000 MHz becomes difficult because of FCLK restrictions. FCLK controls the Infinity Fabric speed of AMD processors. FCLK is extremely tough to get past 1800 that's why the 3600 MHz limitation exists. However, Ryzen processors now offer options to run the RAM decoupled from the Infinity Fabric or coupled and doubled with the Infinity Fabric.
If you decide to decouple your memory, you'll be able to run the RAM at whatever speeds you wish, however, tests have shown that running RAM at coupled and doubled speeds gives better performance. Therefore, you are better off keeping the RAM coupled with the Infinity Fabric and overclocking the FCLK to 1800. You could go to 2000 and above if you manage to somehow win the Silicon lottery but it's unlikely to happen.
Having RAM speeds at 3600 MHz or 3733 MHz while being coupled with the Infinity Fabric seems to yield better performance rather than going over 4000 MHz — suppose, 4133 MHz by decoupling the memory with the Infinity Fabric.
All-in-all, it depends on you as the consumer on what your use case scenario is and how you wish to utilize your RAM. If you want sheer RAM speeds with your computer then decoupling the RAM would be your best bet, however, if you want more performance then coupling your RAM and limiting your frequencies would be for the better.
Who Is This Article for?
These RAM kits are meant for customers who have either already bought a Ryzen 9 5950x processor or are planning to buy one soon. To get amazing performance out of an amazing product you need to have outstanding memory too. The RAMs have been divided in "best of" categories where we have rationalized which RAM is the best in which category. You'll find categories such as "Best Value Ryzen 9 5950x RAM" and "Best Overclocking Ryzen 9 5950x RAM".
How Did We Test?
All of the RAM kits were tested through extensive benchmark tests and gaming benchmark tests where we overclocked all of them and only chose ones that were the most stable, running at higher frequencies and tighter timings. We made sure to record the temperatures of the RAM kits to ensure proper cooling solutions and that none of the selected RAMs would have any heating problems.
Our Criteria for Selecting the Best RAM for the Ryzen 9 5950x
Assuming that you guys clicked this article to learn how to choose the Best RAM For Ryzen 9 5950x, let's look at a few things you need to be wary of when choosing the perfect RAM for your perfect PC. For the most overkill gaming and productive work related PC, you'll need the most overkill RAM too. These are the ways how we identified the RAM we chose for this article.
RAM Size
For almost most general usage tasks in 2023, users need at least 16 gigabytes of RAM installed in their PCs. That's the bottom line at this point. Assuming that your use case scenario is more extravagant; you'd want anywhere from 32 to 64 GB of RAM in your computer. The max RAM for the 5950x is limited at 128 GB so you have a lot of headroom to add more if you wish. To check which motherboard would be best for those kinds of capacities, take a look at these motherboards best suited for the Ryzen 9 5950x!
RAM Frequency
We have already looked at RAM frequencies earlier in the article. Continuing from before, AMD CPUs love fast and more memory. For the Ryzen 9 5950x the best RAM frequency you could look at is 3800 MHz with the FCLK overclocked to 1900 MHz. 4000 MHz and beyond frequency is only going to be valid for you if you win the silicon lottery and can overclock your FCLK to 2000 MHz or beyond.
For gaming — anything over 3200 MHz is going to suffice for the time being. For more productive tasks, consumers may need about 3800 MHz RAM so that their PC doesn't stutter.
Latency
When talking about latency, the main timings we need to be wary of are Column Address Strobe (CAS) timings. These are also famously known as CL timings too. When choosing RAM you should look for kits that have the lowest CL timings and highest RAM frequency as possible. In general, you're more likely to find 3600 MHz RAM with CL 15 speed. There are only a handful of kits around having tighter timings amongst which we have mentioned one in the article too!
You can always overclock your RAM and manually tighten the timings too! However, it's not an easy task for a not-so-tech-savvy person. For gaming purposes, CL 15 RAM should be fast enough while for other intensive tasks even CL 14 RAM might feel a bit clunky.
Voltage
Voltage is basically the power requirements for the RAM. It is mainly used to improve RAM stability and is increased manually when overclocking. To overclock RAM sufficiently, you'll need a capable motherboard that can supply it with power too.
Higher data rates usually lead to higher voltage outputs making RAM unstable and may not be suitable for overclocking. That is why we usually use RAM with rather normal frequencies and voltage requirements for overclocking.
Overclocking
When using high-end range processors such as the Ryzen 9 5950x, we expect that we'll be overclocking it adequately as well. To squeeze out all the performance you can get, overclocking is essential. That is why we only chose RAM that were decent for overclocking and could sustain higher workloads too.
A good overclocking RAM is one which doesn't require too much voltage, goes to higher frequencies and can keep tighter CL timings. All of the RAMs we chose for this article have a minimum 16CL with frequencies of 3200MHz and higher.
Why Should You Trust Tech4Gamers?
Tech4Gamers has been in the tech niche for over 12 years now. With skilled and hard-working individuals, we research and personally test products before writing and publishing articles on them. All of the RAMs that we picked went through a phase of extensive testing, benchmarks and comparisons. None of the RAM kits mentioned in this article have been picked without being tested by us, first.
Many renowned brands such as Asus, MSI, Gigabyte, DeepCool, among others have acknowledged Tech4Gamers as an authentic space for providing readers with factual and accurate information. It is our utmost duty to be truthful for our remarks and to explain to our readers our opinions on certain matters.
Frequently Asked Questions
How much RAM is Recommended for Ryzen 9 5950x?
It depends on your use case scenario. If you're thinking of gaming at 1440p then you'll suffice with 16 GB. For 4K gaming you'll need up to 32 GB and for productive tasks anywhere between 64 to 128 GB will do.
What RAM is Compatible with Ryzen 9 5950x?
DDR4 is the only compatible RAM with the Ryzen 9 5950x. Zen 3 architecture CPUs don't support DDR5. Only Ryzen 7000 series and beyond will support DDR5 according to current rumors.
How much RAM is Enough for Gaming?
If you're planning to game on 1080p, anything more than 16 GB is overkill. For 1440p 16 GB of RAM should suffice too but upgrading to 32 GB is better. For 4K gaming 32 to 64 GB is more than enough RAM. The bare minimum stands at 16 GB for gaming, however.
Was our article helpful? 👨‍💻
Thank you! Please share your positive feedback. 🔋
How could we improve this post? Please Help us. 😔
[Hardware Reviewer]
Awais Khan is a Tech Geek, conscientious, reliable, and hardworking individual who pays attention to detail with excellent time management skills. Alongside that, he is an expert in PC Hardware; dealing with Benchmarks, Analysis, and testing before sharing information with readers. Whenever free, Awais occasionally shares Gaming Videos on his YouTube Channel.
Get In Touch: [email protected]