On November 5, 2020, AMD released the AMD Ryzen 9 5900x, seizing the crown of the fastest CPU among the whole gen of AMD. It is more prevalent among high-end systems due to its fantastic value-for-money performance. It also provides the fastest mainstream-platform gaming CPU that regularly beats Intel's chips for general and productivity tasks. Due to its uncompromised performance, it is the best choice for all gaming enthusiasts and motivated content creators.
Regardless, here are our RAM Picks For Ryzen 9 5900x In 2023 – you can also compare other RAM's in the table below:
Ram
Team Group T-Force Vulcan Z 3200MHz CL16
TOUGHRAM RGB Memory DDR4 4600MHz
G.Skill Trident Z Neo DDR4-3800 CL14
G.Skill Trident Z Royal Silver 3600MHz C16
T-Force NightHawk RGB DDR4
Preview
Award
Best Cheap RAM for Ryzen 9 5900x
Best Overlocking RAM for Ryzen 9 5900x
Best RAM for Ryzen 9 5900x In 2022
Best RGB RAM for Ryzen 9 5900x
Best Looking Ram for Ryzen 9 5900x
Ram
Team Group T-Force Vulcan Z 3200MHz CL16
Preview
Award
Best Cheap RAM for Ryzen 9 5900x
Ram
TOUGHRAM RGB Memory DDR4 4600MHz
Preview
Award
Best Overlocking RAM for Ryzen 9 5900x
Ram
G.Skill Trident Z Neo DDR4-3800 CL14
Preview
Award
Best RAM for Ryzen 9 5900x In 2022
Ram
G.Skill Trident Z Royal Silver 3600MHz C16
Preview
Award
Best RGB RAM for Ryzen 9 5900x
Ram
T-Force NightHawk RGB DDR4
Preview
Award
Best Looking Ram for Ryzen 9 5900x
Last update on 2023-09-21
Best Ram For Ryzen 9 5900x
It's reasonable to presume that at this point, you might be looking for Best Ryzen 9 5900x Ram. Well, look no further; we have you covered with these 5 Amazing RAM's For Ryzen 9 5900x, which are the best by far in 2023.
Here are our picks:
Team Group T-Force Vulcan Z 3200MHz CL16

TOUGHRAM RGB Memory DDR4 4600MHz

G.Skill Trident Z Neo DDR4-3800 CL14

G.Skill Trident Z Royal Silver 3600MHz C16

T-Force NightHawk RGB DDR4
Team Group T-Force Vulcan Z 3200MHz CL16
Best Cheap RAM for Ryzen 9 5900x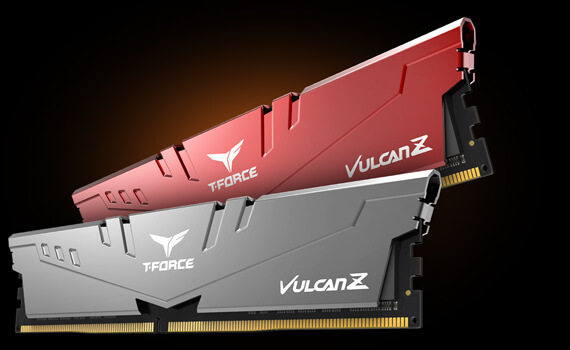 Specification Type: DDR4 | Speed: 3200MHz | Timings: 16-18-18-38 | Capacity: 16GB (8 x 2) | Voltage: 1.35V | CL: 16
Since the launch of DDR4 RAM in the digital market, the Team group has launched a beyond-the-line DIMM kit under its new branding of T-Force. The brand of T-Force is a memory series aimed at many fans and a player that focuses entirely on quality and performance. For those budget PC builders who have a budget to consider closely, TEAMGROUP offers T-Force Vulcan Z RAM. The T-Force Vulcan Z 16 GB DDR4 RAM kit is designed to deliver remarkable value. The kit we will look at is elevated with a speed of 3200 MHz.
This RAM kit contains two DIMMs of 8GB, forming a total capacity of 16GB. As a custom PC builder, you may want all the components to fit together and work together. As long as you check things out before buying, they should work well together. Now with Vulcan Z's low profile heat dispenser for Vulcan Z's RAM, at least you will have huge assistance with the cooling! Naturally, you may also want it to work at an advertised performance or speed.
While talking about the latency, this kit has a CL16 count with 16-18-18-38 timings for this specific kit. The voltage set for this kit is 1.35V, and the memory kit comes with a non-ECC design. This RAM kit fully complies with AMD Ryzen 9 5900x and is the Best Cheap RAM for Ryzen 9 5900x. It can be easily tweaked for its limited clock speed via the BIOS embedded in all the AMD Ryzen Series motherboards.
When it comes to the aesthetics and design of T-Force Vulcan RAM, you will not find any bright light in the series of Vulcan Z as these are the best option for budget-oriented. That's why we recommend this kit for such consumers. If you want the RGB options, the Team Group has many options for their T-Force products. Its pricing makes this RAM the best choice for budget-friendly consumers. The silver colour scheme is standard on the T-Force Vulcan Z. You will notice at building a PC that this elegant silver combination RAM kit increases the beauty of the whole build. The Vulcan Z is also available in red to get the kit selection option based on your preferences.
In gaming aspects, generally, we do not see significant benefits while testing with the T-Force Vulcan Z memory kit. However, DDR4 has access to substantial gains in memory frequencies that may affect game performance. Moving from a stock of 2600 to a suitable 3200 MHz can have a small impact on better implementation of times CAS for some high-end SKUs, leading to overall games' FPS and system reaction times.
What do we like about Team Group T-Force Vulcan Z 3200MHz CL16?
The T-Force Vulcan Z 3200MHz CL16 comes in a great silver colour outline. There are no RGB lights, but its silver look makes its bold design speak for its worth and thermal perfection. The overall gaming performance is awe-inspiring, making it a valid reason to buy this RAM. XMP profile over time gets the advertised RAM kit speed. From there, it is a thing of finding out what you have done with the money you have saved due to the low price of Vulcan Z.
What do we dislike about Team Group T-Force Vulcan Z 3200MHz CL16?
Most gamers prefer the RGB, so we agree with the majority, and we can say that this is the drawback we don't like too.
Verdict
You may lose the RGB lightning or extreme power that comes with advanced DRAM memory kits. However, the Vulcan Z beats all those marks for under 100 dollars. You will get the sturdy performance, but this gets better on boosting it for this memory kit due to a speed of 3800 MHz at the voltage of 1.35. The form factor of the low profile also makes this kit an excellent choice for minimal factor lovers and allows easy compatibility with larger CPU coolers. You can get more information on this through our Cooler For Ryzen 9 5900x Guide.
Pros
Huge 16 GB Capacity
Low CL16 Latency
Budget-friendly
Low CL16 Latency
TOUGHRAM RGB Memory DDR4 4600MHz
Best Overlocking & Performance RAM for Ryzen 9 5900x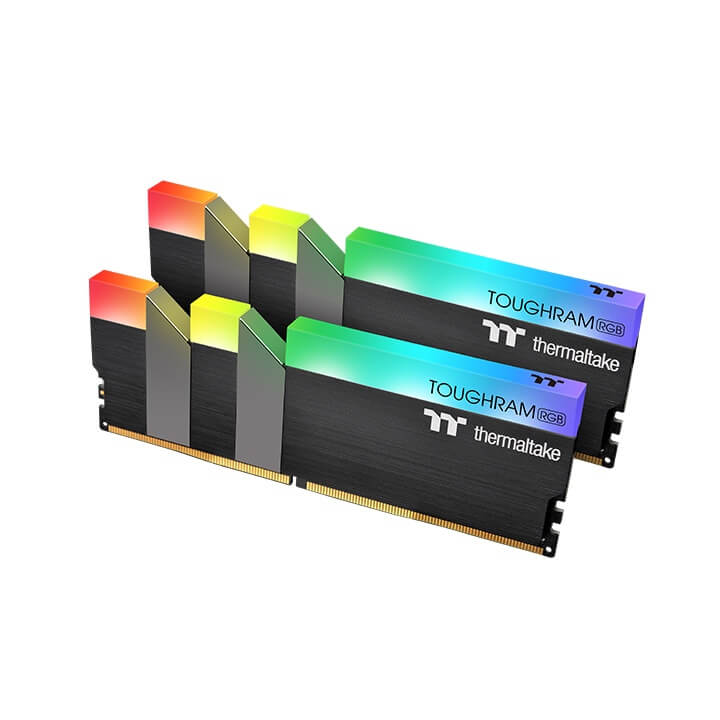 Specification Type: DDR4 | Speed: 4600MHz | Timings: 19-26-26-45 | Capacity: 16GB (8 x 2) | Voltage: 1.5V | CL: 19
The Thermaltake TOUGHRAM RGB comes with a frequency of up to 4600 MHz and a memory size of 16 GB (2x 8 GB). Helping in appearance and performance, the Thermaltake TOUGHRAM RGB also features a black-painted aluminium heatsink. TOUGHRAM RGB features a special TOUGHRAM software that allows you to monitor your RAM performance in real-time and tracks your temperature and frequency values. The layout of the 10 Layer PCB allows for high overclocking power that makes it the Best performing RAM for Ryzen 9 5900x.
The first thing that wedged our consideration with the Thermaltake TOUGHRAM was its premium look. The Thermaltake TOUGHGRAM has an aluminium-lined body that displays a good amount of RGB lights. Those lights are adjustable LEDs that you can customize with any colour software. They even support synchronization with Razer Chroma lights and a clean performance that you don't experience every day. And another thing you do not see elsewhere is the TOUGHRAM RGB software support that lets you monitor temperatures, colour spectrums, and overall performance. A total finish of 16.8 million colours will enhance the look and feel of your entire system.
When it comes to performance, you get a lot out of TOUGHRAM. These two memory bars operate on two channels and work at a 4600MHz rate, an excellent lead for Ryzen 5000 series CPUs. In addition, the CL19 times are adequate in terms of performance, resulting in better reliability.
What do we like about TOUGHRAM RGB Memory DDR4 4600MHz?
We love the price point of TOUGHRAM RGB Memory, and you do not get a kit that supports a good-looking RGB Light, 4600MHz speed, and solid body. The design of the components is highly durable. It also has a 2 Oz copper layer PCB.
What do we dislike about TOUGHRAM RGB Memory DDR4 4600MHz?
The memory timing of CL19 is not that impressive in this price range; it must be better as the CL19 increases the latency in data transfer.
Verdict
Thermaltake did an excellent job with the Thermaltake TOUGHRAM RGB design. The quality of construction and packaging is fantastic. Additionally, Thermaltake added a lot of customization and monitoring tools. The Toughram application allows complete monitoring of RAM parameters and complete RGB control. Neon Maker includes hundreds of downloadable RGB profiles, or you can create your own. RGBs sync with the compatible RGB products too. In short, it is a pleasure to have it.
All in all, the TOUGHRAM kit gets you the most out of your money, despite the high price. The TOUGHRAM software allows you to check some RAM stats, giving you a look at the temperature, loading size, temperature, and frequency of your RAM kit, so that things are transparent when it comes to internal performance. Also, if that was not enough, you could tune your RGB light to give you a warning if your CPU, RAM, or memory is in danger, then the light you selected is flashing to provide you with a real-world notice.
Pros
Runs at a great speed of 4600MHz
Excellent RGB beautification
Good overlocking performance
Cons
The CL 19 latency is not good
G.Skill Trident Z Neo DDR4-3800 CL14
Best RAM for Ryzen 9 5900x In 2023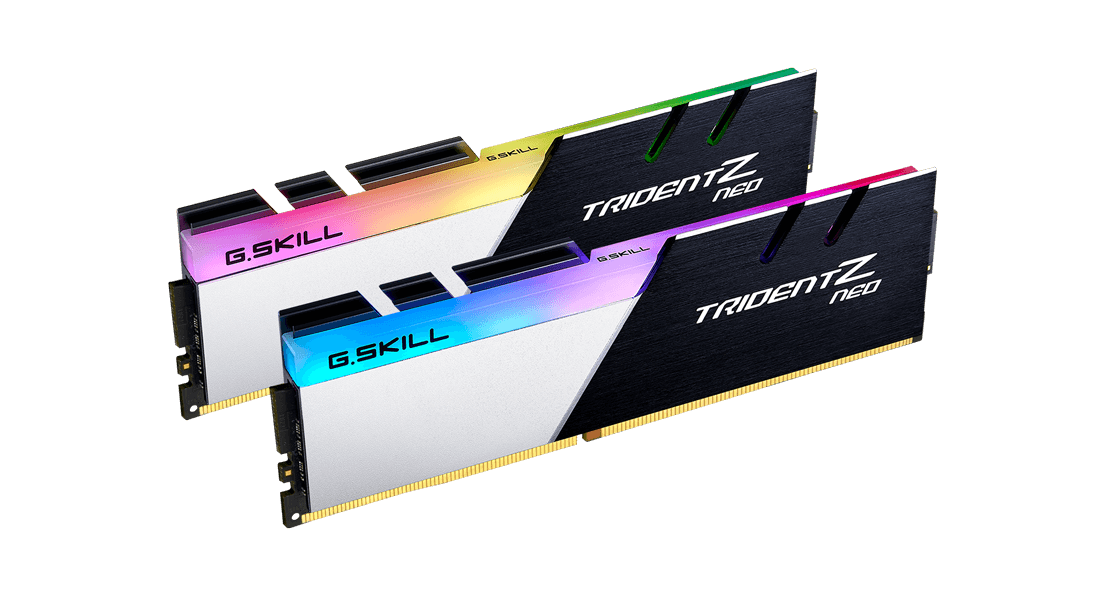 Specification Type: DDR4 | Speed: 3800MHz | Timings: 18-22-22-42 | Capacity: 32GB (16 x 2) | Voltage: 1.35V | CL: 14
The G.Skill memory kits are not new. If you have a history in the computer world or PC builder, you will be well acquainted with the work of G.Skill, as they are one of the biggest names in a memory game, and their beloved RAM kits are being worldwide.
The G.Skill Trident Z Neo is a beautifully designed memory module. Apart from impressive aesthetics, G.Skill's Best DDR4 RAM for Ryzen 9 5900x brings a surprising delay of CL14. G.Skill simultaneously introduced the Trident Z Neo memory, specially designed for the Ryzen 3000/5000 series processor and the X570 Motherboards.
In terms of design and aesthetics, G.Skill has got you covered. The Trident Z Neo is just the unit you require to determine your system's colour. The black and white heat exchanger works with any colour known so far, and if you want to add a slight tone, you can use RGB LEDs on top of that. You can control colours using G.Skill software, and it looks great. The module is 1.73 inches long and has spare space for many coolers and cases from all major brands. Other than this, it isn't recommended to use small PC cases and large coolers.
On checking the benchmarks, Trident Z Neo RAM functioned great in Cinebench and compression testing. However, game scores were not up to the mark. This kit uses Samsung B-Die components that work very well, and you can save quite some time with the CL14-16-16-36 latency. With a 10-Layer PCB, the Trident Z Neo makes it easy to jump to higher frequencies. XMP helps in quick setup and prepares the memory for an established boost. Throughout history, G.Skill worked on appearance and has become the focus of most PC builders.
What do we like about G.SKILL Trident Z Neo DDR4-3800 CL14?
The build quality of Trident Z RAM and its vivid RGB lights is excellent; both facts increase the worth of this product in the market. Most gamers like this RAM, and it is the best RAM for R9 5900x, which is also very reliable and performs exceptionally with Ryzen Processors.
To be a one-size-fits-all approach, G.Skill has installed the Trident Z Neo to work with most RGB control software efficiently, enhancing compatibility with many different rig building options to sync RGB very easily. Trident Z CL 14 RAM kit uses Samsung memory chips which is an edge too considering their sturdiness.
What do we dislike about G.SKILL Trident Z Neo DDR4-3800 CL14?
The G.SKILL Trident Z Neo DDR4-3800 CL14 RAM is more expensive than the other variants of the G.Skill Trident lineup.
Verdict
This memory is an ideal choice for high-end gaming PCs and Overclockers, who want only the best. It is good news for all who expect to get the best memory out of the box without personal adjustment. During all the tests, there were no compatibility or stability problems on different motherboards and AMD and Intel platforms. Everything was perfect, as it should be a high-quality product.
Pros
Amazing aesthetics
Great capacity and speed
Low 14 CL latency providing great performance
Cons
Expensive
Does not perform upto par in benchmark testing
G.Skill Trident Z Royal Silver 3600MHz C16
Best RGB RAM for Ryzen 9 5900x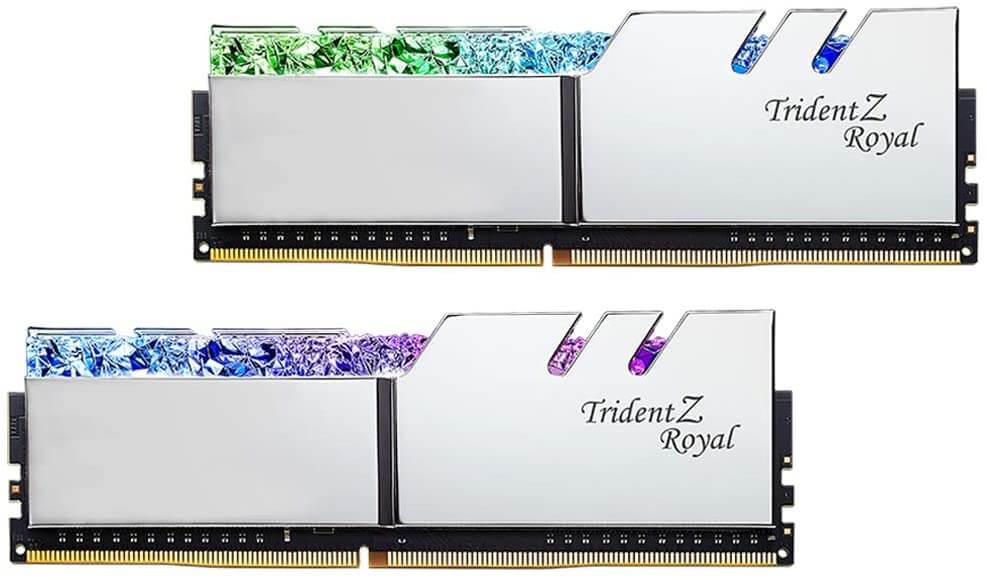 Specification Type: DDR4 | Speed: 3600MHz | Timings: 16-18-18-38 | Capacity: 16GB (8 x 2) | Voltage: 1.35V | CL: 19
The G.Skill Royal Series is its latest release offering a beautiful RGB crystalline aesthetic and your choice of silver-plated gloss in an aluminium heat distribution over other advanced features. We are looking at a 16GB dual-kit kit running at 3200MHz with C16 latency.
Depending on how much you plan to spend, you can take Trident Z Royal kits anywhere from 16-128GB with a grand speed up to 3600MHz with an equally impressive timing of 18-22-22-42. First, this Trident Royal RAM clocks at 3600MHz out of the box; this is important because AMD came out claiming that the Ryzen 5000 series has been upgraded and optimized for use with the maximum speed Trident Z Royal memory.
The Trident Z RGB Royals incorporates enhanced RGB lighting. Each DIMM does have eight custom LEDs that allow it to produce a bright light display inside your case. They also include a new and improved RGB controller that enables bright images to flow smoothly and visually. G.Skill also offers its software package with more than a dozen RGB effects. Included here are your expected rainbow, colour cycle, and respiratory effects, as well as a few very different ones. Many of these can also be made for effect speed as well.
What do we like about G.Skill Trident Z Royal Silver 3600MHz C16?
The Plus point we notice in this product has an RGB that looks like a diamond. That doesn't matter at all – but the Lighting Control Software G.Skill, designed to control RGB in its RAM, is easy to use and very useful if you want your RAM to shine like a diamond mine. Alternatively, the Trident Z Royal Silver is the Best RGB RAM for Ryzen 9 5900x in our filtered list. It also has plenty of overlocking headrooms, making it perform more brilliantly than the others.
What do we dislike about G.Skill Trident Z Royal Silver 3600MHz C16?
If you are looking for the disadvantages of this excellent Ryzen 5000 kit, you can argue that it has a troubling price.
Verdict
The G.Skill Trident Z Royals are a good set of RAM, but these results show that there is more to it than pure appearance. Even when compared to the RipJaws V kit with the same volume, frequency, and CAS delays, it performed well in our tests. The kit we had for testing was not as fast as G.Skill currently offers in the Royal alliance, but it came out on top compared to the other 3600MHz kits we had for testing.
Pros
Supports Ryzen 5000 series processors
Beautiful 8 LED customizable RGB
The impressive speed of 3600 MHz
Cons
Very Expensive
Lower CL latency could have improved its performance
T-Force NightHawk RGB DDR4
Best Looking Ram for Ryzen 9 5900x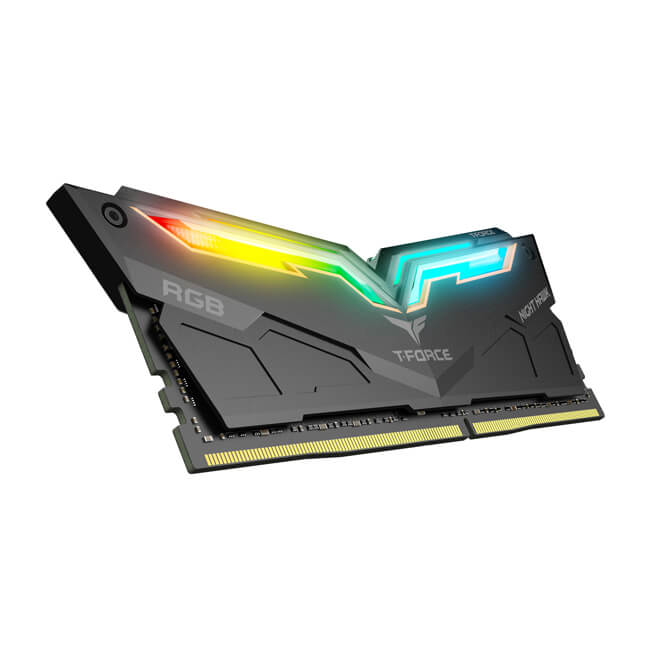 Specification Type: DDR4 | Speed: 3200 MHz | Timings: 16-18-18-38 | Capacity: 16GB (8GB x 2) | Voltage: 1.35 V | CL: 16
Team Group nowadays has been making amazingly styled RAMs for professional and enthusiast gamers. After releasing RAM lineups like DARK, VULCAN, Team Group released its most prestigious lineup, the NightHawk RAMs. The one that we will be talking about is explicitly the T-Force NightHawk. It comes with DDR4 support, which is presently the most common and widely accepted memory type in the market.
The T-Force NightHawk RGB DDR4 comes in the package of 16GB (8GB x 2) which are the ideal RAM numbers to have at a minimum. Also, the memory transfer speed of 3200 MHz for RAM this good is impressive. The RAM requires a voltage of at least 1.2 V and can take up to 1.4 V when used aggressively. T-Force NightHawk RGB DDR4 provides power-saving features saving up to 40% power.
When setting up a gaming rig, overclocking is one of the most important things that most buyers look out for. T-Force NightHawk was built keeping the gamer community in mind, so it has overclocking unlocked, giving you the ability to push it to its limits. The RAM circuitry is made in compliance with the JEDEC RC 2.0 circuit configuration.
The T-Force NightHawk RGB DDR4 CL latency is CL16-18-18-38 making it a reliable hardware component to buy. Aesthetic wise, T-Force NightHawk comes with a unique design. The V-shaped top of the RAM with RGB lights gives it a beautiful vibe. Team Group also provides the user with software that you can use to control the lighting on the RAM. The software is the infamous T-Force Blitz control.
What do we like about T-Force NightHawk RGB DDR4?
The price range of this RAM is excellent. Compared to other RAMs in this price bracket, the specifications are pretty punchy. The beautiful battle totem hawkeye design of this RAM looks even more beautiful with its RGBs.
What do we not like about the T-Force NightHawk RGB DDR4?
The Team Group should strengthen Team Group's Blitz application integration with the T-Force NightHawk RGB DDR4 RAM as some bugs exist on the software side.
Verdict
The T-Force NightHawk with the RGB lighting is a RAM that provides excellent performance and is aesthetically pleasing. It made it to our list of best RAMs because of its stunning looks and the value for money trait, making it the Best Looking Ram for Ryzen 9 5900x in our inventory. Getting DDR4 RAM for under $120 with customizable RGB and 16 GB RAM capacity is fantastic.
Pros
Very Low C16 Latency
Big 16 GB capacity
Beautiful totem hawkeye design with RGB
Cons
The T-Force NightHawk Blitz application is buggy.
Everything To Know About Ryzen 9 5900x
It won't be incorrect to claim that these Ryzen 5000 series are becoming the best gaming processor. As we all know, Intel and AMD always stay in the state of competition to be the best processor to provide single and multi-threaded performance. AMD processors generally perform better in multi-threaded performance and Intel processors in single-core performance. Still, Ryzen 9 5900x turned the game to change all these myths and proved the best available option with single and multi-threaded tasks.
The chips come with an excellent value indicating that there is no reason to go with Intel for content creation, professional tasks, and the best gaming. The number of cores and threads of Ryzen 9 5900x introduces some tension between the contestants and old Zen 2 CPUs. The Zen 2 performs slower for gaming in results and lags in games, especially at the resolution at 1080p and 1920p. We admit that Ryzen 9 5950X provides the most exciting and high-end features in the same price bracket as its contestants. No, doubt that Ryzen 9 5900x significantly improved its performance if we compared it with its predecessor.
Related Reads: Best Ram For Ryzen 9 5950x
The 7 nanometers (nm) 5th generation of Ryzen 9 5900x is a 64-bit twelve-core x86 desktop microprocessor, and it proves that it is the fastest processor in gaming with high-speed gaming. The performance is not limited to gaming. The performance of Rendering, Encode, and Iterate is also pretty impressive. Its 12 cores and 24 threads produce premium performance, making it an excellent option for streaming, gaming, and general tasks, and hammering away at multi-threaded workloads. The architecture of Zen 3 also supports store MI Technology and Master Utility with VR-Ready Premium features. At stock setting, the processor performs at 3.7GHz (base) speed to a maximum 4.8GHz.
The clock rate, no of threads, cores, and 3200 MHz DDR4 RAM of Ryzen 9 5900x power up the computing experience and help to load quickly most demanding applications. The energy consumption alongside the temperature is strictly monitored by the processor to rise clock speed and many other factors for faster application performance. The Thermal Design Power (TDP) has 105-watt TDP with no cooling solution. The boost overdrive technology also boosts the clock speed of your compatible motherboard at the touch of a button (Check out Our Motherboard For Ryzen 9 5900x Article). It does not have an integrated GPU, so you also have to decide on a dedicated graphics card for your PC.
The Store MI Technology improves PC load times and performance by combining the other hard drives into a solo hybrid storage drive that uses the cache and program files. The Ryzen VR Ready Premium tries to provide smooth performance for the processor designed to meet its actual recommended specification, including Rift and window mixed reality. The Master Utility of Ryzen offers multiple profiles for store GPU, DDR4, and CPU configurations, adjusting memory time for the active cores, in turn, optimizing the general performance.
Technical Aspects
AMD Ryzen 9 5900x comes with impressive and premium features of 12 CPU cores while the higher number of threads is 24. The default clock speed is up to 3.7 GHz and a maximum boost clock of up to 4.8 GHz. The supported socket type of this processor is AM4 and has unlocked features. The cache size of L2 is 6MB, but the L3 cache has a larger size of 64MB. If we talked about the connectivity, the Ryzen 9 5900x holds the PCI Express® Version, PCIe 4.0, and the default TDP (thermal design power) of 105W, but the (PIB) thermal solution is not available. The OS support of this processor supports the 64-bit edition of window 10, RHEL x86 64-Bit, and Ubuntu x86 64-Bit. The system memory specifications hold DDR4 Ram up to 3200MHz.The Ryzen 9 5900x is pocket-friendly, but it is a little expensive compared to its predecessor.
The exact number of cores and threads were in 3900X released a year ago of Ryzen 9 5900x, and their configuration was significant for high-end applications. Still, the games are not in the position to perform potentially. The Ryzen 9 5900x solves this case today and proves that this chip is designed for professional tasks and handles your gaming needs. Another essential factor of this chip is that when it goes into a sleep state, the low power consumption starts its works aggressively. It keeps its power usage down, and all the cores turned off that aren't getting used actively, and in this way, it keeps you away from high power consumption and heat issues. The active cores consume more power and disturb the clock speed where it counts. That's why the 5900x reaches the maximum boost clock at many movements.
Specifications
Model: Ryzen 9 5900x
CPU Socket: AM4
CPU Speed: 7 GHz (Turbo)
Number of Cores: 12
PCIe lanes: 24
Number of Threads: 24
Base Clock Speed: 3.7 GHz
Recommended chipsets: X570, B550
L2 Cache: 6MB
L3 Cache: 64MB
Memory Support: DDR4
Connectivity: PCIe 4.0,Zen 3 Core Architecture
How We Choose Best Ram For Ryzen 9 5900x
AMD and Intel are some of the biggest competitors in the processor industry. Intel builds processors that aren't that heavy on your pocket compared to AMD, but this does not mean that AMD overcharges. AMD processors also have features that outclass many Intel processors. The top-of-the-line processor in the AMD series is mainly from the Ryzen 9 series. The same is the case for the Ryzen 9 5900x.
The AMD cross-platforming works best with other AMD components implying that AMD components work magnificently in cohesion like the AMD GPU and AMD processor. Things change a bit when talking about RAMs. The RAMs are designed based on the JEDEC protocol. According to this protocol, you cannot prepare RAMs for a specific chipset or processor. The RAM built should be able to work on devices with compatible hardware. But RAMs also come with the 'AMD specific RAMs' tag in the market. You do not need to misunderstand this, as it implies that the RAM is tuned a little bit for working best with other AMD components. The RAM is usable with Intel processors, and the performance difference is not huge. We first looked into the RAMs with these tags as even if the performance difference is slight, still it is a boost.
The best processor needs the best RAM too. In the top line are the DDR5 RAMs as they are the latest technology in the market. The DDR4 are more common compared to the DDR5 just because most motherboards in the market provide support for DDR4 at least. Also, performance-wise DDR4 works quite well. Do check first if the motherboard you bought includes support for DDR4, or else it will be a waste of RAM and money. If you are supposed to buy a motherboard soon, then add it to the list of things that your motherboard should have. Our list contains DDR4 RAMs because Ryzen 9 5900x doesn't support DDR5.
CAS latency is also one of the things that you should know about before going out to find RAM. The CAS Latency is quite an essential factor in purchasing RAM but gets ignored by most users. CAS Latency refers to the clock cycles needed by the RAM to provide the data to the CPU. Higher frequency and lower CAS latency are the combinations we went for, providing the best performance possible.
However, of all things, performance matters too. But aesthetics and design are another part you must keep in mind while finding a new RAM. Anybody going for an upgrade with some hard-earned bucks would like their setup to perform and look good. So RAM with a beautiful design like the ones that look like Cyber Trucks gives a modern vibe. Many manufacturers have added RGB lights on the top of the RAMs, making them even more beautiful. These factors contribute a lot to making the correct decision for the RAM.
Ram Buying Tips And Things To Know
Finally, suppose you decide to build a PC with Ryzen 9 5900x for the best performance capable of performing heavy-duty tasks. In that case, you have to choose the best RAM with high memory speed and frequency that will work potentially well with your processor. RAM is shared with other computer components to communicate with each other that's why the faster RAM makes your processor faster. Here we have a buyer's guide that will assist you in determining the best RAM for your Ryzen 9 5900x. Latency, frequency, aesthetics/appearance, cooling function, compatibility, and the apparent price is the primary factor for considering the best RAM.
Read: How To Buy A Ram
Capacity
The usage of a user determines the capacity factor. If you use the high-end software that consumes a high part of RAM but regular applications, the ram consumption is not that much. 16GB is the minimum requirement of a gaming system with a resolution ranging from 1080p to 2K resolution. Still, if the gaming requirement is intensive up to 4K resolution, the most powerful Ryzen 9 5900x needs at least 32GB or more.
Frequency
The RAM is available in many speed rates from 2100 MHz to 4800 MHz with higher frequency and better value proposition. It depends upon the user according to their use which frequency will suit them; that's why it is the most critical factor. The frequency range of DDR4 RAM start's from 2100MHz up to the maximum frequency of 5000MHz. Modern games are memory-dependent. If you want to get the best results, especially in games, your system must have RAM of at least 3600MHz. The high-frequency RAMs significantly improve the PC Performance, and the high-frequency RAM must be compatible with your system. Many overclocked RAM variants are available in markets that boost speed but don't go for the system-supported frequencies if you want a significant performance boost.
Latency
The latency of a ram is the reaction time of the RAM. The Ram with high-frequency has low latency, and the low frequency has high latency, so we have to choose a RAM that delivers high frequency with low latency. The high-end RAMs have a latency of CL14 or CL15, and most 3200 MHz RAMs have a CL16 latency. Moreover, you can modify the latency of RAM manually. This modification will help the processor to perform best. The high-end RAM usually has CL16 latency at 3600MHZ with the norm of CL18. Some RAMs have overclocked their memory at the speed of 3800MHz, with CL14 latency as low. Hence the more insufficient column address strobe (CAS) will quickly perform tasks by fetching data.
Cooling
The cooling function is an essential factor for any RAM. Heavy-duty tasks like Rendering, high-end games, or video editing causes heat issues that seriously affect the RAM. So, the cooling system is as essential as RAM for performance. The aluminium heatsink improves the thermal efficiency of the RGB RAMs, decreasing the failure percentage.
Compatibility
The sum of all the factors is the compatibility of RAM with the other components of the system. If you have the best memory RAM but are not compatible with the motherboard and further details, it could be worse than having the best memory. Extreme caution is needed at the time of deciding RAM for your PC. Most of the time, you have to manipulate your device at low rates due to the incompatibility of RAM, and it will not allow booting according to the manufacturer's claimed speeds.
Is Ryzen 9 5900x worth Buying in 2023?
AMD Ryzen 9 5900x has performed incredibly in gaming due to its robust architecture leading towards multi-core and single-core performance. Especially the most demanding games of this era perform massively great. Ryzen 9 5900x also ideally provides extraordinary multi-core performance. Every core is embedded near each other physically, and with the help of the L3 cache, it grabs the information more efficiently and makes the instruction per clock (IPC) faster than its actual clock speed. R9 5900x all core efficiency makes its performance efficient and enables it to run the games smoothly without any lag. That is why AMD's processor is famous for games, even on laptops.
Usually, the performance of 12 cores is not so impressive, but Ryzen 9 5900x is designed so that it matters lots and loads your game quickly and rapidly renders out the graphics of your high-end game on your monitor. If you are playing the game at the resolution of 4k, the processor automatically interacts with your RAM and GPU to run the game without wading complex techniques. The gaming was not so intense in the previous generations of Ryzen if you paid attention; just one year ago, the 3900X was launched, and it just provided an average gaming performance. Still, the design of Ryzen 9 5900x performed intensive operations and made it the best choice because it takes no render a game and overcomes the delays that are noticeable lack in performance. Indeed the Ryzen 9 5900x is worth it in 2023 in every aspect. Moreover, now it's considered the fuel of gaming PCs to run the demanding games. It notches the victory over Ryzen 9 3900X and impressively leads at stock over the Core i9 10900k.
Frequently Asked Questions
Does Ryzen 9 5900x support DDR5?
No, the DDR5 support is not available in current-gen processors. It is expected to see that the newer chipsets may port this to the next DDR generation, but it is still on a chance. However, the R9 5900x still beats 12th gen Intel CPUs with DDR4 memory performance.
How much is the best RAM speed for 5900x?
DDR4 3600Mhz is an ideal RAM speed for the Ryzen 9 5900x, coupled with tight memory timings. However, it may vary according to your needs; depends on a productivity user or gamer.
How much RAM is needed for high-end gaming?
16GB to 32GB is ideal for 2K and 4K gaming, respectively. If you're a simple user with no interest in productivity tasks like Blender, AutoCAD or gaming, then 8GB will be enough for you. However, if you're a tech nerd, 16GB is the minimum.
Was our article helpful? 👨‍💻
Thank you! Please share your positive feedback. 🔋
How could we improve this post? Please Help us. 😔