Congratulations! You're the soon-to-be, or the current owner of a Ryzen 9 5900X, and the last thing you'd want is for your top-of-the-line CPU to induce thermal throttling and forcefully shut down, thanks to a severe case of overheating. While your new processor and Motherboard For Ryzen 9 5900x can handle pretty much anything you can throw at it performance-wise, it does tend to get too hot for comfort if you're not using an effective cooling method. The max TDP (Thermal Design Power), in essential words, refers to the power consumption, which would be 105 watts under max load for this beast of a processor. Suppose you venture into the world of overclocking and extensive workflows.
In that case, you will begin to experience pretty high temperatures in the realms of 80+ degrees Celsius unless you utilize one of the Best CPU Cooler for Ryzen 9 5900X to keep things breezy under the hood. Aside from that, you should also know that there is no Ryzen 9 5900x Stock Cooler, thus, getting an aftermarket cooler is essential. On the brighter side, if you have a slightly lower budget, we would recommend checking out Coolers For Ryzen 5 5600x instead.
AMD Ryzen 9 5900X Specifications:
Number of CPU Cores: 12
Number of Threads: 24
Base Clock: 3.7 GHz
Max Boost Clock: Up to 4.8 GHz
Unlocked for Overclocking: Yes
Total L3 Cache: 64 MB
Default TDP: 105W
CPU Socket: AMD AM4
Architecture: TSMC 7nm FinFET
Max operating temperature: 90C
Connectivity: PCI-e 4.0
Best CPU Coolers For Ryzen 9 5900x
Thanks to such a large influx of brands producing various types of CPU coolers, differentiating between air, liquid, and All-in-One (AIO) to choose the Best cooler for Ryzen 9 5900X can prove to be an exhaustingly time-consuming job. However, there's nothing to fret about since this is precisely where our expertise comes in, and by the end of this article, we'll have provided you with criteria alongside the options guide on selecting a Ryzen 9 5900X cooler suited to your personalized needs, so let's start.
Award
Best Budget cooler for Ryzen 9 5900X
Best Air Cooler for Ryzen 9 5900X
Best 240mm AiO for Ryzen 9 5900X
Best 360mm AiO for Ryzen 9 5900X
Best RGB CPU Cooler for Ryzen 9 5900X
Recommended CPU Cooler for AMD Ryzen 9 5900X
Cooler
Zalman CNPS10x Performa Black
Arctic Liquid Freezer II 240-A RGB AIO
Last update on 2023-06-07
Zalman CNPS10x Performa Black
Best Budget cooler for Ryzen 9 5900X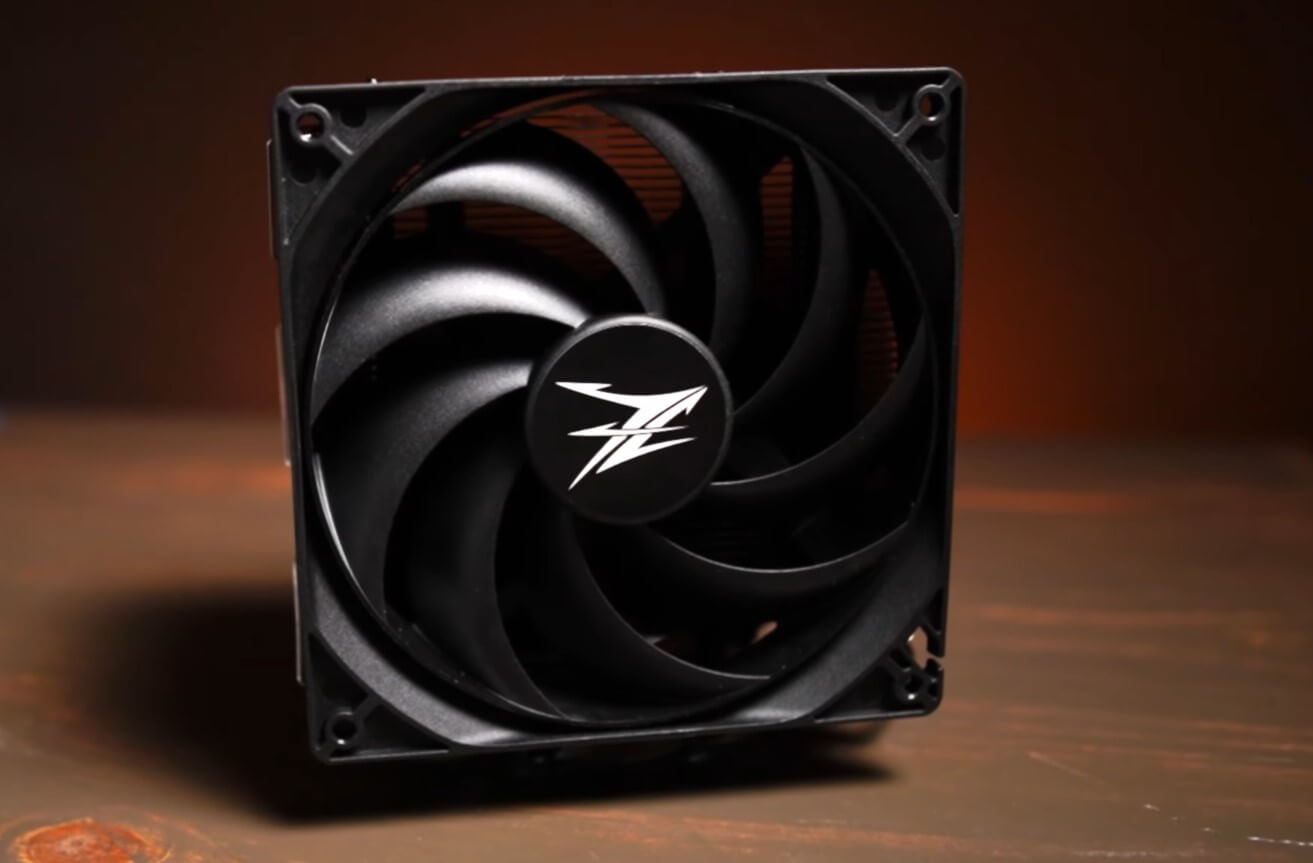 Specifications : Type: Single-Tower Air Cooler | TDP: 180W | Heat Pipes: 4x Ø6 mm | RGB: None | Dimensions: 155.6mm x 136.7mm x 135mm | Fan: 1 x 135mm PWM fan | Socket Support: LGA1200, LGA1150, LGA1151, LGA1155, LGA2011, LGA2066 and AM4
Pros
Budget-friendly
Sturdy Build Quality
Sleek minimalistic aesthetics
Retention clips to avoid interference
Cons
No RGB
No secondary fan clip
The retro gamers in our audience will familiarize themselves with the name of Zalman since the well-known South Korean-based company is renowned for producing some of the best and quietest cooling solutions with their experience spanning more than two decades. They've done it again, with their CNPS10x Performa Black, for which, admittedly, they could have chosen a more user-friendly name that doesn't promote exhaustion of one's tongue.
With the CNPS10x Performa Black, Zalman has decided to go with a 135mm 'annular bladed' fan (135mm ZM10XPB-PWM fan), which, according to the brand, helps to reduce vibrations and noise while improving the durability of the fan itself and improving airflow to decrease the VRM temperatures on your motherboard as well.
All this is possible thanks, in part, due to the utilization of an advanced EBR bearing which is said to increase longevity as compared to a standard sleeve bearing, as well as being more effective at preventing dust from gaining entry to the bearing's housing, enabling a stable and almost inaudible cooling operation.
The fan is PWM, with a 4 pin PWM cable included being attached to the motherboard, meaning that the fan can be automatically controlled to adjust rotational speeds based on your environmental factors and workload to provide the best gauged automated and quiet cooling experience.
What We Liked:
First off, the CNPS10x Performa Black delivers more than you'd expect from this kind of price point; it truly is the CPU cooler to pair with your Ryzen 5900X if you're on a tight budget, delivering outstanding performance despite only using air as a medium to ventilate the heat away from the area around your CPU socket. Zalman has been kind enough to provide retention clips for the cooler to enable you to mount the cooler at a higher level to make sure the cooler's heatsink doesn't interfere in any way with the VRMs on the motherboard or block one or two of the RAM slots. Nowadays, it shouldn't disturb the area where the M2 SSD sockets are placed on motherboards.
Moving on, the Ryzen 9 5900x cooler appears to be of much more premium quality than the price tag would suggest, sporting an all-black design for which Zalman used an electrophoretic coating process to achieve uniform thickness, reduced defects, and high stability to provide optimal heat transfer between the CPU to the heatsink, away from the area surrounding the CPU socket.
Zalman has incorporated the usage of four 6mm copper heat pipes spaced in between to cover the larger heat spreader of your Ryzen 9 5900X. The fan itself is slightly isolated from the bracket of the cooler itself, making Zalman's claim for improved low noise operation and reduced vibration seem more believable.
Last but not least, since the fan is PWM (Pulse-Width Management) enabled, the motherboard can automatically control the fan speeds by your usage and environmental conditions. The heatsink's design also allows for easy access via a screwdriver, unlike some offerings from competitors, which require you to go through and around the heatsink to access the innards of the cooler.
Things You Might Not Like About Zalman CNPS10x
To begin with, the CNPS10x Performa Black has no RGB capabilities, detracting a sizable portion of our audience who love to bejewel their Ryzen 5900X gaming setup with fashionable RGB designs.
Next up, there are no secondary fan clips included, barring any upgrades down the line to pair your cooler with a secondary fan to improve upon performance. Furthermore, the lowest possible speed of 700 RPM is not enough when comparing offerings from competitors who advertise rates as low as 300-500 RPM for inaudible cooling.
Moreover, the installation process is cumbersome since the user manuals aren't very comprehensive. The spring-loaded thumbscrews are not retained in the bracket of the CPU cooler itself unmemorable installation experience. In addition to this, the amount of thermal compound (ZM-STC8) included with the cooler should have been at least twice more, although keeping in mind the price tag of CNPS10x Performa Black cooler, we can't complain much.
However, Zalman rates the EBR bearing fan unit at an MTTF (Mean Time To Failure) of 50,000 hours, a step up from 30,000 hours compared to a conventional sleeve bearing.
That being said, this piece of information doesn't mobilize us to instill a lot of confidence in the longevity of CNPS10x Performa Black cooler, especially considering Zalman has only offered a one year warranty for the cooler, which is simply not up to the mark since competitors are offering much longer warranties ranging from 2 to 6 years. This is forgivable even considering the CNPS10x Performa Black's low price tag.
What sets the Zalman CNPS10x Performa Black apart from its competitors?
Zalman has made a triumphant return to the CPU Cooling Industry with the CNPS10x Performa Black, integrating fortified build quality manifested by a sleek monochromatic aesthetic paired with retention clips which helps the CNPS10x Performa Black to refrain from interfering with RAM DIMM slots, GPUs, and M.2 SSDs.
Also, the 135mm 'annular bladed' fan helps the Zalman CNPS10x Performa Black punch above its weight class in terms of cooling performance while keeping the price tag in reach of even the most budget-oriented Ryzen 9 5900X users.
Who Should Get Zalman CNPS10x Performa Black?
Despite a few of its shortcomings, it cannot be forgotten that the Zalman CNPS10x Performa Black has proved itself the best at this price range, producing effective cooling results by utilizing its EBR bearing and 135mm annular fan while keeping noise levels and vibrations to a bare minimum. It also marks a return for Zalman to the CPU cooling market, and it's a worthy comeback for the South Korean tech giant, as it remains to be bested by any other Ryzen 9 5900x cooler on the market at the time of writing.
It sports a stealthy, under-the-radar, all-black design, attracting the more simplistic users in the market who prefer a non-RGB method, and includes retention clips to help avoid interference with any of the RAM modules or VRMs on your motherboard.
Suppose you can bear the slightly complicated installation process and let the low warranty period slide by. In that case, CNPS10x Performa Black is, without a doubt, the Best Budget Cooler for your Ryzen 9 5900X, keeping in mind you require an efficient and quiet cooling solution while maintaining a restricted budget.
BeQuiet! Dark Rock 4
Best Air Cooler for Ryzen 9 5900X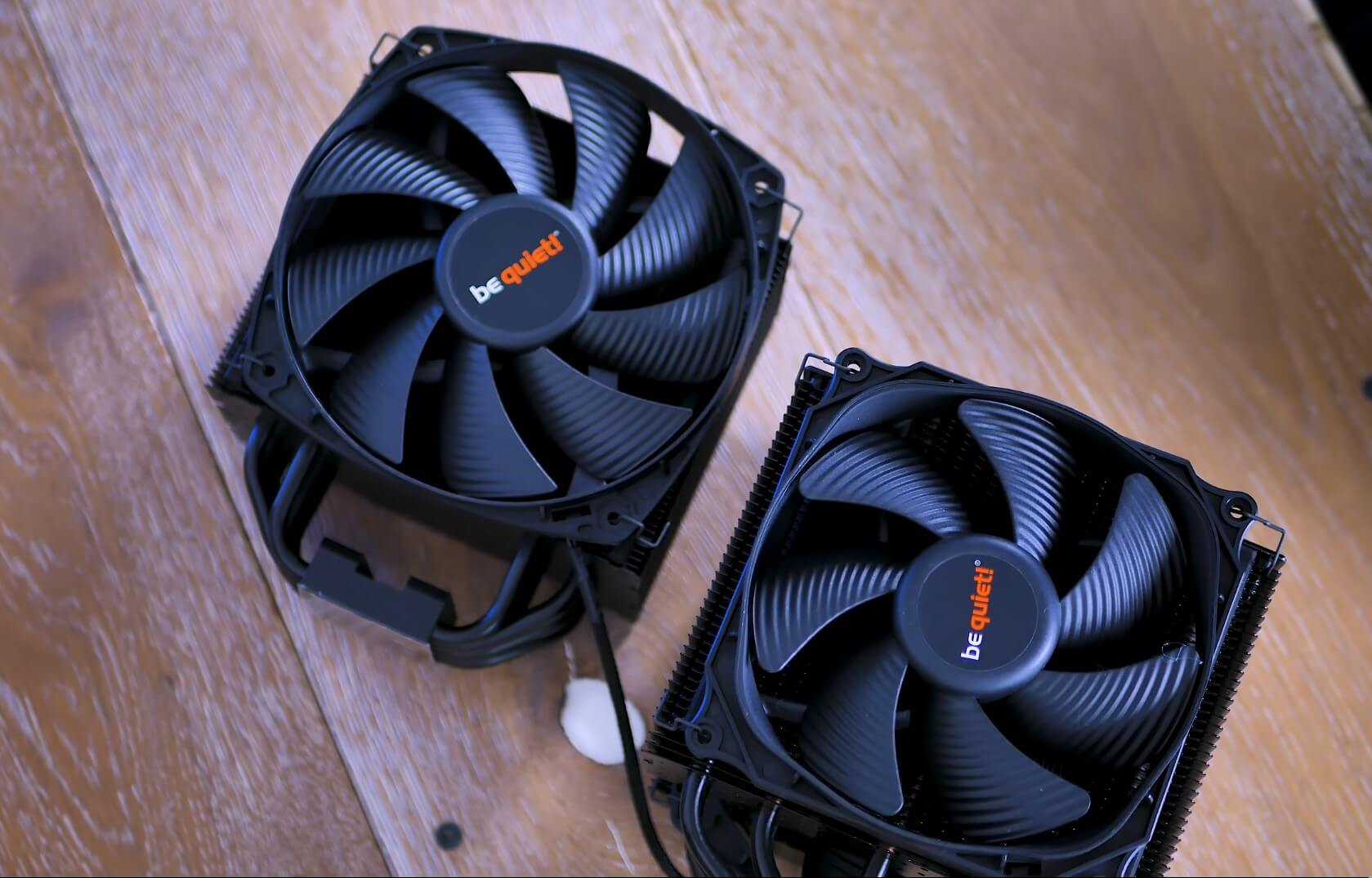 Specifications : Type: Single-Tower Air Cooler | TDP: 200W | Heat Pipes: 7x 6mm | RGB: None | Dimensions: 135mm x 135mm x 22mm | Fan: 1 x 135mm PWM fan | Socket Support: LGA 1700, LGA1200, LGA1150, LGA1151, LGA1155, LGA2011, LGA2066 and AM4
Pros
Best in class performance
Virtually silent operation
Support for secondary 120mm fan
Elegant design; durable build quality
Easy to install
BeQuiet!, known in the world of PC gaming for its insanely silent cooling solutions, is back at it again, unveiling the BeQuiet! Dark Rock 4 implements a 135mm PWM controlled fan with 9 airflow optimized fan blades that use a 6 pole motor for reduced vibrations and a durable fluid dynamic bearing to operate the cooling unit.
What all of this means, put, is that the BeQuiet! Dark Rock 4 would be well suited for an efficient and performance air cooler for your thermally energetic Ryzen 9 5900X. Continuing this short overview, the Dark Rock 4 offers decoupled fan mounting with vibration-isolating elements present on the heatsink alongside 6 advanced copper heat pipes (measuring 6mm in diameter) that maximize heat conductance.
BeQuiet! It uses a single tower design to achieve excellent heat dissipation via small spaces. The heatsink comprises 45 aluminum cooling fins soldered over the copper heat pipes. The endings are covered by metallic caps, which round off the cooler with a simple, yet graceful appearance. Wave contoured cooling fins move onwards with small dots on their surfaces optimized for airflow to increase circulation around the CPU socket area.
The baseplate of the cooler is constructed from nickel-plated copper. It has been polished into a radial reflective design to complement the smooth finish of the base plate, helping to spread the thermal compound effectively.
Furthermore, the installation process is relatively easy to follow, and one would have no issues following the instructions laid out in the included user manual. BeQuiet! Stamps a three-year warranty on the Dark Rock 4, promising that this 5900x air cooler will stand the test of time and remain a worthy companion for your Ryzen 5900X.
Things We Liked About Dark Rock 4
Starting with the fan itself, it is connected via a four-pin PWM (high-quality sleeved) cable (which is plenty long to reach most of the fan headers on your motherboard), meaning the motherboard can automatically control the speed of the fan itself. The 135mm module can get only 21.4 dB(A) in noise, even when running at its maximum speed of 1400 RPM.
If you feel the need to reduce the noise of the already silent cooler, you are allowed to go down to 500 RPM, which makes for decent passive cooling while maintaining a completely silent profile. BeQuiet! Includes secondary fan clips in the packaging, allowing you to pair another 120mm fan for higher cooling performance, which is always appreciated.
The Dark Rock 4 is rated for a TDP of 200W, so it'll be able to handle anything your Ryzen 9 5900X throws at it under stock settings. Moreover, owing to the German product conception and design, the top cover is coated with brushed aluminum using a diamond-cut finish, coupled with the minimalist BeQuiet! Branding on the front forms a practically aesthetic and understated design, to which we're partial.
The exterior has a unique black coating with ceramic particles in play, paving the way for a perfect heat transfer. The six high-performance copper heat pipes make direct contact with the cooler's base plate, which is covered by a smaller heatsink found above the heat pipes and base plate.
This heatsink plays an integral role in mounting the CPU cooler, speaking of which, BeQuiet! Includes six different versions of user manuals printed in varying languages, enabling a very user-friendly and enjoyable installation process, comparatively straightforward.
In addition to this, BeQuiet! Includes a Philipps Long Screwdriver with a magnetic tip to assist your installation attempt, providing you with 2 sets of metallic clips for the fan with differentiating lengths, one of which is supposed to be used on the front of the fan, the other meant to go at the back of the Ryzen 9 5900x cooler.
Coming back to one of the main points, the heatsink itself has two pre-installed rubber strips that run along the entire length of the heatsink, providing the fan with a solid base to remain seated on, dampening any vibrations caused by the rotational movement of the propellers, contributing to the low noise operation the BeQuiet! Dark Rock 4 consistently conducts.
Keeping in mind the space constraints of a standard PC case, we would be delighted to inform you that the Dark Rock 4 has satisfactory clearance, which is why it will certainly not interfere with your GPU as well as the first PCI-e expansion slot of the motherboard, which typically houses an M2 socket for SSDs nowadays.
Drawbacks of Dark Rock 4
Among all the Best Cooler For 5900x – There's not much to complain about with Dark Rock 4 offering from BeQuiet! But there are still a couple of critical issues, starting with one of the primary purposes of this offering from BeQuiet! i.e., cooling your Ryzen 5900X.
Be wary of the fact that the BeQuiet! Dark Rock 4 does not possess ample headroom for overclocking once you cross the 5.0 GHz barrier since that is when you will undoubtedly notice temperatures starting to get out of hand, towards the ceiling, past 90C, keeping in mind that despite everything, this is fundamentally speaking still an air cooler, so this limitation is not unexpected.
Brushing this off, we regret to inform you that the BeQuiet! Dark Rock 4 does not offer any kind of RGB functionality to spice up your casing's design ethos. In addition to this, BeQuiet! Supplies a relatively small tube of thermal compound, which we feel should have been a touch more at this kind of price tag.
Bringing to your attention one of the most concerned questions about CPU coolers regarding RAM module interference, we would advise you that it is likely that the Dark Rock 4's overall unit will obscure the first RAM slot on your motherboard, limiting the amount of RAM modules you can utilize. In regards to Ram For Ryzen 9 5900x, read our entirely different article to help you get started.
Last but not least, considering the few drawbacks listed above, we feel that the price point at which the BeQuiet! Dark Rock 4 stages are slightly difficult to swallow compared to similar cooling solutions offered by competitors.
What sets the BeQuiet! Dark Rock 4 apart from its competitors?
The Dark Rock 4 continues to uphold the signature noise profile of BeQuiet!, or rather the lack thereof. BeQuiet! has perfected its execution with the Dark Rock 4, incorporating unrivalled performance in its price range thanks to a 135mm fan, which you may pair with an additional 120mm fan, courtesy of BeQuiet! blessing the Dark Rock 4 with an extra fan slot for enhancing thermal efficiency. Sporting a total of 7 heatpipes concealed by a minimalistic yet stealthy aesthetic, the Dark Rock 4 poses a compelling bargain at a competitive price point.
Who Should Get Dark Rock 4?
BeQuiet! Continues to push the limits of air cooling with the Dark Rock 4, enabling virtually inaudible CPU cooling with incredible performance when you take into account the Dark Rock 4 only utilizes a solitary 135mm PWM fan module, though to be fair, it does offer you an additional slot to slide in an extra 120mm fan for added cooling, contributing to the overclocking headroom in that scenario.
BeQuiet! Dark Rock 4 build quality is simply unmatched at this monetary bracket, and the straightforwardly guided installation makes for an enjoyable experience. Upsetting the RGB lovers of our world, it does attract the non-RGB portion of our audience, oozing elegance and stealth with its unique black-coated design.
Utilizing a single tower heatsink with 45 cooling aluminum fins and a special ceramic coating on the exterior allows for excellent heat dissipation while producing minimal noise, aided by the six high-performance copper heat pipes.
Having excellent clearance to avoid disturbing your GPU and the first PCI-e expansion slot on your motherboard, we can safely recommend BeQuiet! Dark Rock 4 as the Best Air Cooler for Ryzen 9 5900X if you don't mind refraining from overclocking your processor and can digest the price tag.
Arctic Liquid Freezer II 240-A RGB AIO
Best 240mm AiO for Ryzen 9 5900X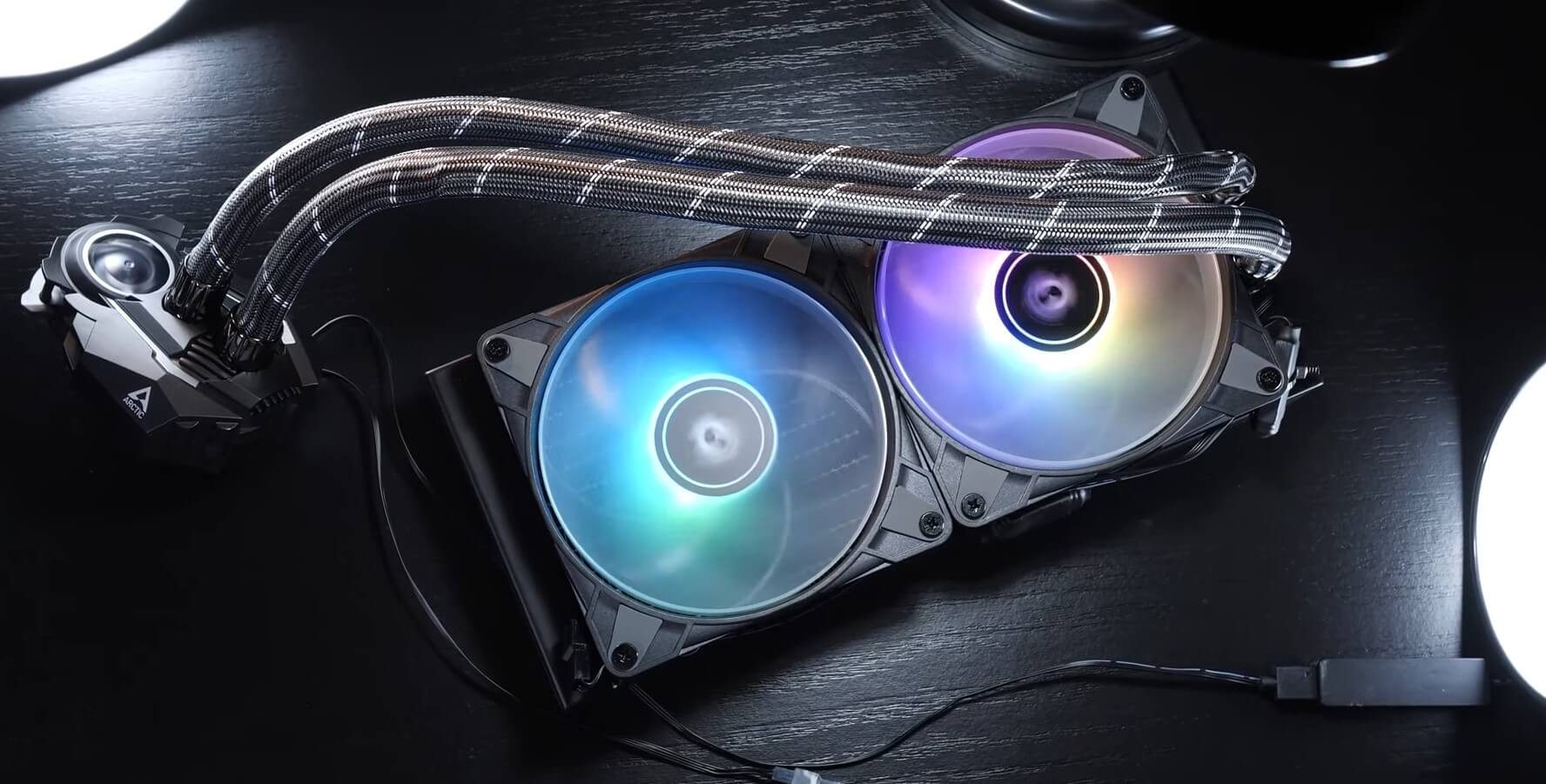 Specifications : Type: 240mm AIO Liquid Cooler | TDP: 250W | RGB: Yes | Fan: 2x Arctic P12 PWM RGB 120mm | Fan Speed: 200-1800 RPM | Socket Support: LGA 1700, LGA1200, LGA1150, LGA1151, LGA1155, LGA2011, LGA2066 and AM4
Pros
Great value
Performance comparable to 360mm AiOs
Silent under demanding workloads
six-year warranty
Cons
No user manual included
Plasticky average finish
Arctic, well known for being the producers of some of the best liquid coolers as well as the creators of one of the best thermal compounds on the market, have struck again, this time, with their 240mm AiO, which they've dubbed the Arctic Liquid Freezer II 240-A RGB.
Yes, we're delighted to inform you that as the self-explanatory name would suggest, the Liquid Freezer II 240 dazzles you with customized light shows as per your preference. Arctic has developed an award-winning in-house pump that displays record-breaking efficiency alongside the new A-RGB fans optimized to be operated at static pressure.
The new AiO from the Arctic is compatible with the full suite of RGB software, such as Asus Aura Sync, RGB Fusion 2.0 Gigabyte, MSI Mystic Light Sync, Asrock Polychrome Sync, and Arctic's addressable RGB system, to name a few. To quote another of the Liquid Freezer II 240-A RGB highlights, the AiO cooler incorporates a dedicated 40mm 'VRM' fan. The primary purpose is to quietly cool down the VRM on your motherboard or aid in poor airflow cases.
Arctic assures you that this 40mm fan is as durable as any other, going as far as to promise a replacement fan in the unlikely event this 40mm VRM fan would fail to function later down the line.
We see this quality assurance reasserted again, as Arctic has guaranteed an MTTF of 100,000 hours on the two 120mm fans, stamping on a six-year warranty on the side as well, giving you the peace of mind to know that the Arctic has got your back should anything out of the blue occur.
Things We Liked:
They claim to start with the proprietary pump that the Arctic has developed in-house. We agree that the Liquid Freezer II 240-A RGB manages to cool down your Ryzen 9 5900X using the premium class 38mm thick radiator with a high fin density that is connected via the 450mm long, high-quality fiber-reinforced EPDM tubing that allows installation in just about any PC form factor, from small PCs (be wary of the radiator thickness), to big tower sized PCs. Thus, you have to worry about refilling the compact water cooling system since the tubing prevents the coolant from evaporating.
Inching forward, we cannot praise the smooth VRM fan enough. On the outside, it resembles just an additional 40mm embedded PWM fan at the cooling block, and that's because it is. However, it is tweakable from 1000-3000 RPM. The Arctic promises us that this fan, despite its tiny size, is just as durable as any of its other offerings. As stated above, it promises a replacement fan in the unlikely scenario that the fan ceases to work, saving you from the need to replace the entire unit.
The Liquid Freezer II 240-A RGB ships with the pump and radiator ready to go, with all the necessary coolant pre-filled directly from the factory, encouraging a plug-and-play installation.
Moving on to one of the critical concerns with any AiO cooler, we're happy to report that the Liquid Freezer II 240-A RGB, with its two 120mm P12 PWM A-RGB fans, rivals some of the 360mm AiO solutions on the market as well, showcasing fantastic cooling performance while maintaining a moderately quiet profile around the likes of 32.6 dB(A).
These fans are specially optimized to operate at a static pressure as well, with an excellent speed scale ranging from 200-2000 RPM (1800 RPM on the radiator), meaning you could easily switch over to some passive cooling should you feel the need for it. The Arctic graciously increased the number of rubber bumpers on the unit, reducing vibrations by up to 95% providing some rattle-free cooling.
Thanks to the proprietary pump that the Arctic's come up with, the Liquid Freezer II 240 A-RGB has noticeably reduced humming and lower power consumption, chugging along around 2.3W-4.8W of power depending on the kind of workload you put the cooler through. The thicker than average 240mm radiator enables a higher fin density to be used, meaning that a more significant amount of water can be used in the circuit while also significantly increasing the cooling surface area.
We would also like to highlight the well-thought-out cable management system, which only requires you to attach two cables to the motherboard, one of which is the RGB cable to control the lighting.
The other is the fan connector, sporting a very clean aesthetic resultantly. The aRGB is seated at the aluminum top of the pump unit, while the lighting can be adjusted via the 5V RGB header on the motherboard to synchronize everything together.
Furthermore, the AiO is equipped with a high-density water microchannel and copper finish block. Last but not least, the Arctic Liquid Freezer II 240-A RGB provides you ample overclocking headroom for your Ryzen 9 5900X, managing to keep its own with more extensive AiO solutions from competitors while coming in at almost half the price tag, giving you a stellar bang for the buck.
The credit for this goes to the VRM fan as well, since that cools down the VRM and surrounding area by up to 15C, proving very useful in overclocking scenarios, preventing any kind of thermal throttling. Arctic includes its industry-leading Thermal Paste, the MX-5, to complement the AiO. Most importantly, should you feel the need to, you're able to unplug the VRM fan from the motherboard as well, driving down the already low noise level even more.
Finally, Arctic provides a standard and an offset mounting for your cooler. The offset mounting is a highly viable option since it aligns evenly with the hot spots of your Ryzen 9 5900X CPU to improve an already fantastic cooling performance.
What We Disliked:
If you haven't got the gist already, there's not much to complain about from This Ryzen 9 5900x Cooler, keeping in mind all of the positive aspects of the Arctic Liquid Freezer II 240-A RGB. However, that being said, we still feel the need to raise your attention about a couple of things, one being the fact that there is no user manual included in the packaging, prompting you to visit their website online to view the instruction guidelines as to how to install your cooling unit.
Adding on, there aren't any metal fittings on the pump, and neither on the radiator, while the silver cosmetic cover-up is made entirely out of plastic which slightly degrades the overall presence of the cooler.
What sets the Arctic Liquid Freezer II 240 apart from its competitors?
Arctic has squeezed in 360mm AIO performance in a chassis only 240mm long and left us agape with two Arctic P12 fans dazzling us with their A-RGB capabilities, configurable with all major motherboards' RGB software. Arctic graciously supplies 450mm of EPDM (Ethylene Propylene Diene Monomer) tubing, which naturally increases heat resistance and considerably reduces tubing wear.
The Liquid Freezer II 240's main highlight is the embedded 40mm VRM fan which goes a long way to help users keep temperatures down in overclocking scenarios. Arctic promises a free-of-charge replacement warranty on the VRM fan should it ever fail and stamps on a 6-year warranty on the entire unit itself to land the Arctic Liquid Freezer II 240 A-RGB in an entirely separate league of its own.
Who Should Get Arctic Liquid Freezer II 240-A RGB?
It has to be said there is just no other 240mm AiO solution on the market that does it quite like the Arctic Liquid Freezer II 240 A-RGB. With a separate VRM fan, a great light show to spice up your design, high-quality sleeving to prevent leakages and coolant evaporation, we would recommend this AiO as a worthy sidekick for your Ryzen 5900X, as we've seen for ourselves how well it competes with 360mm AiO offerings from competitors, blowing any other 240mm AiO unit out of the water, providing you the most clearance for overclocking, while still giving you the best value for your money.
Backed up by Arctic's good six-year warranty and fantastic customer service, it's safe to say you can't go wrong with the Liquid Freezer II 240-A RGB, which is precisely why we have crowned it the Best 240mm AiO Cooler for Ryzen 9 5900X. Words can't do this AiO justice.
You can also read our Arctic Liquid Freezer II 240-A Review.
ASUS ROG Ryujin II 360 AiO
Best 360mm AiO for Ryzen 9 5900X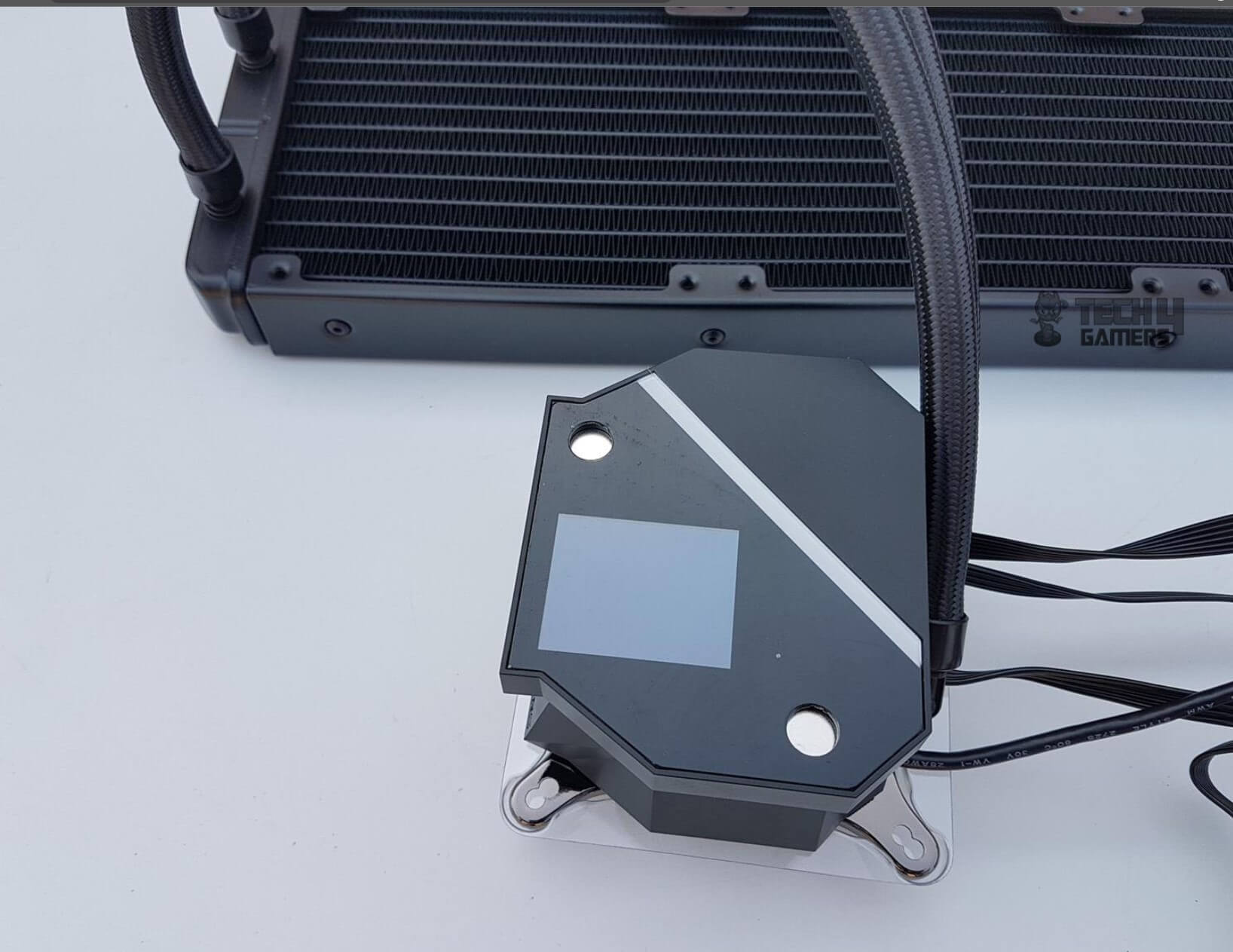 Specifications : Type: 360mm AIO Liquid Cooler | Pump: 7th Generation Asetek | Pump Speed: 800-2800 RPM | TDP: 250W | RGB: No | Fan: 3 x 120mm Noctua NF-F12 iPPC PWM | Fan Speed: 450-2000 RPM (10% +-) | Socket Support: LGA 1700, LGA1200, LGA1150, LGA1151, LGA1155, LGA2011, LGA2066 and AM4
Pros
3.5" LCD screen
Top-notch performance
Embedded VRM fan
Easy installation
Asus, one of the gaming industry's leading tech brands, needs no introduction at all. Known for coming up with the highest performing GPUs and motherboards, they're back at it again, this time, taking the covers off of what they have named the Asus ROG Ryujin II 360 AiO cooler, of which the main highlight is the relatively gigantic 3.5" LCD that is capable of displaying system statistics and customizable graphics such as GIFs even. Safe to say, it's the giant screen on an AiO cooler in the industry. You can read our ASUS ROG Ryujin 360 Full Review for more in-depth information.
Moving on, Asus has chosen to go with 3 of the high-performance Noctua NF-F12 PWM fans, which happen to be from their specialized lineup of Industrial Protected Performance Cooling fans (iPPC). These fans can ramp up to a maximum speed of 2000 RPM while also enabling the user to slow them down as low as 450 RPM, offering an excellent speed range.
At the heart of the Asus ROG Ryujin II, 360 is the new 7th Generation Asetek Pump offering a speed control range between 800-2800 RPM, which is connected to the whole unit via 380mm long rubber tubes which use high-quality sleeving, as is expected of a 360mm AiO at this price point.
Furthermore, Asus has installed an embedded fan under the screen. The primary purpose is to cool down the VRMs on your motherboard and provide some headroom for overclocking scenarios if you're feeling up for it. The fan is a 60mm PWM enabled one, capable of running as high as 4800 RPM, though Asus promises even then, the max noise level shouldn't cross 31.0 dB(A).
Also Read this: Best CPU Cooler For Ryzen 9 5950x
Concerning the 27mm thick radiator, it is built out of aluminum. The Noctua fans are surprisingly (in a positive way) dark black colored, rather than the mainstream brown we've come to expect from Noctua. As far as the water block is concerned, it is constructed using plastic with a copper base. The cold copper plate pays homage to a standard Asetek circular design language.
Rounding up this short overview, the Asus ROG Ryujin II 360 comes in pretty decent packaging, with the thermal compound pre-applied, out of the box, and ready to go. You also don't need to fret about powering the pump from a fan header or SATA cable as the juice is handled via Asus's powered ROG control box.
What We Liked:
Starting with the main selling point of the ROG Ryujin II 360, the 3.5" LCD is a head-turner, possessing the capability to proudly display your system stats, including but not limited to your CPU and GPU temperatures. Ideally, the LCD is designed for horizontal viewing though a vertical mount is also supported.
Suppose you remove the magnetically attached block cover, the LCD mount, and two cables. In that case, you'll be able to see the 60mm embedded fan capable of running at 4800 RPM to offer enhanced VRM cooling by providing optimized airflow (19.41 CFM) for the CPU socket.
Unsurprisingly, the fan is manually and automatically controllable as well. As mentioned before, the 3x Noctua NF-F12 fans are also tweakable from 450-2000 RPM, offering excellent passive cooling possibilities while keeping their pace if you decide to push the boundaries. Asus stamps on the ROG logo on the side of the radiator, adding to the overall gamer aesthetic, while the 380mm long-sleeved rubber tubes offer a satisfactory degree of flexibility.
Moving onwards to the installation process, a 3-to-1 fan splitter is included for managing those 120mm blowers from a single header on your motherboard. Alternatively, users can also deploy the Asus-provided SATA-powered fan hub. This box connects to the system via a micro USB cable deploying from the pump cover (which itself also connects via a USB 2.0 header to the motherboard).
SATA power is driven to the control box, and this permits control over four four-pin fan headers in addition to four A-RGB headers from a single input; when coupled with Asus' Armoury Crate software, this fan control box provides a whole slew of features, such as offering you the capability to manage more fans than just those supplied with the CPU cooler. You can also tweak the speeds of any of the fans using this software.
If we talk about the physical installation process itself, it is very straightforward, as we have come to expect from modern Asetek systems paired with the Ryzen 9 5900X CPU. Assuming you can hold the backplate in position while tightening the front side standoffs, the installation can be completed in a matter of minutes.
Keep in mind you might need to remove the oversized pump block plastic housing when tightening the Asetek CPU block in place but rest assured, this is very easy thanks to the well-designed magnetic mount. The final support is entirely secure. With just the two easy-to-hide cables leaving the block, the overall install looks very neat, especially if you are a fan of an all-black aesthetic with no RGB lighting, other than the 3.5" LCD display, of course.
What We Disliked:
To begin with, we feel that the Asus ROG Ryujin II 360 doesn't justify its unusually high price tag since there are numerous offerings from various competitors who offer more compelling 360mm AIO cooling solutions, comparatively speaking. The 3.5" LCD display is about the only thing that sets apart the ROG Ryujin II 360 from rivals, but even that doesn't warrant the price point this CPU cooler has been launched at.
Secondly, the massive 78.15 x 87.5 x 81 mm plastic housing is massively oversized when paired with the needlessly bulky pump block design making the whole package unnecessarily cumbersome. We also feel the need to highlight the absence of RGB, which more toned-down enthusiasts might appreciate; the omission still surprises us especially considering the Asus ROG lineup is very gamer-centric.
Asides from that, even though the unit comes with pre-applied thermal paste, there is no additional tube of thermal compound, making a future reseating procedure slightly problematic. On top of this, the Asus Armoury Crate software suite, while offering some exciting features, is necessary to be installed to have any kind of manual control over the functionality of your fans, including whether you would like to run the fans and pump at full speed, making it an additional install, although, to be fair, chances are you are most likely using some other Asus components as well such as the motherboard in which case, the software should already be present on your PC and ready to run.
Most importantly, in terms of performance, while enabling slight to moderate overclocking possibilities, we feel that Asus hasn't utilized the space very efficiently, as there are a few 240mm AiOs on the market, which, while not being able to match the Asus ROG Ryujin II 360 in terms of actual cooling performance, do tend to get pretty close to its whereabouts, making the price tag more difficult to ingest.
What sets the ASUS ROG Ryujin II 360 apart from its competitors?
Asus has implemented a 7th Gen Asetek Pump in the ROG Ryujin II 360, complemented by a unique 3.5" LCD, which can display your system stats and customized GIFs. Asus has included a reinvigorated 60mm VRM fan, which helps to yield you as much overclocking headroom as is possible.
The trio of Noctua's 120mm NF-F12 iPPC fans ensures that the Ryujin II 360 will easily withstand the thermal output of your Ryzen 9 5900X no matter how high the CPU clocks are. Furthermore, the Ryujin II 360 offers a very intuitive installation experience, coming with pre-applied thermal paste.
Finally, Asus' own Armoury Crate software for extended configurations along with a 6-year warranty cements the Asus ROG Ryujin II 360 as the Best 360mm AIO for Ryzen 9 5900X
Verdict:
Suppose breaking the bank isn't an issue for you, and you prefer the all-black aesthetic. In that case, the Asus ROG Ryujin II 360 is the way to go if you're on the lookout for the best 360mm AiO since no other AiO unit on the market offers a 3.5" LCD display, combined with the host of capabilities the Asus Armoury Crate software provides you, including the ability to run A-RGB lights on your AMD Ryzen 9 5900x cooler, which you will have to buy separately. This would prove to be a great companion if you already have other Asus accessories such as a motherboard or GPU, completing the ROG aesthetic.
Watch out for space constraints, though, since it is one massive AiO unit. Assuming you're not attempting to set world records in the overclocking department, you're good to go with the Asus ROG Ryujin II 360, backed up by Asus's six-year warranty earning a coveted spot on our list as the Best AiO Cooler for Ryzen 9 5900X.
NZXT Kraken X53 RGB
Best RGB CPU Cooler for Ryzen 9 5900X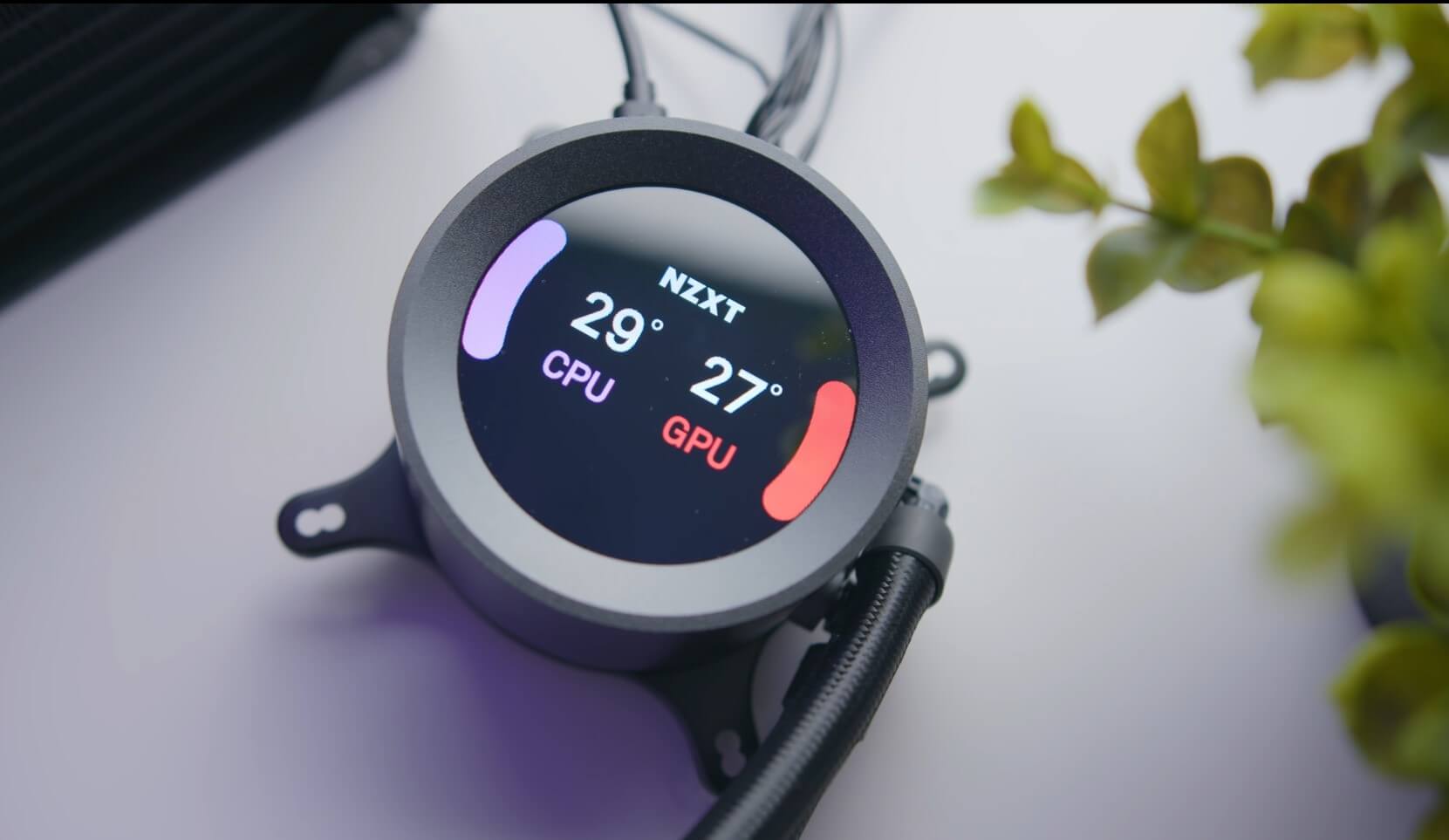 Specifications : Type: 240mm AIO Liquid Cooler | Pump: 7th Generation Asetek | Pump Speed: 800-2800 RPM | Tube Length: 400mm | RGB: Yes | Fan: 2 x 120mm Aer RGB 2 PWM | Fan Speed: 500-1500 RPM | Socket Support: LGA 1700, LGA1200, LGA1150, LGA1151, LGA1155, LGA2011, LGA2066, AM4, TR4 (bracket not included)
Pros
Best RGB setup in its class
10% larger infinity mirror
360 degree rotatable top
Cons
Extension required for fan usage
Software fan control disabled
NZXT, famous for producing some of the Best RGB CPU Coolers, is here to mark its presence again with their NZXT Kraken X53 RGB, which looks heavenly straight off the bat. It is a 240mm AIO RGB CPU cooler, to be more specific, using a 7th Generation Asetek pump which is connected to the whole system via a pair of 400mm long nylon braided tubes. The popular infinity mirror is here to stay, with NZXT increasing the screen size by 10%, allotting more room for your customizable graphics to be displayed on the circular display, such as your CPU stats. For the first time, the top is 360 degrees rotatable within 30 degree increments, enabling you to have the NZXT logo in the correct orientation no matter which way you choose to mount the Kraken X53 RGB.
NZXT has gone ahead with 2x Aer RGB 2 120mm blowers here, which produce a maximum airflow of 52.44 CFM, with a static pressure of 0.15-1.35mm-H2O, said to have only 33 dB(A) of noise even at full speed. According to your preference, the Asetek pump can be tweaked between 800-2800 RPM.
The NZXT Kraken X53 RGB uses an aluminum radiator sporting a high FPI (Fins Per Inch) count, which is 21-22, standard for Asetek. The radiator does sport the NZXT name on both sides, and as expected, is painted black. NZXT's CAM software suite provides you ample versatility in the RGB department, and you will need it anyway to control the speed of the Asetek pump.
However, NZXT had to make several sacrifices to the best offerings from competitors to produce their best RGB cooler for Ryzen 9 5900X, such as removing fan control, reducing airflow, and choosing a pair of very understated fans. This cooler places so much emphasis on RGB lighting. The looks come at the performance price, but let us briefly discuss these factors in further detail.
Things We Liked
Right off the bat, it has to be said; no one else does RGB the way the NZXT Kraken X53 RGB does it. Integrated with the user-friendly controls via NZXT CAM, the cooler hosts a dazzling light show customized to your personal preferences. There is an NZXT RGB connector included in the packaging for any other NZXT RGB accessories that you would like to access (which, of course, are sold separately). The rubber used with the nylon braided tubes is ultra-low evaporation, preventing you from ever needing to refill the NZXT Kraken X53 RGB with coolant. The rotatable cap measures 80mm in diameter and 55mm in height has a top cover made out of brass, but the window covering the NZXT logo and infinity mirror is plastic.
This assembly includes nine LEDs into the head unit and its ability to spin 360 degrees. The last bits about the head unit fall into the RGB output to which the power supplied is 5V, and we are shown that it is possible to connect four 10 LED strips, five Aer fans, or six in total, somehow mixing fans and strips. In addition, NZXT highlighted improved synchronization of lighting modes alongside the CAM-controlled pump and LED control.
The installation process is straightforward for AMD systems thanks to the 400mm long tubes and a detailed user manual with step-by-step instructions. The NZXT Kraken X53 RGB ships in recycled cardboard packaging, classifying all the individual parts making distinct, separate components easier. The more excellent ships with the Intel mounting bracket out of the box, but it can be easily twisted and removed so that it can be swapped with the AM4 bracket for your Ryzen 9 5900X.
Furthermore, the cold plate is constructed using copper, while the lower portion of the housing is plastic. The cold plate's surface is convex, with the highest point being the center. The machine marks are still visible, leaving a slick circular pattern and increased surface area ever so slightly versus a finely polished surface. Coming back to the infinity mirror, once you power everything up, the head unit will come to life with the infinity mirror ring around the outside, showing an NZXT logo in the center. Both can be changed via CAM to anything RGB, individual of each other. There are various preset mode options and a vast array of colors to pick from.
Things We Disliked
Compared to the previous non-RGB Kraken X53, 2 120mm P120 fans were being used, which spun at a maximum speed of 2000 RPM, producing a max airflow of 73 CFM, with the highest static pressure 3mm-H2O. NZXT had to reduce the fan speeds by 25%, the airflow by 28%, and the static pressure by 55% to go RGB, which, according to our extensive in-depth research and analysis, speaks for itself in the performance department.
The NZXT Kraken X53 RGB provides satisfactory performance for a CPU cooler but isn't high performance from any angle since it does not provide any overclocking headroom, which we feel is a limitation, especially at the price point NZXT is commanding for the Kraken X53 RGB.
Moving on, NZXT has disabled fan software control, forcing you to go into your BIOS settings to tweak your Aer RGB 2 fans manually. We can safely say it isn't worth the effort, since ramping up the fans to max speed only ekes out a difference of a solitary degree Celsius or two to three, at best.
When NZXT was questioned about this omission of user control, we were told there are plenty of headers on the ATX motherboards, or we could also choose to purchase a fan hub from them so that we can get back what is supposed to be a standard feature on premium RGB AIO coolers like the NZXT Kraken X53 RGB.
Long story short, this is one of the side effects of prioritizing RGB over actual functionality and cooling performance. Also, the fans aren't directly connected, requiring you to use an extension that further validates the anti-functionality claim we make above.
What sets the NZXT Kraken X53 RGB apart from its competitors?
NZXT has perfected its claim to fame, i.e., the RGB capabilities NZXT coolers are known for. The Kraken X53 RGB reveals the best lighting setup in its class of CPU coolers, further complemented by a 10% larger Infinity Mirror, which now is thankfully rotatable through a full 360 degrees at 30-degree intervals. Courtesy of NZXT, you won't have to see the CPU Cooler mounted on with an inverted logo.
Moreover, NZXT's CAM software paves the way for comprehensive RGB controls. Adding on, the Kraken X53 proves user-friendly as far as installation is concerned with a detailed user manual. Packaged with a 6-year warranty, the NZXT Kraken X53 RGB is here to stay as the Best RGB CPU Cooler for Ryzen 9 5900X.
Who Should Get NZXT Kraken X53 RGB?
The NZXT Kraken X53 RGB is unparalleled in its striking appearance and mind-blowing lighting capabilities. Paired with the 10% larger Infinity Mirror and the 360 degrees rotatable top, there's nothing like it on the market, and we're a massive fan of NZXT's design language, even though we feel the fans are a bit understated.
However, looks don't count for everything. We've been able to establish that the Kraken X53 RGB will struggle if you push the boundaries thanks to reduced airflow and static pressure, something NZXT was unable to avoid while rigging up the cooler for RGB functionalities. Coupled with the unfortunate omission NZXT has made in terms of disabling fan control via CAM, it just isn't worth the time to delve deep into your BIOS settings and manually tweak the fan speeds just to snag a degree or two worth of extra cooling.
Kudos to NZXT for keeping the installation process easy for AMD systems with comprehensive guidelines and step-by-step instructions, backed by NZXT's six-year warranty and an MTTF of 60,000 hours. If you don't mind paying big bucks and RGB is your top priority, the NZXT Kraken X53 RGB is the way to go since it is the Best RGB Cooler for Ryzen 9 5900X. Nothing else even comes close.
Noctua NH-D15S Chromax.Black
Best CPU Cooler for AMD Ryzen 9 5900X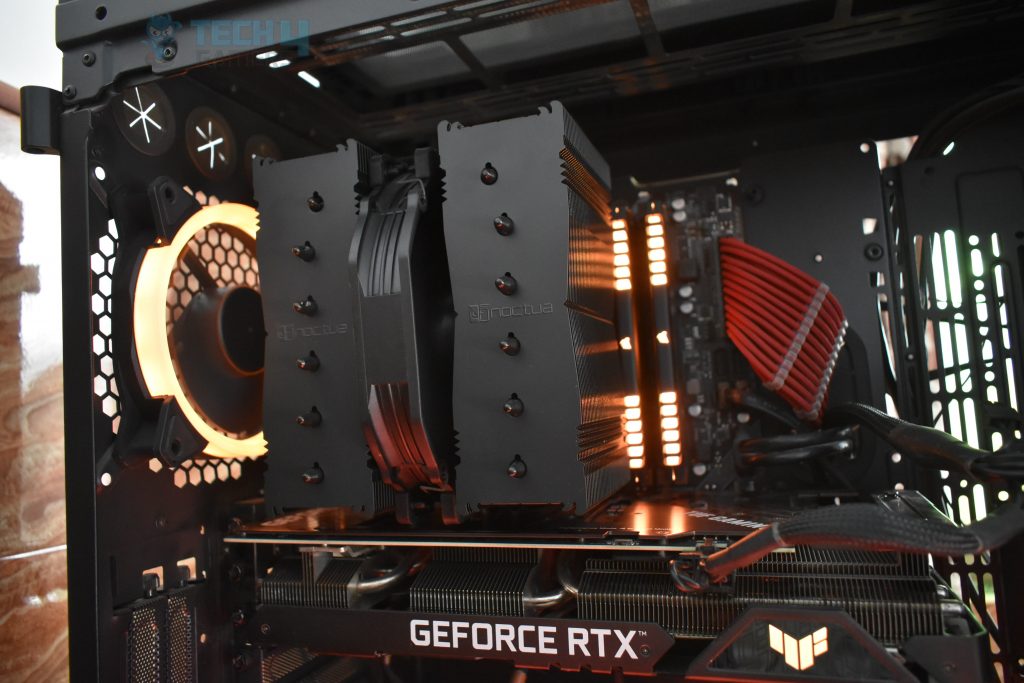 Specifications : Type: Dual-Tower Air Cooler | TDP: 200W | Heat Pipes: 7x 6mm | RGB: None | Dimensions: 135mm x 150mm x 165mm | Fan: 1x NF-A15 140mm | Fan Speed: 300-1500 RPM | Socket Support: LGA 1700, LGA1200, LGA1150, LGA1151, LGA1155, LGA2011, LGA2066 and AM4
Pros
Best in class performance
Gorgeous black color
Asymmetrical dual tower design
Easiest installation ever (SecuFirm 2)
NT-H1 Enthusiast grade thermal compound
Unmatched clearance and compatibility
Cons
Slightly expensive
Low Noise Adaptor decreases fan speed
Noctua is well established for producing fans of such quality even their rivals are forced to use them to attempt to outperform them. Second, to none, Noctua delivers the absolute best-performing fans in the industry, so there is no surprise at all about the fact they're being featured on our exclusive list regarding the Best CPU Coolers for Ryzen 9 5900X.
Noctua released the 'S' version of the NH-D15 in the new breath-taking Chromax.Black accent. The 'S' basically refers to the Noctua NH-D15 Chromax. Black is compatible with almost every PC form factor, providing unmatched clearance for RAM modules, GPU fittings, and the space above the first PCI-e slot. You can usually find the M.2 SSD slot on typical motherboards nowadays.
Read Our Noctua NH-D15 Chrome Black Full Review.
Noctua is using their NF-A12 140mm PWM blower here, which, again, is unparalleled, providing best-in-class performance, especially when you put it together with their proven, award-winning asymmetrical dual tower heatsink design. At the same time, the Chromax. Black special coating with the black fan and the black heatsink combines these assets with a sleek, stealthy look.
Topping off the whole package with the renowned and undefeated SecuFirm 2 multi-socket mounting system, which also provides you the ability to add secondary 120mm fans such as the NF-F12 or a 140mm fan with 120mm mounting holes like the NF-A12 later on for turbocharged cooling, Noctua's enthusiast-grade NT-H1 thermal compound and a full six-year manufacturer's warranty, the NH-D15S Chromax. Black has got a lot going for it.
Things We Liked About Noctua NH-D15-S
First, the new 'S' version, thanks to its slight modifications for added compatibility, fits better on small ITX form factor motherboards and those motherboards with a CPU socket that may be too close to the first PCI-e slot, which is usually occupied by GPUs—the Noctua NH-D15S Chromax.Black uses the same asymmetrical dual tower heatsink design and single NF-A15 PWM fan, which has a speed range varying between 500-1500 RPM, staying true to the NH-D15's successful formula of fusing dual tower performance with excellent RAM, casing, and PCI-e compatibility.
The air cooler is black from head to toe, featuring a black coated heatsink, black fans (as compared to the mainstream brown we've come to expect from Noctua) with black anti-vibration pads, black fan clips, and black mounting parts (which include a metallic black plate and a metallic screwdriver alongside a second pair of metallic fan clips, should you feel the need to slot in a second fan to boost your cooling performance), making it feel homely in all blacked out builds and easily integrable with other color schemes.
The components of the SecuFirm 2, which include the mounting arms, plastic spacers, bolts, and nuts, are also covered by the same black coating as the rest of the heatsink; such is Noctua's attention to detail—using the optional NA-HC3 and NA-HC4 heatsink covers and the NA-SAVP3 anti-vibration pads available in black, blue, green, red, yellow or white, making the NH-D15S Chromax.Black is fully customizable to fit popular build color schemes such as black, red, white, and the likes.
The differentiating factor compared to the NH-D15 is that the 'S' version uses an off-set, asymmetrical layout with just a single NF-A15 fan extending below the fin stacks to provide massive airflow over the surrounding motherboard components and heatsinks.
The dual tower heatsink design uses approximately 45 aluminum cooling fins on each of the two. However, another differing key point is that the 'S' variant has its lower 7 cooling fins trimmed down to almost half the usual size, and this adjustment is replicated on both sides of the heatsink. Thanks to its recessed lower fins, the NH-D15S provides 65mm clearance for RAM modules with tall heatspreaders or RGB illumination, making it compatible with the most top-end modules on the market.
This allows the NH-D15S to provide state-of-the-art heatsink performance while maintaining superior RAM and PCI-e compatibility, even for those systems which possess RAM slots on both sides of the CPU socket. This is also why the NH-D15S has a lower noise output of only 24.6 d(B)A when running at its full speed of 1500 RPM.
Noctua has also provided a Low Noise Adaptor which reduces the noise levels to 19.2 d(B)A and reduces the maximum fan speed to 1200 RPM. This does result in the NH-D15S switching to a virtually inaudible profile while maintaining temperatures just like any other air cooler, if not better.
The Noctua NH-D15S Chromax.Black uses a total of six copper heat pipes, of which each one has an outer diameter of 6mm, which make direct contact with the baseplate of the Ryzen 9 5900x cooler as these heat pipes are soldered directly to the underneath of the baseplate, resulting in a sturdy bond as well as providing the most efficient heat transfer, away from the CPU surface and into the heatsink as compared to traditional coolers whose fins are press-fitted to the heat pipes resulting in the fit loosening over the years leading to reduced performance.
When paired with the easiest installation process ever, the SecuFirm 2 mounting system, Noctua ships you the backplate with the bolts pre-installed, requiring you to place it on the back of the motherboard and place the plastic spacers at the front. You need to take the mounting arms and put those over the spacers. After that, just grab 4 metallic nuts and tighten those over the mounting arms, which will hold everything together.
Lastly, you just need to get the heatsink in place over the CPU and screw it in over the mounting arms, and you're done already. You can install the fan in the middle of the heatsink and connect it to one of the fan headers on your motherboard, preferably the one that is labeled CPU fan.
Adding some more details, the fan's cable is plenty long enough to reach the CPU fan headers located around the CPU sockets of the motherboard. Moreover, the cable has high-quality sleeving and a 4 pin PWM connector for delivering the power to the fan, enabling the motherboard to control your fan speeds automatically as well.
The NF-A15 fan uses Noctua's SSO2 Bearing system, which is the best, backed up by Noctua's mind-blowing MTTF of 150,000 hours alongside their six-year warranty. There are rubber pads on both sides of each of the corners of the fan bracket to dampen any potential vibrations. Featuring sophisticated aerodynamic design, flow acceleration channels are also present on the propellers, improving airflow and reducing the fan's total noise production.
Speaking of the copper heat pipes once again, the endings are entirely exposed, but these have been machined to appear completely symmetrical, a rare thing these days but one which does compliment the overall appearance of the heatsink, The baseplate (which is the only part not covered by the black coating) is made out of nickel-plated copper, having a small surface that reflects everything just like a mirror.
A smoother surface on the baseplate means that the spread of the thermal compound will be better and more even, and it looks elegant on top of that. If we talk about thermal paste, we feel it is of paramount importance that we inform you Noctua includes a tube of their enthusiast-grade NT-H1 thermal compound, which happens to be the industry-leading choice for gamers and overclockers, providing minimal thermal resistance, excellent ease of use, and outstanding reliability setting a benchmark for premium-quality thermal compounds.
Drawbacks
If you haven't been able to guess already, we haven't been able to find much fault with the Noctua NH-D15S Chromax.Black. Nonetheless, if the pricing had been just a tad bit lighter on the pocket, that would've been the icing on the cake for Noctua, however, considering in mind all the NH-D15S Chromax.Black has to offer; we really can't complain much since there is no other cooler in the same ballpark at this price bracket.
Feeling picky, we would also have liked to see the Low Noise Adaptor work without reducing the fan speed at all since it does a marvelous job at remaining whisper-quiet while not displaying any noticeable jump in CPU or VRM temperatures.
What sets the Noctua NH-D15S Chromax.Black apart from its competitors?
Noctua excels yet again, demonstrating peerless performance using an asymmetrical dual-tower heatsink design, which is easily installable, thanks to the proven SecuFirm 2 Mounting System. Noctua's prosumer NT-H1 thermal grease supplements the NH-D15S's already splendid performance, coupled with the best-in-class clearance and universal compatibility that the NH-D15S offers.
Additionally, it boasts a virtually inaudible sound profile with the help of the dedicated Low Noise Adaptor, rounded off by the breath-taking black coating applied to the whole unit. Resultantly, the Noctua NH-D15S Chromax.Black remains the choice of enthusiasts, gamers, and professionals since it offers ample headroom for overclocking, backed up by Noctua's mind-blowing 150,000-hour MTTF and exemplary 6-year warranty.
Should You Get Noctua NH-D15S?
We could go on and on about the Noctua NH-D15S Chromax.Black, as you might have thought already. The tested asymmetrical dual tower heatsink design, the premium 140mm NF-A12 blower with flow acceleration channels, the special Chromax.Black coating on almost every component of the 5900x air cooler, the reputed SecuFirm 2 mounting system, the enthusiast-grade NT-H1 thermal compound, the Low Noise Adaptor, the spectacular RAM and PCI-e clearance/compatibility, and of course, most importantly, the outstanding performance.
Keeping in mind this is essentially speaking an air cooler, what's not there to love about this gorgeous offering from Noctua? The answer is nothing, which is why we have no problem recommending the Noctua NH-D15S Chromax.Black as the Best CPU Cooler for Ryzen 9 5900X In 2023. It truly is a match made in heaven.
Competition
Did the previously enlisted Best CPU Coolers for Ryzen 9 5900X not live up to your expectations? No worries, we've given a shoutout to all the units that couldn't make it to our highly selective list of the Best Ryzen 9 5900X CPU Coolers but maintain their dignity as respectable alternatives. The cherry on top, we will continuously refine the following list as time goes on and worthy candidates appear.
Xigmatek Aurora 360
The Xigmatek Aurora 360 is a 360mm AIO that sports an extremely high TDP of 450W, using a Ceramic Axle Bearing along with an 8-pole motor to sustain a high fluid flow rate while maintaining a virtually inaudible noise profile, measured at a maximum of 27 dB(A), supplemented by three of Xigmatek's reputed AT120 (120mm) fans. These fans also have addressable LEDs built into 11 of their white fan blades, which have frosted white diffusers for enhanced transparency and RGB distribution.
As a result, the Xigmatek Aurora 360 is a top-of-the-line 360mm AIO that wins our confidence both from a performance and a longevity aspect while maintaining a low price point compared to other 360mm AIOs. Generally speaking, it will still be expensive for a Ryzen 5900X cooler but offer maximum performance at the same time. Check out our hands-on review of Xigmatek Aurora 360, where we dive into complete detail.
Noctua NH-L9a-AM4
A much-requested variant of the famous NH-L9i Chromax.Black, and our objective pick for the Best Low Profile CPU Cooler in 2023. Noctua has graciously catered to the AMD portion of our audience with the NH-L9a-AM4, tailored to precisely fit AMD motherboards out of the box, offering almost identical performance, compared to the Noctua NH-L9i, at the same price.
Running at the heart of the NH-L9a-AM4 is 1 of Noctua's NF-A9x14 HS-PWM Chromax.Black blower, a 92mm fan that's capable of ramping up to 2500 RPM, integrated with Noctua's groundbreaking flow acceleration channels, Stepped Inlet Design, and Inner Surface Microstructures, all of which work together to optimize airflow, reduce vibrations, and enhance cooling performance to maintain optimal heat dissipation with a whisper-quiet sound profile, courtesy of the Low Noise Adaptor (LNA).
The Noctua NH-L9a-AM4 Chromax.Black is, as the name suggests, treated with the exclusive black coating from head to toe except for the nickel-coated copper cold plate. Reinforced by the previously mentioned SecuFirm 2 Mounting System, the same NT-H1 thermal grease, a dependable 6-year warranty, the NH-L9a-AM4 has a lot going for it, mainly because it boasts an ultra Low Profile form factor with its height (with fan) coming in at a maximum of 37mm.
Check out our detailed review where we cover the Noctua NH-L9a-AM4 via our extensive analytics with exclusive hands-on experience coupled with in-depth, real-world benchmarking.
Noctua NH-L12S
Another ground-breaking innovation from Noctua, the NH-L12S strives to deliver performance comparable to that of a conventional high-profile air cooler or even a 120mm AIO, albeit with a height of 70mm, which may result in some clearance issues with DIMM slots or GPU fittings if you happen to be using Small Form Factor (SFF) PCs or a Mini-ITX chassis.
On the upside, the NH-L12S should, in theory, outperform its relatively under-performing NH-L9i & NH-L9a-AM4 siblings since the NH-L12S has a larger fan for improved airflow as well as increased surface area for advanced thermal efficiency. Of course, Noctua bundles the SecuFirm 2 mounting kit, 6-year warranty, NT-H1 thermal grease, all the exceptional accessories you'd expect from a Noctua CPU Cooler.
As such, feel free to look at our individual review where we go hands-on with the Noctua NH-L12S, putting it to the test. The review will spill the beans on what the box's contents look like and explain how the installation process is supposed to go.
How We Chose The Best CPU Cooler for AMD Ryzen 9 5900X
Selecting the Best CPU Coolers For Ryzen 9 5900X is definitely not for the faint-hearted, since you'll need to take several factors into consideration. Nonetheless, you're the one who has to make that decision, so we've mentioned a couple of key factors to brood over while attempting to complete your quest to handpick the Best 5900X CPU Cooler.
Type
Every CPU cooler is different in some way from the other cooler, since they tend to possess various forms of sizes and shapes. There is a vast variety of distinguished units available in the open market. The most frequently and commonly used Best coolers for Ryzen 5900X are the liquid (AiOs) and air coolers, which, judging by their name, is pretty self-explanatory, as in, these CPU coolers tend to utilize liquid and air to cool your entire gaming PC. Both these types have different features which set them apart from each other.
Air coolers would always be quieter and less space-consuming, whereas AiO (Liquid) coolers would provide better cooling but take up more space. It all comes down to your personal preference and requirements in the end.
Budget
While an AiO cooler would always produce better results as compared to a dedicated air cooler, they'll also always be more expensive than an air cooler. If you're on a restricted budget, your best bet would be to go for a dedicated air cooler, since even the most premium performance air coolers will always be cheaper than the cheapest AiO coolers. If money is of no concern, you could always choose an AiO cooler to keep things even chillier inside your PC.
Efficiency
While deciding on the Best CPU Cooler for Ryzen 9 5900X, you should always remember to look out for the efficiency of the cooler you're planning to get since every CPU cooler has a specified efficiency rating i.e. a certain TDP that they can handle.
If the rated TDP is below the TDP of your Ryzen 9 5900X which can range from 105W to even 150w depending on your overclocking settings and workload, the cooler will prove to be insufficient meaning you will surely be experiencing thermal throttling due to extensive overheating and in extreme cases, a potential force shut down in order to protect the life cycle of your internal components, in this case, the CPU itself.
Compatibility
Not all coolers will be compatible with the Ryzen 9 5900X, since every cooler tends to have a different mounting procedure as well as varying dimensional aspects which is why you should definitely keep this factor in mind because even if you buy one of the Best CPU Coolers for Ryzen 9 5900X with great cooling performance and efficiency, it won't be of any use if you'll be unable to mount it to your 5900X. Improper mounts can also result in deteriorated performance and potential overheating scenarios.
Performance
An essential aspect of any CPU cooler would be the relative performance it offers. The fan's specs, including the max RPMs alongside the amount of airflow it produces, are of utmost importance, not to mention the size of the heatsink and the FPI (Fins Per Inch) count (the higher, the better).
If you're looking for the Best AIO (All-in-One) CPU Cooling Solution for Ryzen 9 5900X, you should keep the pump speed in mind as well. Generally speaking, the higher the pump speed, the cooler your CPU will run. Some of the Best AIOs will even offer dedicated VRM fans for keeping the VRMs (Voltage Regulator Module) on your motherboards cool, which helps within heavy usage/overclocking scenarios.
Noise: Smaller fans have a tendency to be noisier, so it's for the best if you choose a Ryzen 5900X cooler with a larger fan since it'll be able to spin at lower speeds but produce the same amount of airflow, albeit with far less noise.
Aesthetics and Build Quality
Manufacturers tend to distinguish their respective offerings for the Best AMD Ryzen 9 5900X CPU Coolers by offering their unique take on the cooler's aesthetics and build quality. Some brands might opt for more premium construction and dazzling RGB capabilities, leading to a higher price tag. In contrast, others may favour a slightly unexotic or more practical approach, sacrificing their design flair for perhaps improvised cooling performance and, with luck, a lower cost price.
Manufacturer Support
We make it a habit of closely scrutinizing each of the Best CPU Coolers for Ryzen 9 5900X listed in terms of after-sales customer service care provided by each manufacturer, keeping in mind past experiences and track records while also inspecting the MTTF of individual components such as the fan, pump (in the case of an AIO), and the entire unit itself. Of course, we don't let warranty periods slide by, actively encouraging manufacturers to stand by their products for an extended period of time, often up to 6-years.
Why Trust Tech4Gamers?
With over twelve years of experience in the tech and gaming industry, our dedicated team has been refined consistently to produce a potent group of knowledgeable individuals who are known to relay the most accurate information to our valued consumers, thanks to the extensive research and reviewing we conduct before we publish every piece of journalism.
In addition to this, we have been featured specifically on majority of the top-notch gaming and tech brands, such as Gigabyte, MSI, Asus, DeepCool, just to name a few, as a reliable and trusted source for Hardware and Technology. Subsequently, we instill confidence in our esteemed consumers, who may rely on us to cater to them with the best advice for building, customizing, and modifying their personal gaming computers.
Frequently Asked Questions
Does the Ryzen 9 5900X come with a stock cooler?
Unfortunately, AMD does not provide a thermal solution, or a cooler, out of the box and ready to go, so you will need to choose an aftermarket cooler to keep things cool.
Does the Ryzen 9 5900X overheat?
Yes, and no. AMD has acknowledged the fact that users may experience overheating/high temperatures reaching the likes of 90+ degrees Celsius, and they have stated these are typical temperatures for this processor, which won't affect the life cycle of the CPU.
Do you need an aftermarket CPU Cooler for Ryzen 9 5900X?
Yes, you definitely need one, due to, as stated previously, things can pretty hot under the hood with this specific CPU which is why an aftermarket CPU cooler is definitely recommended to increase longevity and performance.
What type of cooler is best for Ryzen 9 5900X?
This mainly boils down to your personal preference, as both, air, and AIO liquid CPU coolers tend to come pretty close to each other in terms of performance. With liquid coolers, you risk water damage to your internal components in case of a leakage or malfunction whereas with air coolers, you risk inadequate thermal paste installation, and improper cooler seating leading to subpar cooling performance. An AiO cooler attempts to provide you with the best of both worlds at a reasonable price point, but they'll still always be costlier than a dedicated air cooler.
Related Articles: Best LGA 1700 CPU Cooler
Was our article helpful? 👨‍💻
Thank you! Please share your positive feedback. 🔋
How could we improve this post? Please Help us. 😔