Processor chipmaking giants, Intel and AMD, are constantly improving their CPU performance to overtake each other in the PC market. Higher clock speeds and high-density CPUs are exhibiting an increase in the temperature of these CPUs. However, the majority of the users do not wish to compromise on the performance packages delivered to them and still want to see improvements in this sector. High temperatures in a chip cause thermal throttling, affecting its performance. In most Budget cases, aftermarket CPU coolers are necessary for countering these high temps. For the same reason, we have gathered the Best Budget CPU Coolers, making your purchase decision easy for CPU coolers easy on your pocket.
Like any other electro-mechanical, these CPU coolers are produced by different companies and set up with different configurations. Each targets a different line of users in tandem with their requirements. The difference in specifications leads to an understandable price variation.
Going through all available options in the market for a cooler that matches your requirements will be a hassle for you. So, we take it upon ourselves to present you with carefully and comprehensively researched products that might fit the description of your perfect cooler.
What are Budget CPU Coolers?
CPU coolers are a significant category on their own. Like all other products, they also fall into multiple price ranges for each type of user base. However, due to numerous options provided by the manufacturers and vendors, it is challenging for a newbie to decide when buying a CPU cooler for themselves, as each category is filled with unique options. There are numerous variations considering the CPU coolers based on CPU compatibility, GPU and RAM clearance, and performance, among others,s. Considering multiple possibilities, choosing the Best Budget Coolers In 2023 wasn't easy. Our team had to take many steps to reach the final moment of bringing the top budget coolers, categorized according to their traits.
Firstly, we had to determine what we meant by the word 'Budget.' After a thorough analysis of the market and a clear view of the variety of options available in the space, a price range of less than $110 was finalized for the Budget category. This guide aims to facilitate the users falling in the bang for the buck category that reaches out for the best options they can get for less, and these users cover the major segment of the market.
These users want an adequately build and performing CPU cooler on a budget that can extricate them from the thought of buying an expensive CPU Cooler for their budget build. After defining the budget category, we started exploring our options according to each famous CPU Cooler manufacturer like DeepCool, Cooler Master, and Noctua.
Benefits of Budget CPU Coolers
Stock coolers can surely get a lot done regarding the cooling of processors from both AMD and NVIDIA camps. However, a slight overclocking and the noise from their fans will make you think otherwise. Budget CPU coolers make it worth anyone's while due to their prices. A little extra expenditure on your CPU cooler provides you with a better cooling solution and less noise from the fans. Without an excellent cooling solution for your PC, the system itself will take your CPU chip to oblivion. It is important to consider a budget CPU cooler to avoid that.
Drawbacks of Budget CPU Coolers
When it comes to budget coolers, in some cases, you might see a lack of expected performance during slight overclocking sessions. It might be possible that a budget option might not be the cooling solution that your system needs if it is a very high-end system. The majority of the new chips come with high clock speeds and thermal output. A budget option, in this case, might not be the product you want to go for.
Best Budget CPU Coolers
After setting up clear boundaries for the 'budget' category and a thorough market analysis, we inspected all the options available to us based on the capping of our budget price range. After filtering those products, our team conducted thorough tests to filtrate the Best Budget CPU Coolers from various options lying in the domain. Each cooler was examined rigorously to strain out their traits and how they could be defined. Lastly, we categorized them accordingly under the category that suited them best based on the performance and features they presented. Let's look at the collection of CPU Coolers accumulated by exhaustive examination.
Deepcool Gammaxx GT
Best Budget Air Cooler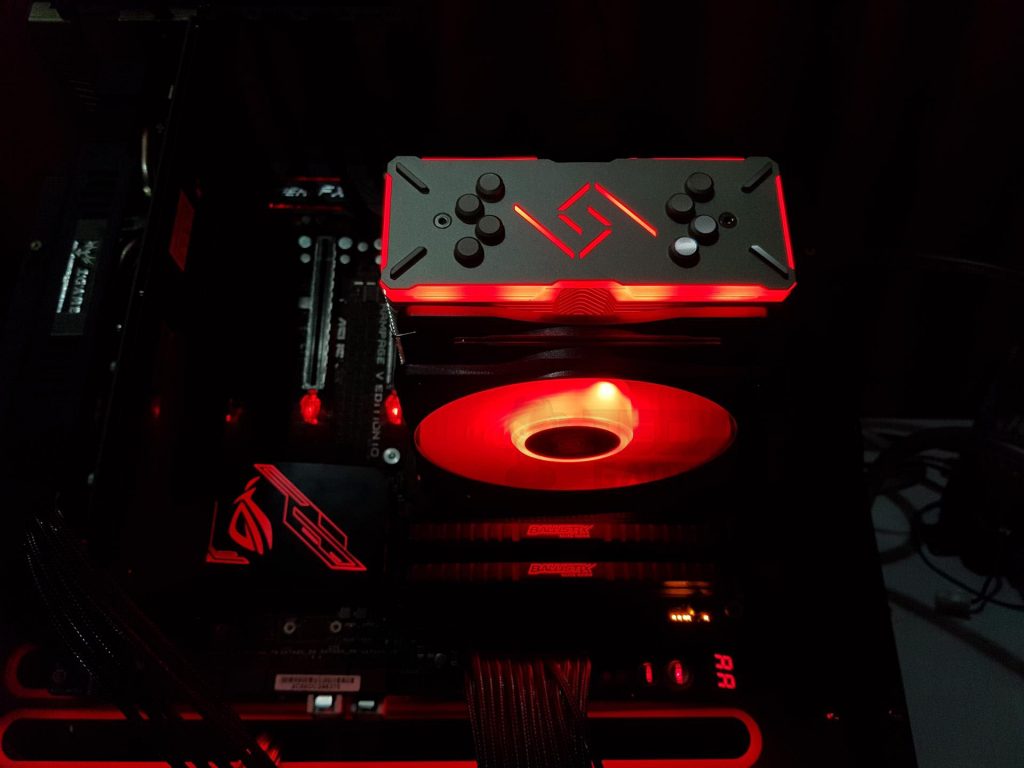 Specifications: Type: Single Fan AIO | TDP: 140W | Radiator Size: 120mm | Lighting: A-RGB | Dimensions: 135 mm x 156 mm x 84.4 mm
Pros
Very Quiet

Easy to install

Good Clearance

RGB lighting

Dual Fan support

CDC technology for better heat dissipation
Cons
Only 1-year warranty

Slight above-average cooling performance
Deepcool has vowed to provide consumers with the best cooling solutions and has continued to do so over these years. They have released many great air and water cooling solutions in recent years. Deepcool intends to bring forth newer and innovative solutions with a growing and solidifying marketplace for their coolers.
Deepcool Gammaxx GT is a budget-friendly single tower RGB air cooler that fulfills your aesthetic demand while keeping your PC cool. The dimensions of this cooler are 135 mm x 156 mm x 84.4 mm. It features a 120 mm PWM fan that can rotate between 500 – 1500 RPM. Its TDP rating varies for Intel, and AMD with 150w and 140w, respectively. 4 copper heat pipes and a copper-plated heatsink make it possible for this set-up to be perfect at heat and electrical conductivity. Copper gets uniformly warmer, helps in quick heat transfer, and has a high melting point and corrosion resistance. Meanwhile, the noise output rating is excellent and is rated at 17.8 – 29.5 dBa. With an MSRP of 54.99, it supports RGB controlling using headers on the motherboard. Similarly, it can be found at lower prices due to market competition.
You can check out our full in-depth review at Deepcool Gammaxx GT Review
What we liked about this:
Deepcool Gammaxx GT continues the RGB trend. It is not something extraordinary but fulfills your aesthetic hunger by providing you with a typical and true RGB design. It comes with pretty good mounting hardware, making it easy to install, and overall build quality is excellent. The user can set up a dual-fan configuration since Deepcool provides extra fan clips with the package. On top of that, the GPU clearance is excellent, even on Mini-ITX and Micro-ATX motherboards. Additionally, it beats some of its competitors in noise reduction by a small margin. It can be dubbed as one of the Best Budget Air Cooler.
What we disliked about this:
It does not provide the level of performance some of the other air coolers can provide. Sadly, it might not be the one for the mid-core overclocking enthusiasts. However, it is still a sweet deal for the users compared to Noctua NH-U12S, where the users have to pay almost double the price for better performance. One of the significant design flaws that make it lose its reputation is memory clearance. While its design does not pressure the DIMM, it still forces it out of alignment if you use high-end memory with a large heatsink in all four slots.
What distinguishes the DeepCool Gammaxx GT from its competitors:
The DeepCool Gammaxx GT poses an intriguing bargain. Offering addressable RGB capabilities with a relatively low noise output measuring at a maximum of 29.5 dB(A), the Gammaxx GT combines a streamlined installation process with the ability to add a secondary fan later on using the bundled fan clips at a reasonable price point hovering around $45-50.
Featuring rated TDPs of 140W and 150W for AMD and Intel processors, respectively, the DeepCool Gammaxx GT uses its 120mm PWM (Pulse-Width Modulation) fan to provide satisfactory cooling performance, with its main focus set on providing universal compatibility with all recent AMD/Intel CPUs and dual-fan modularity alongside an A-RGB system while sustaining an affordable cost price. Resultantly, it sits atop our list as the Best Budget Air Cooler in 2023.
Who is this for?
To summarize it all, it is designed for RGB lovers who have no problem with in-line RGB controllers. With RGB aesthetics, it offers decent performance on a budget.
Noctua NH-U12S SE-AM4
Best Budget AM4 Cooler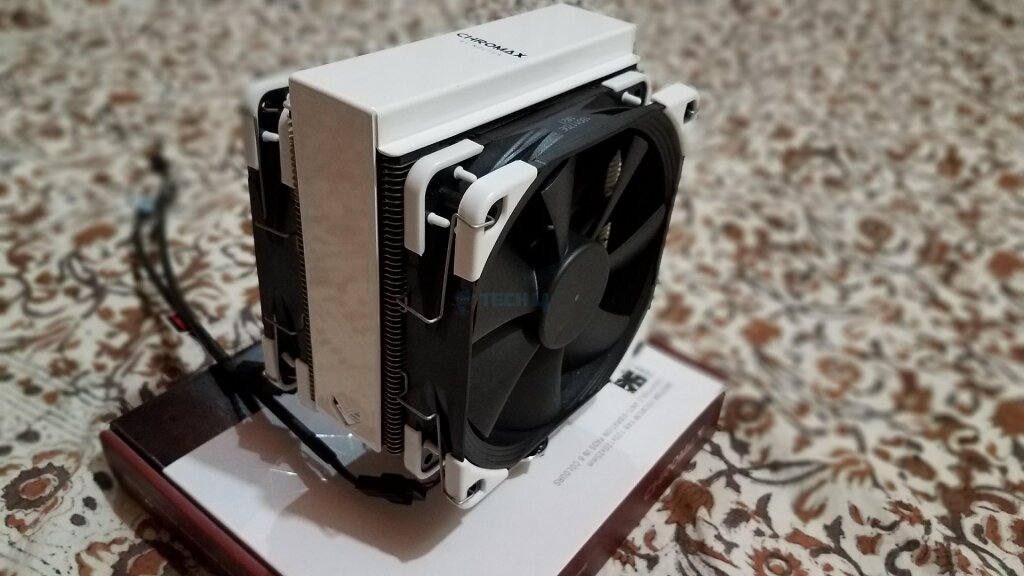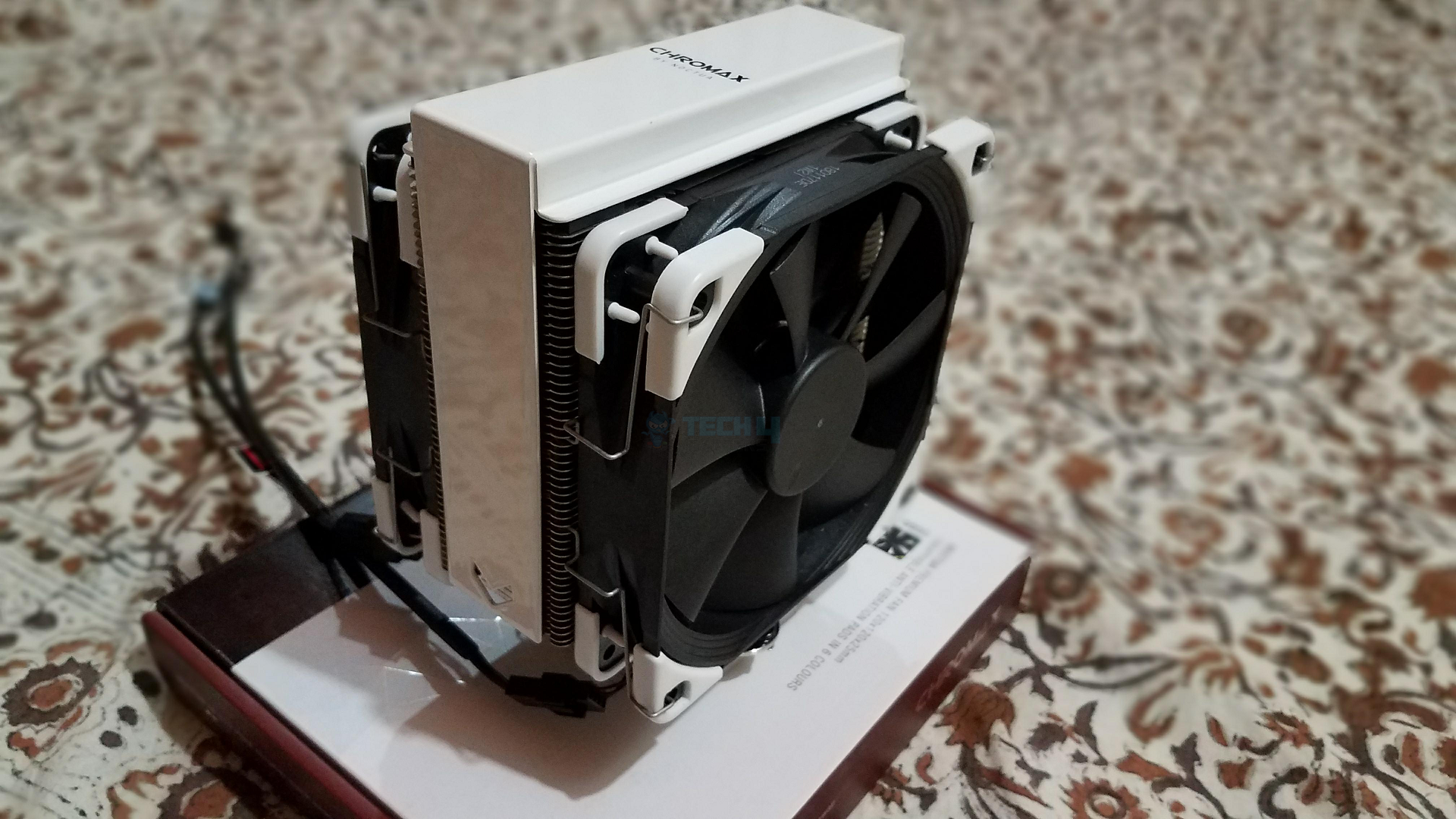 Specifications: Type: Single Fan AIO | TDP: 65W | Radiator Size: 120mm | Lighting: No RGB | Dimensions: 158 mm x 125 mm x 45 mm
Pros
Compact

Easy to install

Good performance

Five heat pipes

Dual Fan Option

Excellent clearance
Cons
Average overclocking performance

Decrease inefficiency at Overclocking
Noctua is one of the few companies defining silent heat dissipation systems globally. Whether mounting hardware upgrades following the market or providing the fastest cooling solutions for the latest releases, Noctua behaves in a customer-oriented way, which is what people love about this company.
Noctua NH-U12S SE-AM4 CPU Cooler is not very budget-friendly and comes under its premium mid-range lineup due to its demand and its target market. The users can expect no surprises about the price and performance. Nevertheless, it features a relatively small size factor with dimensions 158 mm x 125 mm x 45 mm. Similarly, it comprises a 120 mm U-type aluminum fan that can provide rotations rated between 300-1500 RPM. Considering the white tint all along the cooler's body, you can also call it a White CPU Cooler. Noctua NH-U12S doesn't come with RGB support, but that can be compromised if a cooler's performance is the dominant feature. On top of that, it features 5 copper heat pipes and a U-Type copper plated heatsink, the optimal standard for head dissipation nowadays due to its high electric and heat conduction.
You can check out our full in-depth review at Noctua NH-U12S-SE-AM4.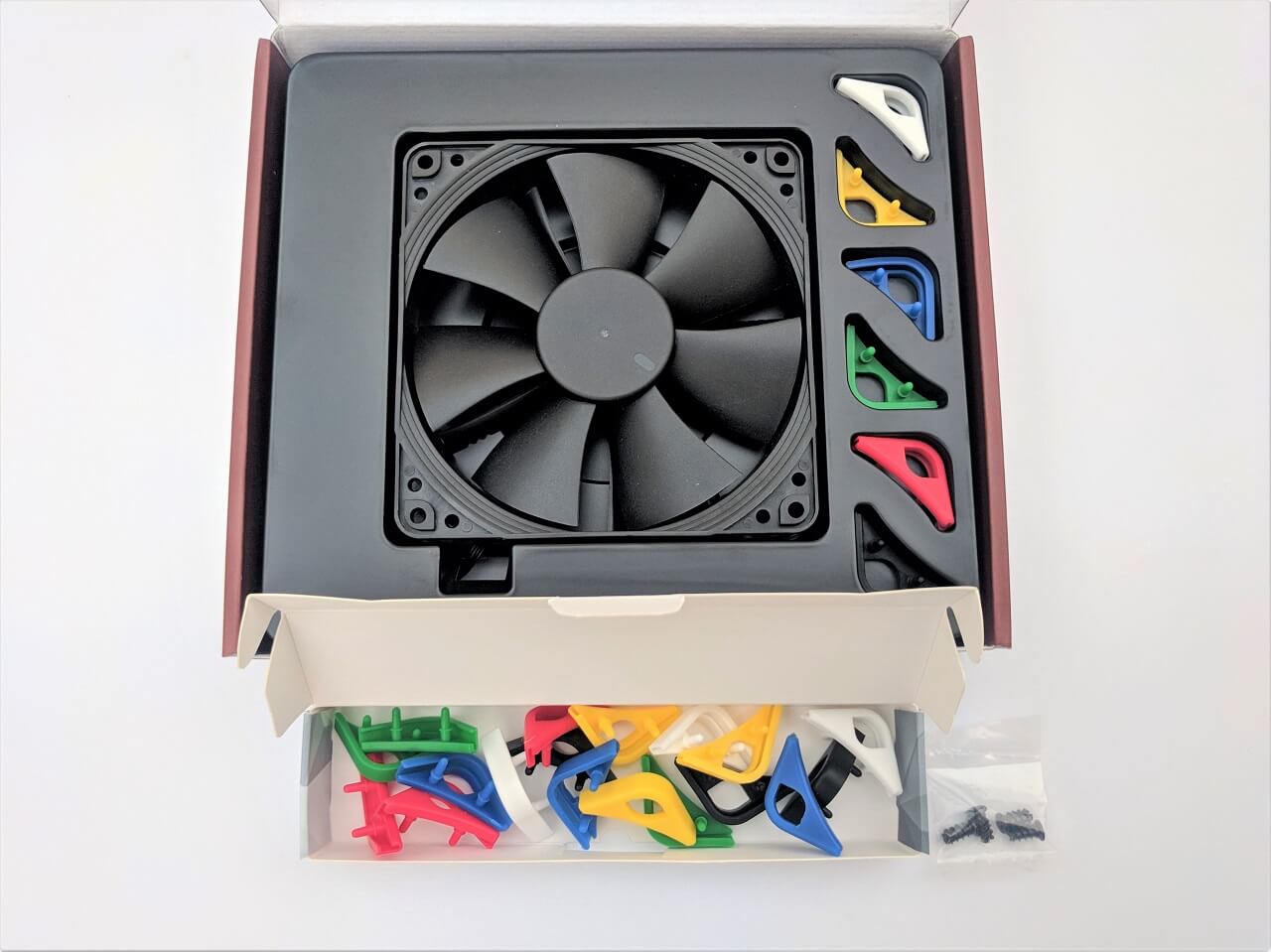 What we liked about this:
Noctua NH-U12S SE-AM4 features a brilliant NF-F12 focused fan flow that features rings of focusing fins on helping direct airflow in a straight column. Like most Heatpipe coolers, Noctua NH-U12S SE-AM4 has locking clips to connect and separate the radiator fins. In this set-up, these clips are used as shrouds, keeping the fins' exposure to a minimum. Additionally, it has an excellent memory and GPU clearance due to its thinner build.
What we disliked about this:
Overall performance is good, but it underperformed in specific tests. In some tests, Noctua NH-U12S SE-AM4 started to lose efficiency at 115W, which is a cause for concern. Hence, it is entirely debatable if we can attribute this slight setback to a less aggressive fan curve or to the inaccurate thermal readings from Ryzen systems as reported by AMD.
What distinguishes the Noctua NH-U12S SE-AM4 from its competitors:
The Noctua NH-U12S SE-AM4 resides in a league of its own. Boasting incredible features such as a Low Noise Adaptor (L.N.A), which drops the maximum speed of the bundled Noctua NF-F12 120mm PWM fan from 1500 RPM to 1200 RPM, thereby reducing noise output from an already silent 22.4 dB(A) to a whisper-quiet 18.6 dB(A).
The NF-F12 produces up to 55.0 CFM of airflow (47.3 CFM with L.N.A) supplemented by additional fan clips included in the packaging, should users want to enhance cooling performance with another NF-F12 fan (sold separately).
Furthermore, the Noctua NH-U12S SE-AM4 exhibits a world-class mounting system in the form of SecuFirm 2, paving the way for a rapid snug and tight installation, with Noctua ensuring future compatibility for even the AMD AM5 CPU socket, which is on the horizon as far as new CPU releases from AMD go. Users will be pleased to find a tube of Noctua's enthusiast-grade NT-H1 thermal grease concealed in the packaging, alongside an industry-leading 6-year warranty, with Noctua rating the NF-F12 fan at an MTTF (Mean Time To Failure) of 150,000 hours, which is one of the numerous reasons the Noctua NH-U12S SE-AM4 champions our coveted list as the Budget AM4 Cooler in 2023.
Who is this for?
Noctua NH-U12S SE-AM4 is a bit expensive compared to some other products in this guide. The hour's question demands to know if it's worth your hard-earned dollars. The simple answer is Yes. Noctua NH-U12S SE-AM4 has an adequate cooling performance being highly compatible with many Ryzen options; you can even slap it on Ryzen 9 5950x build for decent Overclocking. We can say that this is the Best Budget, AM4 Cooler.
DeepCool Castle 240EX
Best Budget AIO Liquid Cooler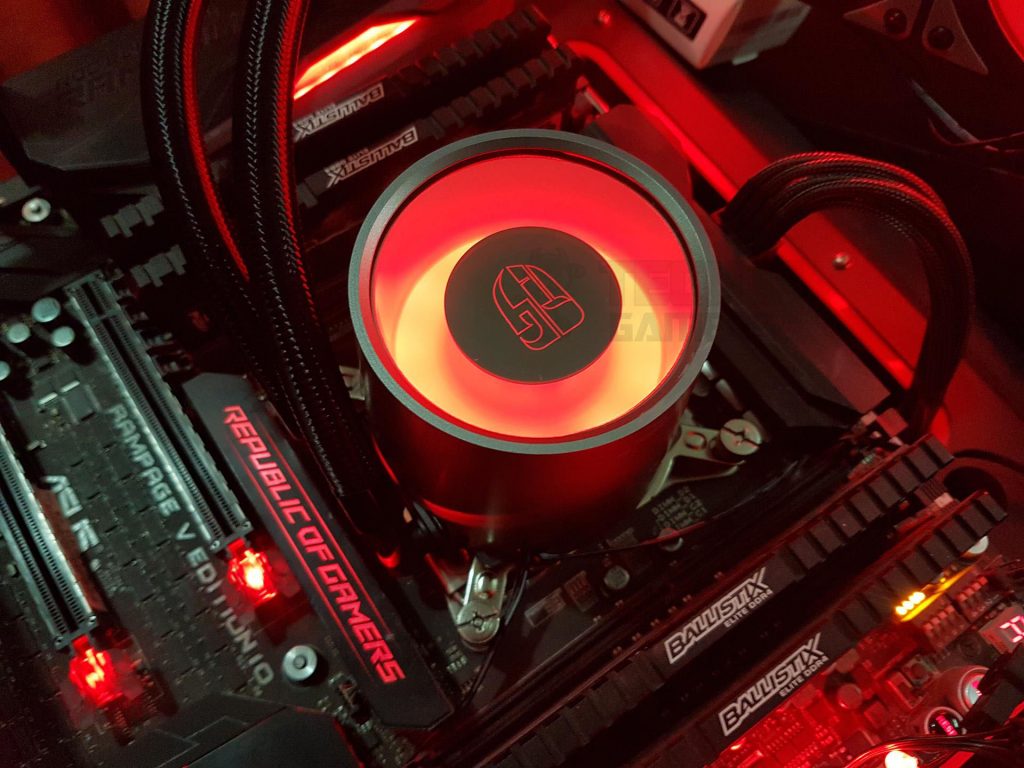 Specifications: Type: Dual Fan AIO liquid | TDP: 120-240W | Radiator Size: 240mm | Lighting: Addressable RGB LEDs | Dimensions: 274 mm x 120 mm x 27 mm
Pros
Supports almost all AMD and Intel CPU sockets

Excellent addressable A-RGB set-up through an included controller

Anti-leak valve

Very quiet

Ultra big copper base
Cons
No RGB on fans

Slightly above-average performance
There are very few companies that can accomplish being on similar lists more than once. It turns out that DeepCool is one of them. A massive trend of RGB lighting started in the early 2010s, and now, gamers mostly think it is a must-have aesthetic demand. DeepCool wanted to provide something that has both form and function in its specifications.
According to DeepCool's design, the 240mm radiator of DeepCool Castle 240EX is made of aluminum, making it lightweight. Increased skived fins increase the non-polished surface area by almost 25%, helping heat dissipation. DeepCool in this set-up used pressure charging impellers driven by a 3 phase x-life motor making it silent yet effective for liquid cooling. RGB controllers have been provided, giving the user many customization options.
Although DeepCool Castle 240EX does support the Ryzen Threadripper 4th generation CPUs, it lacks the support for the first three generations. So, the usability for overclocking is quite the latest in this regard. As more powerful CPUs become the banner heads for the advancements in performance, the newer models of coolers are expected to increase their performance by comparison. Even an above-average performance here will get the job done for anyone but extreme overclockers. For those interested in overclocking and who don't come across the word very often, it is a process by which a user can surpass the maximum clock frequency of a CPU/GPU to increase performance.
For more details, look at our exclusive DeepCool Castle 240EX Review.
What we liked about this: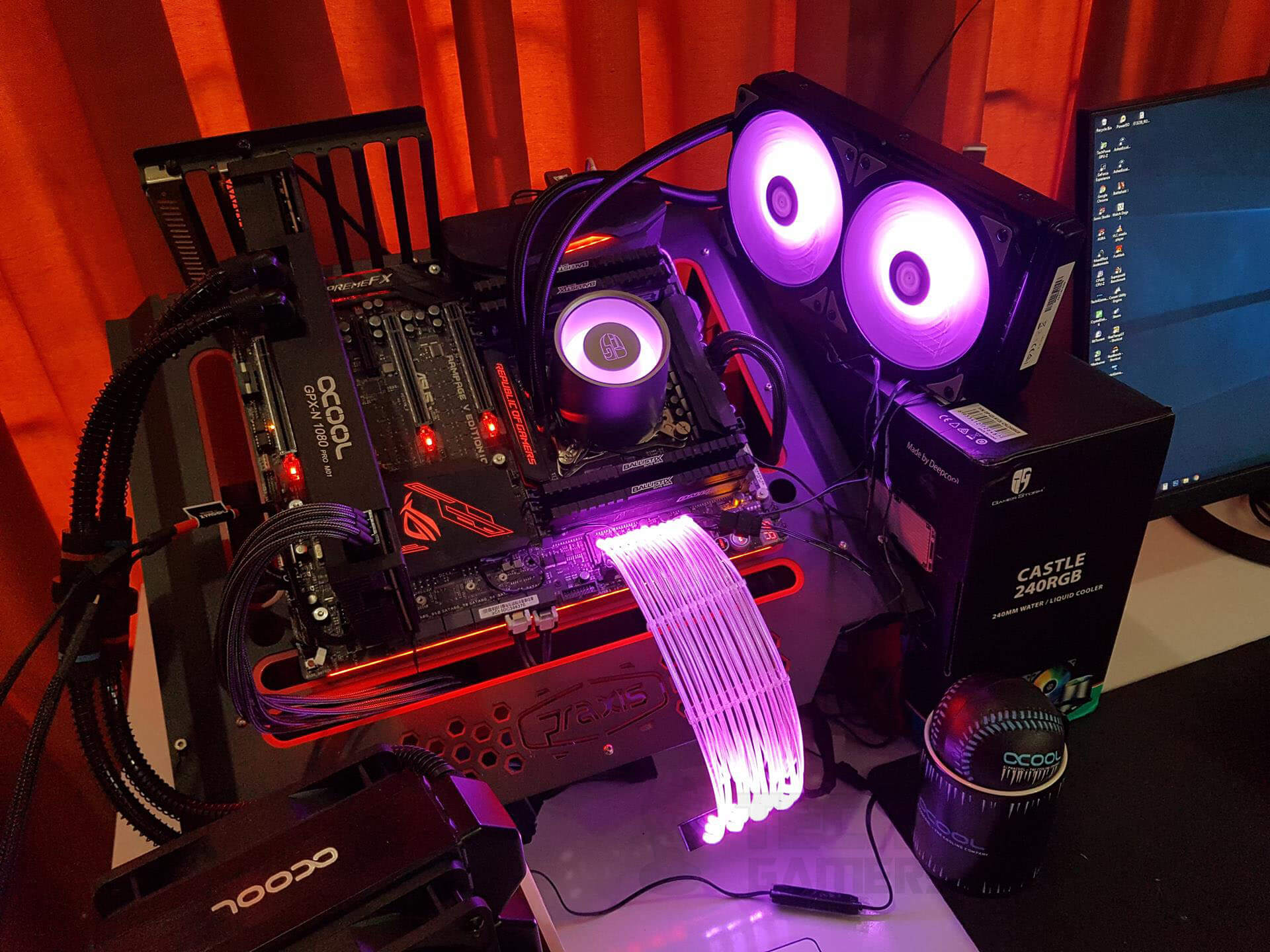 The anti-leak valve allows for internal pressure relief and provides a smooth flow. Premium RGB lighting options with addressable LEDs are a very well-received feature. Its massive compatibility options also put it well above others, along with the features that it holds for dissipation. DeepCool Castle 240EX also has a premium premium-gradeity.
What we disliked about this:
The price of DeepCool Castle 240EX is relatively high, which could have been compensated for if it had an excellent thermal performance. A lot of the focus from Deepcool seems to be focused on the aesthetics once again.
What distinguishes the DeepCool Castle 240EX from its competitors:
For starters, the DeepCool Castle 240EX is primarily a dual-fan (2x 120mm) AIO (All-in-One) cooling solution with a 240mm radiator, as the name suggests. Moving on, the solidly performing DeepCool Castle 240EX possesses a TDP of 350W, which, again, is a lot more than you'll ever need, even if you venture into extreme overclocking usage scenarios with your Ryzen 7 3700X.
Furthermore, the mirror-like finish on the fans and the pump head complements the A-RGB of the unit, which is also compatible with 5V A-RGB motherboard headers (in the absence of which you can use the bundled proprietary RGB controller).Last but not least, the Castle 240EX is sporting DeepCool's revolutionary Anti-Leak technology, which helps maintain a systematically automated pressure balance, significantly reducing the chances of fluid leakage and improving componential safety.
Who is this for?
Build wise, Deepcool Castle 240EX is an excellent AIO CPU Cooler. As discussed earlier, Deepcool targets Aesthetic build lovers with most of their products. However, it does not mean they have to compromise on the performance every time. DeepCool Castle 240EX liquid cooler is definitely for you if you don't mind a slight performance drop in exchange for an excellent hardware build and elegant design. Overall build quality screams the word "premium," making it a perfect candidate for the category of Best Budget AIO Liquid Cooler.
be quiet! Pure Rock 2
Best Budget CPU Cooler for Overclocking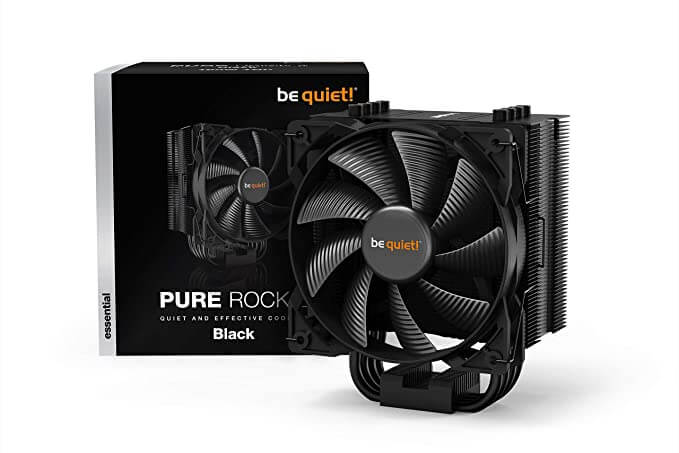 Specifications: Type: Single Fan AIO | TDP: 150W | Radiator Size: 120mm | Lighting: No RGB | Dimensions: 119.9 mm x 119.9 mm x 24.9 mm
Pros
Budget-friendly

Exceptionally quiet

Very aesthetically pleasing design

Good GPU and memory clearance

Fine build quality

Simple mounting hardware
'be quiet' is a German-based company specializing in power supplies, CPU coolers, and case fans. As its name suggests, this company strives to deliver performance with legendary silent options. The company has established itself in the 20 years of its presence in the PC market. Some people prefer their products because of their massive efforts to reduce noise and deliver performance firsthand. 'be quiet' capitalized on the trend, which led to the demand for premium designs and high performance.
Another fantastic addition to our Best Budget CPU Coolers list was 'be quiet'! Pure Rock 2. 'be quiet! Pure Rock 2′ is a well-designed and durable cooler. It focuses on thermal performance and achieves this while being brilliantly quiet. 'be quiet! Pure Rock 2' has no GPU or memory clearance issues and the ease of installation. At the cost of a bit of performance bump, you get all the quiet in the world. However, you can switch to a faster fan speed, and then there would be noticeable but relatively quiet noise.
be quiet! Pure Rock 2 has a compact design and is one of the smaller builds of the 'be quiet' company. There are no RGB set-ups on the device, which is a blessing and an absolute turn-off for some. Indeed, its shining point is its price because of its availability in the range of $30-$40 in the market. 'be quiet'! Pure Rock 2 is one of the most silent coolers in our budget coolers listicle.
What we liked about this:
It is very attractive for users who wish for a simple yet performance-packed package with an offset design and a sleek body. 'be quiet! Pure Rock 2′ is exceptionally quiet, and the performance it delivers is a significant contender against much more heavily priced coolers. However, everyone doesn't like RGB set-ups because they distract them during gaming sessions.
So, for those types of users, this is an absolute steal. As the CPU ramps up, its temperatures during overclocking increase which must be cooled appropriately, or else they will begin to throttle, and in the worst case, they might get damaged. Almost all coolers work decently, but some specific CPU coolers are built to counter this heat up which can cause damage. Since this cooler is durable and silent, it can still run quietly despite increasing fan speeds.
What we disliked about this:
There is not much to say about possible improvements due to its price point as it says a lot about this device. Further progress in this price point is unfair; however, if there were some more stabilizing shock absorbers in the build, the device would be quieter.
What distinguishes the BeQuiet! Pure Rock 2 from its competitors:
The BeQuiet! Pure Rock 2 performs a terrific job of supporting overclocking enthusiasts with a limited budget, offering a 120mm PWM fan (dubbed 'Pure Wings 2') that produces a maximum sound output of 26.8 dB(A) within a monochromatic enclosure, which notably lacks RGB lighting, a treat for gamers who prefer stealthy, understated PC setups.
Put together with a TDP of 150W, a brushed aluminium finish, and a simplified installation process, with sufficient clearance to avoid interference with RAM modules, the BeQuiet! Pure Rock 2 easily cements itself as the Best Budget CPU Cooler for Overclocking in 2023, complemented by a 3-year warranty, which isn't too shabby for a CPU Cooler ranging between $40-$45.
The cherry on top, the BeQuiet! Pure Rock 2 is compatible with both the AMD AM4 and Intel LGA 1700 CPU platforms, meaning it can be paired with the latest and greatest processors such as a Ryzen 9 5900X or an Intel i5-12600K.
Who is this for?
'be quiet! Pure Rock 2′ is a perfect mid-range cooler for users who prefer performance and quiet. Even under tremendous loads, it manages to run silently. Without a doubt, it offers performance, sleek design, and a beautiful price point. If you despise the traditional RGB tower cooler, this product is definitely for you. Considering its remarkable performance and no-disturb-zone feels, if there were one title this cooler could get away with, it would be the Best Budget CPU Cooler for Overclocking.
Noctua NH-L9i
Best Budget Low Profile CPU Cooler for Mini-ITX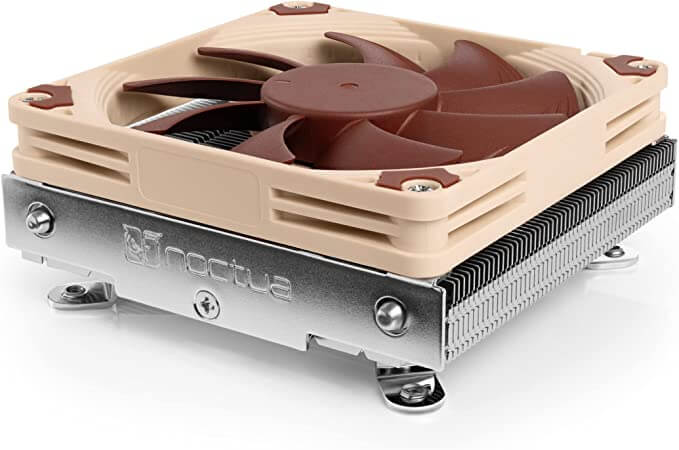 Specifications: Type: Single Fan AIO | TDP: 140 w |Radiator Size: 120mm |Lighting: A-RGB |Dimensions: 95 mm x 95 mm x 37 mm
Pros
Low profile

Exceptionally easy to install

Great Heat dissipation despite its build

Compact build
As earlier discussed, Noctua is a customer-oriented company and tries to fill in the gaps of demand in the market by targeting very specific users. CPU cases come with different specifications and sizes, just like motherboards. The cooling solutions in these devices need to be compact yet powerful to solve thermal issues. "A solution for every problem" seems to be the focus for Noctua.
Noctua NH-L9i, at the first look, does not seem to give any impressions of excellent performance. Enthusiasts interested in small factor PCs needed something compact and effective, and this device does just that. The point to be noted here is that this device only targets Intel-based users. If you wish to go for the AMD model, check out the Noctua NH-L9a, and please note that you cannot compare both versions as they target different products. With 95 mm x 95 mm x 37 mm in dimension, Noctua NH-L9i is relatively small and effectively makes a low-profile cooler.
For full details of this cooler, you can read Our Noctua NH-L9i Review.
There is a strict TDP setting for this device where the user will not have much say in performance. Now, as to how it is built, there is a debate whether old manufacturing methods where pipes are soldered are a backtrack to developing these devices. The price point of $45-$55 is an absolute deal-breaker for some. The enthusiasts have different opinions on the matter, and if you are one of them, you can go for this device.
What we liked about this:
From the design of the smallest things like fan blades to the more significant parts like a heat sink, Noctua has nailed the performance part of the device. Now the implementation is debatable but what matters is the results. Results in this matter suggest that this device is quieter than most devices out there, and the sheer amount of airflow that it gives out despite its smaller form factor is astonishing. The build quality standards have not been compromised at all by Noctua here, making this the reason for the price bump in this cooler. If you want to save money and want performance from a smaller fan, this is a perfect choice.
What we disliked about this:
There are slight disagreements on the manufacturing methodology of this specific device, but since Noctua made it work, it is not a topic that is necessary to discuss. Since they decided to have this price point on a device like this, Noctua reflects this in their dedication to the market, where a particular set of people would want this specific cooler. So, yes, the only slight fault that we could find with this device would be the absence of RGB.
What distinguishes the Noctua NH-L9i from its competitors:
Delivering record-breaking performance in an SFF (Small Form Factor profile sporting a deceivingly low height of 37mm, the Noctua NH-L9i rises above the bar with its trademark brown aesthetic, combining whisper-quiet operation with a revolutionary mounting system backed up by a soothing 150,000 hour MTTF and an extensive 6-year warranty to grab a spot on our selective list of the Budget CPU Coolers in 2023, each of which is chosen to suit differentiating needs.
Who is this for?
Noctua NH-L9i has been made with particular consumers, and it is not meant for everyone. If you are motivated to build your mini ITX set-ups or something similar, this device promises performance. If we were to assign it a title, we would define it as the Best Budget Low Profile CPU Cooler for Mini-ITX. If interested, take a look at our unboxing video as well.
Cooler Master Hyper 212 Black Edition RGB
Best Budget Intel CPU Cooler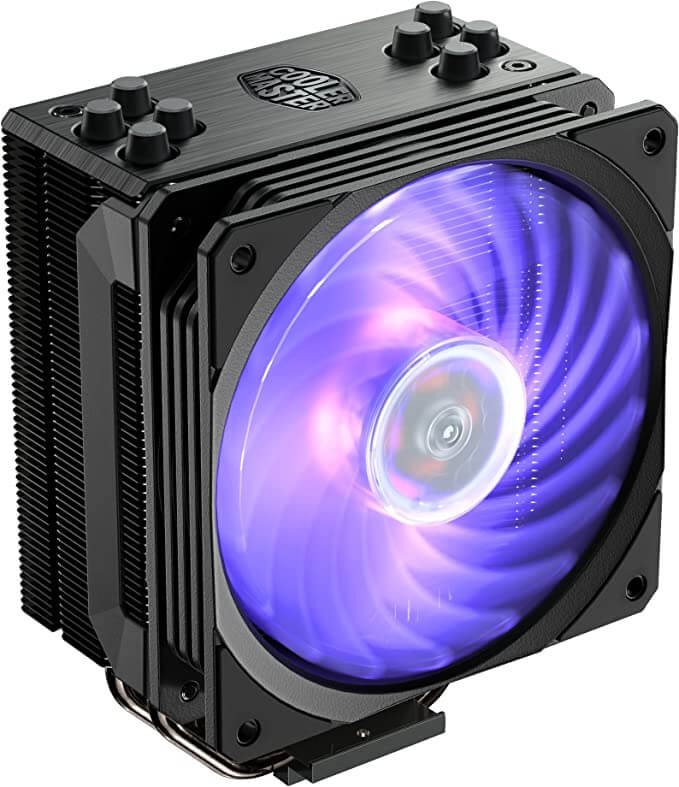 Specifications: Type: Single Fan AIO | TDP: ~150W | Radiator Size: 120mm | Lighting: RGB Lighting | Dimensions: 123 mm x 77 mm x 158.8 mm
Pros
Simple Installation

Good build quality

Improvement over predecessors

RGB fan
Cons
Slightly underperforming when compared to similar specifications

A more extended warranty could've been appreciated
Coolermaster is a Taiwan-based company founded in 1992. So, it has been in business for nearly two decades, which suggests that they are experienced in the market. As its name suggests, the company focuses on cooling solutions for several products, including PCs. Cooler Master is the company that targets every single specification of a product out there is different price points and tries not to create a chink in its armor. The brand has built its reputation in these 20 years while sponsoring many Esports events and teams. They succeeded because they kept their quality up to par with their brand name building.
Coolermaster has never had the best mounting options up their sleeves. Still, they made an exception and put everything they had into the design, performance, and installation easement for this model. Cooler Master Hyper 212 Black Edition RGB checks all of your checklists and does so at a very competitive price. Similarly, this particular model targets mid-level performance in a budget option while not sacrificing performance or build quality. The device's dimensions are not very big per se, so the GPU and memory clearance is excellent.
After a few tests, the performance we have judged has been adequate. Cooler Master Hyper 212 does make an above-average noise, but that too is accounted for by the Cooler Master. The company has built a stealth version of this same cooler to keep the noise factor down. The device features a perfect RGB set-up and ensures an aesthetically pleasing set-up along with a very detailed and sleek build. Additionally, the sheer airflow and static that the fan can direct are amazing. After checking all the breakpoints, we can say that this device is perfect for someone willing to spend just $70. However, there are always better and pricey options available, but this device is one of the best in the market for mid-level users.
What we liked about this:
A very simple answer would be EVERYTHING. The airflow that Cooler Master Hyper 212 Black Edition RGB lets out is very well directed and designed to dissipate the heat with a very well-designed heatsink and heat pipes. However, the RGB might not be addressable, but it comes out with a very good controller to switch colours and lighting patterns. Indeed, the build quality is excellent, and very few competitors can come close to this performance, making its entry significant in the Best Budget CPU Coolers guide. For this price point, this is a very well-rounded device.
What we disliked about this:
There is absolutely NOTHING that we could find that was a design fault or related to its price point. If it were an absolute that there would be a fault, then the greatest fault would be the slight difference in performance in competition with some other devices with similar specifications.
What distinguishes the Cooler Master Hyper 212 Black Edition RGB from its competitors:
The Cooler Master Hyper 212 Black Edition RGB packs serious potential into a 120mm conventional air cooler form factor with an alluring price tag that can drop to as low as $30 after discounts depending on the vendors you're sourcing the cooler from.
The Hyper 212 Black Edition RGB is specially engineered to cool down even the latest Alder Lake processors from Intel (which use an LGA 1700 CPU socket). Nonetheless, the Hyper 212 Black Edition RGB also supports a wide variety of older Intel and AMD CPUs as well as the latest Ryzen 5000 Series processors based on the AM4 platform.
Armed with a 9-blade, 120mm PWM RGB fan (SF120R RGB) that's rated at a spectacular MTTF of 160,000 hours and a sound profile maxing out at 30 dB(A), the Cooler Master Hyper 212 Black Edition RGB is here, complete with a sleek appearance bearing a dark undertone to rock your world without requiring you to break out your wallet while staying under-the-radar in terms of noise output and visuals.
Who is this for?
Cooler Master Hyper 212 Black Edition RGB is built for anyone that can spare a few more bucks out of their pocket to get a well-rounded CPU cooler. Priced at $70, Cooler Master Hyper 212 Black Edition RGB has a very sleek design along with proper aesthetics. Performance is the king in this deal, and it is quite noticeable in many benchmarking tests.
Build quality is focused on directing the airflow properly. This device does not leave much to be desired at this price point. However, this device shows increased performance for Intel CPUs, so it is highly recommended for Intel systems simply by making it the Best Budget Intel CPU Cooler.
Comparison of All Budget CPU Coolers
Cooler
Cooler Master Hyper 212 Black Edition RGB
Type
Best Budget AIO Liquid Cooler
Best Budget CPU Cooler for Overclocking
Best Budget Low Profile CPU Cooler for Mini-ITX
Best Budget Intel CPU Cooler
Dimensions
135 mm x 156 mm x 84.4 mm
119.9 mm x 119.9 mm x 24.9 mm
123 mm x 77 mm x 158.8 mm
Best Features
Very Quiet, Easy To Install, and Dual Fan Support
Five Heat Pipes, Good Clearance, & Compact
Addressable A-RGB With Controller & Massive Sockets Compatibility
Aesthetic Design, Quiet, and Budget-Friendly
Top-Notch Heat Dissipation & Low Profile
Good Build Quality & Easy Installation
Flaw, But Not Dealbreaker
Slight above-average cooling performance 
Decrease inefficiency at Overclocking
A more extended warranty could've been appreciated
Last update on 2023-02-07
All Best Budget CPU Coolers are classified differently, and a fair comparison is difficult to make. Still, some comparable features set them apart if they are ever used in the same category. Let us first discuss the ones that are the most well-rounded CPU coolers. Cooler Master Hyper 212 Black RGB, and be quiet! Pure Rock 2 are both coolers that do not exhibit a lot of faults or any missing functionality. However, the difference that even an untrained eye can see would be the absence of RGB in be quiet's product.
Although some people enjoy the RGB features and deem them necessary for aesthetics, some are not so thrilled about the RGB set-ups. These coolers are similar in performance, and they still have this gap between price points. For anyone who wants a well-rounded system and simply wants to save their money, the choice will be the Pure Rock 2. However, those that deem RGB necessary will spend a little extra for the sake of these luxuries.
Can we announce these two as the best? Not yet. The reason behind it is that some of these still give a very decent thermal performance. However, a user might not need a well-rounded device and might opt for something on one side of the extremity of features. In this case, Deepcool Gammaxx GT stands out in the aesthetical category. While giving a decent thermal performance, it ensures a very good design and RGB features, which are hard to resist if someone values things with his eyes. Of course, it is not always a bad thing to do so, and then, this product is specifically for these types of people.
Noctua is a very well known company, and some people prefer its products regardless of competitors in the market due to the brand name. If someone is focused on performance and considers themselves a PC enthusiast, they can go for Noctua options as a safe bet. These devices provide unique solutions for their specified customers.
The DeepCool Castle 240EX is quite an exception here as it is the only duan fan AIO liquid cooler in contrast to all the air coolers in this list. A fair performance comparison is rather difficult, so we will give weight to this product in its classification. Comparing it with the coolers in this list, it performs better in thermals. Its RGB set-up is even better than Deepcool products, and the build quality is superb. On top of that, the type of redundancy and the price puts it out of anyone's hands who is not an enthusiast.
The final verdict from our side is in favour of Cooler Master Hyper 212 Black RGB. The performance, compatibility and build are the main focus of the build, reflected in the test benchmarks. Additionally, this device leaves nothing to be desired after all of its features. Completely checking the checklist has a name: Cooler Master Hyper 212 Black RGB.
The Competition
Here are some other Budget CPU Coolers that could have been considered, However, we did not find them Best in comparison to our list on the top. Notwithstanding, these are still good Budget CPU Coolers that can be considered. Here are the following ones.
Noctua NH L12S
Noctua is a reputable name in making the best cooling solutions for PCs. This low-profile compact product is no exception to this. Impeccable build quality and contextual mechanical features make it one of the best options out there for coolers. Priced at a range of $35-54, it is just on the edge of being a budget option. This should, however, be one of the best options in this price range. You can read more about this on Noctua NH L12S Review
Cryorig M9i
Although limited by the system that this can be used on, an Intel targeted cooler is definitely appreciated. Featuring a jet fin acceleration design, its slim and compact design along with a pure copper base provide it with a flawless cooling ability. Priced in the upper $40s and reaching the lower limits of $50s, it is a bang for your buck. We suggest you take a much closer look at this product on Cryorig M9i Review
CHIONE M3-240W
Not mentioning CHIONE M3-240W would be an injustice to budget liquid coolers. Yes, you heard it right. A budget liquid cooler that costs just as much as an air cooler. This fantastic beast runs wild if you let it while still keeping a low profile in regards to the noise. However, do not let its features misguide you about its presentation. CHIONE M3-240W has 30 different lighting settings with the RGB from your dreams. With such features, it only costs in the range of the upper $50s. Considering the bracket CHIONE M3-240W lies in, it would be unfair to pass on this kind of offer.
CORSAIR H100i RGB PLATINUM CPU Liquid Cooler
Since the amount of liquid cooling users is also huge, we need to provide something in the liquid cooling category whereas the budget options are anywhere in the range of $100-120. H100i is available in this particular range and it is a relatively cheaper option in terms of liquid cooling solutions. Additionally, it comes in direct competition with the Deepcool Castle 240EX which comes out at a similar price point. As to why this is a very good option, the performance on this sweet piece of hardware exceeds many in the same budget option at the cost of extra noise. This might be the device to consider if you need a budget liquid cooling option. You can find a detailed review on Corsair H100i RGB Liquid Cooler Review.
How We Tested These Budget CPU Coolers
Testing out the coolers was a hectic task as all CPU Cooler manufacturers had a series of options lined up by air and liquid coolers, and compatibility and variance caused problems with testing. Firstly, after shortlisting the coolers, each cooler was separately put onto the compatible processor in three differently sized PC cases, ATX sized PC case, a microATX sized PC case and a mini-ITX sized PC case. Putting the CPU cooler in different PC cases helped us determine the GPU and memory clearance of the cooler.
As far as liquid coolers are concerned, we examined the piping space and proper liquid flow alongside the optimality of the cooler. Not only that, the radiator sizes like 360mm, 280mm and 240mm were also brought into consideration as they matter because increasing the radiator thickness increases the cooling capacity of the CPU Cooler. Secondly, the PC rig used was pushed to its limits, increasing the amount of heat generated by the CPU itself alongside other components.
The temperatures before and after the heavy load tasks were recorded and gradual cooling time was also observed for each cooler which helped us determine the actual performance of the cooler in high load cases. On top of that, the CPU Coolers' fan noise was also measured using a sound level meter, helping us determine the loudest and quietest Budget CPU cooler out there. Lastly, we checked the overall quality of the CPU cooler and how it was put off in tight spaces alongside the fit and grip on the CPU itself.
That's how we analyzed each cooler, tested it thoroughly and brought to you the Best Budget CPU Coolers in the market categorized by the qualities that define them.
Our Criteria For Selecting the Best Budget CPU Coolers
We conducted our research for the Best Budget CPU Coolers based on some criteria used to render our final verdict on the matter. However, the user can opt to prioritize their factors for their future purchases. This guide will help them make better purchase decisions leading to ultimate satisfaction.
For your convenience, we've mentioned and explained a couple of crucial points to brood over while attempting to complete your quest for handpicking the Budget CPU cooler in accordance with your unique workflows.
Compatibility
It's no surprise that even some of the Budget CPU Coolers will not be compatible with your particular CPU since every cooler has a differing mounting procedure and installation process. Manufacturers may launch two variants of the same cooler, one for Intel and the other for the AMD guys and gals.
That's why it's essential to cross-match your desired Budget cooler's support for the processor you're planning to pair it with. As you must've already noticed, for your convenience, we've already highlighted all the CPU sockets that are supported by each of the Budget CPU Coolers.
(Sidenote: If you're showing off the all-new Intel Alder Lake CPUs, you may reach out to the coolers' manufacturers to see if they'll provide you with an upgrade kit for the LGA 1700 socket should you wish to utilize any of the Budget CPU Coolers listed above, and of course, assuming the manufacturer hasn't already included the kit in the packaging. That being said, have a look at our recognized list of the Best LGA 1700 CPU Coolers as well.
Efficiency
Even the Budget CPU Coolers will differentiate from each other in terms of operational efficiency. That's why it's crucial to choose a CPU Cooler with the capacity (and some extra clearance) to capably cool down your entire PC alongside the CPU without needing to induce thermal throttling to maintain satisfactory temperatures.
For example, if you happen to be running an AMD Ryzen 9 5950X, the TDP (Thermal Design Process) for that processor is rated at 105W, so you should be searching for a cooler rated at 110-130W+ so as to give you slight overclocking clearance as well, should the day ever come for that.
Thermal performance
We are focused on judging the cooler's airflow and heat dissipation ability. The mechanical design that helps heat dissipation and prolongs the cooler's life is also brought into the discussion.
TDP configurations
The lower the amount of TDP required, the smaller, the cooler. This relationship works across all coolers. In fact, higher TDP usually means more coverage area, speed, and fans as more TDP generates more heat.
Noise
As the CPU ramps up its temperatures under load, its fan automatically gains more speed when controlled by the motherboard to cool the system down, producing noise that can be very off-putting. So the noise that a cooler produces is a very important factor when choosing the right product.
Build quality and Aesthetics
Since we judge a book by its cover, we tend to look at the most obvious features first. Aesthetics like RGB LEDs, mechanical features like the build material that helps in heat dissipation, and apparent build quality matter a lot if you are buying one of these in person. Surprisingly, these products' performance and actual benchmark are usually considered after all these features. Almost no modern CPU coolers perform noticeably badly, so almost all of these perform on average at the very least.
Manufacturers tend to distinguish their respective offerings for the Budget CPU Coolers by offering their unique take on the cooler's aesthetics and build quality. Some brands might opt for more premium construction and dazzling RGB capabilities, leading to a higher price tag. In contrast, others may favour a slightly unexotic or more practical approach, sacrificing their design flair for perhaps improvised cooling performance and, with luck, a lower cost price.
Manufacturer Support
We make it a habit of closely scrutinizing each of the Budget CPU Coolers listed in terms of after-sales customer service care provided by each manufacturer, keeping in mind past experiences and track records while also inspecting the MTTF of individual components such as the fan, pump (if any), and the entire unit itself.
Of course, we don't let warranty periods slide by, actively encouraging manufacturers to stand by their products for an extended period of time, often up to 6-years.
Price to Performance
What separates a budget CPU cooler from every other cooler is a particular device's price to performance ratio. Our core focus when selecting a device is the thermal performance the device exhibits during a benchmark test. We figure out the optimal and the worst settings of the said cooler. At the end of the list, we sort out the types and classify them to make it easy for all of you to go through them in a hurry if you must.
Why trust Tech4Gamers?
Tech4Gamers team has a passion for these emerging technologies. Featuring products free of any external influence, we aim to provide you with credible and in-depth reviews. We try our best to cover a wide horizon of technologies associated with the most popular ones in demand to ensure that you get the best device for your needs. In return, we demand nothing but your satisfaction.
Our dedicated team has been refined consistently to produce a potent group of knowledgeable individuals who are known to relay the most accurate information to our valued consumers, thanks to the extensive research and reviewing we conduct before we publish every piece of journalism.
In addition to this, we have been explicitly featured on a majority of the top-notch gaming and tech brands, such as Gigabyte, MSI, Asus, and DeepCool, to name a few, as reliable and trusted sources for Hardware and Technology.
These and other reputed manufacturers such as Noctua, Thermaltake, Xigmatek, and many others regularly send samples to us, based on which we formulate unbiased reviews to give our readers a genuine representation of the product from an objective perspective.
Subsequently, we instill confidence in our esteemed consumers, who may rely on us to give them the best advice for building, customizing, and modifying their personal gaming computers.
Budget Coolers vs AMD Wraith Spire
Wraith spire is AMD's stock cooler that ships out with all of its CPU coolers. It is a very compact cooler with an easy-to-install set-up along with a decent cooling performance and good build quality. The output noise is barely noticeable. Under stress, it does not, however, farewell. So, it is still suggested to go for budget cooler options if you have a few bucks to spare. Overclockers and a little over the edge casual users will feel that the AMD stock coolers lack the mechanical capacity to survive under high temperatures. The decision on this matter completely lies with the users.
Budget Coolers vs Stock Cooler
An Intel user should try to go for an aftermarket budget option because Intel stock coolers perform inadequately on every benchmark test. Intel stock coolers lag by almost 20 degrees at the very least. There are no additional options for upgrades or otherwise, and the user suffers in the longer run. However, If you do not wish to expand even a small price of $30-40, you should stick with the stock cooler. In contrast to this, AMD stock coolers perform very well and should not be replaced until a very good budget option appears.
Frequently Asked Questions
What to look for in a low-budget CPU cooler?
You should look for a well-rounded CPU cooler that gets the job done. Do not prioritize fancy build quality and RGB set-ups. Target great airflow, good mechanical design and if possible, try to go with a fan that does not make much noise.
Are budget CPU coolers worth it?
Yes, Anything that gets your work done and is easy on your wallet is a great CPU cooler. Buyers should focus on performance and compatibility first. Then, the performance needs to be compared to other CPU coolers at a similar price point. If a CPU cooler performs the best in its category and is within your budget, that is worth it.
What type of budget CPU cooler should I get?
If you can afford to spend $70, Cooler Master Hyper 212 Black Edition RGB is an immediate go-to option. If you are inclined to save a little more on the cooler and compromise on the RGB effects, you can go for something similar to 'be quiet! Pure Rock 2'. On the other hand, if you are a mini-ITX enthusiast, Noctua NH-L9i is an open recommendation. If you wish to go for better RGB set-ups and sleek designs and don't mind sacrificing some performance, we recommend the Deepcool products on our list. Lastly, if you want to go for a budget liquid cooling CPU cooler, DeepCool Castle 240EX is our recommendation.
The article has now been updated thrice, most recently on June 8th, 2022.
Was our article helpful? 👨‍💻
Thank you! Please share your positive feedback. 🔋
How could we improve this post? Please Help us. 😔