With the technology evolving these days, processors are becoming more powerful in both single and multi-core performance; thus, you need to pair them with a better motherboard, ram for performance, and good performance cooling solution to get the most out of it. The processor is one of the computer components that generate the most heat and therefore requires adequate cooling. Most models are indeed sold with a reference cooler. Still, it usually offers only basic performance – suitable for working in standard settings, where we usually have to consider audible noise.
Here is a comparison of all 360mm AIO Liquid Coolers in stock and what we have picked.
AIO Cooler
NZXT Kraken Z73 RGB 360mm
Arctic Liquid Freezer II 360mm A-RGB
Cooler Master Masterliquid ML360R RGB 360mm
Preview
Award
Best White 360mm AIO Liquid Cooler
Best 360mm AIO Liquid Cooler
Best Budget 360mm AIO Liquid Cooler
Best RGB 360mm AIO Cooler
AIO Cooler
NZXT Kraken Z73 RGB 360mm
Preview
Award
Best White 360mm AIO Liquid Cooler
AIO Cooler
Arctic Liquid Freezer II 360mm A-RGB
Preview
Award
Best 360mm AIO Liquid Cooler
Preview
Award
Best Budget 360mm AIO Liquid Cooler
AIO Cooler
Cooler Master Masterliquid ML360R RGB 360mm
Preview
Award
Best RGB 360mm AIO Cooler
Last update on 2023-02-07
Suppose you want better performance, or you plan to overclock the processor. In that case, it is worth considering replacing the cooling with a better model – an Air CPU cooler or a liquid cooling solution will be a great idea. Recently, AiO (All in One) water cooling has been very popular, so we have prepared a ranking of the best 360mm AIO In 2023.
AiO Coolers is a user-friendly type of proper custom water cooling in a closed-loop environment. The method of operation is the same – the heat from the processor is conducted through a water block to the coolant, which is then pumped through hoses to the radiator and cooled down. The liquid works in a closed loop, so it goes back to the water block, and the whole operation is repeated.
AIO Coolers generally offer better efficiency than air-cooled CPU coolers, making them suitable for hotter and / or overclocked CPUs. The difference is that in the AiO set; all elements are connected, so you do not have to assemble the elements (and risk unsealing the system and damaging the components). Minuses? The AiO kit still performs poorly compared to the custom liquid cooling solutions, and it cannot be expanded in many cases (e.g., if someone has plans for all PC water cooling, including GPU with a custom water block). You can also read our 280mm AIO Article if the budget is an issue.
Best 360mm AIO
Suppose you are looking for a powerful cooling solution to maximize overall efficiency while minimizing noise. In that case, there is no doubt that investing in the best 360mm AIO cooling is right for your PC. Getting an AIO at a reasonable price is your best step. For overclocking lovers. The 360mm AIO CPU Coolers have a TDP rating of up to 350W, which means they can provide robust performance to keep CPU temperatures low even in extreme load conditions.
Liquid coolers remove more thermal load from the processor than traditional Air coolers, especially when overclocking and pushing the system to its limit. Times have changed, and processors now work much better, but water-cooling still has its place. Everything is already closed, checked, and ready to go. We have prepared a ranking of the best 360mm AIO coolers from various price segments – our ranking of 360mm AIO CPU Coolers includes economical models for inexpensive computers and fancy designs for building top configurations with overclocked processors.
Here is a summary comparison of all 360mm AIO Liquid Coolers we picked.
NZXT Kraken Z73 RGB 360mm
Best White 360mm AIO Liquid Cooler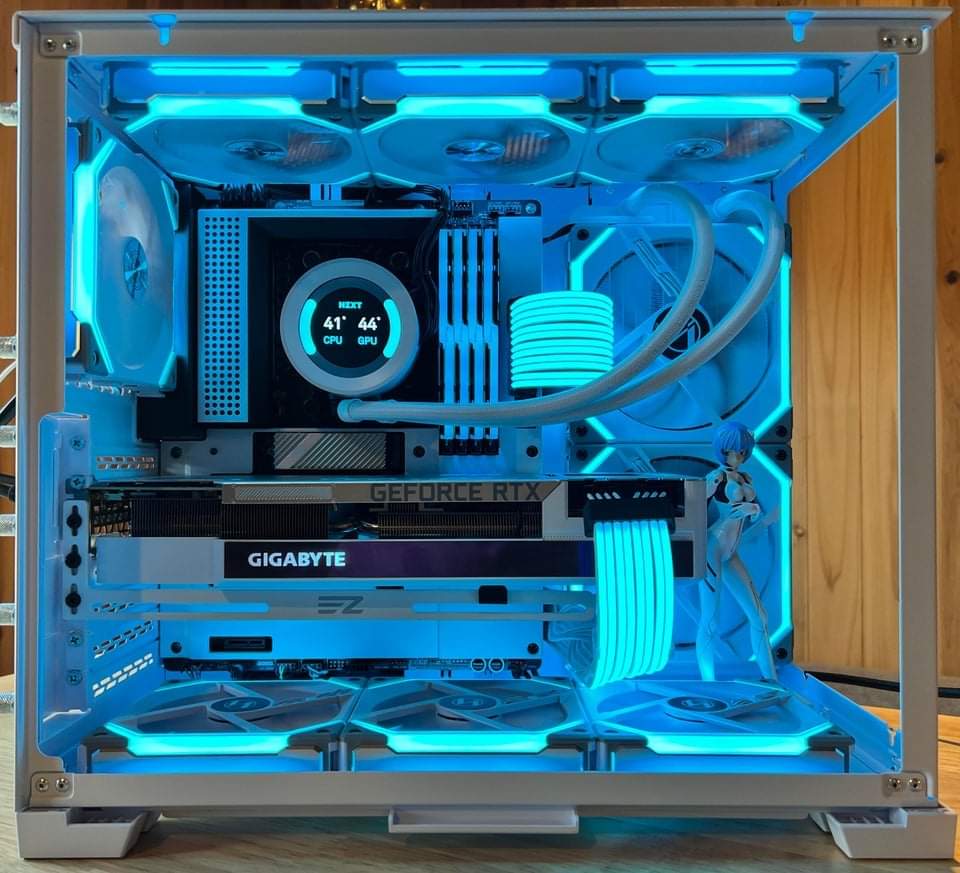 Fan RPM: 500-2000 | Fans CFM: 73.1 | Tube Length: 400mm | Noise: 21 – 36 dBA | Warranty: 6 years
NZXT Kraken Z73 RGB 360mm deserves exclusive bragging rights because the screen above the pump is a glossy screen representing an amazing white 360mm aio. NZXT was among the first to wear their AIO coolers with LED displays, a trend that continues with the Kraken Z73. The Z73 is designed for both beauty and overall performance. Fans have a beveled intake that reduces the noise they make.
Additionally, you get access to CAM software that monitors your PC and allows you to customize the various features of the cooling system quickly. This software provides amazing control of your AIO cooling. You can set the LED spectrums, control the pump and fan speed, and switch between cooling profiles. It is one of the coolest software available. While some coolers provide RGB light setting to the pump head, the NZXT increases the volume and provides an LED screen over the Z73 pump head. Although the screen can display almost any image you want, it is best used as a temperature reading.
In addition, 3x Aer P12 fans covering 120mm provide adjustable speeds between 500 and 2000 RPM; this causes a noise level of 21-36dB (A).
Related: Best 120mm AIO
While talking about installation, the installation of the NZXT Kraken Z73 is not difficult at all, as long as your chassis can support a 360mm radiator. The tubings are very long, and fittings and the pump head rotate easily, allowing for various configurations. It is designed to work in the configuration of so many sockets for both Intel and AMD, and because of the 400mm long tube, inserting it into a case of the right size should not be a problem.
If you are planning to overclock, the NZXT Kraken Z73 RGB 360mm Liquid Cooler is there, along with its advanced 360mm radiator setup, which is a choice for many power users. Better than its predecessor and can even go with custom water loop solutions of the same value. If cooling is your only concern, consider the X73 with similar performance levels at a very reasonable price. That being said, if you are searching for a White 360mm AIO, and something cool plus affordable, NZXT Kraken Z73 RGB 360mm is your best AIO in 2023.
Pros
Top-notch cooling performance
Aesthetic RGB design
It comes with customization options
Arctic Liquid Freezer II 360mm A-RGB
Best 360mm AIO Liquid Cooler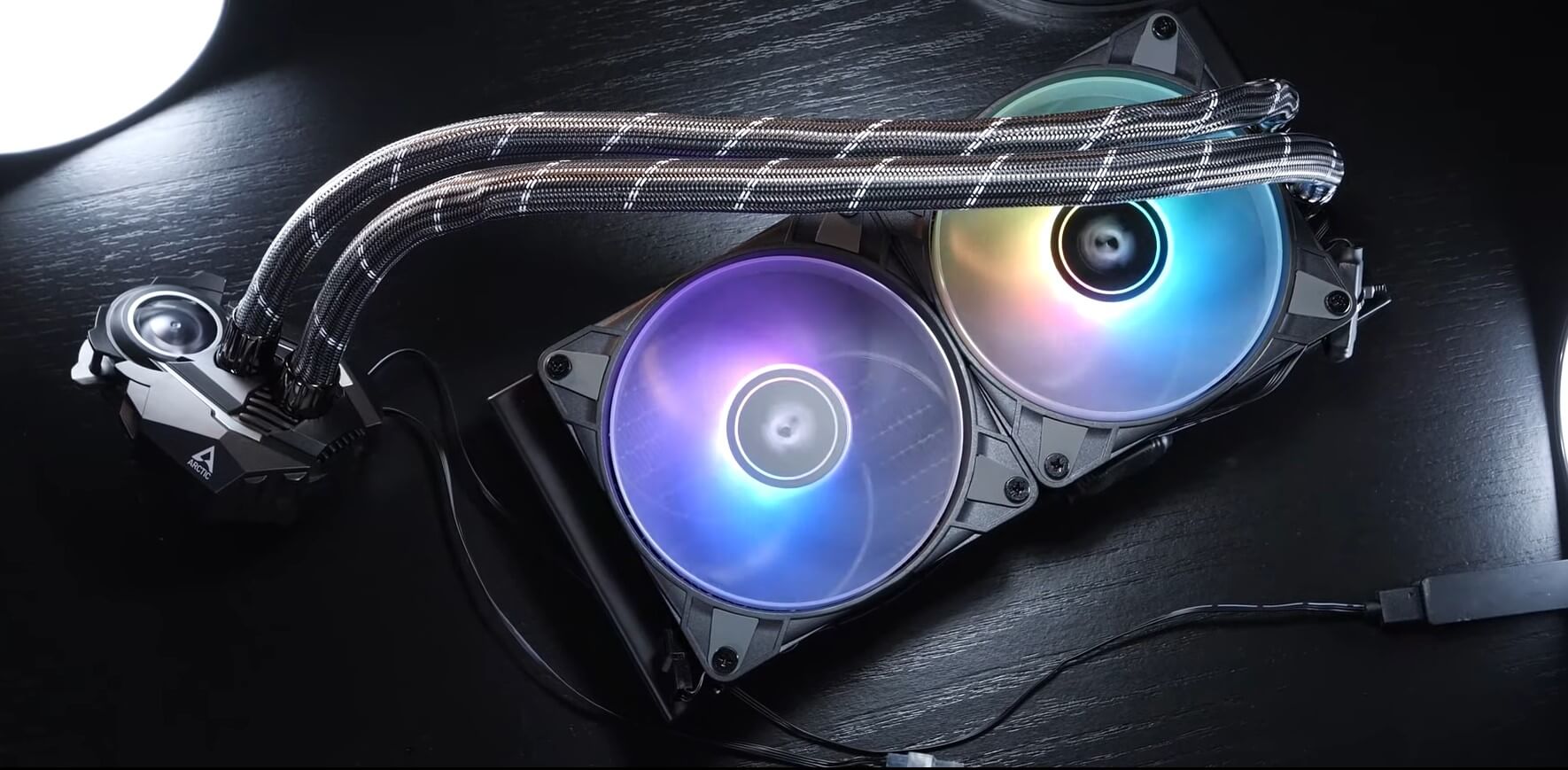 Fan RPM: 1000-3000 | Fans CFM: 55.6 | Tube Length: 450mm | Noise: 4.5 dBA | Warranty: 6 years
Many unique design plots come together to bring the Arctic Liquid Freezer II into existence. The Arctic Freeze II 360mm A-RGB radiator is three times bulkier than normal, allowing for more space and better heat accumulation. Then came the three P12 iconic Arctic fans reinforced it with great performance, which they did successfully despite the low rotation speed and only 55 CFMs each. These fans are PWM controlled within a speed range of 1000-3000 RPM. The company also offers an extended, 2-year warranty for the entire unit.
Now, let's talk about the compatibility of the socket, and the ARCTIC Liquid Freezer II 360 is slightly smaller compared to other 360mm AIO coolers. As for AMD processors, it is only compatible with AMD AM4. Liquid Freezer is almost fully compliant on the Intel side as you can install it on LGA 1200, 115X, ILM square 2011-3, and ILM 2066 square bases. The tubings are 450mm long and fit in all conditions, so you should not have a problem with any of your preferred CPU block layouts. It also works to use fan power cables on the block, removing cable clutter. Fans are already installed in the radiator, leaving you to install the pump with the appropriate bracket and connect only a few wires.
While this increase in radiator thickness is concerned, in theory, with providing greater cooling capacity, there is also a slowdown in requiring fans of high pressure to flow air through the wings properly. And then, there is the decline in body size and distraction, but this should not be a problem in most competent ATX cases, especially if you are happy with the previous installation. While the small variant of Liquid Freezer also boosts the performance that was the best in their class of 240mm variants, the 360mm ARCTIC is sorely overpowered. In a test performed on the Intel I7 6700K, the Liquid Freezer II 360 cooled the PC to 52.5° C under load, enough for third place after two variations of the Thermaltake Flow Rising 360. Overall the Liquid Freezer II is the best 360mm AIO CPU Cooler in 2023.
New to the series ARGB notch sitting on the aluminum pump unit. The lighting can be adjusted with a 5 V ARGB headboard on the motherboard to fit everything. This ARCTIC is also a crazy price, comes with tough build quality, and includes an extended warranty from the manufacturer. All in all, the ARCTIC Liquid Freezer II 360mm A-RGB represents an astonishing thermal number. Arctic Liquid Freezer II Includes high cooling performance, quiet operation, and top-notch build quality, all above the features for the A-RGB range of other coolers.
Pros
Outstanding Performance
Easy Installation
Amazing Price backed with a 6-year warranty
Cons
Limited installation options due to Pump-block design
EKWB EK AIO Elite D-RGB 360mm
Best Performance 360mm AIO CPU Cooler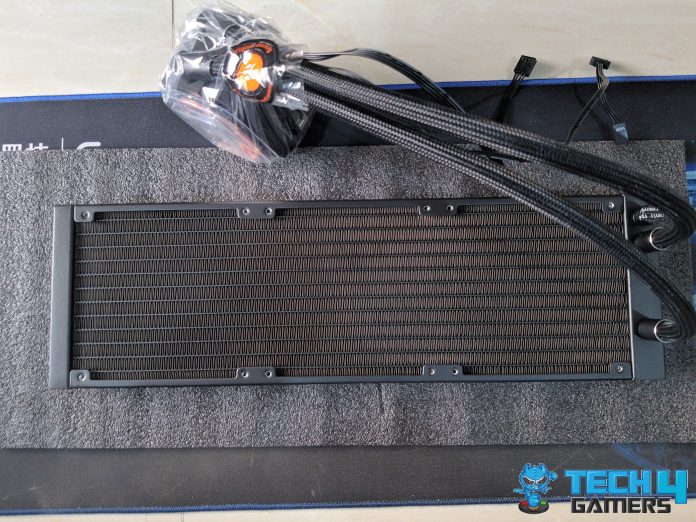 Fan RPM: 1000-3300 | Fans CFM: 66.04 | Tube Length: 465mm | Noise Volume: 36.4 dBA | Warranty: 5 years
EK entered the AIO market with the EKWB EK AIO Elite D-RGB 360m, they quickly became the dominant force in the enthusiastic community due to their rich history with high-quality components for almost any custom water cooling loop. Many of the company's awards reflect its continuous attention to detail and unique quality. EK Water Blocks is now a leading brand of liquid cooling solutions, and this type is very popular among modders, PC Builders, and water cooling enthusiasts alike.
EK Water Blocks provides 6x EK-Vardar S 120ER D-RGB fans compared to 3x in the standard 360 D-RGB system for push-pull configuration making itself a best-performance 360mm AIO CPU Cooler. They also included their own EK-Hub, which allows the user to connect all 6 fans and a cool space block, which is connected to the 4-pin PWM motherboard fan headphone and 5V digital light head. The inside of the CPU block is based on the company's SPC series and has seen improvements in this output. Although the radiator is aluminum rather than copper, it is much larger than we expected, even with a 360 mm contribution. The block is 88x70x53mm and is made of ABS plastic housing, a cold brass plate, and a metal pump.
To install the EK-AIO 360 D-RGB 360mm Liquid Cooler, you first need to adjust the pump block by installing the appropriate mounting arms of your socket under the pump with silver M4 screws. Next, you need to adjust the socket by placing the backplate on the motherboard and securing it with the appropriately inserted thumbs. Radiator dimensions are 395 x 120 x 27mm. The radiator thickness is 27mm and with 25mm fans, the total size is about 52-53mm with screw heads. The radiator has 21 fins per inch (FPI).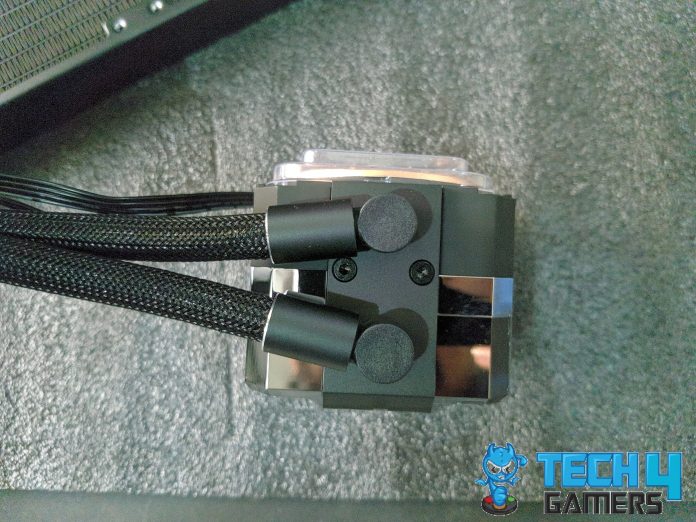 The elite edition of EK-AIO coolers differs from other coolers in this list by having a separate block, 3x more fans, and an EK-Hub. The elite edition comes with a 6x EK-Vardar S 120ER D-RGB for very efficient fans. The tubes are inserted into a block using circular diamond cutters with the same aluminum alloy. The overall construction quality is top-notch and speaks to what we can expect from EKWB. The cooling area has a PWM pump rated at 1000 ~ 3300 RPM ± 10%. No power consumption information is provided in the specification. PWM pump diameter is 25–100%. EK Water Blocks offers a 5-year warranty. We get a top price tag for 3x more fans, harp, and adjusted pump. There is no controller in the box. EK Water Blocks EK-AIO 360 Elite D-RGB lives up to its name on our test bench and has a 5-year warranty and good quality construction.
Pros
Cooling performance is very exceptional
It comes with the improved SPC pump
It comes with the 5-year warranty
Cons
Noisy at high RPM
Memory clearance is not that impressive
Cooler Master Masterliquid ML360R RGB 360mm
Best RGB 360mm AIO Cooler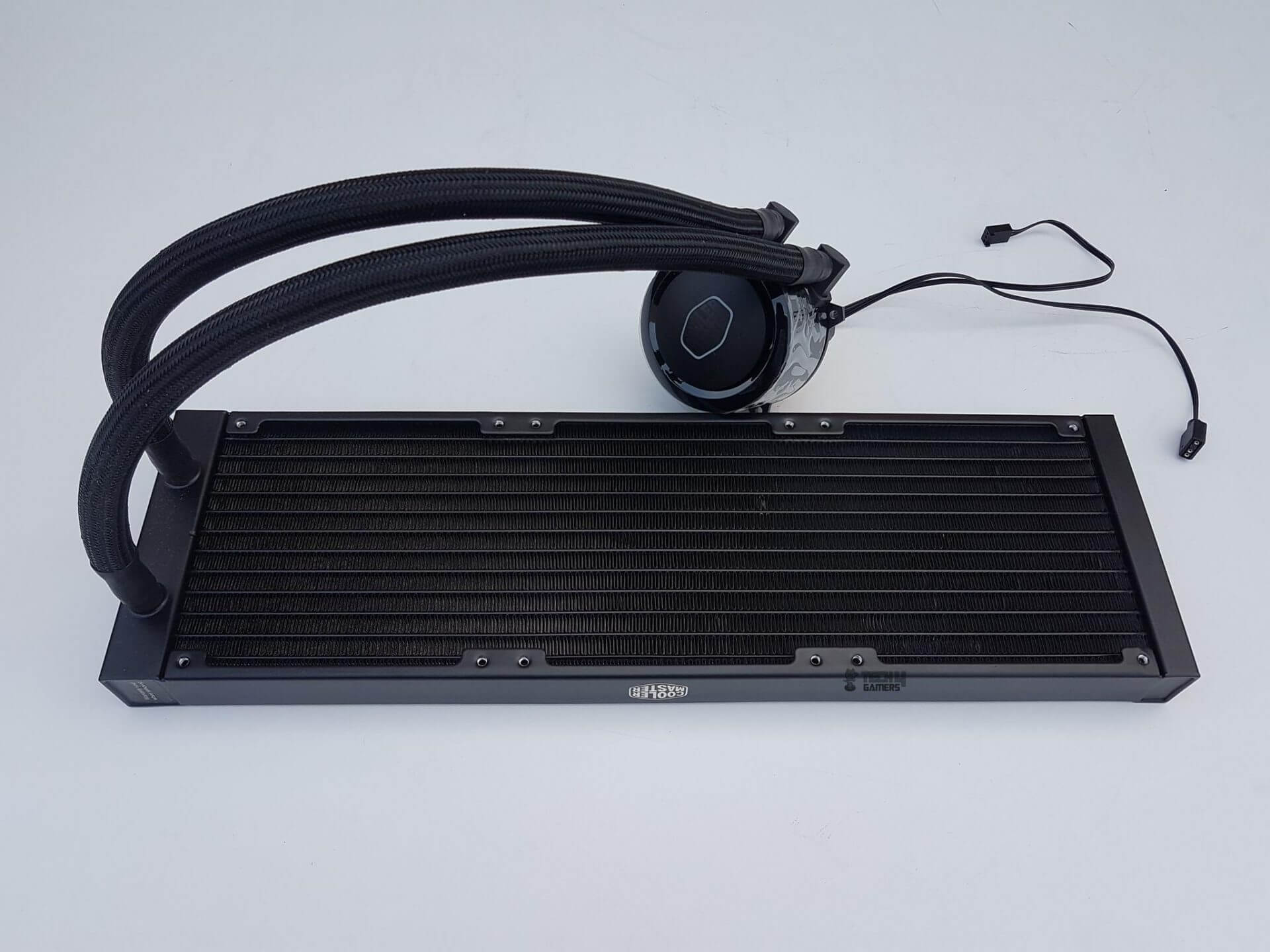 Fan RPM: 650-2000 | Fans CFM: 66.7 | Tube Length: 346mm | Noise Volume: 6-30 dBA | Warranty: 2 years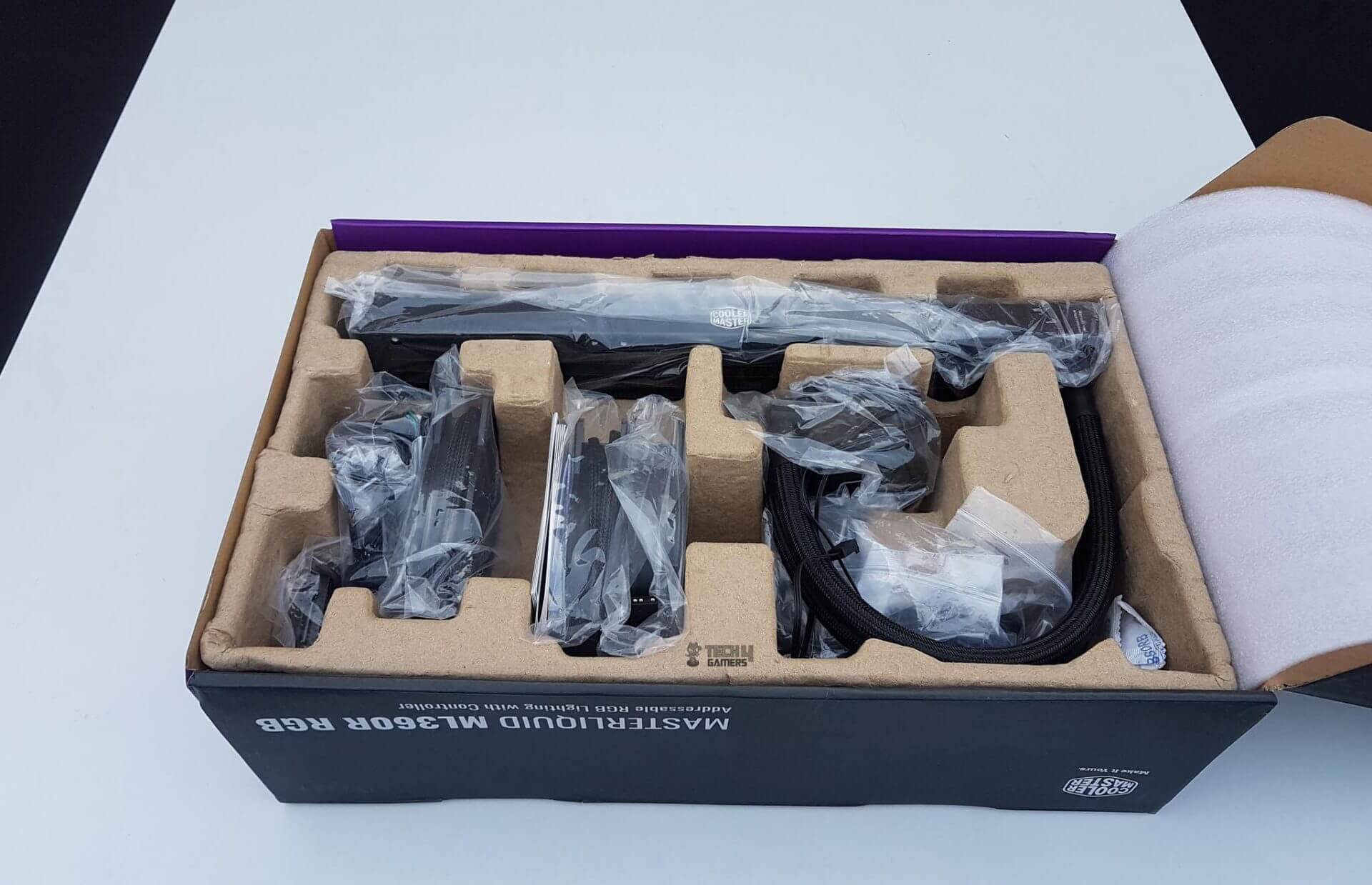 Masterliquid ML360R AIO from Cooler Master comes with a two-chamber pump made of durable materials resistant to corrosion from various agents, giving you a long service without paying attention to the cooled liquid used. Masterliquid ML360R cooler is equipped with RGB LEDs that it can handle to complete the look. Unfortunately, the use of RGB is limited to the pump head. This unit works with different families of processors from both Intel and AMD and supports the majority of sockets from both platforms. It comes with several brackets for this installation and uses a cold copper plate with small cracks for better heat transfer when installed.
Its pump is made of Fiberglass and PPS, which gives it strength and resistance to corrosion and oxidation, making it very durable. This can be understood in the fact that it is limited to use up to 70000 hours. The design of Masterliquid ML360R has a low-voltage pump that allows for a high flow rate, efficient efficiency of heat exchange, and provides unparalleled performance of cooling. In addition to having the perfect balance of Case airflow and air pressure to vent the air out the body of the chassis, fans use a quiet IC driver that slides fan performance to reduce vibrations and fan clicks.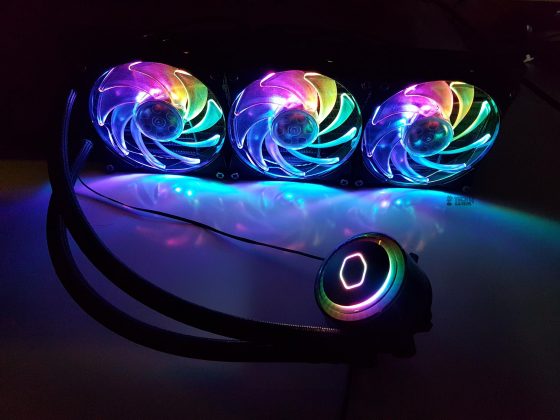 Although the AiO component of the Masterliquid ML360R kit is easy to install, the extra cables and control box increase the difficulty especially considering the lack of plug-ins in RGB cables. PMM fans operate at 650-2000 RPM with an airflow rate of up to 66.7 Cubic feet per minute (CFM). The Cooler Master has done what we have been asking others to do for a long time now. They gave us both non-RGB and RGB fans for the radiator with a price relief. And they did it without the shelf fans to start giving us not only non-RGB but also an RGB variant that can handle it and also a light on the wallet. All in all the ML360R is the best RGB 360mm AIO CPU Cooler.
Pros
Easy installation
Affordable
Great addressable RGB spectrums
Cons
Instruction could be better
Deepcool Castle 360EX
Best Budget 360mm AIO Liquid Cooler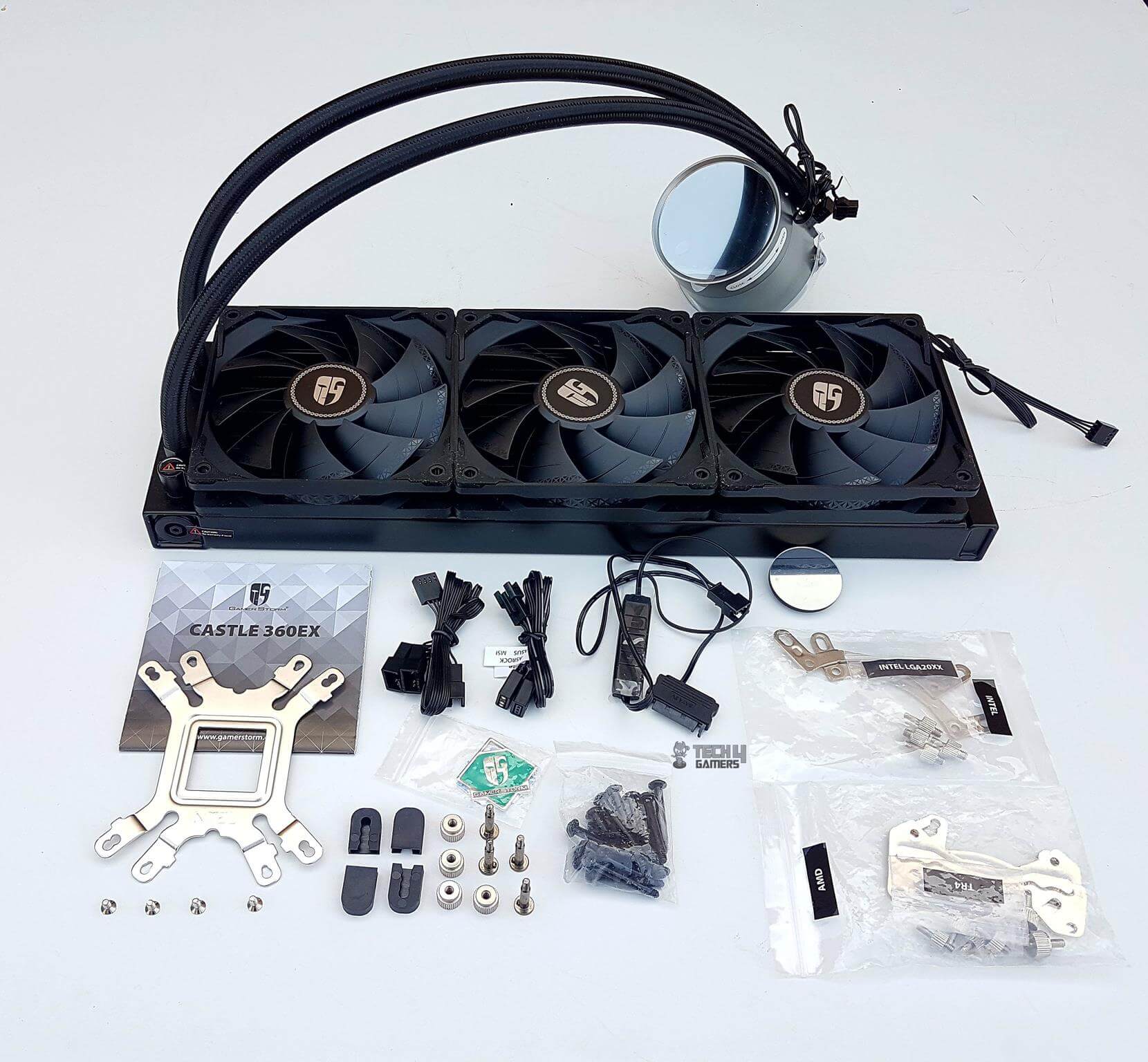 Fan RPM: 500-1800 | Fans CFM: 64.4 | Tube Length: 465mm | Noise Volume: 32.1 dBA | Warranty: 3 years
Deepcool Castle 360EX is a 360mm CLC AIO cooler. It has one of the best 360mm radiators with 3x non-RGB TF120S fans specially designed for radiator use. Castle 360EX is a work of art by the Deepcool product design team, with perfectly rounded edges. The fin stack is compact, and considering the left and right side channels, it has a total of 13 water flow channels.
Castle 360EX brags the use of RGB on the pump head, but not on any of its three 120mm fans. You will control RGB with your motherboard. Deepcool Castle 360EX features a new pump design over the previously updated Captain 240 PRO. While they both have many similar features, including Deepcool's popular Anti-leak technology, both are different when it comes to RGB lighting. Instead of going with illuminated fans and pumping like in Captain 240 PRO, Deepcool only used Castle 360EX pump LEDs.
They have improved the design of the pump by using a two-chamber system and using rowing wings by 25% more to increase heat absorption. As there is only one block with ARGB light, there is a smaller cable clutter on the supports compared to other ARGB coolers. The Deepcool Castle series of coolers from Deepcool has gained a lot of popularity among PC fanatics as these AIO coolers pack not only performance but also the double-glazed window design with digital RGB lighting effect with infinity mirror attracts the eye. Interestingly, its pump head rotates, so you can always install it in the correct position despite using different radiator configurations. The radiator also has an emergency relief valve, which includes DEEPCOOL anti-leak technology.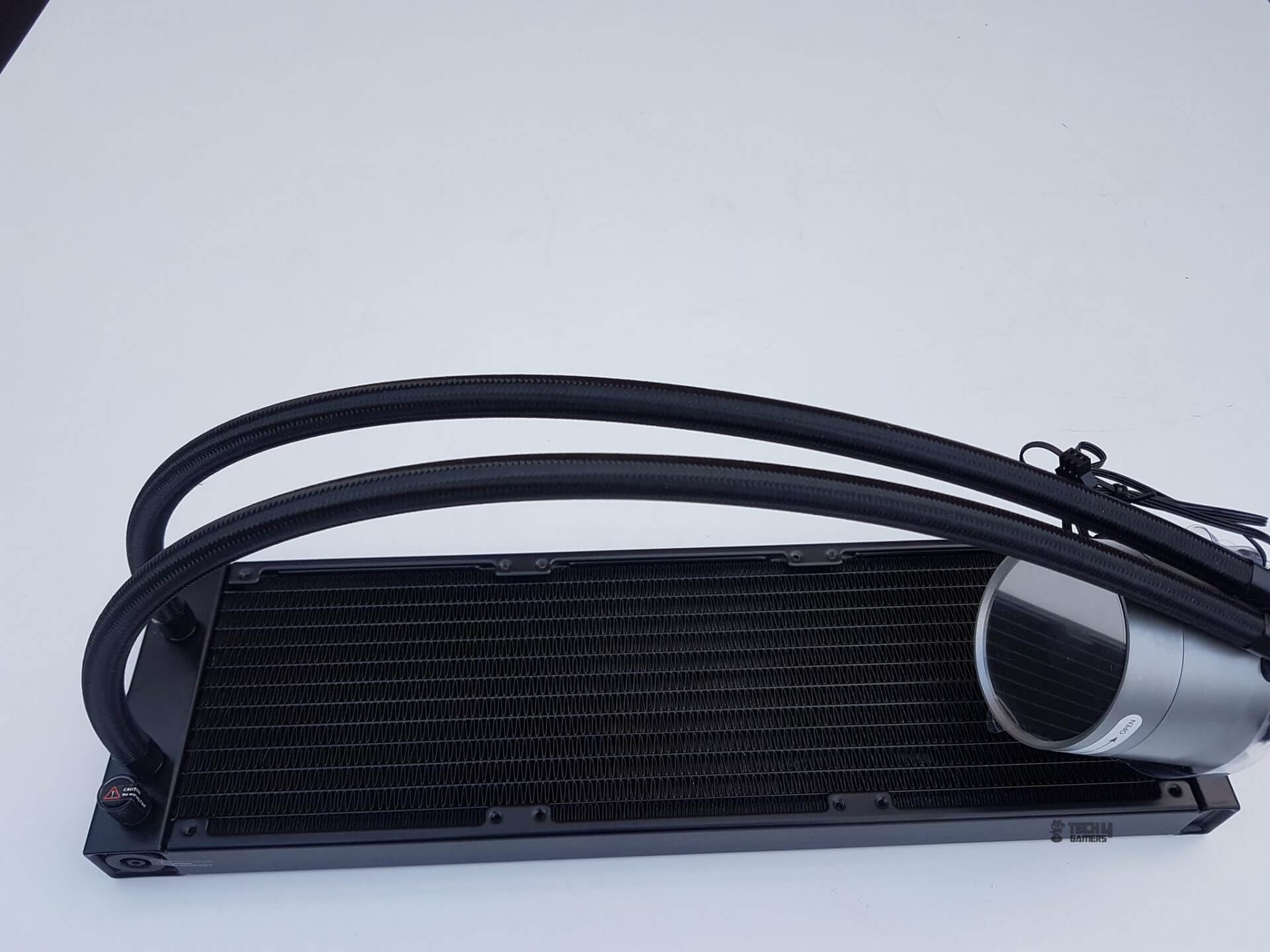 Anti-leak AIO is a new notion of its kind, and if proven successful, it will be the next big thing in AIO design. The press-relief bag is made of advanced EPDM materials manufactured by DuPont with properties such as elasticity, anti-corrosion, and heat resistance. Like its cooling specs, the noise of DEEPCOOL Castle 360EX fans is also impressive, 46 dBa while its fans were working 100%. This is certainly not quiet, but it will not bother when the cooler is installed in the PC chassis with a closed side panel.
Castle 360EX is also easy to install. It is far from easy installation, but it is still a straightforward process that requires a little patience since the backplate has to be held when the pump is first installed. Best of all, thanks to the pump-only illumination, the RGB cable pollution is kept to a minimum, and unlike the Cooler Master ML240P, a simple in-line control hub is quick and easy to set up if your motherboard does not have one.
With the Castle Coolers series, Deepcool has put forward a completely new design, a new way to make the Castle 360EX stand out from the competition. The thickness of the radiator with barb metal is 48mm. The radiator is made of aluminum which is why it is so simple. All in all, there aren't many reasons to choose DEEPCOOL Castle 360EX over the other coolers on this list. Yes, its low-key RGB will delight many and is very easy to install due to its long, moving pipes. Unfortunately, it is noisy at 100% load and RGB fans will be a little disappointed with the DEEPCOOL reserved method, but the more comfortable design makes it a perfect companion for any PC case and the 360EX is at least the best budget 360mm AIO CPU Cooler in 2023.
Pros
Decent Cooling Performance
Easy Installation Process
Good Build Quality
Anti-leak technology
Cons
No RGB Fans

Noise level at 100% fan speed
XIGMATEK Aurora 360 Cooler
Best Value 360mm AIO Liquid Cooler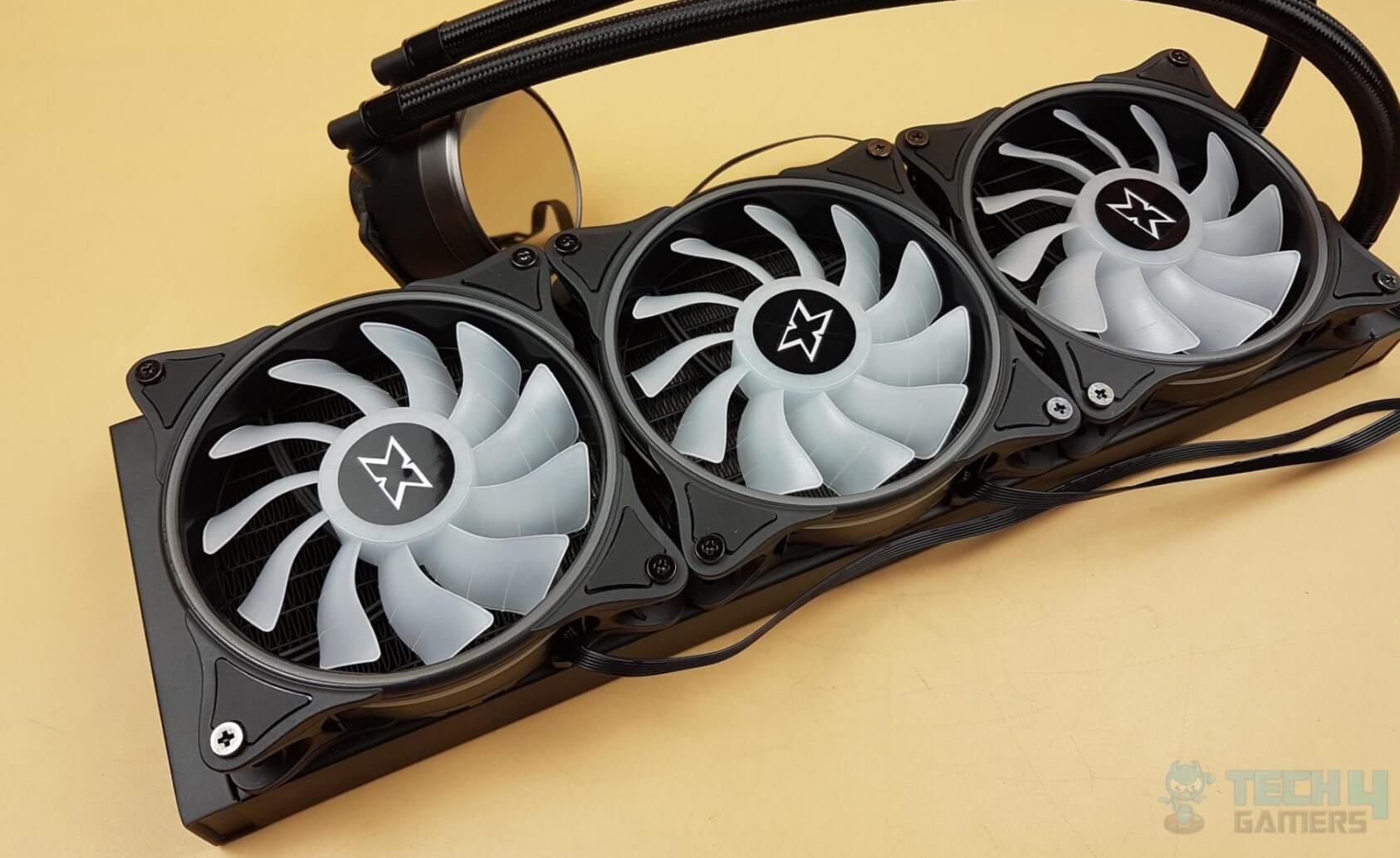 Fan RPM: Upto 1800 | Fans CFM: 58.5 | Tube Length: 350mm | Noise Volume: 25.3 dBA | Warranty: 3 years
The Aurora 360 is the latest AIO cooler in XIGMATEK's lineup. XIGMATEK has not been in the industry as long as its competitors, but with the release of its Aurora 360 Cooler, the company is building a reputation for itself. The Aurora 360 Cooler has an all-black design, ARGB fans, and RGB in the pump header. The AIO cooler is available in both 240mm and 360mm sizes, but we'll be looking at the 360mm Liquid Cooling model with three ARGB fans for our purposes.
The XIGMATEK Aurora 360 Cooler is a visually appealing AIO with RGB support and sufficient performance. The build quality is above average, with the aluminum radiator being 398 x 120 x 27mm and having rubber tubing with mesh sleeves reaching a substantial 350mm in length. Three AT-120 ARGB fans capable of 1800RPM are included with the XIGMATEK Aurora 360 Cooler. The Aurora 360's AT-120 fans have 11 blades and provide the optimum airflow, although they lack PWM interfaces.
The XIGMATEK Aurora 360's circular pump header boasts a back-lit RGB XIGMATEK logo. The pump has an 8-pole configuration and can reach a maximum RPM of 2600. The pump on the XIGMATEK Aurora 360 Cooler has a copper base plate measuring 54x54mm, allowing the XIGMATEK Aurora 360 Cooler to be linked with a variety of sockets.
Cooling capabilities on the XIGMATEK Aurora 360 Cooler are somewhat substantial. If you are someone looking for more colors than performance then the XIGMATEK Aurora 360 Cooler is the one for you. Though, if we talk about noise levels they are more than impressive on the XIGMATEK Aurora 360 Cooler.
The turn-off for us has been the fans with no PWM control, if you want more performance you can always get fans with higher RPM and PWM control to manage your system temps. But for a price tag of around 140$ the performance and aesthetics are more than enough, with 3 ARGB fans and low noise levels the XIGMATEK Aurora 360 Cooler is far than impressive. For such a low price tag and being one of the cheapest in its category, we regard the XIGMATEK Aurora 360 as the best value 360mm AIO cooler.
Pros
Aesthetics
Best Value
RGB
Low Noise Levels
Cons
No PWM Control
Could be better in terms of Performance
Why AIO Liquid Coolers Are Important?
For overlocking users, a Liquid cooler is a necessary component, where you can maintain the temperature of your high-key components, and have a better chance of having them last longer, the AIOs will get you covered. CPUs also slow down when they are very hot for a long time, which means the processor can maintain a high speed for a long time when the cooler is performing perfectly. The main advantages of AIOs are RAM coverage and well-space management. Also, AIO liquid cooler does not create hot air inside the case like air coolers do. The flowing liquid substance transfers the heat process to radiators that will allow pushing your system heat out of the case with radiator fans.
Liquid coolers vs. Air Coolers
Liquid coolers are available in many variants but are often seen in the all-in-one package configuration that doesn't need intense DIY. AIO systems include all the components which are used in the cooling process, and you need a pre-assembled component that you can just screw on your machine. These systems circulate the liquid through "water blocks" that rest on the processor chip. The relatively cool liquid circulating in the water absorbs heat away from the chip and begins to cool it. Thermal attachment and relaxation baseplate between water block and CPU to help improve heat transfer features. Its performance is quiet, with excellent temperature control, and it comes with a nice look like RGB lighting.
PC air cooler systems, on the other hand, are relatively flexible, cost-effective, and easy to install. Air coolers provide the easy and safest way to cool your PC when you require a small amount of maintenance. Air cooling is good if you hope to build a PC soon at a low cost. Its installation is also simple but is very noisy compared to Liquid Coolers.
Principle of Both Coolers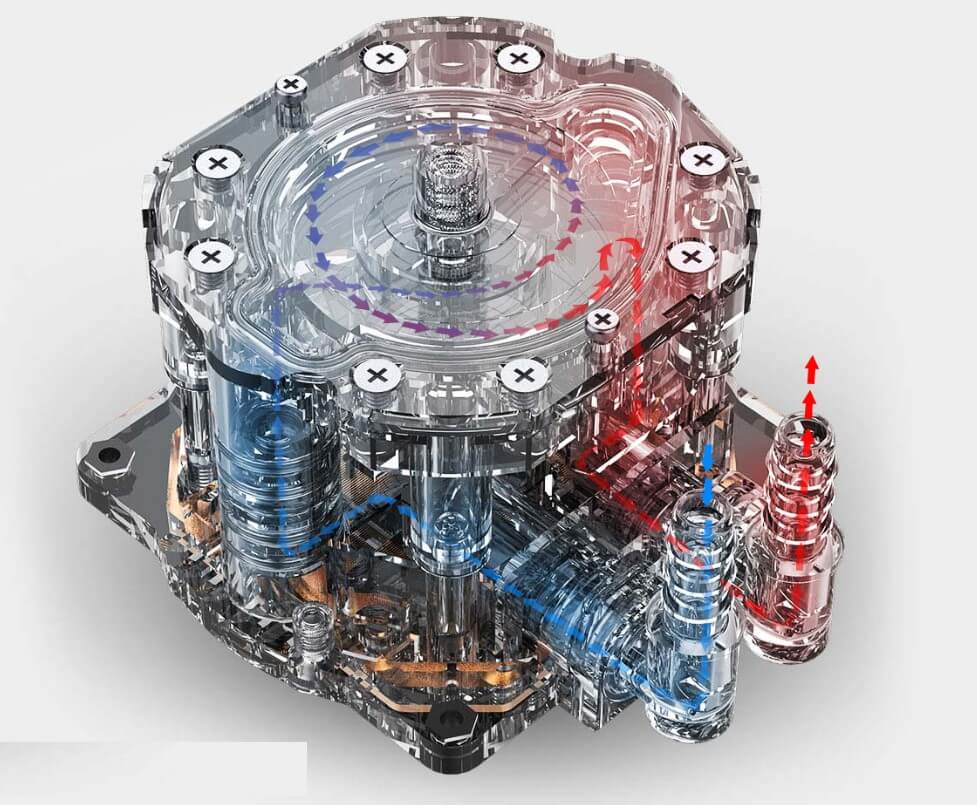 Both coolers prevent the CPU from overheating by transferring heat from the processor to the radiator, where the fan can blow hot air. However, to achieve that same effect, air coolers and liquid coolers use very different methods. In an air cooler system, hotness is first transferred to a cooling plate and then to the heat pipes: the tubes of metals you can see from the plate of contact to the top of the heatsink. These tube pipes contain evaporation fluid to utilize heat transfer to the connected fins of the heatsink. Of course, the air cooler still has fluid in its pipes in the case of many top-tier models.
Liquid coolers attach their contact to the tap of small plates, which customize the flow of coolant material to and from the radiator through a pair of lengthy, flexible tubes. The heat is sucked by the cooler and then pumped to a water tank direct to the radiator, where it dissipates one part of the radiator loop travels heat to it. Fans are attached and then blow up the heat as it comes out of the wings. On the opposite plane of the heatsink to the tubes, the fluid turns and flows through one part of the wings, eventually reaching the other tank from which it returns to the pump. Between the heat transfer to the wings in the first pass and the cooling of the fans on the return pass, the liquid is cold enough to retrieve heat from the CPU and continue the cycle.
Which to Choose?
We prefer to choose the liquid coolers, the liquid is better at handling heat than gas-filled pipes used for air coolers, so the heat is efficiently drawn away from the processor and distributed to the radiator. The second reason is the radiator itself: If you decide, on 360mm vs 240mm – the 240mm radiator is one of the most commonly used sizes by the AIO liquid coolers will fit a mediocre area than a standard air-cooled radiator. Because the radiator should emit as much heat as possible, the extra space – for the heat to come out – is exactly what you want. Read our Best 240mm AIO Article to get more info on this.
How to install an AIO CPU Cooler [Guide]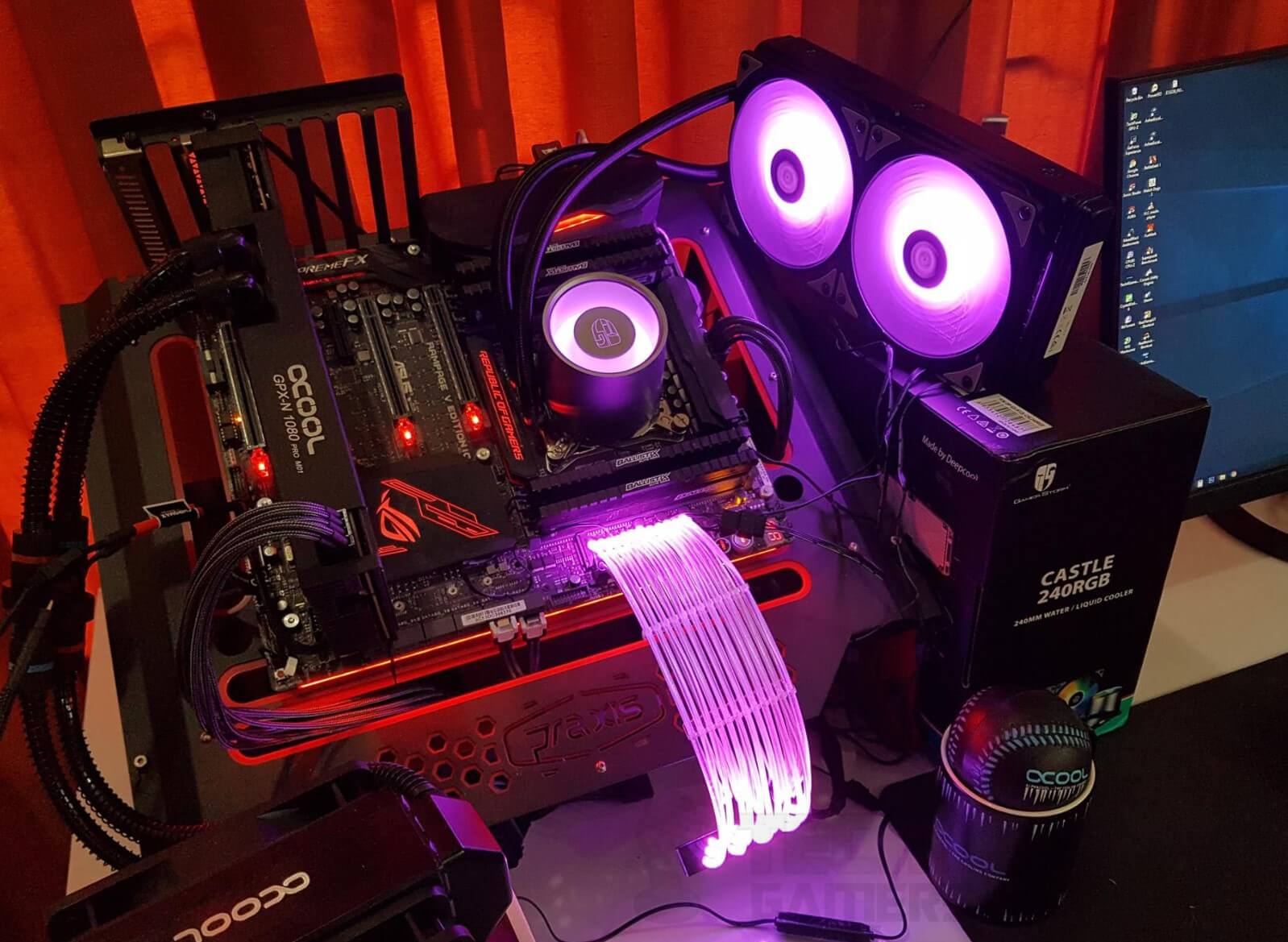 Installation of an AIO cooler is not complicated, but you need to make sure you install it properly. We will inform you of the appropriate steps to install the AIO CPU cooler, which are as follows:
Pre-Installation
Before installing your all-in-one cooler, you must remove the previous cooler and mounting brackets to open up new space. Also, be sure to wipe the area with a cleaning solution to remove the thermal grease spots over the processor.
Installation of Radiator Fans
Radiator fans come separately from the packaging, which means you have to put them onto the radiator by hand. You can fit the fans on whichever side of the radiator, taking care in mind the airflow and accessible room in the 360mm Radiator case. If you fit the fans on the inside, they will drive the air out of the case to keep it casual. While if you install them on the reverse side of the radiator, they will operate by pulling in cool air. Note that the arrows indicate airflow on the fans to mount them properly. The former thing you want is your fan to push warm air out of the case.
Installation of Backplate
In most PC cases, a quick access window is installed behind the motherboard. If not, you will need to disconnect the PC and remove the side panel of the case to install the backplate. If you are making a brand new PC and are planning to install an AIO cooler over an AMD processor, you can install the cooler on the motherboard in the front so you do not get into the trouble of not connecting via the backplate.
Placing the CPU Block
This step involves placing the pump on the backplate using a packet bracket. Insert bracket points into the provided holes and tighten them firmly in place, ensuring that pressure is distributed quickly across the CPU.
Installation of Radiator
Most PC chassis have built-in fixing points for the AIO radiator. Reside the radiator inside the case and then mount it using the screws provided with the package. We recommend mounting the radiator to the ceiling of the PC case for better results.
Cable connections
First, attach the power chords to the pump. In many cases, the cable has 3 connectors; the 3-pin connector connects to the motherboard's fan header on the motherboard, which is labeled. You can mount the second SATA power connector into an appropriate connector involved in the PSU. The third connection is for the mounted fans that you can slot into the 4-pin header. In the final step, connect the mini USB cord for the LEDs on the pump and an internal USB 2.0 port on the motherboard (for some coolers, not all).
Final Installation
All the AIO cooler gears are in the right position, and it's time for the trial if it is working well or not. Before you start your PC, check your BIOS to see the fan switch settings by following the user manual. After starting the PC, make sure the fans are rotating and the pump is operating. If you can catch a slight purr from the cooler, it means it is all set and ready to use.
Things to Consider Before Buying 360mm AIO CPU Cooler
The next step is to start looking at ways we can choose the right one as that is just as important as anything else, and we should not ignore that.
TDP
Radiator
Fans
Pipes
Pump
Compatibility of Socket
Thermal Compound
Noise
Cooler size
Warranty
Design/Aesthetics
TDP
The TDP cooler rating is one of the most important factors in our consideration of whether it is suitable for your machine. Thermal design power sometimes called a Thermal design point, is the high temperature produced by a computer chip or part.
Radiator
AIO cool radiators are available in a variety of sizes. Not all cases, however, can manage each radiator scale. Also, scan the specifics of the device case you are considering to ensure that it fits the AIO cooler radiator size of your choice.
Fans
The fan is used to push hot air away from the CPU by moving cold air over the heat sink. Every CPU has a built-in temperature reader that monitors processor temperature. If the temperature rises too high, the fan or fans near the CPU can speed up the cooling processor and sink temperature.
Pipes
The pipes which connect pumps and radiator is made with flexible fiber material, which carries the coolant liquid and transmits and dissipate the hot air.
Pump
The pump is responsible for pumping fluid to the radiator. When it comes to any liquid cooling setting, the pump is the heart of the system. This is especially true for a closed loop.
Compatibility of Socket
Another thing you can do is find out what kind of motherboard you have. 775, AM2, and the latest 1336, up-and-coming models are the most common socket models currently. In addition to the free choice, you should make sure it fits your particular socket form. Currently, most CPU coolers are compatible with a wide range of common socket types, although some accept one type of socket. In addition to the style of the socket, the shape of the motherboard will also affect which coolers will be or will not be the same.
Thermal Compound
The thermal compound needs to be replaced every year, as it will eventually dry out and start losing its effectiveness. If you leave the heat attachment too long, you will start to see performance issues and overheating that could damage your CPU over time.
Noise
You can look for no quiet fans at all. It's always happening, and it's better if you take the right step here. Otherwise, you will end up with a completely bad experience, which is not what we want anyone to hear from the beginning.
Cooler Size
When choosing a cool CPU, you also need to consider the size of your case. Some coolers are large and may not fit inside small bags, so be sure to weigh your case before buying.
Warranty
A good warranty is usually very important, and that is what you should look for in the first place. The amount of money is something you will decide as it is an independent matter.
Design/Aesthetics
Aspects of beauty are also things that you may want to consider. The AIO selection process is usually much simpler than one might think, so focusing too much on it will not be kind to anyone. When choosing a new cooler, see what you usually want. However, you should not put down performance to look good. These should come to the forefront of your priorities.
Takeaways
The 360mm AIO coolers are large enough, and you should make sure your case has space to fit it before installing it. However, they provide excellent thermal dispersion power, thanks to three fans providing adequate airflow to cool the system even during certain heated activities. If this is your first experience of purchasing an AIO solution for your PC, we can only imagine how crucial it must have been for you to make the right decision. We've been here, too, and we can tell you it wasn't easy a few times, and after that, we just got used to picking up something worthy enough. All five coolers mentioned in the list have amazing features that will meet your needs. Hopefully, you will find the best 360 AIO on this list. The key is to see how much you can spend and what you want in the first place. That is why the purpose of this integration is to ensure that users have all their questions answered because, at the end of the day, we want to make sure that all the consumers can make good cooling choices without any potential problems. Happy shopping!
Frequently Asked Questions
What is the best fan placement on a 360mm radiator?
When cooling your CPU with AIO, the complete setup includes placing the radiator in front of or above your case. Both work well. To prioritize GPU cooling, you can put CPU AIO on top of the case to spare the pipes to come in the way of the airflow.
What does 360mm cooling mean?
360mm cooling actually refers to the size of the AIO's radiators that are commonly used in high-performance systems with top-notch CPUs. If you want to crank the clocks of your CPU, the 360mm is your best option to keep your CPU cool while performing at faster speed rates.
What cases fit 360mm radiator?
Mid-Tower cases are the least choice for 360mm radiators. It's a full house that has the capacity of mounting this size of radiator. However, full-tower pc cases are recommended for top-mounting.
How much more cooling makes a 360mm radiator offer than a 280mm?
The 360mm models have a 10% advantage in terms of radiator space and three fans working for them, but the 280mm models have the advantage of two large 140mm fans.
Is 360mm AIO Worth It?
Yes, if you have a system that produces heat too much that your small-size radiator can't handle, it's the best choice for your system. Everything has its purpose and worth.
What are the benefits of a 360mm AIO Cooler?
360mm AIO coolers are among the top options for players who want to build a high-quality gaming PC. These great AIO coolers provide the ability to cool excess liquid on the table without the hassle of creating your own custom cooling loop.
Was our article helpful? 👨‍💻
Thank you! Please share your positive feedback. 🔋
How could we improve this post? Please Help us. 😔