So you've finally done it. You've built your gaming system from the ground up, incorporating the latest and greatest CPUs and GPUs from the likes of Intel and AMD. The best PC casings, motherboards, RAM, PSUs, you have it all. Alas, you still haven't decided on your cooling system or as we reckon Best 120mm AIO Liquid Cooler. You're knowledgeable enough to know there's no use for all the fancy tech you're putting together if you don't possess a decent cooling solution. However, there is nothing to worry about since this is precisely where we come in.
Here is a table and comparison chart showing all our picked 120mm AIO CPU Coolers. You will find details reviews for each of them below as well.
120mm AIO Cooler
SilverStone VIDA 120 Slim
Thermaltake TH120 ARGB Snow Edition
Arctic Liquid Freezer II 120
BeQuiet! Silent Loop 2 120
Award
Best Looking 120mm AIO CPU Cooler 
Best White 120mm AIO CPU Cooler
Best Overall 120mm AIO CPU Cooler
Pros
White Design, Performance
Performance, Noise, Value For Money
Price, Maintenance-free operation, Decent Airflow
Noise, Looks, Performance
Cons
No RGB, Lack of MX-5 Thermal Paste
Noise, Outdated Components
Last update on 2023-06-07
Best 120mm AIO Coolers
Here are our recommendations for the Best 120mm AIO:
SilverStone VIDA 120 Slim
Thermaltake TH120 ARGB Snow Edition
Arctic Liquid Freezer II 120
EVGA CLC 120
EK 120 D-RGB
BeQuiet! Silent Loop 2 120
SilverStone VIDA 120 Slim
Best Looking 120mm AIO CPU Cooler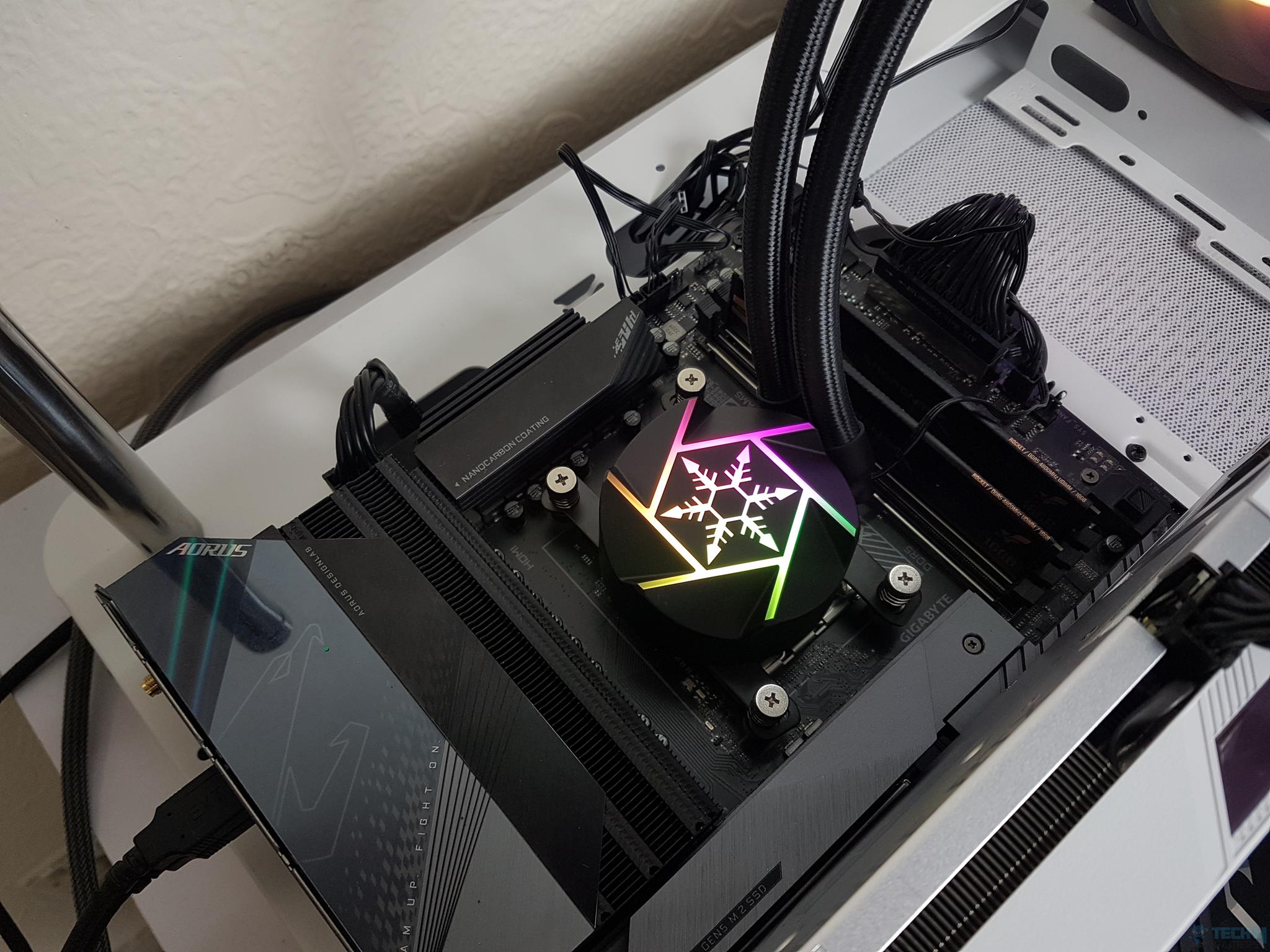 Specifications: Type: Single-fan 120mm AIO | Fan: 1x 120mm VIDA fan | Fan Speed: 300-1800 RPM | Motor Speed: 4200 RPM | Tube Length: 400mm | RGB: Yes | Dimensions: 120 x 22 x 154 mm | Socket Support: Intel 115x/1200/1700/2011/2066 AMD Socket AM4/AM5
Pros
Excellent performance
Compact design
SilverStone is a renowned brand known for manufacturing some of the most well-engineered cases and coolers in the market. The VIDA 120 Slim is SilverStone's entry-level 120mm cooler that is designed specifically for anyone working with small form factor builds. Before anything, let's first go over the cooler's specifications which demonstrate impressive capabilities on paper. Starting from the fan, which provides speeds ranging from 300-1800 RPM. The 120mm fan consists of 9 blades and is capable of providing a maximum airflow of 66.83 CFM
Furthermore, the SilverStone VIDA 120 Slim also remains fairly silent for the most part, with the noise output peaking at 33.9 dBA. The impressive specifications are then further reinforced by its polished black design, which features just the right amount of RGB. Apart from the RGB fan, SilverStone VIda 120 Slim boasts unique design elements on the water block, allowing it to stand out from the contemporary designs that have flooded the market.
With the radiator thickness measuring in at a remarkable 16mm, the VIDA SilverStone 120 Slim gives even the smallest of 120mm coolers a run for their money. Not only that, but the SilverStone VIDA 120 Slim also remains undisputed in every other dimension category, allowing it to fit inside a wide range of cases.
Similarly, RAM clearance is also excellent, with no signs of obstruction when paired with taller RAM kits. Fortunately, the smaller overall form factor does not undermine its thermal performance, as highlighted by its astronomical TDP of 285W, which should be more than enough for modern processors.
SilverStone seems to have also swayed away from an Asetek pump design, opting for an in-house design that is vastly different. The pump itself has been integrated within the radiator; it features a coming with a three-phase, six-pole motor design. Bundled in with the cooler itself is a tube of thermal compound along with an additional A-RGB controller, which allows you to switch between 10 separate lighting modes. Naturally, RGB speed and brightness can also be controlled using the included controller.
What We Liked
The SilverStone VIDA 120 Slim brings a lot to the table, including decent cooling, excellent RAM clearance as well as a unique design. All of that is topped off by its slim design, which makes it ideal for small form factor builds.
What We Disliked
The SilverStone VIDA 120 Slim arrives with two years of warranty, which is comparatively lower than other manufacturers.
Verdict
From exceptional cooling to uncompromised RAM clearance, SilverStone seems to have spared no expense with the cooler's feature set. That, coupled with its aesthetically pleasing design characteristics, makes it the Best Looking 120mm AIO CPU Cooler.
Thermaltake TH120 ARGB Snow Edition
Best White 120mm AIO CPU Cooler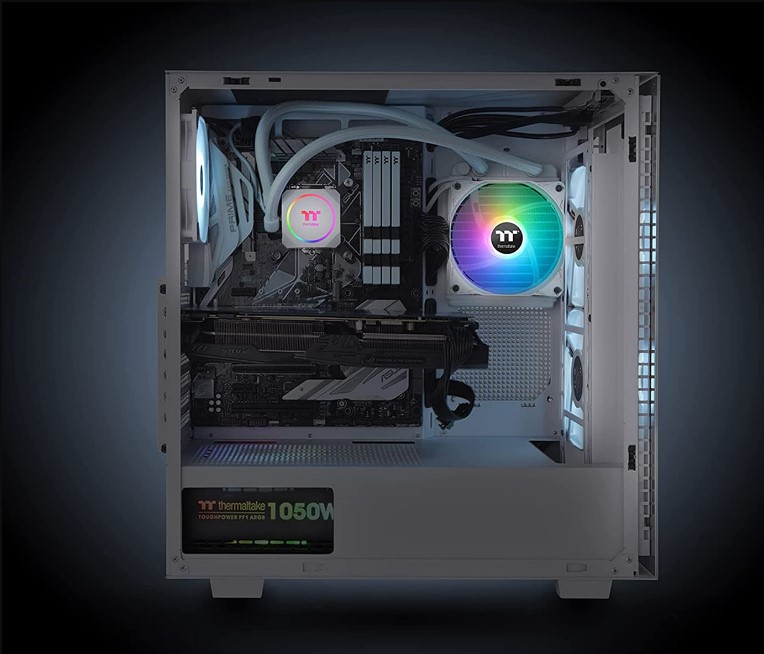 Specifications: Type: Single-fan 120mm AIO | Fan: 1x 120mm | Fan Speed: 1500 RPM | Pump Speed: 3300 RPM | Tube Length: 400mm | RGB: Yes | Dimensions: 153 x 120 x 27 mm | Socket Support: Intel LGA 1700/1200/1156/1155/1151/1150, AMD FM2/FM1/AM5/AM4/AM3+/AM3/AM2+/AM2
Pros
Vibrant white design
Solid cooling performance
If the designs of any of our previous picks were a bit too bland for your liking, then opting for a white cooler that matches the theme of your build might be more in line with your interests, and that is exactly where the Thermaltake TH120 ARGB comes into play.
Donned in a clean white finish, the Thermaltake TH120 A-RGB makes for a viable option for all-white PC builds. Unsurprisingly, the color scheme is not the sole determinant of the cooler's value. Thermaltake has managed to back up the TH120 ARGB with sufficient cooling, allowing it to perform on par with higher-end coolers.
The biggest contributing factor to its remarkable performance is the 120mm fan which operates at a maximum speed of 1500 RPM. Other fan specifications include an air pressure of 1.31 mm-H2O along with a maximum airflow of 59.28 CFM. It is also worth mentioning that the fan reaches a maximum noise output of 28.2 dBA, which is fairly reasonable. Apart from that, the Thermaltake TH120 ARGB also benefits from a modestly sized water block that comes with an integrated pump. The water block has also been adorned in a white finish in order to match the color scheme of the rest of the cooler.
As far as the radiator is concerned, Thermaltake has gone with a 27mm thick radiator, which is fairly standard for a 120mm AIO Cooler. Thermaltake also claims to have increased the cooler's surface area for increased efficiency and better dissipation. On the other hand, RAM and PC Case clearance are equally as impressive. Staying true to its name, Thermaltake has incorporated RGB lighting into the cooler, particularly on the water block and the fan. A smart fan controller has been provided to control all of the included RGB lighting.
Lastly, the installation process has remained extremely simple thanks to its smaller design. Moreover, the Thermaltake TH120 ARGB is also compatible with a wide range of sockets, making it a perfect addition to your white-themed build.
What We Liked
The Thermaltake TH120 ARGB is packed with everything you would want out of a 120mm AIO, including decent performance, RGB lighting, and a stunning white finish.
What We Disliked
While the Thermaltake TH120 ARGB exudes great design traits, the lack of a PWM fan is a bit disappointing.
Verdict
Despite the lack of a PWM fan, we have crowned the ThermalTake TH120 ARGB as the Best White 120mm CPU Cooler for its well-constructed white design and decent cooling performance.
Arctic Liquid Freezer II 120
Best Overall 120mm AIO CPU Cooler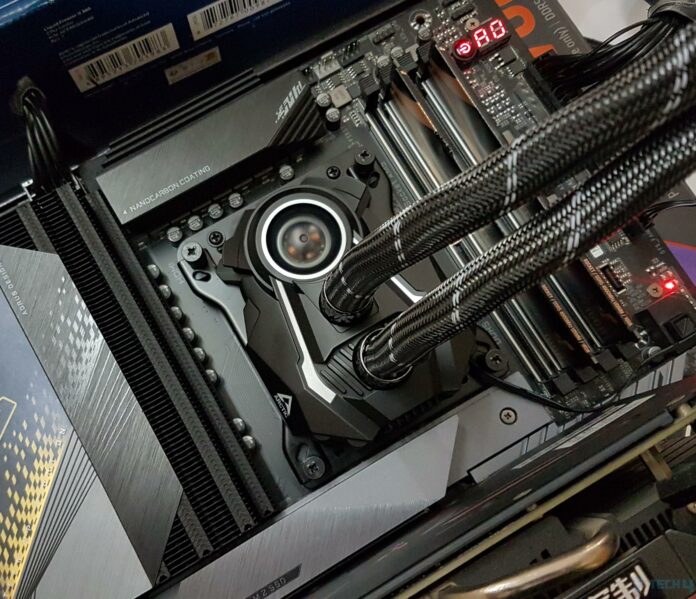 Specifications: Type: Single-fan 120mm AIO | Fan: 1x Arctic P12 PWM | Fan Speed: 200-1800 RPM | Pump Speed: 800-2000 RPM | Tube Length: 350mm | TDP: 200W | RGB: No | Dimensions: 157 x 120 x 38mm | Socket Support: Intel LGA 1700, 1200, 1155, 1151, 1150, 2011, 2011-3, 2066 & AMD AM4
Pros
Best-in-class performance with bonus VRM fan
Silent noise profile
Spectacular value for money
Excellent cable management
Simplistic installation process
Top-notch after-sales support
Offset mounting option for AMD users
Cons
No RGB
Lack of MX-5 Thermal Paste
No user manual included
To begin with, Arctic has implemented the same in-house developed PWM pump, found in the larger 240 and 280mm AIO variants as well, with the pump being automatically or manually controllable between 800-2000 RPM. Arctic has designed the pump such that humming has been majorly reduced while maintaining high efficiency. Combined, this contributes to a lower noise level and decreased power consumption, with the Liquid Freezer II 120 sipping between 0.7W-3.4W for the entire AIO unit depending upon your workload.
Even so, the Liquid Freezer II 120 can handle a CPU possessing a TDP (Thermal Design Power) of more than 200W, meaning you could moderately overclock your CPU without worrying whether it'll burn down to ashes. The Liquid Freezer II 120 accomplishes all of this while keeping sound levels below 25 dB, even under the most extreme conditions.
Moving on, Arctic is utilizing a state-of-the-art 38mm thick radiator (as compared to conventional 28mm thick radiators from rivals) with a high fin density. Thanks to the increased thickness and fin density, a more significant amount of coolant can be used in the circuit, which, in turn, significantly increases the cooling surface area. In the fan department, Arctic has paired the premium radiator with a single P-12 fan, which has left its mark on the performance charts. The fan may be set to any speed ranging between 200-1800 RPM. The P-12 uses a fluid dynamic bearing to produce a maximum airflow of 55.6 CFM, simultaneously minimizing vibrations while maintaining a high static pressure of 2.2mm H2O for enhanced cooling performance.
One of the main highlights of the Arctic Liquid Freezer II 120mm AIO is the embedded 40mm VRM fan Arctic has added on top of the pump, dedicated to cooling down the VRMs (Voltage Regulator Module) on your motherboard by up to 15C, increasing the amount of overclocking headroom available while also extending componential longevity. Arctic assures us that the fan is as capable as any other despite its tiny size, even going as far as to promise a free replacement for the VRM fan in the unlikely event it fails to work. Of course, this fan is PWM enabled as well, meaning that the pump and both your fans, all of them, can be automatically regulated via your motherboard for your convenience.
Arctic rounds off the Liquid Freezer II 120 with a 6-year warranty, going as far as promising a 10-year lifespan for the 120mm P-12 fan, if not the entire unit.
What We Liked
There's a lot to love about the Arctic Liquid Freezer II 120. The 40mm embedded VRM fan, paired with the P-12 fan and the 38mm thick radiator alongside the EPDM tubing, paves the way for best-in-class cooling performance with ample overclocking headroom. The Liquid Freezer II 120 struggles to be audible even under the most trying conditions, making for a genuinely silent cooling experience. It offers excellent cable management because the entire AIO can be run over a single PWM header.
Arctic goes above and beyond with their after-sales services, promising you a free replacement for the 40mm VRM fan should it ever fail while also standing by the entire AIO unit with a 6-year warranty.
The installation process is easy for beginners to follow, with Arctic providing an offset mounting option for AMD users for even better clearance. Last but not least, the Liquid Freezer II 120mm AIO manages to do it all and still be priced very competitively.
What We Disliked
First off, the RGB enthusiasts in our audience will be stumped to hear that the Liquid Freezer II 120 doesn't offer any RGB lighting. It's gone for an all-black stealthy look, which might appeal to your monochrome aesthetic, but may also look slightly childish with the weird aggressive slopes, slants, and curves. With respect to the easy-going installation, it would've been convenient if Arctic had included the user manuals in the packaging instead of forcing users to visit their website to view the user manuals for instructions and guidelines.
As mentioned before, we'd have loved the inclusion of Arctic's MX-5 Thermal Paste in place of the MX-4, seeing that they already include the MX-5 in the larger siblings of the Liquid Freezer II 120. However, for this price, we'll just turn a blind eye to this minor omission. Finally, Arctic should've increased the length of the tubing so as to make installations easier for large PC cases.
Verdict
Let's assume you have a miniature or medium-sized PC. If you can forgive the absence of RGB, there's absolutely no reason to look further than the Liquid Freezer II 120. Arctic has a winner on its hand, offering top-of-the-line cooling performance at virtually inaudible sound levels, incorporated within a maintenance-free closed loop. You're even allotted decent room for overclocking should you feel the urge to ramp up your CPU settings. Backed up by Arctic's reputed warranty and comprehensive after-sales support, we think you'll get the gist of what's to follow.
Giving you the best bang for your buck, we're happy to announce that the Arctic Liquid Freezer II 120 officially takes the crown as the Best 120mm AIO Liquid Cooler in 2023, joining its larger siblings who have multiple awards of their own, thanks to Arctic's stellar in-house machinery, design, performance and warranty.
EVGA CLC 120
Best Budget 120mm AIO CPU Cooler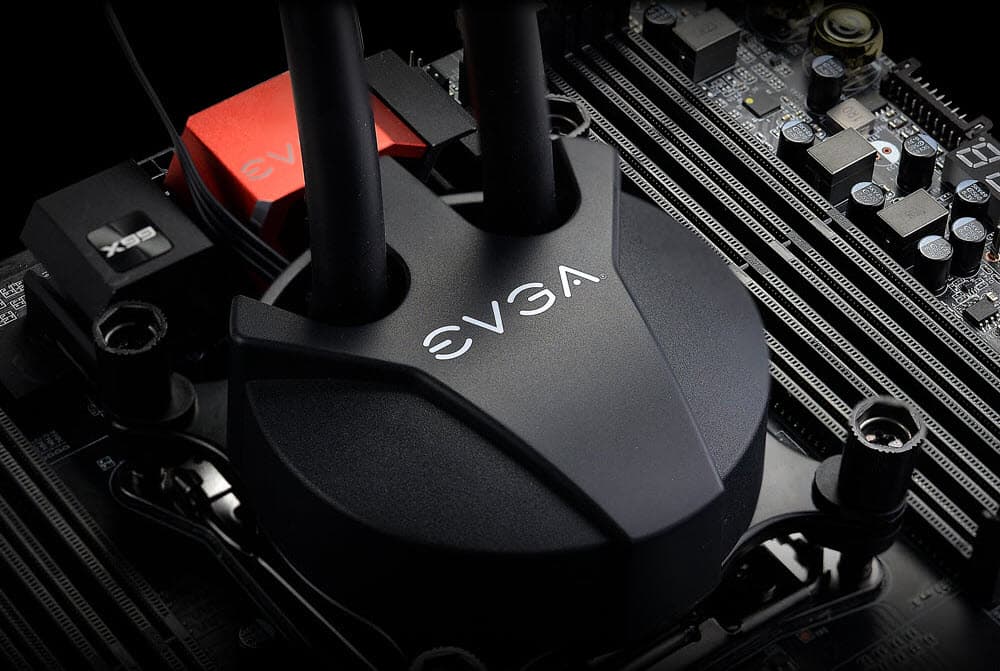 Specifications: Type: Single-fan 120mm AIO | Fan: 1x 120mm EVGA | Fan Speed: 1800 RPM | Pump: Asetek 5th Gen | TDP: 200W+ | RGB: Yes | Dimensions: 156 x 122 x 30mm | Socket Support: Intel LGA 1700, 1366, 1156, 1155, 1151, 1150, 1136, 2066, 2011, 2011-3 & AMD AM4
Pros
Maintenance-free operation
Decent airflow
Sleek cable management
EVGA GPU can be synced with the cooler's RGB
Ultra cheap
Cons
Extreme noise pollution
Outdated components
Pump speed isn't user-controllable
EVGA, better known for producing some of the most high-performance PSUs and GPUs, is now breaking into the AIO cooling niche with its EVGA CLC lineup of AIO coolers. EVGA seems to have found the recipe for perfection since their CLC AIOs are flying off the shelves, in particular, the EVGA CLC 240 and the CLC 280. However, we'll be taking a closer look at the EVGA CLC 120mm AIO for this portion of the article.
Beginning with the construction of the EVGA CLC 120, a copper cold plate with high microfin density is in play here. Thanks to the densely packed microfins, the surface area for cooling is increased, meaning that water can pass at a higher pressure through them, improving cooling performance.
Secondly, EVGA is using an Asetek Gen 5 Pump which admittedly does seem very outdated by today's standards since mainstream AIOs nowadays are using Asetek Gen 7 pumps with improved performance and reduced noise. Nevertheless, EVGA has implemented a foam damper within the pump housing to reduce noise, along with a diffuser plate for evenly distributing the backlighting of the RGB LEDs. Yes, the pump plate has an EVGA logo which is illuminated with RGB effects and is user-controllable as well. To our delight, EVGA permits user profiles to be stored on the device, meaning you could tweak the RGB LEDs as desired and then disconnect the cable; the lights would still stay the same on the pump plate.
As we inspect the EVGA CLC 120mm AIO in deeper detail, we find that the pump's inner PCB resembles an Asetek design from start to finish. The pump also houses the standard impeller comprising a three-finned electromagnet used by many other mainstream 120mm AIOs.
Are you running an EVGA GPU? You're in luck because EVGA has enabled you to sync the CLC 120's RGB with your EVGA GPU as well. Sadly, the pump speed is not manually tweakable, which is a significant opportunity missed.
If we talk about the fan, there's an ordinary 120mm EVGA fan on display here, nothing too crazy in terms of bells and whistles. The fan isn't RGB capable as well, which might be slightly disappointing for the lighting enthusiasts in our audience. However, the fan blades are partially exposed, raising longevity concerns.
The fan, situated on top of the aluminum radiator, spins at a maximum speed of 1800 RPM, although we have seen instances where it may reach a staggering 2500 RPM. Whether that's the case or not, one thing's for sure; the EVGA CLC 120mm AIO operates at an unbearable sound level when pushed to full speed. Don't be surprised if you extract a noise output as high as 53.9 dBA because that seems typical for the EVGA CLC 120. It's noisy no matter what speed you run it at, but excruciating at maximum speed.
Furthermore, the fan uses a long-life sleeve bearing which doesn't help our ears but does put durability concerns at ease. The fan uses a 4-pin PWM connector meaning your motherboard will be able to regulate the fan's speed automatically. However, we wouldn't be surprised in the least if you chose to manually tweak the fans to rotate at the slowest speed possible. At least it puts out a decent amount of airflow at a maximum of 58.87 CFM, contributing to the better-than-average performance of the EVGA CLC 120. EVGA has also included a thermocouple inside for measuring the coolant temperature, upon which the CLC 120 will automatically regulate fan and pump speed.
Speaking of coolant, EVGA has used the standard mixture of propylene glycol, which has a high heat capacity to delay temperature surges. Asides from that, the copper cold plate comes with 'Shin Etsu' thermal paste pre-applied. Unfortunately, EVGA disappoints us again since it hasn't included any extra thermal paste, making future reinstallations or reseating procedures impossible unless you manage to procure some thermal paste at your own expense.
Nearing the conclusion of our overview, the EVGA CLC 120 does offer compatibility with the most recent CPU releases from the past few years. It's essential to mention that the AMD AM4 bracket wasn't included in the earlier shipments of the CLC 120. If you do happen to have the bad luck of stumbling upon one, you'll just need to give EVGA a call since they'll happily provide you with a free AM4 bracket, given you provide them with proof of purchase. Complementing this is a straightforward installation process. Using the included user manual, you'll be able to get the EVGA CLC 120mm AIO up and running within 5-10 minutes at most. EVGA completes the CLC 120 package by stamping on a 5-year warranty.
What We Liked
Straight off the bat, we'd like to say for ourselves that no other AIO comes close to the EVGA CLC 120 in terms of pricing. The CLC 120 undercuts even a few high-performance air coolers by up to 25%, staging itself at a very attractive price point for someone looking to purchase their first AIO or for someone who's slightly strapped for cash.
The CLC 120 outputs a hefty amount of airflow, providing maintenance-free operation for years to come, backed up by EVGA's 5-year warranty. Thanks to intelligent cable management, the EVGA CLC 120 would prove to be an excellent fit for Micro-ATX or Mini-ITX chassis, breathing new life into your gaming PC. It's certainly got the performance to back it up, although you might want to avoid overclocking your CPU using the CLC 120.
What We Disliked
We do have several qualms with the EVGA CLC 120, the biggest of which is the AIO's noise profile. It's simply intolerable at high speeds, forcing you to throttle down the fan speeds to save your ears from bleeding out. It's as if EVGA intentionally tuned the fan to produce as much noise as possible, but that is to be expected with an AIO at such a low price.
Moving on, the CLC 120 uses several outdated components, such as the dreary RGB pattern and the Asetek Gen 5 pump, just to name a few. Speaking of the pump, the speed isn't user-controllable, which feels unjust, limiting manual configurations. EVGA also didn't include any extra thermal paste, making future reinstallations very cumbersome since you'll need to source additional thermal paste.
Verdict:
The EVGA CLC 120mm AIO is not without its flaws. Possessing a highly irritating fan alongside an outdated pump, the speed of which isn't manually tweakable coupled together with the absence of bundled thermal paste, the CLC 120 does drive a hard bargain.
Nonetheless, no other AIO does it quite like the CLC 120. Undercutting even some of the more expensive air coolers on the market whilst offering improved cooling performance, the CLC 120 still manages to maintain a very slim profile, ideal for use in miniature PC builds, something which can't be said for some of the bulkier air coolers. That's why we at Tech4Gamers, unanimously agree that the EVGA CLC 120 is undoubtedly the Best Budget 120mm AIO Liquid CPU Cooler in 2023.
EK 120 D-RGB
Best Performance 120mm AIO CPU Cooler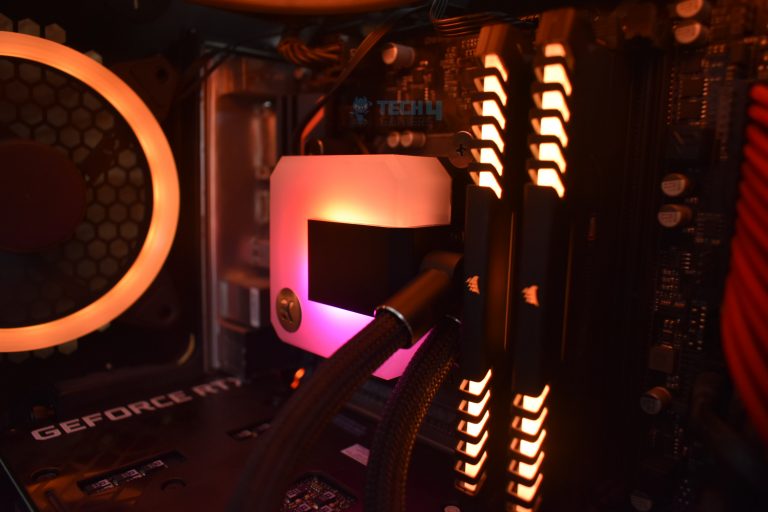 Specifications: Type: Single fan 120mm AIO | Fan: 1x EK Vardar S 120ER D-RGB | Fan Speed: 550-2200 RPM | Pump Speed: 850-2600 RPM | Tube Length: 300mm | TDP: 250W+ | RGB: Yes | Dimensions: 155 x 120 x 27mm | Socket Support: Intel LGA 1150, 1151, 1155, 1156, 1200, 1700, 2011, 2011-3, 2066 & AMD AM4
Pros
Unrivaled performance with ample overclocking headroom
Excellent airflow
Low Noise operation
Best-in-class design with RGB
High-performance SPC-style pump
Coolant can be topped off over time
Easy installation
Cons
Expensive
Cable management could be improved
The tubing length is not enough for large casings
EKWB (Edward Konig Water Blocks) has long reigned as champions in the water cooling department, and now they're returning to the AIO segment by debuting with the EK 120mm D-RGB AIO. The name of EKWB and high performance go hand in hand, and it's the same story here. EKWB has crafted a 120mm AIO optimized for top-notch performance, with what we think may be the most aesthetic design ever to hit a 120mm AIO. Without further delay, let's analyze the EK 120 D-RGB in microscopic detail.
First of all, EKWB has gone ahead with an aluminum radiator incorporating diamond-cut rotary fittings for easy adjustment of the nylon-braided tubing, each of which also has an aluminum cover for added durability. Speaking of which, the tubing length is 300mm, which may potentially pose problems when installing the EK 120 in tower-sized modern PC casings. Nonetheless, the rubber tubing's reinforced design allows them to be flexible for easier installations while being simultaneously resistant to kinks. There's also a little cap on the side of the unit for refilling the coolant should the need arise a few years down the road. We're much obliged for this feature, although it's essential to note refilling the coolant will void your warranty.
Coming back to the topic, the high-grade aluminum radiator features twelve coolant channels together with a densely packed fin arrangement for top-of-the-line cooling performance. To assure maximum compatibility with even the tiniest PC cases while maintaining optimal heat dissipation, EKWB has managed to restrict the overall thickness of the radiator to only 28mm (53mm with the fan).
Moving onwards, EKWB uses a copper cold plate with a dense microfin structure. The cold plate has been paired with an SPC (Statistical Process Control) style pump, which EKWB claims to provide custom-loop grade coolant delivery whilst running silently via a PWM motor with a speed range automatically or manually configurable between 850-2600 RPM.
Moreover, the pump housing (made up of ABS plastic) has integrated addressable D-RGB LEDs, covered by a frosted opaque acrylic cover for beautiful light dispersion. Both the pump (CPU block) and the fan are compatible with all major motherboard RGB software, including ASUS Aura Sync, Gigabyte RGB Fusion, MSI Mystic Light, and ASRock Polychrome RGB. Alternatively, you may use the standalone fan controller to tweak the lighting as you desire. For the record, the pump's cable length was measured at 50mm.
Diving into the fan blades, we see that EKWB equipped the EK 120 D-RGB with one of its EK Vardar S 120ER D-RGB fan, which is a 120mm fan, also possessing 9 built-in addressable LEDs. A 4-pin PWM cable controls the fan, meaning it can be automatically regulated by your motherboard between speeds ranging from 550-2200 RPM, along with a 3-pin 5V addressable RGB cable, which is supposed to be used for connection to the motherboard for controlling the lighting.
Furthermore, the fan produces an excellent airflow of 66.04 CFM at a high static pressure of 2.89mm H2O, making the EK Vardar S an industrial-grade fan optimized to cool even the beastliest processors from the likes of Intel and AMD while remaining primarily silent (with a maximum noise profile of 36.4 dBA), more so than the Wraith Prism air-cooling solution from AMD. You'll also have no problem overclocking your CPU with the EK 120 since it offers ample clearance, provided you don't go past the 5 GHz barriers.
For installation, the process is very easy-going, considering EKWB was kind enough to incorporate 90-degree articulating fittings at the CPU block to aid the positioning of the EK-120 in the desired orientation. The RGB fan cable can be daisy-chained with the RGB cable on the CPU block itself, saving you the need to buy any adapters or splitters, although it does interfere with cable management.
In addition, the EK-120 offers universal compatibility as far as Intel users are concerned. For AMD users, the EK 120 D-RGB's manual doesn't mention anything regarding the AM4 backplate seeing as the packaging doesn't contain one. You can just use the original AMD backplate you received with your processor for a relatively straightforward installation. EKWB also includes some thermal paste in the packaging. Finally, EKWB rounds off the EK 120 D-RGB AIO with a 5-year international warranty, putting our longevity concerns at ease.
What We Liked
We just can't stop drooling over the EK 120 D-RGB. Offering unmatched performance through optimal airflow in even the tiniest PC casings, the EK 120 still manages to keep noise levels to a minimum. The build quality is simply impressive, using diamond-cut aluminum fittings at the pump and radiator terminals, not to mention the 90-degree rotatable fittings at the CPU block.
Adding on, the design of the EK 120 D-RGB blew us away, and we're pretty sure it'll make you stare at it all day long. Featuring a frosted acrylic cover with a diffuser underneath, paired with addressable LEDs, both inside the pump housing as well as 9 LEDs present on the state-of-the-art EK Vardar S fan as well.
We also can't thank EKWB enough for the ability to top off the coolant over time, making sure the EK 120 D-RGB will cool your CPU for many years to come.
What We Disliked
Instead of asking what we love about the EK 120, it'll be more time-efficient to ask us what we're not too fond of since the EK 120 D-RGB pretty much checks off all the boxes. That being said, such monstrous performance built into the most gorgeously designed AIO unit ever comes at a price. The EK 120 will hurt your wallet, although we can't complain much because if there's any 120mm AIO that deserves the price it commands, it's the EK 120 D-RGB.
We do feel slightly sore regarding the length of the EK 120's tubing length since it does negatively impact the chances of successful installations in medium to tower-sized PCs. That being said, EKWB does try its best to accommodate such installations with what little tubing it has through the use of the aforementioned diamond-cut and rotatable fittings. Cable management is another area where there is little room for improvement since two cables are coming out of the CPU block itself, one for the PWM pump and fan and one for the RGB.
Verdict:
Are you searching for the Best High-Performance 120mm AIO in 2023? The quest is over; no need to thank us.
The EK 120 D-RGB sports an EK Vardar S 120ER PWM fan alongside a top-of-the-line aluminum radiator paired with an SPC-style pump, complete with addressable D-RGB lighting. All of these state-of-the-art features combine together to deliver ultimate cooling performance, driving down your CPU and VRM temperatures whilst still allotting you more-than-enough clearance for overclocking should you feel adventurous.
EKWB hands over the reins by giving you the option to refill the coolant over time, backing the EK 120 up with a 5-year warranty all the same. Offering excellent compatibility with recent CPUs from Intel and AMD, put together with a straightforward installation process, you're set to unleash monstrous performance with your CPU. It's pertinent to mention the EK 120 D-RGB would be the perfect fit for a miniature chassis since you might encounter some trouble if you decide to utilize it in a tower-sized PC due mainly to the minimized tubing.
Here's to hoping you find a good deal on the EK 120 D-RGB because it definitely earns a place as the top choice for the Best High-Performance 120mm AIO in 2023.
BeQuiet! Silent Loop 2 120
Best Silent 120mm AIO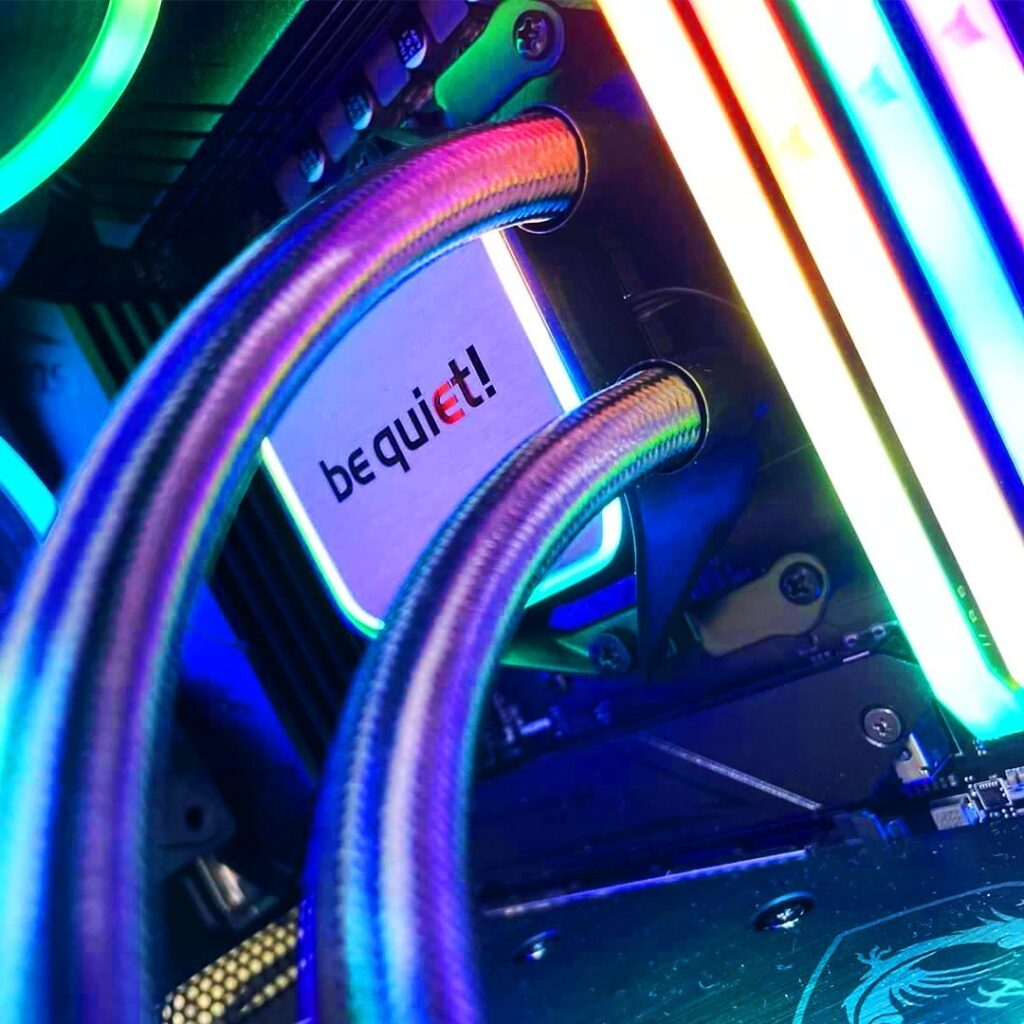 Specifications: Type: Single-fan 120mm AIO | Fan: 1x 120mm Silent Wings 3 | Fan Speed: 2200 RPM | Pump Speed: 2800 RPM | Tube Length: 400mm | TDP: 250W+ | Dimensions: 154 x 120 x 52mm | Socket Support: Intel LGA 1150, 1151, 1155, 1200, 2011, 2011-3, 2066 & AMD AM4, AM3+, AM3, sTRX4, TR4
Pros
Inaudible sound profile with minimal vibrations
Aesthetically frosted CPU block with addressable RGB
Wired ARGB proprietary remote controller
Outstanding performance with ample room for overclocking
Refill port built-in for topping off coolant
Unrivaled compatibility with top-of-the-line processors as well
Fantastic durability
Cons
Very expensive and hard to find
The pump isn't PWM enabled
Only 3-year warranty
BeQuiet! is recognized worldwide for offering some of the most high-performance, award-winning air coolers while maintaining a completely inaudible sound profile. Standing firm in the AIO segment as well, BeQuiet impresses again with the Silent Loop 2 120mm, and it's safe to say they've instantly hit the nail right on the head. Incorporating a black radiator and fan within a 120mm AIO unit, paired with the frosted pump block giving off a grey tinge, the BeQuiet Silent Loop 2 120mm screams absolute performance and exotica. Let's cut down on the suspense and tell you all about BeQuiet's latest innovation.
BeQuiet! is using a superior three-chamber pump design for the Silent Loop 2 120mm. The second of its three chambers offers ample space for the coolant to spread out, reducing turbulence before the coolant leaves the pump unit, therefore reducing vibrations evenly. When combined with BeQuiet's 6-pole 3-phase motor, the specialized pump contributes to the BeQuiet Silent Loop 2 120mm's whisper-quiet high-performance operation.
Not stopping here, BeQuiet also added massive dampening on the insides of the pump for absorbing vibrations. The pump can run at a maximum speed of 2800 RPM with a voltage adjustable between 9V-12V. The Silent Loop 2 120mm uses a 3-pin connector for the pump, which unfortunately means the speed isn't user-tweakable.
BeQuiet makes up for the aforementioned misgiving by constructing an easy-to-access refill port bundled with a bottle of coolant to ensure a long lifespan for numerous years to come.
Moving on, the Silent Loop 2 120 mm radiator comes in dimensions measuring 154 x 120 x 77mm. BeQuiet has graciously increased the surface area of the cold plate, which houses a thick stack of fins on one side, bearing a nickel-coated plate on the other side for optimal cooling performance.
The BeQuiet Silent Loop 2 120mm continues to impress by showing off its Silent Wings 3 120mm PWM fan. The fan can run at a max speed of 2200 RPM and can be automatically regulated by your motherboard. BeQuiet claims the entire AIO, when run at max settings, will produce a noise level of 36.4 dBA under full load. Otherwise, the fan only goes up to 28.6 dBA while providing spectacular airflow rated at 73.33 CFM.
Scrutinizing the Silent Loop 2 120mm fan under a microscope, you'll find 7 fan blades optimized for airflow alongside a 6-pole motor for low vibrations. The highlight of the Silent Wings 3 120mm fan is the fluid dynamic bearing being used, which BeQuiet claims will last for more than 300,000 hours, which blows all other rivals' MTTFs out of the park. Moreover, the fan frame is designed with funnel-shaped air inlets for extremely high air pressure, enabling the BeQuiet Silent Loop 2 120mm to cool some of the most monstrous processors out there.
BeQuiet hasn't forgotten about the RGB lovers out there. Admittedly, the fan may not support any lighting, but that doesn't mean the Silent Loop 2 120mm can't wow you. Sporting a frosted pump block with diffusers underneath, the Silent Loop 2 120mm uses its integrated addressable RGB LEDs for offering the full suite of 16.8M colors and various lighting modes as per your preference.
The illumination can be synced with the ARGB headers on your motherboard, but if you don't have any, BeQuiet includes a wired ARGB remote controller, enabling you to switch between pre-set modes and lighting. The BeQuiet! logo's white lighting may also be turned on or off at will.
Lastly, the Silent Loop 2 120mm offers best-in-class compatibility with BeQuiet ensuring support for even the sTRX4 and TR4 CPU sockets for the state-of-the-art Threadripper processors from AMD even. It's important to note you will need to buy a separately sold mounting kit should you choose to equip the BeQuiet Silent Loop 2 120mm with such a processor. Also worth mentioning is a general advisory to avoid overclocking on the Threadripper processors since that may prove to be too much of a workload for the Silent Loop 2 120mm to handle.
BeQuiet! rounds off the Silent Loop 2 120mm with a 3-year warranty, which we aren't fans of by any means since we feel BeQuiet could've offered at least a 4 or 5-year warranty. However, the premium quality parts used in the Silent Loop 2 120mm, along with the highly durable fluid dynamic bearing, put our minds at rest since we feel safe regarding the future-proofing aspect of the AIO unit.
What We Like
BeQuiet! is associated with some of the quietest cooling solutions on the planet. That's exactly why we aren't surprised to see the Silent Loop 2 120mm offer high-performance cooling while simultaneously maintaining an inaudible sound profile. BeQuiet's AIO also provides you with ample clearance for overclocking to moderately great extents, provided you don't cross the 5 GHz threshold on something like a Threadripper CPU.
We can't praise the frosted pump block enough since it makes the Silent Loop 2 120mm a piece of art to stare at all day.
BeQuiet's inclusion of a proprietary RGB remote controller is much appreciated as well, a move that will attract users who don't have any ARGB headers on their motherboards.
Finally, we're much obliged for the refill port since that means users will be able to quickly top off the coolant after BeQuiet's recommended time period, i.e. 2 years of operation, using the bundled bottle of coolant. Paired with the outstanding durability of the Silent Loop 2 120mm itself, BeQuiet ensures a long lifespan. Also, thanks to the 400mm long rubber tubing, you won't have any issues fitting the AIO in a form factor of your choice.
What We Dislike
There's not a lot to hate here, but the BeQuiet Silent Loop 2 120mm is tough to find, and even when you do, it'll indeed be commanding a premium price tag. Also, BeQuiet would've earned a perfect five stars had they made the pump PWM-enabled for automation purposes. To conclude, BeQuiet could've stamped on a 4 or 5-year warranty at least instead of a slightly dissatisfactory 3-year one.
Verdict:
We just can't take our eyes off the Silent Loop 2 120mm. Sporting a Silent Wings 3 fan combined with a three-chamber specialized pump design incorporating a 6-pole motor, the Silent Loop 2 120mm effortlessly cools down your CPU, even managing slightly taxing overclocking whilst remaining whisper-quiet.
By supporting the sTRX4 and TR4 CPU sockets from AMD, BeQuiet has significantly increased the target audience for which the Silent Loop 2 120mm is aimed. This indicates its outstanding performance since no other 120mm AIO can efficiently cool down a beastly processor such as a Threadripper CPU.
Nearing the end of our analysis, BeQuiet has perfected the Silent Loop 2 120mm by incorporating a refill port with an included coolant bottle in the package for topping the AIO off in the future, should the need ever arise, contributing to the longevity. When put together with the few tricks it has up its sleeve in terms of RGB; it's evident as to why we select the BeQuiet! Silent Loop 2 120mm as the Best Quiet 120mm AIO Cooler in 2023. BeQuiet has introduced a best-seller, a feat the company has repeated time and again.
Competition
Enermax Aquafusion 120mm AIO
Runner-Up For Best White 120mm AIO CPU Cooler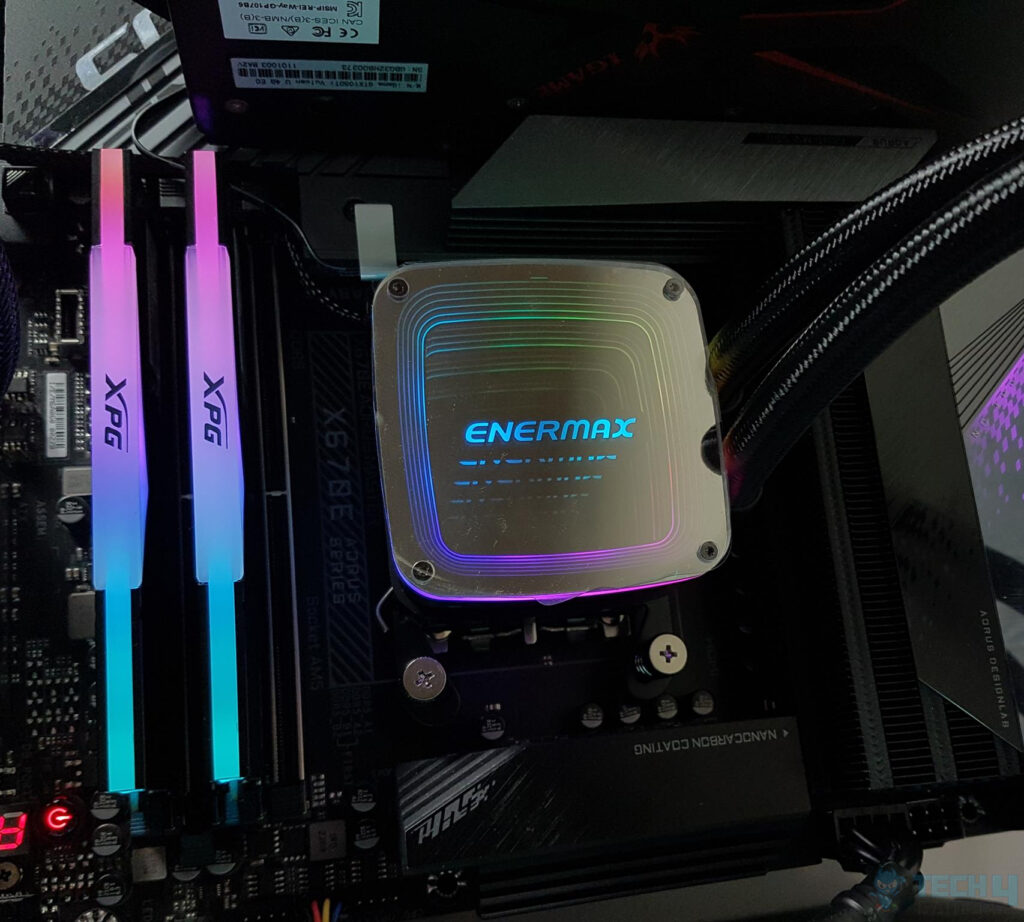 Specifications: Type: Single-fan 120mm AIO | Fan: 1x 120mm Enermax SquA RGB | Fan Speed: 500-2000 RPM | Tube Length: 400mm | TDP: 300W | RGB: Yes | Dimensions: 154 x 120 x 27mm | Socket Support: Intel LGA 1200, 1366, 1156, 1155, 1151, 1150, 2011, 2011-3, 2066 & AMD AM4, AM3+, AM3, AM2+, FM2+, FM2, FM1
Pros
Unique white RGB design with support for all major RGB software
Dual-chamber Water Block Construction
Extremely high airflow thanks to fan with Vortex frame design
Decent performance for its size
Low noise profile
Enhanced durability and longevity
Excellent compatibility with all recent CPUs
Long 400mm sleeved tubing for easier installation in large cases
Cons
Slightly expensive
Complicated installation
3D Layer Design with Aurabelt may not appeal to everyone
Enermax has been throwing out PC peripherals, including PSUs, casings, and coolers (AIOs specifically), amongst various PC components. The Taiwanese-based company is renowned for creating some of the best PSUs and AIOs to date, and Enermax has done it again with the Aquafusion 120 AIO. Let's take a closer look at this Best 120mm AIO.
Enermax uses an aluminum radiator that utilizes meticulously designed channels put together with thin aluminum fins resulting in a higher heat exchange capacity. The radiator is paired with a cold plate built from copper; the Enermax Aquafusion 120 uses a ceramic pump bearing for enhanced heat dissipation whilst reducing noise levels and increasing longevity as Enermax rates the pump's MTTF (Mean-time-to-failure) at a decent 50,000 hours, which should comfortably net you 6-9 years of functionality, if not more, without any serious issues. The pump's maximum voltage and current uptake are rated at 12V and 0.7A, respectively, making for an efficient operation.
Regarding the water block, Enermax has implemented a proprietary dual-chamber design which is also patented by Enermax. It combines a CCI (Central Coolant Inlet) structure with an SCT (Shunt-Channel Technology) on the cold plate, both of which ultimately allow the Aquafusion 120mm AIO to inject coolant at the hottest areas of the CPU to minimize the impact of heat surges. The specialized design also helps shorten the coolant flow path, resulting in increased heat dissipation up to 30% higher.
Much to the satisfaction of our RGB palate, the improvised water block is complete with a 3D Layer Design utilizing Enermax's 'Aurabelt,' which can display a unique rainbow effect alongside the usual suite of 16.8 million colors. When paired with the exclusive white design, the Enermax Aquafusion 120 stands out from the variety of 120mm AIO units currently available in the market.
Complementing the sophisticated design is Enermax's extensive support for all major RGB software ecosystems (via 3-pin RGB), including ASUS Aura Sync, Razer Chroma RGB, Gigabyte RGB Fusion 2.0, ASRock Polychrome Sync, MSI Mystic Light Sync, and Enermax's proprietary addressable RGB software as well. Don't have an aRGB header on your motherboard? Nothing to fret over; Enermax has you covered with its own RGB control box, which allows users to choose between 10 preset lighting effects, brightness, and speed.
Enermax has incorporated one of its 120mm SquA RGB fans which feature a square-shaped addressable RGB appearance coupled with a reinforced vortex frame design. Thanks to the vortex frame design, the Enermax Aquafusion 120's fan can generate concentrated airflow up to a maximum of 79.8 CFM, which is unparalleled for an AIO of such a small size. The enlarged blade surface contributes to the high airflow (which is 40% higher on average than traditional round-shaped fans).
As outlined in the previous portion, the fan is RGB-capable, of course, and PWM, meaning your motherboard can automatically control the fan speed between a range of 500-2000 RPM depending upon your use-case scenario. Under full load, temperatures may cross the 80C threshold, but this is to be expected since the 120mm size is Aquafusion 120's limiting factor in terms of performance. Nevertheless, the Aquafusion 120 performs handsomely for a cooler of its category, allowing slight overclocking clearance while maintaining a maximum sound profile of 32.6 dBA as far as the SquA fan is concerned. To our delight, Enermax rates the fan MTTF at more than 100,000 hours which is terrific news for users concerned about longevity.
Delving into further detail, we're happy to report you won't run into any problems should you choose to install the Enermax Aquafusion 120 on medium to tower-sized PCs. That's because Enermax has graciously provided 400mm worth of premium thick-sleeved tubing connecting the radiator to the water block. Enermax also includes Dow Corning TC-5121C thermal paste in the packaging, which admittedly won't break records anytime soon.
Making up for the few minor quirks it presents, the Enermax Aquafusion 120 is compatible with just about all the recent CPUs from the likes of Intel and AMD released in the past several years. Moving onwards to the installation procedure, Enermax has made it slightly tricky, thanks to the abnormally thick tubing. You may need to strategically position on either side of the glossy acrylic water block depending upon the respective clearance your motherboard offers in both those areas. Finally, Enermax backs up the Aquafusion 120 with a 5-year warranty, giving potential buyers peace of mind regarding durability.
What We Like
The Enermax Aquafusion 120mm AIO has a lot going for it, including, but not limited to, the one-of-a-kind white design utilizing built-in RGB lighting and specialized dual-chamber design with CCI and SCT for much higher heat exchange. Paired with the SquA RGB fan and its reinvigorated vortex frame design, the Aquafusion 120 is a behemoth in terms of airflow circulation contributing to a satisfactory cooling experience with slight room for CPU overclocking, although be wary temperatures might cross a dangerous threshold, as stated before. Even so, the Aquafusion 120mm AIO resides amongst some of the reasonably silent 120mm AIOs.
We're thankful for the 400mm tubing as well since that enables users to install the Aquafusion 120 in just about any PC chassis, though it's worth noting the Aquafusion 120 is best suited to Mini-ITX-based systems. Nearing our conclusion, Enermax manages to cater to a wide variety of CPU sockets, rounding off the whole package with a reputable 5-year warranty and unmatched MTTFs.
What We Dislike
Let's put all the positive aspects of the Aquafusion 120mm AIO aside for a few moments. We feel Enermax could've slimmed down the tubing a notch since it would contribute to a more user-intuitive installation experience. Adding on, the Enermax SquA RGB fan design and the Aurabelt with its 3D layer design may not appeal to everyone aesthetically speaking since, for better or for worse, the Aquafusion 120mm AIO sits in its own class in terms of looks.
Another minor qualm we have with the Aquafusion 120 is that users may find it slightly expensive compared to better-performing 120mm AIOs. That being said, the chances are you'd be buying the Enermax Aquafusion 120mm AIO mainly for its design and RGB capabilities and then for its actual cooling performance, so this shouldn't be a deal-breaker, considering white AIOs are generally hard to come by as it is.
Verdict:
Are you feeling the need to spice up your gaming PC's aesthetics? Or perhaps, you're just looking for the best white AIO on the market? Well, we're happy to inform you that the hunt is over.
Hoping you don't find the installation process exhausting and the general design of the AIO itself somewhat quirky, you'll be good to go with the Aquafusion 120. Offering what may be subjectively classified as the classiest White 120mm AIO, revamped with improved cooling performance, playful RGB capabilities, and extensive compatibility, we hope you're thinking along the same lines as us. All in all, we formally bestow the Enermax Aquafusion 120 with the Runner-Up For Best White 120mm AIO Liquid Cooler award.
How We Choose the Best 120mm AIO CPU Cooler
Selecting the Best 120mm AIO is a job not well-suited to the faint-hearted since you'll need to consider several factors. Nonetheless, you're the one who has to make the decision ultimately. For your convenience, we've mentioned and explained a couple of crucial points to brood over while attempting to complete your quest for handpicking the Best 120mm AIO cooler in accordance with your personalized workflows.
Budget
Every AIO tends to introduce itself at a unique price point, determined by its cooling performance, build quality, general design, and aesthetics (including RGB capabilities, if any), not to forget manufacturer support and bundled accessories, which varies with every 120mm AIO cooler. Therefore, it's essential to have a specific budget in mind, so you'll know if you can afford to splurge on a fancy AIO with all the disco lighting or sacrifice a few over-the-top features for the sake of a high-performance AIO cooling solution.
Performance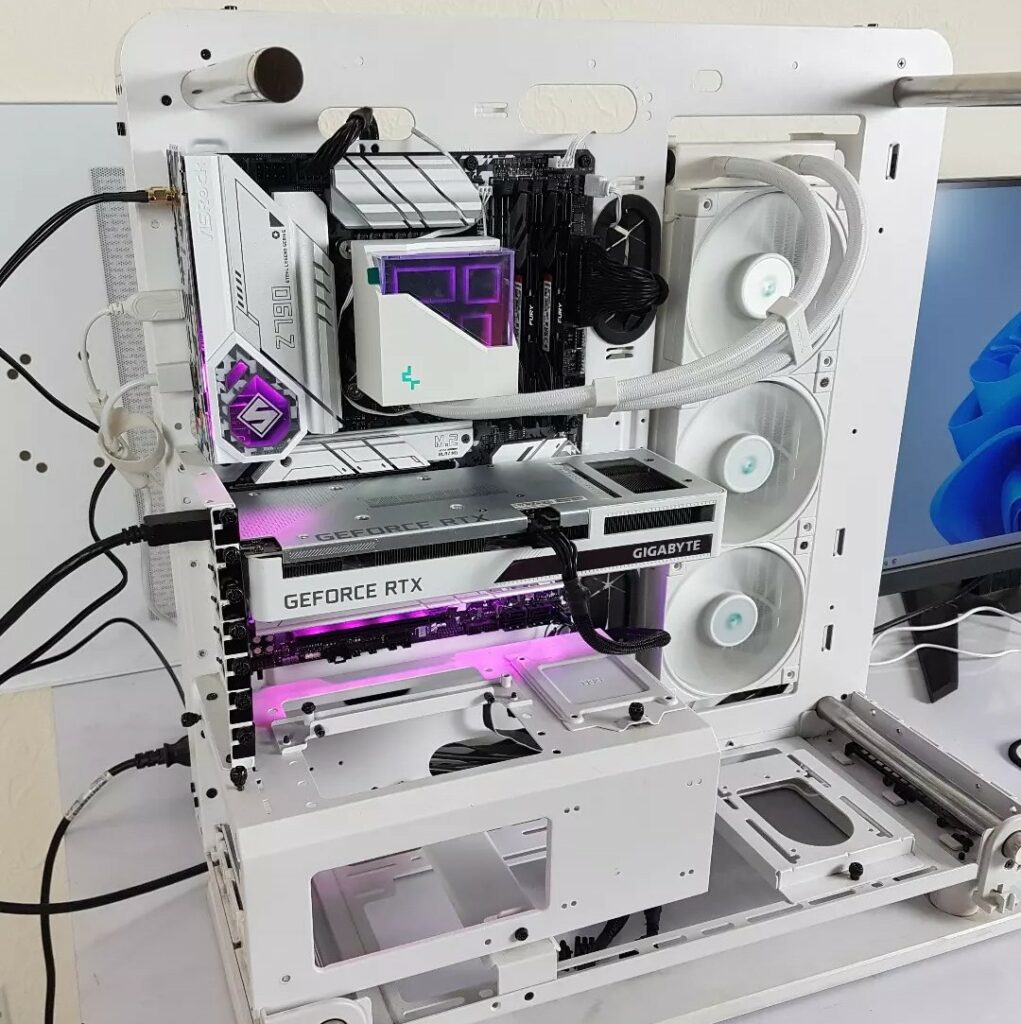 An essential aspect of any cooler, be it an AIO or air cooler, is the relative performance it offers. For AIOs, the pump, FPI count, fan, and radiator, to name a few crucial components, contribute to the overall cooling performance of an AIO. A few of the Best 120mm AIO cooling solutions even offer a dedicated VRM fan for keeping your VRM temperatures in check, which is definitely an added bonus. It's of the utmost importance that you carefully analyze each AIO's respective performance to judge which is the best one for your customized workloads.
Efficiency
Every AIO differs from the other in terms of its working efficiency. It's essential to choose an AIO solution that has the capacity (and some extra headroom) to fluently cool your entire PC down alongside the CPU, of course, without inducing thermal throttling to maintain satisfactory temperatures. Since this article mainly covers the Best 120mm AIOs, the efficiency of all the above-mentioned AIO coolers are more or less the same, i.e., they can safely handle a CPU sporting a TDP (Thermal Design Power) of up to 300W.
Compatibility
Not all AIOs will be compatible with your particular CPU since every cooler has a differing mounting procedure and installation process. That is why it's essential to cross-check your desired AIO's support for the CPU you're planning to pair it with. As you must've noticed, for your convenience, we've already highlighted which of the CPU sockets are supported by each of the AIOs.
(Sidenote: If you're rocking the all-new Intel Alder Lake CPUs, feel free to reach out to the AIO manufacturers to see if they'll provide you with an upgrade kit for the LGA 1700 socket should you wish to utilize any of the 120mm AIOs listed above. That being said, feel free to check out our coveted list of the Best LGA 1700 CPU Coolers as well!)
Aesthetics and Build Quality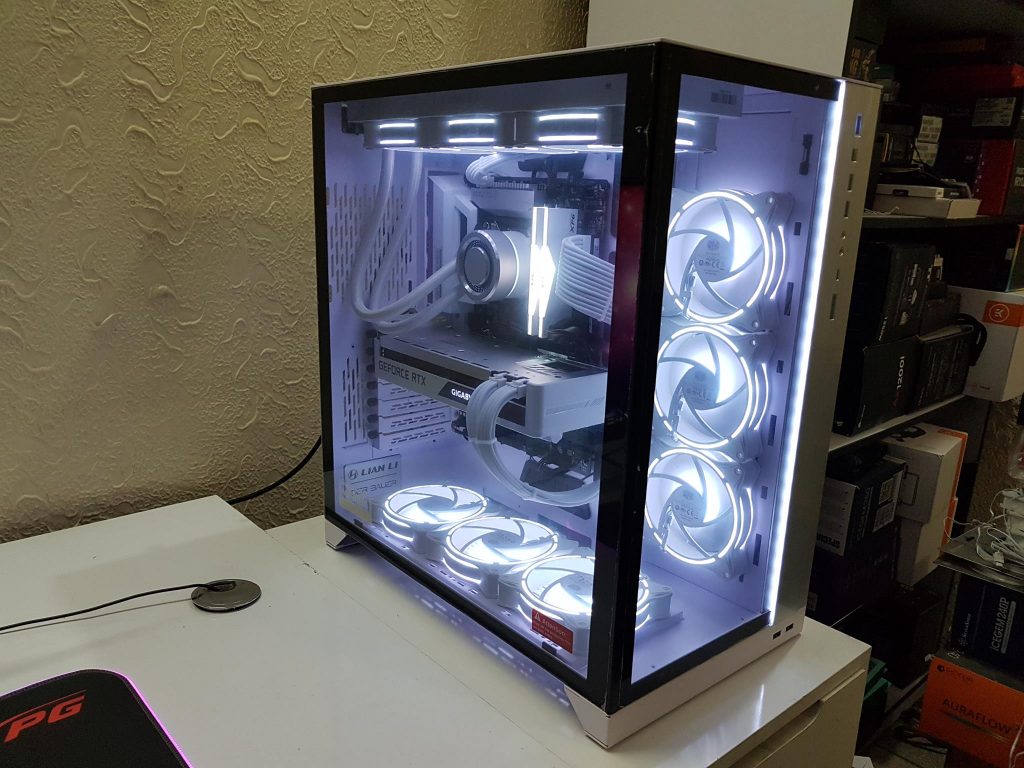 Manufacturers tend to distinguish their respective Best 120mm AIO cooling solutions by offering their unique take on the AIO's aesthetics and build quality. Some brands might opt for a more premium construction, leading to a higher price tag. In contrast, others favor a slightly unexotic or practical approach, sacrificing their design flair for perhaps improvised cooling performance and, with luck, a lower price.
Manufacturer Support
We closely scrutinize the after-sales customer service care provided by each manufacturer, keeping in mind past experiences and records while also inspecting the MTTF of individual components such as the fan, pump, or entire unit itself. Of course, we don't let warranty periods slide by since we actively encourage manufacturers to stand by their products for an extended period, often up to 6-years.
240mm vs 120mm AIO
| AIO | 120mm | 240mm |
| --- | --- | --- |
| Fan Support | 1x 120mm | 2x 120mm |
| Performance | Not as good as 240mm | Better than 120mm |
| Noise | High noise output | Low noise output |
Utilizing a 240mm AIO would result in far lower temperatures than a 120mm AIO, thanks to a larger and thicker radiator, as well as an increased number of fans, with lengthened tubing making it an ideal fit for larger PC builds. Not only this, but you'd also be able to maintain a quieter sound profile since you'll be able to keep the fan RPMs low to obtain the same cooling performance you'd achieve with one of the Best 120mm AIO solutions at maximum speed. A 240mm AIO would also offer increased leverage for overclocking purposes, mobilizing you to quench your thirst to extract the highest tier of performance from your CPU.
However, thanks to a larger radiator ergo a bigger profile, you may struggle to install a 240mm AIO in some miniature PC casings. You may also come across clearance issues for RAM modules as well as the PCIe slots being impeded as the AIO unit takes up more space. Furthermore, while many consider 240mm the 'sweet spot' for AIOs, offering the best price-to-performance ratio, the fact that you'll be bearing a 50-80% jump in terms of pricing may prove difficult for your wallet to digest.
In the end, it'll be up to you to decide whether you compromise on performance and noise to save quite a few bucks and not have to worry about clearance issues. On the other hand, you could make the jump to a 240mm AIO for an inaudible cooling experience, resting assured since you know you'll have the firepower to handle strenuous overclocking sessions. You won't have to fret about installing the AIO in your tower-sized PC as well.
360mm Vs 120mm AIO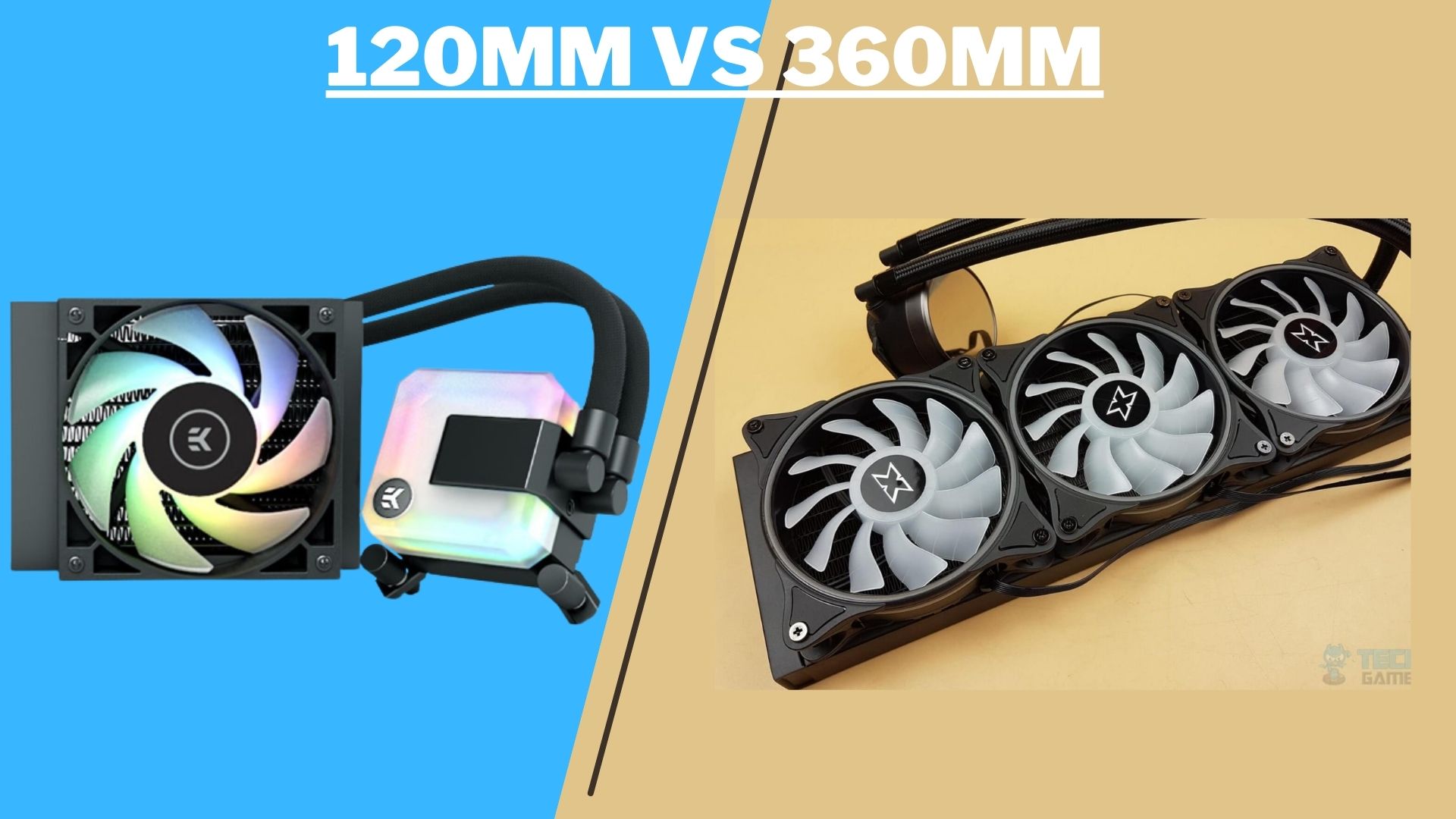 | AIO | 120mm | 360mm |
| --- | --- | --- |
| Fan Support | 1x 120mm | 3x 120mm |
| Performance | Not as good as 360mm | Best performance |
| Noise | High noise output | Lowest noise output |
As far as the argument between 120mm vs 360mm AIO goes, it doesn't require a lot of brainpower to acknowledge the vast difference between the two categories. On the 120mm side, you've got a nimble and cost-efficient AIO cooling solution, offering better performance than even some of the most high-end air coolers whilst maintaining a relatively miniature profile for a snug fit in tiny gaming PCs.
For better or for worse, a 360mm AIO blows everything else out of the ballpark quite literally. Featuring at least 3 fans with the thickest radiators for maximum heat dissipation, 360mm AIOs are unrivaled in terms of overclocking potential. Benefitting from the enormous size, you'd really struggle to hear even the tiniest sound from your AIO setup in day-to-day scenarios since you can run all fans and the pump at the lowest speeds, and your PC still wouldn't heat up. That doesn't mean a 360mm AIO won't be able to ramp up everything to the max for turbocharged cooling if you decide to bring all the big guns out and test the endurance of your CPU under the most demanding workloads your AIO+CPU ever had the pleasure of breezing through, essentially making thermal throttling a thing of the past.
However, there are a few cons to look out for, the first being you can practically forget a 360mm AIO if you'd like to utilize it in a small gaming build. Moving on, 360mm AIOs, unfortunately, have the worst price-to-performance ratio since manufacturers tend to charge exorbitant amounts of money, including over-the-top features such as an LCD (sure, looks nice, but you don't 'need' it) as an excuse to force you to break into a bank.
Also, while 360mm AIOs are potentially the best of the best in the AIO department, a few 240mm or 280mm AIOs from the likes of chart-topping manufacturers such as Arctic do tend to get close to a few 360mm offerings from rivals, almost matching cooling performance with an ever so slightly louder profile, offering you a stellar bang for the buck.
120mm AIO vs Ryzen Stock Cooler
| Features | 120mm AIO Liquid Cooler | Ryzen Stock Cooler |
| --- | --- | --- |
| Cooling Performance | Excellent | Adequate |
| Noise Level | Generally quiet | Can be slightly noisy under load |
| Size | Compact | Bulkier |
| Installation | May require additional setup | Easy to install |
| Overclocking Support | Good | Limited support |
| Aesthetics | Sleek and stylish | Basic design |
| Price | More expensive | Budget-friendly as it comes with Ryzen processors |
AMD bundles a stock cooler for the Ryzen 7 2700 and Ryzen 5 5600X, the Wraith Spire, and the Wraith Stealth, respectively. The Wraith Spire sports a moderately sized profile, while the Wraith Stealth possesses an ultra-low profile for higher clearance for RAM modules and other PC components, sacrificing performance as a side effect. These stock coolers are designed to maintain a virtually inaudible sound profile whilst keeping CPU temperatures down, something the Wraith Stealth struggles with, in particular, under demanding workloads. Although, to be fair, these coolers are definitely not worth being relied upon for intensive usage scenarios. Overclocking is one thing you should certainly stay away from, especially with the Wraith Stealth, considering temperatures easily cross 70C even with the fan rotating at full throttle. Notably, the AMD Wraith Spire and Stealth do a great job keeping VRM temperatures down, considering their low profiles.
Suppose you'd like to venture into the kingdom of overclocking, or perhaps, you just want to make sure your CPU stays frosty no matter what you throw at it. This is where the Best 120mm AIO Liquid Cooler will leave the Wraith Spire and Stealth for dust, making sure you're unable to hear it run under normal usage while having enough oomph to produce supercharged cooling once you begin to test the limits of your Ryzen CPU.
Nonetheless, it is pertinent to mention that the AMD Wraith Spire and Stealth are extremely budget air coolers, judging by the fact you should definitely find them for under $20. In contrast, you'll need to triple that price point to net yourself a handsome choice from our list of the Best 120mm AIO coolers. If you're willing to compromise, it might be worthwhile to go for a midrange or high-performance air cooler since you'll save a few bucks that way.
AMD Wraith Prism Vs 120mm AIO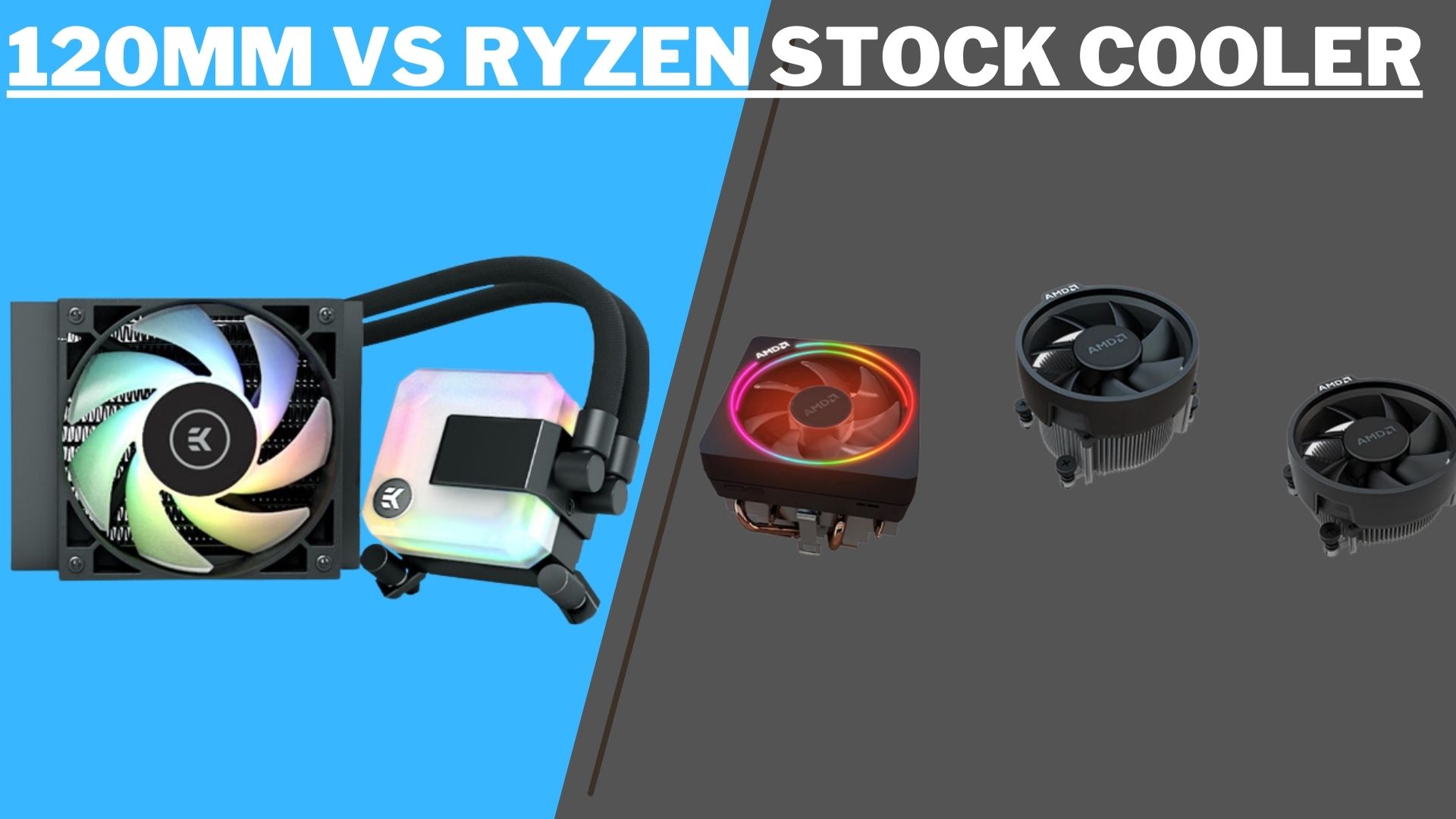 | Features | AMD Wraith Prism | 120mm AIO Liquid Cooler |
| --- | --- | --- |
| Cooling Performance | Good | Excellent |
| Noise Level | Relatively quiet | Generally quiet |
| RGB Lighting | Extensive RGB lighting | Limited or customizable RGB |
| Size | Bulkier | Compact |
| Installation | Easy to install | May require additional setup |
| Overclocking Support | Limited support | Good |
| Aesthetics | Attractive | Sleek and stylish |
The Wraith Prism is AMD's top-of-the-line offering in terms of a dedicated air cooling solution. It's been proven to stay quiet provided you don't overclock your CPU, even though it does offer you very slight clearance for overclocking, provided you're comfortable with temperatures potentially crossing 70 degrees Celsius. It even offers somewhat decent RGB capabilities, considering it is a stock cooler.
However, thanks to a demand and supply mismatch, prices for the AMD Wraith Prism have risen astoundingly. You might as well snag a high-performance air cooler from the likes of Noctua or BeQuiet! for almost the same price.
Keeping that in mind, we still feel the best option here is to up your budget by around 20% and go with an all-rounder 120mm AIO, which will offer you a relatively higher allowance for overclocking while maintaining the quietest profile, not to forget, the highly sophisticated RGB designs. The AIO, unlike the Wraith Prism, won't cut down on RAM space as well.
Custom Water Cooling Vs 120mm Liquid Cooler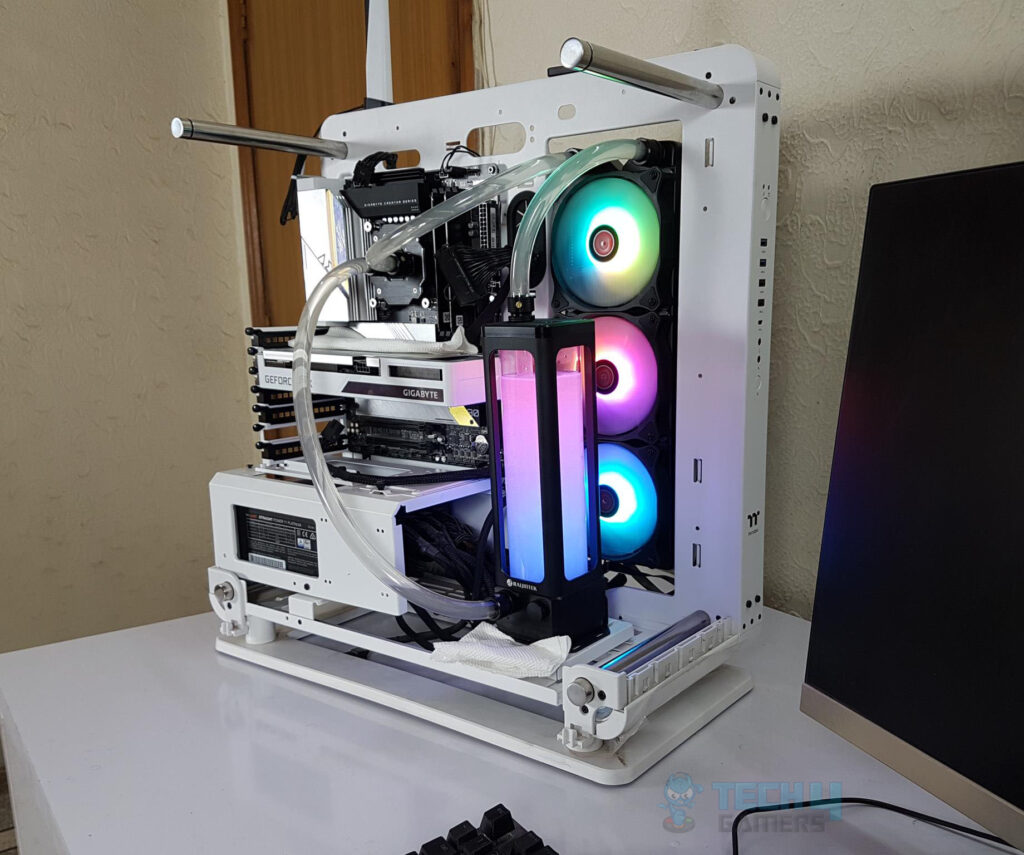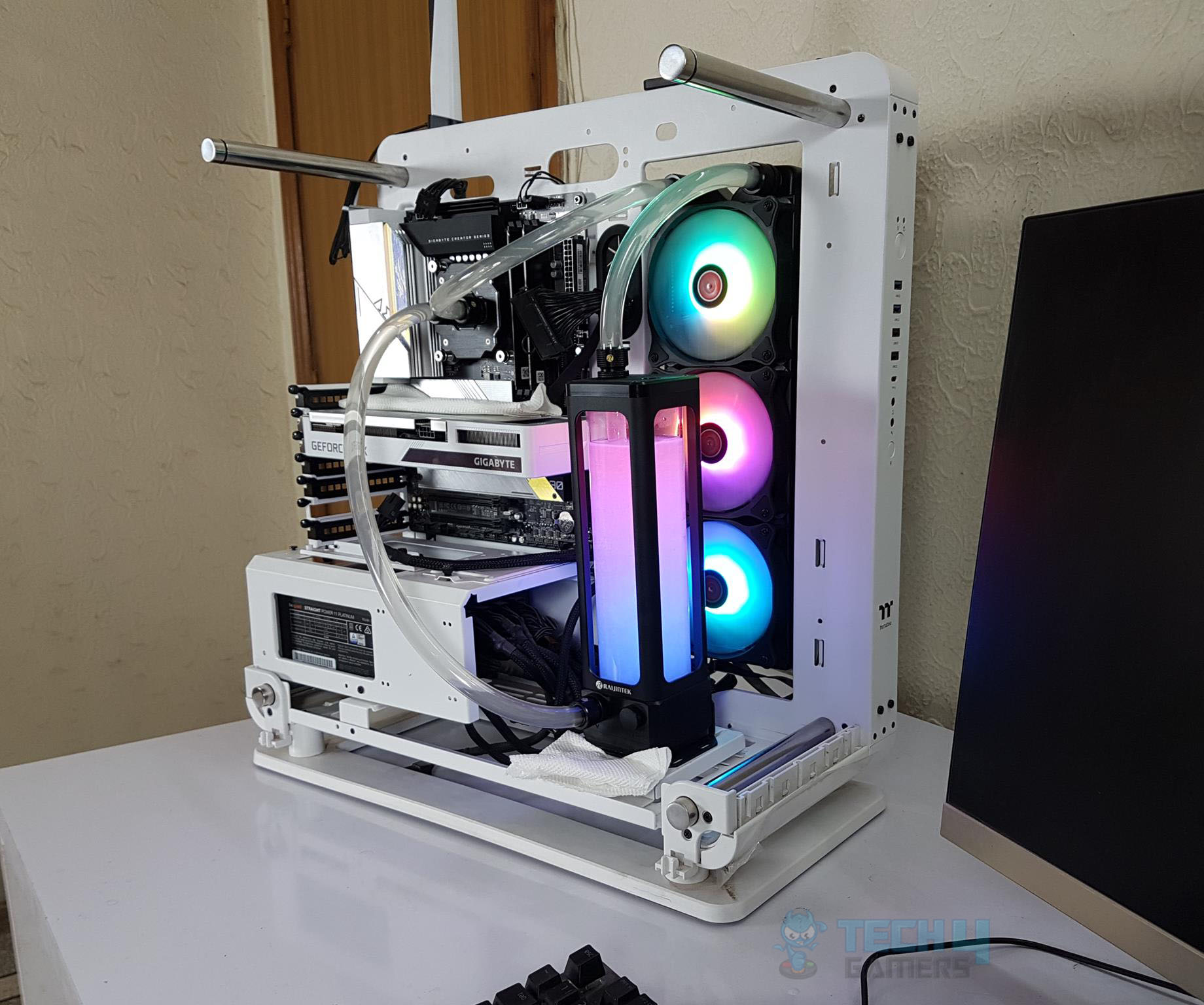 | Features | Custom Water Cooling | 120mm Liquid Cooler |
| --- | --- | --- |
| Cooling Performance | Excellent | Adequate |
| Customization Options | Highly customizable | Limited customization options |
| Noise Level | Can be quieter | Generally quiet |
| Size | Requires more space | Compact and space-efficient |
| Installation | Complex and time-consuming | Relatively easy to install |
| Maintenance | Regular | Minimal |
| Overclocking Support | Excellent | Limited |
| Aesthetics | Can give a visually stunning look | Basic |
| Price | Expensive | More affordable |
As we near the end of this Best 120mm AIO article, we find it necessary to brief you about Custom Water Cooling setups as well, also known as 'custom loops.' In the case of an AIO, everything comes ready to go out of the box since the manufacturer has already fitted the pump and attached the cold plate, where even the thermal paste will often be pre-applied. The radiator's already prepped with the tubing containing the factory-filled coolant. Essentially speaking, there's nothing menial about using and installing an AIO since you just need to plug it in to get it running.
Custom Water Loops are precisely the opposite of the AIO concept. With custom loops, you'll be required to source each one of the cooling components, including, but not limited to, the radiator, pump, fan, water block, cold plate, thermal paste, tubing, coolant, mounting brackets, washers, and spacers, amongst a whole host of other components necessary to situate a working custom loop fitted to your PC.
The benefits you reap with a custom loop are that you're free to connect multiple radiators for increased heat dissipation which isn't possible in AIOs, which only have a solitary radiator. Asides from that, you can include your GPU, RAM, motherboard, VRMs, and basically the innards of your entire PC in your custom loop, driving down temperatures in totality which aren't something AIOs are capable of at this point in time since they tend to focus mainly on transferring heat away from the CPU, the CPU socket, and perhaps the surrounding areas such as the VRMs present on your motherboards. You may also use a much higher volume of coolant, instantly increasing your overclocking headroom since your custom loop will be able to effectively utilize that extra coolant for an optimal heat transfer, away from the components of your PC to the outside world. As the name suggests, the sky is the limit for custom loops, and the only limiting factor is your imagination.
Keeping all the advantages mentioned above in mind, using a custom loop for water cooling may quite possibly end up being a regretful decision. Why, you ask? Simply because there's an infinitely higher chance of water leakages, tubing malfunctions, and pump failures, considering you'll have to rely on your expertise to put everything together. If you're catching on, what we mean to say is that custom loops are not reliable for use as a daily driver. Sure, it might look pretty snazzy in your transparently frosted glass-cased gaming PC. Still, as stated before, you run a much higher risk of encountering fluid leakages and componential malfunctioning, not only endangering your loop's longevity but the remaining electrical components of your PC as well, such as the CPU, GPU, RAM, motherboard, PSU and the list goes on.
Last but not least, custom loops require an insane amount of money, so unless you're prepared to empty your wallet, we'd advise sticking with a good old AIO from a reputable manufacturer so that you won't have to worry about reliability issues, knowing your AIO's manufacturer will back you up should anything occur out of the blue. You won't have to file for bankruptcy either since AIOs are much more affordable than a custom water cooling setup.
Low Profile Air Cooler Vs 120mm AIO Cooler
| Features | Low Profile Air Cooler | 120mm AIO Cooler |
| --- | --- | --- |
| Cooling Performance | Good | Excellent |
| Height | Low profile | Standard height |
| Compatibility | Compatible with SFF (small form factor) cases | Compatible with most cases |
| Overclocking Support | Limited | Good |
| Aesthetics | Simple and compact | Sleek and stylish |
| Price | More affordable | Moderately priced |
A Low Profile Air Cooler specializes in air cooling through a miniature design. The heatsink's size is often sacrificed to achieve a low profile design so as to make sure the cooler doesn't interfere with surrounding components of your gaming PC, such as the RAM modules or M.2 SSDs, for example. Unfortunately, since the heatsink is compromised, the cooling performance also takes a noticeable hit due to lower heat dissipation. These coolers are primarily designed for usage in tiny Micro-ITX builds, i.e., gaming systems with space constraints.
Compared to low-profile air coolers, 120mm AIOs offer advanced cooling performance while maintaining a similarly slim profile to minimize interference with nearby components while still being able to incorporate RGB lighting into their units, something which the majority of the low-profile air coolers tend to struggle with. Thanks to such a massive demand for these air coolers, they manage to come within striking distance of 120mm AIOs in terms of the price differential, tilting the argument in favor of 120mm AIOs, primarily because it will prove very worthwhile to spend a few more bucks. In return, you'll get overclocking clearance, a lower noise profile (since the fans won't have to spin at high speed to keep temperatures low) as well as exotic RGB capabilities. It's also worth noting that 120mm AIOs generally take the trophy in terms of aesthetics. Lastly, you won't have any problems fitting a 120mm AIO inside miniature PC builds.
Why You Should Trust Our Judgement

You might be wondering, this Best 120mm AIO Cooler list looks good, but why should you take our word for it? With over twelve years of experience in the tech and gaming industry, our dedicated team has been refined consistently to produce a potent group of knowledgeable individuals who are known to relay the most accurate information to our valued consumers, thanks to the extensive research and reviewing we conduct before we publish every piece of journalism.
In addition to this, we have been explicitly featured on a majority of the top-notch gaming and tech brands, such as Gigabyte, MSI, Asus, DeepCool, just to name a few, as reliable and trusted sources for Hardware and Technology.
Subsequently, we instill confidence in our esteemed consumers, who may rely on us to give them the best advice for building, customizing, and modifying their personal gaming computers.
Frequently Asked Questions
Are 120mm AIOs worth it?
Yes, if you prefer a maintenance-free and silent experience, then 120mm AIOs are totally worth it.
Should I buy a 120mm AIO or an air cooler?
Buying a 120mm AIO is good if you require enhanced performance with ample clearance. Similarly, if you want a budget-friendly option that is also quite durable, then going with air coolers is the right choice.
Is a 120mm AIO good for overclocking?
If you are after high-end overclocking, then going with a 240mm AIO is preferred.
Is a 120mm AIO enough for a 95W TDP CPU?
Yes, it is safe to say each and every one of our selected 120mm AIOs can handle CPUs with TDPs ranging all the way up to 300W. Running a 95W CPU should pose no serious threat to any 120mm AIO.
Is a Push-Pull Radiator worth it?
Yes, pull-push configuration is worth it.
Recent Updates
---
May 25, 2023: Minor text changes. No products were changed.
June 7, 2023: Minor text changes. No products were changed.
---
Was our article helpful? 👨‍💻
Thank you! Please share your positive feedback. 🔋
How could we improve this post? Please Help us. 😔