Will it be your next white 360 AIO?
Review Summary
The Thermalright Frozen Magic 360 Scenic V2 is a hidden gem when it comes to the liquid coolers' paradise. This underdog has a high-performance capability, particularly on the latest platforms, and it does so without breaking the bank. A 5-year warranty and subtle A-RGB lighting make this quite a comprehensive package.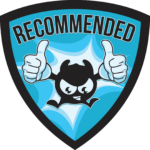 Quality -

9/10

Design -

9/10

Performance -

9/10

Features -

9/10

Value -

9.5/10
Pros
Excellent Thermal Performance
Subtle Addressable RGB Lighting
Warranty
Price
Intel LGA1700 Socket Support
AMD AM5 Socket Support
TL-B12W White Fans
High-Performance Thermal Paste
Easy Installation
In this article, we will look at a liquid cooler from Thermalright. If you have not heard of Thermalright before, we can't blame you as, in our opinion, this brand needs more marketing because their products are quite good when it comes to price-to-performance ratio. This brand was established in 2001, and they have come a long way ahead in their journey of 22 years. Their core business and products pertain to cooling solutions. The product we have on the test bench is Frozen Magic 360 Scenic V2, which is an all-white liquid cooler in the 360mm size category.
---
Key Takeaways
You should buy the Thermalright Frozen Magic 360 Scenic V2 Liquid Cooler if you are building a white gaming PC and need a high-performance 360mm AIO.
You should not buy the Thermalright Frozen Magic 360 Scenic V2 Liquid Cooler if you are on a tight budget, building a compact PC, or need RGB fans. For more pocket-friendly options, you can read our guide on the best budget CPU coolers.
The Thermalright Frozen Magic 360 Scenic V2 Liquid Cooler provides commendable cooling, achieving a temperature of 80°C on an i7-13700K at an ambient of ~26°C.
---
Specifications
| Product | Thermalright Frozen Magic 360 Scenic V2 |
| --- | --- |
| Pump Dimensions: | W72 mm x D72 mm x H52.5 mm |
| Pump Rated Speed: | 5300 RPM±10% (MAX) |
| Pump Noise Level: | 28 dBA (MAX) |
| Pump Power Consumption: | 1.5 W (MAX) |
| Pump Rated Voltage: | 12V DC |
| Ampere: | 0.12±20% A |
| Connector: | 4 PIN PWM |
| ARGB Connector: | 3 PIN 5V |
| Radiator: | Aluminum |
| Pump MTTF: | 40000 Hours |
| Warranty: | 5 Years |
| Fan Dimension: | L120 mm x W120 mm x H25.6 mm |
| Weight: | 205 g |
| Rated Speed: | 2150 RPM±10% (MAX) |
| Noise Level: | 28.1 dBA (MAX) |
| Air Flow: | 69 CFM (MAX) |
| Air Pressure: | 2.87 mm H2O (MAX) |
| Ampere: | 0.16 A |
| Connector: | 4 PIN PWM |
| Bearing Type: | S-FDB V2 Bearing |
We can see that these fans are using Fluid Dynamic Bearings with high-performance numbers.
Dimension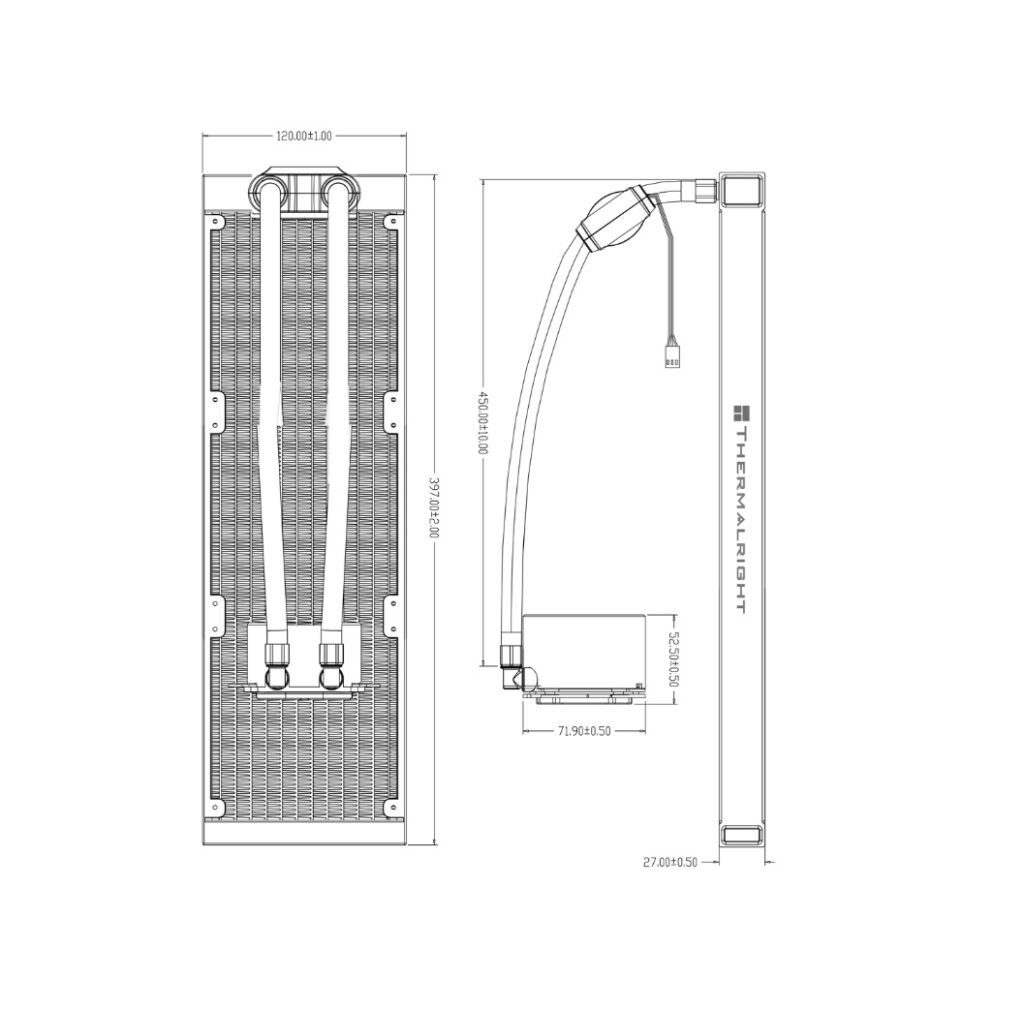 Thermalright has provided dimensions along with tolerances. This is nothing new, as we have seen ALPHACOOL doing that as well.
Packing
What's in the box?
It is time to take a look at what is provided in this box.
Design
Let's start taking a look at the cooler.
Radiator
Starting with the radiator.
Three 120mm fans come pre-installed on this unit. These are white color fans. They have a large diameter hub. We removed these fans from the radiator.
The radiator reveals bent fins and a white coating. Its dimensions are 397x120x27mm, with an overall height of 53mm, including fan screw heads. It features 20 fins per inch (FPI) across 12 coolant flow channels. Fan mounting holes have a 105mm gap between opposite sides and a 15mm gap between adjacent holes on each side.
At the far end of the radiator is a rectangular design without any labels or stickers. On the tube side, two white covers conceal the connections of tubes with fittings, likely featuring barbed fittings. A serial number sticker is affixed to this location.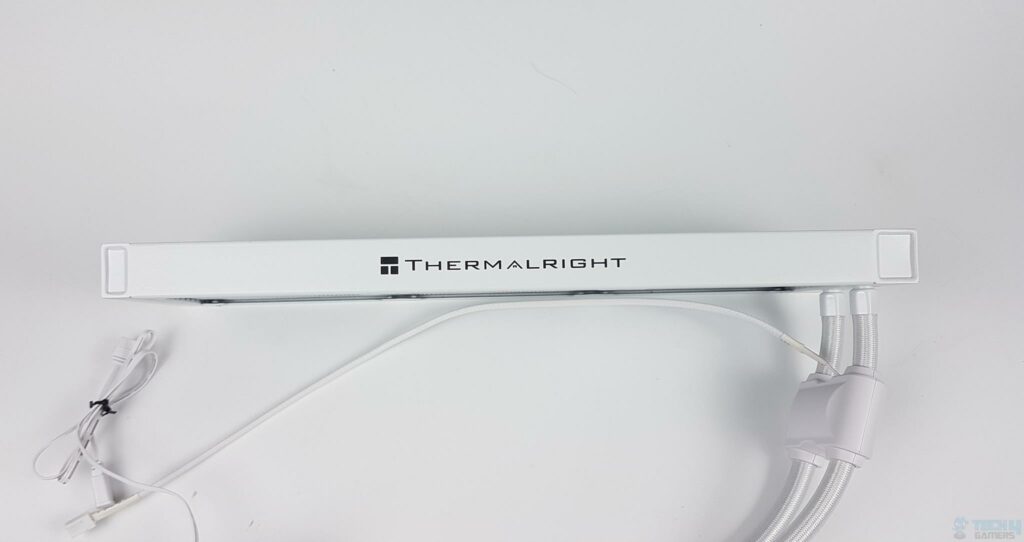 Looking at each side frame of this radiator, we can see a Thermalright branding over here. There is no protective plate under the mounting holes. This plate prevents damage to the fins due to accidental use of large-size screws or using excessive torquing. Also, there is a gap between the side of the frame and the fin stack. This means the actual thickness of the fin stack is less than 27mm.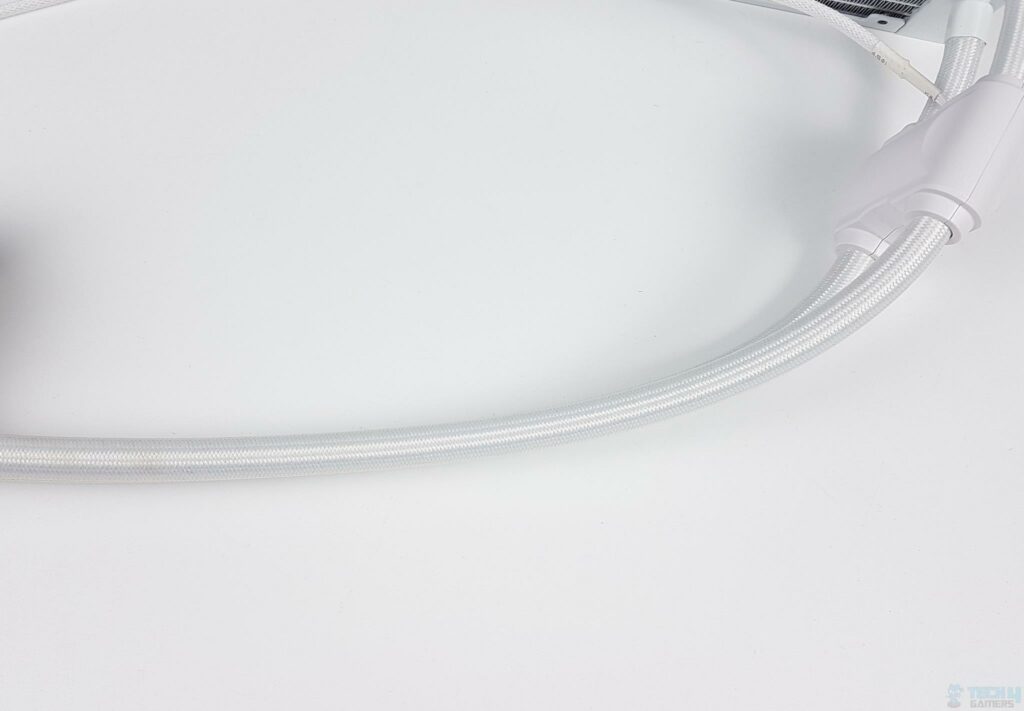 This unit has rubber tubes like any other AIO cooler in the market. These tubes run to approximately 410mm, including fitting connections. These tubes have braided nylon mesh sleeves for aesthetic purposes. The sleeves are also white in color.
The Thermalright Frozen Magic 360 Scenic V2 cooler incorporates a pump within the tubes, aiming to reduce CPU vibration. This design might serve to circumvent ASETEK's US patent restrictions on pumps integrated into block housing. The pump operates at a speed of 5300 RPM ±10%, drawing 0.12 ±20% A current and consuming 1.5W power. Thermalright specifies a flow rate of 1500ml/min (1.5 L/m) and a pressure head of 1.6M. The pump, featuring ceramic bearings, boasts a lifespan of 40,000 hour
Pump
This pump is powered by a 3-pin connector cable which is flat in design.
The Thermalright Frozen Magic 360 Scenic V2 features a simple, circular, and white-colored block housing with dimensions of 72x72x52.50mm, the latter attributed to digital RGB lighting. The non-rotatable mirror-like top showcases the A-RGB backlit Thermalright logo, influencing the unit's overall height. Despite the height limitation, the aesthetic choice adds a distinctive touch, though it restricts logo orientation during installation, echoing a design compromise.
All sides of this housing are plain in design, and there is no branding or particular design over these. There is a flat cable coming out from the base of this housing. This is a front-side view of this housing.
Thermalright uses standard RGB connectors on Frozen Magic 360 Scenic V2 cooler, and I appreciate this design as it makes life simple and provides standard compatibility with RGB sync technologies of various motherboard manufacturers. On the backside of the housing, there are 90-degree fittings to which the tubes are connected. Concealed by white covers, this connection point provides some flexibility, allowing for the rotation of tubes during installation according to specific requirements.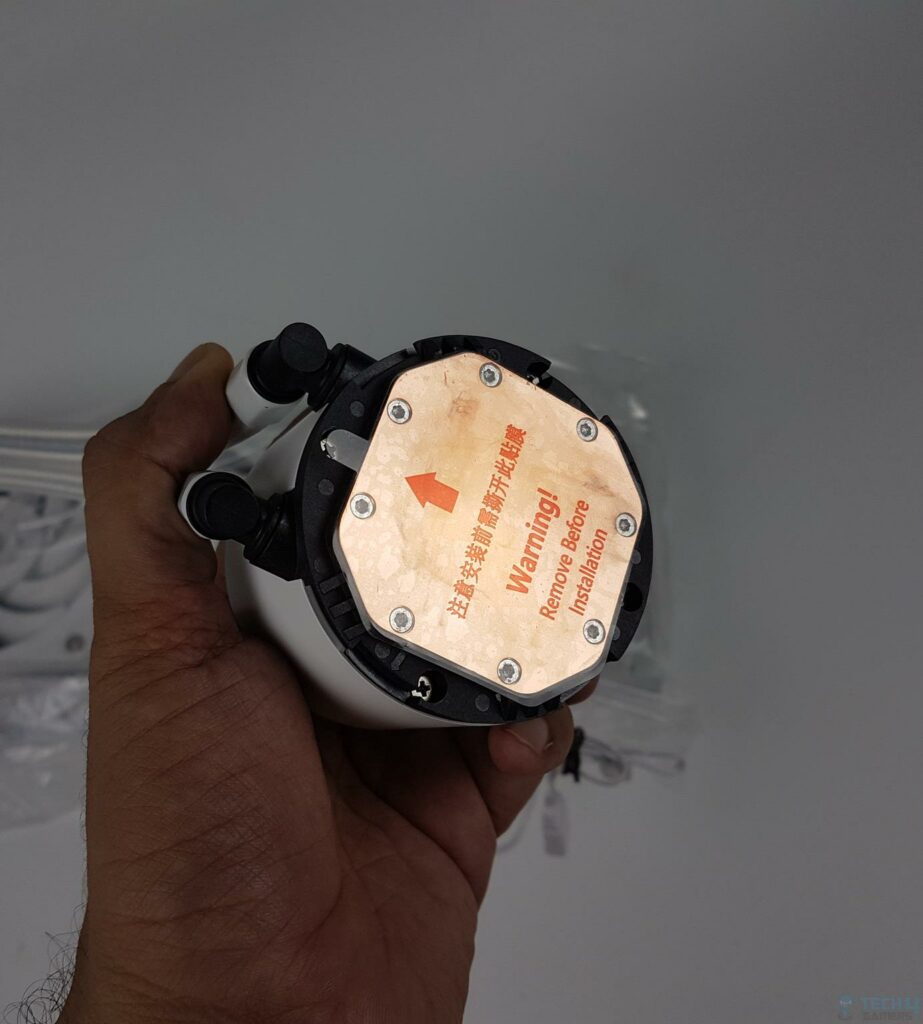 The unit features a copper base measuring 54x54mm, covered by a protective sticker with a caution to be removed before block installation. On the black plastic area, an arrow symbol is present, serving as an alignment guide. This symbol should correspond with the arrow marking on the mounting brackets for proper installation.
Fans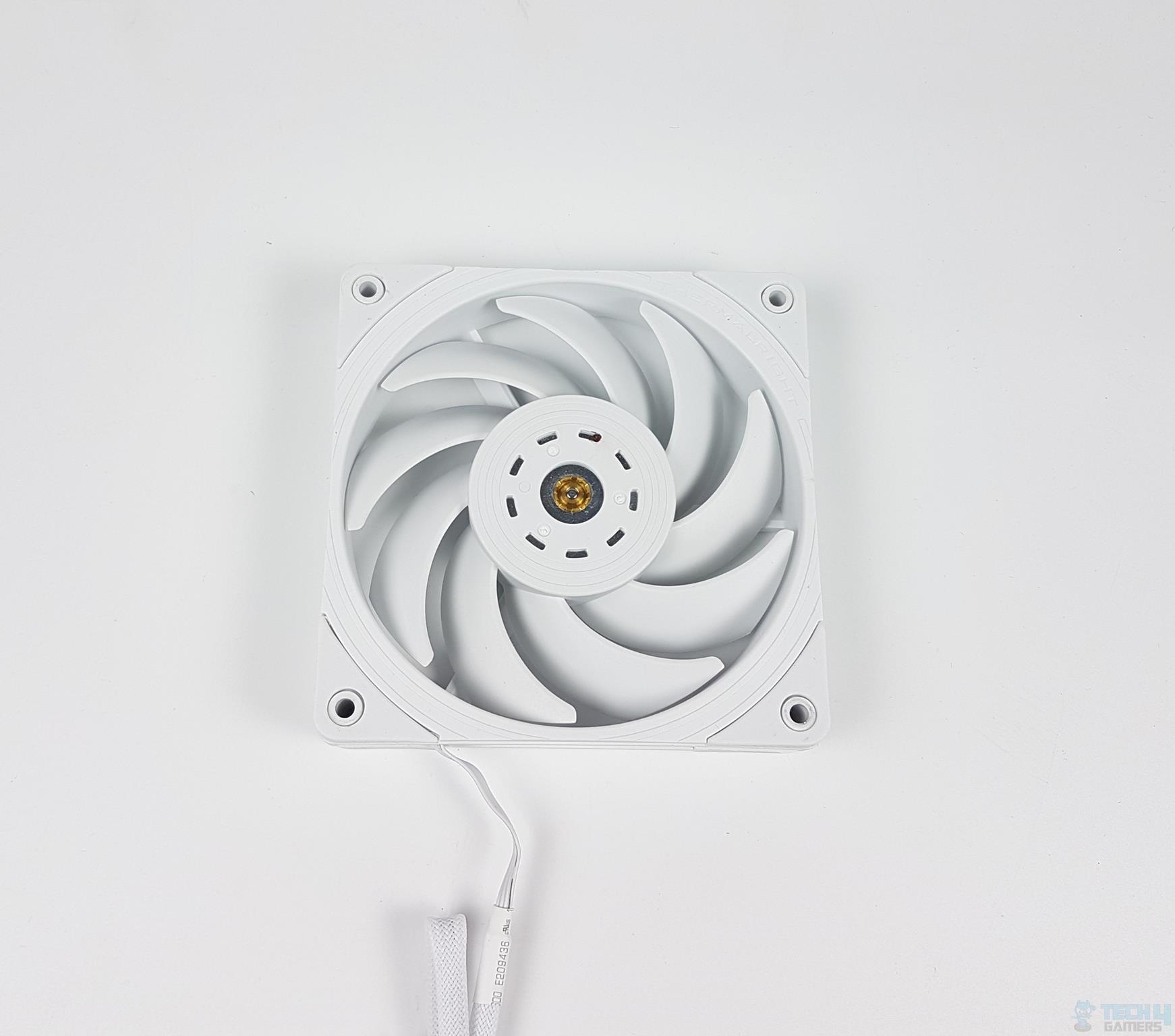 The Thermalright Frozen Magic 360 Scenic V2 cooler includes three TL-B12W fans with a distinctive white color and non-RGB design. Each fan features 9 blades, a brass-made bearing shell for durability, and a visually appealing white aesthetic. Noctua NF-A12x25 PWM was the first fan to feature this design if I remember correctly. There is a Thermalright text on one corner of the frame.
There are white color anti-vibration pads on the corners. They seem to be removable, making these fans more serviceable in the long run, provided Thermalright provides these as a standard accessory. Again, this design reminds me of Noctua anti-vibration pads. There is a line pattern on the main frame that gives some bold looks to these fans. The frame itself is quite sturdy.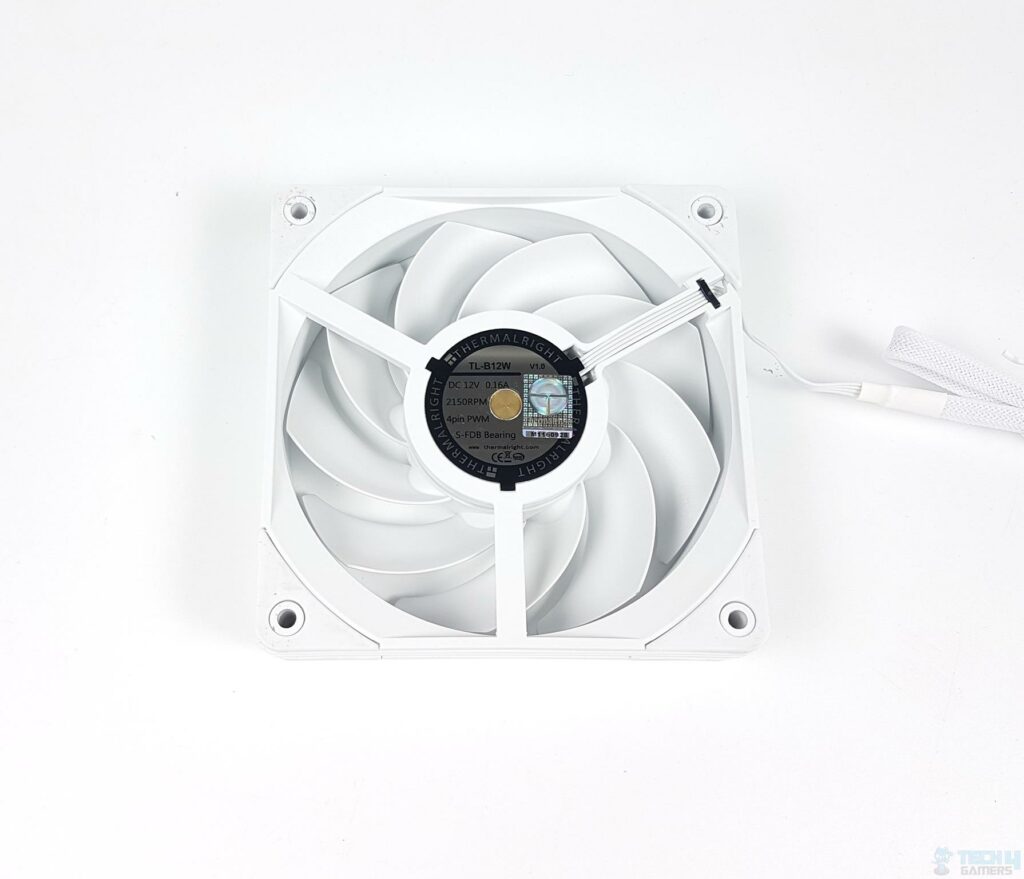 The backside has a different outlook. Normally we see a 4-arms assembly on the majority of fans. But this fan has a 3-arm assembly. One arm has a slight inset on which the wires are neatly routed. The frame on the mounting corners has a slope-down design. Obviously, we can see a metal shell here as well. The power rating of the fan is printed on the sticker.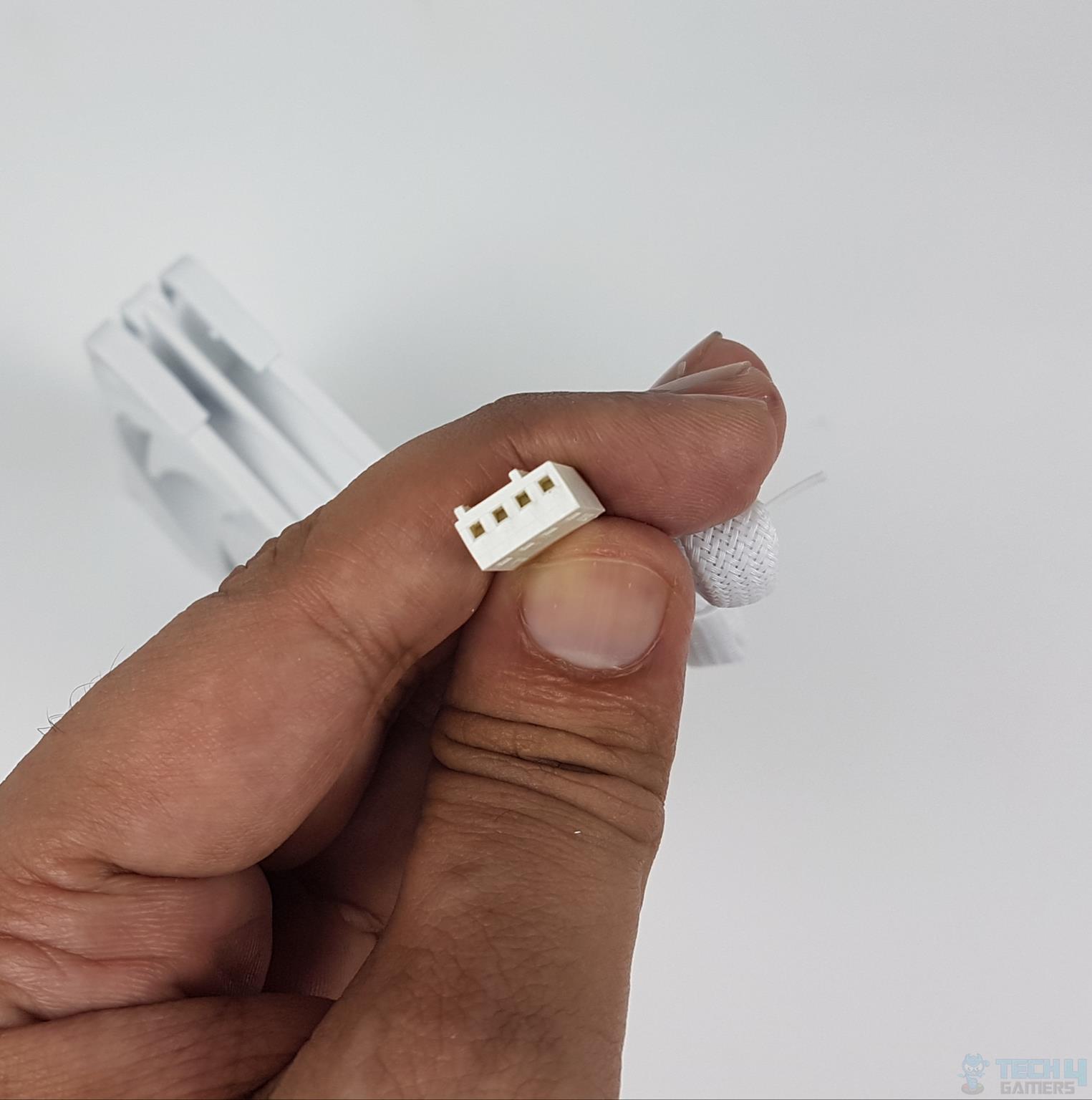 Each fan has a flat cable with a 4-pin PWM connector to power the motor of the fan.
Specifications of these fans are:
| | |
| --- | --- |
| Size | 120x120x25.6mm |
| Speed | 2150 RPM (±10%) |
| Connector | 4-Pin PWM |
| Current | 0.16A |
| Static Pressure | 2.87 mmH2O |
| Air Flow | 69 CFM |
| Noise | 28.1dB(A) |
| Bearing | S-FDB V2 |
Seems like Thermalright is using a customized Fluid Dynamic Bearing hence naming it S-FDB V2.
Installation and Clearance
We have tested the cooler on the Intel platform using the Intel i7 13700k over the GIGABYTE Z790 AORUS ELITE AX motherboard. Installation on the LGA 17000 platform is quite simple and takes only a few steps:
Prepare backplate for LGA1700 socket.
Place the backplate on the backside of the motherboard.
Secure the backplate using the blue color spacers from the front side of the motherboard.
Place the Intel ring bracket on the base of this cooler.
Peel off the protective cover from the base.
Apply the thermal paste over the CPU IHS.
Place the block over the CPU so that the threaded portion of standoff screws passes through the mounting holes of the ring bracket.
Use the thumb screws to complete the installation.
Install the radiator assembly as per the requirement.
Connect the cables.
Installation is complete.
This unit has a dimension of 397x120x54mm with fans. Keep these dimensions in mind for the PC Case clearance. This cooler has no obstruction for the PCIe slot and DIMM slots.
Digital RGB Lighting
Since Thermalright is using a standard addressable RGB connector on the block, this unit would work the RGB solution on the supported motherboards from manufacturers. We have tested the cooler's RGB lighting using GIGABYTE RGB FUSION 2.0 app and found it working fine.
Thermalright Frozen Magic 360 - Scenic V2
Thermal Testing
We have used the following configuration for testing:
The test table for Intel core i7 13700k is:
Clocks
Auto, Stock

5.5GHz on P-Cores and 4.2 to 4.4GHz on E-Cores

Voltage
Auto, Stock
Power Limits
Removed
C-States
Disabled
Speed Step
Disabled
Rest of settings
Stock, Auto
XMP
XMP Loaded where available
Thermal Paste
Alphacool Subzero Thermal Paste
Thermal Paste Application
X pattern
Headers
CPU_FAN, CPU_OPT, and PUMP Headers
Stress Software
CINEBENCH R23.2
Stress Run Time
30 minutes
PC Idle Time
5 minutes
Monitoring Software
HWInfo64
OC Tool
Intel XTU
We have seen AMD AM5 and Intel Alder Lake S CPUs taking more power, and this time, both sides have aimed at reaching the maximum clocks regardless of the thermal limit. In fact, the AM5 SKUs will run into thermal limits right away depending on the cooling solution and the clocks being used. This has made testing of CPU coolers challenging because viewers/readers are not used to a new nomenclature which is what clocks are sustained under a given load using a particular cooler.
That is if the cooler is capable of providing enough cooling heads to sustain the high frequencies at high package power. Among other reasons is the high thermal density of these new CPUs. Traditionally we are used to going the other way around, that is, which cooler is better in terms of thermal capacity. Despite this, we are using temperatures as a base for measuring this unit.
The ambient temperature was in the range of 24°C to 26°C. We are reporting absolute temperatures in the graph. The testing is done on an open-air bench system. Once inside the chassis, the temperatures are expected to rise and would largely depend upon the optimal airflow inside the chassis.
Let's take a look at the results.
Result
Let's see how this cooler has performed on stock and auto settings with power limits removed.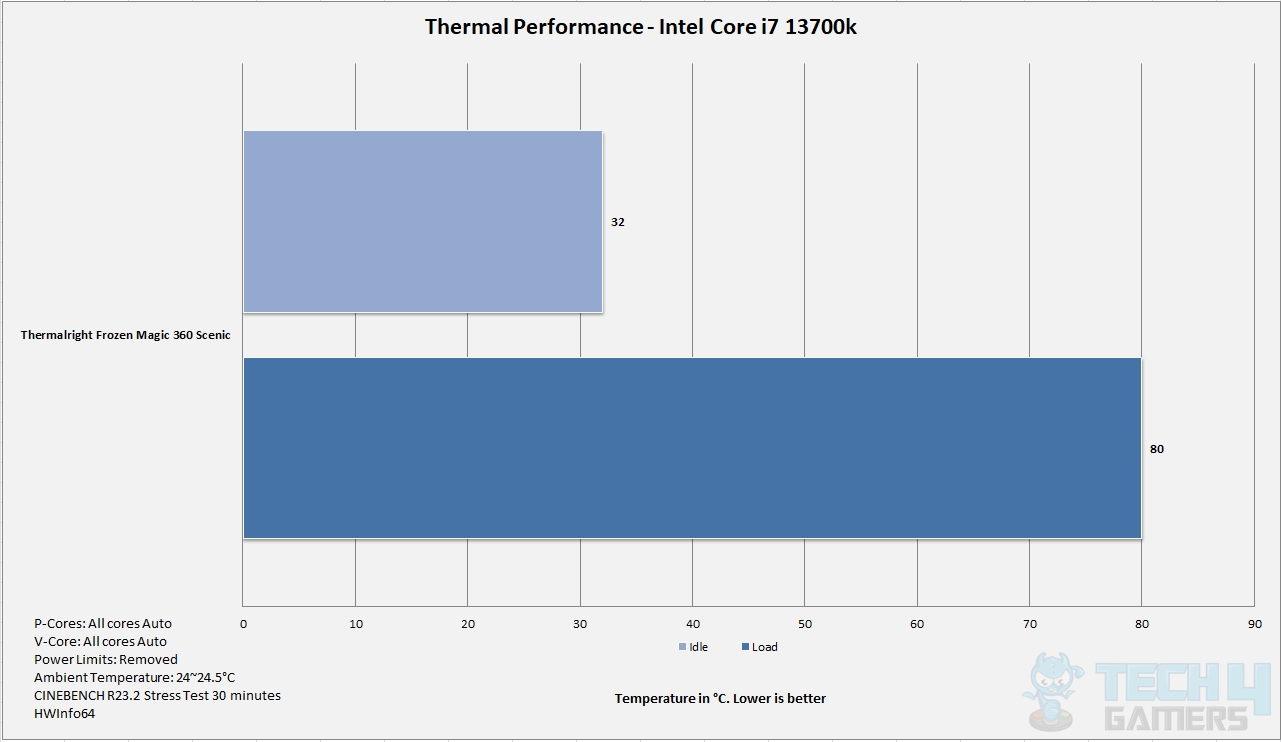 This is a superb performance from Thermalright Frozen Magic 360 Scenic V2 cooler. This was not possible before. CINEBENCH R23.2 typically uses 216W to 224W power on the package. If you would use Blender or AIDA64 with AVX load, this would easily peak at 250 to 252W on the package.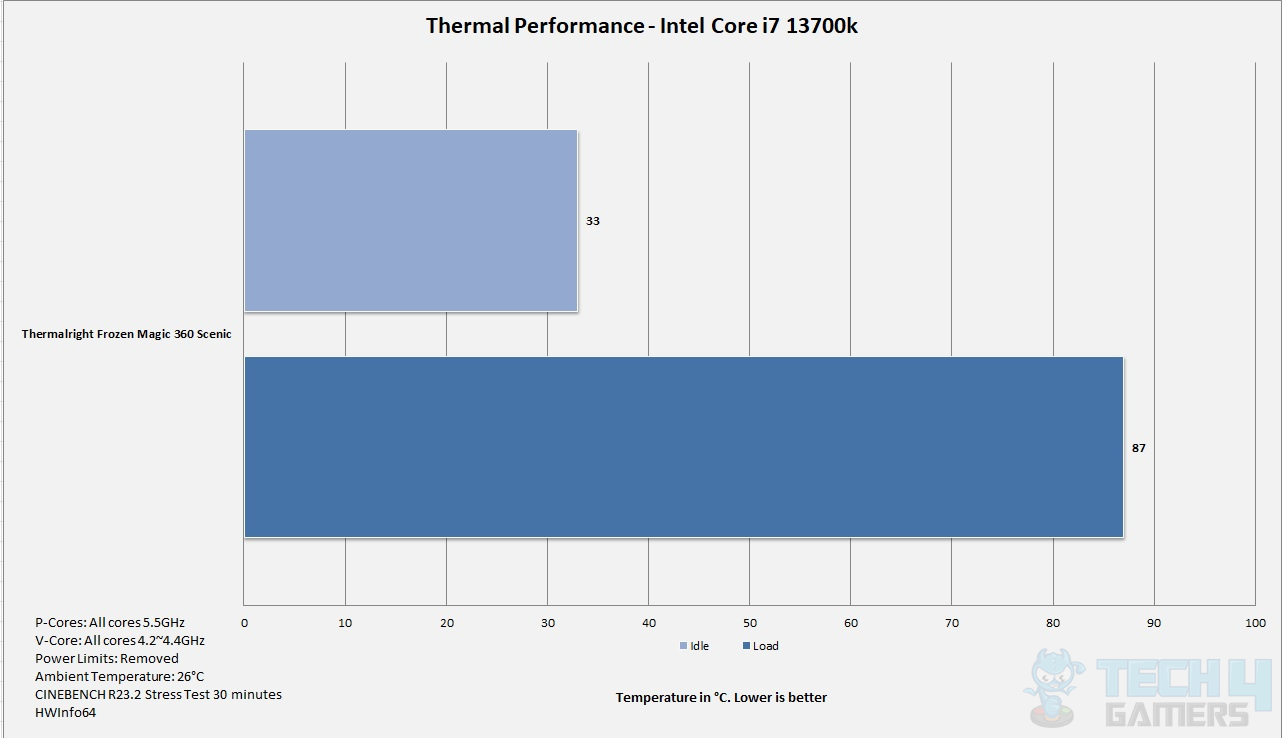 Next, we overclocked this CPU using Intel Extreme Tuning Utility and set P-Cores to 5.5GHz. The Vcore was 1.356V. Power limits were still removed, and we ran the CINEBENCH R23.2 run of 30 minutes again. This cooler has some magic to it as it handled this load on otherwise warm-running Intel i7 13700k quite well. We love this performance.
Noise
The Frozen Magic 360 Scenic V2 is roughly making 50 to 51 dB(A) sound output at an ambient of 32 dB(A).
Should You Buy It?
After testing, I was able to list a few points you should take into account if you are considering buying the Thermalright Frozen Magic 360 Scenic V2.
Buy It If:
You want a capable budget 360mm cooler: Despite being priced at a lower point, the Thermalright Frozen Magic 360 Scenic V2 showcased exceptional cooling performance throughout our testing.
You want easy installation: In our experience, the Thermalright Frozen Magic 360 Scenic V2 proved to be extremely easy to install.
You are building a white-themed PC: The Thermalright Frozen Magic 360 Scenic V2's immaculate white finish on its components makes it a perfect addition to a white-themed build.
Don't Buy It If:
You prefer A-RGB fans: Anyone interested in an RGB cooler might be put off by the lack of RGB on the fans.
Conclusion
We have tested the Thermalright Frozen Magic 360 Scenic V2 liquid cooler in this article. The pump has ceramic bearings and a 40,000-hour lifespan, which is standard for a 360mm AIO. The design avoids ASETEK's pump housing patent in the US. The pump connects via a 3-pin connector and can be powered directly from the PSU using a provided SATA cable. It is worth pointing out that the fans lack RGB, coming with a bold yet pleasing outlook.
Coming to the installation of this cooler, it is easy on the Intel LGA1700 socket and involves 10 items to install the block on the CPU. On top of that, there is a TF7 thermal paste tube included in the box. This thermal paste has a thermal conductivity rating of 12.8 W/m-k. It is a gray color paste with non-electrically conductive properties. It is not easy to find the right price for this cooler, and the manufacturer is silent.
However, our search has shown that this cooler sits at 95-100 USD, which is quite a good price point. The thermal performance of this cooler is exceptionally good. It seems like this cooler is the underdog among other AIOs. This cooler has maintained the overclocked i7 13700k below 90°C under the CINEBENCH R23.2 stress test. More notably, the noise output is also decent. Thermalright is providing a 5-year warranty on this cooler, which seems to be a win-win scenario for this cooler considering the rest of its attributes.
Awards Received By The Thermalright Frozen Magic 360 Scenic V2
Here are the Tech4Gamers awards received by the Thermalright Frozen Magic 360 Scenic V2.
Recent Updates
---
November 15, 2023: Few text changes to improve readability. Added galleries.
---
Was our article helpful? 👨‍💻
Thank you! Please share your positive feedback. 🔋
How could we improve this post? Please Help us. 😔
[Hardware Reviewer]
Awais Khan is a Tech Geek, conscientious, reliable, and hardworking individual who pays attention to detail with excellent time management skills. Alongside that, he is an expert in PC Hardware; dealing with Benchmarks, Analysis, and testing before sharing information with readers. Whenever free, Awais occasionally shares Gaming Videos on his YouTube Channel.
Get In Touch: [email protected]