Best White Cooler?
DeepCool AS500 Plus Summary
The DeepCool AS500 Plus White is a sleek and efficient CPU air cooler with white RGB lighting. It offers easy installation, thoughtful design, and a dedicated RGB controller. It's a solid choice for users prioritizing aesthetics and reliable performance.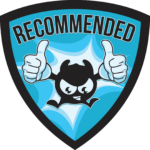 Performance -

8/10

Value -

8/10

Build Quality -

9/10

Features -

9/10
Pros
Beautiful looks
Good thermal performance
Easy to install
Clearance
Dedicated RGB controller
Cons
A bit pricey
Not the best for overclocking
The AS500 from DeepCool had our praise when we got to test it. Its noise-to-performance ratio turned out quite good. This time we are taking a look at their AS500 Plus White CPU air cooler. This cooler has the same heatsink as is in the original AS500 but it has two changes. These are the use of two TF140S White edition fans and the white color heatsink. The "Plus" in the name name indicates the push/pull configuration out of the box. Let's go into more detail as we dive into the review.
---
Key Takeaways
The Deepcool AS500 Plus White is good for users who prioritize aesthetics in their builds, especially those looking for a white-themed cooler with RGB lighting and top-notch build quality.
This cooler may not be suitable for users who are into extreme overclocking, as it has limitations in handling extreme overclocked scenarios.
The standout features of the Deepcool AS500 Plus White include its aesthetic appeal with a white color scheme, low-profile digital RGB lighting compatible with major motherboard RGB sync technologies, easy installation with provided mounting hardware, and excellent thermal performance for regular usage.
---
We'll start by looking at the cooler's specifications.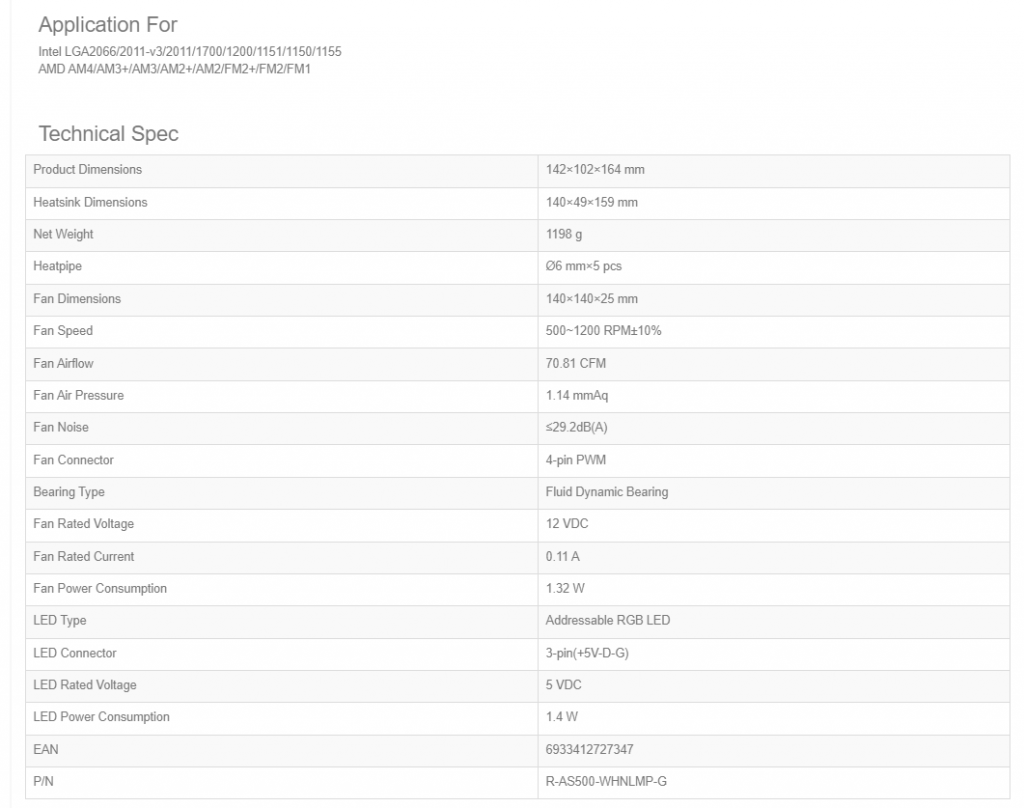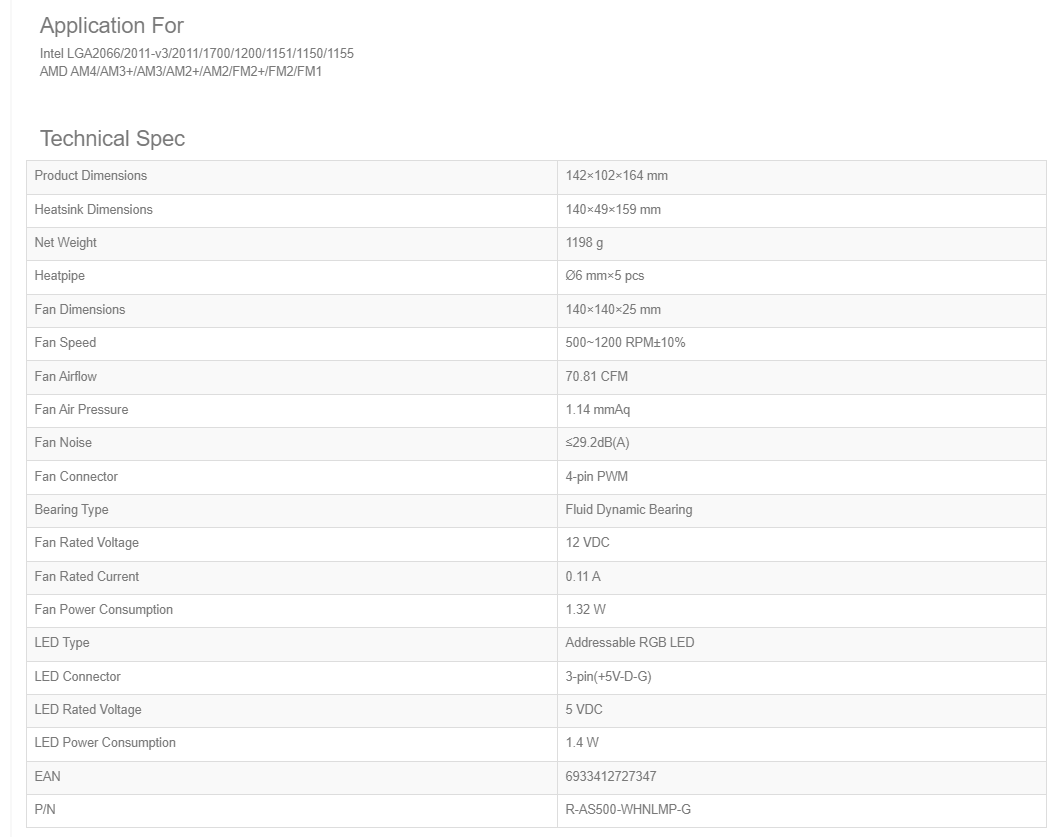 Packaging and Unboxing
DeepCool has changed the packaging style of their products and I personally think, this new scheme is quite appealing and effective. All the information is printed on the paperboard surface which is placed on the cardboard box.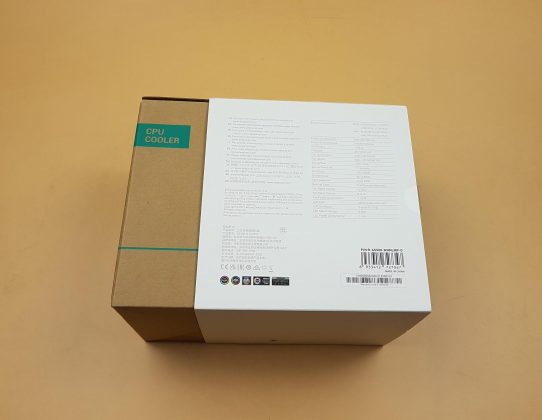 Accessories
Let's take a look at what is provided in the box.
Design
The AS500 Plus White is a single tower air cooler built for maximum RAM clearance with high performance. It is time to take a look at the main unit.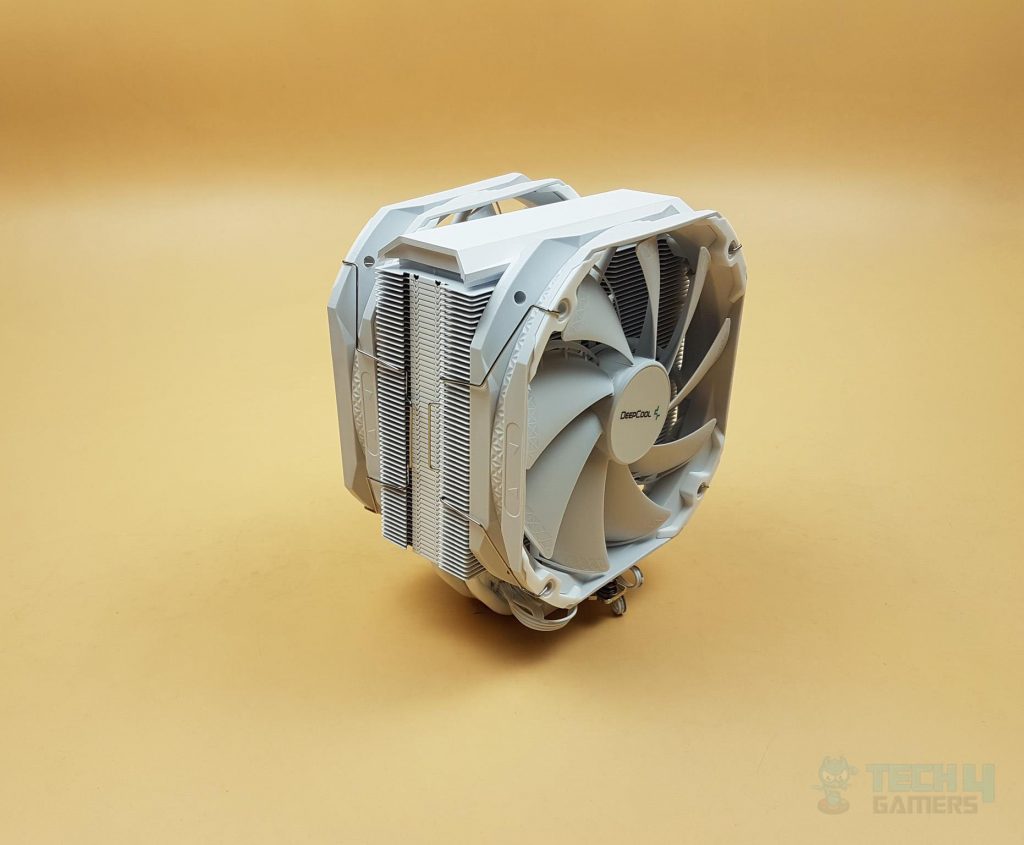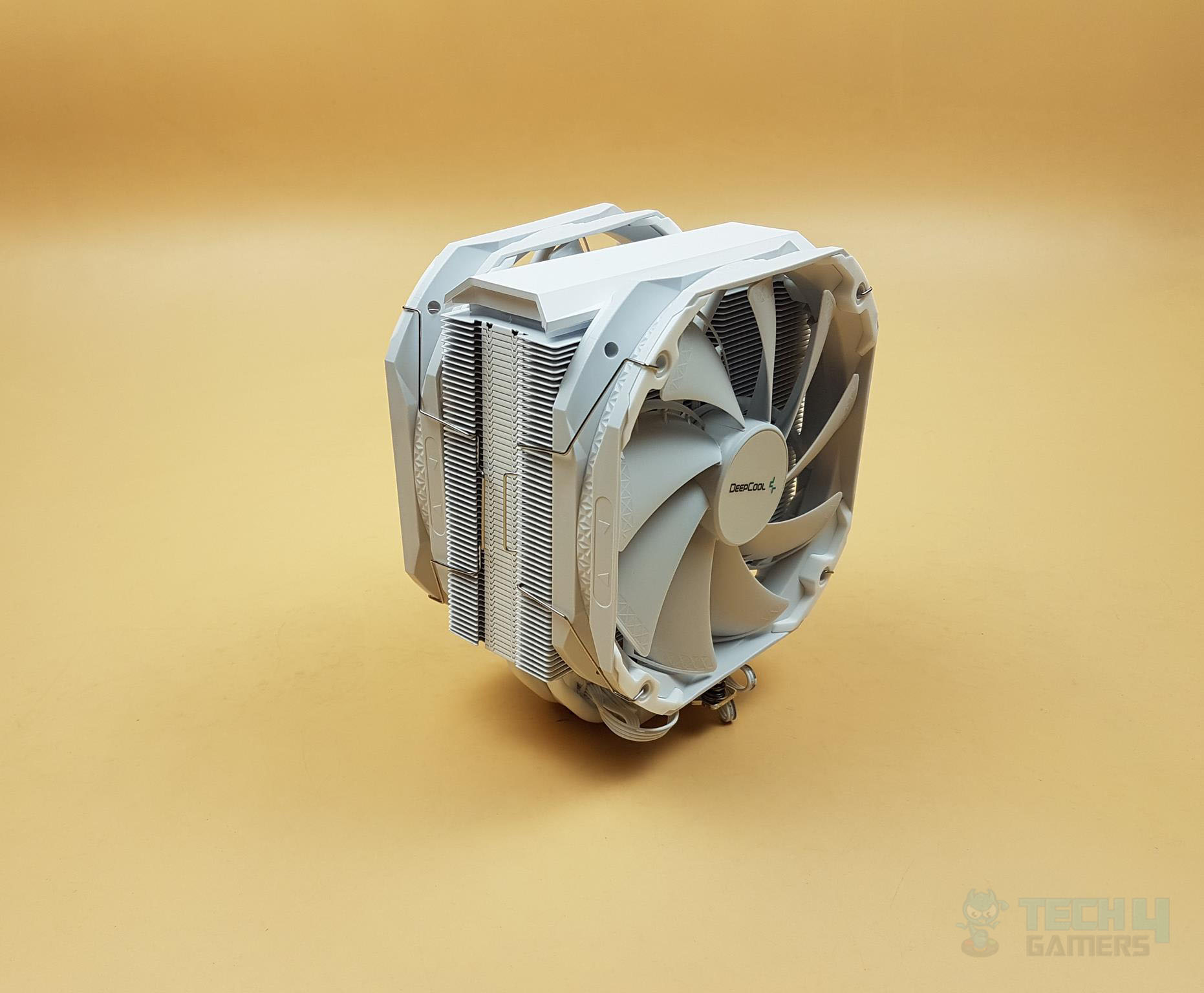 DeepCool AS500 Plus Looking Amazing in that White Color.The overall dimension of the assembled cooler is 142x102x164mm (LxWxH). The dimension of the heat sink is 140x49x159mm (LxWxH). The net weight of the cooler is 1198 gm.
Heatsink
Let's take a look at the heatsink.
Fans
Deepcool has provided 2x high-performance TF140S fans with the cooler. The fans are white in color. The frame is made of plastic. The fan body is quite rigid. There are 9 blades in each fan. These blades have a dual-layer design which is mentioned to increase the airflow up to 2.5m³/minute.
There are shiny textures on the outer edges of the blades. These seem to be for the reason of aesthetics only though I am not sure. There is a sticker pasted on the center with the GamerStorm logo and textured pattern on the border. The noise-canceling teeth are distributed unevenly to avoid sympathetic vibration and thereby keeping the operation inaudible.
Looking at the back, there is a 4-arm assembly holding the motor and blades to the mainframe. One arm is widened to form a passage for the wires. There is a catcher as well to make sure that cables don't fall off. There is a black color sticker pasted in the center. TF 140S is the model of the fan. The fans are made in China.
There are arrow symbols on the side of the frame indicating the direction of the airflow and the blades' spin. The fans have a 4-pin PWM cable having an approximate length of 392mm.
Here are the specifications of the fan:
| | |
| --- | --- |
| Speed (RPM) | 500 ~ 1200 RPM |
| Airflow (CFM) | 70.81 |
| Air Pressure (mmAq) | 1.14 |
| Noise dB(A) | ≤ 29.2 |
| Overall Noise dB(A) | ≤ 31.5 |
| Connector | 4-pin PWM |
| Bearing Type | Fluid Dynamic Bearing |
| Rated Voltage (V) | 12 |
| Rated Current (A) | 0.11 |
| Rated Power Consumption (W) | 1.32 |
RGB Lighting
DeepCool has provided a dedicated controller along with the sync cable. We connected the cooler directly to the JRainbow header on the MSI motherboard and found the digital RGB lighting responding to the change in modes seamlessly. Here are some pictures:
Installation
I appreciate DeepCool's design team reducing the installation steps and making the installation process convenient.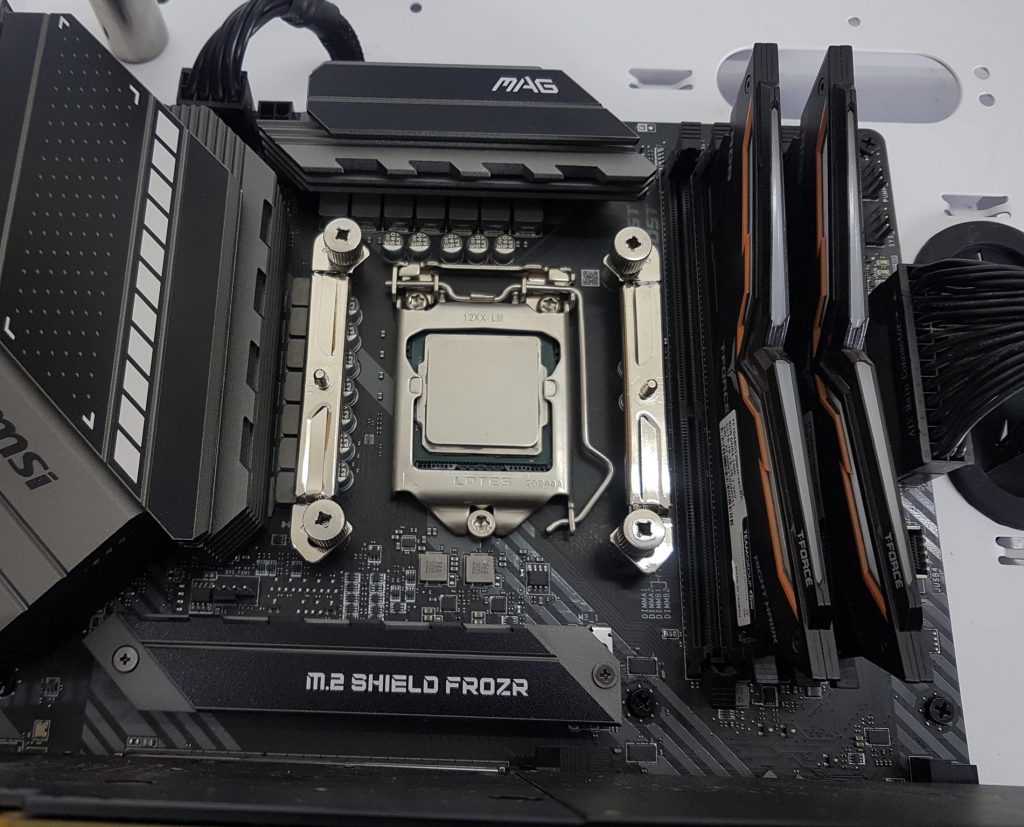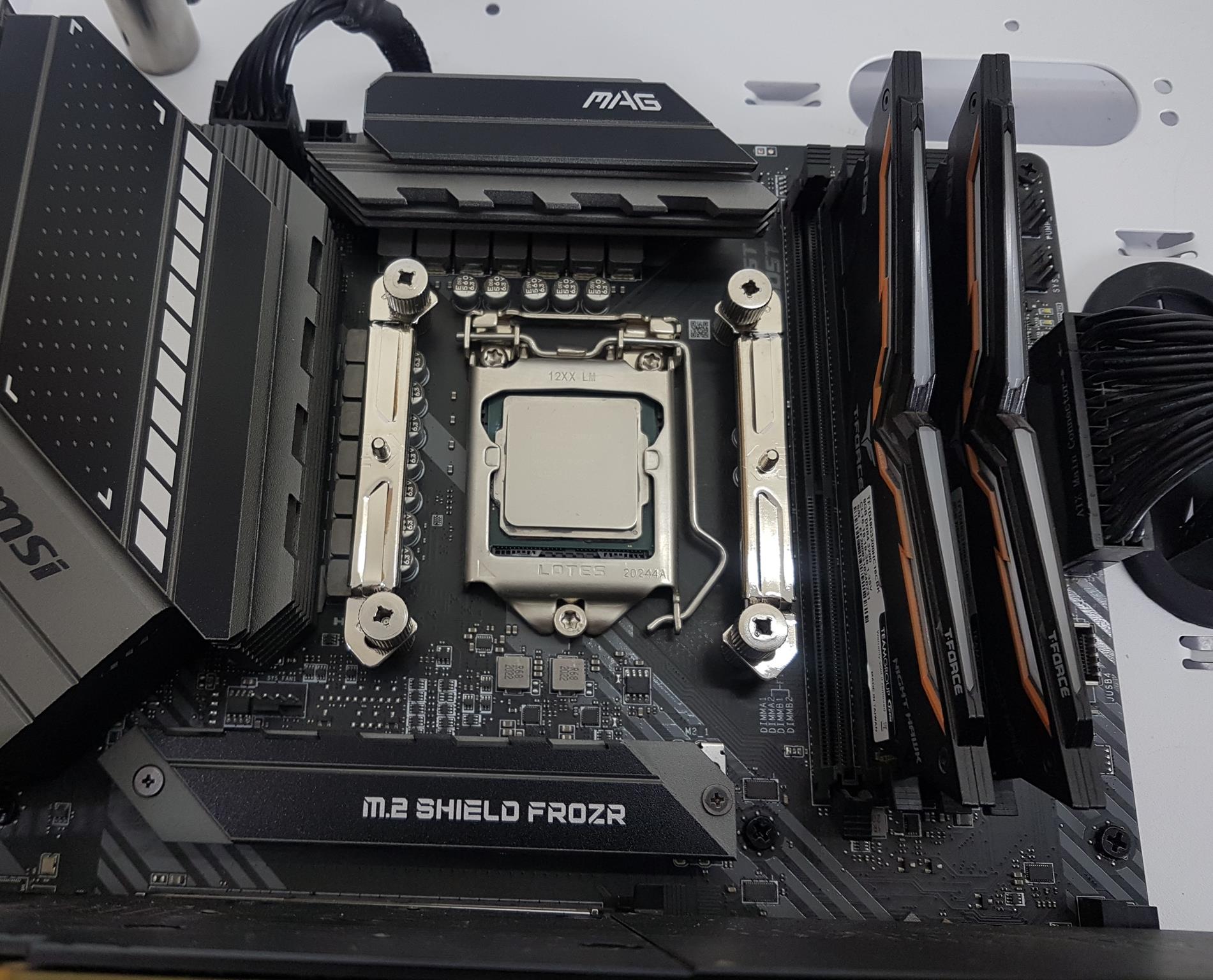 We have to deal with 11 components in total to mount the installation kit. Effective from this content, we will not be giving detailed installation steps as the user guide is there to cover it.
Clearance
The height of the cooler is 164mm. Keep this in mind while planning your build with respect to the PC Chassis as the chassis should have support for CPU cooler's height of a minimum of 165mm or so.
As can be seen in the picture, the heatsink has no RAM clearance issue and it does not block the first 16x PCIe slot on the MSI MAG Z490 TOMAHAWK.
Performance Benchmarks
Let's take a look at the cooler's performance. The following configuration has been used for this purpose:
Testing Methodology
Here is the settings table for testing:
| | |
| --- | --- |
| Clock (MHz) | 3800 All Cores |
| Voltage (V) | 1.030 |
| Clock (MHz) | 4700 All Cores |
| Voltage (V) | 1.248 |
| Clock (MHz) | 5000 All Cores |
| Voltage (V) | 1.320 |
| Turbo Boost | Disabled |
| C-States | Disabled |
| Speed Step | Disabled |
| Thermal Paste | Noctua NT-H1 |
| Thermal Paste Application | Dot Method in the center. |
| Test Run Time | 30 minutes |
| Idling Time | 10 minutes |
| Fan Speed | 100% PWM Duty Cycle |
| Pump Speed [Where applicable] | Connected to the AIO Pump header to run at 100% speed |
| Header | CPU_Fan header for the fans and Pump_Header for the pump |
| Software | AIDA64 6.3 Extreme [FPU] |
We are using Noctua NT-H1 thermal paste for cooler testing. Using the same thermal paste for all coolers would ensure standardization. Delta temperatures are reported on the graphs. The testing is done on an open-air bench system. Once inside the chassis, the temperatures are expected to rise and would largely depend upon the optimal airflow inside the chassis.
Performance Benchmarks
Here's a look at the performance charts at the three tested frequencies.
The DeepCool AS500 Plus White has a superb performance overall.
Noise
We are not measuring the noise output due to construction work going around the place. The overall noise level is higher than the original AS500 but no complaint as such given this is a push/pull configuration.
Should You Buy It?
It's time to answer whether or not you should buy this cooler.
Buy It If
You prioritize aesthetics and want a cooler with a sleek white design: The AS500 Plus White not only performs well but also adds a touch of elegance to your build with its white color scheme and low-profile digital RGB lighting.
You prioritize quiet operation: The Deepcool AS500 Plus White's TF-140S fans use Fluid Dynamic Bearings and have a maximum sound level rating of up to just 31.5 dBA.
You are looking for a mid-tower compatible cooler with zero RAM incompatibility: With a height of 164mm, the AS500 Plus White fits well into most mid-tower chassis, and it ensures compatibility with RAM and PCIe slots, making it a versatile choice for various builds.
Don't Buy It If
You are on a tight budget: With an MSRP of $69.99, the AS500 Plus White might be on the higher side of the price spectrum for budget-conscious users.
You require extreme overclocking capabilities: While the AS500 Plus White offers fantastic performance for regular thermal loads, it may not be the best choice for users aiming for extreme overclocking scenarios where higher-end cooling solutions might be necessary.
You don't have a supported motherboard with RGB headers: If your motherboard lacks RGB headers, you might miss out on the full potential of the AS500 Plus White's aesthetic features, as the A-RGB lighting is best controlled through compatible motherboard software or the included digital RGB controller.
Closing Remarks
I tested the Deepcool AS500 Plus White, an upgraded version with a second fan for push/pull configuration. Constructed with 56 white-coated aluminum fins and 5 copper heat pipes, the AS500 Plus White features a nickel-plated copper base plate. The top cover boasts low-profile digital RGB under the hood. The build quality is exceptional, with user-friendly mounting hardware and a thorough manual. The digital RGB controller, powered via SATA, is included for non-supported motherboards, using a 3-pin proprietary connector on the digital RGB cables.
Equipped with two TF-140S fans in white, the AS500 Plus White operates at a maximum speed of 1200 RPM, providing excellent airflow and a maximum sound level of 31.5 dBA. With a height of 164mm, it fits most mid-tower chassis, ensuring zero RAM incompatibility and no interference for the first x6 PCIe slot. Priced at $69.99, it excels in performance but may not handle extreme overclocking.
We are thankful to Deepcool for giving us the opportunity to review AS500 Plus white CPU Cooler.
Next Up: Best White PC Case
Awards Received By The Deepcool AS500 Plus White
Here is the list of Tech4Gamers awards received by the cooler:
Recent Updates
---
Nov 9, 2023: Few text changes to improve readability. Also added image galleries.
---
Was our article helpful? 👨‍💻
Thank you! Please share your positive feedback. 🔋
How could we improve this post? Please Help us. 😔
[Hardware Reviewer & Editor]
Meet Nauman Siddique, a highly experienced computer science graduate with more than 15 years of knowledge in technology. Nauman is an expert in the field known for his deep understanding of computer hardware.
As a tech tester, insightful reviewer, and skilled hardware editor, Nauman carefully breaks down important parts like motherboards, graphics cards, processors, PC cases, CPU coolers, and more.
15+ years of PC Building Experience
10+ years of first-hand knowledge of technology
7+ years of doing in-depth testing of PC Hardware
A motivated individual with a keen interest in tech testing from multiple angles.
I majored in Computer Science with a Masters in Marketing
Previously worked at eXputer, EnosTech, and Appuals.