The Ryzen 9 3900x launched in mid-2019, a 12-core, 24 threads processor based on the Zen 2 architecture. The Ryzen 9 3900x is an excellent choice for gamers even in 2022, capable of flawlessly running any game you throw at it. The Ryzen 9 3900x has a base clock of 3.9GHz and can boost up to an astounding 4.6GHz. Much like the rest of the Ryzen 3000 and 5000 series, the Ryzen 9 3900x supports the AM4 CPU socket. With a TDP of 105W, the Ryzen 9 3900x consumes the same amount of power as the Ryzen 9 5950x; you will have to pair it up with a decent cooler to utilize the CPU to its maximum potential. While the Ryzen 9 3900x does come with a stock cooler, getting an aftermarket cooler will always help in improving the overall performance. This is why we are here to help you pick the Best CPU Cooler for Ryzen 9 3900x.
The Ryzen 9 3900x is a high-end processor, and it tends to get extremely warm when performing under maximum load; pairing it with a decent cooler should help avoid any thermal issues.
Since its launch, the Ryzen 9 3900x's price has seen a significant price decrease to compete with the latest processors, making it an excellent pick for anyone looking for a decent processor.
RYZEN 9 3900x Specifications:
Total Cores: 12
Total Threads: 24
Base Clock Speed: 3.9GHz
Boost Speed: 4.6GHZ
Default TDP: 105W
CPU Socket:: AM4
Best CPU Coolers For Ryzen 5 3900x In 2022:
DeepCool AK620 CPU Air Cooler

Noctua NH-U12A chromax.Black

ARCTIC Liquid Freezer II 240

NH-L9a-AM4 chromax.black

EK-AIO 360 D-RGB
DeepCool AK620
Best Air Cooler For Ryzen 9 3900x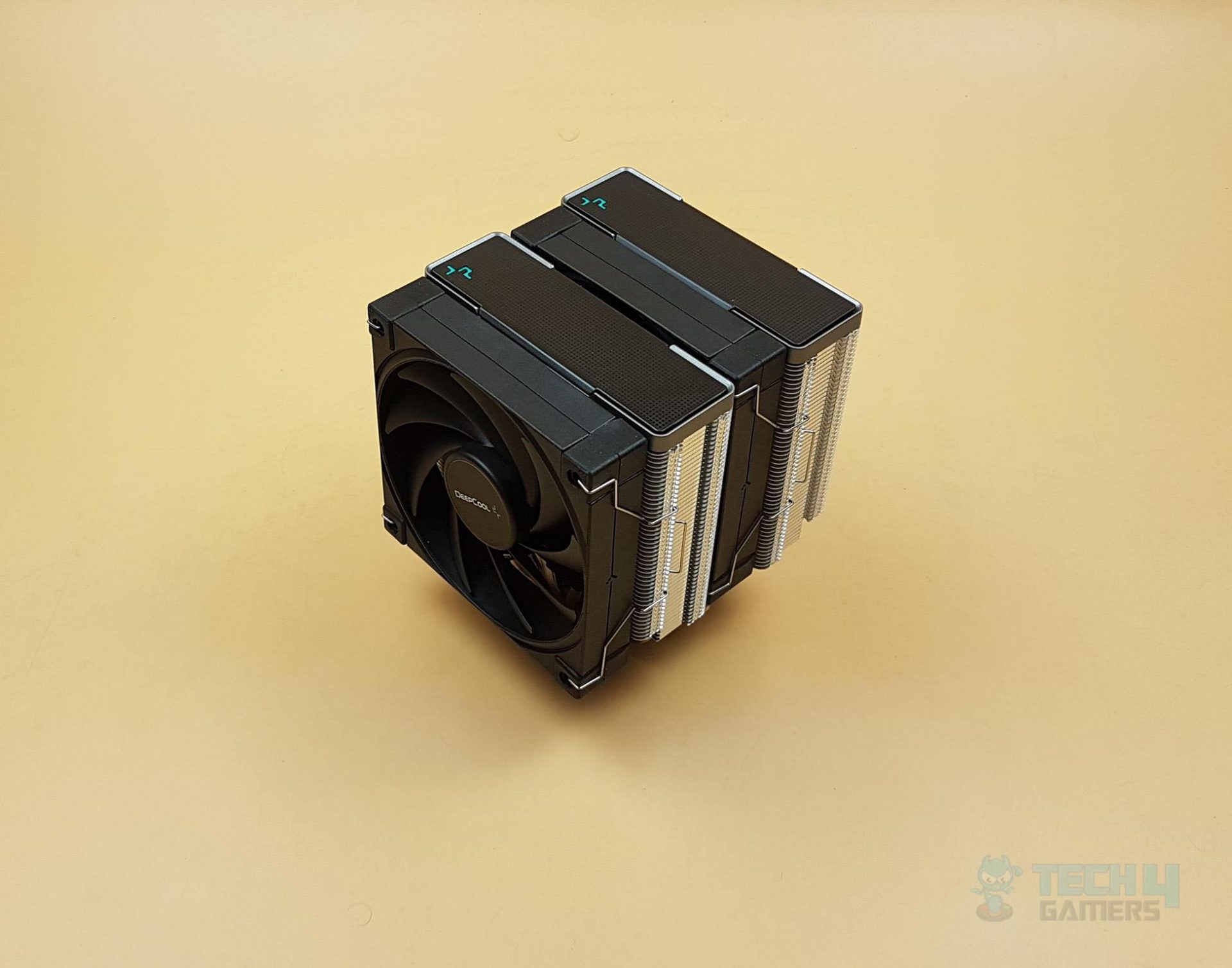 Specifications : Type: Twin-Tower Air Cooler | TDP: 260W | Heat Pipes: 6x 6mm | RGB: None | Dimensions: 129 mm × 138 mm × 160 mm | Fan: 2 x 120mm DeepCool FDB PWM Fans | Fan Speed: 500-1850 RPM | Socket Support: LGA 2066, LGA 2011-v3, LGA 2011, LGA 1700, LGA 1200, LGA 1151, LGA 1150, LGA 1155 and AM4
Pros
Compact size
Easy Installation
Powerful cooling performance
Cons
Slightly expensive
NO RGB
DeepCool has recently been on a roll with air coolers, bringing efficient cooling solutions to the market. This time, DeepCool has introduced their AK620 CPU cooler, which has impressive specifications on paper and provides efficient cooling and airflow.
The DeepCool AK620 is a Twin-Tower cooler, standing at around 160mm tall. It features six nickel-plated heat pipes soldered to the base plate for better heat transfer. Apart from that, it has two identical 120mm fans with fluid dynamic bearings that reduce the noise levels without compromising on performance. The fans have a PWM speed ranging from 500 to 1850 RPM that produces a noise output of only 28 dBA, which is surprisingly low for a cooler of this size. Moreover, the fans have an airflow of 68.99 CFM with an air pressure of 2.19 mmAq.
In terms of compatibility, this bulky cooler is 138mm wide, so ram clearance can prove to be an issue; however, the fan is fairly easy to reposition to the other side of the cooler. The CPU cooler is 160mm tall, allowing it to fit in almost any case you install it in.
Furthermore, the DeepCool AK620 has a square pattern on both sides to help with the overall airflow. Another thing to note here is that the cooler features no RGB whatsoever. DeepCool has kept the design rather simple and elegant.
What We Liked
The thermal performance of the DeepCool AK620 is fantastic. With a TDP of around 260W, the DeepCool AK620 manages to cool the Ryzen 9 3900x at stock without any problems. The 120mm fans operate silently even under extreme load while also performing well. The noise is barely noticeable. The DeepCool AK620 can be used as a great entry-level air cooler for first-time builders and it can also be recommended for non-gaming CPUs.
What We Disliked
While the DeepCool AK620 provides amazing performance for its price, it is by no means a cheap air cooler, coming in at around 70 US dollars. Apart from that, ram clearance can also be an issue with the DeepCool AK620, as mentioned previously. Also, a third set of fan clips would have been a nice inclusion for this CPU cooler. An additional fan would have helped in making this cooler completely overkill.
What Sets the DeepCool AK620 Apart From Its Competitors
The DeepCool AK620 manages to perform just as well as its competitors while being priced lower. AK620's attractive price stands out from the rest of the competition. Apart from the pricing, the DeepCool AK620 provides better ram clearance than most other air coolers available. For the most part, Dual Tower air coolers tend to perform way better than single fan ones; however, the DeepCool AK620 in particular manages to outperform even some high-end air coolers that are priced way higher than this.
Verdict
All things considered, the excellent performance, clean design, and decent RAM clearance make the DeepCool AK620 a fantastic purchase. The installation process is also relatively straightforward due to the 120mm fans. The overall design is plain and simple, making it easy to fit in most builds without any issues. All of this makes it easy for us to recommend the DeepCool AK620 as the Best Air Cooler for Ryzen 9 3900x.
Noctua NH-U12A chromax.Black
Best Air Cooler for Ryzen 9 3900x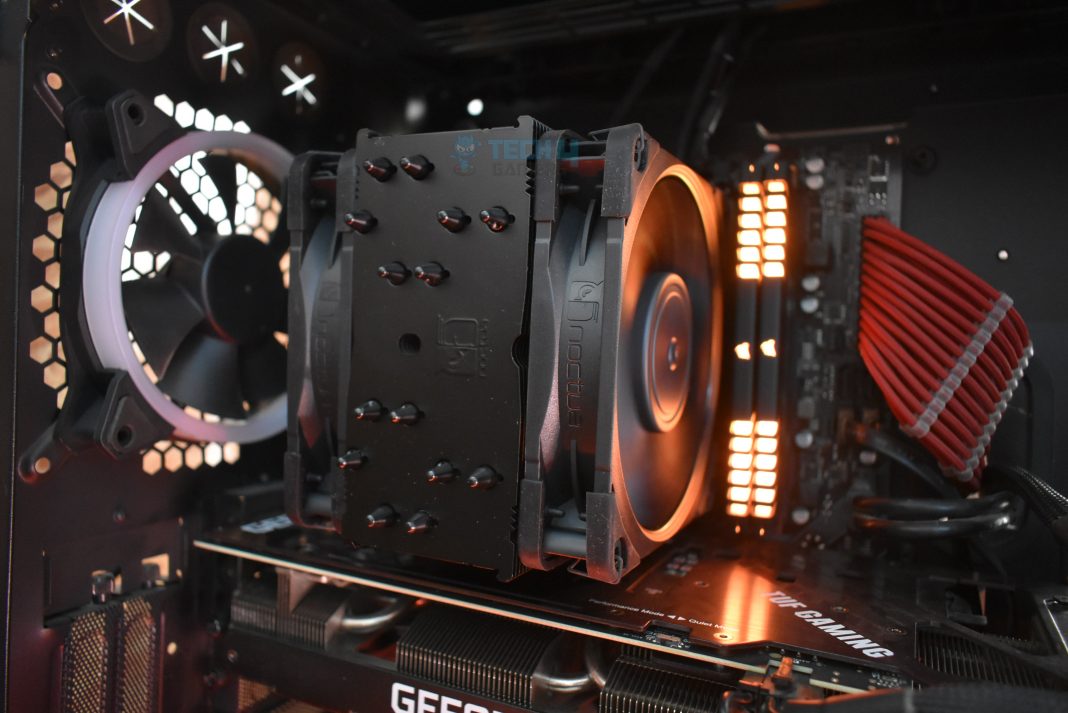 Specification: Fans: 2x NF-A12x25 PWM 120 mm | Fans Speed: 2000 RPM | TDP: 150 W | Height: 158 mm | Width: 125 mm | Length: 112 mm | Weight: 1220 g | Socket Compatibility: Intel Socket 1150, LGA1151, LGA1155, LGA1156, LGA2011, LGA2066, AM4, AM3(+), AM2(+), FM1, FM2(+) | RGB Fans: No | Noise Level: 22.6 dBA
Pros
Almost inaudible
Incredible cooling performance
Smart fans that increase fan lifespan
Push-Pull Configuration
Huge RAM clearance
Noctua is highly renowned for their high-performing air coolers at varying price points and hardware compatibility. It has impressed many consumers by being the first to introduce an effective CPU cool with non-traditional brown-colored fans. However, not everyone likes to have a brown fan sitting inside their black-themed PC setup. Therefore, over the last few years, Noctua has begun to transition its existing products into the black-themed lineup of coolers called Chromax. Since we are looking for the best air cooler for Ryzen 9 3900x, we will explore one of the best coolers Noctua has to offer, the Noctua NH-U12A.
Initially, the Noctua NH-U12A was introduced with the Noctua-themed brown fans, but consumers wanted an all-black variant of the cooler. Therefore, after years of begging, Noctua has answered by finally introducing the Noctua NH-U12A in all chromax black. Let's see if it was worth the wait.
On further digging, you will also find Noctua NT-H1 thermal compound in the box, considered one of the better ones on the market. You also get this Y-splitter PWM fan cable, so in case, your Ryzen 9 3900x motherboard does not have two CPU fan headers, you can easily connect both of the fans on a single fan header. Moreover, the box contains a low noise adapter cable to run the fan at a lower speed, but this add-on is unnecessary for some people as these fans are among the market's quietest.
Finally, the black-themed CPU cooler lies with the highly demanded NF-A12x25 PWM fans for a dual fan setup. This monstrous cooler is as massive as the Noctua NH-D15/S, but that does not mean that it's not as powerful as the Noctua NH-D15/S as it retains the cooling power of a 140-millimeter fan in a 120 millimeter. It also arrives with the highly demanded NF-A12x25 PWM fans for a dual fan setup.
In terms of specifications, it is much similar to the standard Noctua NH-U12A with the addition of a black paint job on the whole product. Noctua NH-U12A Chromax.Black stands 158 millimeters tall with and without the fans because it does not extend towards the RAM sticks at all. The CPU cooler is 125 millimeters wide and has a depth of 58 millimeters with a TDP of 150W. Surprisingly, the heat sink itself is denser than any other Noctua model of this size. It is heavier than the Noctua NH-D15/S, weighing 1.22 kilograms with both fans on it.
Speaking of the two fans, the NF-A12x25 PWM 120 mm fans are considered the best performance fans of Noctua. These fans are in such high demand because they are specially designed to provide better airflow and maintain the right amount of static pressure.
Noctua has designed them in a way that they remain closer to the frame of the fan by which less air escapes through them, which creates better air pressure towards the heatsink. This is how these fans produce surprisingly low noise even at 100%, rated at only 22.6 decibels. With the addition of the low noise adapter, the rating further decreases to 18.8 decibels. This is why the low noise adapter was deemed unnecessary.
Additionally, the fans are rated at 2000 RPM, which is decent among the dual-tower CPU coolers. In terms of stress detection, the 4-pin PWM y-cable provided allows the fan to detect if the CPU is getting hot or not automatically. The fans do not show any sign of squeaks or wear and tear under stress or idle, making them suitable for overclocking. At the bottom, the nickel-plated mirror finish base is reflective enough to shine a subtle light on your face. The seven black painted heat pipes are soldered directly to the aluminum finery.
When you look at the design, the NH-U12A Chromax.Black is a compact CPU cooler without any RGB. It drops the wooden brown color from its standard variant, having an all-black presence this time. The pipes, heat sink, and even the screws are all painted black to complement your black-themed PC setup. In case you dislike the design, Noctua also has a range of cooler covers in different colors that would suit your PC, which you can separately purchase.
These covers are placed on the black heat sink, giving the cooler a more minimalistic appearance. These include the Noctua NA-HC8, which comes in an all-black and all-white matte finish, allowing you to sport the NH-U12A Chromax.Black with a white Cooler themed PC setup since the brown color of the standard version would look out of place in an all-white PC setup. It also includes an NA-HC7 cover in seven different colors with a unique pattern to fit your mood.
What We Liked
The NH-U12A Chromax.Black is a compact CPU cooler, jam-packed with features bound to make long-lasting customers. It performs incredibly well, and even after all of this power, it still does not roar. It is almost inaudible even at 100% fan speed. Speaking of design, this beast of a cooler is very minimalistic and quickly captures attention. Its relatively small size provides significantly larger RAM clearance, allowing you to install tall RAM versions easily. For the cherry on top, Noctua offers a six years warranty for this fine cooler. Here are the accessories that come with Noctua NH-U12A chromax.Black.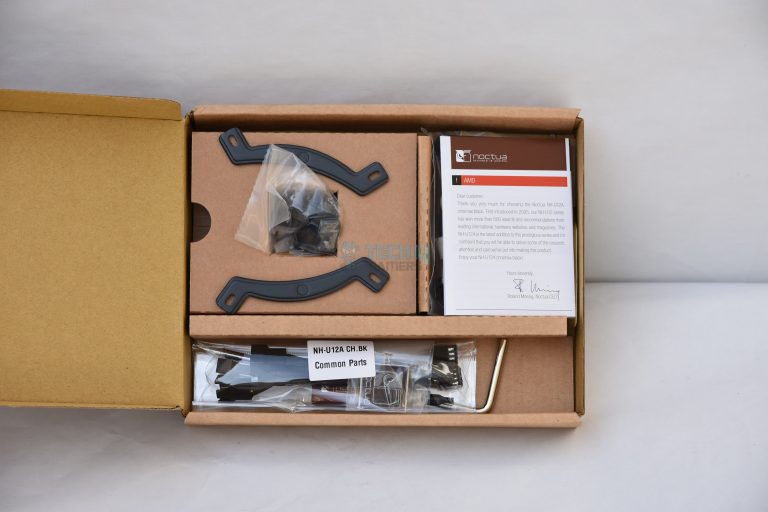 What We Disliked
This monstrous cooler has it all, the looks and the performance, but it lacks a crucial element that many people might prefer, RGB. It holds a dark look without RGB but might be a letdown to some people. Other than that, all the features it comes with only add to the price tag. It lies on the expensive side, coming in at around $119, which is a lot for an air cooler.
What Sets The NH-U12A Chromax.Black Apart From Its Competitors
Unlike most of the air coolers, NH-U12A Chromax.Black provides utmost performance in a compact design. It goes above and beyond with the performance; equipped with the push-pull configuration, it leaves behind the 240mm AIO liquid coolers and even a few 360mm AIO liquid coolers. All this speaks volumes about how well it has been designed. Unlike its competitors, the huge RAM clearance that it offers is also a part of its success. It contains 120mm specially designed fans that perform incredibly like a 140mm CPU cooler. That makes it reach out to the top among its competitors.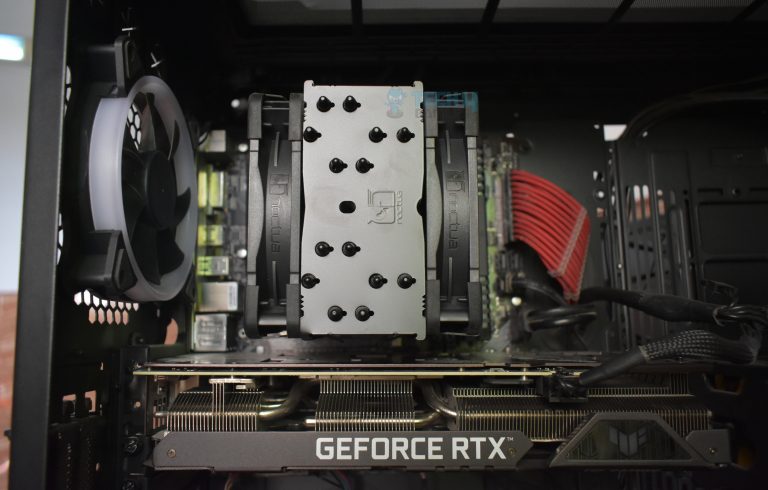 Verdict
Overall, the NH-U12A Chromax.Black is a killer and one of a kind. The lack of RGB is not a problem for me since the cooler looks more stealthy with the dark black color. Noctua's additional covers are also very pleasing since it adds to the minimalistic look most people aim for. Since this compact cooler is almost inaudible and performs like a beast, we can't complain about the price tag. Ultimately, if you dislike the idea of an AIO liquid cooler and don't have a tight budget, this is the Best Air Cooler For Ryzen 9 3900x.
NH-L9a-AM4 chromax.black
Best Low Profile Cooler for Ryzen 9 3900x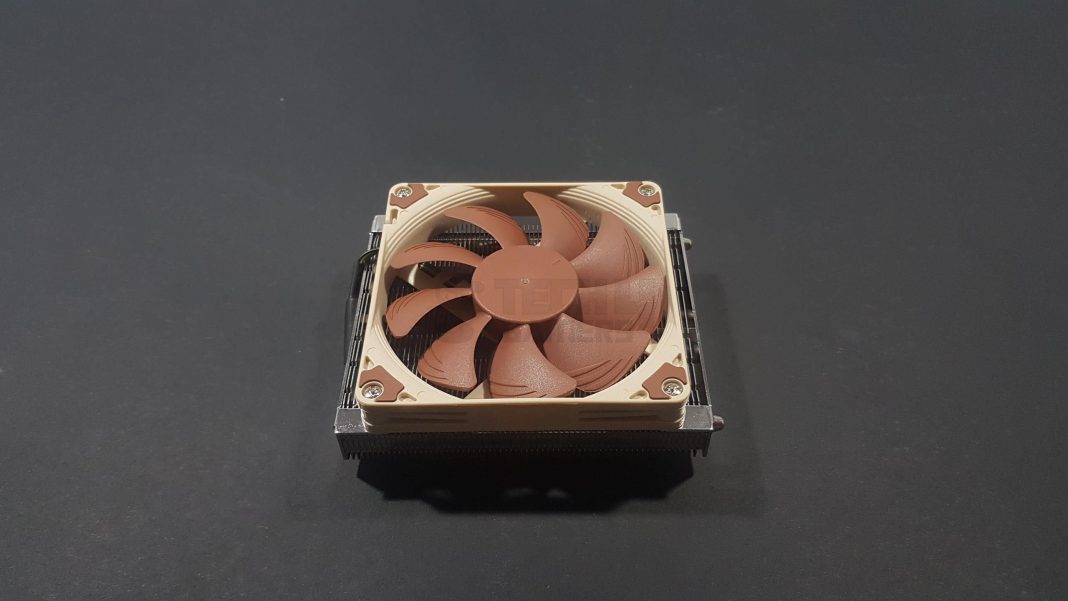 Specifications: Type: Single-fan Low Profile Air Cooler | Fan: 1x NF-A9x14 Chromax.Black HS-PWM Fan | Fan Speed: 600-2500 RPM | TDP: 95W | RGB: No | Dimensions: 114mm x 92mm x 37mm | Socket Support: AMD AM4
Pros
Economical
100% RAM Clearance
Less Noise
Cons
Not suitable for overclocking
No RGB
The well-known Noctua doesn't need any introduction since it has been covered above. However, it would be a shame to skip ahead without admiring the brand itself. Known for producing a wide variety of coolers, Noctua always aims to exceed and conquer the CPU cooler market, and it succeeds in catering to different times of consumers. Some with a loose budget prefer a bulky, high-performance cooler, while some are willing to spend their money wisely on a cooler that will get the job done. Since Noctua takes care of the people on a tight budget, it has decided to launch a low-profile CPU cooler, namely the NH-L9a.
The Noctua NH-L9a-AM4 is an improved version of the NH-L9a specifically designed for the AMD Ryzen platform. The preceding standard model of Noctua NH-L9a-AM4 sported Noctua's well-known wood-brown color. Many people wanted an economical cooler but with an all-black theme. Knowing the brand doesn't only paint their coolers black but is famous for producing a high-quality black variant of their existing products, Noctua has completely revamped their low profile cooler in a pleasing black outfit and launched the Noctua NH-L9a-AM4 chromax.black.
Uncovering the specifications of the Noctua NH-L9a-AM4, we find that it stands only 37 mm tall with a width of 114mm and only 92mm depth. Due to its exceptionally small size, it provides unrestricted compatibility when it comes to RAM clearance. This also allows it to fit in any of the smallest of SFF cases that are currently available. As for the heat dissipation, this low-profile cooler uses only two copper-made heat pipes each with a diameter of 6mm. These pipes make direct contact with the base of the cooler, making a U-shaped run from the base plate through the fifty-three black aluminum fins. The endings of the heat pipes, which are evenly polished and finished, slightly appear when viewed from the side of the cooler. Here is how it looks.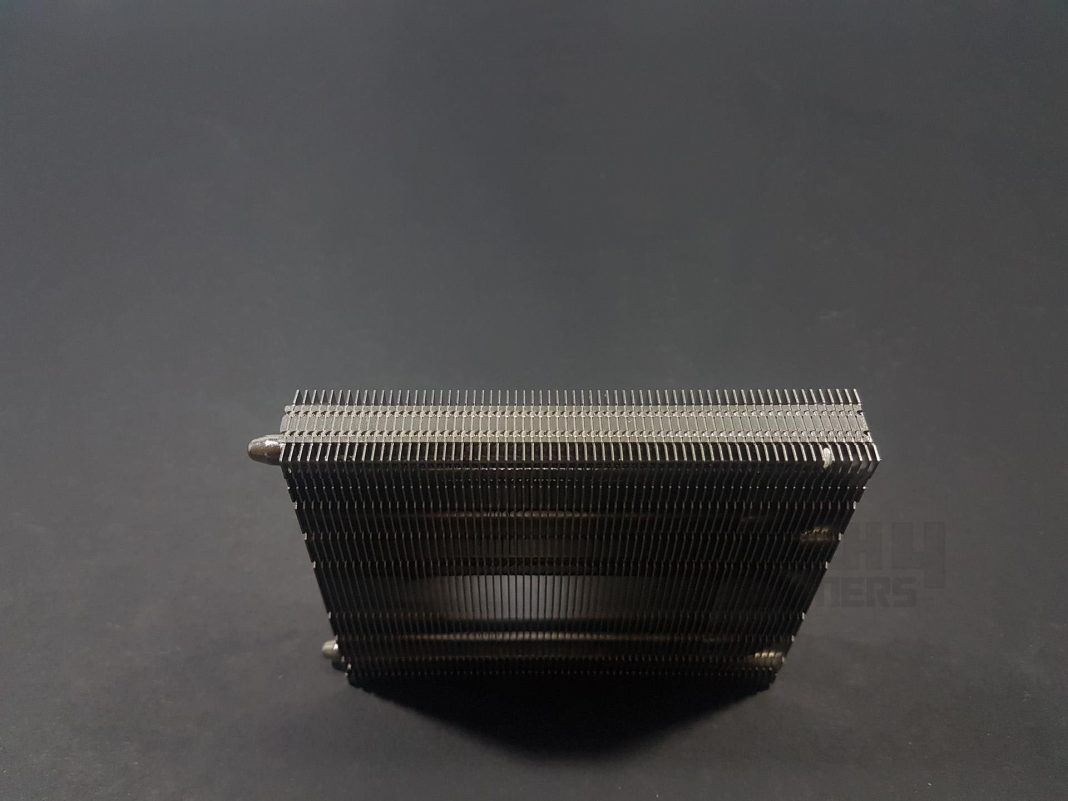 Speaking of the fan, NF-A9x14 Chromax.Black HS-PWM plays a vital role since it offers the top-notch features Noctua's fans are famous for. These features include flow acceleration channels on the blade, stepped inlet design, inner surface micro-suction, and now famous SSO2 bearing, all to improve the regulation of airflow. Considering all these features, it provides airflow of 33.8 CFM, which is 24.03 CFM using LNA and with a pressure of 2.11 MM/H2O. Luckily, this fan is PWM compatible and runs at the speed that is set up in the motherboard. This 92mm fan only has a thickness of 14mm but has a minimum speed of 660 RPM and a maximum speed of 2500 RPM with only 95W of TDP. The fan has a maximum sound rating of 23.6 dBA, which is 14.8 dBA using the low noise adapter.
Related: Best CPU Cooler For Ryzen 7 3700x
Turning it over, the nickel-plated copper base plate of this cooler is finished in a radial pattern to provide a better thermal compound spread. This radial finish is smooth enough to offer a mirror-like reflection. The strong copper base prevents any marks from appearing when the cooler is in contact with the CPU. Here is how it looks.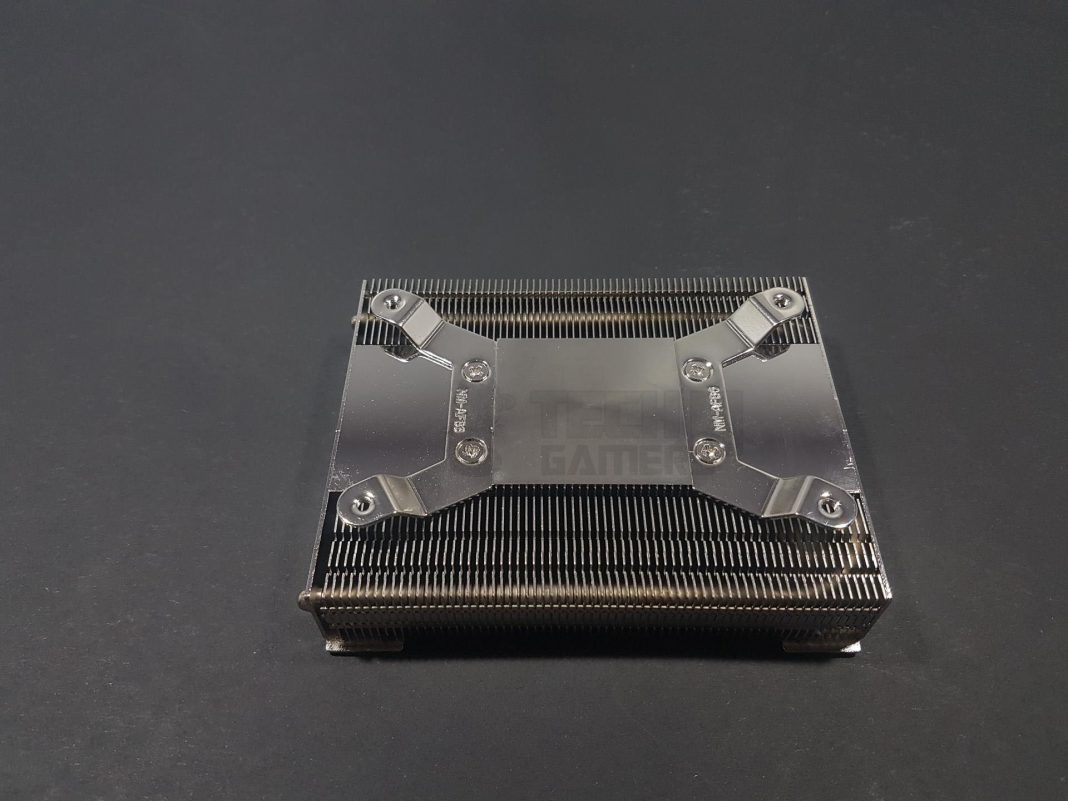 Upon testing it on the 3900X with a constant 4.4GHz at 100% CPU load on the AIDA64 for an hour, it gives astonishing results. At 100%, it was slightly audible, reaching only 39.1 dBA at 69.4° with only almost a degree Celsius increase in temperature at 80%, where it reached 36.4 dBA at 70.3°. I can guarantee you're not ready for what it did at 40% fan speed. It is quite inaudible that you couldn't even tell it is on, with 33.0 dBA at 75.5° temperature.
Related: Best CPU Cooler For Ryzen 5 5600x
What We Liked
This low-profile cooler is an overall great cooler for the price tag. Its tiny size provides you with 100% RAM clearance since it is essentially shorter than the VRM heatsink of the motherboard. It is fairly inaudible and provides an overall great airflow with all the features Noctua has to offer for the fan.
What We Disliked
For a cooler that rests at this price tag, it is much harder to complain about it. However, RGB is something that users might wish to incorporate in a small cooler. Other than that, the 95W TDP is relatively less than most of the coolers, which takes away the freedom to easily overclock this cooler.
What Sets The NH-L9a-AM4 chromax.black Apart From Its Competitors
Surprisingly, the copper base is strong enough that it doesn't bear any marks after you have installed the cooler over the CPU. This is unlike the case with other coolers where many coolers have a base that is softer; therefore, you get marks on the base when the CPU makes contact with the cooler. In this price range, the NH-L9a-AM4 chromax.black provides high-quality features for optimal airflow and an all-black body that other competitors cannot offer.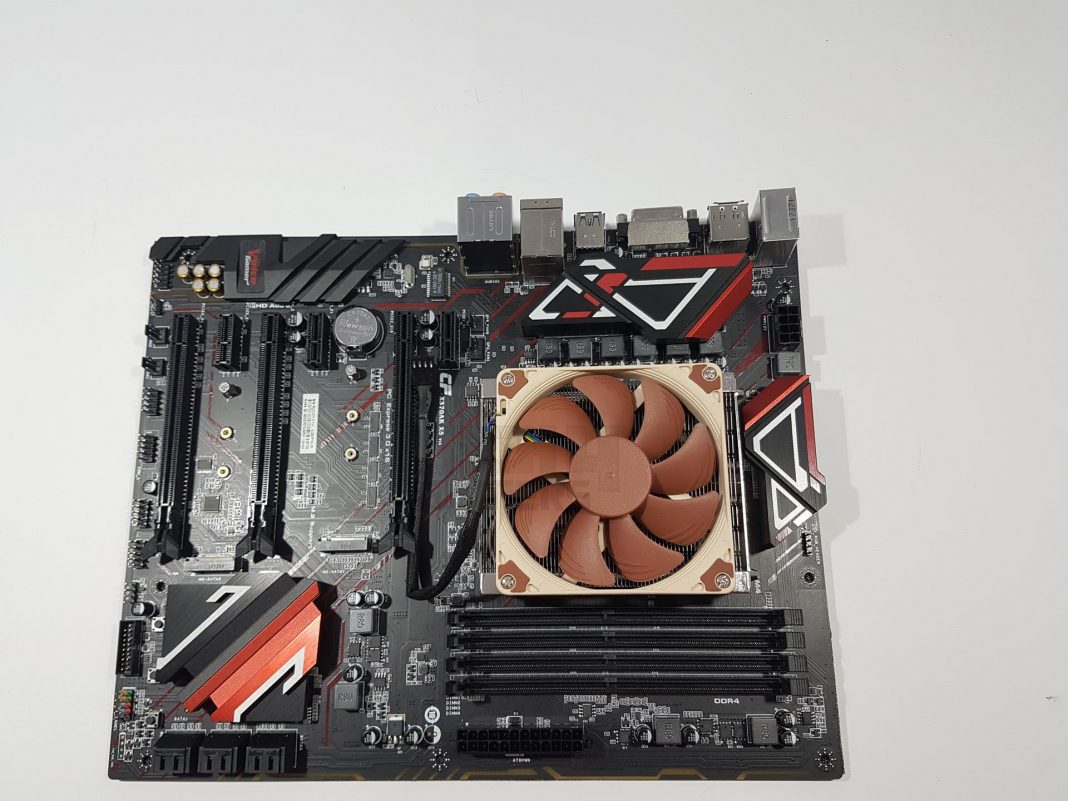 Verdict
Ultimately, the NH-L9a-AM4 chromax.black has a list of features that make it a suitable purchase for users on a tight budget. It is an incredible small-factor cooler that is able to handle a heavy CPU, like the Ryzen 9 3900X, in both gaming and most workloads. Lack of RGB complements the black look and is not much needed. However, due to the minimal TDP, overclocking might be an option people want to avoid, which could disappoint some users. Conclusively, if you're looking for a low-profile cooler with silence and performance, NH-L9a-AM4 chromax.black should be your option as Best Budget CPU Cooler For Ryzen 9 3900X.
Arctic Liquid Freezer II 240mm
Best AIO CPU Cooler for Ryzen 9 3900x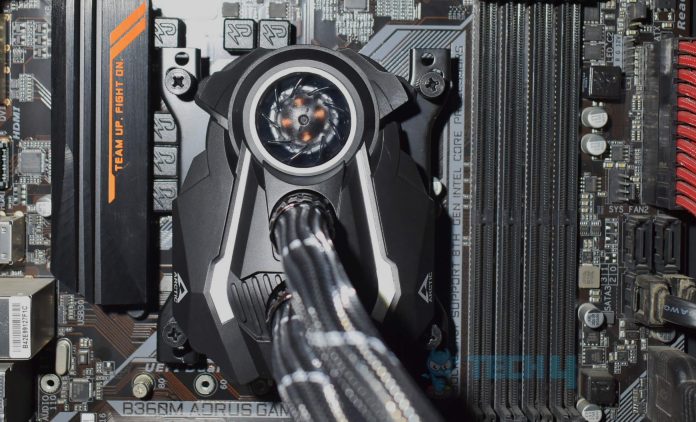 Specifications : Type: 240mm AIO Liquid Cooler | TDP: 250W | RGB: RGB backlighting | Dimensions: 277 mm x 120 mm x 38 mm | Fan: 2x Arctic P12 PWM RGB 120mm | Fan Speed: 200–1800 RPM | Socket Support: LGA-1200, LGA-115X, LGA 2011-v3, R4 LGA-2066, and AM4
Pros
Best Price
Performance comparable to 360mm AiOs
New Pump Design With VRM Fan
A-RGB
Less Noise
Six years warranty
Cons
No user manual included
Plasticky average finish
Arctic is a renowned brand known for producing one of the best liquid coolers on the market. Not only that, but they are also known for their high-quality thermal compound. They have produced a variety of products including air coolers and various liquid coolers. Today, we will uncover its most famous cooler that is suitable for almost any CPU, the Arctic Liquid Freezer II in the 240mm variant.
This latest AIO cooler holds RGB which is fully customizable and is compatible with multiple RGB softwares including Arctic's addressable RGB system, Asus Aura Sync, MSI Mystic Light Sync, RGB Fusion 2.0 Gigabyte, and Asrock Polychrome Sync, just to name a few.
For the radiator, as the title suggests, the Arctic Liquid Freezer II has a 240mm radiator with only a thickness of an astonishing 38mm. The radiator seems robust and well-built since it provides a sense of quality product that one can feel upon first glance.
The part which steals the show is none other than the pump unit. Similar to a futuristic one-eyed robot or simply an astronaut, the pump unit is equipped with a small VRM fan. This 40mm tiny VRM fan has a speed range of 1000 to 3000 RPM, serving the keen purpose of silently cooling down the VRM on your motherboard or coming handy in case of poor airflow. It follows a strict cable management rule by using only one cable approach, where a single PVM makes the fan spin while the three-pin A-RGB keeps the whole thing illuminated.
If the tiny pump fan bothers you in any case, you can always look at the bottom of the pump unit and simply unplug the fan. While you rotate the pump unit, you might as well take a look at the copper-plated base. Arctic promises to improve efficiency and lower power consumption while keeping things less noisy. By matching these promises with the specifications, we might get a clear picture of what Arctic offers. The pump speed ranges from 800 to 2000 RPM while only consuming power from 0.5W to 2.7W. Apart from that, the pump is also barely audible, so Arctic keeps their words with honor.
Moving towards the fans, Arctic chose to go with two of the Arctic P12 PWM RGB 120mm fans that come with rubber pads, which absorb vibrations. These fans hold so much power that they even compete with some of the 360mm AIO solutions that the market has to offer. Despite the fan speed ranging from 200 to 1800 RPM, these fans maintain a moderately quiet profile around the likes of 32.6 dB(A) while performing efficiently. It has a maximum airflow of 48.8 CFM with a maximum static pressure of 1.85mmH20. Arctic has increased the number of rubber bumpers and provides fluid dynamic bearings; all these help reduce vibrations by up to an astonishing 95%.
Visually, Arctic focused on a rather simple and minimalistic design, making the whole cooler in a matte black finish. The thick radiator holds an elongated 450mm braided tubing with a black and white pattern which consists of a silver plastic cover located on both endings. The pump tubes are not adjustable neither on the water block nor the radiator, so avoid excessive bendings. Despite the lighting being aRGB, the RGB light illuminates behind the translucent fans only. There is no RGB on the pump unit, but the unit itself has a sleek design with the charcoal gray color and white pattern complementing the whole cooler itself.
What We Liked
We reviewed Arctic Liquid Freezer II 240mm – It is a fantastic liquid AIO cooler that offers great cooling performance while remaining relatively quiet. The fact that might blow your mind is the price tag, coming in at only $109.99. This price is incredible for an AIO liquid cooler since most fall in the expensive category. The tiny VRM fan is a great addition that adds a bit more personality to the whole cooler. Finally, Arctic seals the deal by providing a six years warranty. This is an improvement because previously they used to provide only a two-year warranty.
What We Disliked
Considering the low price tag for an AIO liquid cooler, Arctic Liquid Freezer II 240mm closes the gates for a lot of criticism. However, the pump tubes can not be adjusted, which is a letdown for most people because you have to be careful not to bend the tubing. Additionally, the plastic cover situated on both the ends of the pump unit and the radiator, appears to be rather cheap, which ruins the high-quality build of the radiator. Since the cooler supports a-RGB, Arctic could include a simple A-RGB controller to give more control over the lighting.
Also Read: Best CPU Cooler For Ryzen 5 3600
What Sets The Arctic Liquid Freezer II 240mm Apart From Its Competitors
A lot of things set the Arctic Liquid Freezer II 240mm apart from its competitors. The pump unit is one of the things that exceptionally stands out from the other coolers. It is small and unique in its own way, since most go with an LCD to make it personalized. The small VRM only adds to the uniqueness of the product and offers a cute toy-like rotating fan which is delightful to watch as well. Finally, its price tag is what truly sets it apart from the competitors. It achieves greater results than most of the 360mm AIO liquid coolers at an economical price.
Verdict
The Arctic Liquid Freezer II 240mm is an all-rounder with great attributes. The fan and the pump are fairly inaudible even though they perform effectively. However, the VRM fan on the pump unit may seem unnecessary for some people, but the freedom to unplug it makes it better. The plastic cover on the radiator and the pump unit could have been a solid metal in the same gray color, which would add to the robustness of the CPU cooler. Other than that, it is reasonable to say that the Arctic Liquid Freezer II 240 is the Best AIO CPU Cooler for Ryzen 9 3900x.
EK-AIO 360 D-RGB
Best CPU Cooler For Overclocking Ryzen 9 3900x
Specifications : Type: 360 mm AIO Liquid Cooler |TDP: 250W |RGB: D-RGB backlighting | Radiator Dimensions: 395 x 120 x 27 mm | Fan: 3x EK-Vardar S 120ER D-RGB| Fan Speed: 550 – 2200 | Motor Speed: 850 – 2600 RPM Socket Support: LGA: 1150, 1151, 1155, 1156, 1200, 2011, 2011-3, 2066 and AM4
Pros
Better looking RGB
Perfect for overclocking
5 years warranty (previously 2 years
Generally speaking, most companies off with an air cooler or even All-In-One coolers then work their way up to custom loop cooling. EK is one of the companies that decided to take a completely different approach. They took their custom loop expertise and started manufacturing AIOs, the reason being that AIOs are much easier to install and maintain over a custom loop and generally they do cost less too. There was a period in which people avoided AIOs but fast forward to 2022, AIO coolers are commonly found inside many of the user's PCs.
To further prove the point home, the latest EK AIO series has been very successful for the quality they have set for their products. This series is filled with many coolers that are divided into three categories, namely the basic, standard and elite with models varying from sizes such as 120mm, 240mm, 280mm, and finally 360mm. This time we will explore the EK's biggest standard model, EK-AIO EK-AIO 360 D-RGB.
Taking a look at the fans, we are getting three 120 mm EK-Vardar S 120ER D-RGB which can be easily connected directly to the motherboard by the 3 pin 5V A-RGB connector and is fully adjustable by the motherboard software. Not to mention that these fans do not come cheap, costing a little over $60, so don't take these for granted.
These expensive fans have a speed that ranges from around 550 to 2200 RPM. The fans are capable of producing high cooling performance since they have a high static pressure 2.89 mm H20 at maximum speed. Furthermore, these fans perform efficiently and will remain moderately noisy. The fans maintain a fantastic airflow of 66.04 CFM at the maximum speed while producing 36.4 dba of sound. Here are the fans that come with EK-AIO Elite 360 D-RGB.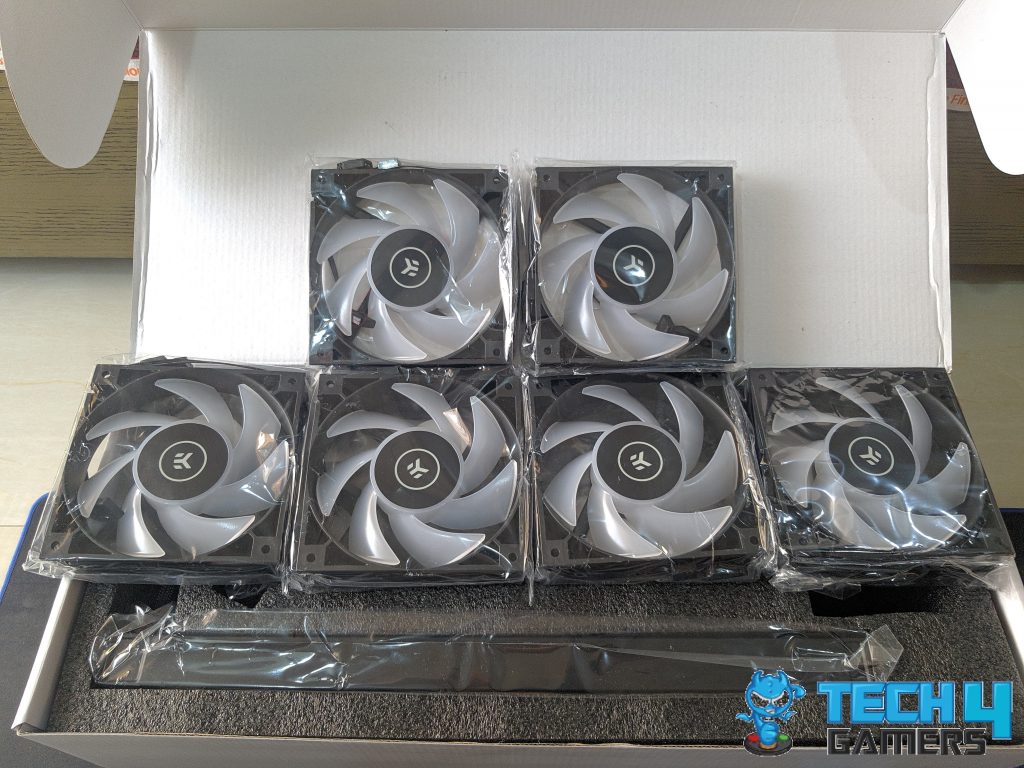 The high-grade aluminum radiator is 27 mm thick and is compatible with almost every ATX case. The total thickness of the fans and radiator of 53 mm makes it possible to fit in most of the PC cases. The pump also has D-RGB, so it can be connected along with the fans as well. The pump provides sufficient cooling flow through the dense copper fin structure, delivering optimal performance. The tube pipe that goes from the radiator to the pump unit is 400 mm long. The CPU base consists of a shiny copper plate with screws bolted around its edge, and it arrives with a thermal compound pre-applied at its center. However, they were kind enough to include the EK-TIM Ecotherm compound syringe.
Considering the aspects of its design, EK-AIO 360 D-RGB holds a funky look since the pump unit and the fans are translucent and is illuminated by RGB. The long tube pipe is nylon braided and is adjustable from the pump unit with quality cover at the ends. The RGB lit pump unit holds a shiny EK logo which adds to the look of the cooler.
What We Liked
It would only be fair to start from the most obvious point, the fans. Since these fans are iconic individually, they add up to the quality of the whole product. These powerful yet elegant fans make the cooler perform effectively without getting damaged. EK-AIO 360 D-RGB has a warranty of astonishing 5 years which is brilliant for an AIO cooler and tells that EK has a high amount of trust for their products.
What We Disliked
There isn't much to dislike except for the overall look of the pump unit. The translucent pump unit with RGB backlight seems a bit cheap and doesn't appear as high quality. However, the black square placement on the translucent pump unit and the nylon braided sleeves with metallic cover endings saves the appearance from looking low quality. Other than that, it's good to go. Here is how it looks.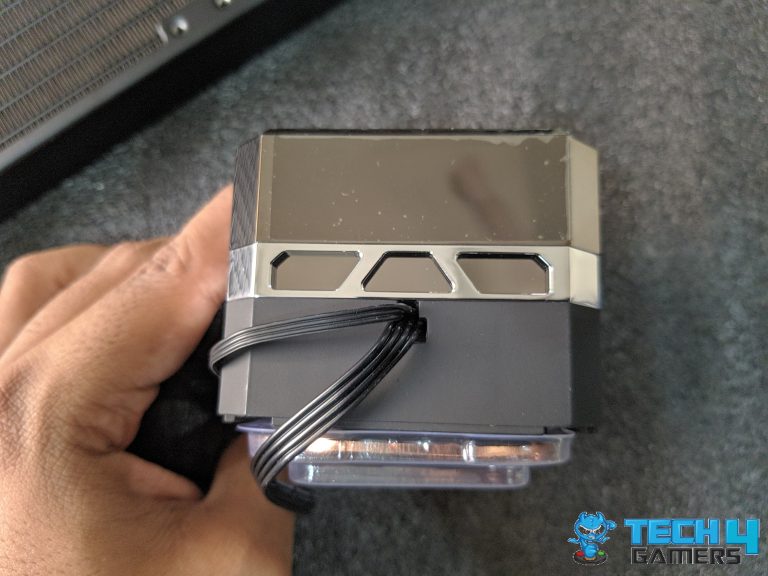 What Sets The EK-AIO 360 D-RGB Apart From Its Competitors
Impressively, EK AIO has a different position of the tubes going out from the pump and the block that differs from other standard AIOs. Additionally, EK understood that people might be using their AIO in much bigger cases, so long tube pipes were necessary, so they extended the length to 400 mm. This shows that EK pays attention to their customer, which enhances customer loyalty. It also has a cheaper price tag than many other AIO coolers from other companies.
Verdict
Overall, the EK-AIO 360 D-RGB has set the limit for being a great AIO cooler. This beast of a cooler is economical for an AIO cooler. Due to its high performance with fairly low noise levels, the EK-AIO 360 D-RGB proves to be the Best CPU Cooler For Overclocking Ryzen 9 3900x.
Coolers In Competition
In order to purchase the best item, you need to consider all the options and compare it with the product that you desire the most. This list will help you with that.
Noctua NH-D15S Chromax.Black
Best Air Cooler For Ryzen 9 3900x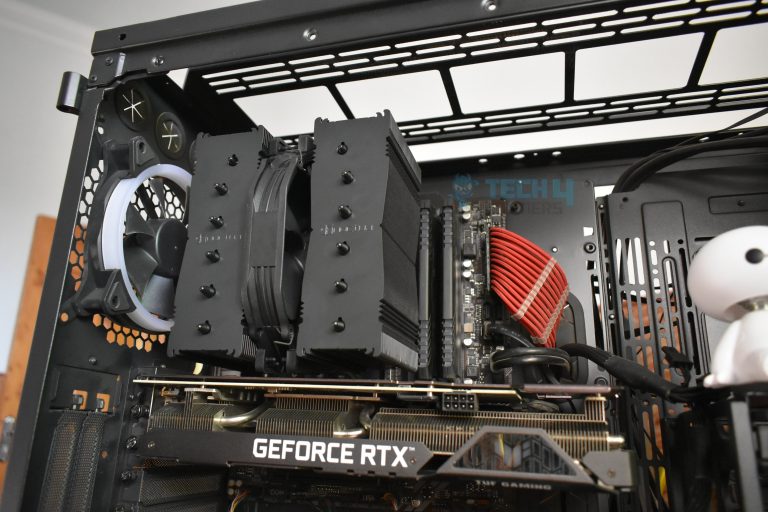 Previously tested for the Ryzen 9 5900x is the Noctua's another CPU cooler that is also mentioned under the best air cooler category above, it is the Noctua NH-D15S Chromax.Black. This is similar to the black edition Noctua NH-U12A but is more powerful and on the massive side. It has a TDP of 200W, an addition to its competition, but it allows less RAM clearance due to its huge size, slightly covering up one of the RAMs. Surprisingly, it offers almost the same performance as the Noctua NH-U12A because it dons 140mm fans, though it falls on a slightly cheaper end than the Noctua NH-U12A.
NZXT Kraken X53 RGB
Best CPU Cooler For Overclocking Ryzen 9 3900x
NZXT is a company well known for producing extremely high-quality CPU coolers. NZXT Kraken X53 240mm AIO liquid cooler offers excellent performance with two of its RGB Aer fans with the fans speed ranging from 500 to 1500 RPM. The pump speed ranges from an astonishing 800 to 2800 RPM, producing an incredible cooling solution while also providing a 360 degrees rotatable option so you can get the correct orientation of the NZXT logo from any side. It has a glorious fully customizable LCD placed on the pump unit, allowing you to check the temperature of the CPU and the GPU.
Thermalright AXP90-X47 White
Best Low-Profile CPU Cooler For Ryzen 9 3900x
This CPU cooler is the definition of an effectively performing low-profile CPU cooler. The Thermalright AXP90-X47 is one of the coolers that is available in an all-white color that stands out from other coolers. Not only that, but it also offers a maximum fan speed of 2700 RPM while With an airflow of 42.57CFM and a static pressure of 1.33mm H2O. This provides utmost performance while also being the quietest fan in this list since it only has a noise output of 22.4dbA.
3900x Stock Cooler vs Aftermarket cooler
The Ryzen 9 3900x comes with a reliable wraith prism stock cooler. The AMD Ryzen 9 3900x wraith prism's performance is very impressive, this stock CPU cooler should be enough for day-to-day tasks and normal gaming too. If you plan to do anything a bit more demanding, you should probably opt for an aftermarket cooler.
When it comes to buying an aftermarket cooler, there are an absurd amount of options. The aftermarket coolers offer more personalization along with better cooling performance. While most people might not feel the need to upgrade to an aftermarket cooler, it can boost the clock speeds of your CPU, that too by a significant margin.
Furthermore, going for high-end aftermarket coolers allows for better overclocking. AMD's Wraith Prism cooler fails to provide enough cooling for any kind of overclocking.
When comparing the wraith prism stock cooler against any aftermarket cooler mentioned in this list, the aftermarket cooler will always be the clear winner. Further testing reveals that the stock cooler manages to hold its own against—the aftermarket coolers, keeping the temperatures below 90 degrees Celsius.
How We Picked The Best CPU Coolers for Ryzen 9 3900x
When purchasing a CPU cooler, we constructed that you make the right decision by giving you the freedom to choose from the coolers that are suitable for your PC. Ultimately, the choice is yours but here are a few things you must know before buying the Best Cooler For Ryzen 9 3900x.
Type
CPU coolers are in different sizes and designs. Some are air coolers, while some are All-In-One liquid coolers. Most top-notch air coolers come in handy if you are on a tight budget since they provide AIO-level performance at an economical price. Whereas, AIO coolers are costly but perform outstandingly, providing you the performance that leaves a long-lasting impact. Considering the power of the Ryzen 9 3900X, it is recommended to choose an AIO liquid cooler that will be suitable for future-proofing and will open doors for overclocking possibilities.
Size
When buying CPU coolers, it is best to keep the size of the cooler in mind. The cooler should offer optimal RAM and PCIe clearance since high-end RAMs tend to get warmer when not given enough space. It is better to stick to a cooler that maintains a favorable airflow, allowing the RAMs to remain at an optimal temperature as well.
Budget
This is one of the most crucial factors that plays a vital role in the decision to purchase anything. Air coolers can usually be found at a reasonable price, while AIO liquid coolers can be hard to get at a lower price. However, even if you are on a tight budget, investing in a cooler that is a bit costly but works efficiently for a longer period of time is always a better option than buying a cheaper one that doesn't perform as good and ending up buying another in a short time.
Performance
While buying a CPU cooler, the cooler must keep the CPU temperatures at optimal temperatures even under heavy load. The average temperature at an idle state should be around 30° to 40°. Whereas, while you're gaming, it shouldn't exceed 80°.
Noise
Despite the great performance, a cooler should be fairly inaudible for the most part since as the cooling performance increases, so do the noise levels. If you're easily bothered by the loud noise, it is best to stick with a low-profile cooler.
Compatibility
All the CPU coolers mentioned in this article are compatible with the Ryzen 9 3900x that uses an AM4 socket. Make sure you get a CPU cooler that uses the AM4 socket. You can also buy separate mounting brackets for coolers that are not compatible with the Ryzen 9 3900x. It is crucial to keep in mind that sockets should be placed well-organized since improper socket placement leads to performance issues. Other than that, the cooler you chose should have a higher TDP than the Ryzen 9 3900x. The TDP helps us understand how much heat a processor generates; in this case the Ryzen 9 3900x has a TDP of 105W which means it needs a decent amount of cooling. This is why an AIO cooler is always recommended for processors like the Ryzen 9 3900x.
Who Is This Article For?
This article is mainly for the people who own or will own a Ryzen 9 3900x in the future. It provides clarity to the reader to make better decisions about purchasing the Best CPU Cooler for Ryzen 9 3900x. It also offers you choices to help make better decisions, so you are satisfied with your purchase.
Why Should You Trust Tech4Gamers?
With experience exceeding twelve years in the tech and gaming industry, Tech4Gamers consists of a knowledgeable team of individuals that are known to cater to various types of audiences. Additionally, they provide accurate information to their valued customers, by conducting extensive research and testing the products beforehand.
Apart from the in-depth tech reviews, they also offer a separate news category that allows you to keep in touch with the advancements of technology and the updates in the gaming and the technology industry. Overall, Tech4Gamers provides a platform for the gaming and tech enthusiasts and has been helping people make better decisions since 2010.
Frequently Asked Questions
Does the Ryzen 9 3900x come with a stock cooler?
Yes, the Ryzen 9 3900x comes with the wraith prism stock cooler. If you are not looking to spend a lot on a cooler, then the stock cooler should get the job done.
How well does the wraith prism cooler work with the 3900x?
The wraith prism stock cooler manages to provide decent cooling performance for the 3900x for day-to-day tasks; however, it holds back the Ryzen 9 3900x in most CPU intensive scenarios.
Is the wraith prism cooler good for the 3900x?
The wraith prism cooler is good enough for the Ryzen 9 3900x for most cases.
Does the Ryzen 9 3900x need a bigger cooler?
A bigger cooler does not necessarily mean it will be better; however, more cooling performance with a more efficient cooler can prove useful in some cases.
What cooler to buy for the 3900x?
In the end, it all boils down to your preference and budget. If one of the CPU Coolers mentioned here meets your requirements, you should go for it.
Was our article helpful? 👨‍💻
Thank you! Please share your positive feedback. 🔋
How could we improve this post? Please Help us. 😔