Best 360mm AIO?
Review Summary
The EK-AIO Elite 360 D-RGB is a premium all-in-one liquid cooler that excels in providing exceptional cooling performance. Designed for enthusiasts seeking top-tier cooling solutions, it boasts a unique pump block design, high-performance RGB fans, and a well-constructed radiator. The impressive fin density of the radiator contributes to its outstanding heat dissipation capabilities.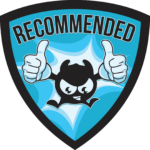 Performance -

9/10

Value -

8/10

Features -

9/10

Build Quality -

9/10
Pros
Exceptional Cooling Performance
Premium Build Quality
Impressive Fin Density
Unique Pump Block Design
High-Performance RGB Fans
Convenient Fan Hub
While EK is primarily focused on custom water cooling components like water blocks, pumps, fittings, reservoirs, and radiators – they are also looking into newer opportunities for mainstream gamers. As custom water cooling is a niche market, EK is finally turning towards the mid-range market with its brand new series of All-in-one liquid coolers, which includes solid contenders such as the EK-AIO Elite 360 D-RGB.

---
Key Takeaways
The EK-AIO Elite 360 D-RGB is ideal for enthusiasts who are looking for exceptional cooling potential from a 360mm AIO liquid cooler.
The EK-AIO Elite 360 D-RGB comes with a hefty price tag, making it out of question for anyone on a limited budget.
The EK-AIO Elite 360 D-RGB showcases excellent cooling capabilities, maintaining a temperature of 54°C on a Ryzen 5 3600XT at an ambient temperature of 23°C.
---
EK-AIO Elite 360 D-RGB

Specification
Following are the technical specifications of the EK-AiO Elite D-RGB 360mm Liquid Cooler: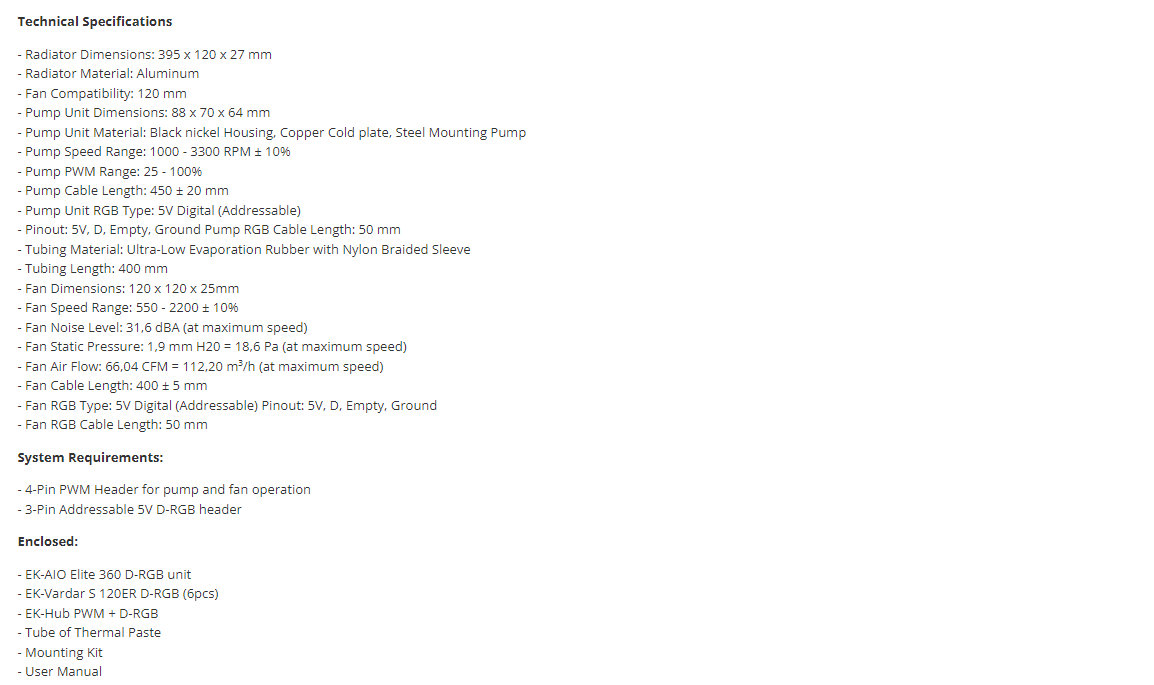 CPU Socket Support:
Intel Sockets LGA: 1150, 1151, 1155, 1156, 1200, 2011, 2011-3, 2066, 1200
AMD Sockets: AM4
5 Years Limited International Warranty
Unboxing
Closer Look At

EK-AIO Elite 360 D-RGB
Let's take a closer look at the design and functionality of each of the components. For each, we will be taking a look at the build quality, design features, cables, and other functional components of the particular part.
Radiator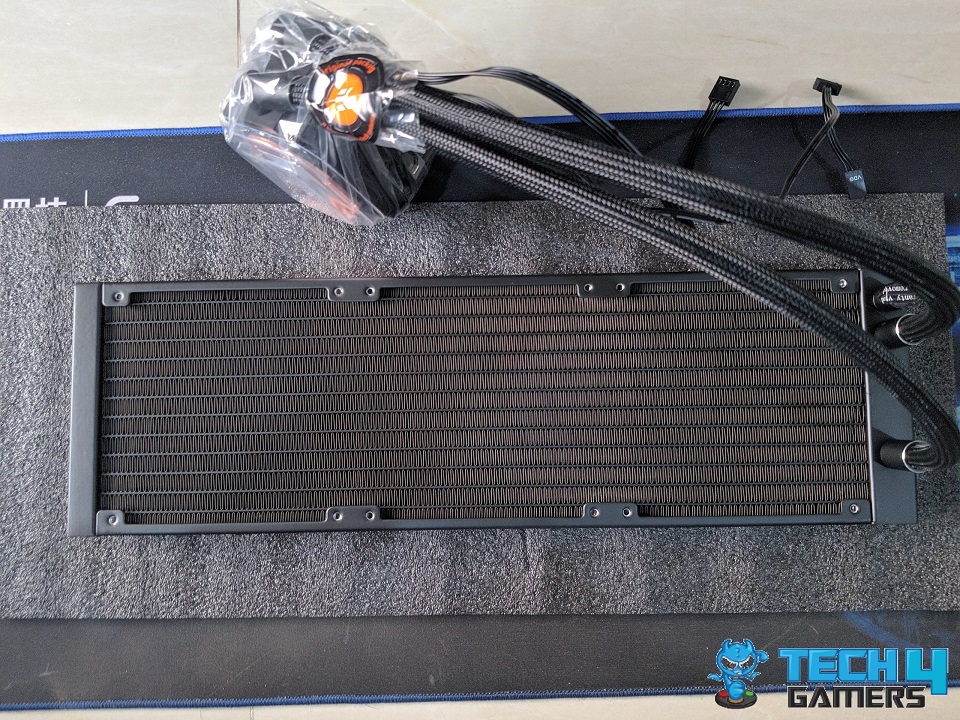 EK has used a 360mm long radiator in this AiO which is made from Aluminum. The build quality is solid and surprisingly lightweight. The radiator is 27mm thick and 120mm wide, designed for 3 120mm fans with no gaps between them for better static pressure. Tubes enter at the top (or bottom, depending on orientation) with a fill port covered by a "warranty void if removed" sticker for topping up the liquid.
Fin density is a really impressive aspect of the EK radiator. The fins are stacked very close to each other and show intense curvatures, giving a large surface area for heat dissipation. Liquid moves through the fins and is cooled by the fans that are blowing air across the fins, so a larger surface area really helps a lot in cooling.
EK-AIO Elite 360 D-RGB Pump/ CPU Block
EK chose to create their unique pump block solution instead of using Asatek standards due to concerns over patent infringement. The pump-block combo is heavy, in line with AiO standards. EK's "SPC Style" pump, with a dense fin structure and higher RPMs, is accurate.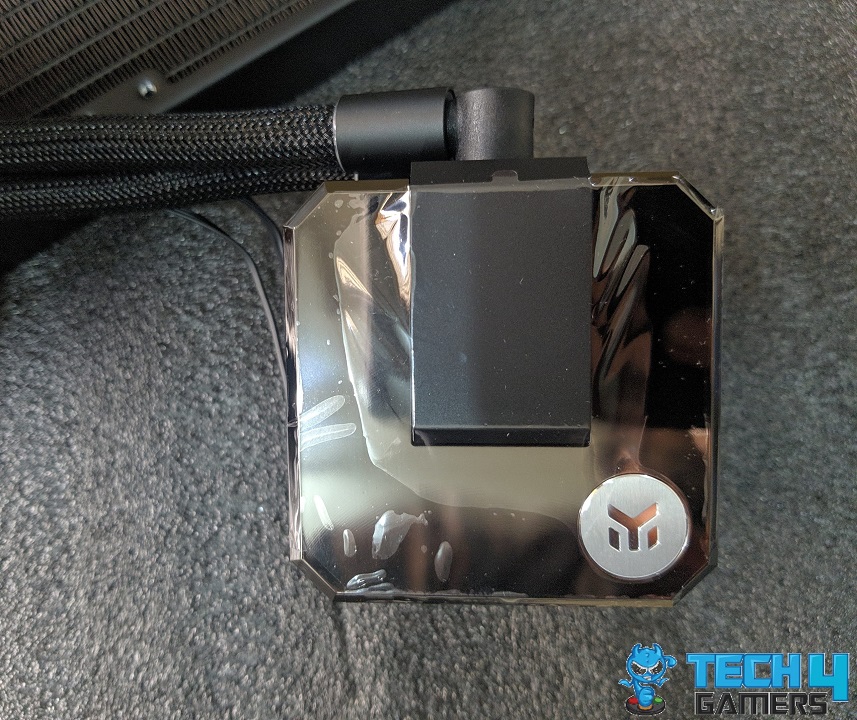 The block has a sleek black nickel finish with a small EK logo that looks great when the aRGB LEDs are on
Under the cover, I noticed EK used a "small-dot" approach for the thermal paste application. It's a bunch of small dots that spread out when the CPU's heat spreader compresses them, filling any small gaps. On the right side, there are two tubes with rotating fittings. You can easily adjust these fittings to orient the tubes the way you like.
On the opposite side of the block, I found the pump and aRGB cables. The tubing is remarkable, using EK's "Ultra-Low Evaporation Rubber with Nylon Braided Sleeve." It features a strong yet flexible criss-cross pattern and measures 400mm in length, making it easy to install at the front of most cases with the tubes entering at the radiator's bottom.
RGB Fans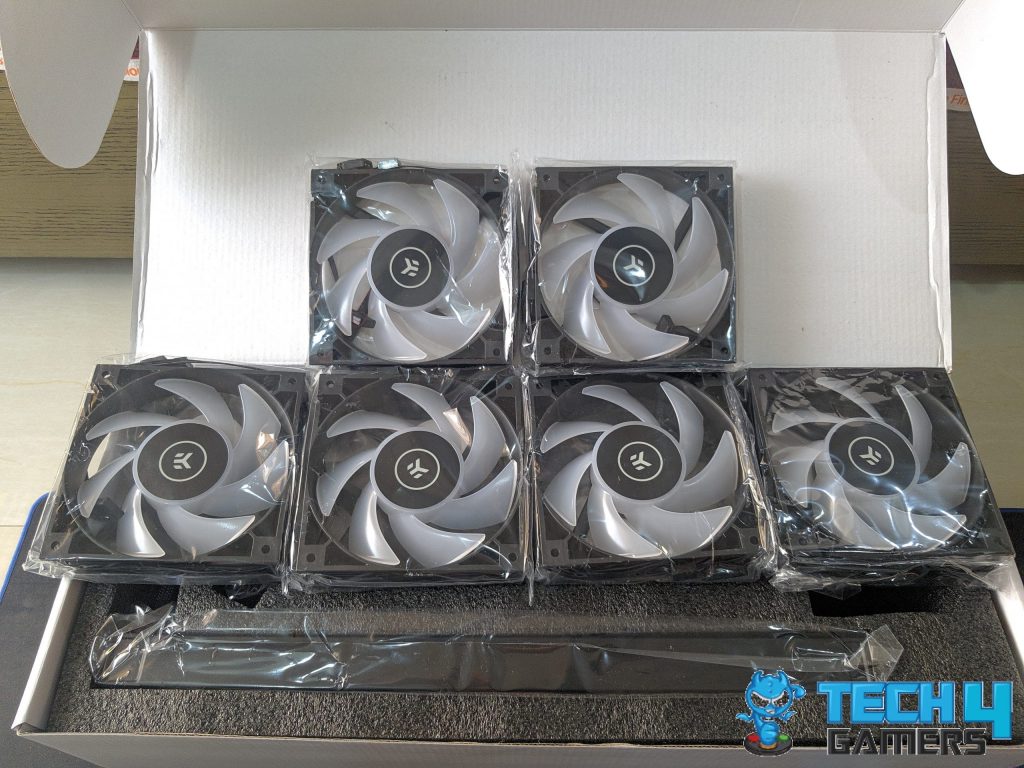 EK includes 6 high-performing Vardar S 120mm fans with their 360mm radiator. They're excellent for a push-pull setup and share the same aRGB lighting style as the pump. The white translucent blades create stunning lighting effects. The build quality is top-notch with a square shape optimized for static pressure, and they're the standard 25mm thick. Small EK logos on the sides add a nice touch.
The front of the Vardar S fans showcases beautiful RGB lighting, and the minimalistic EK logo on the motor sticker looks good. In terms of performance, they operate quietly under stock settings, handling most CPU cooling needs easily. These fans have an RPM range of 550-2200 RPM with a max sound level of 36.4 dBA at full speed, so they can get loud if maxed out. Overall, I'm impressed with their performance and aesthetics.
Included Fan Hub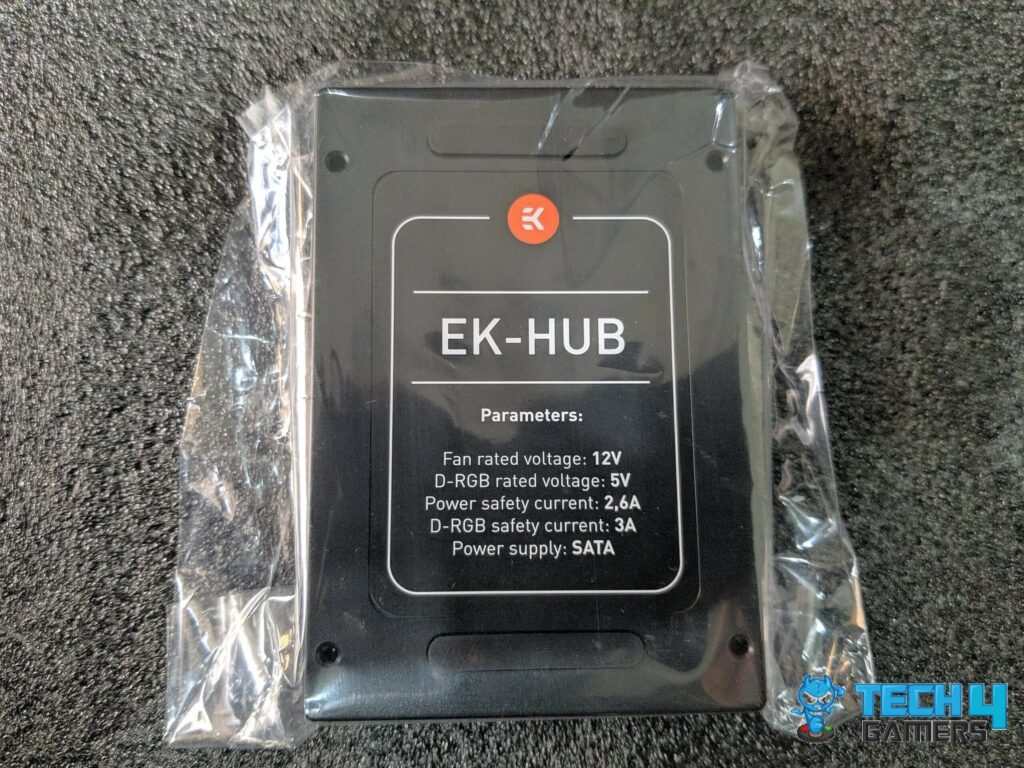 EK includes a convenient fan hub in their AiO package that manages up to 7 fans, handles PWM and aRGB signals, and syncs with motherboard RGB software like ASUS Aura Sync and MSI Mystic Light. It uses SATA power instead of Molex, and it features decent build quality. This magnetic hub is designed to be tucked behind the motherboard tray for cleaner cable management.
It has inputs for fans, RGB, and SATA power on the sides and rear, with a plastic shroud covering it and revealing the PCB and an EK logo. It's roughly the size of a standard SATA SSD and can be securely screwed into a 2.5″ bracket to maintain a tidy case appearance.
Cabling and Bundled Accessories
Like with any aRGB AiO, the cabling of the EK-AIO Elite D-RGB 360mm Liquid Cooler can be a bit of a challenge for new builders. Not only does the pump block have two separate cables for PWM and aRGB.
Lighting
The EK-AiO Elite "D-RGB" liquid coolers feature captivating addressable RGB (aRGB) lighting, catering to the strong demand for system aesthetics in 2021. EK's decision to adopt the 5V 3-pin aRGB standard, rather than the older 12V 4-pin RGB standard, allows for a broader range of lighting effects and color control.
While the appeal of EK's aRGB implementation varies among users, it adds a visually pleasing dimension to the system. You can tailor the lighting to your preferences using motherboard sync software, such as ASUS Aura Sync, MSI Mystic Light, Gigabyte RGB Fusion, and more.
EK-AIO Elite 360 D-RGB

Installation & Benchmarks
Our test system was based on AMD's AM4 platform. The installation process was straightforward:
First, remove the standard mounting posts that come pre-installed on AMD motherboards.
EK does not use the standard clip-on solution, rather opting for a spring-loaded screw system. After removing the pre-installed clip-on posts, insert the 4 mounting posts that have been provided by EK and clearly labeled "115X/AMD Screws (4 pcs)".
After inserting the posts, mount the AMD mounting brackets on the underside of the pump block using the screws provided.
Then, place the EK pump block over the CPU, making sure that the 4 posts are inserted in the holes of the mounting bracket.
Finally, insert the 4 springs over the mounting posts and screw on the 4 cap screws over the springs.
The springs provide an optimal tightening force so that the user does not have to worry about over-tightening the screws. No tools are required in this process, except a screwdriver to screw in the bracket to the underside of the pump block.
The spring-loaded thumbscrew system also provides consistency in the clamping force provided by the block.
Test System
Here is the system we used for testing.
| CPU | AMD Ryzen 5 3600XT (Stock, 4.4Ghz All Core, 4.6Ghz All Core OC) |
| --- | --- |
| Motherboard | MSI B450 Tomahawk MAX |
| RAM | 16GB (8×2) GSkill TridentZ RGB RAM 3200Mhz C16 |
| SSD | Adata XPG SX6000 512GB M.2 NVMe SSD |
| GPU | Nvidia GeForce RTX 3070 |
| PSU | Thermaltake DPS G 650W 80+ Gold PSU |
| Case | Open Test Bench Configuration with direct airflow over the VRMs |
| AIO | EK-AiO Elite D-RGB 360mm Liquid Cooler with 3x EK Vardar |
Testing Methodology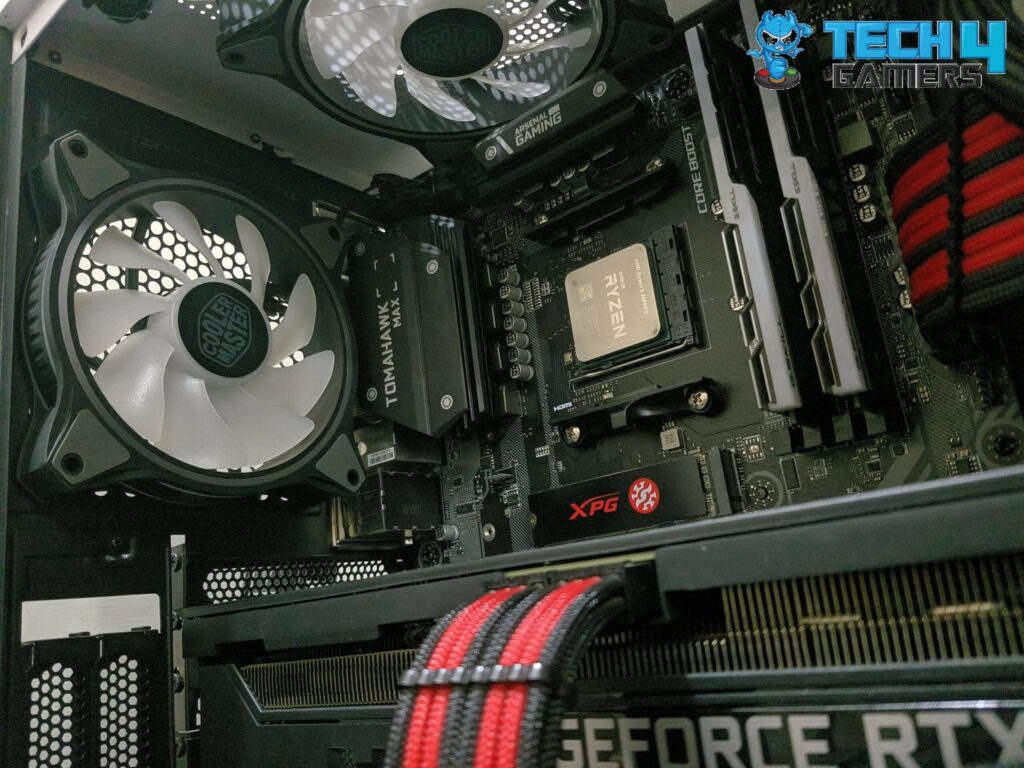 Since the EK 360mm AiO is a pretty expensive and premium cooling solution, we wanted to test it in situations where it makes the most buying sense. This cooler is overkill for any sort of stock operation of any current CPU on the market. For this reason, our main focus in testing was overclocking.
We chose 2 different overclocking scenarios for our golden sample Ryzen 5 3600XT, as well as stock operation to give us some sort of baseline. The testing included running an all-core load such as Cinebench R20 to gauge an idea of short loads that leverage the higher boost clocks.
Then, we ran extended stress tests in Prime95 to gauge the cooling potential of the EK AiO 360mm liquid cooler in long 100% utilization workloads. The Prime95 stress test was run for an hour. Ambient temperature was recorded, and the results were then recorded in a systemized manner. The following overclocking profiles were used:
4.4Ghz All-Core OC, LLC Level 3, 1.25V to simulate a mild 24/7 OC
4.6Ghz All-Core OC, LLC Level 3, 1.35V to simulate a high OC going well beyond the TDP
The ambient temperature was recorded and kept constant at 23 Degrees Celcius. The results are recorded as absolute temperatures and not "DeltaT over Ambient" since that can add confusion for unsuspecting new readers. We chose to go with a Pull configuration of 3 fans to standardize testing, but the user can opt for a push-pull configuration too using the included fans.
EK-AIO Elite 360 D-RGB

Temperature Results
If you're searching for a top-tier 360mm AiO cooler, the EK-AiO Elite 360mm Liquid Cooler is a standout choice. Our tests showcased its industry-leading performance. It's worth noting that our EK Vardar S fans were tested in an out-of-the-box configuration. Keep in mind that our testing was conducted on an open-air test bench, so real-world PC case temperatures may be slightly higher.The results we got were impressive:
Ambient Temp: 23 Degrees Celsius
| Processor | Idle Temperature | 100% sustained load for one hour |
| --- | --- | --- |
| Ryzen 5 3600XT Stock | 36-38°C | 54°C |
| Ryzen 5 3600XT 4.4Ghz All-Core OC @1.25V | 30-35°C | 57°C |
| Ryzen 5 3600XT 4.6Ghz All-Core OC | 32-37°C | 63°C |
When compared to a "standard" AiO like the CM ML240R, the performance numbers are remarkably impressive. While the ML240R has a 240mm radiator, the EK's 360mm radiator shows incredible scaling in temperature reduction. In noise-normalized testing, the EK cooler stands out as one of the best-performing coolers we've tested. Its design efficiently dissipates heat.
These results make the EK-AIO Elite D-RGB 360mm Liquid Cooler perfect choice when it comes to overclocked systems running CPUs like the AMD Ryzen 5950X or 5900X hitting all-core overclocks north of 4.7Ghz. The cooler is also perfectly suited to Intel's flagship Core i9 10900K for hitting ridiculous all-core overclocks north of 5Ghz.
This cooling performance does come at a premium, however, as EK is not exactly price-competitive with similar offerings from the likes of CoolerMaster, Arctic, Corsair, or NZXT. If we compare the 360mm EK cooler with a popular value-oriented radiator like the CoolerMaster ML240R, these are the results we get:
Acoustic Results
We found the acoustic performance of the EK-Elite 360mm AiO intriguing when we increased the pump's max speed to 3300RPM. EK maintained the same Vardar S fans with the Elite, so their impact on noise levels remained consistent.
In its stock configuration with three EK Vardar S fans, we measured a noise level of 35 dBA while the fans were spinning at 1120 RPM during a 1-hour stress test. These results are impressively quiet for a cooler of this size, ensuring strong thermal performance with a low noise profile.
When we cranked the fans to 100%, the noise level spiked to 51.4 dBA, which is quite loud. However, such high fan speeds are rarely needed in real-world scenarios, and it's worth noting that the pump, despite its max speed rating of 3300RPM, remained relatively quiet during normal operation. It was virtually inaudible from a reasonable distance.
We measured noise levels with a sensor placed 20 inches away from the test bench, pointing toward the radiator, with a noise floor of 26dB.
Comparison with other Premium Coolers
The EK-AIO Elite D-RGB 360mm Liquid Cooler comes at a premium price point of $199.99, competing with other high-end coolers like the NZXT Kraken X73, Fractal Design Celsius S36, EVGA CLC 360, and Corsair H150i. EK includes 6 EK Vardar S fans, allowing for a push-pull configuration or using the extra fans as case fans. While the price may be steep, EK delivers top-tier performance in a market where users demand no compromises.
Still, it is important to look at the market for 360mm radiators in an objective sense. Users in this market are looking for no compromises, and EK certainly delivers in that regard. Competitive options to the EK-Elite AiO include:
NZXT Kraken X72
Corsair H150i
Swiftech H360X3
Fractal Celcius S36
Arctic Liquid Freezer II (280mm radiator)
Corsair H115i Platinum (280mm radiator)
EVGA CLC 360
Out of these coolers, only the Corsair H150i comes close to the EK Elite AiO in out-of-the-box thermals. The difference with the others is not significant, and the user may look towards those options when making their buying decision.
Potential buyers might also be interested in saving some money and opting for the 280mm coolers listed here as they perform fairly closely to the premium EK option while providing a higher monetary value. EK is certainly not price-competitive here, however, we do not feel like their asking price is blatantly unfair considering the whole package.
Should You Buy It?
After hours of testing, I was able to evaluate who the cooler was designed for.
You Should Buy It If:
You want an uncompromised cooling solution: Packed with six fans, a well-developed pump, and a capable radiator, the EK-AIO Elite 360-D RGB provides uncompromised cooling.
You want sleek RGB lighting: RGB lighting can be found on all six of the fans, making it a perfect fit for an all-RGB build.
You are looking for a silent 360mm cooler: Despite the addition of those fans, the EK-AIO Elite 360 D-RGB provides a silent experience.
You Shouldn't Buy It If:
You are on a tight budget: The EK-AIO Elite 360 D-RGB is not designed for anyone working with a tight budget.
You are working with a smaller case: The cooler's larger thickness with the six fans installed can be problematic for anyone working with a small form factor case.
Final Words
EK, known for its water-cooling expertise, ventured into the AiO liquid cooler market in early 2020 with the Ek Aio 360 D RGB Review series, which received an enthusiastic response. They now reinforce their presence in the AiO market with the premium EK-AiO Elite D-RGB 360mm Liquid Cooler.
In our tests, the EK-AiO Elite cooler outperformed expectations across various categories. EK has enhanced key design elements, such as the pump block and acrylic top, compared to the previous AiO series. The overall package exudes premium quality, making it an enticing choice for users with high-end builds seeking both style and efficient cooling.
It does not deliver excellent monetary value, however, if money is not an issue, the EK-AIO Elite D-RGB 360mm Liquid Cooler has our recommendation.
Thanks to EK for sending out their brand new Ek AIO 360 D RGB Review.
Awards Won By EK-AIO Elite 360 D-RGB
The EK-AIO Elite 360 D-RGB won the following Tech4Gamers Awards.
Recent Updates
---
October 30, 2023: Few text changes to improve readability. Image galleries added.
Was our article helpful? 👨‍💻
Thank you! Please share your positive feedback. 🔋
How could we improve this post? Please Help us. 😔
[Editor-in-Chief]
Sajjad Hussain is the Founder and Editor-in-Chief of Tech4Gamers.com. Apart from the Tech and Gaming scene, Sajjad is a Seasonal banker who has delivered multi-million dollar projects as an IT Project Manager and works as a freelancer to provide professional services to corporate giants and emerging startups in the IT space.
Majored in Computer Science
13+ years of Experience as a PC Hardware Reviewer.
8+ years of Experience as an IT Project Manager in the Corporate Sector.
Certified in Google IT Support Specialization.
Admin of PPG, the largest local Community of gamers with 130k+ members.
Sajjad is a passionate and knowledgeable individual with many skills and experience in the tech industry and the gaming community. He is committed to providing honest, in-depth product reviews and analysis and building and maintaining a strong gaming community.