EK AIO 240 D-RGB
Our Verdict
The EK AIO 240 D-RGB is an excellent AIO Liquid Cooler for customers looking for performance and style at a mid-range budget. The AIO is unquestionably the one to watch due to its newer, better pump design and stunning Vardar S fans. The company also gives a 5-year international warranty, indicating that they believe in their product.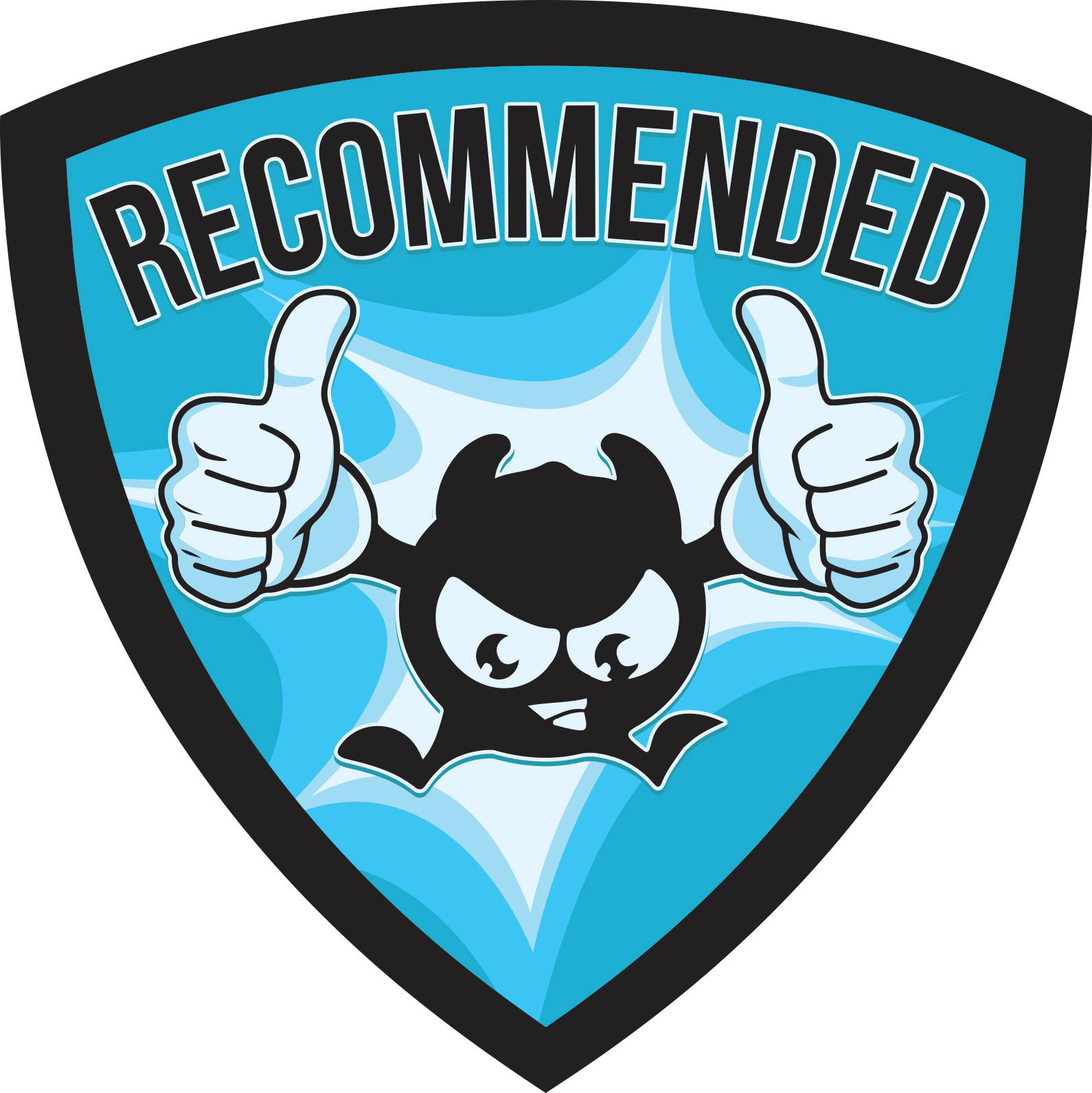 Aesthetics -

8/10

Compatibility -

8/10

Value -

9/10

RGB Fans -

7/10
Pros
Impressive Thermal Performance
ARGB Pump and Fans
Easy Installation
High-quality Radiator
Better and Decent pump design
High RAM Clearance
Cons
Fan Hub feel Necessary
Noise at 100% load
The term EK always comes to mind, when it comes to computer cooling. They're well known for their water cooling solutions, but as the industry evolves and opportunities arise, EK has gotten on board for mid-range AIO water cooling solutions. Today, we'll look at EK AIO 240 D-RGB AIO cooler, which targets the mid-range AIO market. EK has a range of EK AIO RGB coolers, but we will focus on the EK AIO 240 D-RGB today.
Why you can trust Tech4Gamers: Our reviews are based on dedicated hands-on testing by our team of experienced hardware experts. Find out more about how we test.
---
Key Takeaways
The EK AIO 240 D-RGB cooler is good for people looking for a premium liquid cooler with excellent thermal performance and RGB features, as well as compatibility with a wide range of Intel and AMD sockets.
This cooler is not for those who prioritize quiet operation, as the fan noise at full power may be loud, or people who require included vibration pads for noise reduction.
The standout features of the cooler include its high-quality Vardar S fans, extensive socket compatibility, and an attractive RGB setup, making it a premium option with a justifiable price compared to its competitors.
---
Specifications
Here's a look at the key technical specifications of the cooler.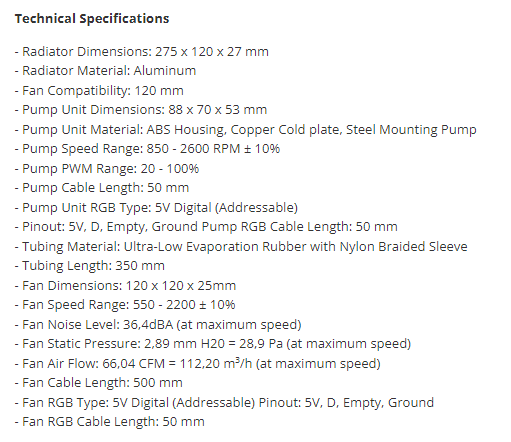 Unboxing And Accessories
The EK AIO 240 D-RGB comes in a white cuboidal box with a graphic of the EK AIO 240 D-RGB on the front. Along with the RGB Pump, the Radiator and fans can be seen in their entirety.
Accessories
Let's take a look at the accessories provided by EK.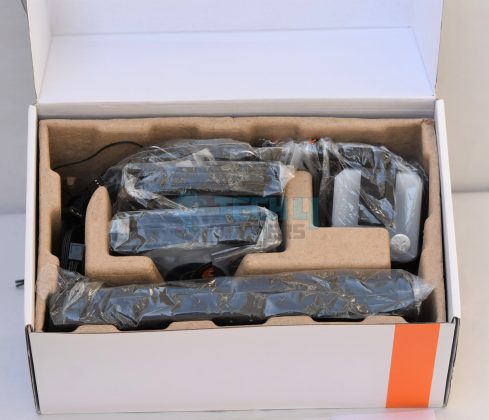 Design
We will examine each component in greater detail to make a more accurate assessment of the product. We will look for build quality, design characteristics, and other functional attributes in each component.
Radiator
Let's start with the radiator.
The 240mm radiator is all-aluminum and feels solid, durable, and excellently built. You can mount two 120mm fans on either side. Despite its size and build quality, it's surprisingly light. Its dimensions are 275 x 120 x 27mm, and with Vardar S fans, it's 53mm thick. The radiator has 20 fins per inch, we did a few bends, but overall, the finish is impressive. There's a 105mm gap between the two fan installation holes.
Entirely black without any visible branding, the radiator only has a barcode sticker on its top. The tubes are securely attached to the Radiator, and the fill port is factory-restricted, sealed with a warranty void sticker that's fairly easy to remove. Design-wise, the radiator is clean and minimal, without conspicuous branding, enhancing its user-friendliness. Contributing to its aesthetics are its straight fittings, adorned with aluminum covers. The tubing, featuring high-quality nylon braided sleeving, measures approximately 350mm, which we find a bit short for installation purposes.
Pump/CPU Block
The Pump Head is the most critical component of any AIO cooler; it must be robust and attractive, and seemingly the EK AIO 240 D-pump RGB's head is both impressive and stylish.
I've tested the EK AIO water pump. It's an all-acrylic pump with a matte black underside and RGB-accentuated acrylic coverings. The pump head works with various Intel and AMD sockets, featuring a large copper cold plate. On the black cuboid ABS plastic housing, you'll find the EK logo with a blueish coating (remove it before installation). The CPU block is sizable at 88 x 70 x 53 mm, heavier than the radiator. My advice? Don't overlook this one!
The left side of the block features the pump power and RGB outputs, and a huge copper cold plate with pre-applied thermal paste is located at the bottom of the pump (Picture taken afterward). The copper base plate is approximately 58x55mm, with mounting bracket screw holes on either side.
We can rotate the radiator tubing on the right side of the EK AIO pump for easy installation. There are two screws to replace the pump RGB strip. Additionally, the tubing offers a premium feel and is rotatable from both the cover fittings and the cable. The pump power is connected through a 4-pin PWM connector, and there's another 3-pin RGB connector with a VDG connection for Gigabyte motherboards. Both cables are generously long, which simplifies installation and future management.
Fans
Next up, let's check out the fans.
EK provided us with two high-quality EK-Vardar S D-RGB fans, securely packaged with seals. These fans have seven frosted blades for optimal airflow and minimal noise, plus striking RGB effects. However, they lack anti-vibration cushioning on their frames, so keep that in mind. The RGB lighting is centered on the fans, displaying the EKWB logo on top.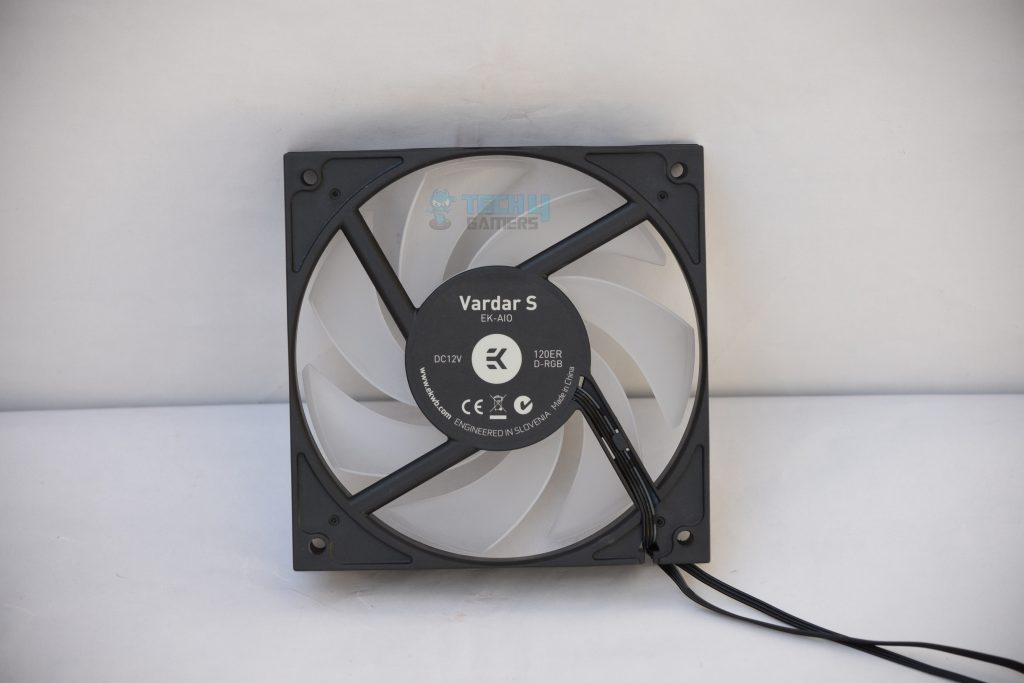 I see four arms at the back of the fans, each featuring the Vardar S logo/branding. One of these arms houses the wires for power and RGB control. Beneath the Vardar S label, you can find the power rating and manufacturer information. The Vardar S comes with two cables: a 500mm 4-pin PWM connector and a male+female dual header ARGB connector, which is 500mm in length, with an additional 100mm extension.
Here are the specifications for these fans.
| | |
| --- | --- |
| Dimensions | 120x120x25mm |
| Type | 4-pin PWM Connector |
| Airflow | 66.04 CFM |
| Speed | 550-2200 RPM ± 10% |
| Air Pressure | 2.89 mmH₂O |
| Noise | 36.4 dB(A) |
| ARGB Connector | 5V,3-pin ARGB dual Header |
RGB
The RGB lighting might be an issue if no EK Fan Hub or Controller is included. I ran out of 3-pin ARGB connectors on my Motherboard; thankfully, I had a Fan hub with two additional connections installed, which I utilized to operate our Vardar S fans.
Although the RGB effects on the Pump head are acceptable, they are not perfect, in my opinion. On the other hand, the fans are stunning, and with the RGB infiltrating from the inside, the Vardar S is a sight to see.
Installation
Apart from the tubes, the EK AIO 240 D-RGB installs simply like any other AIO. The user manual explains each step in-depth, with the screws and brackets labeled to make installation as simple as pie. We tested the cooler on the Intel Core i7-10700K, meaning we had to use the brackets and screws compatible with the Intel Socket 1200. This is how the process goes:
Before you begin, ensure sure your Processor is free of any prior thermal paste residue; you may wipe the top with rubbing alcohol.
After that, attach the Intel/ or AMD brackets to your EK Pump head using the 4+1 bracket screws. Vardar S fans may now be installed on the Radiator in a push or pull way using the longer screws.
Attach the metal backplate to your Motherboard with the appropriate screws, making sure the connection is firm but not too tight.
Install your Radiator in the desired position without removing the block cover.

EK AIO 240 D-RGB Radiator Installed (Image by Tech4Gamers)

With the Radiator in place, remove the copper backplate cover and set the Pump head on top of your CPU, ensuring that the holes are precisely aligned with the previously inserted screws and secure it with the thumb nuts and springs.

EK AIO 240 D-RGB Pump Installed (Image by Tech4Gamers)

Once the pump and Radiator are in place, double-check that all screws are securely fastened.
Connect the Y connector to fans and a fan header on your Motherboard. Also, check sure your pump header is connected to the motherboard fan header. Connect your RGB connections to the appropriate locations now.
Thermal Performance
If you're looking for a mid-range cooler, such as a 240mm AIO on the market, we're delighted to report that the EK AIO 240 D-RGB provides high-end cooling at a reduced cost. As previously said, the testing was not carried out on an open bench. Therefore, the findings shown below will apply to any user; however, bear in mind that we did have a more significant number of fans for intake and drawing air out.
Test System
The Intel Core i7-10700K will be used in our testing with three distinct settings: stock @ 3.8GHz, OC @ 4.7GHz, and OC @ 5.0GHz. The following are the remaining system specifications:
16GB (8×2) Corsair Vengeance Pro DDR4 3200Mhz
Nvidia GeForce RTX 3060
Windows 10 running off of SATA SSD
Corsair RM750x PSU
Thermaltake View 71 Case with 5x (Front, Bottom) drawing air in, while 1x (Rear) drawing air out.
EK AIO 240 D-RGB 240mm AIO with 2x Vardar S fans on top drawing air out
Testing Methodology
We tested the EK AIO 240 D-RGB, a decent AIO known for its cooling performance. The CPU of choice was the Intel Core i7-10700K, subjecting it to various scenarios: stock CPU settings at 3.8GHz and 100% load, followed by two overclocked stages at 4.7GHz and 5.0GHz. This allowed us to assess its performance in both standard and high-performance conditions.
We employed AIDA64 Extreme for rigorous stress testing. To ensure real-world conditions, we used the Thermaltake View 71t case, equipped with five front and bottom intake fans and three exhaust fans (including the Vardar S) at the top and bottom.
For a meaningful comparison, we pitted the EK AIO 240 D-RGB against competitors like the Arctic Liquid Freezer II 240 and the Noctua NH-D15/S Chromax. This comparison will aid potential buyers in making an informed cooler choice.
Thermal Performance @ Stock 3.8GHz
We initially put the cooler to the test using the Intel i7 10700K's standard CPU settings of 3.8GHz. The stress test was performed for 15 minutes using AIDA64 Extreme, and the results were as predicted. The EK AIO 240 D-RGB worked admirably, outperforming the Noctua NH-D15/S by a significant margin. It also came close to beating its main competitor, the ARCTIC Liquid Freezer II 240, but fell short by a few degrees. In the stock temperature test, the cooler met or exceeded our expectations.

Thermal Performance @ OC 4.7GHz
Next, we put the EK AIO 240 D-RGB through its paces with an overclocked CPU running at 4.7GHz. The cooler outperformed its opponents and maintained its position. At 100 percent load from AIDA64 Extreme, the thermals reached roughly 43 degrees, which was extraordinary. The EK AIO 240 D-RGB came really close to defeating the ARCTIC Liquid Freezer 240, but it will have to wait for another time.

Thermal Performance @ OC 5.0GHz
Finally, we put the CPU and cooler through their paces. We revved up our Intel Core i7 10700K to 5.0GHz and tested it at full load. The cooler did create some noise as the temperature rose, but that was to be anticipated. The EK AIO 240 D-RGB outperformed the Noctua NH-D15/S while remaining competitive with the ARCTIC Liquid Freezer 240. On load, the thermals stayed at 54 degrees, which was quite outstanding.

In all of these tests, the EK AIO 240 D-RGB outperformed its well-known competition, the Noctua NH-D15/S, although it fell short of defeating the ARCTIC Liquid Freezer II 240.
The EK AIO 240 D-RGB proved the ideal 240mm AIO as the thermal performance was more than acceptable in all scenarios. We also noticed the EK AIO 240 D-RGB running quiet; the Vardar S fans were promising but a little too loud at full speeds.
Comparison With Other Premium Coolers
At the time of writing, the EK AIO 240 D-RGB was available for 120 dollars. This makes it a not so pricey cooler compared to other 240mm AIOs in the same size range, especially with ARGB capabilities. Compared to earlier market giants like Corsair, NZXT, and ARCTIC, EK has been very generous with the EK AIO 240 D-RGB features.
Users will get confused when choosing the EK AIO 240 D-RGB against some mighty competitors in the market like the:
NZXT Kraken x53
ARCTIC Liquid Freezer II 240
It all comes down to personal preference and usage, as users may be able to determine their needs in the end, since all of these coolers provide almost equal cooling but differ in terms of looks and noise levels.
Should You Buy It?
So, who's this cooler for, and who may not find it so suitable?
You Should Buy It If
You want versatile socket compatibility: If you have different CPU sockets, including Intel LGA 1150, 1151, 1155, 1156, 1200, 2011, 2011-3, 2066, and AMD AM4, this cooler is a suitable choice.
You appreciate ease of installation: The EK AIO 240 D-RGB comes with pre-applied thermal paste and an extra tube, making installation straightforward.
You seek efficient cooling: The industrial-quality Vardar S fans with higher RPMs enhance the cooler's thermal performance, making it a great investment.
You Shouldn't Buy It If
You prioritize quiet operation: While the cooler offers excellent performance, the fans at full power can be rather loud, so it may not be ideal if you're looking for a silent solution.
You desire vibration pads: The absence of vibration pads on the fans may be a drawback if you're sensitive to noise and value a quieter setup.
You have a tight budget: The EK AIO 240 D-RGB, while offering premium features, comes at a slightly higher price point compared to some competitors, so it may not be the best choice if you're on a strict budget.
Wrapping Up
To conclude, here are some of the highlight features of this cooler first:
High-end 120mm EK Vardar S Fans
Compatibility for a variety of Intel Sockets (1150, 1151, 1155, 1156, 1200, 2011, 2011-3, 2066)
Compatibility with a variety of AMD Sockets AM4
Massive Copper Cold Plate
ARGB Pump + ARGB Fans
240mm Aluminum Radiator with Remarkable Fin Density
The EK AIO 240 D-RGB offers captivating RGB effects with a new acrylic pump and ARGB Vardar S fans, compatible with various Intel and AMD sockets. It includes pre-applied thermal paste and a five-year international warranty. While setup is straightforward, tubing positioning can be a bit challenging, and the fans, while effective, can be somewhat noisy at full power.
The 240mm all-black radiator boasts high fin density, and the EK AIO 240 D-RGB impresses with its thermal performance and RGB features, though lacking vibration pads on the fans. Priced at $120, it justifies the cost with its capabilities, making it a solid choice for those looking for reliable water cooling solutions from EK.
I want to express my gratitude to EK for providing their brand-new EK AIO 240 D-RGB for review.
Next Up: EK AIO Elite 360-D RGB Review
Awards Received By The EK AIO 240 D-RGB
Following are the Tech4Gamers awards received by this cooler after detailed testing:
Recent Updates
---
Nov 2, 2023: Few text changes to improve readability. Also added image galleries.
---
Was our article helpful? 👨‍💻
Thank you! Please share your positive feedback. 🔋
How could we improve this post? Please Help us. 😔
[Hardware Reviewer & Editor]
Meet Nauman Siddique, a highly experienced computer science graduate with more than 15 years of knowledge in technology. Nauman is an expert in the field known for his deep understanding of computer hardware.
As a tech tester, insightful reviewer, and skilled hardware editor, Nauman carefully breaks down important parts like motherboards, graphics cards, processors, PC cases, CPU coolers, and more.
15+ years of PC Building Experience
10+ years of first-hand knowledge of technology
7+ years of doing in-depth testing of PC Hardware
A motivated individual with a keen interest in tech testing from multiple angles.
I majored in Computer Science with a Masters in Marketing
Previously worked at eXputer, EnosTech, and Appuals.