AMD has recently unveiled a next-generation flagship Zen 4 Ryzen 7000 'Raphael' processor series, comprising the Ryzen 9 7900X. Ryzen always shares helpful information about its upcoming products. We already know that Ryzen 9 7900X is based on a TSMC 5nm FinFET based on Zen 4 microarchitecture. Ryzen 9 7900X is a 12-core processor with 24 threads, providing a Base Clock of 4.7 GHz and a Boost Clock of 5.6 GHz. Ryzen 9 7900X bags a combined cache of 76 MB and requires 170W TDP for optimum processing.
Here are our Best Ryzen 9 7900X CPU Coolers, all compared to each other in table below:
Cooler
Noctua NH-D15S Chromax.Black
ARCTIC Liquid Freezer II 360 A-RGB
EK AIO 240 D-RGB AIO Cooler
ASUS ROG Strix LC II 360 ARGB White Edition
Cooler Master Hyper 212 Black Edition
Dimensions
398 x 120 x 38 mm (Radiator)
275 x 120 x 27 mm (Radiator)
Last update on 2023-09-23
Best CPU Coolers For Ryzen 9 7900X
We will go through a list of coolers that we consider to be better than the Ryzen 9 7900X stock cooler and best for this new generation flagship CPU. We sorted out some coolers specifically and according to some set priorities. This way, it will be easier for the audience to decide which cooler to go for, according to their preferences. Let's dive right in.
Here are the 5 Best CPU Cooler For Ryzen 9 7900X in 2023:
Noctua NH-15DS Chromax Black

ARCTIC Liquid Freezer II 360 A-RGB

EK AIO 240 D-RGB AIO Cooler

ASUS ROG Strix DC II 360 ARGB

Cooler Master Hyper 212 Black Edition
Noctua NH-D15S Chromax.Black
Best Overall CPU Cooler For Ryzen 9 7900X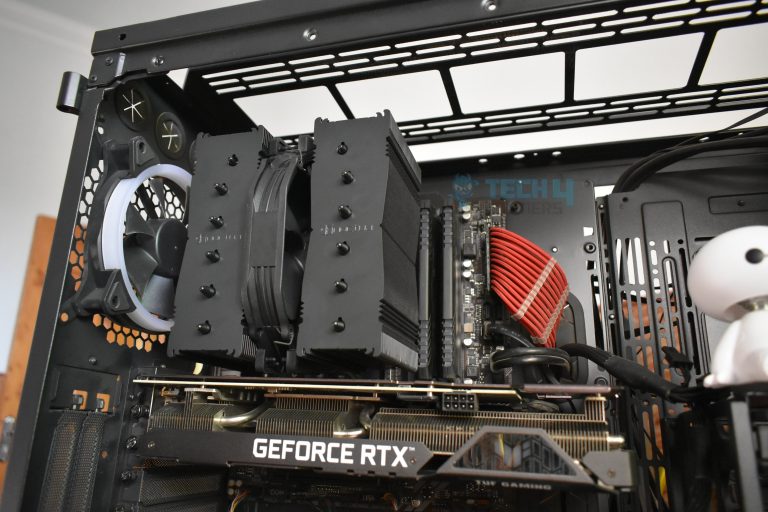 Specifications = Fans: 1x 140 mm or 1x 120 mm | Fan Speed: 1500 RPM | TDP: 205 W | Noise: 24.6 dB(A) | Dimensions: 160 x 150 x 135 mm | Socket Compatibility: Intel Sockets: LGA 1700, 1200, 1156, 1155, 1151, 1150, 2066, 2011-0, 2011-3 (Square ILM), AMD Sockets: AM4, AM5 | RGB Fans: No
Pros
Sturdy build quality

Over-the-top performance

Works quietly

Compatible with all sockets
Cons
Size may be a problem
Noctua is the pinnacle of CPU coolers and fans; it is one of the most reputable brands and a go-to choice for anyone looking for premium and reliable CPU coolers, fans, and other cooler-related accessories. Noctua has established its name as a top-notch cooler and fan manufacturer in the community; our product for the overall CPU Cooler For Ryzen 9 7900X, Noctua's NH-D15S, is a living example of that.
The NH-D15S Chromax.Black is an all-black version of the renowned award-winning NH-D15S premium quality CPU cooler. It follows the same course as the illustrious NH-D15S and strives to deliver the best possible performance. NH-D15S Chromax.Black is covered from top to bottom in a black shade, making it an ideal choice for black lovers.
The NH-D15S Chromax.Black features an all-black heatsink, black fan clips, black fans fitted with black anti-vibration pads, and black mounting parts; every inch of this magnificent beast is covered in black, making it an obvious fit for a black-themed build. On top of that, you can throw it in any build, and it will look fabulous, as black is a universal color and goes great with everything. Noctua also offers optional heatsink covers and anti-vibration pads in various colors; you can customize your favorite CPU cooler to fit in popular color schemes like red and black or black and white.
The compatibility of NH-D15S will never be a concern, as it is compatible with most modern and past sockets of both Intel and AMD. Noctua's Secufirm 2 multi-socket mounting system is known for its easy and durable installation and supports a range of sockets, including Intel's LGA1700, LGA1200, LGA1156, LGA1155, LGA1151, LGA1150, LGA2066, LGA2011-0, LGA2011-3 (Square ILM) and AMD's AM4, AM5. The support for AMD's AM5 socket is the highlight of Noctua NH-D15S and is of the most important reasons for it to make up this listing, as the Ryzen 9 7900X uses AMD's latest and greatest AM5 socket.
The NH-D15S is compatible with most high-end modules because its recessed bottom fins give 65mm clearance for RAM with tall heat spreaders or RGB lighting. Because the heatsink's bottom fins are recessed on both sides, compatibility with AMD and LGA 1000s, as well as LGA 2000s, which have RAM slots on both sides of the socket, is great.
The NH-D15S utilizes a single instead of two NF-A15 HS-PWM fans and has an offset, asymmetrical configuration compared to the award-winning NH-D15. As a result, the NH-D15S can deliver cutting-edge cooling performance while maintaining the highest level of RAM and PCIe compatibility.
The NF-A15 HS-PWM fan features a top speed of 1500 RPM, which may not be at the top, but it is one of the top-performing 140mm fans; the greater 140mm area offers great airflow while maintaining low noise levels. On top of the low noise of the NH-A15, Noctua also includes a Low Noise Adapter (LNA) to reduce the noise even further. With the Low Noise Adapter, you can push the fan's speed to 1200 RPM, which is ideal for medium workloads in a quiet environment. On top of that, the NH-A15 fan supports PWM, and you can easily adjust its speed according to your requirements.
If you want a quick peek at detailed performance benchmarks, NOCTUA NH-D15S Chromax Black Review is your correct guide.
The Noctua NH-D15S boasts six heat pipes on a dual-tower design; the dual-tower design of the NH-D15S rivals the performance of an AIO cooler by offering a greater surface area and better cooling capability. Copper is used for the manufacturing of the base as well as the heat pipes, improving overall heat conductivity, whereas cooling fins are made with aluminum to make them lighter and more durable. Additionally, the 150mm-wide cooling fins and widely spaced heat pipes enable more even heat transfer over a broader surface area, thus efficiently heating even the hottest of the CPUs in the market.
Even though Noctua offers one 140mm fan with the NH-D15S, if you wish, you can install the 2nd fan with the extra fan clips offered with the package. You can use either a 140mm round-frame fan with 120mm mounting holes for maximum performance or any 120mm fan available in the market to maintain the RAM compatibility of up to 45mm height. Noctua also offers six years of manufacturer's warranty with the NH-D15S, so if you run into any problems down the road, you can easily replace it.
What we liked
The color schemes of this cooler give it a clear edge over its base variant, which was beige and brown, a color scheme not-so-popular among the related community. The all-black theme makes it look superior and compatible with all other color schemes. It may not perform nearly as much as a water cooling kit, but it takes the lead if we add the price into the equation.
It is also compatible with a wide spectrum of sockets. It does not matter whether the socket architecture is old or the latest; compatibility will not be an issue for this cooler. The overall design, performance over price value, and compatibility make it a good CPU cooler for Ryzen 9 7900X and a top contender in our books. We have also done a video review of the Noctua NH-D15S showcasing its unboxing, so give it a look as well.
What we disliked
There is not much if you look for cons. The only problem you can face is if you do not prefer coolers with a tall build or have a short memory kit. Other than that, the Chromax.Black comes with a single fan, but you can still buy an extra NF-A15 fan for the cooler, if you like, for around $25. So, as mentioned earlier, there is not much to find, even if we focus on the downsides.
Verdict
Noctua NH-DS Chromax.Black is a revised version of Noctua NH-D15S, an already successful and popular cooler, so we expected it to be a very interesting product. All features, including compatibility and relative performance, make it worth buying and makes us put it as the Best Overall CPU Cooler For Ryzen 9 7900X.
ARCTIC Liquid Freezer II 360 A-RGB
Best 360mm AIO Cooler For Ryzen 9 7900X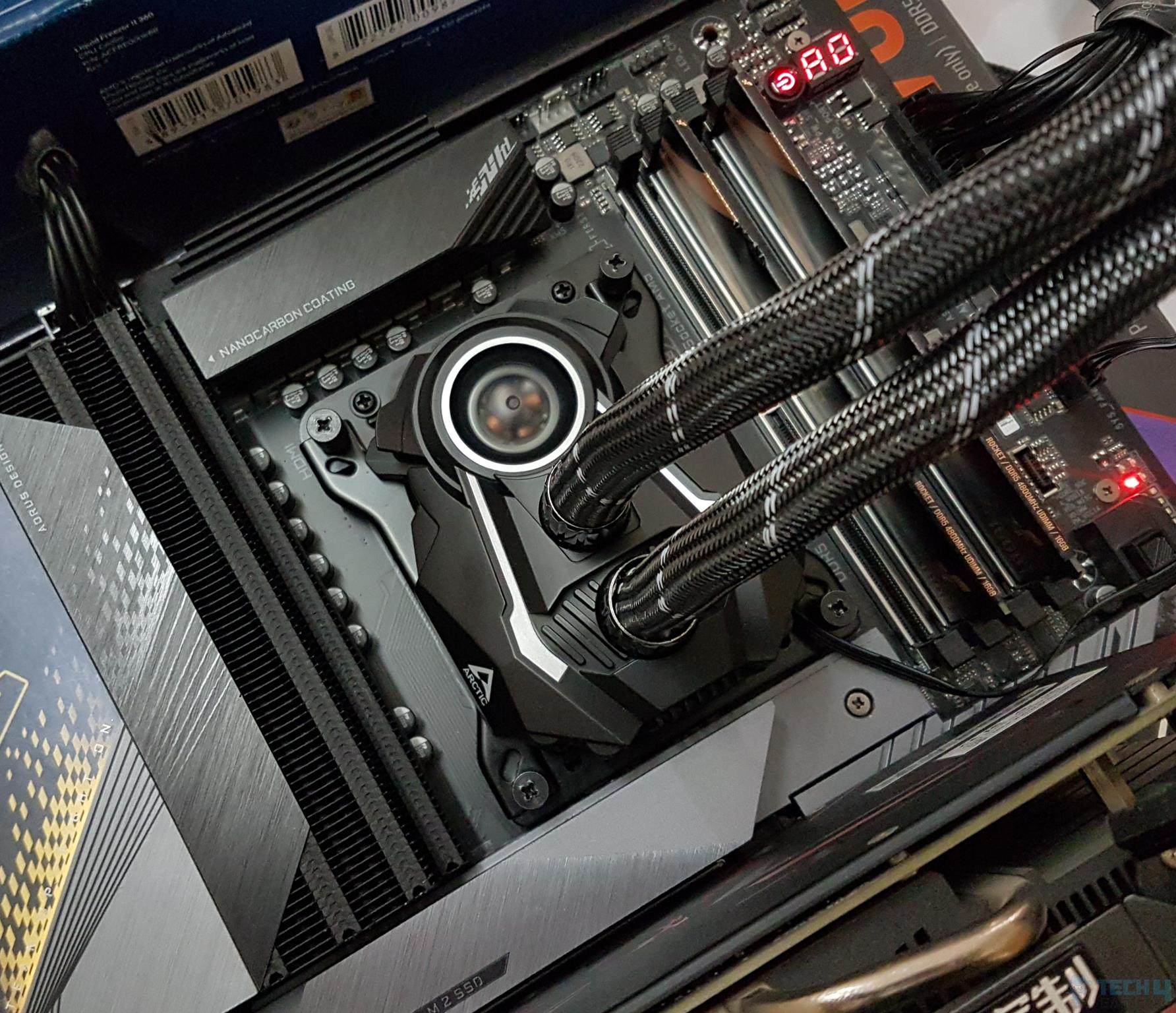 Specifications = Fans: 3x 120mm | Fan Speed: 1800 RPM | TDP: 250W | Noise: 10.64 dB(A) | Dimensions: 398 x 120 x 38 mm (Radiator) | Socket Compatibility: Intel Sockets: LGA 1700, 1200, 115X, 2011-3, 2066, Square ILM, AMD Sockets: AM4, AM5 | RGB Fans: Yes
Pros
Excellent build quality

Produces very little noise

ARGB specifications

Unique pump architecture
Cons
Smaller cold-plate

Thick radiator
ARCTIC is widely known for its PC thermal products; with their years of dedication to delivering the best possible products, they have won the hearts of their customers. ARCTIC offers CPU coolers for numerous high-end gaming applications or silent PCs. ARCTIC's high-quality and durable products are known for their performance and reliability. For those looking for a high performance CPU Cooler For Ryzen 9 7900X and fulfilling all its thermal requirements, ARCTIC Liquid Freezer II 360 A-RGB is one of the obvious choices.
ARCTIC Liquid Freezer II 360 incorporates 3x 120mm ARCTIC P12 PWM A-RGB fans that can be efficiently controlled thanks to PWM. The fans can go up to 1800 RPM and be brought down to as low as just 200 RPM, giving a lot of flexibility to its users. A-RGB lighting is the cherry on top because a liquid-cooled PC seldom looks decent without RGB lights.
ARCTIC Liquid Freezer II's distinctive and futuristic-looking pump design will immediately catch your eye as you open the package. Unlike its rivals, who primarily rely on generic water pumps for their AIOs, ARCTIC goes above and beyond by designing its water pump design. On top of the sleek appearance, the ARCTIC Liquid Freezer II's pump integrates a small cooling fan with an astonishing 3000 RPM top speed. The 40mm fan this pump uses is remarkably quiet and strong enough to withstand high pressures. Moreover, the pump's fan is PWM controlled, and you can easily control its speed as per your needs.
Moving on, ARCTIC Liquid Freezer II 360mm AIO is already compatible with AMD's newest AM5 socket for the Ryzen 9 7900X and supports AMD's AM4 socket. On top of the AMDs sockets, the Liquid Freezer II is also compatible with Intel's LGA 1700, 1200, 115X, 2011-3, 2066, and Square ILM sockets.
ARCTIC has aced the AIO Coolers with the Liquid Freezer II; it has a recommended TDP of around 300W, which is more than enough to keep Ryzen 9 7900X's temperature under control. Even when overclocked, the Liquid Freezer II 360 will have your back.
While other manufacturers' radiators are substantially thinner, Liquid Freezer II's radiator is 38mm thick. Because of the larger cooling surface provided by the thicker radiator, a large quantity of water can be used to cool down your processor. You won't have to worry about replenishing your water cooling system since the Liquid Freezer II's fiber-reinforced 45 cm EPDM tubing effectively avoids coolant evaporation and can be installed in any chassis.
ARCTIC has designed the Liquid Freezer II 360 with cable management in mind; the A-RGB and PWM cables are concealed in the sleeves. Hence you only have to connect two plugs into the motherboard with no other visible cables, making the whole build look fresh and clean. ARCTIC also offers a six-year warranty with the 360mm AIO, so in case you run into any problems, you can easily get it replaced.
What we liked
For several reasons, ARCTIC Liquid Freezer II 360 A-RGB is considered among the Best 360mm AIO's. The build quality is exquisite and premium. Compared to other AIO coolers, it allows a wide range of fan RPM flexibility which helps it reduce noise and perform quietly yet efficiently but what makes it stand out is its A-RGB specification. This cutting-edge technology allows it to control each LED separately, whereas other coolers based on RGB specifications only allow control over groups of LEDs.
Rather than copying other generic pump designs, ARCTIC opted to design its build of a unique pump architecture never seen in other coolers; these factors helped Arctic Liquid Freezer II 360 A-RGB build a fanbase and gain a lot of popularity among the gaming community as well.
What we disliked
A much thicker radiator causes conflict. Although a thicker radiator allows a larger amount of coolant circulation and better cooling, it results in very little airflow through the fins, requiring high-pressure fans for a better air throw. Thick radiator dimensions can also be considered a physical drawback, but the availability of modern and efficient ATX cases makes it much less of a problem.
The overall looks of the pump also require debate. Some consider it considerably ugly, mostly because of the plastic EPDM tubes, which do not look as neat as the nylon-based tubes used by the competitors.
The copper cold plate used for the current supply can be considered small; however, it supports most of Intel and AMD's current coverage. The only layback it presents is that it is not Threadripper compatible.
Verdict
If a cooler is worthy of being called the Best 360mm AIO Cooler For Ryzen 9 7900X, ARCTIC Liquid Freezer II 360 A-RGB wins the race. Summing up everything to a close, ARCTIC Liquid freezer provides a balance between performance and drawbacks to a very suitable proportion; if we consider everything concerning value-to-money, there is no other cooler in this category to take the title.
EK AIO 240 D-RGB AIO Cooler
Best 240mm AIO Cooler For Ryzen 9 7900X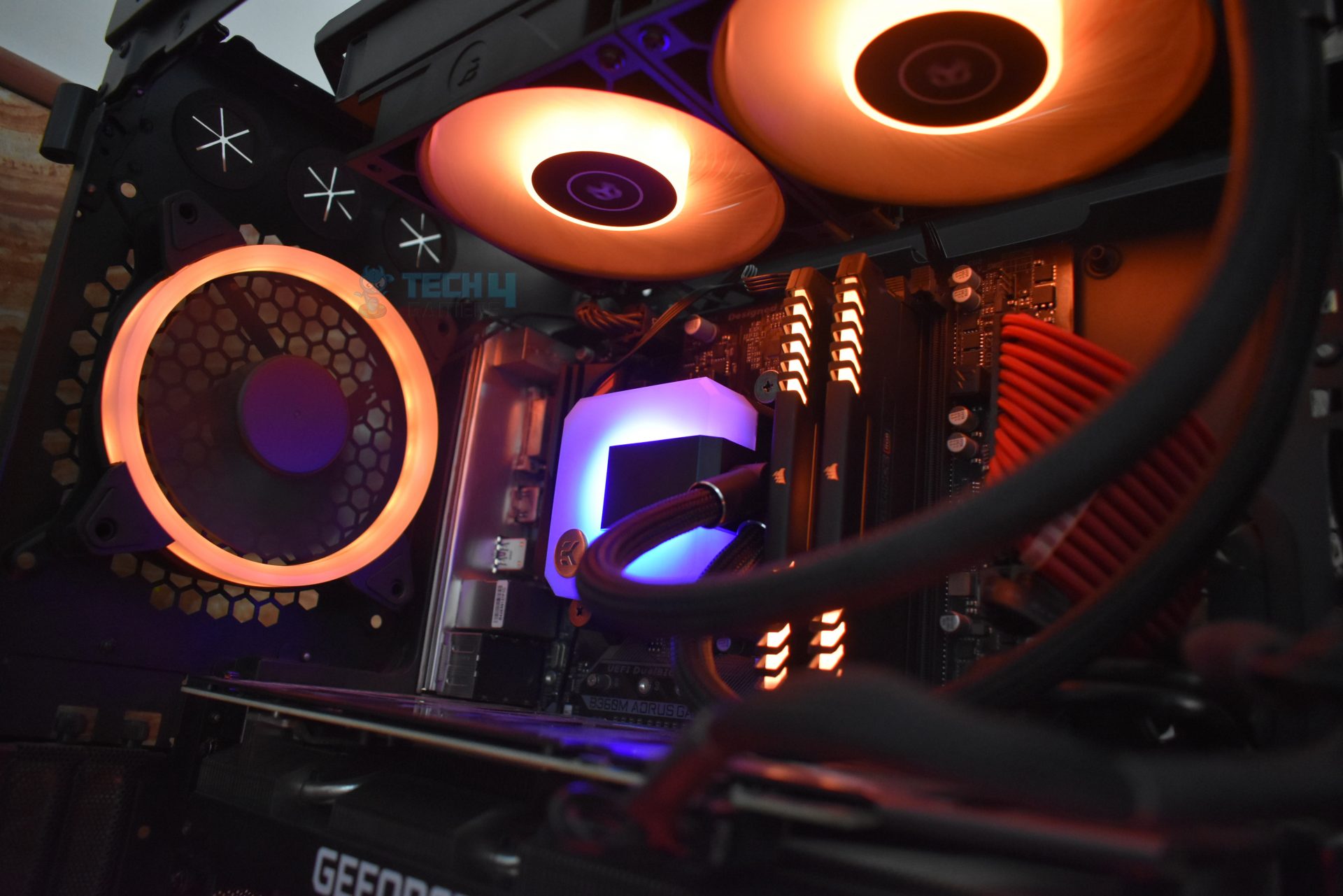 Specifications = Fans: 2x 120 mm | Fan Speed: 2200 RPM | TDP: 220 – 240W | Noise: 36.4 dB(A) | Dimensions: 275 x 120 x 27 mm (Radiator) | Socket Compatibility: – Intel Sockets: LGA 1150, 1151, 1155, 1156, 1200, 2011, 2011-3, 2066, AMD Sockets: AM4, AM5 | RGB Fans: Yes
Pros
Excellent thermal performance

Modern and premium design

A-RGB lights

Exquisite build quality
Cons
No software UI

Noisy when overclocked

Costly than alternate options
The first name that comes to mind regarding water cooling kits is EK Water Blocks, the most renowned AIO cooler production brand. They have been working day and night since their inception in 1999. Manufacturing high-performance hardware to low-budget alternatives, EK Water Blocks has become the most premium and popular amongst the gaming communities and is now one of the most sought-after brands. The next product in this list is EK AIO 240 D-RGB Cooler.
The cooler has a twin 2x120mm EK-Vardar S D-RGB fan system controlled by a PWM connector. The fans can go to a maximum of 2200 RPM and as low as 550 RPM, providing a lot of flexibility to its users. The RGB lighting is a must-have for modern fans, and EKWB does not disappoint. The fans have seven frosted wings for better air supply and compliment the color scheme as well at the same time. The absence of anti-noise cushioning means that the fans produce a lot of sounds when overclocked, but they are fairly quiet under normal use.
EK AIO 240 D-RGB's pump will surely catch your eye right away. The futuristic design is attractive and stylish apart from being robust. The pump should be sturdy, modern, and futuristic; this is what EKWB had in mind while manufacturing this cooler. The acrylic and matte black finish complement the RGB lighting and the overall appearance. The copper cold plate is fairly large and easily provides the current coverage the motherboard requires, allowing a better TDP and thermal cooling, enhancing the cooler's performance even more.
Going further, EK AIO 240 D-RGB AIO has no issue regarding compatibility as it is even compatible with the highly anticipated AMD's AM5 socket. Other than that, it can also be plugged into other sockets, including Intel's LGA 1150, 1151, 1155, 1156, 1200, 2011, 2011-3, 2066, and AMD's AM4 sockets, which helps it make into the list for the Best 240mm AIO.
EK AIO D-RGB AIO cooler comes with an aluminum radiator, which is lightweight but has excellent build quality. EKWB uses straight fitting into the radiator and matte black finishing, taking design aesthetics to a new level; the cooler comes with reinforced rubber tubings with aluminum covers for extra durability and nylon braiding for the design. On the other hand, the length is kept on the shorter side. It comes with a 350mm total length, considerably smaller than the 400mm tubings most coolers provide.
For detailed info regarding this CPU Cooler, read Tech4Gamers guide on EK AIO 240 D-RGB AIO Cooler Review.
The cable management is also not a problem, but the assembly may be difficult for some; getting the tubing into the proper positions may be complicated. EK released EK AIO 240mm D-RGB AIO cooler at around $120 with a 5-year warranty. Top-notch thermal performance, noise levels, and premium RGB features converge to make this product one of the Best.
What we liked
EK AIO 240mm D-RGB AIO Cooler packs many features that made us list it. First of all, the cooler comes with a pre-applied premium thermal paste. However, EKWB proved to be considerate enough to include an extra tube of Ectotherm thermal paste, which is also considered amongst the premium thermal pastes in the market.
The Vardar S fans included in the package are very popular and elegant because of the performance and design aesthetics they introduce to the system.
EK AIO 240 D-RGB is the best thermal-performing cooler in its specific category. Top rating, scores, design, aesthetics, performance, easy assembly, and other soft benefits included in the package list it among the most popular and sought out coolers in the market.
What we disliked
There is not much which comes under this title. Besides a few drawbacks, it is the best option for a mid-ranged AIO cooler. A software UI would have been great. It has no FanHub support or an RGB controller, which would have proven to be an obvious game changer. Another major component that feels missing is the vibrations pads. The fans may produce a lot of noise, which in itself causes no harm; still, a little vibration cushioning would have made it better and added up a point for the consumer's satisfaction.
Verdict
When we compare the pros and the downsides of the EK AIO 240mm D-RGB cooler, it is clear that the cons do not weigh much. If we consider the performance of the cooler, it takes a clear victory. Coupled with all those extra features proves, buying this cooler is a win-win. It is, without a doubt, the best cooler for someone looking for pure performance and style at a mid-range budget, as much as the Best 240mm AIO Cooler For Ryzen 9 7900X.
ASUS ROG Strix LC II 360 ARGB White Edition
Best White CPU Cooler For Ryzen 9 7900X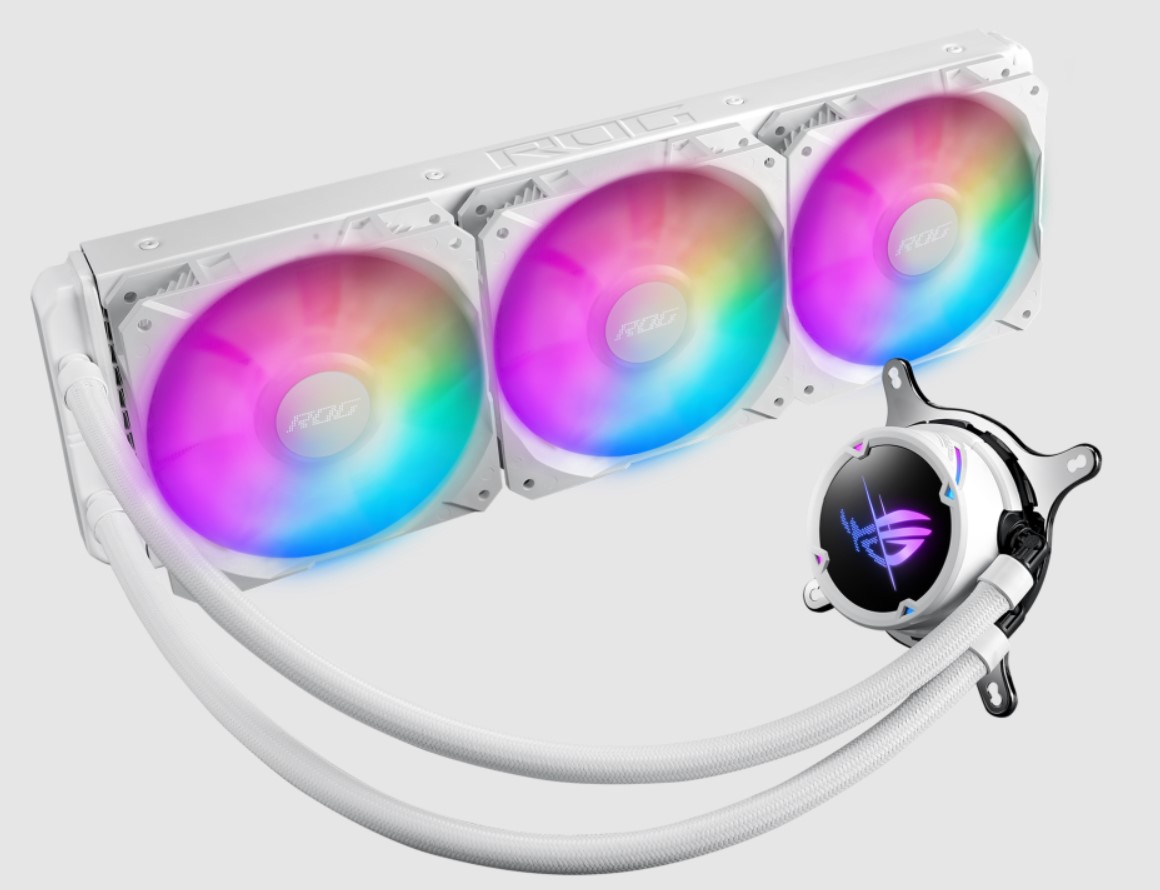 Specifications = Fans: 3x 120 mm | Fan Speed: 800-2600 RPM | Noise: 37.6 dB(A) | Dimensions: 399.5 x 120 x 30 mm | Socket Compatibility: Intel Sockets: LGA 1700, 1200, 115x, AMD Sockets: AM4, AM5 | RGB Fans: Yes
Pros
Premium build quality

AURA Sync software

Six years warranty

Top tier performance
If you are not a fan of dark-themed PC systems and prefer a lighter shade, the ASUS ROG Strix LC II 360 ARGB White Edition can be your pick. Most people always prefer dark or black PC hardware, and due to its demand, most companies also prefer manufacturing dark-themed products. ASUS took a step further to provide those who had an unpopular opinion with some options for lighter-themed hardware. ROG has also allowed consumers to customize their designs, which raises a lot of popularity for this series. With the color theme and the best thermal performance a cooler can give, list ASUS ROG Strix LC II 360 ARGB White Edition as the White Cooler For Ryzen 9 7900X.
ASUS used their 7th gen Asetek pump in the ROG Strix LC II 360 ARGB for optimum heat dissipation and low noise production. The Asetek pump and three ROG-designed fans have excellent thermal cooling capabilities. The pump speed can go up to 2800 RP, which is quite standard for Asetek pumps and is PWM controlled too. The pump is also mirror glass treated and embedded with a ROG logo, which lights up, and you can control its RGB lighting via the AURA Sync software support. The water head comes with a pre-applied thermal paste, which is much more convenient for consumers as they do not have to outsource suitable thermal paste for the cooler.
The three 120mm fans start at around 800 RPM and can go up to a staggering 2600 RPM, producing a lot of noise. Keeping the fans at the maximum RPM makes the cooler sound like a jet engine, with an insane 65 dBA. However, it is completely unnecessary to force these staggering high speeds as dropping the RPMs from 2600 RPM to 1800 RPM only differs up to 1°C, but the noise difference remains huge. If we only keep the fan speed at 60%, the noise is fairly low, and the cooler runs silently and smoothly.
The ASUS ROG Strix LC II 360 ARGB White Edition is compatible with most sockets, including Intel Sockets LGA 1700, LGA 1200, LGA 115X, and AMD's AM4, and the highly anticipated AMD AM5 socket as well. Hence, you will face no compatibility issues regarding sockets and chassis because the 380mm tubing makes Ryzen 9 7900X cooler installation into any chassis much easier. ASUS also provides a comfortable six-year warranty, much to the relief of the customers, contributing to the fact that ASUS ROG Strix LC II 360 ARGB White Edition is among the Best.
What we liked
The build quality of the radiator and pump is top of the line. The radiator fans and pump have different RGB lighting, which is a must-have for a cooler nowadays. AMD generously provides a 6-year warranty, which is very reasonable, much to the relief of the gaming community, as most water cooling kits do not cover such a long warranty. Everything, from premium and segregated packing, accessories included in the package, and ease of installation, earns it extra fan points and makes it a worthy contender for the best white cooler in the market.
What we disliked
There is not much to dislike about the ASUS ROG Strix LC II 60 ARGB White Edition, as ASUS did not leave any stone unturned when manufacturing this piece of art. The only feature we felt missing was an LCD. The price of the cooler is also very high, and competitors within the same budget also include an LCD. An LCD would have been a huge attraction for most consumers at this price point.
Verdict
ASUS ROG Strix LC II 360 ARGB White Edition is the best cooler available in the market for Ryzen 9 7900X. Although there may not be a lot of other light color-themed options available, the ROG Strix II LC 360 performs among the best coolers, disregarding color themes. Based on its excellent cooling performance, easy installation, and pleasing aesthetics, we nominate the ASUS ROG Strix LC II 360 ARGB White Edition as the Best White Cooler For Ryzen 9 7900X.
Cooler Master Hyper 212 Black Edition
Best Budget CPU Cooler For Ryzen 9 7900X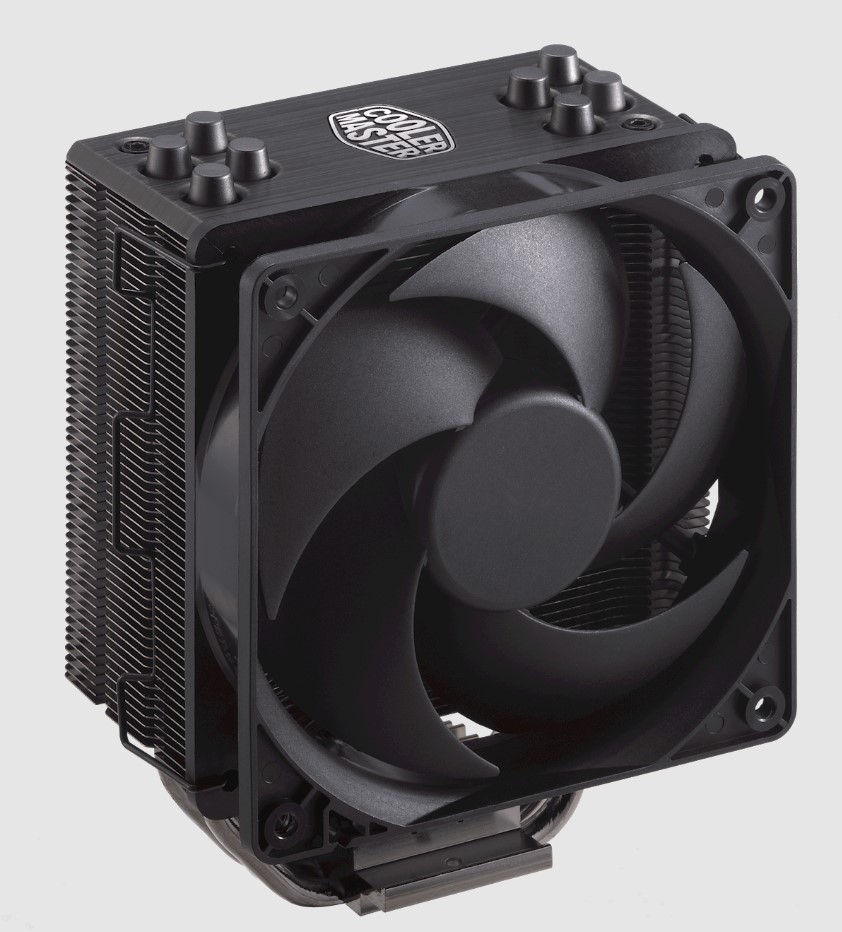 Specifications = Fans: 120 x 120 x 25 mm | Fan Speed: 800-2000 RPM | TDP: 205 W | Noise: 26 dB(A) | Dimensions: 123 x 77 x 158.8 mm | Socket Compatibility: Intel Sockets: LGA2066, LGA2011-v3, LGA2011, LGA1151, LGA1150, LGA1155, LGA1156, LGA1366, AMD Sockets: AM4, AM3+, AM3, AM2+, AM2, FM2+, FM2, FM1 | RGB Fans: Optional
Pros
Great thermal performance

Inexpensive
Cons
No RGB lighting

Clearance issues
Although it is necessary to keep the CPU cool, spending hundreds of dollars on cooling kits is not a compulsion. Some high-end processors need a much more efficient and powerful cooler; however, we can also find some that perform remarkably well compared to their price tag. We nominate Cooler Master Hyper 212 Black Edition as the Best Budget as it has amassed quite a reputation because of its high value-to-money characteristics, and hence has been a fan favorite for quite a long time.
Most people do not expect such an inexpensive cooler to perform very well but be warned; Cooler Master has taken everything under consideration before launching the Hyper 212 Black Edition. They cut the cost by removing a cooler's fancy and unimportant stuff but kept everything that would allow the best thermal performance. The price tag of around $50 makes this product very popular among the gaming communities as most people do not like to spend a ton of money for a better gaming experience.
Cooler Master uses Silencio FP 120 PWM fan for the Hyper 212 Black Edition, which can provide a range of 800-2000 RPM to its users. It is as quiet as many high-end and much more expensive coolers and can run surprisingly quietly even under load. The Hyper 212 Black Edition also uses the Cooler Master Silent Driver IC technology, lowering the noise production to 26 dBA.
Although the Cooler Master Hyper 212 Black Edition is a single tower air cooler, everybody has an option for an upgrade. We can add another 120mm aftermarket fan alongside the primary one using accessories like extra clips, rubber pads, and a fan splitter, which come in the cooler package. However, as the heatsink consists of 4 nickel-plated heat pipes in direct contact with the CPU base plate, adding another fan may lead to clearance issues.
As AMD processors are already infamous for more heat generation, a very efficient and best-performing cooler is the requirement to cool down a flagship processor such as the AMD Ryzen 9 7900X. However, it may not be capable of cooling this processor when you overclock it; it can easily handle the base clock without making much of a racket. All these qualities make the Cooler Master Hyper 212 Black Edition take a subsequent lead over all other rivals competing.
What we liked
Cooler Master Hyper 212's performance, being a budget king, proves to be the cream; providing better than expected performance for a cooler at this budget is the most important feature of the cooler. A flagship CPU such as AMD Ryzen 9 7900X requires the most efficient thermal performance, and Cooler Master Hyper 212 Black Edition is capable of reaching that milestone, and just like that, it even manages to do the job quietly. You can even use it to overclock some less powerful processors. This performance at such a price makes it stand out from all other budget coolers. Decent and sober all-black design goes on with almost all color schemes. Easy installation also adds up some bonus points.
What we disliked
Keeping the price of Cooler Master Hyper 212 in mind, there is no room for complaints. One can only find no RGB lights and a possible clearance problem if you install an extra fan; you can counter these two easily. A slightly more expensive version of the Cooler Master Hyper 212 Black Edition, including RGB lights, is also available if one likes to pay. Modern ATX cases can also solve the clearance problem, which is already very unlikely to happen. We recommend both versions.
Verdict
Cooler Master has done an outstanding job in launching a budget-friendly yet top-performing CPU cooler available in the market. Touching top-tier benchmarks to provide the best thermal performance, the Cooler Master Hyper 212 Black Edition has always been on the top of the list. Having improved aesthetics and still being light on the pocket, we can confidently say that Hyper 212 Black Edition is yet the Best Budget CPU Cooler For Ryzen 9 7900X money can buy.
AMD AM5 Socket Specifications
After five long years of the successful reign of the AM4 socket, AMD has finally gone to an upgrade and announced a new socket named AM5, which is set to release in the upcoming months.
The AM4 socket was launched in 2016 and turned out to be the primary socket for processors ranging from early Ryzen processors from 2017 to the latest Ryzen 7 5800X3D. AM4 had support for DDR4 RAM and PCIe 3.0 and PCIe 4.0 interface. As AM4 was using a Pin Grid Array socket (PGA), an old generation design with thousands of tiny pins on the underside and many cons regarding durability; if you are not gentle enough to place it right, the pins may break.
Considering its issues, Intel switched from PGA to LGA in 2004, but AMD stuck with the same design from AM2 to AM4. AMD switched to the new design in the AM5 as they moved from PGA to LGA. LGA has a different approach; it has pins inside the CPU socket, and the CPU package has contact pads instead of pins. They are smaller in size as compared to the pins in the PGA socket.
Also Read: Best RAM For Ryzen 9 7900X
A CPU that contains an LGA technology is more durable as the chances of pins breaking decrease because the pins are on the motherboard, and there are no pins on the processor that you can damage. It is more probable to get a PGA socket damaged because it contains physical pins on the processor. While we speak about motherboards, make sure to read our Motherboard For Ryzen 9 7900x article – because what good is a great CPU Cooler without a compatible motherboard?
Socket AM5 is a zero insertion force flip-chip land grid array (LGA), LGA1718, socket and supports more pins. AM5 contains 1718 contacts on the underside, compared to AM4's 1331 pins. Unlike Intel's LGA 1700 socket, the AM5 socket will not support DDR4 RAM and will only support the DDR5 interface in the dual channel configuration.
Interested in checking out DDR5 RAMs? Check out our guide on the 10 BEST DDR5 RAM In 2023.
As the AM4 had the support of PCIe 3.0 and 4.0, AMD has made an upgrade allowing AM5 to have a support of PCIe 5.0, delivering 24 lanes from the processor socket and have a smooth experience because of the fastest bandwidth for all the components and is 3x times faster as compared to AM4 socket. PCIe stands for Peripheral Component Interconnect Express and allows the buses to communicate with each other on the motherboard. If you are building a new system, you should upgrade to PCIe 5.0 because, in the future, graphics cards and storage devices may take advantage of the excessive bandwidth. It is also worth upgrading for gaming as there might be an improvement in the performance.
The AMD's AM5 socket has a TDP of 170W and a Package Power Tracking (PPT) limit of up to 230W. It is a huge upgrade in the power draw of about 65W as the AM4 had a TDP of 105W.
The size of both AM4 and AM5 is roughly the same, and because of the size, AM5 will also support AM4 coolers, implying that users don't have to buy a new cooler or adapter brackets specifically for AM5. If you want to upgrade to AM5, you need to swap the motherboard and shift to the AM5 compatible CPU, as, most probably, your cooler will also work perfectly fine. Some of the coolers of Noctua, like NH-L9a-AM4 and the NM-AM4-L9aL9, do not support AM5 because they require replacing the backplate of AMD with a custom one which might not be possible for now; a dedicated AM5 upgrade kit is under process.
A huge upgrade for users, especially gamers, is that the AM5 socket will come up with various I/O sources that will include 14x superspeed USB connections and support a Type-C connection.
CPU Coolers Compatible With Ryzen 9 7900x
AM5 is the new socket ready to be released by AMD for its new lineup of processors and uses LGA1718 technology; it roughly has the same size as the AM4 socket. Almost all the coolers compatible with the AM4 socket will work flawlessly with the AM5 socket. You might be wondering which coolers support the AMD AM5 socket; sit back as we're about to give you detailed information regarding the coolers.
Many huge companies and vendors confirmed that their coolers would be compatible with the upcoming AMD AM5 socket. However, for some of their models, they had to announce the upgrade kits to introduce compatibility to old AM4 CPU Coolers. Let's look at some vendors with some of the Best CPU Cooler for Ryzen 9 7900X and update regarding their coolers.
Cooler Master
Cooler Master, a brand known for its thermal cooling solutions, recently announced that most of its coolers would be compatible with the AM5 socket. They will launch the AM5 upgrade kits and brackets for incompatible coolers, which will most probably be released after the launch of the AM5 socket. You can visit their website for more detailed information regarding AM5 compatibility and Ryzen 9 7900X coolers.
ARCTIC
ARCTIC, a leading creator of quiet PC coolers and components, has recently announced their whole range of AM4 compatible coolers will also be compatible with the AM5 socket due to similarities in mechanical dimensions. However, they have not announced to release any upgrade kits for their coolers till now. You can find more detailed information by visiting the ARCTIC website.
Noctua
Noctua, a company leading the market for making noise-proof PC components, has recently ensured its users that the lineup of their CPU coolers will now be compatible with AM5, but, unfortunately, two of them won't; Those two coolers are NH-L9a-AM4 and the NM-AM4-L9aL9i. Noctua has announced some new kits for these two coolers for AM5 compatibility. Check the link to the Noctua website for AMD Ryzen 9 7900X cooler and compatibility info.
EKWB
EKWB recently announced their coolers' compatibility with the AM5 socket and released a cooler specifically designed for the AM5 and the Ryzen 7000 series. An upgrade kit will be launched soon for their quantum velocity coolers, specifically made for the AM5 sockets. You can visit EKWB's website for detailed information regarding CPU coolers and their upgrading kits.
Do You Need a New CPU Cooler for AMD Ryzen 9 7900X?
A processor is one of the most crucial components inside your computer as it acts as the brain, and to attain performance from it, you must ensure that it does not get too hot. Having the right and Best CPU Cooler for Ryzen 9 7900X will ensure your processor does not get heated up.
As AMD launched its 7000 series, many questions have to be answered. AMD says that the majority of coolers will support the AM5. There are a few exceptions, as most coolers come with a backplate, but that might not be the problem for most of the air and liquid coolers available today. If the cooler is incompatible, just like some of the coolers of Noctua, an upgrading kit might be available soon in the market. As there is not much difference between the sizes of the processors, the switch might be very easy.
So, in conclusion, AMD has upgraded from AM4 to AM5 but isn't forcing its users to buy a new cooler specifically for AM5 as most previous coolers are compatible; for those that aren't, the CPU Cooler manufacturers will be giving out upgrade kits for it soon.
How We Choose These CPU Coolers
Most electrical components need adequate cooling to perform optimally; the same applies to the CPU. A CPU cooler is a basic requirement to lower the processor's temperatures, whether you are using an Intel CPU or an AMD one. Choosing the best CPU cooler according to the processor may help the processor not to heat up and give you the most performance possible. CPU coolers come in different varieties, but most are Air, Closed-loop, All-In-One (AIO) coolers, or Open-loop cooling setups. Buying a CPU cooler is based on different factors, some of which are stated below. We used this listicle to choose CPU Cooler for Ryzen 9 7900X for you.
Performance
Like any other component, the CPU generates heat when used. You should choose a cooler that helps the processor cool down while under full load or when you are overclocking it to get high-end performance. As far as overall performance is concerned, liquid cooling is considered more efficient and quieter than air cooling systems. If you want to achieve the utmost out of your processor, you might need a CPU cooler that provides remarkable performance and removes your worries regarding thermal throttling. Temperature regulation is a must to achieve high-end performance, and cooling does its best and evenly dissipates the heat, allowing the processor to give a top-notch performance. We chose the CPU coolers with better temps than the Ryzen 9 7900X stock cooler temps. After vigorously testing their performance in different games and productivity tools and examining the performance gain for each CPU cooler, we recommended the coolers with the best performances.
TDP Rating
A cooler's TDP rating is perhaps the main figure in deciding if a particular cooler is ideal for your system. Thermal Design Power is the most extreme measure of heat produced by a component for which the cooling system is designed to take care. If you buy a CPU cooler with a low TDP rating compared to your processor, it will not be sufficient for your processor, and the cooler might not cool it down to a working stage, resulting in hardware damage. It is a good idea to ensure that the cooler's TDP rating is higher than the TDP of the processor. It will help in overclocking and might result in the PC giving a good performance. When choosing the CPU Coolers for Ryzen 9 7900X, TDP was a major factor as we compared the different quality fans, tested them, and kept those in mind that were suitable for our Ryzen 9 7900X, keeping in mind its on-paper specs.
Budget
Firstly, if you have to buy a cooler for your processor, you might set a benchmark as to how much budget you will be spending to buy one. However, we wouldn't recommend getting a cheap cooler that may end up not working properly. Considering our reader's priorities, we considered multiple coolers that were bang for the buck; the coolers provided solid performance at a budget, so you do not have to overspend and waste the money you could have used to upgrade any other PC component. When choosing the cooler, you must be specific about what is best for the processor in your budget, as, in some cases, limiting your budget might result in your loss. We had to go through multiple CPU coolers in the market that were compatible with Ryzen 9 7900X and AM5 socket. They comprised different qualities and prices, but we chose the best coolers according to the price range and the best we could offer in the price bracket.
Aesthetics
Aesthetics are a major factor in choosing a CPU cooler, but some people don't bother. They go with smooth and low-profile CPU coolers, while some prefer looks over anything. However, we recommend you spend better on the performance of the CPU cooler rather than paying for aesthetics, as they are subjective and should be considered at last. For the Best Ryzen 9 7900X CPU Coolers, we went with coolers that provided exceptional performance and looked gorgeous, so you don't have to compromise cooling performance.
Noise Level
As far as CPU cooler's noise levels are concerned, many people, especially gamers, prefer quiet coolers as they create less disturbance and noise pollution. Usually, coolers with large fans make less noise than those with small fans. For instance, Coolers with 140mm fans will be quieter than coolers with 120mm fans. When we focused on the noise level, a big problem for most people, we had various choices available in the market and went with those that were the quietest after testing them under load on test rigs.
Why Trust Tech4Gamers?
After a decade of experience in the tech industry, Tech4Gamers has grown into a powerful team that gathers information from the tech industry and gives the best to the readers through their authentic research and writing abilities. Our professional team reviews and analyzes the products, and then the information is presented to you. Tech4Gamers isn't only focused on their reviews but contains a news section where you can stay notified about the trends in the market.
Was our article helpful? 👨‍💻
Thank you! Please share your positive feedback. 🔋
How could we improve this post? Please Help us. 😔