AMD has recently revealed its next-gen Ryzen 7 7700X processor expected to launch in the market by 27th September 2022. The 'Raphael' chip, based on the Zen 4 microarchitecture is based on TSMC 6nm FinFET technology. Ryzen 7 7700X is an 8-core processor with 16 threads, providing a Base Clock of 4.5 GHz, a Boost Clock of 5.4 GHz, and a combined cache of 40MB and requires 105W TDP for optimum processing performance.
Here is a summary of our picks:
Cooler
be quiet! Dark Rock Pro 4
ARCTIC Liquid Freezer II 360 A-RGB
ARCTIC Liquid Freezer II 240 A-RGB
DeepCool AS500 Plus White
Cooler Master Hyper 212 Black Edition
How It Looks
Dimensions
162.8 mm x 136 mm x 123.7 mm
398 x 120 x 38 mm (Radiator)
277 x 120 x 38 mm (Radiator)
Cooler
be quiet! Dark Rock Pro 4
How It Looks
Dimensions
162.8 mm x 136 mm x 123.7 mm
Cooler
ARCTIC Liquid Freezer II 360 A-RGB
How It Looks
Dimensions
398 x 120 x 38 mm (Radiator)
Cooler
ARCTIC Liquid Freezer II 240 A-RGB
How It Looks
Dimensions
277 x 120 x 38 mm (Radiator)
Cooler
DeepCool AS500 Plus White
How It Looks
Cooler
Cooler Master Hyper 212 Black Edition
How It Looks
Last update on 2023-02-07
It comes integrated with AMD Radeon Graphics and easily achieves the highest benchmark scores. The most promising feature is that it comes with the support of the highly anticipated AMD AM5 socket, which is yet to be released and is the center of attention of the gaming community as well. Considering the solid specs, the Ryzen 7 7700X has, we had to come up with a bunch of the Best CPU Cooler For Ryzen 7 7700X that could facilitate you in any case.
As we all know, with the constant tussle between AMD and Intel to manufacture better and more popular products, AMD always aims to gain more popularity among consumers. Although both brands are the pioneers and are considered top tier in the field, people choose between them based on their priorities. We will look into some coolers most suitable for AMD Ryzen 7 7700X other than the 7700X stock cooler.
AMD AM5 Socket Specifications
AMD has been leading the tech industry and surprising its users with its quality and innovation since 1969. After five long years of wait, AMD is finally ready to launch its new socket named AM5, which has huge differences from AM4, except for its size. AMD's PGA socket is history because, with the new AM5, AMD has gone with the LGA socket. For the upcoming AM5 platform, AMD has promised that their socket will pursue until 2025 or more.
AM4 had the support of DDR4 Memory Interface, but with some huge transitions in AM5, AMD has also made it compulsory to buy a separate DDR5 RAM for the users who want to switch to AM5, as AM5 only supports DDR5. The main reason to switch from PGA to LGA is that pins are the crucial requirement to support the DDR5 RAM and PCIe 5.0, and LGA has loads of pins; that is why AM4 didn't have the support for DDR5.
AMD launched its Ryzen series in 2017, starting with Zen, Zen2, and Zen3. With an upgrade, AMD's new AM5 socket will base on the Zen4 architecture, which will be on a 5nm processor. Alongside that, AMD is introducing Zen 4's I/O die integrated RDNA 2 graphics for the first time. It also supports four display outputs, including the DisplayPort 2 and HDMI 2.1 ports. Zen 4 architecture will only support DDR5 RAM, meaning users will have to buy new RAM modules if switching from AM4 to AM5 sockets.
Interested in checking out some DDR5 RAMs? The 10 BEST DDR5 RAM In 2023 is the guide for you.
AM5 will now move to PCIe 5.0 support, carrying 24 lanes from the processor socket and having faster bandwidth than AM4. The upcoming processors compatible with the AM5 socket will have a maximum TDP of 170W, which is a huge boost in power as the AMD's processors that were compatible with the AM4 socket had a TDP of 105W. It will have a PPT limit of up to 230W, which is quite impressive.
Taking into notice, the size of both AM4 and AM5 is comparatively the same; AMD has not pushed its users to buy a new cooler for the AM5 socket as it did for the RAM. The same size will help AMD users to use their AM4 coolers without buying an upgrade kit or additional brackets, "in most cases"; users who want to jump from AM4 to AM5 won't have to spend on a CPU cooler as major coolers contain support for AM5.
Best CPU Cooler For Ryzen 7 7700X in 2023
Here are some coolers that you should consider picking for Ryzen 7 7700X. We have carefully selected some coolers based on our testing and sorted them according to most consumers' criteria.
be quiet! Dark Rock Pro 4

ARCTIC Liquid Freezer II 360 A-RGB

ARCTIC Liquid Freezer II 240 A-RGB

DeepCool AS500 Plus White

Cool Master Hyper 212 Black Edition
be quiet! Dark Rock Pro 4
Best Overall CPU Cooler For Ryzen 7 7700X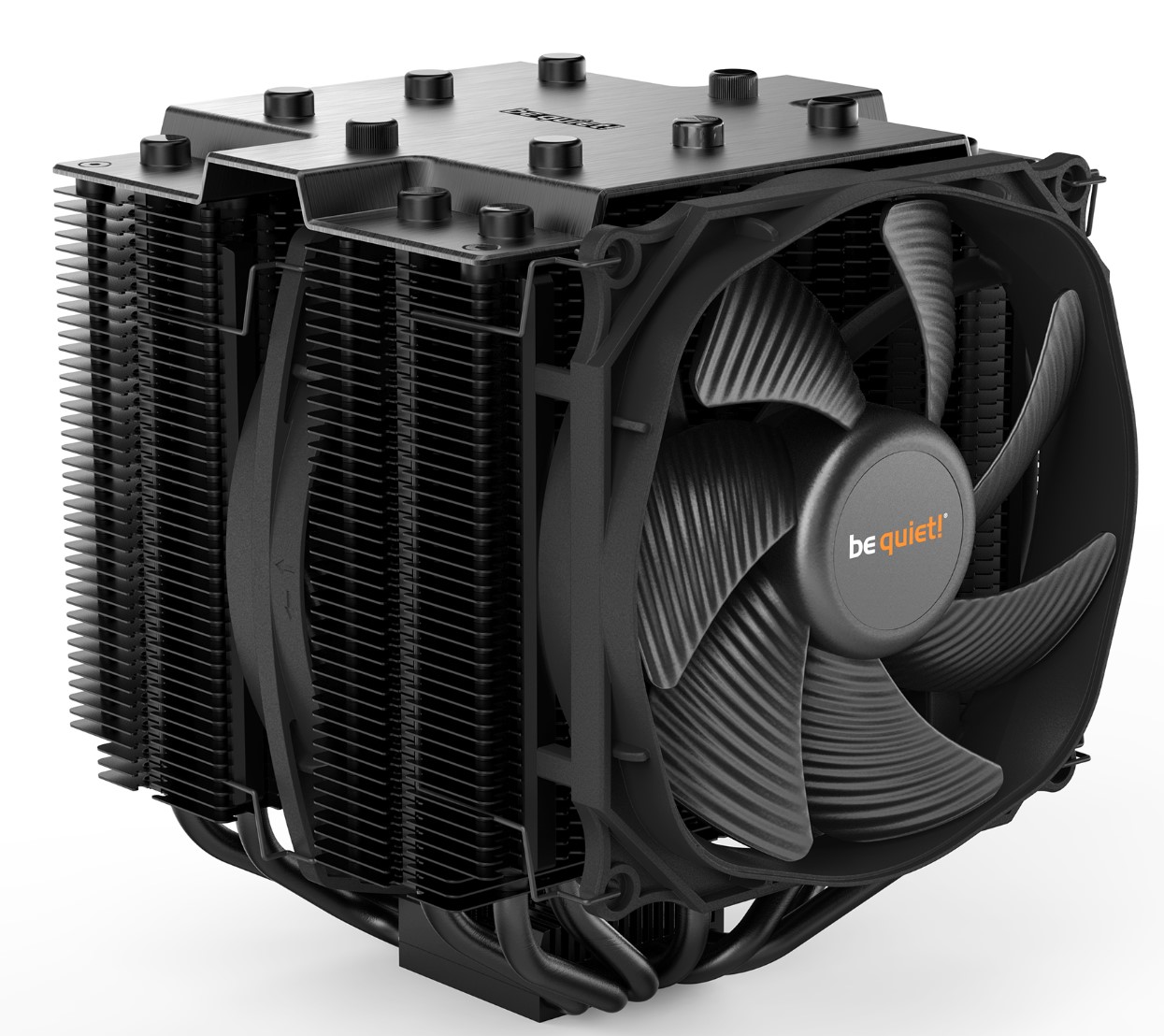 Specifications = Fans: 120 x 120 x 25 mm , 135 x 135 x 22 mm | Fan Speed: 1200 RPM , 1500 RPM | TDP: 250 W | Noise: 30 dB(A) | Dimensions: 162.8 mm x 136 mm x 123.7 mm | Socket Compatibility: Intel Sockets: LGA1150, LGA1151, LGA1155, LGA1156, LGA1366, LGA2011, LGA2066, AMD Sockets: AM5, AM4, AM3+, AM3, AM2+, AM2, FM2+, FM2, FM1 | RGB Fans: No
Pros
Premium Build Quality

Excellent Thermal Performance

Compatible With Majority Sockets

Low Noise
Cons
Bulky

No Threadripper Support
be quiet! is considered the leading German company in the PSU market and has been heading the leaderboards since 2006. They provide various hardware products and have been a fan favorite for overall PC hardware, cooling equipment, and power supplies. As it is quite obvious from the name, be quiet! has a policy of "no compromise on silence and performance" and has been manufacturing products based on this mantra. Dark Rock Pro 4 is a beast in terms of performance and as stealthy as a ninja when it comes to noise production, we nominate be quiet Dark Rock Pro 4 as the Best Overall CPU Cooler For Ryzen 7 7700X.
The Dark Rock Pro 4 holds the company's 2x Silent Wings 3 fans, one 135 mm fan, and a 120 mm one. Featuring a six-pole motor, advanced fluid, and optimized blade design, the Silent Wings 3 guarantees top-notch performance coupled with minimal noise production. Both fans can provide reasonable RPM rates, which the user can adjust via PWM control. The 135 mm fan can reach an astonishing 1500 RPM, while the smaller 120 mm fan can go up to 1200 RPM. The only downside is the absence of RGB lighting, considered a necessity in modern-day coolers; however, the cooler's design and all-black theme compensate for it. Judging by the rogue and sturdy overall look of the cooler, RGB lighting would not suit the cooler in the first place. The Dark Rock looks exceptionally attractive and hardcore without any RGB as well.
Dark Rock Pro 4 does not pose any compatibility issues, and you can install it to nearly every modern socket. It is compatible with Intel sockets including LGA1150, LGA1151, LGA1155, LGA1156, LGA1366, LGA2011, LGA2066, and AMD sockets including AM5, AM4, AM3+, AM3, AM2+, AM2, FM2+, FM2, FM. The installation is also very easy as the whole cooler is in a twin-tower box shape and does not require separate assemblies. As the fans have to be installed after the assembly of the main block, be quiet! provides all accessories, including screwdrivers and bolts, for proper and easy installation. A very irritating problem for some people is that after installation, the cooler obstructs 3 out of the 4 DIMM slots, meaning that one needs to disassemble the cooler first to swap or expand the RAM.
We already know that AMD processors are infamous for producing a ton of heat; the coolers installed on Ryzen 7 7700X must provide efficient thermal cooling for the processor to provide optimal performance. be quiet! Dark Rock Pro 4 has a recommended TDP of 250W, which will be more than enough to keep the processor cool and calm. Even after overclocking to keep the CPU performance at bay, most of the be quiet! products are famous for producing almost no noise, unparalleled by rival manufacturers.
The cooler has seven copper heat pipes that are attached to the base. The fins protrude from the top and are covered in aluminum caps to provide an industrial look to the cooler. The bulky cooler comprises a twin tower setup made from aluminum with fins to disperse heat quickly. The funnel-shaped frame efficiently pushes air into the fins, contributing to better thermal performance. The pipes go through the fins to meet the base, the top of which is raised to be the heat sink.
What we liked:
The Dark Rock Pro 4 looks reliable, strong, and premium and has an industrial design that may be very popular among gamers. Although the design feature may still cause conflict as people prefer fancy RGB lighting over everything, it is difficult to deny that the cooler looks very reliable and is compatible with most color combinations due to the dark theme.
In addition, the Dark Rock Pro 4 produces minimal sound even when overclocked. The excellent thermal performance added to almost no noise production makes us forget all other minor drawbacks. When it comes to pure performance and reliability, be quiet! Dark Rock Pro 4 always delivers and portrays itself as the Best.
What we disliked:
Although most people would agree that the design and overall looks of the cooler do not require fancy lighting, it would have been better to provide an optional RGB variant to the consumers who prefer bright-colored coolers.
Another drawback may be the Threadripper incompatibility. Dark Rock Pro 4 does not have the Thread Ripper support, but to facilitate the users, be quiet! released the Dark Rock Pro TR4 as it comprises the support for Threadripper CPUs.
In addition, the big twin tower setup lies just above the DIMM slots, which proves to be a problem when the user wants to update RAM. The only way is to disassemble the whole cooler to reach the slots, which is the only real drawback of the Dark Rock Pro 4 that we consider.
Summary
be quiet! always strives to make quality products with the best performance and silent processing, hence the company name. If you want optimal performance from the Ryzen 7 7700X without overheating, be quiet! Dark Rock Pro 4 is the best option out there. Being an air cooler, the Dark Rock Pro 4 provides performance that is par with most AIO coolers, which is quite an achievement. Easy installation and extra accessories in the packaging add up a few bonus points. All this leads to around $90, which gives a very high value-to-money ratio, making it the Best Overall CPU Cooler For Ryzen 7 7700X.
ARCTIC Liquid Freezer II 360 A-RGB
Best 360mm AIO Cooler For Ryzen 7 7700X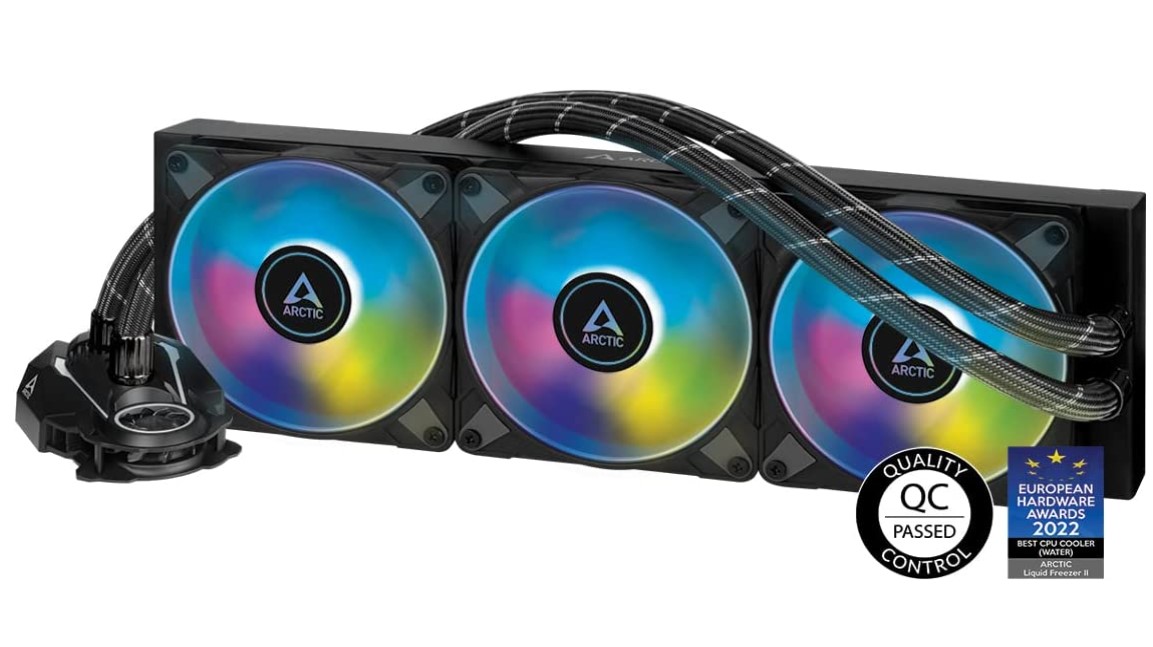 Specifications = Fans: 3x 120mm | Fan Speed: 200 – 1800 RPM | TDP: 250W | Noise: 10.64 dB(A) | Dimensions: 398 x 120 x 38 mm (Radiator) | Socket Compatibility: Intel Sockets: LGA 1700, 1200, 115X, 2011-3, 2066 Square ILM, AMD Sockets: AM4, AM5 | RGB Fans: Yes
Pros
New Improved Block

Silent Under High Load

PWM Controller To Control Fan Speeds & A-RGB Lights.

High-Quality Radiator
Cons
Incompatibility with the Threadripper.

Limited installation Options Due To Block Design
ARCTIC has been out in the market for quite some time and is famous for its customer satisfaction. One of the most selling ARCTIC devices is their Liquid Freezer II 360mm A-RGB cooler. This cooler has many new and better features than the normal generic cooler you might find in the market. Let us discuss in detail each one of these features.
The ARCTIC Liquid Freezer II 360 comes with a new and completely original water pump design. Most manufacturers copy the pump design from other manufacturers and add a few additional features to sell their items, but ARCTIC is different. The team at ARCTIC industries came up with a new design that guarantees maximum efficiency and utmost reliability regarding the pump's build quality; it can work smoothly even under heavy pressures.
The fans are a core component of the cooler; it consists of three 120mm fans whose speed is controllable through the PWM controller provided with the cooler. You can change the fan's speed from around 200 RPM – 1800 RPM, which is a great speed for a normal cooler.
On the other hand, you also get a small pump fan used to keep the heat out. Smaller fans possess a threat as they can not handle the air pressure, but if a smaller fan has an RPM great enough to handle the air pressure, small fans are no different than normal-sized fans. This specific pump fan can reach a speed of 3000 RPM which is not a common thing. You also get the feature of controlling its speed through the PRM controller.
The reason for a small fan is that the pump has quite a large coolant space. You can pour much water into the pump, reducing your refill time. The refill time is reduced because the top-of-the-class EPDM piping reduces the evaporation time of the water by a lot. It is best suited for gamers as they can do non-stop gaming without worrying about the water level in the pump.
This pump is famous for its efficiency, but people question its smaller cold plate. This pump fits most top-of-the-line processors like the Ryzen 7 7700X processor, which supports the AMD's AM5 socket, and the processors are compatible with AM4 sockets. Not only this, but it also fits perfectly on Intel's 1700, 1200, 115X, 2011-3, and 2066 Square ILM sockets which are great overall. One specific bunch of the community is not happy with this small cold plate, and they are the Threadripper users, as the cooler does not fit on this processor.
This is the perfect component if you want a cooler with minimal wires and the best performance possible. You only need two slots on your motherboard to connect the cooler with your PC; one is a 4-pin PWM connector slot, whereas the other is a 3-pin slot to connect the A-RGB lighting with the computer; the ARCTIC is not only performance efficient but also space efficient.
One of the main things this cooler is famous for is its A-RGB lighting mechanism. you do not see much in the market. The normal RGB can only show the preset RGB profiles created by the manufacturers. The A-RGB is a more flexible lighting mechanism that allows you to control every single RGB bulb on the component so you can make your profiles. The A-RGB shows its true beauty in a glass case, so if you have one, you can enjoy the A-RGB to its fullest.
The ARCTIC Liquid Freezer II is not only efficient, but it is durable and reliable as well. You can easily fit this cooler in an ATX case, as there is quite a lot of breathing space in such cases. Liquid Freezer II 360 A-RGB cooler is a perfect choice if you are a gamer or an overclocking enthusiast, as this cooler can easily handle any temperature level, even the heat strain produced by overclocking. Liquid Freezer II 360 is also an ideal choice if you aim to use it on a Ryzen 7 7700X processor, as it can easily keep cool even when overclocking.
ARCTIC is a brand of its word, and with such high-end technology implemented in the cooler, it also provides its users with a 6-year warranty; anytime you face a problem in your cooler, just replace it with a new one and keep enjoying your device. If you are aiming for one of the Best CPU Cooler For a Ryzen 7 7700X on the market, then ARCTIC Liquid Freezer II 360mm A-RGB is the way to go.
What we liked:
The cooler is an exquisite device with a premium feel and manufacturing quality, making it the first choice for many heavy PC builders. Most people in the market are fed up with the fan noise that most coolers come with; in such cases, the ARCTIC Liquid Freezer II performs efficiently and silently even under high load due to the fans' RMP flexibility. The user has a full grip over the fans' RPM, which you can control through the PWM controller, but the main reason for its fame is its A-RGB lighting that allows the user to take complete control over each light in the RGB system. It is also famous for its unique pump architecture; most companies use the already available architecture. These are some of the main features of the ARCTIC Liquid Freezer II 360 A-RGB AIO cooler leading to high sales of this device in the market. You also get a six-year warranty with this good CPU cooler for Ryzen 7 7700X on purchasing the device, which is why the gaming community highly regards it.
What we disliked:
Even though ARCTIC has done a splendid job in creating this Liquid cooler, there are still a few things in this liquid cooler that are either issues that users have faced or debatable points. One of them is the thick radiator of this cooler; the thicker the radiator, the less airflow through the fins. To counter this issue, you need a fan that can handle the air pressure rather than chickening out at the last second. Even though you get more space for the coolant to go in, you can categorize this as a physical drawback. You can counter this issue by purchasing a big case, like an ATX case, that can fit your cooler with all other components and still have breathing room.
One thing that most people debate about is the shape of the cooler. Some users consider it ugly, while others counter it by saying that the A-RGB covers that aspect of the cooler. Users also say that the EPDM tubes of the cooler look much messier compared to the nylon tubing that most competitors have. After all, it is a conflict of views and personal preference.
One issue that some community members raised is that even though the current supplying copper cold plate is small and supports almost most of the top sockets of both Intel and AMD, it lacks compatibility with the Threadripper. Maybe in the future, ARCTIC will launch some updates to the device that will make it able to support Threadripper as well.
Summary
ARCTIC Liquid Freezer II 360 A-RGB takes the title of the Best 360mm AIO Cooler For Ryzen 7 7700X mainly because of its clean looks through the A-RGB and the aesthetic cable management of the device. We can say that the ARCTIC Liquid Freezer II no doubt provides the perfect balance between performance and drawbacks. If we look into the price range of this cooler, we can not find any other that can outclass this masterpiece.
ARCTIC Liquid Freezer II 240 A-RGB
Best 240mm AIO Cooler for Ryzen 7 7700X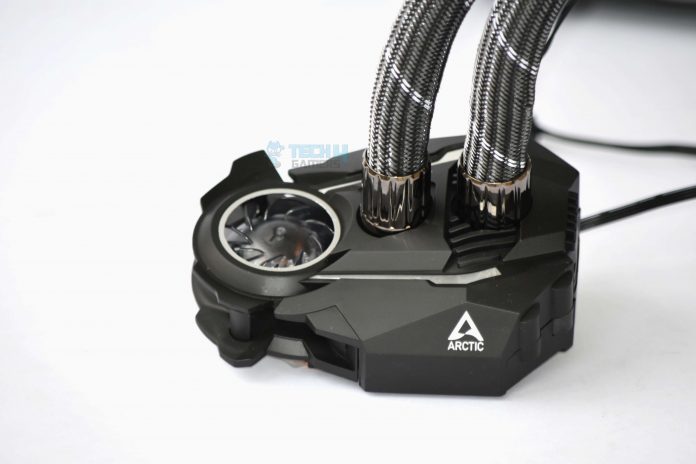 Specifications = Fans: 120mm | Fan Speed: 1800 RPM | TDP: 250 W | Noise: 10.64 dB(A) | Dimensions: 277 x 120 x 38 mm (Radiator) | Socket Compatibility: Intel Sockets: LGA 1700, 1200, 115X, 2011-3, 2066, Square ILM, AMD Sockets: AM4, AM5 | RGB Fans: Yes
Pros
Premium build quality

Excellent thermal performance

Low sound production
Cons
No RGB pump

Thicker Radiator
ARCTIC is a well-known brand among the gaming community as it is considered a manufacturer of top-tier PC hardware, especially CPU coolers. Many hardware companies aim to manufacture products with specs and features not found among rival products, coupled with excellent performance. ARCTIC is one name among many manufacturers and lists it as one of the best CPU cooler manufacturers to date.
We will look into the ARCTIC Liquid Freezer II 240 A-RGB, which we consider among the Best CPU Coolers For AMD Ryzen 7 7700X. ARCTIC brought a 240mm AIO cooler with a futuristic, unique pump design and A-RGB colors. The cooler holds ARCTIC P12 PWM PST A-RGB fans, which include a 4-pin PWM connector and a 3-pin RGB connector. You can control these fans via PWM, and they provide the users with a diverse range of 800-2000 RPM, which you can set according to your need. The ARCTIC P12 fans are A-RGB integrated, which is a must-have for coolers these days. ARGB lights can be controlled individually, unlike simple RGB lights, which are only controllable as groups.
Socket compatibility will not be a problem as ARCTIC Liquid Freezer II 240 A-RGB can be connected to most modern sockets. It is compatible with AMD's newest AM5 socket for the Ryzen 7 7700X and supports AMD's older AM4 socket. The Liquid Freezer II 240 is also compatible with Intel's LGA 1700, 1200, 115X, 2011-3, 2066, and Square ILM sockets.
The unique pump design makes the ARCTIC Liquid Freezer II stand out; ARCTIC opted to design its pump structure rather than sticking to the generic and boring pump designs seen in almost every other AIO cooler. The pump displays a unique and futuristic design which is very popular among consumers. The pump contains a tiny fan capable of reaching a staggering 3000 RPM for better thermal performance. The 40mm fan integrated into the pump can withstand high pressures and is also PWM-controlled. The only feature of the AIO cooler missing is the RGB lights in the pump. Most of the AIO coolers in this budget contain their own PWM-controlled RGB lighting, but the ARCTIC Liquid Freezer II 240 A-RGB misses this feature.
ARCTIC Liquid Freezer II 240 has a recommended TDP of 250W, which will be enough for cooling down the AMD Ryzen 7 7700X processor. With an integrated PWM-controlled fan and excellent heat dissipation ability, the unique pump will consider cooling down the CPU as a walk in the park. Even after such heavy performance, the cooler will not produce a lot of noise, which is also why we consider the ARCTIC Liquid Freezer II 240 A-RGB to be the Best 240mm AIO Cooler For AMD Ryzen 7 7700X.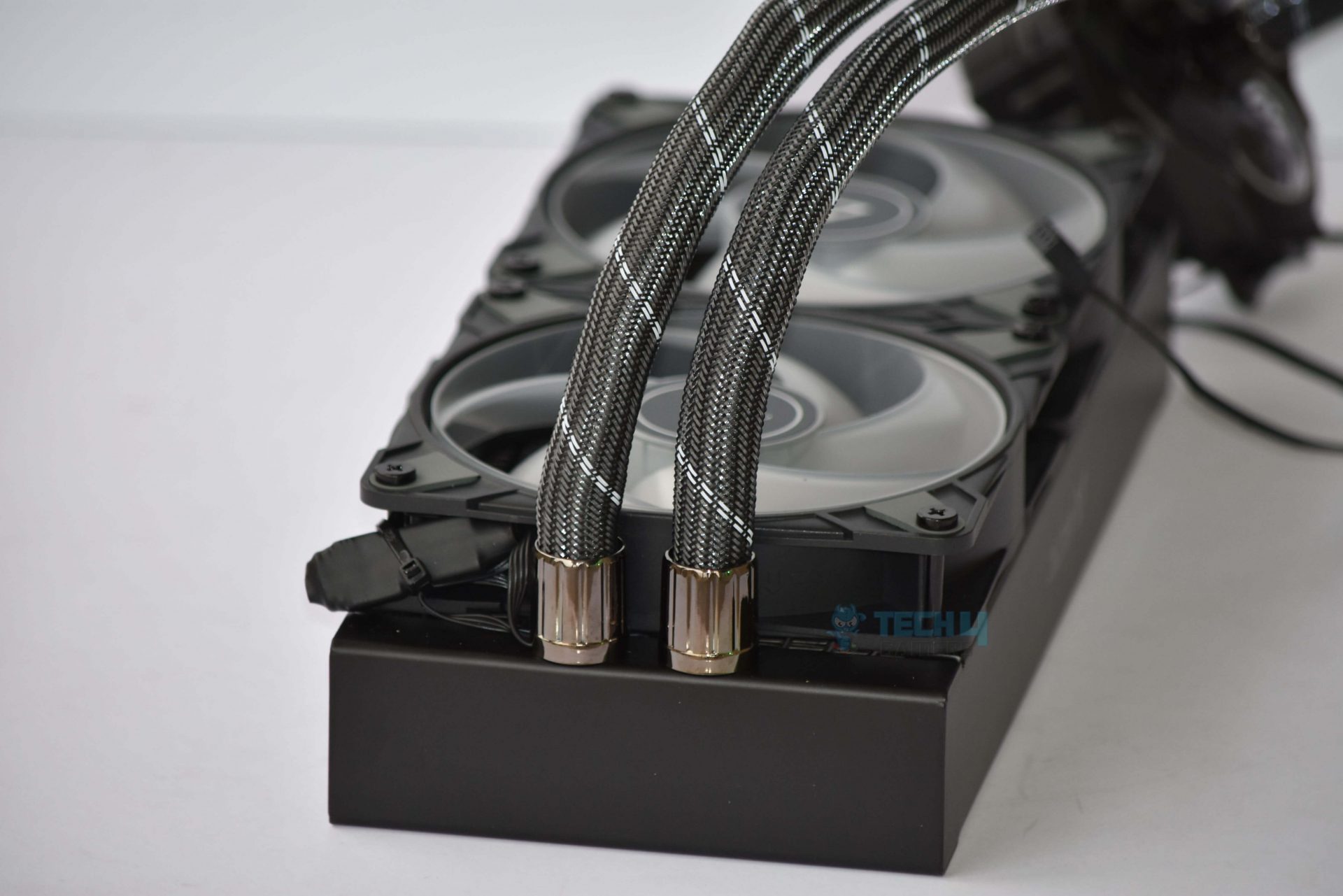 Unlike other AIO coolers, the Liquid Freezer II incorporates a bulky radiator, which is something not appreciated by the users. Although it only produces minor assembly problems, the thick radiator provides better heat dissipation than other coolers. Since the Liquid Freezer II's fiber-reinforced 45 cm EPDM tubing effectively avoids coolant evaporation, you won't have to worry about replenishing your water cooling system.
Like most people say, small things matter the most,, ARCTIC paid proper attention to cable management and worked hard to make the assembly of the AIO cooler easier for its users. Concealing the PWM and RGB cables in the sleeves, they only displayed two plugs in the motherboard and hid everything else from plain sight; this makes the unit look much tidier and cleaner and makes the assembly much easier. All these features make us believe that the ARCTIC Liquid Freezer II 240 A-RGB is indeed the Best 240mm AIO Cooler For Ryzen 7 7700X in the market.
What we liked:
For several reasons, ARCTIC Liquid Freezer II 240 A-RGB is considered among the Best 240mm AIO Coolers. Having phenomenal build quality coupled with a wide range of fan RPM flexibility which helps it reduce noise and perform quietly yet efficiently, means it is one of the best AIO coolers in the market. The unique and futuristic pump design makes the cooler stand out from its competitors, which has never been seen before in any other cooler on this budget. Moreover, A-RGB integrated fan lights mean that you can control the LEDs separately rather than as a group, as most other RGB-specified coolers do.
What we disliked:
ARCTIC Liquid Freezer II comprises a much thicker radiator than other AIO coolers. Although a thicker radiator means a larger coolant flow, it also means less air flowing through the fins. As a solution, high-pressure fans come in handy, which cause a lot more noise. Thick radiator dimensions can also be considered a physical drawback, but the availability of modern and efficient ATX cases makes it much less of a problem.
Most AIO coolers provide RGB in fans and pumps at this price range. However, the Liquid freezer has A-RGB specification in the fans, but the pump is missing this feature. The overall appearance of the pump may also strike debate. Most prefer ARCTIC's artistic design; some may also criticize it.
The copper cold plate used for the current supply can be considered small; however, it supports most of Intel and AMD's current coverage. The only layback it presents is that it is not Thread Ripper compatible.
Summary
If a cooler is worthy of being called the Best 240mm AIO Cooler for Ryzen 7 7700X, ARCTIC Liquid Freezer II 240 A-RGB wins the race by quite a margin. The clean and aesthetic cable management system's excellent thermal performance and unique pump design make it the favorite for the title. Looking closely, it is fairly visible that although you may find a few imperfections, ARCTIC Liquid Freezer II 240 A-RGB is a strong and efficient cooler and takes the win. Our full in-depth review of ARCTIC Liquid Freezer II Freezer 240 can be read here.
DeepCool AS500 Plus White
Best White CPU Cooler For Ryzen 7 7700X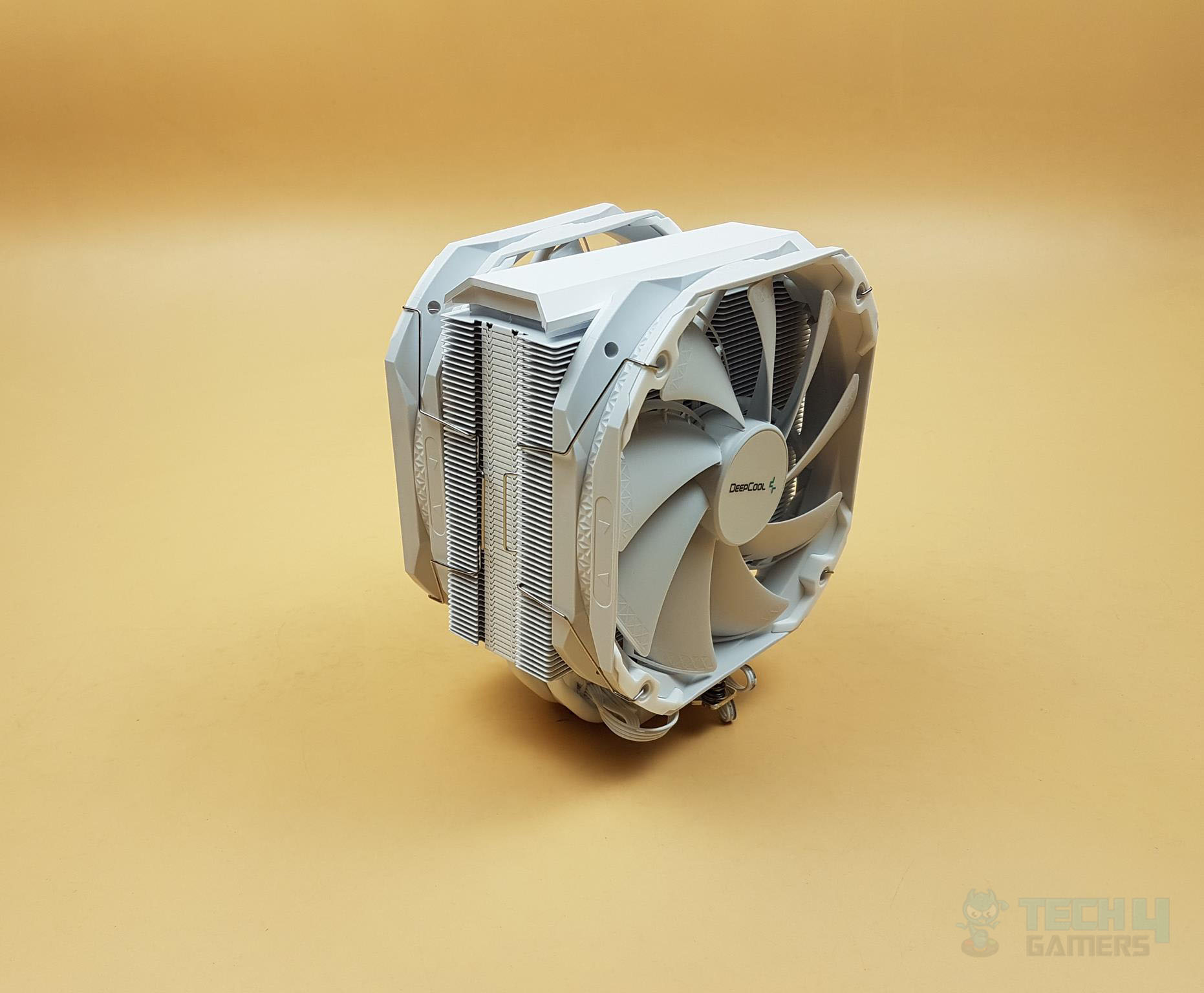 Specifications = Fans: 2x 120mm | Fan Speed: 500 – 1200 RPM | TDP: 1.32 W| Noise: 29.2 dB(A) | Dimensions: 142 x 102 x 164 mm | Socket Compatibility: Intel Sockets: LGA 2066, 2011-v3, 2011, 1700, 1200, 1151, 1150, 1155, AMD Sockets: AM4, AM5 | RGB Fans: Yes
Pros
Great build quality

Amazing performance

It can appropriately fit in an ATX case.

Aesthetically pleasing white color with RGB lights.
Cons
Fitting issues in some cases.

A little bit noisy.
DeepCool is one of the most renowned companies in the world, and they have released another sizzling item to the market, the White-colored DeepCool AS500 Plus White, which will excite all white theme lovers. DeepCool claims it is one of their top items with unrivaled compatibility and optimized for the best efficiency possible. Let us discuss in detail the specifications of this air cooler.
On opening this cooler, you will see that we have two 120mm fans on both sides. These fans are designed such that the heat can easily flow through them; they can run at speeds from 500 – 1200 RPM, which is a good thing as more air pressure can be handled easily. The fans are also quite sizable, which helps them remove additional air with minimal effort; they are carved with a specific layered pattern that improves the flow of air through the fans and helps remove the strain from the air pressure on them.
Below the fans, we have the heatsink; this part of the device is the main thing that works to keep the device cool. There are five heatsink pipes attached to the bottom of the fins that are placed around the fins so that they do not stop the flow of air. These fins are quite good as they allow smooth and efficient airflow from one end of the cooler. These heatsinks pass through a nickel-coated copper base attached to the processor with the thermal paste in between, helping the heat to efficiently enter the heat pipes so the processor can be cooled down faster.
The DeepCool AS500 Plus produces 29.2 dB(A) of noise at full usage, which is much better than most of the coolers out there; there is no doubt that in this price range, this is a suitable White CPU Cooler For a Ryzen 7 7700X you can find.
This device comes with all the necessary components for installation. Multiple connectors, nuts, and bolts fit the Intel and AMD standoffs. These accessories are all high-quality, useful items that can be used later in case you plan to change your processor.
DeepCool not only focuses on efficiency, but it also works on making the device aesthetically pleasing. The DeepCool AS500 Plus comes with RGB lighting around the corners that illuminates all around the fan in a beautiful synchronization. You also get a remote to either increase or decrease the intensity of the lighting. A middle button helps you change the lighting design from the presets you can find in the user manual. The RGB aspect of the cooler with the White color looks phenomenal in white tower cases with glass on the sides, as you can see the RGB.
As far as the performance and aesthetics are concerned, this cooler is the best in its class
What we liked: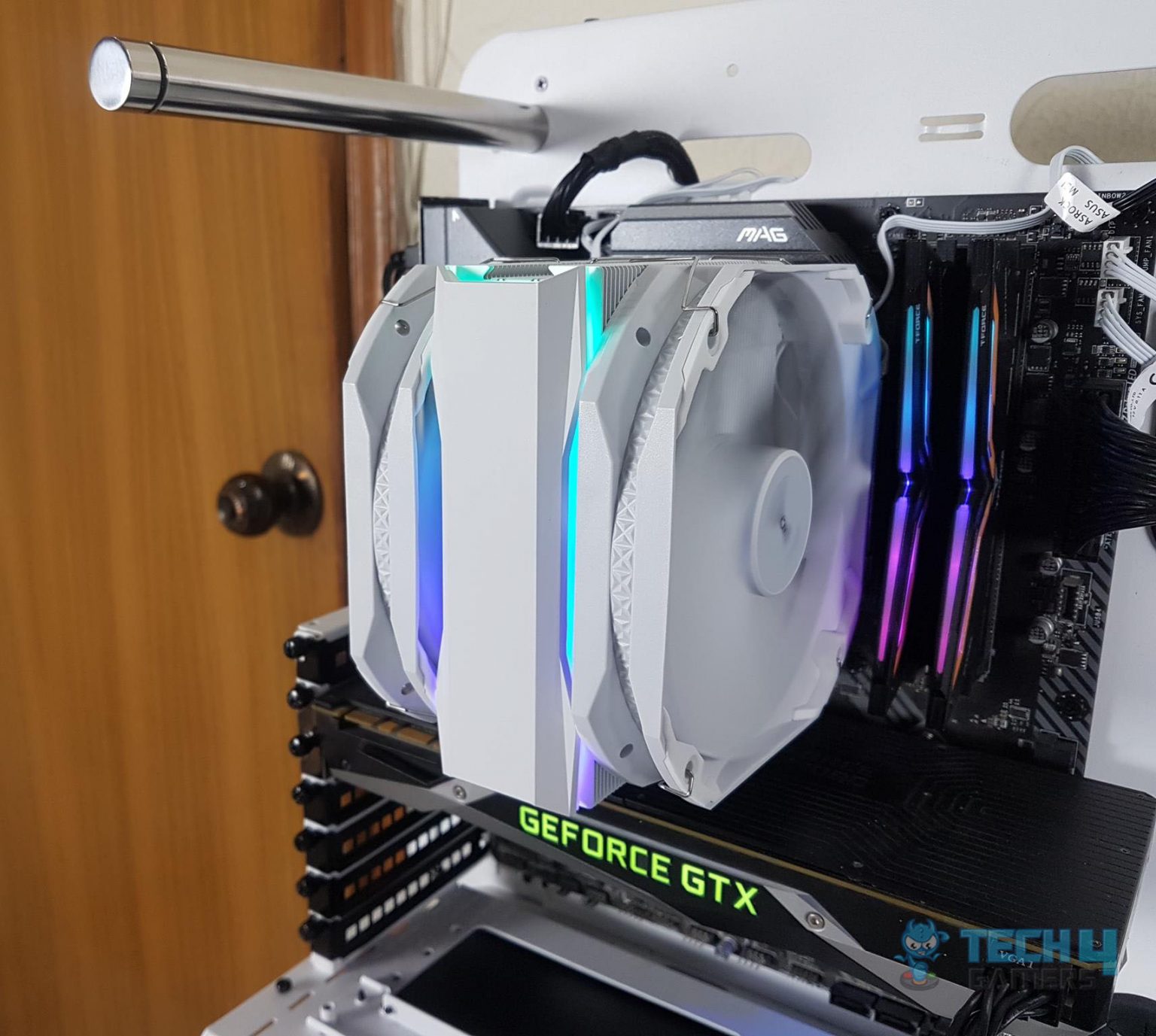 Things like the layered design on the fan blades are proof of the company's hard work. This specific design on the fan blades helps the cooler even under high-pressure strain. Even though the fans and outer layer of the cooler are made of plastic, the fan still feels sturdy and gives off a premium vibe when held.
The heatsinks are well placed as they do not take up extra space or disturb the airflow. The cooler build is even as it takes the perfect space on a motherboard and provides enough clearance for other components' placement. The RGB lighting effects on the white color are the icing on the cake. Speaking about motherboards, we recommend reading Best Motherboards For Ryzen 7 7700x article.
What we disliked:
The cooler in itself is very good, but some issues pre-exist. One of the common ones is that it gets dirty quite easily. Everything in the cooler, from fans to heatsinks, is white and even a small dirt mark feels quite prominent; it is not too big of an issue as certain clothes and liquids can help clean dirt marks easily.
If you have a tower ATX case, you are lucky as this cooler fits best in these cases and above. The cooler is more in height than width, so buy the case depending on your cooler dimensions. The cooling fans of the cooler are a bit noisier than normal cooler fans; if you are going for a silent build, you must opt for some other quieter option.
Summary
We can conclude that even though the cooler has drawbacks, the DeepCool AS500 Plus White is one of the best coolers in this range. Whatever processor you have, you will always find this cooler up to the task. Aesthetic and performance-wise, this cooler outperforms most competitors, even its ancestor, the DeepCool AS500. If you are looking for the Best White CPU Cooler For Ryzen 7 7700X, then no doubt this should be one of the top choices. You may read our full DeepCool AS500 Plus Review to know it better.
Cooler Master Hyper 212 Black Edition
Best Budget CPU Cooler For Ryzen 7 7700X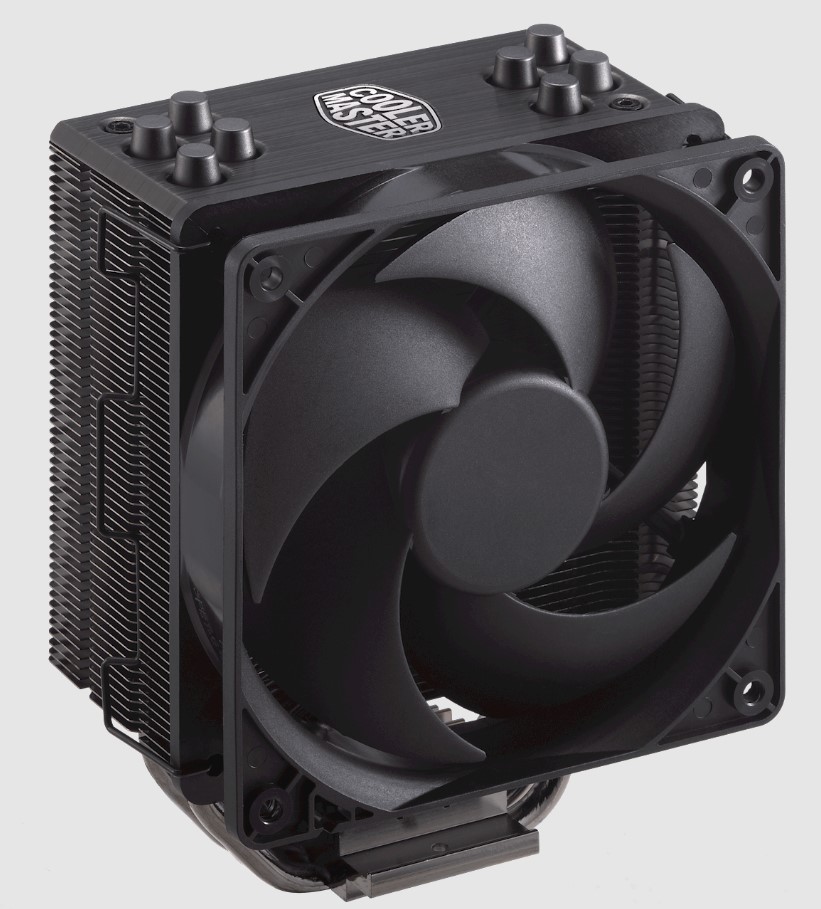 Specifications = Fans: 1 x 120 mm | Fan Speed: 800-2000 RPM | TDP: 205 W | Noise: 26 dB(A) | Dimensions: 123 x 77 x 158.8 mm | Socket Compatibility: Intel Sockets: LGA2066, LGA2011-v3, LGA2011, LGA1151, LGA1150, LGA1155, LGA1156, LGA1366, AMD Sockets: AM5, AM4, AM3+, AM3, AM2+, AM2, FM2+, FM2, FM1 | RGB Fans: Optional
Pros
Extraordinary thermal performance.

Extremely affordable.
Cons
It may cause clearance issues.
Cooler Master is a popular brand for PC components, peripherals, and accessories. They are known for manufacturing high-quality, reliable, and durable products and have proved to be a great choice for any PC build. Their shelves comprise premium and affordable products to meet the needs of all types of customers; whatever you need for your ultimate PC build, Cooler Master has it in store.
High-end processors like Ryzen 7 7700X require a lot of cooling power to maintain their temperatures, and for that, Cooler Master Hyper 212 Black Edition is our obvious pick for the Best CPU Cooler. Cooler Master Hyper 212 Black Edition, which retails for under $50, is more than capable of carrying such a heavy load. It can easily handle the base frequency without making much fuss, but if you overclock it, it might not be able to perform optimally for this processor.
For the Hyper 212 Black Edition, Cooler Master employs a Silencio FP 120 PWM fan, which can provide consumers with a range of 800-2000 RPM. Additionally, the Hyper 212 Black Edition uses Cooler Master Silent Driver IC technology, which greatly reduces noise and plays a significant role in the cooler's ability to achieve noise levels as low as 26 dB.
Even though the Cooler Master Hyper 212 Black Edition is a single-tower air cooler, Cooler Master offers users an option to install another 120mm fan using extra clips, rubber pads, and a fan splitter included in the package. The additional fan helps in faster heat dissipation from the heatsink and greatly increases the cooling capabilities of the Hyper 212. However, adding another 120mm fan, you may run into clearance issues as the heatsink contains four nickel-plated heat pipes that directly touch the CPU plate for more efficient cooling.
Most people don't anticipate such a cheap cooler to function very well, but beware; Cooler Master considered everything before releasing the Hyper 212 Black Edition. Given that most individuals do not prefer to pay a lot of money for a better gaming experience, the product's pricing of roughly $50 makes it very attractive to the gaming community. The Cooler Master 212 will probably be less appealing without RGB lighting to some people, but an all-black finish somewhat masks this.
The Hyper 212 Black Edition has a cool look because of the updated color scheme, which features an all-black color tone. It offers superior performance and overclocking ratings than the standard model and operates more quietly under stress. The Cooler Master Hyper 212 Black Edition stands out from the competition because of all these advantages. You may look at competition under Low-Profile CPU Coolers as well.
What we liked:
The most crucial aspect of the cooler is its performance, which is better than expected for a cooler at this price point; Cooler Master Hyper 212's performance proves to be the cream of the crop. It is difficult to express enough gratitude for its jaw-dropping performance.
The most effective thermal performance is necessary for a premium CPU like the AMD Ryzen 7 7700X, and Cooler Master Hyper 212 Black Edition can instantly achieve that benchmark; it even allows you to overclock certain less powerful processors. When we combine all of this with almost zero noise production, we cannot have any complaints regarding the Cooler Master Hyper 212 Black Edition.
What we disliked:
The only downsides we could find in the Hyper 212 Black Edition were the lack of RGB lights, and you may run into some clearance issues if you install an additional fan. If you can't live without RGB lights and can afford to spend more, the Cooler Master Hyper 212 Black Edition also comes in a more costly variant with RGB lighting. The clearance issue can also be resolved by most modern ATX cases, which is already highly unlikely to occur, but still, we will advise you to check for available space if you want to install the optional 120mm fan.
Also Read: Best 120mm AIO
Summary
Cooler Master has done an exceptional job in introducing a low-cost yet high-performance CPU cooler to the market. The Cooler Master Hyper 212 Black Edition has consistently topped lists of top benchmarks to deliver the greatest thermal performance. We can state that Hyper 212 Black Edition is still the Best Budget CPU Cooler For Ryzen 7 7700X money can buy due to its enhanced looks and continued affordability.
CPU Coolers Compatible With AMD AM5 Socket
CPU Coolers play a huge role in draining out the best performance from the processor without affecting the processor's consistency. The AM5 socket supports the coolers that were once compatible with AM4 because of their similarity in size. However, some CPU coolers compatible with AM4 do not support AM5 because of the backplate issue; hence, companies have announced that they will launch upgrade kits for AM5.
Let's look at some vendors offering some of the CPU Coolers for Ryzen 7 7700X and an update according to their coolers and upgrade kits.
be quiet!
be quiet!, a company which is known for manufacturing noise-free coolers and fans, has not officially claimed that their coolers are compatible with the AM5, but their website features AM5 compatibility for some of the coolers like Dark Rock Pro 4, Silent Loop 2, and many more. For more information about 7700X coolers, you can look at their website.
DeepCool
We haven't received an official word from the company, but DeepCool has listed the CPU Coolers that support AM5 on their official website. They recently launched their new LS series coolers that are compatible with AM5 sockets and comprise amazing features; this is a fruitful deal, especially for gamers.
However, they did not announce any upgrade kits for their coolers. Here's the link to the DeepCool website to check the compatible CPU Coolers.
Cooler Master
Cooler Master, a brand known for its cooling products, has announced that nearly all its coolers will support the AM5 socket. Cooler Master is ready to launch the upgrading kits for the AM4-compatible CPU coolers to level them up. Their upgrade kits might launch with or after the release of the AM5 socket. Visit the Cooler Master website for more information about AM5-compatible coolers.
ARCTIC
ARCTIC, known for manufacturing noise-proof CPU coolers and components spread around 45 countries worldwide, has stated that its CPU coolers will be AM5 compatible. However, they have not announced any upgrade kit for their coolers till now. You can find additional information about AM5 compatibility and Ryzen 7 7700X coolers from their ARCTIC website.
Noctua
Noctua, a company leading the tech industry in manufacturing anti-noise cooling products, has recently claimed that their lineup of CPU coolers would be compatible with the upcoming AMD AM5 socket; all the coolers will be compatible except NH-L9a-AM4 and the NM-AM4-L9aL9i. Furthermore, they announced to release of upgrading kits for the CPU coolers incompatible with AMD's AM5 socket. Check out the Noctua website for more info.
Do You Need a new CPU cooler For AMD Ryzen 7 7700X?
AMD announced that their processor lineup would release on the 27th of September and will include AMD Ryzen 9 7950X, AMD Ryzen 9 7900X, AMD Ryzen 7 7700X, and AMD Ryzen 5 7600X.
The upcoming AMD Ryzen 7 7700X is the one we will discuss as it has mind-blowing specifications. Ryzen 7 7700X will have 8 cores and 16 threads with a Base/Boost clock speed ranging from 4.5 GHz to 5.4 GHz; its impressive cores will have a cache of 40 MB, 8 MB on the L2, and 32 MB on L3. It will have a lower TDP compared to the top-end processors that AMD will release and will support DDR5 like the other processors of Zen4.
These impressive specifications demand a solid CPU cooler to help you attain this processor's utmost performance. If you have chosen this processor, you must go with a high-end liquid or air cooler that fits your budget. The coolers that companies once released for the AM4 socket will now be able to support the AM5 socket; this is because of their same size and design. However, the companies with coolers that are not compatible with AM5 will launch a specific upgrading kit for them.
Many companies like Cooler Master and GIGABYTE have announced to release upgrade kits for their specific coolers. Noctua recently listed the coolers that were not compatible with AM5; NH-L9a-AM4 and NM-AM4-L9aL9i.
With this, they also announced to provide free upgrading kits for these specific coolers. Many coolers in the market have been launched specifically for AM5 and Ryzen's new lineup of processors. If you're running out of budget and still want to jump from AM4 to AM5, no worries; you can find multiple options in the market due to AM5's cross-compatibility with the AM4 socket.
How We Choose These CPU Coolers
Electrical components produce heat; the CPU works on the same mechanism. A four to six hour work session, whether gaming, streaming, or editing, makes the processor super hot; the CPU Cooler plays a vital role at moments like these. It is a basic requirement for a processor; otherwise, its life might be at stake if overheated. To prevent your Ryzen 7 7700X from this damage, we recommend you the Best CPU Cooler For Ryzen 7 7700X. Let's look at how we came up with these CPU coolers to meet your needs.
Performance
Anyone who wants to buy a new CPU cooler prefers performance; gamers who overclock the processor and run it at an extreme level might need the best CPU cooler for their processor to get the maximum juice out of it. A user always chooses a cooler, helping the CPU's temperature regulation and decreasing worries about the performance and health of the processor. We selected these CPU coolers after going through performance tests in different games like CS:GO and DOTA 2 and high-end productivity softwares. We recommended the best ones available in the market after assessing the results of our tests.
TDP Rating
TDP rating is the main factor when choosing a CPU Cooler for a system. The ideal CPU Cooler for a system is the one that has a higher TDP rating as compared to your processor. If a cooler has a lower TDP rating than the processor, it might fail to do its job properly, resulting in any damage inside the system. TDP helps attain and sustain good performance, especially for an overclocked processor. While choosing the CPU Cooler For Ryzen 7 7700X, we kept in mind the TDP factor for different cooling systems; we chose the best one that met our requirements and had the specifications that could be crucial to your system.
Budget
Suppose you are very specific about a CPU cooler's specifications and have a tight budget. Well, don't worry, as we have got you covered. Saving some bucks and getting a cheap CPU cooler might not be wise because they may not adjust correctly with your processor and can damage it in the long run. However, overspending on a CPU cooler isn't right either; you can keep the extra bucks and invest them in the other computer components. We went through different CPU coolers in the market that were compatible with Ryzen 7 7700X, of different qualities in different price ranges, and chose the bang-for-the-buck coolers, not compromising on the quality.
Aesthetics
Most people go for the looks rather than the performance of the CPU cooler and spend money on the aesthetic to make their PC eye-catching. While others do not care about RGB, neither they want any aesthetic look; they just want a CPU Cooler that does its job. However, we recommend that paying for performance is much better than paying for some aesthetics, so spend your money on a CPU cooler that gives you performance or save it on any other component. For the Best CPU Cooler For Ryzen 7 7700X, we selected some coolers that did their job solidly and had a nice aesthetic design, too, so now you have got a combo of having both performance and aesthetic looks in a single CPU cooler.
Noise Level
Regarding noise level, gamers are genuinely concerned about it. People prefer CPU Coolers with minimal noise that does not disturb them while doing their work; in the case of gamers, it should not interfere between their game and the game sounds. Coolers with a large fan mostly run smoothly without producing any noise or a little noise. In contrast, CPU coolers with small coolers have to perform similarly to a cooler with a large fan, so it operates quite fast, producing noise to a great extent. When we reviewed our best picks from the market, we had various companies offering coolers that were quiet and good in performance after testing them under load on test rigs.
Why Trust Tech4Gamers?
After being established in 2008, Tech4Gamers gathered a lot of experience in the tech industry. With the amazing team's help, we gather information from all over the industry and efficiently present it to the readers. The professional team of Tech4Gamers reviews and analyzes the performance of different products that are being launched and then presents the information to you in a user-friendly and efficient way. With new updates coming every day and week in the tech industry with new major launches done rapidly, there's a news section available on our website that notifies you about the products that will launch and keeps you updated every time.
Was our article helpful? 👨‍💻
Thank you! Please share your positive feedback. 🔋
How could we improve this post? Please Help us. 😔