Noctua NH-L9a-AM5 Review Summary
Summary
Noctua means business with their new low-profile cooler NH-L9a-AM5. This little beast has a height of 37mm, and this low-profile design is aimed at the AM5 platform. It has kept Ryzen 7 7700X well in check. It can do even better with PBO enabled. This cooler comes recommended by us.
Quality -

9/10

Design -

9/10

Performance -

8.5/10

Features -

8.5/10

Value -

8/10
Pros
Adequate Thermal Performance
37mm Height
100% RAM Clearance
100% PCIe Clearance
Easy Access to Near-Socket Components
Low Noise
Easy Installation
6-Year Warranty
Noctua is renowned for its efficient air-cooling solution in industrial and consumer applications. NH-D15 is still regarded as the king of the ring when it comes to performance with efficient noise output. Plus, Noctua stands behind its products with extremely good warranty offers. Their NH-L9 series coolers are popular for SFF builds. This series of coolers is a low-profile design.
Noctua has released a new cooler in this line, named NH-L9a-AM5. Earlier, these coolers were segregated using letters 'i' and 'a', where i stands for Intel and stands for AMD.
L9a above tells us that this cooler is for the AMD platform, but AM5 tells us that it is for the AM5 platform but can also be used on the AM4 platform using an optional kit from Noctua. This cooler is available in a regular or standard version as well as a chromax.black version.
Salient features include:
37mm overall height
100% RAM Compatibility
100% PCIe Compatibility
NF-A9x14 PWM Fan
Custom Designed Secu-Firm2 mounting
6-Year Warranty
Also Read: Noctua NH-L9i chromax.black Review
Specifications
| Product | Noctua NH-L9a-AM5 |
| --- | --- |
| Socket compatibility | AMD AM5 |
| Height (without fan) | 23 mm |
| Width (without fan) | 114 mm |
| Depth (without fan) | 92 mm |
| Weight (without fan) | 390 g |
| Height (with fan) | 37 mm |
| Width (with fan) | 114 mm |
| Depth (with fan) | 92 mm |
| Weight (with fan) | 465 g |
| Material | Copper (base and heat-pipes), aluminium (cooling fins), soldered joints & nickel plating |
| NSPR | 61 |
| Fan compatibility | 92x92x14mm, 92x92x25mm |
| Warranty | 6 Years |
Packaging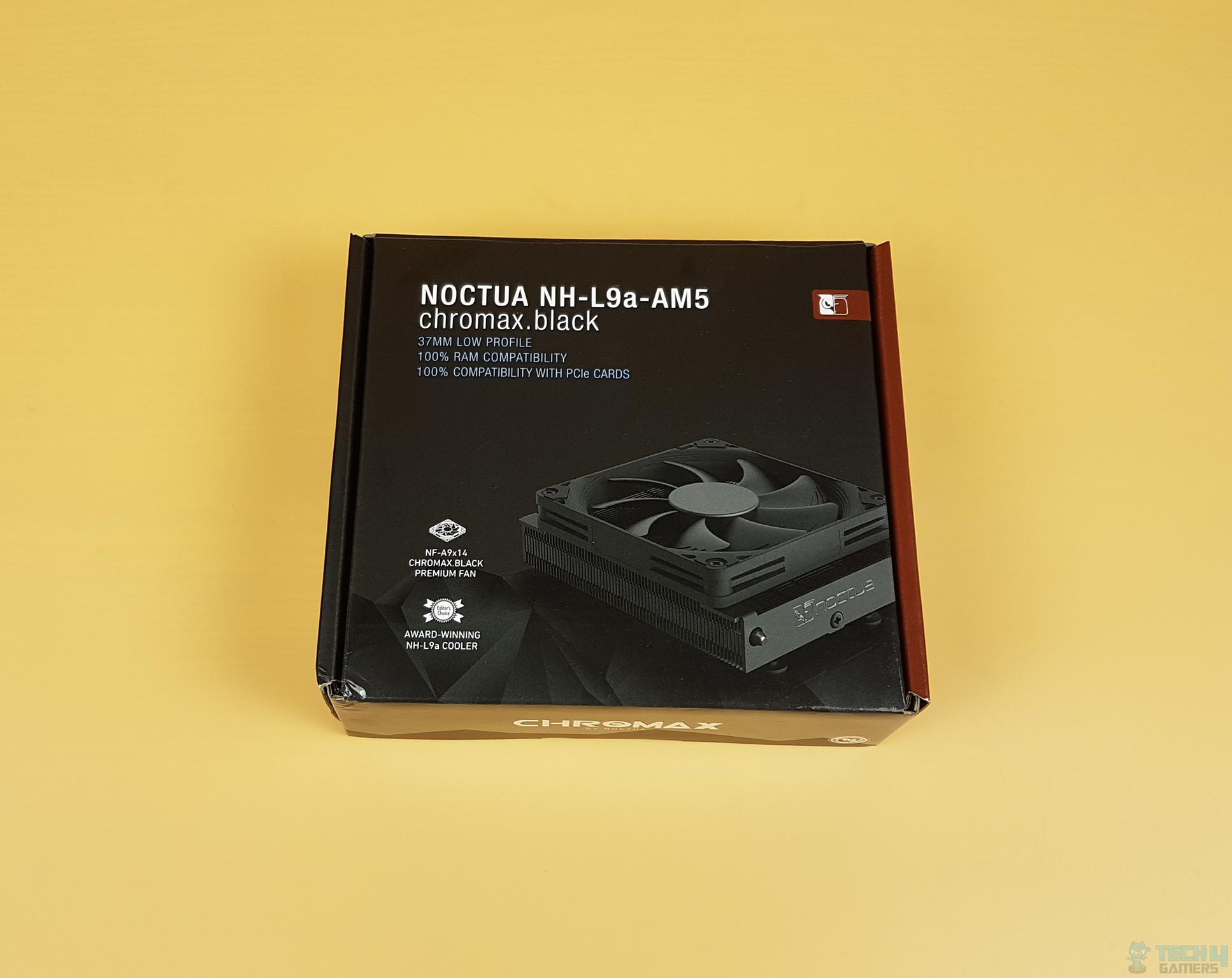 We are taking a look at chromax.black version. It is shipped inside Noctua's black color-themed box made of a cardboard box. The salient features of this cooler are printed over here. We have already mentioned some of these features above.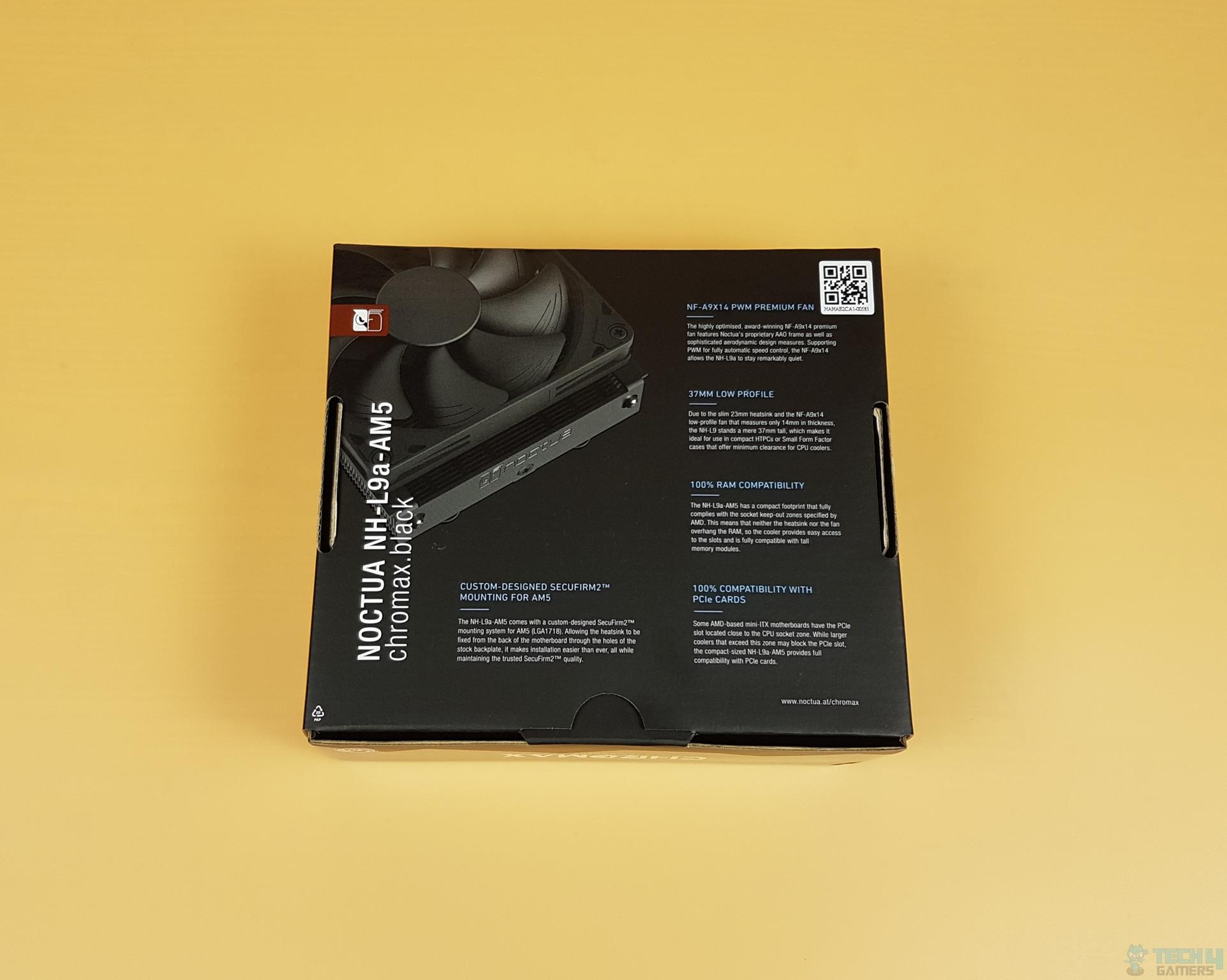 Noctua has explained some of these listed key features over here.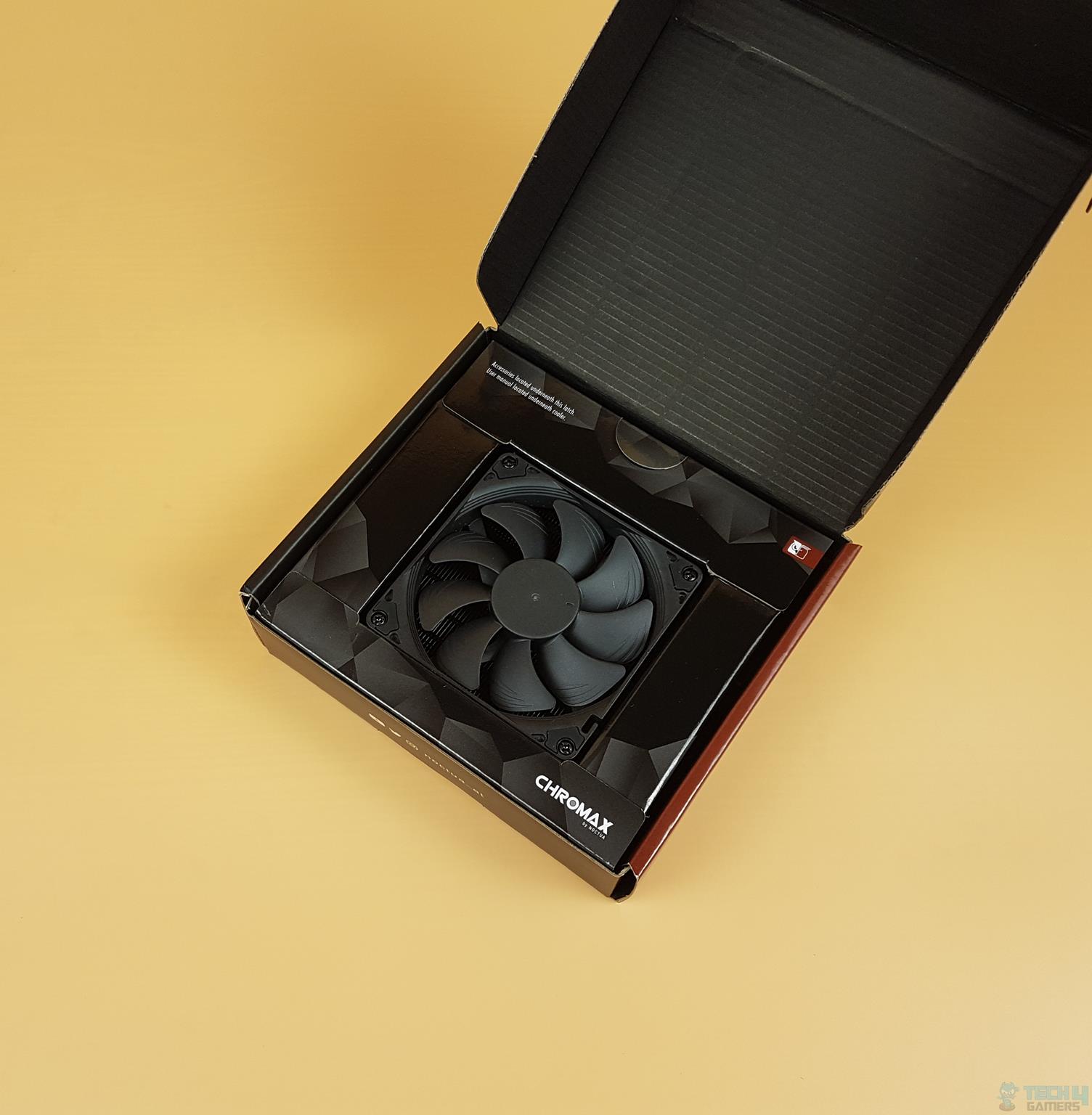 Noctua is that good when it comes to presentation. The cooler is placed in the center. The accessory box is placed on the top side under a cover. A user manual is placed under this cooler.
Contents
Noctua has provided the following in this box:
There is paper made container having accessories inside. Here c.b stands for chromax.black.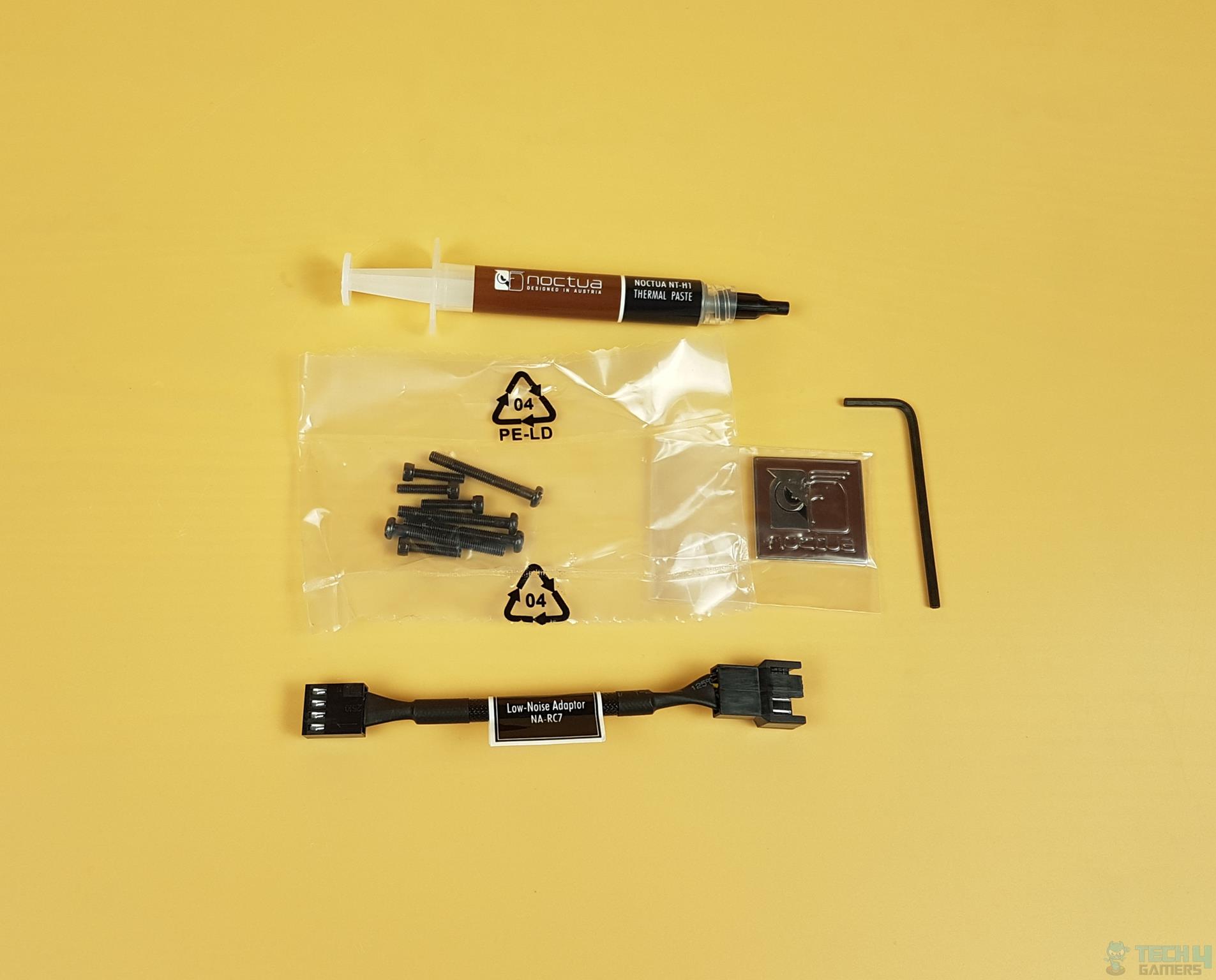 1x NA-RC7 [Low Noise Adapter]
1x NT-H1 [Thermal Paste]
1x SMT-6 [Allen Key]
1x Metal Badge
4x Philips Screws
4x NM-ALS2 [M2-5 Screws]
2x NM-AFB10 [Bracket Pre-Installed]
Design
Let's take a look at this cooler, starting with what Noctua is saying about this cooler, "The NH-L9a-AM5 chromax.black is an all-black version of Noctua's award-winning NH-L9a-AM5 low-profile quiet CPU cooler for AMD AM5 based HTPCs, and Small Form Factor (SFF) builds.
Thanks to the same proven heatsink design and NF-A9x14 PWM fan, it stays true to the NH-L9a-AM5's successful formula of fusing a height of only 37mm with strong performance and excellent quietness of operation, as well as 100% RAM and PCIe compatibility.
At the same time, the chromax.black version with its black fan and black coated heatsink combines these assets with a sleek stealth look.
Topped off with the renowned SecuFirm2™ low-profile mounting system for AMD AM5, Noctua's enthusiast-grade NT-H1 thermal compound, and a full 6-year manufacturer's warranty, the NH-L9a-AM5 chromax.black is a premium choice for customers who seek an ultra-compact heatsink that looks just as great as it cools."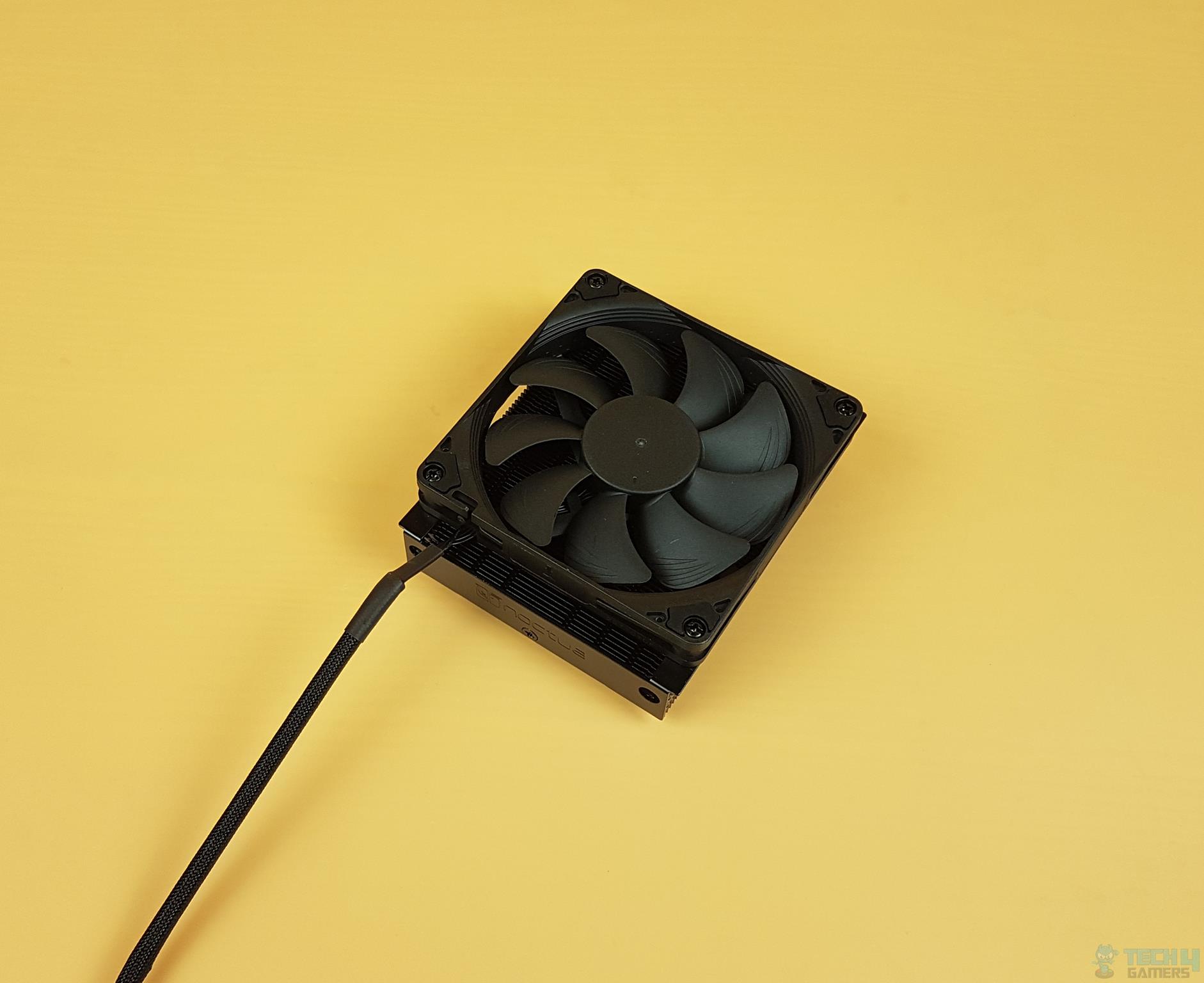 One peculiar aspect of this cooler is that it is completely in a black color finish hence the term chromax.black. The dimension of this cooler with the fan is 114x92x37mm (WxDxH) and 114x92x23mm without the fan. Additionally, the Net weight of this cooler is 465g.
We can see a 92mm fan having a thickness of 14mm up top. The fan is not fully covering this heatsink. This is probably due to the fact that any fan above 92mm would cross both sides, which would compromise the clearance of this cooler.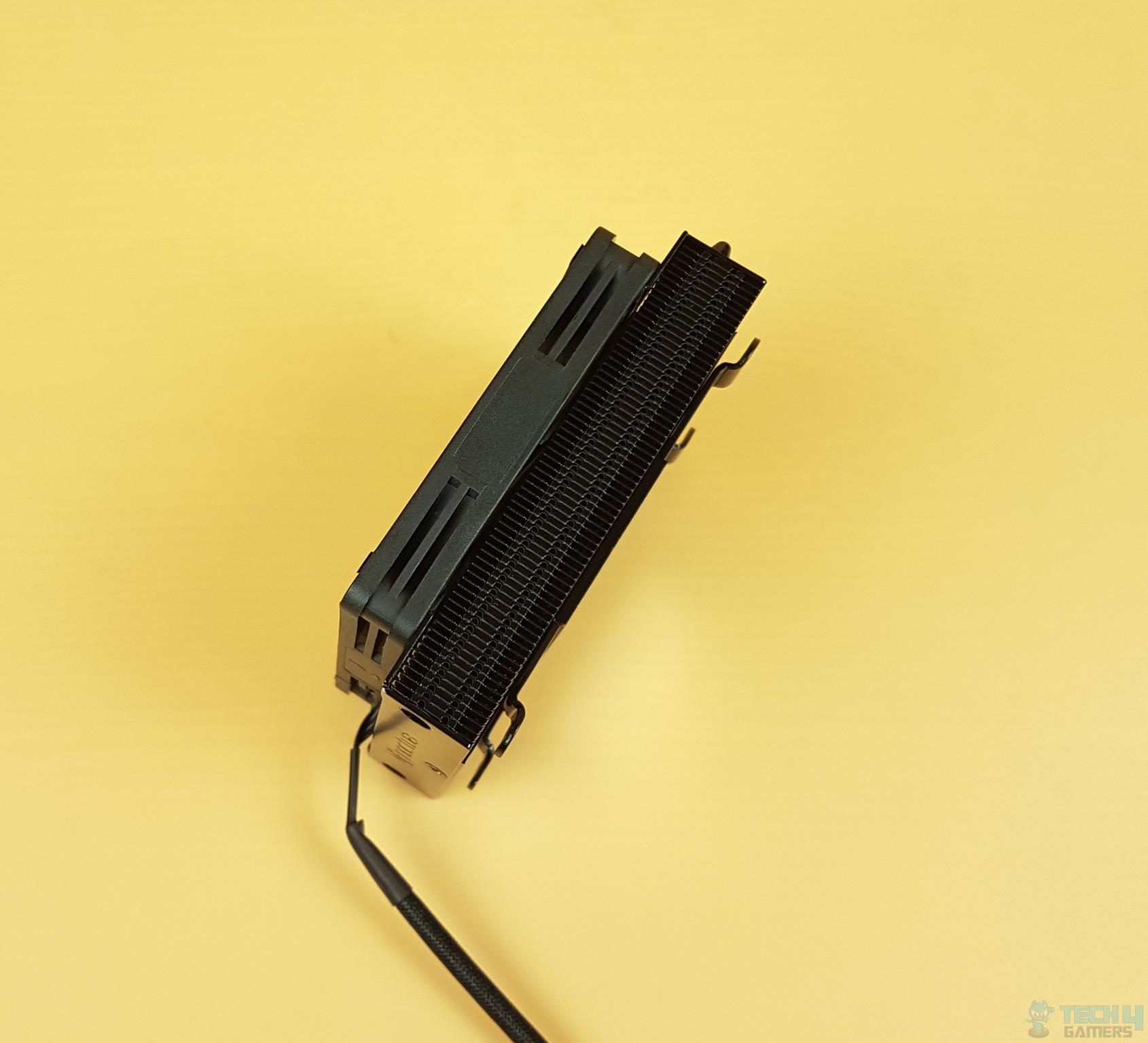 Taking a peek at the side of this cooler, we can see some nice fin stacking. The fin stack is dense, or so it seems. This side is also telling us one important aspect, which is the overall height of this cooler.
This cooler stands 37mm tall including. Heatsink itself has a height of 23mm, and the fan has a thickness of 14mm. This would give a universal clearance from the height aspect of this cooler for SSF cases.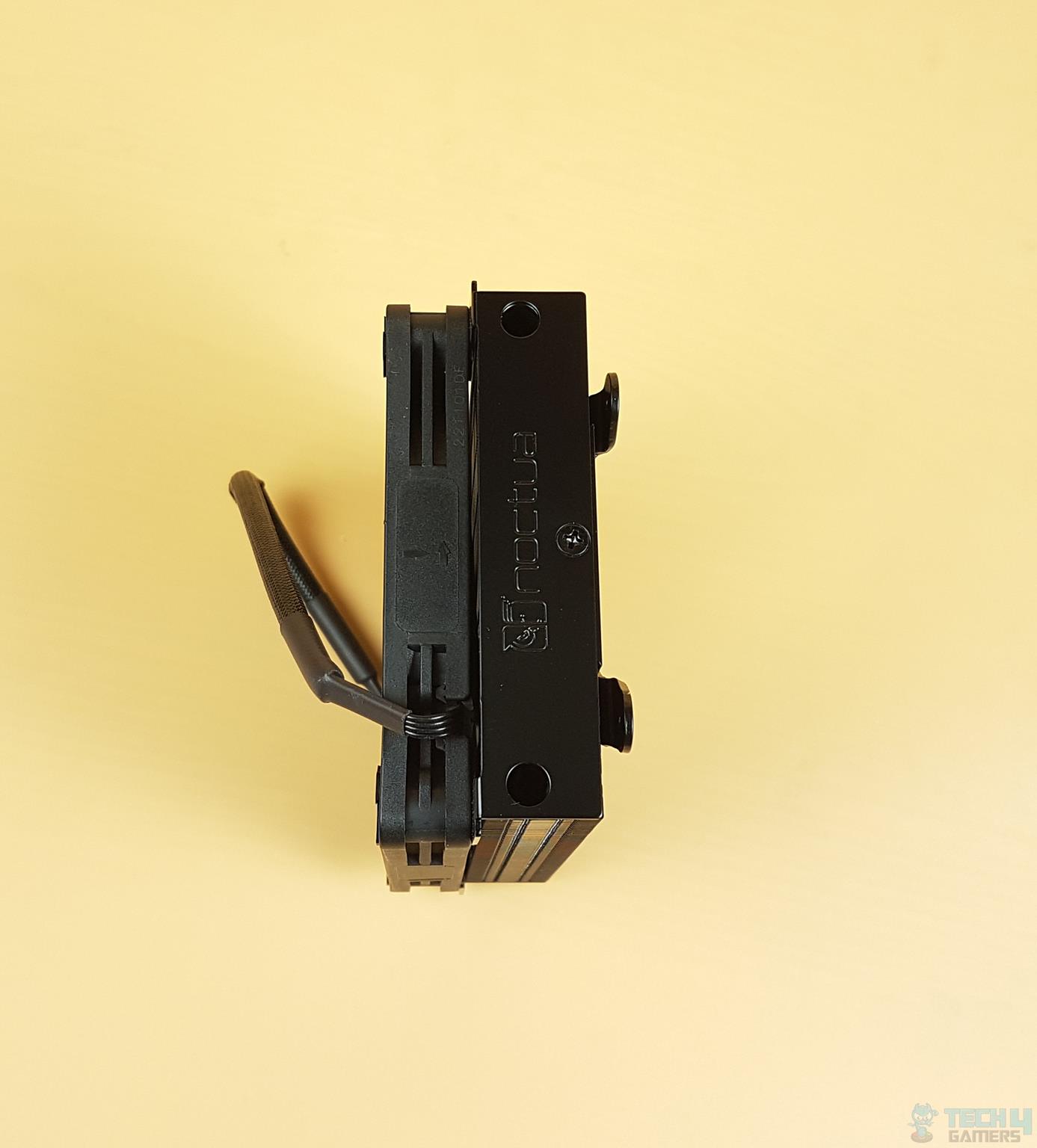 We can see two holes on this side of the heatsink. Both holes are on opposing ends. The cover plate can be taken off by removing a screw in the middle.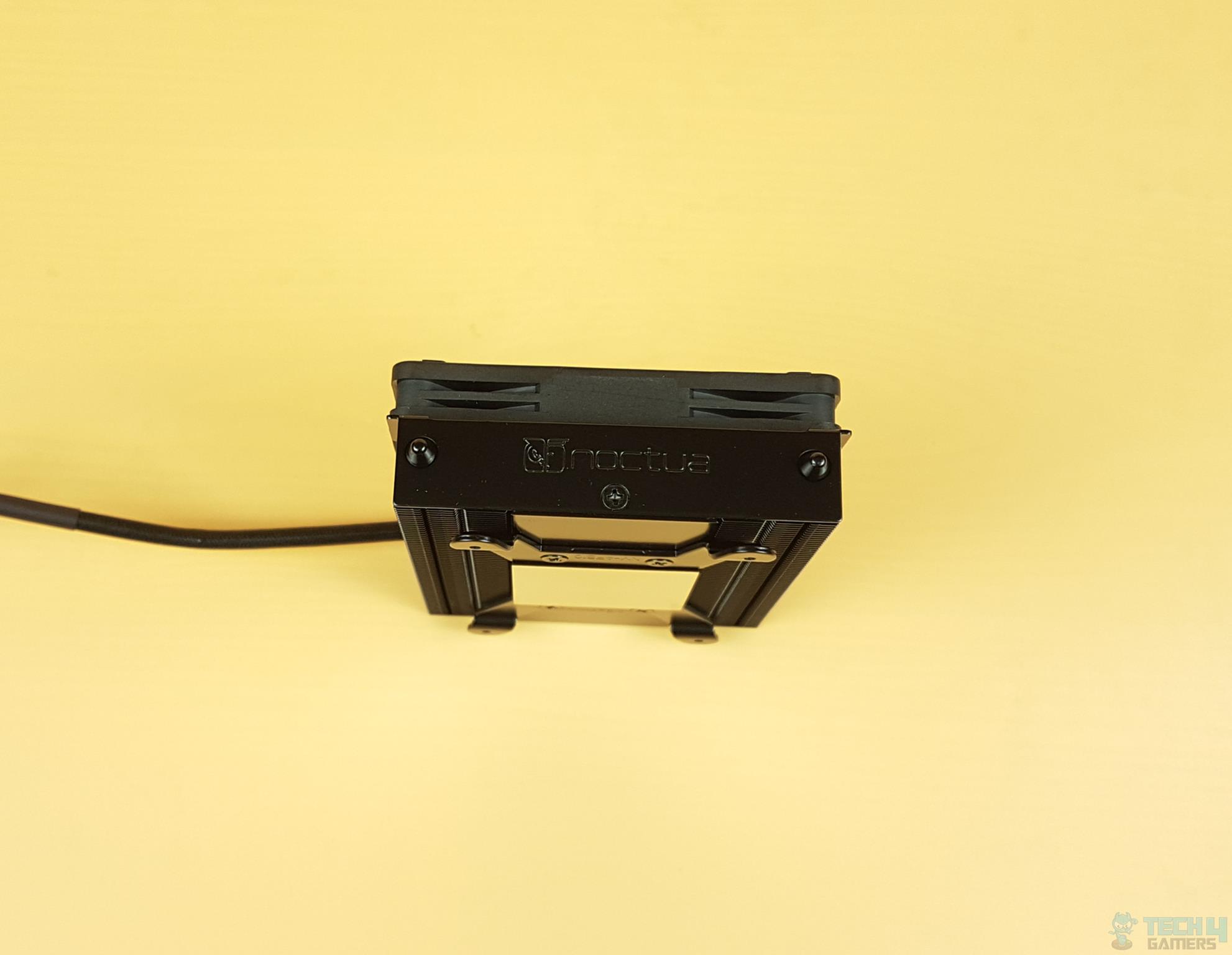 Looking at this cooler from the above-shown angle, we can see the terminating tips of 2x heat pipes on opposing ends. There is a similar protective plate here that is removable.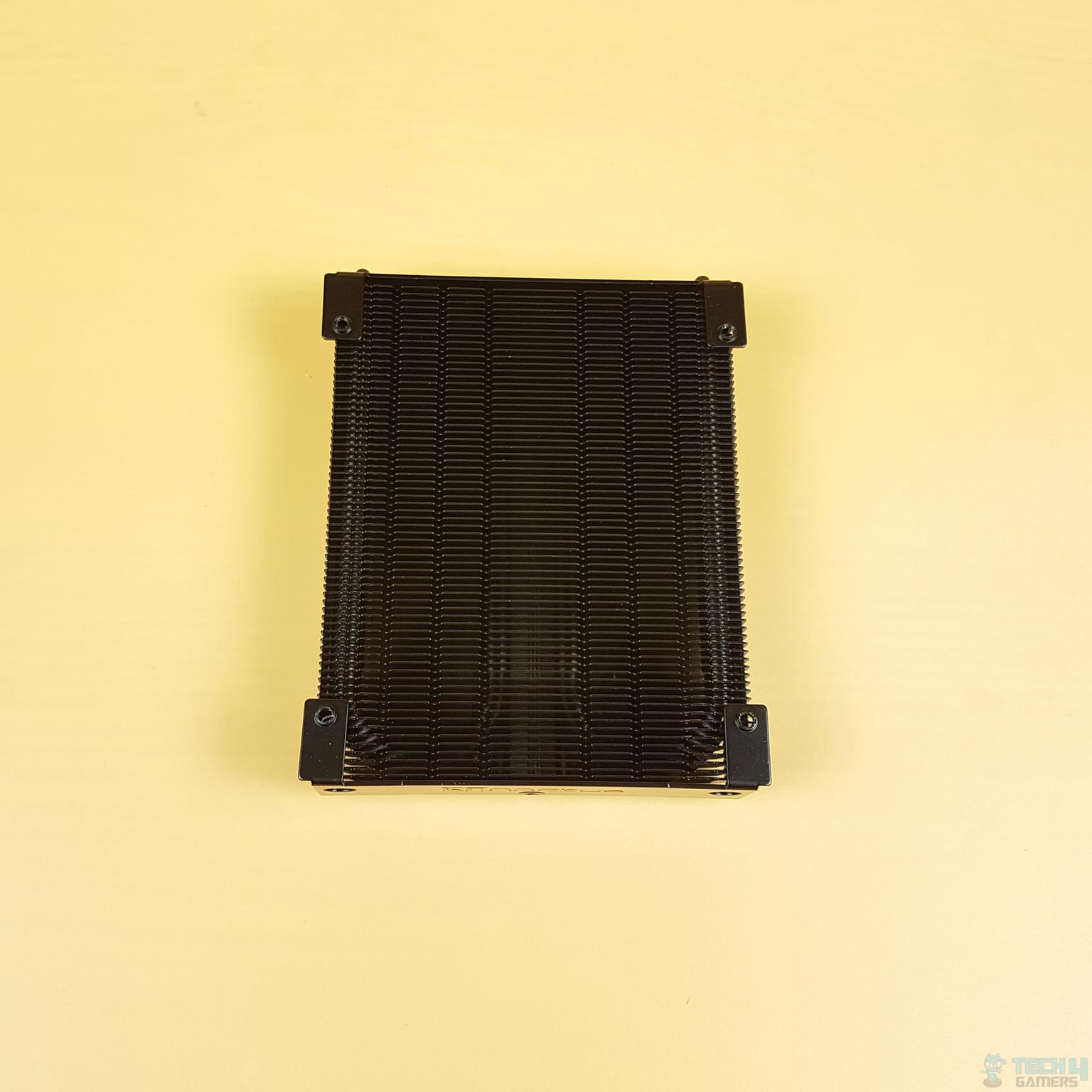 We removed the NF-A9x14 PWM fan from the heatsink. There are 4x extended plates on corners. These have raised mounting holes on which the fan is rested and screwed. These plates are a part of the front and rear-mounted covering plates. This heatsink has 66 fins, as per my poor vision count. The center has a larger surface compared to the rest of the fins. Noctua has done a good job in fin stacking.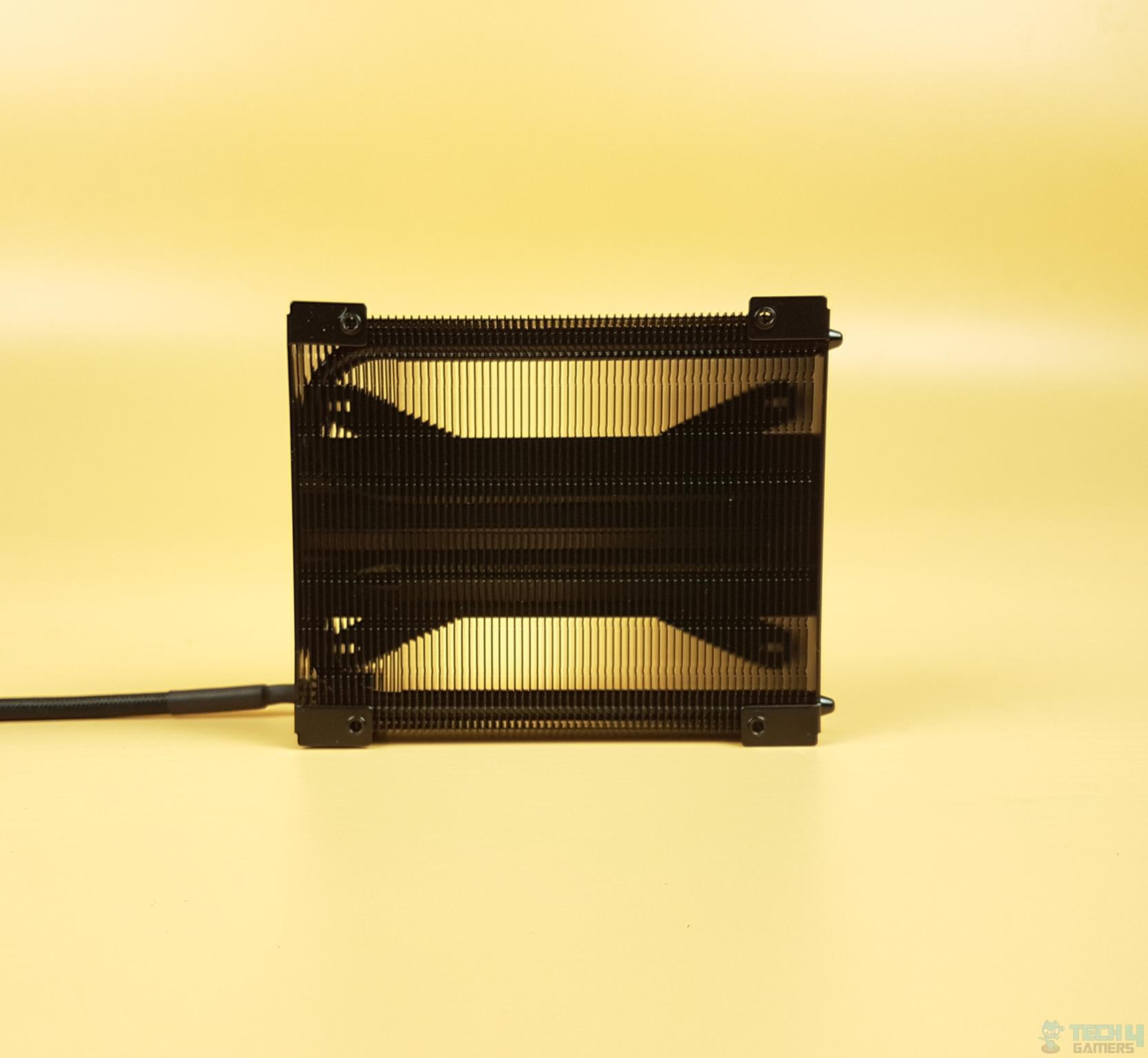 The above picture shows a see-through view of this heatsink. We have two 6mm copper heat pipes in a U shape inside fin stacking. The complete assembly has soldered joints and black color coated.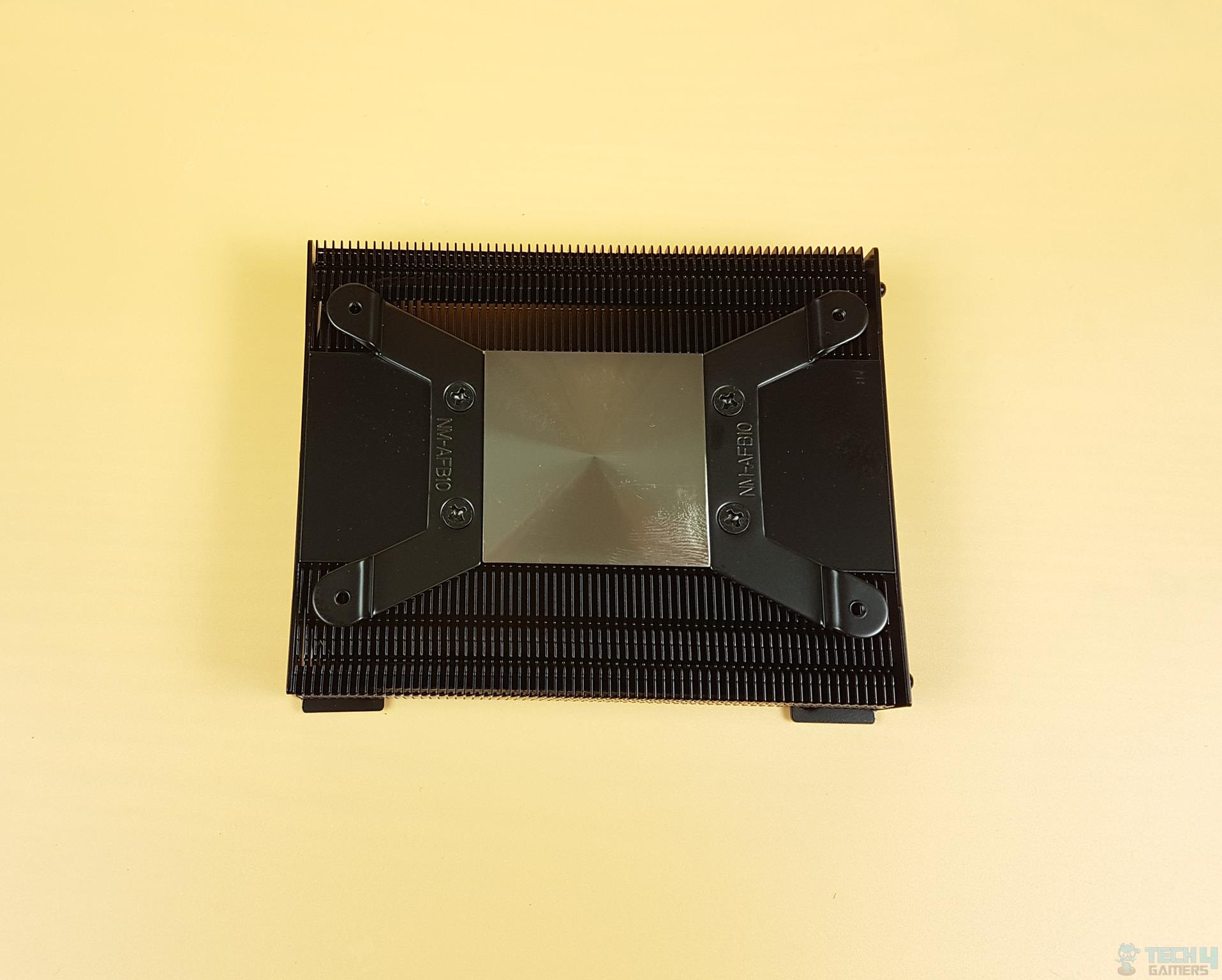 Looking at the base of this cooler, we can see that NM-AFB10 brackets are pre-installed to make this cooler's installation even more convenient and reduce the number of steps required for its installation. We have a copper base measuring 39.5x40mm, and it is nickel plated. The fins layout is similar to what we have seen on top of it.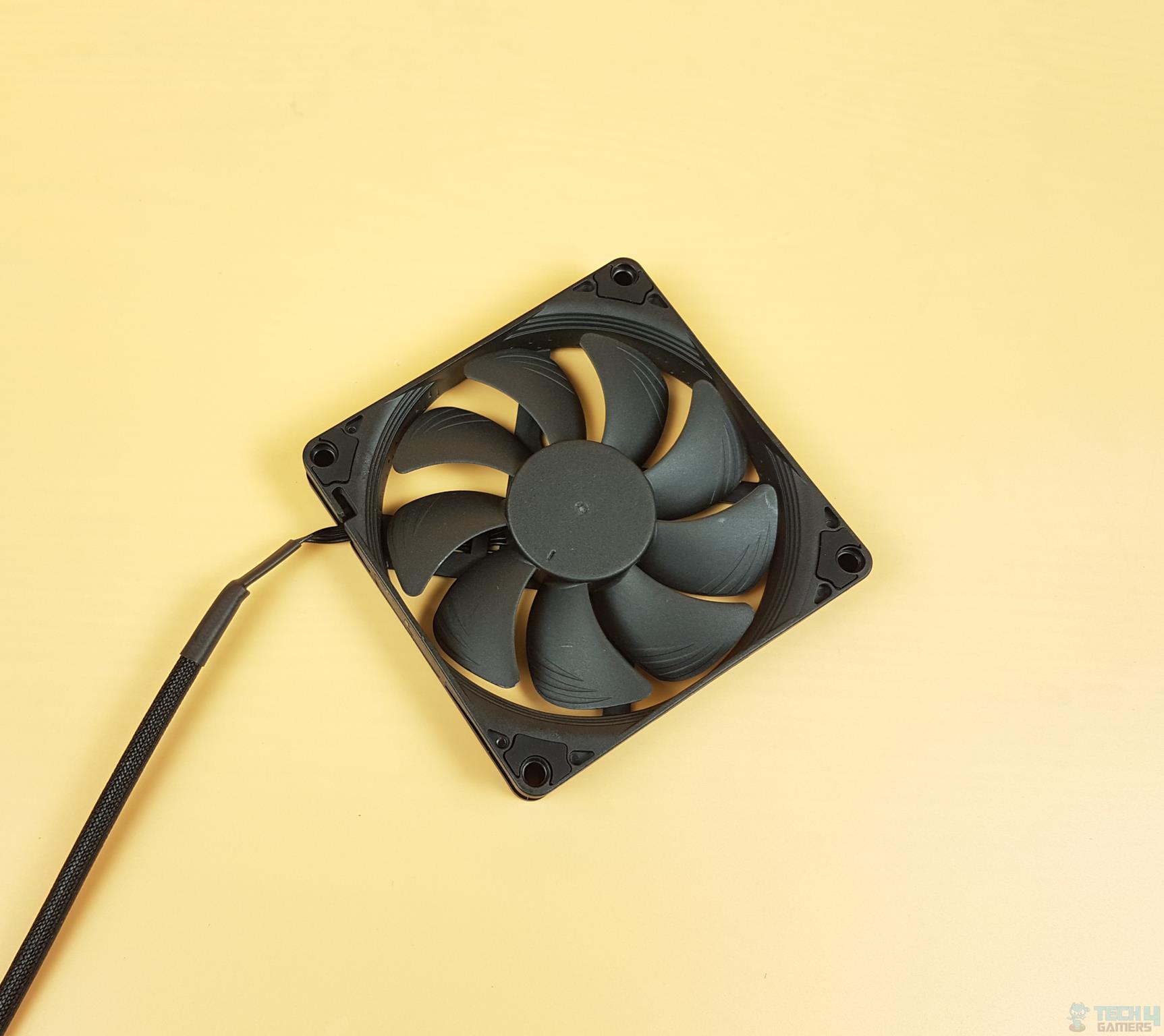 Noctua has provided an NF-A9x14 PWM chromax.black fan with this cooler. The number 14 in the model means the thickness or height of this fan in mm. This fan has 9x blades. We can see a stepped-inlet design on the frame. This is Noctua's AAO frame design with 3 key features:
Stepped Inlet Design
Inner Surface Microstructures
Integrated Anti-Vibration pads
This fan uses Noctua's SS02 bearing with custom designed PWM IC using a smooth commutation drive. The blades of this fan have flow acceleration channels on the suction side to reduce vibrational noise.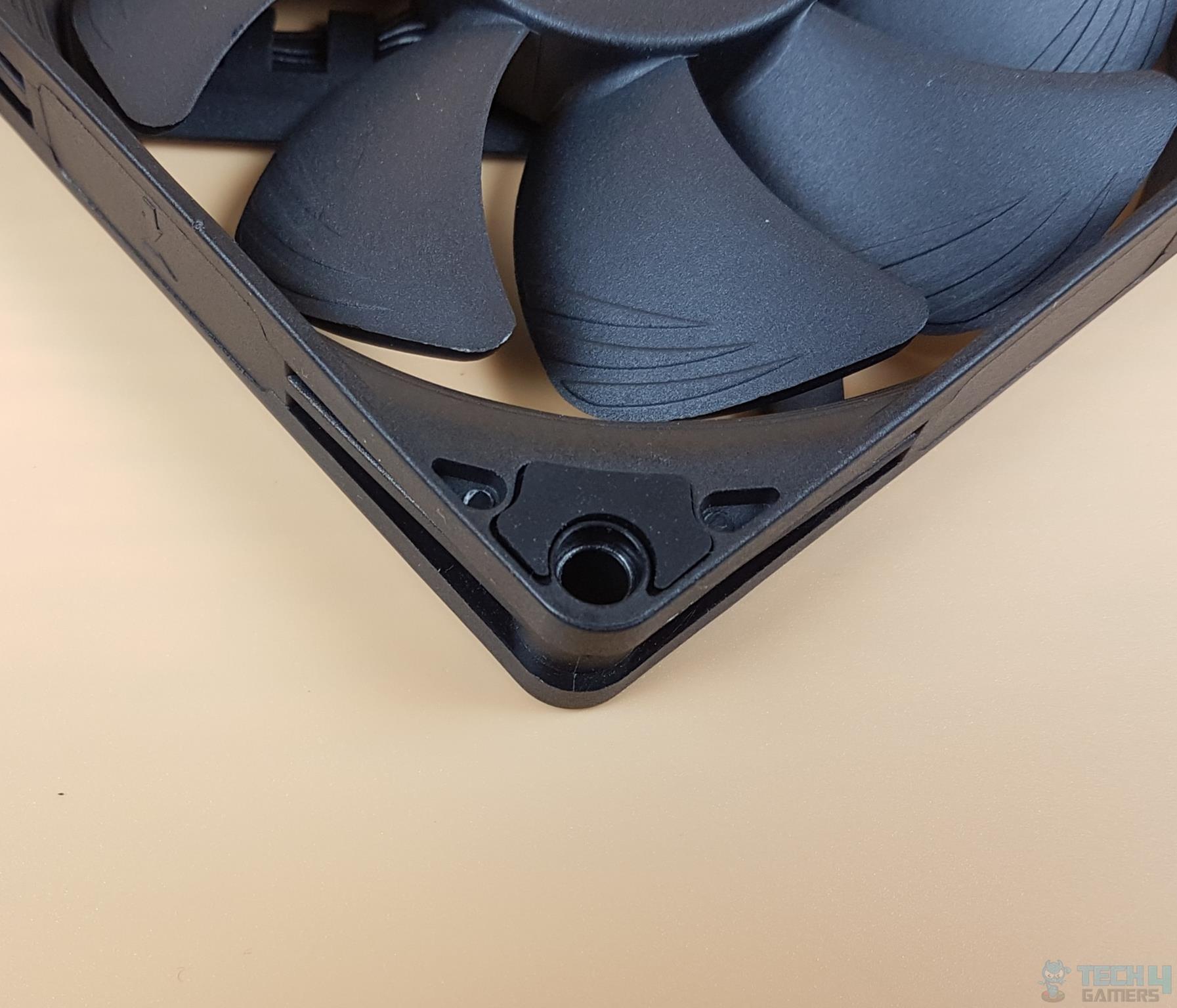 Each mounting corner has an anti-vibration pad which is black in color.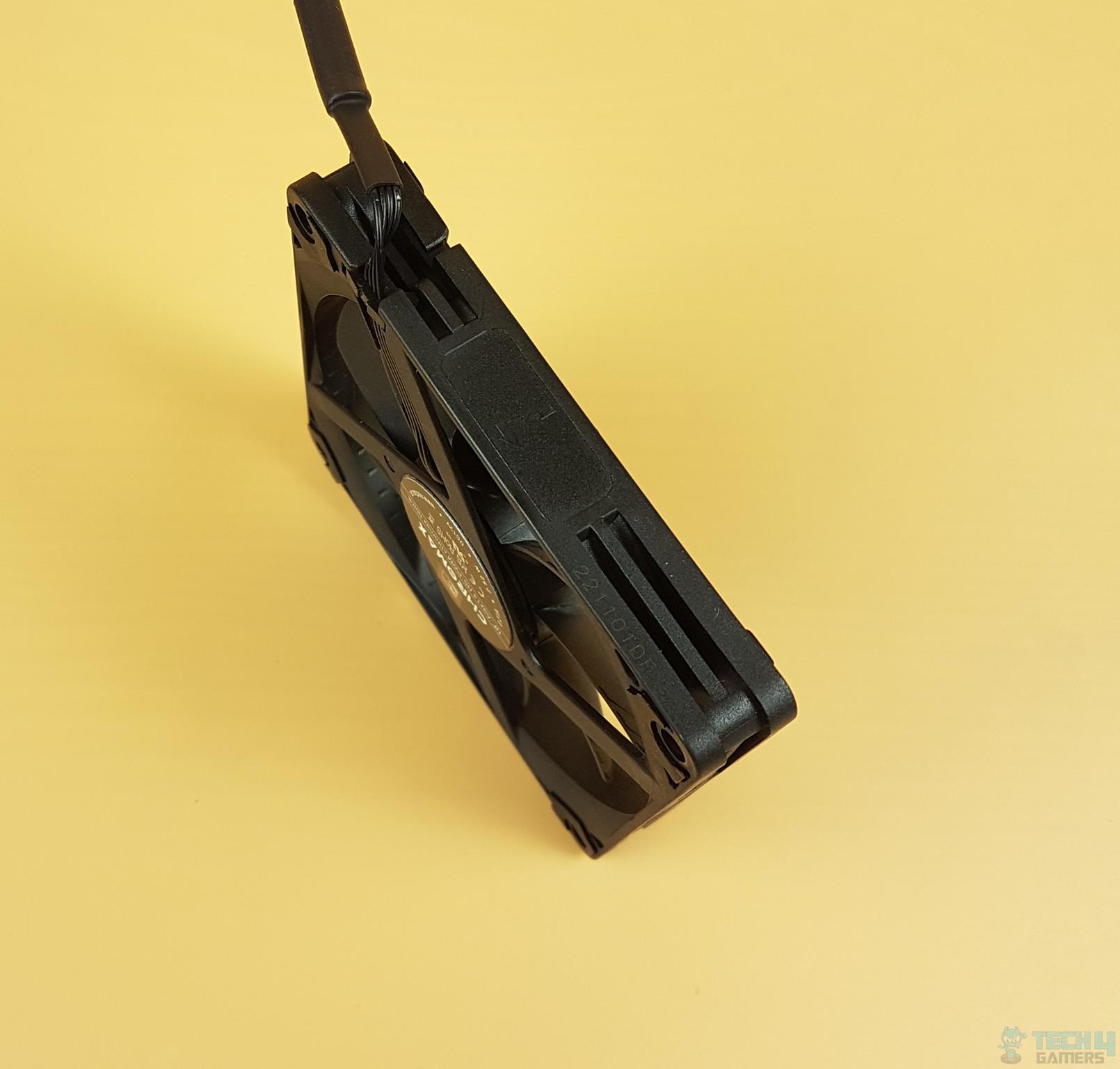 This fan has a black color frame which is sturdy. There are two arrow symbols. One shows the direction of airflow, while the other shows the direction in which blades will spin.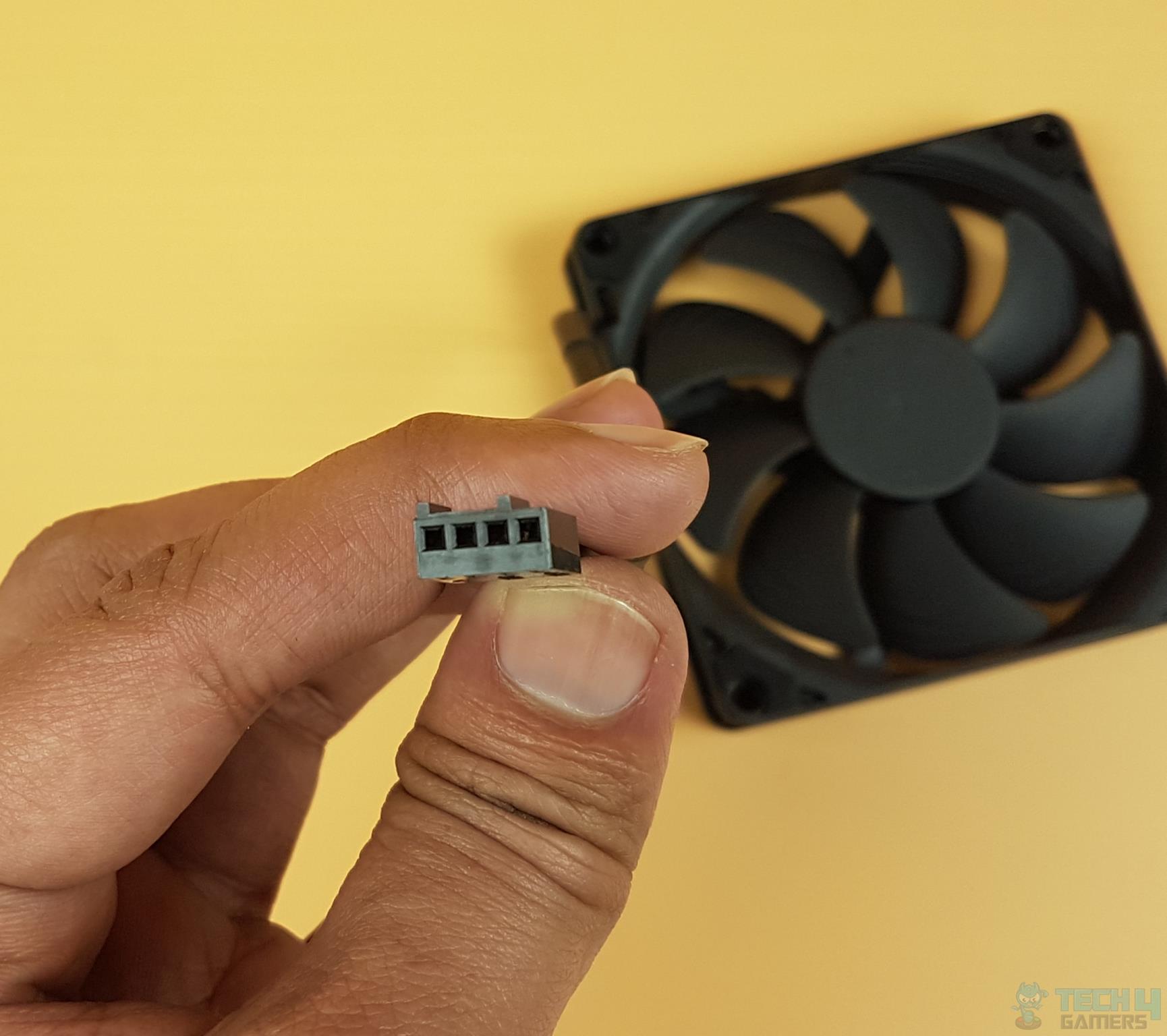 This fan has a well-sleeved cable with a 4-pin PWM connector to power the motor.
Below are the salient specifications of this fan:
| | |
| --- | --- |
| Dimension | 92x92x14mm |
| Speed Range | 600 – 2500 RPM ±10% |
| Airflow | 57.5 m³/h |
| Noise | 23.6 dB(A) |
| Voltage | 12 VDC |
| Input Power | 2.52W |
| Bearing | SSO2 |
| MTTF | > 150,000 h |
Installation
Installation of this cooler is simple:
Remove stock mounting brackets from the socket area of the AM5 motherboard.
Clean the surface of the CPU.
Apply the thermal paste on the CPU.
Carefully place the cooler over the CPU, aligning mounting holes on the bracket with the standoffs of the stock AMD backplate.
Keep one hand on the cooler to keep it in place, and turn the motherboard upside down.
Use NM-ALS2 screws in a diagonal manner and start torquing them using SMT-6 (Allen key).
Make sure you do not excessively torque these screws.
Connect the fan's connector to a 4-pin PWM header on the motherboard.
This would complete the installation.
Clearance and Compatibility
We have installed this cooler on the AM5 platform (LGA1718 socket) using the ASRock B650E PG-ITX WIFI motherboard, as can be seen in the above picture. One thing Noctua is trying to achieve with this design is to provide better access to near-socket components after installing this cooler.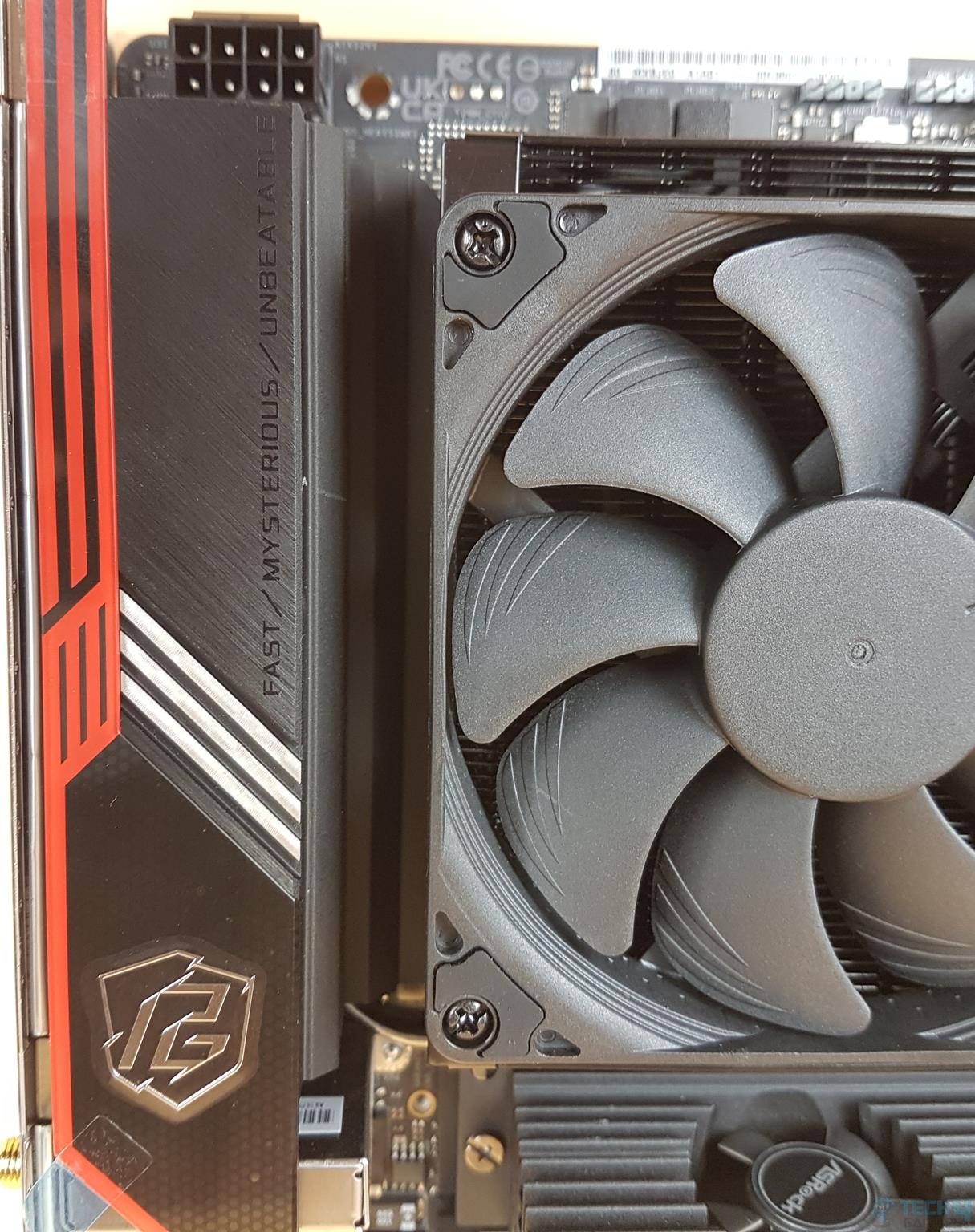 We can see this cooler is not obstructed by the Rear IO cover and heatsink and vice versa.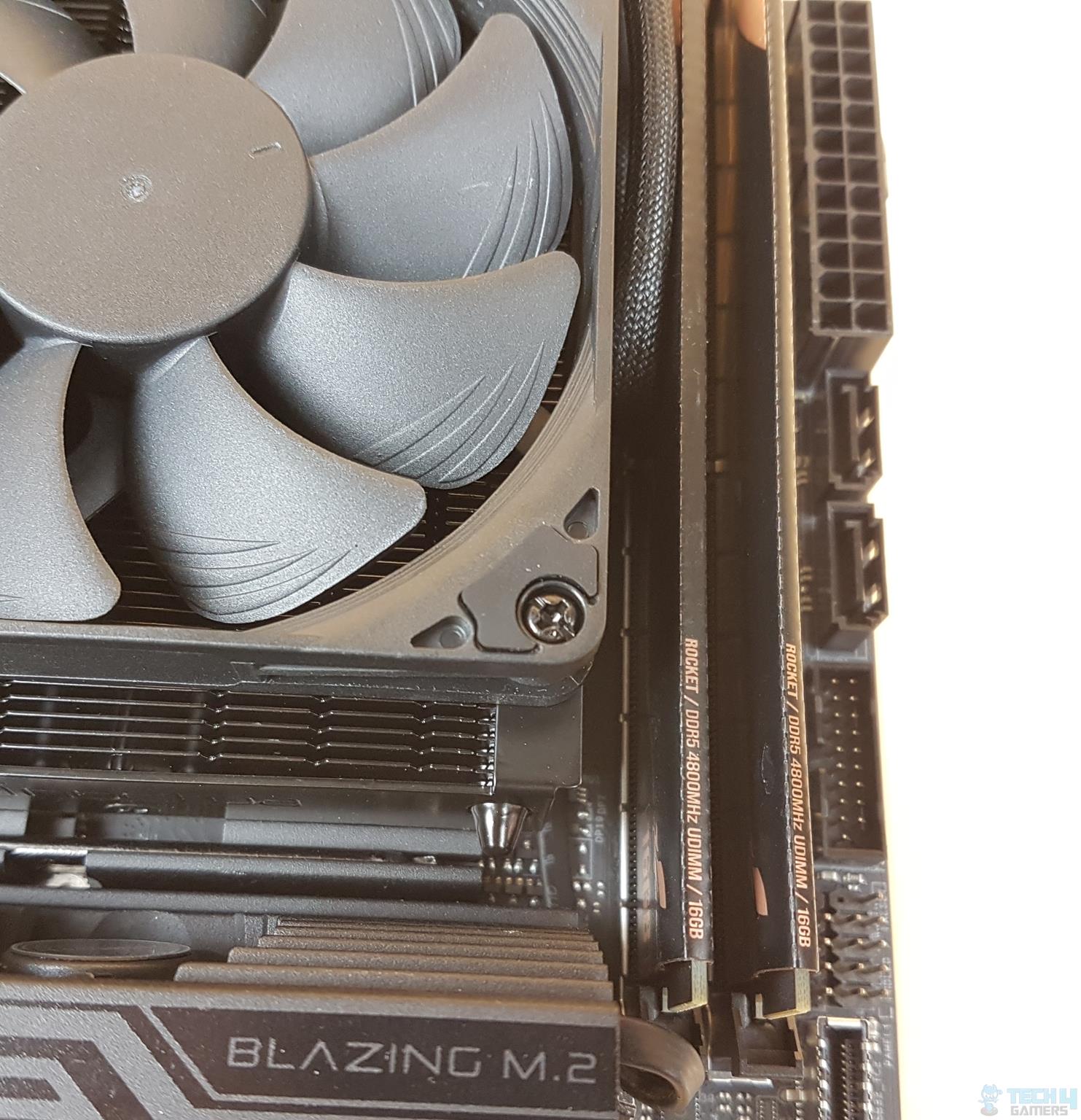 This cooler is definitely 100% compatible with DDR5 on DIMM slots.
We can see easy access to the motherboard's top area.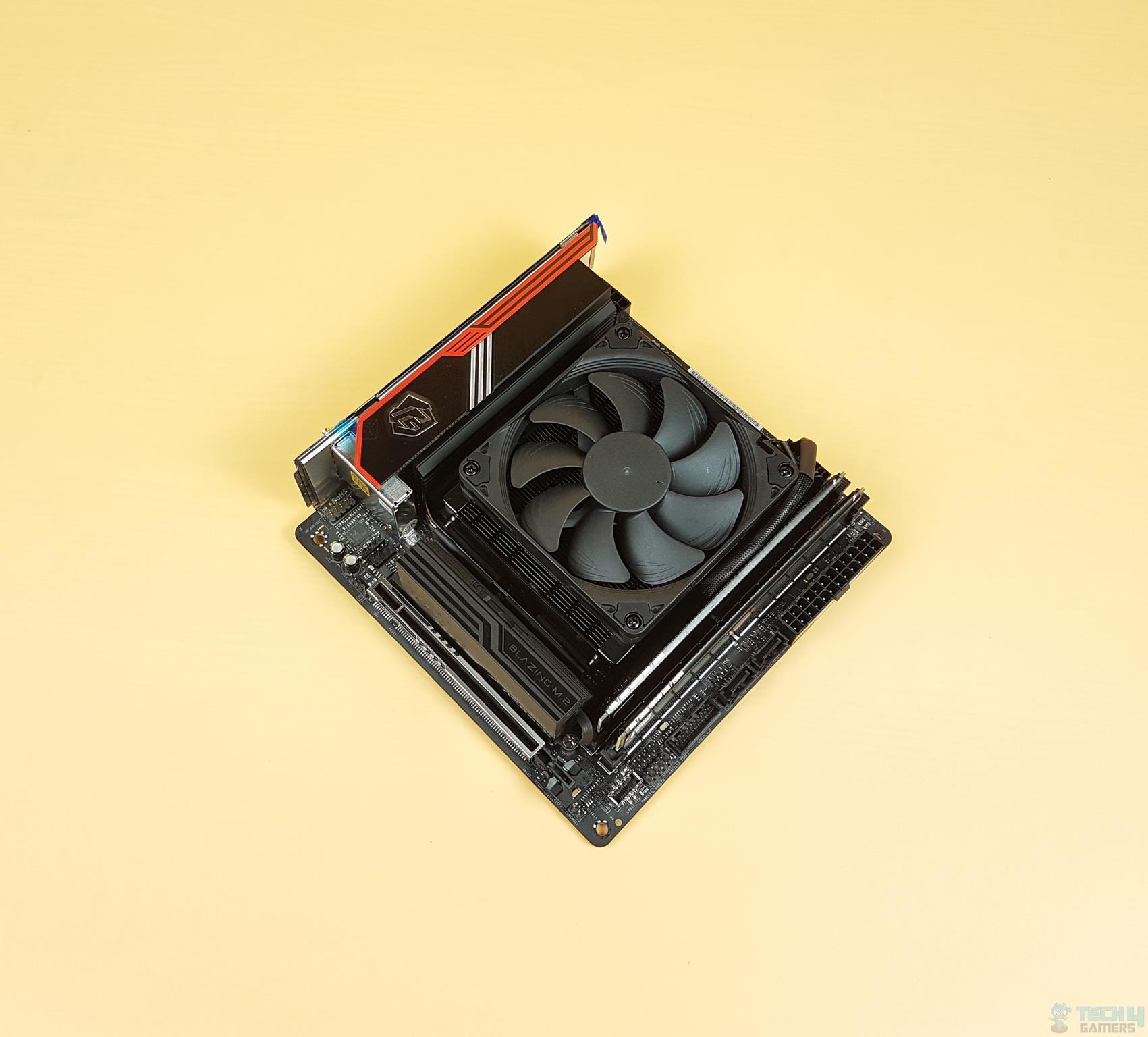 Clearly, this cooler has no issue with respect to the PCIe slot on this motherboard.
Noctua NSPR
Modern CPUs perform way above their base clock frequencies; hence they easily cross the TDP rating of manufacturers. The way it is, it is not an easy job to quantify this TDP rating which is why Noctua has come up with their own in-house rating system for their coolers which tells Noctua users the relative capability of each cooler in terms of a number. The higher number would suggest a better cooling headroom. This cooler has an NSPR rating of 61.
Noctua is using an in-house way of classifying their coolers in terms of turbo and overclocking headrooms as follows: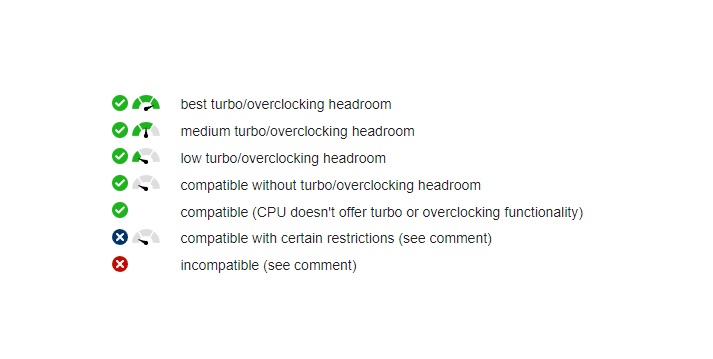 Here is what Noctua is saying about this classification, "Note that the turbo/overclocking headroom is classified in relation to the specified base clock speeds of the CPU, i.e., "compatible without turbo/overclocking headroom" means that a cooler can keep the CPU at the base clock at highly intensive and continuous all-core loads (e.g., Prime95) and "best turbo/overclocking headroom" means that a cooler can go far beyond base clock at these loads. Therefore, if two CPUs are identical except for one having a lower base clock speeds, the same cooler might score higher on the CPU with lower clock speeds."
Now, let's see what this cooler can do about AMD Ryzen 7 7700X CPU, as we will test it on this SKU.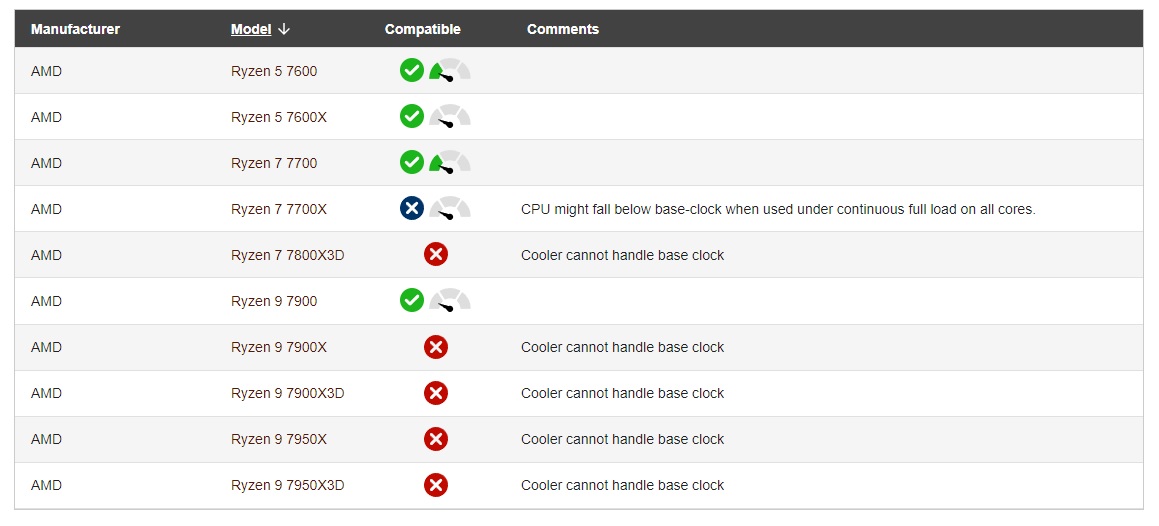 Noctua has mentioned that this CPU may go below the rated base clock of 4.5GHz all cores under a continuous full-core load.
Thermal Testing
We have used the following test bench:
We know these new SKUs from AMD will run at their full thermal junction of 95°C. So, we can't test the coolers as we have been testing on previous generations. Instead, we have to take a new approach in which we will want to know that under a full core load, these coolers will be able to sustain the base and boost clocks and what behavior they would exhibit under a continuous run.
Cooler able to sustain boost clock for a longer period wins. In addition, we would also like to know how these coolers will handle a single-core load.
With this in mind, we used CINEBENCH R23.2 to test full or all cores load for a 30-minute run and repeated this process for a 30-minute run using a single core load. Please keep in mind that there is no point in burning hardware to identify the pattern. A 10-minute run gave us a good clue about the pattern. We then also used PBO with an 85°C thermal limit and efficiency curve adjustment of -30mV and repeated the tests.
The AMD Ryzen 7 7700X has a base clock of 4.5GHz and a boost clock of 5.4GHz (Any core). I know that this SKU can easily hold to 5.2GHz under all cores heavy load based on previous testing and that it easily achieves 5.49GHz under a single core load. First, we established a base score running CINEBENCH R23.2 software.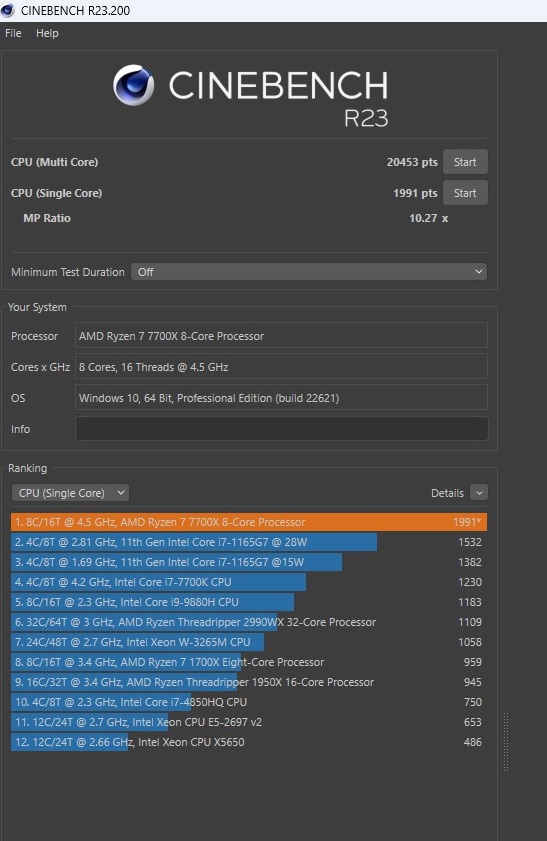 We can see that we have a 19772 CPU (Multi-Core) Score and a 1992 CPU (Single-Core) Score. We had a run of CINEBENCH R23.2 for 10 minutes instead of 30 minutes and used HWInfo64 to record each core's frequency during this time.
| | |
| --- | --- |
| Started Frequency | 5.19GHz |
| Lowest Frequency | 4.69GHz |
| | |
| --- | --- |
| R23.2 Load | Temperature °C |
| Multi-Core | 95.8 |
| Single-Core | 74.8 |
The reason we stuck with a 10-minute run was that during our first run of 30 minutes, the CPU sustained 4.69GHz. We can say for sure that the CPU would have gone below 4.69GHz during the extended run, but we only wanted to show what this cooler can do. CPU maintains a 5.40GHz clock on any core during Single-Core load during the test.
Next, we loaded Cyberpunk 2077 game and played it at 1080P resolution using Ultra settings without RT and DLSS. We got an average FPS of 161 which matches a regular cooling solution run. The maximum temperature during the game was 77°C.
Next, we loaded PBO profile as mentioned above and repeated the tests.
| | |
| --- | --- |
| Started Frequency | 5.25GHz |
| Lowest Frequency | 5.01GHz |
| | |
| --- | --- |
| R23.2 Load | Temperature °C |
| Multi-Core | 85.3 |
| Single-Core | 56.1 |
This cooler was able to do even better using PBO with a thermal limit of 85°C and efficiency curve adjustment of -30mV. It was able to sustain 5.01GHz during a test run of 10 minutes. Now, let's see the CINEBENCH R23.2 score as well: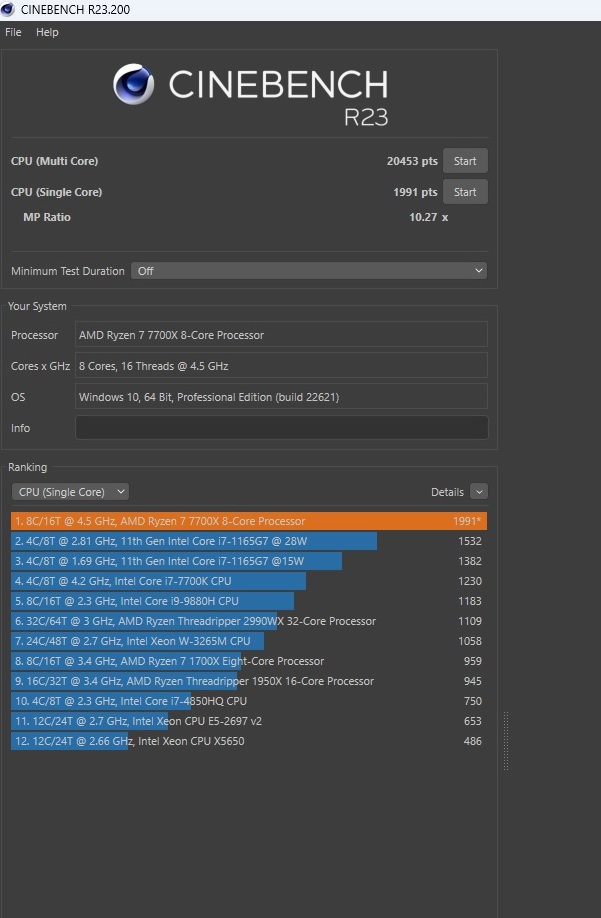 We are seeing an improvement in the CPU (Multi-Core) score. There is no change as such in a single-core run which is evident as this cooler is able to keep this CPU boosting to 5.40GHz under a single-core load.
Conclusion
We have tested Noctua NH-L9a-AM5 chromax.black cooler. Noctua has recently released this cooler, and it is aimed at the AM5 platform for SFF builds. The dimension of this cooler is 114x92x37mm with a fan, and the dimension of the heatsink is 114x92x23mm. The net weight of this cooler is 465g, with a height or thickness of 37mm.
This is a low-profile design, and Noctua has provided good height compatibility from this cooler for a tight space case.
This cooler has a black color coated heatsink comprising 66 fins and 2x 6mm copper heat pipes with soldered joints. Soldering gives any cooler a longer life; hence durability is enhanced without a loss in performance.
The NM-AFB10 mounting brackets come pre-installed on the base of this cooler. There is a nickel-plated copper base measuring 40×39.5mm.
Noctua has provided a single fan NF-A9x14 PWM chromax.black, which comes pre-installed on the heatsink. It needs not to be removed for installation of this cooler. This fan has a dimension of 92x92x14mm, where 14mm is the height or thickness of this fan.
It uses Noctua SS02 bearing, giving it a minimum life span of 150,000 hours. It has a Noctua AAO frame and superb build quality. The speed range without a low noise adapter is 600 to 2500 RPM ±10%. Its maximum airflow is 57.5m³/h. The noise rating is 23.6 dB(A) and uses an input power of 2.52W.
Users can also install a 92x92x25mm fan, for which Noctua has provided screws in accessories. Also, users can buy an optional secure 2 kit for the AM4 platform. Installation is convenient on the ITX motherboard and involves only 4x screws which are to be used from the back of the motherboard, so install this cooler on the motherboard out of the case, just in case.
We have tested this cooler on AMD Ryzen 7 7700X. This cooler was able to sustain 4.69GHz clocks during a run of 30 minutes using CINEBENCH R23.2 (Multi-CPU). We can see that this cooler will let users use these CPU clocks above a base clock of 4.5GHz.
However, given its pattern, it may fall below 4.5GHz depending upon the run length and load. This improved when we used PBO with an 85°C thermal limit and efficiency curve adjustment of -30mV, as the cooler was able to keep the CPU at 5.01GHz under multi-core load. The cooler enabled the CPU to provide a continuous 5.40GHz boost clock under a single core load.
Noctua NH-L9a-AM5 easily handles the gaming load with a maximum temperature of 77°C coming from Cyberpunk 2077 at Ultra settings and 1080P resolution. Noctua is offering a 6-year warranty on this cooler. The price tag on this cooler is EUR 59.90 / USD 54.90. Yup, it is expensive, but it is worth it as well as per our testing.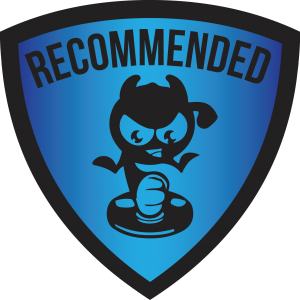 Was our article helpful? 👨‍💻
Thank you! Please share your positive feedback. 🔋
How could we improve this post? Please Help us. 😔