Intel's 10th generation comet-lake processors launched back in April 2020. To utilize the 10900k to its maximum potential, you will have to pair it with a good cooler which is why we are here with a list of the Best CPU Cooler for i9-10900k.
The launch was underwhelming, with mixed responses from consumers; however, that is not to say that the i9-10900k's performance is not up to the mark; it manages to hold up fairly well even in 2023 due to its high core count and incredible boost frequencies.
Going over its specifications, the Intel Core i9-10900k has a core count of 10 physical cores and 20 threads. It has a base frequency of 4.7 GHz with a boost clock speed of 5.3 GHz. Furthermore, the 10900k has an L3 Cache of 30MB.
The main drawback of the i9-10900k is obviously its high power consumption because of the limiting 14nm die, which makes cooling the 10900k a real challenge.
The 10th generation processors from Intel marked the end of the 14nm die, Intel has decided to finally put an end to the limiting 14nm die to compete with AMD's superior 7nm Zen 3 architecture.
If you are considering purchasing the Core i9-10900k, you may also check out our article for the Best Motherboards for the i9-10900k.
Before going over the CPU Coolers for the 10900k, let's take a look at its complete specifications.
Intel Core i9-10900k Specifications
Total Cores: 10
Total Threads: 20
Base Clock Speed: 3.7GHz
Turbo Clock: 5.3GHz
Default TDP: 125W:
Socket: Intel Socket 1200
L3 Cache: 20MB
Best CPU Coolers for i9-10900k
Here are the 6 Best CPU Cooler For i9-10900k In 2023:
Noctua NH-L9i chromax.black
EK-AIO Elite 360mm D-RGB
Scythe Mugen 5 Black Edition
CORSAIR iCUE H100i Elite Capellix
DeepCool AK620
NZXT Kraken Z53 RGB 240mm
Noctua NH-L9i chromax.black
Best Low-Profile CPU Cooler For Core i9-10900k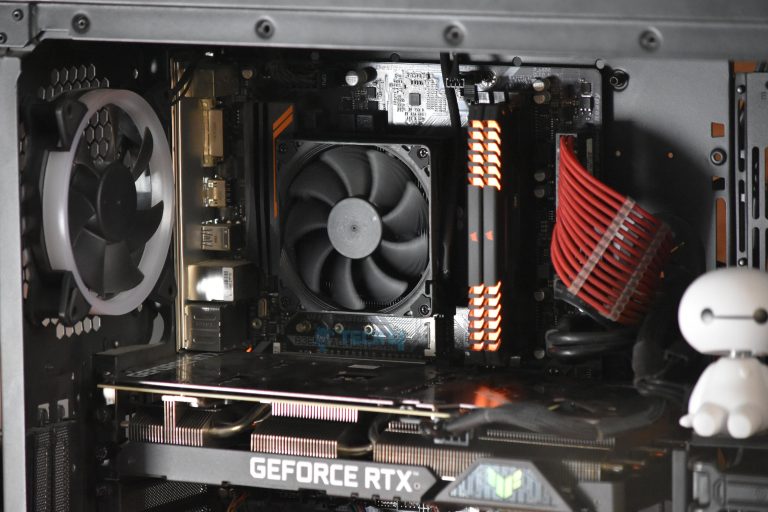 Specifications : Type: Low-Profile Air Cooler | Colors: Black and wood brown | TDP: 95+ W | RGB: No | Dimensions: 37 mm x 95 mm x 95 mm | Fan: 1x Noctua NF-A9x14 HS-PWM chromax.black 92 mm fan | Fan Speed: 600–2500 RPM (+/- 10%), 1800 RPM with LNA | Noise: 23.6 dBA and 14.8 dBA with LNA | Socket Support: Intel: Intel LGA1150, LGA1151, LGA1155, LGA1156, LGA1200 | AMD: AM4 with NM-AM4-L9aL9i
Pros
Fans use features for maximum airflow
Extremely low noise operation
Even less noisy with low noise adapter
Maximum RAM clearance
Cons
Can not handle CPU overclocking
No RGB
Noctua is a computer hardware brand that focuses on providing cooling solutions and often caters to all sorts of users. Noctua is kind enough to include the people who are on a tight budget by introducing a low-profile cooler known as the Noctua NH-L9.
Noctua offers two variants for different processors, namely the NH-L9i and the NH-L9a where the letter 'i' represents Intel and the letter 'a' represents AMD. Both of these have different pre-included brackets. For the Core i9-10900K, we must go for the NH-L9a model.
Both of these models arrive in the color that Noctua is famous for, wood brown. However, the product we will review today has been completely revamped in an all-black color theme and it is called Noctua NH-L9i chromax.black.
The Noctua NH-L9i chromax.black didn't only go through a quick paint job but the color coating can be seen around the entire cooler with the exception of the back plate. Everything including the fin arrays, mounting kit, and screws are covered in black color.
Noctua NH-L9i chromax.black is a small form-factor CPU cooler that is even smaller than the high VRM heatsink of the latest motherboards. Due to its compact size, RAM clearance issues are out of the equation since you can easily install any memory stick beside it.
For the heatsink, we get two 6 mm copper-made heat pipes that make direct contact with the backside of the base plate by forming a U-shaped layout. The ending of these heat pipes emerge on the top side and are finished to give slightly pointing endings.
The base plate uses nickel-plated copper as its main material and is finished in a radial pattern to get a better spread of the thermal compound. The base plate is perfectly machined and finished to have a mirror-like appearance without any marks present on it.
In terms of performance, the Noctua NH-L9i chromax.black uses a Noctua NF-A9x14 HS PWM 92 mm fan which has a thickness of only 14 mm. Noctua seemed very proud of the fan's thickness which is why they chose to include it in the name of the fan.
All the Noctua features allow these fans to ramp up to a maximum speed of 2500 RPM with an airflow of 57.5 m³/h. However, you can tone it down to 1800 RPM if you use a low noise adapter to reduce the noise levels. This fan operates at a minimum speed of 600 RPM.
At maximum speeds, it can produce only 23.6 dBA where it can be further decreased to 14.8 dB(A) by using the low noise adapter. However, using a low-noise adapter can also significantly decrease the performance along with the noise.
Check out our review for the Noctua NH-L9i for a much more in-depth look at the cooler.
If you are considering getting low profile cooler, you may also have a look at the Best Low Profile CPU coolers.
What We Liked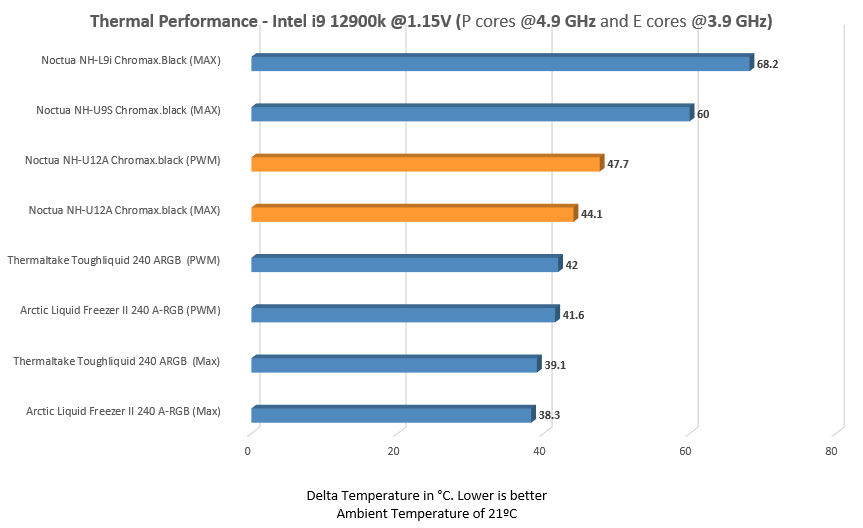 This top-notch fan uses all the latest features provided by Noctua including the SSO2 bearing and a stepped inlet design where the frame of the fan has stepped corners which allows changes in the flow from laminar to turbulent, which improves the efficiency of airflow.
Additionally, these fans use the flow acceleration channels technology for their blades. The edges of the fan's blades have three angular channels integrated to allow the air to travel through them which increases the airflow and lowers the noise levels.
What We Disliked
Since the Noctua NH-L9i chromax.black is a low-profile small factor cooler, it can not handle the overclocking of the CPU, especially a powerful CPU like the core i9-10900K. Temperatures can easily exceed 100°C which can cause problems for your expensive CPU.
What Sets Noctua NH-L9i chromax.black Apart From Its Competitors?
The nickel-plated copper base plate used in the Noctua NH-L9i chromax.black is incredibly strong that it prevents any marks to be left once the cooler is installed. Many coolers have a softer base plate where marks are left when the cooler comes in contact with the CPU.
Verdict
The Noctua NH-L9i chromax.black is an excellent CPU cooler that gives the maximum amount of RAM clearance and would be better than the core i9-10900k stock cooler if Intel offered one. It can handle the powerful core i9-10900K but will keep the temperatures below optimal levels.
However, it is crucial to know that overclocking is not an option for this cooler. Nonetheless, it uses fans with excellent features to improve the airflow while being almost silent. Therefore, the Noctua NH-L9i chromax.black becomes the best low-profile CPU cooler for Core i9-10900K. If you are curious, you may also take a look at our video review of the cooler.
EK-AIO Elite 360mm D-RGB
Best 360mm Liquid Cooler For Core i9-10900k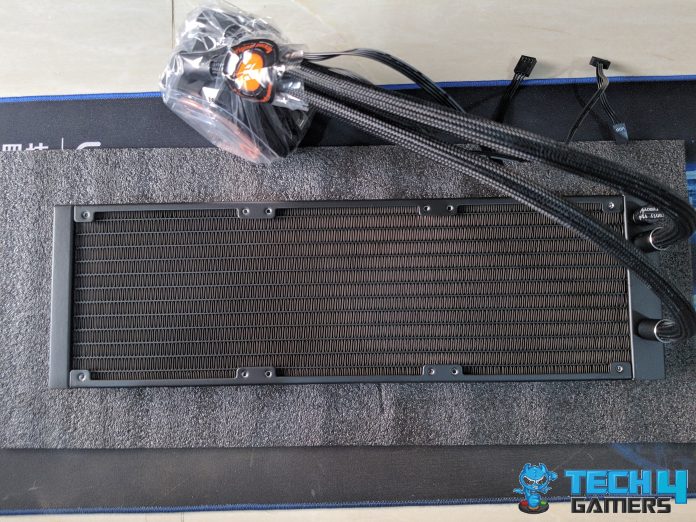 Specifications : Type: AIO Liquid Cooler | Colors: Black | TDP: 200+ W | RGB: Yes | Radiator Dimensions: 395 x 120 x 27 mm | Fan: 6x EK-Vardar S 120ER D-RGB | Fan Speed: 550 – 2200 RPM ± 10% | Noise: 31.6 dB(A) | Socket Support: Intel: LGA 1150, 1151, 1155, 1156, 1200, 2011, 2011-3, 2066, 1200 | AMD: AM4
Pros
Premium high performing fans
6 included fans for push-pull configeration
Exceptional cooling performance
Tool-less installation
Ruby-cut rotation for easy tubes adjustment
PWM Connector Hub for 6 fans and RGB light
Cons
Expensive
PWM connector hub not magnetic
RAM clearance is not impressive
EK is a premium computer hardware brand that specializes in giving liquid cooling solutions for all of your components, offering water-cooler kits for CPUs and GPUs along with all the reservoirs, water blocks, and fittings needed to turn your PC into the liquid cooled one.
There are numerous AIO liquid coolers offered by EK. However, their top-notch line of AIO coolers starts from the EK-AIO Elite series, which ranges from 280 mm and a 360 mm. The EK-AIO Elite 360mm D-RGB is our pick of the day.
The EK-AIO Elite series has a different design than the standard EK-AIO series. The pump block on the EK-AIO Elite 360mm D-RGB has a grey steel surface unlike the standard EK-AIO Elite 360mm D-RGB, which contained a translucent white plastic pump block.
Design-wise, the steel surface has a rectangular element of black nickel that adds to the premium look of this cooler. Underneath the robust pump, we get a cold-plated copper base plate with a pre-applied thermal compound plastered on it in a square-shaped manner.
This pump can have speeds of 1000 RPM at 25% which can ramp up to 3300 RPM at a 100%. The pump uses 400 mm long ultra-low evaporation rubber tubes with nylon braided sleeves, each equipped with a lightweight aluminum cover for added strength.
In terms of the fans, the EK-AIO Elite 360mm D-RGB uses the premium EK-Vardar S 120 mm fans, which are designed primarily for high-performance fluid cooling systems. These fans can be controlled either by the motherboard or by the EK-Hub PWM.
The EK-Vardar S 120ER D-RGB fans offer extremely high performance and can run at ranges between 550 – 2200 RPM, producing a maximum airflow of 66.04 CFM and static pressure of 1.9 mm H20 at max speed while only being fairly quiet, generating 31.6 dBA.
On top of that, the EK-AIO Elite 360mm D-RGB offers a tool-less installation system where you are only required to install a solidarity radiator mount with ruby-cut rotating installations so you can easily modify the tubes as per your preference.
You can also customize the addressable D-RGB lighting in your EK-AIO Elite 360mm D-RGB fans to your liking. This range of fully addressable D-RGB can be controlled either by your motherboard or through the pre-included D-RGB controller, the EK-Hub PWM.
This EK-Hub PWM has six PWM connectors and six RGB headers, three on each side. You get two additional connectors: the motherboard A-RGB and the motherboard fan. You also get a SATA cable as well with this D-RGB controller PWM hub.
In addition, the cover of the EK-Hub PWM is transparent with the EK logo embedded in the middle that lights up. This fan and RGB controller has four screws present in its case which allows you to install it on any of your SSD trays easily.
Once the 3-pin LED connector lines up with the +5V noting on the A-RGB header, you can easily control the RGB through the motherboard where it can be synced with all the popular motherboard software including ASUS Aura Sync and MSI Mystic Light, just to name a few.
If you are in the market for 360mm radiators, our article for the Best 360mm AIO CPU Coolers is definitely worth checking out.
Our in-depth review of the EK-AIO Elite 360mm D-RGB is also worth reading.
What We Liked
The diamond-cut rotating system allows you to easily adjust them without bending the tubes in any harmful way. This gives it a wide range of movement which makes the EK-AIO Elite 360mm D-RGB compact enough to fit even the tightest spaces.
In terms of the design, the combination of steel and black nickel used for the pump block glorifies the entire cooler. The pump appears more robust and minimalistic, unlike the previous model which looked cheap with the white translucent pump block.
Since the i9-10900K has a higher TDP and consumes power like a racehorse, the EK-AIO Elite 360mm D-RGB proves to be the best cooler for i9-10900K because it can handle the CPU very easily and offers no problems even it comes to overclocking.
What We Disliked
The EK-AIO Elite 360mm D-RGB is an excellent AIO liquid cooler that doesn't have any major flaws. However, there are a few minor ones that should be pointed out. The EK-Hub PWM is not magnetic which might upset a few users who want to stick it on their metallic PC case.
The EK logo at the bottom left corner of the pump block illuminates by the D-RGB. However, it hinders the minimalistic appearance that the pump block already has. Even though, we know the logo is for branding purposes but it would've been better to not have it on the pump.
Finally, the price tag might serve as a huge disappointment to a lot of users that are seeking a 360 mm AIO liquid cooler while being on a tighter budget. For these users, other options are available for them to choose from.
What Sets EK-AIO Elite 360mm D-RGB Apart From Its Competitors?
The best part about the EK-AIO Elite 360mm D-RGB is that they included six fans instead of only three. This allows you to have a fully push-pull configuration setup on your radiator, with three being used as a tool to pull the air in and the other three to push it out.
Additionally, you can install the three on your radiator while utilizing the rest by installing them on your PC case for better airflow regulation. Since these fans are high performing they can be perfect for being your case fans, either for intake or exhaust.
This is an excellent addition since all of the EK-Vardar S 120ER D-RGB fans do not come cheap if you purchase them separately. Therefore, for them to be added along with the cooler justifies the price tag it has.
Verdict
The EK-AIO Elite 360mm D-RGB is an exceptional AIO liquid cooler that is jam-packed with goodness in the form of features. The six of their premium fans are extremely impressive and high performing which gives you a lot of possibilities to have an excellent regulation of airflow.
Moreover, the pre-included EK-Hub PWM controller makes these fans and other PWM-controlled options like the RGB lighting possible by providing a hub to easily plug and play any of the external devices.
Finally, the performance it offers is exceptional, which allows it to handle even the most powerful CPUs market has to offer including the core i9-10900K. The EK-AIO Elite 360mm D-RGB welcomes overclocking with open arms without a single issue of rising temperatures.
With all the features, mixed with the extraordinary performance and paired with the gorgeous design, the price tag also seems justified, which makes the EK-AIO Elite 360mm D-RGB rise to the ranks of being the best 360mm liquid cooler for core i9-10900K.
Scythe Mugen 5 Black Edition
Best Budget CPU Cooler For Core i9-10900k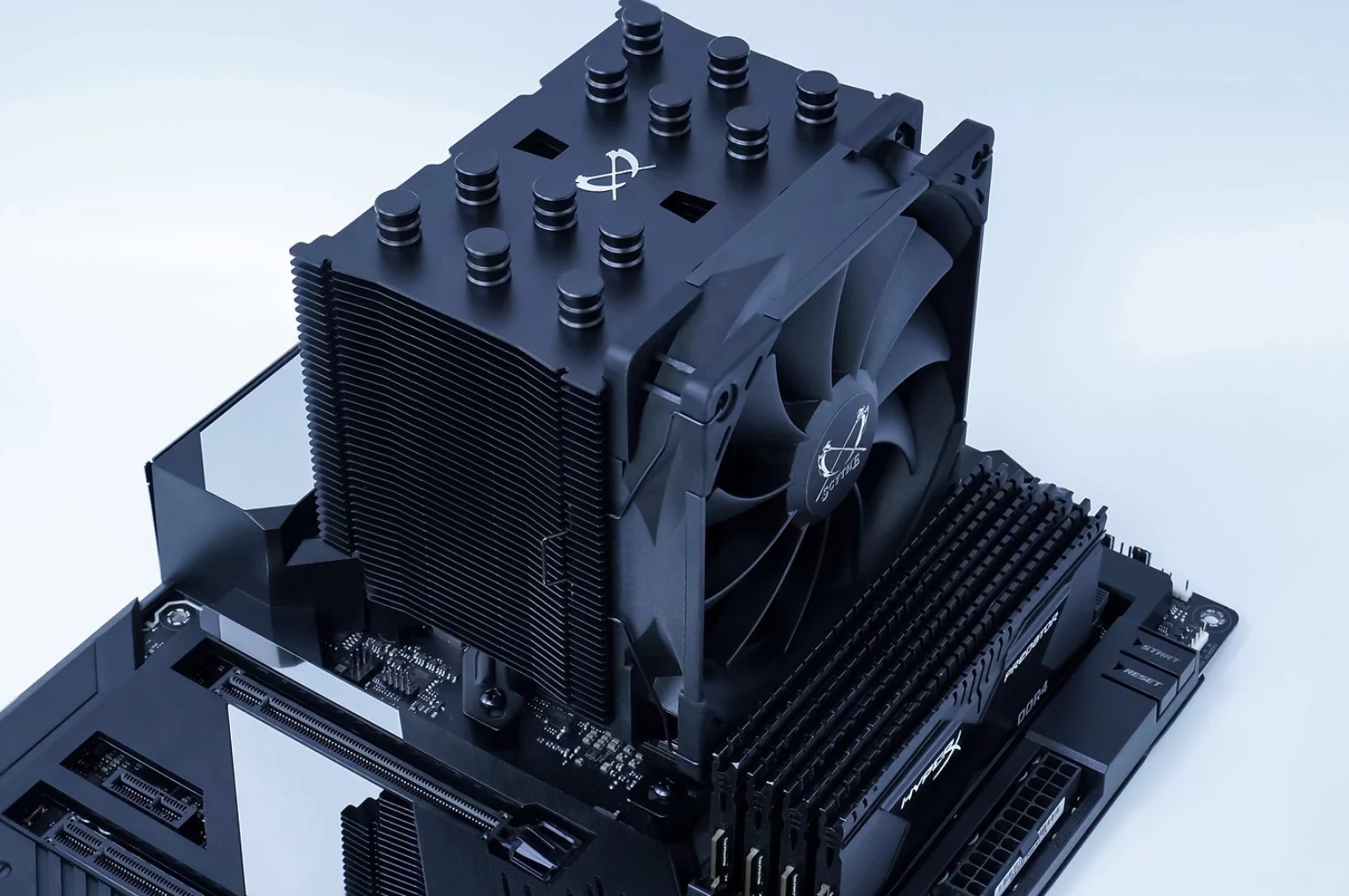 Specifications : Type: Single Tower Air Cooler | Colors: Black and Grey-Blue | TDP: 150+ W | RGB: No | Dimensions: 155 x 136 x 110 mm | Fan: 1x Kaze Flex 120 Black | Fan Speed: 300–1500 RPM | Noise: 29.75 dBA | Socket Support: Intel: LGA1200, LGA115X, LGA2011 (Square ILM), and LGA2066 | AMD: AM4, AM3(+), AM2(+), FM2(+), and FM1
Pros
Incredible fan speed
Low noise operation
Very easy installation process
Minimalistic matte black
Cons
An asymmetrical layout looks different
No RGB
Scythe is a computer hardware brand that mostly deals with cooling solutions for your CPU, especially air coolers. As the name suggests, the blades for the fans they use are sharper than your typical CPU cooler fans since a Scythe also contains a rather sharp blade.
Scythe has a wide range of products catering to different types of users with different preferences. However, today we will review one of their best CPU coolers known as Scythe Mugen 5 in its revision B, which comes in a standard color and an all-black theme.
The Scythe Mugen 5 Black Edition is what we will focus on today. The Scythe Mugen 5 Black Edition doesn't wear the standard grayish-blue tone that Scythe is known for using in their products. The black version costs $10 more than the standard version.
When it comes to price, Scythe Mugen 5 Black Edition is similar to the Scythe Fuma that comes in the category of CPU coolers that are under $50. The Black Edition is not only limited to the color theme of the cooler. It has much more to offer than just the color.
For the fans, the Scythe Mugen 5 Black Edition uses a Kaze Flex 120 Black which runs at a maximum rotation speed of 1500 RPM instead of the standard Kaze Flex 120 whose speed was only limited to 1200 RPM.
Now, a 300 RPM difference might not seem much but it adds up a lot by giving an astonishing 66.47 CFM whereas the standard one only gives 51.17 CFM. With the exceeding numbers, the noise levels also slightly rise, producing 30 dBA at max speed.
With the rotational speed it generates, it also moves a lot of air. Air movement is crucial when you have a thick heatsink to work with. The fin arrays are massively dense and are finished perfectly so you don't cut yourself with their edges.
Along with the fin arrays, we find six 6mm heat pipes that stretch towards the base plate. However, the way they do so is not ordinary. They use an asymmetrical layout where they slightly lean forward. This makes the entire CPU cooler look hunchback from the sides.
While the design may appear out of proportion, the benefits it provides outweigh the weird asymmetrical design. Its sole purpose is to bring the fan forward where it is exactly above the mounting bracket, to avoid leaning it towards your memory sticks.
In addition, there is an indent present on the other side which provides enough clearance for all of your RAMs, especially to provide enough space for you to install RAMs on quad-channel intel HEDT systems.
If you are on a low budget, you may also check out our article on the Best Budget CPU coolers.
What We Liked
Scythe has gone above and beyond with this product. The Black Edition really sets an example for other CPU coolers to follow. Its design is very minimalistic with all the nooks and crannies being covered in matte black.
The heat pipes end and the fittings are capped with minimalistic all-black caps, which complement the design instead of ruining it as we see in many other CPU coolers. The base plate is convex and has an almost perfect finish that provides a mirror-like appearance.
The Black Edition doesn't only serve as a change in color but also boosts the performance with the increased fan speed that adds up to a larger number when compared to the standard version.
What We Disliked
The Scythe Mugen 5 Black Edition does not disappoint in any way. However, since it is mandatory to talk about the negative aspects of the Scythe Mugen 5 Black Edition, there is one thing to point out.
The asymmetrical design in the Scythe Mugen 5 Black Edition looks very different when viewed from the side since it appears bulky at the top and toned down from the bottom. People who like organized and symmetrical layouts might dislike its appearance.
What Sets Scythe Mugen 5 Black Edition Apart From Its Competitors?
The fin arrays used in the Scythe Mugen 5 Black Edition are extremely dense and are one of the thickest when compared with fin arrays found in other CPU coolers. The quality of these fin arrays also speaks volumes.
As for the fan, Scythe decided to use standard clips to mount the fans but these are one of the sturdiest clips since the fans don't topple when shaken or moved even with great force. The installation process of these clips is also extremely easy.
Speaking of easing the installation process, Scythe shines bright among other competitors because they provide you with a magnetic screwdriver that is long enough to enter the CPU cooler to screw the mounting brackets in perfectly. This comes in handy a lot.
Scythe used all the premium items to craft this absolutely incredible cooler that falls at a relatively cheaper price tag. The price tag is also what allows the Scythe Mugen 5 Black Edition to stand apart from its competitors.
Verdict
The Scythe Mugen 5 Black Edition has taken things to a new level. It has aesthetically pleasing looks, powerful fans with low noise, elegant and toned-down fin arrays, and size with an asymmetrical layout that can clear out any memory sticks.
It does an incredible job at being a high-quality CPU cooler while still costing less. This is the product that people with a tight budget need. A higher TDP allows you to easily fit it into powerful CPUs, making it the best budget CPU cooler for i9-10900k.
CORSAIR iCUE H100i Elite Capellix
Best 240mm Liquid Cooler For Core i9-10900k
Specifications : Type: AIO Liquid Cooler | Colors: Black and White | TDP: 175+ W | RGB: Yes, Corsair's Capellix LED Technology | Radiator Dimensions: 277 mm x 120 mm x 27 mm | Fan: 2x ML Series 120 PWM RGB Fans | Fan Speed: 2400 RPM | Noise: 37 dB(A) | Socket Support: Intel: LGA 2066, 2011, 1700, 1366, 1200, 1156, 1155, 1151, 1150 | AMD: AM4 / AM3 / AM2 / sTR4 / sTRX4
Pros
Swappable translucent pump cover
Upgradable LCD pump cover kit
Special LEDs consume less heat
Special LEDs generate less power
PWM Connector Hub for fans and light strips
Cons
Tall and bulky pump
Pump tubes droop over GPU
Few wires around the pump
We see the Corsair logo slapped on all the computer products – be it mice, keyboards, PC cases, power supply units, and many more. However, Corsair has also dipped its toes in the category of liquid coolers, producing one of the most high-quality ones ever known in the market.
The CORSAIR iCUE Elite Capellix series contains three variants of liquid coolers, namely The H100i Elite Capellix, H115i Elite Capellix, and H150i Elite Capellix, ranging in different sizes of 240 mm, 280 mm, and 360 mm respectively.
The one we will review today is a 240 mm liquid cooler and the first one on the list, is the Corsair iCUE H100i Elite Capellix. It is much similar to the H100i RGB Pro XT with a few differences that allow the Corsair iCUE H100i Elite Capellix to dominate its previous sibling.
The main obvious difference is the pump that happens to be very taller in the Corsair iCUE H100i Elite Capellix, coming in at a height of 50 mm. Beneath the thick pump cover lies Corsair's very own LED technology called 'Capellix', which is why it is included in its name.
These 33 ultra-bright RGB LED lights are scattered around to provide a uniform flow of RGB lighting throughout the entire cover. The Capellix is said to consume less power and generate less heat than the typical RGB light used in other coolers.
Underneath the pump, we get a split-flow cold copper plate with screws bolted around its circumference. Diving deeper, the plate contains 128 micro-skived fins per inch for excellent heat dissipation.
Speaking of heat dissipation, the fans that the Corsair iCUE H100i Elite Capellix uses are two of the ML series PWM RGB 120 mm fans that have magnetically levitated bearings, which spin at higher speeds without making contact with any of the components inside it.
With this technology, they can ramp up to 2400 RPM, providing a maximum airflow of 75 CFM while only generating 37 dbA. These fans are equipped with 8 RGB LEDs per fan, all present in the middle of the fan to provide even lighting across the whole frame.
All the RGB lighting and fans can be connected to a PWM connector hub, iCue Commandor Core, which supports up to six PWM fans. The iCue software is then used by which you can fully customize the RGB and speeds of the fan, even set up zero-RPM for low usage.
Make sure to read our article on the Best 240mm AIO.
What We Liked
The RGB on the Corsair iCUE H100i Elite Capellix is extremely attractive, especially with the pre-included white translucent pump cover. The Corsair iCUE H100i Elite Capellix works with the iCue software where RGB can be paired with the ones used in other components.
The fans on the radiator are white translucent with the frame being black. The RGB in the fans emerges from the middle which evenly illuminates throughout the entire frame. The white fans do make a huge difference since the iCUE H100i RGB Pro XT had grey fans.
For aligning the performance with the i9-10900K, the Corsair iCUE H100i Elite Capellix does an excellent job in cooling even the powerful CPUs, which makes it one of the best water coolers for i9-10900K.
What We Disliked
The glorious Corsair iCUE H100i Elite Capellix is riddled with great aspects. However, a few drawbacks that are worth mentioning. A few wires clutter above the pump cover that are visible when viewed from the glass panel. It would have been better to have them hidden.
Another setback might be the positioning of the pump tubes since they droop downwards and rest on the GPU. This is because it does not have an option for rotating pivot present for the tube. It might look off or not as aesthetically pleasing for some people.
What Sets CORSAIR iCUE H100i Elite Capellix Apart From Its Competitors?
This all-in-one liquid cooler is jam-packed with goodness but one aspect that absolutely stands out about the CORSAIR iCUE H100i Elite Capellix is its upgradeable LCD screen option. You can purchase an add-on that allows you to install a customizable LCD screen.
Additionally, the iCUE ELITE CPU Cooler LCD Display Upgrade Kit has 24 RGB rings that are highly customizable and can take the shape of any GIF or image you put on it. By default, it shows you the current temperature of your CPU or the RPM of your radiator pump.
The CORSAIR iCUE H100i Elite Capellix really goes above and beyond when it comes to customizing the pump cover. We get another incredible feature which is the swappable pump cover. The standard cover is black in color, illuminating only the borders with RGB.
Whereas, the new swappable pump has a white translucent cover that diffuses the RGB and makes it glow throughout the pump rather than limiting it only to the edges. This produces breathtaking effects, which mimic the pump covers of expensive 360 mm radiators.
Verdict
The CORSAIR iCUE H100i Elite Capellix proves to be an exceptional AIO liquid cooler, with a few key features that make it extraordinary when you compare it with other coolers. The swappable pump cover and the upgradable LCD pump cover option are great additions.
It has long 380 mm radiator tubes that allow the pump to cool the CPU effortlessly. However, the tubes dangle above the GPU, which is not the best sight to view. There are wires around the pump as well, which can serve as a slight downside.
Regardless of a few visual drawbacks, the way it effectively performs while being less noisy, along with the gorgeous light show it produces, the iCUE H100i Elite Capellix comes in the category of being the best 240mm liquid cooler for i9-10900k.
DeepCool AK620
Best Overall CPU Cooler For Core i9-10900k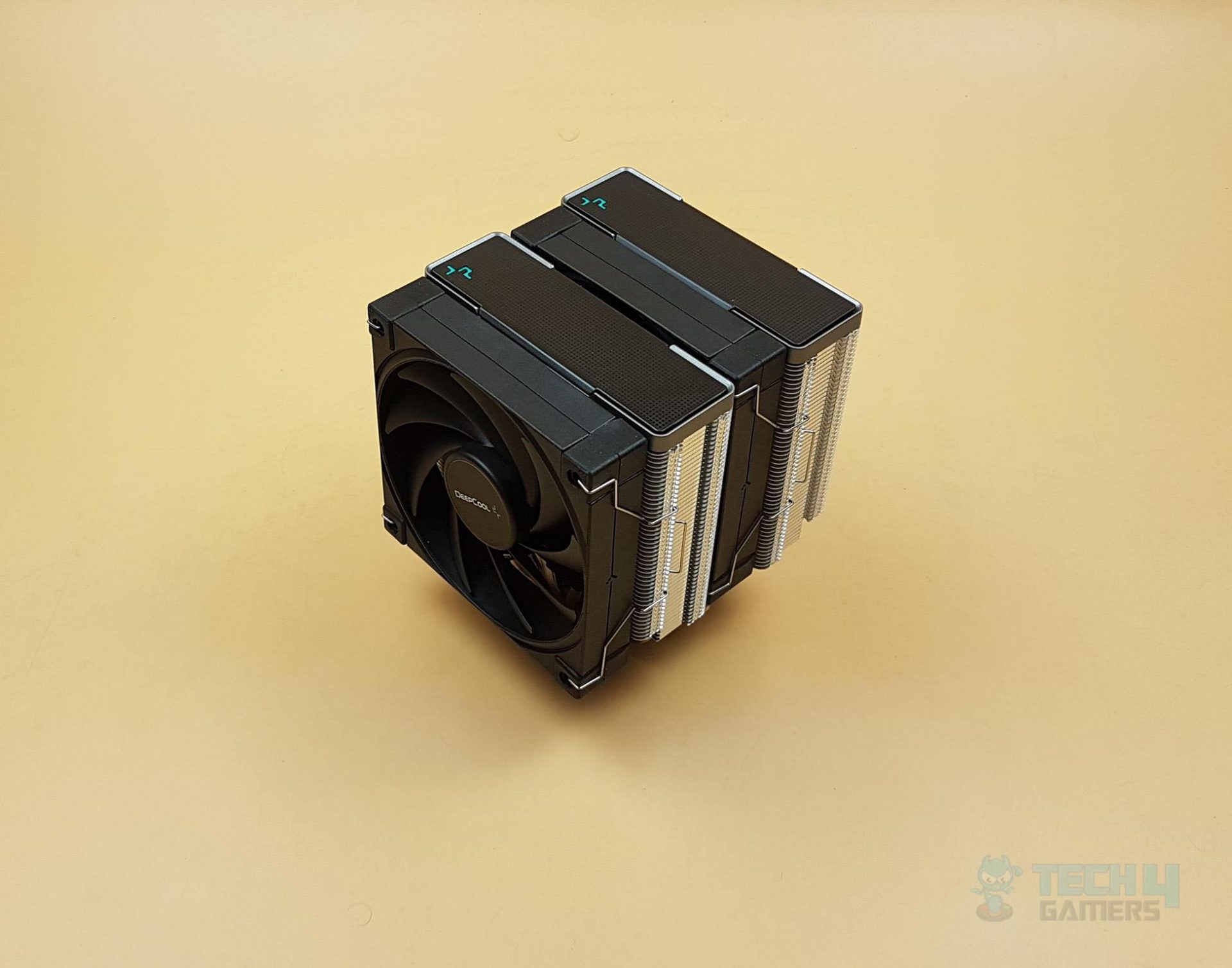 Specifications : Type: Dual-Tower Air Cooler | Colors: Black and White | TDP: 150+ W | RGB: No | Dimensions: 129 mm x 138 mm x 160 mm | Fan: 2x ML Series 120 PWM RGB Fans | Fan Speed: 500~1850 RPM ± 10% | Noise: ~ 28 dBA | Socket Support: Intel: LGA2066 / 2011-v3 / 2011 / 1700 / 1200 / 1151 / 1150 / 1155 | AMD: AM4
Pros
White color is entirely white
Performs excellently
Reasonable price for dual tower cooler
Minimal and sleek design in both colors
Cons
No RGB
Black doesn't have an all-black theme
DeepCool is a renowned computer hardware brand that has one of the best PC cases and CPU coolers. They usually produce air coolers and are appreciated by many users because they have a variety of products. The one we will review today is DeepCool AK620.
The DeepCool AK620 is a dual-tower air cooler with two fans clipped with the heatsink. Speaking of the heatsink, we get six 6 mm nickel-coated heat pipes flowing underneath the heatsink. These pipes travel all the way to the bottom where we see the cold base plate.
As for the colors, we don't get a complete theme that runs across the whole cooler. The black version sports shiny silver heat pipes and fin arrays with only the fans being black. Whereas, the white version has an all-white design where white covers the entire cooler.
For the black color, the design looks robust and sleek with the top cover hiding the shiny elements of the fin arrays. The fans sport a matte black design similar to the one found in the top cover. The top cover is present in both colors and plays a part in enhancing its look.
This top cover contains a dotted design that is similar to the one DeepCool uses in its Mesh PC cases. The design ends with the new turquoise DeepCool logo carved at the bottom of both the portions of the top cover, making it look minimalistic if it wasn't already.
In terms of the fans, we get two 120 mm DeepCool FK 120 PWM fans that are connected through the 4-pin connector. The fans are non-RGB and are available in black or white. These fans can spin at a minimum speed of 500 RPM and can exceed to 1850 RPM.
In addition, these 120 mm fans can provide a maximum airflow of 68.99 CFM while producing 2.19 mmAq of air pressure, while being relatively silent where they only generate around 28 dbA of noise at maximum speeds.
The DeepCool AK620 itself is not an enormous cooler, which means you get enough RAM clearance to install your standard memory sticks. For larger RAMs, you can easily adjust the fans slightly upwards since they are hinged by re-adjustable clips.
For further information, you can check out our review for the DeepCool AK620
What We Liked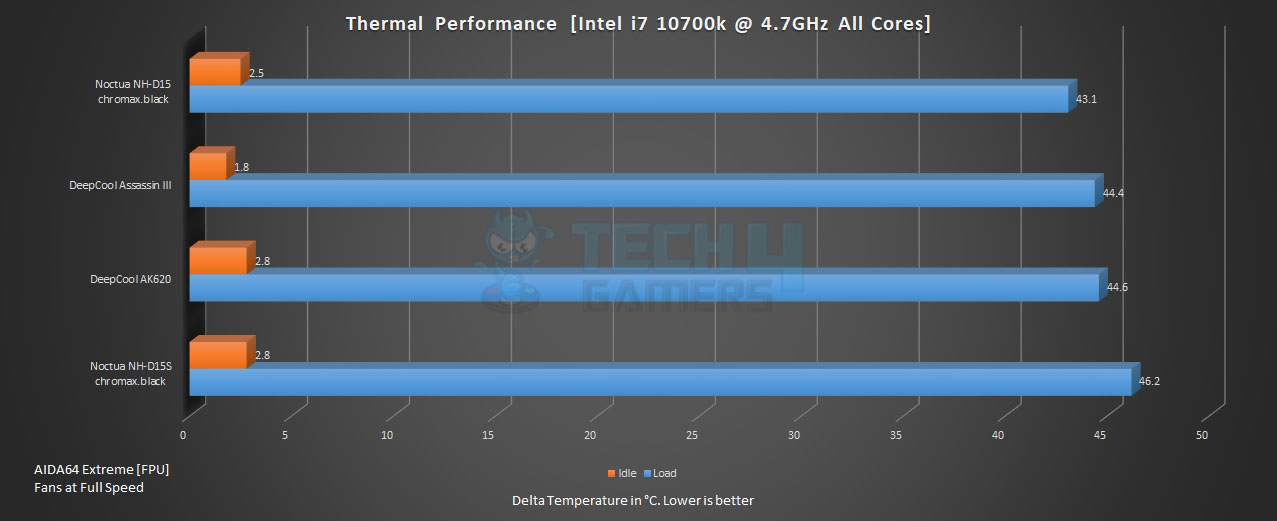 DeepCool AK620 also has another cover present on both of its sides. This cover effectively hides the fin arrays and has a square-tiled pattern with different depths, which gives the DeepCool AK620 an excellent look when viewed from either of its sides.
What We Disliked
We get a slightly convex surface on the thick base plate but it is rather small for anyone to notice until you pull out a surface tool and measure it with it. While the base plate is almost perfectly finished, there are a few machining marks present that are slightly visible.
What Sets DeepCool AK620 Apart From Its Competitors?
The DeepCool AK620 is a great option when it comes to performance and appearance. It performs well, appears sleek and minimalistic, and is also very cost-effective. This makes it stand out from other air coolers that don't perform well in this price range.
Verdict
Considering all the facts, the DeepCool AK620 was expected to perform well but it surpassed expectations. It is recommended to go for the DeepCool AK620 instead of going for a cheaper AIO liquid cooler because the cheaper ones aren't worthwhile.
The DeepCool AK620 is available in both colors and the white one is extraordinary because it is pocket-friendly and suits all the users that are opting for an all-white themed setup. This makes the DeepCool AK620 the best overall CPU cooler for i9-10900k.
NZXT Kraken Z53 RGB 240mm
Best White CPU Cooler For Core i9-10900k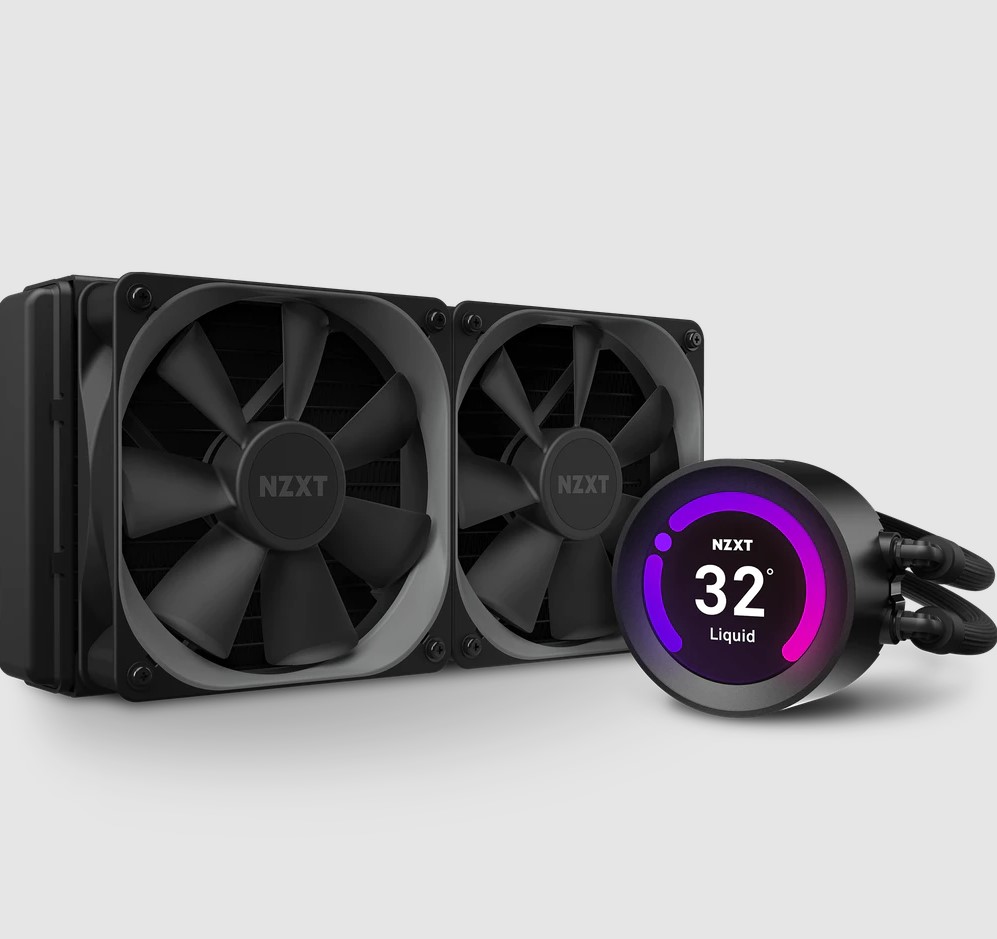 Specifications : Type: AIO Liquid Cooler | Colors: Matte Black and Matte White | TDP: 175+W | RGB: Yes | Radiator Dimensions: 123 x 275 x 30mm | Fan: 2x Aer RGB 2 120mm fans | Fan Speed: 500 – 1,500 ± 300RPM | Noise: 22 – 33 dBA | Socket Support: Intel: Socket LGA 1200, 115X, 1366, 2011, 2011-3, 2066 | AMD: AMD Socket AM4, sTRX4*, TR4* (*Threadripper bracket not included)
Pros
Customizable and colorful LCD screen
Premium NZXT fans
Less noisy
Performs excellently
Extremely minimalistic appearance
Three orientations for LCD screen
Cons
Expensive
Fans don't have middle RGB
NZXT is a premium computer hardware brand since they either produce high-quality products or they don't at all. The finish of their products, the pleasing way they appear, and how incredibly they perform all scream the top-notch quality NZXT is known for.
The product we will review today happens to be a 240 mm AIO liquid cooler known as the NZXT Kraken Z53. It is one of the best liquid coolers NZXT has ever produced and is available in black and white colors. Now, let's dive into the in-depth review.
Starting with the pump, we get a port for micro USB and a SATA cable for the flow of power. The top portion does not have a standard pump cover. Instead, it dons a 2.36" LCD screen that is fully customizable where you can place any GIFs or images that you desire.
By default, the LCD shows the current temperature of the CPU or you can also change it so it displays the temperature of the GPU. This LCD shows vivid and bright colors because it uses 24-bit True Color with a resolution of 320 x 320 px and a brightness of 650 cd/m².
This LCD screen is controlled by the NZXT CAM software where you get different modes showing different temperatures either individually or together. All the changes are made instantly apart from the GIFs, which take a few seconds to load on the 2.36" LCD screen.
Coming back to the pump and looking underneath it, we find the water block that contains a circular copper base plate with screws bolted at the edges in a circular manner. There is a generous amount of pre-applied thermal paste present on the base plate.
On the pump, there are two 400 mm tubes running towards the radiator. These tubes aren't made of any ordinary rubber. Instead, NZXT chose an ultra-low evaporation rubber with a nylon braided sleeve, which strengthens the tubing to protect it from any leaks.
Going along with the tubes all the way to the aluminum radiator, we get space for two of the NZXT's premium Aer RGB 2 120 mm fans. These fans can spin as low as 500 RPM and as fast as 1500 RPM all thanks to the fluid dynamic bearings used in them.
These premium fans can also reach a maximum airflow of 52.44 CFM while producing 1.35 mm-H₂O of air pressure. All the while, their noise level reaches only 33 dbA, which is relatively less noisy when compared with other AIO liquid cooler fans.
Our article on the Best White CPU coolers is also worth checking out if you plan on purchasing a White CPU Cooler.
What We Liked
The lifespan of the radiator is 60,000 hours and NZXT is kind enough to provide a warranty of six years. This goes to show that NZXT has faith in all of their products and values their customers, which is why they make a long-lasting effect on their customers.
Due to the LCD screen, you don't need to have the pump installed in a certain orientation. NZXT has given users the freedom to install the pump at +90, +180, and -90 degrees orientations since that can be easily adjusted through their NZXT CAM software.
What We Disliked
Thinking of the drawbacks of the top-notch NZXT Kraken Z53 seems difficult. Nonetheless, let's go through a few since we have a section for them. The customizable LCD screen has a perfect display with bright colors. However, a few colors look paler than the others.
Another thing that might upset the people who focus on aesthetics, is the RGB. The fans have a translucent RGB lining around their edges with no light present in the middle. This makes only the ring of the fan glow while the entire fan almost disappears when it's dark.
What Sets NZXT Kraken Z53 Apart From Its Competitors?
NZXT uses high-quality materials that directly add to their product's longevity. In the NZXT Kraken Z53, NZXT uses a special type of rubber with nylon braided sleeves for the radiator tubings. The tubes are designed to be very flexible, unlike those used in others brands.
The fans NZXT uses for the NZXT Kraken Z53 are the premium Aer RGB 2 120 mm fans which have a unique oval-shaped design for its RGB lighting. This design can be easily recognized when the fans are illuminated and this feature distinguishes NZXT from others.
Verdict
The NZXT Kraken Z53 is an excellent AIO liquid cooler. It has premium fans high-performing fans, which can speed up to keep the temperature at optimal levels. They are relatively less noisy which is part of the whole package a lot of people are looking for.
In addition, the NZXT Kraken Z53 has a very minimalistic appearance for your all-white setup due to its matte white finish. All-in-all, the NZXT Kraken Z53 made its way to the top and has received the award for being the best white CPU cooler for i9-10900k.
How We Selected The Best CPU Coolers for Core i9-10900k
There is a set of criteria that we go through for selecting any product. We recommended you go through it as well before you make any purchase so you have a clear picture of what to get without being overwhelmed by the various options that the market has to offer.
Compatibility
The most crucial aspect of buying a CPU cooler is to see if it is compatible with your CPU or not. To check the compatibility, you must ensure it has the supported socket. The Core i9-10900k uses an LGA 1200 socket, so if the cooler has it, you can proceed to the next step.
Efficiency and Performance
Generally, the efficiency of any CPU cooler boils down to its TDP. If the TDP of the CPU cooler matches your CPU's, it supports it. It is recommended that it exceed your CPU's TDP for better performance since it also lets you have the freedom of overclocking.
To get a better-performing cooler, people aim to get the highest speed fans. However, it is not entirely the case. Sometimes, premium fans that have relatively lower RPM than others perform significantly better because of the special materials and bearings used in them.
Noise
With the high-speed fans, there also comes noise. Some people are unbothered by any noise level and they can easily skip this step. However, the people who do find it difficult to bear higher noise levels should consider a cooler that performs well while being less noisy.
Lowering the fan speeds when the temperatures are lower can help to significantly reduce the noise levels. However, under high stress, it can produce adverse effects and you need to ramp it back up where it would be slightly noisy.
It is important to mention that air coolers are generally louder than most AIO liquid coolers. However, some air coolers arrive with a low noise adapter (LDA) which can reduce the noise to optimal levels that you might desire.
Size and Clearance
This is one of the most important things to look for. Before buying any cooler, its size should offer enough RAM clearance for you to easily install all your memory sticks. There is no issue with AIO liquid coolers since they have a small pump and give you maximum RAM clearance.
For air coolers, you should look for the RAM clearance it provides. Most air coolers now have adjustable fans that can be shifted upwards to give the clearance you need. Some also have an asymmetric design where it leans away from the memory stick area.
Even if you get RAM and PCIe clearance, some users don't prefer a bulky CPU cooler that sticks out and touches their tempered glass. For those users, there are slimmer options available that don't compromise on the performance. Check the dimensions before buying.
Design and Aesthetic
For some people, the design and the aesthetics of a CPU cooler are all that matter. A lot prefer an RGB cooler with fans that glow to make their entire setup pop. While some prefer a toned-down, sleek design that complements their minimalistic and subtle setup.
It is important to see if the cooler suits your PC setup and your personality. If you think that the CPU cooler doesn't match your entire setup but looks good, go for it. Sometimes, a decision goes a long way if you chose to go beyond the rules.
Budget
The budget is the most important part of making any decision. Generally, air coolers are cheaper than AIO liquid coolers. However, air coolers with high performance are priced almost the same as cheaper liquid coolers. You should avoid getting cheaper liquid coolers.
This is because cheaper AIO liquid coolers can be less reliable than high-end air coolers regardless of the price tag. For people on a tighter budget, low-profile coolers are the best since they are better than your stock coolers and are easy on your wallet.
As for the people with a high yet reasonable budget, going for high-end 280mm or 360 mm AIO liquid coolers is the best option. If the budget is tighter, avoiding coolers with fancy options like an LCD screen would be best since they significantly increase the price.
Frequently Asked Questions
Does Core i9-10900k come with a cooler?
No, the Intel Core i9-10900K 10th Gen processor does not come with a stock cooler. Intel does not provide any stock coolers if the Intel processor includes the letters K, KF, KS, XE, or X. As for the standard ones without these letters, Intel does provide a stock cooler.
What type of cooler should I get for Core i9-10900K?
Since the Intel Core i9-10900K is a high-end CPU with an extremely high TDP rating of 125 W, it is recommended to choose a 360 mm AIO liquid cooler so it can easily handle the CPU and allow you to have maximum overclocking possibilities without any problems.
Does the Core i9-10900k overheat?
The Core i9-10900k is known to be a power-hungry processor, which is why it tends to get hot. However, overheating doesn't occur if you go for a high-end air cooler or a liquid cooler. Make sure that you have correctly installed the cooler or the thermal paste Even after usage, thermal paste tends to dry up, which increases the temperatures of the CPU. Removing the old one and re-applying a fresh one can help reduce the temperatures back to optimal levels.
What socket is i9-10900K?
The Intel Core i9-10900k uses the Socket LGA1200 which offers compatibility for both Intel 10th and 11th generation processors. It can be found in almost all CPU coolers, including air coolers or AIO liquid coolers.
How hot should i9-10900K run?
The Core i9-10900k has a knack for consuming a lot of power, which raises its temperature. By using a decent CPU cooler, the temperatures can rise up to 75°C with more than two hours under 100% load. If the temperature hit 90°C or above, you have a problem.
Was our article helpful? 👨‍💻
Thank you! Please share your positive feedback. 🔋
How could we improve this post? Please Help us. 😔