ASRock B650E PG-ITX WIFI Review Summary
ASRock B650E PG-ITX WIFI Motherboard Review Summary
If you are looking for a motherboard in a small form factor (Mini-ITX) with a balanced feature set without compromising on main connectivity including Gen5 based PCIe slot and M.2 NVMe port in a good price range, ASRock has got you covered. Say hello to the B650E PG-ITX WIFI motherboard. It is a tiny beast featuring an AM5 platform with a plethora of features and efficient cooling for key components. It comes recommended by us.
Design -

8.5/10

Performance -

9/10

Features -

9/10

Build Quality -

9/10

Value -

9.5/10
Pros
10+2+1 Power Phases
Adequate VRM/MOSFET Cooling
Active Cooling for Gen5 M.2 SSD
1x PCIe Gen5 x16 slot
1x PCIe Gen5 M.2 Port
1x Hyper M.2 Gen4x4 NVMe port
1x USB Type-C Gen 2×2 port
5 GbE LAN Connectivity
WIFI 6E
Bluetooth
2x Lightning Gaming USB Ports
Overall good performance
Cons
Slow POST
Slow Windows Load Time
Loud M.2 Heatsink Fan
No Debug LED
Mini-ITX size motherboards have been eye-catching but costly ventures. Their small size makes them a perfect candidate for small form factor builds to cater to your particular requirements. However, there is a catch. The standard size of Mini-ITX motherboards is 17x17cm or 170x170mm. Mini is not only one form factor as we have seen some other sizes as well but that is not the topic of this article. Manufacturers are concerned about bringing a perfect balance of functions in this size motherboard while ensuring that power delivery is equally well equipped to handle high-end, enthusiast-grade CPUs. This is where lines get blurry.
Anyhow, coming back to the main topic, with the release of Intel's Raptor Lake S and AMD's AM5 platforms, we are seeing manufacturers coming up with Mini-ITX size motherboards. It is hard to break but there is no one Mr. Perfect motherboard in this size anywhere and it is unlikely as well. What is perceived by the manufacturers to be important based on their market research might not fit in one's desired feature set and so on. Oh, and the pricing of these motherboards almost matches the high-end, upper-mid-segment of full-size ATX motherboards.
I have been an avid user of the Mini-ITX motherboard not from the point of view of using it for the personal build but rather testing multiple ITX size cases and cooling solutions. Our team reached out to ASRock for a provision of AM5 based Mini-ITX motherboard. AM5 here is strictly my requirement. ASRock not only gave a positive vibe but managed to ship the motherboard right before the start of CNY this year. Kudos to their marketing team!
In this article, we are taking a look at the ASRock B650E PG-ITX WIFI motherboard. This motherboard is using AMD B650 chipset with an AM5 socket called LGA1718. Yes, AMD is also on LGA design ditching BGA. We have earlier tested GIGABYTE X670E AORUS MASTER and B650 AORUS ELITE AX motherboards. This time we are back on this platform but with ASRock and using a mini beauty. Let's kick in.
Helpful Read: 6 Best B650E Motherboards
Let's start with taking a look at the salient features of ASRock B650E PG-ITX WIFI:
Supports AMD Ryzen™ 7000 Series Processors
10+2+1 Phase Power Design, SPS
2 x DDR5 DIMMs, supports up to 6400+(OC)
1 PCIe 5.0 x16
Graphics Output Options: 1 HDMI, eDP
1 CH HD Audio (Realtek ALC1220 Audio Codec), Nahimic Audio
1 Blazing M.2 (PCIe Gen5x4),
1 Hyper M.2 (PCIe Gen4x4),
2 SATA3
1 USB 3.2 Gen2x2 Type-C (Front),
1 USB 3.2 Gen2 Type-C (Rear),
3 USB 3.2 Gen2 Type-A (Rear),
2 USB 3.2 Gen1 (Front),
6 USB 2.0 (4 Rear, 2 Front)
Killer 2.5G LAN
Killer 802.11ax Wi-Fi 6E + Bluetooth 5.3
Unlike ASRock B650E PG-ITX WIFI, this motherboard does not use any of its naming nomenclatures to highlight the theme behind the design. But, this motherboard falls under their PG line of products. PG stands for Phantom Gaming and ASRock aims this series at the main-stream market segment.
We can't proceed without taking a look at the block diagram of this motherboard.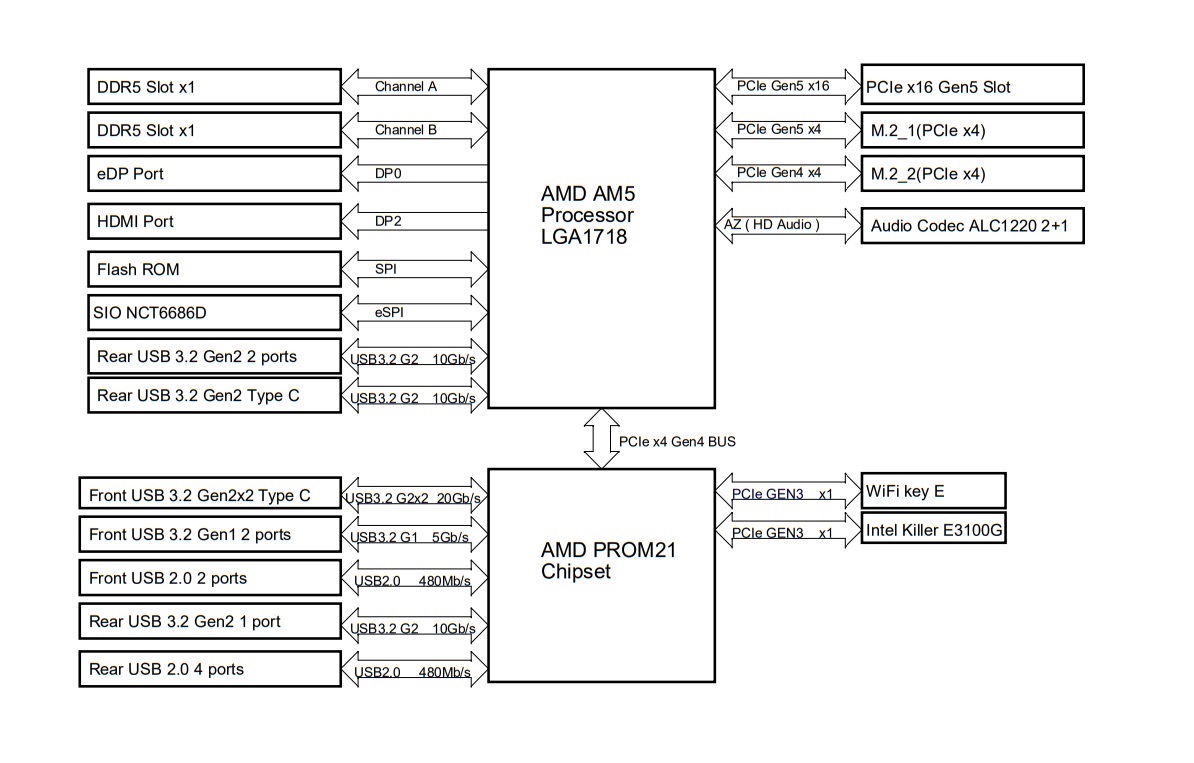 Unlike the Z790 platform, AMD's AM5 boasts USB and other connectivity from CPU sockets which is made possible using more PCIe lanes. What I am interested to know is if this motherboard supports Gen 5-based PCIe slot and M.2 port without a switch. That is can we house a Gen 5-based graphics card and M.2 NVMe drive at a time without any restriction or limitation?
Oh boy! ASRock means business with this little beast. Now, I have changed the title from beauty to beast. The right side of the connectivity of the CPU socket is impressive. We have a dedicated connection for a PCIe x16 Gen5 slot and a dedicated connection for a PCIe x4 Gen5 M.2 port. This is not all; we can see another M.2 port with PCIe x4 Gen4 protocol. Audio solution is also coming from the CPU Socket. Well, this was a needed design to remove a certain load from the chipset given the size of this PCB.
We have two DDR5 slots wired to this socket and rated for 6400MHz and onward frequency support. eDP and HDMI ports are also wired to the socket. We also have an SPI-based Flash ROM for BIOS and an eSPI-based super IO chip from Nuvoton. We have a total of 3x USB 3.2 Gen ports on the rear wired to the socket. One of these is using a Type-C interface.
Now coming down the DMI lane based on the PCIe Gen4x4 bus, we have network connectivity using the PCIe Gen3 bus. The remaining connectivity is for USB including rear and front of board connections. PROM21 is the name of the Chiplet used by AMD for the B650 chipset.
Specifications
| Product | ASRock Z790 PG Riptide |
| --- | --- |
| Chipset | AMD B650 |
| Power Phase | 10+2+1 Power Phase, 105A SPS for VCore |
| Socket | AM5 |
| Memory | Supports DDR5 non-ECC, un-buffered memory up to 6400+(OC) |
| DIMM Slots | 2x DDR5 DIMM Slots |
| Slots | 1x PCIe 5.0 x16 Slot and 1x Vertical M.2 Socket |
| Storage | 1x Blazing M.2 Socket, 1x Hyper M.2 Socket, and 2x SATA3 6.0 Gb/s Connectors |
| USB | 1x USB 3.2 Gen2x2 Type-C (Front), 1x USB 3.2 Gen2 Type-C (Rear), 3x USB 3.2 Gen2 Type-A (Rear,) 2x USB 3.2 Gen1 (Front), and 6x USB 2.0 (4 Rear, 2 Front) |
| Form Factor | Mini-ITX Form Factor |
Packaging and Unboxing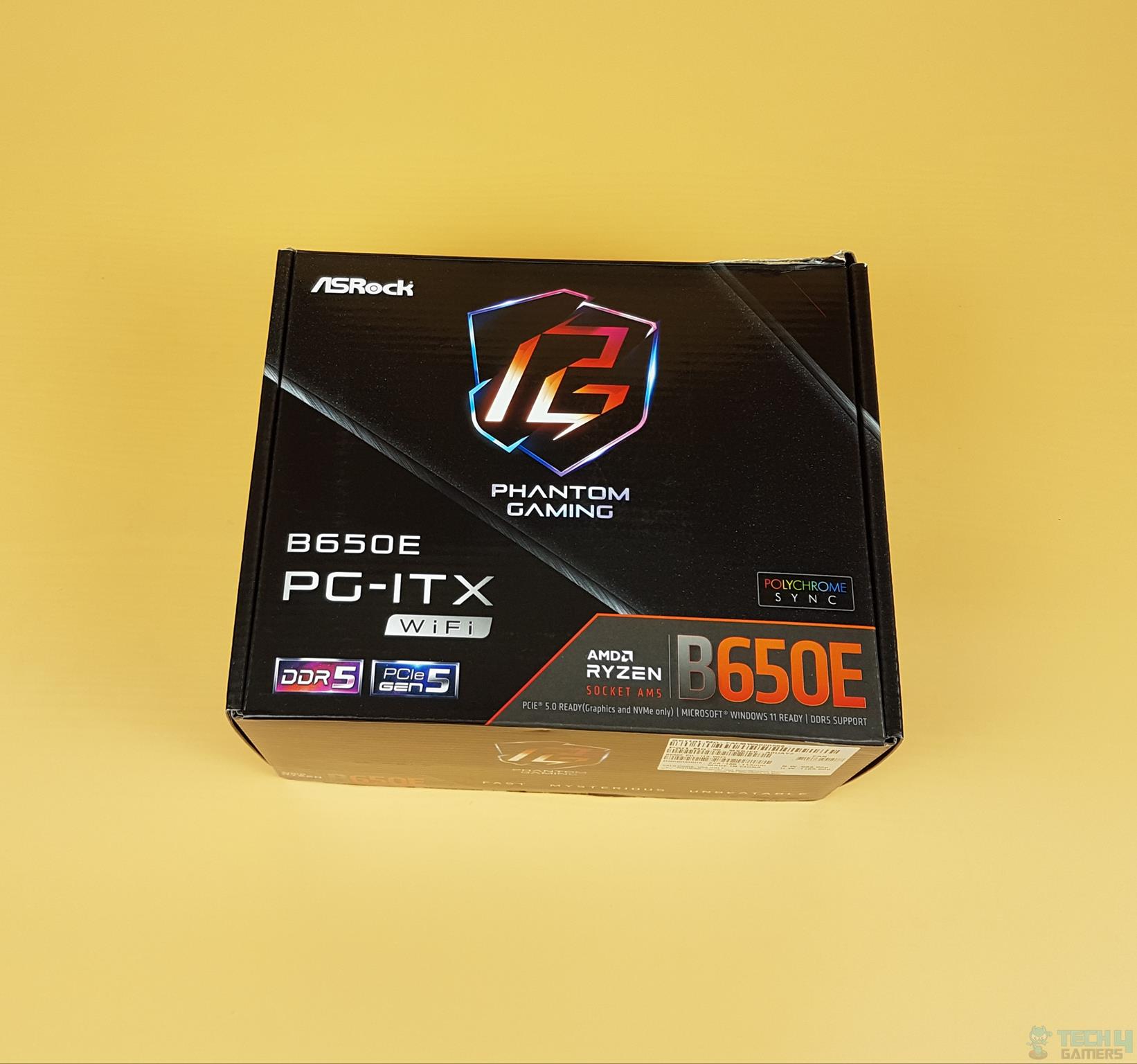 The motherboard is shipped inside a colorful box. The salient features are mentioned on the base including PCIe 5.0, DDR5, POLYCHROME SYNC, and AM5. There is a colorful and stylish Phantom Gaming logo as well.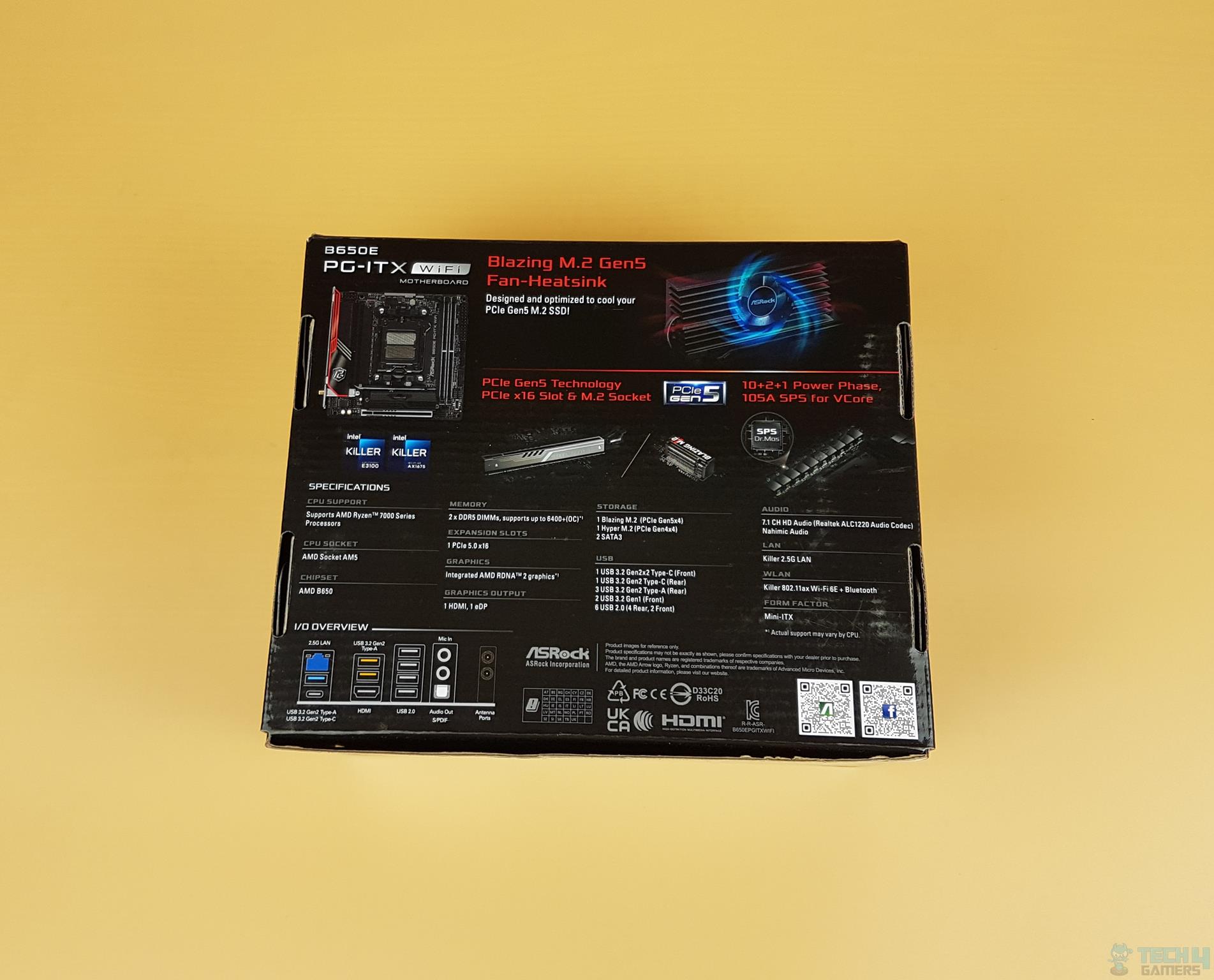 The backside of the box has salient features highlighted in a colorful:
Fully covered MOSFET Covers
Lightning Gaming Ports
Intel Killer LAN using E3100G
10+2+1 Power Phases
PCIe 5.0 X16 Slot
Blazing M.2 PCIe 5.0 with heatsink
Front USB 3.2 Gen2x2 Port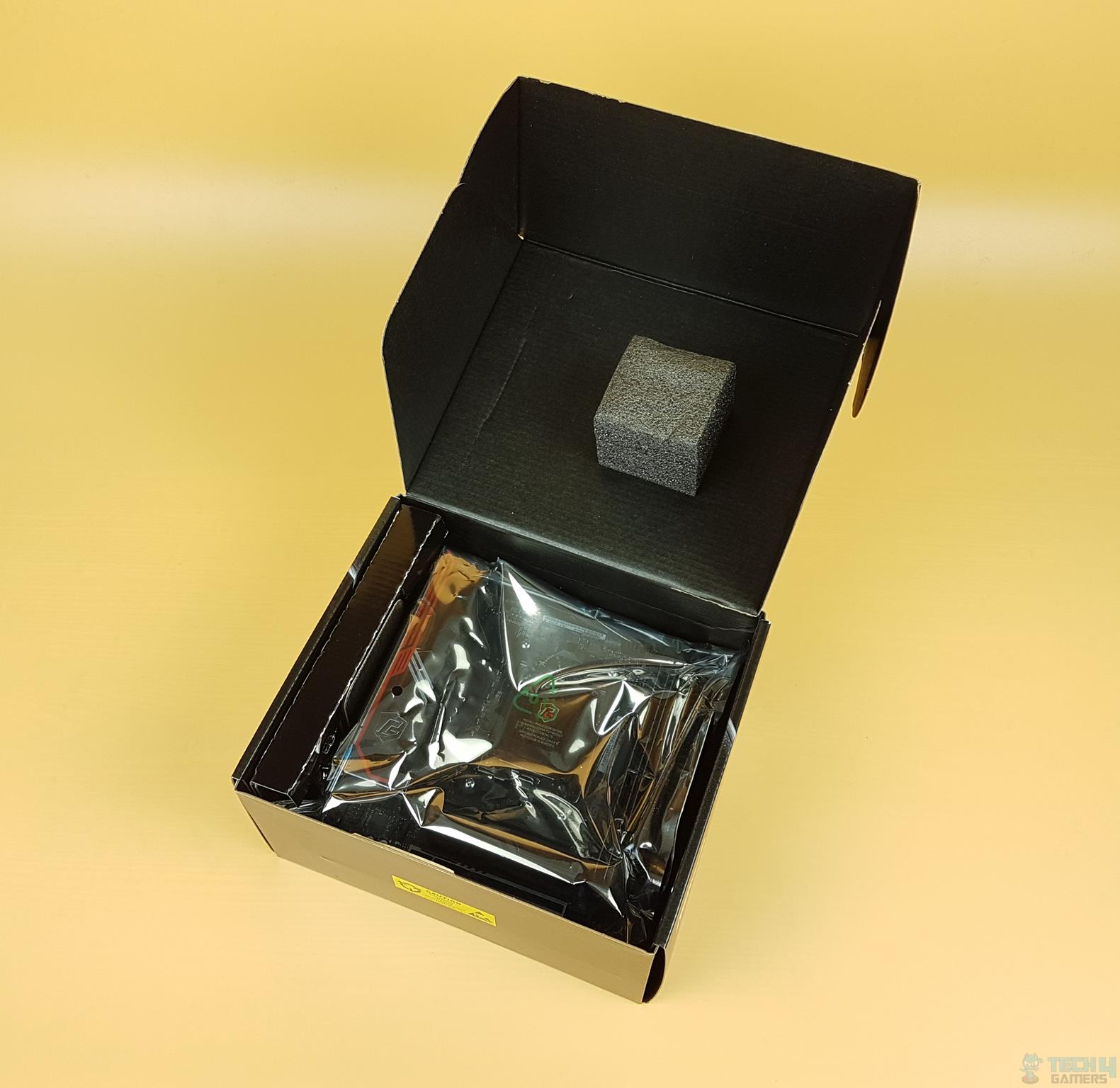 The motherboard is placed inside an anti-static container. Accessories are placed under the top cover.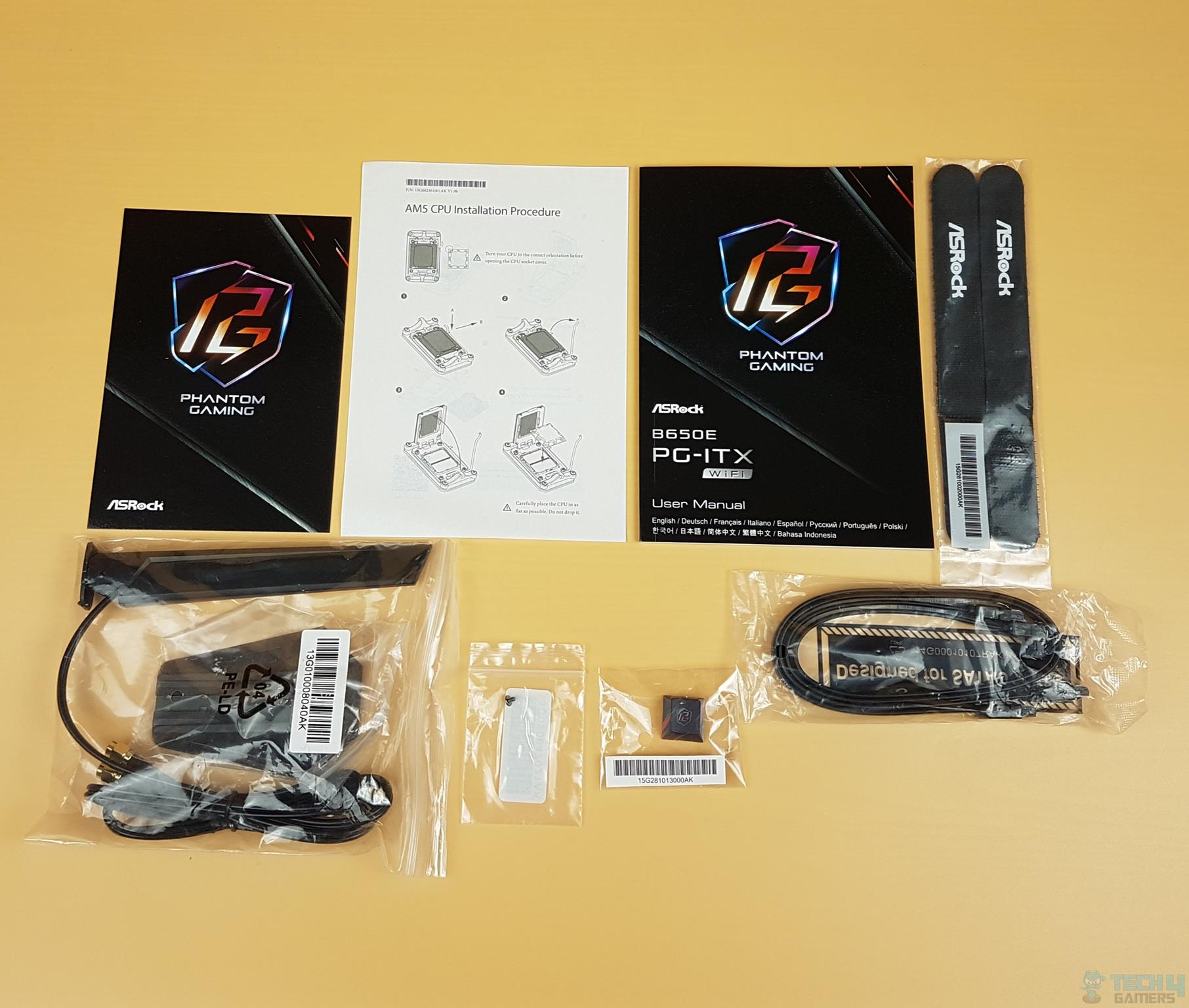 ASRock has provided:
A user manual
A post Card
AMD AM5 CPU Installation Guide
2x Velcro Strips
1x M.2 Port Screws
2x SATA Cables
1x Key Cap
1x WIFI Antenna with base
Closer Look
ASRock B650E PG-ITX WIFI motherboard is a mid-range gaming motherboard with almost a perfect balance of features to provide users everything they would need from the AMD platform in this size PCB. It is a Mini-ITX PCB size finished in black and has a red accent on the IO cover. There is more to it than meets the eye. Let's take a look.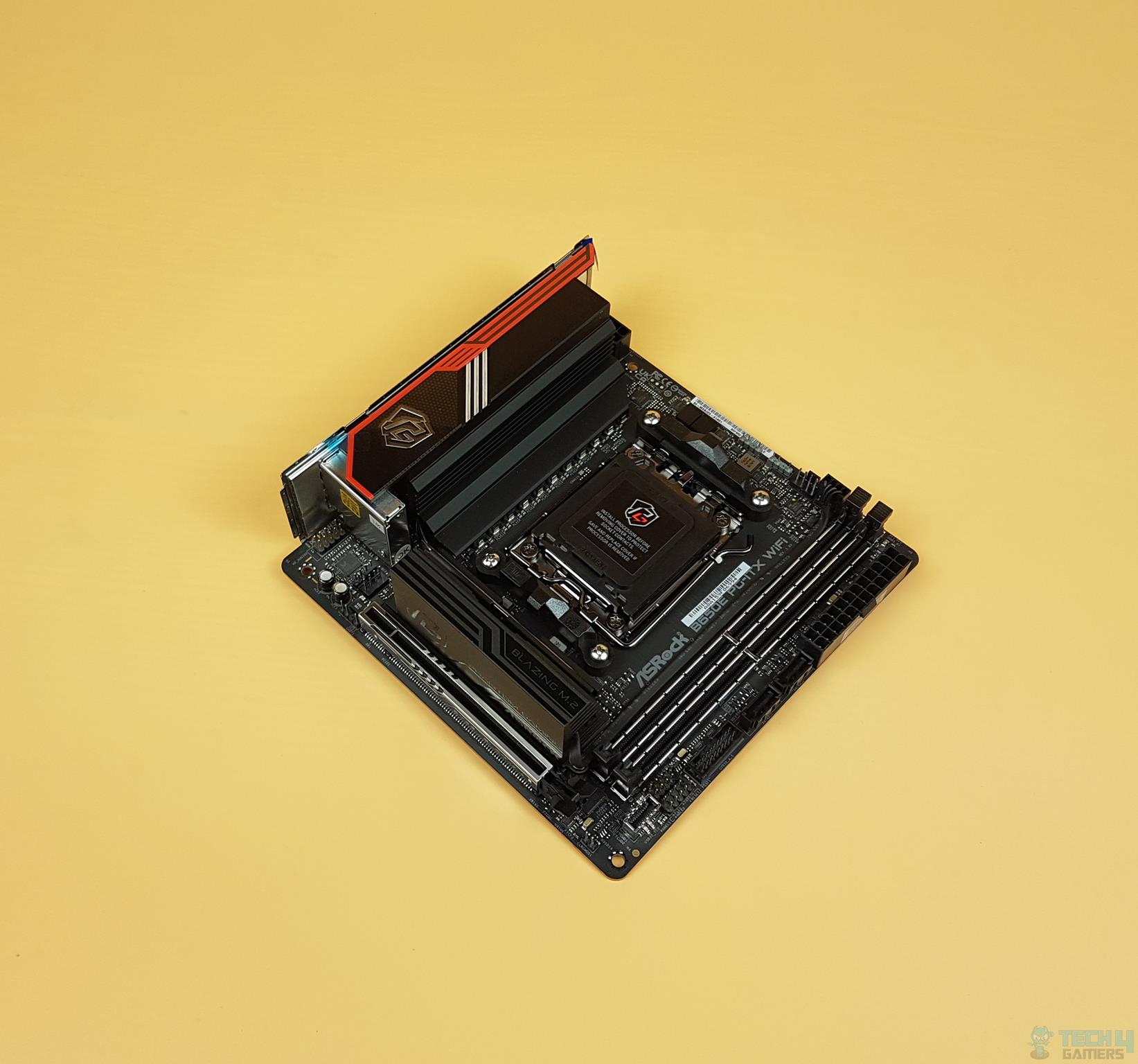 Like what we saw with Z790 PG Riptide, ASRock has done a good job in the overall layout and placement of components which is of more importance for this size motherboard. PCB is in black without a gray color touch anywhere. I like this stealth or neutral theme coming from the motherboard. The main heatsink and IO cover have a red, white, and black color mixed with a PG logo giving one heck of a good look to this motherboard. Further style and looks are added using an active cooling solution for a Blazer Gen5 M.2 port.
We have an LGA1718 socket (AM5) connected to 2x DIMM slots which are stainless steel reinforced. We have 2x SATA connectors and a total of 2x M.2 ports. No more connectivity options so better aim at getting high-capacity drives if getting this motherboard. This is a 10-layered PCB design. The 10 Layer PCB provides stable signal traces and power shapes delivering lower temperature and higher energy efficiency, ensuring a reliable and long-lasting system. PCB measures 170x170mm which is a standard Mini-ITX form factor size. It has support for Microsoft Windows 10 and 11. The server-grade low-loss PCB improves signal integrity, allowing the motherboard to support PCIe 5.0 for both graphics card and M.2 SSD, it also improves memory OC potential to deliver the most extreme memory performance.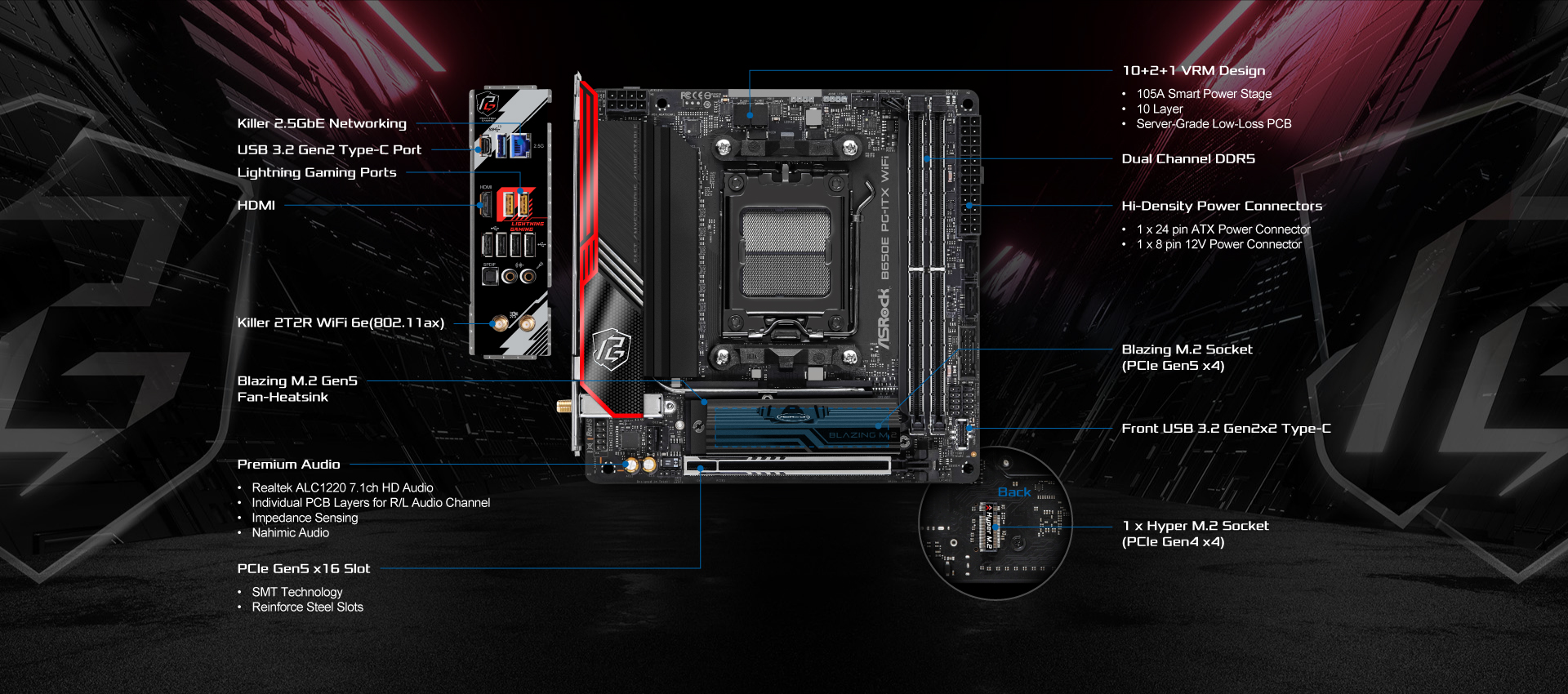 The above picture shows the overview of the motherboard.
CPU Socket, Heatsink, VRM, and Power Delivery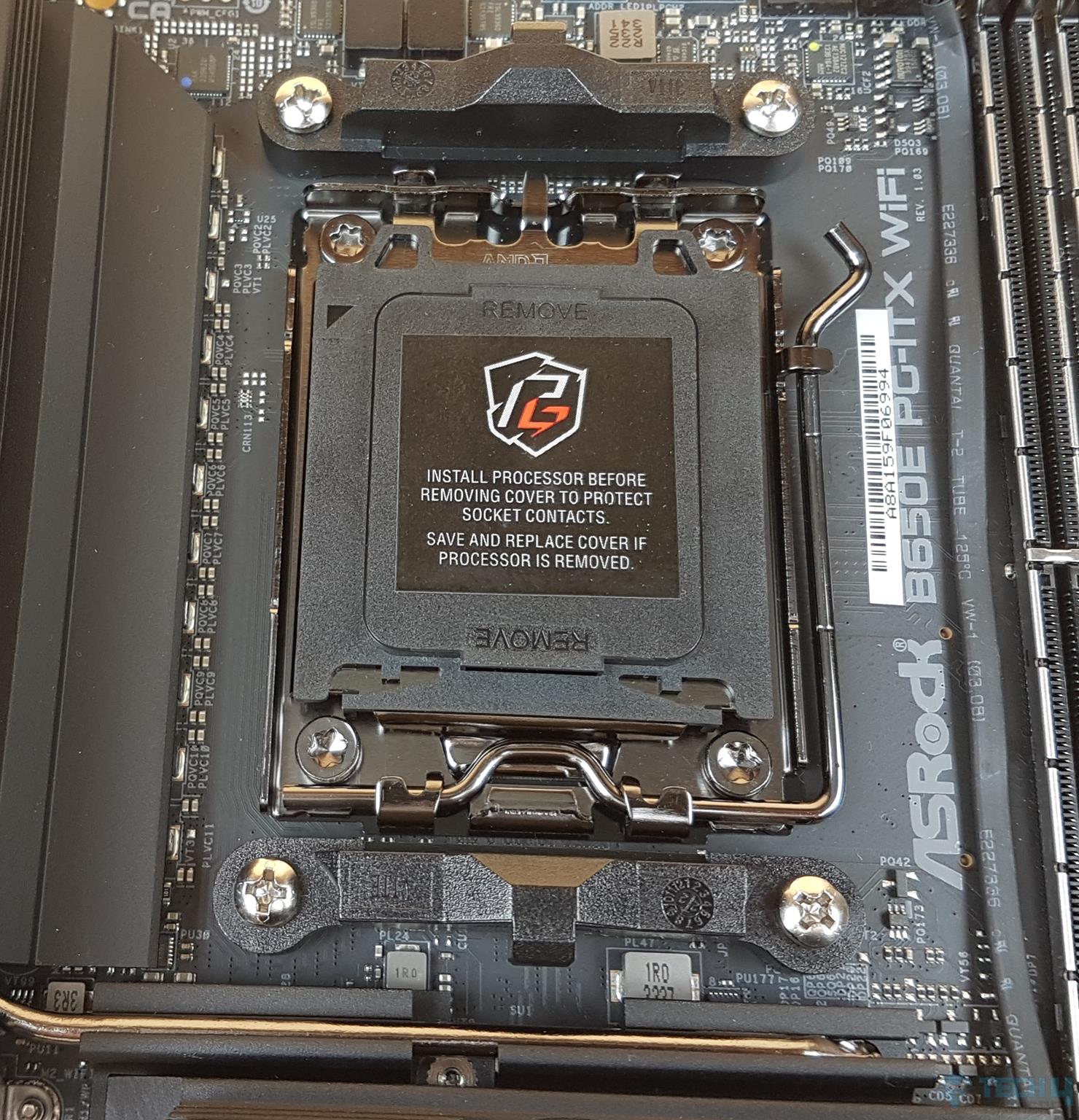 The ASROCK B650E PG-ITX WIFI features an LGA1718 socket. This is not an Intel socket but AM5 from AMD. Taking a look at the socket, there is a protective cover on it. The arrow indicator on the cover matches the arrow marking on the CPU and tells users how to place a CPU in the socket.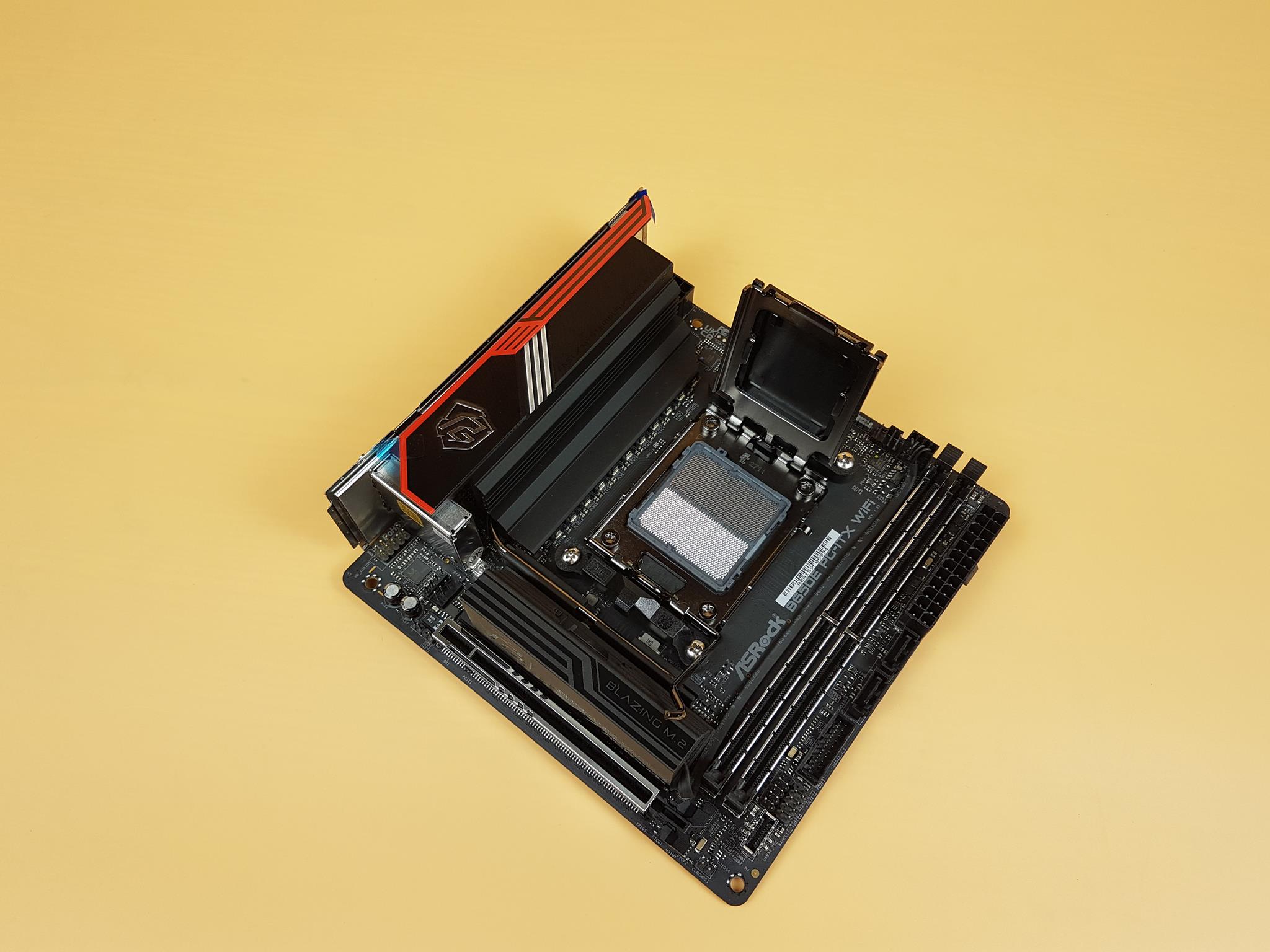 We opened the lid to show the socket itself and contact pins. This socket is compatible with AMD Ryzen 7 7000 series CPUs. This time we are also seeing integrated graphics solutions in all these SKUs. Following graphics solution is native to the socket. Integrated AMD RDNA™ 2 graphics (Actual support may vary by CPU):
1x eDP 1.4, supports max. resolution up to Full HD 60Hz
1x HDMI 2.1 TMDS/FRL 8G Compatible, supports HDR, HDCP 2.3, and max. resolution up to 4K 120Hz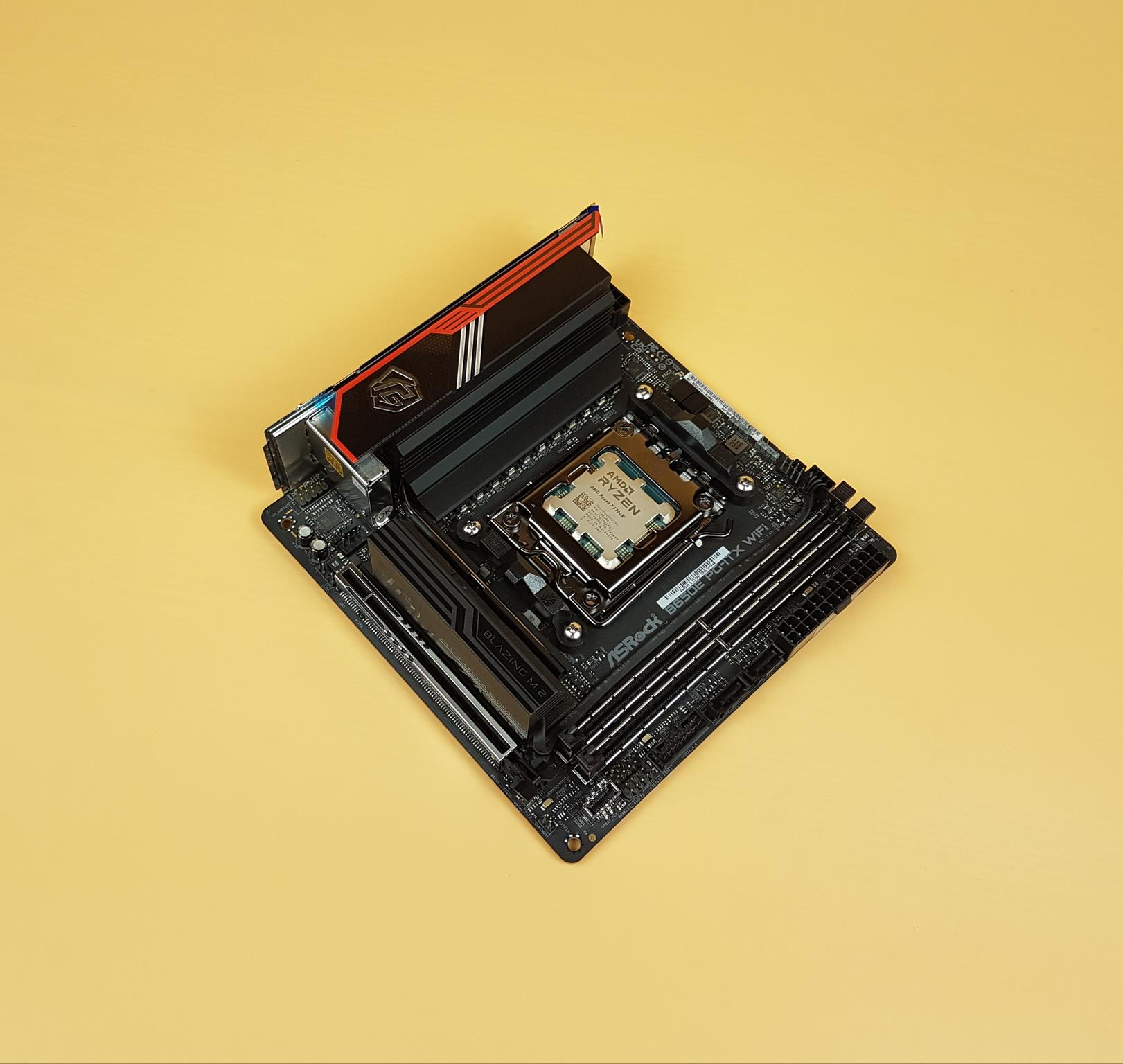 AMD Ryzen 7 7700X was installed during the pictures. This was done to protect the pins on this LGA1718 socket from any accidental damage.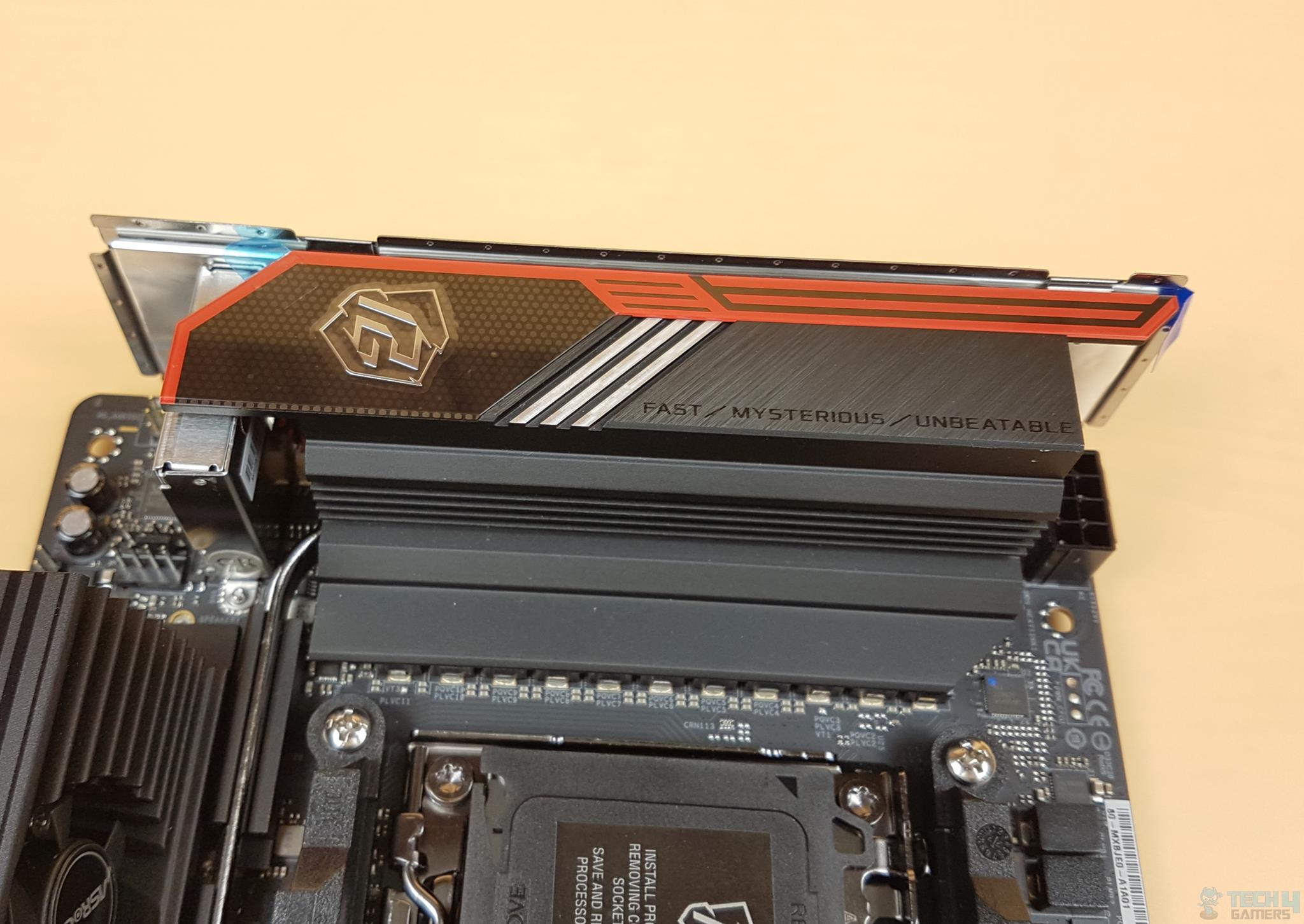 One common feature or thing with new platforms from both camps is that CPUs are taking more power for higher performance out of the box. AMD has implemented a design where these SKUs will hit the thermal limits right away. Idea is to provide a maximum performance level closer to their binning by making these chips operate at their thermal limits. This is by design but users are not willing to accept this change.
Anyhow, this implies that manufacturers need to provide not only adequate power delivery components but properly cool these components as well. We can see ASRock has implemented a thick heatsink on the power delivery circuit on this motherboard. Unlike the top and side-mounted VRM/MOSFET design on regular-size ATX motherboards; this board has only side-mounted circuitry. This is understandable given the size restriction.
There is an aluminum-made heatsink cover on the side facing the rear IO panel. It has a layered or stepped design and is smartly made not to obstruct the CPU coolers while ensuring maximum thermal dissipation efficiency.
This heatsink is connected to the M.2 heatsink cover using a 6mm nickel-plated copper heat pipe. This heatpipe is not circular which is done to ensure maximum clearance for the placement of other components.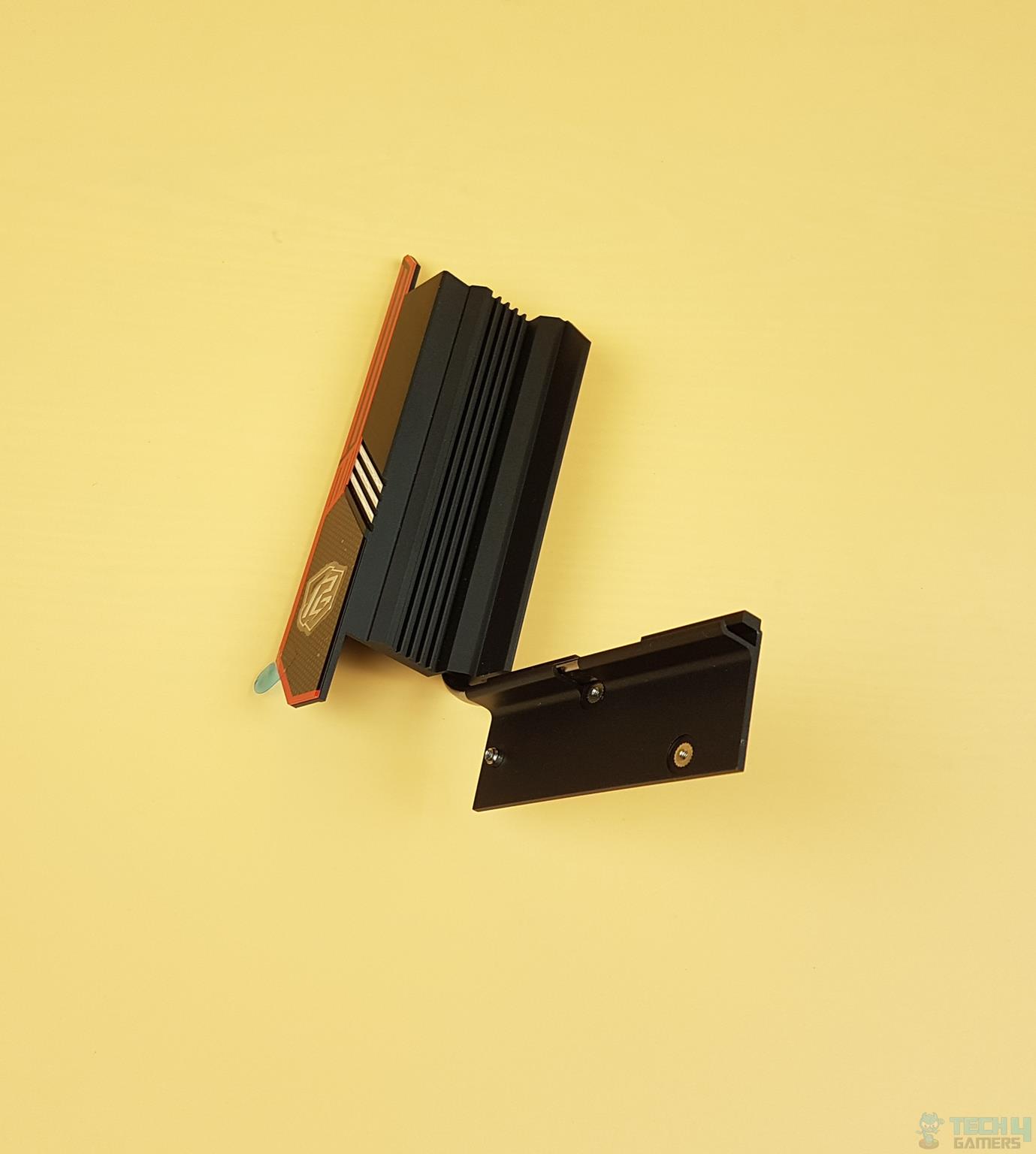 The above picture shows both covers removed from the motherboard. The M.2 area is a base plate on which the NVMe SSD is placed. Heatsink is not shown in this picture.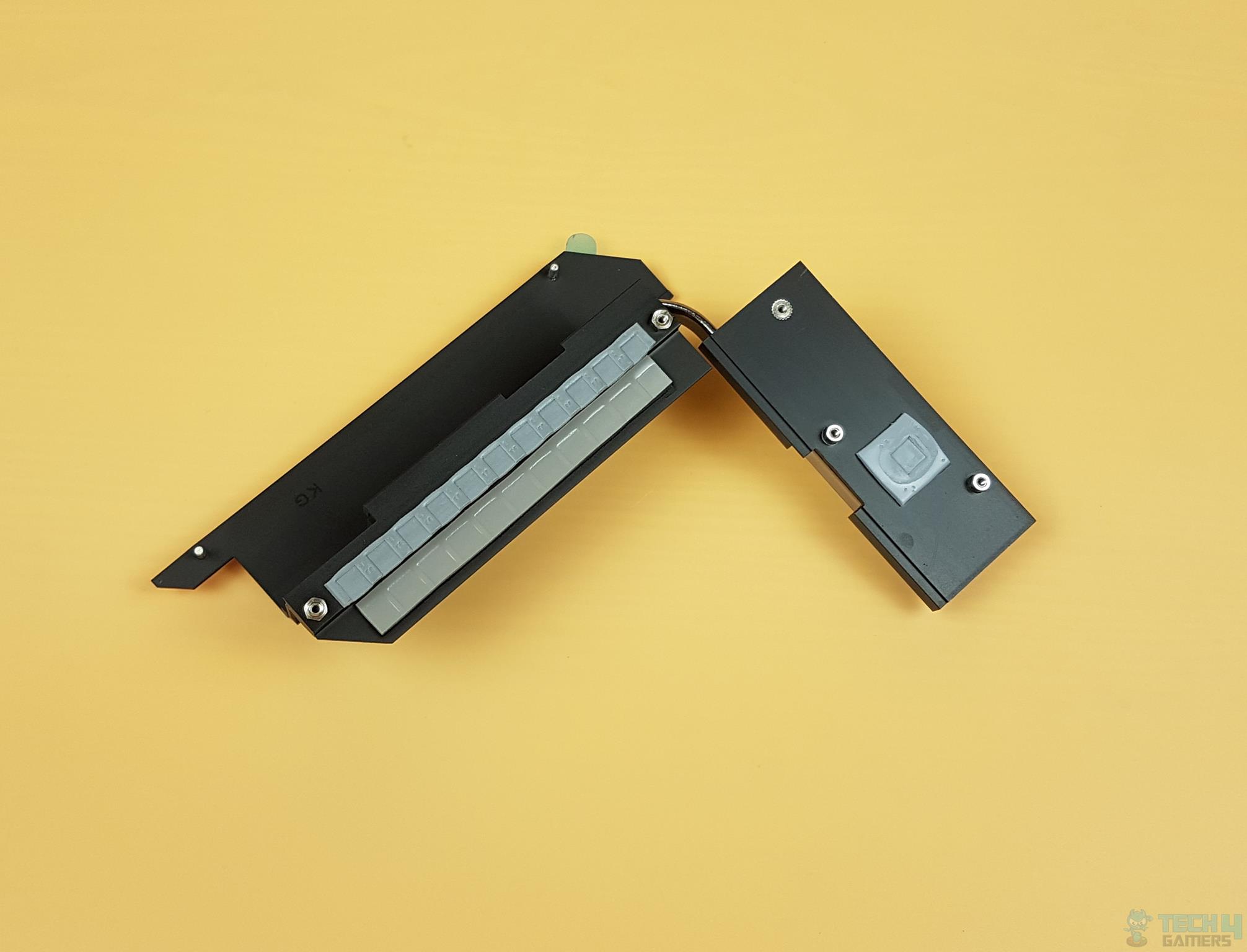 The above picture shows the underside of these covers. Surprised! We can spot a thermal pad on M.2 NVMe plate. ASRock has wisely used this design to cool the Chipset as well. All under one roof is the design theme here. Though this has its pitfalls which we will cover shortly, this would do, thanks to active cooling. There are two different color pads used for VRM/MOSFETs. We are not provided with their thermal conductivity rating.
Since we are at it, let's take a look at the power delivery of the motherboard.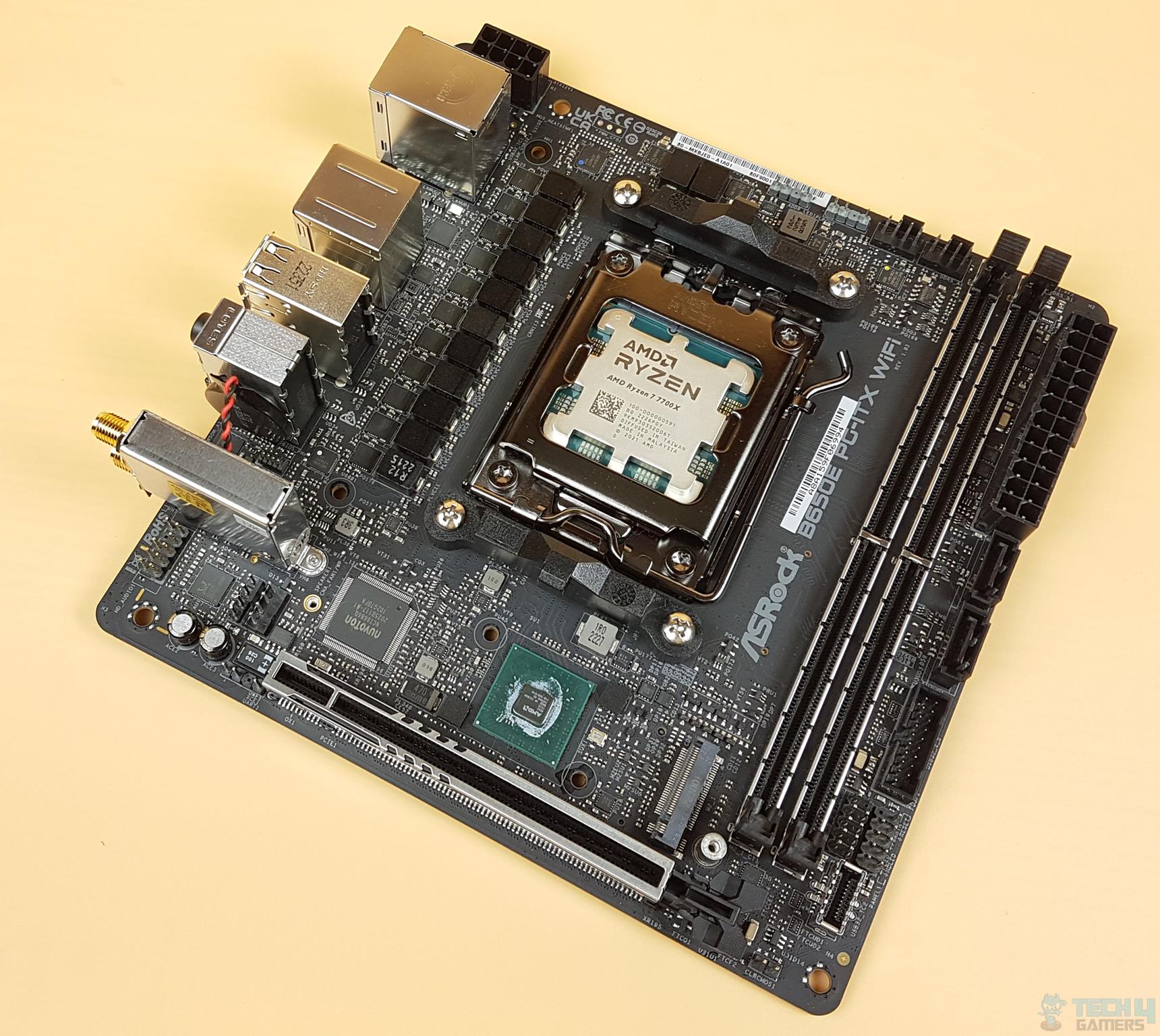 The above picture shows a naked PCB of the ASRock B650E PG-ITX WIFI motherboard. Since we are concerned about the power delivery area for now, so let's focus on it. This motherboard is using digital power phases in a combination of 10+2+1 design. 10 parallel phases are powering the VCore, 2x phases are powering the SOC and 1x phase is for VDD_Misc.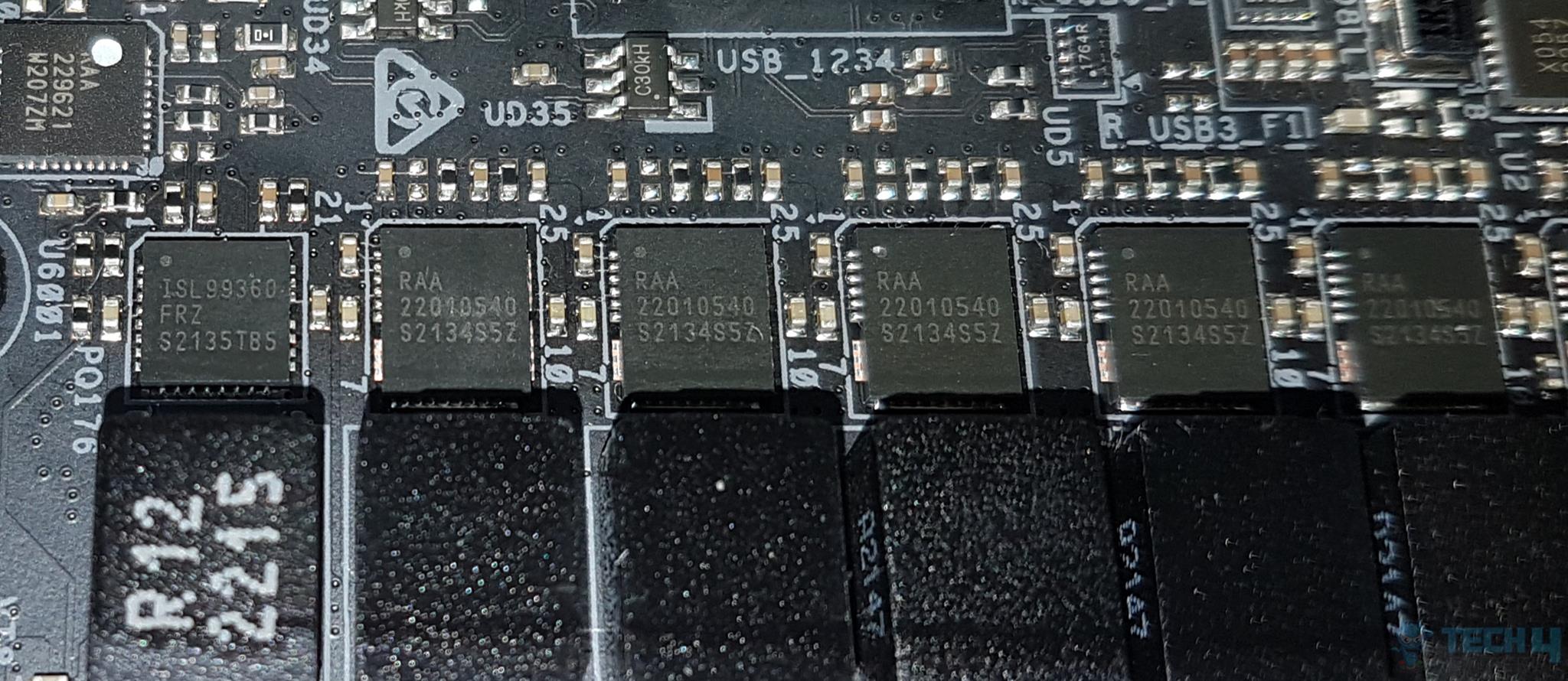 ASRock has used Renesas RAA22010540 (105 A) phases to power the VCore and SOC. From the VDD_Misc side, it is powered by Renesas ISL99360 (60A). This design makes a total of 1320A current output. These are Smart Power Stages (SPS) from Renesas.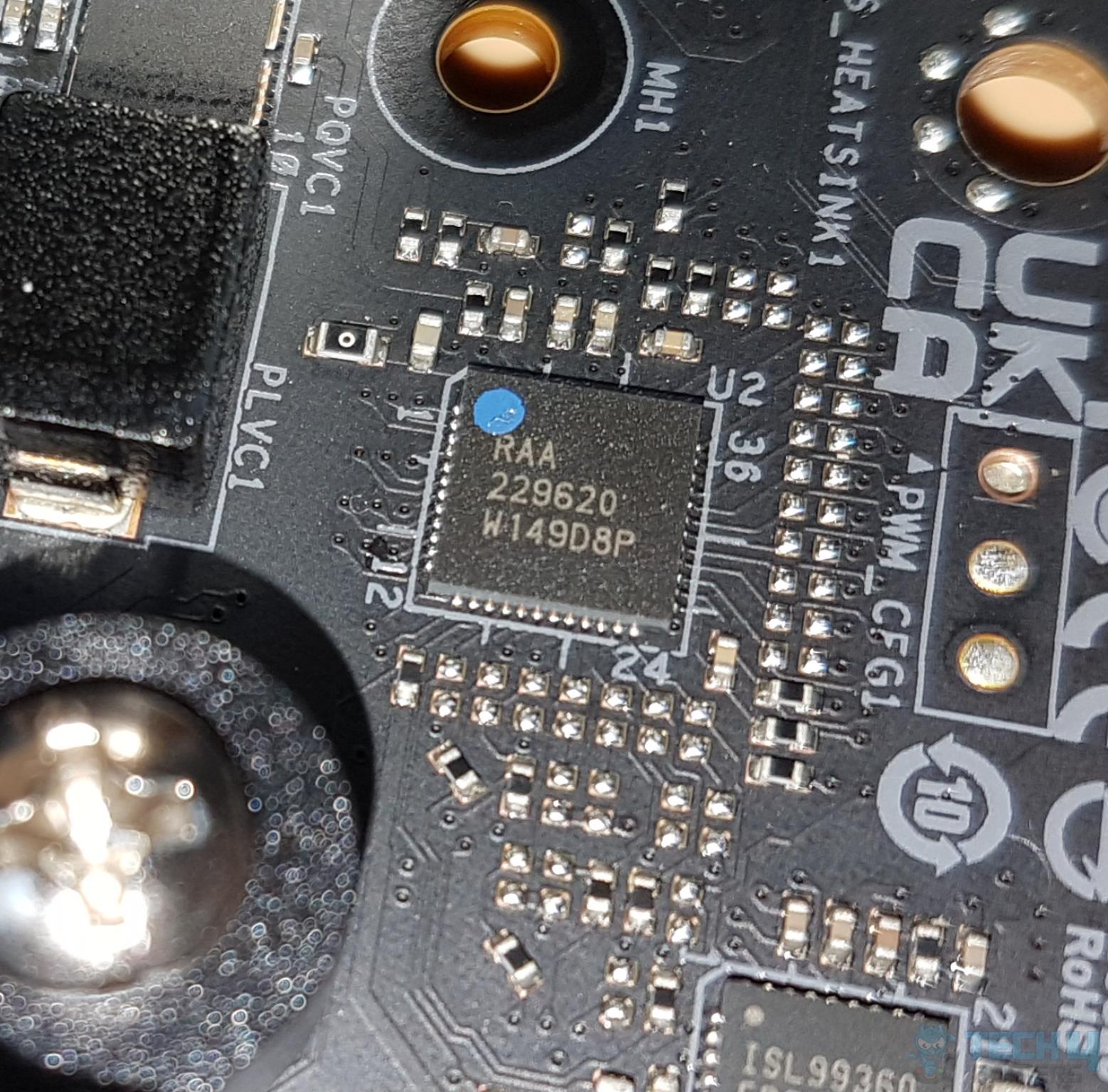 We can see that the ASRock B650E PG-ITX WIFI motherboard is using the Renesas RAA229620 PWM controller to drive the power stages on this motherboard.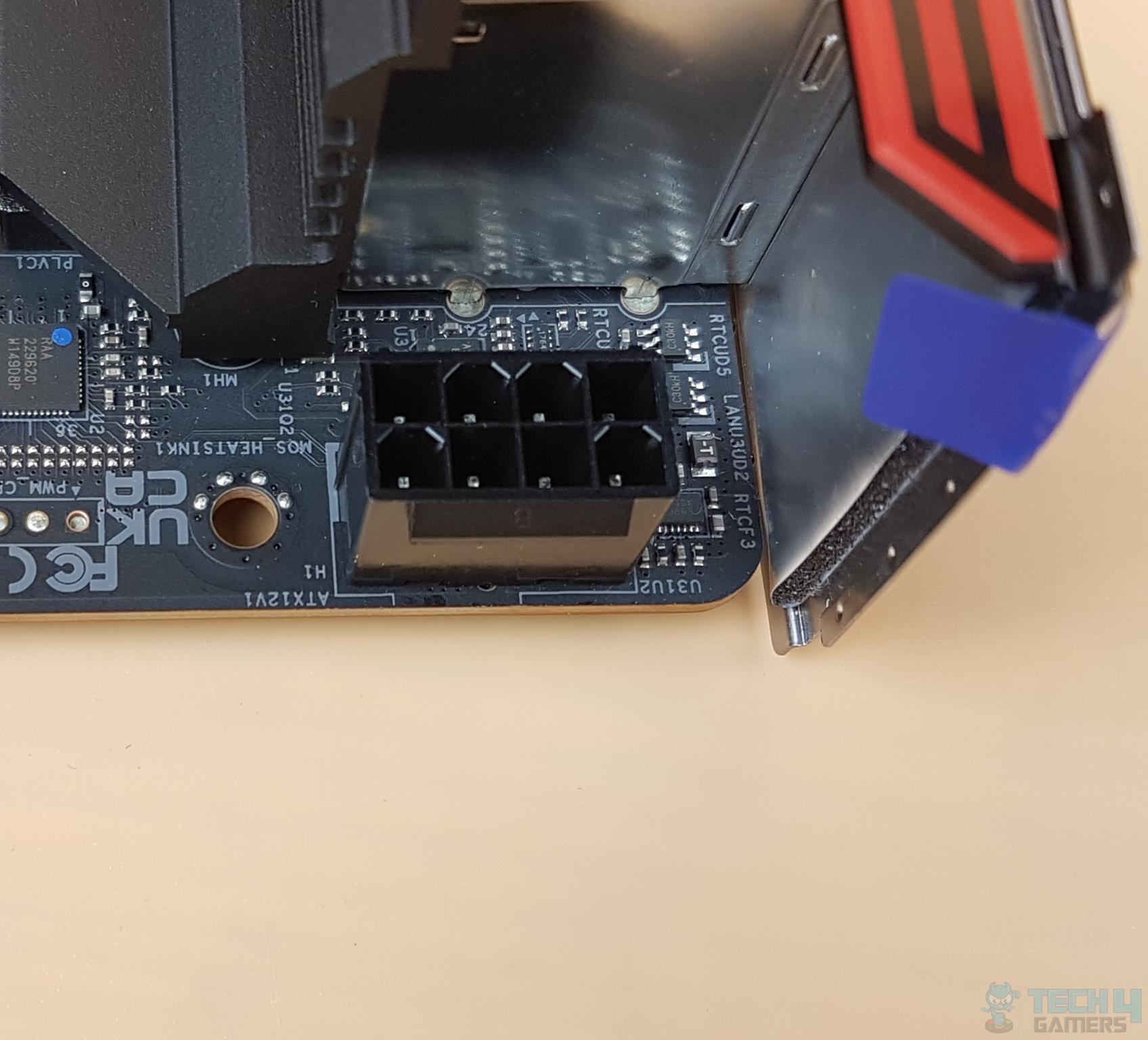 ASRock has provided a single Hi-Density 8-pin EPS connector for power delivery to the CPU power delivery circuit.
DIMM Slots
The ASRock B650E PG-ITX WIFI motherboard has 2x DDR5-based DIMM slots. I like the approach from their design team as these slots are stainless steel reinforced. These are mentioned to support 6400MHz OC using BIOS update at the time of this writing. By default, they support 4800MHz. There is important information about these two slots, their capacity, and their effect on boot time. ASRock has mentioned:
| | | |
| --- | --- | --- |
| First Boot | 2x16GB | 90 sec |
| First Boot | 2x32GB | 150 sec |
Despite their statement of using the words "First Boot", this motherboard takes some time to boot anyway. We have tested it using 2x16GB and it has a slow POST. Not only that but it also has a slow Windows load time.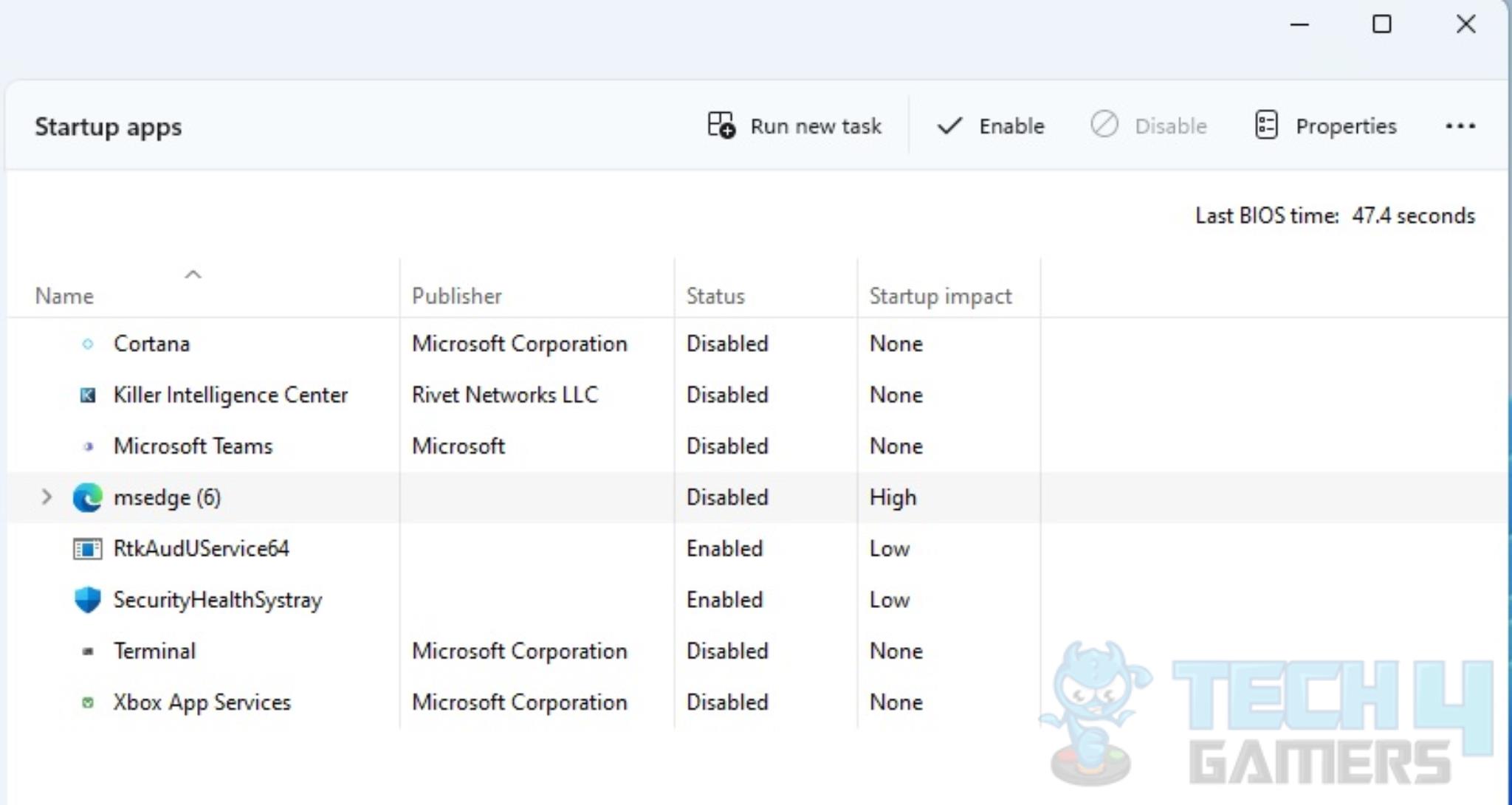 47.4 seconds using M.2 PCIe Gen4x4 NVMe SSD is not a desirable startup time.
A total of up to 64GB RAM capacity is supported with a single stick density of 32 GB. This is a Dual Channel design and supports un-buffered DIMM memory modules. Motherboard supports the AMD EXPO feature. EXPO stands for Extended Profiles for Overclocking. This motherboard supports both AMD EXPO and Intel XMP overclocking memory modules for maximal compatibility.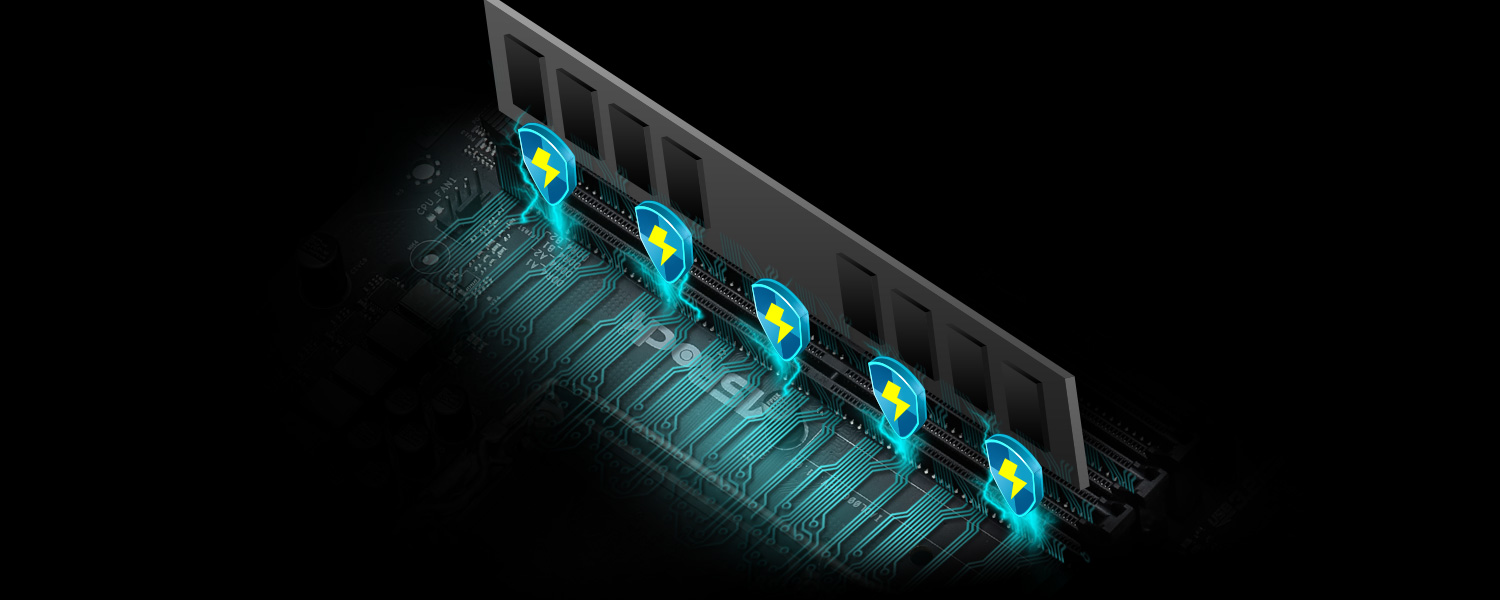 Due to the unique electrical architecture of DDR5 DIMM, there's a high risk of damaging the memory module if AC power isn't disconnected properly during removal or installation. ASRock has mentioned that they have implemented a trouble-free protection circuit on every DDR5 motherboard to lower the risk of damaging the memory module(s) to circumvent the above-stated issue.
M.2 Ports
ASRock has provided two M.2 ports on this motherboard:
1 x Blazing M.2 Socket (M2_1, Key M), supports type 2280 PCIe Gen5x4 (128 Gb/s) mode
1 x Hyper M.2 Socket (M2_2, Key M), supports type 2280 PCIe Gen4x4 (64 Gb/s) mode
There is also a vertical M.2 Key-E type port on the Rear IO panel which is housing a WIFI/BT module. We have mentioned above that ASRock has provided an active cooling solution for M.e Gen5-based NVMe storage.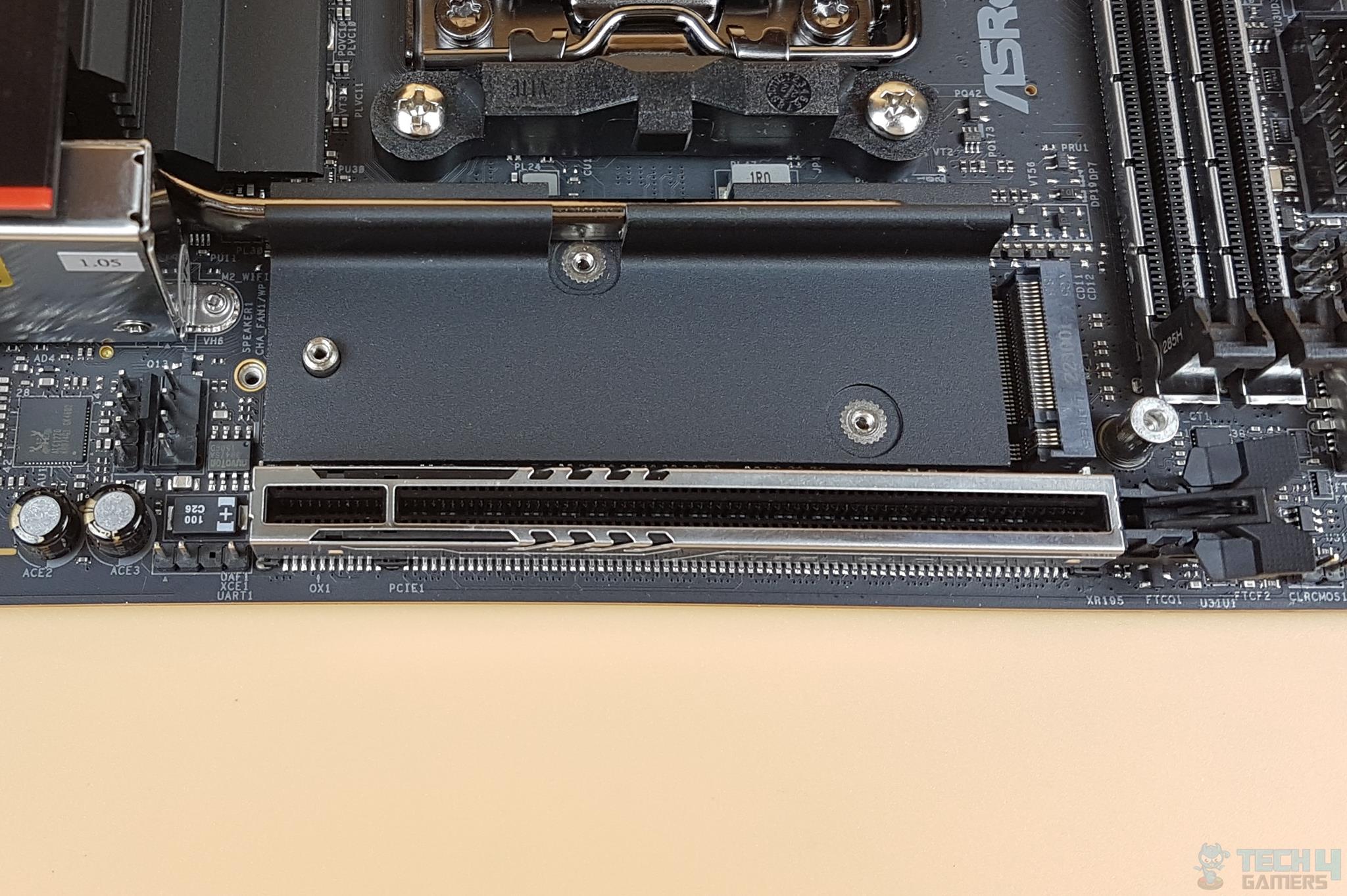 We can see in the above picture that there is an aluminum plate to house the M.2 NVMe SSD following the M.2 socket. This plate is a part of the total heatsink design which we have also covered above. The idea is simple. Install an NVMe SSD on the socket. Peel off a protective cover under the heatsink and place the heatsink on this plate. One end of the captive screw of that heatsink will secure the installed SSD.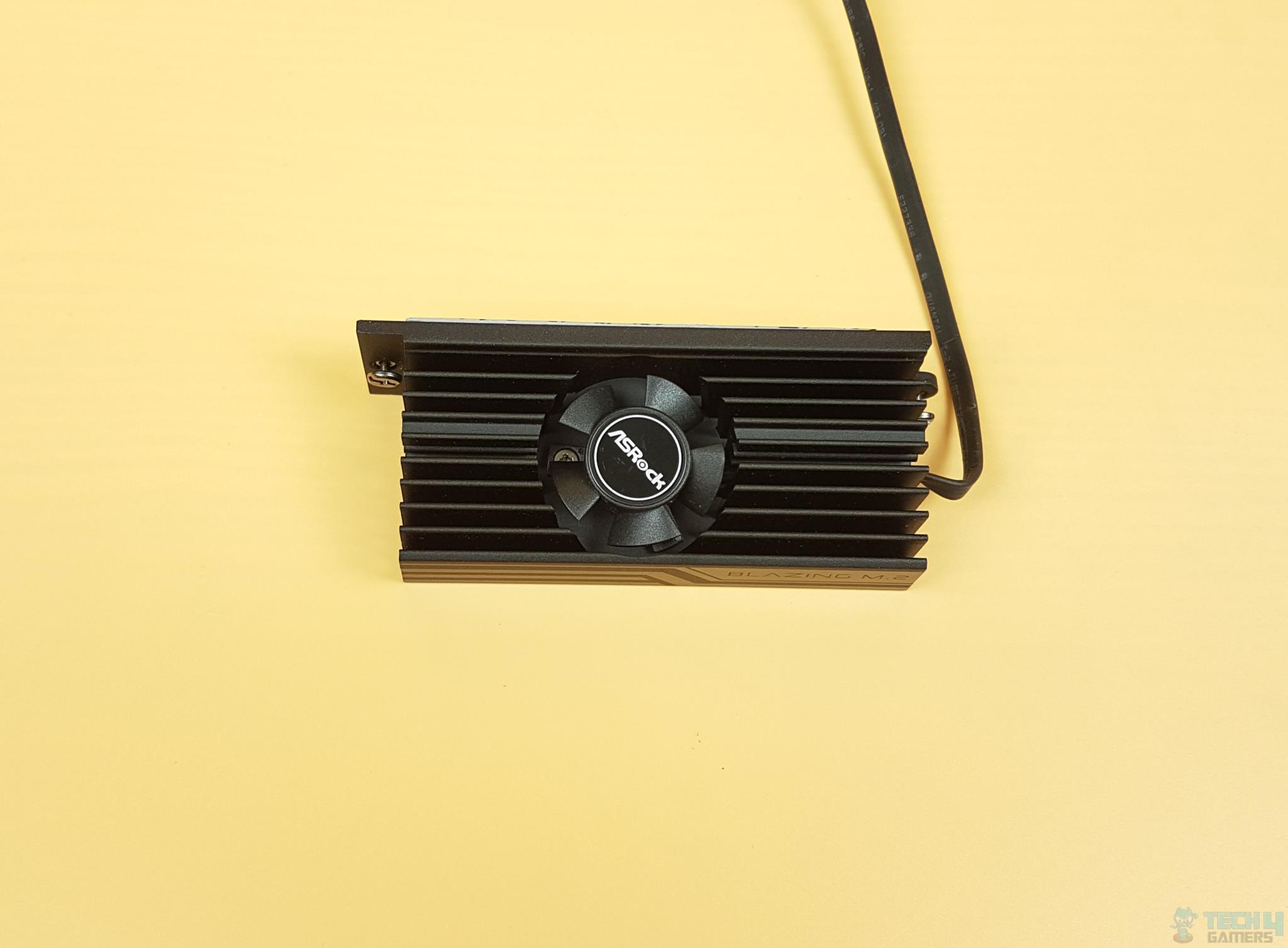 M.2 heatsink is made of aluminum material and has insets or cutouts to make it serve as a heat transfer module. There is a 5-blade fan in the center of this heatsink. It has a rated speed of 12000 RPM and is PWM controlled.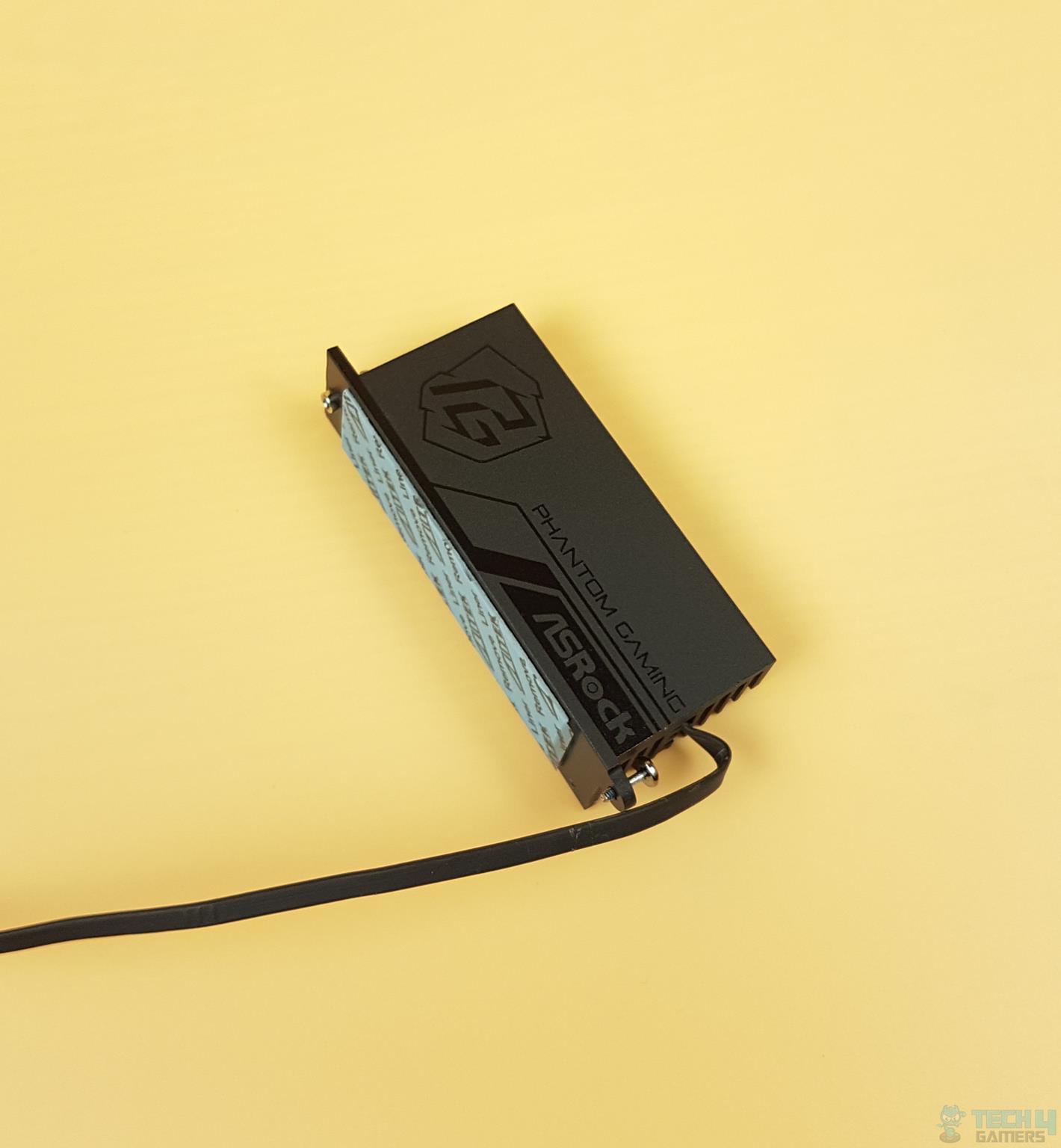 There is a thermal pad under the M.2 heatsink. We have a stylish gray and black color accented design highlighting PG branding on one side of this heatsink. This side faces the PCIe slot.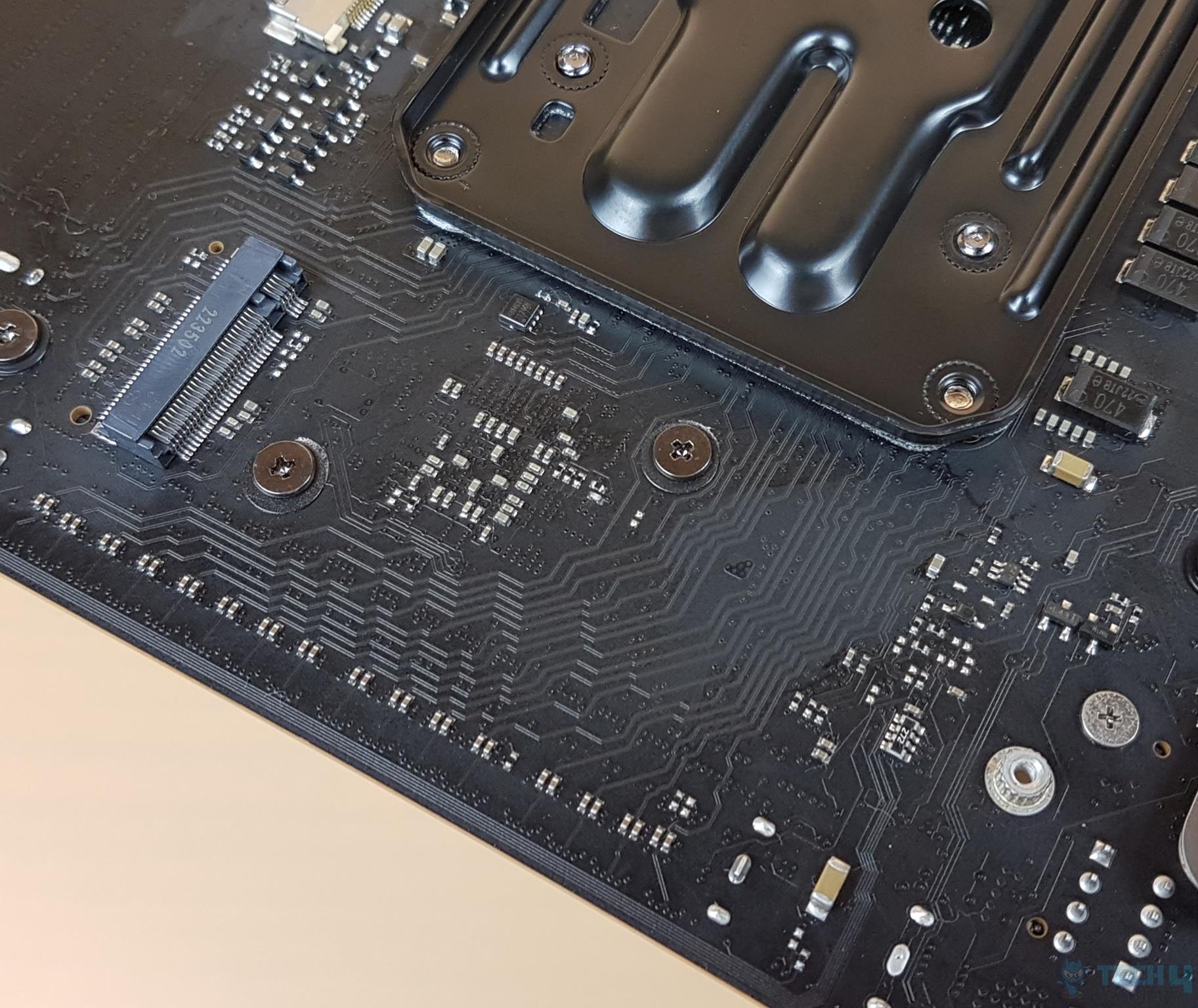 The second M.2 port is on the backside of this motherboard. It is called Hyper M.2 socket and it is PCIe Gen4x4 interfaced using NVMe protocol. The user can only install 2280 form factor NVMe SSD on this port. This limitation is apparent due to the size constraint of this motherboard.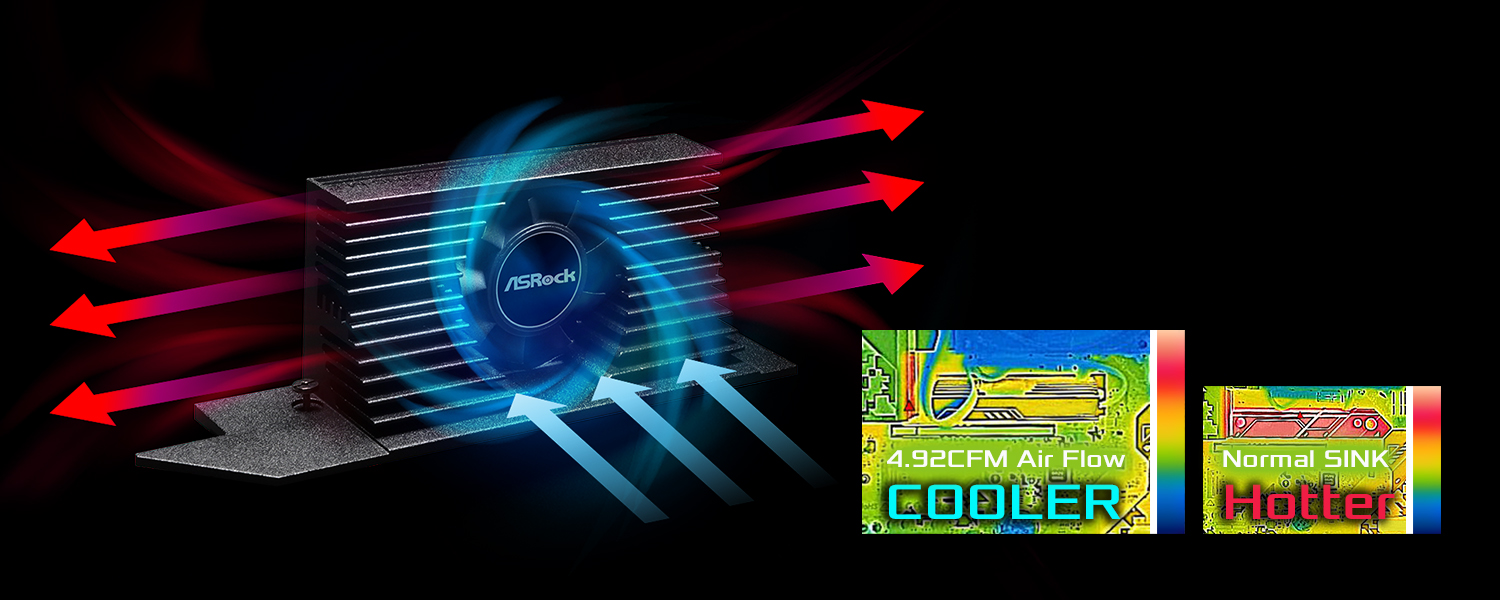 ASRock has provided a graphical comparison of actively cooled vs passively cooled SSDs. The 4.92CFM airflow rating of this fan makes me wonder why there is a need to have such a loud fan generating over 62 dB(A) at full speed!
PCIe Slots
Speaking of the PCIe slot, the ASRock B650E PG-ITX WIFI motherboard has a single PCIe Gen x16 slot wired to the CPU socket.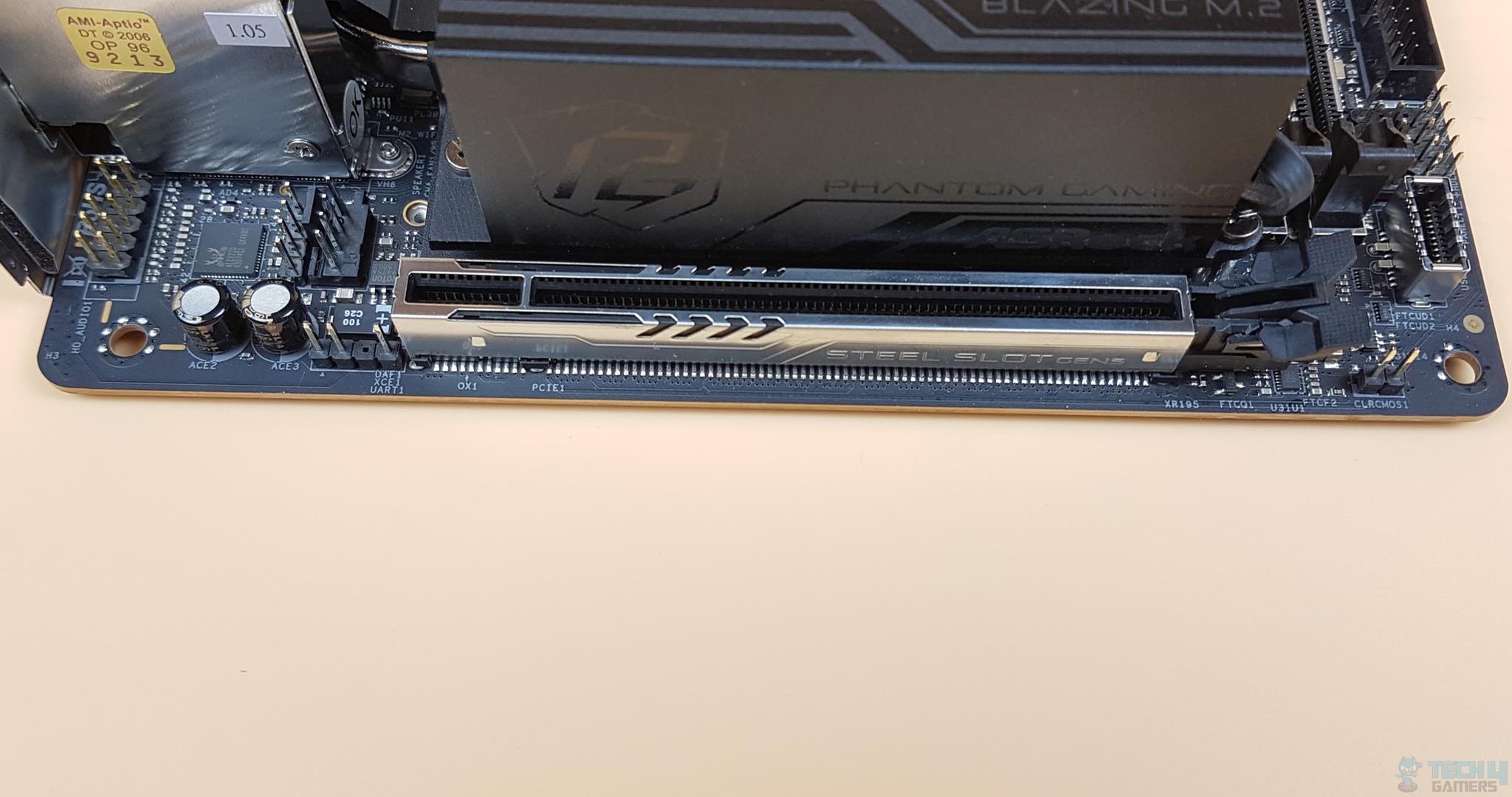 This slot is reinforced and uses an SMT design. Compares to a conventional DIP-style PCIe slot, the SMT-type PCIe slot improves signal flow and maximizes stability under high speed, a key breakthrough to fully support the lighting speed of the latest PCIe 5.0 standard.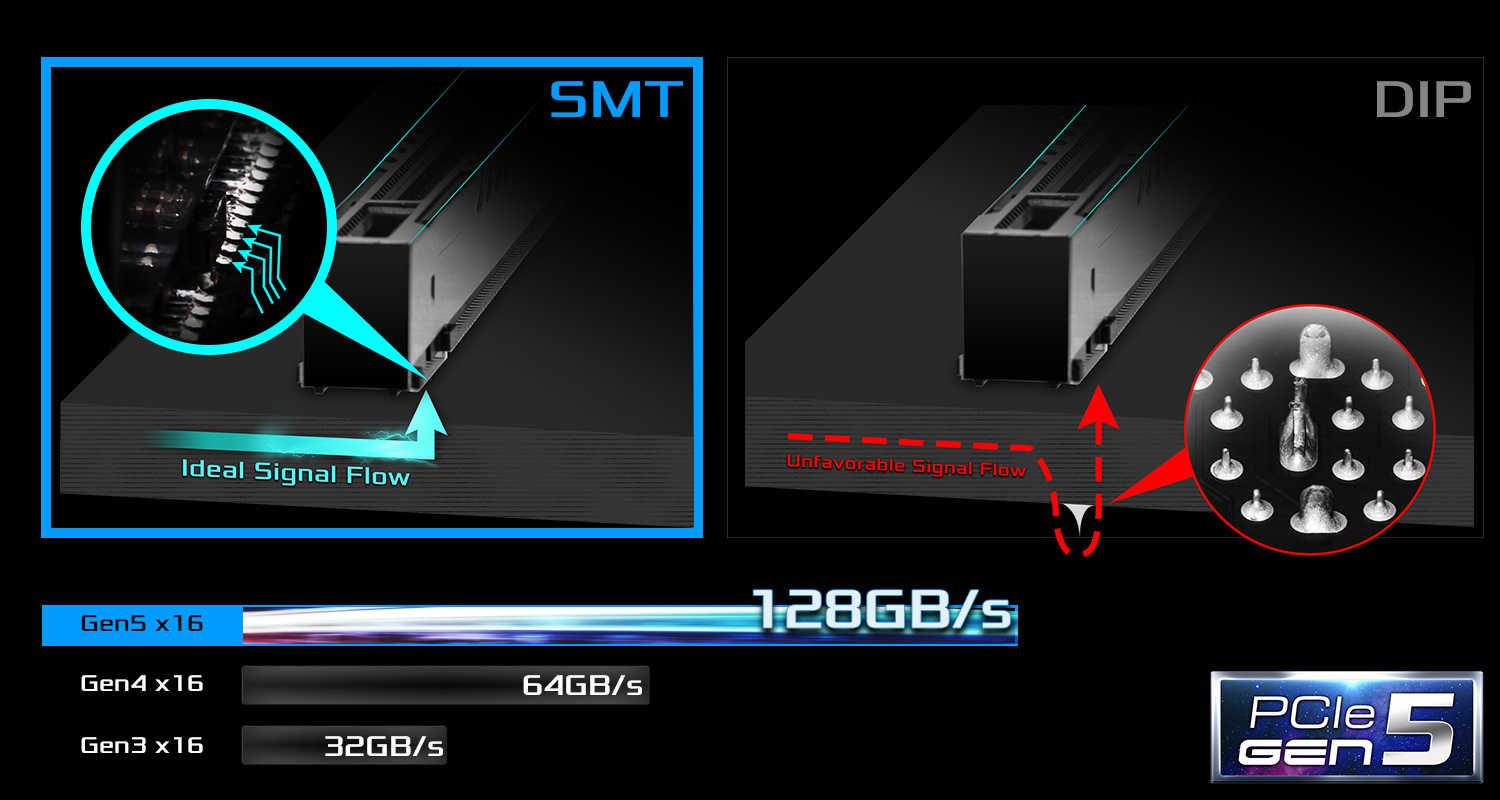 The reinforced steel slot is capable of supporting PCI Express 5.0 standard. Some of the key benefits are:
Extra anchor points
Stronger latch
Ensure signal stability
Make sure heavy graphics cards are well-installed.
B650 Chipset
This motherboard is based on AMD's main-stream B650 chipset using PROM21 chiplet. X670 has two of these chipsets.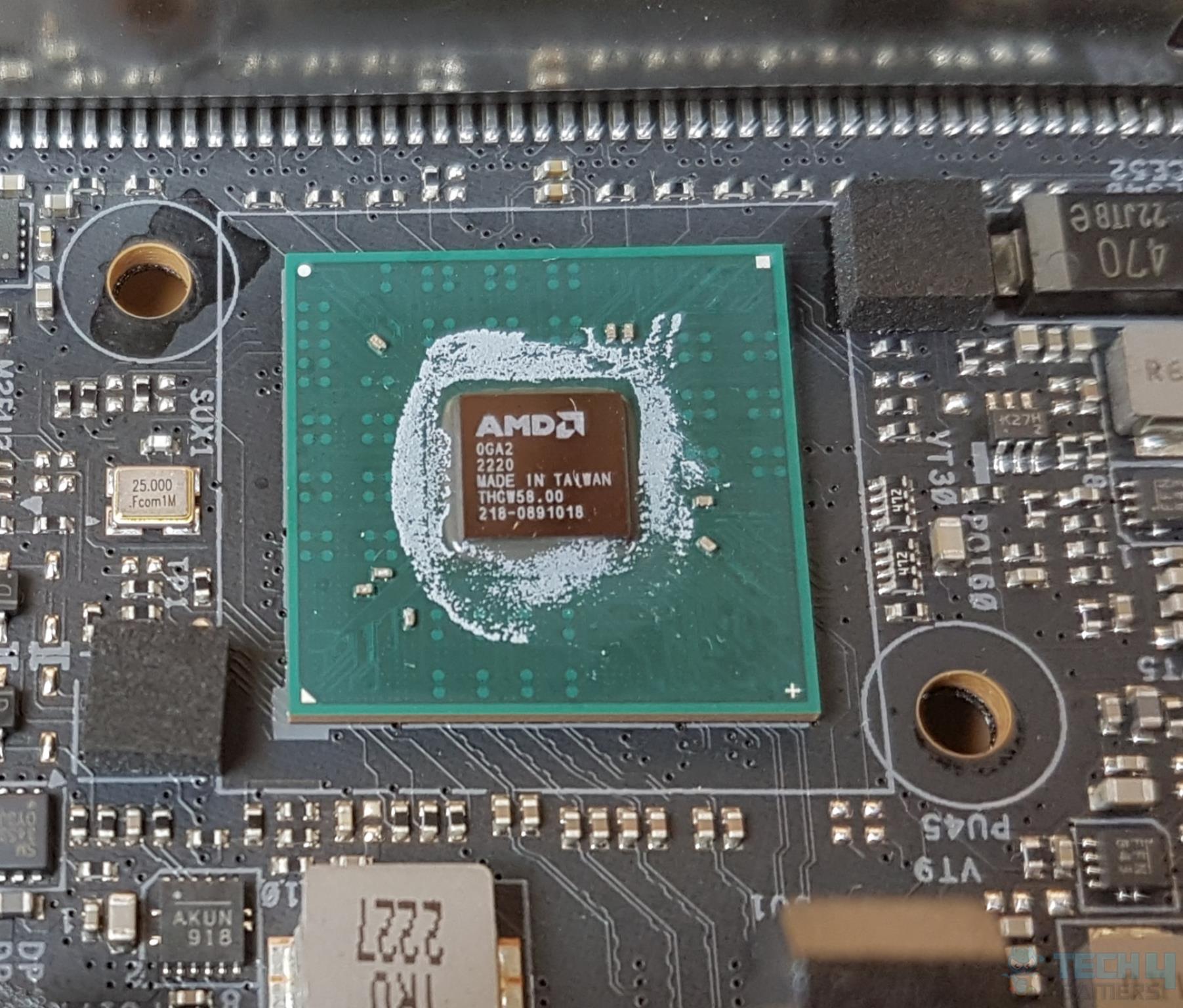 This chipset is labeled 0GA2 2220 and is made in Taiwan. I am guessing this chipset would draw near 7W.
This chipset is cooled by the same aluminum plate on which the SSD is rested. There is a thermal pad to transfer heat from the chipset toward the aluminum plate. This could rise the temperature of the installed SSD. Similarly, stressing the SSD could increase the temperature of this chipset. We have also tested the fan of the M.2 heatsink in some configurations which we will mention later.
Audio Solution
ASRock has implemented a good audio solution on this motherboard. It is driven by the Realtek ALC1220 chip.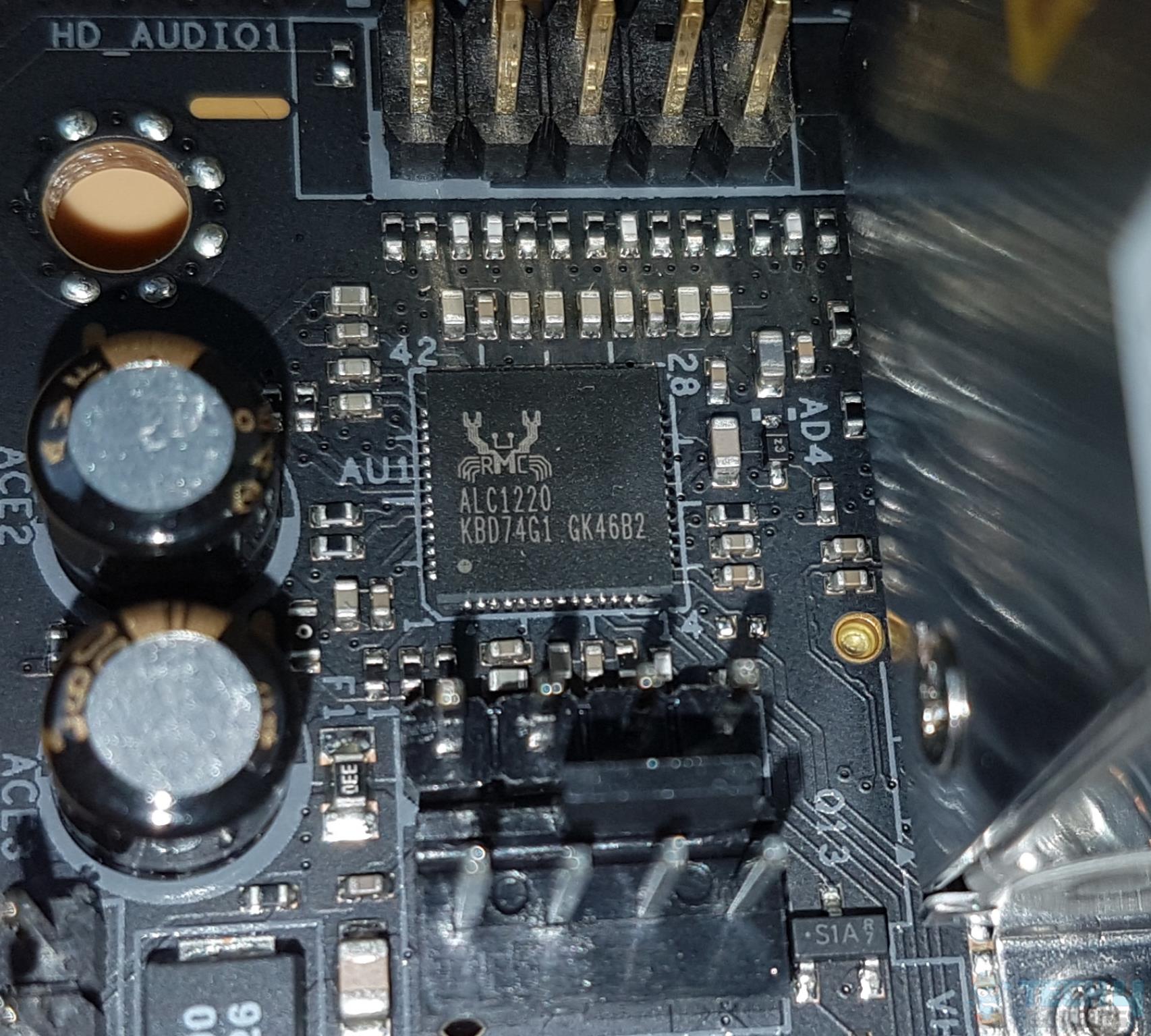 We could spot only Fine-Gold capacitors to drive the power of the audio circuit. This is a Hi-Res Audio solution. ASRock has provided Nahimic Audio support on this motherboard which is a software-level augmentation. One thing the users would appreciate ASRock is the SPDIF port on Rear IO which is something we usually don't see in the mainstream to mid-range Mini-ITX motherboards.
Networking Connectivity
We have two main areas here:
Wireless connectivity
Wired connectivity
Wired Connectivity
ASRock has employed Intel Killer NUC on this motherboard. This is Killer E3100G controller. There is a single RJ-45 port on the back panel for the wired network connectivity. The 2.5GbE provide roughly double the speed of that 1GbE connectivity for a better online gaming experience. The Ethernet port supports 10/100/1000/2500Mbps.
ASRock has provided a specialized engine via drivers for enhanced detection and prioritization to provide the ultimate networking experience for gaming and multimedia applications. Some key benefits are:
Faster Gameplay
Easy to Use
Fully Customizable
The Killer GameFast Technology can free up to 10% of CPU cycles and 20% of memory allowing the user to enjoy a smooth gaming experience. It is extremely easy to use. Just simply turning on the Killer GameFast enabled on the computer will do the work. All the settings are customizable according to the user's preference. The one thing that we can change as per the user is 'adding or removing processes to be stopped'.
The Intel® Killer™ Prioritization Engine ensures you get your lowest in-game latencies by prioritizing your gaming traffic above everything else. Automatically detect, classify, and prioritize network traffic for streaming videos and entertainment to give you the best possible online experience. The Intel® Killer™ Prioritization Engine works automatically, and the Intel® KillerTM Intelligence Center allows you to customize and prioritize your network traffic to your liking.
Wireless Connectivity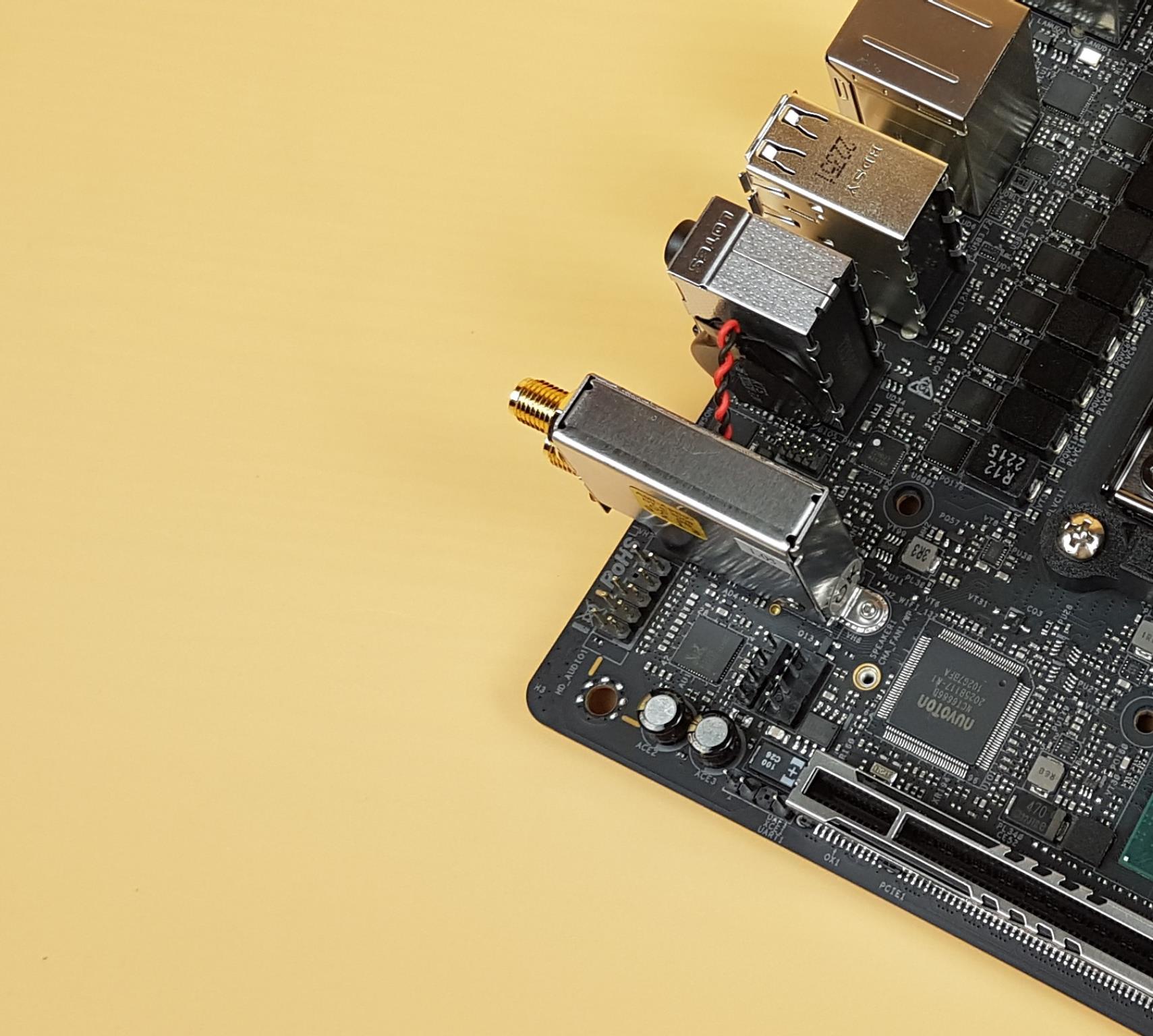 ASRock has installed a WIFI and Bluetooth module on a vertical E-Key M.2 port at the Rear IO panel. This motherboard has full WIFI and Bluetooth coverage. Some of the salient features are:
11ax Wi-Fi 6E Module
Supports IEEE 802.11a/b/g/n/ac/ax
Supports Dual-Band 2×2 160MHz with extended 6GHz band support*
2 antennas to support 2 (Transmit) x 2 (Receive) diversity technology
Supports Bluetooth 5.3 + High-speed class II
Supports MU-MIMO
Supports Killer LAN Software
Supports Killer DoubleShot™ Pro
Killer DoubleShot Pro allows the use of both the Killer Wireless and Killer Ethernet interfaces to work at the same time which will give the end user max throughput as high as 4.9 Gbps, it automatically utilizes the fastest network connection for high-priority traffic, this ensures the highest priority traffic will always be put on the fastest and most reliable link.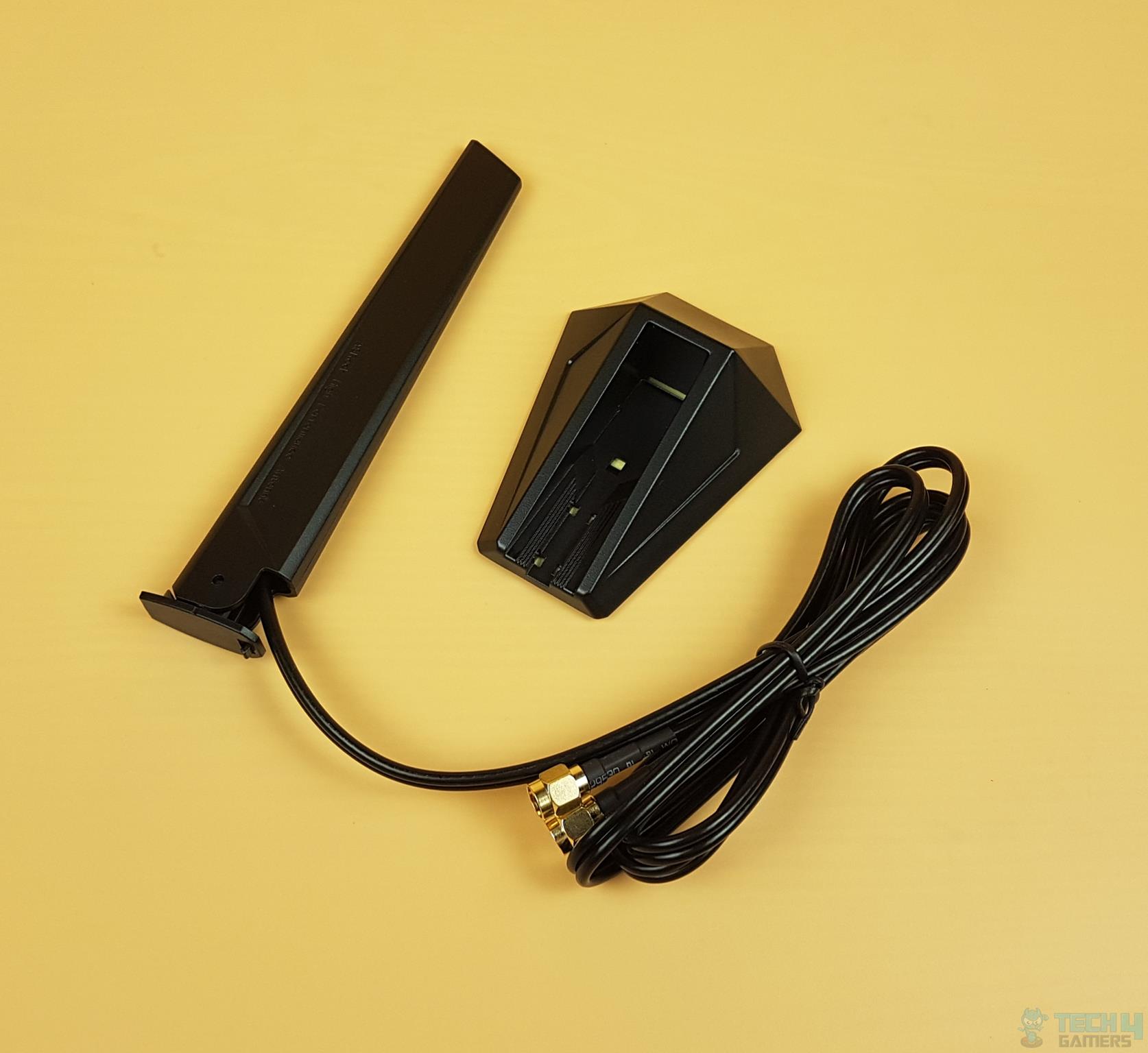 ASRock has provided an antenna receiver and a base to set up wireless connectivity.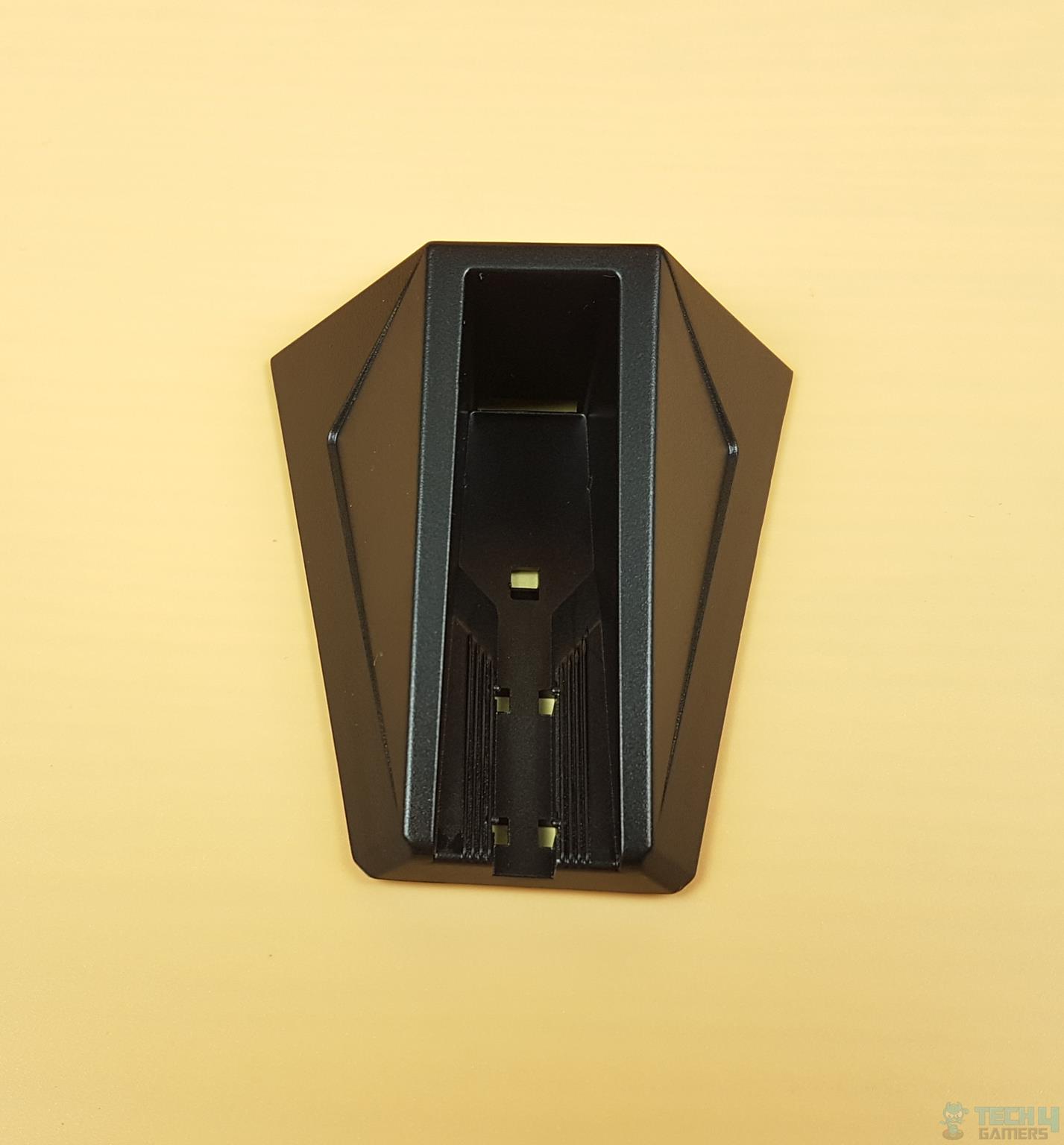 We can take a closer look at the base of this antenna receiver. The receiver is slid in to catch the locker. The front side has a passage for the thick cables.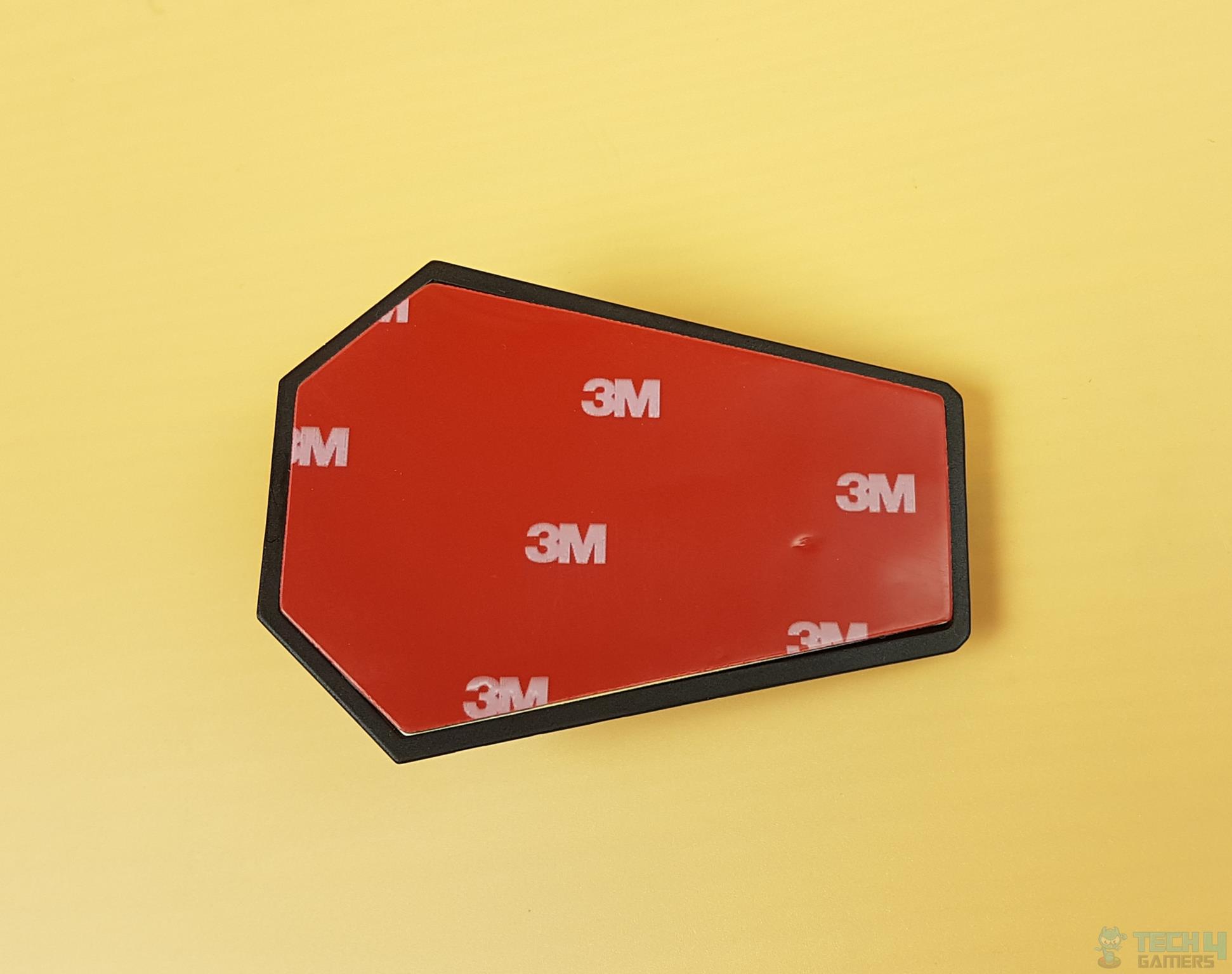 There is a 3M double-sided self-adhesive tape on the base. I wish they had done a magnetic mechanism.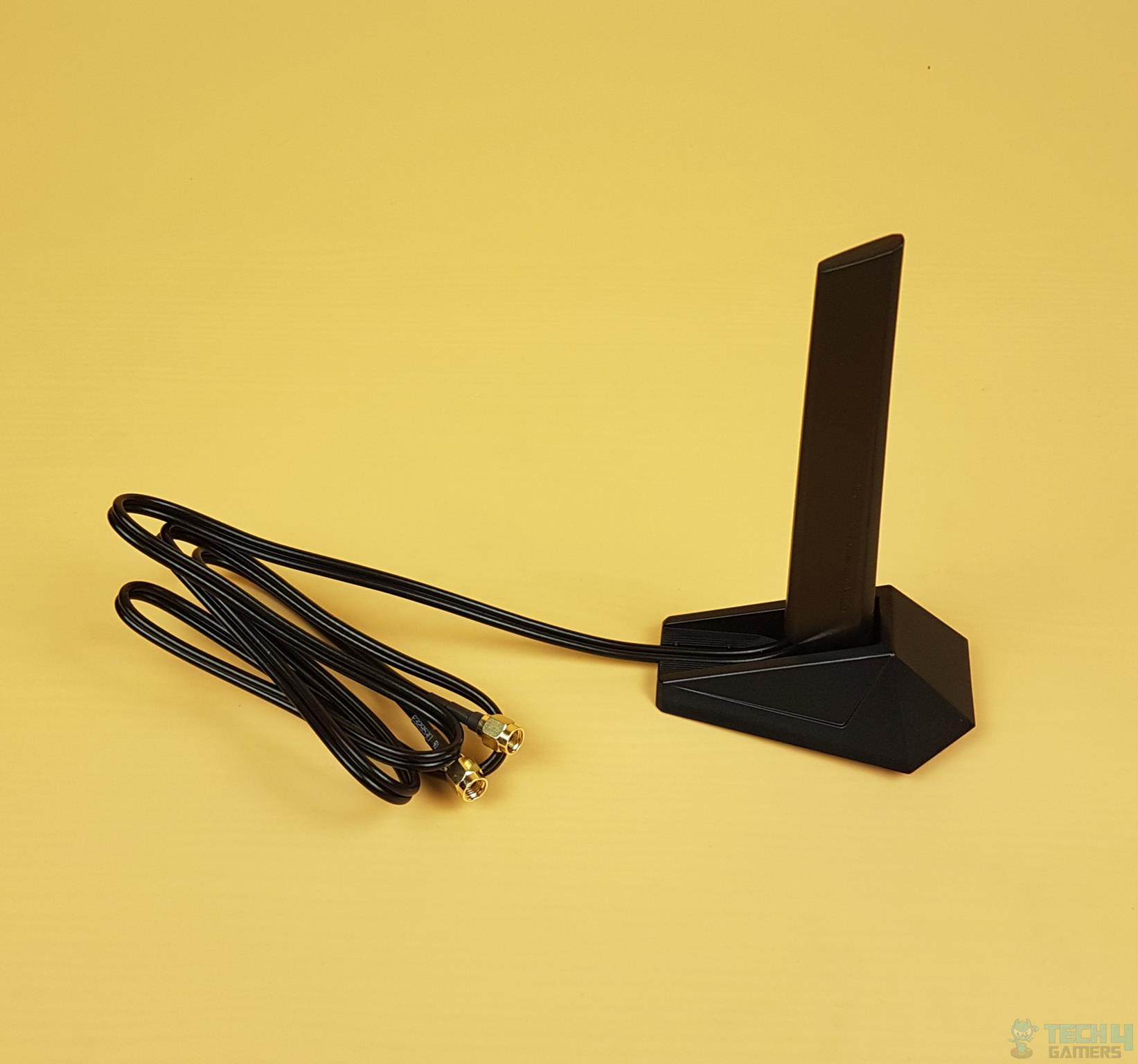 We are showing an assembled unit in the above picture.
USB Connectivity
We have the following USB provision on this motherboard:
1 x USB 3.2 Gen2x2 Type-C (Front)
1 x USB 3.2 Gen2 Type-C (Rear)
3 x USB 3.2 Gen2 Type-A (Rear)
2 x USB 3.2 Gen1 (Front)
6 x USB 2.0 (4 Rear, 2 Front)
This motherboard has a total of 13 USB connections which is a good count given that it is a Mini-ITX motherboard. This board has a USB 3.2 Gen 2×2 over Type-C interface providing a theoretical bandwidth of 20Gbpson on the front I/O panel. I was hoping for this connectivity on the Rear IO panel with USB 3.2 Gen2 type on the front. There are two USB ports on the rear panel which are mentioned as Lightning Gaming Ports. We will discuss them in the testing section.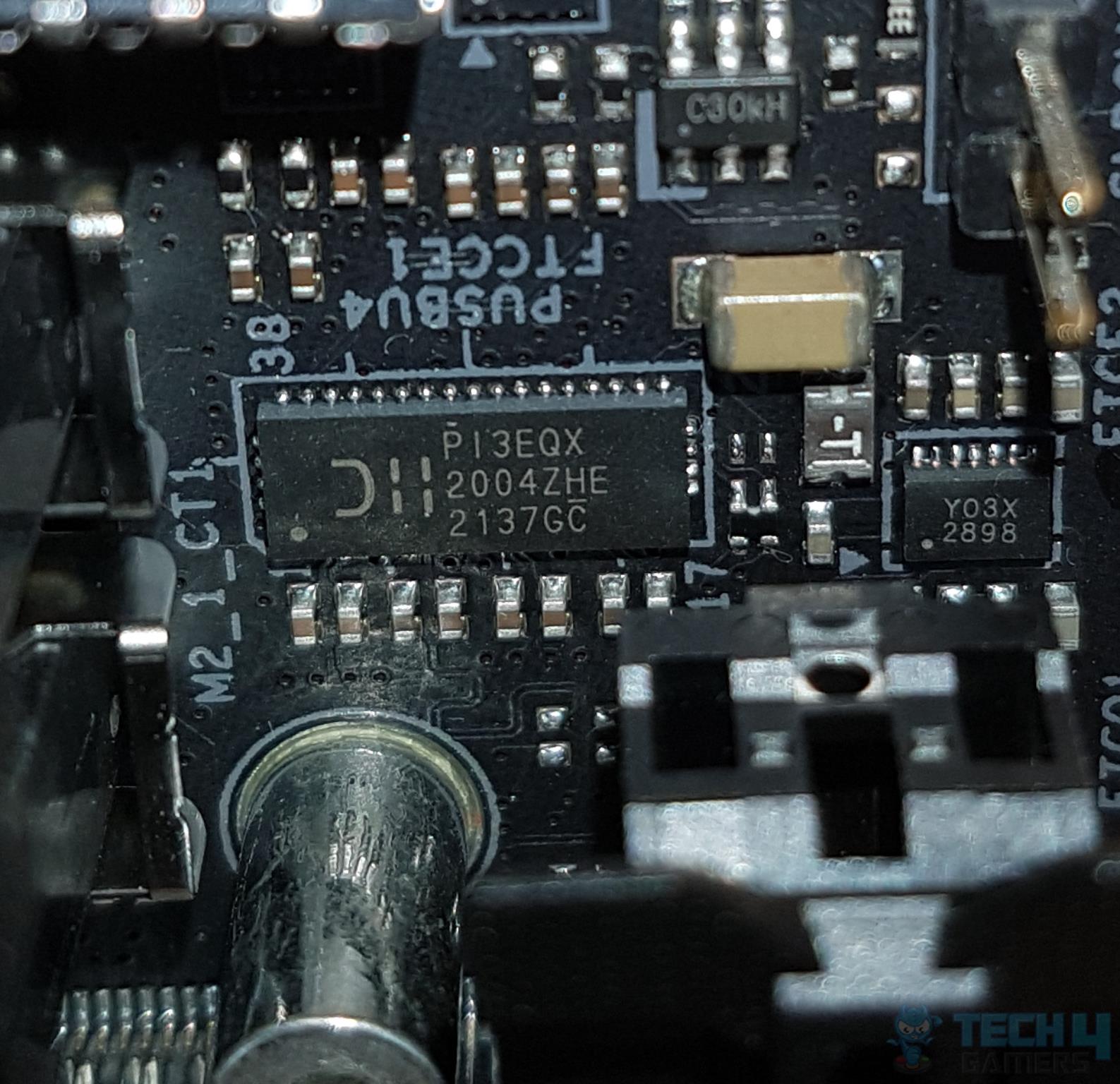 The PI3EQX2004ZHE handles the USB Type-C 3.2 Gen2x2 port. ASRock has implemented this connector for the front panel connectivity. I wish they had done it on the rear IO panel.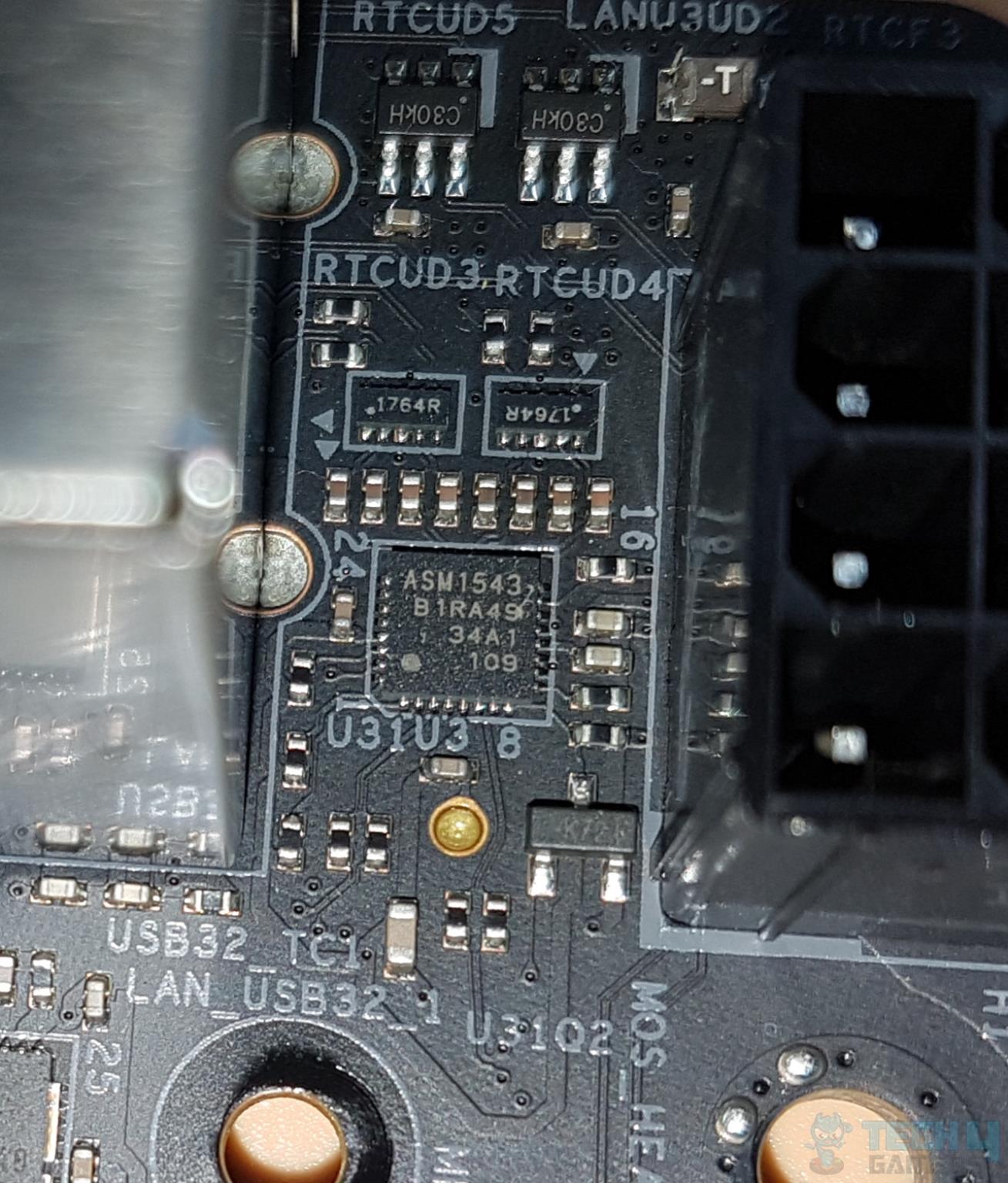 ASM1543 is a one-four to two differential channels mux switch with integrated Type-C Configuration Channel Logic Circuitry, used for USB3.1 type-C mux and CC detection application. The signal performance of the mux switch is up to 10Gbps SuperSpeedPlus USB bus with low insertion loss and return loss.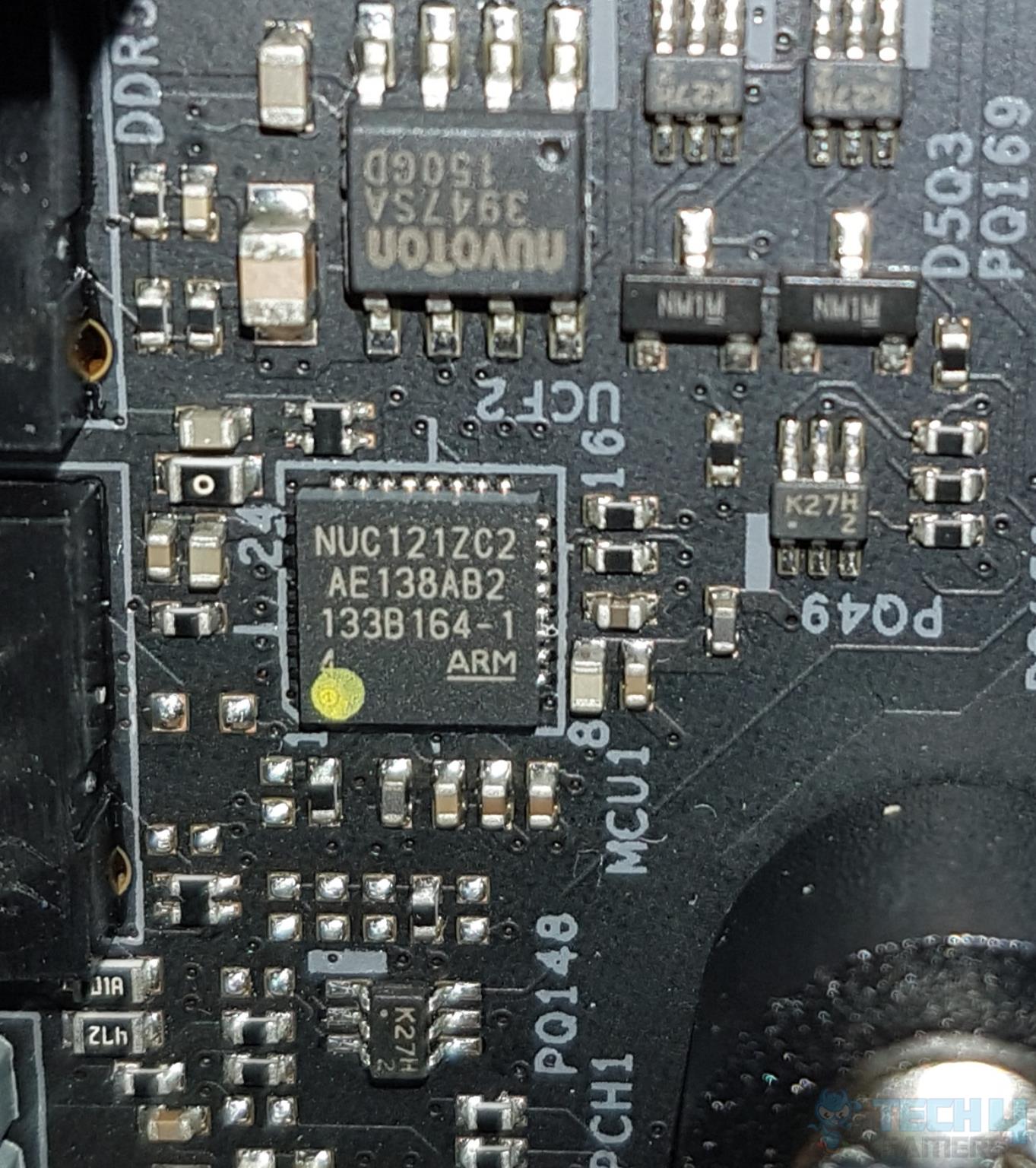 ASRock has implemented a NUC121ZC2AE controller. It is a 32-bit microcontroller ( MCU ) with ARM® Cortex®-M0 core. It runs up to 50 MHz and supports 32 KB Flash, 8 KB SRAM, 12-bit ADC, 48 MHz high-speed RC oscillator supporting crystal-less USB transfer, and 17-ch PWM /B PWM which makes it powerful in USB communication and data control processing. This could well be for the eDP signal port located on the backside.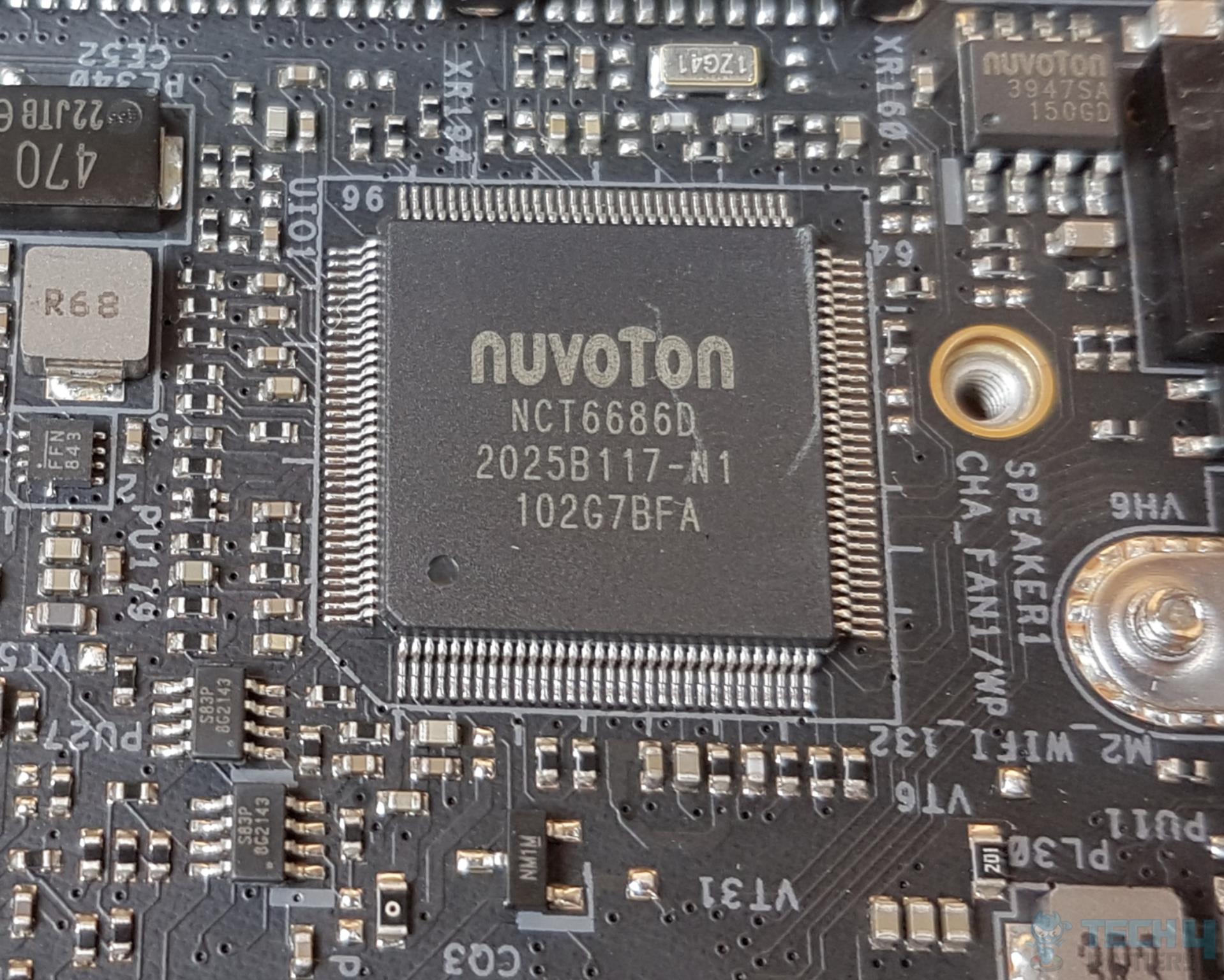 The Nuvoton NCY6686D is the main Super IO chip/controller on this motherboard.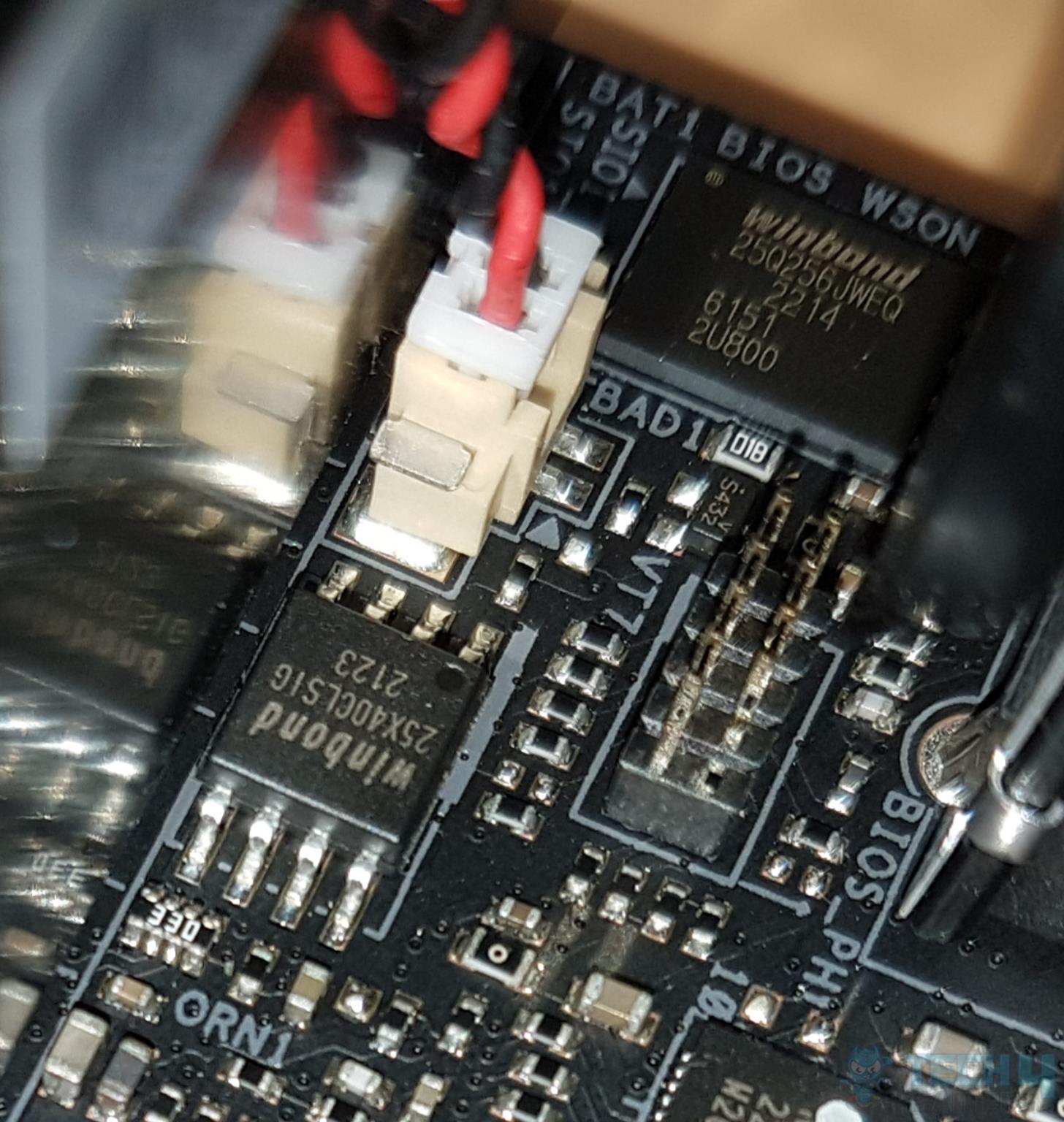 ASRock is using 256M-bit Serial Flash Memory with uniform 4KB sectors and Dual/Quad SPI from Winband as BIOS ROM.
Internal Connectors
Let's take a look at the main connectors on this motherboard starting from the lower side.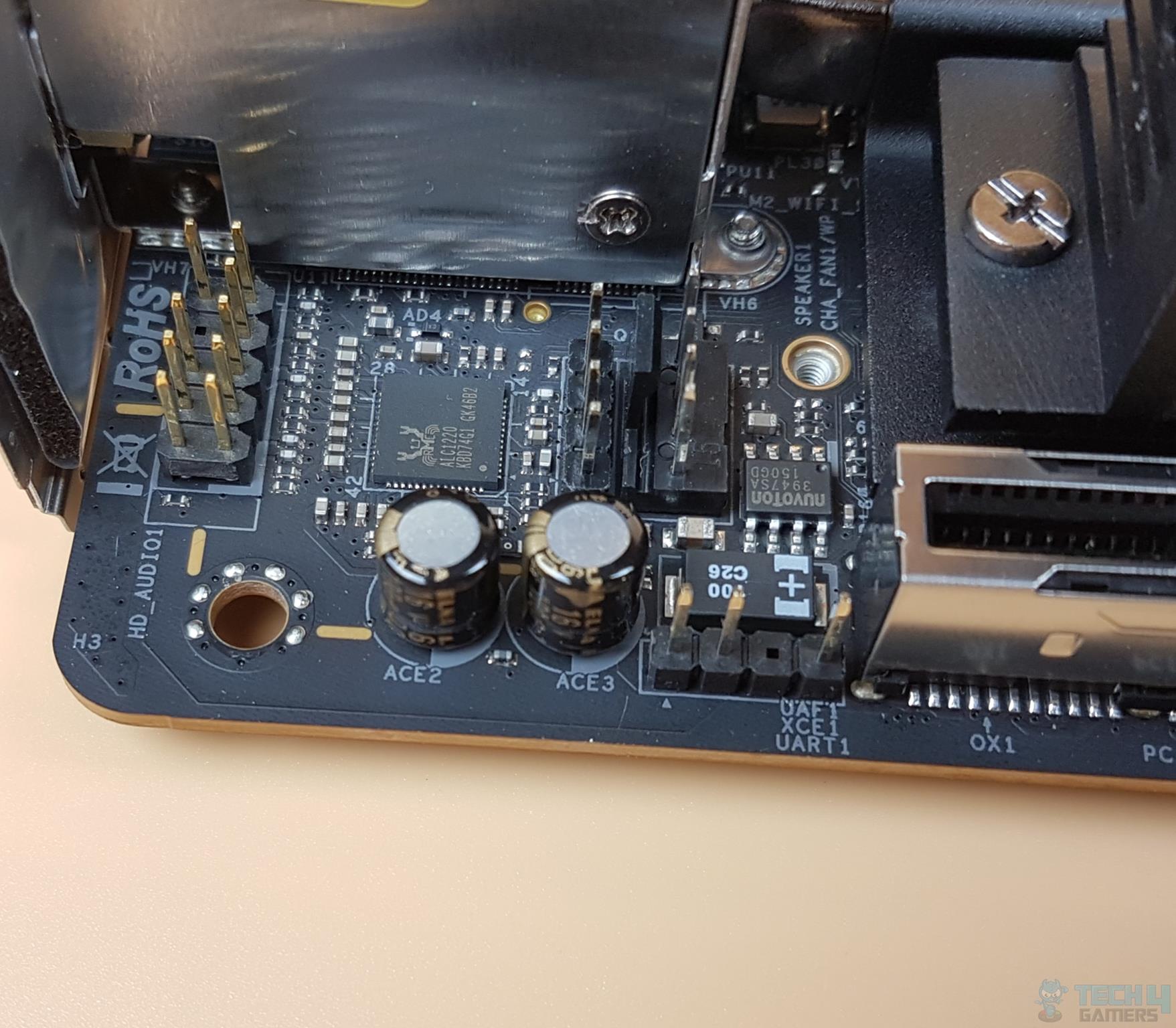 1x 9-pin HD Audio Connector
1x 4-pin Speaker Header
1x 4-pin PWM Fan Header [Rated for 2A/24W]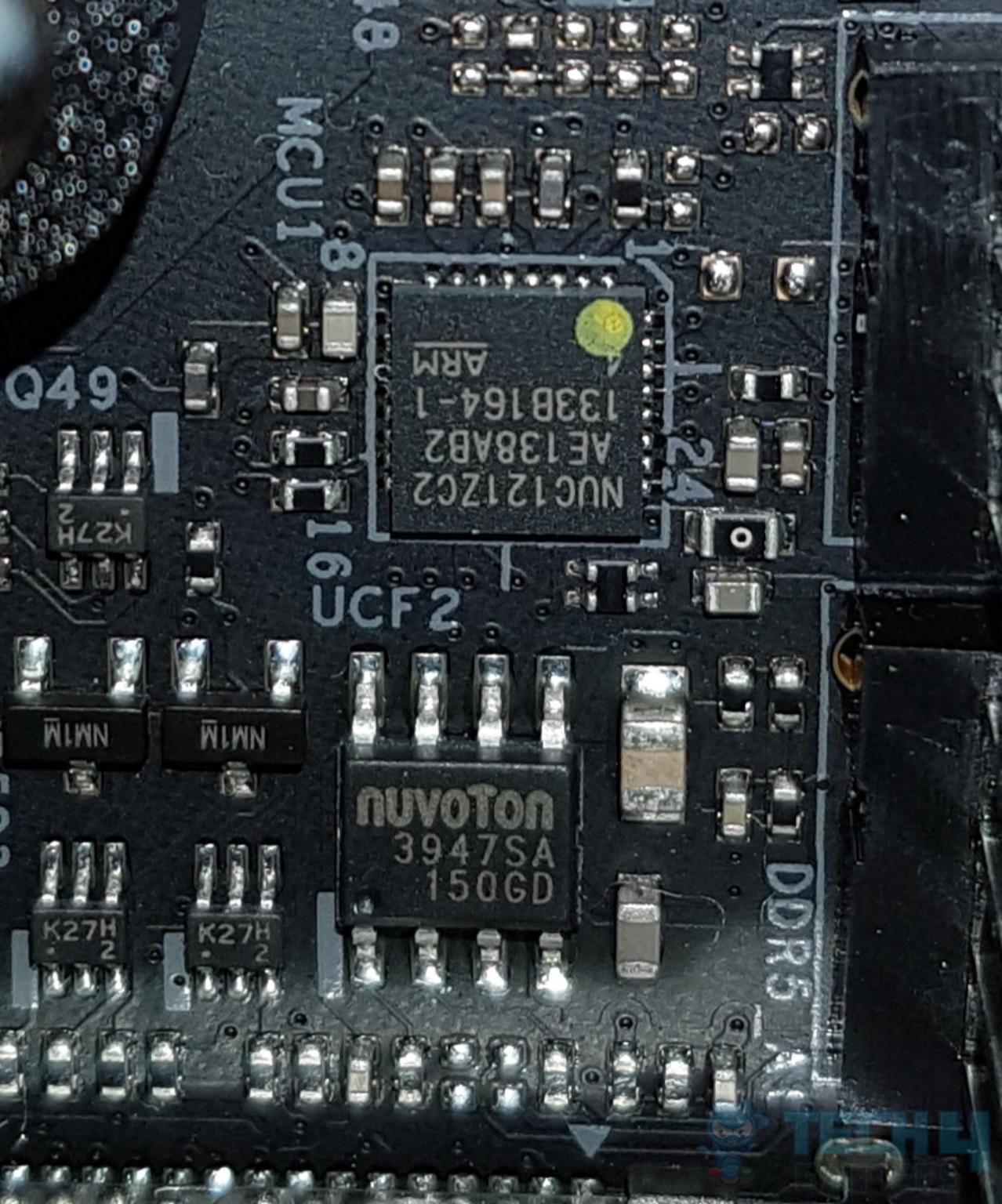 ASRock is using nuvoton 3947S controller for the PWM fan/pump headers.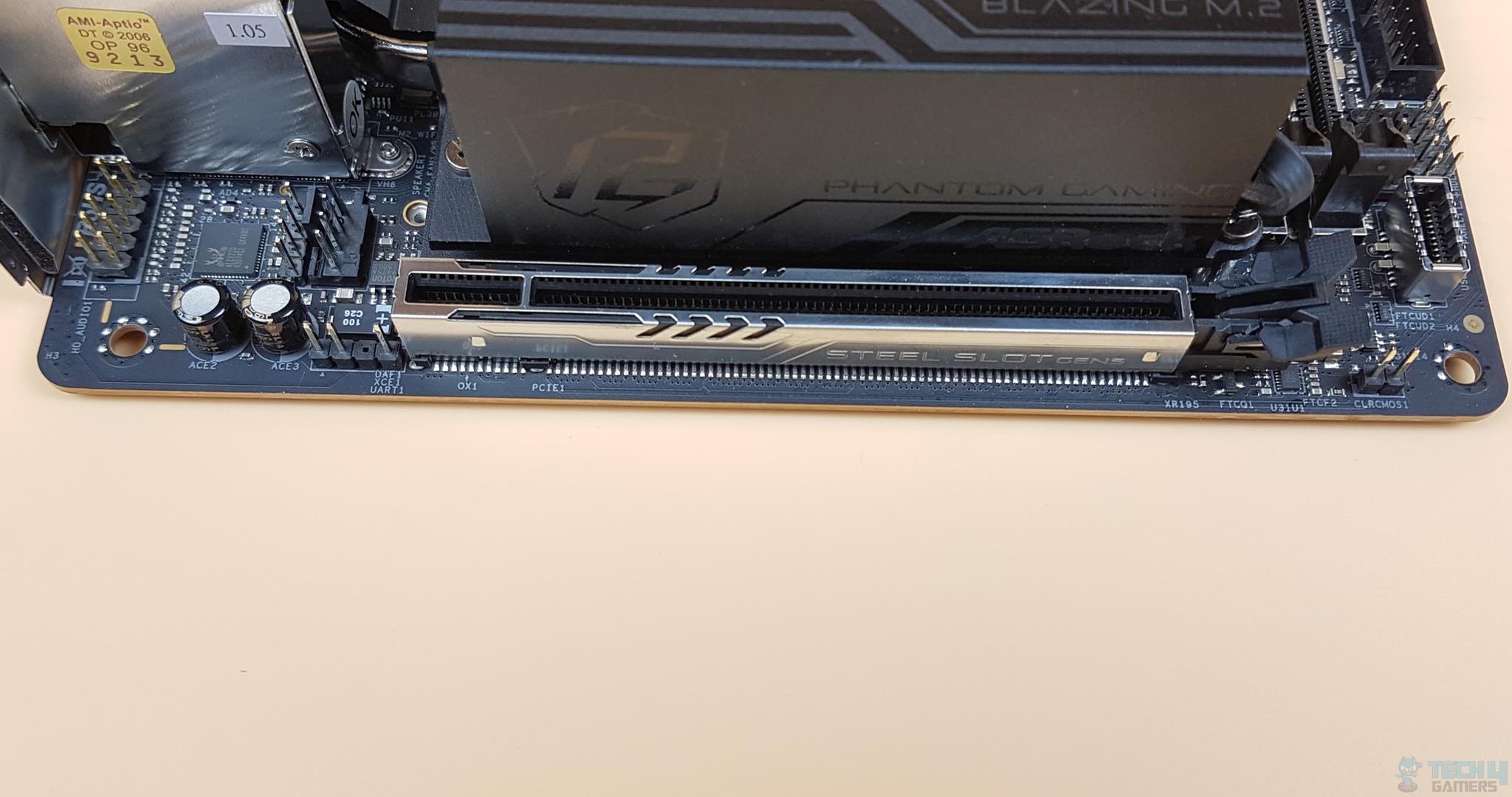 1x PCIe Gen 5 x16 Slot
1x 2-pin CMOS Clear Header
Next, we have:
1x USB 3.2 Gen2x2 Type-C Front Panel Connector
1x USB 2.0 Header [Can house 2 ports]
1x Front Panel Header
2x SATA 6Gbps Ports
1x H-Density 24-pin ATX connector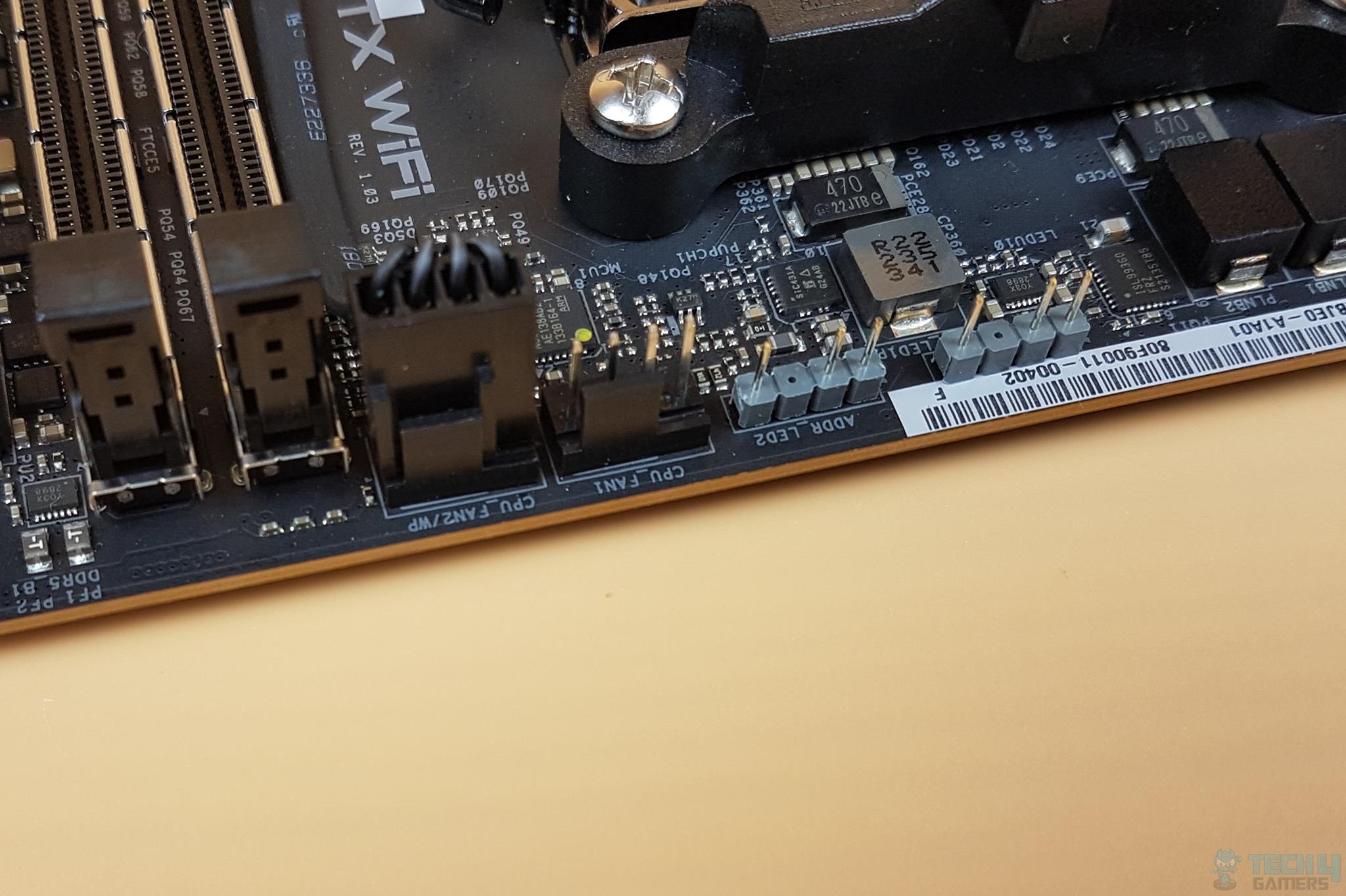 We have:
1x 4-pin PWM Fan Header [2A/24W, M.2 Fan connected on it]
1x 4-pin PWM CPU Fan Header [1A/12W]
2x digital RGB 3-pin Headers
A single digital RGB header is capable of 3A at 5V making it capable to handle a 15W LED strip.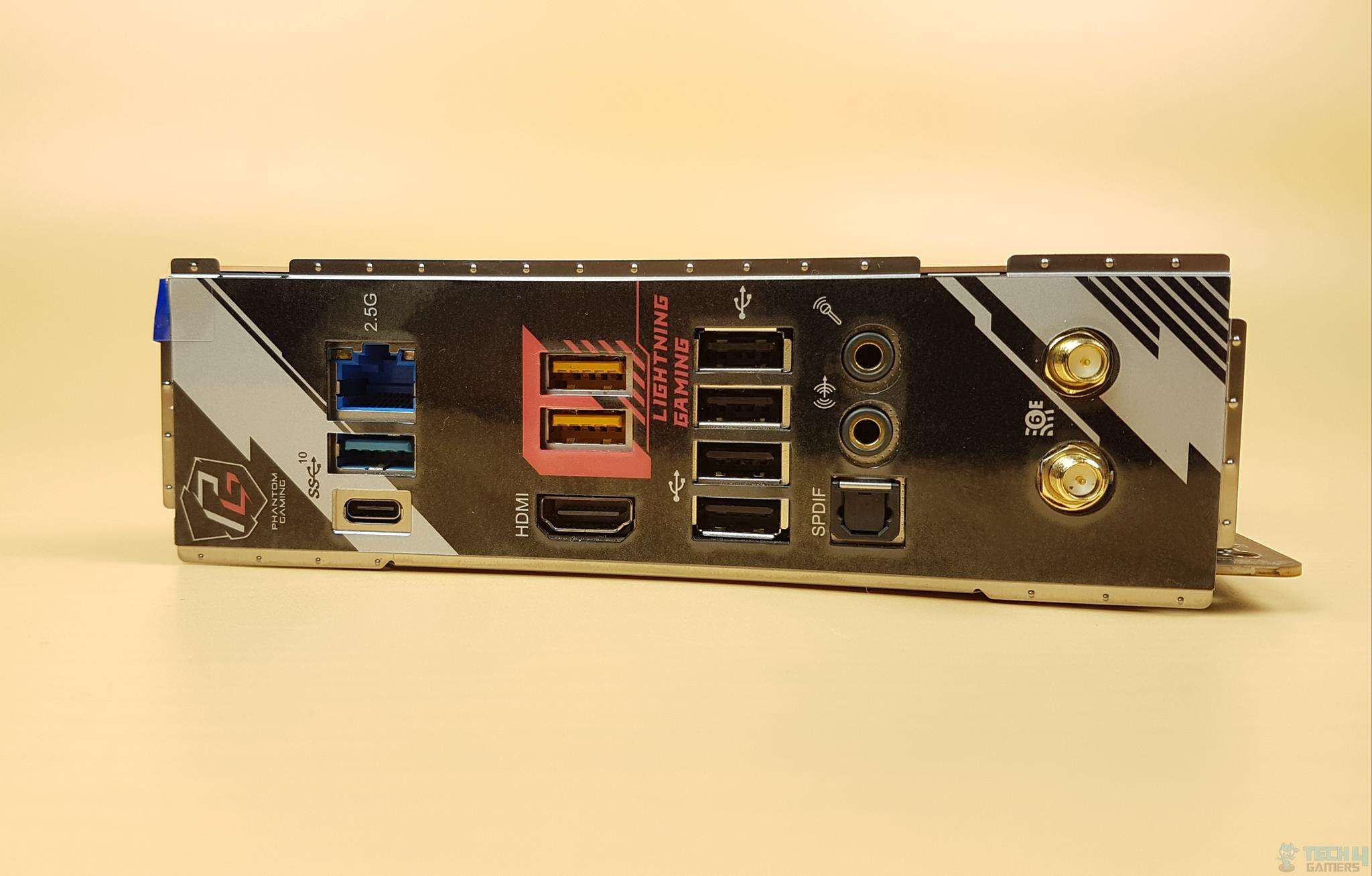 The following options are provided:
2 x Antenna Ports
1 x HDMI Port
1 x Optical SPDIF OutPort
3 x USB 3.2 Gen2 Type-A Ports (10 Gb/s) (USB32_23 are Lightning Gaming Ports.)
1 x USB 3.2 Gen2 Type-C Port (10 Gb/s)
4 x USB 2.0 Ports
1 x RJ-45 LAN Port
1 x Line Out Jack (Gold Audio Jack)
1 x Microphone Input Jack (Gold Audio Jack)
We have already covered Lighting Gaming Ports when we tested the Z790 PG Riptide motherboard hence we won't be going into these details. Check our review of that motherboard for more information and test results.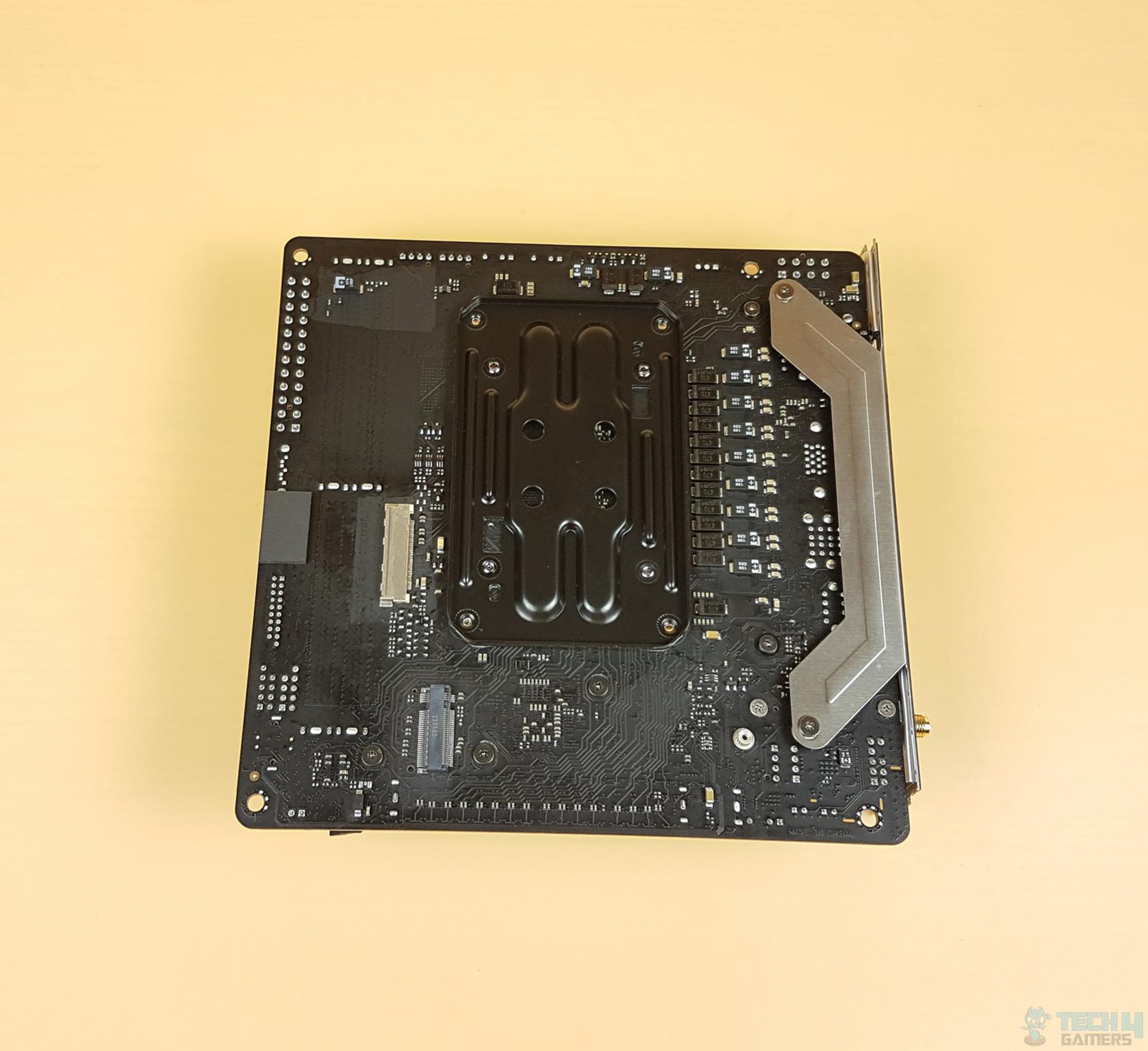 The above picture shows the backside view of the motherboard.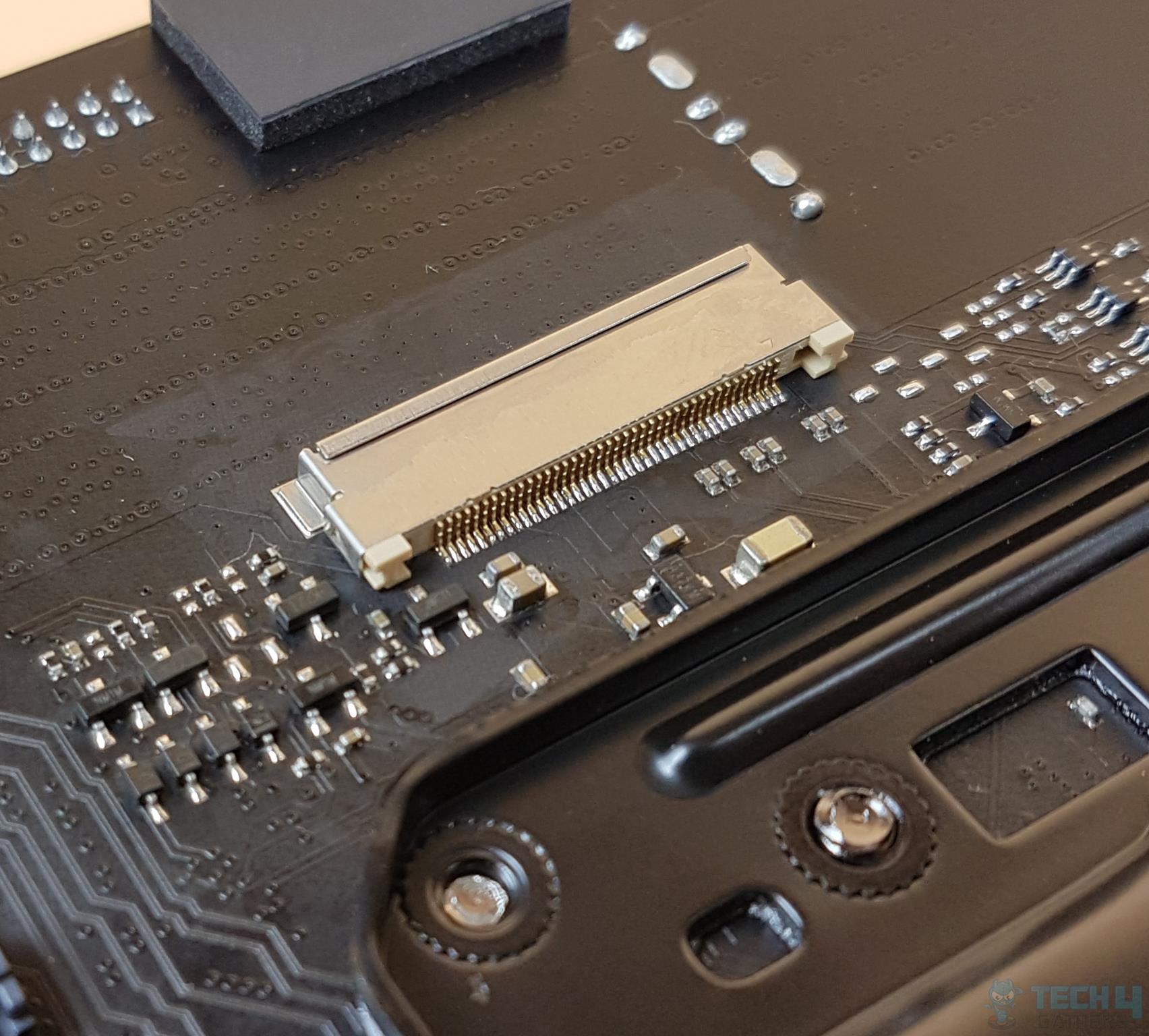 ASRock has installed an eDP signal connector. This connector is not provided on every motherboard. It performs two functions simultaneously. These are the power and transmission of digital display signals. This is specifically done for ASRock 13.3" Side Panel kit which would come in handy to house a 13.3" size panel in your PC Case to show various variables with a live feed from sensors. The users also use this screen for streaming, watching videos, etc.
UEFI/BIOS
Well, I can't say that this is my first time with ASRock UEFI/BIOS interface but it is a first time on their AMD motherboard. I like their user interface as they are closer to MSI in this department. Like the last time, let's walk through some key pages here.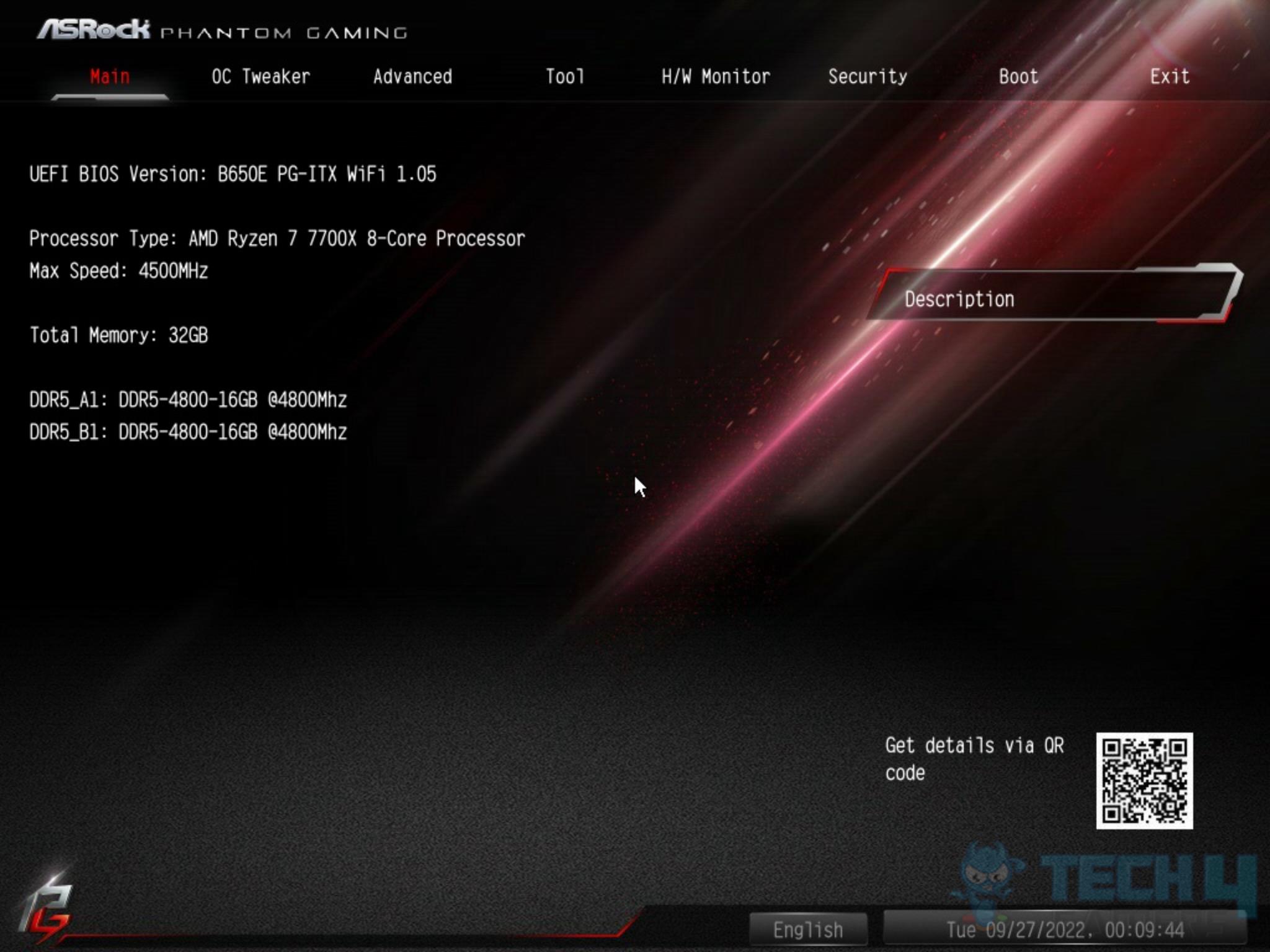 The BIOS starts on the Main page. There are no Easy and Advance modes this time. Motherboard came with a 1.05 ROM version. It was updated to the latest before testing. CPU and RAM information is shown as well.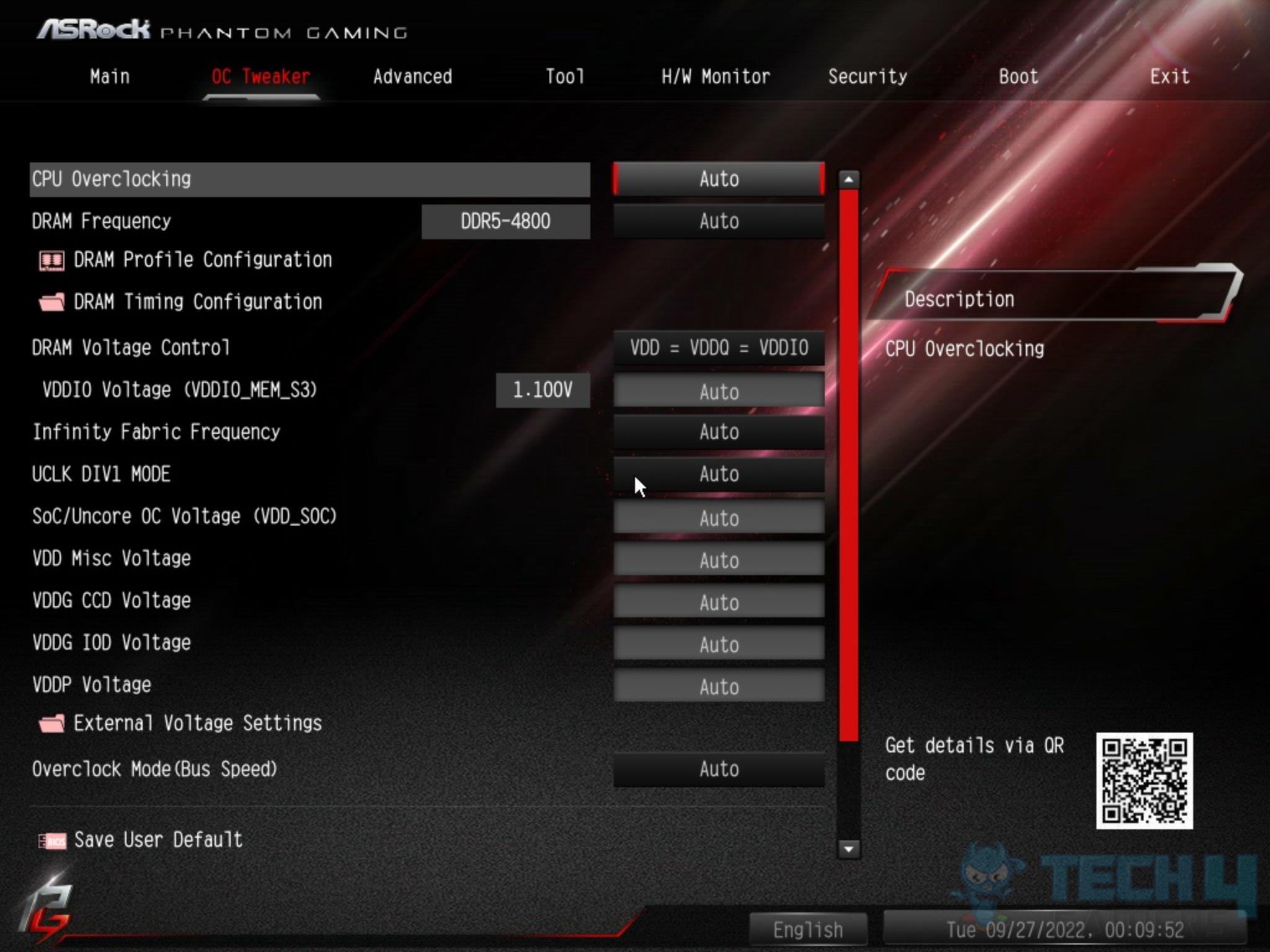 Next, we have an OC Tweaker page. It is loaded with CPU and RAM-related variables including overclocking parameters and voltages. DRAM Voltage Control is simplified as well. One hint is that you will find a PBO setting here as well after updating the BIOS.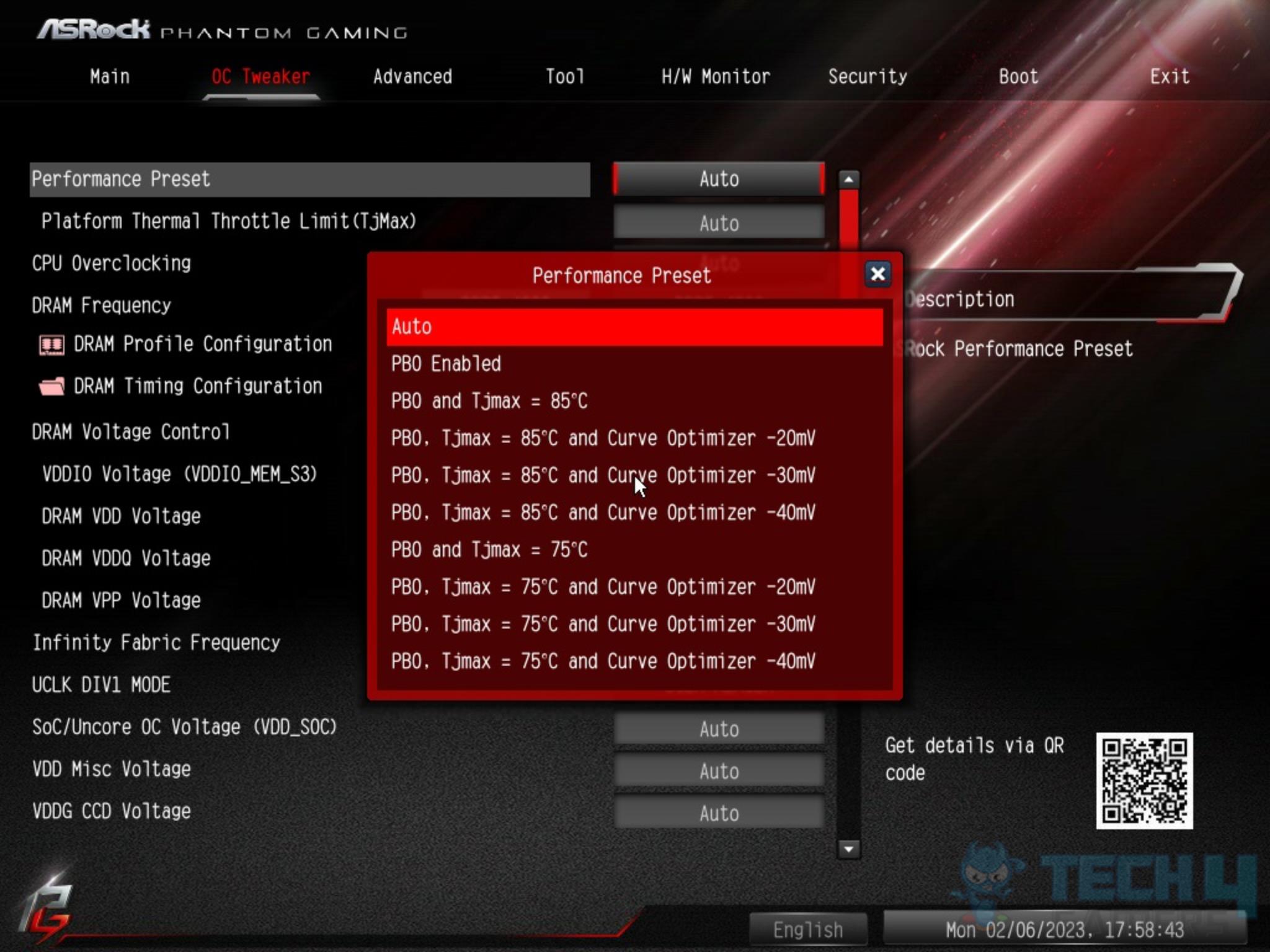 The above picture shows PBO-related options that are pre-defined. It is based on the thermal limit and efficiency curve. There is no option to dial power-related settings like the 65W power profile without enabling PBO first.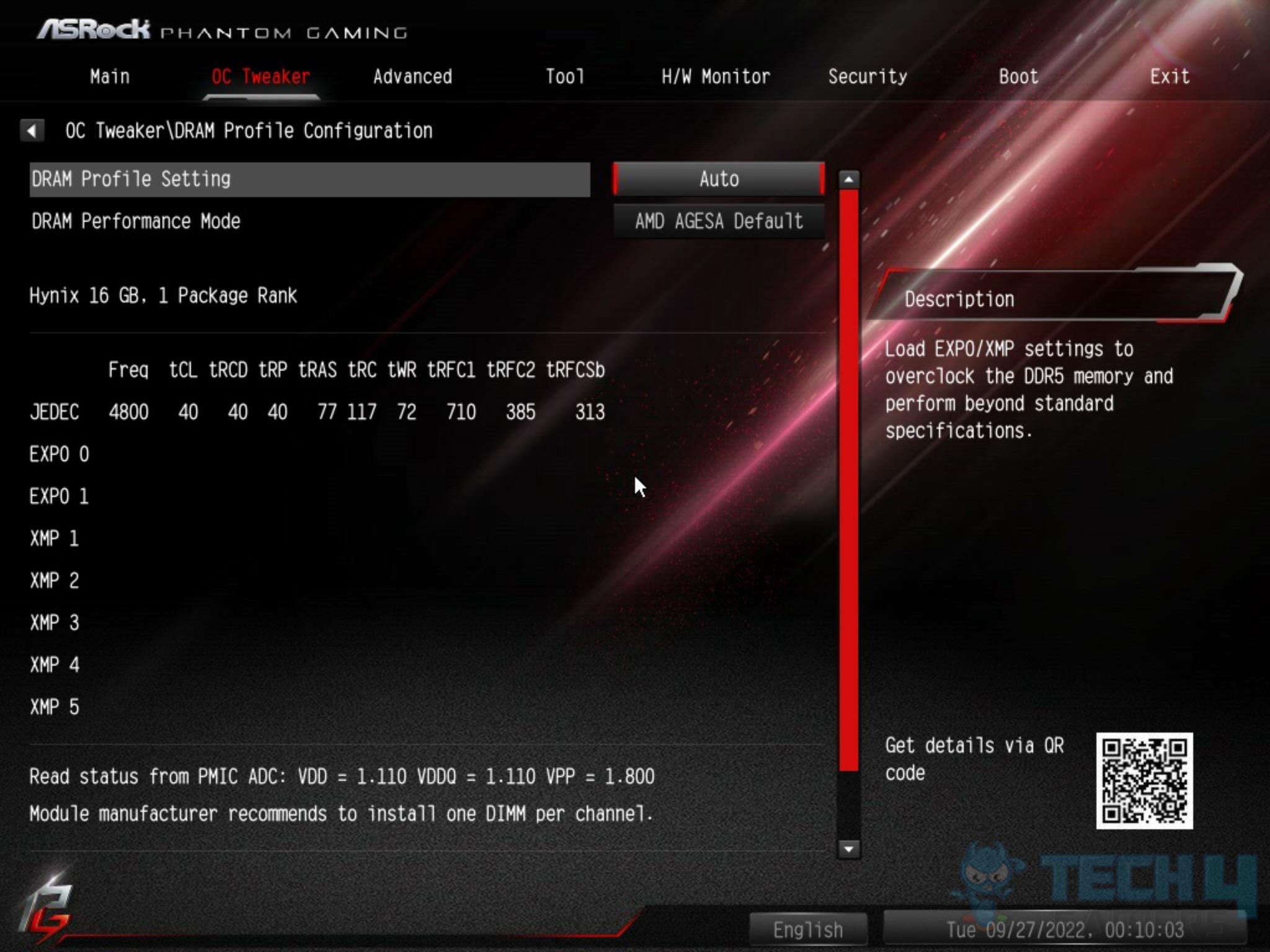 Now, we are on the DRAM configuration page. We can set frequency enhancement here. Since we have used Sabrent Rocket 2x16GB DDR5 kit operating at 4800MHz, CL40, you will not find any XMP setting here.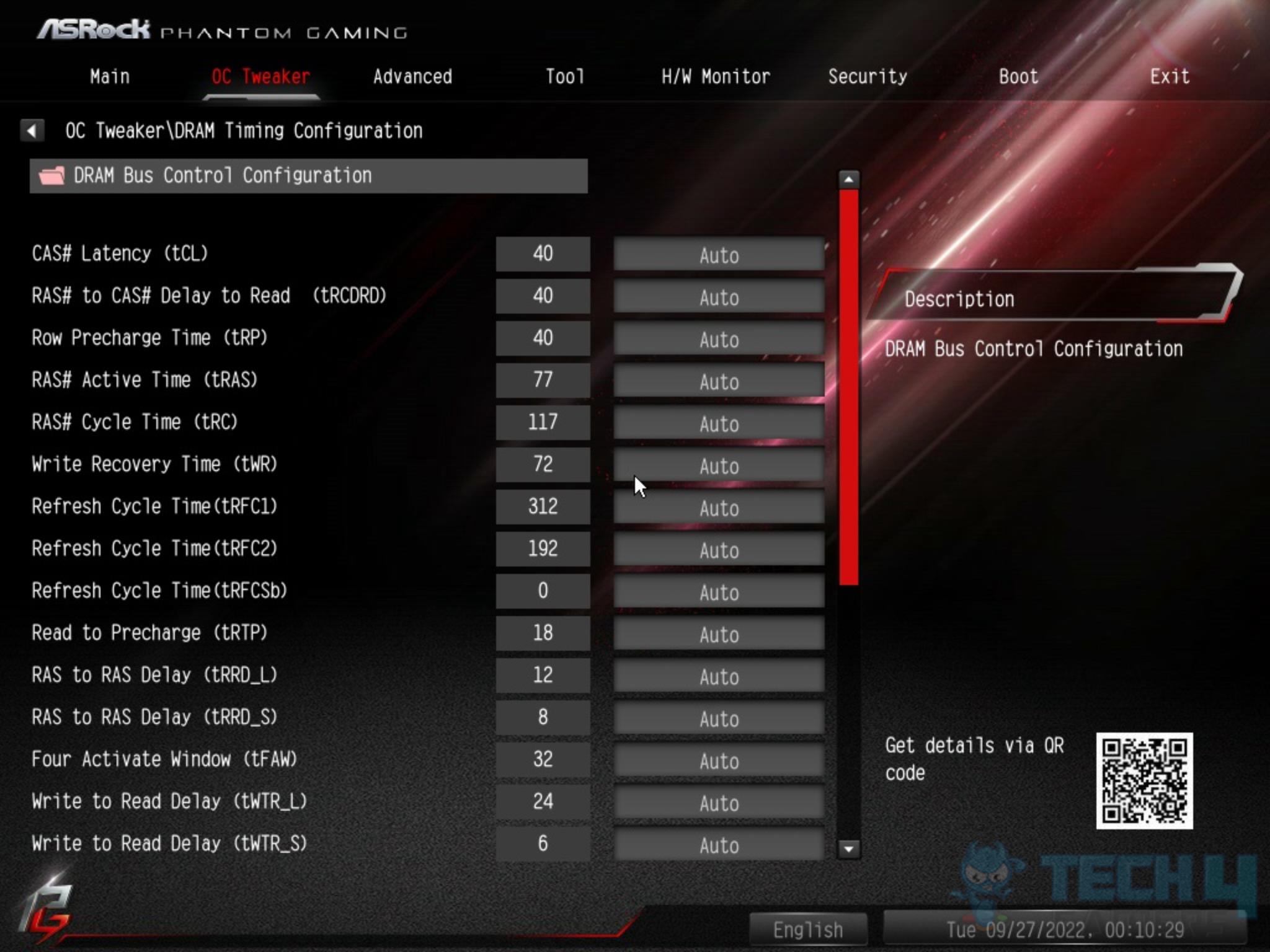 Here, we can set timings for the DDR5 kit.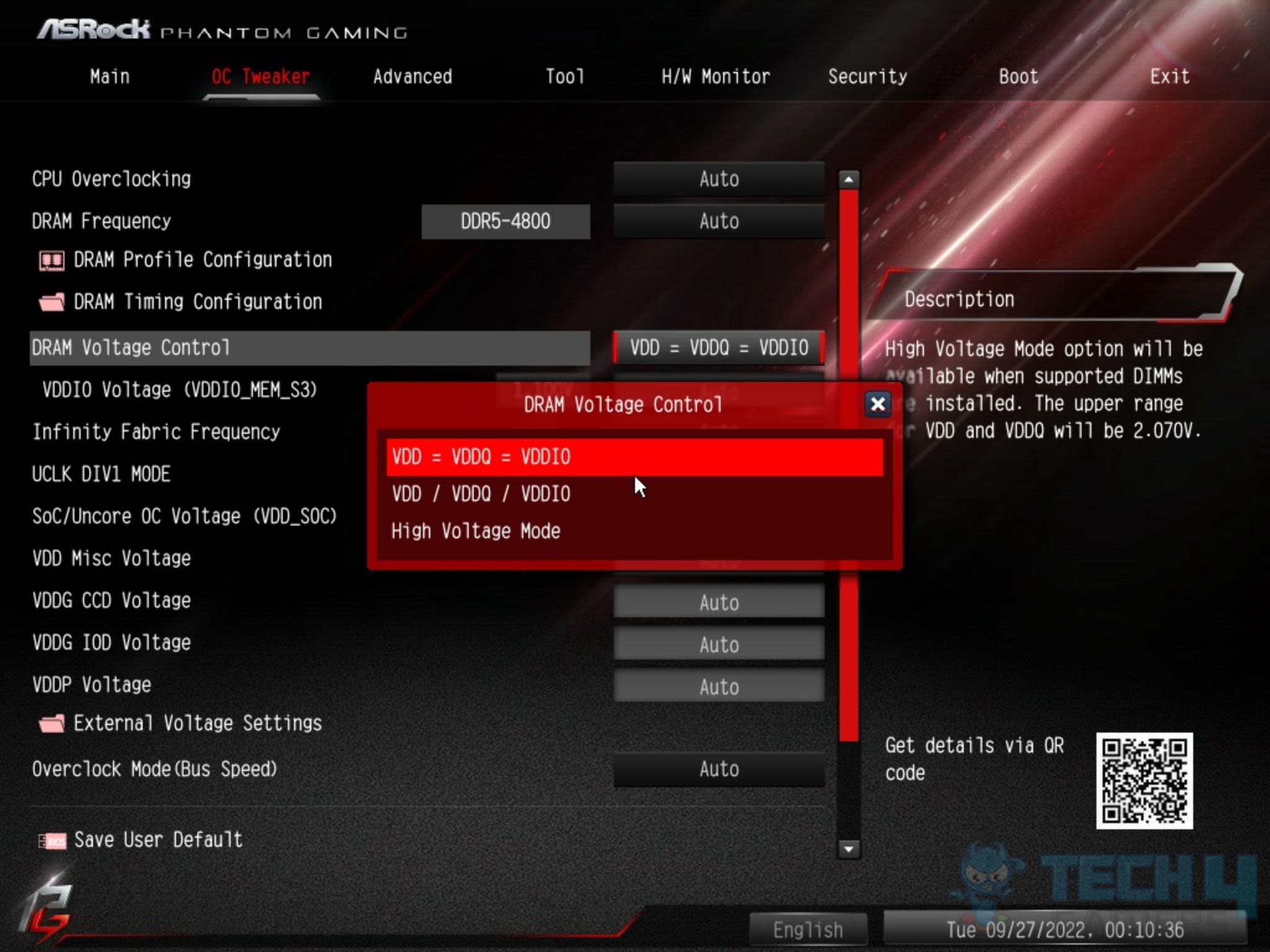 We have three pre-defined DRAM voltage parameters on the main page.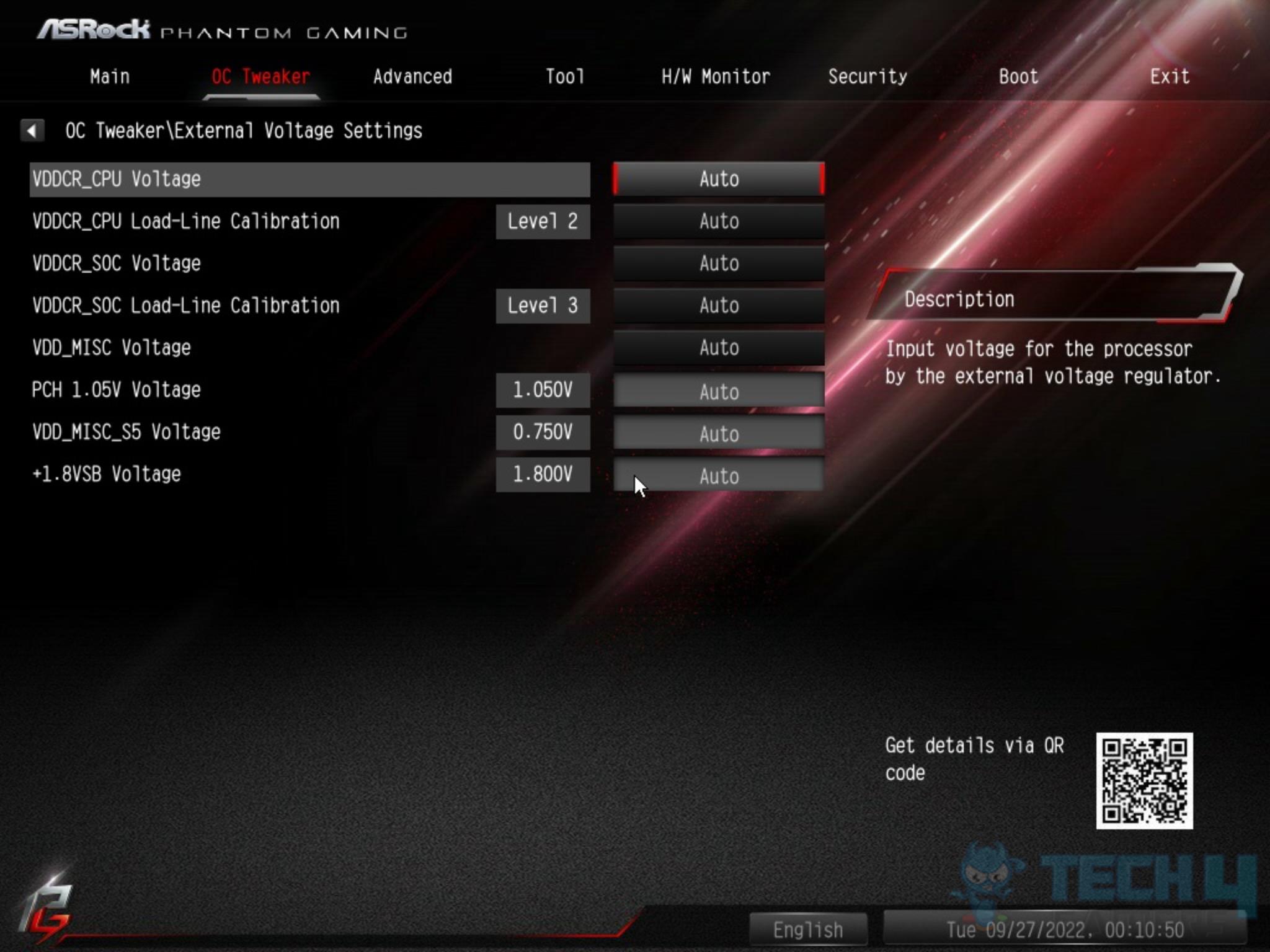 More Voltage related settings are shown here.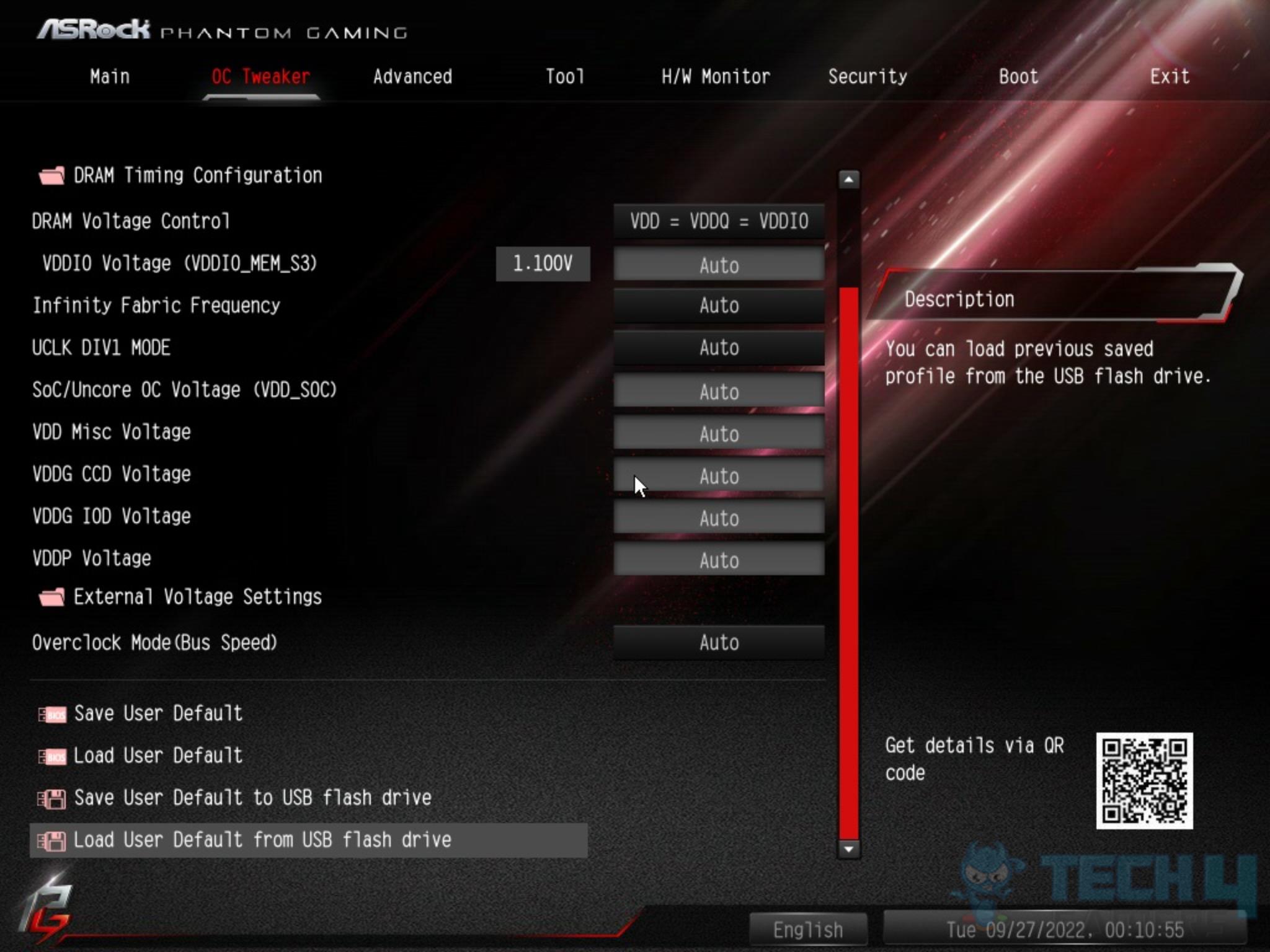 As we saw on the Z790 PG Riptide motherboard, the user's profiles are under the OC Tweaker page. This is kind of a strange yet simplified implementation. Instead of traversing to Exit Page and then saving/Loading a user profile, we can do that here. This would come in handy during overclocking sessions.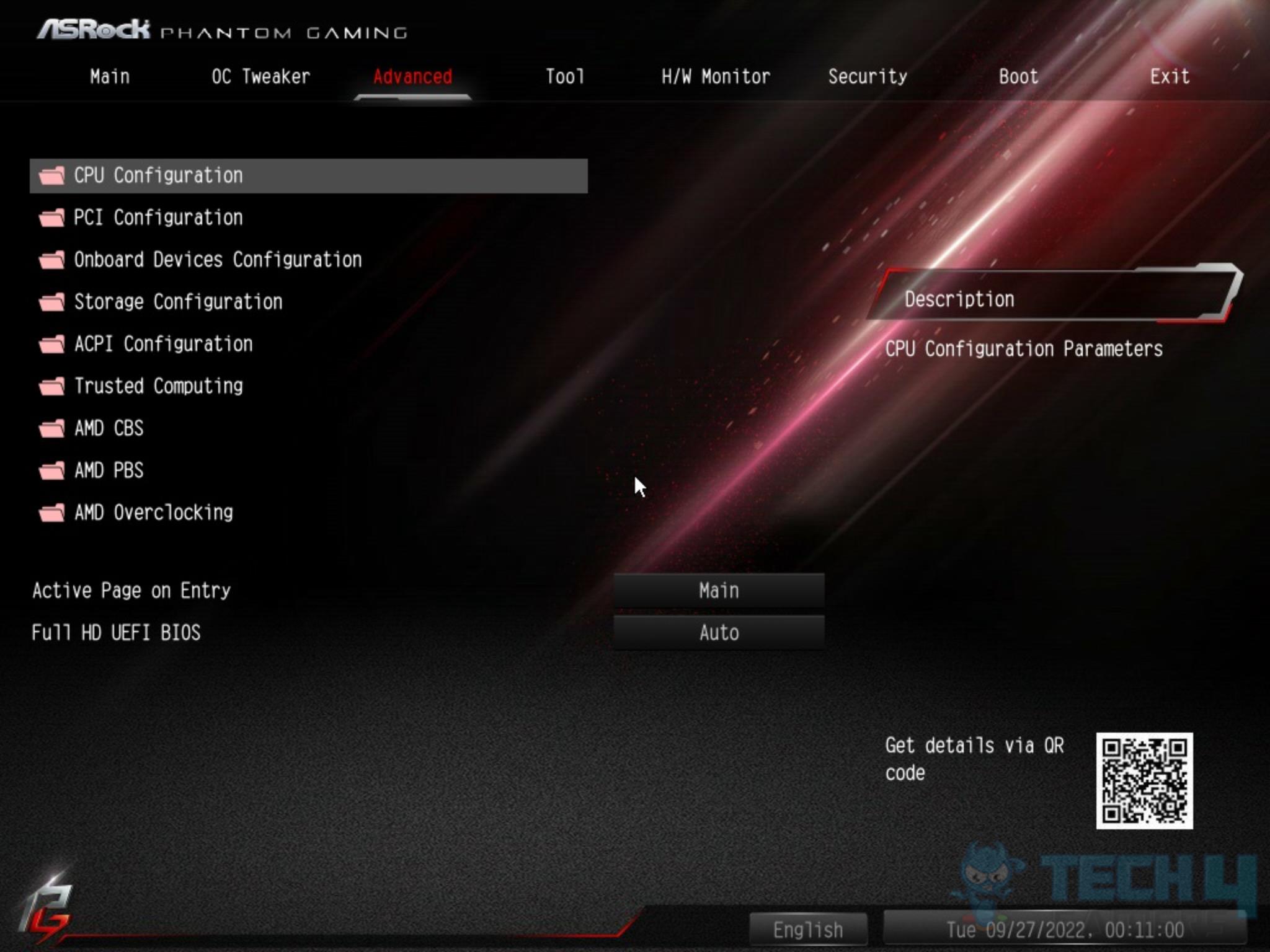 The advanced page has more settings for the motherboard and connected devices. They are divided among listed segments.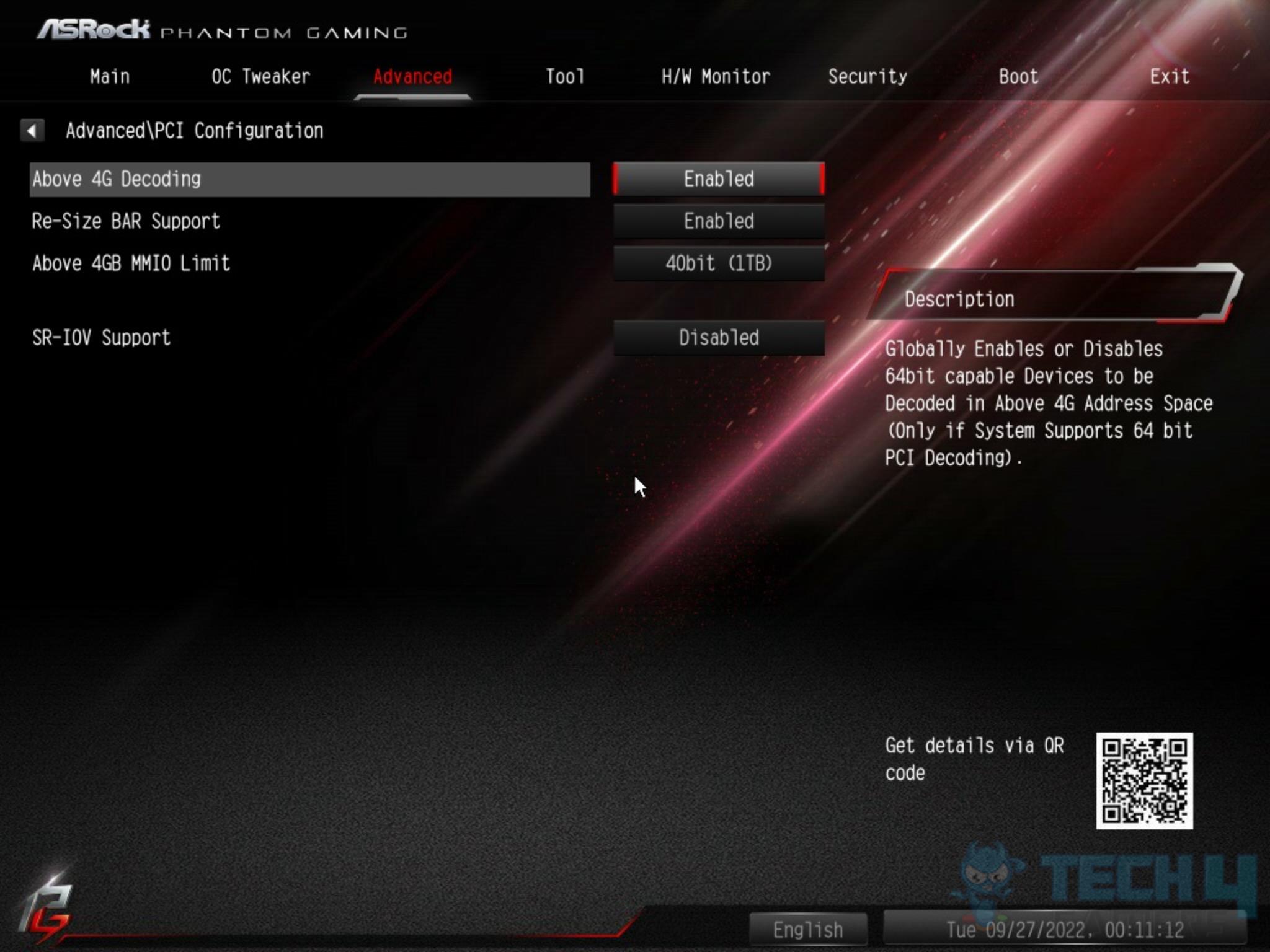 We can access the Above 4G Decoding and Re-Size Bar Support under the PCIe Configuration.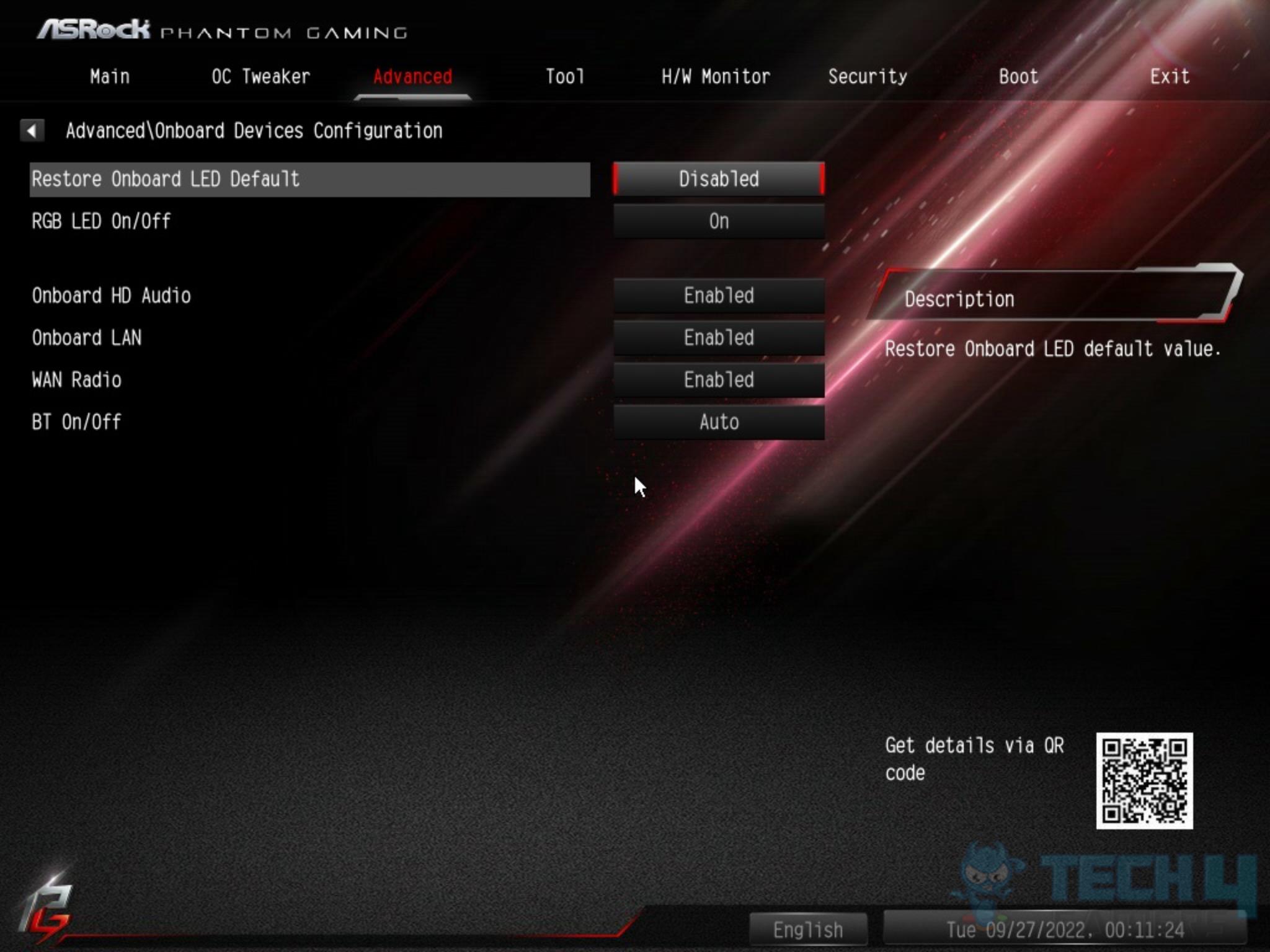 Here we can enable or disable the onboard devices.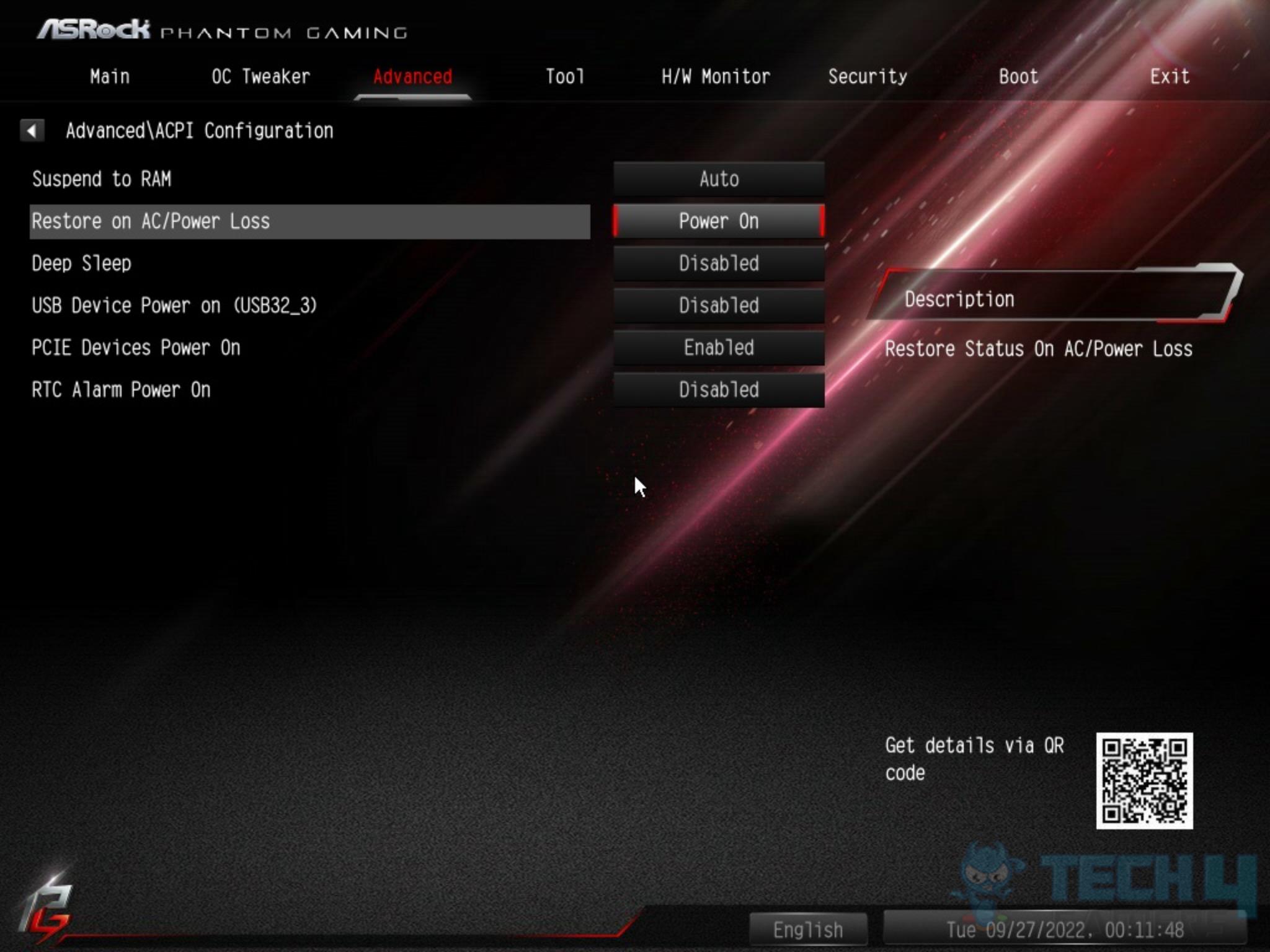 AC Power-related settings are listed above. I always set Restore on AC/Power Loss to Always On for my requirement.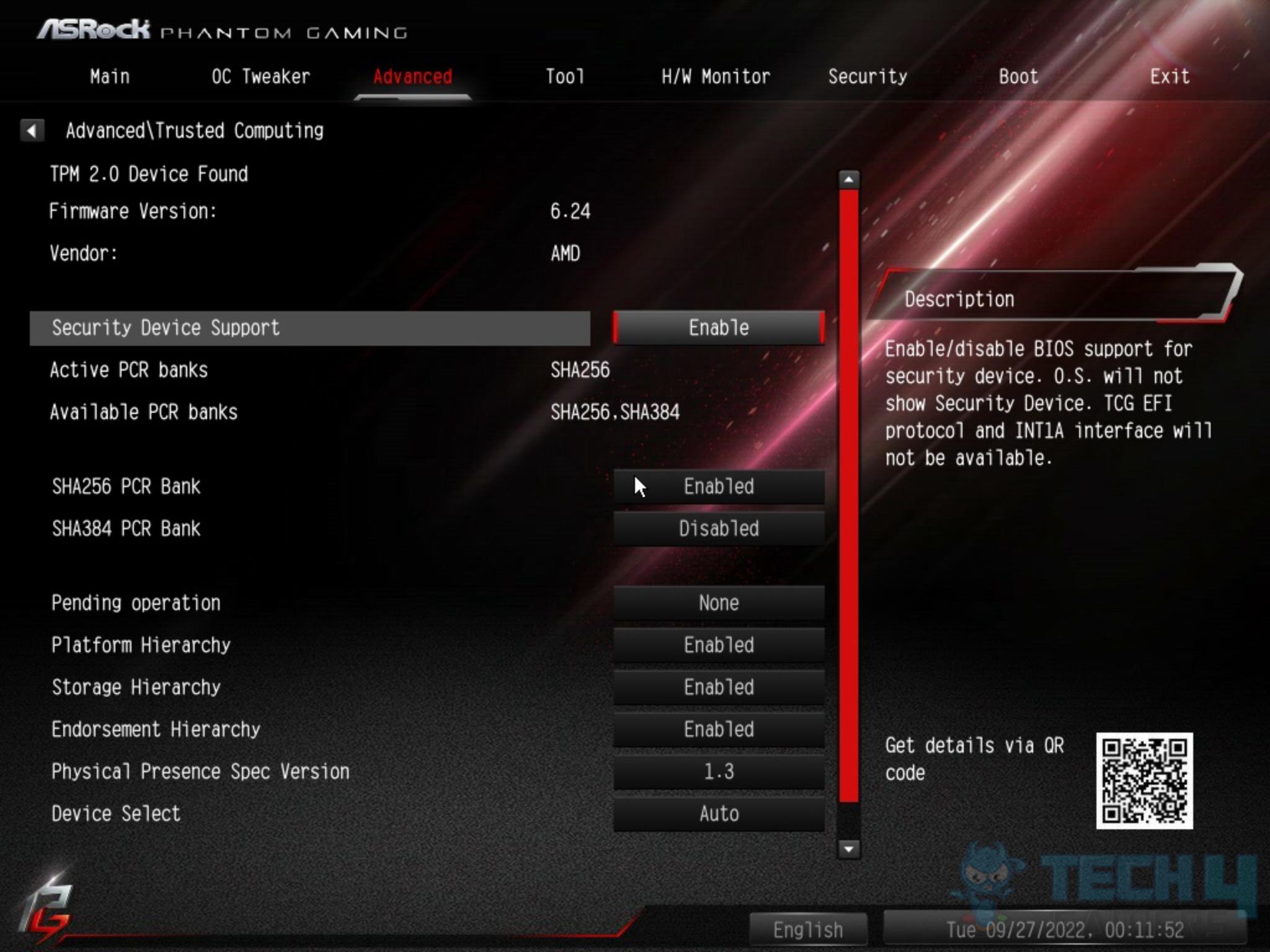 We have found an fTPM 2.0 device on the board and it is enabled by default. However, it will be disabled before the BIOS update and you will be prompted as well. Don't fight it. Let it happen. The system will automatically enable it after a successful BIOS update.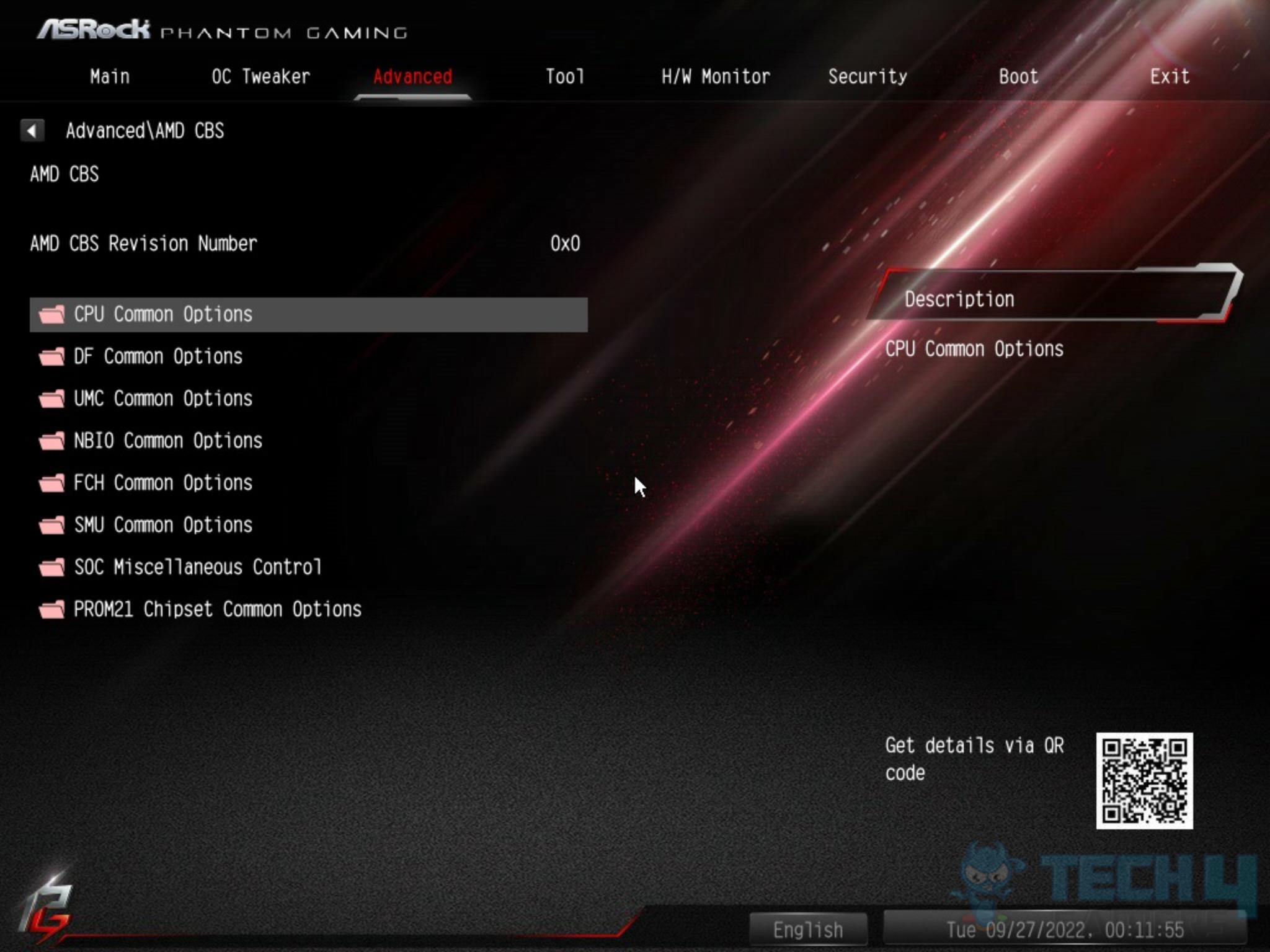 AMD CBS-related options are listed above.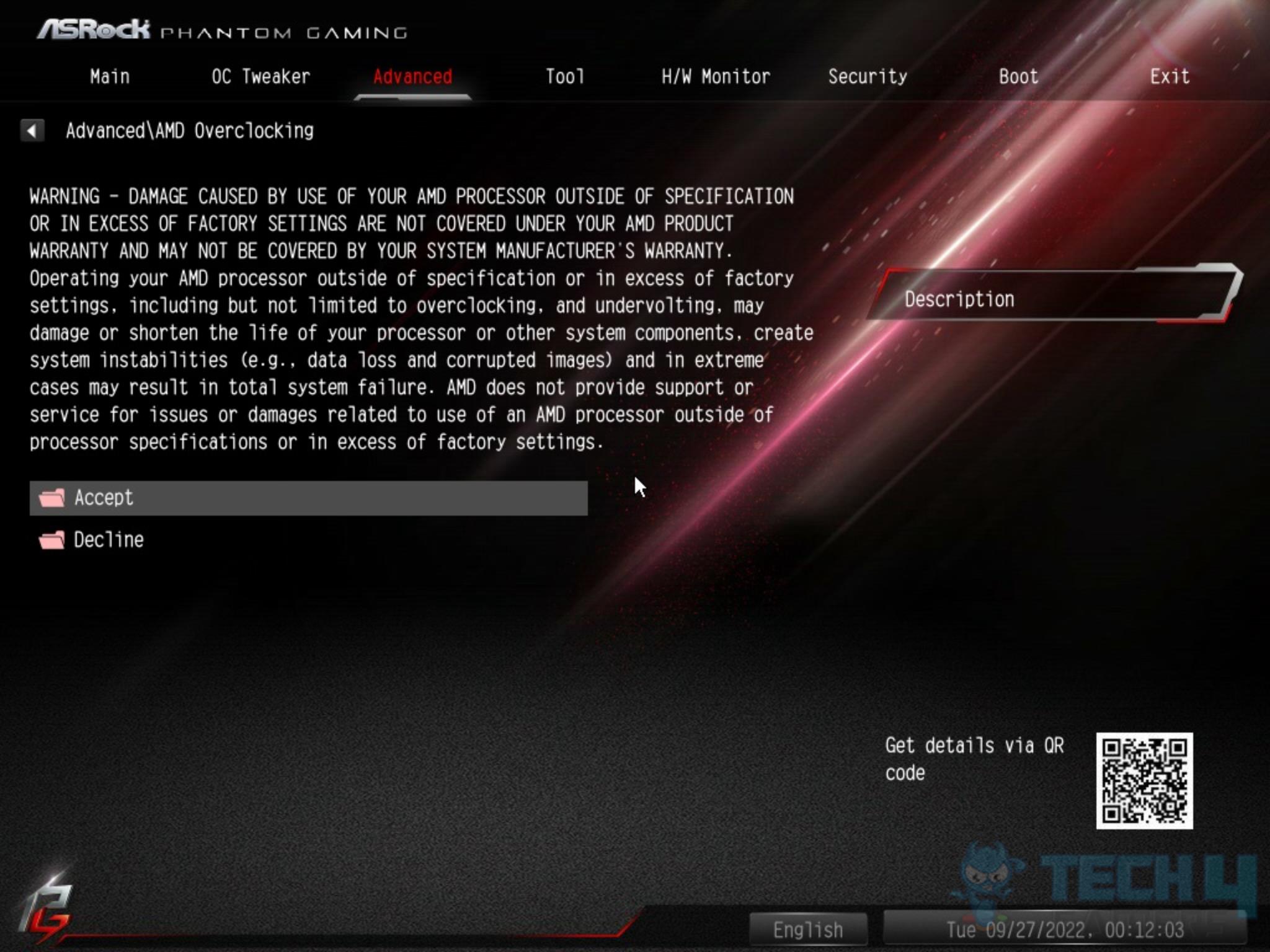 Overclocking is dangerous yet a fun activity and it can reduce the life of your component(s) per se or even damage them. Well, seems like there is no other way except to Accept the warning disclaimer and access the overclocking options.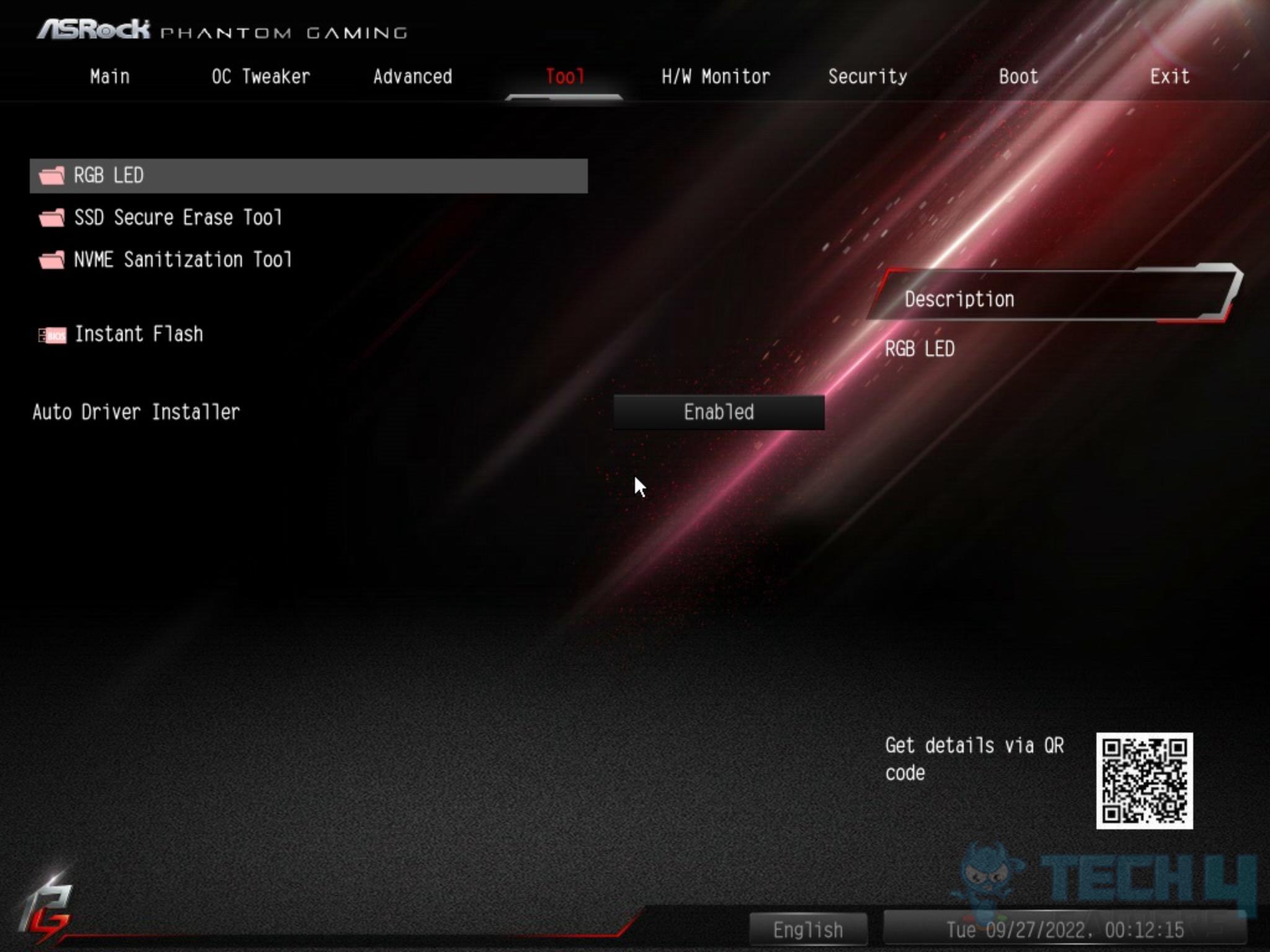 The Tool page has some key settings. Setting the Auto Driver Installer will load the installer as soon as you are logged in to the Windows environment and will download and install the latest available driver updates. Instant Flash updates the BIOS of this motherboard. Make sure you have a continuous power supply during this process otherwise it can damage the board.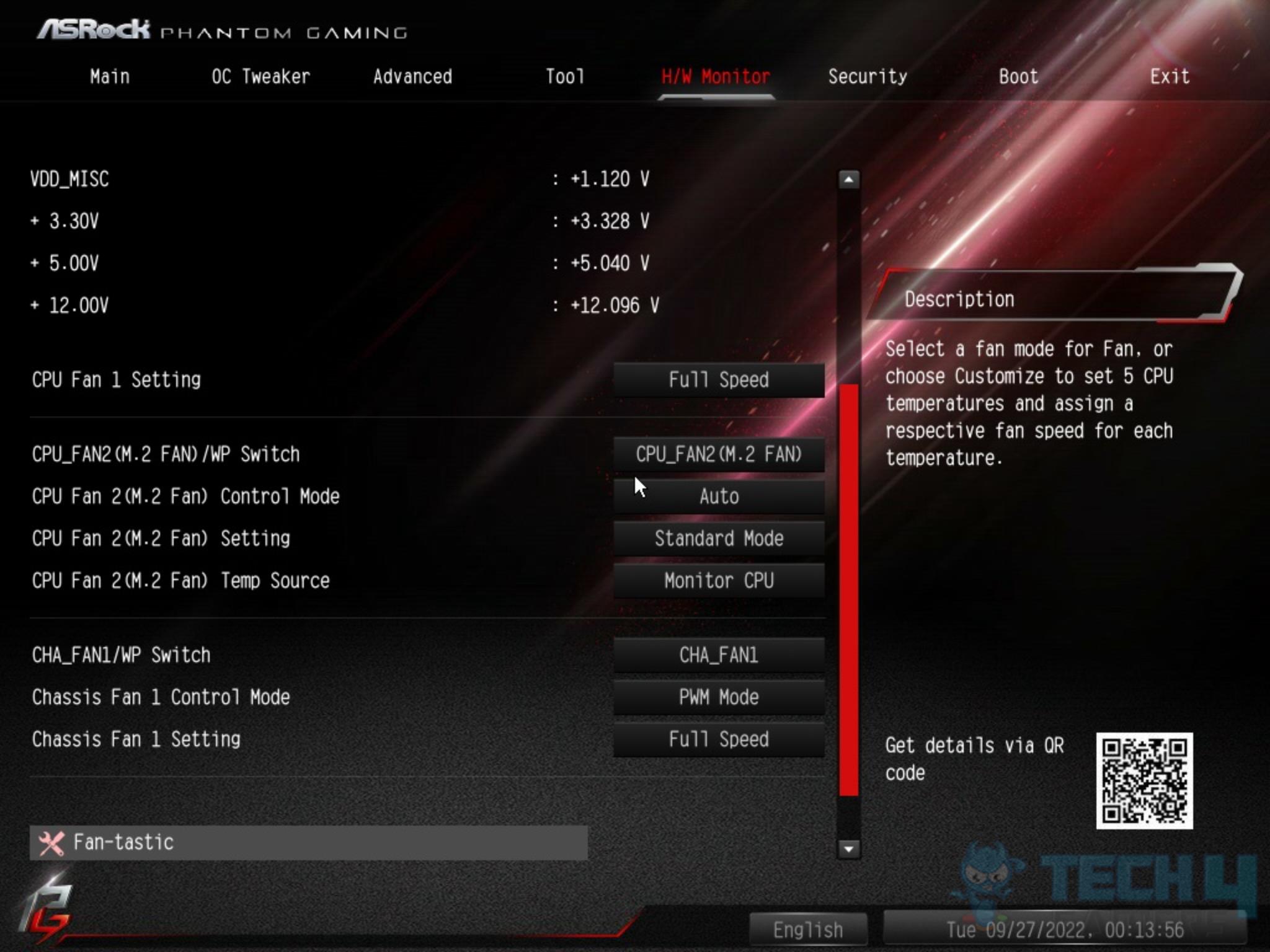 H/W Monitor is an important page. Here you can see a live feed of various sensors and monitor temperature as well.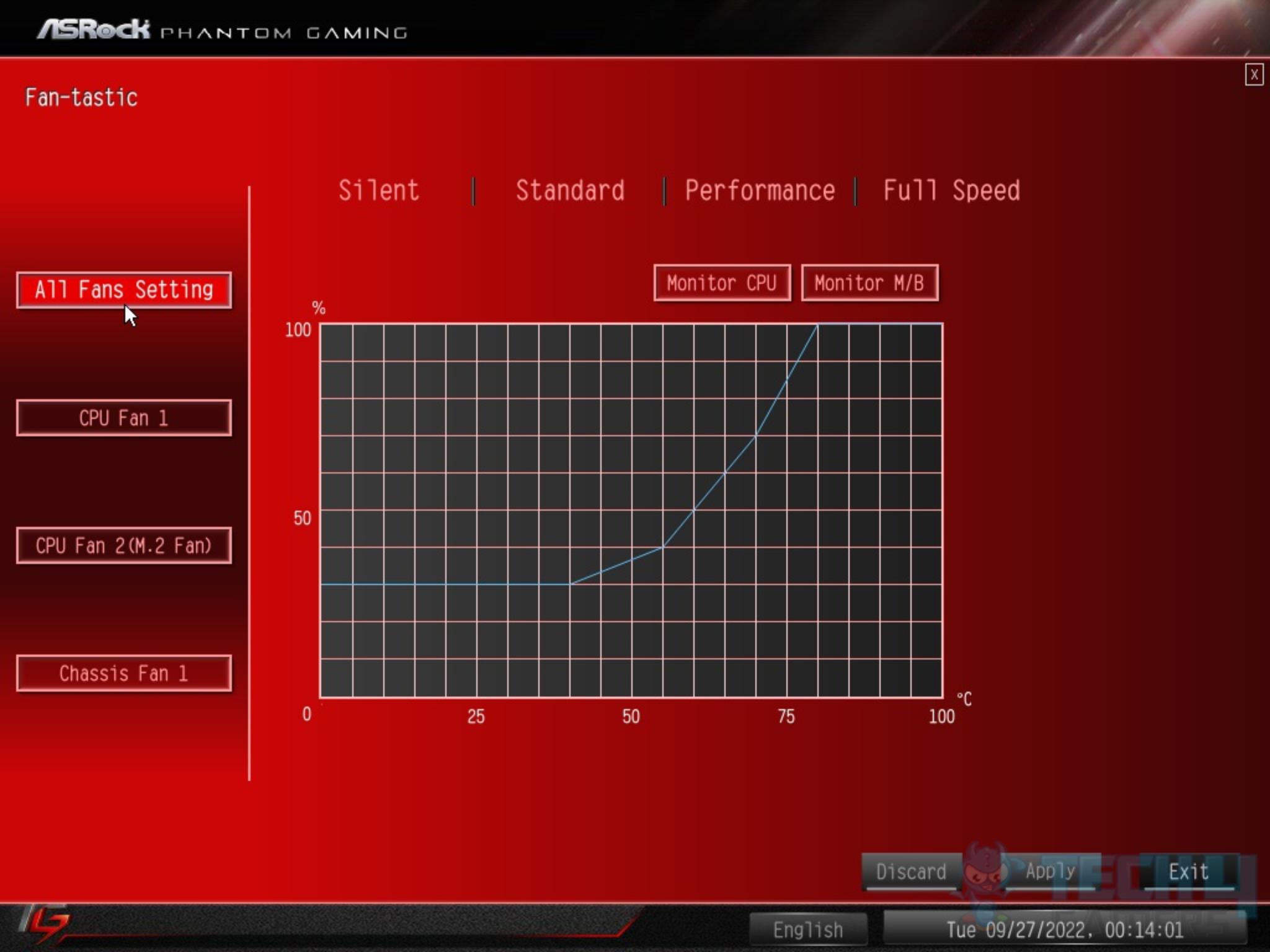 We can use pre-defined modes to regulate connected fans. A custom fan curve is also possible.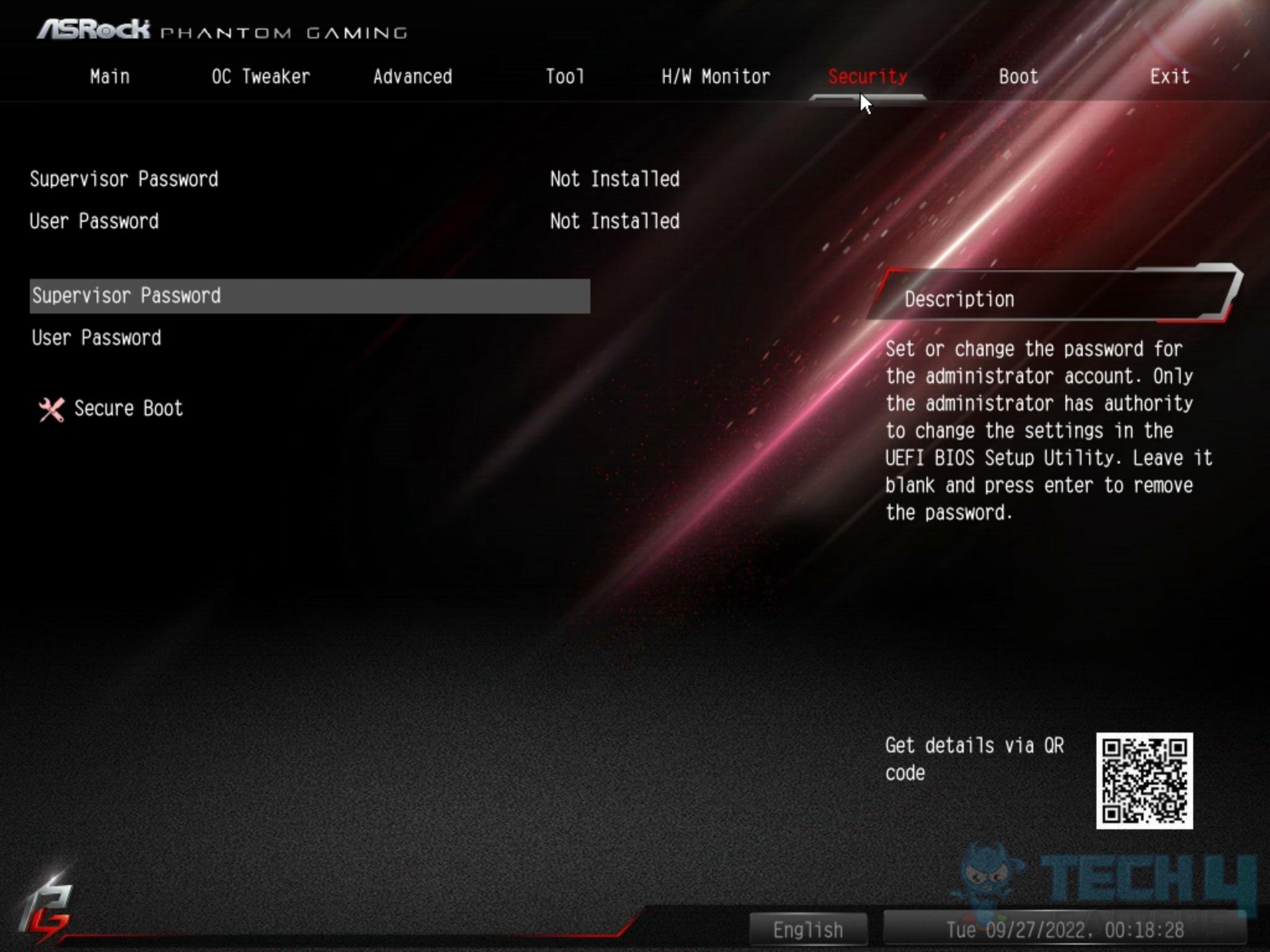 Security-related settings are listed here.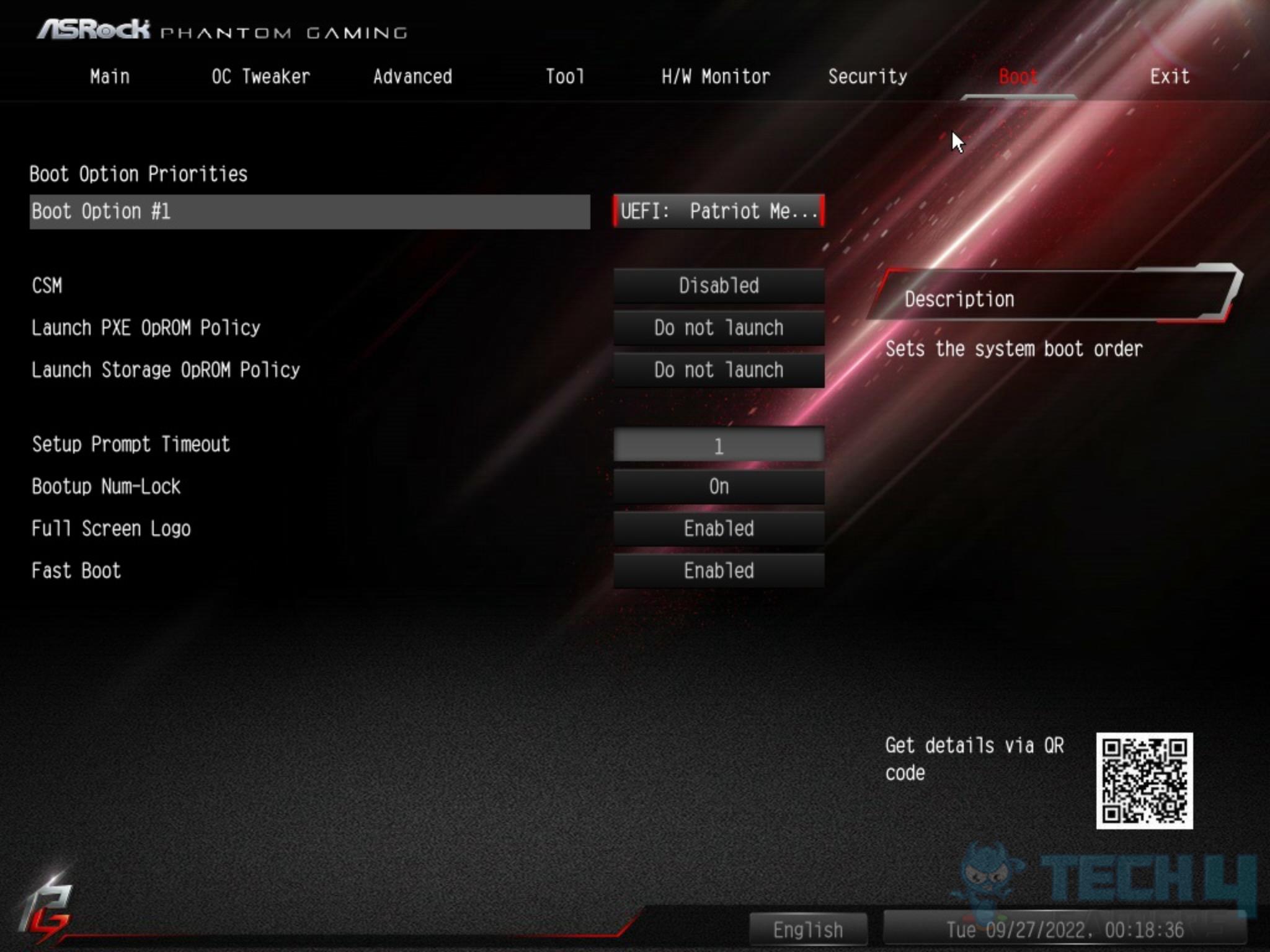 Boot options are listed here.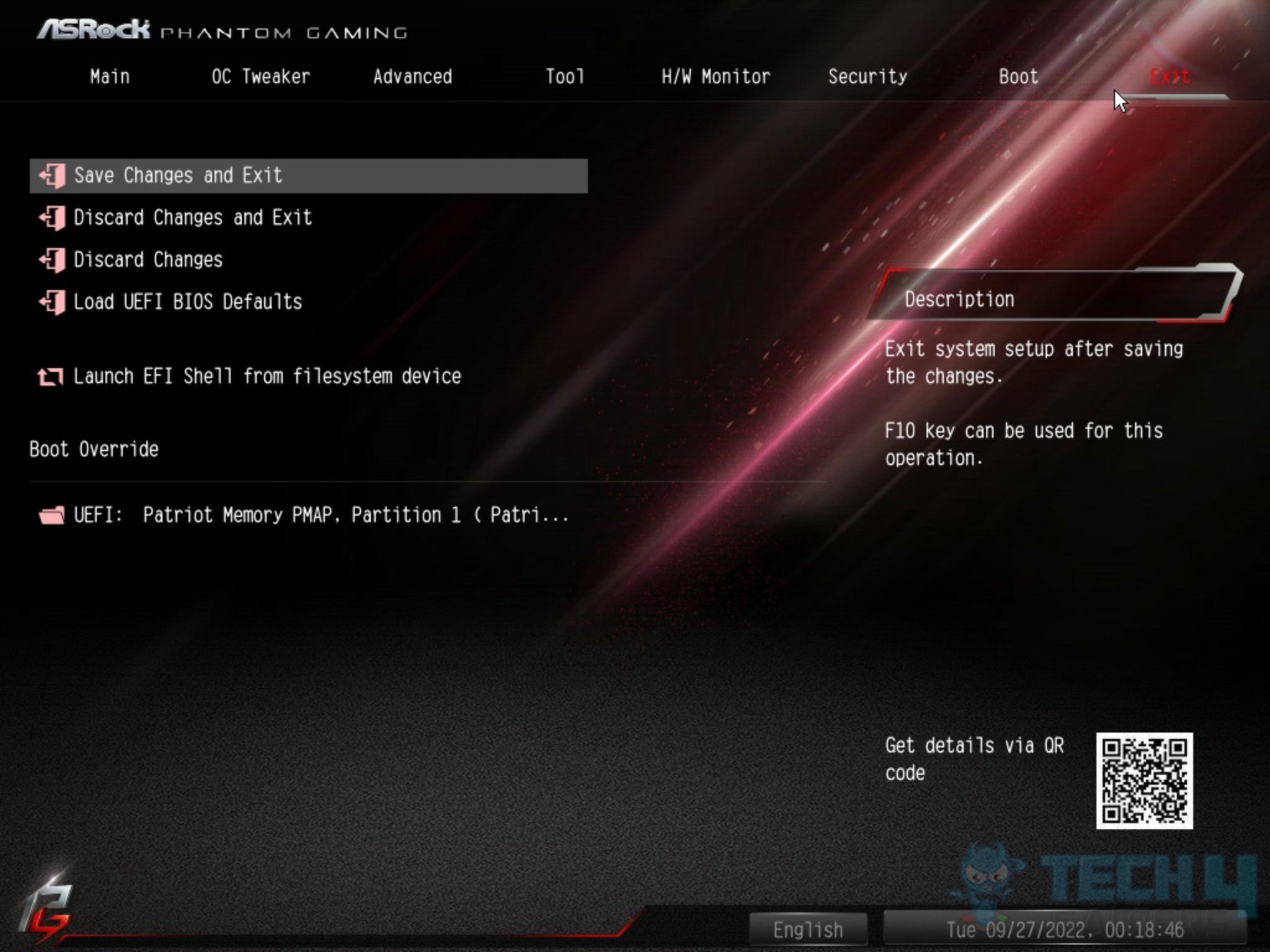 Exit menu settings are listed above.
Test Setup
Below mentioned configuration is used for this testing: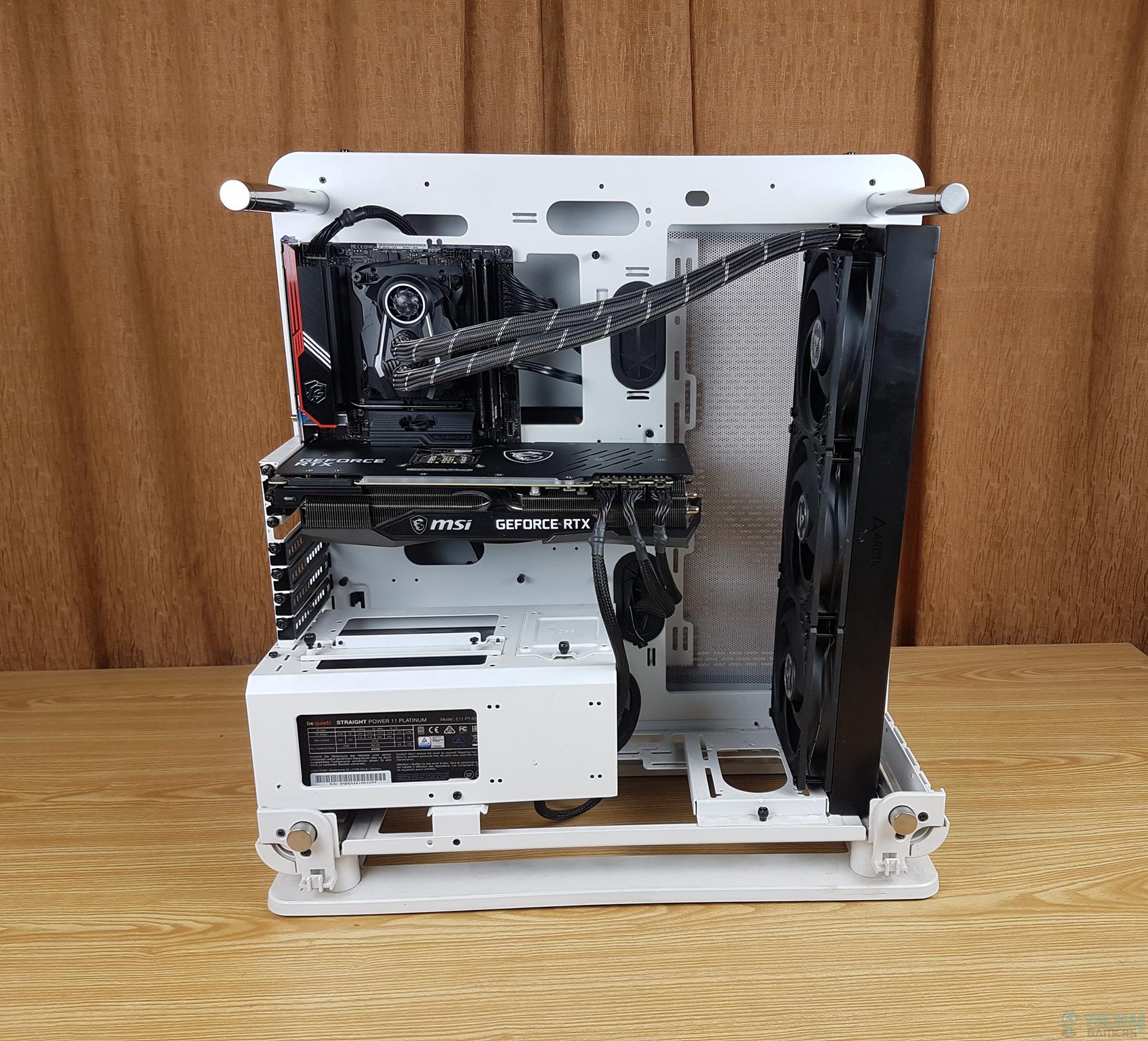 Microsoft Windows 11 x64 Pro 22H2 is used for all the testing. Nvidia 528.02 drivers are used for graphics card testing. HWInfo64 is used to monitor sensors during testing.
CPUZ
The above is run from CPU-Z software.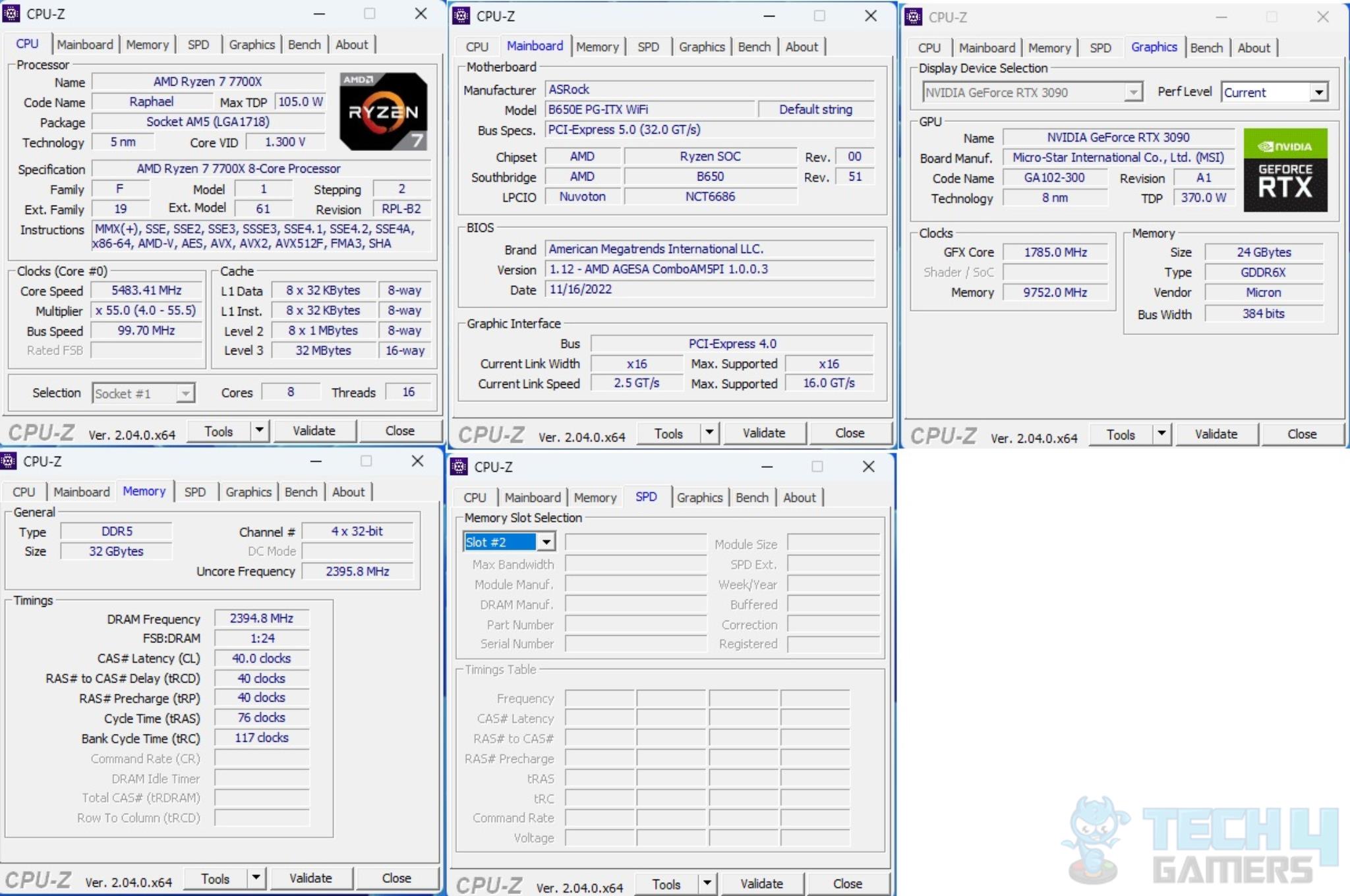 We have categorized testing into 4 groups:
Overall Performance
CPU and Memory Tests

Rendering Tests
Compression Tests
Encoding Tests

Storage Tests

Synthetic Tests
Real-World Test

PCIe Tests

Synthetic Performance
Gaming Performance
Details of test software are as under:
Storage Tests:
ATTO
Crystal Disk Mark
TxBench
CPU Tests:
Cinebench R23
GeekBench 5
Blender Benchmark 3.4.0
7-Zip
X265 HD Benchmark 5.0
Super-Pi
AIDA64 Engineer – Memory
AIDA64 Engineer – CPU AES
AIDA64 Engineer – CPU Queen
Overall Performance:
PCMark10
Performance Test
User Benchmark
Gaming Tests:
3DMark – Fire Strike Ultra
3DMark – Time Spy Extreme
Red Dead Redemption 2
Cyberpunk
Forza Horizon 5
Assassin's Creed Origin
Far Cry 5
Overall System Performance
PCMark10
PCMARK10 is the next iteration of PCMARK8 and includes a wide variety of tests to measure the performance of a complete PC or any component like a storage drive in particular. Its basic version is free. However, one would need a license for complete or advanced tests. With express, extended, and custom run options to suit your needs, PCMark 10 is the complete PC benchmark for the modern office.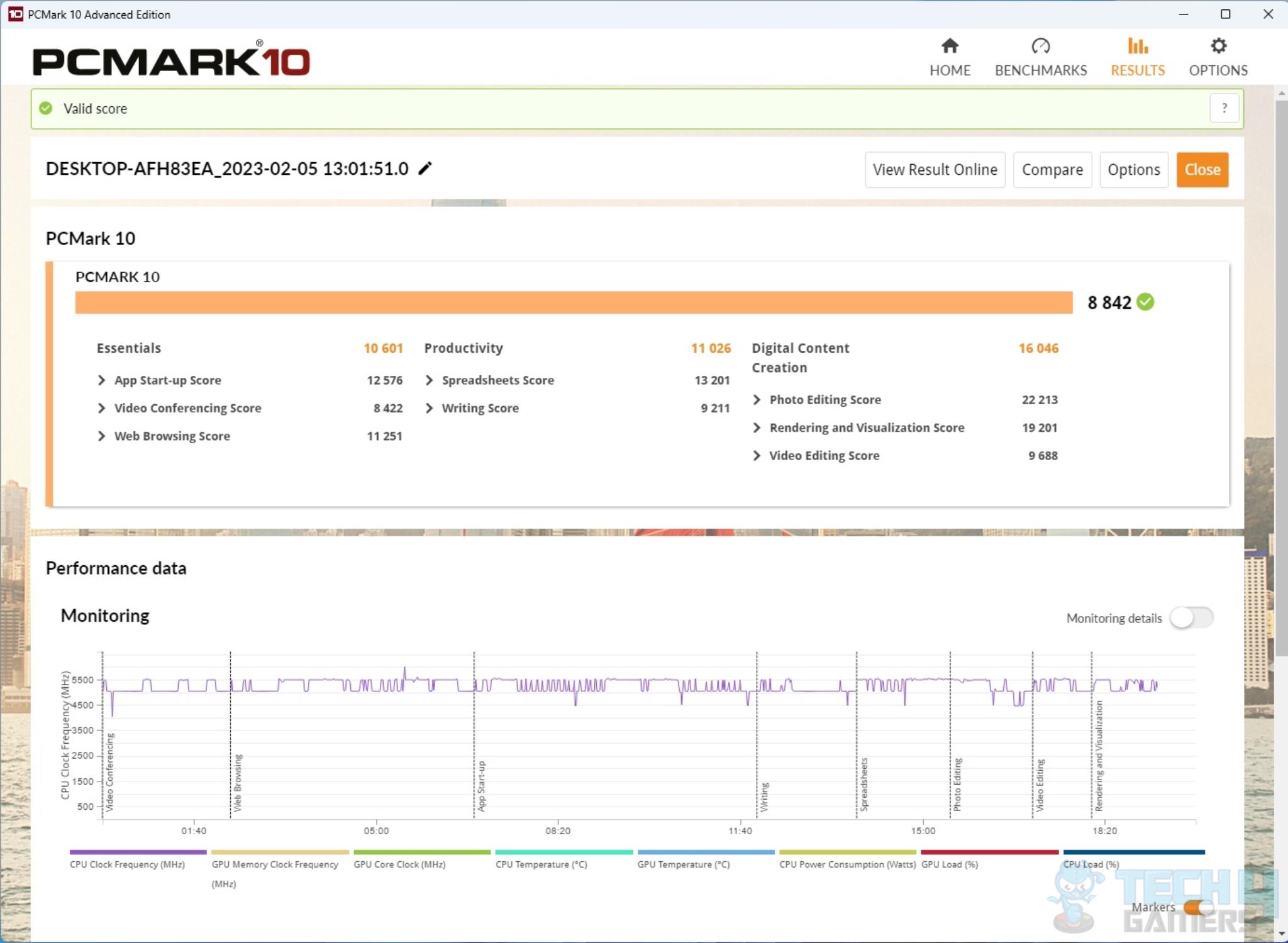 This is a nice performance from this configuration. A high-speed RAM kit will give a performance boost.
Performance Test
PassMark PerformanceTest allows you to objectively benchmark a PC using a variety of different speed tests and compare the results to other computers. We have used only CPU and Memory benchmarks.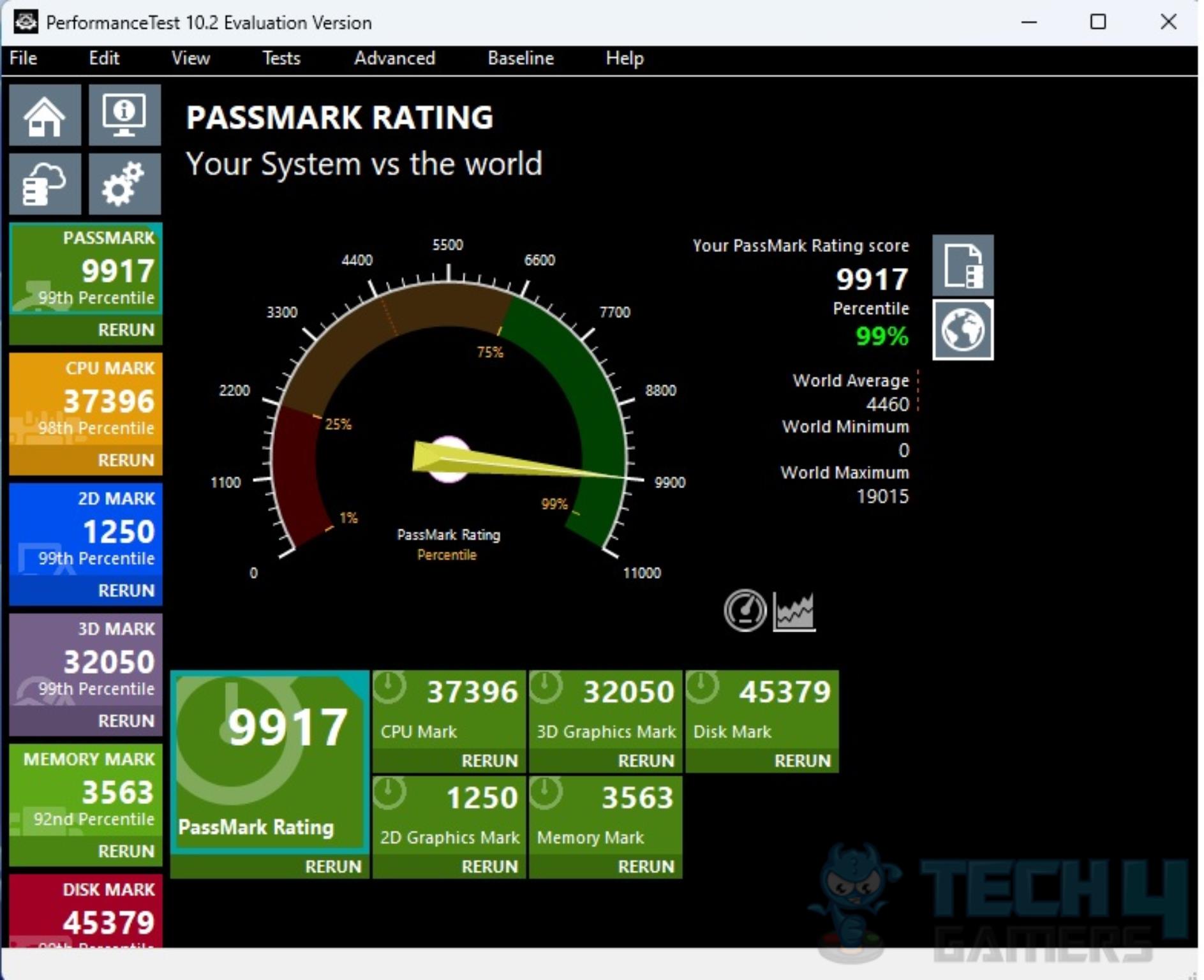 99% percentile is self-explanatory here. The memory score of 3563 could have been better using a high-speed kit. The CPU mark is a good score.
User Benchmark
UserBenchmark.com can quickly establish whether your PC is underperforming and suggest likely hardware and software issues. Test how fast your processor, graphics card, storage drives, and memory are by running the free UserBenchmark Speed Test.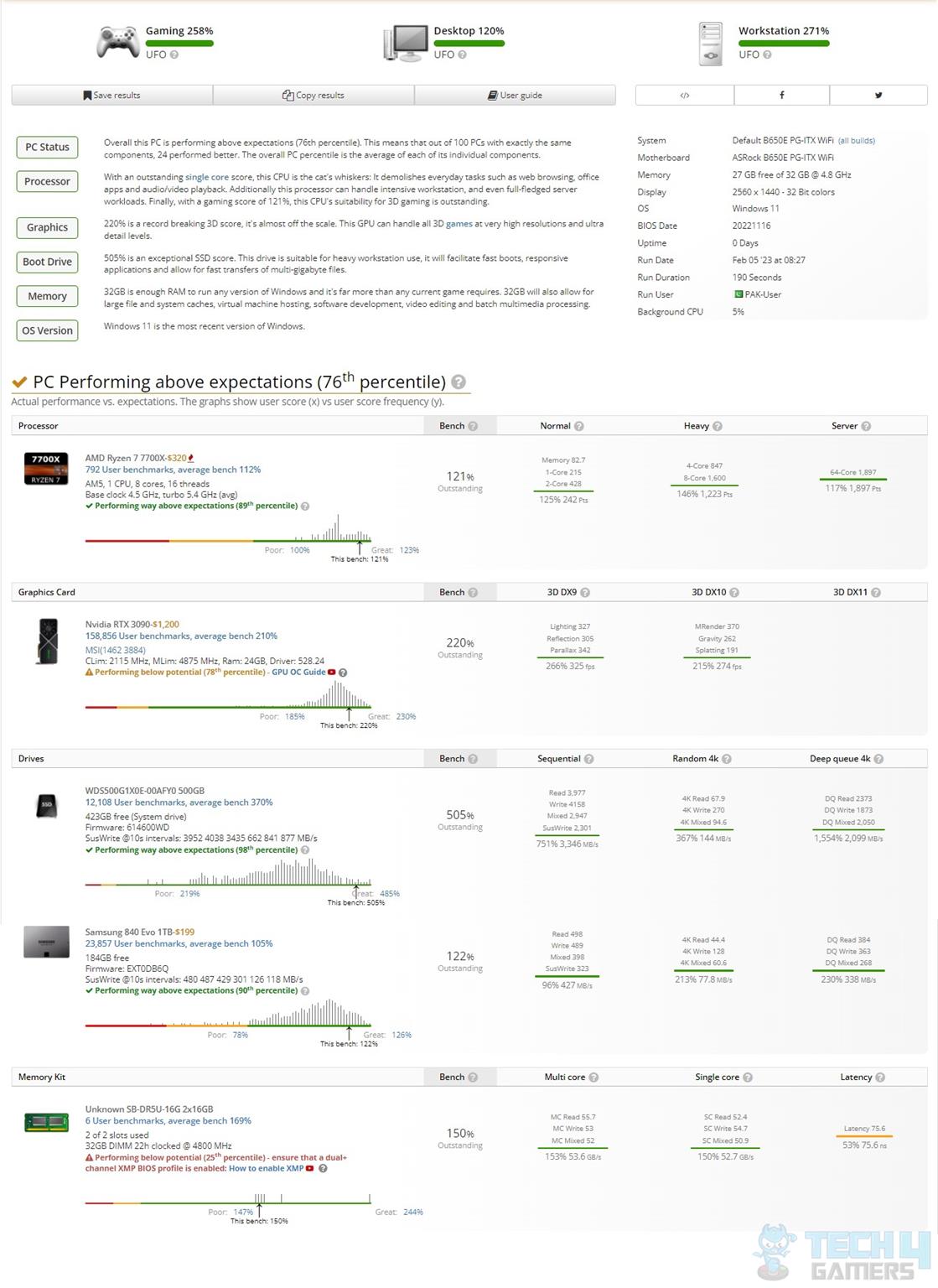 76% percentile means this system ranked 76 in the same or similar spec systems. Again, we are seeing slow-speed RAM holding the overall build somewhat back.
CPU and Memory Performance
CineBench R23
Cinebench is a real-world benchmark that evaluates one's PC hardware capability aka CPU and Memory. It is a great way to evaluate the performance of your CPU and Memory and compare it across the board to see how the PC is performing. It does not use the graphics card in this measurement. Besides, the user has control over how many threads to use in rendering a single image on the screen using the latest ray tracing capabilities.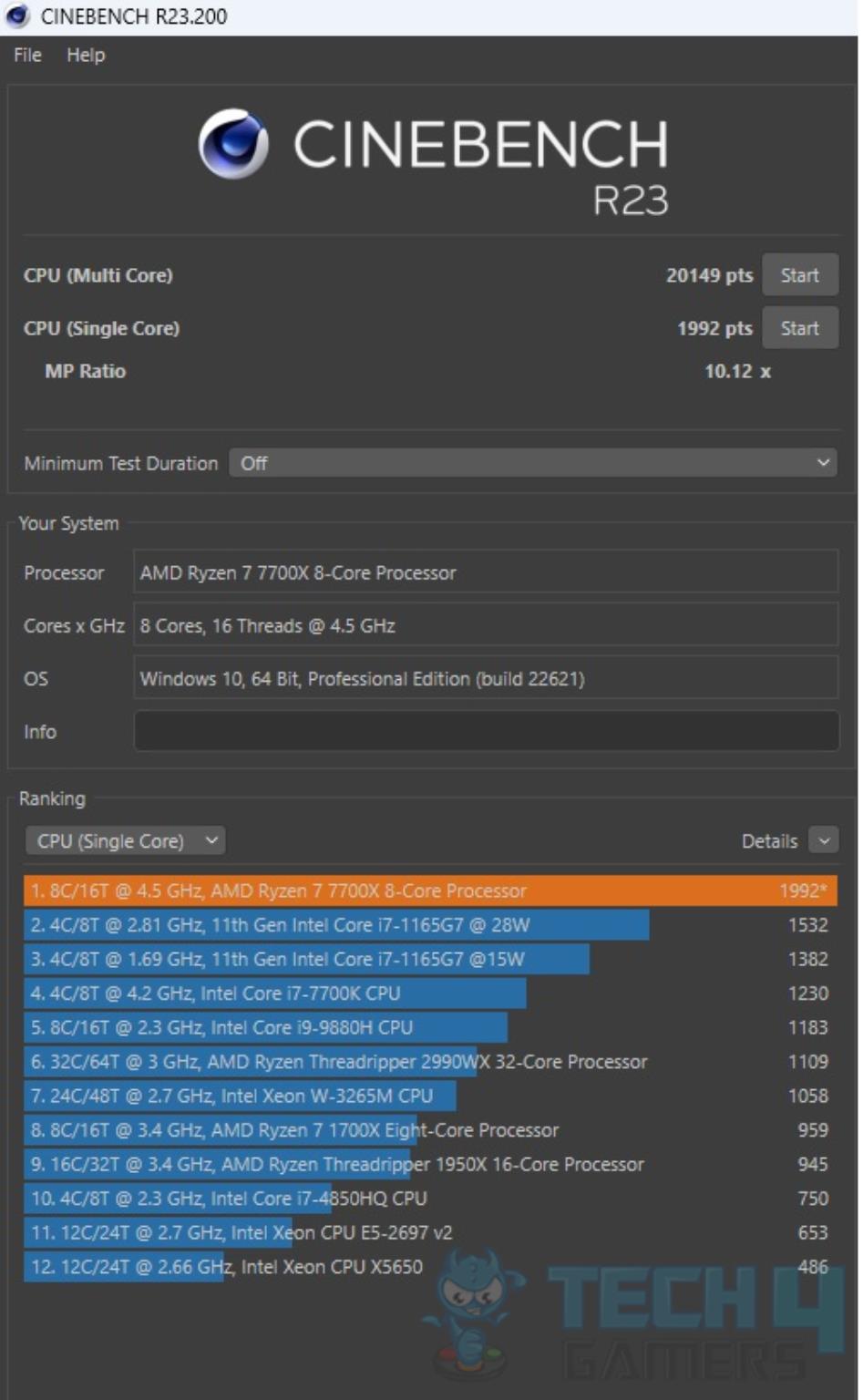 This is an expected score from this CPU. We are seeing a slight boost in Single Core load because cores were boosting to 5.4GHz.
Geekbench 5
Geekbench 5 is another handy tool to measure the performance of your CPU and Graphics card and put it in a numeric outcome which allows easy comparison with the other systems to evaluate how well the given PC is performing. Geekbench 5 has a unique feature that allows a cross-platform comparison. It uses OpenCL, CUDA, and Metal APIs to measure the performance of graphics cards. It now supports Vulkan API as well.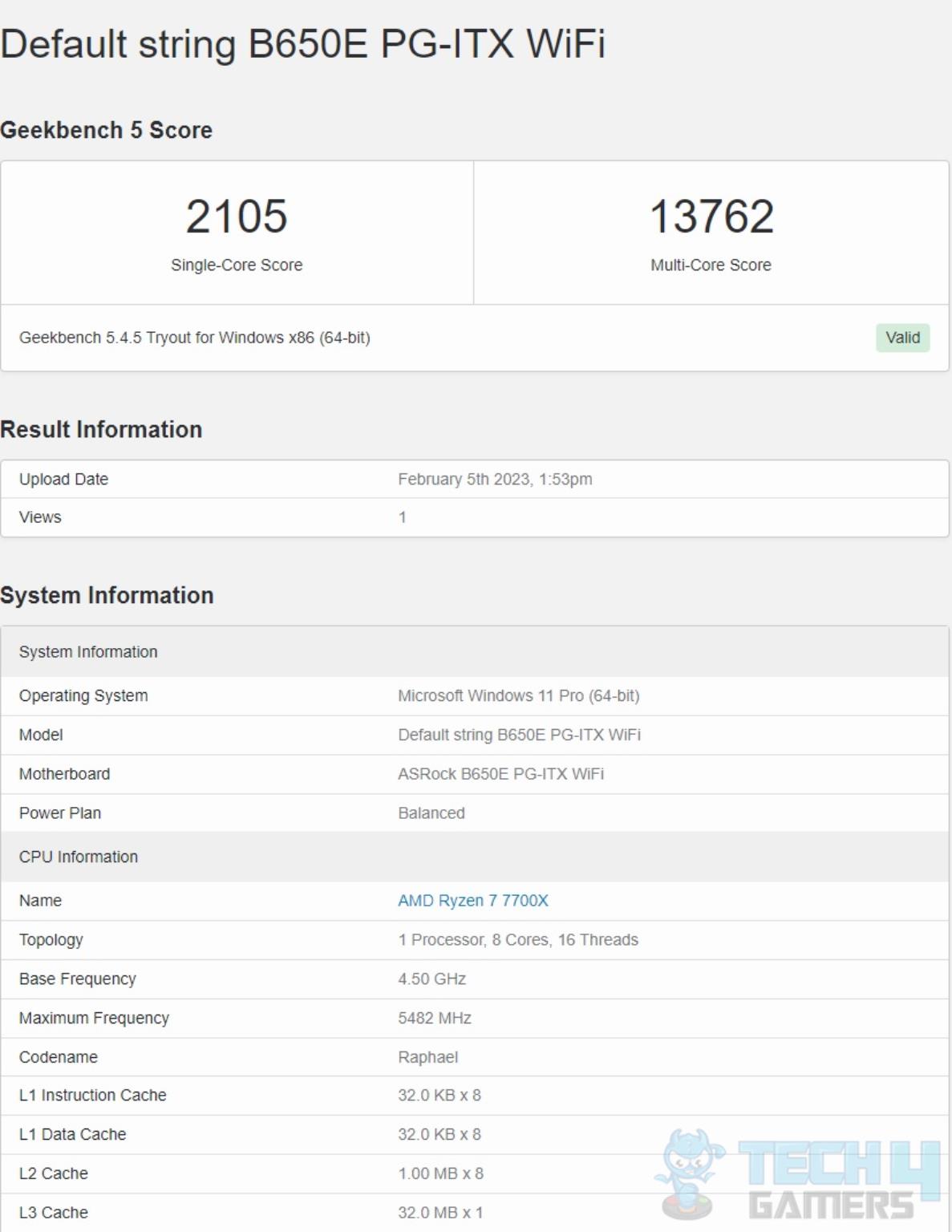 The Geekbench 5 score is also good.
7-Zip
7-Zip is free software with open source. Most of the code is under the GNU LGPL license. It has a built-in compression benchmark which is used fairly across the tech industry to evaluate a PC's relative performance in this particular segment of compression/decompression. 7-Zip has a high compression ratio in 7z format with LZMA and LZMA2 compression with supported formats of Packing / unpacking: 7z, XZ, BZIP2, GZIP, TAR, ZIP, and WIM and unpacking only: AR, ARJ, CAB, CHM, CPIO, CramFS, DMG, EXT, FAT, GPT, HFS, IHEX, ISO, LZH, LZMA, MBR, MSI, NSIS, NTFS, QCOW2, RAR, RPM, SquashFS, UDF, UEFI, VDI, VHD, VMDK, WIM, XAR and Z. It outputs results in MIPS and the higher count would mean better performance.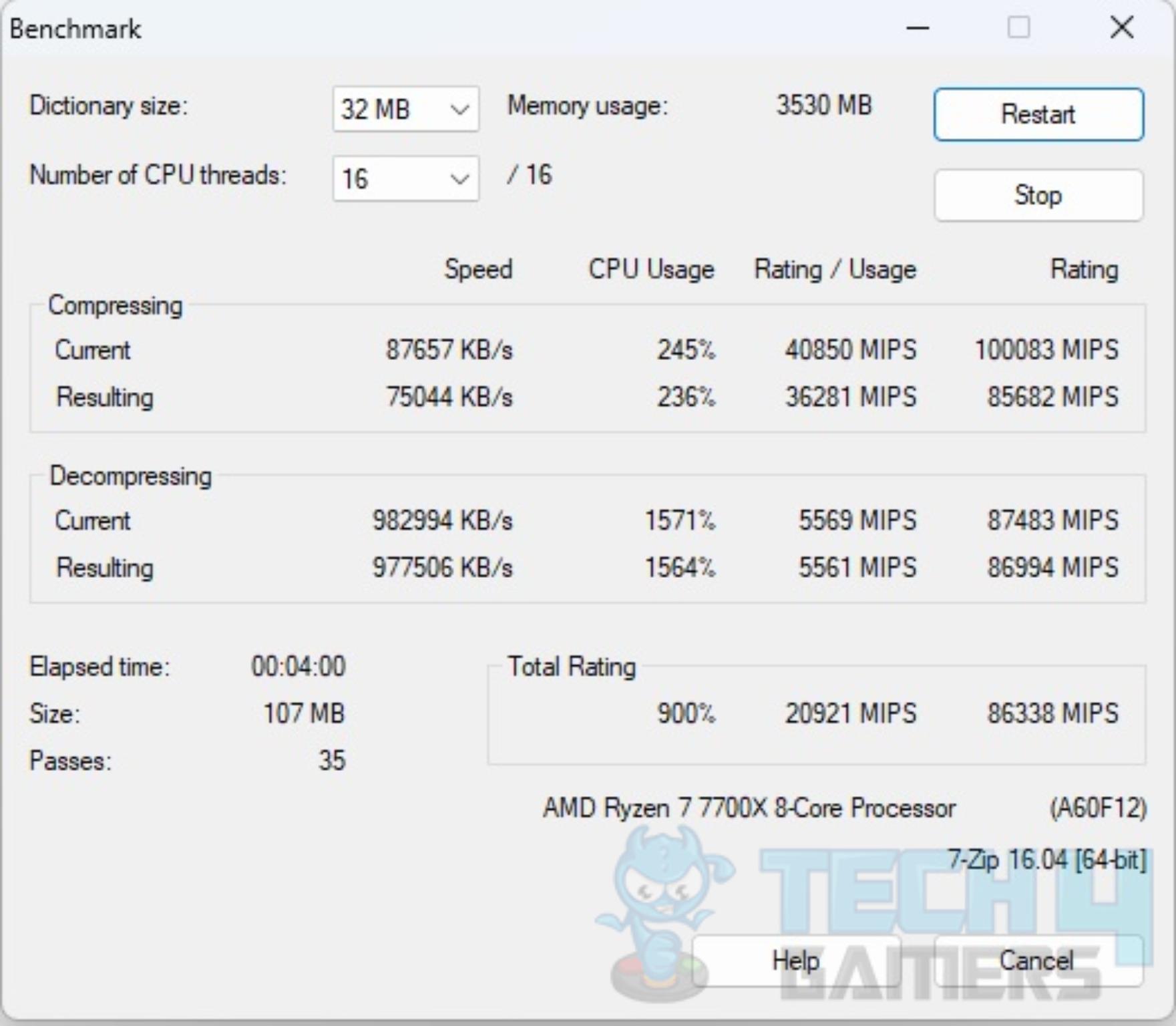 Good MIPS ratings can be seen showing the power of this CPU.
Super PI
Super PI is a single-threaded benchmark that calculates pi to a specific number of digits. It uses the Gauss-Legendre algorithm and is a Windows port of a program used by Yasumasa Kanada in 1995 to compute pi to 232 digits.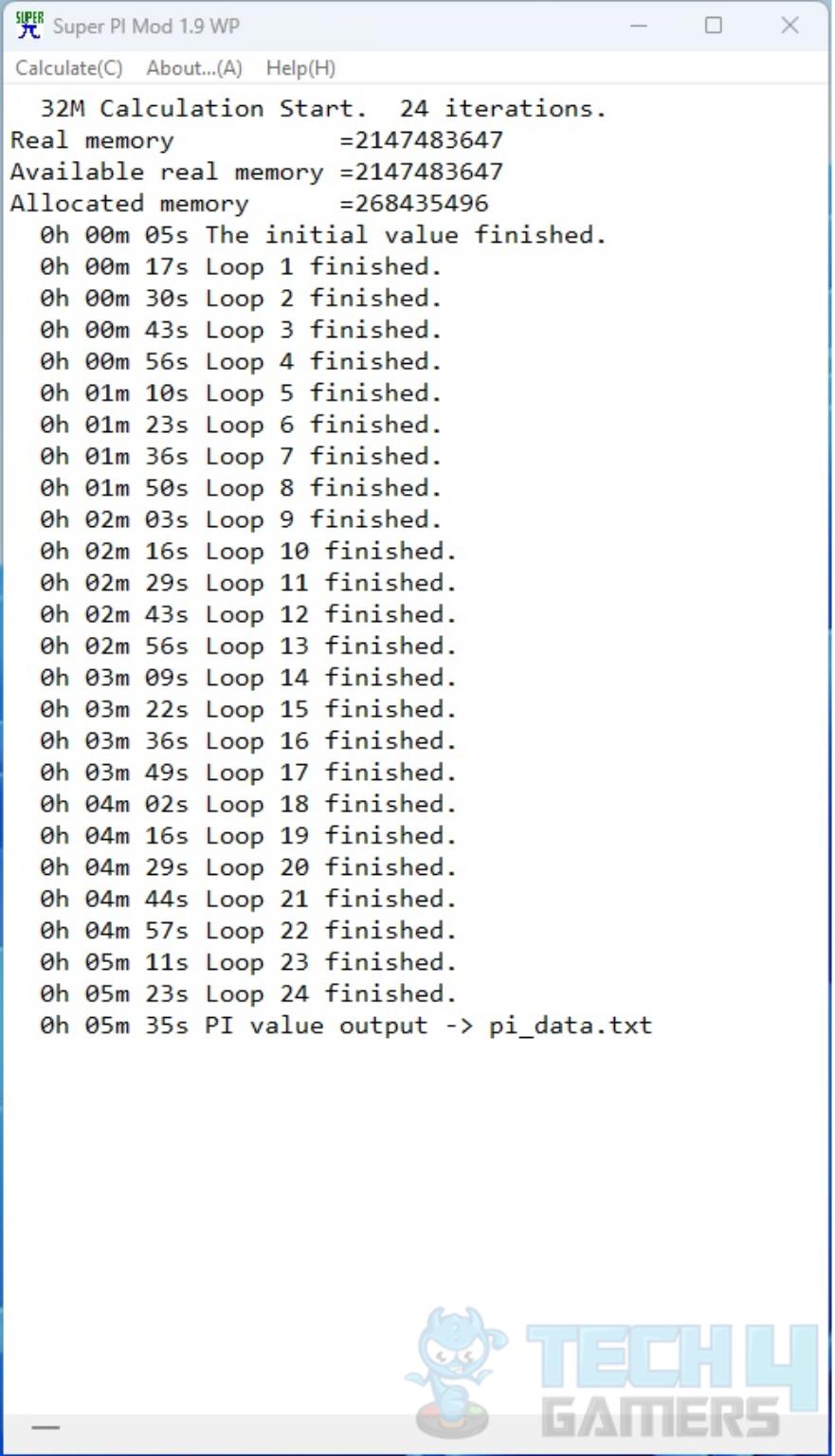 5 minutes and 35 seconds is a good score.
AIDA64 Engineer
AIDA64 Engineer is a feature-rich solution when it comes to hardware detection as it provides detailed information about the hardware and software installed in the PC. It also reports the main controllers on the hardware which is an added benefit for the user. It can report sensor readouts in real time and offers diagnostic functions as well. It also offers a couple of benchmarks for measuring the performance of individual hardware components or the whole system.
The following built-in benchmarks were run in this software:
CPU AES
AES is an integer-based benchmark that uses AES data encryption. It utilizes Vincent Rijmen, Antoon Bosselaers, and Paulo Barreto's public domain C code in ECB mode. CPU AES test uses only the basic x86 instructions. The test consumes 48 MB of memory, and it is Hyper Threading, multi-processor (SMP), and multi-core (CMP) aware.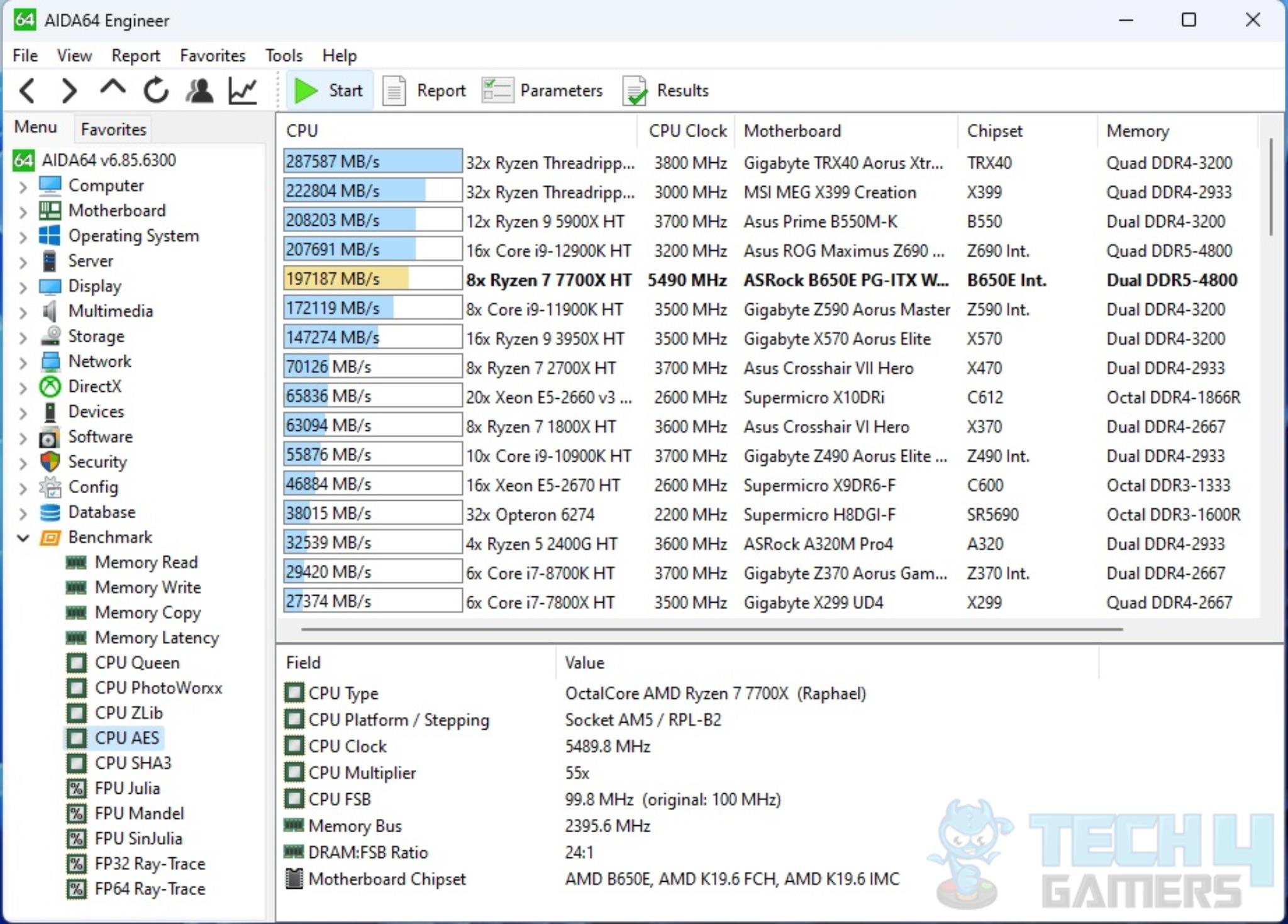 This CPU is catching up with the Intel i9 12900k.
CPU Queen
This simple integer benchmark focuses on the branch prediction capabilities and the misprediction penalties of the CPU. It finds the solutions for the classic "Queens problem" on a 10 by the 10-sized chessboard.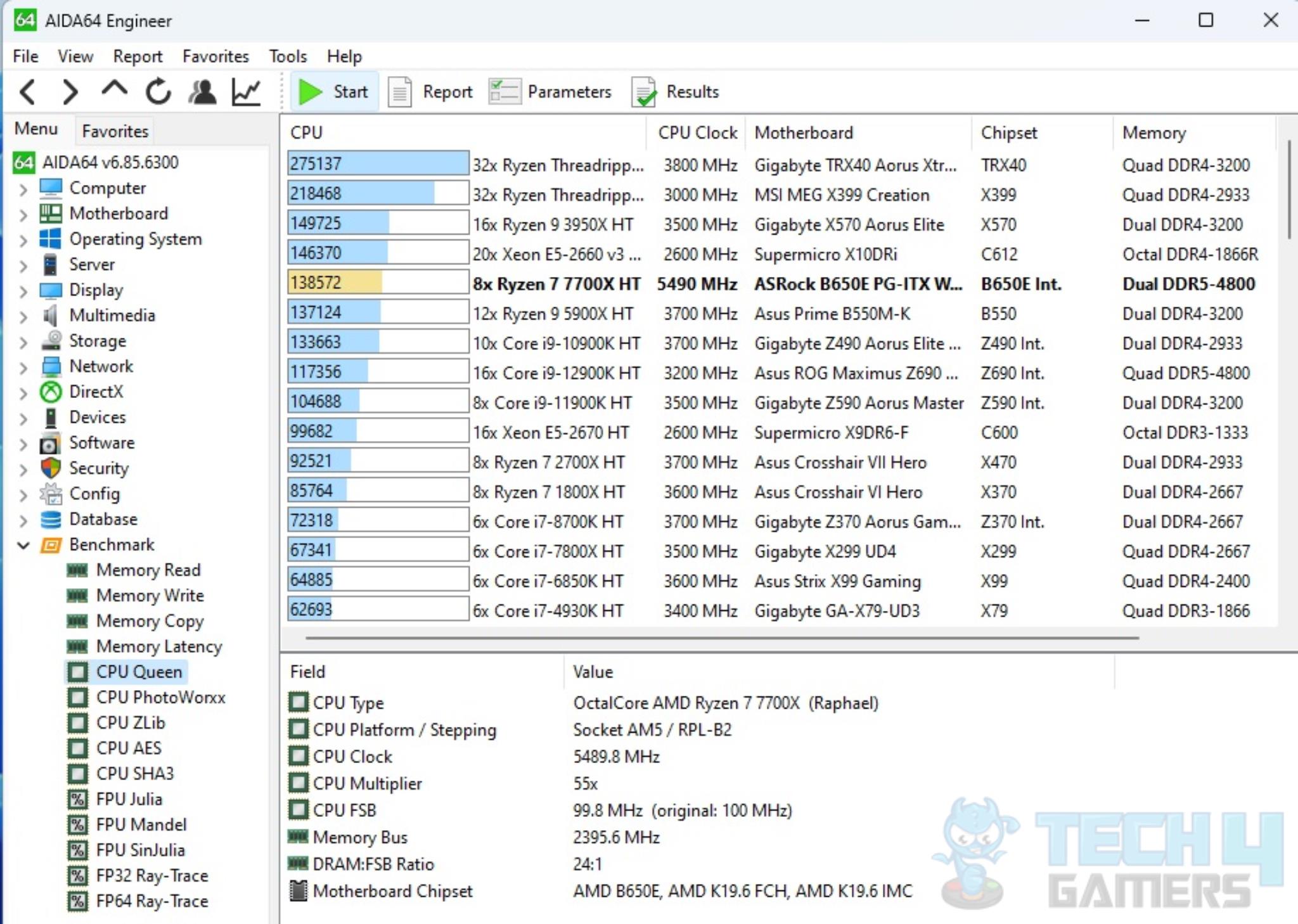 We have a good score in Queen Benchmark.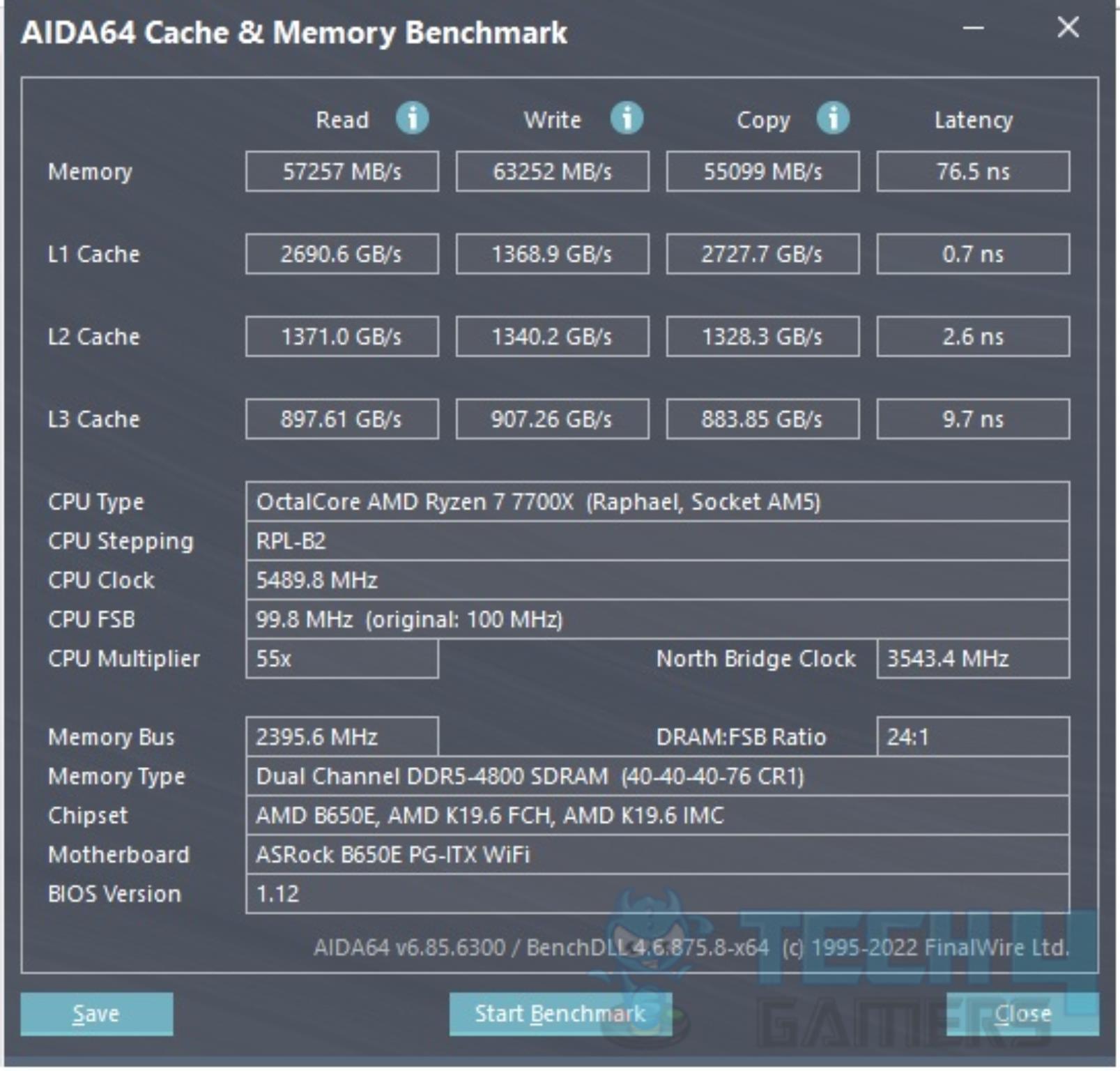 We can see that a basic DDR5 kit is slow. A high-speed kit would show better bandwidth and latency.
3DMark CPU Profile
The 3DMark CPU Profile is what has been the missing element in the overall 3DMARK suite for some time. This tool will not measure and report a certain number which we can use to compare with other systems. It rather measures how well your system will scale when using a certain number of CPU threads and cores. The test run comprises six tests each using a different number of threads. These six tests help you benchmark and compare CPU performance for a range of threading levels. They also provide a better way to compare different CPU models by looking at the results from thread levels they have in common.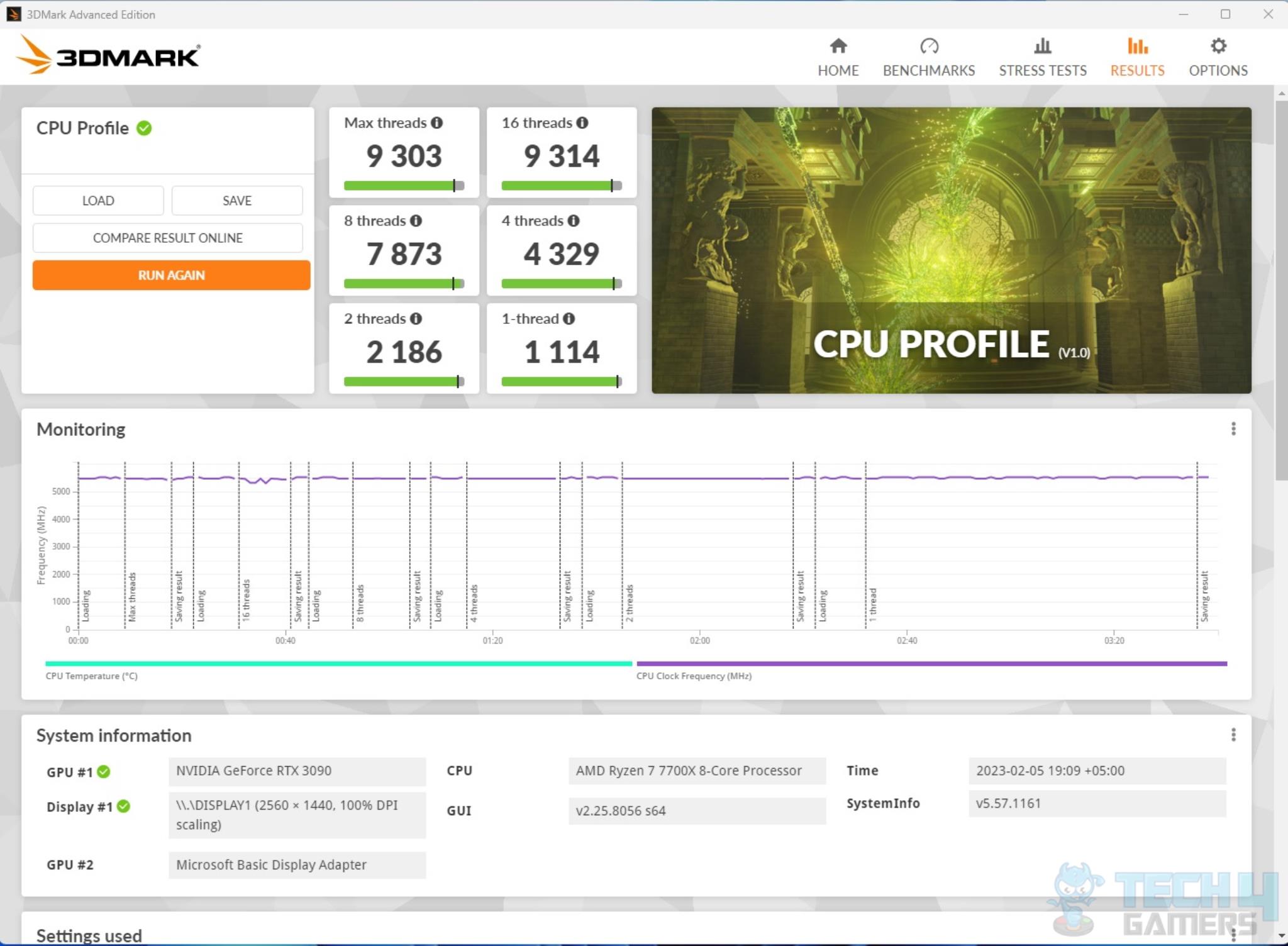 We are showing the result of this SKU only. This will make sense only when more SKUs are tested on the same configuration. Ryzen 7 7700X is a powerful CPU.
Blender Benchmark
Blender Benchmark is another popular rendering tool in use by enthusiasts and professionals to evaluate the performance of CPU and graphics cards. It does so based on Blender Open Data. It is a platform that collects, stores, and displays the results of hardware in particular. This is possible only if the Blender community regularly uploads the result from their run on PCs.
We have used Blender Benchmark 3.4.0 which provides samples per minute and give a score at the end. A higher score means a better-performing PC.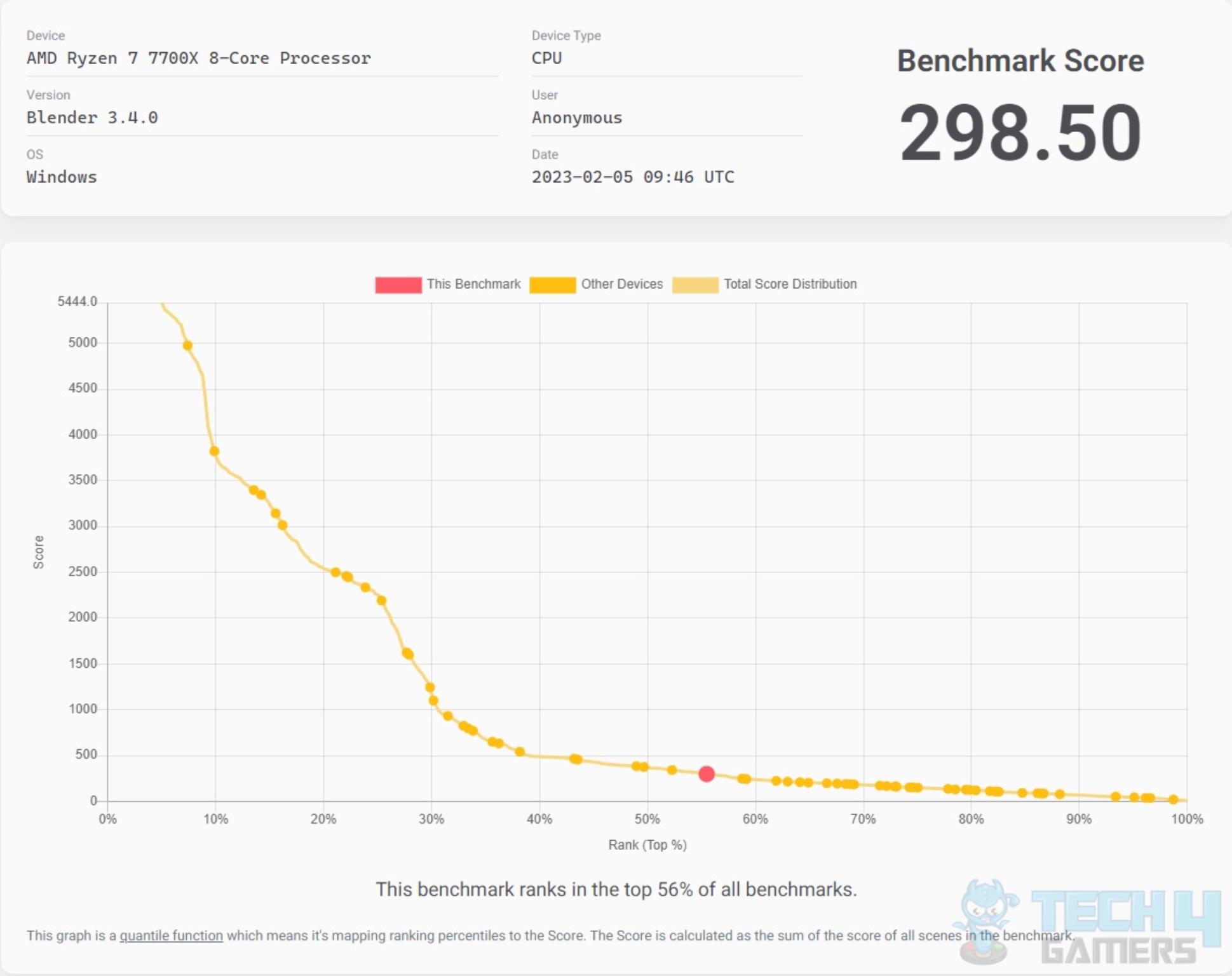 We have got 298.50 scores in blender benchmark 3.4.0.
X265 HD Benchmark
x265 HD Benchmark is an Encoding benchmark that is the next iteration of a highly popular X264 HD Benchmark 5.0. It also measures the encoding capability of a CPU at 1080p level.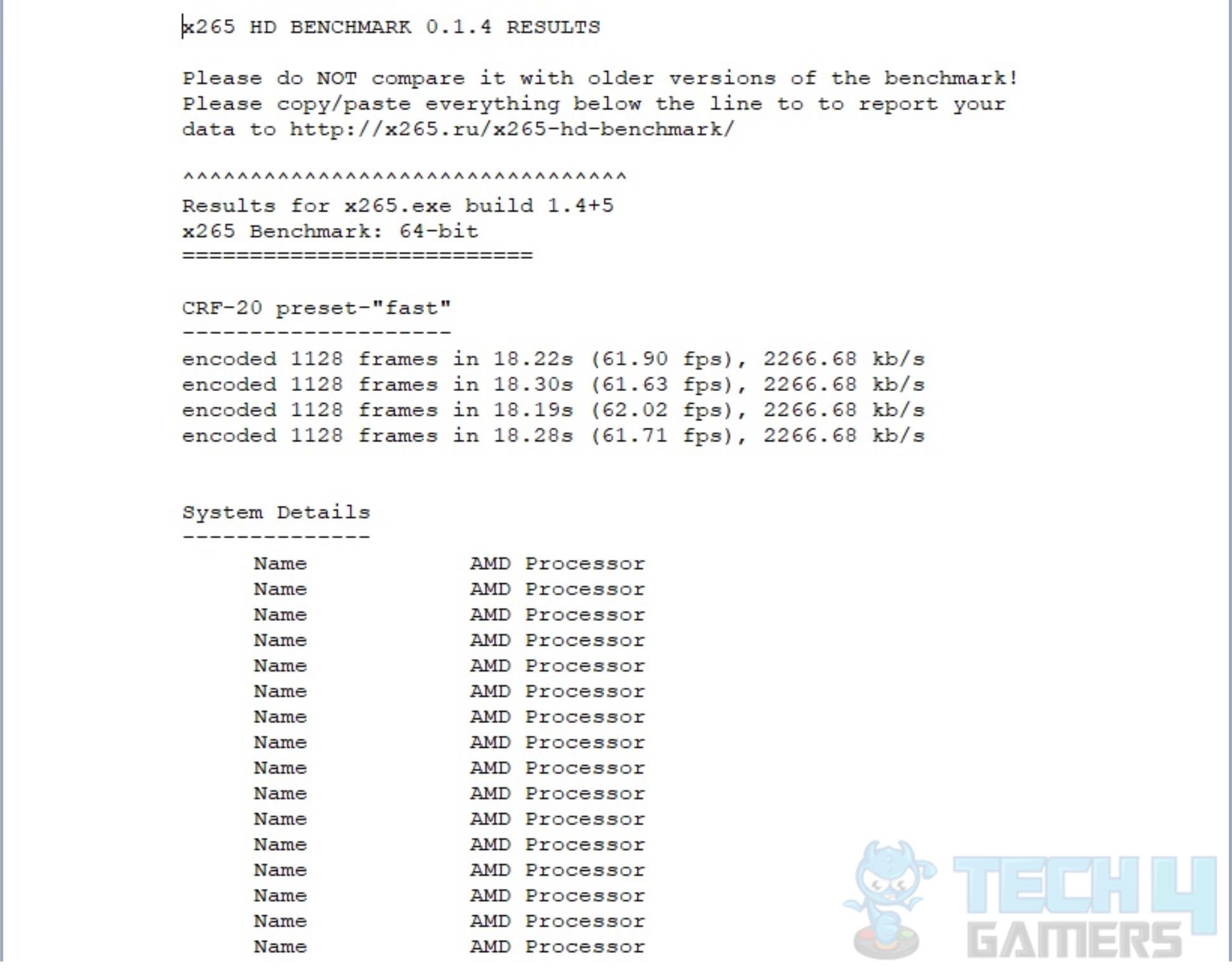 The result is in FPS. Higher is better. This is again a standalone result that would show nothing as such without comparison but it is a good one as well given my testing of various CPUs recently.
Storage Performance
We have tested storage performance using PCIe Gen4 NVMe SSD and USB 3.2 Gen2 (10Gbps) drives. Yes, we have measured the USB performance as well. Also, take note that this motherboard does not have a USB3.2 Gen2x2 on the rear panel which makes testing a USB 3.2 Gen2x2 drive almost impossible without a proper converter/adapter or a PC Case that has a USBG 3.2 Gen2x2 port on the front panel.
CrystalDiskMark
CrystalDiskMark is a simple disk benchmark software that is highly popular among PC enthusiasts and is mainly used to evaluate the relative performance of the storage disk at hand. It measures sequential and random Performance (Read/Write/Mix) using various measure modes (Peak/Real World/Demo). Additionally, it supports multiple languages and themes.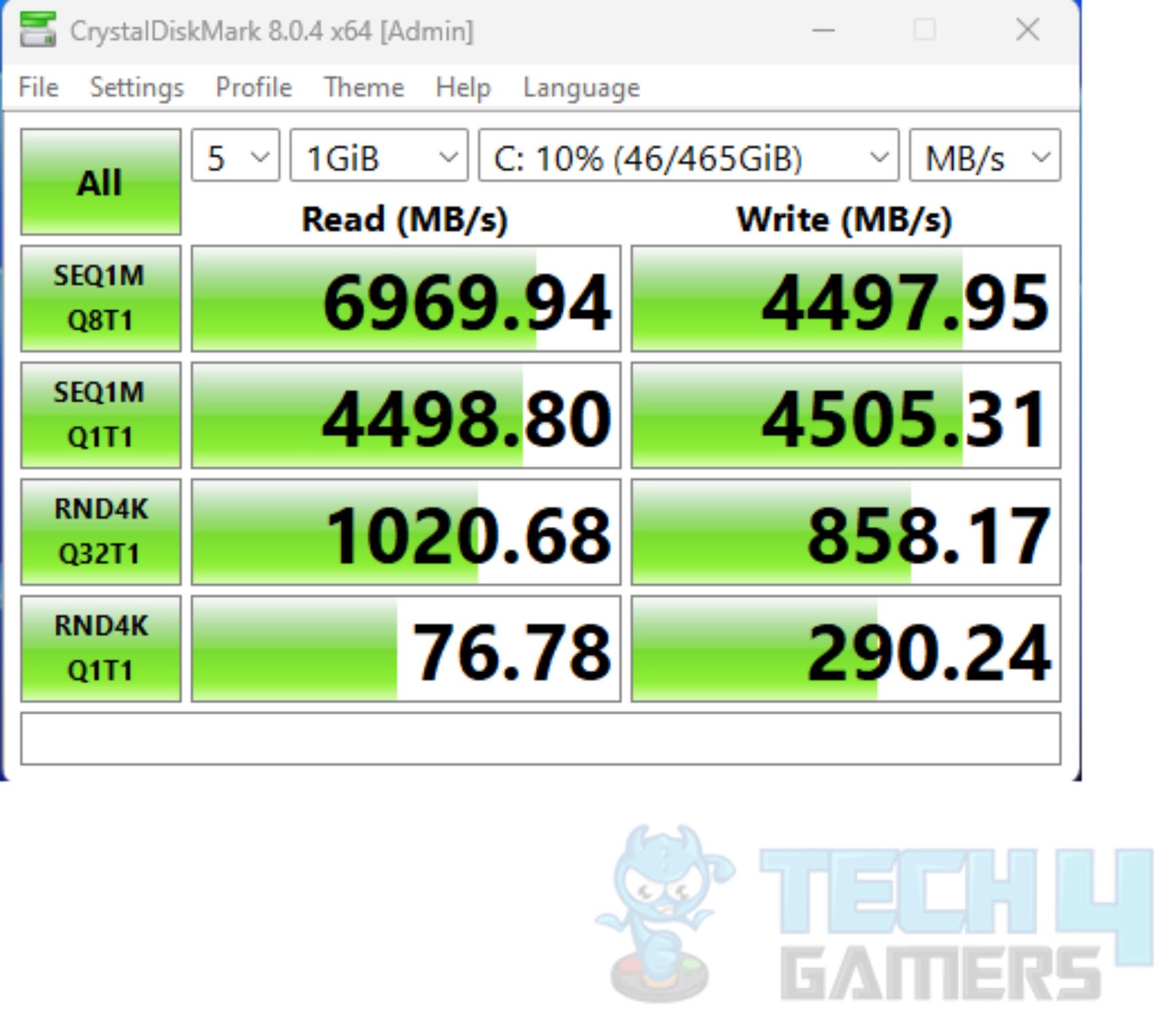 NVMe SSD is operating at its rated speed and has a solid 4K performance as well.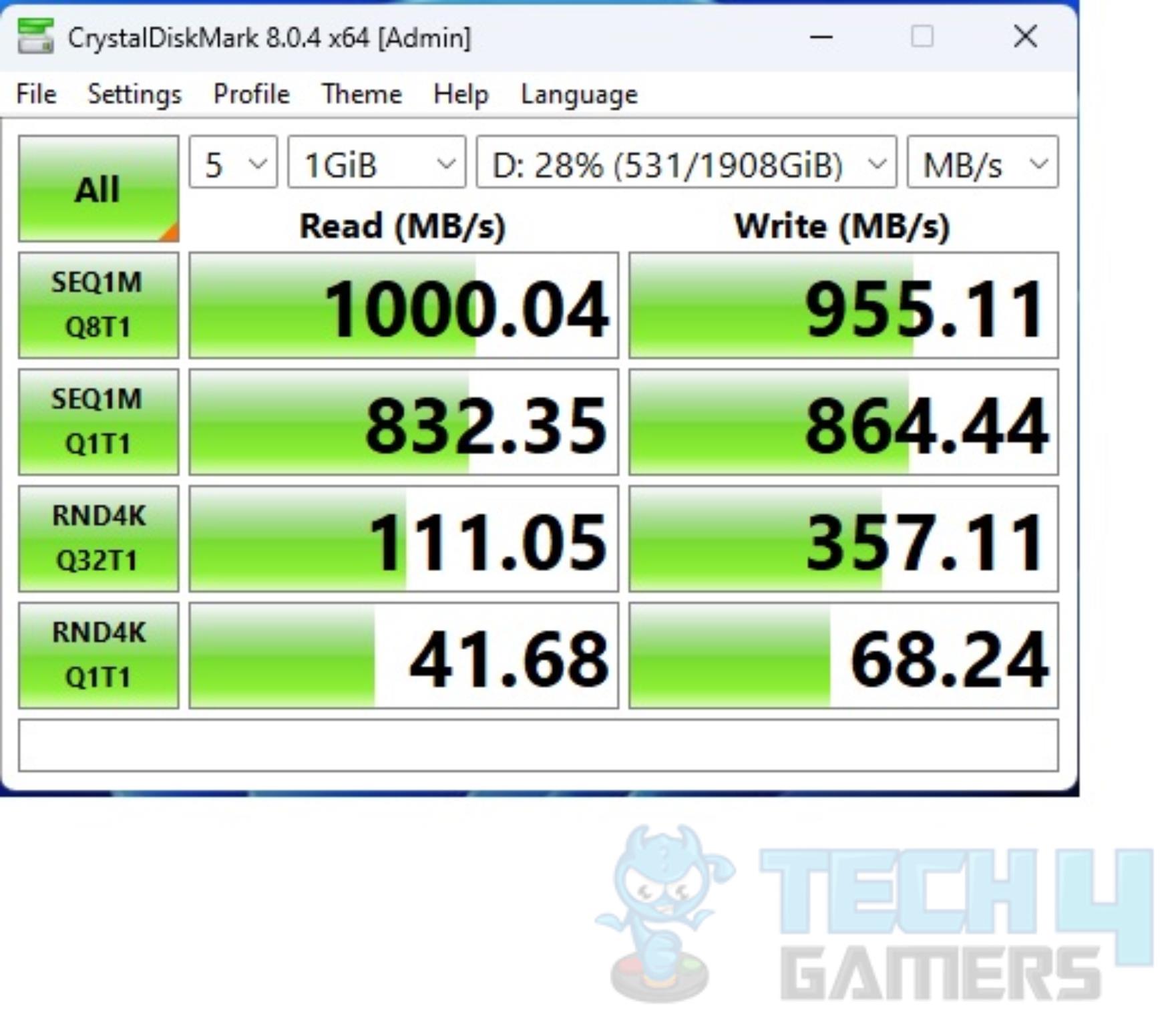 the USB 3.2 Gen2 drive passes sequential read and write speeds.
ATTO
ATTO is not just a software name rather ATTO is a manufacturing concern who are provider of high-performance storage & network connectivity products. ATTO Disk Benchmark for Windows is the tool that top drive manufacturers use to build and test drives. ATTO Disk Benchmark measures performance in hard drives, solid-state drives, RAID arrays as well as the host connection to attached storage. It can be used to test any OEM RAID controller, storage controller, host adapter, hard drive, or SSD drive.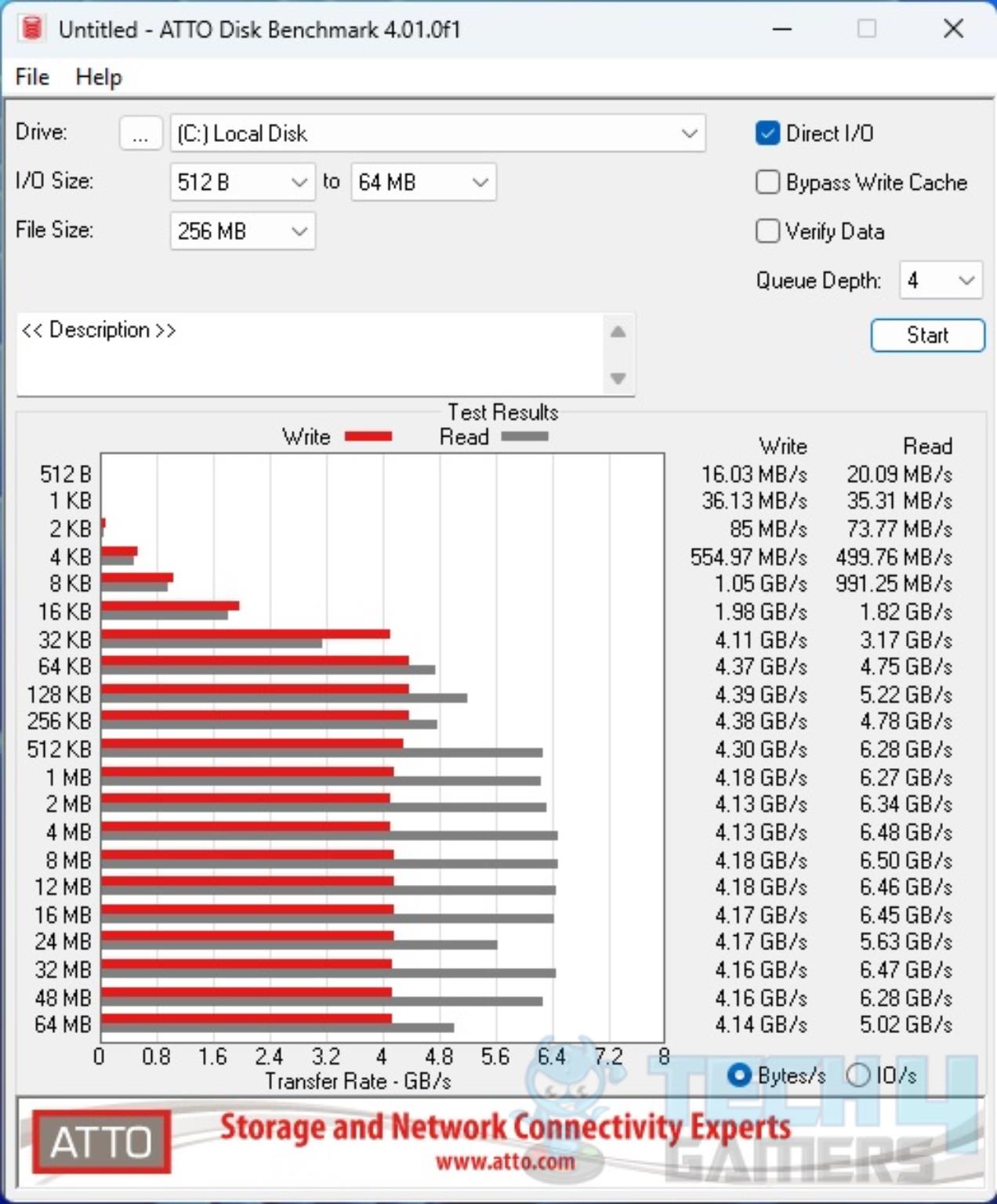 NVMe SSD has shown good performance.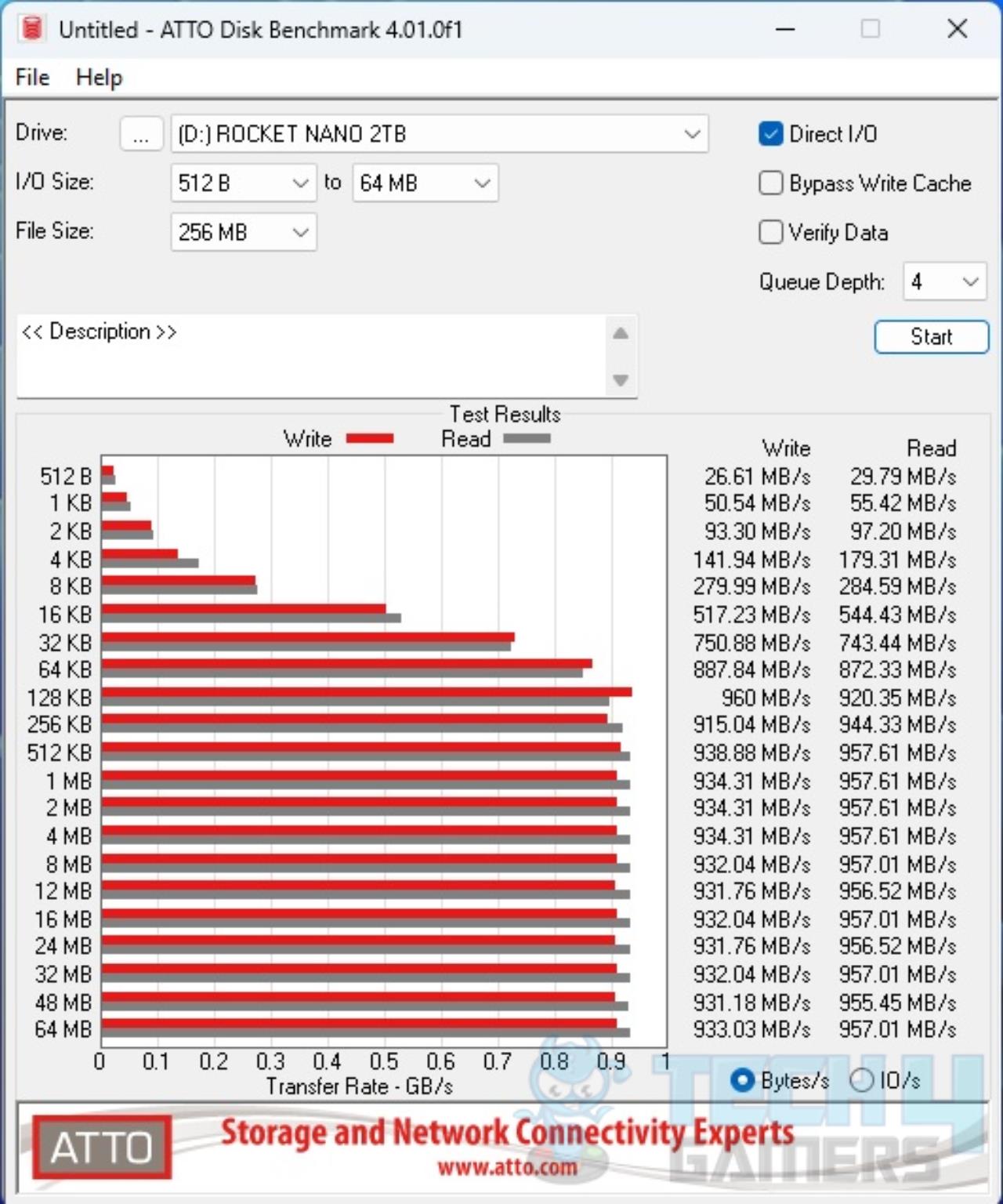 With speeds reaching over 900MB/s, the USB 3.2 Gen2 drive did well.
TxBench
TxBench is another disk benchmark taken to measure storage performances for SSD, HDD, and other drives. It not only measures the performance of storage easily but also performs detailed speed measurements based on specified access patterns and long-period speed measurements. It also allows you to see each drive's supported features, enabled features, and S.M.A.R.T. information.
We are seeing a similar performance from the NVMe drive as is in CrystalDiskMark.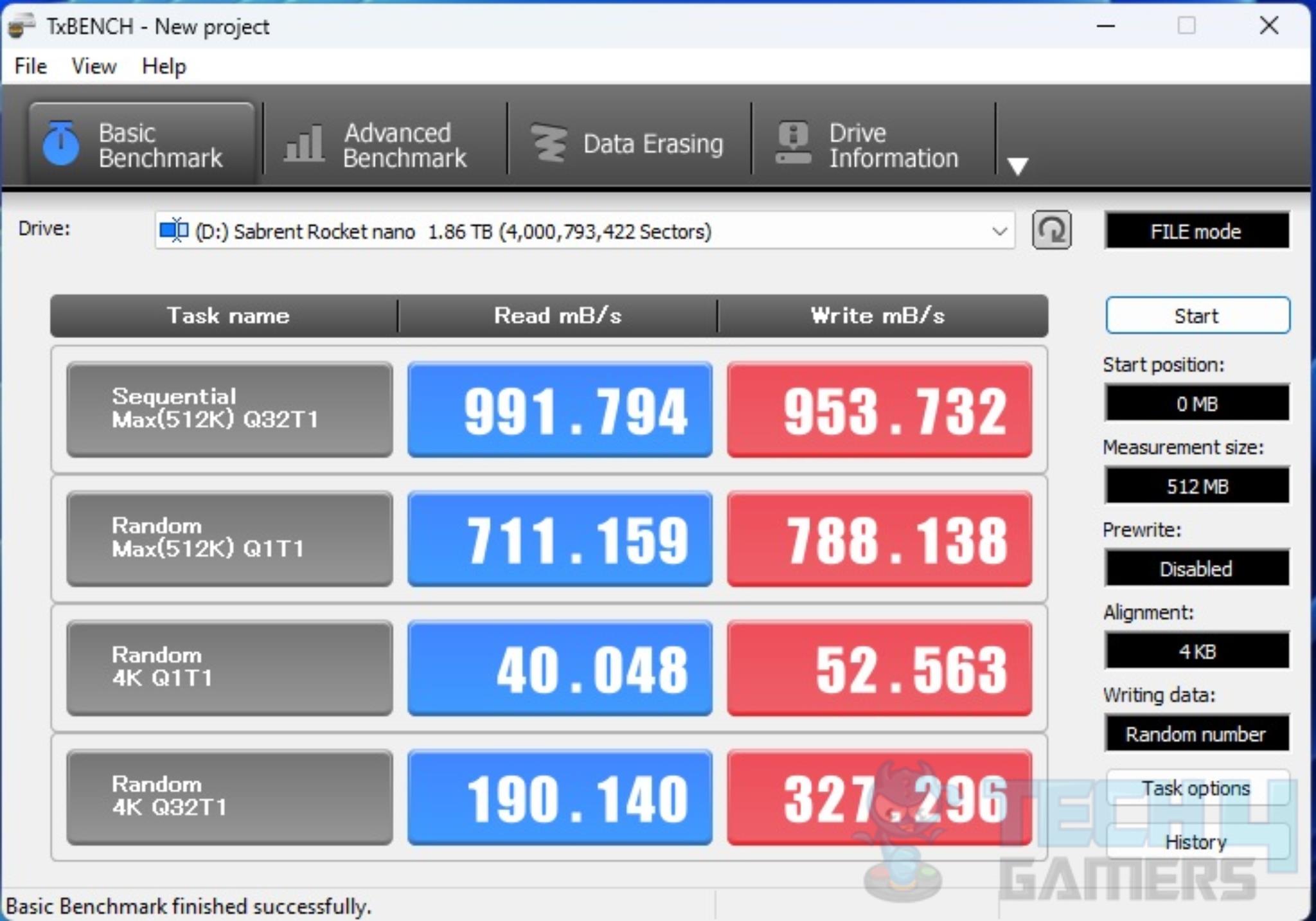 USB 3.2 Gen2 has performed well.
PCIe/Gaming Performance
3DMark Fire Strike Ultra
3DMark created Fire Strike Ultra around the 4K gaming. It is the world's first 4K Ultra HD benchmark, available now in 3DMark Advanced Edition and 3DMark Professional Edition. Fire Strike Ultra renders the test content at 3840 x 2160 (4K Ultra HD) before scaling the output to your PC's display resolution. This means you don't need a 4K monitor to run Fire Strike Ultra, though you will need a GPU with at least 3 GB of dedicated memory.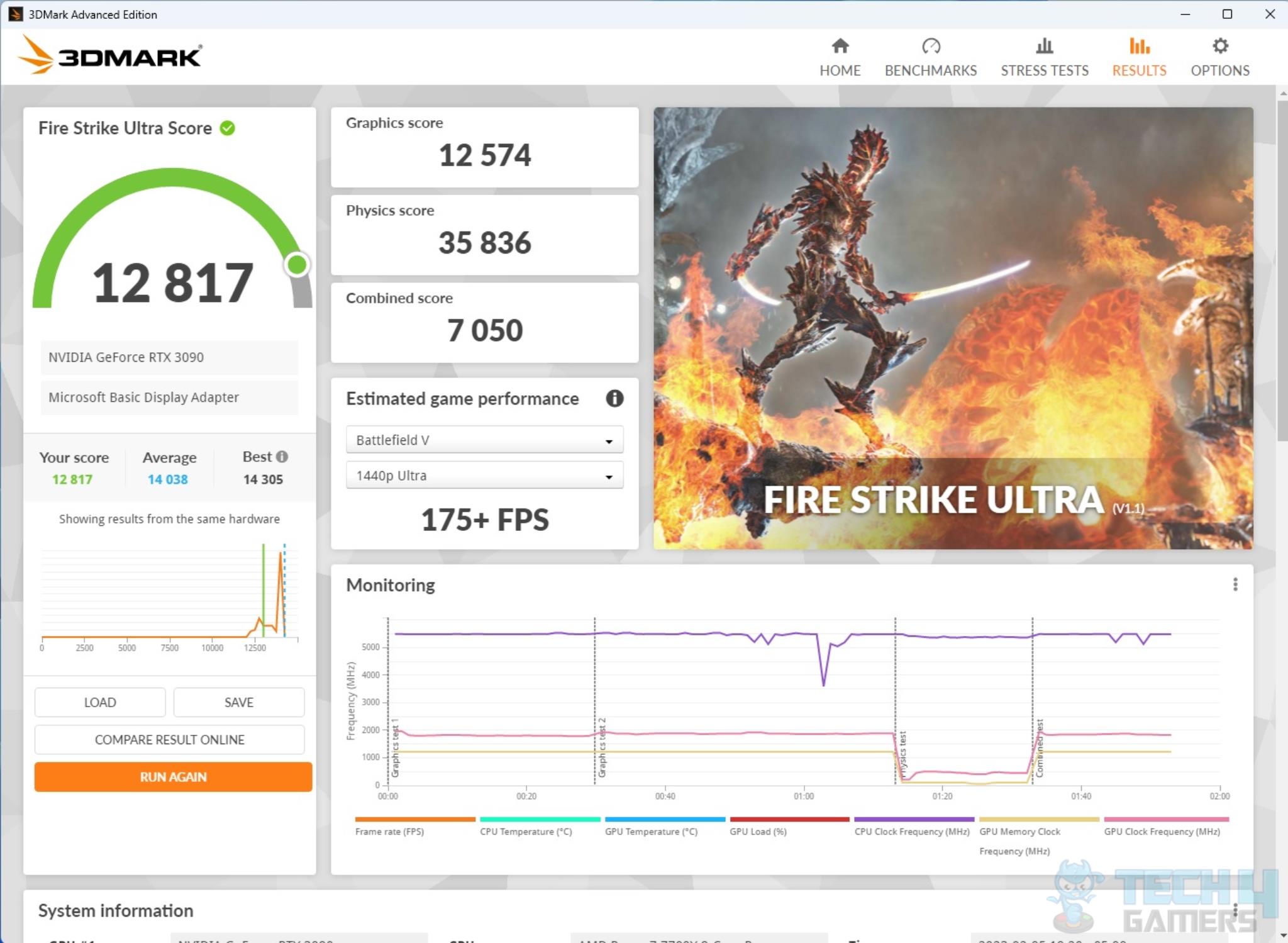 35836 is the CPU score and 12574 is the graphics score. Overall, this is a Good rating. We have seen Intel SKUs thriving in this Benchmark.
3DMark Time Spy Extreme
Time Spy Extreme is a new 4K DirectX 12 benchmark test, available in 3DMark Advanced and Professional Editions. You don't need a 4K monitor to run it, but you will need a GPU with at least 4 GB of dedicated memory. With its 4K Ultra HD rendering resolution, Time Spy Extreme is an ideal benchmark test for the latest high-end graphics cards. The CPU test has been redesigned to let processors with 8 or more cores perform to their full potential.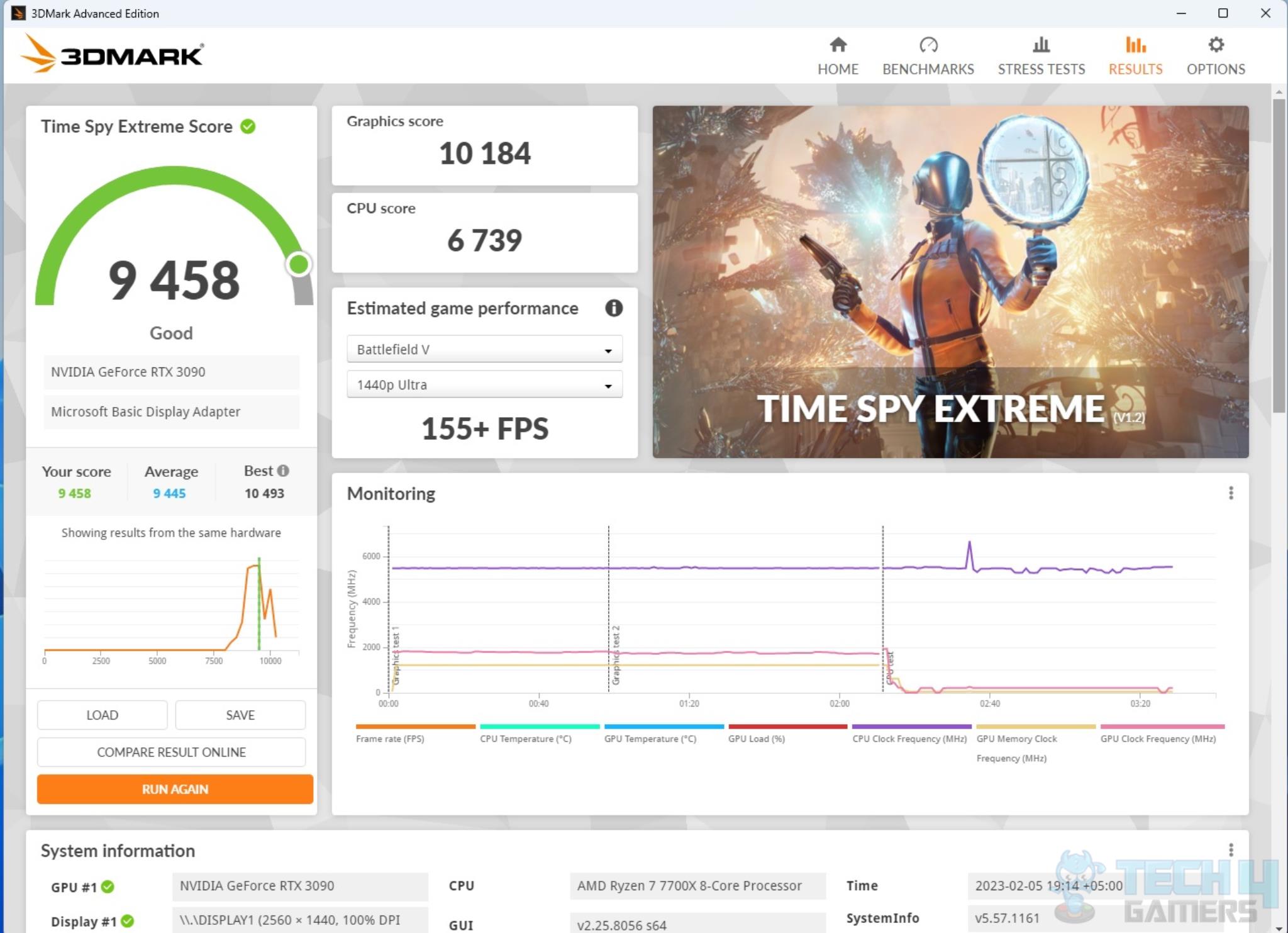 6739 is the CPU score and 10184 is the graphics score making this a nice overall rating.
All games were tested on three resolutions (1080P, 1440P, and 2160P) using their maxed-out graphics settings.
1080P Performance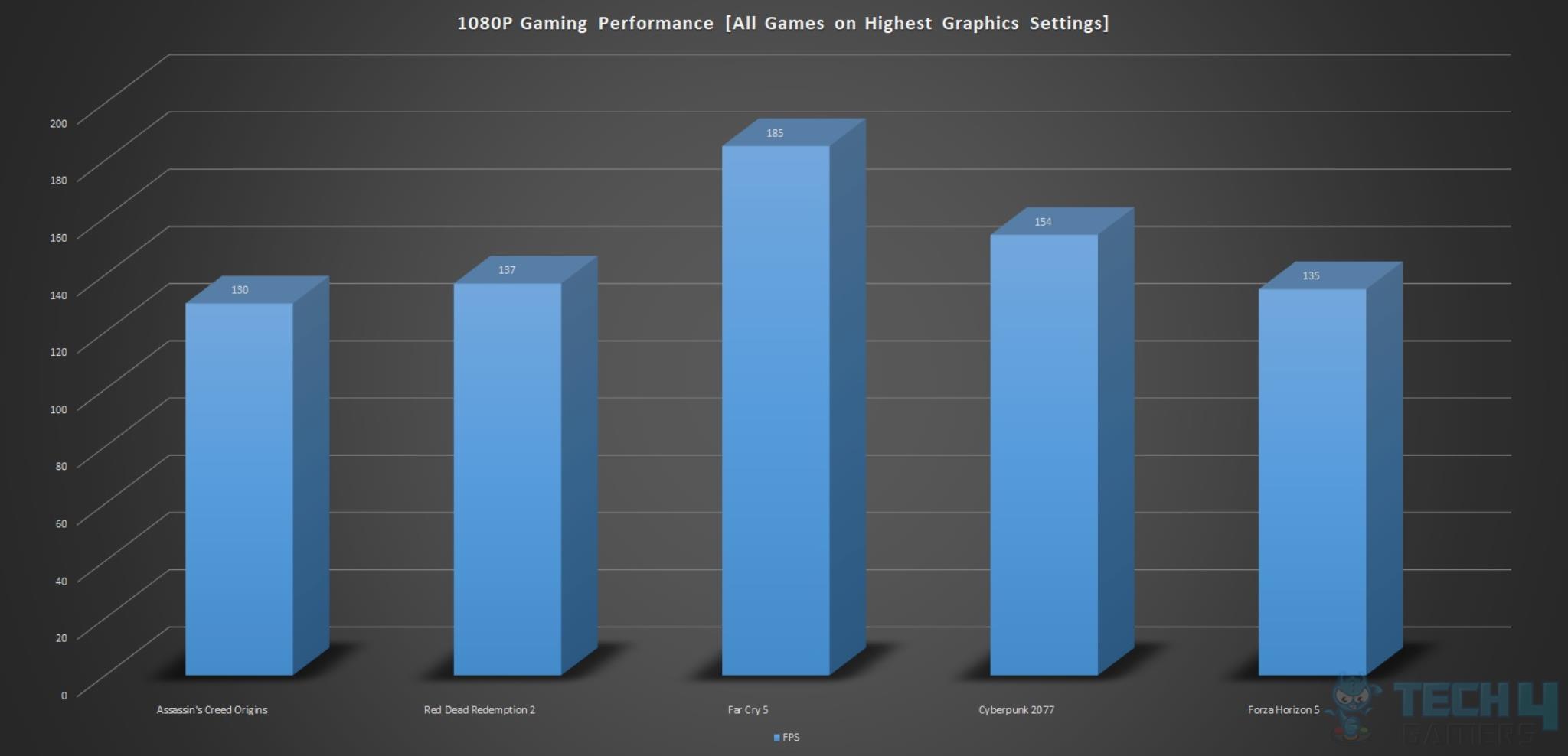 1440P Performance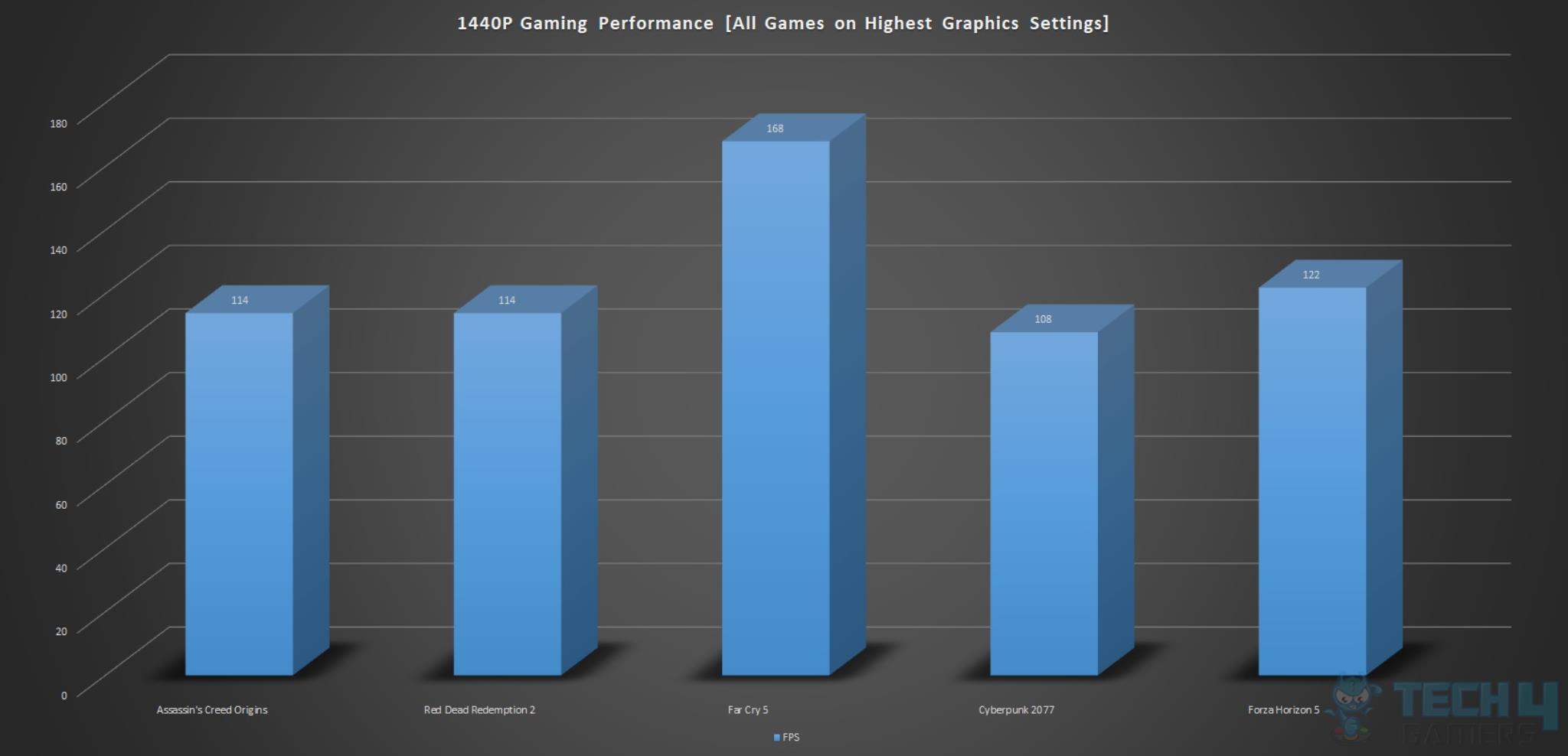 2160P Performance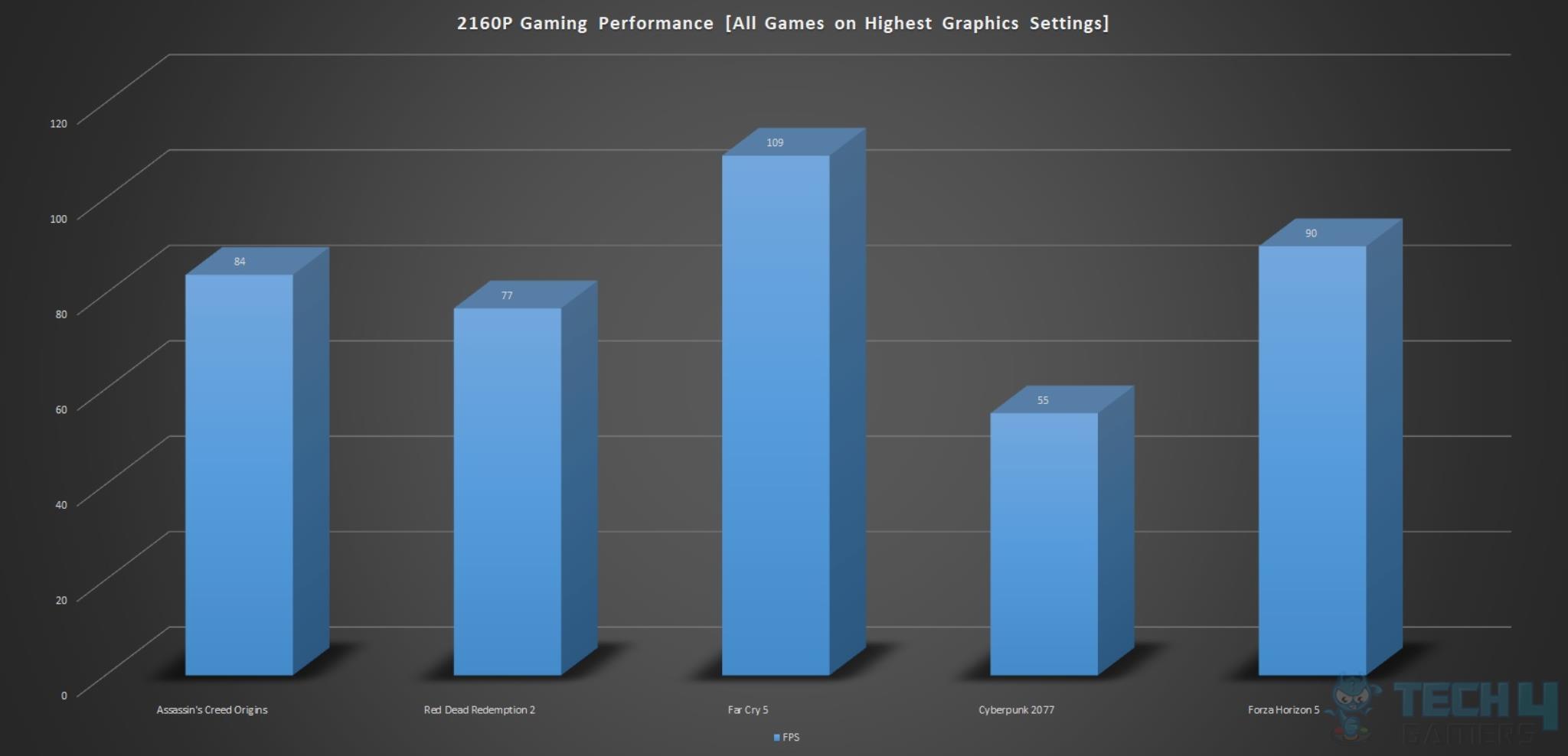 This system has a good gaming performance from CPU and graphics card.
Clocks Behavior
AMD Ryzen 7 7700X has a base clock of 4500MHz with a max boost clock on any core of 5400MHz. We have seen this SKU operating above or at 5.1GHz. I am saying this after testing two SKUs. We needed to see if this CPU maintains these clocks on ASRock B650E PG-ITX WIFI. But first, we checked for clocks when the system idles for 10 minutes or more.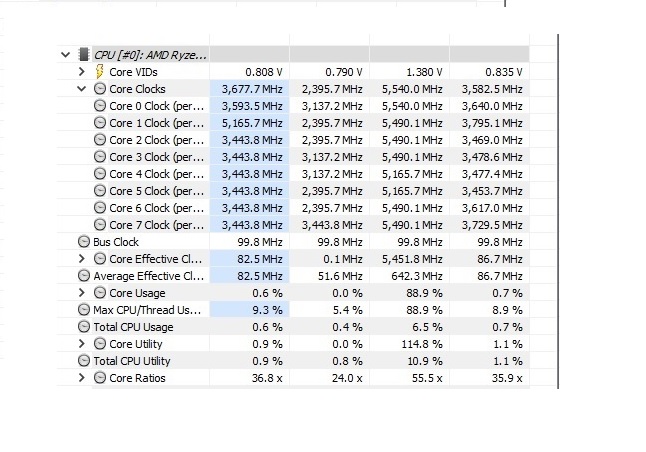 The lowest clock on any core is 2935MHz which is way below the 4500MHz base clock.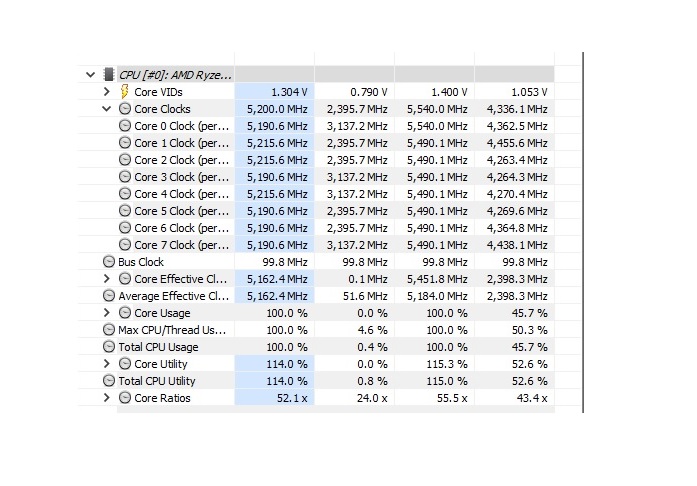 We ran a CINEBENCH R23.2 Multi test for 30 minutes and recorded the clock behavior. This SKU is maintaining a clock of 5.2GHz with all cores under load and we can see that this motherboard has no difficulty in keeping up with that.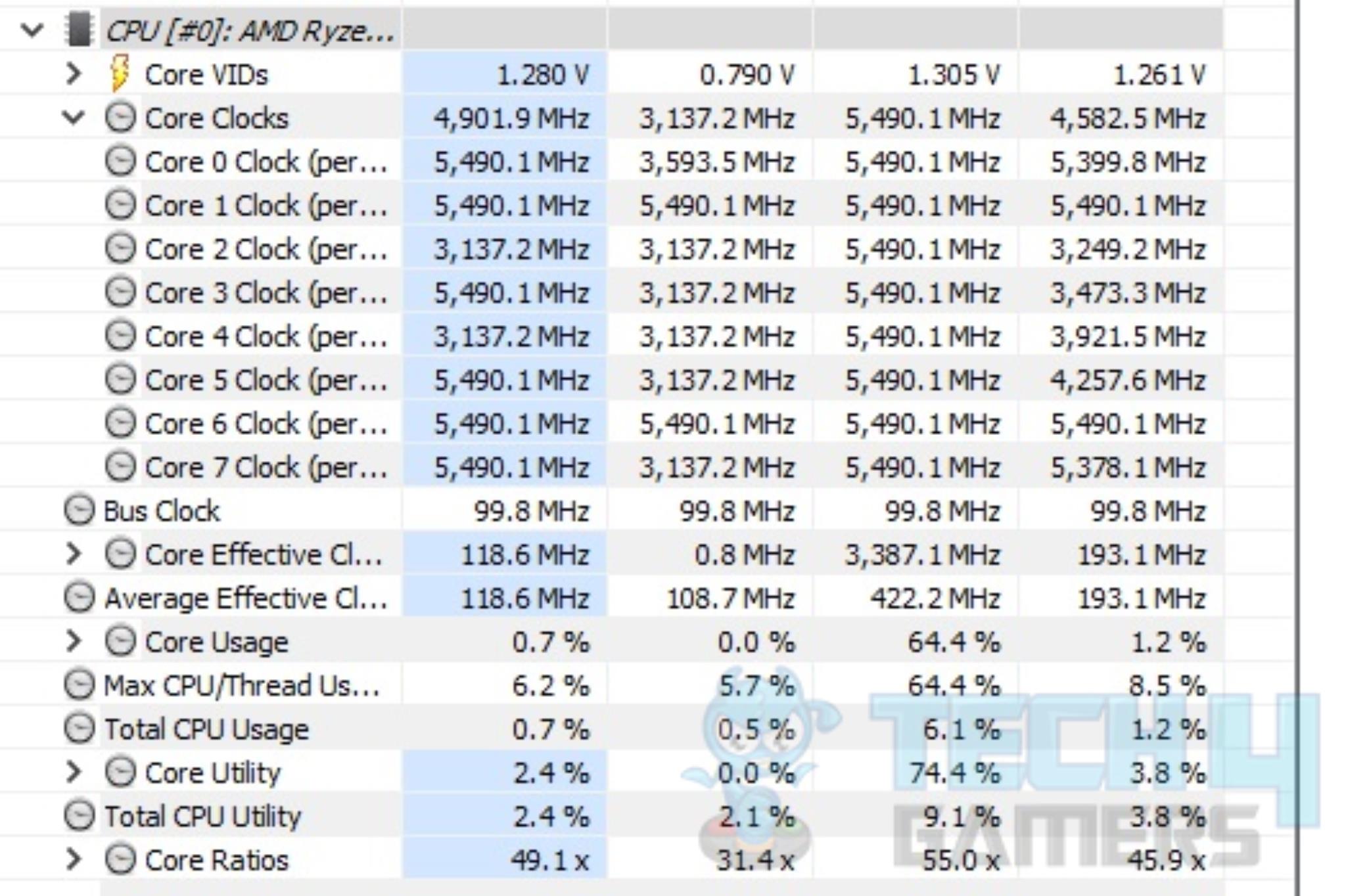 Next, we checked for 5.4GHz on any core under a single core load using CINEBENCH R23.2 for 20 minutes. As can be seen, 5.4GHz is achieved by this SKU.
Power Consumption and Thermals
We have left all the settings in the UEFI/BIOS on auto and stock. We only set the Fans and pump speed to run at 100% all the time. We still set Memory Frequency and Primary timings manually. The system was left idle for 30 minutes with HWInfo64 running in the background recording values. The ambient temperature was 22°C to 23°C.
| | | | | |
| --- | --- | --- | --- | --- |
| | CPU Core Temperature | RAM | NVMe SSD | Graphics Card |
| Idle Temperature | 38°C | 32.3°C | 27°C | 25°C |
| Idle Power Draw | 13.043W | 0.250W | N/A | 11.510W |
Next, we ran the Cinebench R23.2 System Stability test for 30 minutes. We also ran a CrystalDiskMark customized Sequential Read/Write a test for 9 minutes. Time Spy Extreme stress test was run to monitor the maximum temperature and power draw of the graphics card.
| | | | | |
| --- | --- | --- | --- | --- |
| | CPU Core Temperature | RAM | NVMe SSD | Graphics Card |
| Load Temperature | 95.4°C | 36.8°C | 60°C | 79°C |
| Load Power Draw | 139.400W | 1.875W | N/A | 380W |
Thermal Imaging
We have used the Hti HT18 Thermal camera to record the thermals of the VRM area of the motherboard under load using a blender benchmark run.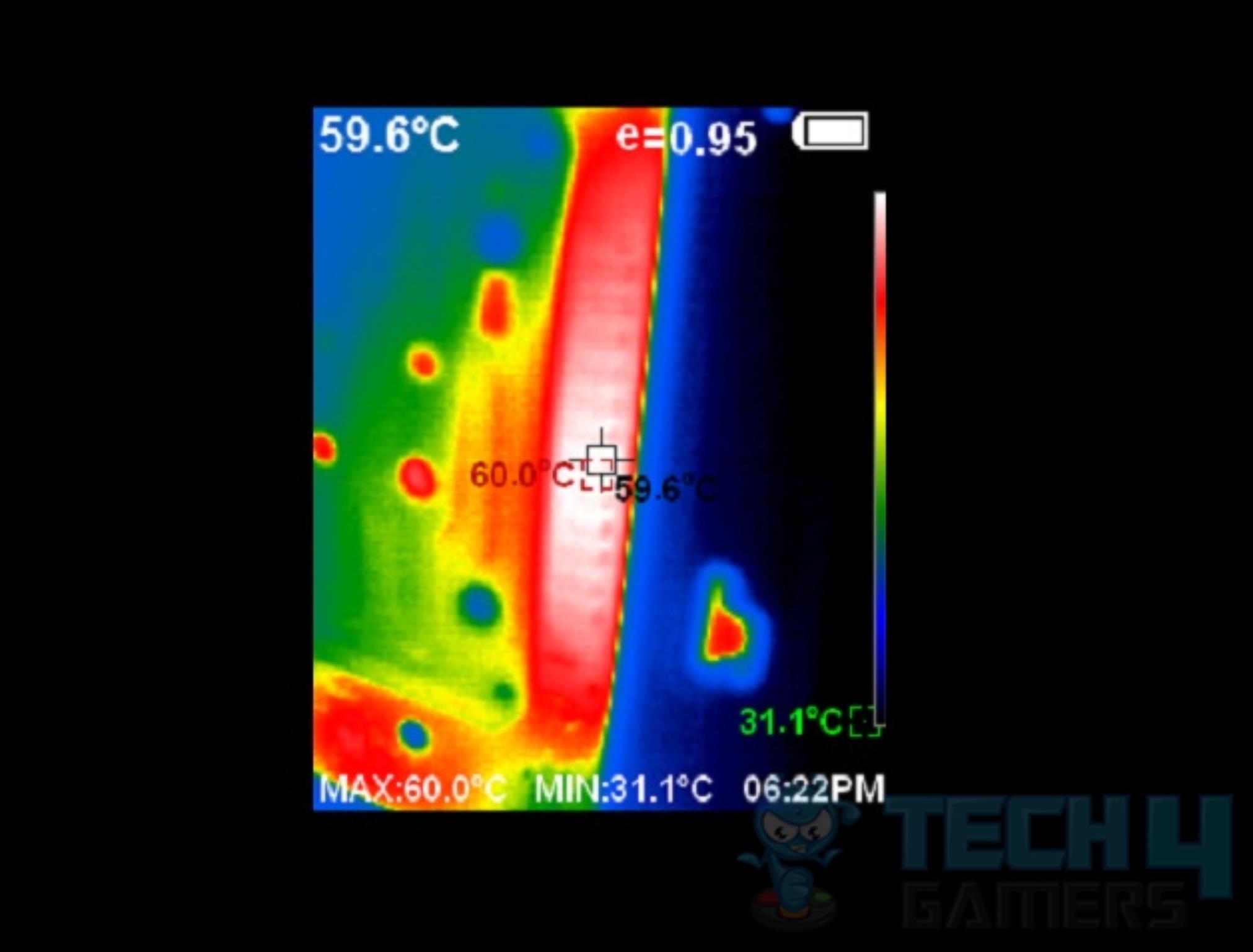 The MOSFETs were operating at around 60°C. This goes to show a good cooling solution on this motherboard for VRM/MOSFET cooling.
A Few Words On The M.2 Heatsink Fan
Before we moved on to the next testing based on PBO and manual clocks, let us discuss a few observations we made about the M.2 Heatsink Fan. This fan is rated for 12000 RPM at 100% PWM Duty Cycle. Yes, this has a 4-pin PWM connector its cable is routed toward the top section where it is connected to the CPU_Fan2 header.
This fan at full speed runs loud as heck loud. This tiny beast roars like a lion. ASRock has implemented the Chipset and M.2 Gen5 cooling in a way that there is a single aluminum plate that covers the chipset and M.2 SSD rests on top of this plate. A heatsink is then placed on top of the SSD and there is a 5-blade fan inside that heatsink. This is not all as this heatsink-covered aluminum plate is connected to the VRM/MOSFET heatsink using a nickel-plated copper heat pipe.
We wanted to investigate the behavior of this fan. We had these in mind:
What would be the thermals on M.2 SSD and Chipset with this fan off?
Does this fan ramps up its speed when SSD or chipset is under stress load?
Does this fan contribute in any way towards lowering the thermals of VRM/MOSFETs?
Does the thermal of the Chipset effects M.2 NVMe SSD?
We stressed the system and have it run for 30 minutes to see what the thermals would be like along with measuring sound output using a sound meter.

Here are important notes. The M.2 NVMe SSD was not under stress during the testing. 41°C temperature is acceptable given that it is also an OS drive. We can see that fan goes above 15000 RPM and makes 63 dB(A) at an ambient of 33 dB(A).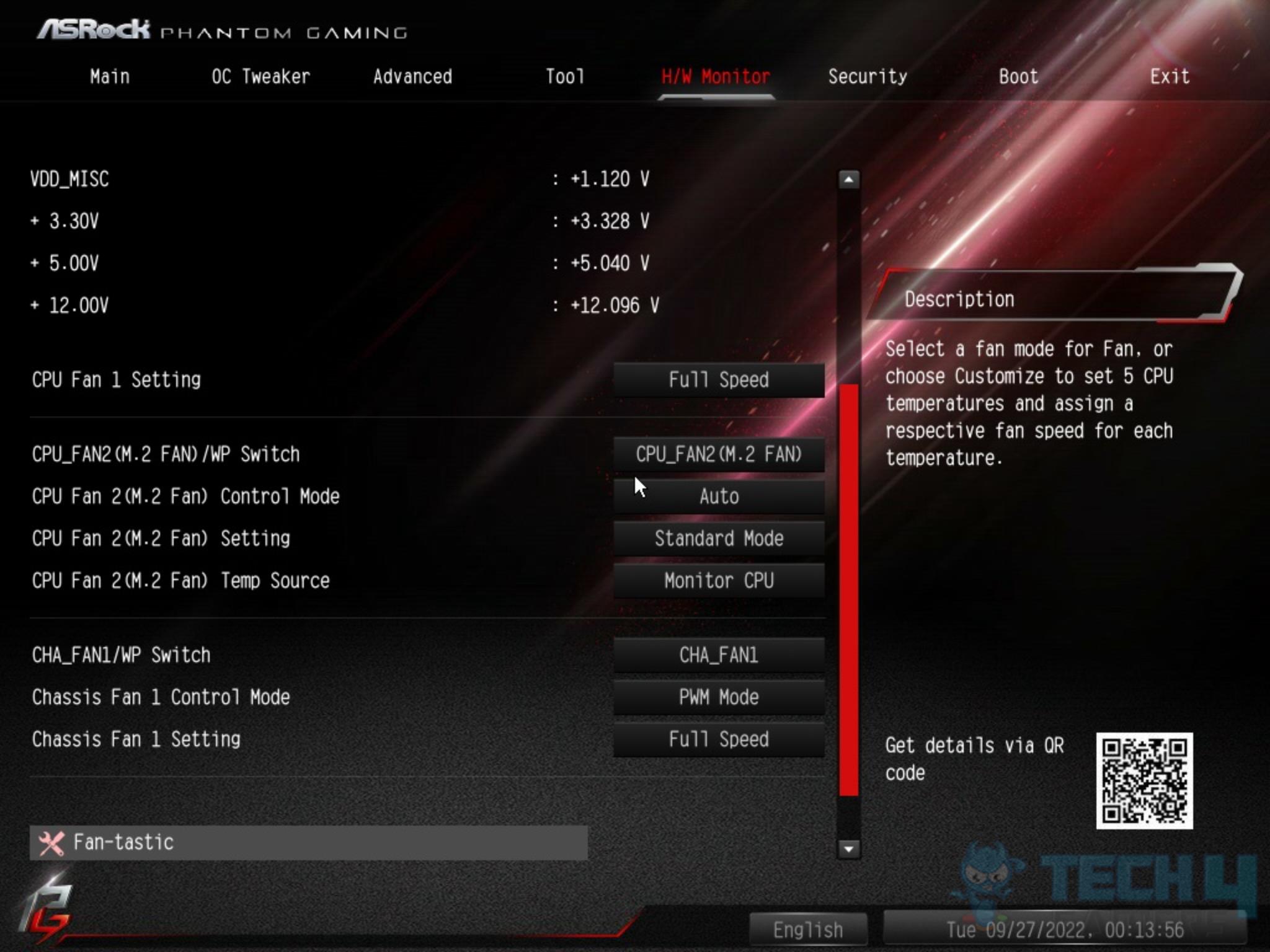 Next, we went into BIOS to see the related settings under H/W Monitor. The M.2 heatsink fan is connected to the CPU_FAN2 header and it is interesting to see that it is set to CPU as a temp source. Now, this would mean despite a stress load on M.2 NVMe SSD or Chipset, this fan will not ramp up resulting in high temperature on the M.2 NVMe SSD and the chipset. Users can change this by switching the source to Motherboard but that would lower the otherwise aggressive speed monitoring. Give or take, this is not a proper implementation as there should have been a sensor on the NVMe base plate and it should be used to regulate the speed of this fan or at-least users should have been given a choice to select from the source type including M.2. Next, we change the Auto setting to have this fan operate below 60% speed and repeated the test.

Guess what, we are not seeing any effect on the thermals by lowering the fan speed but this has improved the acoustic performance. Next, we set this fan to operate at a 45% duty cycle and repeated the test.

Except for the better sound output, there is no effect on the thermals as such. Next, we made this fan stop by setting the temperature limit to 80°C before it kicks in and repeated the results.

OMG. We are seeing no effect or should I say any drastic effect on the thermals despite this fan not running.
Next, we wanted to see how this M.2 NVMe SSD would behave with the fan powered off.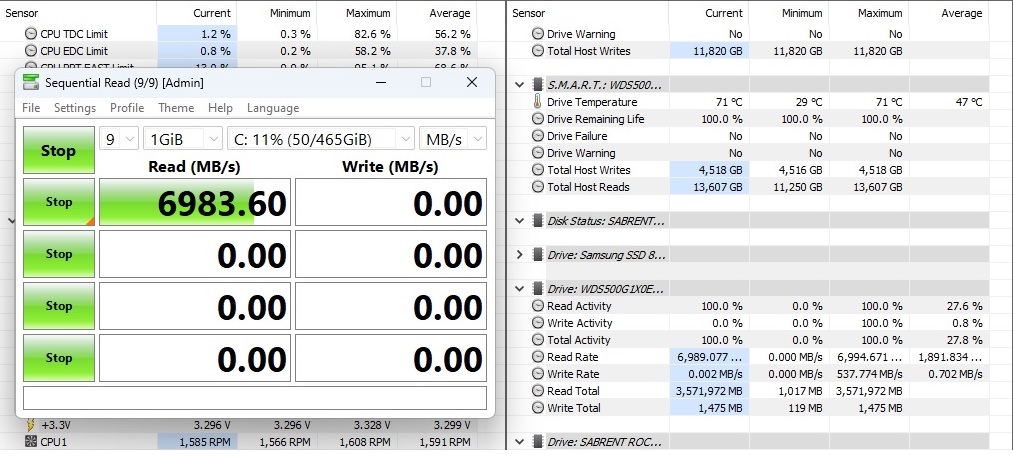 We can see that this SSD hit 71°C which was like 60°C with the fan spinning. So, this implies, we need this fan to run for a better thermal on SSD.
Let's answer our questions now:
Q1. What would be the thermals on M.2 SSD and Chipset with this fan off?
Ans. These two components will run warm without the fan.
Q2. Does this fan ramps up its speed when SSD or chipset is under stress load?
Ans: It will not be by default. It will never ramp up with SSD since there is no sensor to monitor M.2 temperature and it can't be made as Temp Source. The best bet is to set the Temp source to Motherboard.
Q3. Does this fan contribute in any way towards lowering the thermals of VRM/MOSFETs?
Ans: It is not.
Q4. Does the thermals of the Chipset effects M.2 NVMe SSD?
Ans: We could not find any correlation.
All this trouble just for the sound? Yes, this fan at its full speed and on Auto settings is very loud. What I would suggest to the users is to have their Temp source change from CPU to Motherboard and define a custom fan curve thereafter. But, the key is that you need this fan up and running. It should not be on the CPU anyway.
Next, we loaded the PBO of 85°C with a -20mV load and repeated the CINEBENCH R23.2 test. Then we set all cores to 5.2GHz at 1.265V in BIOS and repeated the test. Below graph compares the test runs result.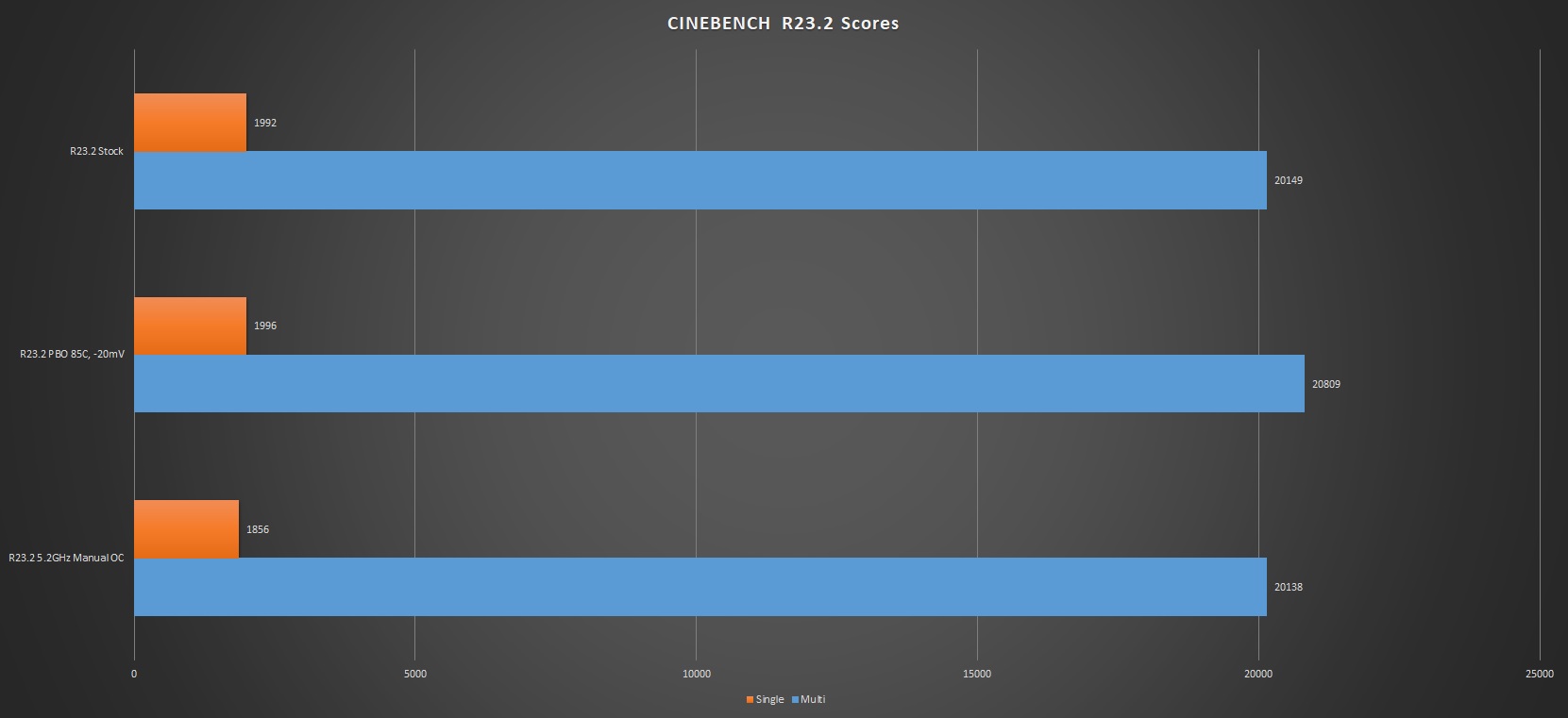 We can see that PBO with 85°C and -20mV on the efficiency curve yields the best performance. This is mainly because the CPU was now operating at 5.3GHz on all cores and almost touching 5.5GHz under single-core load. The lowest temperature was with a manual 5.2GHz overclock. The CPU was at 79°C. However, we see that single-core runs are affected by this since we are locked out at 5.2GHz whereas it was previously hitting 5.45GHz under a single-core load.
Cutting it short, this motherboard has everything that you would need to tinker with and there is no compromise or bottleneck from the design.
Conclusion
We have taken a spin at the ASRock B650E PG-ITX WIFI motherboard. As the model of this motherboard suggests, this is a Mini-ITX size motherboard having a dimension of 170x170mm. These motherboards are not in the mainstream and they are a rare breed where we are located.
Coming back to the main topic of the ASRock B650E PG-ITX WIFI motherboard, this motherboard features an LGA1718 socket from AMD as it is an AM5 platform. This motherboard supports AMD Ryzen 7 7000 series SKUs and it has two stainless steel reinforced DIMM slots running in a dual-channel configuration with a maximum support of 64GB capacity in total and 6400MHz (OC)+ frequency with BIOS update.
This is quite good for this chipset. Remember, AMD launched this B650 chipset for a main-stream segment where there is price consideration. ASRock has wisely implemented the array of components on this PCB.
They have used industrial-grade lossless PCB which is a 10-layered design to ensure smooth and continuous. This provides stable signal traces and power delivery while ensuring low temperatures across the board and improves memory overclocking potential. This motherboard supports AMD EXPO and Intel XMP 3.0 profiles.
The main two killer features of this motherboard that ASRock has provided are:
1x PCIe Gen5 slot running at x16 wired to CPU socket
1x PCIe Gen5 M.2 Port operating at x4 wired to CPU socket
There is no switch between these two components meaning users can install a gen5 based GPU and M.2 NVMe SSD and enjoy full-length blazing speeds, unlike Intel's approach of reducing PCIe lanes from 16 to 8 on Raptor Lake S if Gen 5 GPU and M.2 NVMe SSDs are installed.
I have seen some Mini-ITX motherboards where there is a compromise. Either a Gen 5-based PCIe slot is provided or a Gen5 base M.2 port is provided. Even there are a few which lack Gen5 support altogether. ASRock has done a much better job here and managed to keep the price rational as well.
Given this is a Mini-ITX, there is no other PCIe slot. But there is one more M.2 Gen4x4 port on the back side of this board which can house a 2280 form factor SSD only. So, we have got two M.2 ports. One is a Blazing Gen5-based M.2 port and the other is a Hyper Gen4-based M.2 port.
In terms of total storage options, there are two SATA 6Gbps ports and that is all. There is no further provision to add more storage connectivity on this board. If going this route and want to have more storage then better aim for high-density storage drives with more capacity to make up for it.
ASRock has provided an active cooling solution which is a smart design as well. We have a heatsink on top of the Gen5 M.2 port and it has a 20 or 25-mm fan inside. There is an aluminum base plate or cover under this heatsink.
The M.2 SSD is rested on this base plate. The underside of this cover makes contact with the Chipset. ASRock has covered M.2 SSD and Chipset in a single cooling solution. This is not all as this heatsink and aluminum base are connected to a large-size aluminum heatsink placed over VRM/MOSFET area using a nickel-plated copper heat pipe.
Cooling solution on key components is smartly done here and this solution is efficient and effective. But there is a catch. This fan has a 4-pin PWM connector which is already wired and connected to the CPU_Fan2 header. It is rated for 12000 RPM.
Our sample has this fan running at over 15000 RPM and it is loud at full speed. It is set to ramp up or down its speed based on the CPU as a temperature source which is a strange move. There is no sensor for M.2 port otherwise it would be a nice touch to have set this fan to adjust its speed as per the M.2 SSD's thermals. But users can change the temp source to the motherboard and then define a custom fan curve to reduce the noise output.
ASRock has provided a wired network connectivity using Intel's Killer Ethernet using an E3100G controller chip. There is a single 2.5GbE LAN port on the Rear IO panel for that. We also have a fully working WIFI 6E with a Bluetooth module installed on an E-Key M.2 port vertically on the Rear IO panel.
The game is strong with network connectivity on this motherboard. ASRock has provided an antenna receiver with a non-magnetic base. A magnetic base would have been a nice touch. Both modules are wired to the chipset over a PCIe Gen3 x1 lane each.
Coming to USB connectivity, this motherboard does not disappoint. We have as many as 13 USB connections. Configuration is as under:
1 x USB 3.2 Gen2x2 Type-C (Front)
1 x USB 3.2 Gen2 Type-C (Rear)
3 x USB 3.2 Gen2 Type-A (Rear)
2 x USB 3.2 Gen1 (Front)
6 x USB 2.0 (4 Rear, 2 Front)
I wish this USB 3.2 Gen2x2 port was implemented on the Rear IO panel instead. We are still a few miles from getting PC Cases in main-stream with Gen2x2 port on the front panel. ASRock did not ditch a good USB connectivity set.
We also have two Lighting Gaming Ports. Each of these two ports has a dedicated controller to ensure a buttery smooth connection with reduced input lag. We tested these ports when we reviewed the Z790 PG Riptide motherboard. You may check the results from that content.
The Audio solution is driven by RealTek ALC1220. SuperIO chip is from Nuvoton NCT6686DE. There are 3 4-pin fan headers. 2x of them have 2A current rating to provide 24W.
They are mentioned to be used for water pumps as well. Surprisingly, the CPU_Fan header is rated for 1A and is not rated to handle water pump load. Two headers are on the top whereas one header is at the bottom left. These are powered and controlled by nuvoton 3947SA. There is no external sensor.
The CPU power delivery uses a 10+2+1 design governed by a digital PWM controller Renesas RAA229620. The MOSFETs are Renesas RAA22010540 rated at 105A each (SPS). 10 phases are powering the VCore. Two phases are for SOC and then one phase using Renesas ISL99360 (60A) is for VDD_Misc.
Using Dr. MOS MOSFETs, ASRock has provided a powerful delivery with efficient cooling ensuring that this tiny beast motherboard does not bottleneck in any way. We saw a maximum temperature of 60°C on VRM/MOSFETs during the Blender run.
We updated BIOS to its latest at the time of testing this motherboard. This motherboard is mentioned to take 90 seconds during the first boot with a 2x16GB DDR5 configuration. This time is 150 seconds when using a 2x32GB configuration.
In our testing, we have seen this motherboard always taking more time regardless of this first-time boot. POST is slow and then Windows load time is slow. We recorded a 47 seconds load time after several restarts.
This motherboard has an impressive performance across the board despite a slow boot. It chewed everything we threw at it. The gaming performance is good. M.2 NVMe Gen4x4 SSD performs quite well living up to its rated speeds. Networking options are brilliant. ASRock software game is strong as well.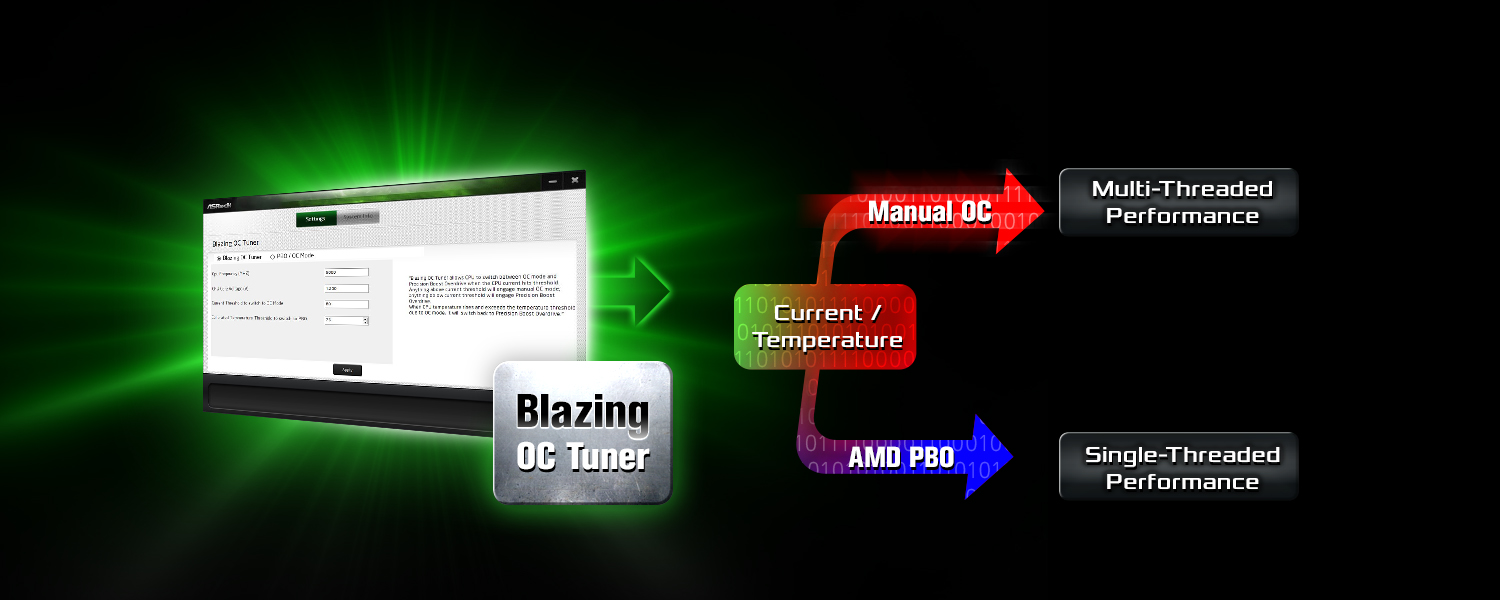 Using ASRock Blazing OC Tuner, you can easily configure your CPU as per requirement on the go in a Windows environment. This software allows users to define manual overclock and PBO in such a manner that under a given current threshold, PBO will provide the best possible outcome, and by hitting that current threshold, manual OC will kick in and vice versa.
ASRock is offering a 3-year warranty on this motherboard. We are impressed with the almost balanced feature set provided on ASRock B650E Mini-ITX PG-ITX WIFI. Now, we can say that this board does have more than meets the eye.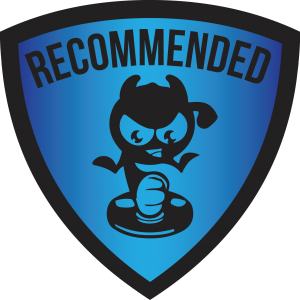 Was our article helpful? 👨‍💻
Thank you! Please share your positive feedback. 🔋
How could we improve this post? Please Help us. 😔