Worth It?
Review Summary
The Sabrent Rocket NANO XTRM 1TB is a sleek, portable drive with exceptional performance, making it an ideal choice for on-the-go content creators and users in need of fast, portable storage. Its impressive sequential read and write speeds, ability to handle 4K and 8K video workloads, and sturdy build make it a top-tier option. While the 1TB capacity may be limiting for heavy data users, the overall performance and versatility of the Sabrent Rocket NANO XTRM 1TB make it a well-rounded and highly recommended portable drive.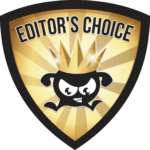 Quality -

9/10

Performance -

9/10

Features -

9/10

Value -

8.8/10
Pros
Aluminum Shell
Silicon Sleeve
Thunderbolt 3 interface
USB 3.2 interface
2700MB/s and 900MB/s speeds
Good sustained performance
Thermals
Sabrent needs no introduction when it comes to an established brand for memory and storage solutions. They recently released Rocket NANO XTRM 1TB portable drive and we are taking a look at this drive now. The word NANO tells me that this is going to be a pocket-friendly drive, making it convenient for the user to carry it around. But, the most important design element is that this drive uses a Thunderbolt port.
While you have to fathom with this aspect, this drive also supports USB Type-C 3.2 format. Voila! Two-in-One flavors. This drive takes on the XTRM-Q series of drives and makes it better in all aspects using a new controller and slim outlook. This drive is capable of doing 2700MB/s sequential operations using the Thunderbolt 4 interface, and it can do up to 900 MB/s using the USB Type-C 3.2 port.
---
Key Takeaways
The Sabrent Rocket NANO XTRM 1TB Portable Drive is a high-performance portable SSD that makes the most out of its Thunderbolt 3 and USB-C 3.2 connections to bring blazing-fast speeds on-the-go.
The Sabrent Rocket NANO XTRM 1TB Portable Drive is perfect for content creators who travel a lot for work and want a speedy SSD.
The Sabrent Rocket NANO XTRM 1TB Portable Drive is not meant for heavy data users who want a higher capacity, as the drive is only limited to 1TB.
---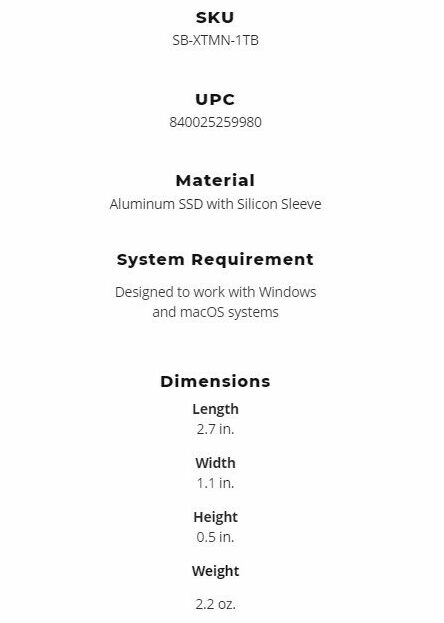 Sabrent needs to improve the specification section on its website. They don't provide enough clear specs of the products at hand. The dimension of this drive is 2.7×1.1×0.5 inches (LxWxH). The weight of this drive is 2.2 oz. This drive comes with a silicon sleeve for protection.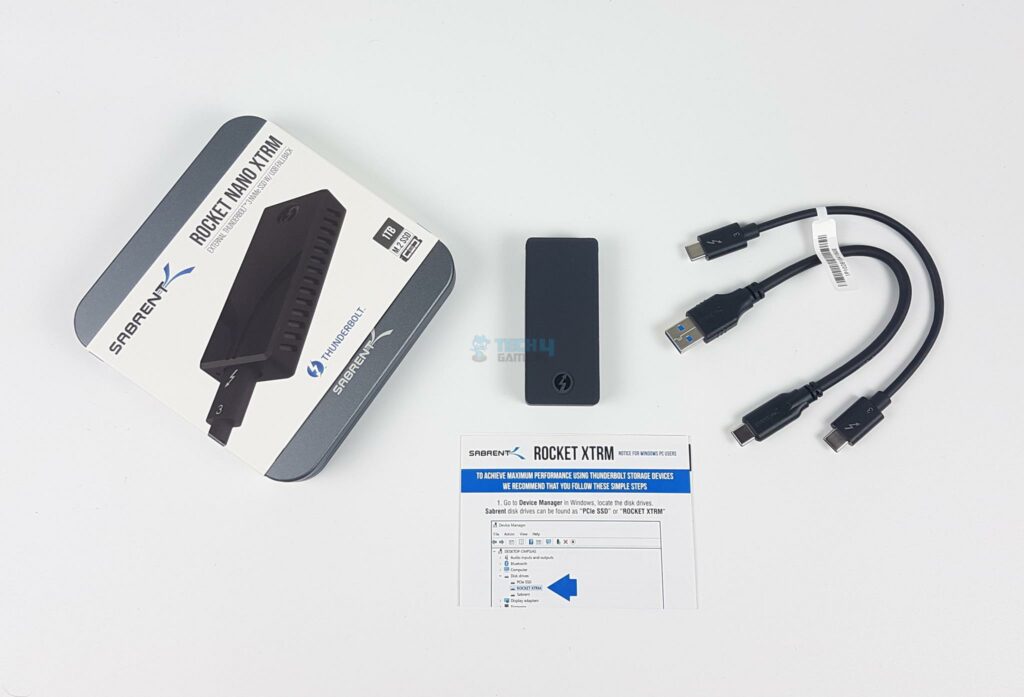 The product is shipped inside a metallic container that has a paperboard overleaf. Sabrent has printed useful data and information about the drive on that overleaf. The following are provided:
1x Drive
1x USB Type-C to Type-C Cable [Thunderbolt 3 Cable]
1x USB Type-C to Type-A Cable.
1 User Guide
Design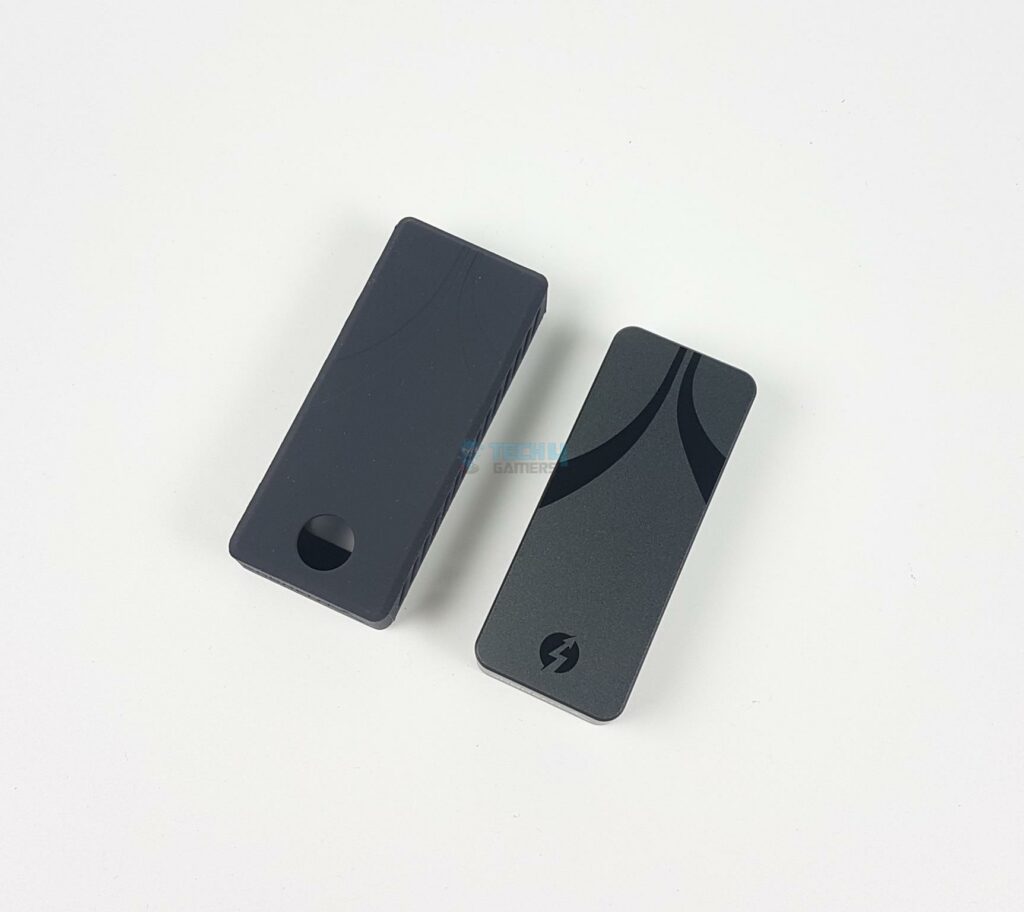 The new Rocket NANO XTRM is built sturdily. It has the same dimension that I saw on the Rocket NANO V2 series of portable drives from Sabrent, and this is exactly what makes these drives a must-have for intensive work users, be it 3D rendering, video work etc. The only downside would be the 1TB storage capacity since this drive is not available in any other capacity.
This slim profile drive uses the Phison E21T controller for the NVMe SSD and Intel JHL7440 thunderbolt controller. The SSD inside this mini drive uses 3D TLC NAND Flash chips, though I am not sure about the rest of the specifications.
The drive itself is made of aluminum material and has a Sabrent branding over the top. We can spot a Thunderbolt logo on the top as well that indicates the drive's compatibility with the Intel Thunderbolt protocol. The silicon sleeve protects the drive in case of an accidental fall.
There is a single USB Type-C port on the main drive. This single port supports dual connections:
Looking at the drive from the bottom side, we can see two anti-vibration pads which are black in color. SB-XTMN-1TB is the part number of the drive.
Sabrent has bundled two cables with this drive:
One is the Thunderbolt 3 interfaced USB Type-C cable
The other is the USB Type-C to Type-A cable
The user can use the Thunderbolt 3 cable to connect this drive to a Thunderbolt port on your laptop and or connect it to a USB 3.2 Type-C port on your device. Using the Type-A interface cable would restrict the drive from operating at a 5Gbps cap. Take note of the Thunderbolt logo and the number 3 on the bulkheads of the Thunderbolt cable. This tells us that Sabrent has taken a certification from Intel.
The provided cables have a short length and this suggests that the target audience of this drive is mobile users and the ones using laptops or notebooks.
Testing
The following configuration is used for the testing:
Intel i7 13700K [Stock, Auto]
GIGABYTE GC-Maple Ridge Thunderbolt 4 Add-In Card
GIGABYTE GeForce RTX 3060 VISION OC [For Display]
be quiet! Straight Power 11 850W Platinum PSU
Open-air Test Setup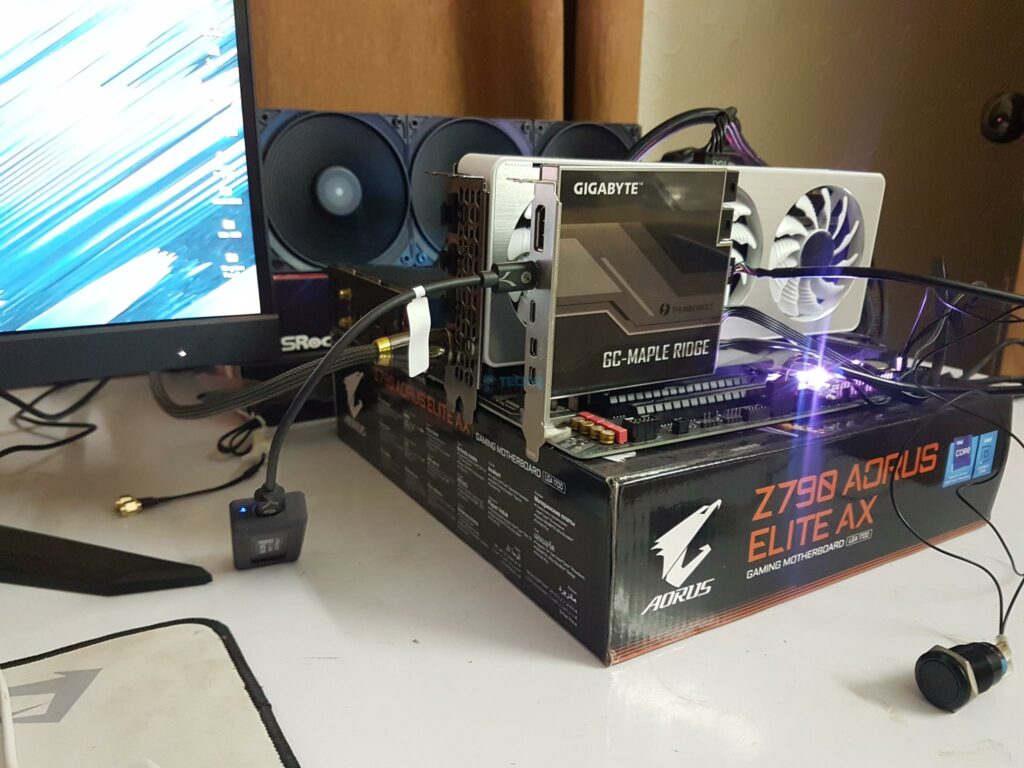 The above picture shows our test build. The Sabrent Rocket NANO XTRM 1TB drive was connected to the GIGABYTE GC-Maple Ridge Thunderbolt 4 Add-In card on port numbered 1.
We have used the following software:
ATTO Disk Benchmark 4.0
CrystalDiskMark 6
Anvil Pro Storage Utilities 1.1.0
DiskBench
3DMARK Storage
PCMARK10 Storage
Blackmagic Disk Benchmark
Microsoft Windows 11 is used for the testing.
Test Results
It is time to take a look at the test results. Since there are no other drives for comparison, I am showing the test results as it is.
Real World Testing
We prepared a data set of approximately 220GB, approximately, including a 97GB highly compressed file. This data was copied to the Sabrent Rocket NANO XTRM 1TB drive, and from there, we used DiskBench to perform various operations mentioned below.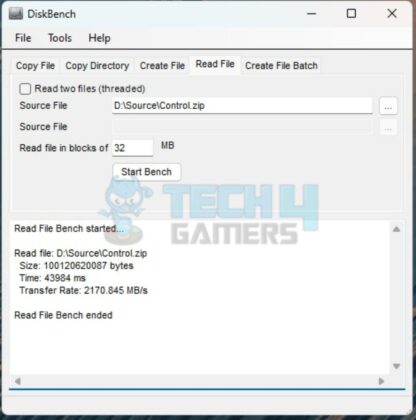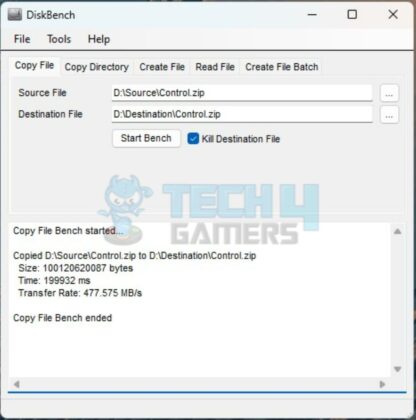 Game Load Time Test

Why should we ignore the gamers and gamers on the go since this is a high-speed drive? I also measured the game load time using Final Fantasy XIV: Shadowbringers Benchmark. It took 7.81 seconds to load the game, which is actually quite well for this portable drive.
Thermals
We saw a maximum temperature of 67°C at an ambient temperature of 24°C on the Rocket NANO XTRM 1TB portable drive.
Should You Buy It?
Buy It If
If you are an on-the-go content creator: If you are a content creator and mostly remain mobile, then look no further as Sabrent has provided a high-speed, slim profile portable drive that can easily handle 8k videos and images.
If you are a normal user but need a fast portable drive: The above argument holds true for all the users who are looking for an easy-to-carry portable drive but operating at high data transfer rates. Sabrent Rocket NANO XTRM 1TB is your pick.
Don't Buy It If
If you are a heavy data user: The Sabrent Rocket NANO XTRM is only available in 1TB capacity and this in itself is a letdown for the heavy data users because they have to work with data that may exceed the 1TB limit.
If you are a PC user with no Thunderbolt Drive: The Sabrent Rocket NANO XTRM 1TB is mainly a Thunderbolt 3 drive, but it is also compatible with USB 3.2 protocol and backwards compatible. You would only get around a theoretical 900MB/s speed on the USB 3.2 port. This drive is not for PC users who don't have Thunderbolt ports or an Add-In card. I would suggest such users look at the Rocket NANO V2 series of portable drives.
Final Words
The Sabrent Rocket NANO XTRM 1TB is the best of both worlds. This drive has a connection using a single USB Type-C port. You can enjoy blazing-fast sequential speeds of up to 2700MB/s when connected to the Thunderbolt port and up to 900MB/s when connected to the USB 3.2 port on your device. Another important aspect is the slim profile that this drive has.
It has a dimension of 2.7×1.1×0.5 inches (LxWxH) with a weight of 2.2 oz. This is exactly the size of Rocket NANO V2 non-Thunderbolt drives. This drive has superb performance for its type and size. Sabrent is providing a 1-year warranty on this drive that can be extended to a 3-year by registering this drive on their website. This drive comes recommended by us.
Was our article helpful? 👨‍💻
Thank you! Please share your positive feedback. 🔋
How could we improve this post? Please Help us. 😔
[Hardware Reviewer & Editor]
Meet Nauman Siddique, a highly experienced computer science graduate with more than 15 years of knowledge in technology. Nauman is an expert in the field known for his deep understanding of computer hardware.
As a tech tester, insightful reviewer, and skilled hardware editor, Nauman carefully breaks down important parts like motherboards, graphics cards, processors, PC cases, CPU coolers, and more.
15+ years of PC Building Experience
10+ years of first-hand knowledge of technology
7+ years of doing in-depth testing of PC Hardware
A motivated individual with a keen interest in tech testing from multiple angles.
I majored in Computer Science with a Masters in Marketing
Previously worked at eXputer, EnosTech, and Appuals.