The B450 chipset is now close to four and a half years old, but even after this time, it is maintaining a good reputation due to high value for money and CPU compatibility with the AMD latest 5000 series. B450 chipset's vast compatibility features make this a demanding motherboard; some people don't want to upgrade their CPU now but are willing to upgrade to B450 for any upgradation in the future. There is not even a single board in the market that can compete with the CPU compatibility of the B450; therefore, people are sometimes confused about finding the perfect B450 motherboard among many manufacturers with little to no difference. To cater to this problem, we extensively reviewed numerous products in the market and filtered some of the Best B450 Motherboard you can get.
Not only does the B450 have a lot of compatibility in terms of CPU, but it also is one of the most affordable while retaining all the necessary features, such as overclocking, which we don't see in the bargain boards. B450 lacks features such as PCIe Gen 4 support making it a little less attractive, but if you consider all the facts combined with the back orders and inflation jacking up all the prices, B450 gives us good compatibility with nice features, all in a perfect price point.
What Is B450 Chipset?
B450 is the chipset that can support almost all the latest 5000 series CPU to the oldest AMD CPU going back to the 1000 series generation; the newer CPU compatibility was made possible after the BIOS updates from the AMD. It supports an AM4 CPU socket, implying that you can attach almost all the AMD CPUs. B450 is the first chipset in the series that supports overclocking from the box.
There is also a big upgrade on the PCIe lanes, and it now has 24 PCIe Gen 3 lanes that can easily handle single GPU and single M.2 drive, but some manufacturers such as MSI are giving us an option to hook dual GPU in the same board. B450 has two dedicated M.2 Slots, and the SATA ports vary from four to six among different manufacturers. B450 has a new AMD technology that enables the HDD to run at SSD speeds, named AMD StoreMI technology. There is also a big upgrade of memory as the previous gen could only support a maximum of 2400 MHz compared to B450, which can support as high as 4200 MHz; some low-end manufacturers offer 3600 MHz memory support only.
The USB connectivity also got a fast upgrade as B450 now supports the USB 3.0 Gen2 that has a maximum data transfer speed of 10 Gbps. In terms of wireless, most manufacturers are offering Wi-Fi 5 (802.11ac), which only has a maximum speed of 2.3 Gbps; it is one generation older than the latest Wifi 6, which has a maximum speed of 9.6 Gbps.
Best B450 Motherboards
You cannot choose much from the AMD CPU department as AMD manufactures them personally and is updated yearly with better efficiency and a pricier tag after each release. The motherboards have a different story; many manufacturers are making their version of the chipset provided by AMD. Like other chipsets, the vendors manufacture the B450 motherboards with some differences, mattering to a lot of people because users prefer motherboards with additional capabilities like better VRM and cooling technologies.
Therefore, we have extracted the best motherboards from the market based on categories such as the overall best, high-end, best styling, and Mini ATX.
Here are the 6 Best B450 Motherboards in the market with top-notch features backing them up.
MSI B450 GAMING Pro Carbon AC

ASUS ROG Strix B450-F Gaming II

MSI B450M MORTAR TITANIUM

ASRock Fatal1ty B450 Gaming ITX/AC

GIGABYTE B450M DS3H

GIGABYTE B450 AUROS Pro Wi-Fi
MSI B450 GAMING Pro Carbon AC
Best High-End B450 Motherboard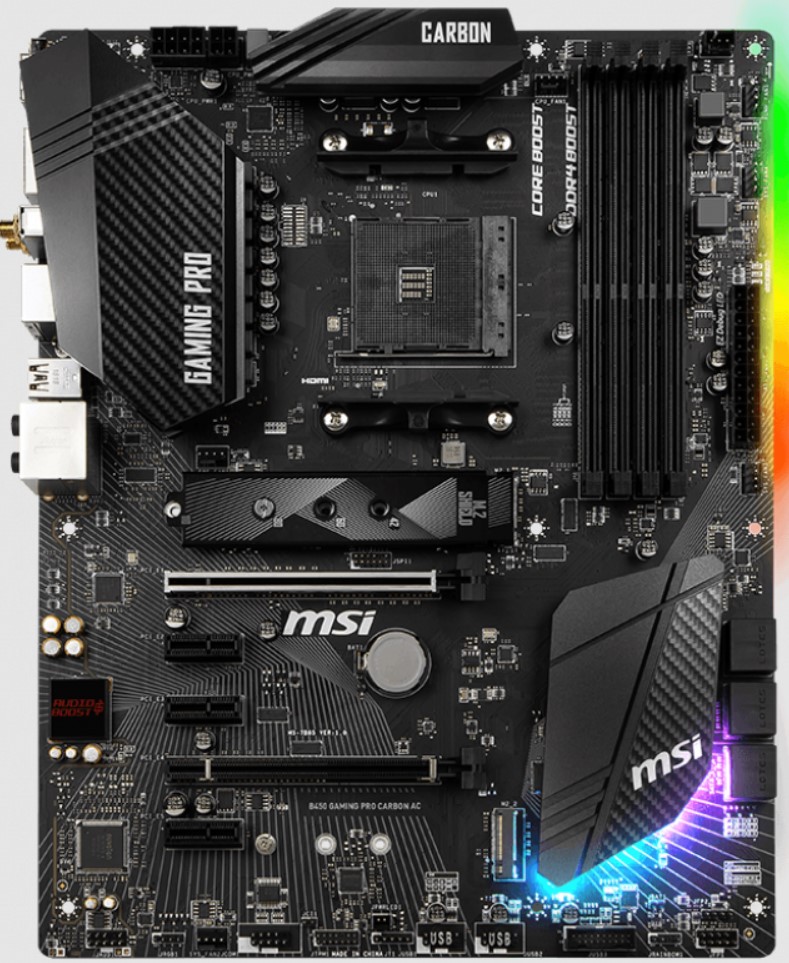 Specifications: Chipset: B450 | Memory: 4x DIMM, 128GB, DDR4-4200 | USB Ports: 12x rear IO, 6x internal | Network: 1x Intel 2.5 GbE LAN, Intel 802.11ac 9260 Wi-Fi | Storage: 2x M.2, 6x SATA
Pros
Excellent Cooling Options and Extended Heatsinks

User-Friendly ports layout

Best UEFI experience from MSI

Top-of-the-line VRM performance
Cons
M.2 block SATA ports.

High Price than other B450 in the market

RAM frequencies are not up to today's standards

Less attention to styling
AMD announced the new B450 motherboard, and just like any other series, this one also got all the manufacturers thinking if they want to make a cheap motherboard or manufacture one to give you more premium features at an average point. MSI chose the latter path when they were making B450 GAMING Pro Carbon AC hoping to satisfy the high-end buyers' demands which they were lacking before. They focused mainly on the performance leaving the overall motherboard aesthetics a little dated.
Let's talk about one of the most crucial components of a motherboard, the VRM. MSI B450 GAMING Pro Carbon AC is an exceptional choice, providing 8 Phase VRM Power Design which is among the highest VRM that comes in the B450 platform; if you are picky about the VRM performance, this one's for you.
MSI has provided a lot to play with in terms of cooling. Starting with the increased heatsink that covers PWM and VRM combined with improved circuit design on top of the fully customizable 6x 4-pin fan headers controlled by MSI software to enhance the cooling. Even if you are not satisfied with the cooling efficiency of the board, you can water cool the MSI B450 GAMING Pro Carbon AC motherboard with the help of the water pump header providing you with 2A to control the pump's speed from the BIOS or OS. A special PWM mode in the MSI PRO Carbon effectively reduces the total noise and current drawn, making the overall fan running smoother.
Regarding storage, MSI doesn't provide a lot of versatility as it comprises 2x M.2 slots for the NVMe SSDs, the fastest in the market, and 6x SATA3 ports that you can use to attach non-NVMe SSDs and HDDs. The story does not end there; if you use your primary M.2 slot, you will not be able to use two of the SATA ports, restricting more productivity out of this motherboard. The M.2 slot comprises an M.2 shield that has a thermal pad and a heat shield capable of protecting the NVMe SSDs from heat emitting from the board. MSI B450 GAMING Pro Carbon AC supports 1 x PCIe 3.0 x16 slot for GPU alongside Multi-GPU compatibility with 2-Way AMD CrossFire Technology; this technology combines the power of two GPUs and works together cohesively to provide more high-end gaming performance. It is best suited for people unsatisfied with one GPU's performance.
The multicore CPU performance is sometimes limited by insufficient power; therefore, MSI has added 8+4-pin power connectors to ensure adequate power delivery. The other connectivity ports include 1x USB 3.1 Gen2 (Type-C) port, 1x USB 3.1 Gen2 (Type-A) port, 2x USB 3.1 Gen1 port with the internal connector connection, and 6x USB 2.0 ports comprising 2x Type-A and 4x ports available through the internal connector. It does have HDMI 1.4 port running with DisplayPort 1.3 bandwidth. As far as audio drivers are concerned, MSI GAMING has the Audio Boost 4 that delivers HiFi sound, boosting the overall audio, and has the onboard NAHIMIC 3 sound mixing software to fine-tune the sound alongside a dedicated headphone amplifier.
Aesthetic and design-wise, MSI B450 GAMING Pro Carbon AC lacks a bit of illumination compared to what other companies, like GIGABYTE, offer on their motherboards. There is a Matte black color scheme all over the board with MSI and Carbon branding printed with white fonts. Although it has LEDs on the top right side of the board and four ports to connect any additional LED lightning, the overall aesthetic seems a bit dull. All Lightning can be controlled by Mystic Light, which has 16.8 million colors and 17 stock effects such as jazz, and calm.
Regarding CPU support, MSI B450 GAMING Pro supports Ryzen CPUs from Summit Ridge and Raven Ridge microprocessor series. In terms of memory, MSI has worked hard to compete with market standards as it supports dual channel 4x DDR4 slots, which can be maxed up to 128GB of RAM with a 3466 MHz frequency when overclocked. MSI added voltage regulators to the board to prevent over-voltage and over-current if any user tries to burn the board when overclocking.
MSI B450 Pro Carbon comes with Intel Dual Band Wireless-AC 9260 drivers baked onto the motherboard, which support a maximum speed of 1.73 Gbps; Dual Mode Bluetooth v4.2/v3.0 also comes alongside, which isn't the fastest but is a great addition overall to the Best High-End B450 Motherboard. If you're eager to add a Wi-Fi card to your system, MSI also installed an E key M.2 slot so you can do so. Intel gaming LAN and MSI Gaming LAN Manager further smoothen the networking to provide you with a seamless experience.
What do we like about the MSI B450 GAMING Pro Carbon AC?
If you are building a black theme PC, then MSI Gaming Pro is ideal, and it has plenty of options to add additional lighting and fans, making it ideal when customizing the PC. The option of onboard Wi-Fi, which some B450 boards lack, and wonderful audio driver support makes this motherboard one in class. MSI Carbon also has a powerful VRM alongside decent RAM frequencies supported by an increased heatsink design, making it a High-End B450 Motherboard in overclocking performance.
What do we dislike about the MSI B450 GAMING Pro Carbon AC?
Storage options to add are very limited because when you connect your primary NVMe SSD into the M.2 slot, the board will block two of the six SATA ports to ensure high speed, which is not ideal. The second thing which is don't like is the price because it is a bit pricier than the MEG and MAG motherboards, which have the same specification without the Carbon branding.
Verdict
If we ignore the price and value, the performance numbers suggest that this motherboard has a lot more potential than the pricey X470 competitors because it has the best cooling overall due to the MSI extended heat sinks over the essential parts such as VRM and PWM. The motherboard comprises wireless and audio hardware and seamless software support for all crucial components. All these packaged pros make this motherboard stand out among the Best B450 Motherboard list.
ASUS ROG Strix B450-F Gaming II
Best Overall B450 Motherboard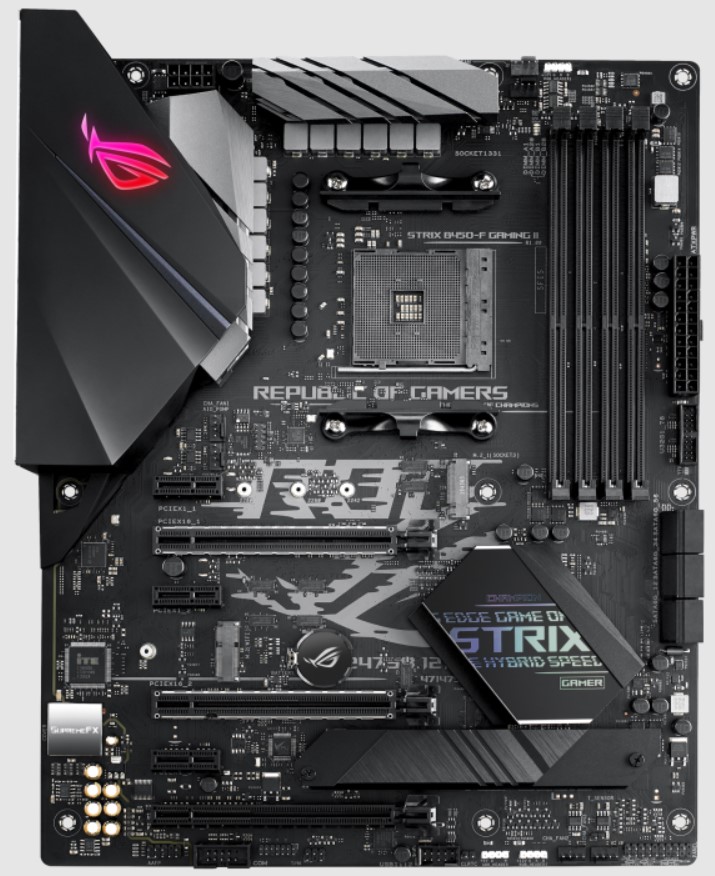 Specifications: Chipset: B450 | Memory: 4x DIMM, 128GB, DDR4-4200 | USB Ports: 12x rear IO, 6x internal | Network: 1x Intel® I211AT Gigabit Ethernet 1 Gbps LAN, No Wi-Fi and Bluetooth | Storage: 2x M.2, 6x SATA
Pros
High VRM performance

Dedicated M.2 heatsink

High Price to performance ratio

High memory frequency support

Dedicated AIO pump header
Cons
No Wifi and Bluetooth

No USB 3.0 Gen 2

Very little Styling
ASUS is the world's top motherboard producer with a market share of more than 40% and has been making motherboards for more than 15 years. They released the Strix B450-F Gaming as their mid-range board with high gaming specifications and premium features with their Republic of Gamers branding. ASUS's purpose in making this motherboard is to make a highly productive board focusing on all gaming users with not so heavy price tag.
ASUS ROG Strix B450-F Gaming II has an entry-level VRM of 8 (6+2) Power Stages VRM Design. The VRM is paired with heatsinks with a special cooling design with high-efficiency thermal pads to transfer all the heat out of VRM and processors. It does have the option to add a liquid cooler because of the dedicated AIO header on the board. The ROG Strix also features a back plate to remove residual heat from the back side of the motherboard. ASUS has added the 8+4-pin power connectors with discrete MOS alongside capacitors and chokes that can provide enough power to the more power-hungry multicore CPUs.
The styling on the Strix Gaming is based on a black theme with some grey touches all over the PCB alongside the ROG Strix logo embedded on it. ASUS ROG logo is a backlit LED that lights up in addition to two external RGB headers to hook additional lightning on the board: all of these can be controlled with the ASUS Aura RGB Software making it very convenient for customization.
As far as storage options are concerned, the ASUS ROG Strix B450-F Gaming II has 2x M.2 slots paired with the 6x SATA slots comprising 2x SATA 6Gb/s ports and 1x SATA 3Gb/s port. This board has a dedicated M.2 Heatsink to transfer the heat out of the board and give you excellent thermal performance.
Considering RAM, the motherboard comprises 4x DIMM slots supporting a maximum of 128GB Dual Channel memory running at a frequency of 4400 MHz when overclocked. In terms of connectivity with the peripheral devices, ROG Strix B450-F Gaming II features 2x USB 3.2 Gen 2 ports, 3x USB 3.2 Gen 1 Type-A, 1x USB 3.2 Gen 1 USB (Type-C), and 2x USB 2.0 ports on the IO panel. You can easily add a 4K display by connecting the HDMI 2.0 port available in the back or the DisplayPort 1.2 port.
ASUS Strix lacks any onboard Wi-Fi and Bluetooth, but it has a dedicated M2 slot for an additional Wi-Fi module. However, it has an Intel I211AT Gigabit Ethernet port for the LAN connection that can reach a maximum of 1Gbps speed.
What do we like about the ASUS ROG Strix B450-F Gaming II?
When the x470 got upgraded to x570, on its release, its motherboard prices skyrocketed, making B450 a good choice for customers. Among all the B450 motherboards manufacturer, ASUS has not compromised on the quality and given us 8 VRM power phases with a high RAM frequency of 4400 Mhz, making this board the Best B450 Motherboard. It is one of the economical ones with Republic of Gamer gaming heritage mixed in one neat package.
What do we dislike about the ASUS ROG Strix B450-F Gaming II?
There is not much to dislike in the ASUS ROG Strix B450-F Gaming II. However, it lacks all the wireless communication hardware such as Wi-Fi and Bluetooth making this board less productive in terms of wireless connectivity. This board consumes high power when you are idling, and it does not have a dedicated heatsink on the M.2 drive to dissipate the extra heat. There isn't much focus from the manufacturer on the styling that will stray away from some beauty-focused buyers. ASUS has focused more on features and performance than looks, so there isn't much to expect in the styling department.
Verdict
ROG Strix B450-F is a gaming-focused motherboard with a price tag lighter than the competitors. ASUS has maintained top manufacturing quality alongside features like robust VRM and high-frequency memory that is only expected in more expensive B450 boards making this a perfect choice for those who want premium features at a good price point. The only downside to this motherboard is no Wi-Fi, and if you consider all the above performance factors, this is the Best Overall B450 Motherboard In 2022.
MSI B450M MORTAR TITANIUM
Best White B450 Motherboard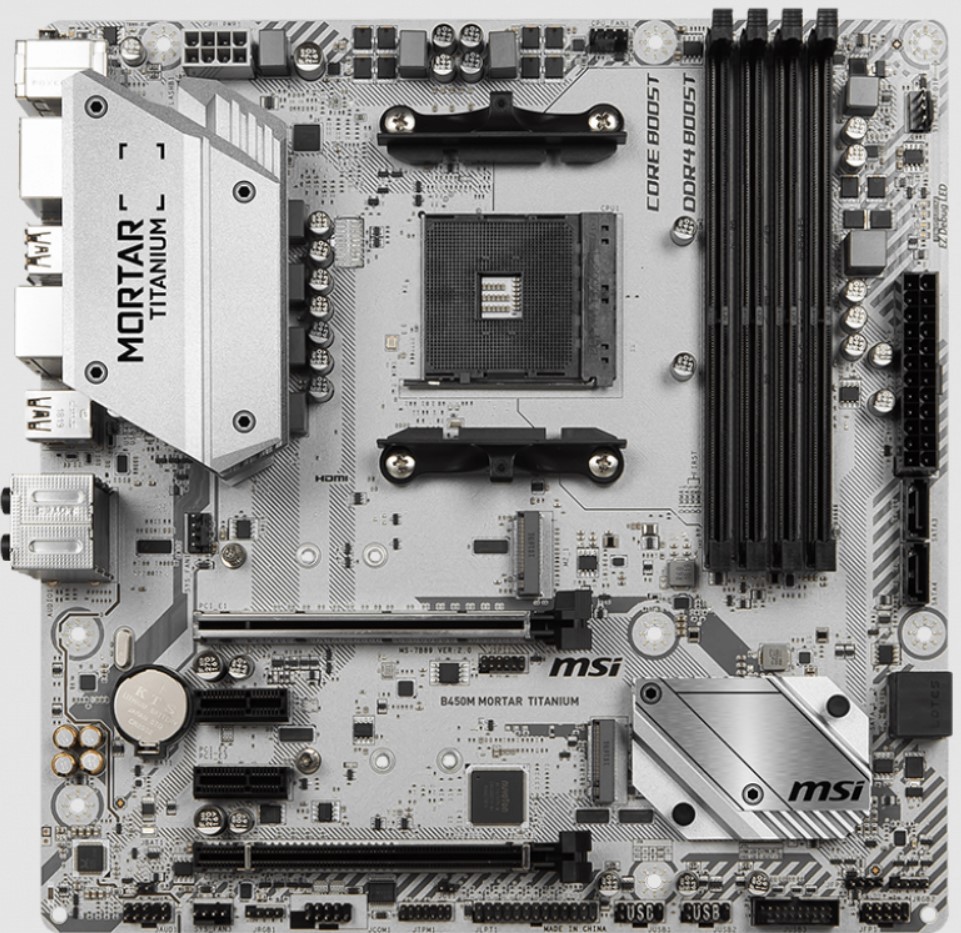 Specifications: Chipset: B450 | Memory: 4x DIMM, 128GB, DDR4-3466 | USB Ports: 8x rear IO, 6x internal | Network: 1x Realtek® 8111H LAN, No Wi-Fi and Bluetooth | Storage: 2x M.2, 4x SATA
Pros
Astonishing Looks.

High-quality audio setup.

Amazing software experience.

Integrated RGB with MSI Mystic Light utility.

Broad connectivity options.

Excellent software support.
Cons
Maximum supported RAM frequency could be better.

No Wi-Fi or Bluetooth.

Lower VRM design.
MSI is one of the few companies with numerous products that you could feature in a list. They have been making motherboards for a long time, and recently they have released the MSI B450M MORTAR TITANIUM, focusing mainly on aesthetics with their specialized Titanium Silver theme.
MSI MORTAR has a very low VRM of 6 (4+2) Power Phases, but a fully digital power design allows the CPU to run at optimal performance. Compared to other motherboards VRMs, 6 Phase VRM isn't the most powerful, implying that you may take a hit on performance comparatively.
MSI has opted for their extended Heatsink Design in this motherboard that cover all the essential component such as VRM and processor, and it has a four fans header on the board to add any other fans of your choice. MSI has also provided us with Heavy plated gaming heatsinks that make the thermal performance of this board even more efficient.
With its Titanium Silver, and White Color theme, MSI B450M MORTAR TITANIUM looks quite good among other B450 boards, and if you match the theme with the case and the GPU, your PC can attract a lot of attention. To light this beautiful board, MSI has added Mystic Light which has different RGB modes such as Breathing, Flashing, and Jazz.
MSI TITANIUM has two M.2 ports, one of which can deliver a speed of up to 32Gb/s due to MSI Turbo M.2 technology. It also has four SATA ports that can independently support 10TB drives on each port. In terms of RAM, MORTAR can support 128 GB of DDR4 memory with a maximum bandwidth of 3466 MHz. MSI has also given us one USB 3.1 Gen 2 port, a treat on a B450 board.
For connecting peripheral devices, the B450 MORTAR TITANIUM comprises 6x USB 2.0 ports and 8x USB 3.1, out of which 6x USB 3.1 are Gen 1 Type-A ports, 1x USB 3.1 is Gen 2 Type-A, while the last USB 3.1 is a Gen 2 Type-C port. There is no Wi-Fi and Bluetooth hardware in the MORTAR; the only way to connect to the outside world is through the Realtek RTL8111H-CG Gigabit LAN controller, which helps you to connect to the Internet using the Ethernet.
MSI MORTAR TITANIUM offers Realtek® ALC892 Codec for an immersive sound experience at all times. The MSI Audio Boost greatly enhances the sound quality by using premium components to deliver top-tier audio performance; now enjoy astounding audio for a sensational gaming experience with the MSI TITANIUM.
The B450M MORTAR is also equipped with a dedicated gaming port for gaming peripherals, designed for the hardcore gamers to whom even the minute detail matters. This dedicated port uses 3x more gold for better connectivity and delivers amazing responsiveness with pinpoint accuracy. Thanks to the Mouse Master software, you can easily customize the settings of high-end gaming mice to take advantage of their features fully. MSI Game Boost allows speedy overclocking of your CPU and memory module to give you the performance you need.
Using multiple GPUs for gaming has always been a question, but MSI answers that; now, gaming enthusiasts looking for that ultimate gaming experience can use MSI's multi GPU technology to achieve jaw-dropping performance results.
The MSI TITANIUM has a few additional features, one of which would be an EZ Debug LED that will light up to indicate the source of the problem so you know precisely where to check. Overvoltage protection protects the motherboard from electric surges and prevents short-circuiting and damage to critical components. Such features are beneficial to have and add to the user experience.
What do we like about the MSI B450M MORTAR TITANIUM?
The overall unique silver-white color of MSI MORTAR makes it stands out in conjunction with MSI Mystic Light which can produce 16.8 million colors from the RGB lightning. MSI TITANIUM also has Core Boost to extract the maximum performance out of the Ryzen Processors supported with MSI's top-of-the-line thermal performance making this the a really great B450 Motherboard.
What do we dislike about the MSI B450M MORTAR TITANIUM?
First, the VRM offered on this board is very low compared to other B450 available in the market. Next, there is no Wi-Fi and Bluetooth on this board, making this less productive and more cable mess to deal with. The maximum supported bandwidth of the RAM is quite low, as this will hurt the overall gaming performance and overclocking.
Verdict
Styling and aesthetics-wise, MSI MORTAR is a perfect package with all the performance and beauty aspects. The thermal design by MSI is also good enough to support all heavy gaming tasks. If you are looking for Best White B450 Motherboard, then MSI B450M MORTAR TITANIUM is the perfect choice among all the B450 boards on the market.
We also recommend getting a White CPU Cooler & White PC Case alongside to complete the build.
ASRock Fatal1ty B450 Gaming ITX/AC
Best B450 Mini ATX Motherboard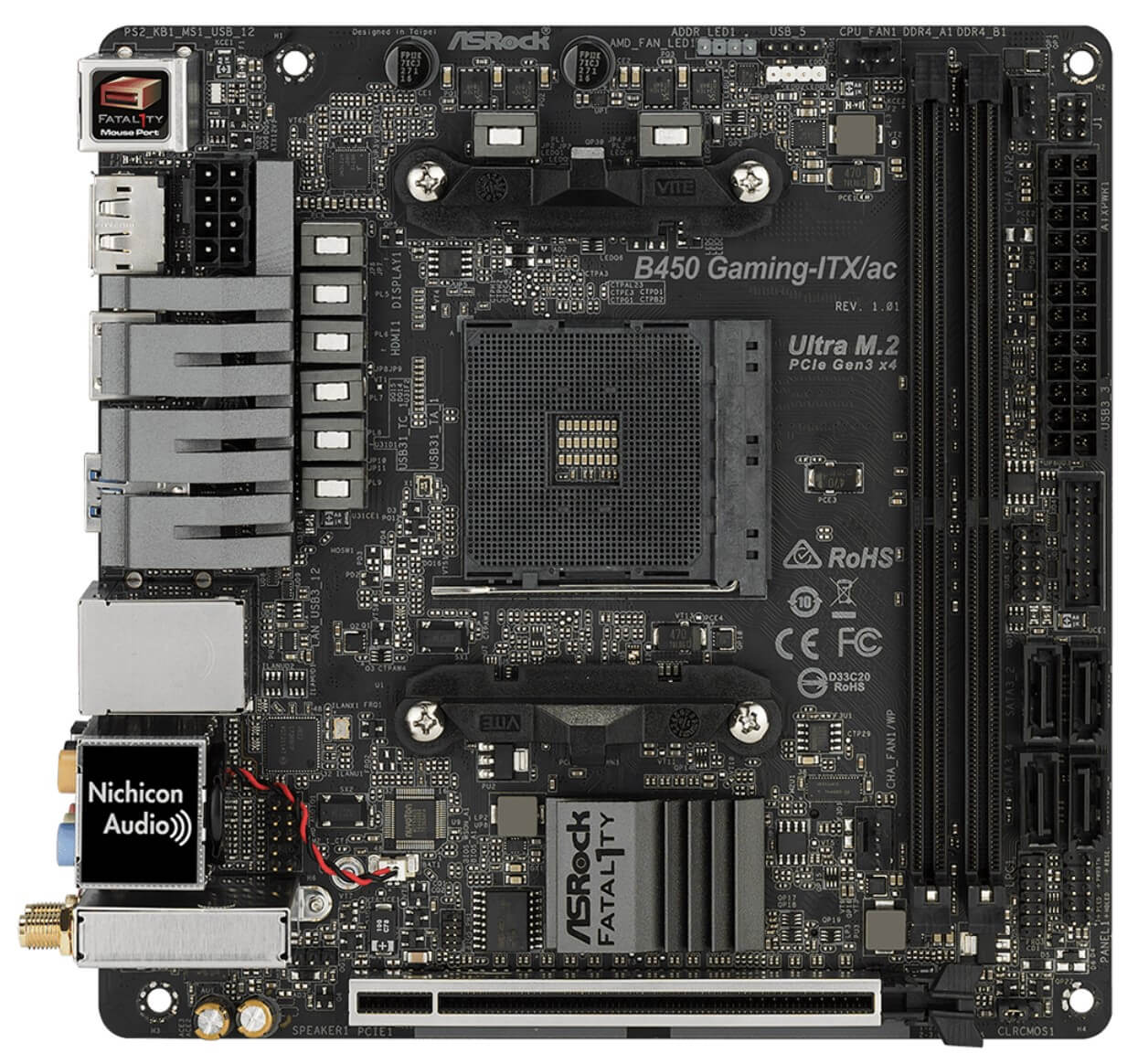 Specifications: Chipset: B450 | Memory: 2x DIMM, 32GB, DDR4-3466 | USB Ports: 6x rear IO, 4x internal | Network: 1x Intel I211AT Gigabit LAN Intel 3168 802.11ac Wi-Fi and Bluetooth 4.2 | Storage: 1x M.2, 4x SATA
Pros
Great audio setup.

F-Stream utility.

Good VRM design.

Fast Wi-Fi and Bluetooth.

Small form factor.

Good overclocking potential.

Excellent software support.
Cons
Support for maximum RAM frequency is less.

Only one M.2 slot

USB ports are not enough.
We have seen a lot of mini motherboards released in the market that lack the features that the big motherboards offer; ASRock filled this gap after the release of Fatal1ty B450 Gaming-ITX/ac, which has all the overclocking features of the big boards while retaining the small size.
Fatal1ty has an 8 (6+2) Power Phases VRM design with Dual-N MOSFET that can extract good performance from the AMD CPU. There are bigger Heat Sinks on this board, plus a Water Pump Header if you want to customize it to run on water cooling rather than air cooling. ASRock has added two fan headers on top of the Water pump header, meaning it has enough ports to run all your fans and ultimately cool off your PC.
You cannot say much about the styling as this board doesn't have the aim to be pretty and satisfy anyone on the looks. It has an overall black theme with ASRock Fatal1ty branding engraved on the heatsinks. ASRock has provided Polychrome RGB software to control all the external RGB lightning hooked onto the board.
You can expand your storage with the help of one M.2 port (32Gb/s) that is limited by size and has four SATA ports (6Gb/s). In terms of RAM, ASRock has 2x DIMM slots supporting 32GB RAM with a maximum supported frequency of 3466 MHz. The ASRock Fatal1ty uses a variety of USB ports, including 2 x USB 2.0 Ports, 1x USB 3.1 Gen2 Type-A Port (10 Gb/s),1x USB 3.1 Gen2 Type-C Port (10 Gb/s). There's also a 1x USB 2.0 Header and 1x USB 3.1 Gen1 Header; both internal USB headers support USB ports each; all the USB ports of Fatal1ty support ESD protection for extra longevity. Wireless connectivity is good among all the micro ATX boards and has Intel 3168 802.11ac (433mb/s) Wi-Fi with Bluetooth support of v4.2.
The ASRock Fatal1ty lets you experience a new world of cinematic audio with Realtek ALC1220 Audio Codec and delivers realistic and dynamic audio for a mesmerizing gaming experience. The Reality 3D technology lets you enable 5.1/7.1 stereo sound with just a headphone or stereo speakers while either playing games or video streaming.
The Fatal1ty B450 Gaming is constructed with high-quality PCB and a 2oz thickened copper inner layer, increasing conductivity, improving heat dissipation, and delivering higher energy efficiency for overclocking. On top of that, the PCB is composed of highly dense Glass Fabric that minimizes the gap between the PCB layers and protects it from short circuits caused by humidity. Moreover, the PCI-E slot is covered with steel armor that prevents interference with GPUs and ensures that heavy graphic cards remain safely installed on the motherboard without damaging it.
One of the highlights of ASROCK Fatal1ty B450 Gaming is the F-Stream software that comes with it. The F-Stream is a multi-purpose tuning program that supports overclocking, hardware tunings such as power consumption, H/W monitor, convenient fan control, and much more.
What do we like about the ASRock Fatal1ty B450 Gaming ITX/AC?
Keeping in mind the micro size of the Fatal1ty B450, it has exceptionally good CPU performance with the option of overclocking, which the external water pump can support. The RAM frequency of 3466 MHz it supports is also very decent in the Mini ATX board category. Considering all the factors above, we can safely say that ASRock Fatal1ty is the Best B450 Mini ATX Motherboard in the market.
What do we dislike about the ASRock Fatal1ty B450 Gaming ITX/AC?
ASRock has only given us one M.2 slot, which is also limited by the total size of the disk you can hook, meaning that they have only given one slot, and even that slot is not capable of running a bigger SSD such as 1TB. Also, some users find the USB ports not enough to satisfy their needs which is also not good.
Verdict
If you are buying Fatal1ty B450 Gaming ITX/AC for its size, the feature that Fatal1ty offers in the Mini ATX series is the best in class, with some overclocking and gaming capabilities. Overall, this board is revolutionizing what you can expect from the Mini ATX series, which was lacking even the basic features like wireless features and many more.
GIGABYTE B450M DS3H
Best Budget B450 Motherboard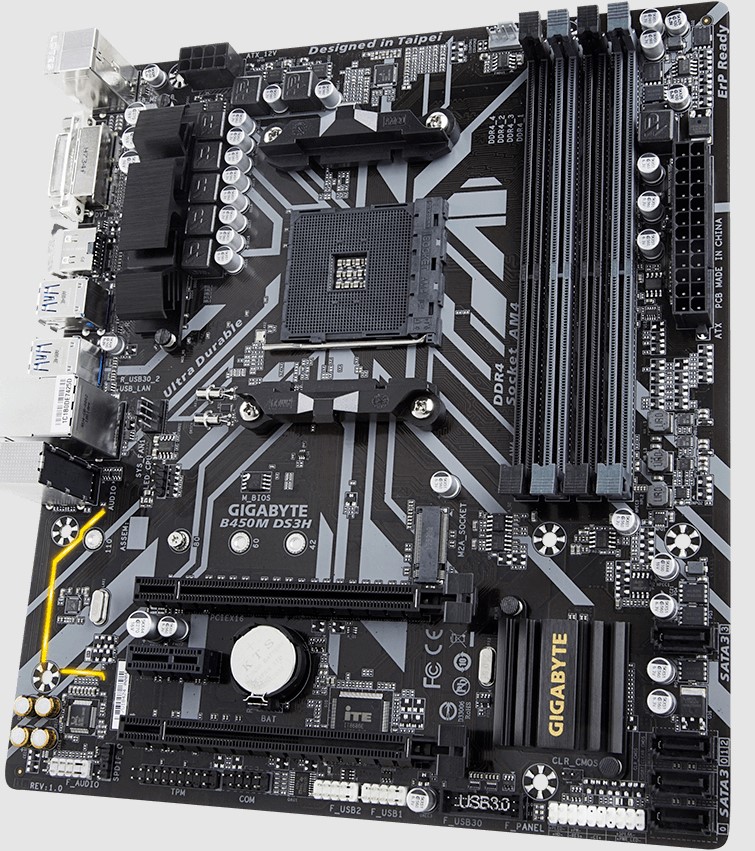 Specifications: Chipset: B450 | Memory: 4x DIMM, 128GB, DDR4-3600 | USB Ports: 8x rear IO, 6x internal | Network: 1x Realtek® GbE LAN, No Wi-Fi and Bluetooth | Storage: 1x M.2, 4x SATA
Pros
Ultra-durable.

Numerous protection features.

Decent RAM speed.

Great audio setup.

Excellent software support.

Extremely affordable.

A lot of USB ports.

Hybrid fan headers.

Fan headers are present at various locations.
Cons
No Wi-Fi and Bluetooth.

Lack of Type-C port.

Lower VRM design.

Only 1x M.2 slot.
GIGABYTE has ruled the PC industry for a long time, along with its top competitors, ASUS and MSI. No PC builder is unfamiliar with the name GIGABYTE; they have made their mark in the hearts of their audience through their dedication to manufacturing top-of-the-line products for people all across the globe. GIGABYTE is renowned for its amazing graphics cards, laptops, desktop computers, monitors, motherboards, and other DIY hardware. GIGABYTE once again proved itself with the GIGABYTE B450M DS3H, which has everything going for it to be the Best B450 Motherboard. Let's dive into the specifics without further ado and see why it deserves that title.
With the B450M DS3H, GIGABYTE went with the features instead of focusing on looks. The motherboard looks pretty standard with an all-black PCB and some roughly printed grey lines all across the PCB. There are no integrated RGB lights; perhaps it was done to keep the cost as low as possible and make this board affordable for everyone.
The GIGABYTE B450M DS3H utilizes Realtek Audio Codec to deliver high-quality sound resolution and sound expansion for hardcore gamers so that you can have a realistic gaming experience. GIGABYTE uses high-end audio components with Audio Noise Guard and LED Trace Path Lighting to eradicate distortion and ensure that audio is always clear.
Moisture is one of the biggest enemies of any motherboard as it severely reduces its lifespan; GIGABYTE came up with a new Glass Fabric technology for its PCBs so that humidity is never a problem. The all-new Glass Fabric PCB technology minimizes the space between the fiber weave, making it much more difficult for moisture to penetrate than traditional motherboard PCBs, thus shielding the motherboard from any kind of electrical damage caused by moisture and humidity.
GIGABYTE B450M DS3H uses a 7(4+3) phase hybrid digital VRM with lower RDS(on) MOSFETs on the PCB, which saves energy and reduces unnecessary heat dissipation; thus reducing the power consumption without affecting the system's performance.
GIGABYTE B450M DS3H features a solid plated 1x 24-pin ATX and 1x 8-pin ATX 12V power connector for providing a stable power supply throughout the board. These solid-pin power connectors offer a larger contact area for electricity and are much more durable than their standard counterparts.
GIGABYTE equipped the B450M DS3H with Smart Fan 5 technology, so your gaming PC maintains its performance while keeping the temperatures as low as possible. The Smart Fan 5 lets users switch their fan headers to read different thermal sensors across the motherboard. On top of that, the Smart Fan 5 features hybrid fan headers that not only support PWM fans but can also carry Voltage mode fans; it receives flow-rate information in real-time through the hybrid fan headers, giving you full control over your liquid-cooled setup. Furthermore, all hybrid fan headers can automatically detect the type of connected cooling device, whether a fan or a pump.
GIGABYTE also incorporated Fan Stop technology in the B450M DS3H, with which you can map any fan to completely halt its operations when temperatures drop below a specified threshold. It greatly reduces the unnecessary fan noise and allows you to work in a quiet environment when the PC is not under heavy load.
The GIGABYTE B450M DS3H can hold a maximum of 4x DDR4 memory modules of up to 128GB with a maximum of 3600 MHz frequency. GIGABYTE's M.2 solution offers faster storage performance with NVMe PCIe Gen3 110mm M.2 (Up to 32 Gb/s) and supports SATA interfaces. The DS3H comes with 1x M.2 slot and 4x SATA slots to connect some hard drives for more storage capacity.
Moreover, the GIGABYTE B450M DS3H supports an industry-leading Realtek GbE LAN utility with cFosSpeed, that boosts network latency and maintain low ping for better responsiveness in congested LAN environments.
The GIGABYTE B450M DS3H also offers a good range of USB ports to connect your devices. It has 6x USB 3.1 Gen 1 and 8x USB 2.0 ports; 2x USB 3.1 and 4x USB 2.0 ports are through the internal USB headers, while the rest are on the back panel.
GIGABYTE does not compromise on its motherboard's integrity and utilizes as many protection features as possible in the B450M DS3H. They equipped the resistors with an anti-sulfur design to protect the motherboard from sulfur compounds present in the air and create an ultra-durable motherboard. Moreover, the B450M DS3H motherboard utilizes ICs with three times the electrostatic discharge resistance levels compared to traditional ICs, thus helping to protect the motherboard and all components against potential damage caused by static electricity.
We always welcome any extra features that brands like GIGABYTE implement in their products, and the same goes for the B450M DS3H motherboard. First, with the RGB fusion, you can customize your gaming rig; the DS3H supports RGB light strips in 7 different colors to make your system look spectacular. Moreover, GIGABYTE offers a great software experience with its motherboards; with the purchase of DS3H, you get access to the GIGABYTE APP Center that allows you to navigate a range of GIGABYTE apps to get the most out of your motherboard. With the GIGABYTE APP Center, you can check related updates online and download the latest drivers and BIOS.
What do we like about the GIGABYTE B450M DS3H?
At just around $70, GIGABYTE B450M DS3H packs a punch with all its amazing features. It's great to see GIGABYTE stack up the DS3H with so many features at a price that is affordable for many PC gamers across the world.
The B450M DS3H shows great RAM speeds of up to 3600 MHz; it may not be the best, but we cannot ask for more at that price. On top of the 1x M.2 slot, it also offers 4x SATA ports enabling users to have larger storage capacity on top of faster transfer speeds. The USB ports are also present in ample amounts, six of which are USB 3.1, while the rest are USB 2.0.
The Fan Stop technology is wonderful to have that will keep the noise levels low most of the time. It's also great to see fan headers at various locations across the board; that makes fan configuration much more convenient.
What do we dislike about the GIGABYTE B450M DS3H?
GIGABYTE did a wonderful job on the B450M DS3H, but we feel like the VRM offered on this board is low as compared to some other B450 motherboards on the price, but a higher VRM would have brought the price up, so a 7-phase VRM design is also not that bad. But, the lack of Wi-Fi and Bluetooth seems more problematic and could prevent some of our audience from looking into this motherboard. Also, no type-C port comes with the motherboard, which could be an issue for some users. Moreover, we only get to see one M.2 slot in the B450M; it would have been better to see at least two M.2 slots for those who want more fast storage option.
Verdict
If Wi-Fi, Bluetooth, and Type-C port are not a big deal for you, then B450M DS3H might just be the right option for your gaming rig. At around $70, the GIGABYTE B450M DS3H offers a lot and deserves the Best Budget B450 Motherboard title.
GIGABYTE B450 AORUS PRO Wi-Fi
Best B450 Wi-Fi Motherboard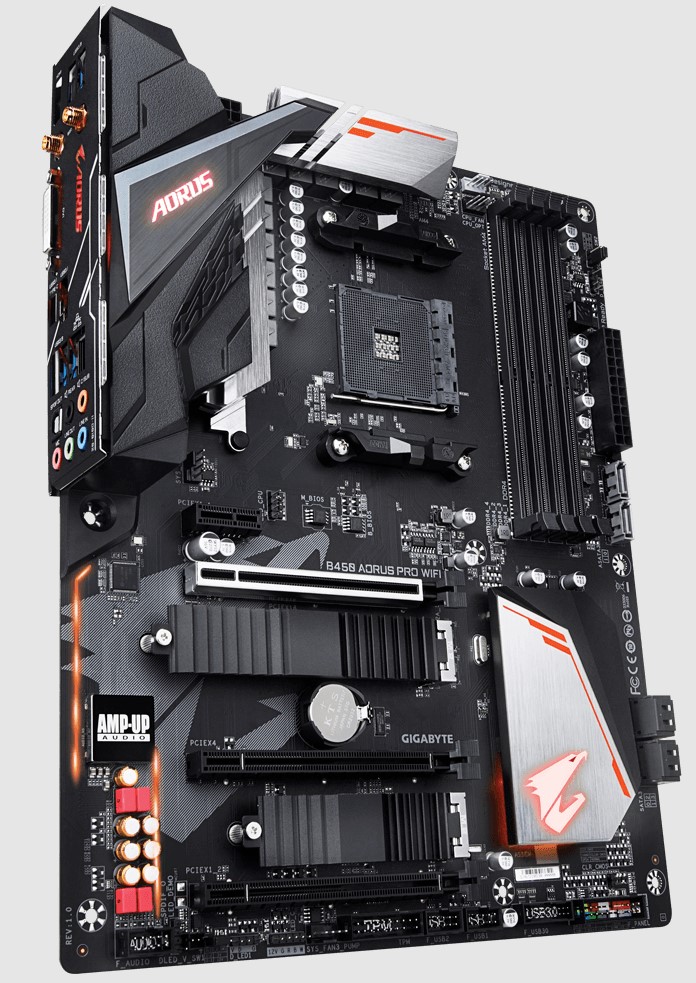 Specifications: Chipset: B450 | Memory: 4x DIMM, 128GB, DDR4-3600 | USB Ports: 6x rear IO, 6x internal | Network: 1x Intel® GbE LAN, Wi-Fi 802.11 a/b/g/n/ac, Bluetooth 4.2 | Storage: 2x M.2, 6x SATA
Pros
Excellent Wi-Fi technology.

Great RAM speeds.

Value for money.

Good audio enhancements.

Amazing software experience.

Integrated RGB.

Wide range of connectivity options.

6x Hybrid fan headers.
Cons
Low overclocking potential.

Primary M.2 is located right beneath the GPU.

Low VRM design for the price.
GIGABYTE relentlessly tries to overcome the market with its premium yet affordable products, so don't be surprised to see GIGABYTE again on this list. It is not an easy task to be featured on our competitive listing more than once, but it's only fair to include another one of GIGABYTE's amazing products in this skirmish for the Best B450 Motherboard. Many B450 motherboards neglect Wi-Fi or Bluetooth options, but for our audience who require fast Wi-Fi, we decided to include GIGABYTE B450 AORUS PRO Wi-Fi, so you don't miss out on anything.
Upon unboxing, the B450 AORUS PRO stands before us with its striking looks and exemplifies the ferocious talons of a falcon. The B450 AORU PRO looks amazing with a black body and a touch of silver; it fully takes advantage of the RGB Fusion 2.0 and allows users to control onboard and external RGB light strips for their PC. You can customize all RGB lights with a range of patterns, styles, and illuminations; it features nine amazing patterns with various speed settings and gives you complete control over the looks of your gaming PC.
The GIGABYTE B450 AORUS PRO Wi-Fi offers a 4+3 hybrid digital VRM paired with low RDS(on) MOSFETs and shows precision in supplying power to the motherboard's most power-hungry components, and offers improved system performance. The low RDS(on) MOSFETs optimize the gate charge to minimize switching losses and provide better thermals in a smaller package.
Moreover, the B450 AORUS PRO Wi-Fi houses dual NVMe M.2 PCIe SSDs, to provide storage flexibility and super-fast transfer speeds. Both M.2 slots allow convenient RAID configuration for up to 42% performance boost compared to a single M.2 SSD with no RAID configuration. The B450 AORUS PRO also offers 6x SATA ports for connecting conventional hard drives and increasing storage capacity. On top of that, to keep M.2 drives cool and breezy, GIGABYTE also provides an M.2 thermal heatsink; the M.2 thermal guard prevents M.2 devices from thermal throttling by quickly dissipating heat before it creates any problem. In addition to M.2 slots, B450 AORUS PRO comes equipped to accommodate 4x DDR4 DIMM modules of up to 128GB with a maximum of 3600 MHz frequency; you can also overclock the 3600 MHz for improved memory performance.
The B450 AORUS PRO Wi-Fi has Smart Fan 5 technology to ensure that your gaming PC retains maximum performance while operating at the lowest possible temperatures. The Smart Fan 5 has hybrid fan headers supporting PWM and Voltage mode fans. By switching between these fan headers, users of the Smart Fan 5 can read multiple temperature sensors from various places on the motherboard.
The Smart Fan 5 also gets the second flow-rate data through the hybrid fan headers, offering you complete control over your liquid-cooling system. On top of that, the hybrid fan headers can automatically detect the type of hardware attached to it.
The GIGABYTE B450 AORUS PRO Wi-Fi also showcases a pre-installed I/O shield, which not only makes your PC ultra-durable but also helps in making the installation process a lot easier. The I/O panel features 1x USB 3.1 Gen 2 Type-C port, 4x USB 3.1 Gen 1 Type-A, 1X USB 3.1 Gen 2 Type-A, along with a 2x SMA antenna connectors, 1x HDMI port, 5x audio jacks, 1x DVI-D port, 1x RJ-45 port, and 1x optical S/PDIF Out connector. Moreover, you will also find 2x USB 3.1 Gen 1 and 4x USB 2.0 ports through the internal USB headers.
Regarding audio enhancements, the B450 AORUS PRO Wi-Fi impresses us with its premium all-new Realtek high-end HD Audio Codec. The ALC1220 120dB(A) SNR HD Audio paired with the built-in smart Headphone Amp greatly improves audio clarity by preventing issues such as audio distortion and low volume. The B450 AORUS Pro also utilizes new VB series audio controllers to stream your voice to any corner of the world with both front and rear microphones SNR. The microphone amplifies your voice to allow others to hear you more clearly, diminishing the chances of any misunderstandings or confusion.
Moreover, the AORUS motherboard boasts state-of-the-art technology to provide rich sound in the bass and clearer audio frequencies. It uses a combination of high-grade WIMA FKP2 capacitors and Chemicon audio capacitors to form an ideal onboard audio system for hardcore audiophiles.
A solid-plated 24-pin ATX and an 8-pin ATX 12V power connector are included with the GIGABYTE B450 AORUS PRO to provide a consistent power supply to the motherboard. These solid-pin power connectors are substantially more robust than their ordinary counterparts and offer more metal quantity for better sustaining heat and higher electric currents.
Let's discuss the networking solutions incorporated in the GIGABYTE AORUS PRO Wi-Fi. The onboard Intel 802.11ac Wi-Fi module supports dual band and transfer speeds of up to 433 Mbps and 3x faster Wi-Fi speed than 802.11n, enabling lag-free gaming, speedy file transfers, and high-resolution video streaming. On top of the high-end Wi-Fi module, the AORUS PRO also supports Bluetooth v4.2, which is always good to have. Additionally, the AORUS PRO features a high-speed Intel GbE LAN utility with cFosSpeed, which lowers ping and increases network latency for improved responsiveness in LAN scenarios with high network traffic.
The B450 AORUS PRO also features Fan Stop technology, just like the B450M DS3H, which enables you to program any fan to stop operating when temperatures fall below a set threshold. It greatly reduces unnecessary fan noise and provides a peaceful gaming experience without distractions.
The Smart Fan 5 technology in the B450 AORUS PRO comes with a new Smart Fan 5 software and allows you to customize each fan to operate at different speeds according to any defined temperature source input; you can now customize fan curves based on specific temperatures with the intuitive graphical UI. Apart from Smart Fan 5 software, the B450 AORUS PRO Wi-Fi also supports RGB Fusion 2.0 software, so you can easily customize all your RGB lights conveniently and sync them with just one click.
What do we like about the GIGABYTE B450 AORUS PRO Wi-Fi?
The GIGABYTE B450 AORUS PRO makes us fall in love with its stunning and eye-catching aesthetics. On top of that, its excellent RAM performance, high-speed Intel GbE Ethernet, and Wi-Fi 802.11 technology paired with Bluetooth 4.2 makes it one of the top B450 Motherboard.
The B450 AORUS PRO boasts so many exciting features at such an amazing price that it makes us want to get it immediately. It proudly presents a top-quality sound system with ALC1220 120dB(A) SNR HD Audio. On top of that, it offers an excellent software experience with Smart Fan 5 software, RGB Fusion 2.0, and GIGABYTE APP Center. On top of everything, the Fan Stop technology sweetens that whole deal.
Moreover, 6x hybrid fan headers allow you to equip your ultimate gaming build with the ultimate cooling solutions, so heat is never an issue for you; also, the Fan Stop technology is like icing on the cake on the whole deal.
What do we dislike about the GIGABYTE B450 AORUS PRO Wi-Fi?
The B450 AORUS Pro has so much going for it that it becomes strenuous to notice any of its limitations, but for the sake of our readers, we should mention a few things. Firstly, the overclocking capability of this motherboard is severely limited due to its hardware and software implementation. Also, the primary M.2 slot is located right beneath the GPU spot, which may not only be the hottest location to place an M.2, but it is also inaccessible without removing the GPU first, so just keep that in mind before making a purchase.
The VRM design of the B450 AORUS PRO Wi-Fi comprises only seven power phases; although it's not that bad, GIGABYTE should have included a high-quality VRM design at that price.
Verdict
The GIGABYTE B450 AORUS PRO Wi-Fi may not be the cheapest B450; considering all of its features and utilities, we would say it's definitely worth the price and is easily recommendable to anyone looking for the Best B450 Wi-Fi Motherboard.
How We Choose The Best B450 Motherboard
Choosing a motherboard is never easy; several factors must be considered before deciding which one would be perfect for you. To make things easier for you, we compiled this Best B450 Motherboard guide with all the deciding factors mentioned below in mind so that you can build the PC of your dreams.
Chipset
The B450 motherboards are only compatible with AMD processors, specifically, those that fit in its AM4 sockets like the AMD Ryzen 1000, 2000, 3000, 5000, or AMD's Athlon series processors. So, if you have a processor from those series, you can choose any of the motherboards featured in this list. If you have any other processor, then first make sure the processor is compatible with that B450 motherboard before making a purchase.
Form Factor
Motherboards come in various sizes, from the largest ATX motherboards to the smallest mini-ITX motherboards. Choosing the right size for your build is important so you can manage available space more efficiently.
We included motherboards of most of those various sizes to make this guide appealing to a broad range of audiences and cater to their needs. If you want a smaller setup, with a small case that you can put on your desk, then perhaps mini-ITX motherboards will be your best option.
But, if the size is not a problem, then ATX motherboards will be the best choice for you, as they have the greatest functionality and many more features compared to smaller-sized motherboards, but make sure your chassis can hold ATX motherboards before buying them.
VRM
VRMs (Voltage Regulator Modules) can be regarded as the powerhouse for your CPU. VRM is a critical ingredient for your CPU to perform at its full potential and give you good overclocking capability. VRM ensures your CPU and other motherboard components like RAM and slots on the circuit board receive power from PSU and a steady usable voltage. So, choosing a better VRM design for your motherboard is very important, especially if you are an overclocking enthusiast.
We included motherboards with average to great VRM designs, as the better VRM designs come with a price tag that not everyone might be able to afford. So, buy a motherboard with a good VRM design and more power phases if you want to push your processor to its absolute limits.
Connectivity
Before going for a motherboard, first, you need to decide what you want in your motherboard; the motherboard should have connectivity options per your requirements; from the number and type of USB ports to M.2 slots and SATA, everything matters. Our selection of motherboards has a great range of connectivity options; choose what suits you the best.
RAM and Expansion Slots
Expansion slots, also known as PCIe slots, are used to connect with large external devices like GPUs. If you want to equip your rig with a dedicated graphics card, the motherboard you should look for should have at least one x16 PCIe 3.0 or 4.0 slot.
RAM is also critical to running your PC; you should consider how much RAM you will need and what frequency. The B450 motherboards support RAM frequencies up to 4200 MHz so that you can take advantage of high-frequency RAM modules. If you have made up your mind on how much memory you want, check for the number and rating of DIMM slots, as some motherboards with two DIMM slots support up to 64GB of memory, while others with four DIMM slots go up to 128GB.
B550 Vs B450
B450, as well as B550, were the most popular motherboard chipset of their time. AMD released B450 in March 2018 and B550 about two years later in June 2020 as the successor of the B450. There's no comparison between these motherboards as one is the successor of the other; therefore, B550 will be better than the B450 motherboards. But for the sake of our audience, let's see how they rack up against each other.
B450 takes the win for the compatibility as it supports all AMD CPUs from 1st Gen, 2nd Gen, 3rd Gen, and with BIOS update 5000 CPUs compared to the newer B550 that only supports the latest versions of AMD 3000 and 5000 CPUs. As B550 is a newer motherboard from AMD, giving compatibility only to newer CPUs or maybe is a failed effort to force people to shift to newer CPUs from AMD.
Different manufacturers offer different memory support; therefore, their performance varies accordingly. B450 motherboards offer memory support starting from 3200MT/s; likewise, B550 motherboards support memory starting from 4600MT/s and going upwards of 5400MT/s, ultimately supporting decent overclocking speeds.
B550 overclocking abilities are also enhanced by the ability to support PCIe 4.0, which was impossible if we only relied on B450 PCIe 3.0, which is half as fast as the B550. If you are buying B450 only to overclock, this is not the right choice considering the PCIe and RAM frequency speeds.
The Wi-Fi and LAN connectivity is perfect in B550, supporting 2.5 Gbps, and Wi-Fi 6, which can go as high as 10Gbps; perfect if you need high speed for transferring data wirelessly. B450 lacks Wi-Fi and LAN department as it only supports 1Gbps for LAN and has Wi-Fi 5 capable of handling only 3.5Gbps.
If you're interested in knowing more about B550 Motherboards, check our article comprising the Best B550 Motherboard.
If we conclude what we said above that the main difference between both motherboards is the PCIe Gen 4 support for the B550 capable of handling high data transfer speeds and big overclocking potential due to the high RAM frequency support. Overall, B550 is the best option if you are looking for heavy usage. However, if money will be an issue for you, then definitely go for B450 because it can support older CPU models for the AMD.
B450 Vs X470
The B450 and X570 release dates coincide as both were released in March 2018 by AMD, and to be honest, they are a little dated in the current hardware market that is evolving rapidly. In terms of processor compatibility, both chipsets support AM4 socket processors, meaning they can support any of the latest AMD 5000 processors.
The X470 motherboard has four more SATA 3.0 ports and PCIe lanes than B450. In terms of VRM, different manufacturers offer different VRM in their models. Because X470 is priced slightly higher, it can have better VRM designs because of the more capital invested in manufacturing the board.
The X470 can support four more USB 3.0 ports than the B450, and the rest of the USB ports are the same in both motherboards. B450 has faster onboard Wi-Fi with a speed of 433 Mbps compared to 150 Mbps of X470, which uses older 802.11n Wi-Fi hardware.
You can do overclocking in both the motherboards as they are overclocking unlocked by the manufacturer, improving the overall user experience. The X470 motherboard is generally priced higher than the B450, which is more budget-friendly and more for the consumer who wants good features in the low price range.
X570 Vs B450
There is no comparison between B450 and X570 motherboards, as X570 is the latest addition to AMD's X series, and B450 has been released for over four years. Both motherboards support the latest CPUs from the AMD with an AM4 socket; B450's compatibility with the latest CPUs is made possible by the much-needed BIOS update. The only difference between the two is that B450 doesn't support some newer versions of the Ryzen 5000 because of how old it is; keep this in mind when you are planning to buy the B450.
The X570 has more PCIe express lanes than the B450, meaning that it can hold more high-speed storage devices simultaneously, and the PCIe version supported by X570 is the newer 4.0 compared to the 3.0 of the B450. The X570 supports two PCIe 4.0 x16 to attach the GPU compared to the one 3.0 x16 port support on the B450.
The maximum frequency of RAM supported by the X570 is 4400 MHz compared to the 4200 MHz in the case of the B450; both support a maximum of 128 GB RAM. The Wi-Fi support is the same in both motherboards; however, the cheap ones lack Wi-Fi, and the expensive one has faster Wi-Fi generation alongside software support from the vendor.
Check out our detailed guide on Best X570 Motherboards In 2022.
The X570 has far more features than the B450, but it all comes at a price. The X570 motherboards are significantly more expensive than the B450 motherboard. You are looking at about $100 more for a standard X570 motherboard than a B450 motherboard.
Why Should You Trust Our Judgement
With over twelve years of experience in the tech and gaming industry, our dedicated team has been refined consistently to produce a potent group of knowledgeable individuals who are known to relay the most accurate information to our valued consumers, thanks to the extensive research and reviewing we conduct before we publish every piece of journalism.
In addition to this, we have been explicitly featured on a majority of the top-notch gaming and tech brands, such as Gigabyte, MSI, Asus, and DeepCool, just to name a few, as reliable and trusted sources for Hardware and Technology. These and other renowned manufacturers such as Noctua, Thermaltake, Xigmatek, and several others routinely send samples to us, based on which we formulate unbiased reviews to provide our readers with a genuine perspective of the particular product from an objective standpoint.
Subsequently, we instill confidence in our esteemed consumers, who may rely on us to give them the best advice for building, customizing, and modifying their personal gaming computers.
Heatsink/PCB Layers
Heatsinks are one of the most important aspects of a motherboard since they can reduce or boost your CPU, GPU, and overall performance depending on how well they conduct a perfect heat transfer. They will also determine whether your Gaming PC would undergo a case of thermal throttling to keep temperatures down or perform consistently.
The general rule of thumb is to choose a motherboard with advanced heat dissipation while ideally incorporating multiple heatsinks for optimal heat dissipation, away from your motherboard's components.
Adding on, the thicker your motherboard's PCBs (Printed Circuit Boards), the lower your temperatures. Your B450 motherboard comprises multiple PCBs sandwiched together, which generally produces excessive heat, so unless your PCBs are sizeably thick with several layers, your AMD Ryzen-based PC will struggle with heat conductance, eventually leading to thermal throttling and bottlenecked performance.
Budget and Comparative Affordability
While building a gaming rig, it's best to stick with full-sized ATX or E-ATX motherboards if you're looking to save some money, as manufacturers offer a variety of motherboards in these form factors. It's also important to restrain yourself while choosing from top-of-the-line B450 ATX Motherboards since these boards tend to overcharge you for features you'll probably never use in a lifetime, like overclocking.
Suppose you aren't going to overclock your processor. In that case, there's no need to spend too much on the Best High-End B450 Motherboard in 2022 with massive, thermally optimized VRMs since these state-of-the-art motherboards will undoubtedly make a noticeable and, more importantly, unnecessary monetary impact on your wallet.
FAQs About B450 Motherboards
Can You Overclock a B450 Motherboard?
Yes, you can overclock your B450 Motherboards as the manufacturer sets no limitation on overclocking. Although, when you are overclocking, physical limitations such as cooling, power delivery, CPU quality, and RAM quality create more variation. If you are looking for some real-life numbers, some users have reported an overclocking speed of 4.3 GHz from B450 motherboards.
What RAM Speed does B450 Support?
The RAM speeds vary greatly among manufacturers, but we have seen RAM speeds of 3600 MHz to 4200 MHz from the different B450 motherboards. The manufacturer limits the maximum speed, but if you opt to run a lower frequency RAM on the board that supports higher frequencies, you won't face any issues running it.
Should I get a B450 or B550?
You should get the B550 motherboard if you want PCIe Gen 4 SSDs, better VRM power phases, Ryzen 5000 support, USB 3.2 Gen 2 ports, and Wi-Fi 6. If that's not the case, get a B450 motherboard if you have a limited budget, don't have serious concerns regarding Gen 4 SSD speeds, or want to use an older Ryzen 1000/2000 CPU.
What CPUs are Compatible with the B450?
B450 supports all the latest CPUs from Ryzen starting from the 7th Gen and going as low as 1st gen Ryzen APUs. And it does support any AM4 processor if the BIOS is compatible with the board, such as Athlon 200GE and Athlon 3000G.
What are the highest-rated B450 motherboards?
Many features make any motherboard the highest-rated motherboard: VRM, cooling, overclocking, and LAN or Wi-Fi connectivity. Although, for us, the MSI B450 GAMING Pro Carbon AC is the top-rated motherboard in the market because it has the highest VRM of 8 power phases, the highest support for RAM frequency of up to 4200 MHz, and the biggest heatsink as compared to other B450 motherboards in the market.
Was our article helpful? 👨‍💻
Thank you! Please share your positive feedback. 🔋
How could we improve this post? Please Help us. 😔